The North Face Metropolis Parka II
Price: $289
Fill: 550-fill down
Weight: 1 lb. 14 oz.
What we like: Knee-length design offers more coverage and warmth in the legs than most parkas.
What we don't: Unimpressive quality and one of the draftier and least insulative jackets we've tested.
See The North Face Metropolis Parka II
Winter weather doesn't discriminate—it can be just as unforgiving on the streets of New York City as it is in the mountains of Colorado. And for everyday use, down-filled parkas like The North Face Metropolis II are a great match for everything from commuting and walking the dog to a night out. We put the popular Metropolis to the test this past winter, and while we liked the extra coverage its knee-length design provided, it fell short of the competition in terms of insulation and overall build quality. Below we break down the Metropolis' warmth, weather protection, features, construction and durability, fit and sizing, and more. To see how it measures up, see our article on the best winter jackets.
 
Performance
Warmth
Packing only a moderate amount of 550-fill-power goose down, The North Face Metropolis Parka II disappointed in arguably its most important test: warmth. Wearing the jacket around town in Bend, Oregon, with a thin wool layer underneath, it provided only enough insulation to be comfortable down to right around freezing (32°F). This puts it well short of competitors like the Marmot Montreal Coat and Patagonia's Down With it Parka, which feature higher-quality 700-fill-power down (higher fill power means more loft and warmth at a given weight), and cozier brushed linings. We also found fault with the loose cuffs, which are prone to letting cold air in and out. Overall, if you want a down parka for mild weather days or are willing to layer heavily underneath when the mercury drops, the Metropolis could do the trick. But it stood out as one of the least warm down-insulated parkas we've tested.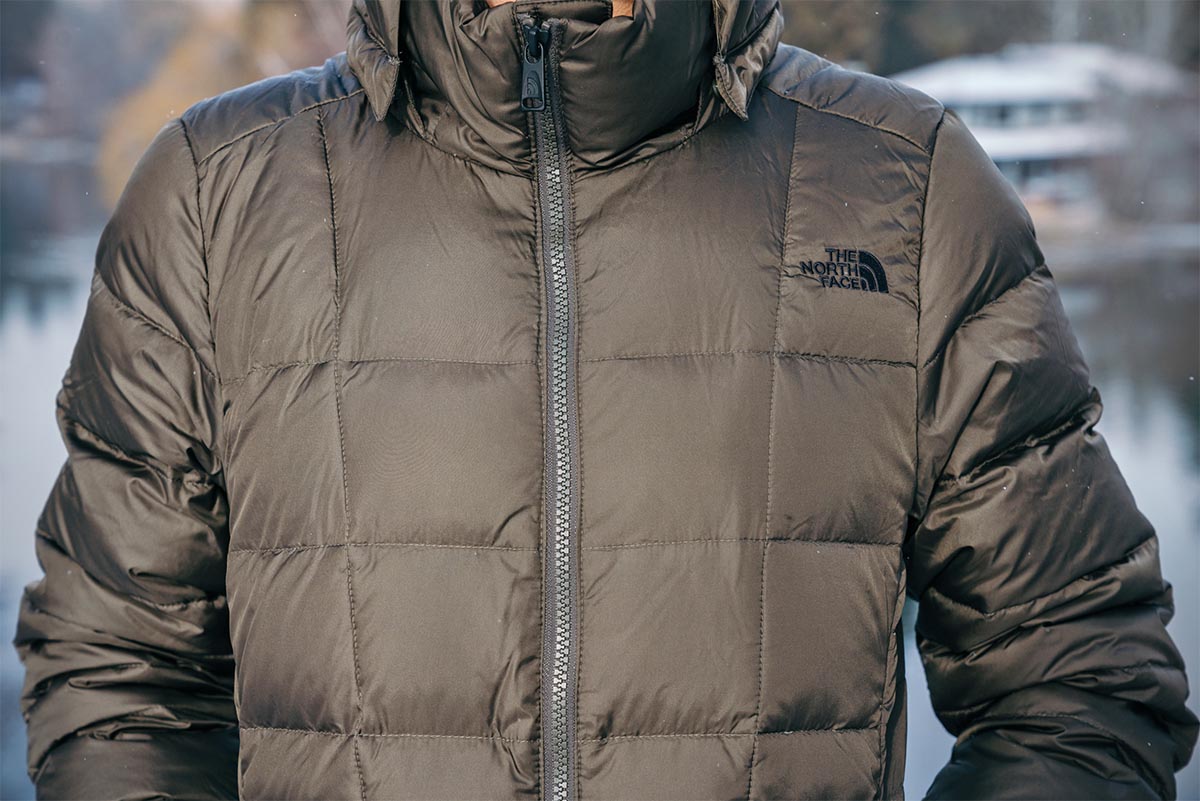 All that said, the Metropolis does have length working in its favor. With a hem that extends to the knees in front, it's noticeably long and offers much more coverage than similar jackets with the same 38-inch center-back measurement. And length like this goes a long way—while not your "core" per se, retaining heat in your thighs can help keep your entire body warm. I greatly appreciated the full coverage while walking around town and grabbing coffee on the outside patio of a café, especially since the jacket extended underneath my butt and legs while sitting down. In addition to the length, the Metropolis also has a full-coverage hood that cinches down around the face to trap heat. The North Face might not have nailed the warmth equation with the Metropolis, but they make up for it a bit with the sheer quantity of insulated coverage on the jacket.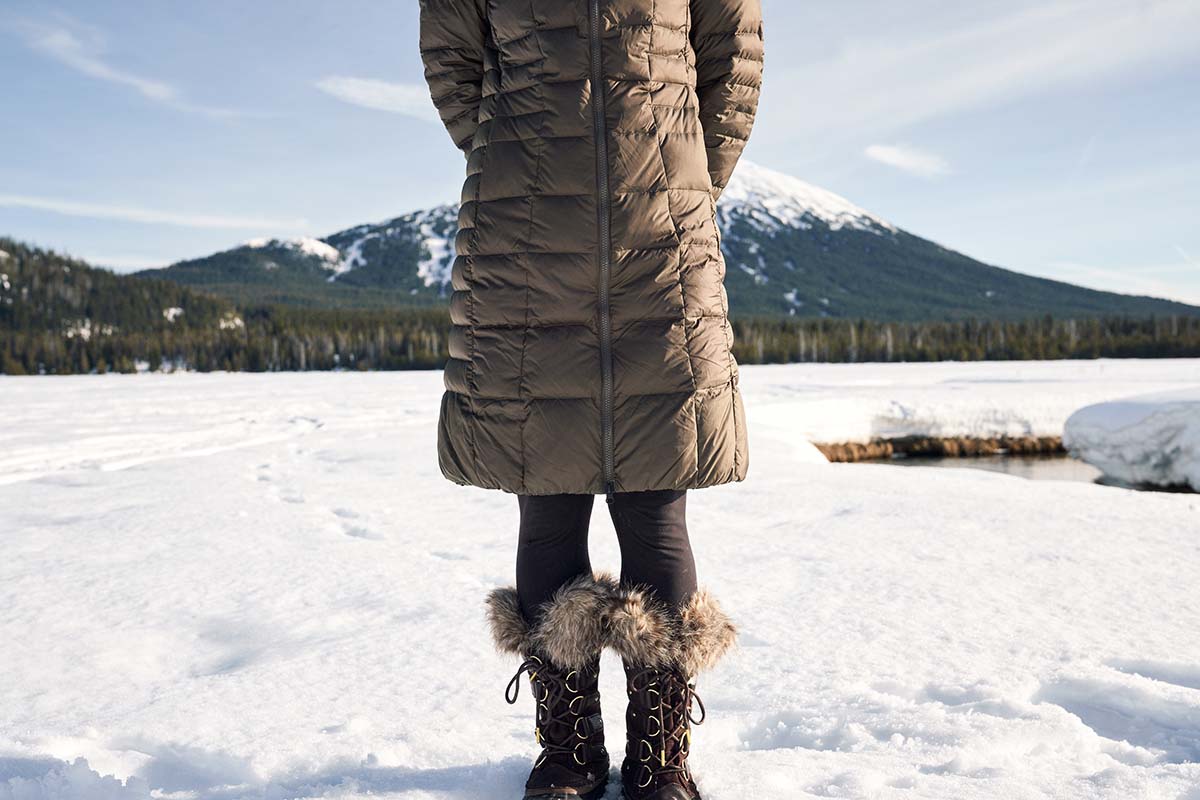 Water and Wind Protection 
Warmth isn't our only concern when it comes to a winter jacket—we also want a shell that can keep out wind and water. Again, the Metropolis didn't blow us away in this respect, but it is somewhat protective in mild conditions. In terms of water resistance, the parka has a 100-percent nylon shell with a durable water repellent (DWR) finish. In our testing, light precipitation beaded up on the surface of the jacket, rolling off before it soaked into the fabric (DWR does wear off over time, but can be revived by washing and drying or applying a new finish). However, we wouldn't wear the Metropolis in anything other than a sprinkle, as the non-waterproof shell leaves the down insulation inside vulnerable (down loses loft and insulating ability when wet). If you live in a winter climate prone to slushy snow and rain, we recommend a fully waterproof shell like that of the TNF Arctic Parka, Patagonia Tres 3-in-1 Parka, or Arc'teryx Patera Parka.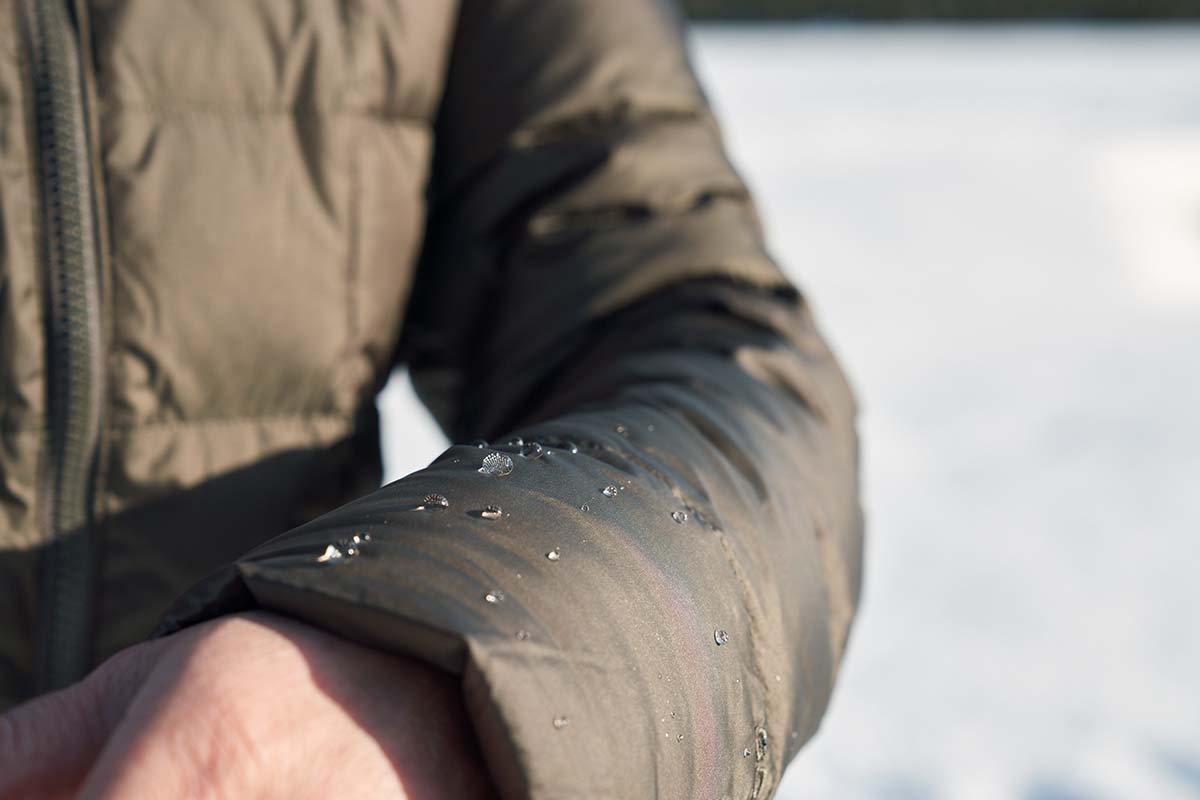 The Metropolis wouldn't be our first choice in windy conditions, either. The parka features an uncovered two-way front zipper and great deal of stitched baffling (even more than the first iteration of the jacket), which translate to more holes for wind to enter. And with no interior liner like we see on the Marmot Montreal or Patagonia Down With It, there's nothing stopping cold gusts from making it all the way to your body. We wore the Metropolis on a blustery day in central Oregon with wind chills measuring below 20 degrees Fahrenheit and the drafts were noticeable, canceling out much of the insulating power of the down.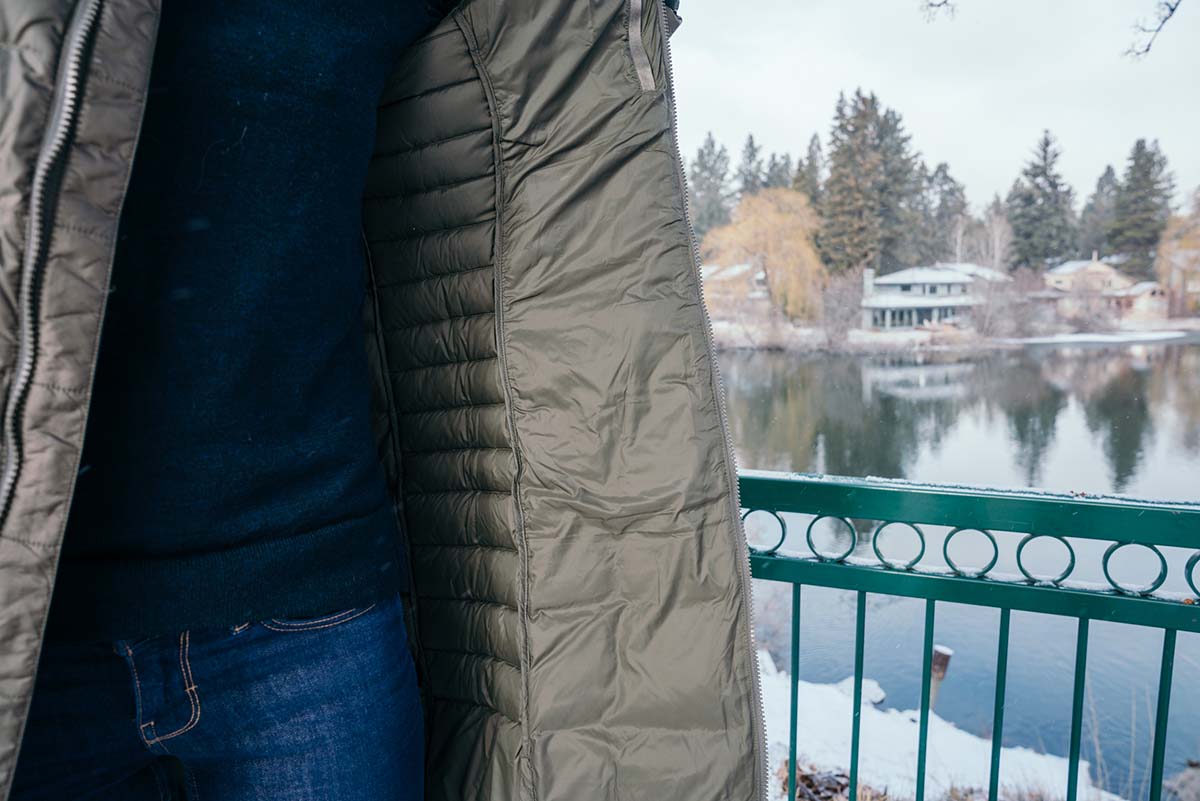 Features
Hood
The Metropolis' hood isn't anything to write home about, but it gets the job done. The hood is three-paneled, insulated, and removable (it attaches with six snaps), and comes with a cozy down "cocoon brim" for added warmth and coverage. On the sides, simple toggles cinch the hood around the face for heat-trapping and security in wind. Finally, a thin interior collar extends to keep cold air from entering in through the gaps where the hood snaps in. The whole hood, including attachment and adjustment, is quite similar to that of the Patagonia Down With It, but it lacks the high-quality finish of the Patagonia and we find it a little on the large side.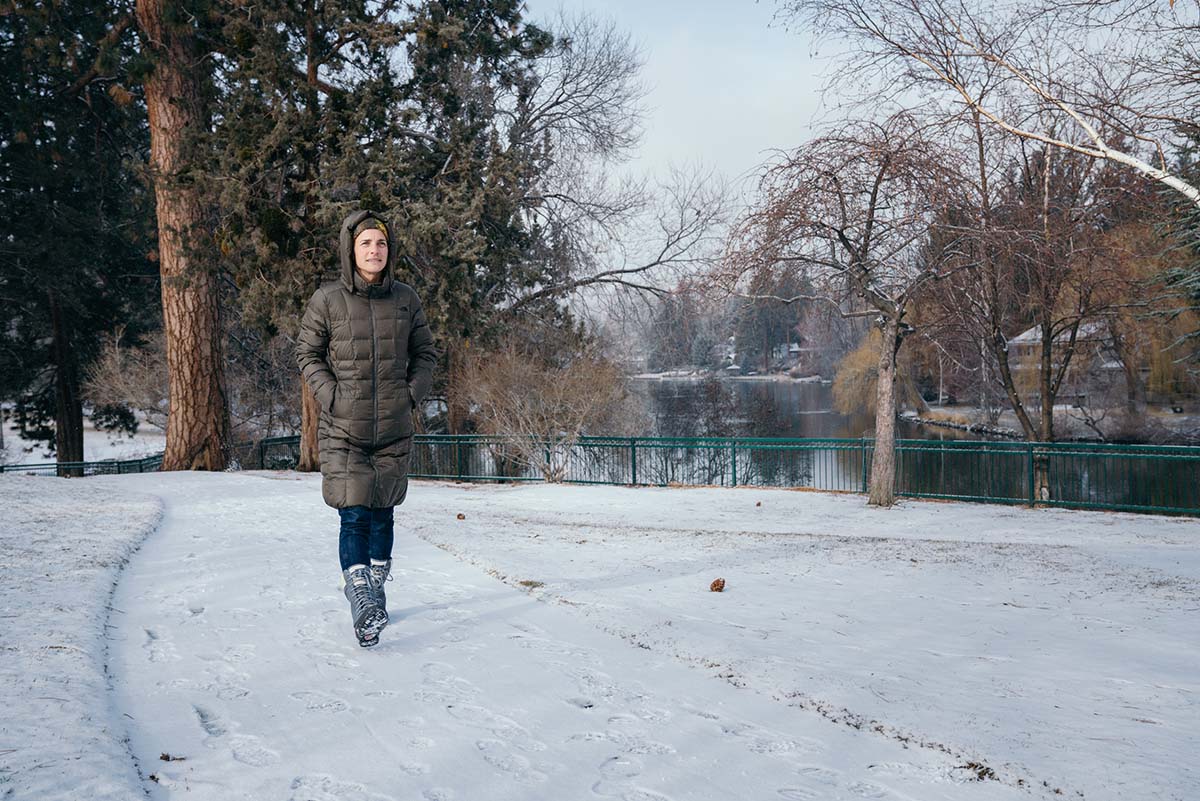 Cuffs
The Metropolis again keeps it simple with the cuffs, with insulated baffles on the arms that taper down to just past the wrists. Inside, sewn-in elastic provides a small amount of shaping around the wrist and hand. However, this elastic is rather loose, failing to trap warmth or keep cold air or snow out. We prefer the better-sealed fleece cuffs like those on TNF's Arctic or the Marmot Montreal, as they provide a cozy next-to-skin feel and offer a boost in warmth and protection.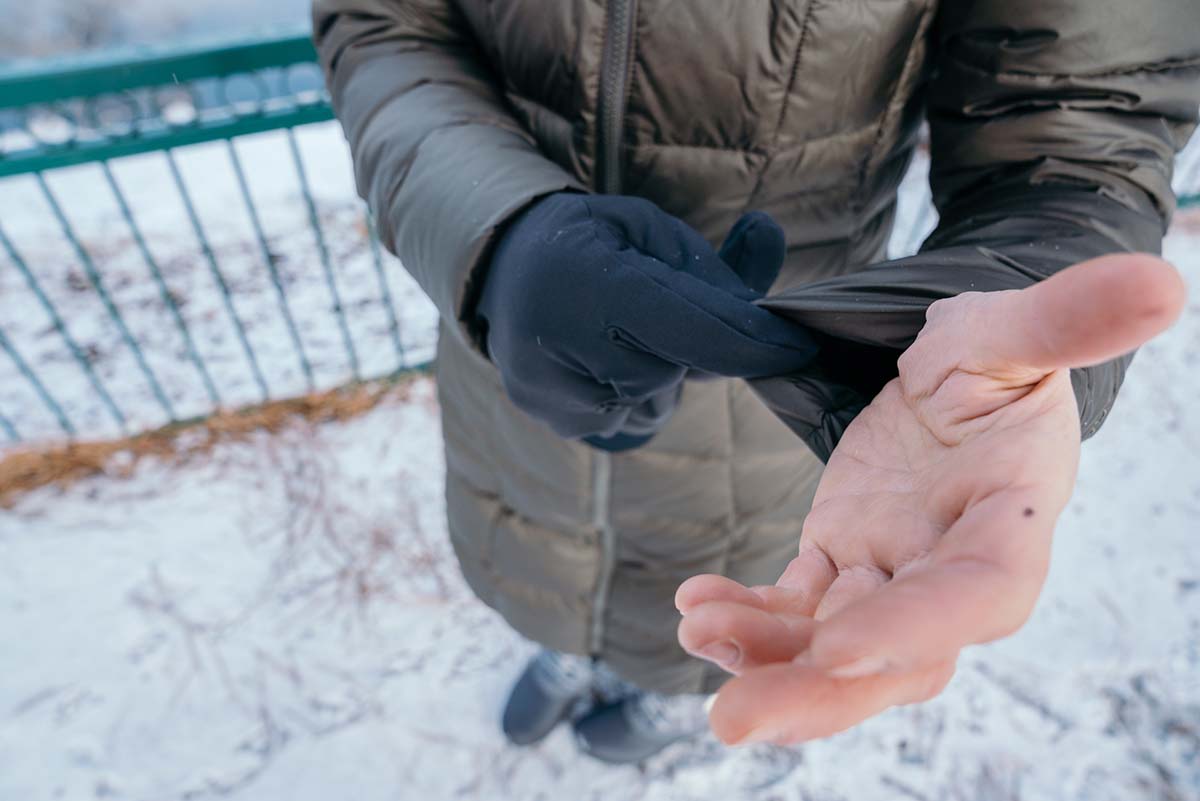 Storage: Pockets
The Metropolis comes with three fleece-lined, zippered pockets: two insulated handwarmer pockets at the hip and one internal chest pocket. While we find the chest pocket to be almost too small (that is, too small for a modern, extra-large smartphone), the external pockets are some of our favorites. Not only are they deep and cozy, but they blend in extremely well with the outer baffles, offering a nice streamlined look when zipped shut.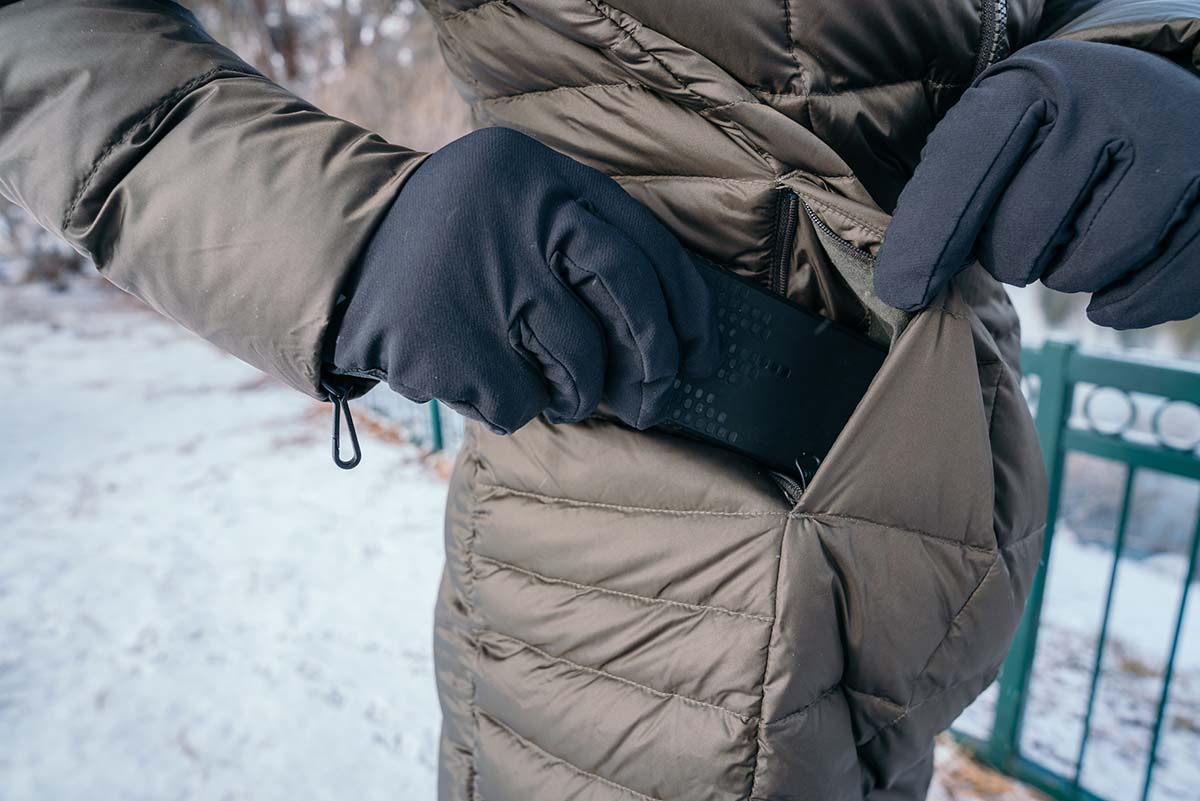 Length
The Metropolis is a knee-length parka that's considerably longer than similar jackets we've tested. It provides down insulation all the way down to the knee, extending under the legs when seated. This length adds a noticeable amount of warmth, but—as expected—comes at the cost of freedom of movement. That said, the flared shape from the waist down lends ample wiggle room, and is kept in check by an almost imperceptible elastic band at the hem. In the end, it comes down to a matter of preference. Personally, we love the added elegance and style of the long Metropolis, but we also appreciate a more playful length like that of the mid-thigh Marmot Montreal.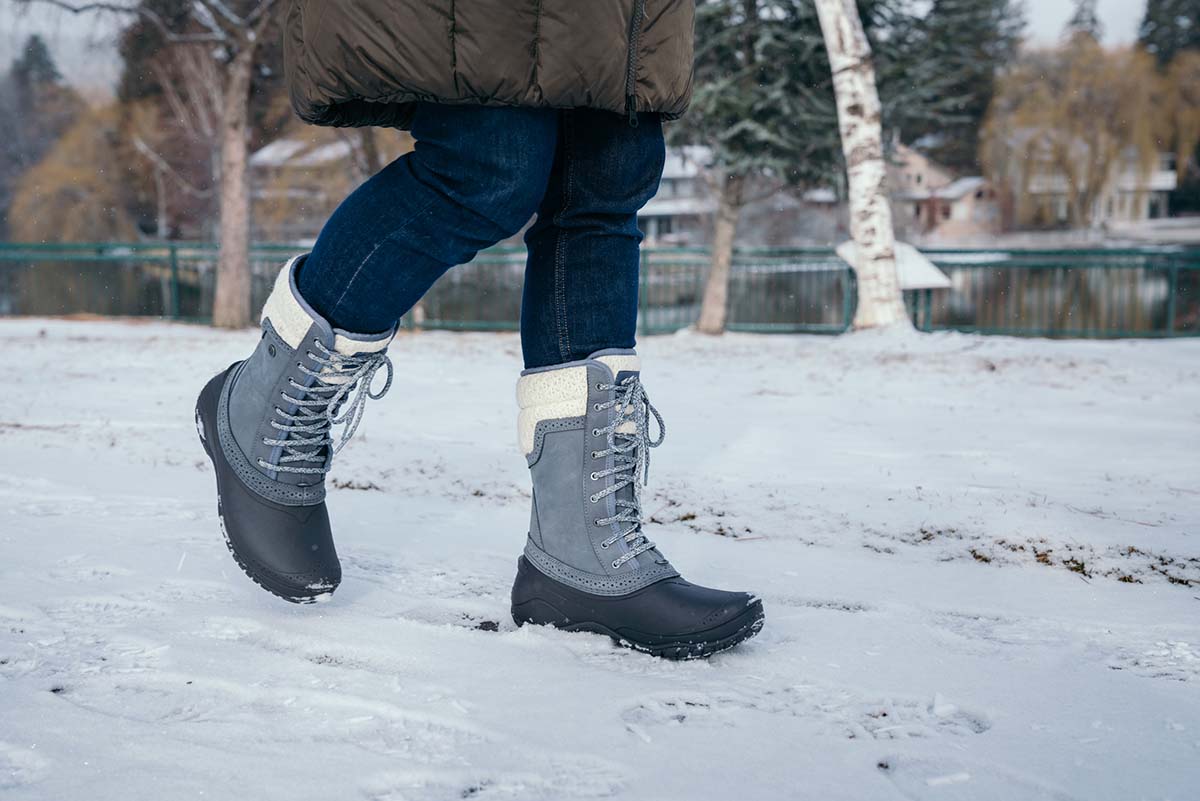 Construction and Durability
To put it plainly, the Metropolis lacks the overall fit and finish of many of its competitors, including down-filled parkas from both Patagonia and Arc'teryx. This is especially apparent in details like the hood and collar, stitching, and zipper, which we often found difficult to start. We've also observed a few stray threads on our jacket and it seems to shed feathers faster than other down parkas we've tested. Furthermore, many have complained about the redesigned Metropolis II being a step down from its predecessor, with less insulation, more baffling (read: more draftiness), and no down-filled flap over the front zip. Some of these are small nitpicks—we admit that the bar has been set very high—but for a jacket in this price range, we had higher hopes. All that said, the Metropolis is a decently well-made parka that will last you many winters, and you do get down certified to the Responsible Down Standard (meaning geese weren't force-fed or live-plucked), which is a nice plus.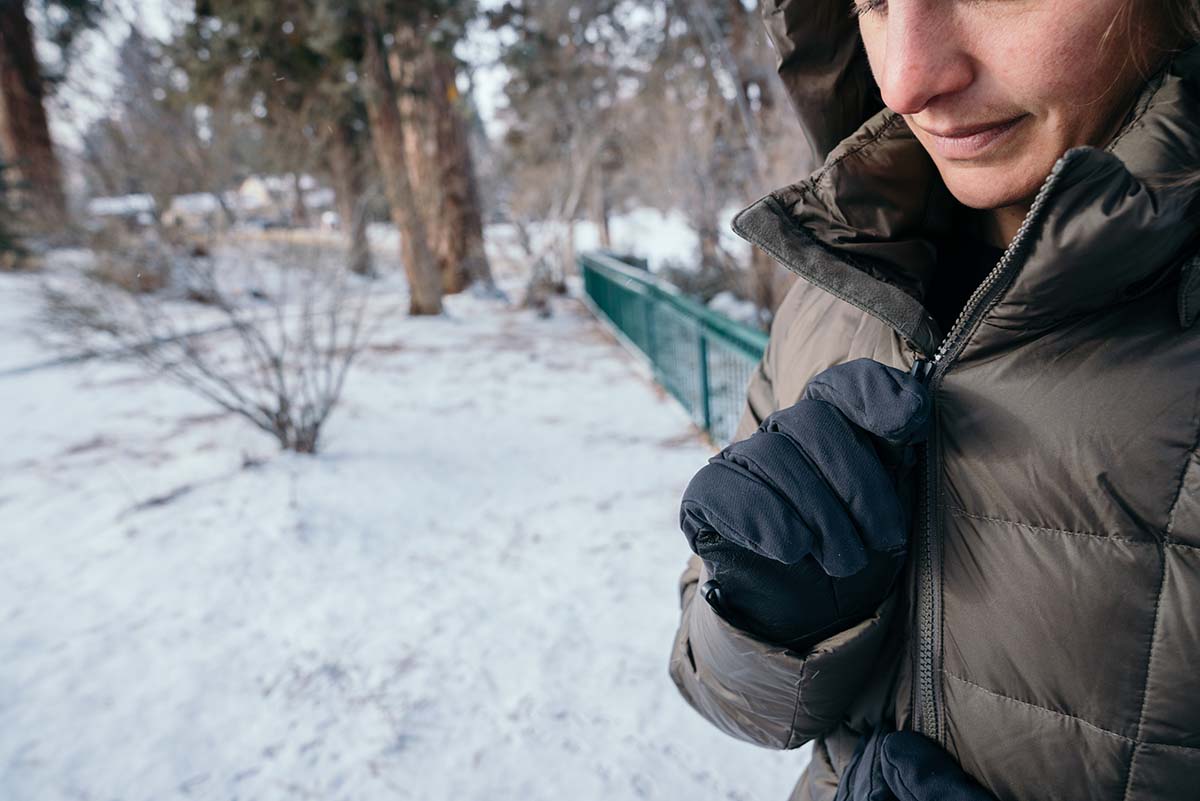 Weight and Packability 
At just 1 pound 14 ounces, the Metropolis is notably light for a winter parka of its kind. While this weight is a reflection of the jacket's streamlined feature set and comparably minimal warmth and weather protection, it does result in a pillowy, flowy parka. Furthermore, the Metropolis packs down smaller than most jackets and can be stuffed into the corner of a suitcase or duffel without much effort. When compared to bulky, heavier jackets like the TNF Arctic Parka (2 lbs. 13.5 oz.) or the Patagonia Down With It Parka (2 lbs. 5.8 oz.), this is a huge benefit.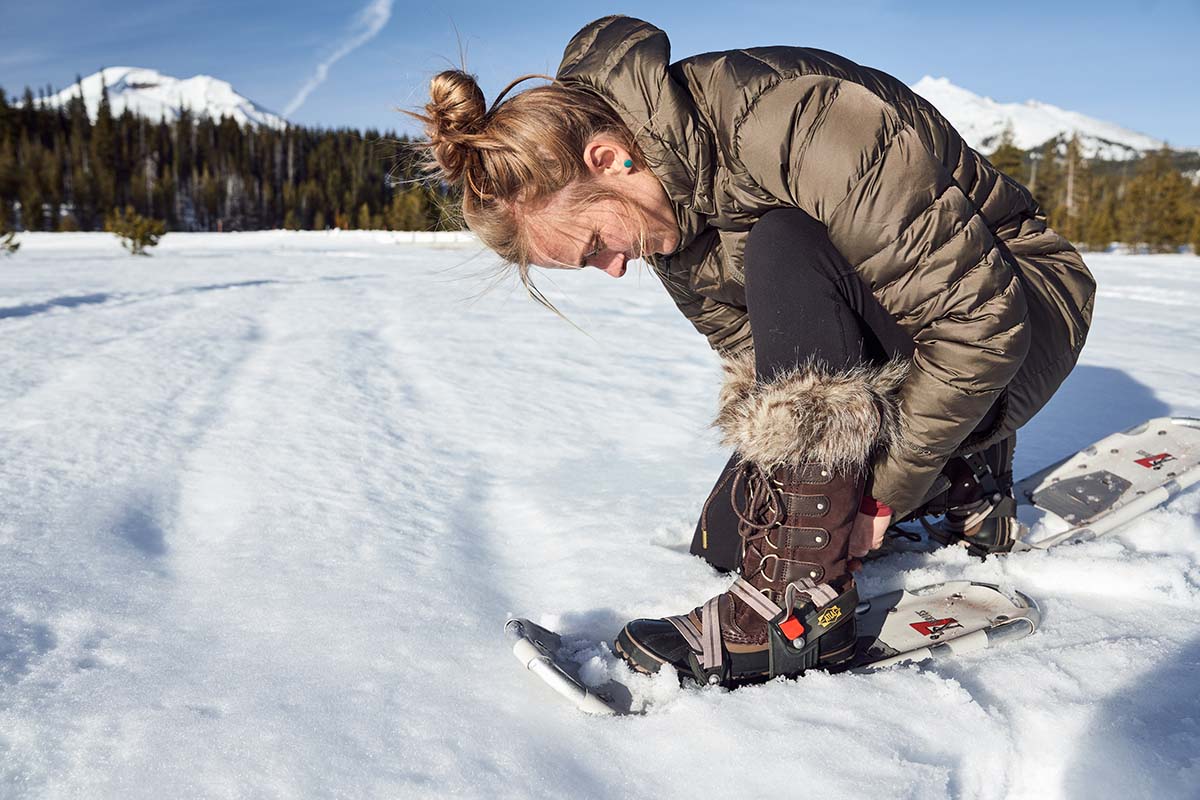 Fit and Sizing
Like most women's winter parkas, the Metropolis is designed to mimic the contours of the body, flaring from the waist to the hem. Baffled darts on the back of the waist help to provide even more shaping and style, and a longer-than-average knee-length hem lends elegance and warmth. In addition, the hem contains slight stretch, giving it shape around your legs rather than an awkward, ungainly flare. And with less down than much of the competition, the Metropolis offers a streamlined, classy fit that won't leave you feeling like the Michelin Man. In terms of sizing, we generally wear a small and the Metropolis was no exception. That said, it is trim-fitting, especially around the shoulders and arms, and we recommend sizing up if you anticipate wearing bulky sweaters or midlayers underneath.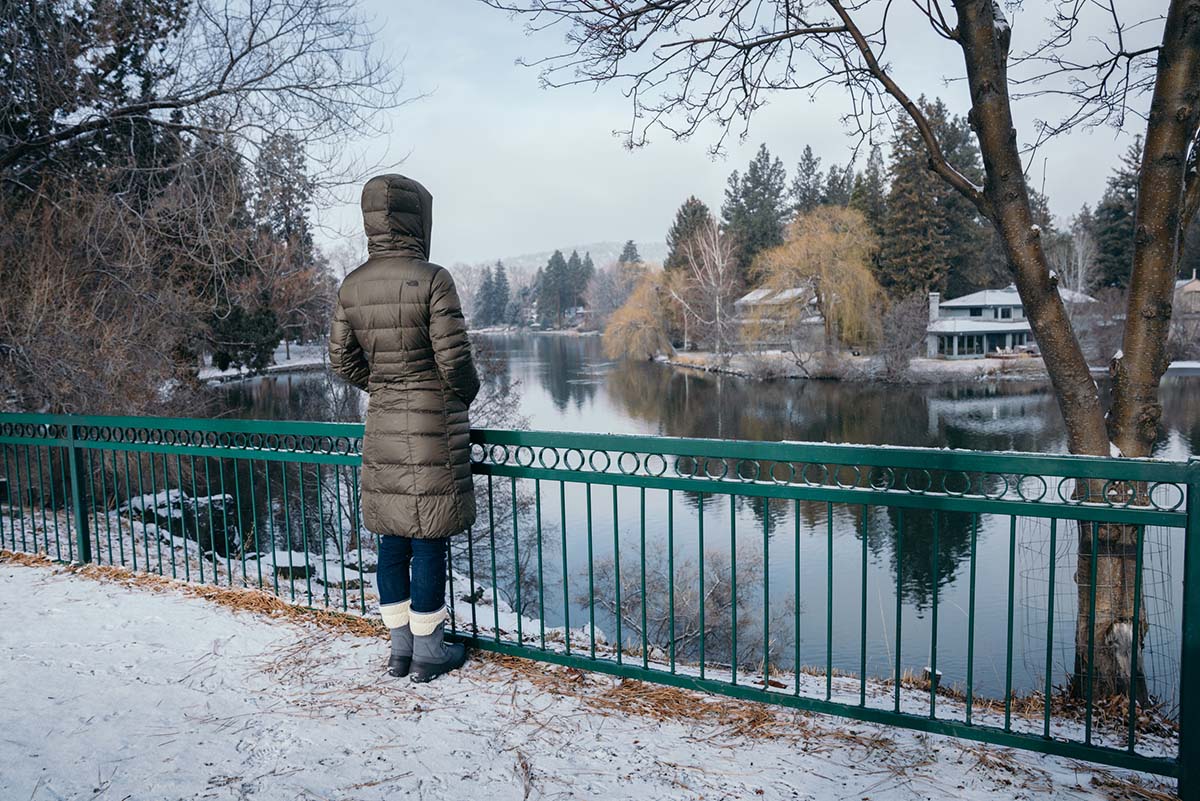 What We Like
The Metropolis' long, knee-length design offers more coverage and warmth in the legs than most parkas.
Baffling and satin finish lend elegance and style, making this jacket great for dressing up or down.
Handwarmer pockets are insulated, deep, and fleece-lined, and blend in well with the exterior of the jacket.
Low weight and bulk mean the jacket can be packed easily into a duffel or suitcase.
 
What We Don't
Lower-quality 550-fill-power down and lots of external stitching make this one of the draftier and least insulative jackets we've tested.
The hood is large and oddly shaped, and the attachment is cumbersome and not as streamlined as we'd like.
Stray threads, leaking feathers, and a pesky zipper left us unimpressed with the overall quality of construction.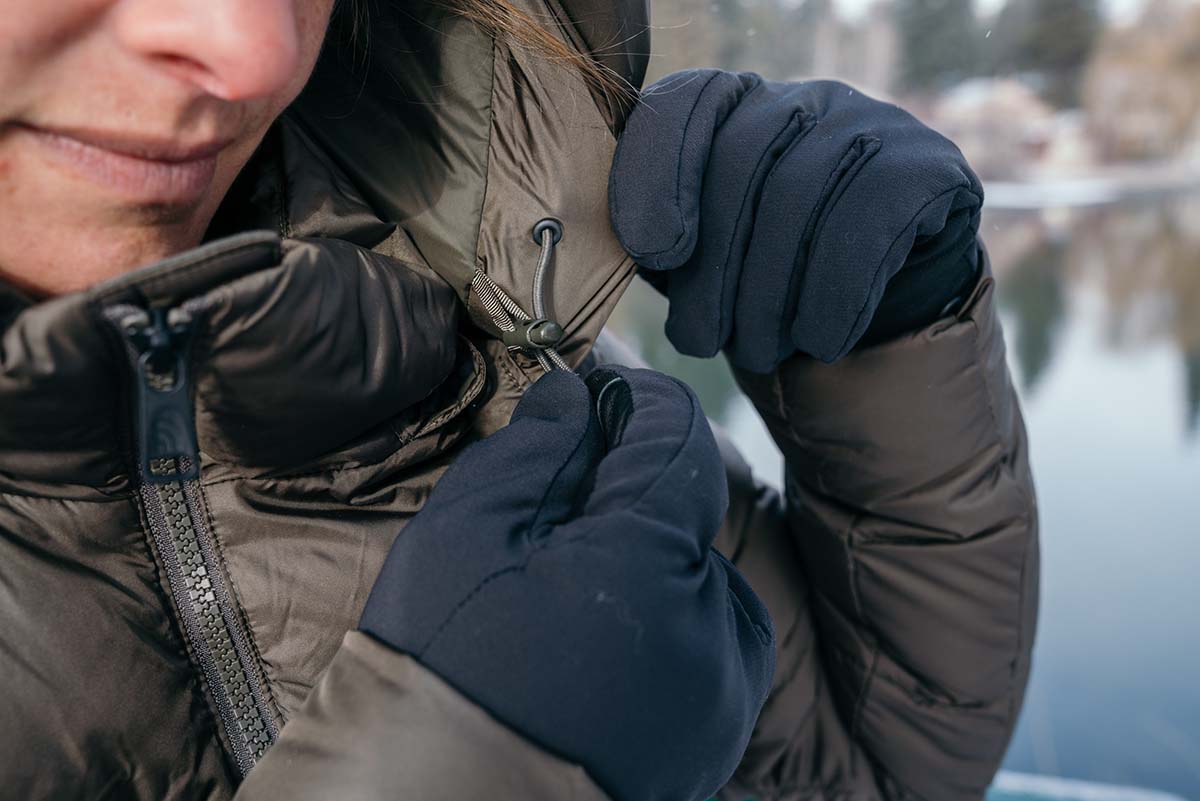 Comparison Table​

The Competition
There's no shortage of winter-ready down parkas to choose from, and The North Face's Metropolis II is certainly a perennial favorite for those who brave winter in colder climates. Another popular design is the Marmot Montreal, which, at a comparable $285, offers a slightly more casual look and fit than the Metropolis, as well as more warmth-trapping and weather-protective features. The most obvious distinction between these two jackets is length—the Marmot falls mid-thigh rather than extending to the knee, allowing greater freedom of movement at the sacrifice of warmth and coverage around the legs. However, the Marmot Montreal utilizes 700-fill hydrophobic down (and from what we can tell, more of it) and a fleece-lined interior, making it noticeably warmer and more wind- and water-resistant than the Metropolis (for more, see our in-depth Montreal review). For almost the same price (the Metropolis is $289), we think the Marmot is a better-designed jacket—and if you're looking for more length, their Montreaux is another good choice.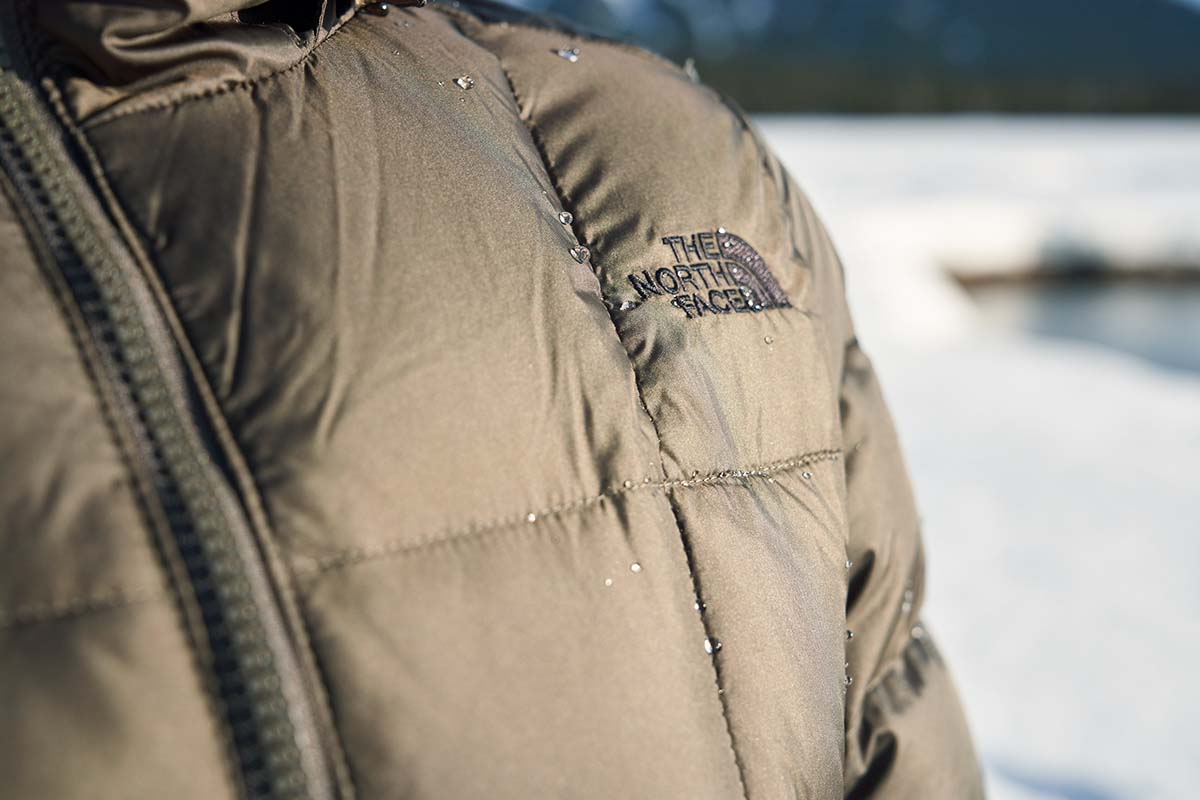 If you like the length of the Metropolis, Patagonia's Down With It knee-length parka is also worth considering. At $299, it's comparable in price, but you get higher-quality 700-fill down, a lined interior and storm flap over the front zip for added wind protection, and that eye-catching Patagonia fit and finish that The North Face just can't match. Overall, the Down With It has a much sleeker look with streamlined pockets and seams, a well-designed hood, and excellent build quality—we couldn't find a single feather or stitch out of place. Plus, the Down With It is made with 100-percent recycled polyester and down—an earth-friendly offering unique to Patagonia. In the end, we think it outperforms the Metropolis across the board (see our Down With It review).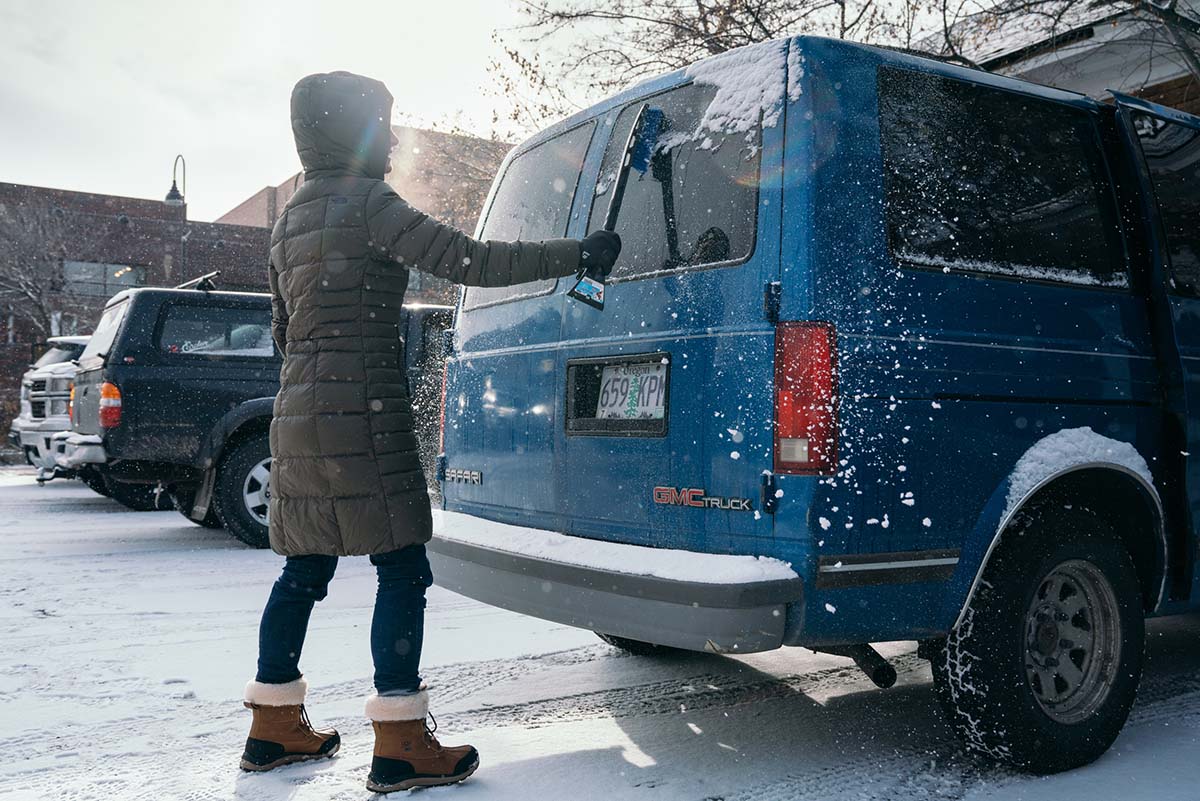 For wet or particularly windy winter weather, a waterproof option like The North Face's Arctic Parka makes a lot of sense. For just $10 more than the Metropolis, the Arctic comes with the same 550-fill-power down, but adds a waterproof, breathable 2-layer shell for full protection in rain and wind. This jacket doesn't give up much in the way of styling either, with a V-shaped drop-tail hem, darts and elastic for a shaped waist, and a fur-brimmed hood. The Arctic is much bulkier and heavier at almost 3 pounds, making it difficult to pack for that weekend trip, and you will also be giving up the elegant baffled look of the Metropolis. But for a cold and wet winter, a waterproof parka offers far more protection than the Metropolis' simple nylon shell and DWR finish.
If you're thinking about buying gear that we've reviewed on Switchback Travel, you can help support us in the process. Just click on any of the seller links above, and if you make a purchase, we receive a small percentage of the transaction. The cost of the product is the same to you but this helps us continue to test and write about outdoor gear. Thanks and we appreciate your support!
Depending on the seller, most products ship free in the United States on orders of $50 or more. International shipping availability and rates vary by seller. The pricing information on this page is updated hourly but we are not responsible for inaccuracies.
Read More From Switchback Travel