There's nothing quite like getting first tracks at the resort, nailing a new trick in the terrain park, or finding fresh pow in the backcountry, but skiers need the right tool for the job. The industry is vast and expanding by the year, making choosing the right ski an intimidating process. But for many, supporting a brand they know and trust helps a great deal with the buying decision. Below we break down our favorite ski brands, including a brief history, each company's most popular models, and what sets them apart from the competition. For more information and our top picks in each category, see our ski gear reviews.
Location: Isère, France
Popular models: Experience and Black Ops
What we like: Wide range of well-made designs for all ability levels.
What we don't: We miss the discontinued "7" series.
Founded in 1907 and headquartered in the French Alps, Rossignol has pioneered ski innovation since their inception and continues to impress. Rossignol's current lineup includes everything from resort-friendly models that are staples in rental fleets—their Experience is a big hit for groomers and East Coast hardpack— to capable big-mountain and freeride designs. Their backcountry collection is decidedly limited compared to some of the other brands below, although their partner company, Dynastar, has a handful of more powder-friendly options. And we appreciate that Rossi's technology and innovation trickle down from the top of their lineup all the way to beginner designs like the Experience 76. All in all, this is a storied brand with a wide reach, and their skis are typically well-made and noticeably high-quality.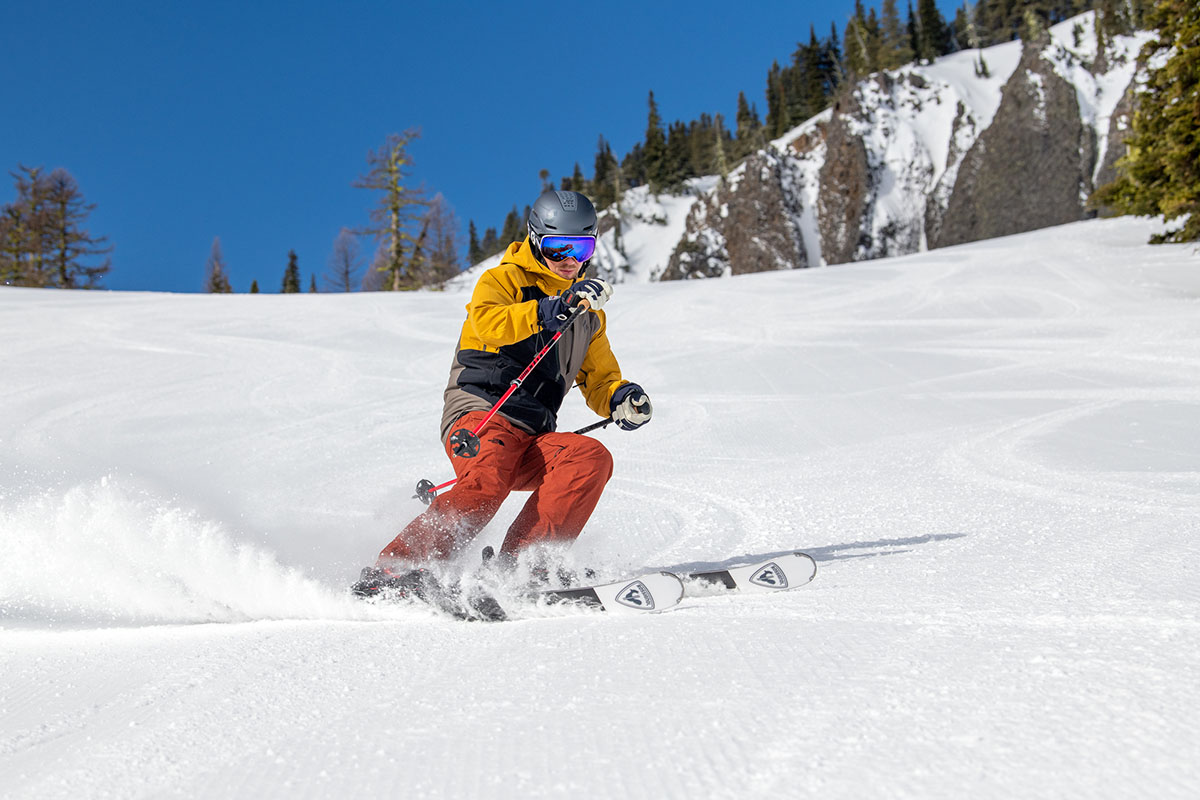 Their "7" series was wildly popular for years within the all-mountain freeride category—including the Soul 7, whose yellow tips were a common sight on the mountain. However, last season, Rossignol made the bold choice to completely ditch the proven line and go in a new direction with their Black Ops series, which ranges from the beginner-friendly Smasher all the way up to the powder-ready Sender. The good news is that we've found both models retain a good dose of the Soul's energy and soft-snow flickability, although the Sender isn't as easy or natural to drive, especially over tricky terrain (intermediates in particular will likely find it more difficult to control). But initial reviews have been mostly positive, and we can't fault Rossignol for taking the leap of faith.
Location: Seattle, Washington
Popular models: Mindbender and Wayback 
What we like: Durable, long-lasting designs from beginner to expert.
What we don't: Only one backcountry offering.
K2 has been a mainstay in the ski industry since the 1960s, with an extensive lineup that covers a wide range of ability levels and riding preferences. Credited with creating the first fiberglass skis, K2 is another classic brand with a strong commitment to innovation and huge presence on the mountain—take one look at the lift lines and you're bound to spot at least a few pairs. In fact, we learned how to ski on some used K2s (the discontinued Perfect Luv) and recently taught a friend on the same pair, which just goes to show how durable and long-lasting these sticks are.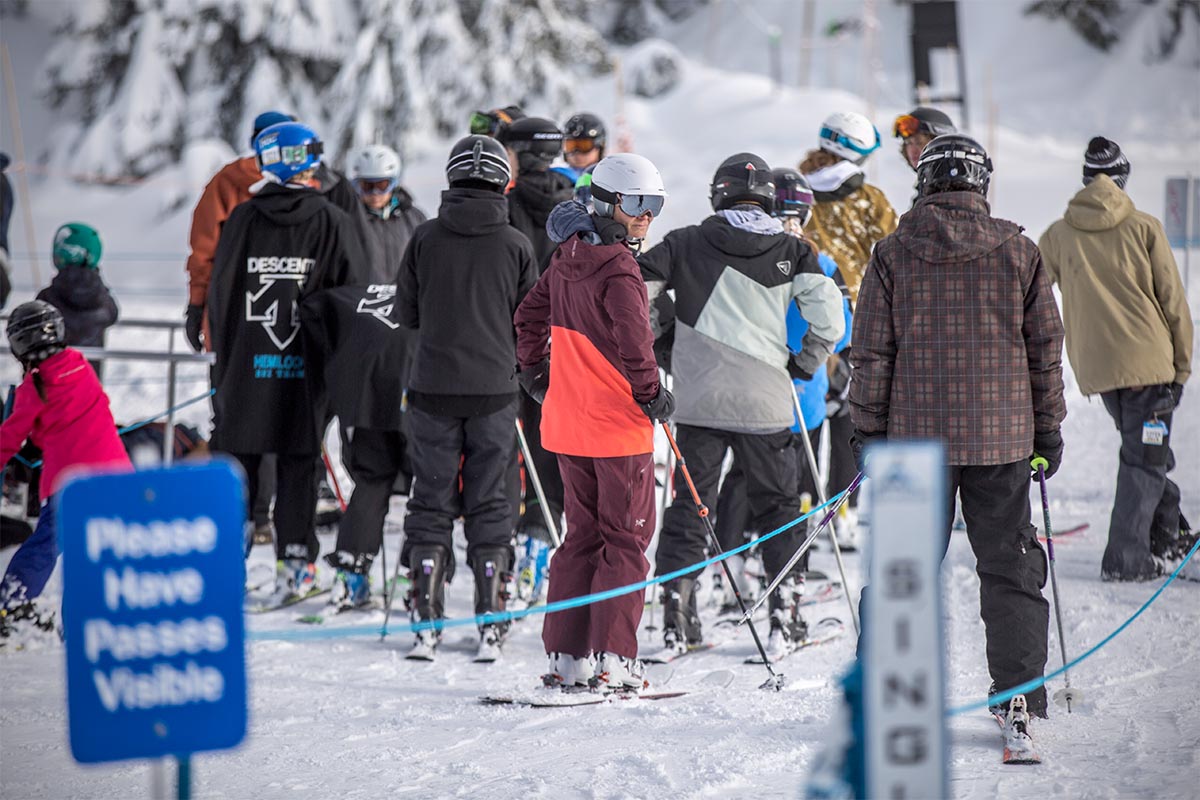 The Mindbender is one of our favorite skis in K2's current lineup: the 85-millimeter version is great for riders from beginner to advanced, with good float for its width and a smooth and effortless feel on hardpack. Stepping up to the 99Ti variation, you get more widespread appeal with excellent stability, a planted design, and a fairly forgiving ride. Like Rossignol, K2's touring collection is limited (they currently only offer the Wayback and women's Talkback), but that ski nevertheless is a great value at $700 (most competitors clock in around $800 or more). For the non-skiers among us, K2 also has a solid collection of snowboards and splitboards.
Location: Salzburg, Austria
Popular models: Brahma, Black Pearl, Bonafide, and Rustler
What we like: Sturdy designs and a leader in women's-specific skis.
What we don't: Not as beginner-friendly as the brands above.
Based in Austria and owned by the Tecnica group, Blizzard is a clear leader in the all-mountain market and a strong presence in the touring world too. Their collection features a host of our favorite one-quiver designs, including the Rustler, Bonafide, and Brahma. The latter two are especially popular among hard chargers, with sturdy builds that include two sheets of metal in the construction. And as we mentioned, Blizzard also offers competitive backcountry options, including the incredibly well-rounded Zero G line (the Zero G 105 is our favorite overall touring ski this year for its impressive capabilities on both the uphill and downhill).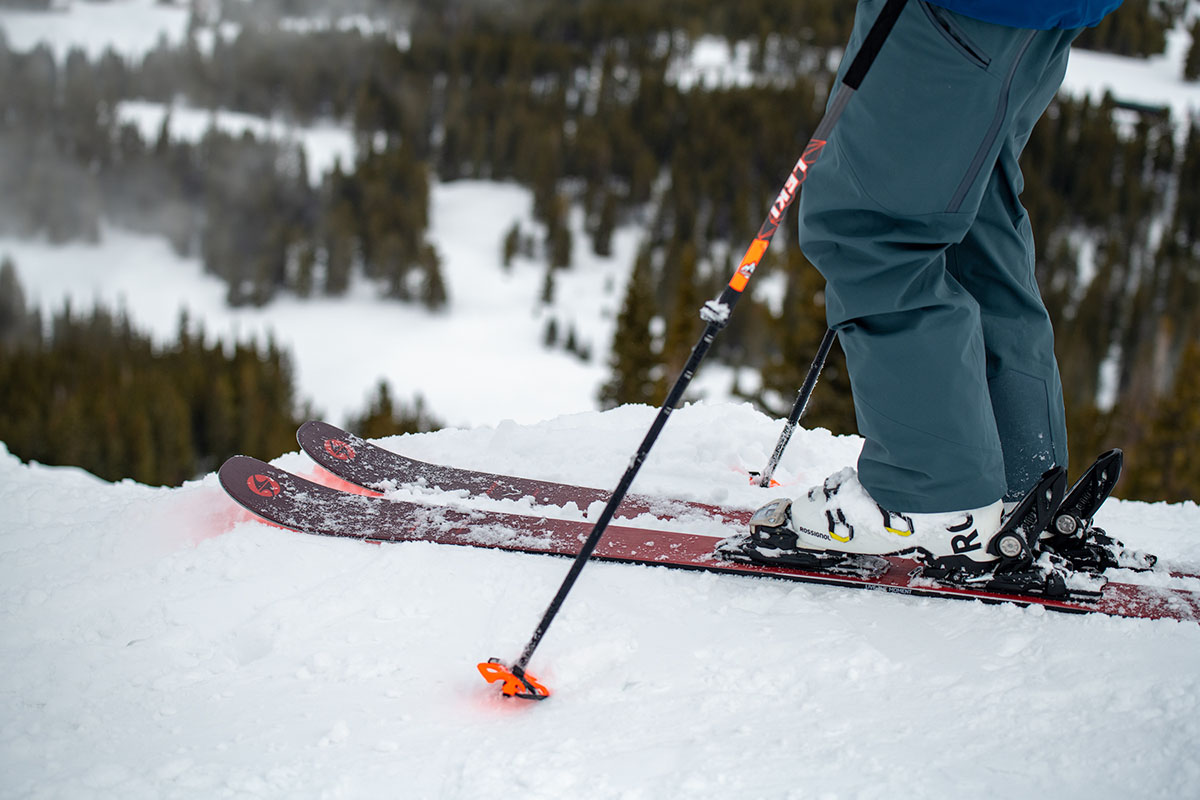 What truly sets Blizzard apart from the competition, however, is their lineup of women's-specific designs. The Black Pearl collection, in particular, is a real standout in the market. These skis range from 82 to 97 millimeters in width, which is a nice spread for everything from East Coast hardpack to West Coast powder. On the Tecnica side, you get popular boots like the Mach1 and Cochise, which are thoughtfully designed and allow for extensive fit customization. Overall, there are fewer beginner-friendly options here, but for advancing intermediates to expert riders, Blizzard is one to have on your radar.
Location: Straubing, Germany
Popular models: Mantra, Kendo, and Blaze
What we like: Powerful, satisfying carving skis.
What we don't: These sticks take some effort and expertise to control.
Volkl has been pushing out quality skis since the 1920s and currently holds the title as the largest ski manufacturer in Germany. The brand has a rich history in alpine ski racing, but their all-mountain collection consistently gets high praise. The Mantra (and women's Secret), in particular, is one of the most well-respected skis among hard chargers, with a sturdy, fast, and powerful personality that excels all over the mountain. Other favorites include the Blaze, a mixed resort/backcountry design with an approachable build and price point, and Kendo, a classic East Coast all-rounder that's at home on groomers but can hold its own in the back bowls or on the occasional sidecountry run.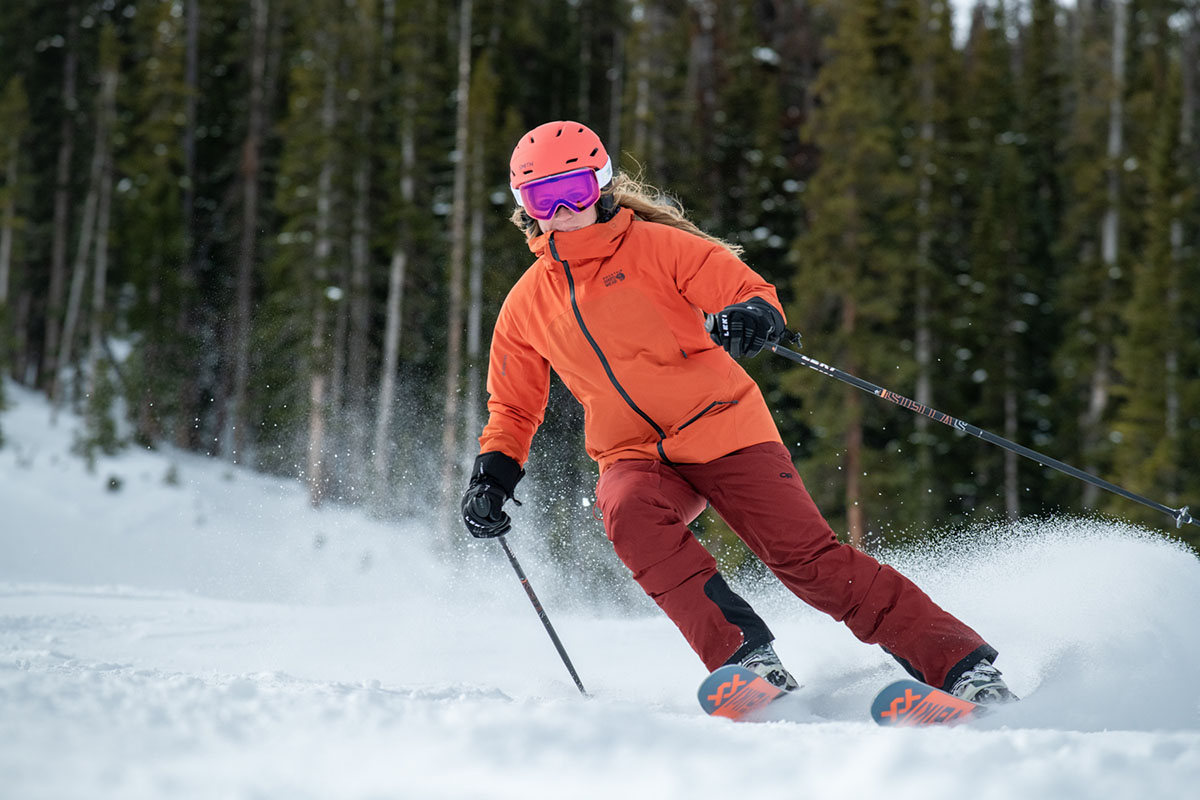 Volkl has a reputation for creating carving skis that hold an edge nicely (even among their wider models), and they're known for their durable and reliable builds. However, the tradeoff is that many of Volkl's designs—including the aforementioned Mantra and Blaze—take some effort to control and often require a capable pilot, so true beginners will likely find them hard to manage, and especially in firm conditions. The umbrella MDV brand also includes binding manufacturer Marker and ski boot maker Dalbello, which are two of the top companies in their respective fields.
Location: Treviso, Italy
Popular models: Enforcer and Santa Ana
What we like: Excellent quality and some of the most well-rounded designs on the market.
What we don't: Pretty modest lineup overall.
Nordica began as a ski boot manufacturer in the late 1930s, but the brand has since developed an impressively well-rounded collection of skis (boots are still a big part of their business). Their lineup is pretty modest overall compared to the brands above—at the time of publishing, they offer seven models including one race, two on-piste, two all-mountain, and two freeski designs. But these numbers don't tell the whole story: Nordica's sticks are well-built, durable, and a great value for what you get.
We've had the Enforcer (and women's Santa Ana) ranked as a top choice in our all-mountain ski round-up for years running. The primary reason: versatility. This ski is about as well-rounded as they come, with a do-everything personality, poppy and responsive nature, and natural and predictable performance across a wide variety of terrain. We've been skiing the Santa Ana for the past three seasons and have very few complaints (for reference, we primarily ride at resorts in the Mountain West and occasionally in the Colorado backcountry). For intermediate to expert riders looking for one ski to do it all, the collection is simply hard to beat.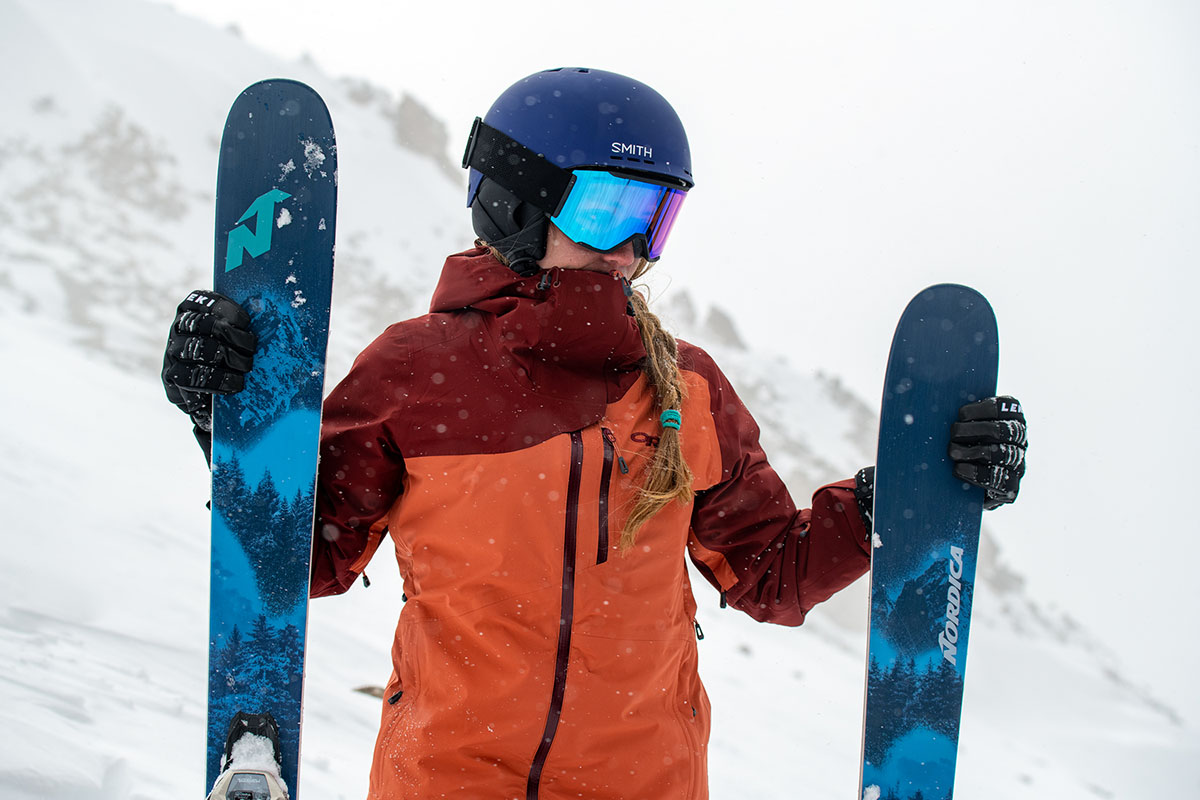 Location: Kennelbach, Austria
Popular models: Kore and V-Shape
What we like: Out-of-the-box thinking and unique constructions.
What we don't: There are some inherent tradeoffs in pushing the boundaries.
Skis were made of all wood in the 1950s, but aeronautical engineer Howard Head felt that metal—which he used in designing aircraft components—would boost performance by increasing durability and turnability. He was right, and within a decade, Head had positioned itself as one of the leading ski manufacturers in the U.S. More recently, Head skis have been found under the feet of top World Cup and Giant Slalom racers, with a number of gold medals to their name. And within the wider ski market, Head remains a competitive brand that continues to innovate year after year. 
Head's Kore series, in particular, made waves at its release with an experimental-looking construction. Rather than a traditional plastic topsheet, the Kore uses a polyester fleece material, which results in a notably lighter-weight ski that still manages to retain excellent stiffness and high-speed stability. Now in its second iteration, the latest Kore is even smoother and poppier than the original, and Head rounded off the top to reduce the risk of chipping. The ski still shows scrapes and scuffs more readily than plastic designs, but that's mostly a cosmetic complaint (see our in-depth review of the 2022 Kore 93 here). In addition to their all-mountain collection, which also includes the on-trail-leaning V-Shape series, Head also has an extensive lineup of racing designs and more groomer- and hardpack-friendly options.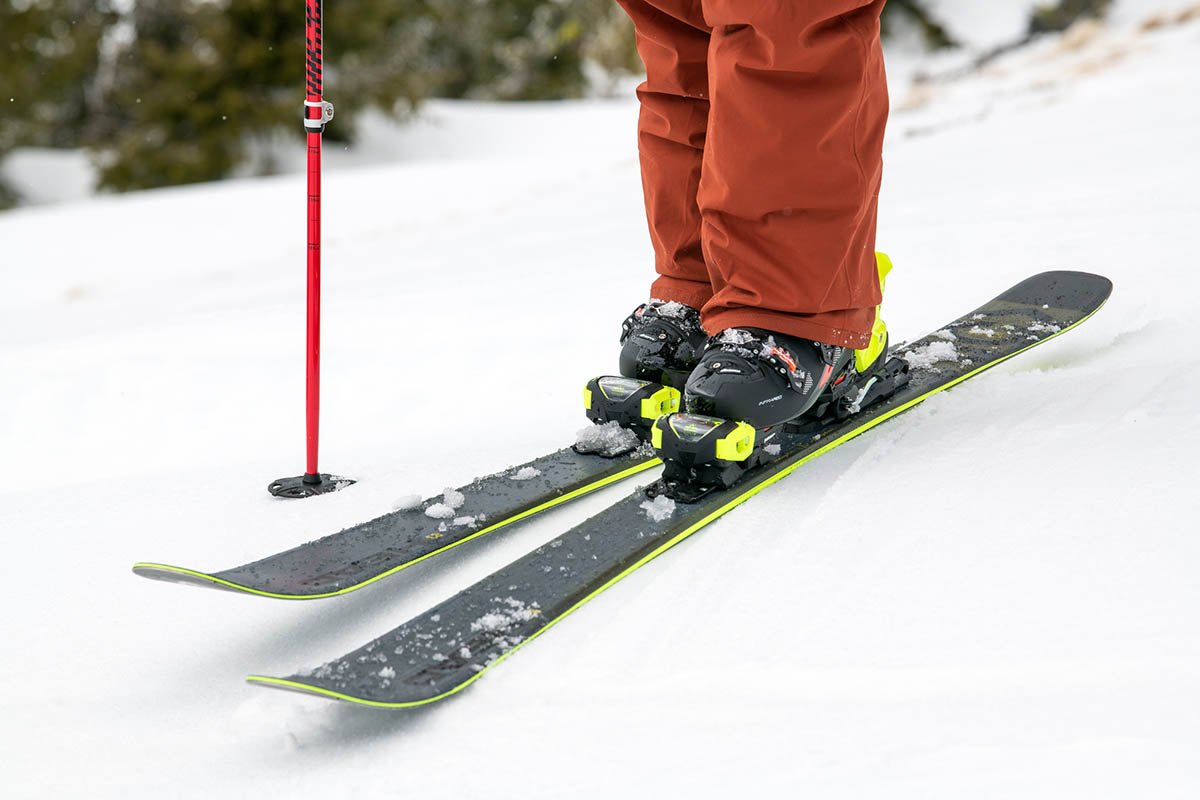 Location: Annecy, France
Popular models: QST and S/Force
What we like: A well-rounded outdoor brand with a rich heritage in skiing.
What we don't: Touring collection isn't a standout (although their bindings are). 
Unlike the companies above, Salomon is a do-everything brand that covers a wide range of outdoor sports and gear, from hiking and running footwear to Nordic skiing and snowboarding equipment. They also sponsor some of the top endurance athletes in the world, including Killian Jornet (a top mountain runner and ski mountaineer) and Mira Rai (a competitive trail runner). On the ski side, Salomon has a rich history in both alpine and backcountry travel, and their current collection is among the most complete on the market.
Salomon's flagship freeride/all-mountain design is their popular QST, which provides excellent floatation in a playful, responsive package. And their Stance all-mountain ski and S/Force are sturdy performers on hardpack, with great energy for carving and impressive stability at speed. Out of bounds, their MTN collection nicely balances up- and downhill capabilities, although Salomon's backcountry expertise comes across more clearly in their bindings, including the revolutionary S/Lab Shift MNC and lightweight MTN Pure, both of which earned top spots in our backcountry ski binding round-up this season.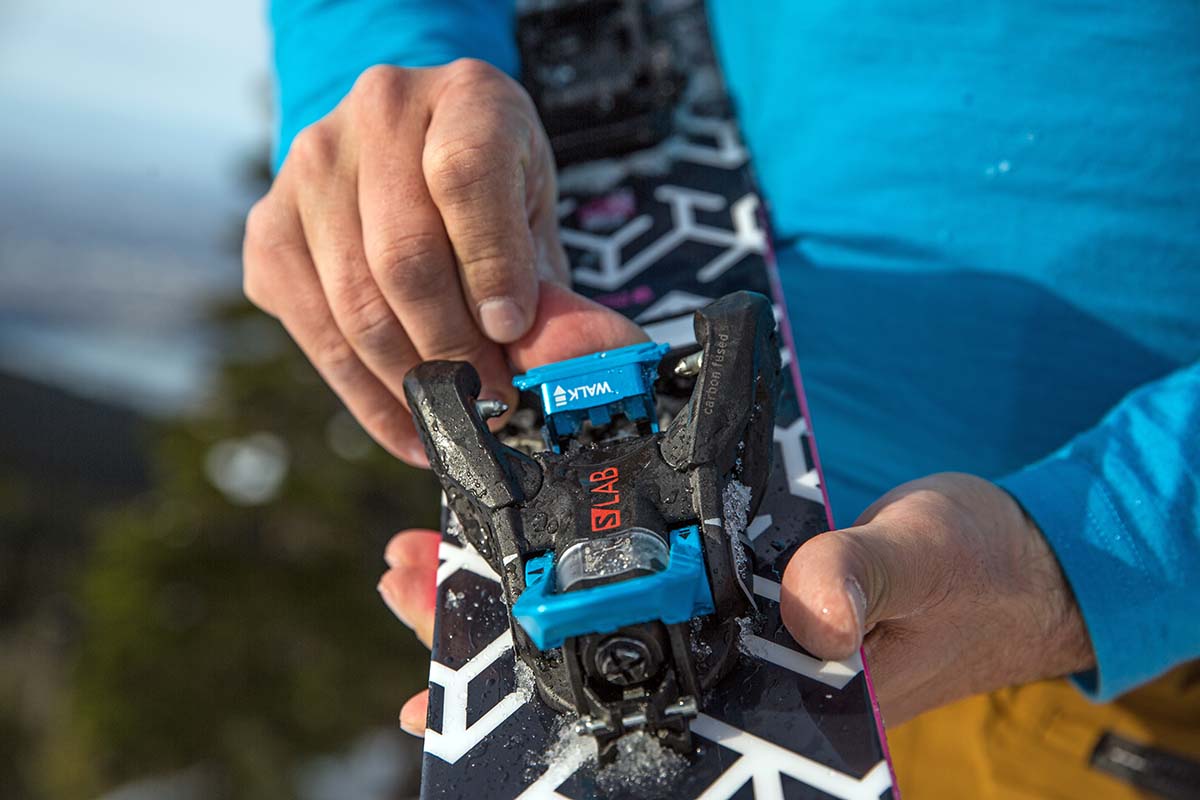 Location: Salt Lake City, Utah
Popular models: Pagoda and Pagoda Tour
What we like: The crème de la crème for committed backcountry enthusiasts.
What we don't: You pay a serious premium for the DPS name.
Considered the gold standard among backcountry skiers, no other brand comes close to matching the cachet of the DPS name. These skis are some of the most premium on the market: they're beautifully crafted with simple but elegant topsheet designs, utilize top-end materials and unique constructions that use varying layers and stiffnesses of woods and carbon fiber, and offer excellent performance in powder (no surprise given they're based in Utah). For those looking for the ultimate combination of looks and soft-snow capabilities, DPS is hard to beat.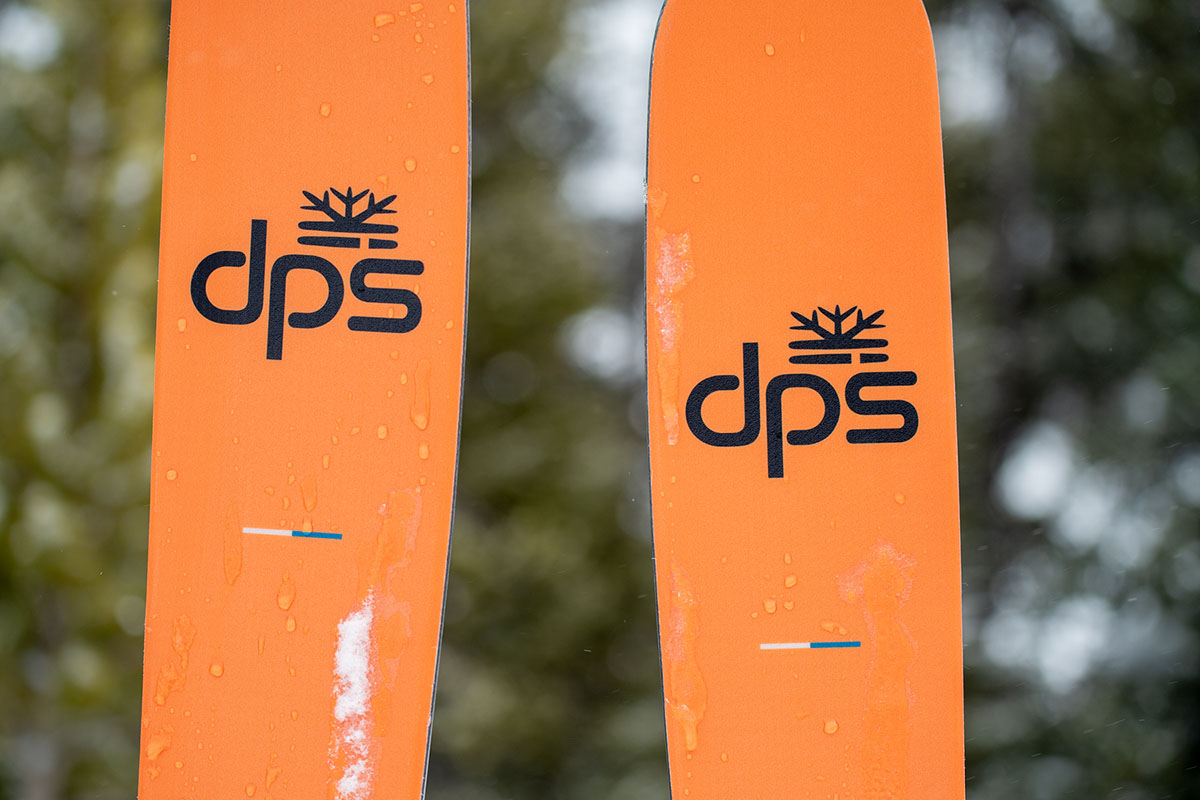 Far and away, the biggest barrier to entry is cost: DPS skis don't come cheap, with many of their designs checking in around $1,300 (including the Pagoda and Pagoda Tour collections). But you get what you pay for here: the brand isn't shy about experimenting with cutting-edge constructions and materials, and their refinement and quality are backed by years of R&D. In the same vein, DPS offers a unique alternative to waxing in their Phantom Permanent Waxless glide, a one-time base treatment (the kit will run you $100) designed to increase glide and eliminate the need to wax your skis.
Location: Salzburg, Austria
Popular models: Vantage, Backland, and Maverick
What we like: A quality lineup from racing to backcountry.
What we don't: Many of their on-trail and all-mountain designs aren't beginner-friendly.
Atomic is credited with creating the first powder ski in 1988 (the aptly named Powder Magic), but the Austrian brand's current offerings run the gamut from racing designs and on-piste skis to ultra-wide touring and freeski models. The Maverick slots in as the company's all-rounder: ranging from 86 to 100 millimeters in width, this ski has widespread appeal for a range of ability levels and terrain, and the lightweight and surprisingly low-profile construction (with added reinforcements in key areas) and versatile shape make it a quality performer all over the mountain. 
In general, Atomic's all-mountain and on-piste designs are best in the hands of hard chargers: the Redster is a high-speed, race-inspired ski, and the "Ti" variations of the Vantage are extremely powerful (but also unforgiving) relative to their weight. In addition to skis, Atomic pumps out a quality lineup of boots, bindings, poles, helmets, goggles, and more. It's worth noting that despite their shared ownership with Salomon (under the umbrella company Amer Sport Group) and crossover in branding with products like the Shift, STH2, and Warden bindings, Atomic's ski and boot divisions function independently.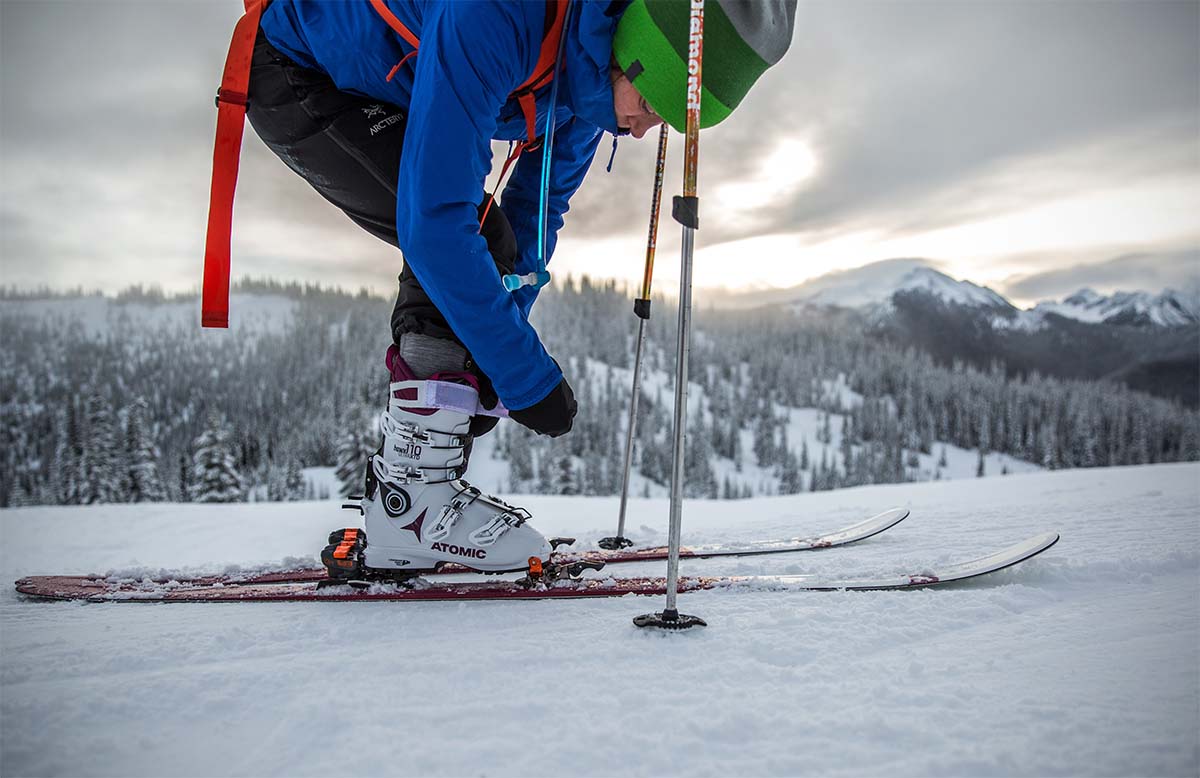 Location: Chamonix, France
Popular models: Corvus and Navis
What we like: Bold, attractive designs with do-it-all intentions.
What we don't: Skis can be tricky to track down, but availability is improving.
Situated in the heart of the French Alps, Black Crows is a relative newcomer to the U.S. market but has quickly garnered a lot of attention among committed riders. Started by pro freeskiers Camille Jaccoux and Bruno Compagnet in 2006, the goal was to build a do-everything ski that could handle variable terrain and withstand high-speed turns and sudden changes in direction. The result was the Corvus, which remains a staple in Black Crows' lineup today and an excellent performer on the downhill.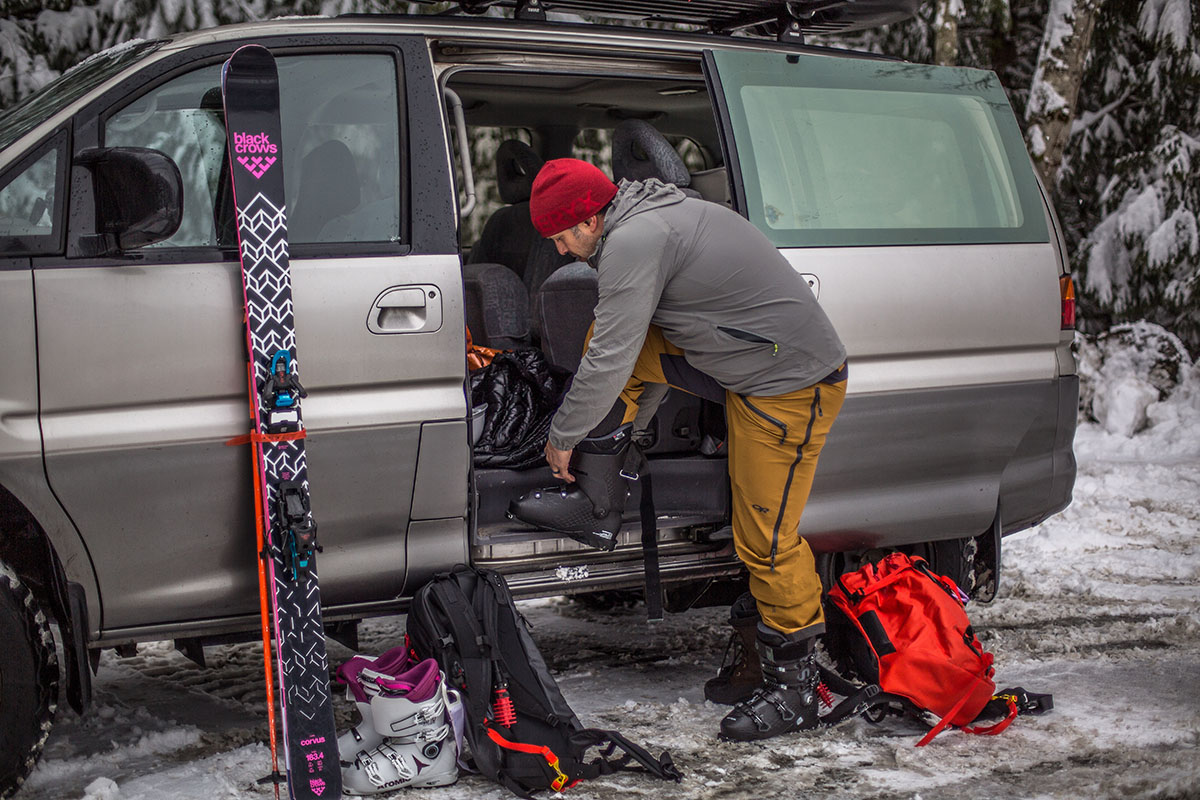 Black Crows is a decidedly modern brand, with contemporary shapes and designs that appeal to a younger crowd than many of the brands above. And the après culture is strong: each year, the company hosts the Chamonix Unlimited Festival, a week-long event that started as a small celebration for the brand but has evolved into a popular music festival that attracts thousands. Given their recent entrance into the U.S. market, Black Crows' skis can be tricky to track down, and especially mid-season, although availability is improving year after year (and major retailers like Evo and Backcountry now carry their designs). 
Location: Seattle, Washington
Popular models: Sick Day and Vision
What we like: A fun, freestyle-first company with a commitment to innovation.
What we don't: Not a do-everything brand.
Owned by K2 and repped by pro riders including Tom Wallisch and Eric Pollard (although Pollard recently moved on to start a new ski brand), Line Skis embodies modern freeride and freestyle skiing. With a vision to make skiing "more funner," founder Jason Levinthal—who also started J Skis and Full Tilt boots—began creating skiboards in his garage in upstate New York in 1995. This quickly evolved to more all-mountain-friendly designs, and Line filed the first patent for twin-tip skis two years later. Since its inception, the brand has maintained its fun, hip personality and remains a staple in the freeskiing world.
Line's Sick Day 88 is our favorite budget design in the all-mountain category: this ski undercuts the competition by hundreds but offers a playful, lightweight feel for everyone from beginning to advanced riders. True to form, they also have a handful of park-ready options for those who prefer rails and jumps, including the popular and namesake Tom Wallisch Pro. New riders and skiers who primarily stick to groomers should look elsewhere, but Line skis are a great match for those who want a playful experience both on- and off-piste.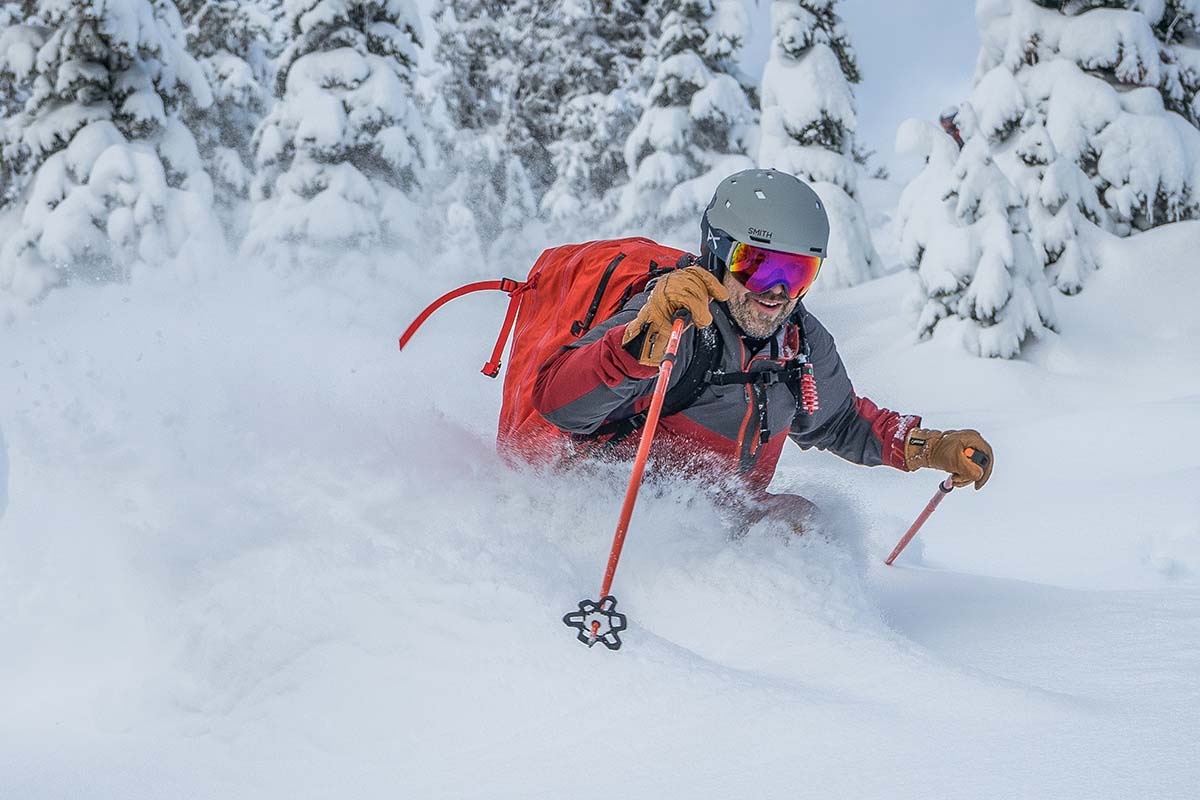 Location: Park City, Utah
Popular models: Tracer and ARV
What we like: Rider-owned and -operated brand with competitive freeski designs. 
What we don't: Not as well-rounded as many of the companies above.
Like Line Skis, Armada is a modern brand with a clear focus on freeskiing. This rider-owned and -operated company hasn't been around for long (they were founded in 2002) but has quickly established itself as a leader in this up-and-coming category. One of the brand's standout athletes and founding members is Tanner Hall, a multi-year Winter X Games champion and a highly accomplished slopestyle and superpipe rider known for his ambitious tricks both in the park and in the backcountry.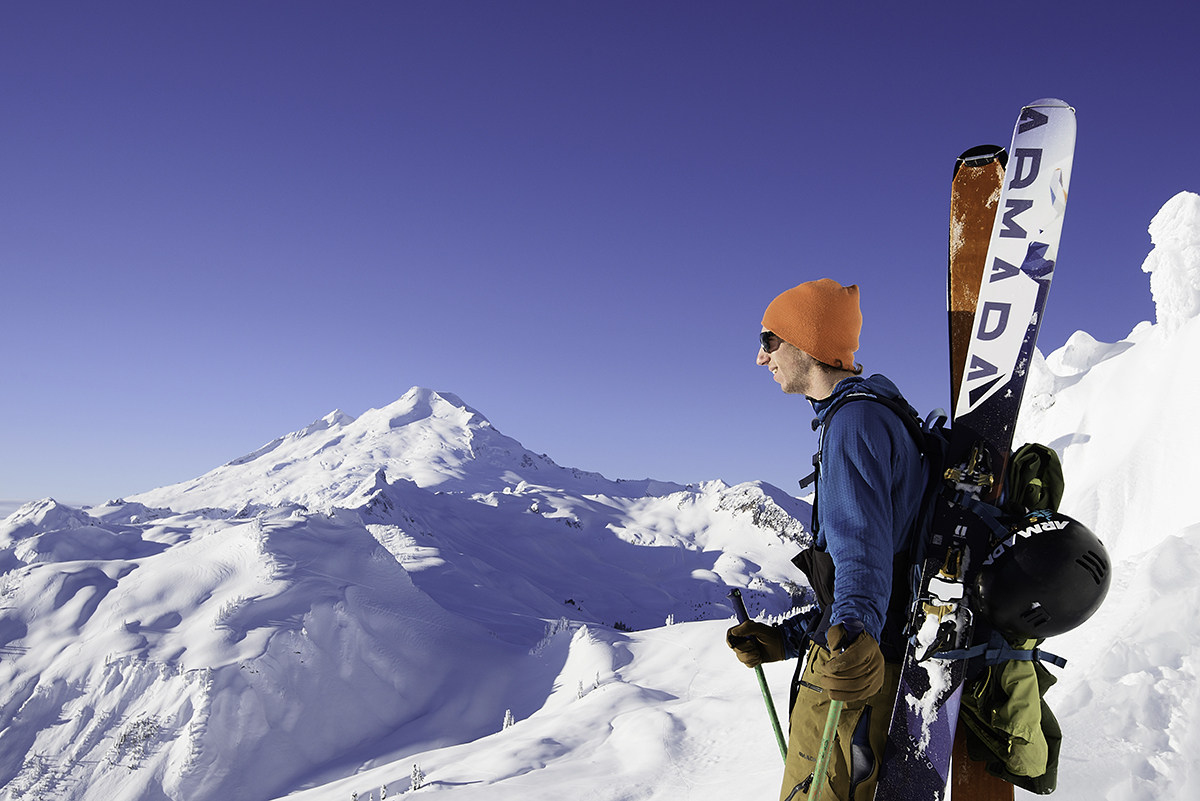 Armada's Tracer 98 (and women's Trace 98) is our top pick for those who split their time in and out of bounds. In short, the ski offers great stability on groomed terrain but is light and soft enough to control in powder. And their ARV series is a popular choice among park rats and those who like to hit natural features off-trail. These skis certainly appeal to a younger and more freestyle-focused demographic, but the unique topsheet graphics and modern-feeling designs are undeniably fun and playful.
Location: Salt Lake City, Utah
Popular models: Helio Carbon and Helio Recon
What we like: A touring specialist with a long history in backcountry exploration.
What we don't: Decidedly uphill-focused.
Started by Patagonia's Yvon Chouinard in the late 1950s and picked up by former employees in 1989 after filing for bankruptcy, Black Diamond is now a backcountry and climbing juggernaut with a long and storied history in mountain exploration. The brand is fairly new to the ski world, but they've quickly assembled an impressive lineup of skis, bindings, poles, and more. The Helio Carbon 88 ski, in particular, stands out as an exceptional ultralight design and a great match for long treks and ski mountaineering objectives.
Given their newness to the sport, BD's ski collection still is relatively modest, including four core models at the time of publishing. And hard-charging downhillers need not apply: all of the brand's current offerings are decidedly uphill-focused, which comes as little surprise given their heritage, history, and location smack-dab in Utah's Wasatch range. G3—otherwise known as Genuine Guide Gear—is another backcountry specialist with a fairly modest lineup (including four core skis), but we consider BD to be the more popular and well-rounded brand in this category.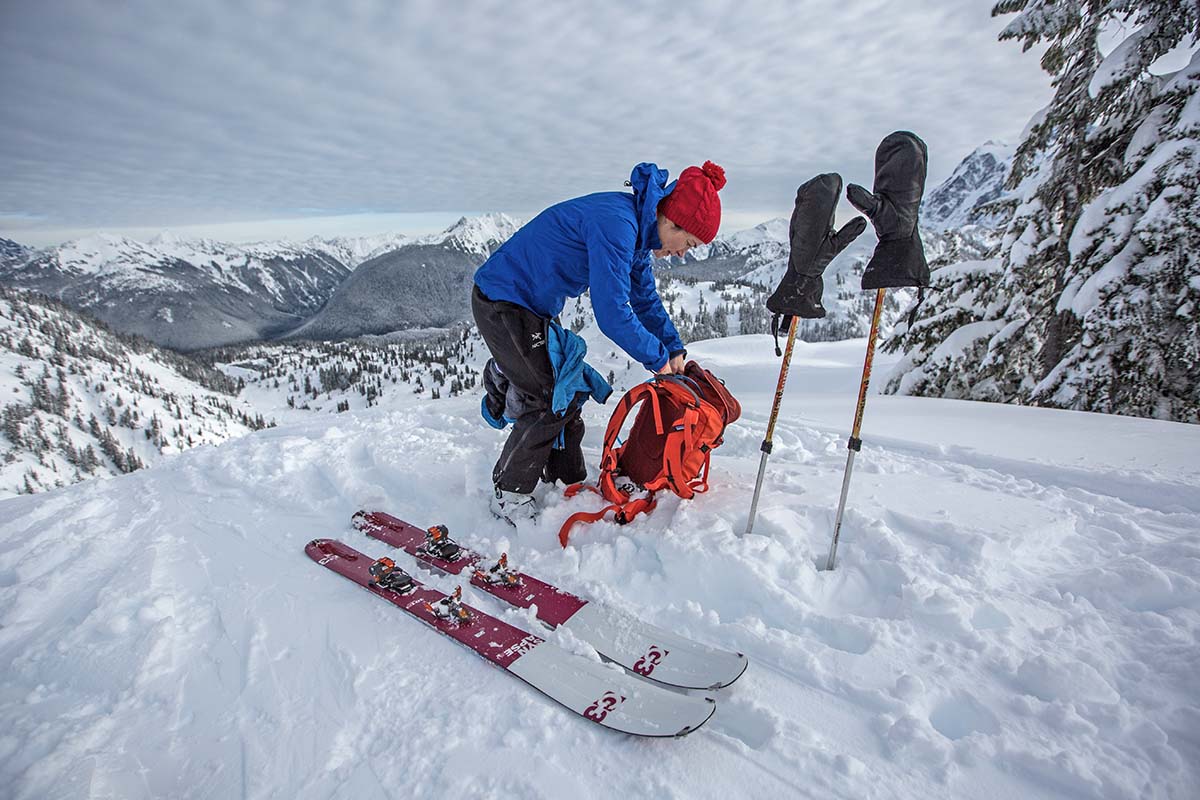 Location: Hohenems, Austria
Popular models: TX and FX
What we like: Incredibly well-built and a top choice among discerning skiers.
What we don't: Like DPS, these skis are very pricey.
Like DPS above, Kastle skis are ultra-premium and some of the most expertly crafted on the market. This brand is a bit of a dark horse in the industry: after a nearly 10-year hiatus and with the help of an investment group, Kastle returned to the ski world in 2007 and began working to bring race technology into their all-mountain designs. One result was their HollowTech tip, which strips away material at the front of the ski to reduce swing weight while maximizing stability, dampening, and edge grip. It's a signature piece in their line and easily recognizable by a brightly colored oval at the front of each ski. 
Along with the top-end materials and construction practices, however, come very steep price tags. DPS still is a slight step up, but Kastle skis cost hundreds more than the competition. Additionally, they can be hard to track down in the middle of the season, and their designs trend a little more toward the all-mountain and big-mountain categories, although the touring-focused TX line is well-respected among advanced and expert riders. Budget-conscious skiers and those new to the sport will want to look elsewhere, but the performance and build quality are top-notch.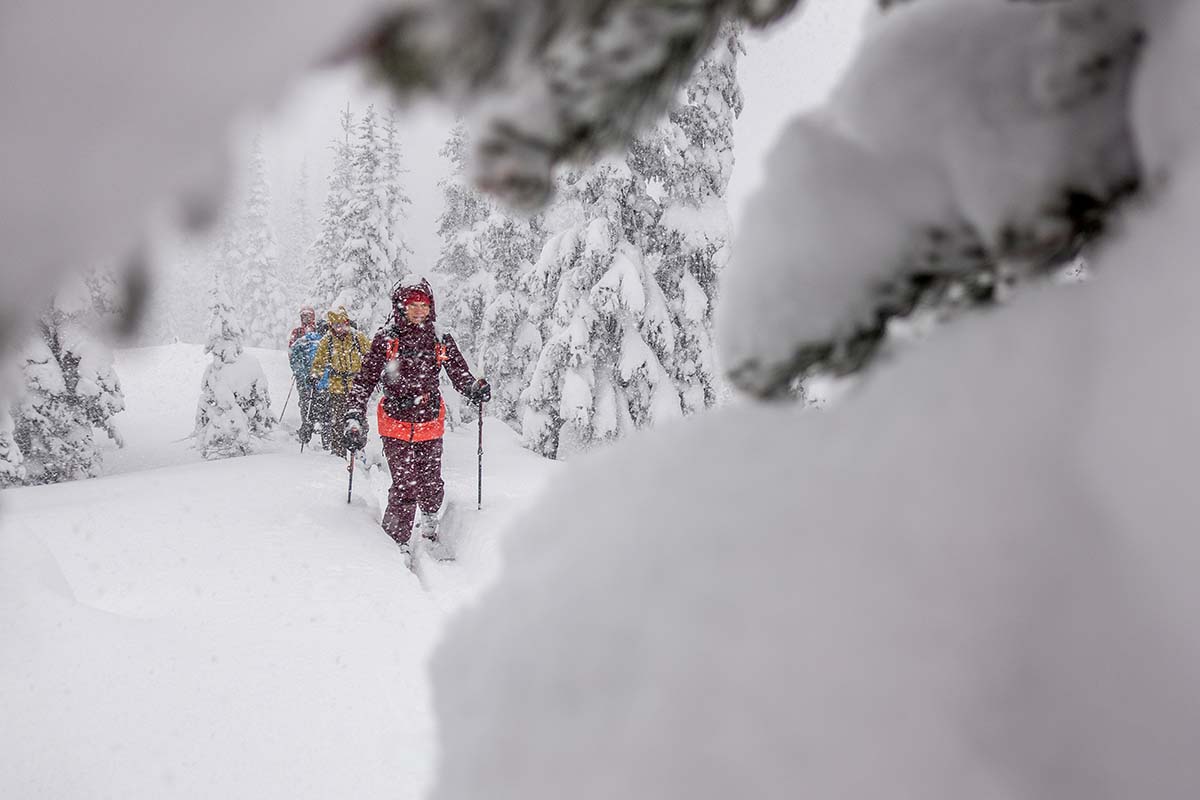 Location: Golden, Colorado
Popular models: Natural and Nomad
What we like: Beautiful graphics, excellent quality, and generous warranty.
What we don't: Limited-edition designs sell out quickly.
Take one look at Icelantic's skis and you'll immediately recognize that there's something a little different going on here. Many designs we see on the mountain are fairly unassuming in appearance, but Icelantic artist Travis Parr uses inspiration from nature to create beautiful, colorful topsheets that stand out among the competition. These sticks are handmade in Colorado, excellent performers on- and off-piste, and made using high-quality materials and hardwearing constructions. Value is another big selling point: the company offers a generous three-year warranty, along with prices that consistently undercut the competition.
Icelantic's Natural (and women's Mystic) is one of our favorite backcountry designs: it has a solid build that holds up well over time, floats extremely well (we like the 101mm version best), is easy to manage and flick around in tight spaces, and is fairly forgiving overall. For areas that get less snow and skiers who prefer groomed terrain, their Pioneer and women's Riveter collections are also good performers. Icelantic only makes a handful of each design, meaning these skis tend to sell out quickly each year. But if you plan ahead, you won't be disappointed.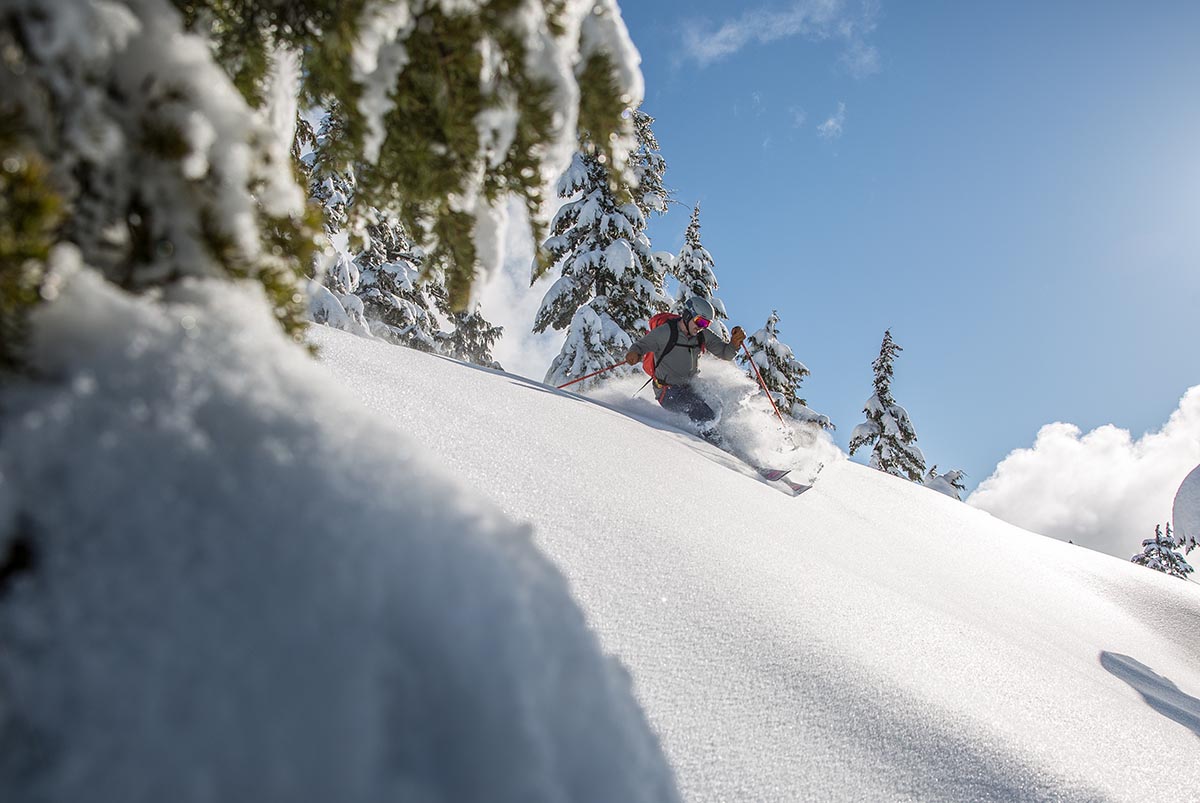 Location: Begunje na Gorenjskem, Slovenia
Popular models: Ripstick, Wingman, and Ibex
What we like: An innovative brand whose skis strike a nice balance of fun and performance. 
What we don't: Playful designs sacrifice some stiffness and stability.
Elan flies a little under the radar in the U.S. market, but this Slovenian brand has been innovating since the 1940s. Key developments include popularizing screen-printing technology in the 60s to produce their topsheets, debuting "extreme sidecut" for their GS race skis in the 70s (picture an hourglass shape with a wide tip and tail and very narrow waist), and creating the world's first foldable ski (the Voyager) using their unique Connect technology. In fact, Elan is the first ski brand to open their own museum, which is dedicated to showcasing the brand's heritage and manufacturing innovations—both in the ski industry and elsewhere (Elan has also produced sailing vessels, airplanes, gym equipment, and more). 
Elan's current ski lineup consists of a relatively small but quality assortment of playful and quick-reacting models. The Ripstick 96 is a prime example: the ski's freeride-focused build floats well in soft snow but remains snappy in tight spaces, and added camber along the inside edge and rocker at the outside (there are dedicated right and left skis) make it smooth and easy to control. As with most skis in Elan's collection, the Ripstick isn't the stiffest, fastest, or most off trail-ready option, but it's a super fun and well-rounded design. Their groomer-focused Wingman and uphill-oriented Ibex lines are a similar story, hitting a nice balance between fun and performance. Those looking for top-end stability and precision for high-speed carving or plowing through crud will want to check out burlier (read: heavier) options, but the fun factor is hard to beat.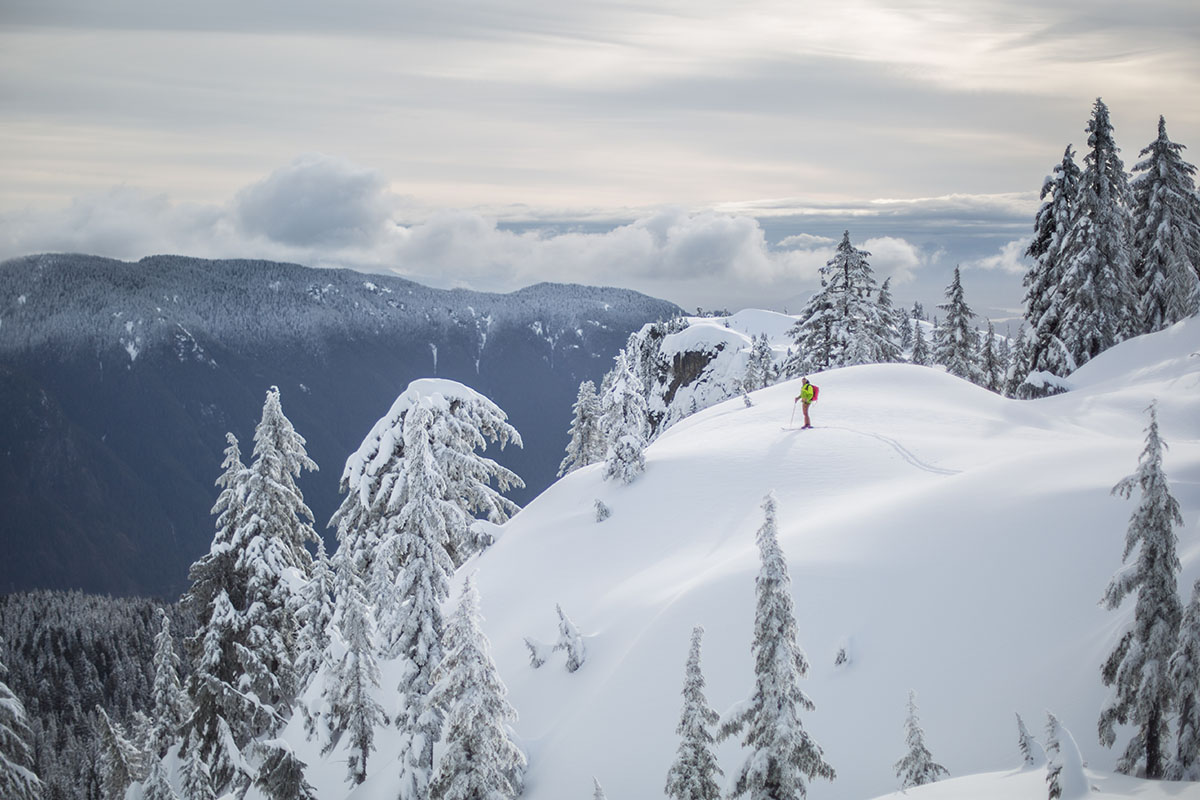 Cottage Ski Brands
The companies above represent some of the biggest names in the ski industry, but there are a host of smaller shops that push out quality, competitive designs. In general, these brands build skis that excel in their respective areas, taking terrain and average snowfall into consideration. A few of our favorite shops include Wagner Custom Skis out of Telluride, Colorado, Praxis Skis in Lake Tahoe, and Prior Manufacturing in Whistler, B.C. Each of these brands offers varying levels of customization for riders who know exactly what they want in their skis—from the topsheet to the core materials, shape and length, wax finish, and more. Vermont-based J Skis is another standout and sells limited-release, handmade designs with fun graphics and premium materials. Again, the brands above are well-known and revered for a reason, but the cottage industry is thriving within the all-mountain and backcountry ski worlds, and there are some excellent models to consider.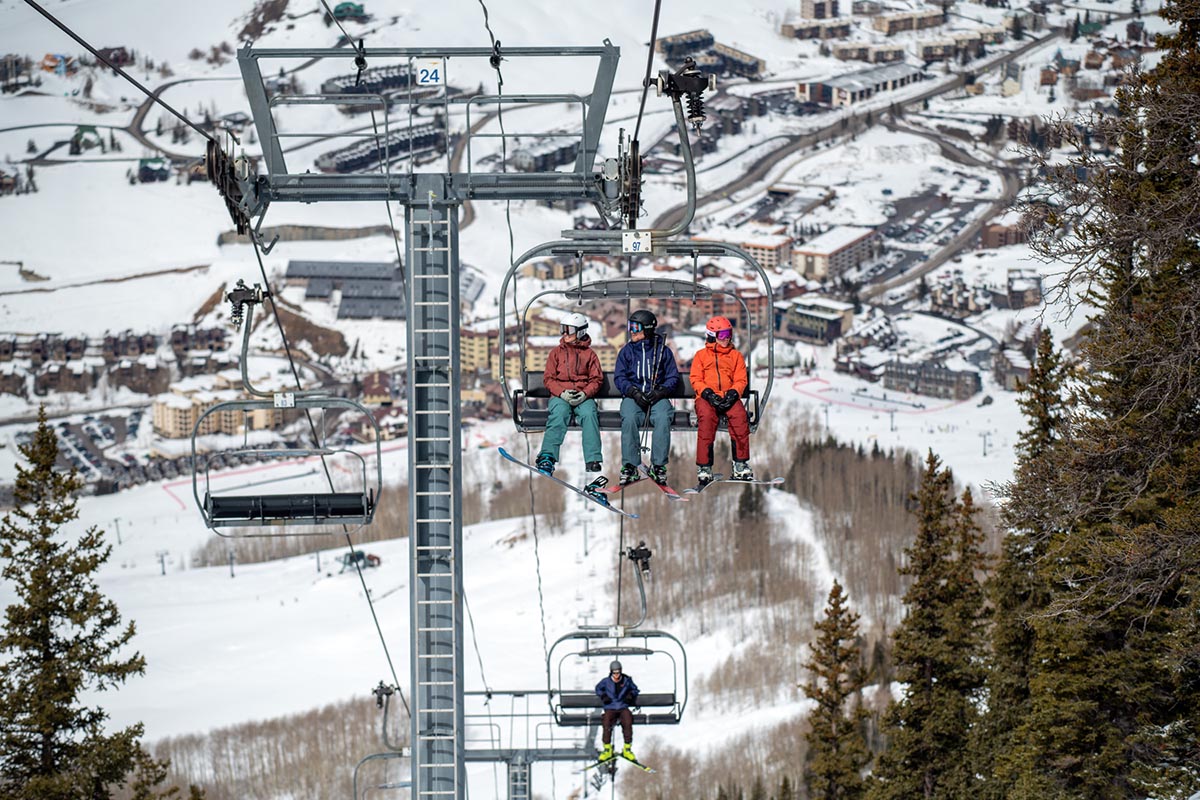 Where to Buy Ski Gear
It's no secret that skis are expensive, but purchasing from a reputable and well-known retailer can take some of the stress out of the buying process. To help, we've put together a list of the 5 Best Sites to Buy Skis and Ski Gear, taking into account how easy their sites are to use, the amount of ski gear they offer, shipping costs, return policies, and the quality of their customer service. Evo.com is our favorite retailer for its extensive collection of touring and downhill designs, easy-to-use interface, and comprehensive sizing and buying guides. Backcountry.com also sells a nice array of powder and alpine touring skis, and REI Co-op is known for their excellent return policy and member benefits (although their ski selection is fairly limited compared to Evo and Backcountry). As a final note, we always recommend supporting your local ski shop when possible. Talking to someone in person, seeing the gear in-hand, and even demoing when possible can be a valuable way to pin down exactly what you want.
Back to Our Top Ski Brands  See Our Ski Gear Reviews
Learn More About Ski Gear