Fall is our favorite time of the year to hike: the temperatures have cooled off, the bugs are mostly gone, and the colors in the mountains are incredible. For this shoulder season, we always make some adjustments to our hiking gear kit, adding a little bit of warmth and protection for the changing conditions. Below are five fall clothing and footwear ideas for hikers, tried and tested with our countless hours on the trail during all seasons. For more information on hiking gear in general, see our hiking gear reviews.
 
1. Footwear: A Little Extra Protection
In the dead of summer, you can get away with minimal hiking footwear—we often see people wearing trail running shoes or even less. In the fall, however, the trail may be a littler wetter and rougher, and your pack may be a little heavier with some added layers. Accordingly, we like to bump it up to lightweight hiking shoes or hiking boots that offer more support and protection. Waterproof models are good for those who live in rainy and wet climates, while non-waterproof shoes offer better breathability and are a great match for hikers that frequent mostly dry trails. And for maximum protection when snow starts to fall or if you anticipate hiking in inclement weather, consider pairing a waterproof design with a set of gaiters (more on these in "Other Considerations" below).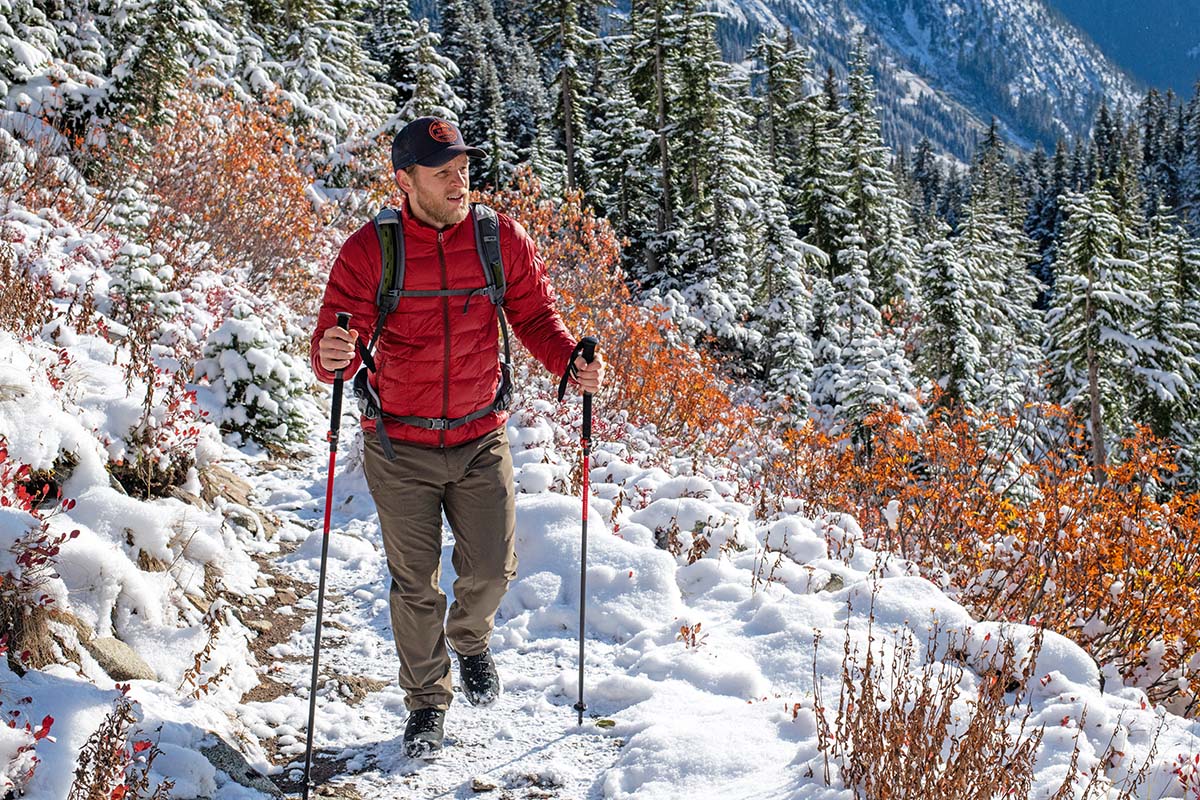 For a great fall hiker, you can't go wrong with the Salomon X Ultra 3 GTX. Salomon dominates our hiking footwear rankings in general by offering the best combinations of comfort, weight, and protection, and this is our favorite lightweight shoe of 2021. The X Ultra 3 has the feel of a running shoe but with more durability and support, and the Gore-Tex liner will give you extra peace of mind should you encounter a wet and muddy trail. Note: Salomon released the newer X Ultra 4 for 2021, which has a more modern look, revised lacing system and chassis, and slightly wider fit in the toe box (read our in-depth review here). Another solid lightweight option is the Merrell Moab 2 (also sold in both low-top and mid-height versions), a super comfortable pick for day hikers but with a bit less traction and stability than the Salomon. And if you prefer the extra protection of a higher-cut model, see our article on the best hiking boots.
 
2. Thicker Hiking Pants
Earlier in the year, the name of the game is staying as cool as possible and that includes your hiking pants. When the temperatures are hot, we love a lightweight pant that barely feel like it's there. In the fall, it's not a bad idea to choose hiking pants with added thickness and wind blocking ability but that still move well on the trail.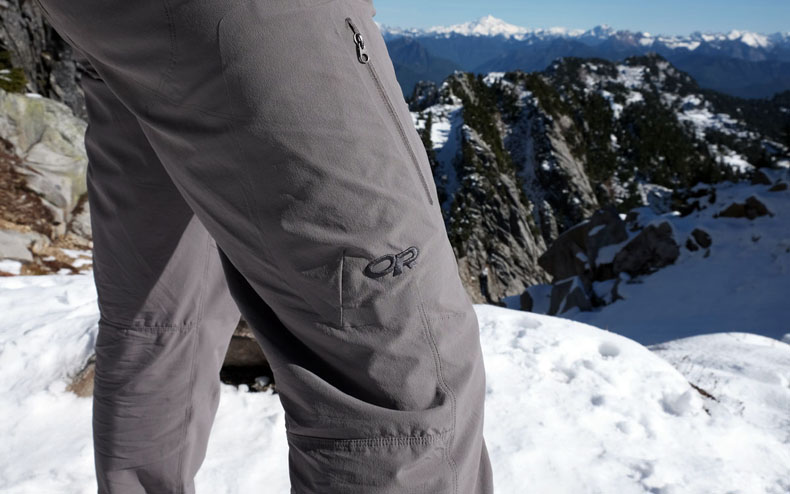 The men's prAna Stretch Zion and women's prAna Halle are our top overall hiking pant picks and thick enough for moderate fall conditions. Importantly, they cut wind decently well, offer excellent range of movement, and look good around town too. For short fall hikes in chilly conditions or if you plan on bushwacking, we like the Fjallraven Vidda Pro. This pant is uniquely made with a G-1000 polyester/cotton blend, which we were skeptical about at first until trying them on. In the end, the Vidda Pro is tough and warm without compromising much in the way of comfort. We did overheat in the pant on a hot summer hike, but it makes a great fall companion. More at the performance end of the spectrum, in cooler alpine conditions we've used a true softshell pant like the Arc'teryx Gamma LT, which is tough and mountain-ready with great stretchiness. And with any pair of hiking pants and particularly thinner models, you can always wear a thin wool baselayer underneath for added warmth (more on baselayers below).
 
3. Synthetic Outer Layer
Synthetic jackets are great for typical fall conditions in most of the country. They breathe much better than down and continue to effectively insulate when wet, making them an ideal outer layer for chilly (and sometimes damp) weather. Based on our experience, a lightweight synthetic jacket is ideal for low-output activities in temperatures ranging from 40 to 60 degrees Fahrenheit (5 to 16 degrees Celsius), which again is perfect for this time of year. The main downsides are weight and packability: synthetic jackets are heavier than their down counterparts and don't stuff down as small. But for most hiking in the shoulder seasons, the tradeoffs in breathability and wet-weather performance are worth it. If you run particularly cold, consider throwing a lightweight down jacket in your pack to put on during breaks along the trail. On the flip side, if temps are moderate and you just need a thin layer to stay warm, consider an insulated vest or breathable fleece jacket.
Our favorite synthetic jacket is the Arc'teryx Atom LT: it's warm, does a nice job blocking light wind, and is as comfortable as they come. People who really are moving on the trail or who want a better crossover piece for activities like climbing may appreciate even better ventilation from the cozy Patagonia Nano-Air or The North Face Ventrix, both of which have more breathable fabrics. Either way, a synthetic jacket can be worn as your outer layer in the fall, and unlike down, you shouldn't have to take it off unless the temperature really warms up. Most synthetic jackets also have a DWR treatment for added protection in light to moderate precipitation.
 
4. Merino Wool Baselayers
Getting into October at any kind of elevation, you may want a top and/or bottom baselayer for added warmth. Merino wool is the clear material of choice: it's lightweight, super comfortable, won't soak up perspiration and water like cotton, and doesn't much absorb stink either (nothing is perfect, but it does a pretty darn good job). The issues with merino are that it's expensive and won't last forever (make sure to wash in cold water and line dry if possible), but we still think it's worth it.
A number of gear companies make merino wool baselayers, and we've had good luck with the Icebreaker 175 Everyday Crew. You can wear this as a standalone piece or under another shirt, and if you add your synthetic jacket above, you'll be in great shape when things really cool off. For a cheaper non-merino option, Patagonia's Capilene collection is legendary and we've been wearing it for years. A shirt like the Long-Sleeved Capilene Cool Trail Shirt will provide some added warmth at a reasonable price, with thicker midweight and thermal-weight options available as well. The upside to Capilene is that it should last longer than merino—we've had Capilene shirts that are six years old and counting and have gotten heavy use. Thin merino is more likely to last a couple seasons unless you rarely take it out of your closet.

5. A Simple Beanie
Heat escapes from your head, and the baseball hat that blocks sun in the summer won't help you much in the fall. At the same time, we like to save the heavyweight hats for skiing in the winter and in the fall opt for a lighter weight beanie made from merino wool. Like the baselayers described above, this type of hat will give you excellent warmth for the weight without soaking up a ton of sweat and smelliness. You'll find it particularly helpful in cool temperatures when you stop hiking and start losing heat quickly.
For a fall hiking hat, you can't go wrong with the Smartwool Merino 250 Beanie. It's fairly straightforward but checks all the boxes: the hat is soft, warm, and durable. We've used it for running on cold days and fall hiking on multiple occasions, and it works well for a wide range of uses and activity levels. Another slightly thicker option is the Patagonia Brodeo Beanie, which uses recycled wool and nylon with a ribbed cuff for a snug fit around your head. It too is a great lightweight wool beanie, but the Smartwool is cheaper and easier to adjust based on head size, so we give the nod in that direction.

Other Fall Gear Considerations
Rain Jacket or Hardshell
No matter the time of year, hikers need a good rain jacket. The best choice depends on your budget and how you intend to use the shell (i.e., will it double down for everyday use?), but a great value pick is the Marmot PreCip Eco. It's not a super-lightweight or technical piece but should keep you dry and look good in the process. Because of the reasonable cost, it's the jacket that we recommend most to friends and family. For a step up in both price and performance, Patagonia's Torrentshell 3L offers better all-around protection, breathability, durability, and comfort. For a full list of options including true technical pieces, see our article on the best rain jackets. And when the weather takes a more serious turn or you're heading high into the mountains, consider upgrading to a 3-layer hardshell jacket that will breathe better and offer more bombproof protection in the wet.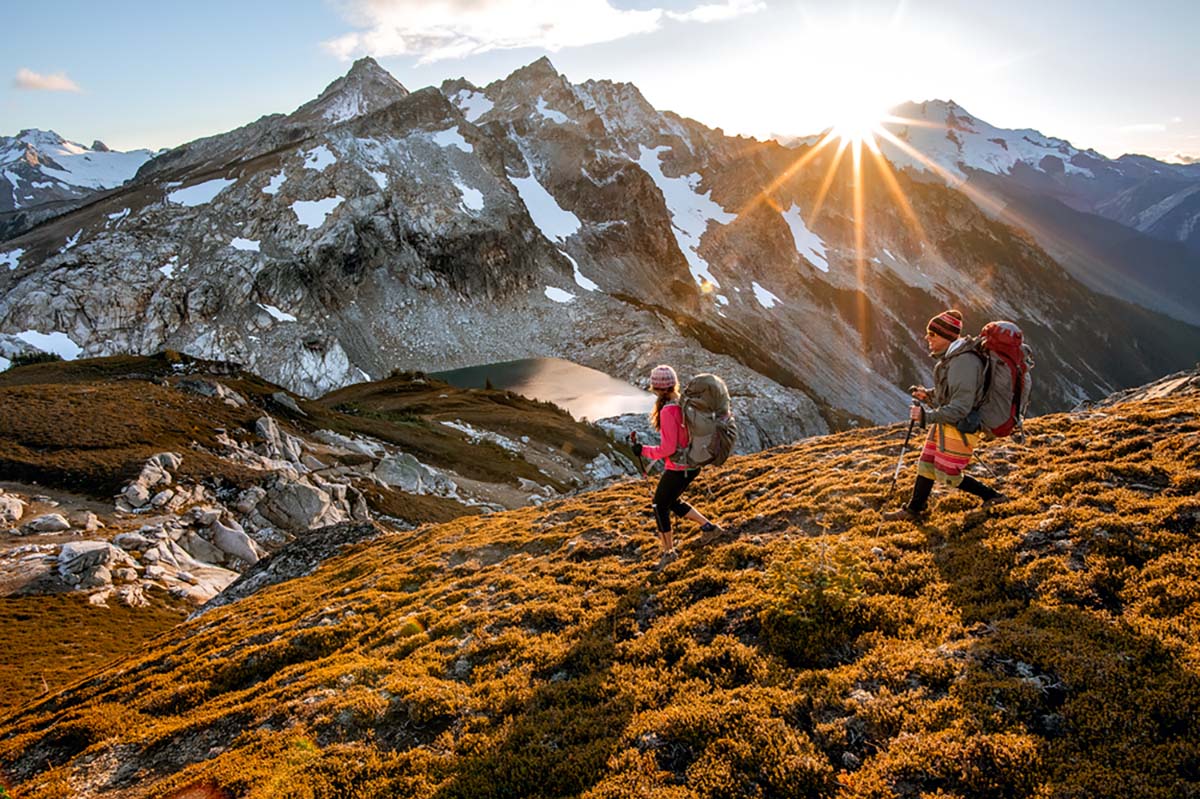 Daypack
Hikers always need a good daypack. In the fall you'll likely have a larger load with more layers, so you may want to increase the capacity of your pack up the 20+ liter range. The Osprey Stratos 24 fits that criteria nicely, and it kept our gear reasonably dry during a recent rainstorm even when forgetting to use the built-in rain cover. If you have any electronics in your bag or don't want to risk getting anything wet, the cover is integrated and easy to use. And the Stratos 24 is extremely comfortable with an advanced suspension and has all the bells and whistles that most hikers need. 

Trekking Poles
We think trekking poles always are a good idea, but they make even more sense in the fall when the trail may be wet and have downed foliage. We've tested a number of poles and like the Black Diamond Trail Ergo Cork best, and a cheaper option is the REI Co-op Traverse, which hits a nice price point ($100) for the occasional hikers. And if you want the lightest-weight option, consider a carbon model like the Gossamer Gear LT5 (for a bump in price). Regardless of which pair you choose, trekking poles will help with balance—particularly on downhills—and save your knees for more years of hiking.

Other Accessories: Gloves, Neck Gaiter, and Socks
In addition to a beanie, there are a few other fall accessories worth considering, including gloves, a buff, and wool hiking socks. Gloves come in a range of thicknesses, but for most fall temperatures, a simple, lightweight option like Black Diamond's Lightweight Screentap Gloves or REI's Merino Wool Liner gloves can easily fend off a chill. On particularly brisk mornings, we also like wearing a buff or neck gaiter to keep our neck and face protected from the cold. And finally, dedicated hiking socks are a must year-round but are especially important as the mercury drops. For true fall temperatures, we recommend a sock with light or medium cushioning, and preferably one that's made of merino wool, which—again—is soft against the skin, insulates even when wet, and doesn't hold onto a stink like synthetic.

Winter Traction and Gaiters
Should you be heading to higher elevations, snow is a possibility even in the early fall months. Colorado, for example, often sees snowfall as early as September in the mountains. If you'll be hiking in these types of conditions, we highly recommend packing winter traction and a pair of gaiters. Our favorite traction devices are lightweight and simple: chain-style Yaktrax are a great option for light snow and ice, while a pair like Kahtoola's MICROspikes provide additional bite on truly rugged backcountry adventures. And for sealing out snow and moisture over your hiking shoes or boots, adding a pair of waterproof gaiters like the Outdoor Research's Rocky Mountain or REI Co-op's Backpacker (both offered in low and high versions) will add a nice dose of protection.

Final Items to Consider
We covered the basics above, but there are several other items that can be helpful on chilly shoulder-season hikes. Many of the products below aren't necessary on short trips from home but can have a big impact on both warmth and comfort on longer outings. For a more comprehensive breakdown of everything you might need while out on the trail, check out our day hiking checklist.
Headlamp
Insulated water bottle for hot drinks
First aid kit
Navigation (map and compass, GPS device, phone app, etc.)
Food and water
Sunglasses and sunscreen
Lip balm
Toilet paper and trowel
Emergency blanket or bivy
Waterproof matches or lighter
Back to Our Fall Hiking Gear Essentials  See Our Hiking Gear Reviews
Learn More About Outdoor Gear