As lightweight gear gains popularity among outdoor enthusiasts, above-the-ankle hiking boots are quickly becoming obsolete. For a major bump in comfort and weight savings, hikers and backpackers are now opting for lightweight hiking shoes and trail runners for everything but the most demanding terrain. But with so many options to choose from, how do you decide which style is right for you? Below we break down the key differences between hiking shoes and trail runners, including weight, support and protection, durability, traction, breathability, and more. For our top picks, see our articles on the best hiking shoes and the best trail-running shoes.
 
Types of Hiking Footwear
Hiking Shoes
Hiking shoes, like the Salomon X Ultra 4 GTX and Merrell Moab 2 Ventilator, are a modern style of hiking footwear similar to a boot, but with a lower cut at the ankle. In general, they offer just as much stiffness and underfoot support as a hiking boot, but without the cumbersome, clunky feel. The generally tough construction—often featuring leather or durable nylon—is built to withstand mile after mile on the trail while offering good protection from obstacles like roots and rocks. Look for generous toe caps, thick outsoles with sharp lugs for traction, and medium-stiff midsoles that keep you isolated from rugged terrain. Many hiking shoes are available in waterproof versions as well, although keep in mind that a low-top shoe (compared to a mid-height boot) is inherently more vulnerable to water entering from the opening at the ankle.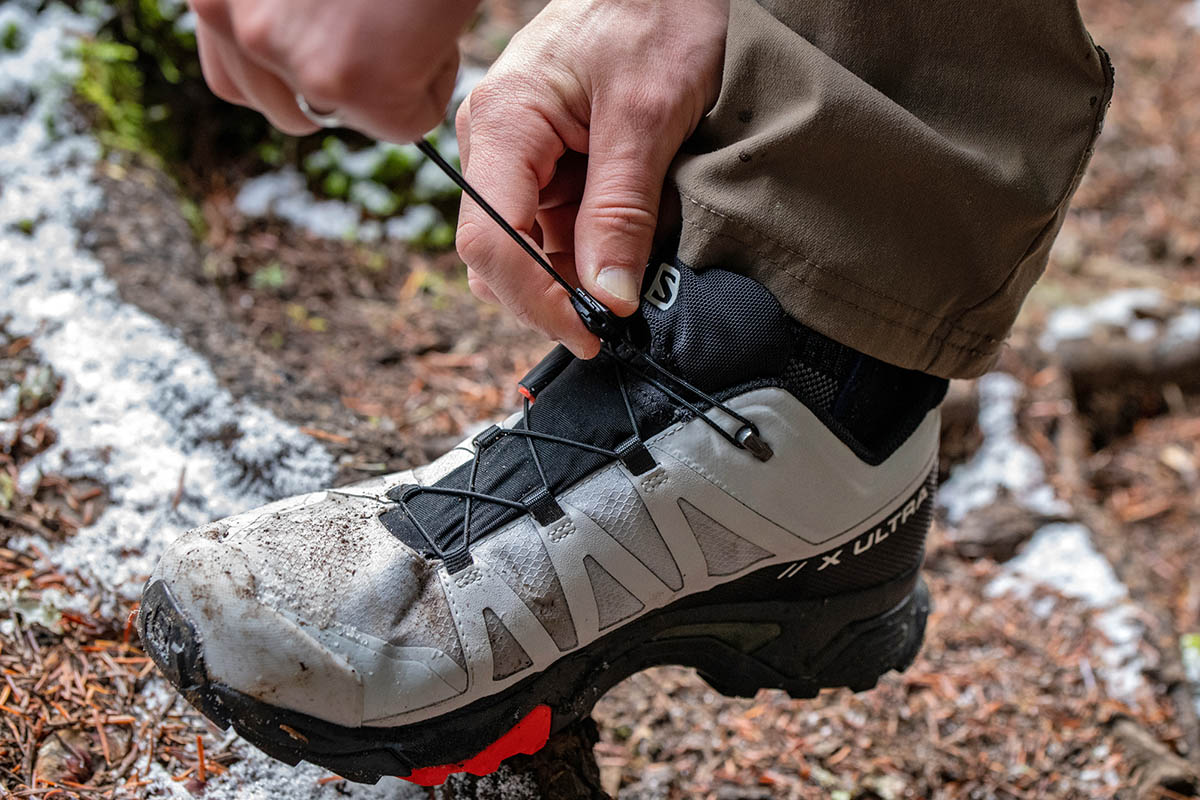 Trail Runners
Trail runners are a style of footwear used by runners frequenting—you guessed it—trails. They're built to allow for light and springy movement, but with the added protection, support, and traction needed for off-road travel. But trail running shoes aren't only used by runners anymore. In recent years, they have been adopted by thru-hikers, ultralight enthusiasts, and even everyday hikers who like to travel fast and light. Some shoes in this category are running shoes first and foremost (like the Brooks Cascadia 16), while others are designed specifically for fast-and-light hiking (but not necessarily running), like the popular Altra Lone Peak 6. Within this broad category, look for low weight, heavy cushioning, stiffer midsoles and beefier toe caps than a standard running shoe (but still less than a hiking shoe), and mesh uppers. Like hiking shoes, some trail runners also are available in waterproof models.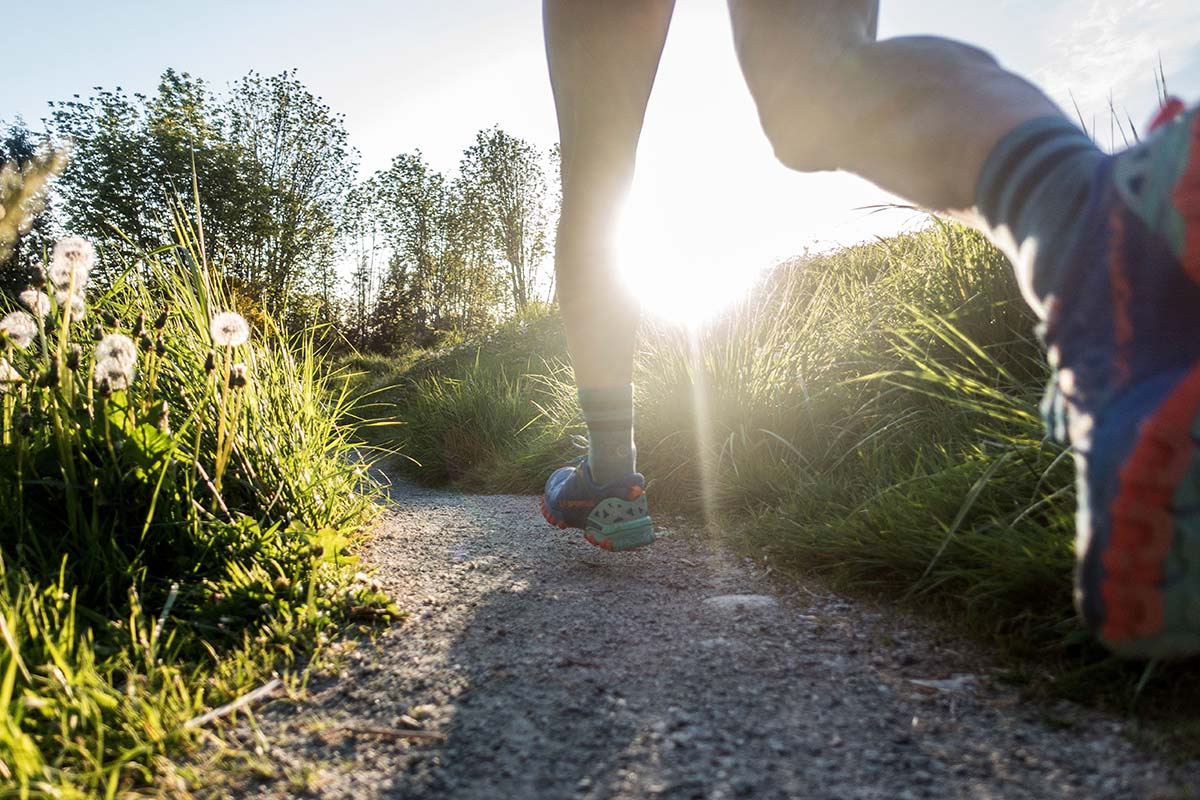 Hybrid Hiking/Trail-Running Shoes
The distinction between hiking shoe and trail runner is not always clear, and it's growing cloudier by the day with recent models like the Scarpa Rush, Arc'teryx Aerios FL GTX, and Salomon OUTline—as well as running-shoe-inspired mid-tops like the Vasque Breeze LT Mid. Most of these shoes take a trail runner and build on it, adding stiffer and tackier soles and a bit more protection in the uppers. These shoes are outliers in their own categories and likely wouldn't be our first choice for either trail running or traditional backpacking, but their combination of support, breathability, and weight makes them ideal for fast-and-light endeavors and a favorite amongst thru-hikers. In this article we'll break down hiking shoes and trail runners into two distinct categories, but keep in mind that you can viably get the best of both worlds (depending on your needs) in some of these models.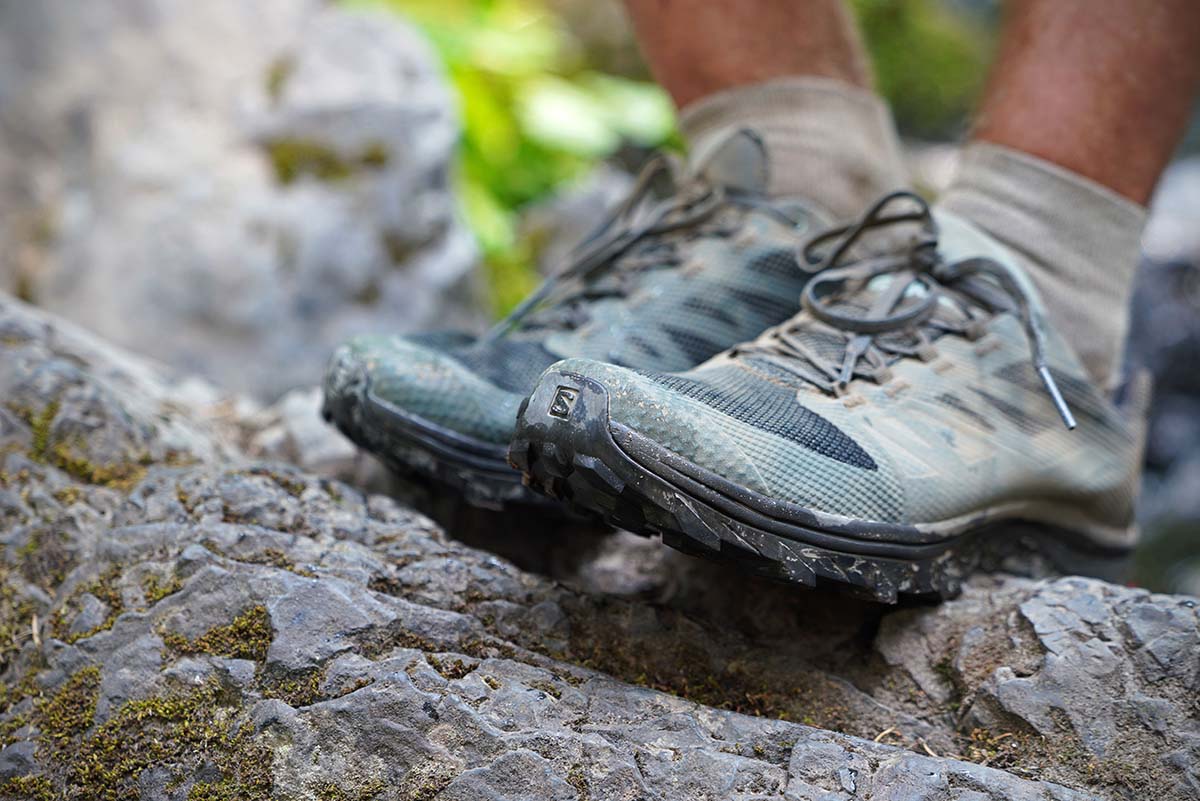 Performance Considerations
1. Weight Advantage: Trail Runners
Cutting weight is one of the main reasons hikers make the switch from high-top hiking boots to low-rise hiking shoes, and many shave even more ounces by opting for lightweight trail runners. To illustrate this: the average pair of hiking boots weighs well over 2 pounds, while most hiking shoes hover around 1.5 pounds for the pair. Meanwhile, one of the most popular trail-running shoes among thru-hikers, the La Sportiva Bushido II, clocks in at a feathery 1 pound 5 ounces. Quite obviously, by choosing a lightweight hiking shoe—or better yet, a trail runner—you're saving your legs and feet from quite a bit of heavy lifting throughout a day on the trail.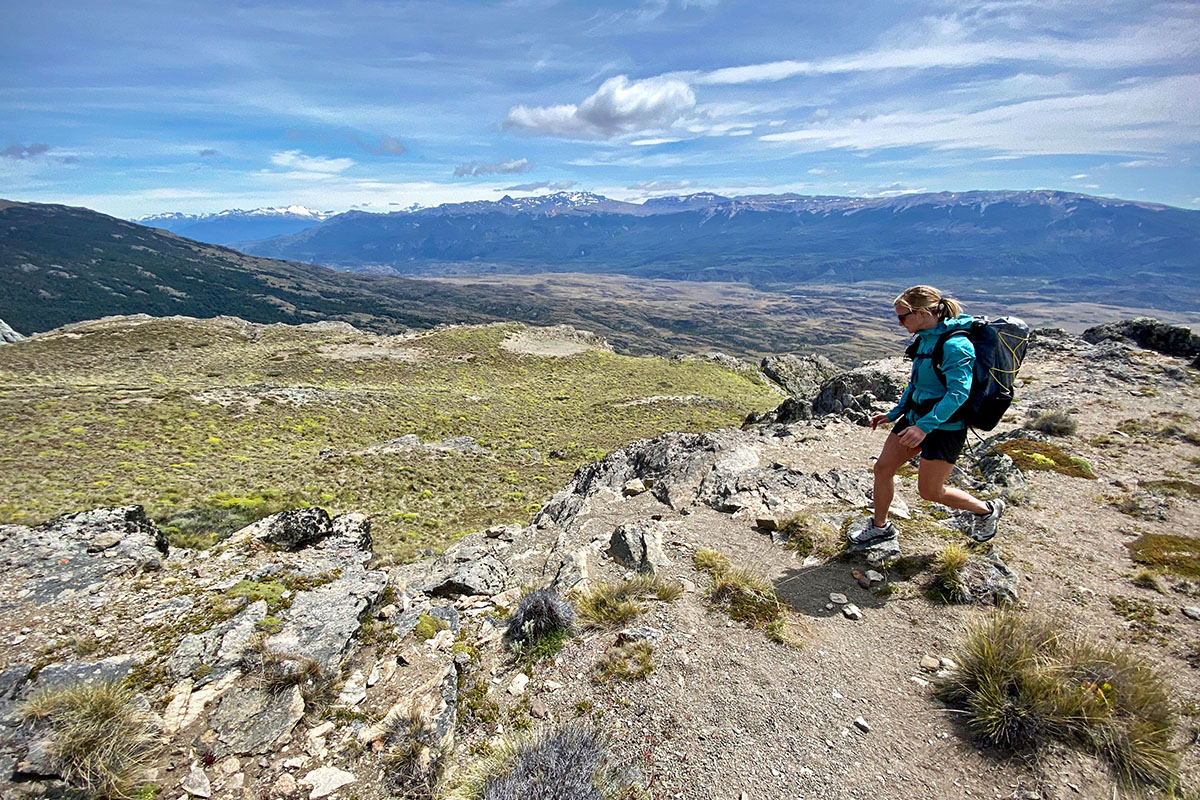 If all other factors were equal, we'd always choose a lighter shoe over a heavier one. However, shaving weight comes with notable sacrifices in support, protection, and durability (which we'll detail below). Ultralight-focused trekkers or those traveling 20+ miles a day with a very light load might find the weight savings of a trail runner worth the compromise, but for a few ounces more, hiking shoes offer a nice boost in performance and durability.
 
2. Support and Protection Advantage: Hiking Shoes
Everyday hikers usually lean toward hiking shoes over trail runners specifically for the support and protection they provide. With a stiffer and more substantial midsole, burlier outsole and upper, and features like a toe cap and rubber rand, hiking shoes are able to provide support on par with that of a hiking boot (minus the high ankle protection). We like the extra security when carrying a heavy overnight load, especially while traveling on poorly maintained trails or scrambling off trail. On the other hand, trail-running shoes are designed with fast and nimble movement in mind, and thus give up a bit in terms of protection and support to remain flexible, sensitive, and lightweight.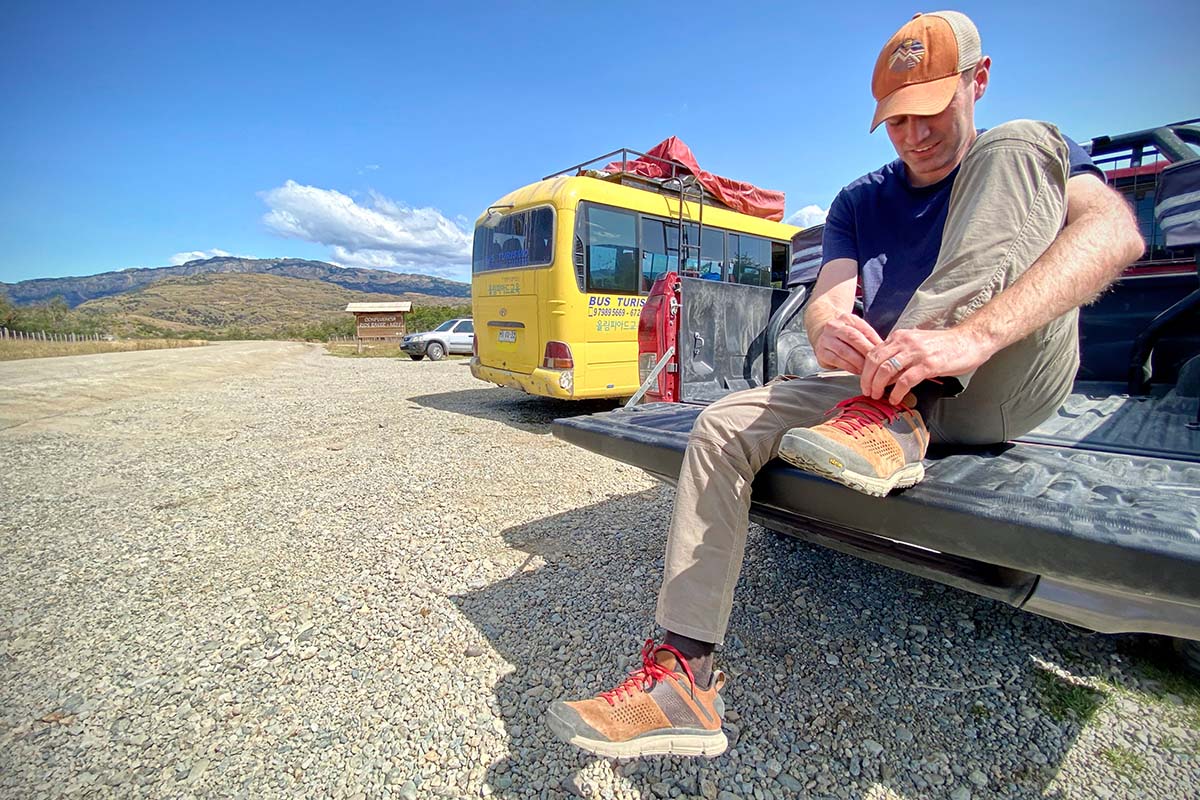 That said, support also varies significantly within each category. For example, one of the lightest hiking shoes that we've tested, the Salomon X Raise, is a good option for day hikes and short backpacking excursions but lacks the necessary support for heavier loads (see our in-depth review here). Comparatively, the La Sportiva Ultra Raptor II GTX trail runner performs well while moving over a variety of terrain and has ample cushioning and stiffness for a light, multi-day backpack. Given the variability within the categories, we recommend doing your research and trying on shoes before buying to ensure you're getting enough support. To help, our hiking shoe and trail-running shoe round-ups have detailed descriptions of the fit, support, and ideal use(s) for each pair.

3. Durability Advantage: Hiking Shoes
When deciding between a hiking shoe and a trail runner, durability becomes a very important consideration. Hiking shoes have a tougher build—they're often made with leather or durable nylon fabrics as opposed to mesh or thin nylon—and generally feature protective toe caps and medium-stiff midsoles. Compared to trail runners, hiking shoes will hold up far better under a heavy load and are designed to withstand rugged, abrasive terrain. On the other hand, the lightweight fabric that makes trail runners so nimble sacrifices a good amount of durability, reducing their lifespan significantly. As a result, hardcore backpackers who swear by the lightweight comfort of trail runners will often go through multiple pairs each year.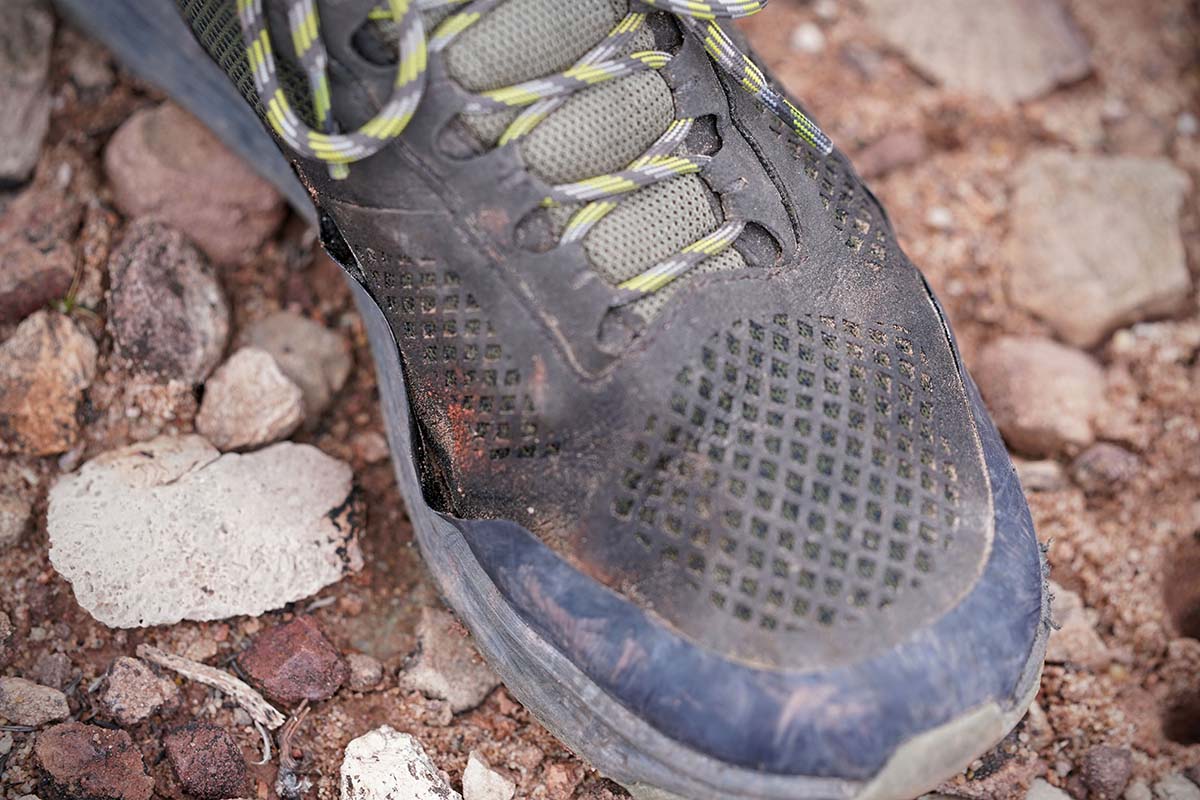 4. Traction Advantage: Hiking Shoes
In general, the soles of hiking shoes and trail runners differ significantly in terms of tread patterns, rubber compounds, and stiffness. The sole of a hiking shoe is usually quite stiff—similar to that of a burlier boot—which lends extra support for moving over uneven and potentially treacherous terrain (the Merrell Moab 2 is a great example). The sole of a trail runner, on the other hand, typically has much more flex to boost comfort while running. Many experienced hikers and backpackers prefer the greater freedom of movement and increased sensitivity of a trail-running shoe, although it does take a bit of time to build strength, balance, and confidence over long distances and on variable ground. For this reason, if you're just starting out, we usually recommend the stiffer sole of a hiking shoe before graduating to a trail runner.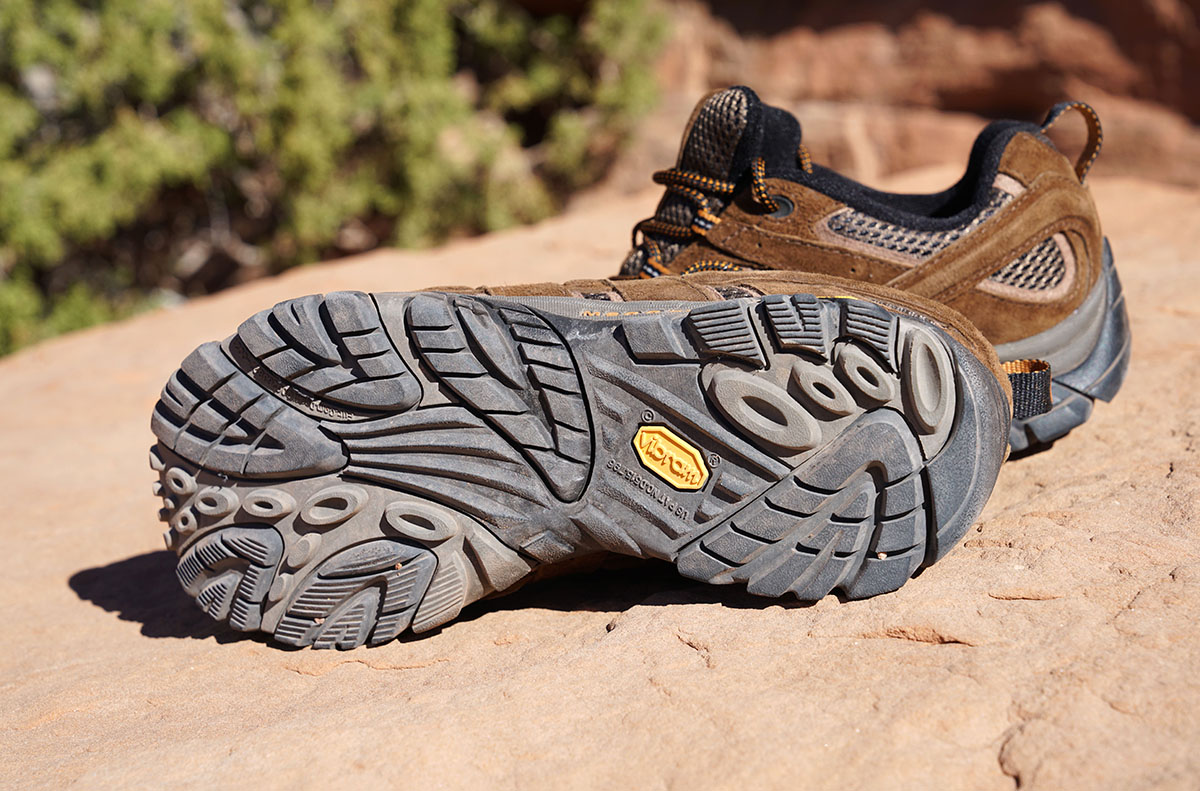 Looking at the rubber in particular, there are large variations in tread depth and pattern between hiking shoes and trail runners. Again, the tread of a hiking shoe is similar to that of a boot: very featured for excellent grip on many surfaces, including rock, mud, sand, slippery tree roots, and snow. As for trail runners, it's common to see a variety of sole patterns, each of which excels on certain types of terrain. For example, shoes with deep tread (also referred to as lugs)—like the Salomon Speedcross 5—offer security in muddy or loose ground, while shoes with shallower tread (and sometimes even a smooth climbing patch on the toe) will grip better on rock. Because of this, choosing the right trail-running shoe can be an involved and confusing endeavor. Unless you stick to one particular type of terrain, we recommend a more versatile hiking shoe.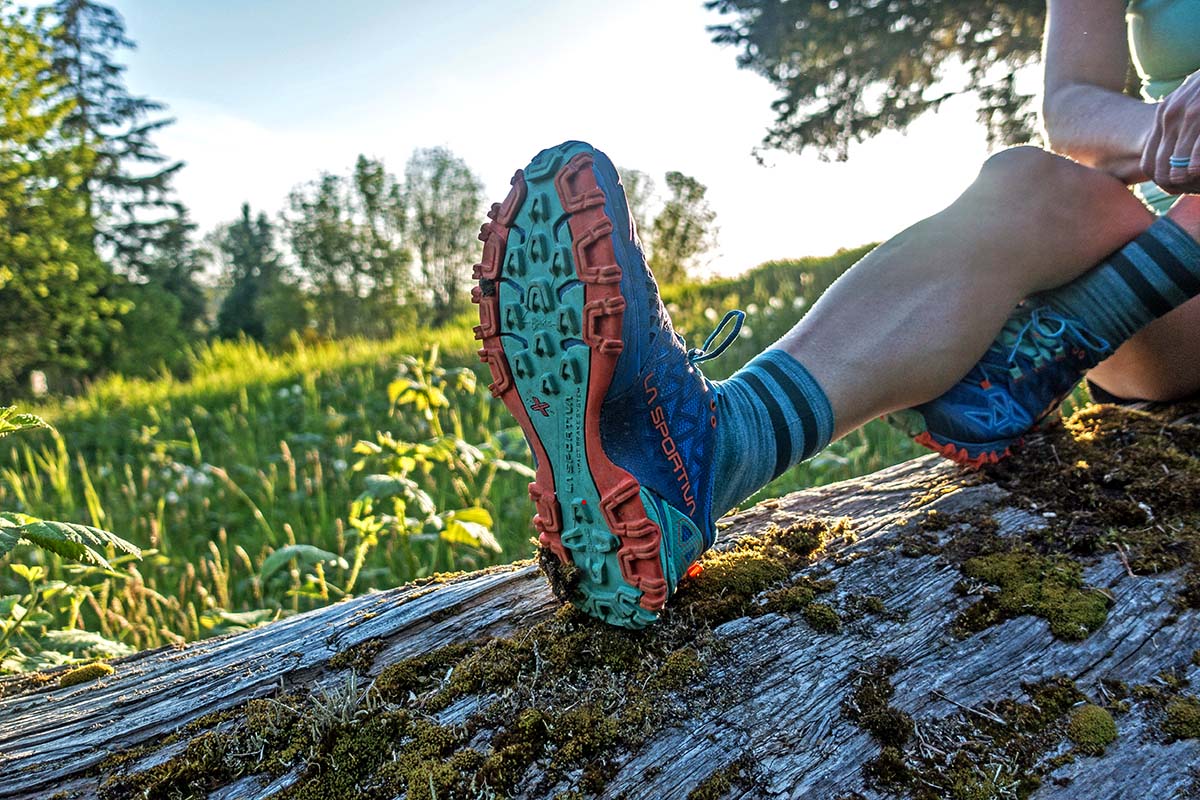 5. Comfort Advantage: Tie
We'll say this first: if a shoe isn't comfortable, you shouldn't be wearing it. No matter if you're hiking 20 miles in a hiking shoe or a trail runner, you better be sure it feels good on your feet. With that disclaimer out of the way, our take on the most comfortable style of hiking footwear is: it depends. For those who carrying light loads and moving quickly (especially on well-maintained trails), a trail running shoe will likely offer the best combination of cushion, flex, and nimbleness. For those with heavier packs (around 25 pounds or more) or covering more technical ground, the stiffness and support of a hiking shoe will be the most comfortable choice. In the end, it all comes down to your goals—like how fast you want to move and what sort of terrain you hope to cover—and what you're comfortable with.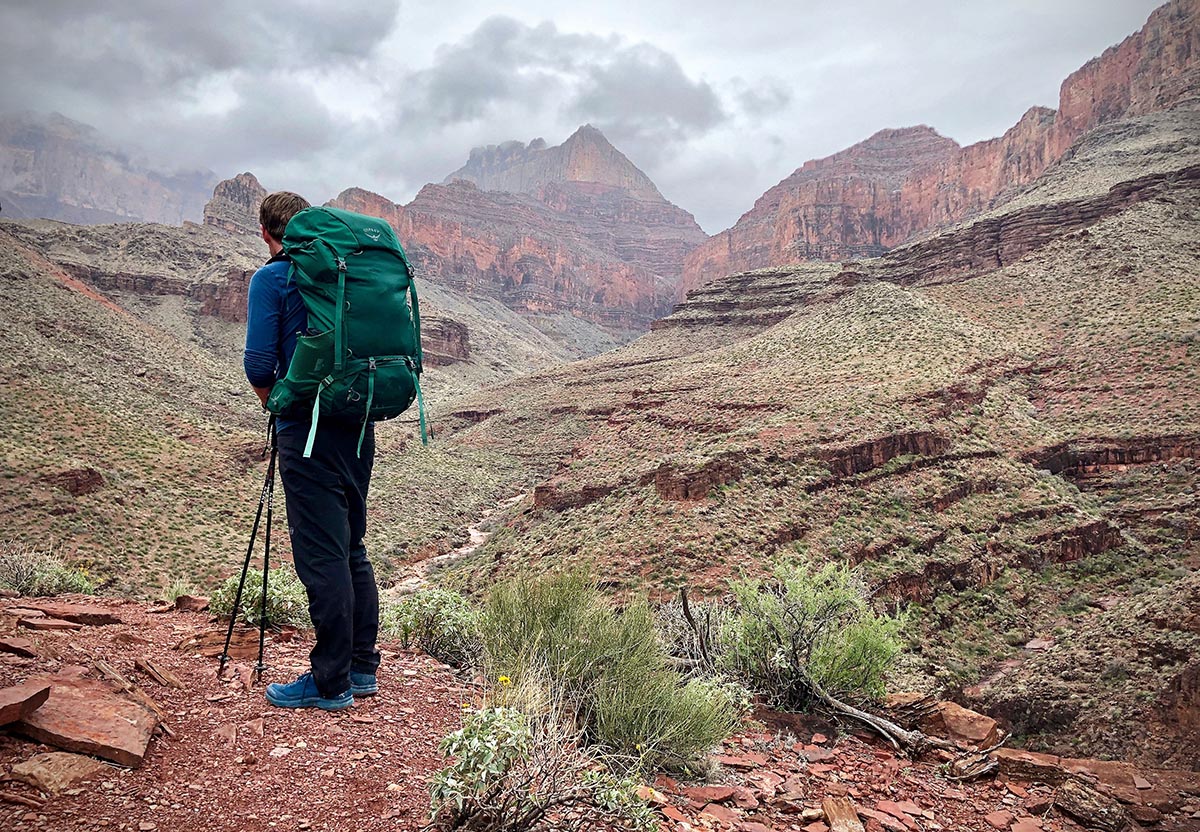 6. Breathability Advantage: Trail Runners
Because trail runners are constructed with thinner materials than hiking shoes, it's no surprise that they're also inherently more breathable. That said, there are a fair number of hiking shoes that give trail runners a run for their money, and particularly those with generous mesh panels like the Merrell MQM Flex 2 and Salomon X Ultra 3 Aero. On the other hand, hiking shoes with leather or more burly nylon uppers will sacrifice a fair bit of breathability in the name of durability and protection. When hiking in summer months or in areas where river crossings are inevitable (such as on our trek in Parque Patagonia), we love the ventilation and quick drying time of mesh shoes (a waterproof or leather model will take much longer to dry). But for shoulder-season or winter hiking, you might be better off prioritizing a thicker (and thus less air-permeable) upper, or even a shoe with a waterproof membrane (see below).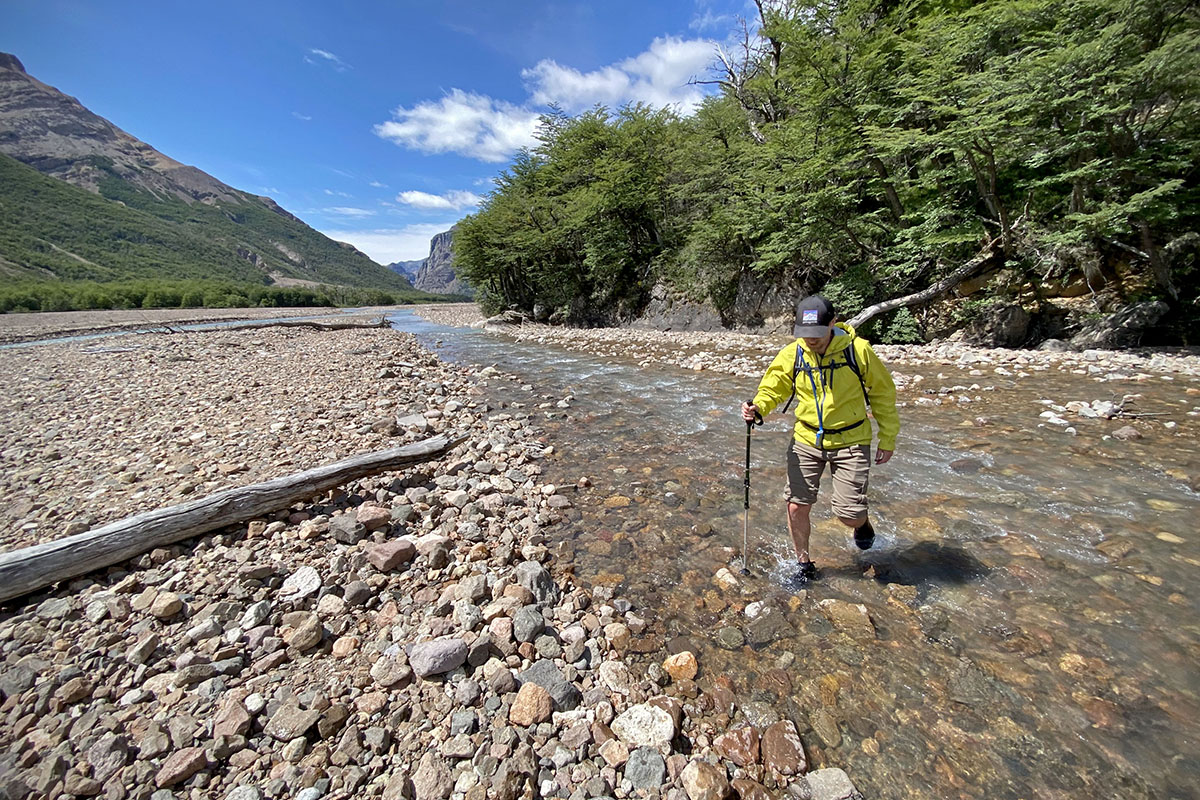 7. Waterproofing Advantage: Tie
Many hiking shoes and some trail runners are available in both waterproof and non-waterproof versions (the Merrell Moab 2, for example, comes in both standard mesh/suede and waterproof models). In general, we've found that waterproof trail runners provide protection on par with waterproof hiking shoes, and variations are due more to the technology (our favorite is Gore-Tex) and less because of the style of footwear. You do get considerably more waterproof options if you opt for a hiking shoe, which might increase your chances of finding a model that works for you. And keep in mind that leather has some natural water-resistant properties, meaning that some leather hiking shoes will be able to stave off rain drops, puddle splashes, and minor snow without the extra cost or weight penalty of waterproofing technology.
All that said, waterproofing does mean compromised breathability (in both hiking shoes and trail runners), which can result in uncomfortably swampy feet, especially during warm and dry days and with heavy exertion. As we mentioned above, we love breathable shoes (read: thin builds and mesh uppers) for summer hiking or when wet feet are inevitable. But in snow or during shoulder seasons when keeping dry feet becomes a matter of comfort and safety, we'll opt for a waterproof shoe. And if you're looking for true waterproof protection, a hiking boot will be the best option of all, as the mid-height build will keep out significantly more water than a low-top shoe.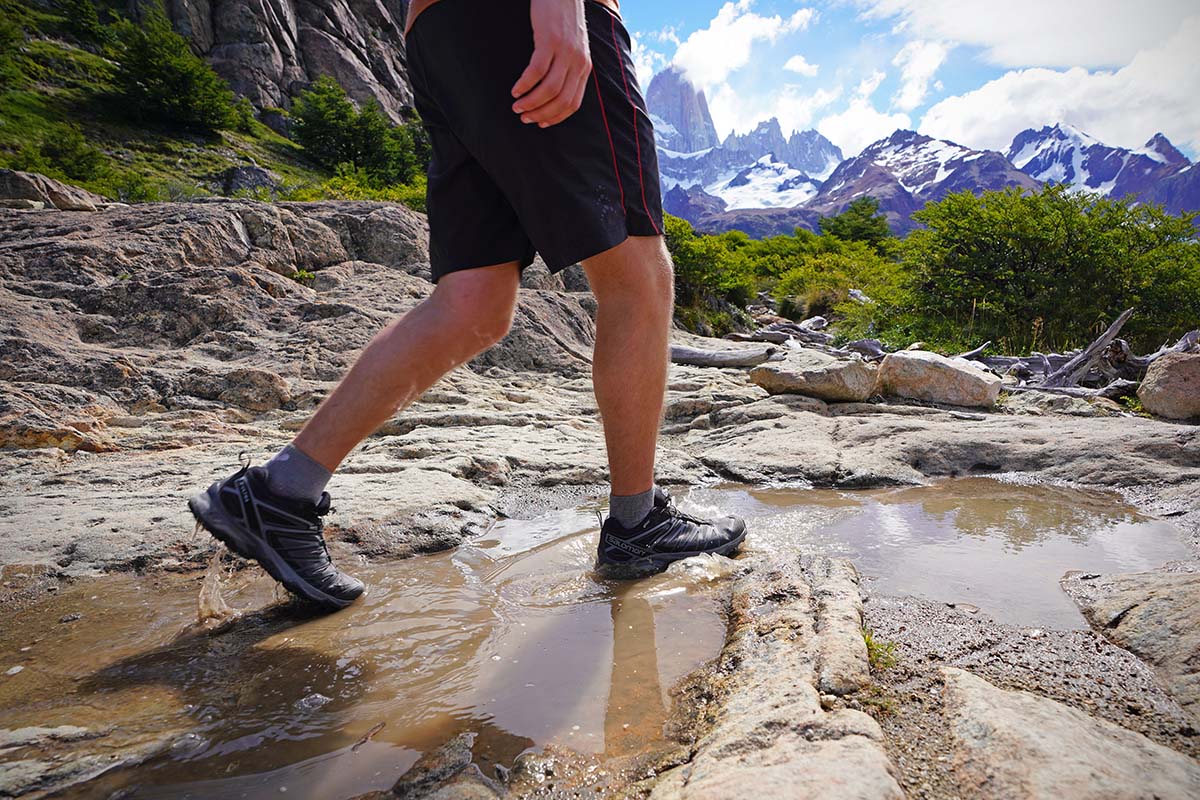 What About Approach Shoes?
In addition to the hybrids mentioned above, there is another category of trail shoes worth mentioning: approach shoes. As lightweight hiking shoes have become popular, many have embraced approach shoes as yet another option for longer hikes and backpacking expeditions. Typically, this style of footwear is used for "approaching" rock climbs, where the hike to the climb itself may be steep and rocky. However, the sole is much less effective for traveling over dusty trails, mud, and snow, and as a result, approach shoes can feel rather slippery on these surfaces. The overall design also tends to be quite snug—ideal for added security while scrambling over rock, but often too constrictive for walking longer distances on flat trails (when feet start to swell). Further, the flat, stiff soles of some approach shoes can lead to sore feet after many miles, whereas the soles of trail runners and hiking shoes are more cushioned and flexible for added comfort.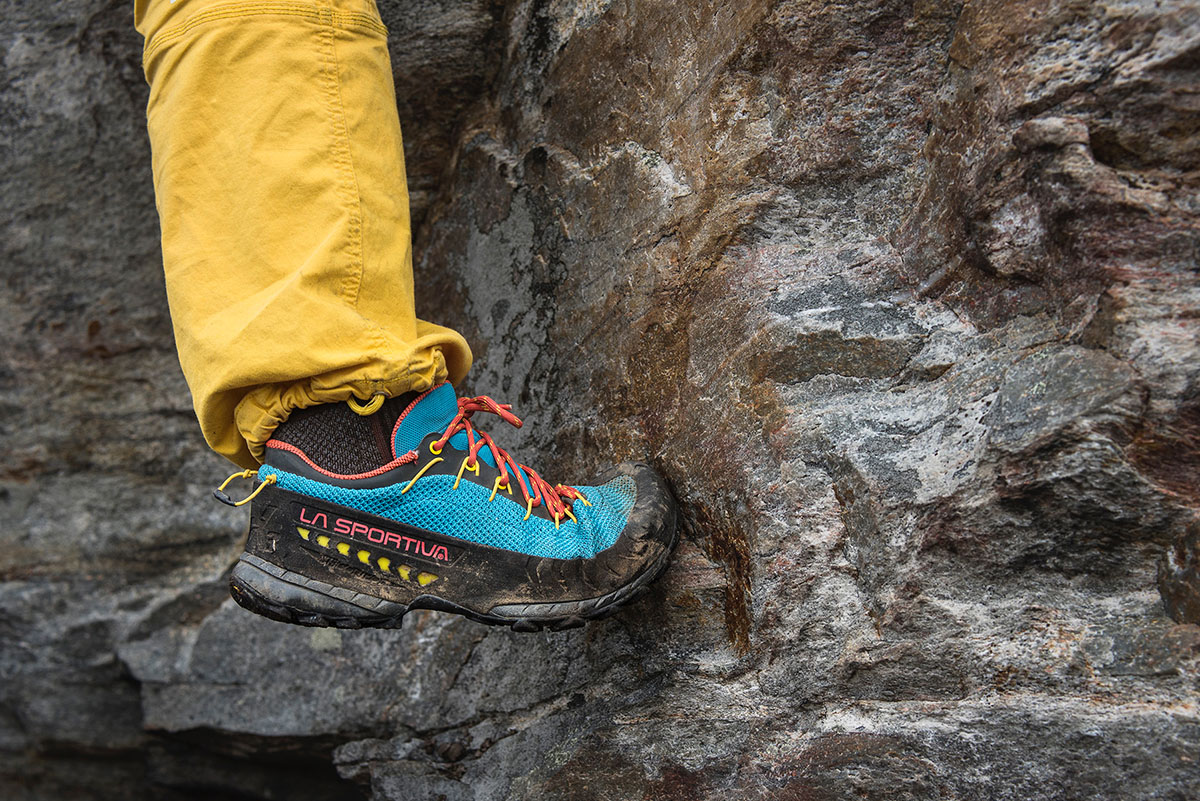 That said, approach shoes are a bit of a dark horse in the world of lightweight hikers. In fact, we think of a shoe like the La Sportiva TX3 as a best-of-both-worlds combination of hiking support, trail-running breathability, and rock-scrambling traction. Predictably, we recommend approach shoes for routes where scaling steep rocky slopes may be the main obstacle—the canyons of southern Utah, for example. We will also continually choose this style of shoe for approaching technical climbs. But for longer backpacking trips that aren't particularly steep or rocky, we'll still opt for the comfort, cushion, and trail traction of a pair of hiking shoes or trail runners. 

The Final Decision
There are certainly a number of factors that go into deciding whether a hiking shoe, trail runner, or approach shoe is the best tool for the trail, and the details can be overwhelming. But for the everyday adventurer, we've found it's best to keep it simple: we recommend a hiking shoe for hiking, a trail runner for trail running, and an approach shoe for approaching climbs. Of course, for many hikers there are exceptions to the rule—many of which we mentioned above. If you're a thru-hiker carrying a light load or a long-distance day hiker, a light and nimble trail-running shoe or trail runner/hiking shoe hybrid is worth considering. If your hikes feature peak bagging, class 3-4 scrambles, or ridge traverses, a tacky approach shoe might be your best bet. But if you're an avid hiker or backpacker looking for the best combination of comfort, support and protection, durability, and traction, look no further than a lightweight hiking shoe.
 
Our Top Picks
Whether you're opting for traditional hiking shoes, trail runners, or approach shoes, below are our top selections for each category. For even more picks and in-depth information, see our articles on best hiking shoes, women's hiking shoes, trail running shoes, and approach shoes.
Hiking Shoes
Best overall: Salomon X Ultra 3 men's / X Ultra 3 women's
Best budget: Merrell Moab 2 Ventilator men's / Moab 2 Ventilator women's
Trail Runners for Hiking
Best overall: Hoka Speedgoat 4 men's / Hoka Speedgoat 4 women's
Best for technical terrain: La Sportiva Bushido II or Ultra Raptor II
Hybrids
Best overall: Arc'teryx Aerios FL GTX or Scarpa Rush
Best budget: Merrell Moab Speed Low men's / Moab Speed Low women's
Approach Shoes
Best overall: La Sportiva TX4 men's / La Sportiva TX4 women's
Best hybrid approach shoe/trail runner: Scarpa Rapid men's / Scarpa Rapid women's
Read More From Switchback Travel