For the thru-hikers, backcountry-goers, and "out there" lovers, a backpacking sleeping bag is an essential piece of gear. But there's so much variety in the sleeping bag market that it can be overwhelming to make a decision when it comes time to buy. Below we break down everything you need to know on how to choose a backpacking sleeping bag, including temperature ratings, down vs. synthetic fill, weight and packability, shape, and more. For a look at our top picks, see our articles on the best backpacking sleeping bags and the best ultralight sleeping bags and quilts.
 
1. Temperature Ratings and Warmth
If you've ever spent a cold night outside, you know that there's almost nothing worse than a sleeping bag that's not quite warm enough. For this reason, you'll want to pay close attention to temperature ratings when shopping for a bag. Most models have two temperature ratings: "comfort" and "lower limit," also known as the ISO or EN ratings (EN is an older standard and ISO is newer, but they are essentially the same). The comfort rating is the temperature at which the average cold sleeper will feel comfortable, while the lower limit is the temperature at which the average warm sleeper will feel comfortable. Men's bags are commonly advertised by their lower limit, while women's bags go by their comfort rating. For example, the men's REI Magma 15 has an ISO lower limit of 16˚F, while the women's Magma 15 has an ISO comfort rating of 17˚F.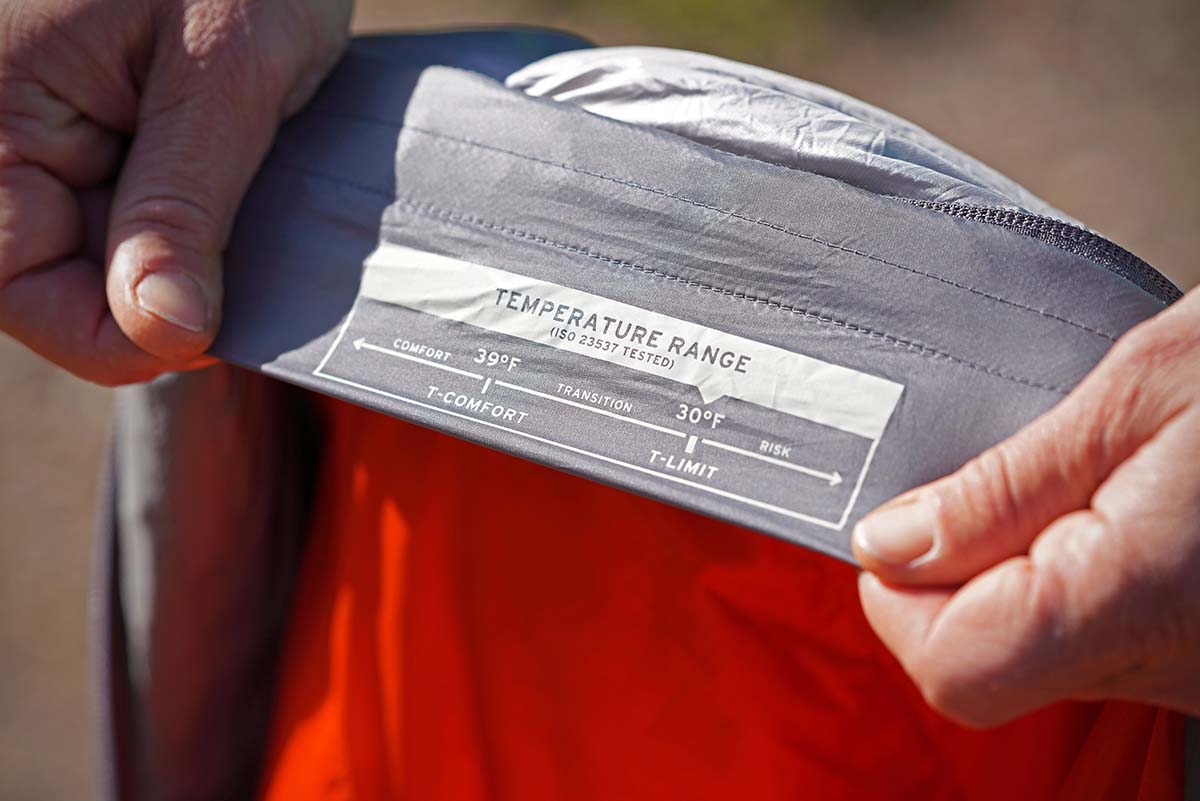 While these ratings serve as helpful guidelines and allow you to make comparisons between bags, they are far from absolute. After all, comfort is subjective to the sleeper (and also dependent on factors such as bag size, condensation build-up, sleeping pad R-value, and more). If you typically run hot you'll likely be able to get away with a lighter bag, but if you're a cold sleeper you'll want something warmer. Regardless of your body's tendencies to run hot or cold, it's a good rule of thumb to go with a slightly lower temperature rating than what you think you'll need. For example, if you're planning to camp in near-freezing temperatures, a 20-degree bag will offer much more assurance than a 30-degree model (remember, there's almost nothing worse than shivering in your sleeping bag). If a night is warmer than anticipated, you can always unzip your bag—just like you throw off the blankets at home. 
Finally, it's important to note that a few sleeping bag manufacturers, including well-respected cottage brands Feathered Friends and Western Mountaineering, do not use EN or ISO ratings. The major downside here is that this makes it difficult to compare models, such as deciding between the Feathered Friends Hummingbird 20 and the Therm-a-Rest Hyperion 20. However, we do find that both of these companies are on the conservative side with their ratings and are generally warmer than the competition. For more on warmth and deciding what's right for you, see our article on sleeping bag temperature ratings.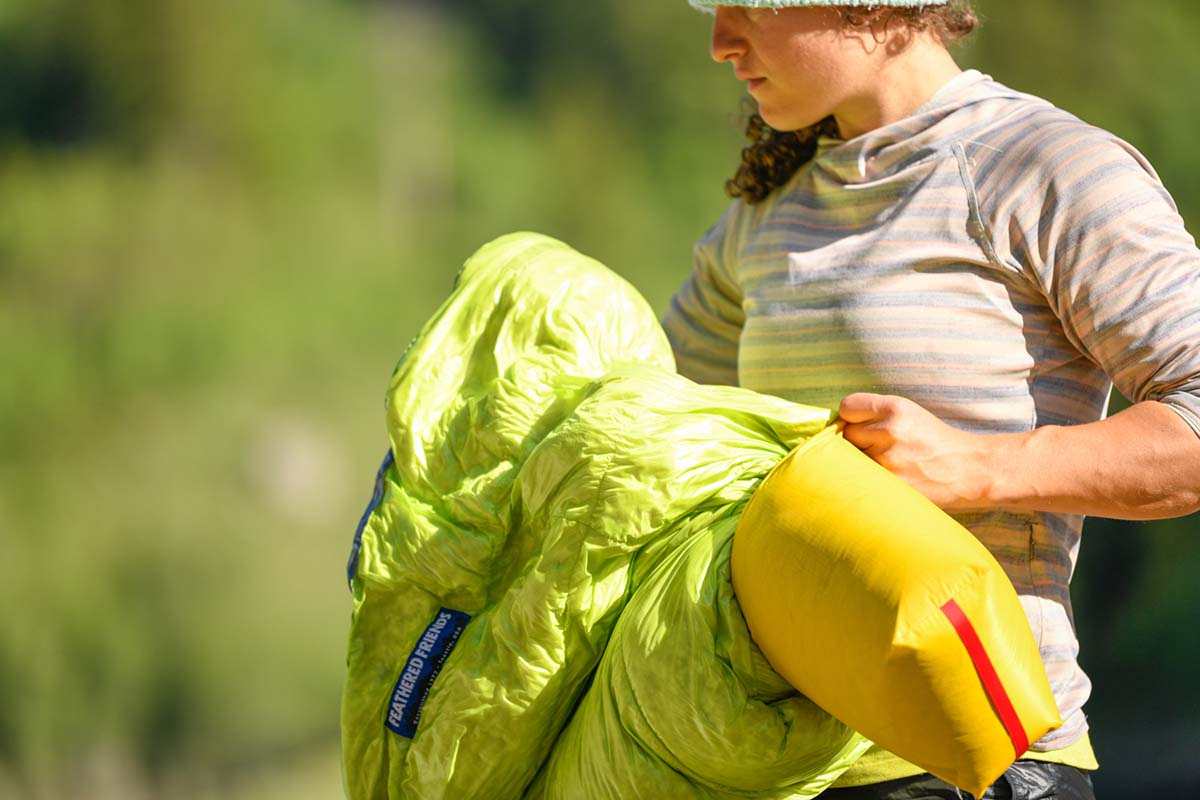 2. Down vs. Synthetic Fill
Another important consideration when looking for a sleeping bag is the type of fill: down or synthetic. After all, many other factors involved in choosing a bag—like temperature rating and packability—will be affected by the insulating material. Down consists of the feathers and plumage found on geese and ducks (see our note below about ethically sourced down), while synthetic fill is most often made of polyester. Both materials have their strengths and weaknesses, which we detail below.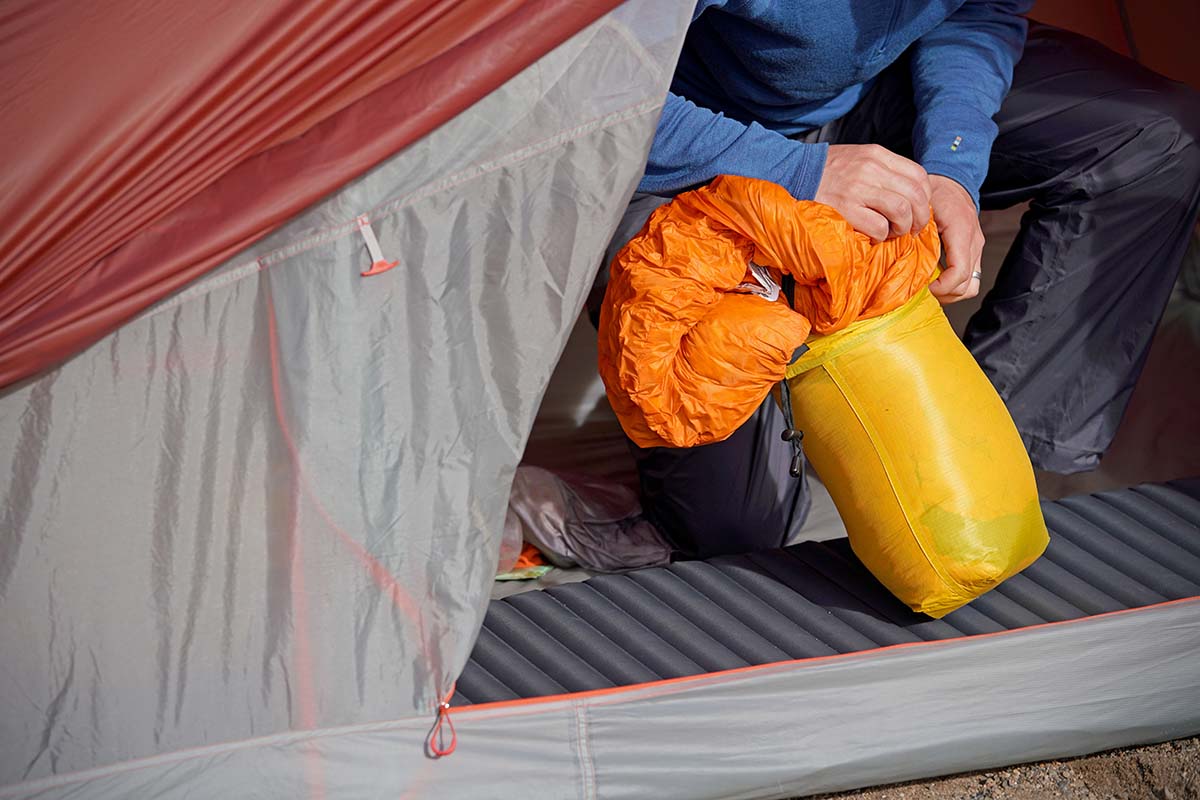 Down is known for its remarkable warmth, low weight, and packability. With its class-leading warmth-to-weight ratio, you get more bang for your buck than with synthetic fill. Down also generally is more durable than synthetic (it doesn't pack out as easily), so you'll likely get more seasons out of a down bag. However, there are a few caveats to this "miracle" insulator. First and foremost, feathers and plumage grow droopy and lose their loft when wet, and as a result are no longer able to trap warm air. Synthetic fill, on the other hand, stays lofty (and thus continues to insulate) even when wet. Finally, perhaps the biggest drawback to down is the cost. Because of its superior functionality and difficulty in sourcing, down sleeping bags are more expensive across the board than their synthetic counterparts. For this reason, synthetic bags tend to be more popular among casual campers and budget-oriented shoppers. But if you prioritize streamlining your pack with minimal weight and bulk, a down sleeping bag is hard to beat.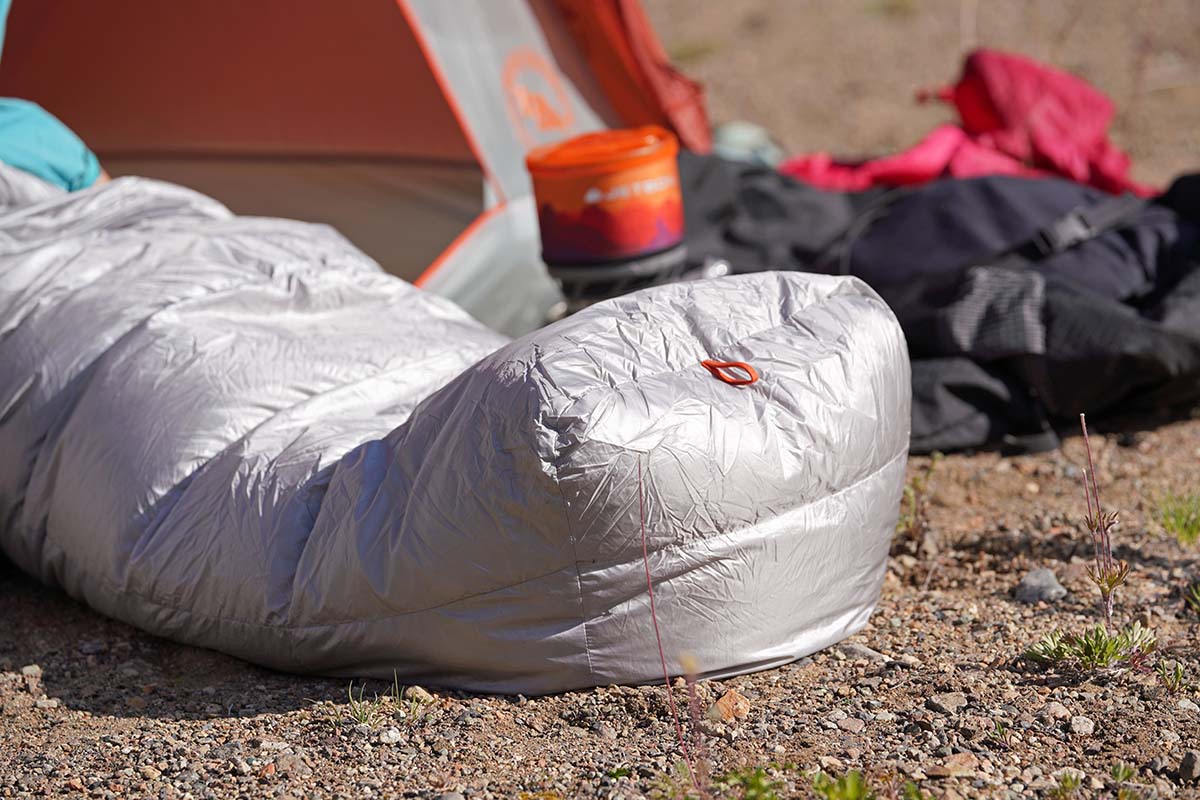 A final note: the sourcing of both down and synthetic materials is currently a topic of ethical and environmental debate. Either way you shop, we encourage you to look for recycled materials (in the case of both synthetic and down), or responsibly sourced down. Programs like the Responsible Down Standard (RDS) and Global Traceable Down Standard (TDS) are in place to ensure the humane treatment of ducks and geese, and thankfully most manufacturers have followed suit and source only RDS- or TDS-certified down. For more on the debate, see our article on down vs. synthetic insulation.
 
3. Weight and Packability
The weight and packability of your gear is increasingly important the more serious your adventures become. In general, here's what to look for in a lighter, more compressible bag: a high fill power, low denier for the shell fabric, a warm temperature rating relative to the weight, and a mummy shape. For example, the Western Mountaineering HighLight ($360) is an 850-fill down, 35°F mummy bag that weighs just 1 pound. At the other end of the spectrum, the budget Teton Sports LEEF costs only $75 but weighs a hefty 3 pounds 8 ounces and uses bulkier synthetic fill. Most 3-season down sleeping bags for backpacking are in the 2-pound range or less.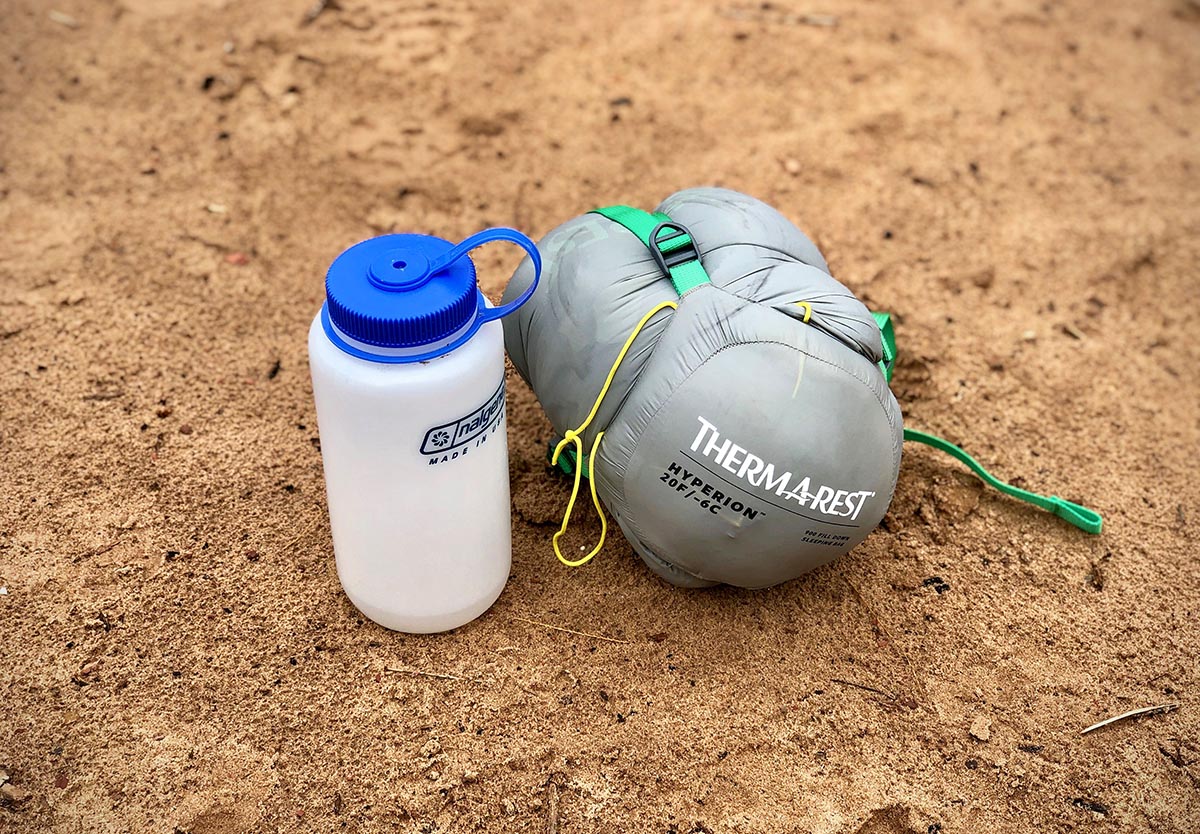 As with most types of backpacking gear, there are tradeoffs to going ultralight. Premium bags from brands like Western Mountaineering and Feathered Friends are among the most expensive on the market. Further, the thin shell fabrics make them more prone to snags and tears, the zippers are fragile (and catch easily), and the shape and features often get minimized to shave ounces. But for serious backpackers who get out a lot and cover ground quickly, the weight savings and packability are well worth these downsides.
 
4. Shell Denier and Durability
Another important (but often-overlooked) factor when it comes to sleeping bags is their shell denier (D), which indicates the thickness of the outer material. The lower the number, the thinner the shell. Some of our favorite ultralight bags, such as the Feathered Friends Tanager, go all the way down to 7D, which means that you can literally see the feathers through the outer shell. Many popular backpacking bags are in the 20-30D range, which is substantially thicker, and some of the burliest models, like the Marmot Trestles, go all the way up to 70D.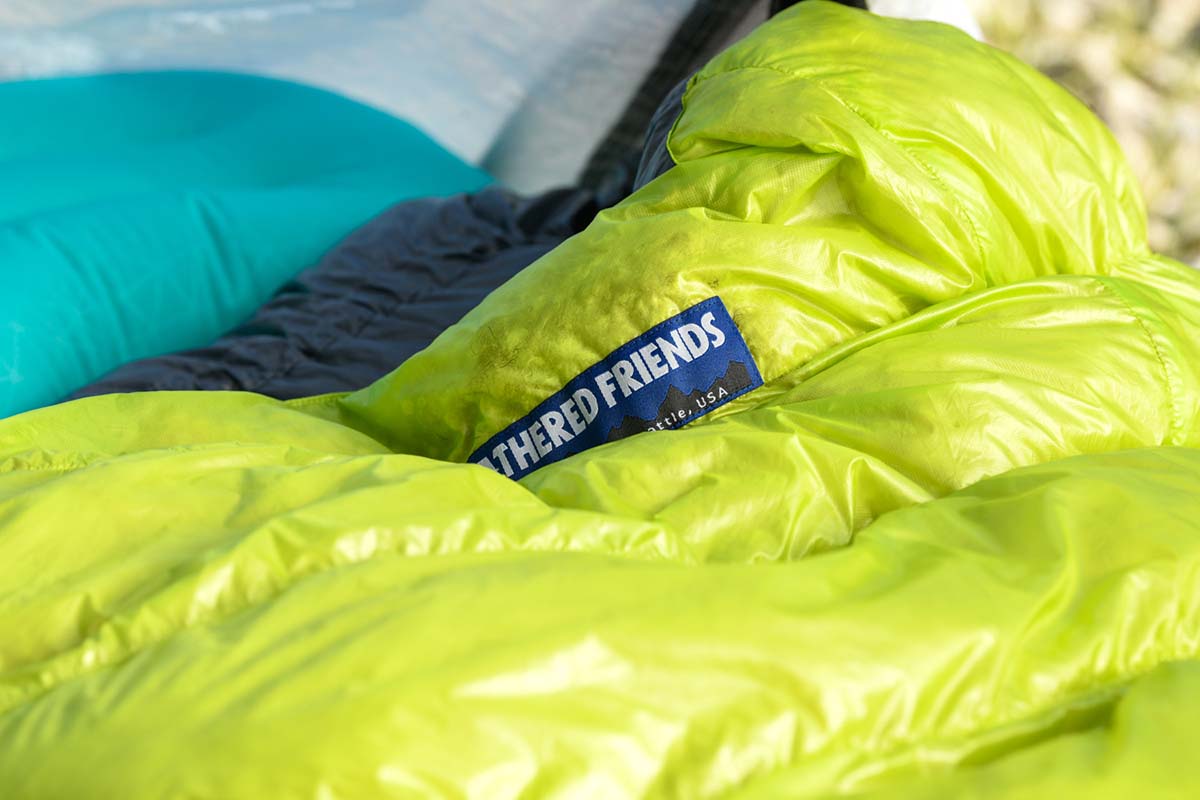 Denier matters most for outwear, as your jacket often is exposed to the outside world, but much less so with sleeping bags. People usually crawl into their bags on top of sleeping pads and inside tents, making durability less important. If you have trouble being careful with your gear, regularly bring a dog inside your tent, or are a fan of the cowboy camp (sleeping sans tent, right on the earth and under the stars), it's definitely worth taking a look at the shell denier before you buy and opting for a thicker, more hardwearing material. If not, going thin is a great way to cut down on weight and packed size.
 
5. Bag Shape
Sleeping bag shape is another key factor when it comes to weight and packability. A mummy bag is cut to the contours of the human body: narrow around the feet and legs, wider around the hips and shoulders, and with a hood that wraps around your head to seal in heat. The mummy shape minimizes materials to maximize packability and weight-savings, making it the most popular choice among backpackers. However, if you're a side sleeper or someone who tosses and turns throughout the night, a roomier bag could be a better fit (most manufacturers will list shoulder and hip girths so you can compare bags). And Nemo designs "spoon" bags that feature generous dimensions at the shoulders and knees (like the Nemo Disco 30). As always, there are tradeoffs: roomier bags will be heavier than the mummy-shaped competition and have a higher likelihood for drafts and pockets of cold air.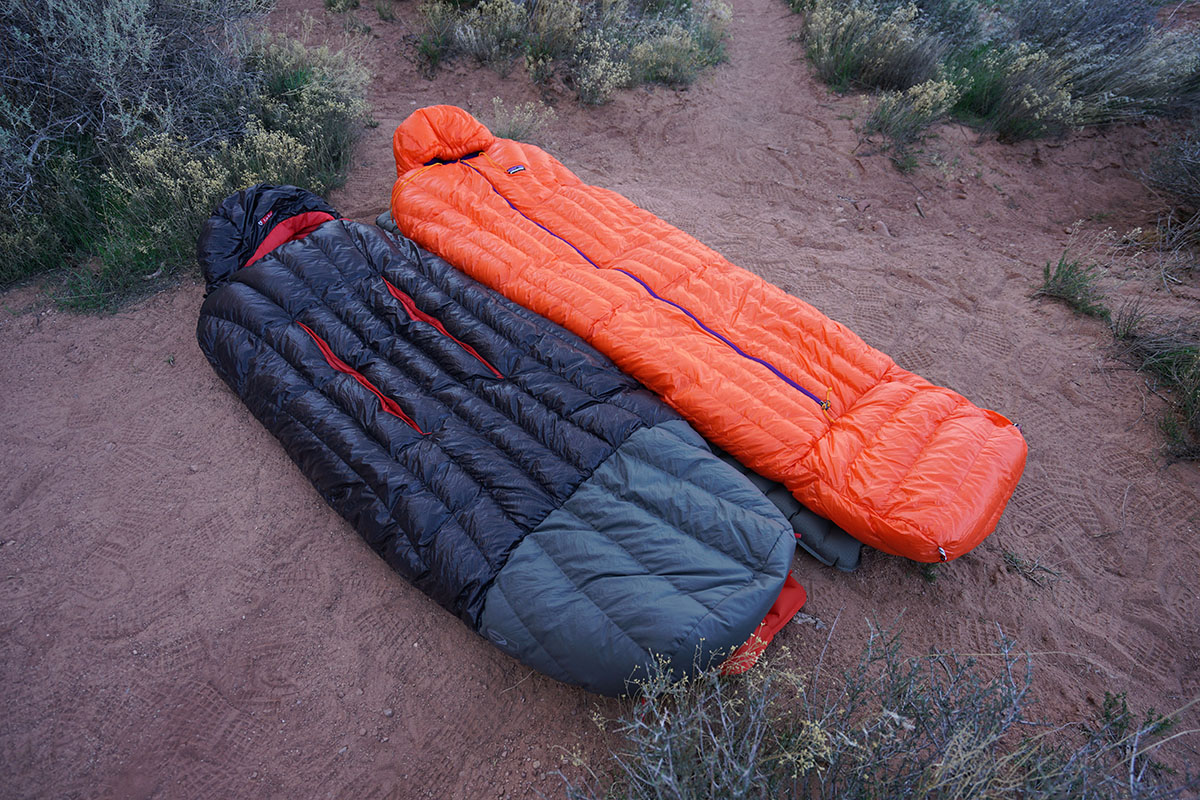 6. Sizing and Fit
The dimensions of sleeping bags vary from brand to brand and bag to bag, though most come in two to three sizes (measured in terms of length) for both men and women. In most cases, the girth of a bag (usually measured at the hips, shoulders, and feet) will increase with the length. Women's sleeping bags are generally shorter, wider at the hips, and narrower at the shoulders than men's or unisex bags (they will also be warmer, as we mentioned in the "Temperature Ratings" section above). Although taking close measurements of your body's dimensions can go a long way, the best way to ensure the right fit is by going to your local gear shop and testing out a few different bags.
 
7. What is Fill Power?
When looking at the specs for each down sleeping bag, you will likely see a number relating to fill power, such as "600-fill down" or "850-fill down." Fill power represents how much space 1 ounce of down takes up in a cylindrical tube (i.e. the loft) and generally ranges from around 550 on the low end to 900 at the premium end, with a higher number representing higher-quality down. These feathers will loft more, and as a result, they retain heat better, weigh less, and are more compressible. Backpacking sleeping bags with a higher fill power will be more expensive, but they will also be lighter and more packable than bags stuffed with lower-fill-power down.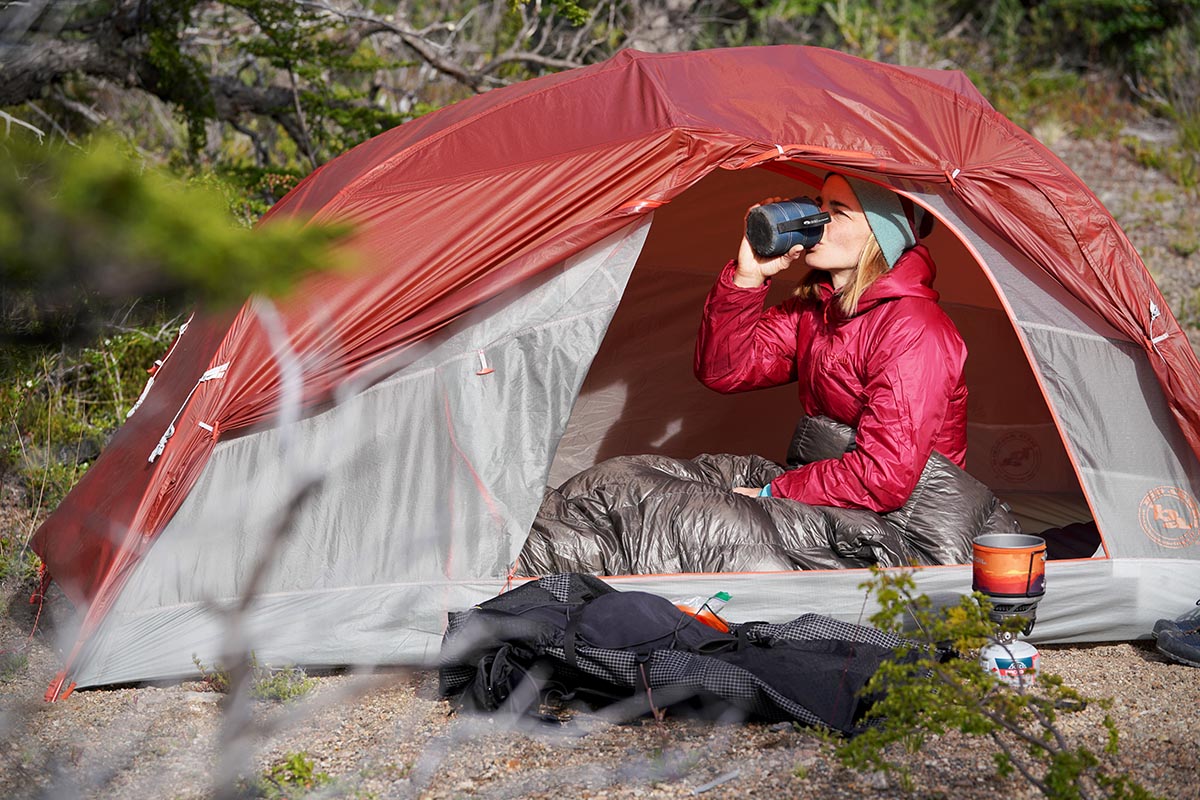 8. Hydrophobic Down and DWR
As mentioned above, down does not insulate very well when it gets wet. You're in for a rather unpleasant trip if your down bag gets soaked and the weather never breaks to fully dry it out. Fortunately, many manufacturers are moving toward hydrophobic down. By adding a polymer to the down, the fill becomes more water-resistant and less prone to clumping when wet. Although hydrophobic down is a nice layer of insurance against moisture, it's not a perfect solution—proper care should still be taken to keep your bag dry. 
For additional water resistance, manufacturers also will often treat a sleeping bag's shell fabric with a durable water repellent (DWR) finish, which causes water to bead up and roll off rather than soak through to the down below. Although DWR will not be effective in a true downpour, it is a nice first line of defense for wet tent floors or sleeping on snow. Finally, keep in mind that DWR wears off over time, but the coating can be reapplied with a product like the Nikwax TX.Direct Spray-On Water-Repellent.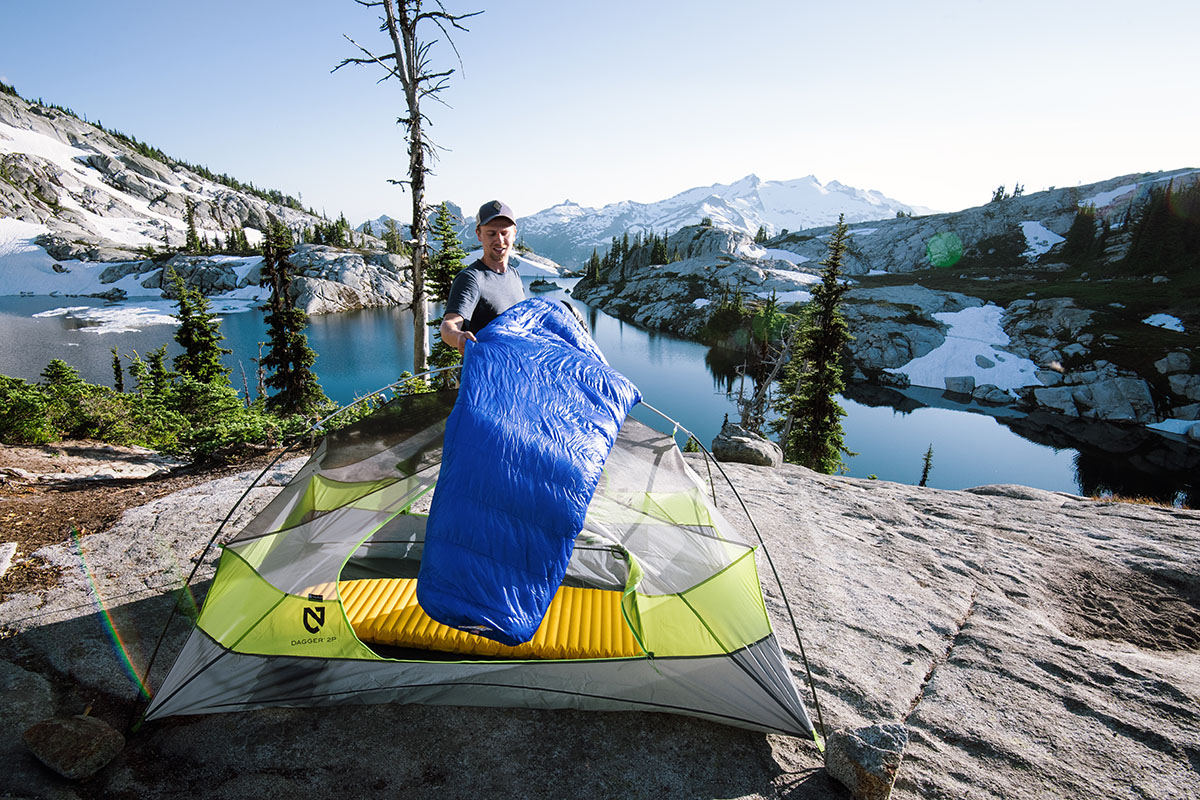 9. Additional Features to Consider 
Many of today's sleeping bags come with an array of additional features for added comfort and convenience. Some have internal sleeves to insert camp pillows and sleeping pads, keeping your cushion in place throughout the night (one example is the Big Agnes Anvil Horn 15). Others have a stash pocket somewhere near the chest to store your phone or other valuables. Anti-snag zippers are also a great way to reduce the annoyance of zip-snags and increase the longevity of your bag. Keep in mind that each of these additional features will come at a small weight penalty, so you'll have to consider your priorities.
 
10. Cost
The cost of backpacking sleeping bags varies widely, with budget models dipping below $100 and high-end down bags reaching all the way into the high hundreds. The more expensive bags tend to have lighter weights, higher fill powers, and lower temperature ratings (i.e. more warmth for less weight). But the good news is that you don't have to break the bank to get a quality bag. The Kelty Cosmic 20, for example, is on the lower end of the cost spectrum at $170, but it's a quality option rated down to 19°F, which will be plenty in most 3-season conditions. The savings come from its 600-fill-power down, which is a little heavy and bulky, but at 2 pounds 6 ounces won't weigh you down too much.
 
11. Hoodless, Half Zips, and Zipperless Bags
In the ongoing effort to create the lightest gear possible, manufactures have toyed with removing key sleeping bag features such as zippers and hoods. Many ultralight sleeping bags feature partial-length zippers, while others jettison the zipper and hood altogether for ultralight optimization (such as the 1-pound-2.6-ounce Feathered Friends Tanager 20). The benefit is obvious, but there are a number of drawbacks in versatility and comfort. First, a half-zip or zipperless bag won't be able to ventilate like a full-zip bag, making it especially sweaty and uncomfortable on warm nights. Second, although most will pair a hoodless bag with a down jacket or beanie, you'll inevitably experience a drop in warmth and coziness. All in all, we recommend these options only for the most weight-conscious of backpackers.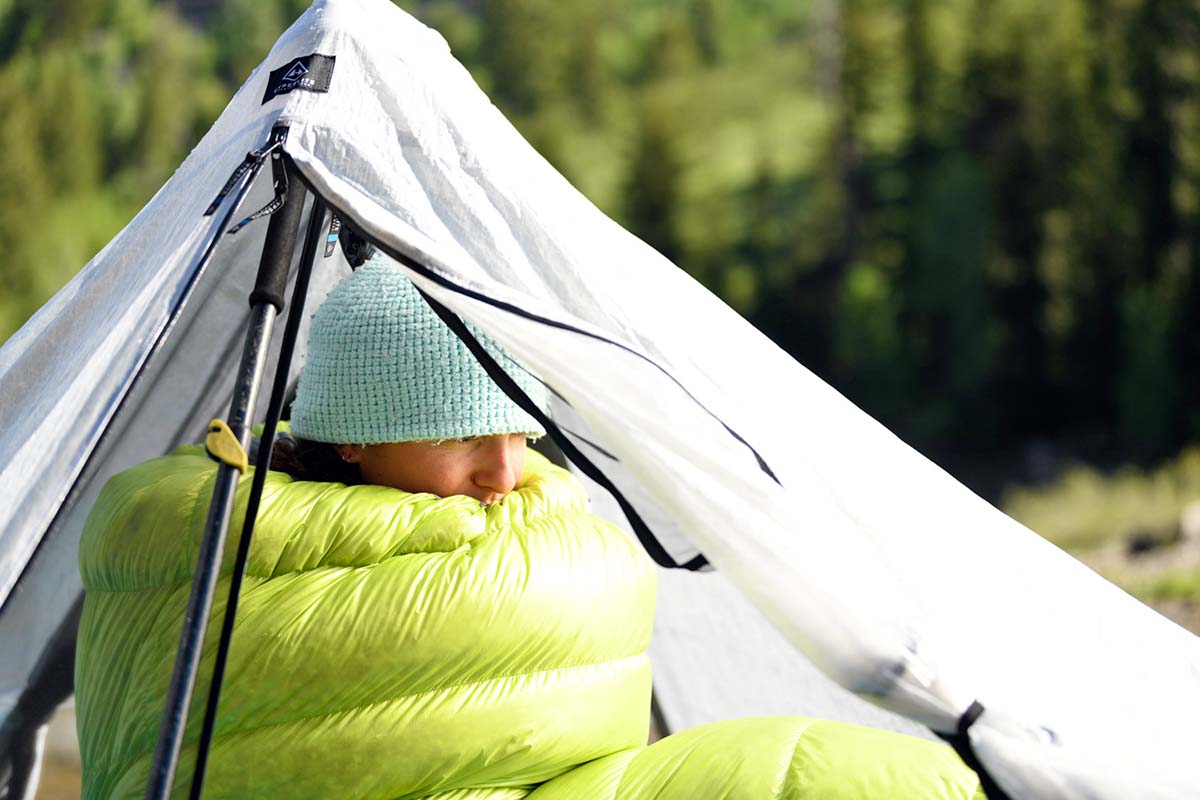 12. What About Sleeping Quilts? 
This article covers sleeping bags, which are by far the most popular option for backpackers in 2020. However, it's worth noting that ultralighters have largely turned to lightweight sleeping quilts. Here's our take: quilts, like hoodless and zipperless bags, offer weight savings but come with a number of compromises, including less warmth overall, increased draftiness, lower levels of comfort as you have to sleep directly on your pad, and a more arduous set-up process. For mid-summer outings in warm climates like the Appalachian Trail, we can see the draw. But for most people and uses, we'd take a lightweight mummy or even a hoodless bag any day. For more on the topic, see our article on sleeping bags vs. quilts.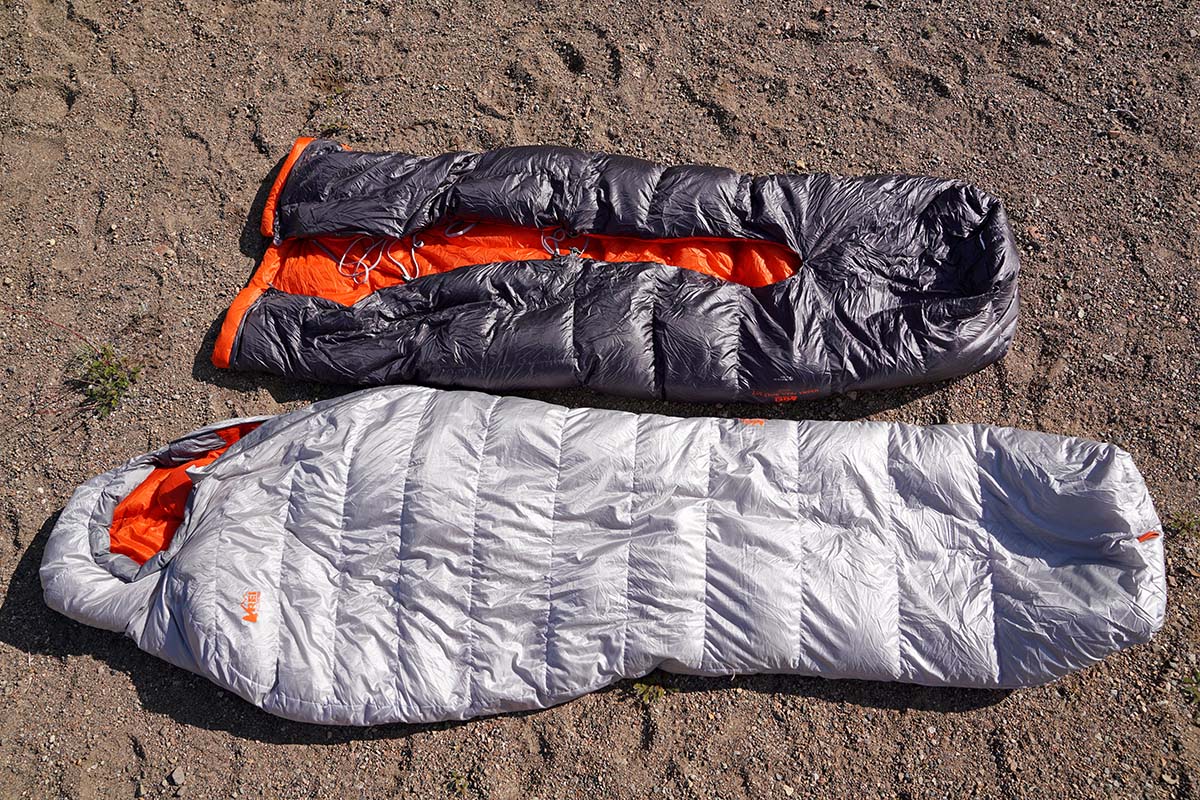 13. Our Top Backpacking Sleeping Bag Picks
Now that you're up to speed on what to look for, it's time for the fun part: selecting the ideal sleeping bag for your backpacking adventures. We cover all of our top picks in our articles on the best backpacking sleeping bags and the best ultralight sleeping bags and quilts, but below are some of our favorites broken down into key categories. Finally, if you're a more casual car camper, check out our article on the best camping sleeping bags.
Best Overall Sleeping Bag: REI Co-op Magma 15
Best Budget Sleeping Bag: The North Face Furnace 35
Best Ultralight Sleeping Bag: Feathered Friends Hummingbird UL 30
Best Sleeping Bag for Side Sleepers: Nemo Disco 30
Best Ultralight Sleeping Quilt: Enlightened Equipment Enigma
See Our Backpacking Sleeping Bag Picks  See Our Ultralight Sleeping Bag and Quilt Picks
Learn More About Outdoor Gear