For those living in cold parts of the world, a quality pair of winter boots is essential. They help keep your feet warm, dry, and planted on the ground as you navigate months of snowy and icy conditions. Below we break down all of the important considerations in choosing the right winter boot for you, including warmth, height, waterproofing, weight, fit, and more. To check out our favorite designs, see our articles on the best winter boots and best women's winter boots.

1. Use: Casual Wear or Winter Hiking?
The first step in choosing a winter boot involves thinking about your intended uses. There are two camps for the most part: casual winter boots that are great for everyday wear, commuting, and light outdoor use. Second are more backcountry-focused models that essentially look like hiking boots but with added insulation and winter-specific traction. Lightweight backcountry models excel for sports like winter hiking and snowshoeing, while thicker and warmer versions are great for outdoor work and more sedentary activities in the cold.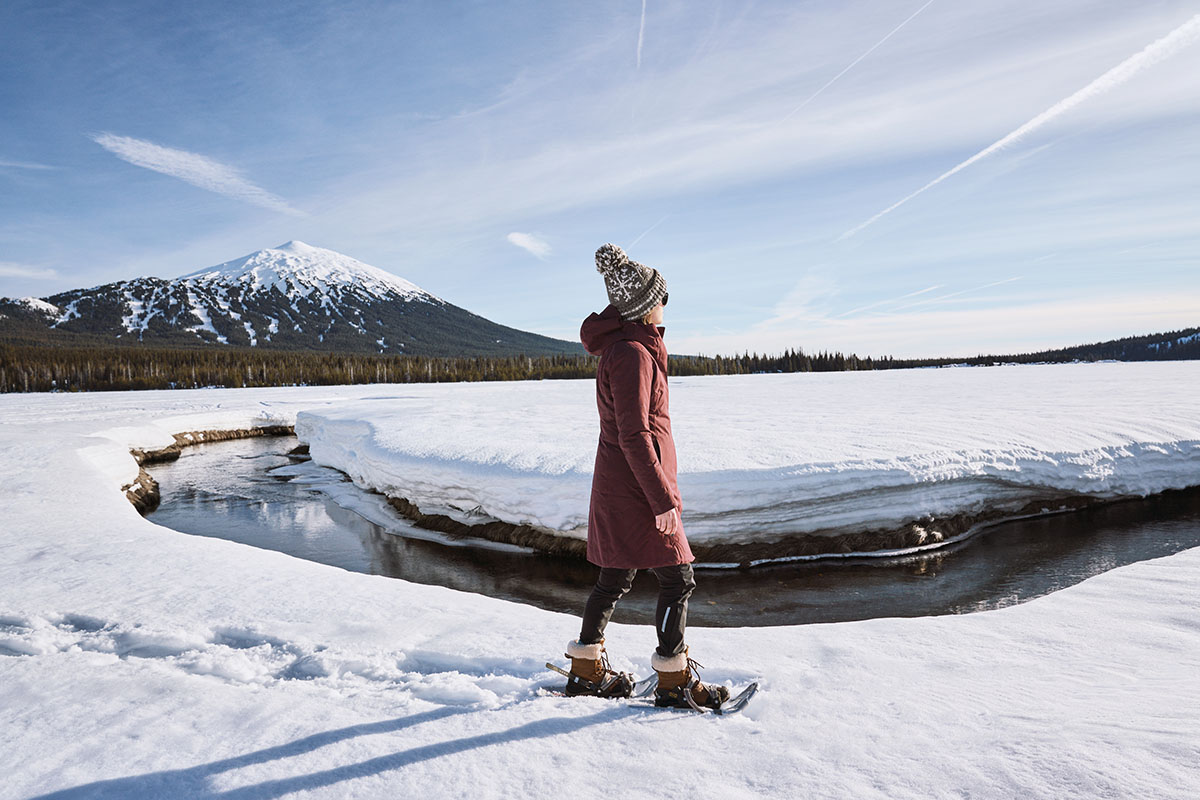 As you might expect, many casual winter boots have a sleeker look that is more urban. Some of our favorites include Columbia's men's Fairbanks and women's Minx Shorty III, which are downright stylish and a good value. Additionally, these designs typically provide decent grip in most snow conditions, the insulation should keep your feet reasonably warm (unless you're out for a long time), and almost all of them are waterproof around the feet for walking through light snow and puddles. But if the weather and terrain are particularly harsh or you're going to be out for extended stretches, it's worth upgrading to a more serious boot.

2. How Much Warmth Do You Need?
A great winter boot has to be warm, and there is a fair bit of differentiation. First, we'll note that a number of footwear brands provide a temperature rating, although we always recommend that you take those with a grain of salt. You may see impressive ratings like -25°F or lower, but the truth is that unlike sleeping bags, there is no standardized rating system to measure the warmth of footwear. And many factors matter here: your activity level, circulation, sock type and thickness, and even the fit of the boot. We like reading the temperature ratings and taking note, but always assume they are generous and look for other specs as well. 
In terms of insulation, winter boots have a number of different types. The most common is synthetic fill, which comes in names like PrimaLoft and Thinsulate along with a gram rating showing the thickness. We like synthetics and especially for footwear—unlike down, it resists water and continues to insulate when wet, which matters if water enters your boot or your feet get sweaty. For reference, many light to midweight boots have 200- to 400-gram insulation, while a true cold-weather boot like Cabela's Predator Extreme gets all the way up to 1,200-gram with a thick liner (that boot often is used for hunting, ice fishing, and among workers who are outside for much of the day). In addition to synthetic insulation, you'll find some winter boots include a separate removable felt liner (more on this in "Two-Piece vs. One-Piece Designs" below) or have interiors filled with sheepskin or wool. The efficacy of these insulation types varies significantly from model to model, and the majority use synthetics.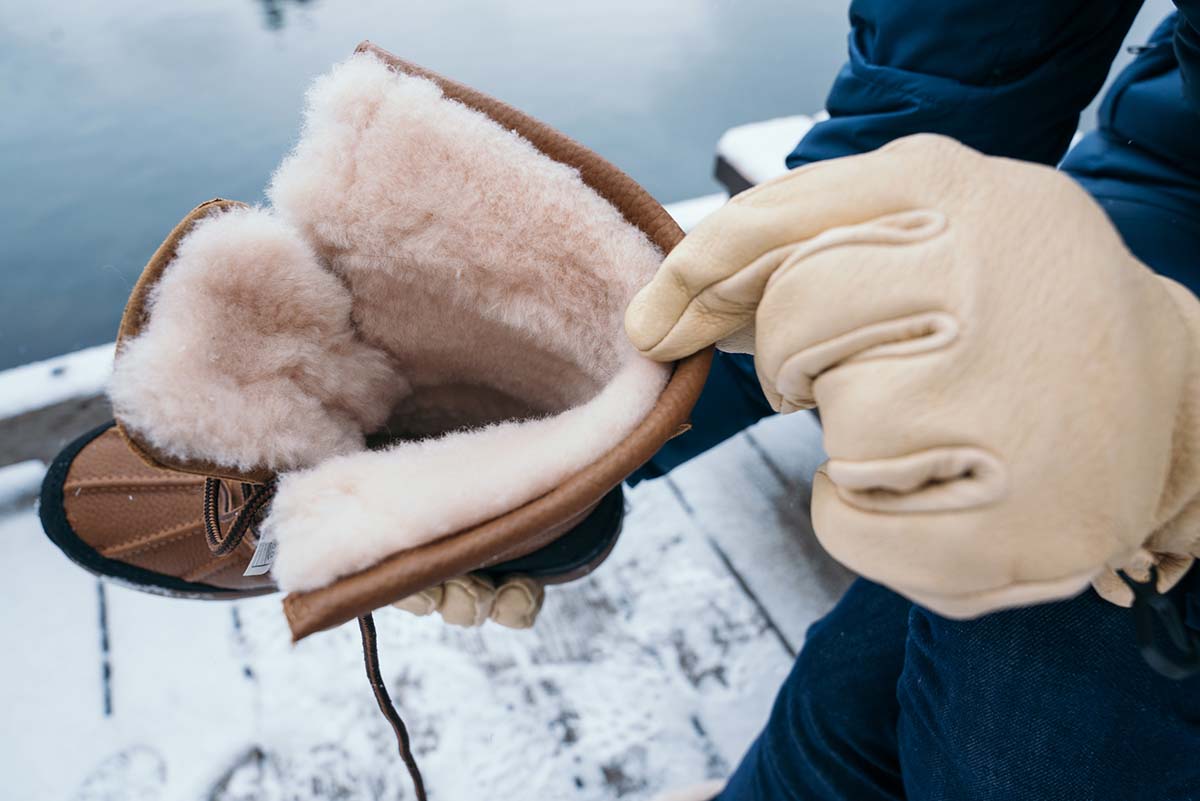 3. Boot Height
In addition to warmth, your winter boot is designed to keep snow and ice out. And if you aren't pulling snow pants overtop or using gaiters, height matters a lot, plus it impacts the design. Reporting is a little inconsistent (more on this below), but we use shaft height as our basis for comparison, which is a measurement taken from the footbed to the top of the boot. At the low end of the spectrum, a number of hiking-centric models are around 6 to 7 inches in height, which does a fairly good job unless the snow is deep. Some of the more casual options like the Sorel Caribou are designed more with warmth and style in mind, and the height gets bumped up to 10 inches (the budget Kamik NationPlus has a similar height and design). And if you really want to go tall, the Steger Mukluks are about 11 inches and the Bogs Classic High Insulated tops our list at a whopping 15 inches. As with the sections above, think of how you intend to use your boot and the rest of your winter kit in choosing an ideal height.
A final note on boot height: it may take a little digging to get the correct number nailed down. Some brands report shaft height, which we've covered above, while others list total height (bottom of outsole to the top of the boot). And some leave it vague as to what they're referring to or don't give the information at all. Regardless, that number provides a good starting point and you know you're within a range, and looking at the design or trying on a boot in person will help give you an even better idea.

4. Styling
If there were one category of outdoor gear where styling matters, winter boots would be a strong contender. The truth is that some people use winter boots for activities like hiking and snowshoeing, but many more wear them around the city, to work, and even out at night. The good news here is that manufacturers have taken note—there are now plenty of stylish options, and even traditional outdoor brands are making their winter boots more fun. On the women's side, we've been very happy with UGGs and the Adirondack III in particular. It both performs well and feels great on your feet, hitting the best of both worlds. Sorels long have been popular, although they tend to feel bulkier and more cumbersome. And as mentioned above, outdoor brands like Columbia, Danner, and Merrell have released a number of options that are sleeker than in years past. We especially like the look of the retro Danner Arctic 600, which even features a fun side zip. 

5. Traction
Winter boots are designed with traction on snow and ice in mind, so you'll find a wide variety of grippy outsoles and tread patterns to choose from. The good news is that snow boots have a different lug pattern and rubber compound than their hiking boot cousins. The compounds are softer and don't harden when temperatures drop, which helps them continue to grip on slick surfaces, and the lug patterns are aimed to prevent snow buildup. In general, hiking-ready models have the best traction, while casual boots can be more prone to slippage. And there are some specialized technologies like Vibram's Arctic Grip and Michelin's Winter Compound that hold pretty well on ice. You always want to be careful, but we've found the winter-specific designs do an admirable job preventing sliding.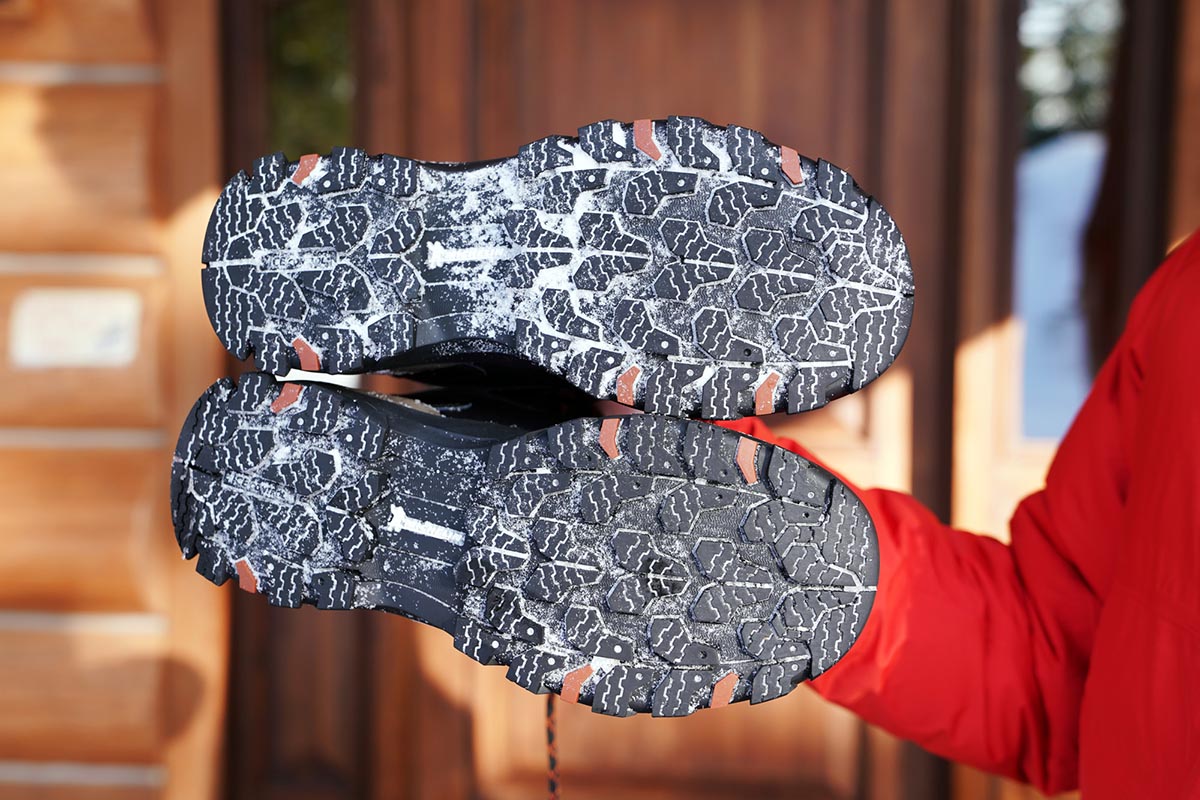 That said, when the conditions really get bad—and we are thinking steeper terrain and widespread ice in particular—you may want to consider adding a traction device. For wearing with winter boots, one of our favorite systems is the Kahtoola NANOspikes—we've found their minimalist style to work very well on icy sidewalks. Another popular option is the Yaktrax ICEtrekkers, although those are noticeably less comfortable underfoot. And for serious outdoor use including icy winter hiking, the Hillsound Trail Crampons and Kahtoola MICROspikes essentially function as mini mountaineering crampons. They are overkill for most conditions but offer some of the best traction on the market on ice. 

6. Two-Piece vs. One-Piece Designs
A key feature you'll want to keep an eye out for is whether a winter boot is a one-piece or two-piece design. Classic two-piece set-ups like the Sorel Caribou and Joan of Arctic have a thick outer shell (leather in this case) along with a removable liner (felt). The result is excellent waterproofing and the ability to remove the liner to dry it out or even wash it (not to mention Sorel sells replacement liners in case they pack out before your boots break down). In addition, removable liners generally are soft, providing more cushioning and all-around comfort than a typical one-piece design.
On the other hand, we've found that two-piece boots are less-than-optimal for covering much ground and doing outdoor activities like snowshoeing and winter hiking. One-piece boots—and especially those based on hiking designs—move better, feel less sloppy, and have fewer moving parts to rub and feel out of place. And perhaps most importantly, they commonly weigh significantly less for the pair. As an example, Sorel's two-piece Caribou weighs about 4 pounds 10 ounces, while the similarly warm one-piece Oboz Bridger 10" Insulated comes in at 3 pounds 6 ounces. For these reasons (and more), you'll find that most models intended for active use are one piece.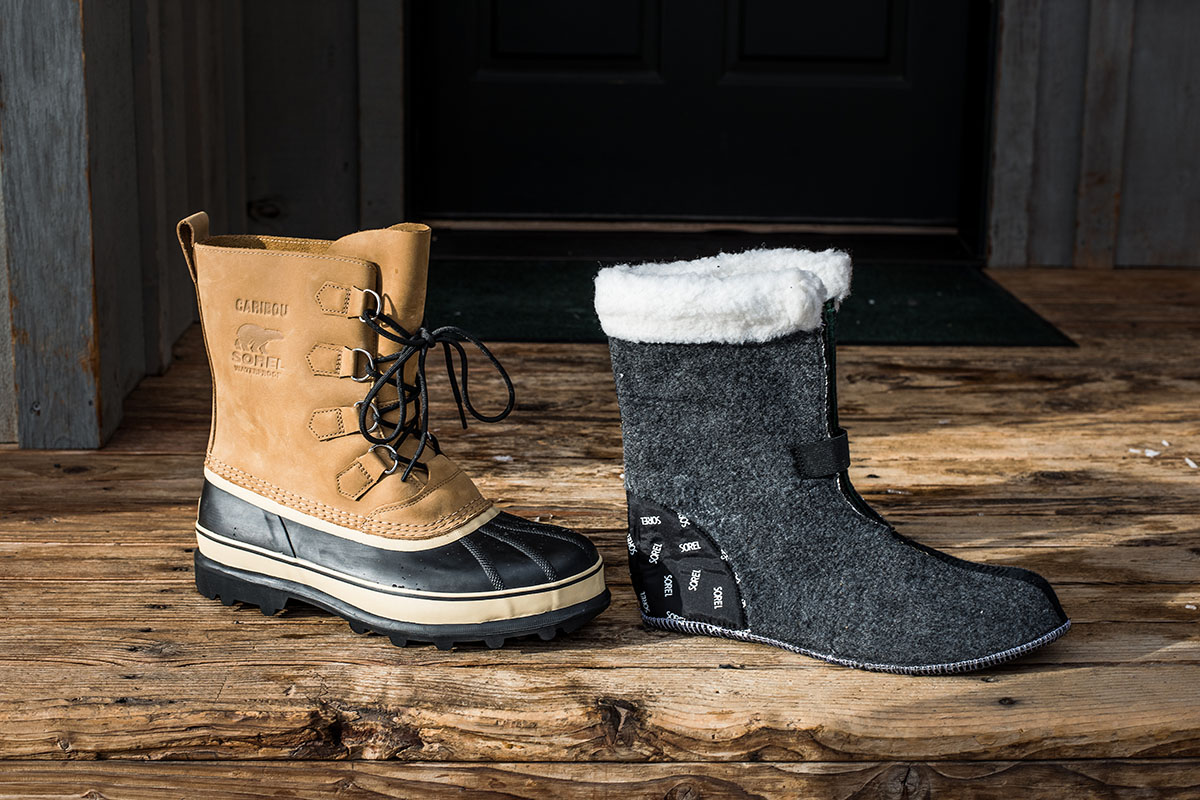 7. Waterproofing
Given that you'll be walking in snow and over wintery slush, basically all winter boots offer some degree of water protection. As covered above, two-piece boots tend to provide maximum waterproofing: the burly rubber around the feet and leather uppers on the outer shell are pretty imperious to the elements, with a removable liner underneath. One-piece boots, on the other hand, feature a thin waterproof and breathable membrane that's sandwiched between the outer and lining. One-piece boots are waterproof, but extended exposure eventually can lead to moisture making its way through said membrane.
Other key pieces in staying dry relate to overall height and the tongue of the boot. Specifically, if your feet will be submerged in ankle-height or deeper water on occasion, it's a good idea to verify the tongue stays connected to your boot's upper as high as possible (an opening in the tongue means water can seep through). And regardless of the boot design, it's important to take measures to prevent snow from entering over the top of the collar. If possible, wear pants that can go over your boot, or if not, tighten your boot closely at the top. And if winter hiking or snowshoeing, gaiters are the most surefire way to stay dry.

8. Weight and Bulk
With most categories of outdoor gear, weight is a primary consideration, but not so much here. The truth is that for winter boots, you're generally not carrying them in a pack, you're not covering super long distances, and you're usually not putting them in a suitcase for travel. This means that a total weight of 3 to 4 pounds per pair or even higher doesn't really make all that much of a difference. That said, if you have ambitious snowshoe and hiking plans, or just prefer a shoe that's light and nimble, it's worth double-checking the weight.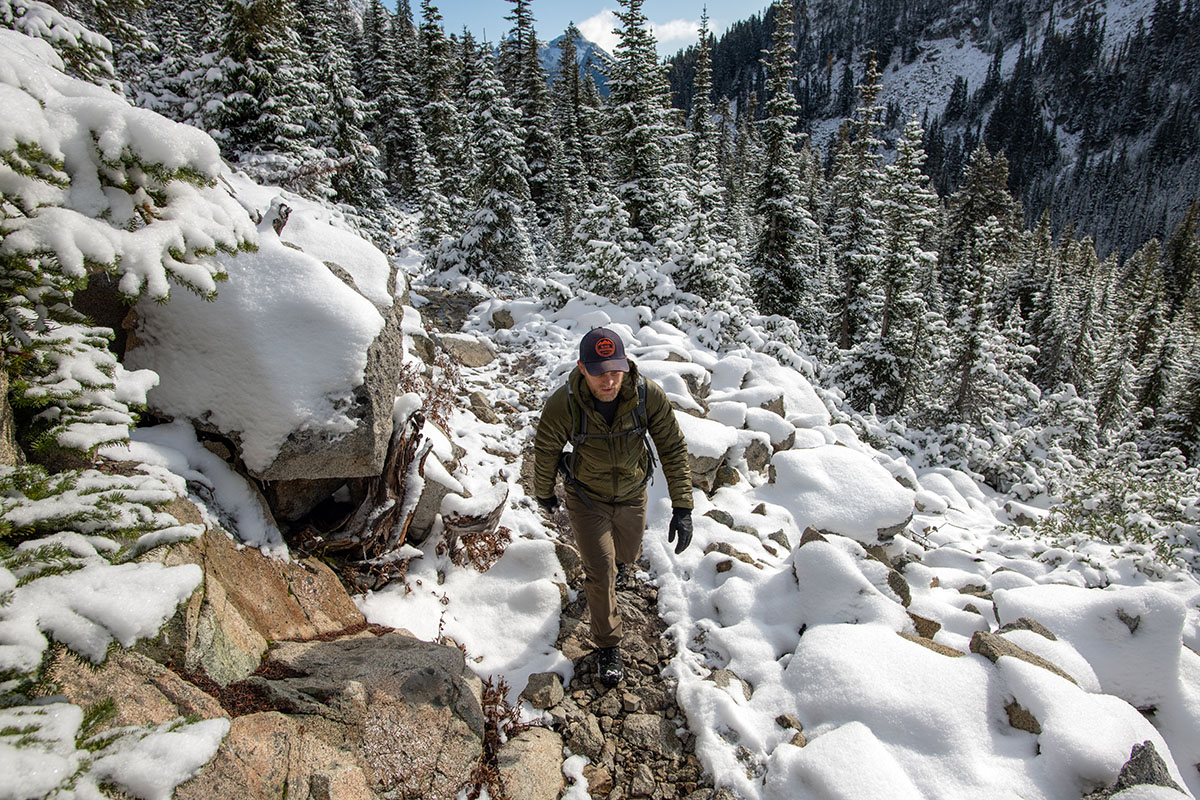 In addition, bulk can be a real factor. As mentioned above, Sorel's Caribou is extremely popular and has been for years. For casual use, walking to your car, and shoveling the sidewalk, it's a fine option. But with a weight of 4 pounds 10 ounces, the Caribou is a heavy boot, and more importantly, feels big and rather burdensome on your foot. As with any key spec, take a look at the weight (we've included it in our winter boot comparison table) alongside the overall build.

9. Fit and Sizing
Fit always is an important consideration with footwear, and the same holds true for winter boots. A properly sized boot should be large enough to accommodate serious wool socks without pinching, and keep in mind that winter socks can be quite thick (much thicker than hiking socks). On the flip side, a fit that is too snug may inhibit circulation and can end up compromising the warmth the boot provides. It's also important to consider the type of activity: a boot that only will be worn around town doesn't have to fit perfectly to perform well (you can err on the side of going a little loose). But for a more hiking-focused model like Merrell's Thermo Chill, it's best to get fit dialed in to avoid hot spots and discomfort—you'll be covering a lot of ground, after all. As always, it's best to try on your boots and buy them in person, but if shopping online, do your research and be prepared to size up.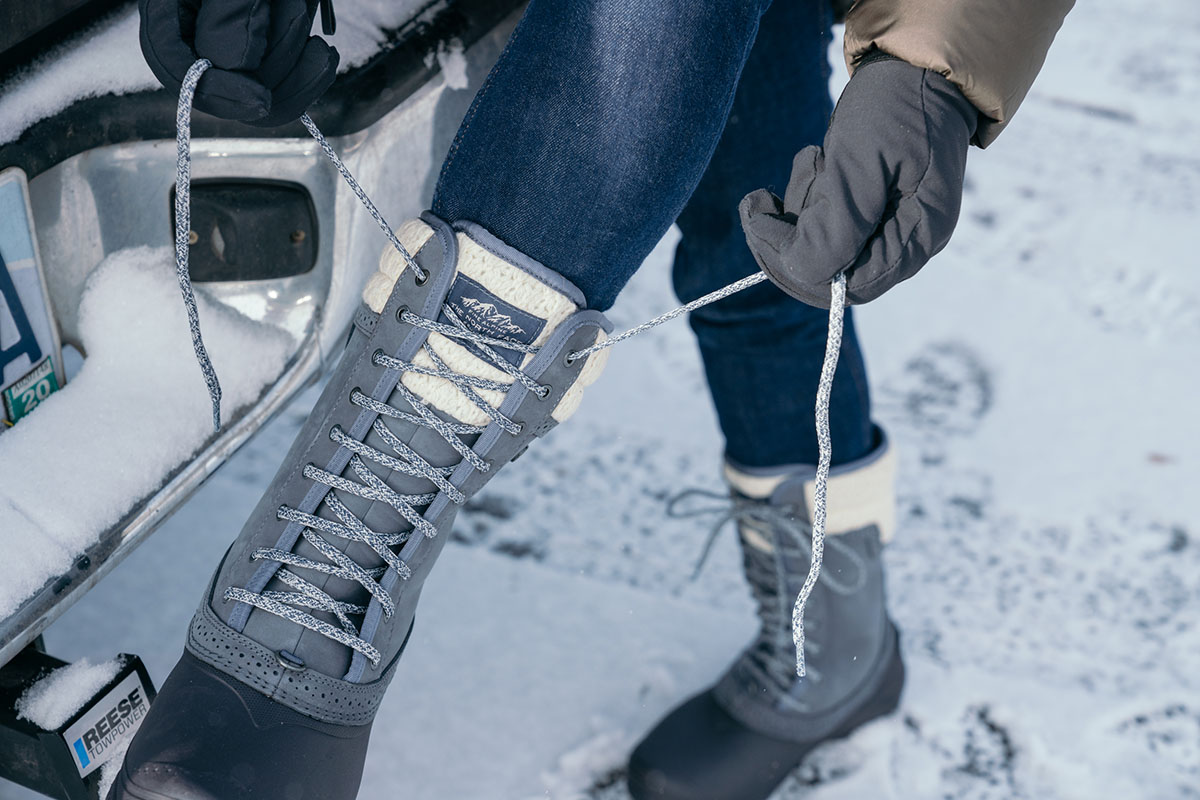 10. Our Top Winter Boot Picks
Once you've read through the steps above, it's time to select the perfect winter boots for you. We cover all of our top picks in our articles on the best winter boots and women's winter boots, but below are a few of our favorites:
Men's
Best Overall Winter Boot: The North Face Chilkat 400 V
Best Budget Winter Boot: Kamik NationPlus
Best Everyday Winter Boot: Sorel Caribou
Best Boot for Winter Hiking: Merrell Thermo Chill
Warmest Winter Boot for Extreme Cold: Baffin Impact
Women's
Best Overall Women's Winter Boot: UGG Adirondack III
Best Budget Women's Winter Boot: Kamik Momentum 3
Best Women's Winter Hiking Boot: Oboz Bridger 7" Insulated
Best Insulated Chelsea Boot for Women: Blundstone Thermal Chelsea
Back to Our Boot Guide  See Our List of Best Winter Boots
Read More About Winter Gear