Backcountry skiing can be an incredibly rewarding way to spend your time outdoors—no crowds, untouched snow, and a skin-track workout to compliment your knee-deep powder turns. But the conflicting demands of uphill and downhill travel can make dialing in your clothing choices challenging. It's important for your overall comfort and well-being to stay cool and ventilated while skinning, but insulated and dry while transitioning and bombing downhill. Layers are the answer, and below we outline our tried-and-true system for backcountry skiing. For more recommendations to get the most out of your season, see our collection of ski gear reviews.
 
---
Backcountry Skiing Layers
---

Backcountry Skiing Layers
The baselayer keeps body heat in while wicking away sweat. Since baselayers—both top and bottom—are in direct contact with our skin, we prefer merino wool or a wool/synthetic blend for its soft feel and heat-trapping properties. Merino helps regulate temperature, too—the same shirt that keeps you warm in the winter will keep you cool when you're sweating up the skin track in the spring. That said, we like to have a few different options in our closets: On the coldest days, midweight baselayers like Patagonia's Capilene Air (51% merino wool and 49% recycled polyester) provide all-day warmth. However, when we're expecting balmy spring skiing conditions, we opt for a lightweight set, like Smartwool's Classic All-Season tops and bottoms.
The sun's effects are intense in the alpine, even in cold winter conditions—we see its impacts to the snow through sun crusts, springtime corn cycles and, of course, to our skin when we get a midwinter sunburn. A sun hoody can help protect you from the rays on long, late-winter bluebird days spent touring above treeline. They're typically made from light and breathable synthetics (similar to a lightweight baselayers) but with the addition of a UPF rating for sun protection. Outdoor Research's Echo Hoodie is our go-to: It's light and airy with a recycled polyester build, boasts a UPF 15 rating, and has thumb loops for easily pairing under gloves and a stretchy hood to cover the neck and top of your head. Another benefit is that you won't have to think about reapplying sunscreen throughout the day—especially when cool or mild temperatures might mask the sun's effects. That said, we always advise multiple types of sun protection in the alpine, such as a trucker hat or similar large-brimmed hat, glacier glasses, sunscreen, and SPF chapstick. 
Moving outward from the baselayer, the next piece of clothing is a midlayer. The midlayer is the most versatile piece of clothing, tasked with both insulation and ventilation. While these are inherently very conflicting demands, many outdoor companies have refined their technology to keep us warm when we're inactive and cool when we're working up a sweat. Fleece and synthetic insulation are our midlayer go-tos, thanks to their excellent breathability and water resistance (especially compared to down). Our current top pick for backcountry skiing is the Patagonia Nano-Air Light Hybrid Hoody, which uses a smart combination of lightweight synthetic fill at the front and cozy fleece at the back, sides, and underarms for an effective balance of warmth, comfort, and breathability.
Worn over a baselayer and/or midlayer, a hardshell's main task is protection from precipitation and wind—and it should also be light enough to pack away for the skin track. Most backcountry skiers will opt for a standard hardshell jacket rather than a ski-specific one, but there are a number of ski jackets with more targeted feature sets that work great, as well.
The main differences between hardshells and backcountry-ready ski jackets are features, coverage, and weight. Hardshells are the more streamlined option and prioritize breathability, making them ideal for long days of touring, ski mountaineering, and spring conditions. For example, the Arc'teryx Beta LT hardshell is built with relatively thin 40-denier fabric, features pit zips for dumping heat, and checks in at just 13.9 ounces. On the other hand, dedicated backcountry ski shells typically boast longer hems and ski-specific features like powder skirts and interior dump pockets. While we love the added performance, these additions tack on weight and bulk and are not always practical for uphill travel. A couple popular options include Patagonia's Gore-Tex Pro-equipped PowSlayer (1 lb. 3.3 oz.), which offers top-notch weather protection, and the stretch-infused Outdoor Research Skytour (1 lb. 6.1 oz.), which is a standout in terms of breathability and freedom of movement.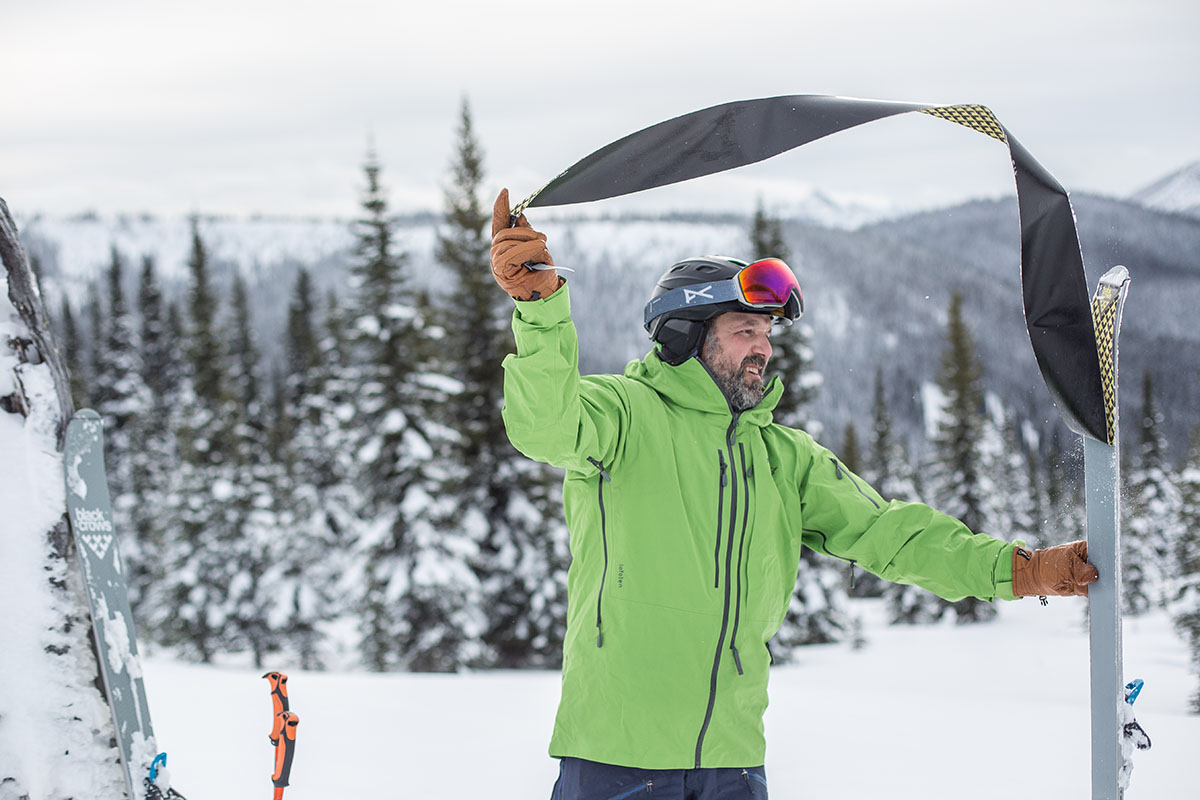 Some backcountry skiers will opt for a softshell over a hardshell jacket. ​​Conditions and personal preference will dictate your choice: A hardshell has unparalleled waterproofing capabilities and provides superior wind resistance, while a softshell is less weatherproof but breathes much better and has a more pliable feel. We prefer a softshell in good conditions or on the skin track at lower elevations, but if weather really moves in, there's no replacement for a quality hardshell. And in some cases, we'll wear a softshell on the uphill and swap it out for a hardshell for the downhill. The Black Diamond Dawn Patrol is one of our favorite ski-specific softshells, and we also love Ortovox's offerings, which are spendy but high-quality and comfortable (including the merino wool-lined Berrino Jacket).
When you take a break from climbing to eat a snack or transition into ski mode, the heat you've been building while touring can dissipate in a matter of minutes. In many cases, your midlayer will do the trick to keep you comfortable, but on the coldest days, it's best to bring along a heavier puffy or a parka. In this case, we prefer down over synthetic fill due to its extra loft and ability to compress into a tiny package at the bottom of our ski pack. Rab's Neutrino Pro is our favorite heavyweight down jacket, combining winter-weight warmth, decent weather resistance, and a packable design. And if you prefer the wet-weather assurance of a synthetic jacket, the Patagonia Das Parka is a very well-rounded and capable alternative.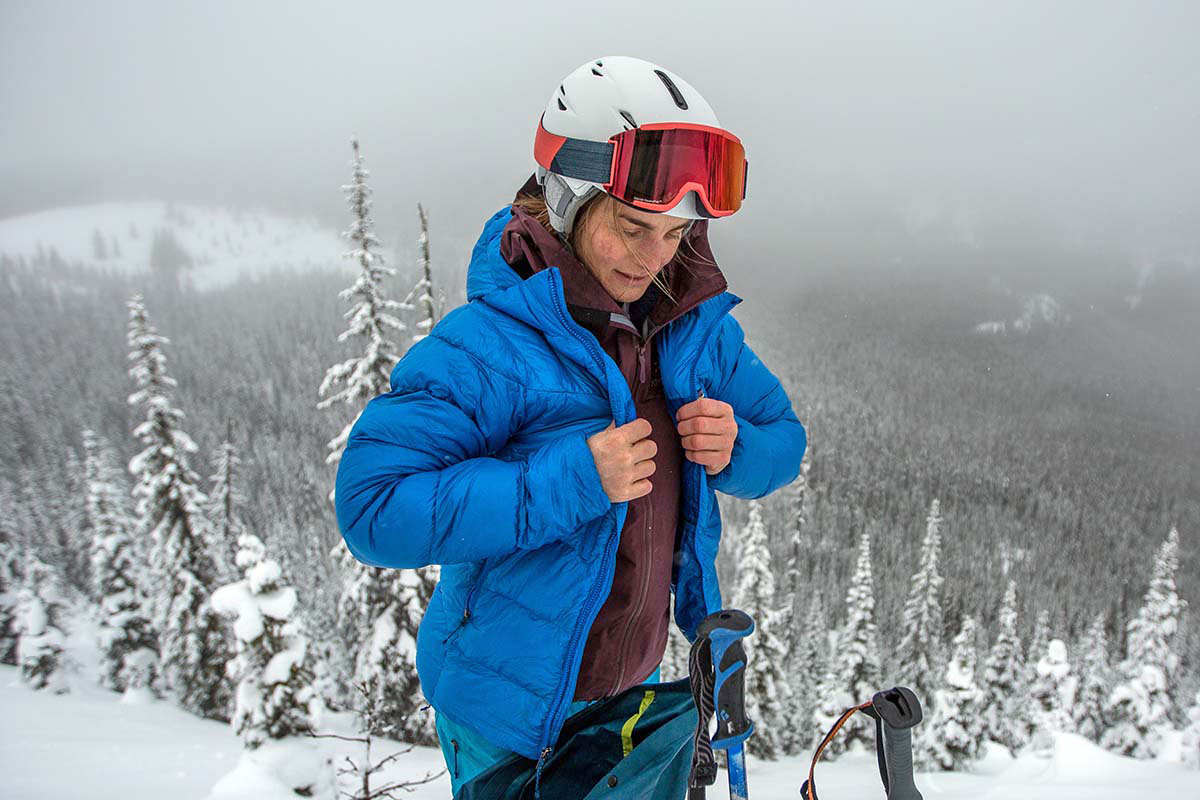 Similar to a ski jacket, we prefer to wear a pair of non-insulated, weather-resistant or weatherproof pants while backcountry skiing. For folks who tend to heat up quickly, breathable softshell pants might be the way to go. Ortovox's Pordoi is our favorite option in this category with good storage (including a dedicated pocket for an avalanche beacon), vents, and reinforcements at the lower legs for durability against ski edges and crampons. If you're leaning toward a waterproof hardshell pant, we recommend a stretch-infused hybrid like the Outdoor Research Skyward II or Black Diamond Recon Stretch, which offers weatherproof protection alongside better breathability and mobility for the demands of uphill travel. And if you're worried about moisture creeping its way in at the waist, it's worth considering a bib—the Outdoor Research Skytour AscentShell and Trew Gear Trewth (and women's Chariot) are two of our top picks.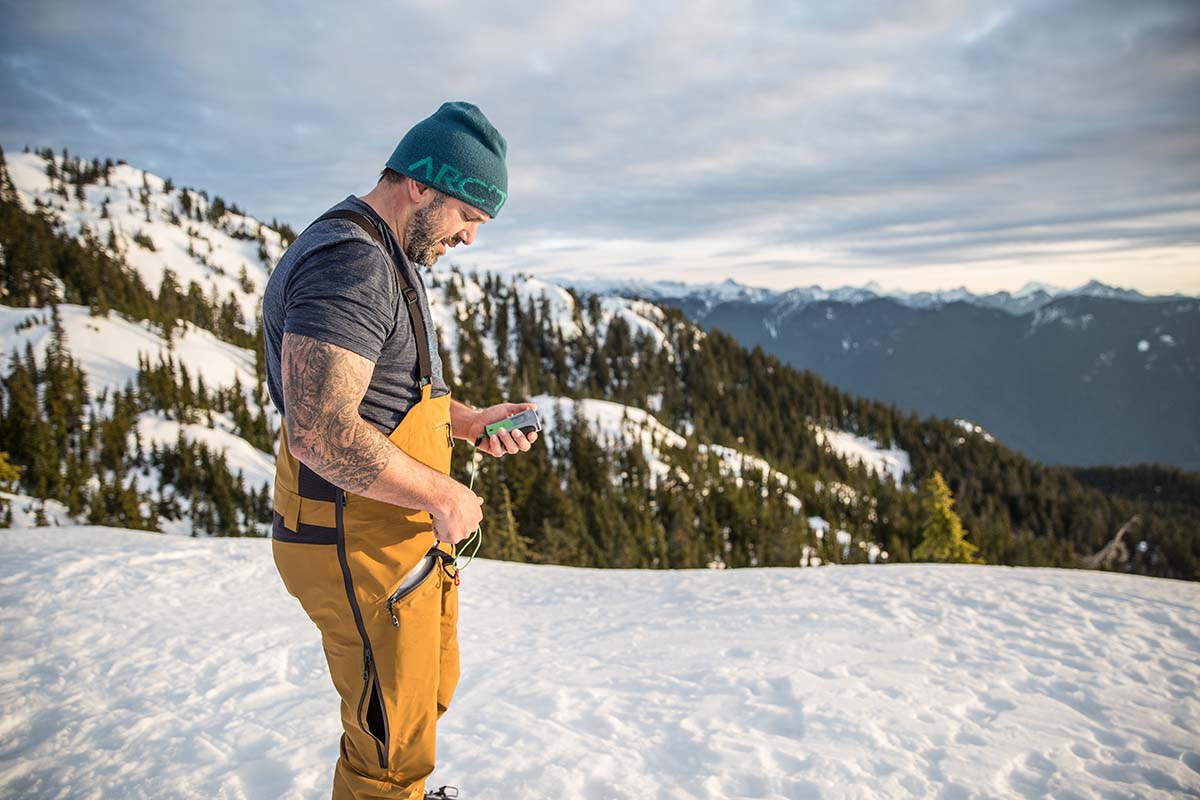 Ski socks have a higher price tag than a pair of hiking socks, but they're worth every penny. They typically come just below the knee for full coverage underneath boots and offer additional padding in areas prone to rubbing and pressure. We prefer ultra-soft merino wool or wool-blend socks like the Smartwool Ski Targeted Cushion OTC and Darn Tough OTC Lightweight for their impressive comfort and odor-fighting abilities. And a pro tip: Wear a different pair of socks for the drive to the trailhead, and only change into your ski socks immediately before putting on your boots. This will preserve your ski socks for ultimate dryness and warmth and leave you with a fresh, dry pair to change back into for the ride home.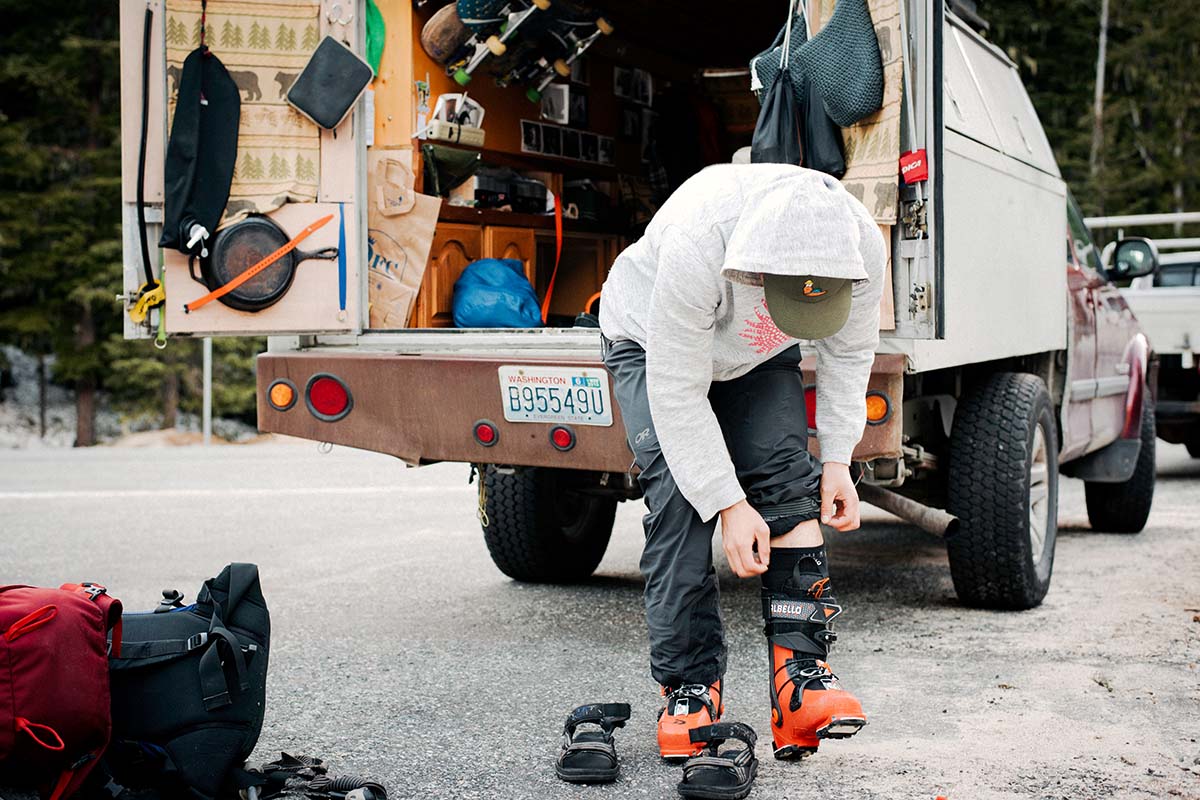 9. Liner Gloves
Like a baselayer top or bottom, a liner glove is a great way to add warmth with minimal bulk. Additionally, liner gloves are relatively quick-drying (a great attribute for overnight ski mountaineering missions or hut trips) and can come in handy for tasks that require more dexterity than a ski glove offers, including small adjustments on boot buckles, opening a Ziploc full of snacks, or undoing zippers. While it might seem easiest to just go bare-handed, touching cold metal equipment is far from comfortable (and can be downright dangerous at times). We're not super picky about which liner we use and prefer to keep it simple and affordable with an option like the Black Diamond Lightweight ScreenTap Gloves or Marmot Power Stretch Connect Gloves.
The varying demands of backcountry skiing can require a quiver of gloves, including a waterproof, insulated shell for the downhill and a breathable and dextrous option for uphill travel and transitions. Your resort glove might double as your downhill glove, but keep in mind that it should be fully waterproof, as you won't have the luxury of stepping inside the lodge to regain feeling in your fingers. For the coldest and snowiest of days, we prefer an ultra-protective glove with a gauntlet (the Hestra Army Leather and Black Diamond Guide are two of our favorites). Many ski gloves also boast insulation in the form of built-in liners, which is great for layering.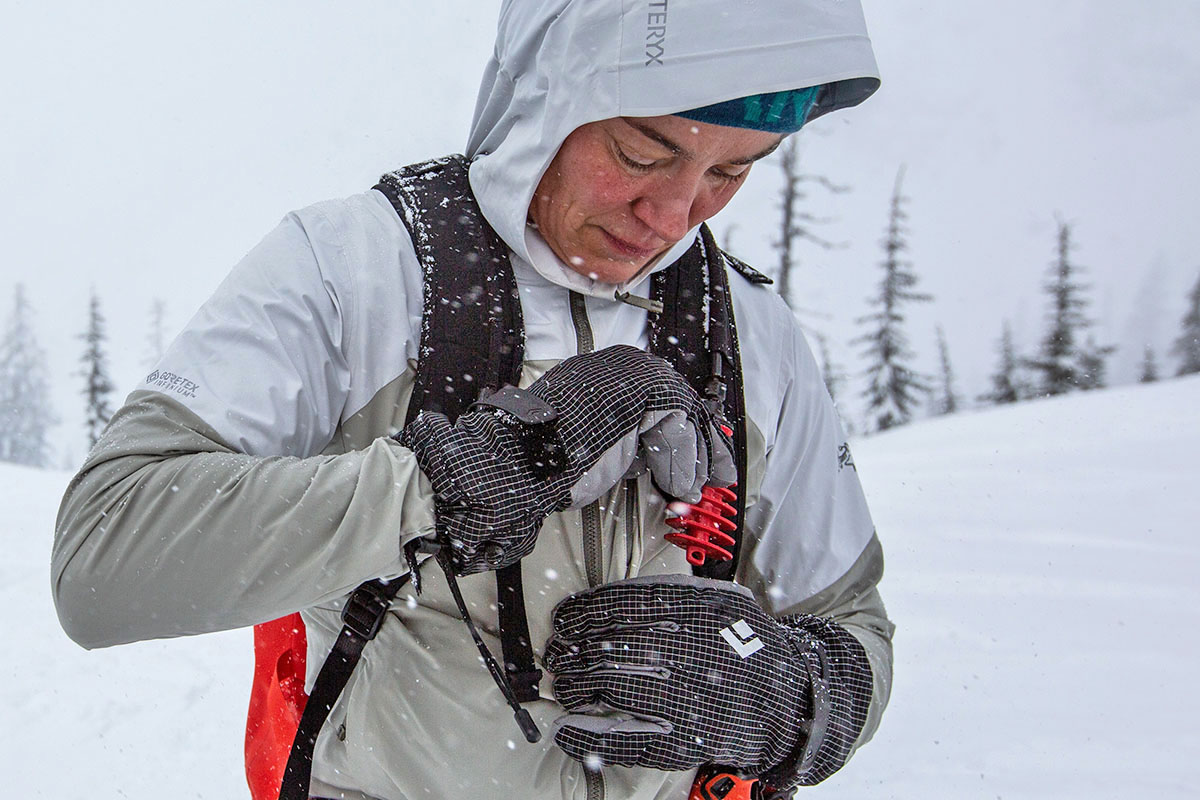 When you're building up a sweat or fiddling with your ski boot buckles, it can be nice to have a dextrous glove that offers more warmth and windproofing than a thin liner. The Outdoor Research Stormtracker Sensor has quickly become one of our favorites, and many backcountry skiers will opt for a leather work glove-inspired option like the Black Diamond Tour (remember that you'll occasionally need to apply a leather conditioner like Nikwax to maintain the waterproofing). Finally, when choosing between gloves and mittens, know that gloves make it easier to perform fine motor tasks like tightening buckles, gripping ski poles, and zipping zippers, while mittens generally offer more warmth.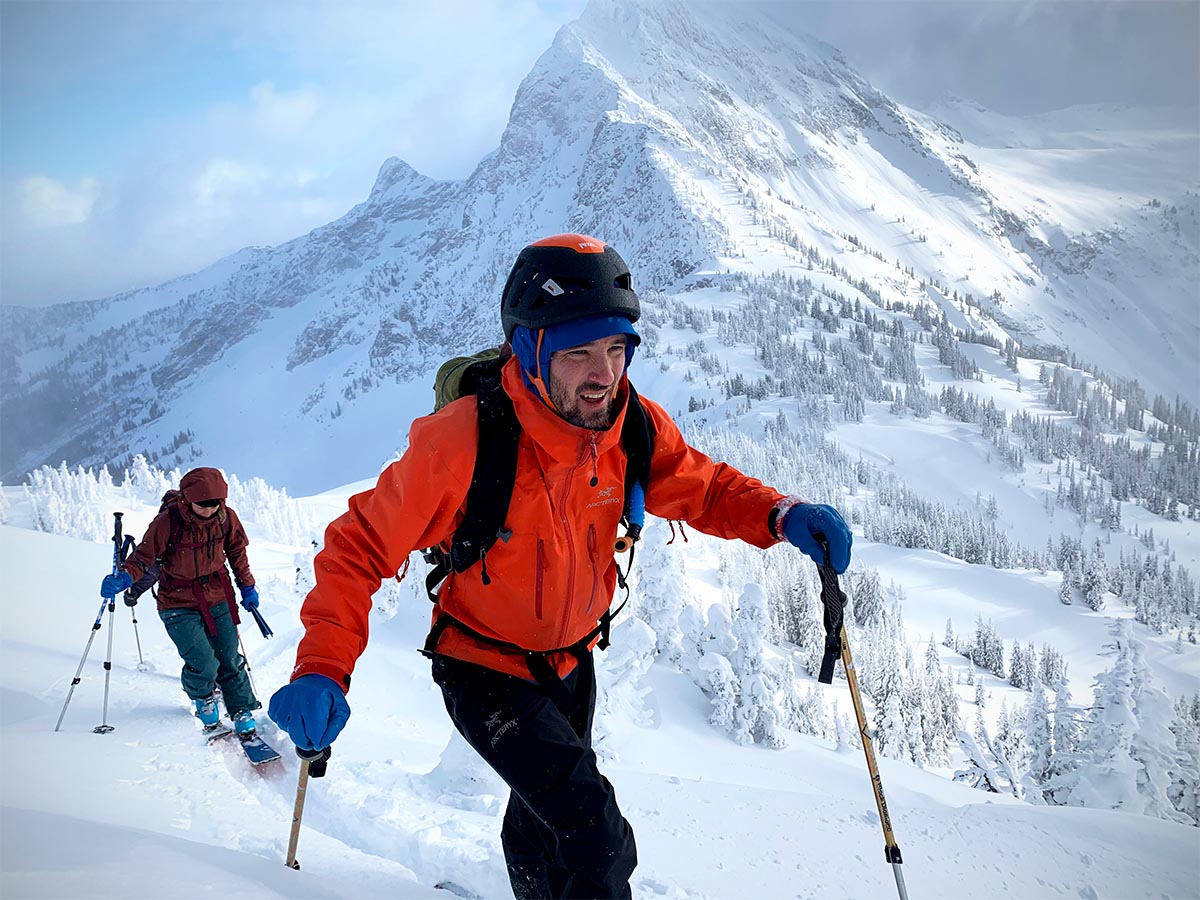 11. Beanie or Hat
It can be a challenge to keep your head and ears warm all day in the mountains, and our preferred method is to bring along two separate options. We'll often wear a lightweight hat, headband, or even a trucker hat on sunny days for uphill travel and swap it out for a thicker and warmer beanie for the descent (though sometimes, just a helmet will suffice). Unlike standard beanies, our favorite ski-specific options are thin and snug-fitting, which is great for fitting underneath a hood or helmet. Merino or merino wool blends are ideal, but we also have a soft spot for Skida's stylish hats and headbands (which are made from synthetic materials).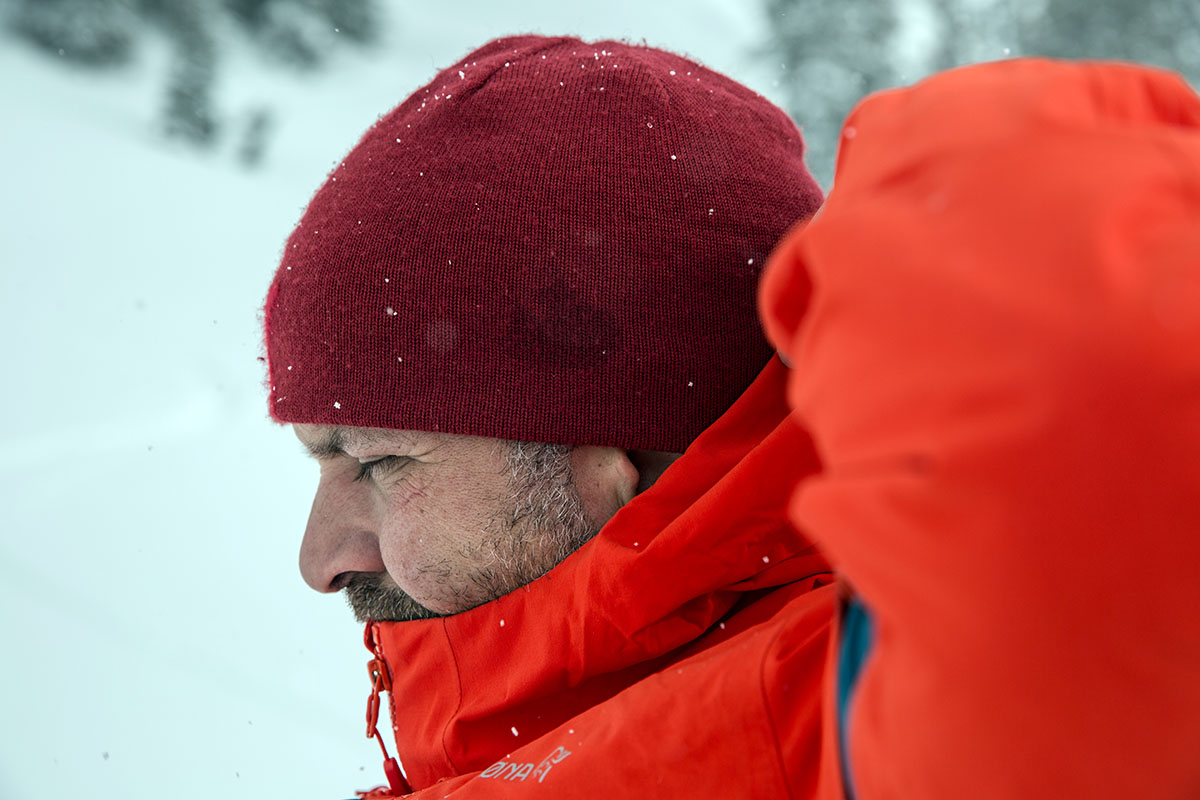 Though not technically a layer, we'd be remiss not to mention helmets here (after all, they do provide a great deal of warmth in addition to safety). While some backcountry skiers choose to forego helmets, bringing one along is well worth the weight if you ski in avalanche terrain (which is any slope that's steeper than 30 degrees). For reference, an estimated one in four avalanche fatalities is due to trauma from hitting rocks or trees on the way down, so a helmet greatly increases your margin. Not to mention, the modern market is packed with backcountry-specific models that are light and low-profile without compromising on protection. The Salomon MTN Lab Helmet is our top pick for the backcountry, and it can also play double duty at the resort (Smith's Summit MIPS is another to consider). It's also common for skiers (particularly ski mountaineers) to wear a lightweight climbing helmet like the Petzl Sirocco, which has been certified for ski-touring use.


A Final Note on Layering
Everyone is different when it comes to cold-weather layering and preferences. While some shed layers as soon as they start moving, others require hours of constant activity to maintain warmth. We encourage you to use this list as a starting point and to develop your own system based on your specific needs. Maybe you prefer to wear softshell pants with no baselayer underneath, or perhaps you run so cold you need long underwear plus an insulated ski pant. Maybe you need two midlayers, or none at all. No matter what system you choose, remember that all of the parts work together—a quality midlayer won't be all that helpful over a sweat-drenched cotton t-shirt. It may take several ski tours to nail the perfect arrangement, but soon you'll discover what works well for you and what you can safely and comfortably leave behind. 
Back to Our Backcountry Layering Guide  See Our Ski Gear Reviews
Learn More About Ski Gear