The Atom LT from Arc'teryx is a legend. It's been one of the popular synthetic jackets on the market for years, so much so that it has received few updates even as the competition continues to increase. It's true that the Atom LT isn't as breathable as newer options like the Patagonia Nano-Air, The North Face Ventrix, or even Arc'teryx's own Proton LT, but it's a super versatile all-rounder that looks and feels great. Below we break down the Atom LT's performance. To see how it stacks up to the competition, see our articles on the best synthetic jackets and best midlayers.
Editor's note: We tested the past-generation Atom LT for this review, and Arc'teryx made a few tweaks to the jacket for fall 2020. Notable changes include updates to the cuff design and liner, a longer hem, reduced weight (from 14.6 to 13.2 oz.), new Coreloft insulation, and a more durable face fabric. We've noted the changes in-text below and will update this review as soon as we test the latest version.
 
---
Table of Contents
---

Performance
Warmth
The Arc'teryx Atom LT Hoody has synthetic fill, so it won't rival down fill in terms of warmth or packability. Having said that, this jacket makes a really nice fall and spring outer layer and also works great as a midlayer in cold conditions. It's filled with 60-gram (g) Coreloft insulation (note: the latest version uses 60g Coreloft Compact) everywhere but the side panels, which are a stretchy midweight fleece. This puts it on par in terms of warmth with other leading synthetics like the Patagonia Nano-Air and The North Face Ventrix. In addition, the Tyono outer lining does a nice job at blocking light wind, which definitely helps as well.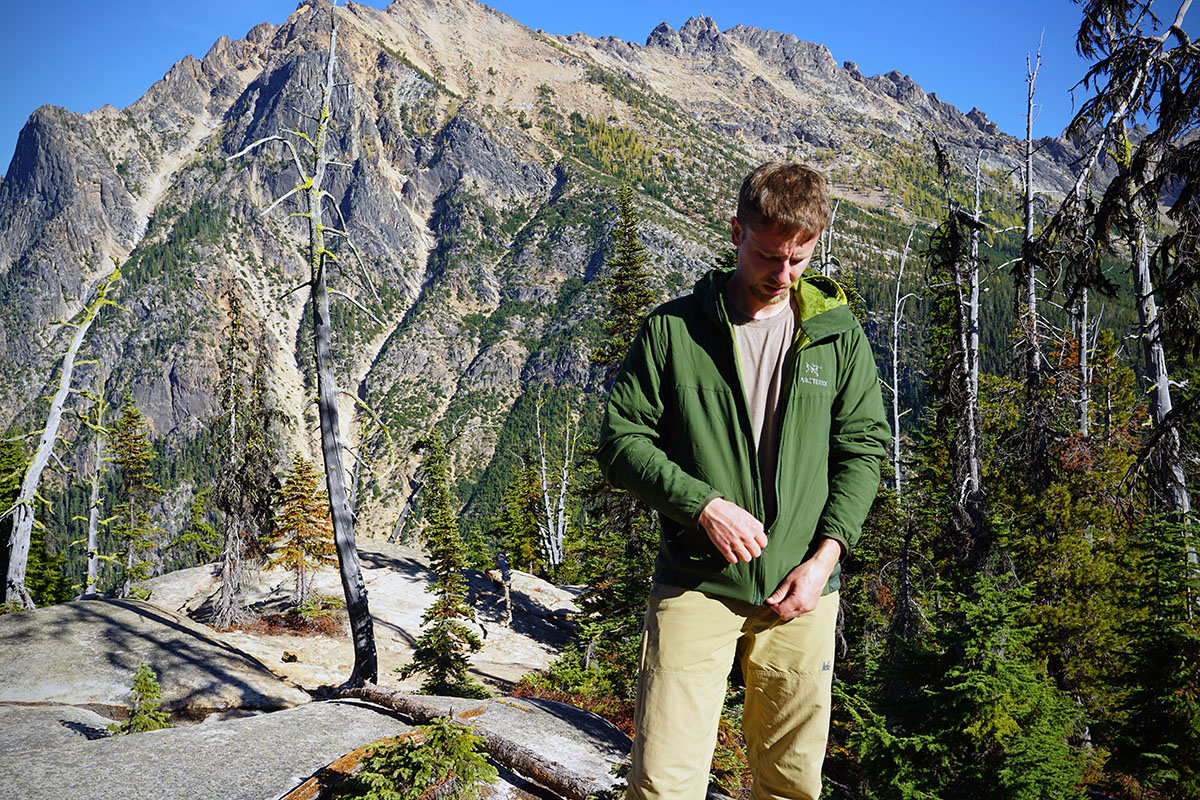 From our experiences, we are comfortable wearing the Atom LT down to about 40 degrees Fahrenheit without much in the way of layering. It certainly can go lower with a warm baselayer underneath or if you're on the move and working up some body heat. But for static use, when temperatures drop down toward freezing, we're switching to a down jacket or adding a baselayer or shell. For a similar design with more warmth, Arc'teryx also makes the Atom AR, which has essentially the same design but with a more substantial 120g Coreloft around the body and slightly less in the underarms (80g) and hood (60g). 
 
Weather Protection
The Arc'teryx Atom LT does a nice job in light to moderate precipitation and wind. The Tyono shell fabric feels slightly more substantial than other leading synthetics we've worn, and it's finished with a DWR treatment that helps water bead up instead of soaking in. Fleece isn't a great wind blocker, so the side panels will let in strong gusts, but the hard face exterior repels moisture very effectively. Because of these characteristics, we wear the Atom LT around the Pacific Northwest in a wide range of rainy conditions. The jacket did soak through on one particular occasion when camping and standing in sustained rain (we neglected to bring a shell on that trip and got more than we bargained for), but it has performed admirably otherwise. And unlike down insulation, Coreloft will continue to insulate when wet.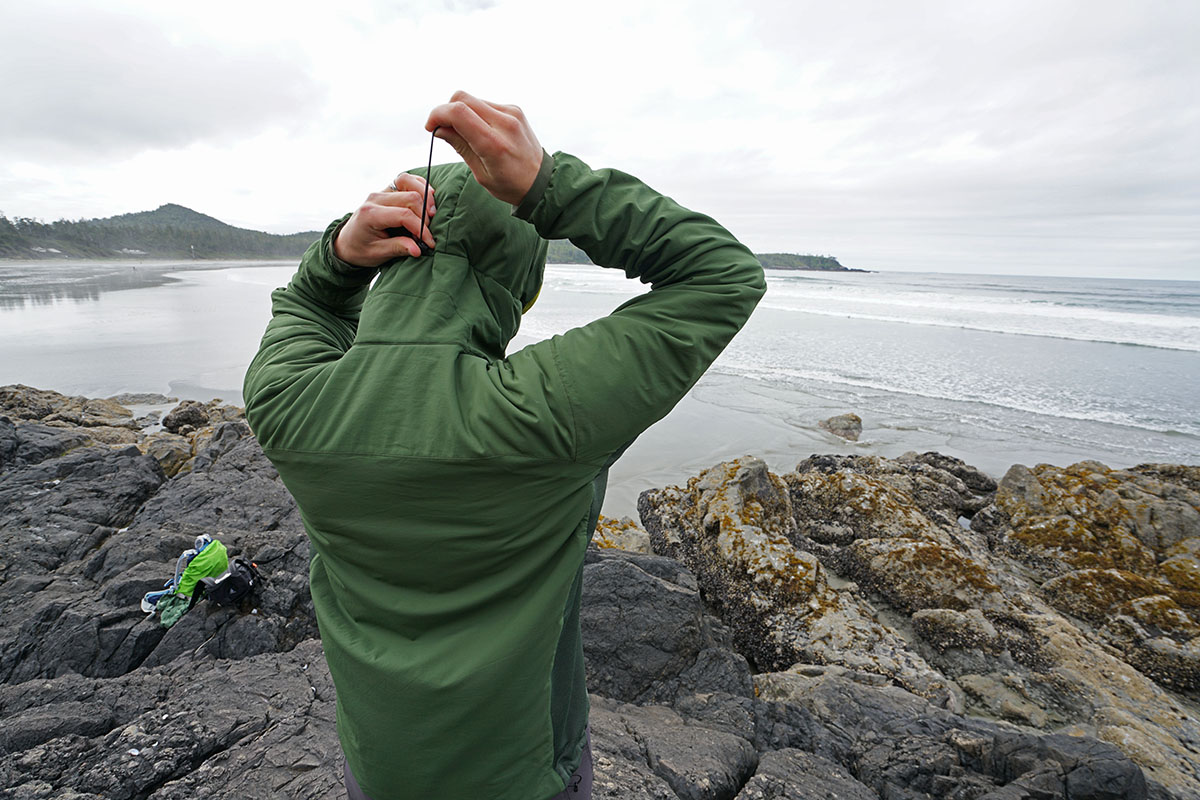 Breathability
A number of newer synthetic jackets like the Patagonia Nano-Air and Black Diamond First Light Stretch are of the highly breathable variety, but the Arc'teryx Atom LT isn't a standout in this regard. After doing just about everything in this jacket from running and mountain biking to cross-country skiing, we think of the Atom LT's breathability as solidly middle-of-the-road. The stretchy fleece side panels make it more breathable than a down jacket or a traditional synthetic like the Patagonia Nano Puff, but Coreloft falls short of Ventrix and FullRange (used in the Nano-Air) insulation for serious aerobic activity. It's a terrific piece for moderate outdoor use and everyday wear, but for high-performance applications on a consistent basis, we would look elsewhere. To fill this void, Arc'teryx has released its Proton series with a more air-permeable shell, lining, and insulation.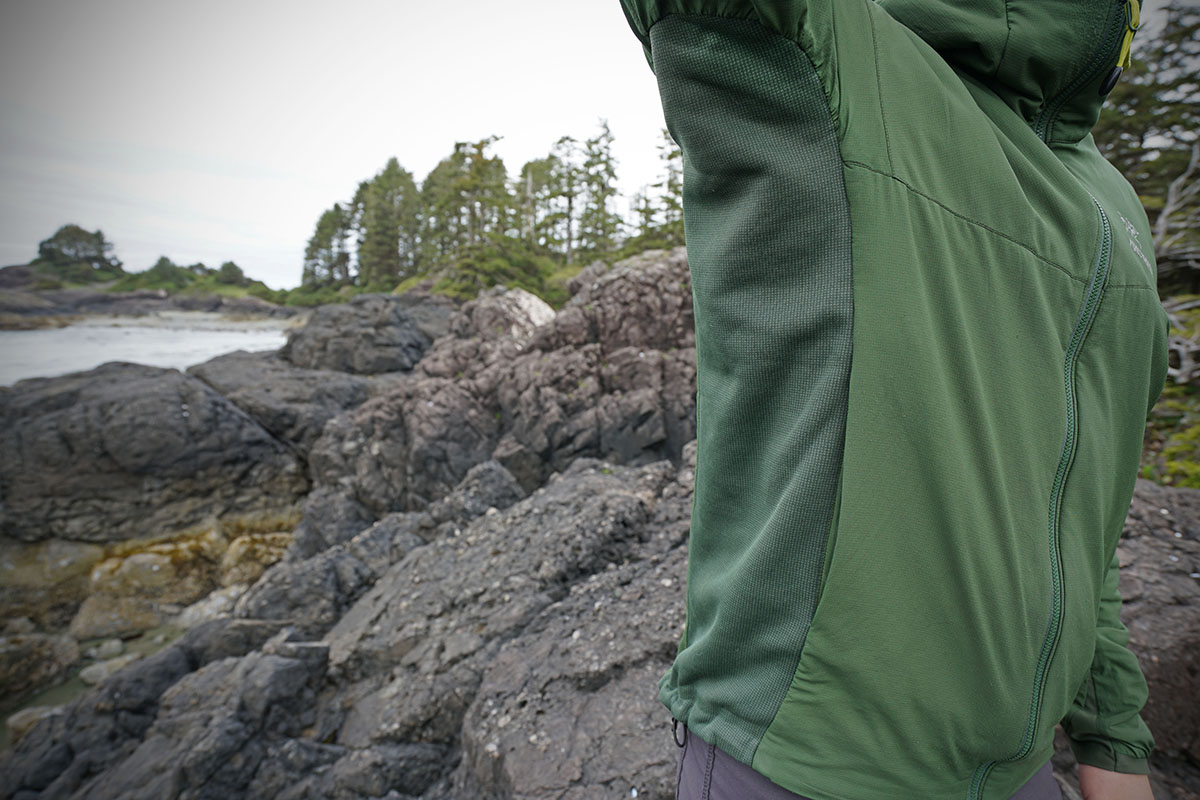 Weight and Packability
At 12.7 ounces for a men's medium, the Arc'teryx Atom LT Hoody is fairly average in the synthetic jacket category (note: the past-generation jacket was listed at 14.6 oz., and the latest update brings weight down to 13.2). For comparison, the Patagonia Nano-Air Hoody (12.2 oz.) and The North Face Ventrix Hoodie (13.4 oz.) are similar in weight and breathe better but offer less weather protection. Some down mimickers, like the Patagonia Micro Puff (9.3 oz.), are considerably lighter but also less durable and versatile. Another popular all-rounder, the Patagonia Nano Puff Hoody, weighs almost exactly the same 12.8 ounces. Of course, you can cut weight by going with a true down jacket, many of which clock in around 10 ounces or less, but you do compromise in terms of temperature regulation, wet-weather performance, and cost.
The Atom LT does not come with a stuff sack nor does it pack into one of its own pockets. We've brought the jacket along on a number of adventures by stuffing it into its hood and putting it in our pack, which gets it down roughly to the size of an American football. But the shell fabric and insulation don't compress as easily as down or other more packable synthetics.


Comfort
Of all of the categories in this review, comfort is one of the areas where the Arc'teryx Atom LT excels most. Simply put, we never want to take this jacket off. You can wear it hiking or climbing and then to the grocery store or bar afterward, all without missing a beat. The interior lining is soft and smooth to the touch, the stretchy sides give it a great fit, and the Coreloft insulation creates a pillow-like barrier from the outside world. In fact, the Atom LT is so comfortable that we frequently find ourselves wearing it indoors. All things considered, it's one of the coziest and most versatile jackets we own.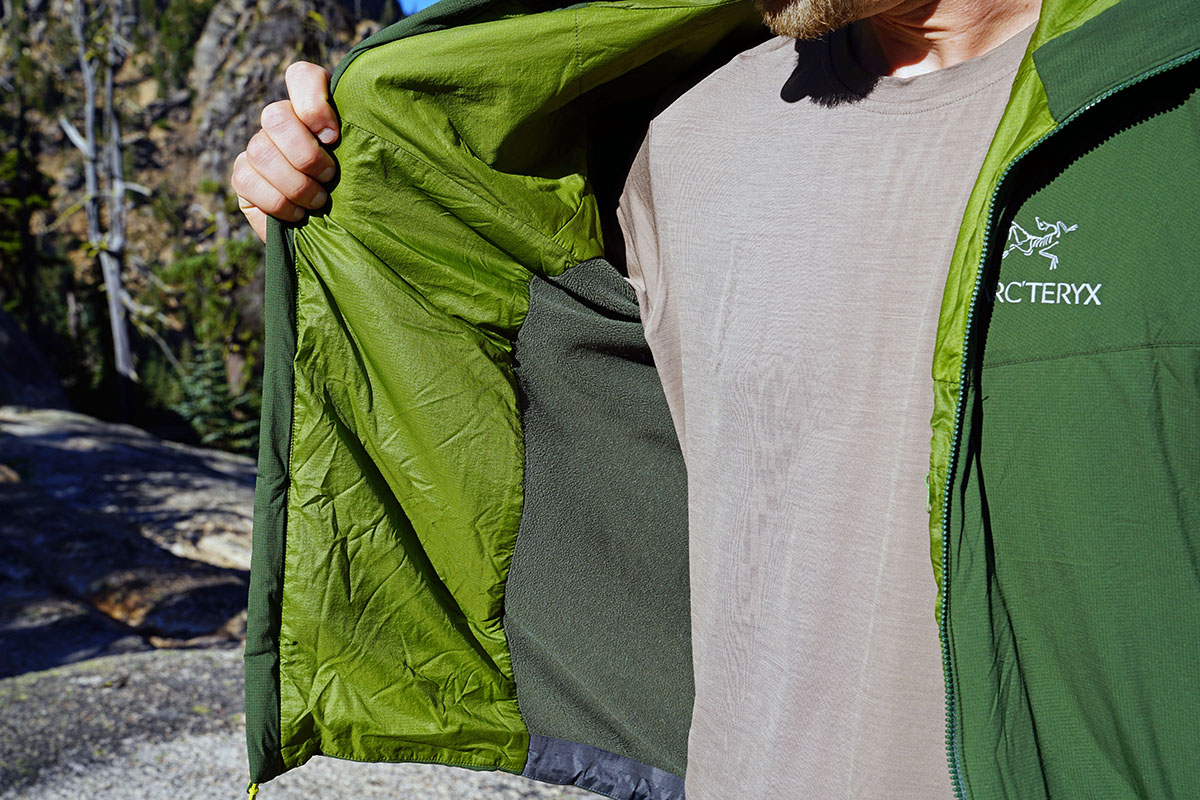 Durability
The Atom LT has a 20-denier shell fabric (a higher denier rating, or "D" for short, correlates with thicker materials). This puts it around the middle of the synthetic pack: The Patagonia Nano Puff and The North Face Ventrix are the same at 20D, while lighter-weight options like the Micro Puff (10D) are thinner. And you can go with a burlier shell like Arc'teryx's own Atom AR Hoody at 30D, but this comes with a weight penalty (1 lb.).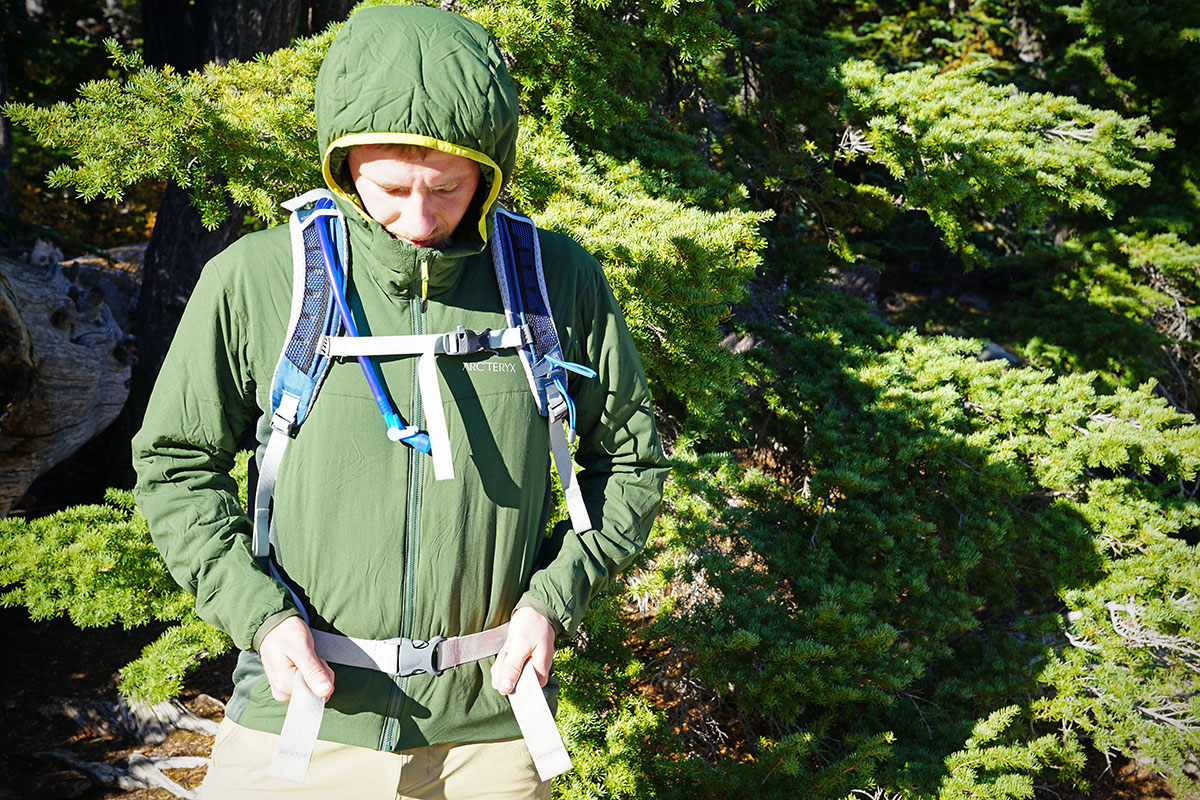 All that said, we've put the Atom LT through the wringer and it just keeps on ticking. As we mentioned above, we've done a wide range of outdoor activities in the jacket and worn it on a near-daily basis for a couple of years and counting. Despite stuffing it into a pack repeatedly, coffee spills, and numerous machine washings, the Atom LT looks great for its age. This is about more than the denier rating—it's the premium build quality and materials that we've come to expect from Arc'teryx.

Hood
We tested the Atom LT Hoody, and the jacket also comes in a non-hooded version (more in our "Other Versions" section below). In general, we prefer hooded jackets for everyday wear—the hood comes in handy for walking around the neighborhood on chilly days, and definitely for hiking or sitting around the campfire. More, Arc'teryx does hoods right: the Atom LT features a cinch around back, which is a rarity in the synthetic jacket category (competitors like the Patagonia Nano Puff and The North Face Ventrix do not). You also get the same 60g Coreloft insulation in the hood for some nice added warmth.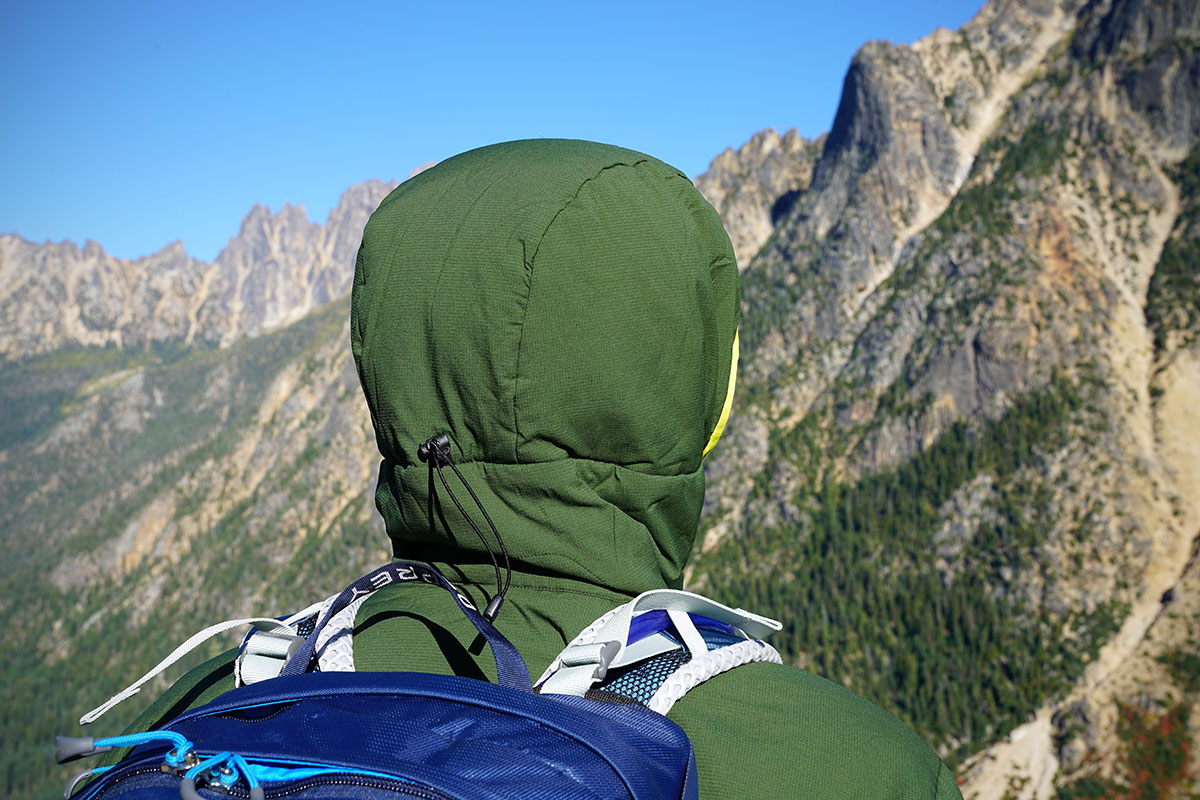 Fit and Sizing
Like most Arc'teryx products, the Atom LT has a slim, athletic fit. We prefer this type of cut, which is great for active use and wearing as a midlayer, but it may limit your ability to layer underneath the jacket. If you prefer a baggier fit, Patagonia tends to run more middle-of-the-road than Arc'teryx including with its popular Nano Puff, and The North Face's ThermoBall Eco is also more relaxed. Finally, it's worth noting that the Atom LT isn't particularly long—we find that our medium fits us just right (for reference, the tester in the photos is 5'9" and 155 lbs.), but we wouldn't want it to be any shorter (note: for fall 2020, Arc'teryx extended the jacket's hem by a little bit, which is now listed at 29.1 in.).

Other Versions of the Arc'teryx Atom
In addition to the men's jacket we tested, the Atom LT also comes in a women's hoody that was also revised for 2020, clocks in at 11.3 ounces, costs the same at $259, and has a nearly identical build. In terms of other versions, the Atom LT is available in a non-hooded jacket that is slightly lighter at 12.2 ounces and cheaper at $239, as well as a vest that weights 8.5 ounces and costs $175. Finally, in true Arc'teryx fashion, the company also offers AR ("all round") and SL ("superlight") versions of the Atom, which vary in warmth, weather protection, and features.

What We Like
An extremely versatile synthetic jacket that toes the line nicely between everyday and performance use.
Super comfortable liner, insulation, and shell fabric (we can't emphasize this enough).
Arc'teryx styling and build quality can't be beat.

What We Don't
Not as breathable as newer synthetics like the Patagonia Nano-Air, The North Face Ventrix, and Arc'teryx's own Proton series.
Not packable: the jacket doesn't come with a stuff sack and doesn't pack into one of its own pockets.
Like most Arc'teryx products, the Atom LT is pricey.


Comparison Table

The Competition
We consider the Arc'teryx Atom LT to be the premier all-around synthetic on the market (it currently holds the top spot in our round-up for 2020-2021), but another very popular option is Patagonia's Nano-Air. The biggest difference here is breathability: the Patagonia uses FullRange insulation that runs cooler than Coreloft during activity, plus it has a thicker yet more air-permeable 33D shell fabric. The Nano-Air also slightly undercuts the Atom LT in weight at 12.2 ounces and is packable into its own chest pocket. On the flip side, the Arc'teryx has a sleek look, better weather protection, and its build quality simply can't be topped. At the end of the day, these are two of the best synthetic jackets on the market and you can't go wrong with either.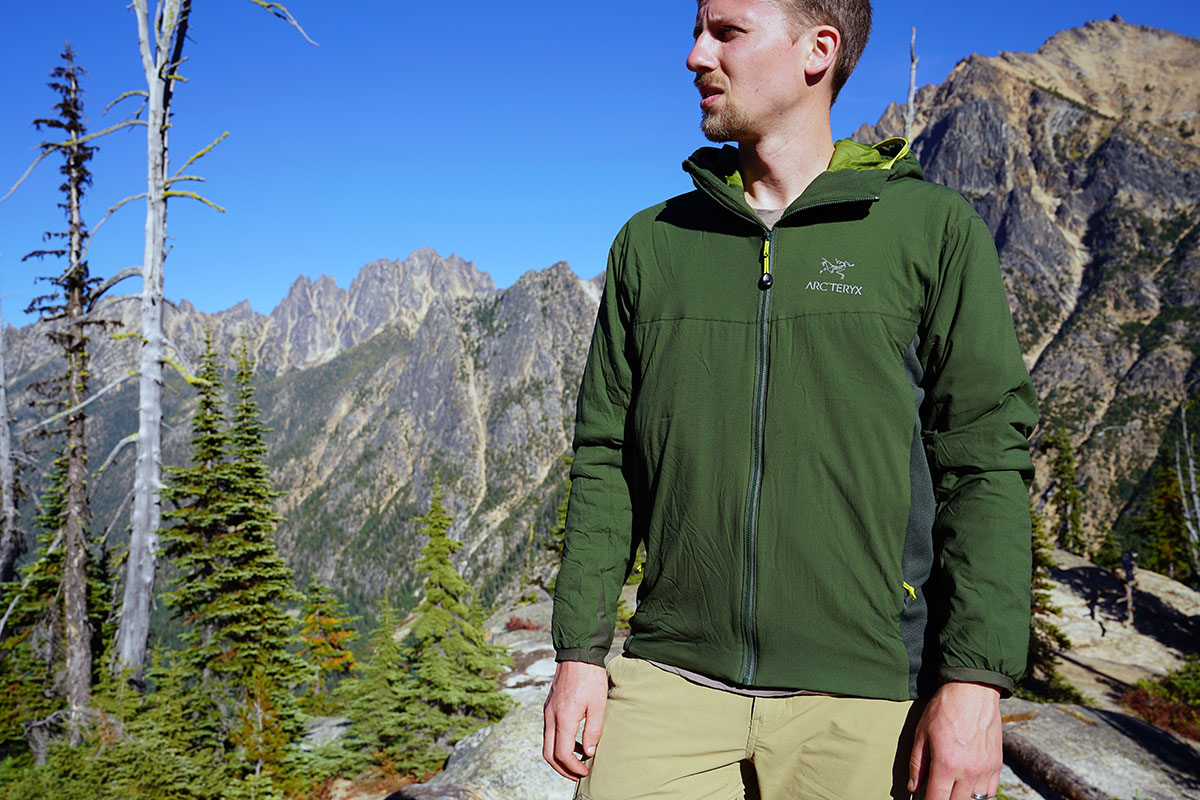 A more casual option from Patagonia is the ubiquitous Nano Puff. This jacket uses 60g PrimaLoft Gold Eco and has a similar 20-denier shell at the Arc'teryx, but the boxy cut and lack of breathability make it more of an everyday piece. The stretchy side panels on the Atom LT provide better mobility than the Nano Puff and help in staying cool while on the go. All in all, we prefer the comfort and versatility of the Atom LT, and particularly given the small difference in price of $10. But the roomier fit of the Nano Puff may give it the edge for some people compared to the more athletic cut of the Atom LT, plus it's better for layering and blocking wind.
Another option to consider is The North Face's ThermoBall. Updated last year to the "Eco" version, the jacket is a down-mimicking piece stuffed with ThermoBall Eco insulation that's meant to emulate real down. Throughout testing, we found it to be slightly warmer than the Atom LT, which was a great match for both everyday use and as a midlayer for skiing. That said, the ThermoBall Eco is heavier at 15.9 ounces, less breathable with a smooth interior that doesn't wick moisture well, and the fit is a bit boxy. All things considered, the Atom LT is the cozier and better-looking option by a wide margin, and we prefer its trimmer fit for performance use.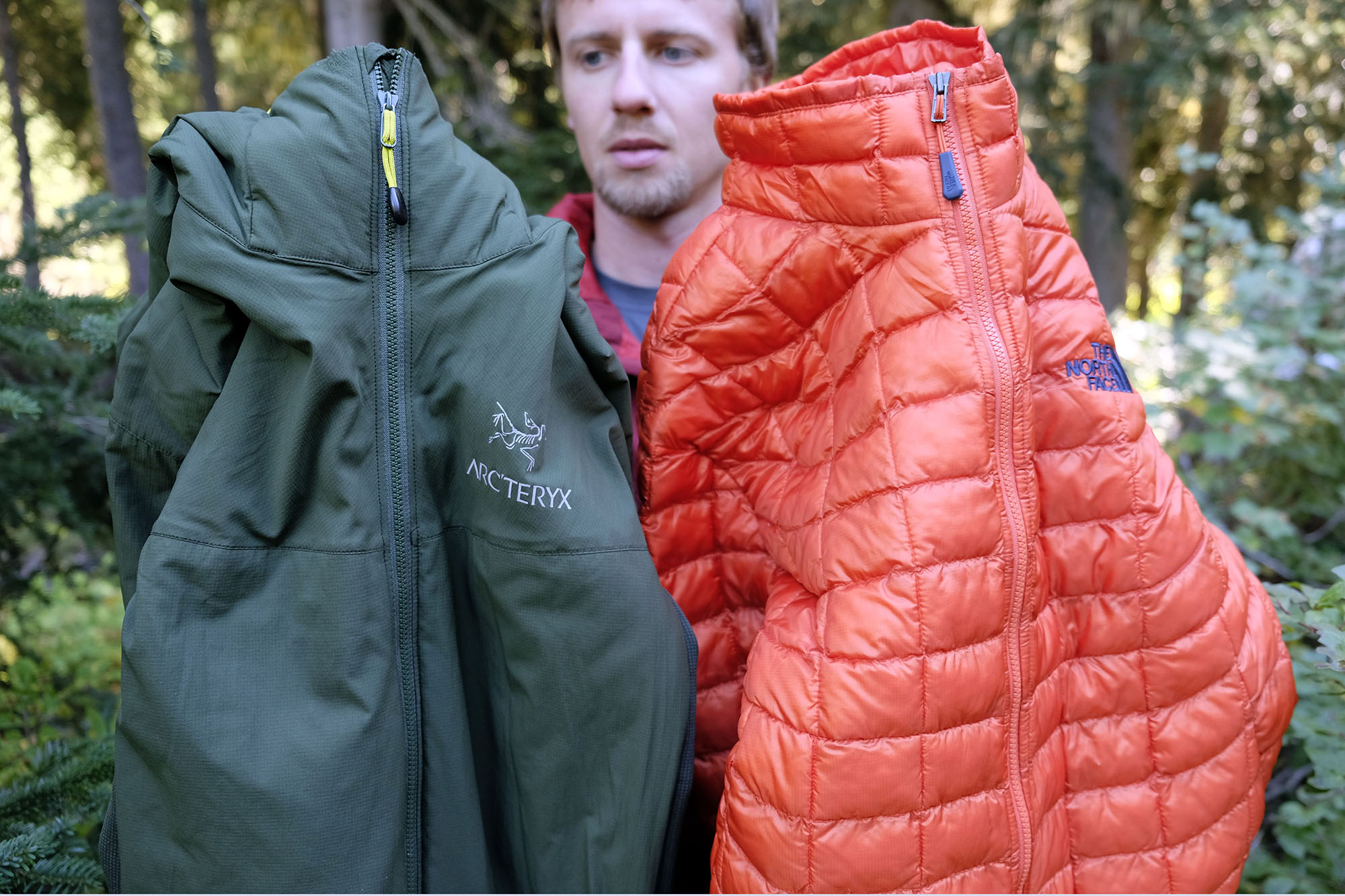 Finally, within its own in-house lineup, Arc'teryx offers two intriguing alternatives: the Atom AR and Proton LT hoodies. As we touched on above, the Atom AR Hoody (also updated for fall 2020) is the warmest option in the Atom family with 120-gram Coreloft insulation in the body and less in the underarms (80g) and hood (60g). This translates to a sizable boost in warmth, and it's also the more durable option with a 30-denier face fabric, but weight goes up to 1 pound and cost increases to $299. In the end, a final decision should come down to expected conditions: for shoulder-season trips and moderate days, the Atom LT is the more versatile piece; for true cold-weather outings, we'd step up to the AR. 
Last but not least is Arc'teryx's backcountry-ready Proton LT. This model is designed to be more breathable than the Atom with an air-permeable shell and lining. Despite having more fill (80g Coreloft Compact in the body and 60g in the hood), this increased air flow translates to comparable warmth between the two designs. The Proton understandably gets the clear edge for high-output activities (we love it for cold days while backcountry skiing), but it makes compromises in styling (it's far more technical than the Atom) and comfort (it can't match the Atom's sleeping bag-like coziness). As such, the Atom wins out as the more versatile of the two, but both are undeniably high-quality options.
If you're thinking about buying gear that we've reviewed on Switchback Travel, you can help support us in the process. Just click on any of the seller links above, and if you make a purchase, we receive a small percentage of the transaction. The cost of the product is the same to you but this helps us continue to test and write about outdoor gear. Thanks and we appreciate your support!
Depending on the seller, most products ship free in the United States on orders of $50 or more. International shipping availability and rates vary by seller. The pricing information on this page is updated hourly but we are not responsible for inaccuracies.
Learn More About Outdoor Gear