Arc'teryx Beta Lightweight Jacket
Price: $500
Weight: 13.6 oz. (men's large)
Waterproofing: 3L Gore-Tex w/ C-Knit
What we like: Top-notch protection and build quality in a streamlined but thoughtful package.
What we don't: Thin shell fabric isn't the most confidence-inspiring; considerably pricier than most competitors.
See the Men's Beta Lightweight Jacket  See the Women's Beta Lightweight Jacket
North Vancouver-based Arc'teryx is no stranger to harsh mountain weather, and their Beta hardshell collection is well equipped to handle rough and rowdy conditions. We recently put the aptly named Beta Lightweight to the test in North Vancouver and on a backpacking trip in Iceland, where the shell proved itself as another highly dependable design with a keen attention to detail. The jacket's construction is relatively thin, and you're paying a steep premium for the Arc'teryx name, but the top-notch build quality and weather protection—along with a low weight and small packed size—are hard to beat for demanding backcountry use. Below are my thoughts on the Beta Lightweight Jacket. To see how it stacks up to the competition, see our article on the best hardshell jackets.
 
---
Table of Contents
---
 
Performance
Weather Protection
We're rarely disappointed in the protectiveness of Arc'teryx rain shells, and the Beta Lightweight Jacket is another dependable and fully weather-ready design. In terms of construction, you get a proven 3-layer Gore-Tex build and quality DWR (durable water repellent) coating for repelling light moisture. In practice, the shell did an admirable job of sealing out heavy moisture and cold gusts on Iceland's infamous Laugavegur Trail while keeping my midlayer (Arc'teryx's own Cerium Hybrid Hoody) perfectly dry. It was also a great match for fending off coastal rains back home on Vancouver Island. Given these experiences, I expect the Beta Lightweight will be a nice piece for longer ski tours, too—it's competitively light and packs down small but offers enough protection to keep me dry and warm in harsh winter weather, which is no easy feat (more in "Weight and Packability" below).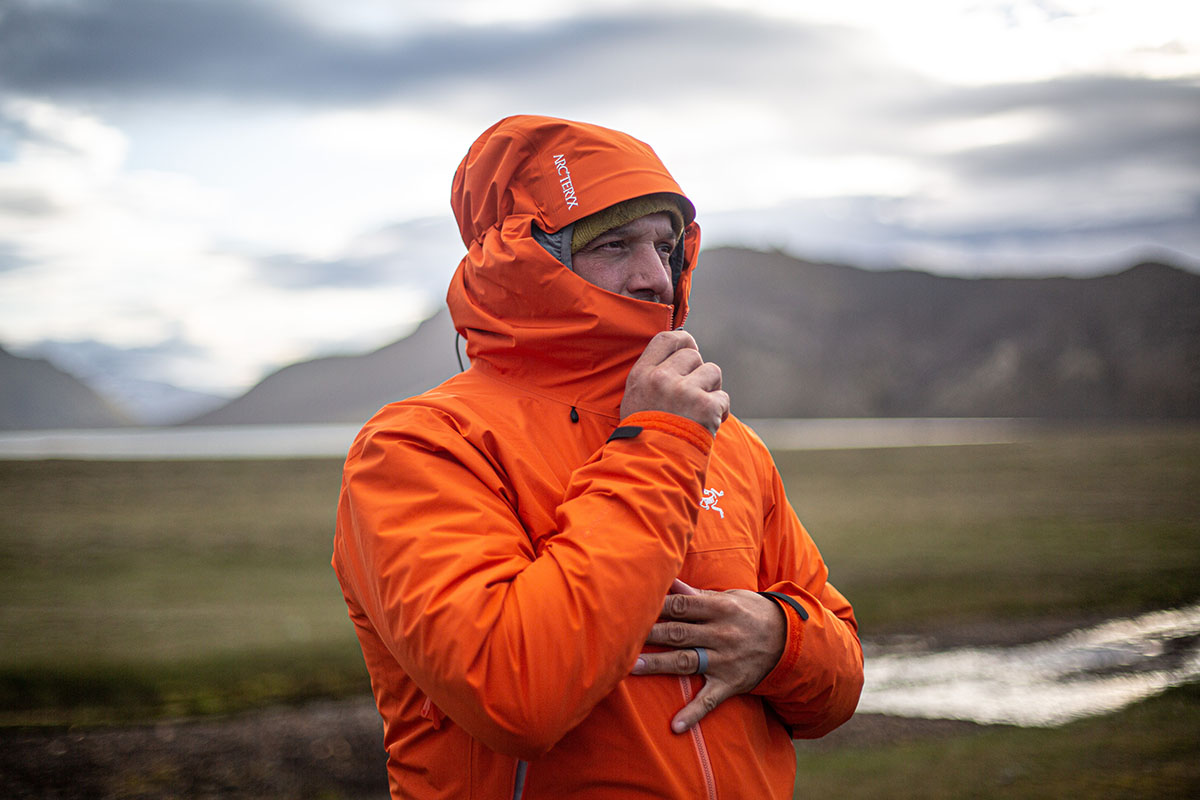 Along with its quality waterproofing, the Beta Lightweight comes equipped with several features to batten down the hatches in inclement weather. First is Arc'teryx's well-loved StormHood, which is generously sized, easily adjustable, and stays securely in place even in strong winds. It also offers great coverage without impeding vision—with the collar fully zipped, only my nose and eyes are left exposed to the elements. You also get Velcro cuff adjustments that can be loosened to fit over undercuff gloves or tightened to snug down underneath bulkier gauntlet-style designs. When cinched tight, the cuffs effectively keep gusts and moisture from creeping in at the wrists. It's a similar story at the hem, which features dual drawcords for sealing out drafts. Finally, all of the zippers are highly water-resistant—enough so that I frequently trust them to keep my phone, map, car keys, and camera lenses dry and protected.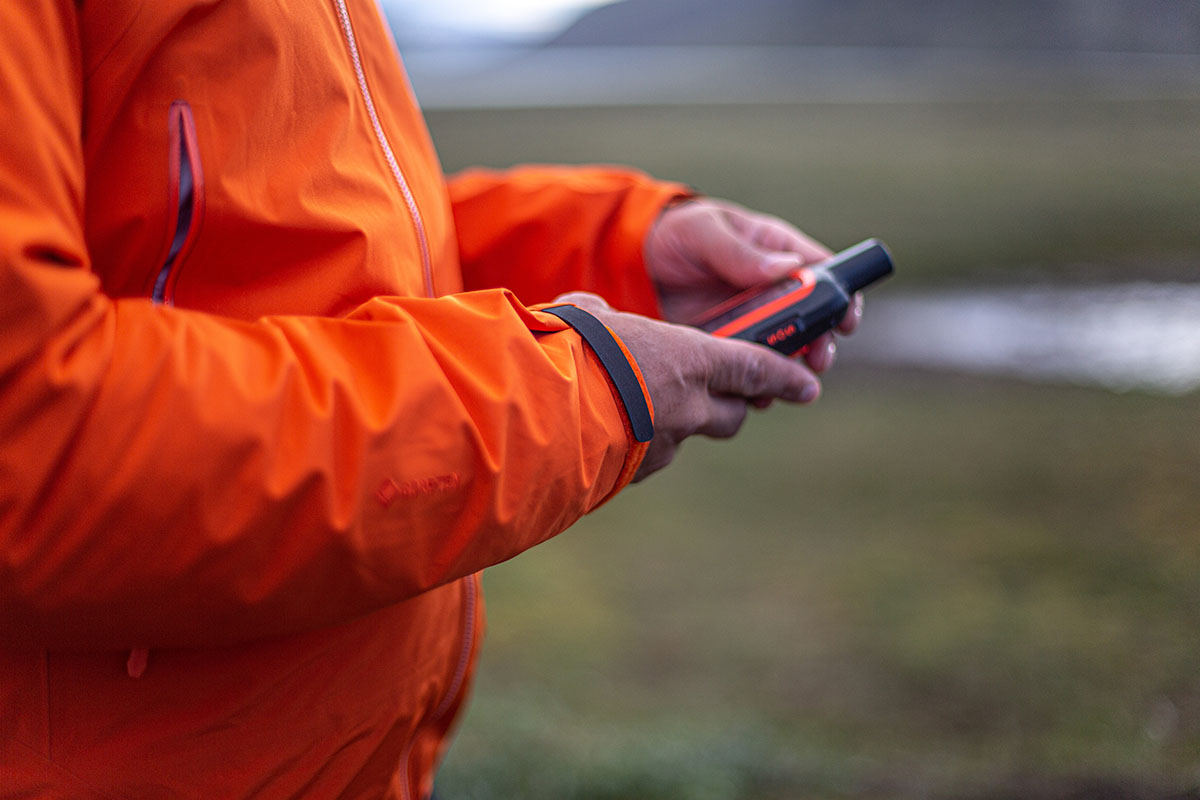 Breathability
No waterproof shell is completely breathable, but the Beta Lightweight's thinner construction and pit zips allowed me to keep it on longer than expected during activity. For reference, I run hot and can't wear most waterproof shells while exerting, but temperatures in Iceland were very moderate (around freezing to mid 50s Fahrenheit), and I was able to stay comfortable while hanging around camp and hiking in inclement weather. I did have to open up the pit zips to dump excess heat on steep sections of trail, but this allowed for ample airflow in the cooler conditions we experienced. That said, in summertime heat or during extended bouts of exertion, I'd likely sweat out of the Beta Lightweight quickly, which is true of most hardshell jackets.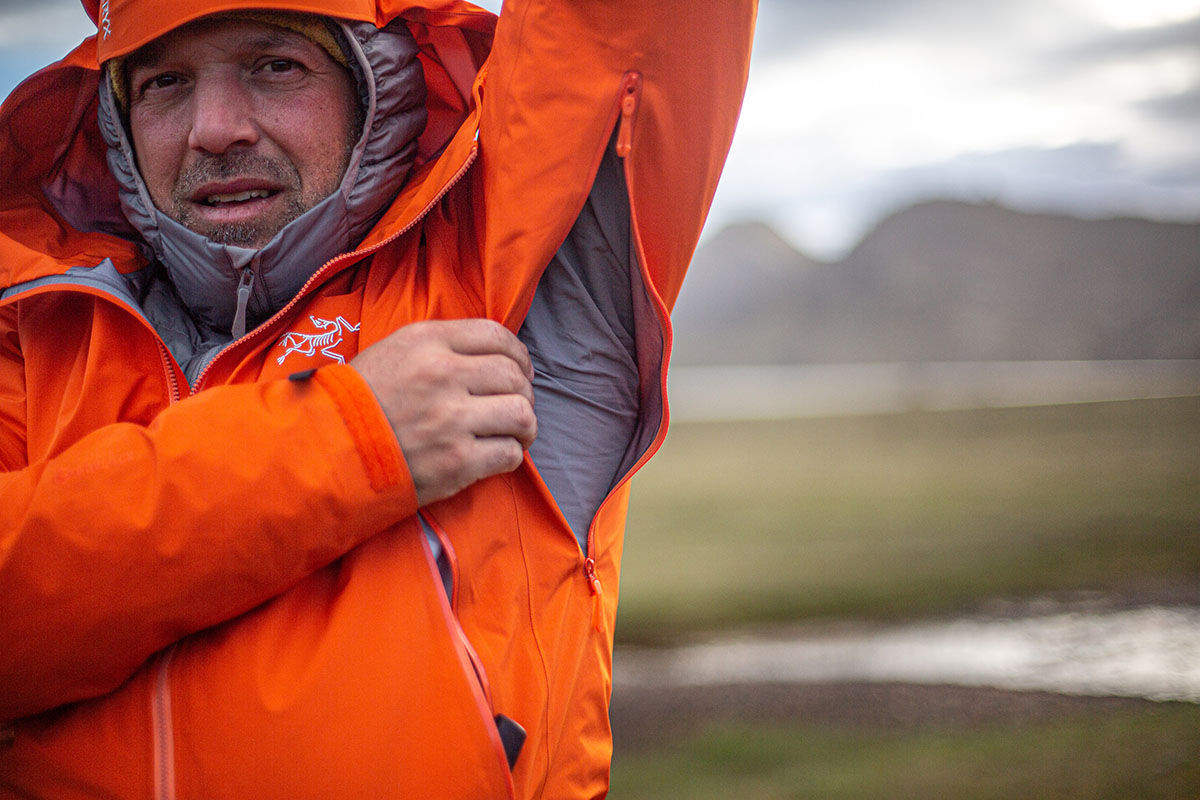 Weight and Packability
At 13.6 ounces for my men's large (just 0.2 oz. more than its listed weight), the Beta Lightweight Jacket lives up to its name. For comparison, it undercuts burlier hardshells like Arc'teryx's own Beta AR Jacket (1 lb.) and Patagonia's Triolet Jacket (1 lb. 3.4 oz.) while checking in a little heavier than minimalist designs like Arc'teryx's Beta Jacket (10.6 oz.), Patagonia's Storm10 Jacket (8.3 oz.), and Outdoor Research's Helium AscentShell Jacket (11.5 oz.). In my opinion, this is a great middle ground: light enough to bring into the backcountry but not overly compromised in terms of features like the latter three shells.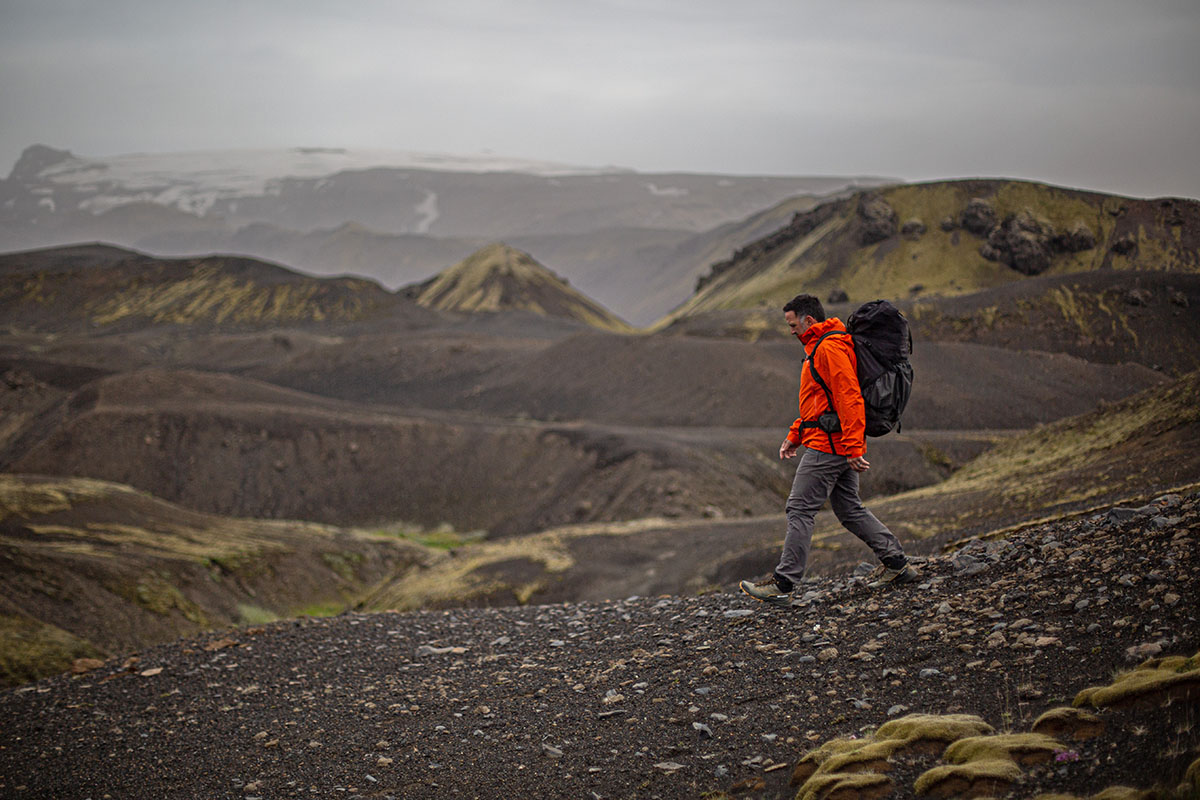 It's a similar story with packability. Rolled into its own hood, the Beta Lightweight is smaller than a 32-ounce Nalgene bottle. In Iceland, I was easily able to squeeze the shell into the side water bottle pocket of my Hyperlite Mountain Gear Southwest 70 backpack for easy access in shifting conditions. All told, I have no qualms about taking it on future backpacking and canoeing trips, and its low weight and excellent packability make it viable for ski traverses, too.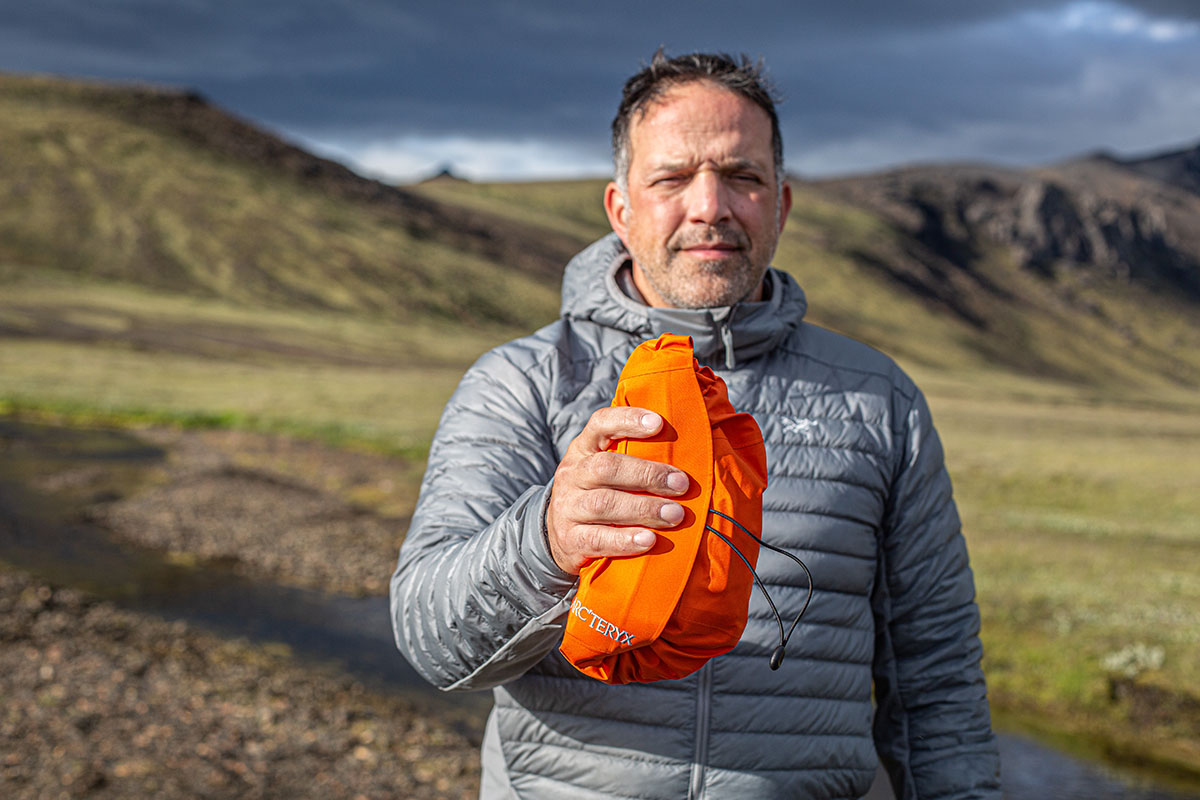 Comfort
One key difference between the outgoing Beta LT Jacket and new Beta Lightweight is the addition of Gore's C-Knit backer, which offers a sizable boost in next-to-skin comfort. In addition to being relatively soft (especially when I'm wearing only a merino wool t-shirt underneath), the liner is noticeably less crinkly and noisy than most traditional 3-layer hardshells. Arc'teryx also included a fleece chin guard that's done a great job at preventing the zipper from snagging on my facial hair, and I've found there to be ample mobility for tasks like setting up camp or loading gear in and out of our van. Along with its light and streamlined feel covered above, the Beta Lightweight is a very easy-to-wear piece.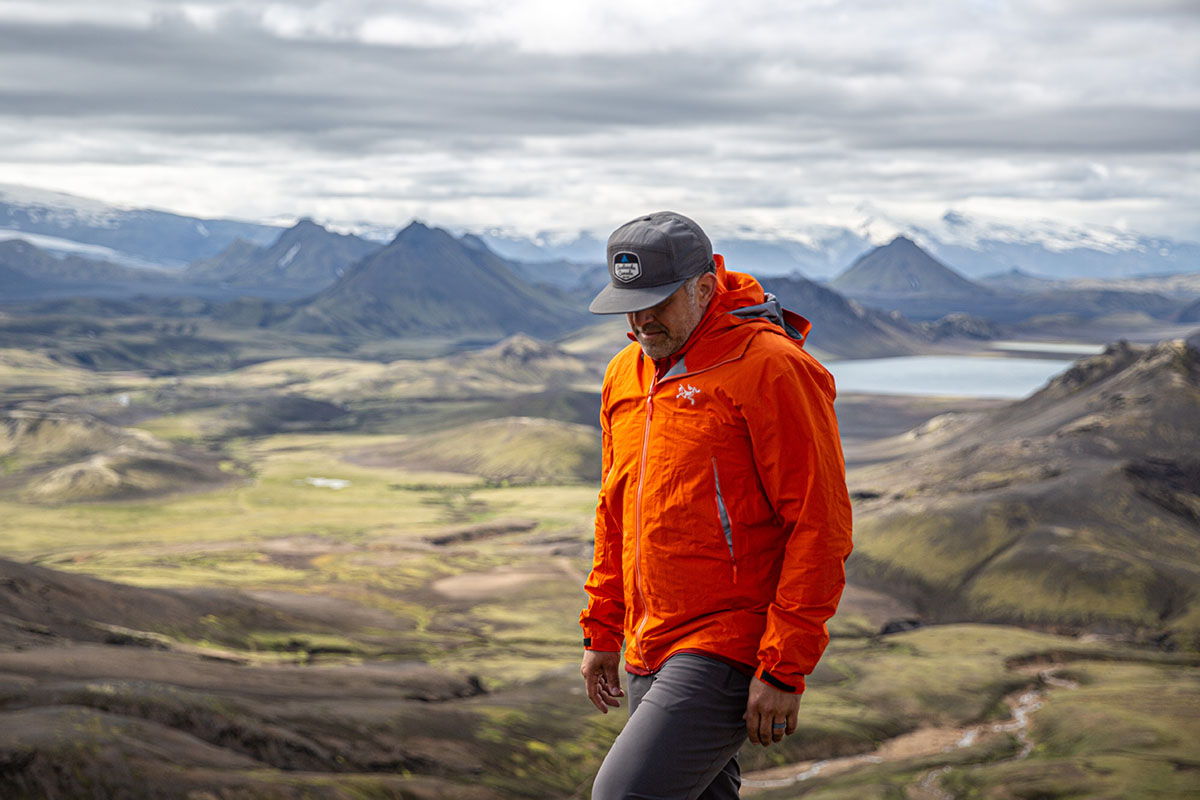 Build Quality and Durability
I've rarely had durability complaints with Arc'teryx hardshells over the years, and the Beta Lightweight Jacket is yet another well-built and hardwearing piece. The 40-denier (D) shell is on the thinner end and feels a little fragile compared to burlier options like Arc'teryx's own Beta AR (which uses a mix of 40 and 80D Gore-Tex Pro with their Most Rugged Technology), but it's proven to be incredibly tear- and abrasion-resistant throughout testing. In fact, my Beta Lightweight is no worse for wear after frequent contact with Iceland's jagged lava rock—including some unexpected falls. It's also been subjected to living at the bottom of my backpack and canoe and being used as a seat on rough rocks for picnic lunches. Despite the abuse, everything is holding up well: The DWR coating continues to repel moisture, the seams are intact with no loose threads, and the zippers operate smoothly with no snagging. Given my experiences thus far, I expect the Beta Lightweight to last for many seasons to come.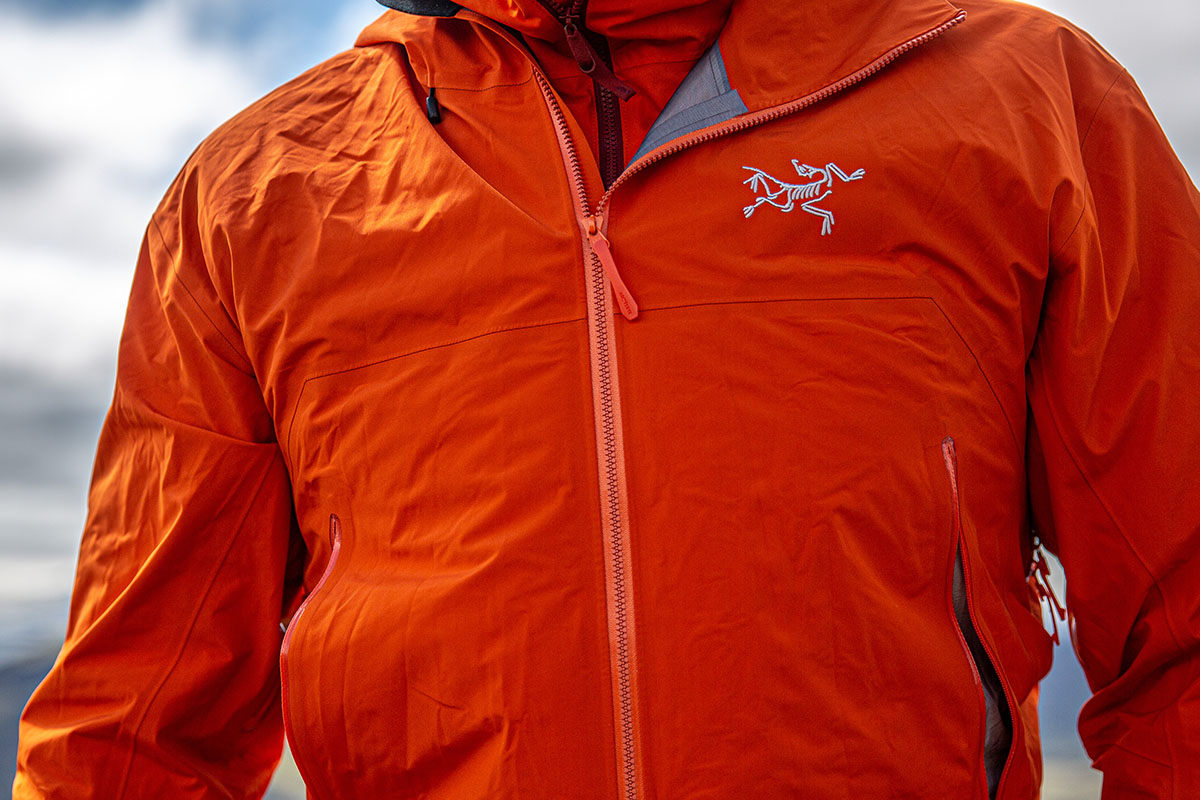 Key Design Features
StormHood
Arc'teryx has their hood designs dialed in, and this holds true with the Beta Lightweight's well-executed StormHood. For starters, the hood is helmet-compatible, fitting comfortably over a bulky ski helmet, and it's easy to snug down over a ball cap or beanie via the three toggles: one at the rear to tighten the halo and two at the front of the collar for cinching the aperture. The hood stays securely in place when snugged down—even in strong winds—and provides ample coverage for protecting my face from the elements. Finally, Arc'teryx included a hidden Recco reflector that allows rescuers to pinpoint your location in the event of an emergency. My only complaint (and it's a small one) is that loosening the rear drawcord can be a little tricky and requires two hands, but cinching it is quick and easy with one.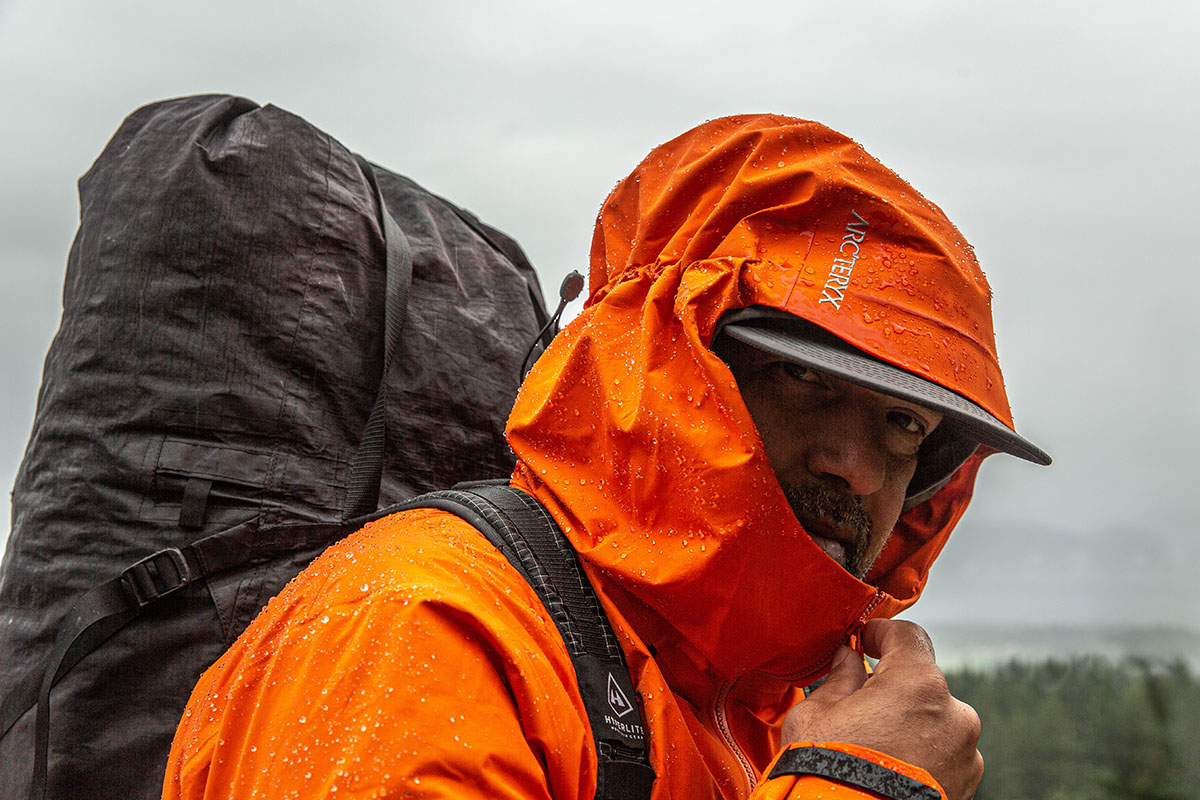 Storage: Pockets
In terms of storage, the Beta Lightweight sticks to the basics with three zippered pockets. The two large hand pockets are great for stashing items like gloves, a Garmin inReach device, or a spare camera lens, and they're positioned high enough to remain accessible underneath a backpack hipbelt or climbing harness. The internal chest pocket is a nice spot for valuables and other items I want to keep secure, such as keys, my wallet, memory cards, etc. I'd prefer an internal dump pocket or two for ski touring, but I understand Arc'teryx's decision to omit them in order to keep things light and streamlined. For most backcountry pursuits, the Beta Lightweight's storage layout is perfectly adequate.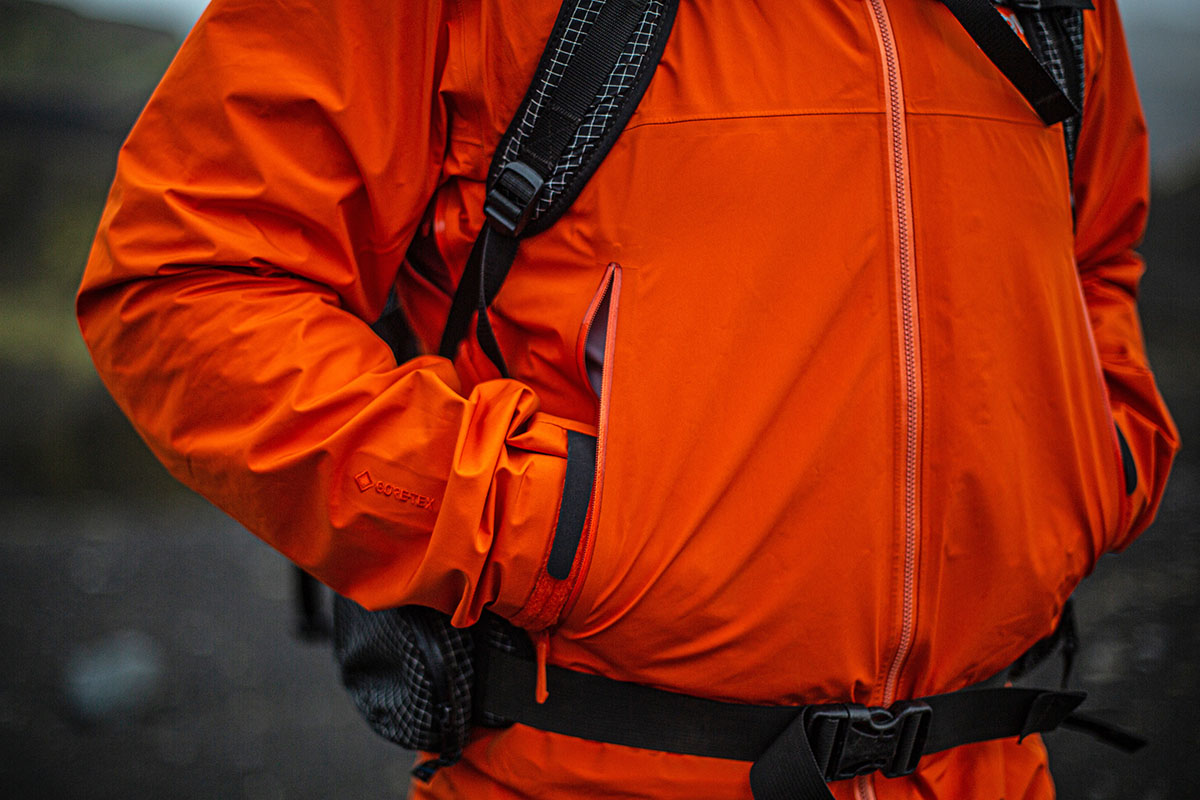 Fit and Sizing
I typically wear a men's large in Arc'teryx shells, and that size in the Beta Lightweight fit true. For reference, Arc'teryx lists the shell as "fitted," which feels like an accurate designation: Layered over my Arc'teryx Cerium Hybrid Hoody or Norrøna Falketind Down750 Hood Jacket, I found the shell to be a little narrow in the waist and arms but still had ample mobility to set up camp, load gear in and out of our van, and move around comfortably. The 30-inch center back length was also perfect for keeping the jacket from riding up under the hipbelt of my pack, and the cuffs reach a few inches beyond my wrists for great coverage when reaching overhead. I do wish Arc'teryx had included a two-way main zipper to prevent bunching up when sitting or bending over—and to provide easy access to a harness when belaying—but it's not a deal breaker by any means. In the end, the Beta Lightweight is another example of the premium and flattering fit that we've come to expect from Arc'teryx.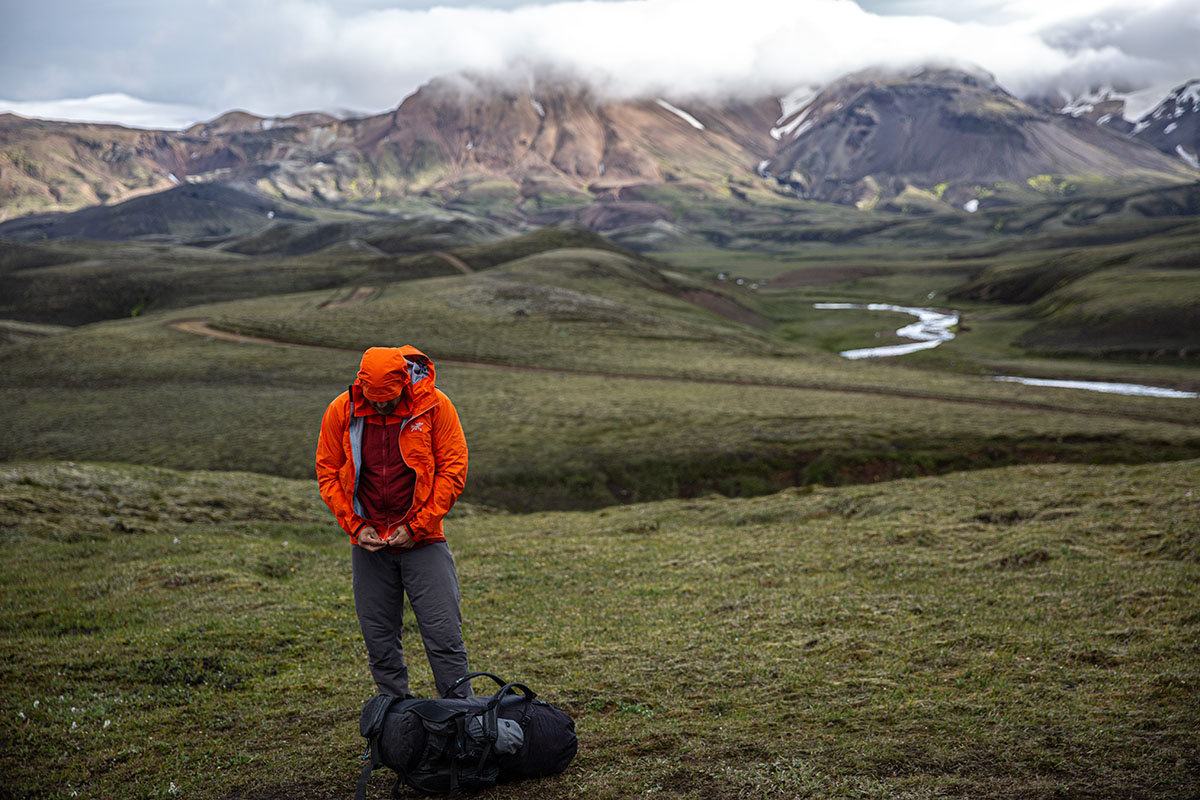 Sustainability
Arc'teryx has been upping their sustainability focus of late, and the Beta Lightweight Jacket is a nice reflection of their progress. Specifically, the shell is made with bluesign-approved materials that are free of harmful chemicals and have been deemed safe for workers, consumers, and the environment. It's also certified to the Fair Trade standard, which indicates that Arc'teryx put extra money into production to ensure workers are compensated fairly and have access to safe working conditions. The brand has committed to expanding this certification to at least 80% of their product line by 2025, which is a commendable goal.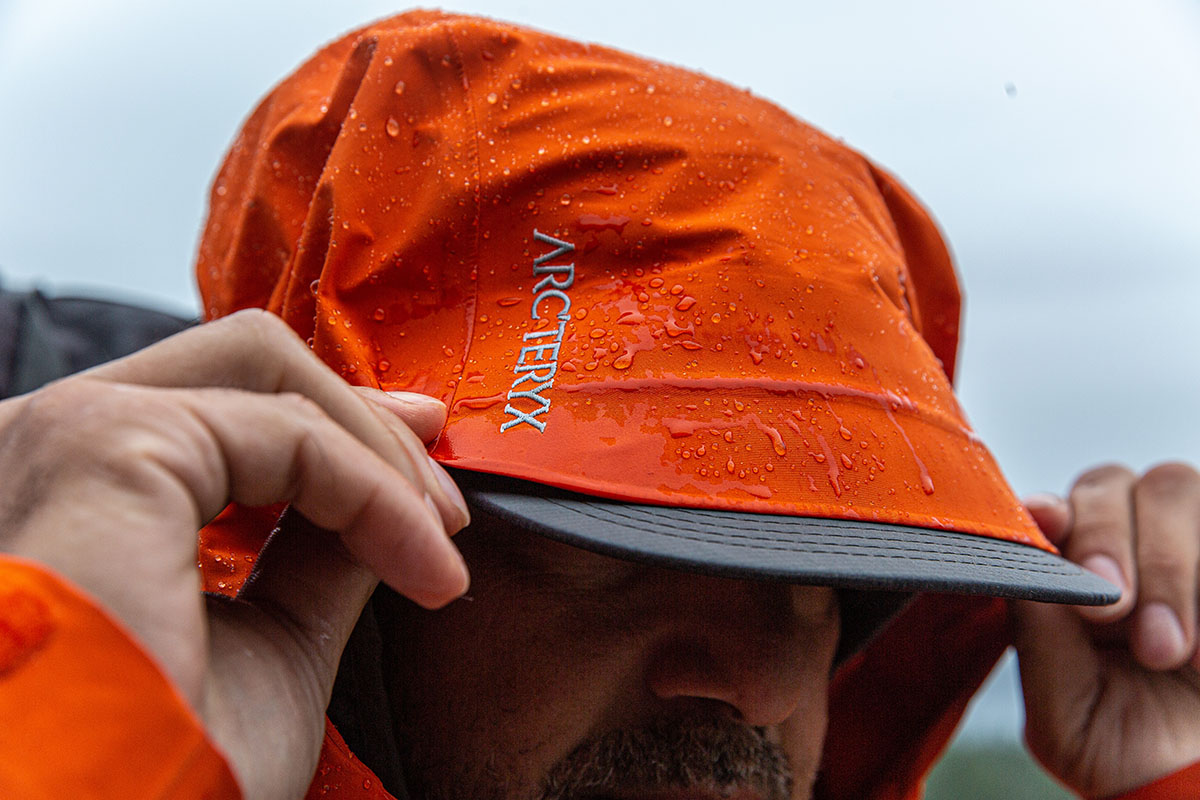 Other Versions of the Arc'teryx Beta Lightweight
I brought the men's Beta Lightweight to Iceland for testing, and Arc'teryx makes a nearly identical women's version for the same price. Compared to the men's model, the women's Beta Lightweight Jacket is a little lighter at 12.5 ounces and sold in different colorways but retains an identical feature set and overall construction, including the 40D Gore-Tex with C-Knit build, three total pockets, and well-executed StormHood. It's also worth mentioning the outgoing Beta LT here, which is the predecessor to the Beta Lightweight and still widely available at the time of publishing. Stacked up against the Beta Lightweight, the LT costs $50 less but is 0.5 ounces heavier (for the men's version), lacks the C-Knit backer, forgoes a chest pocket, doesn't include a Recco reflector, and isn't certified to the Fair Trade standard (see our in-depth review here).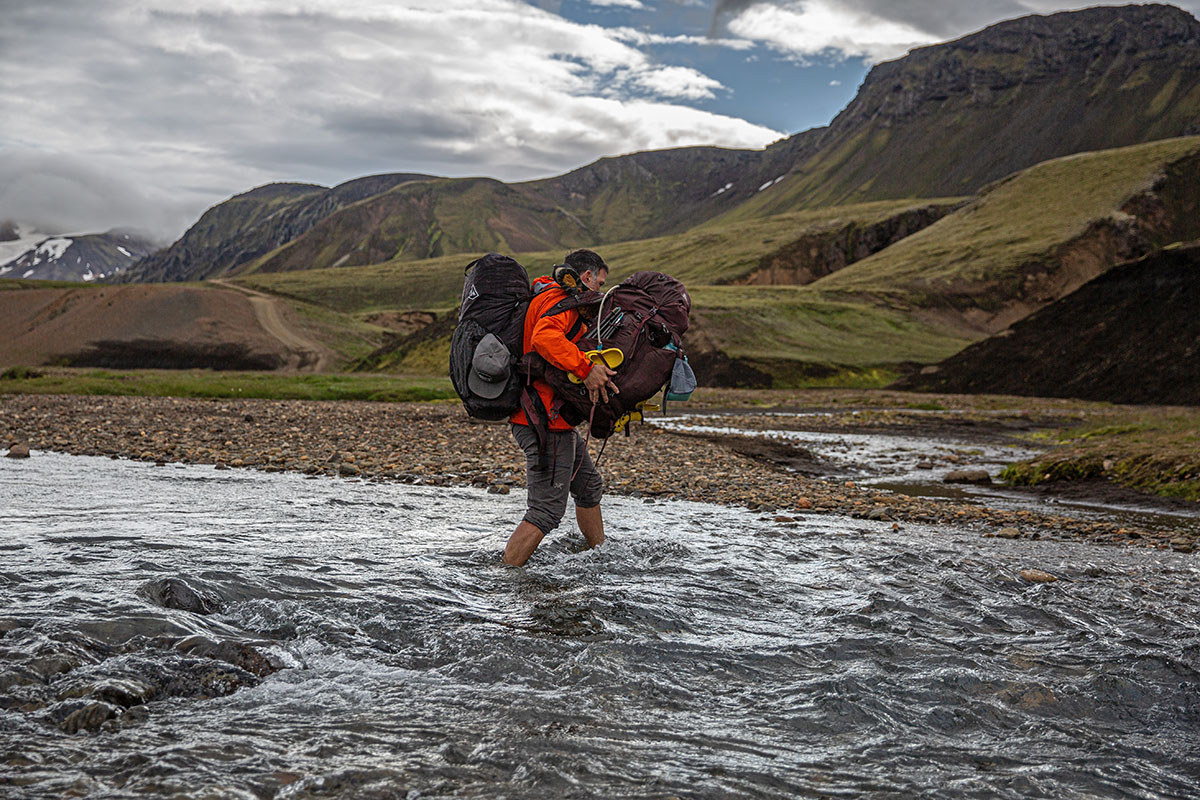 What We Like 
Proven Gore-Tex waterproofing and practical suite of protective features make the Beta Lightweight a stalwart in wet and rowdy weather. 
Competitively light at 13.4 ounces and packs down impressively small for stuffing in a pack.
C-Knit backer is noticeably soft and supple against the skin—a far cry from the stiff and crinkly feel common among traditional hardshells.
Typical Arc'teryx build quality and attention to detail, including a nice sustainability slant and quality materials and components throughout.
 
What We Don't
Arc'teryx pieces don't come cheap, and the Beta Lightweight isn't a strong value at $500.
Shell is on the thinner end at 40D, although it's holding up very well so far.
Storage is a little limited with just three zippered pockets.
I wish the jacket had a two-way main zipper to prevent bunching when sitting or bending over and for easy access to a harness while belaying.


Comparison Table

The Competition
Arc'teryx's rain shell collection is undeniably extensive, and their Beta AR is our top-rated hardshell jacket this year. For $100 more than the Beta Lightweight, the Beta AR Jacket boasts an upgraded Gore-Tex Pro membrane with their Most Rugged Technology, along with beefy 80D reinforcements in high-wear areas (the rest of the shell uses a 40D fabric). It also has a more generous "regular" fit for layering heavily underneath, along with a drop hem for additional coverage at the rear. That said, we prefer the Beta Lightweight's StormHood over the Beta AR's DropHood design—the latter leaves a small opening at the front between the collar and hood where blowing snow can potentially build up in a storm. The Beta AR also lacks the Beta Lightweight's C-Knit backer and checks in 2.6 ounces heavier. In the end, both are skillfully built and highly capable hardshells, and a final decision will come down to how you prioritize weather protection, durability, and weight.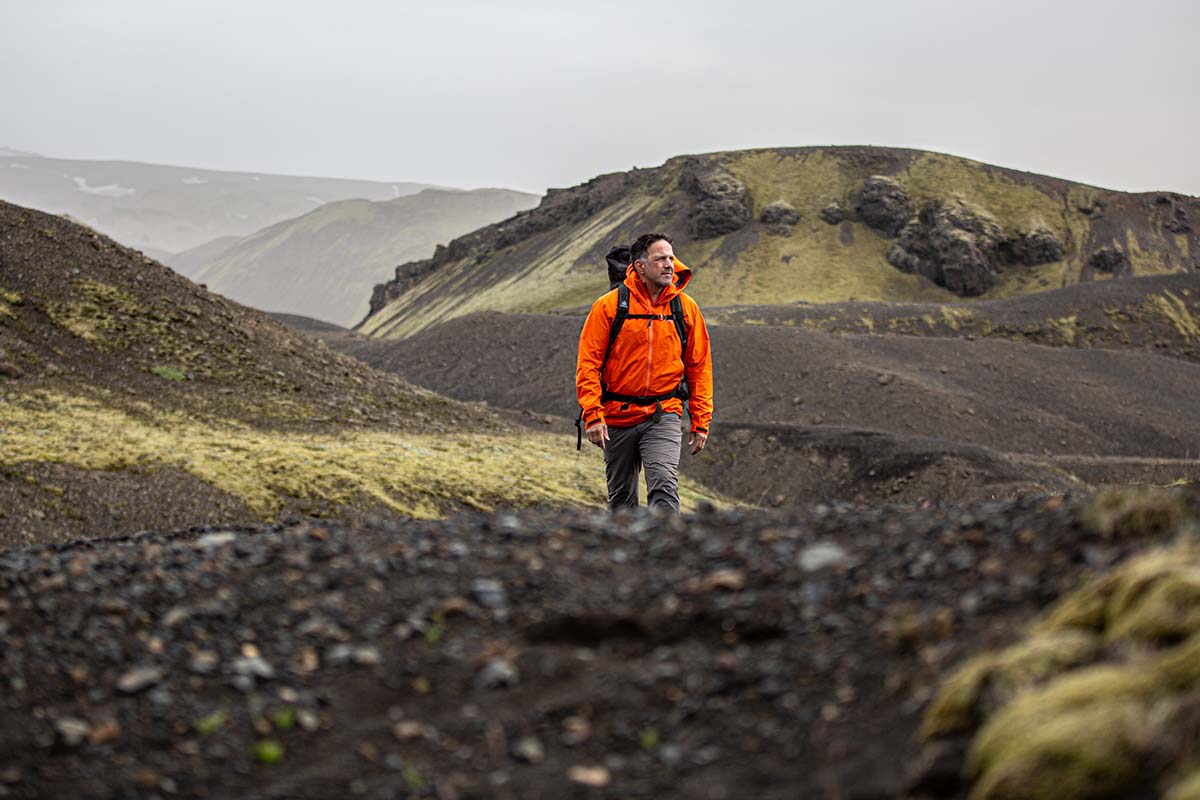 From within the same Beta lineup, Arc'teryx's standard Beta Jacket checks in at a scant 10.6 ounces, making it the lightest option in the collection. It's also the cheapest at $400 while stacking up reasonably well to the Beta Lightweight: You get a similar 3-layer Gore-Tex build with their soft C-Knit backer for added comfort, a "fitted" fit that's streamlined but still highly mobile, and three total pockets. However, that's where the similarities end. The Beta Jacket is thinner at 30D, the hood design is more basic and not helmet-compatible, and you don't get pit zips for dumping heat while on the move (for more, see our in-depth Beta Jacket review). These features aren't must-haves for everyone, but we consider the Beta Lightweight's upgrades worth the price and weight penalties.
Norrøna is another technical brand with a healthy selection of mountain-ready hardshells, and their competitor to the Beta Lightweight is the Falketind Gore-Tex Jacket. For $19 more than the Beta Lightweight, the Falketind offers comparable protection with a 3-layer Gore-Tex construction, along with Gore's soft and supple C-Knit backer. The feature set also lines up well, including generously sized pit zips for quickly regulating temperature, harness-compatible hand pockets and an internal zippered pocket, and ample adjustability for battening down the hatches. The Norrøna is slightly heavier than the Beta Lightweight at 14.5 ounces and has an even thinner 30D shell fabric, but the longer hem and taller and more protective collar (similar to that of the Beta AR covered above) arguably make it the better pick for skiing. However, the Falketind's technical look is no match for Arc'teryx's sleek fit and finish, and the Beta Lightweight offers similar all-around performance at a lower price and weight.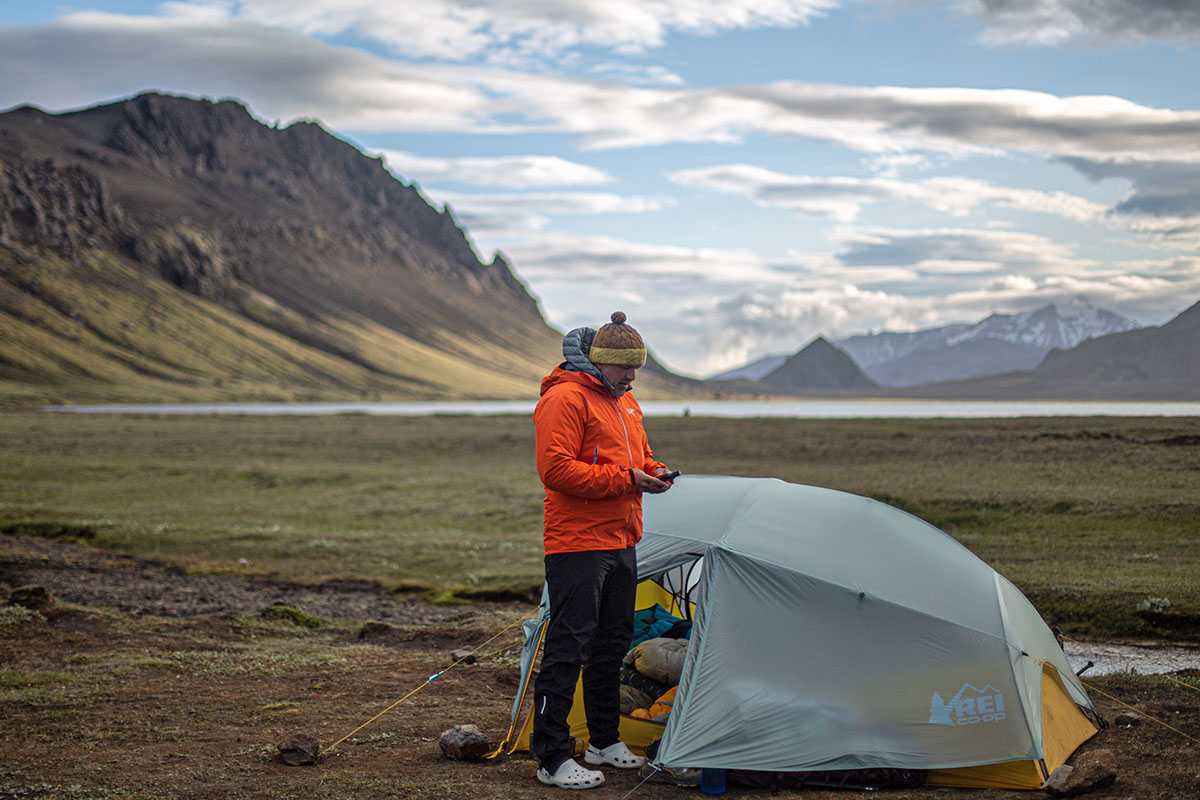 Last but not least is Outdoor Research's Microgravity AscentShell Jacket, which is the most wallet-friendly alternative here at $279. OR kept the cost low by using their in-house AscentShell membrane rather than Gore-Tex, which is a step down in waterproofing but impressively breathable for a 3-layer design. They also retained key features including a helmet-compatible hood, water-resistant zippers, practical storage, a soft next-to-skin lining, and cuff and hem adjustments. However, you do make some sacrifices by saving: The OR is slightly heavier at 14.6 ounces, uses a thinner and less durable 20 x 45D shell, and has a notably trim fit that's especially tight in the waist when worn over layers. In testing the Microgravity, we also found that the hood cinch cord sits awkwardly and uncomfortably over the ears. The $221 savings are undeniably enticing for penny pinchers and those just starting out, but committed backcountry-goers will benefit by spending up for the more premium and protective Arc'teryx.
Editor's note: We usually provide a live price comparison table below our outdoor gear reviews, but the Beta Lightweight Jacket is currently only available directly through Arc'teryx. You can see the Beta Lightweight page here and support us in the process. Thanks!
Read More From Switchback Travel