Arc'teryx continues to push the boundaries of weight and weatherproofing with its varied lineup of jackets, and at just 7.6 ounces, the Norvan is one of the lightest hardshells on the market. Built for trail runners and other minimalist mountain athletes, I recently took the jacket to New Zealand's Southern Alps where it successfully served as my dedicated outer layer on a number of alpine adventures. Below we break down the Norvan's weather protection, breathability, weight and packability, durability, fit and sizing, and more. To see how it stacks up, see our articles on the best hardshells and rain jackets. 
 
Performance
Weather Protection
Despite being remarkably thin and ultralight at 7.6 ounces, the Arc'teryx Norvan jacket provides impressive protection from both water and wind—much more than its weight would suggest. In fact, the 3-layer Gore-Tex construction was on par with many of the burlier hardshells that I've tested. Given the Norvan's minimalist design, I initially questioned its ability to protect me in harsh conditions. But during a serious rainstorm on the flanks of Aoraki/Mount Cook with very powerful winds, I remained dry despite some tough alpine weather.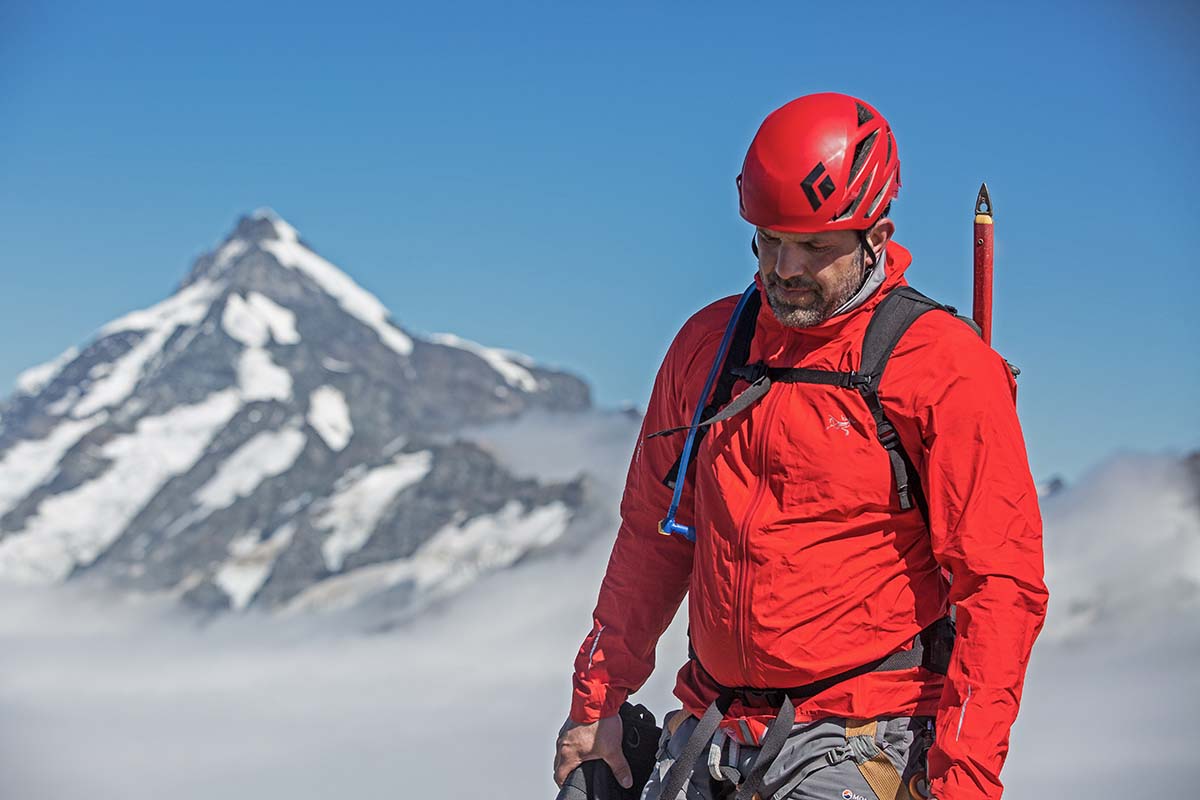 In terms of features, this is where the Norvan differs from other heftier models. The elasticized, non-helmet-compatible hood is simple but offers nice coverage and has a small brim that deflects rain from dripping down into your face (I was even able to stretch the hood over my climbing helmet to prevent rain and wind from entering the vents). Similarly, the cuffs are elasticized on the inside of the wrist and extend along the back of the hand to keep water from creeping up your sleeve. I should note that I sized up when purchasing the Norvan, knowing that my intended use would demand full coverage and space to accommodate layers and added gear (more on this in "Fit and Sizing" below).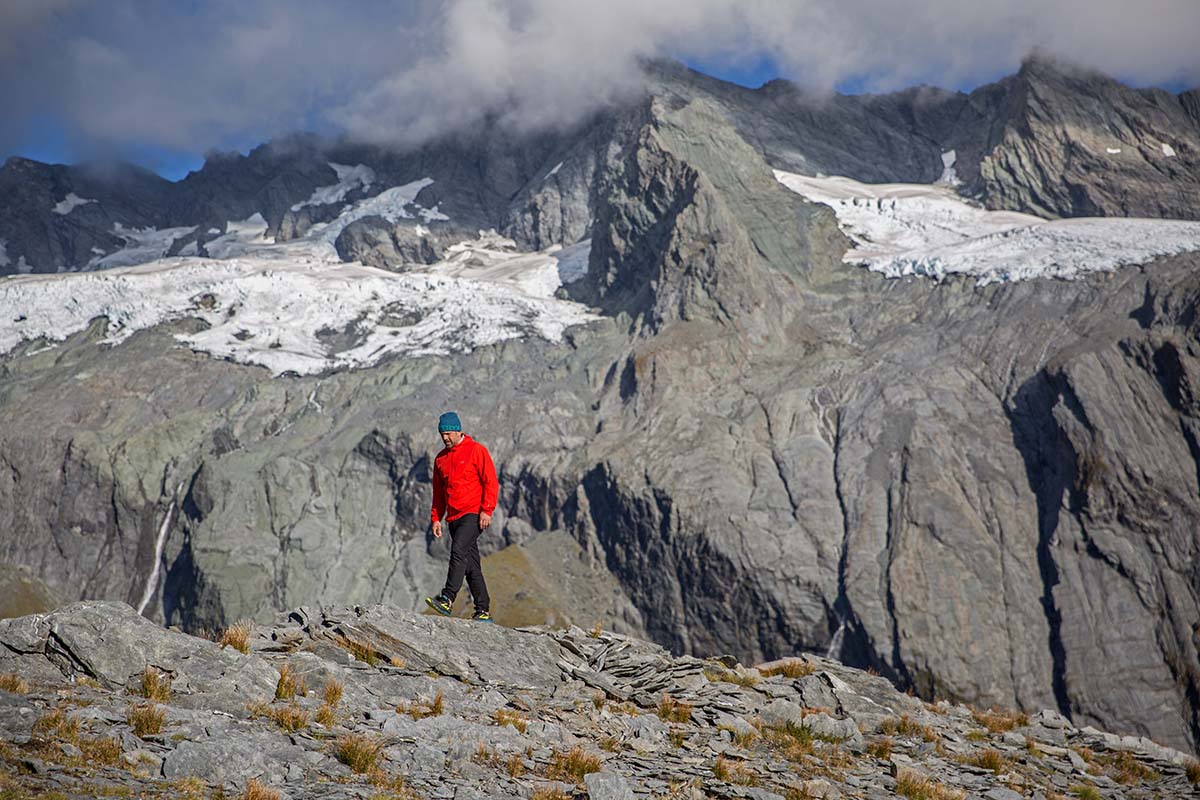 Breathability
The Norvan is designed for high-output activities in wet weather, which inherently are conflicting demands. On one hand, you want a jacket that breathes well and wicks moisture as you move. On the other, it needs to block out precipitation effectively. As someone who sweats more than most (and thus rarely wears a waterproof layer during activity), I was happy to find that the Norvan offers above-average breathability. This was especially notable given that the Norvan has a standard Gore-Tex membrane rather than the more breathable Gore-Tex Active used in the REI Co-op Drypoint and a number of other models. Contributing to the cause is the soft and slightly stretchy C-Knit backer: it allowed for good moisture wicking and was much more comfortable than the more rigid and crinkly interiors of other hardshells I've tested. Keeping that clammy, sticky feeling to a minimum, I had no complaints running in the Norvan with just a T-shirt.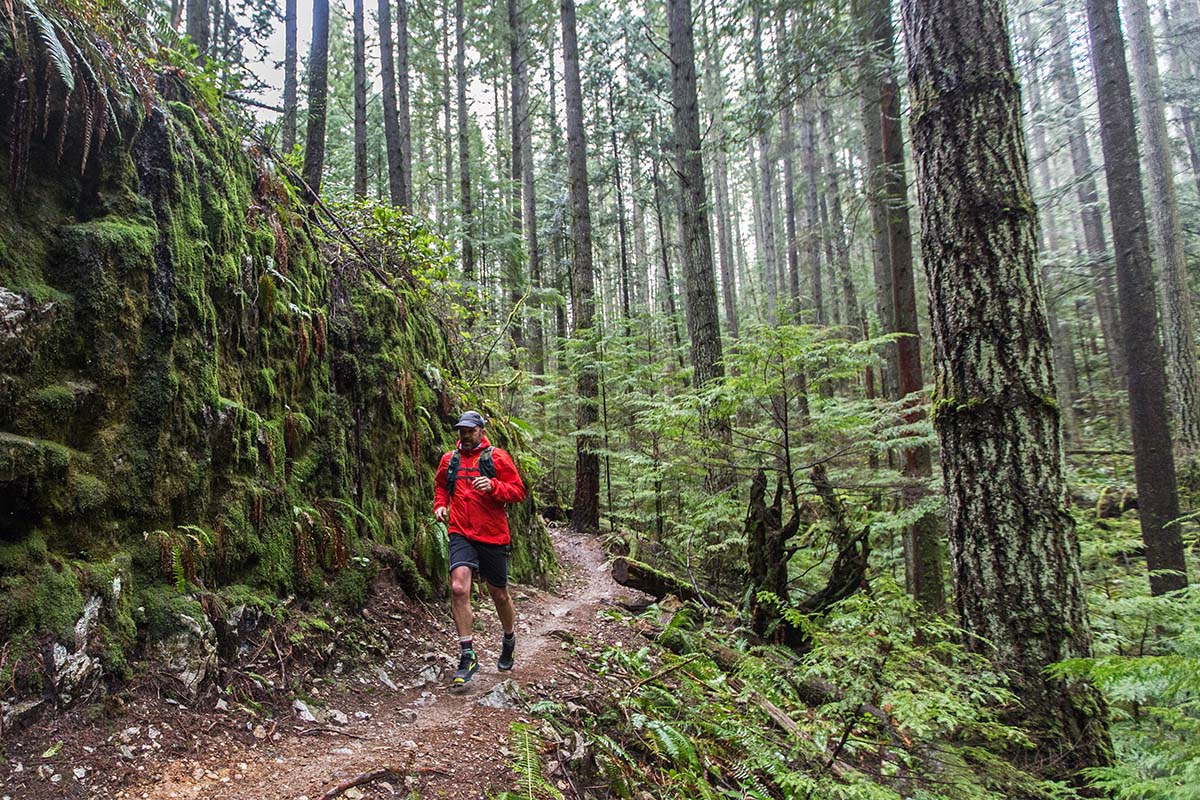 Most ultralight shells sacrifice pit zips to save weight, which in turn compromises breathability. But Arc'teryx got creative with the Norvan jacket: they replaced traditional zippers with unique "Venturi-style" vents that open and close with arm movement for airflow. The vents also offer some added convenience over zippers, eliminating the always-awkward dance of trying to zip and unzip the closure one-handed. And while I initially feared the open vents would leak too much, that didn't up being the case. Since they're carefully placed and have small openings, I didn't find that they were drafty or porous to water. That said, if you're in the market for shell that truly is impenetrable, pit zips—or no openings at all—definitely are more of a sure thing.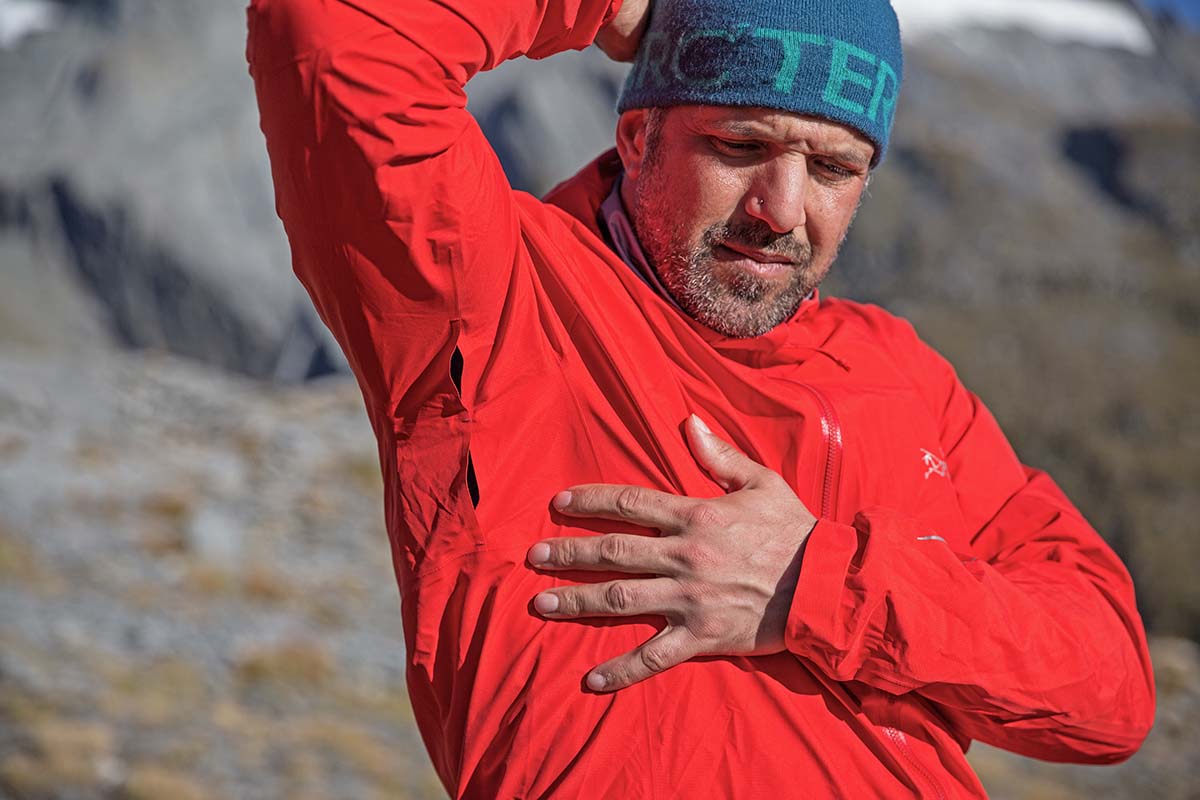 Weight and Packability
Despite its weatherproofing and breathability, the Norvan's true claim to fame is its impressively low weight. At 7.6 ounces, it's in a very elite grouping of sub-10-ounce hardshells, joined by ultra-minimalist jackets like the Patagonia M10 Anorak and Hyperlite Mountain Gear's The Shell. But both of these jackets sacrifice breathability with no pit zips or vents, as well as performance in other ways. For example, the M10 Anorak's 12-denier fabric is a bit too thin for us to trust over the long term (the Norvan is 20-denier), while The Shell's eVent construction isn't as adept as Gore-Tex at blocking out wind and water. Shaving weight always comes at some cost, but the Norvan doesn't have the drawbacks that I initially expected.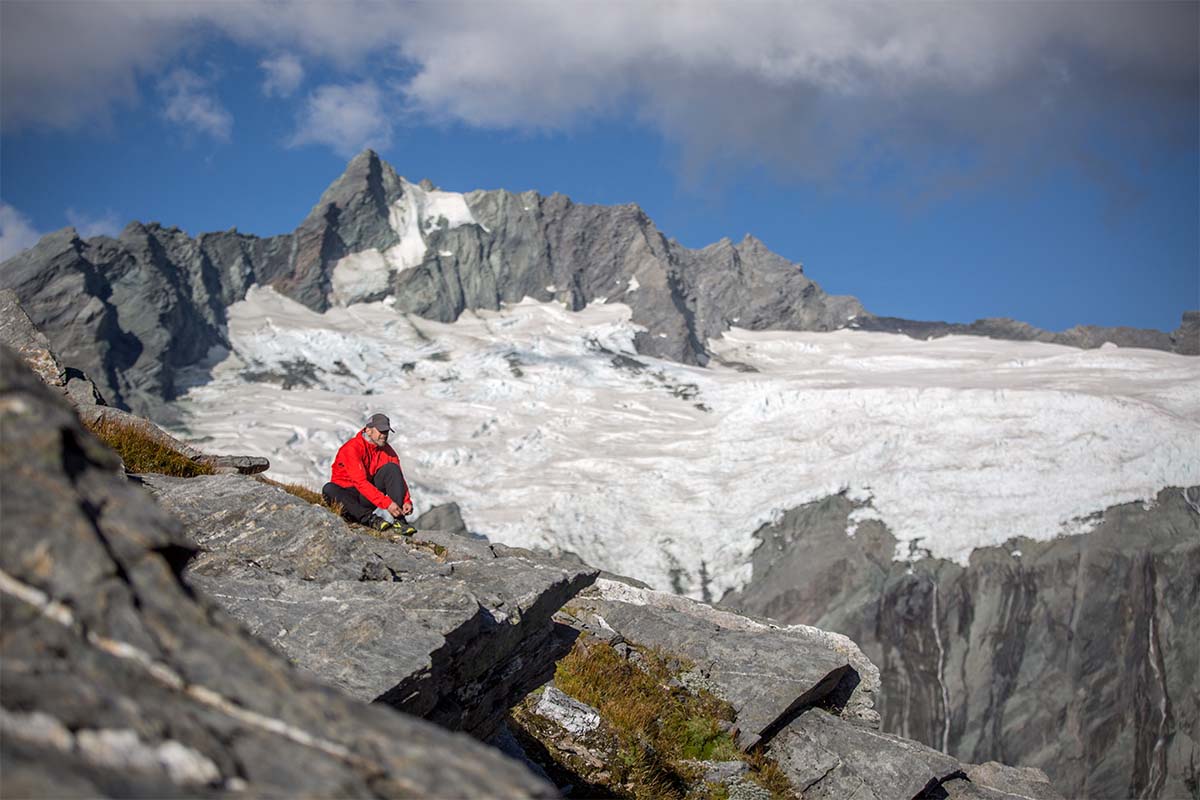 In terms of packability, the Norvan compresses down to the size of a .5-liter water bottle. Surprisingly, the jacket doesn't come with a stuff sack nor does it pack down into its own pocket, but it does tuck nicely into its hood. In practice, I've found that it can be stuffed just about anywhere: in any crevice of a pack or in the pocket of a cycling jersey. Even on bluebird days, I always carry an emergency layer, which needs to be lightweight and packable without compromising much in the way of performance. The Norvan fits that bill extremely well and has established residence at the bottom of my pack.
 
Durability and Build Quality
Arc'teryx is a master of build quality (one reason their products cost so much) and shell jackets are their specialty. Despite hearing rumors that the soft C-Knit backer is prone to snagging and staining, I haven't had any issues with it thus far. In terms of the shell, the Norvan's thin 20-denier fabric isn't intended to be worn with a loaded pack—material this lightweight simply isn't designed to withstand much in the way of stress or abrasion. That said, testing gear requires a certain level of limit-pushing, so I donned my 42-liter, 30-pound pack and did just that. And I didn't hesitate to stuff it time and time again into packs with sharp gear. Months later, the Gore-Tex still shows no signs of wear, the WaterTight zipper continues to run smoothly, and the reflective blazes and logos haven't even begun to peel. Most importantly, the jacket still beads water perfectly and has yet to wet out in high-use areas like the shoulders and hood.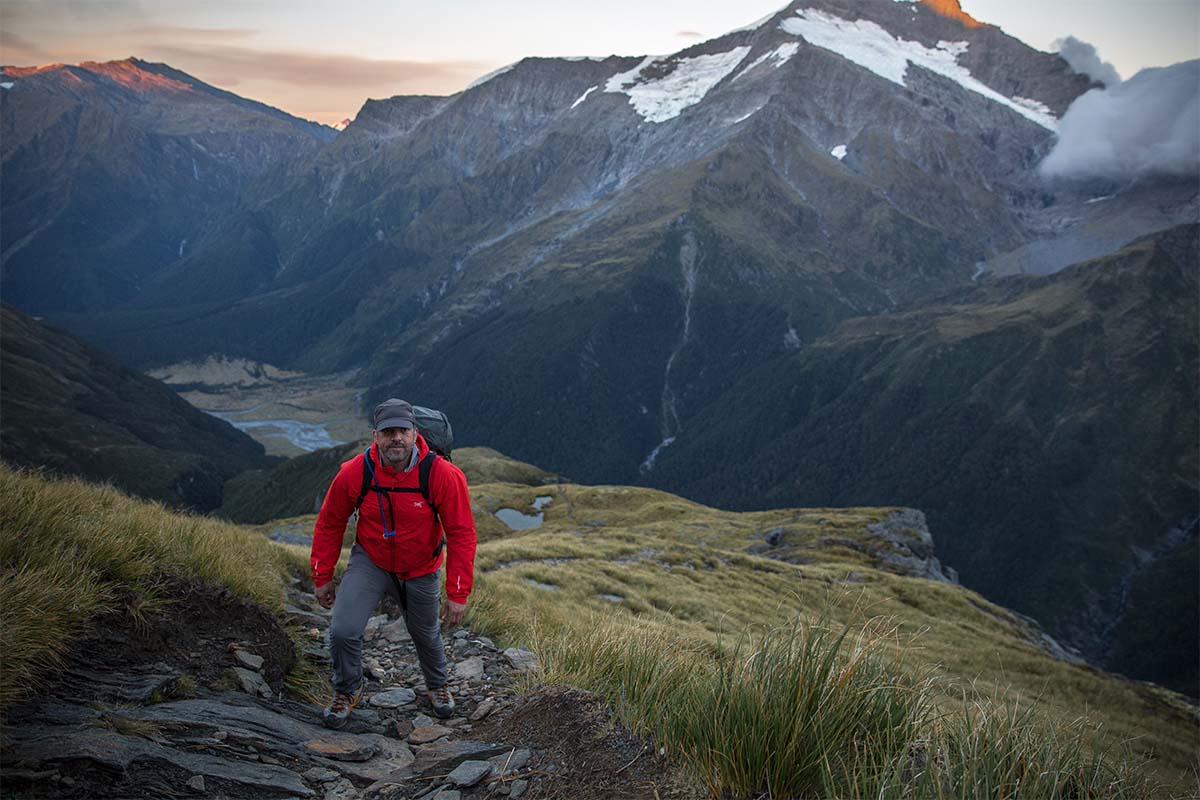 Key Design Features
Hood
As touched on above, the Norvan's fitted, elasticized hood provides adequate protection and has a brim that offers some additional coverage without hindering visibility. But while this jacket is ideal for trail running and light-and-fast adventures, it's not a standard hardshell meant for backpacking, skiing, or wearing around town. In those instances, you'd likely want the convenience of hand pockets and a fully-featured hood with more adjustability. Further, I found that the hood had trouble staying in place on my head unless the front zipper was fully closed. This wasn't a major concern since I sported the hood mostly in wet conditions, which required zipping the jacket up to keep me dry.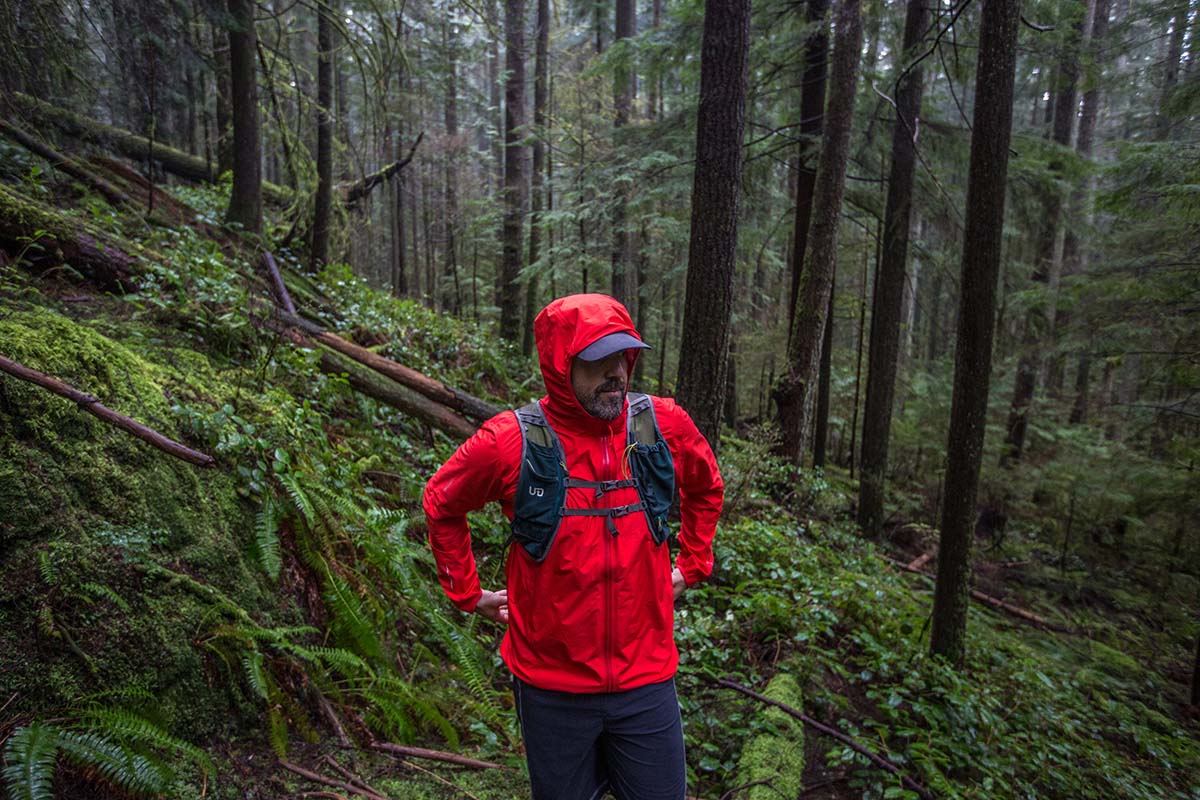 Storage
Arc'teryx streamlined the Norvan's feature set to keep weight low, leaving out details like zippered hand pockets. An internal zippered pocket at the chest does offer enough space for keys or a credit card, and even a small hole at the top for headphones to poke through (the cord end, of course). While the Norvan is otherwise bereft of pockets, I'll reiterate that it's intended for high-output activities like trail running and hiking in less-than-ideal conditions. Added storage would not only bulk up the jacket, but also give water and wind more openings to sneak through.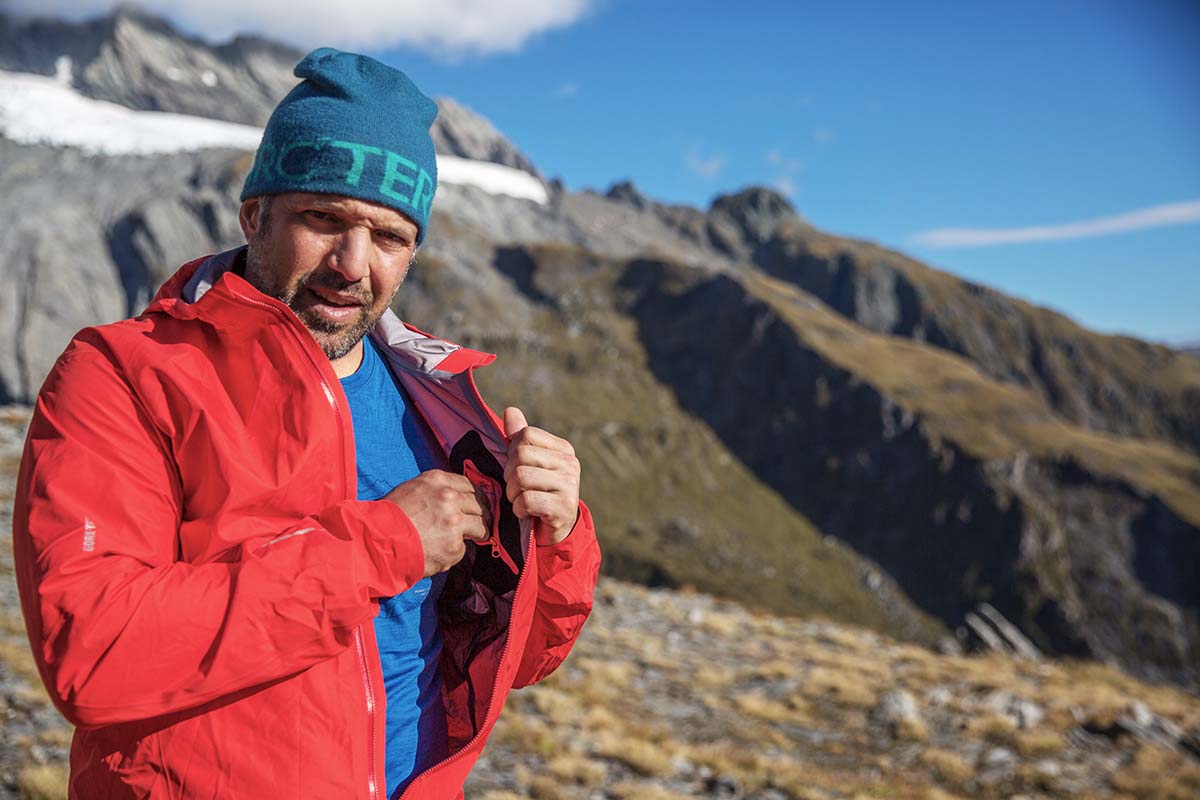 Fit and Sizing
The Norvan is a trim, hip-length jacket designed to wear with minimal layers, sit close to the body, and provide mobility during activity. While I've consistently worn a large in Arc'teryx shells, I decided to go with an extra-large Norvan knowing that I'd want to layer underneath. The bigger size accommodated my lightweight Mountain Hardwear Ghost Whisperer puffy, and I was even able to squeeze in my climbing helmet under the hood on a particularly wet day. The only downside with sizing up is that the Norvan lost its low-profile, slim fit when I sported just a T-shirt underneath. In retrospect, I probably should have stuck with my usual size, but the larger version thankfully didn't flap around in the wind or bunch up.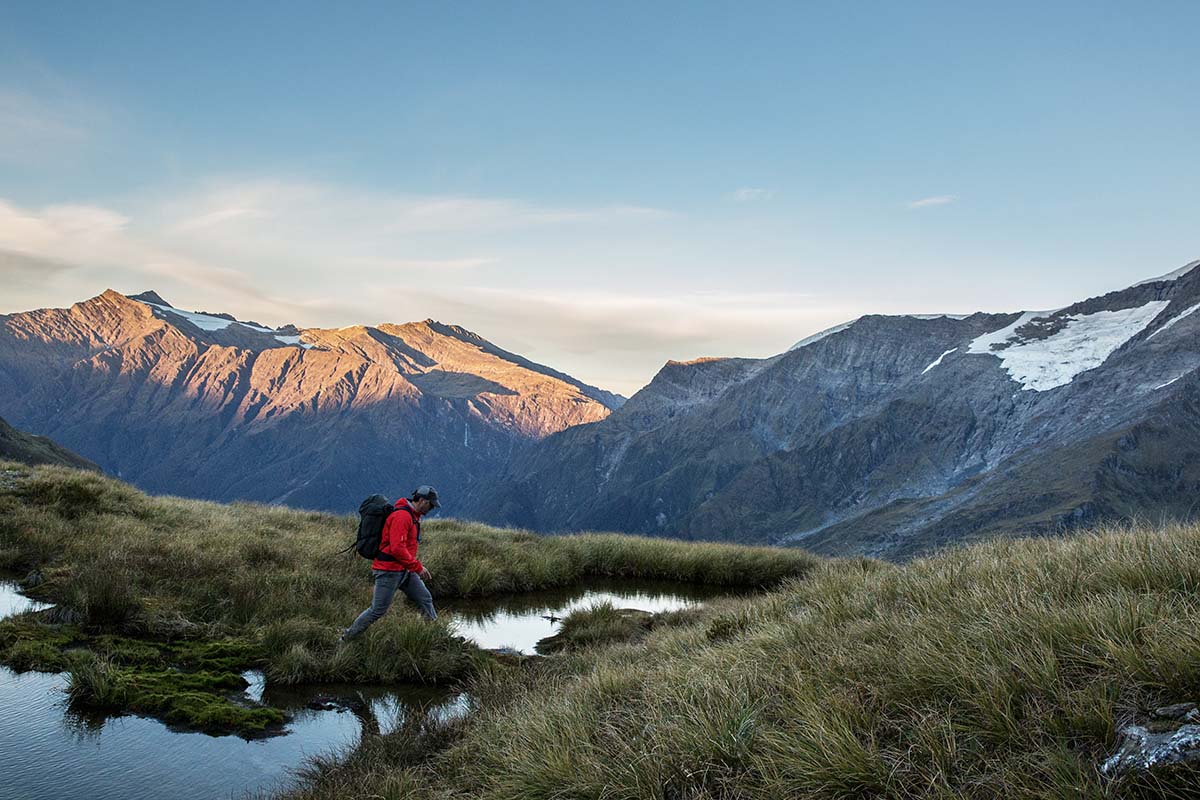 Other Versions of the Norvan
We tested the men's version of the Arc'teryx Norvan, but the jacket also is available in a women's-specific model with the same design and features but a slightly lower weight (6.9 ounces) and different colorways. Arc'teryx also makes the Norvan SL (see our in-depth review here), which at a feathery 4.2 ounces, weighs considerably less than the standard Norvan. However, the SL doesn't use the same 3-layer Gore-Tex, instead opting for Gore-Tex with Shakedry construction, which leaves the waterproof membrane exposed to maximize weight savings and breathability. The SL's ultra-minimalist design does mean it's less versatile than the standard Norvan, but it's an incredible trail-running piece.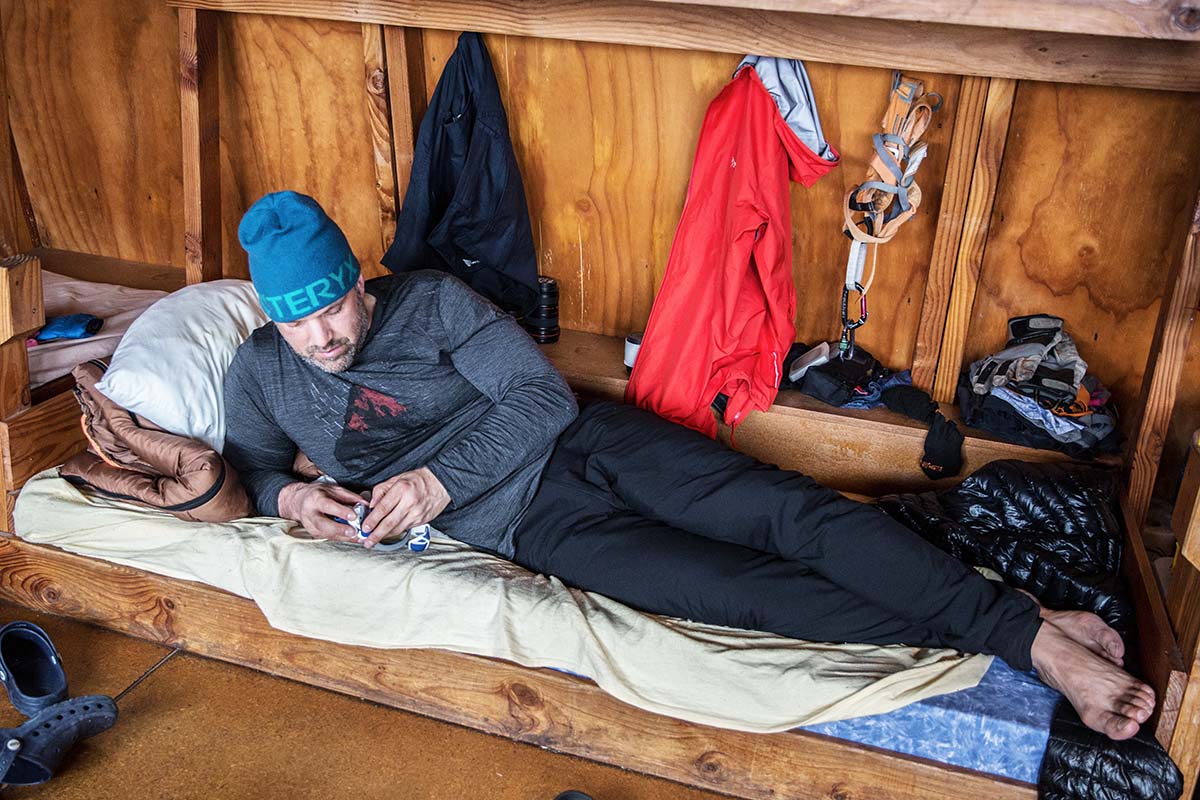 What We Like
Excellent water and wind resistance for such a lightweight and packable shell. 
Good all-around breathability (much better than we expected). 
The Gore-Tex C-Knit backer is soft and comfortable without clamming up during aerobic activity.
 
What We Don't
The Norvan is ideal for high-output activities and fast-and-light missions, but the lack of hand-warmer pockets makes it less attractive for backpacking and everyday use.
The 20-denier fabric is less durable than most hardshells.
The unique open vents under the arms worked well during my testing but likely aren't as bombproof as zippered vents (or no vents) in the long run. 
The non-adjustable hood does not stay on unless the zipper is fully closed.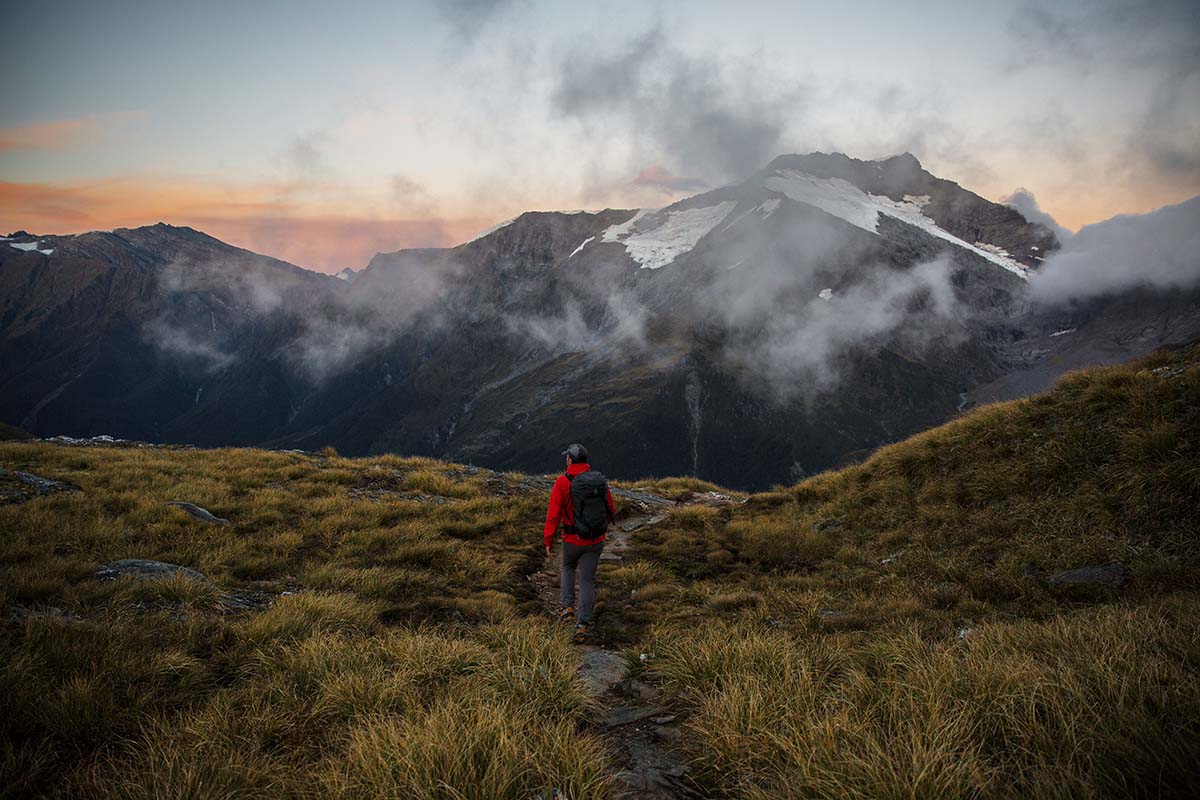 Comparison Table

The Competition
The Arc'teryx Norvan is a very interesting blend between an ultralight rain jacket and a performance-oriented hardshell. For an even lighter alternative, Arc'teryx's Norvan SL Hoody clocks in at 4.2 ounces, or over 3 ounces less than the Norvan. That said, it's much closer to a rain jacket and doesn't provide nearly the same performance or features. While the SL's Gore-Tex with Shakedry was entirely waterproof, its minimalist construction means that you can't even wear a pack out of fear of damaging the waterproof membrane. The SL also sacrifices pockets, pit zips or vents, and its thin materials are more prone to tearing. All in all, the SL wins out in weight but the Norvan is the much more versatile and practical ultralight shell.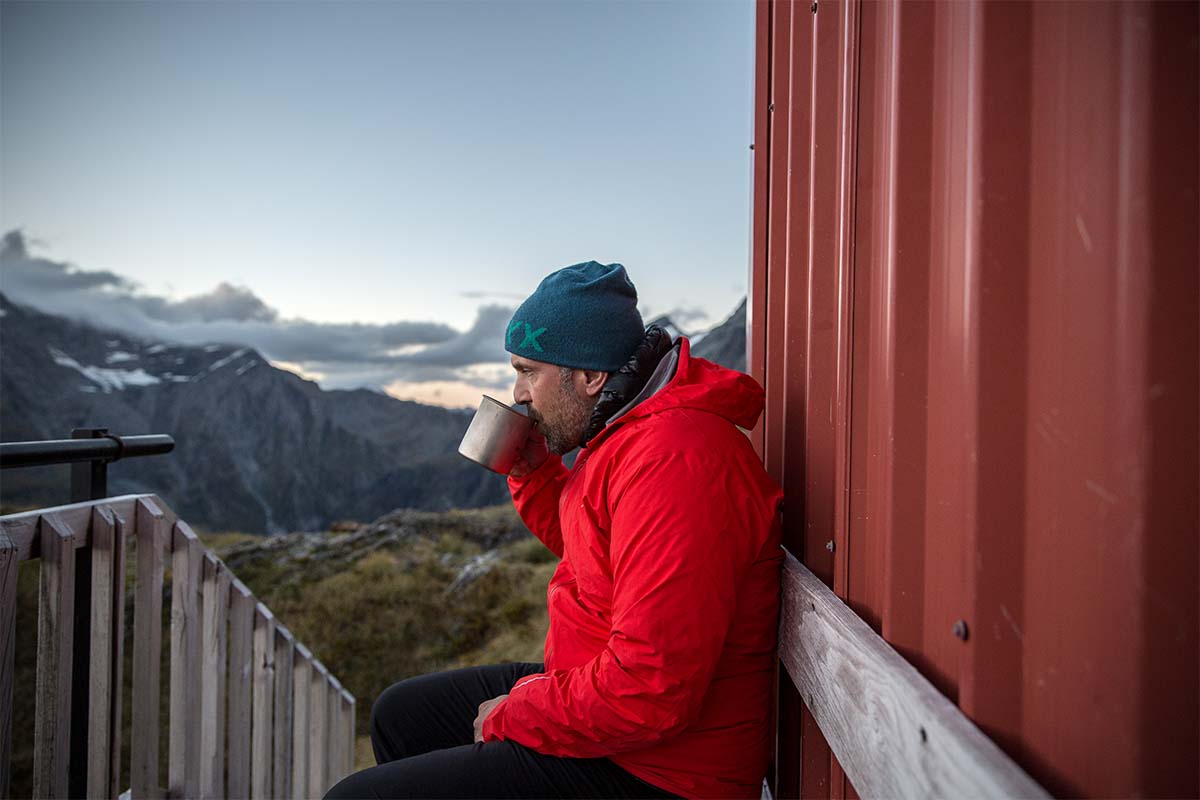 In terms of minimalist hardshells, Patagonia's esteemed M10 Anorak weighs in at 7 ounces and offers solid performance overall. Although more of a dedicated climbing piece, its 3-layer, H2No construction is weatherproof and breathable, although not quite like Gore-Tex. Further, the 12-denier fabric on the M10 is thinner than the 20-denier Norvan, and you have to go with the pullover style compared to a full zipper (plus, Patagonia does not currently offer a women's version of the jacket). With the Anorak you do get a helmet-compatible hood with more adjustability, which is a big selling point for alpine use, plus a small weight savings of .6 ounces. But for non-climbers, the Norvan gets the nod.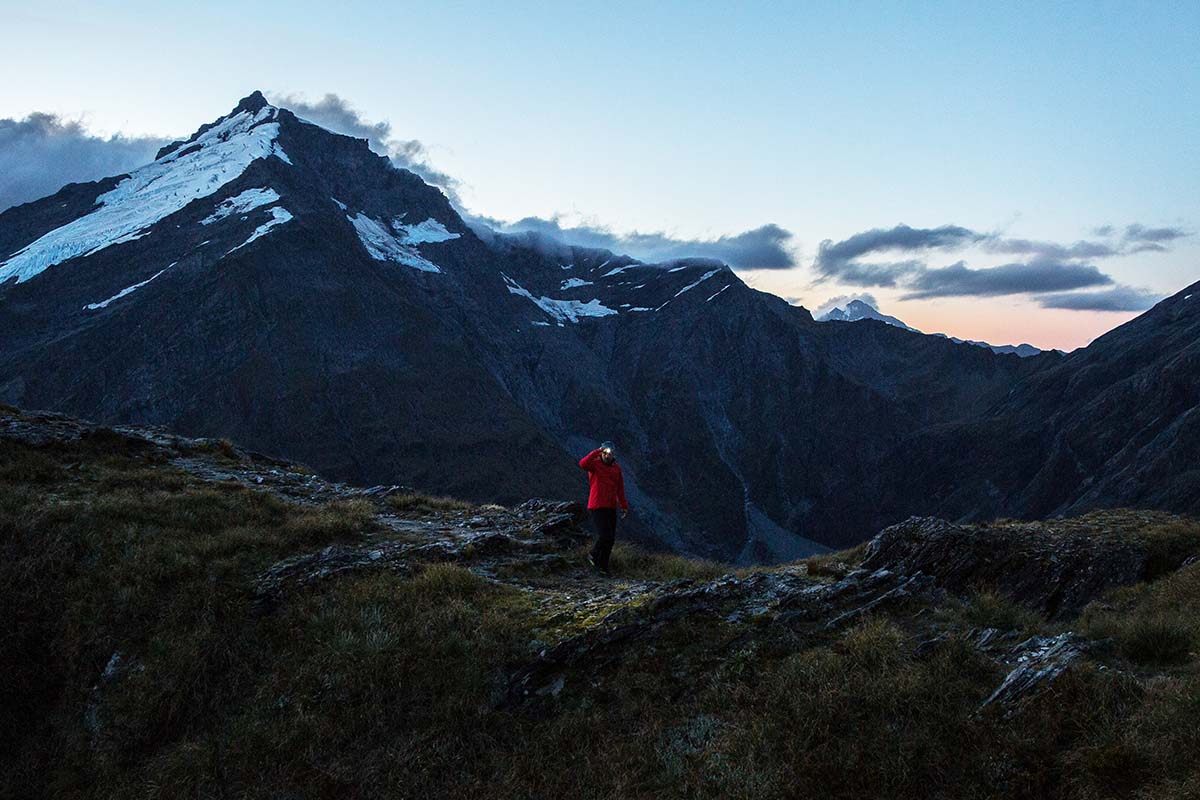 Finally, REI Co-op's Drypoint GTX similarly toes the line between rain jacket and hardshell. The 3-layer Gore-Tex Active construction offers excellent weather protection and breathability—it kept us dry and never felt clammy during long days of hiking with a fully-loaded pack in Patagonia. And despite the lack of pit zips or vents, the REI jacket does have more hiking and backpacking-centric features including hand-warmer pockets, a cinchable hood, and Velcro wrist closures. Finally, both jackets have 20-denier shells, but the Drypoint weighs in at 10.5 ounces total. For hiking, we'd save with the less expensive Drypoint at $249. For trail running, emergency use, and true ounce counters, the Norvan is tough to beat. 
 
If you're thinking about buying gear that we've reviewed on Switchback Travel, you can help support us in the process. Just click on any of the seller links above, and if you make a purchase, we receive a small percentage of the transaction. The cost of the product is the same to you but this helps us continue to test and write about outdoor gear. Thanks and we appreciate your support!
Depending on the seller, most products ship free in the United States on orders of $50 or more. International shipping availability and rates vary by seller. The pricing information on this page is updated hourly but we are not responsible for inaccuracies.
Read More From Switchback Travel