Encroaching on territory typical of a waterproof rain jacket, the Arc'teryx Tenquille is a wind and water resistant softshell for hiking and trekking. These activities are right up our alley, so we decided to see whether or not it could supplant some of our favorite outer layers. We've had our Tenquille for nearly nine months and have given it use in conditions ranging from cool and drizzling to snowing and blustery. Below we break down our findings, including wind and wet weather performance, breathability, and weight and packability. Below we break down the Tenquille's wind and water resistance, breathability, weight, fit, and more. To see how the Tenquille stacks up, see our comparison table and article on the best softshell jackets. 

Performance
Hiking-Ready Softshell
The Arc'teryx Tenquille is not waterproof, windproof, or insulated, and all those "nots" make it one of our favorite hiking shells for moderate conditions. As a lightweight softshell, it's everything you need for shoulder season hiking in light precipiation: good water and wind protection, packability, and a stretchy, athletic fit. As always with Arc'teryx products, the material, build quality, and price are all at the high end. It's not a jacket for someone looking for a single, year-round shell (a waterproof rain jacket is still a better option there). But for those looking to fill out their gear closet with a breathable 2 to 3-season outer layer, the Tenquille is a great choice.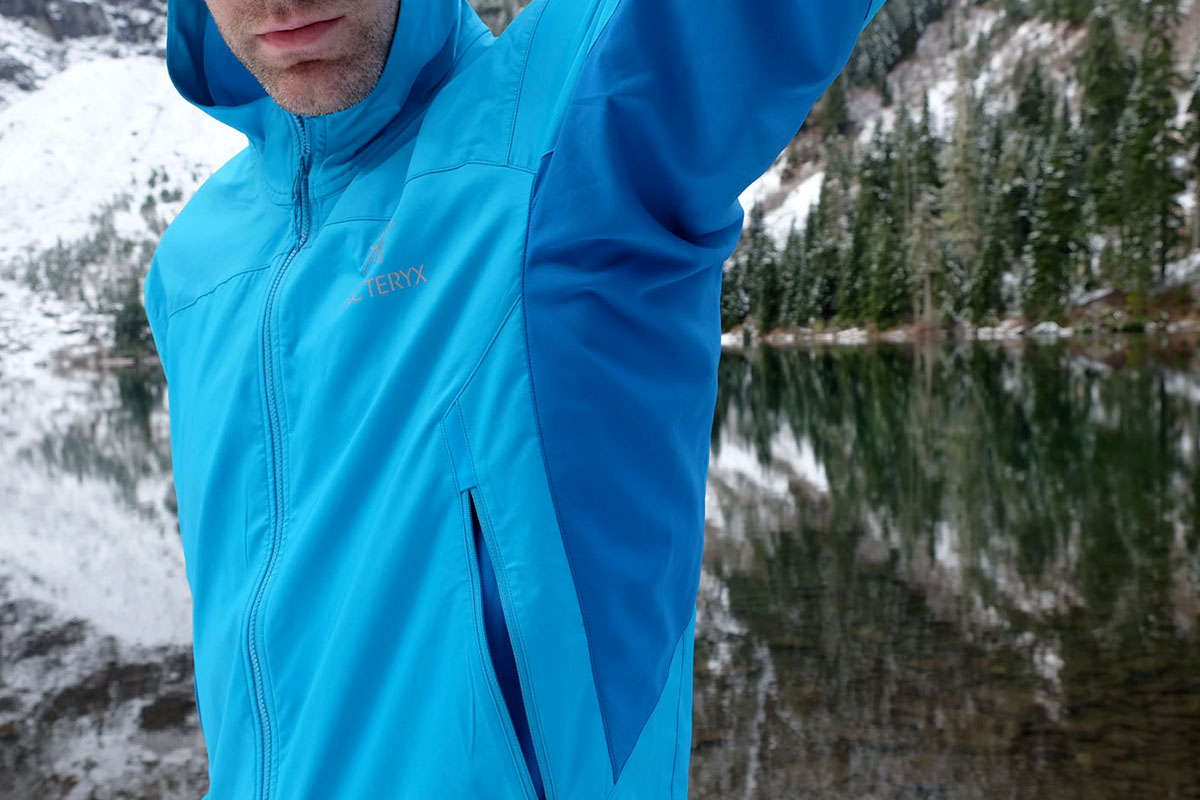 Wind and Water Resistance
The exterior finish is a smooth softshell that offers solid wind and water resistance. The DWR does its job, beading up falling raindrops, and the tightly woven polyester is reasonably impervious to moisture. It is not fully waterproof, and sustained rainfall will eventually make its way through the thin barrier and start to soak in. Another place of weakness is the stretchy side panels, which are made out of a softer and more air and water permeable fabric. However, on a number of hikes in drizzly and snowy conditions, we did not experience much leakage. Wind resistance is similar, with enough of a barrier to block mild, blustery conditions, but not the kind of gusts you'd find at the top of a substantial peak. It's enough for most day hikes and shorter treks.
 
Breathability
The softshell-style construction, thin materials and breathable fabrics under the arms all make for good venting, particularly in cooler temperatures. The jacket easily outperforms fully waterproof jackets, particularly thanks to its stretchy side panels, but we still did overheat on a few occasions. Overall performance was better than most shells, and to improve would most likely sacrifice its wind defenses. As compromises go, it's a good one, and most hikers should be really pleased with the venting. 
 
Weight and Packability
At 10.2 ounces on our scale in a medium size, the Tenquille is really lightweight. Ultralight rain shells like the Patagonia Alpine Houdini and Outdoor Research Helium II get down to around 6 ounces, but they don't come close to the usability, comfort and on-trail performance of the Arc'teryx (outside of water resistance). Tougher waterproof jackets like the Marmot Minimalist and Outdoor Research Foray are about 5 ounces heavier. Its closest competitor, the softshell Outdoor Research Ferrosi, weighs about 3 ounces more but does pack a few more features like an adjustable hood and zippered napoleon pocket.
While the jacket doesn't come with a stuff sack nor does it feature a dual-sided hand pocket zipper for packing away, you can roll the jacket into its hood. It will compress even further when stuffed into a pack, and we were able to easily fit the Tenquille into our mountain biking, day hiking and backpacking packs.
 
The Tenquille vs. Waterproof Rain Jackets
The following scenario is typical of shoulder season hikers and backpackers: purchase a waterproof shell, wear it in mild, windy and drizzly conditions, and subsequently overheat. We've all been there, alternating between putting the jacket on and taking it off on each break as you warm up and cool down. The reason for this is how a rain jacket is built. A fully waterproof shell can be made in a number of ways, but the basic concept is that multiple fabric layers are combined to create a material that is both waterproof and breathable. In contrast, the Tenquille does not have the extra waterproofing layer, relying instead on its tightly woven outer face and a water-repellent finish (DWR). The more substantial barrier of a rain jacket is a better protector against heavy rain and wind, but the Tenquille is a far better breather when you're working hard.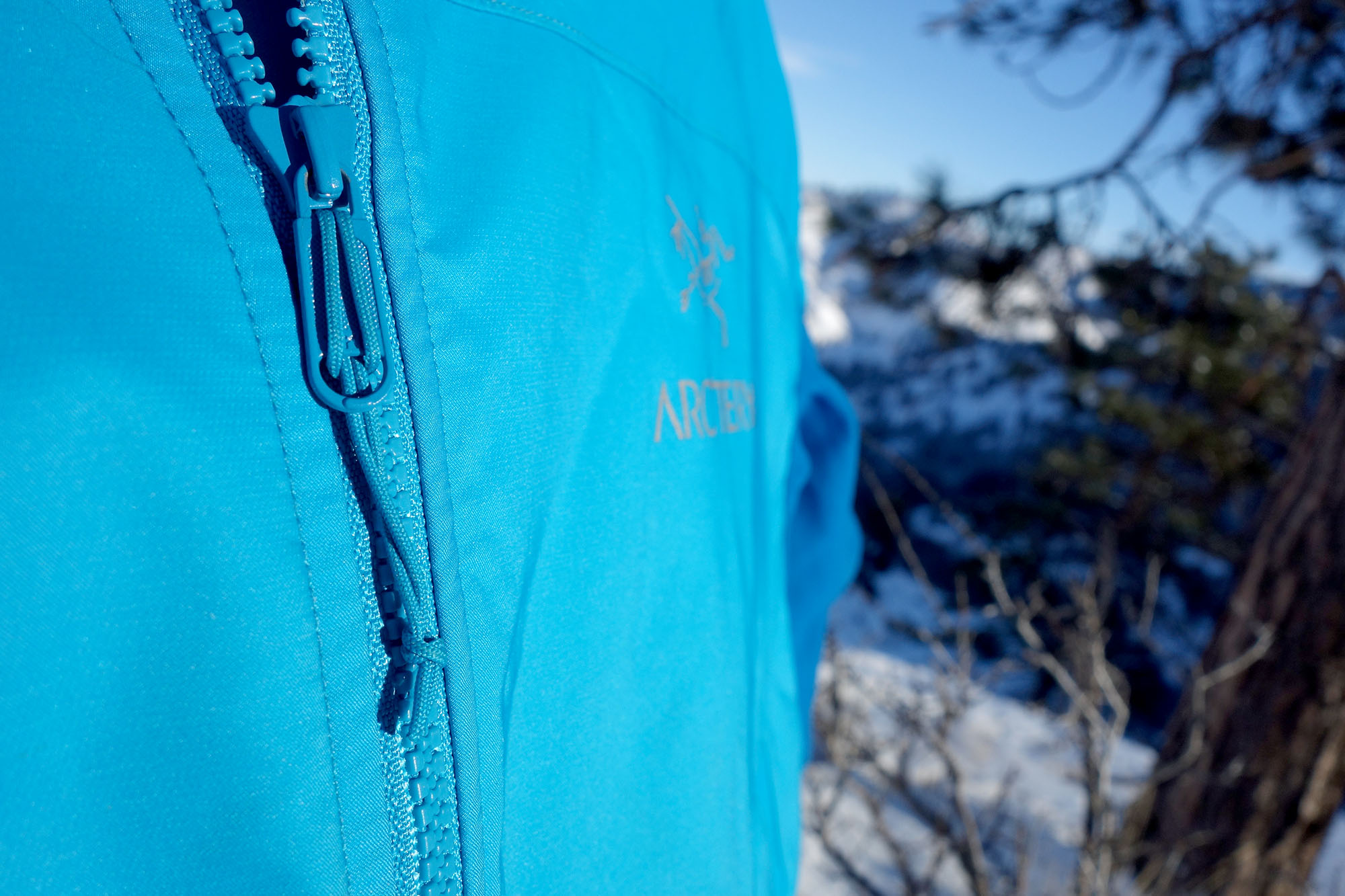 In our opinion, the decision should not come down to purchasing either a waterproof jacket or the Tenquille. For a single jacket, the security of a waterproof shell gets the nod. The more relevant question in whether or not the Tenquille is a worthwhile addition to your hiking clothes quiver on days when it's best to leave your rain jacket at home (or inside your pack). For us, it's a clear yes. But given the jacket's relatively high cost of $175, it'll be best suited for those that spend a lot of time outdoors and will appreciate the cool weather and breathable performance. It's the kind of jacket we would have loved to have along on treks like the Routeburn Track in New Zealand, and have found it useful on numerous occasions stateside.
 
Features
Soft-Touch Lining
The tough, double weave exterior has a very soft lining that is extremely comfortable against the skin. It's not the typical fleece-like interior that you find on some softshells; instead the fabric has a supple and extremely smooth feel. Frankly, we have never worn a more comfortable outer layer. It feels more like a premium baselayer than a shell, and far exceeds any slippery and plasticky rain jackets, even Gore-Tex's new C-Knit backer.
 
Breathable Side Panels
Along the sides of the Tenquille are soft and thin fabric panels. At about half the thickness as the rest of the shell (we're estimating here), they're not as wind or water resistant but are pretty well protected when your arms are at your sides. In use, we found the panels to serve a couple of helpful functions: venting out hot air when working hard and improving freedom of movement with their stretchy, gusseted shape.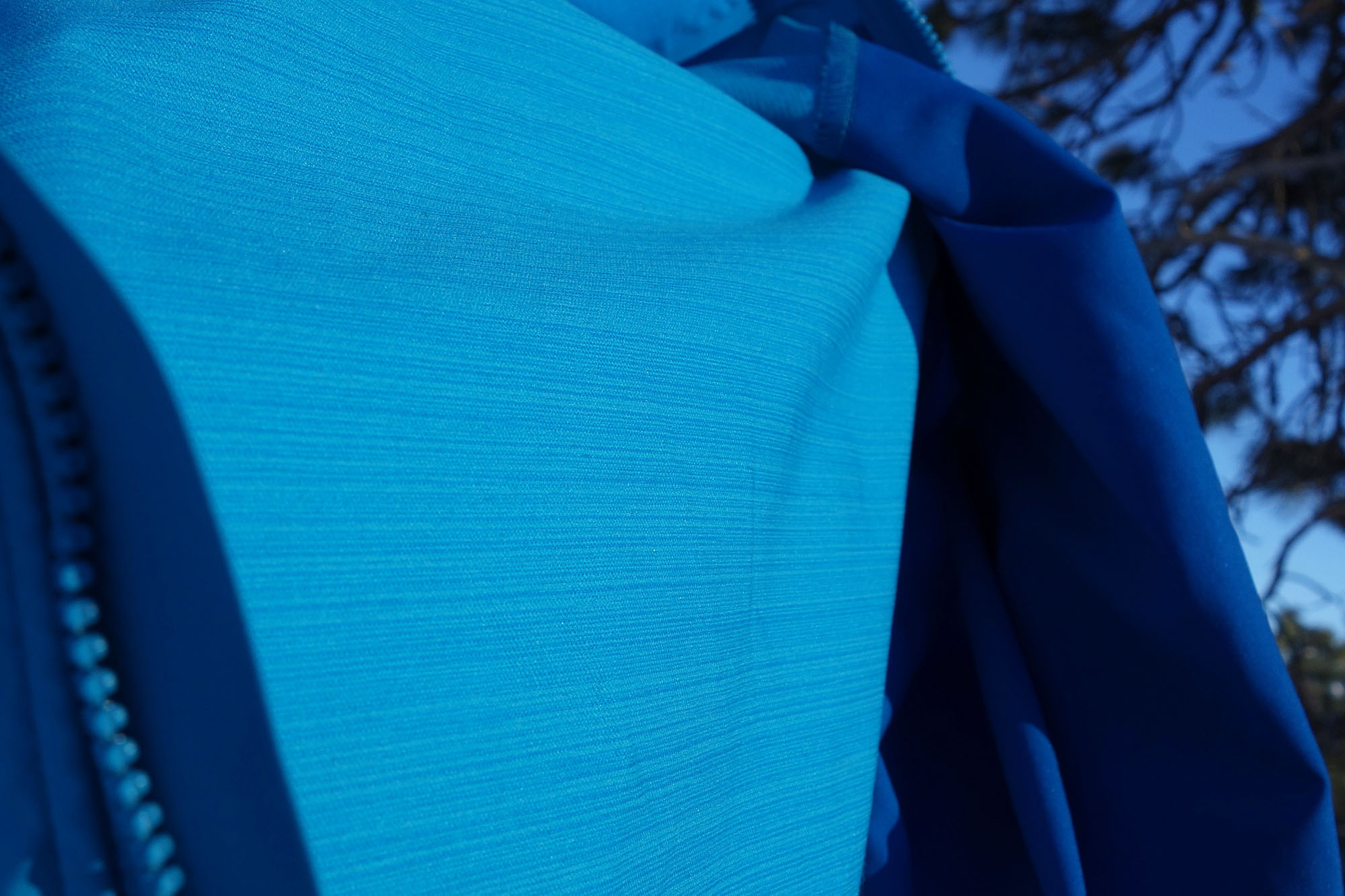 Hood
The Tenquille is only offered in a hooded style. What you get is a no-nonsense design with a laminated bill for extra protection. Unfortunately, it does not come with any sort of adjustment, so if it fits too large (like with me), the hood will move around in all but the lightest wind. In our opinion, the extra weight is well worth having a functional hood that stays in its place, such as what you get with the cheaper Outdoor Research Ferrosi Hoody.
 
Hipbelt-Friendly Pockets
True to its minimalist intentions, the Tenquille only comes with two hand pockets. They sit a little higher on the body than normal, with enough clearance to use the zipper over a backpacking pack's hipbelt. The zipper pulls are essentially a lightweight cord but do the job, and pocket size is large enough to accommodate our hands while wearing lightweight gloves. Some may desire a napoleon chest pocket, but we don't miss this feature much in a hiking shell. We prefer instead to keep our gear stuffed away in our pack or hipbelt pocket.
 
Cuff and Waist Adjustments
Hem adjustments are made with a single toggle and cinch. As we touch on below, we think the fit around the waist could be a little looser as even our slimmer-built testers didn't have to tighten it very much. You do not get a Velcro adjuster for the cuffs, but half of the cuff is elasticized, which creates an easy and comfortable fit. We found both the cuff and waist adjustments to be effective and a nice reflection of the functional and lightweight design.
 
Sizing and Fit
The fit is athletic, but at 5'10" and 150 lbs., there was still enough space for me to slip on a baselayer and thin fleece underneath. A bigger challenge in getting the right size may be around the hem, which is relatively narrow. The fit around my waist (31-in.) is snug even uncinched, so it may be an issue for those with a more muscular build. If, however, you fit most Arc'teryx products well, you likely will be just fine.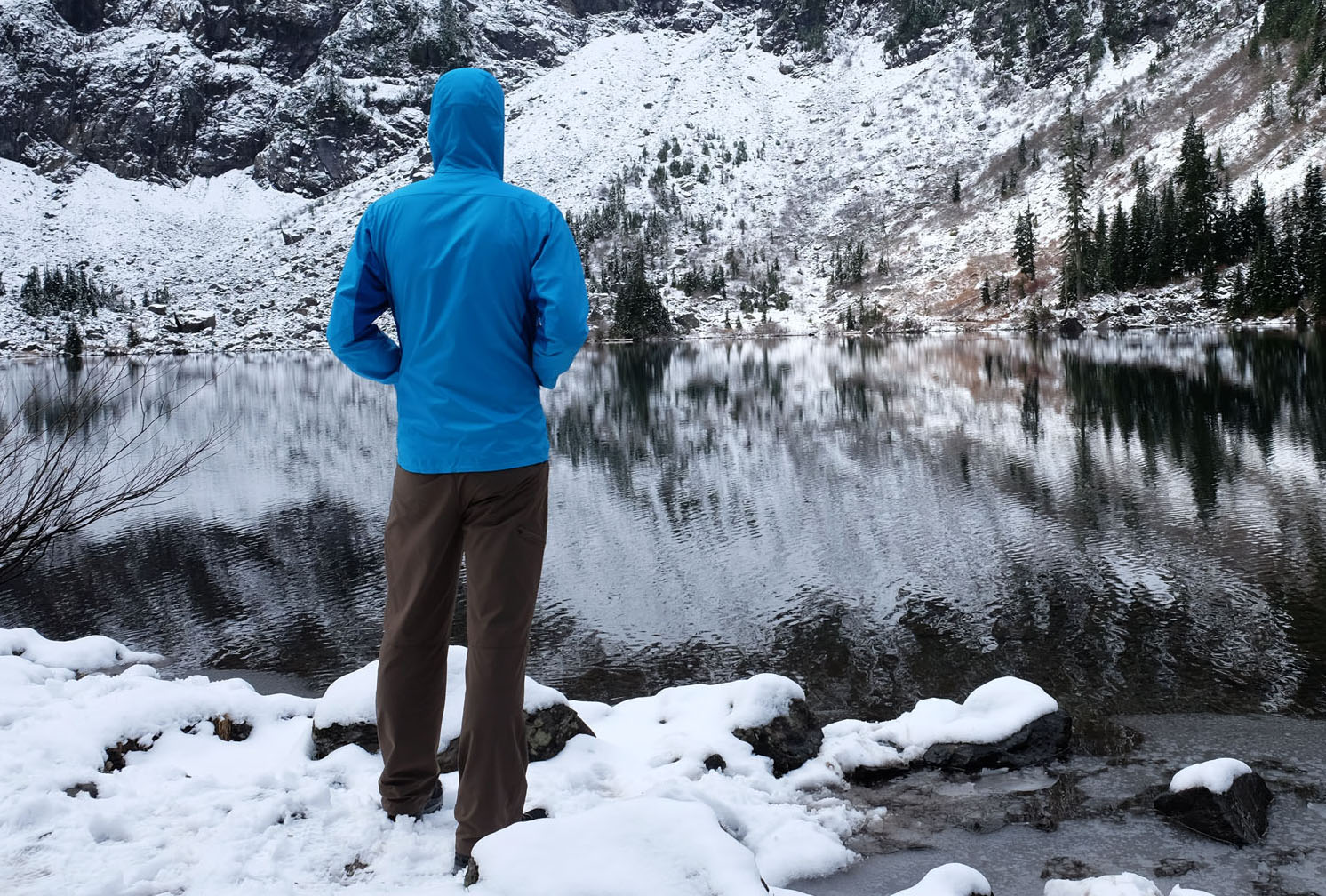 Comparison Table

The Competition
Within the larger softshell jacket category, the Tenquille falls on the lightweight end. It doesn't offer the same level of protection from the elements as a jacket like the Arc'teryx Gamma LT or Patagonia Adze Hybrid, but the Tenquille undercuts them in weight by approximately 9 and 15 ounces, respectively. As a lightweight piece, the Tenquille's primary competition is the Outdoor Research Ferrosi. It can't match the Ferrosi in total value (the Ferrosi is $129 and often on sale) and stretchiness, but the Tenquille's trekking-specific features, more water-resistant shell, and 3-ounce weight savings make a compelling argument for the summer hiker and backpacker.
In an industry focused on specs sheets and features, we appreciate the simplicity of the Arc'teryx Tenquille. It's become a go-to choice for us for when we need a little weather protection while hiking, backpacking, mountain biking, bike commuting and mild weather snowshoeing, and should serve pretty well for climbing in cool weather. It's not the softshell to take on a backcountry trip into areas prone to really nasty conditions (the Gamma and Adze Hybrid above are far better), but if you're expecting the occasional sprinkle and wind gust and need a shell jacket that won't overheat easily, the Tenquille is about as good as it gets.
If you're thinking about buying gear that we've reviewed on Switchback Travel, you can help support us in the process. Just click on any of the seller links above, and if you make a purchase, we receive a small percentage of the transaction. The cost of the product is the same to you but this helps us continue to test and write about outdoor gear. Thanks and we appreciate your support!
Depending on the seller, most products ship free in the United States on orders of $50 or more. International shipping availability and rates vary by seller. The pricing information on this page is updated hourly but we are not responsible for inaccuracies.
Learn More About Outdoor Gear