In many ways, the Asolo Falcon GV represents where we think hiking footwear is headed: a little less weight and support than a traditional heavyweight boot, but with the technical chops to get the job done both on and off trail. We brought the Falcon to Patagonia to take on the challenging Huemul Circuit and came away impressed. It handles everything from steep rocky passes and glaciers to river crossings and bogs. Below we break down the Falcon GV's comfort, weight, traction, stability, waterproofing and breathability, sizing and fit, and more. To see how the Falcon stacks up, see our article on the best hiking boots.
 
Performance
Comfort
It's not often that you can find a technical hiking boot that is super comfortable out of the box and requires little to no break-in, but the Asolo Falcon GV accomplishes just that. In fact, it has been extraordinarily cozy since the first time I put it on. The materials are premium, the fit is just right for my medium-width feet, and everything stayed true after covering serious mileage. All in all, it's one of the most comfortable boots I've ever worn.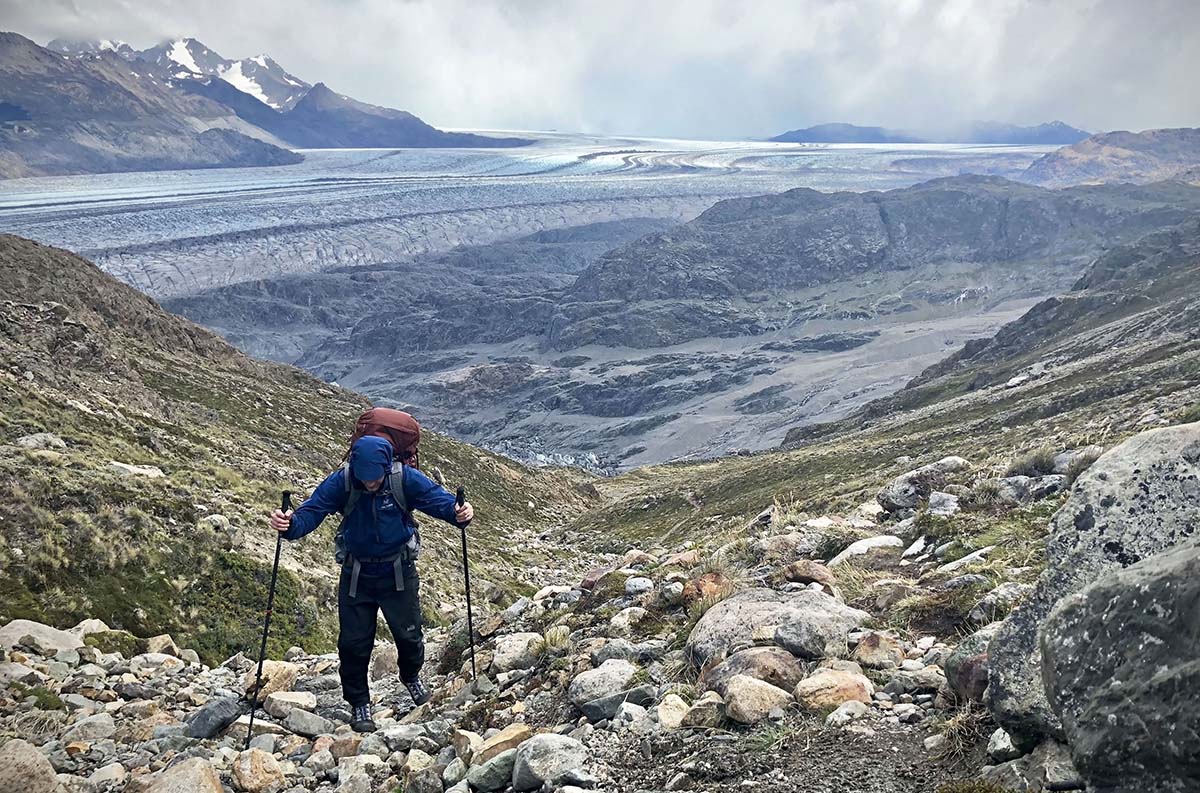 It's worth noting that the Falcon GV isn't as heavily cushioned as some other models. In many ways, it's a combination of a hiking boot and approach shoe, and the dual-density EVA midsole is firm but not quite as soft as some of the less serious pairs of footwear we've tested. We had virtually no foot soreness after trekking the multi-day Huemul Circuit, but those who prefer a highly cushioned ride may want to add custom insoles or look elsewhere (among designs with thick midsoles, we really like Hoka One One's Sky Toa).


Weight
At 2 pounds 2.6 ounces for the pair, the Falcon is relatively light but punches above its weight. For comparison, the Salomon X Ultra 3 Mid GTX weighs less at 1 pound 15.6 ounces but is thinner underfoot and built more like a hiking shoe with a higher cut. The popular Lowa Renegade GTX Mid comes in at 2 pounds 7 ounces and is priced the same at $240, but you do get more support and deeper lugs. Perhaps the closest competitor is the all-leather La Sportiva Nucleo High GTX at 2 pounds 1.6 ounces, which is slightly more supportive but narrower and less comfortable (at least on our feet). Whichever way you slice it, the Falcon GV is a lightweight boot that doesn't compromise on performance or build quality.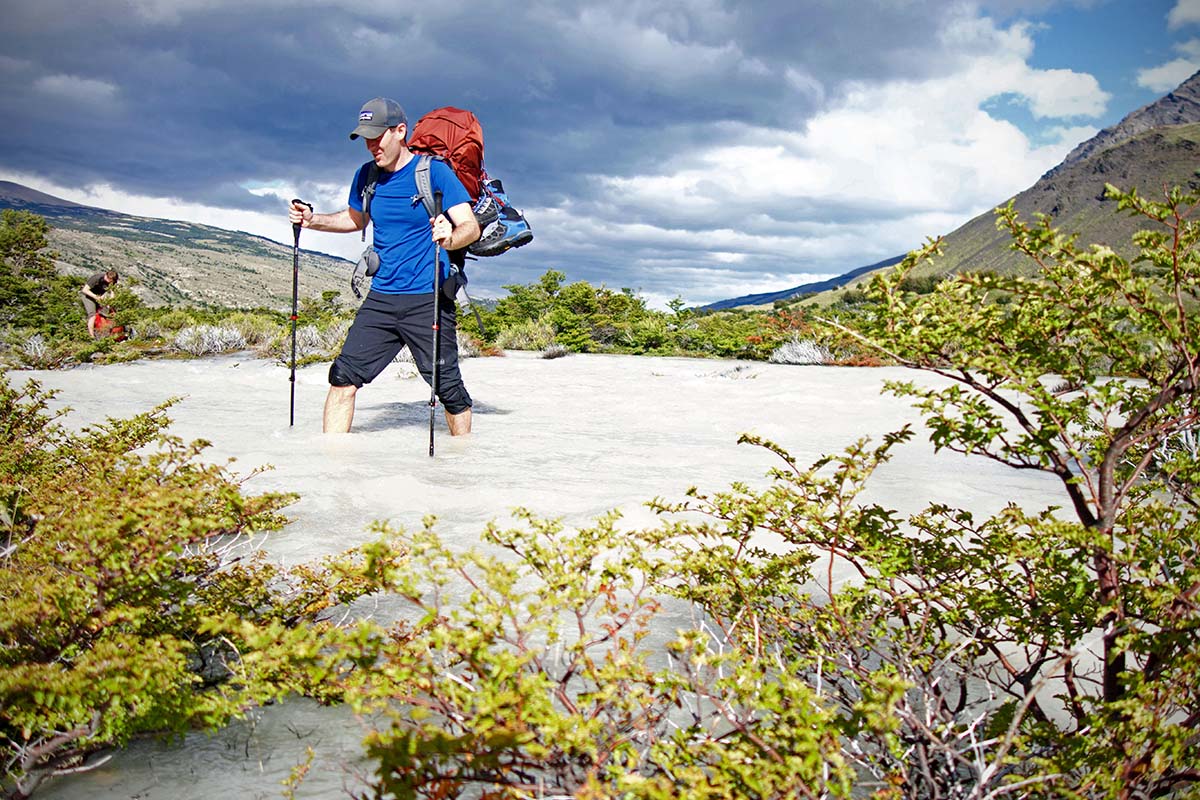 Traction
Tread on the Asolo Falcon GV is an interesting topic. First, the Vibram Megagrip soles work extremely well. During our multi-day trek in Patagonia, they performed admirably on and off trail, over steep passes, over glaciers, and through mud and water. Asolo claims the soles are "self-cleaning," which we can attest to only by the fact that we never had to clean them (mud buildup can be an issue with approach shoes made primarily for rock, so this is a positive aspect of the Falcon).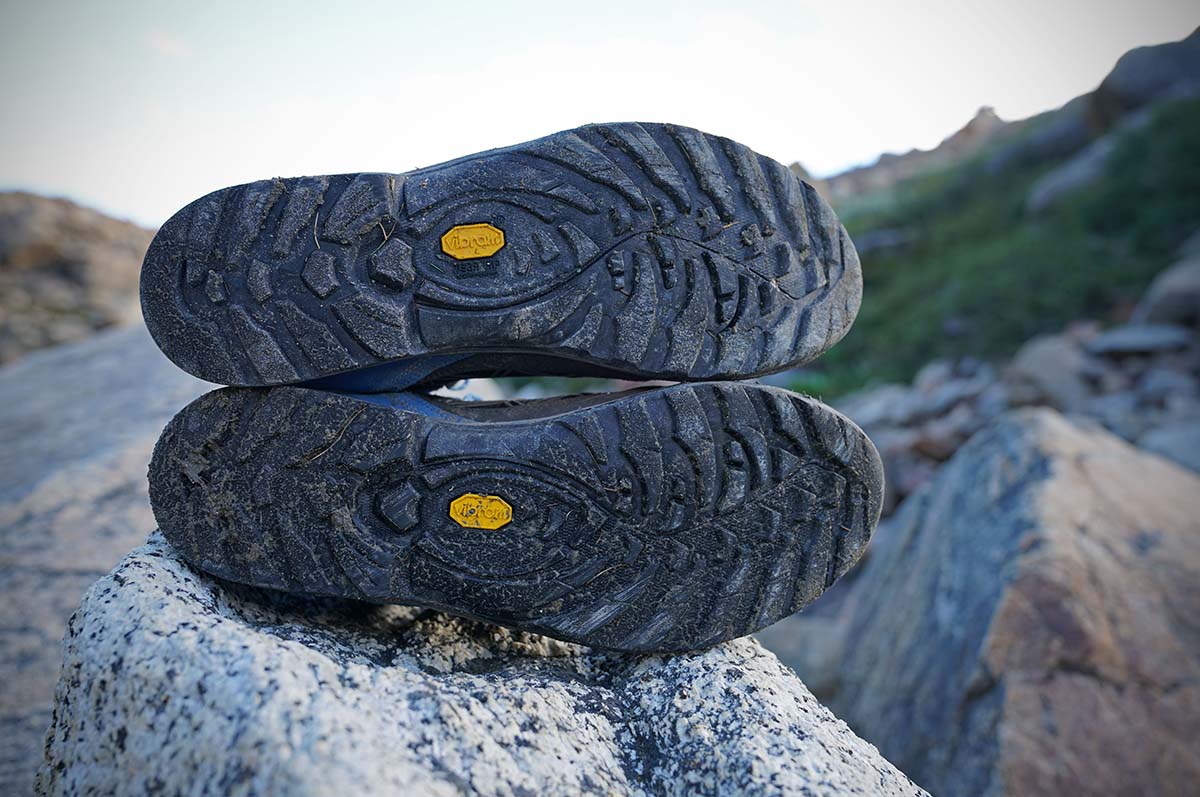 However, the tread on the Falcon GV is shallower than other comparable boots. Asolo doesn't provide lug depth as a spec, but when holding them next to another lightweight hiker like the La Sportiva Nucleo GTX and its 4mm lugs, the Falcon is noticeably shallower. While this didn't affect performance during our trek, you can expect the sole to wear down more quickly than a comparable Vibram sole with deeper lugs. The Falcon GV can be resoled but this service is not provided by Asolo—for U.S. customers the company recommends a couple of authorized resolers, which of course, will be at an added cost.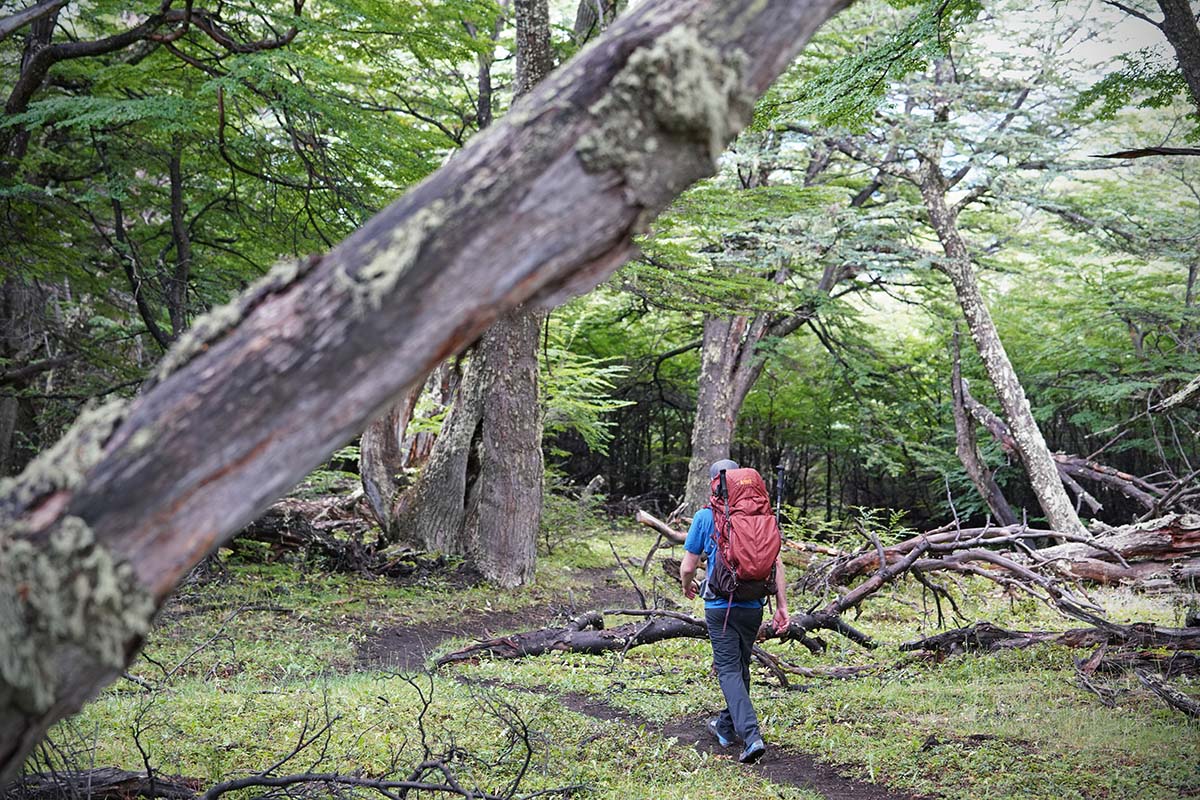 Stability and Support
The Asolo Falcon GV is a lightweight backpacking boot, which means that it's great for serious day hiking and backpacking where you don't need the highest levels of support. Further, we're seeing more and more hikers eschew traditional heavyweight options like the Asolo Fugitive GTX (3 pounds 0.7 ounces) in favor of less support—this is where it seems the market is headed. We took the Falcon GV on a multi-day backpacking trip over challenging terrain and with a decently heavy pack and it performed admirably. It's true that higher and heavier boots will offer more support for those who want it, but the two ankle turns we had were due to our failing to lace them up tightly enough.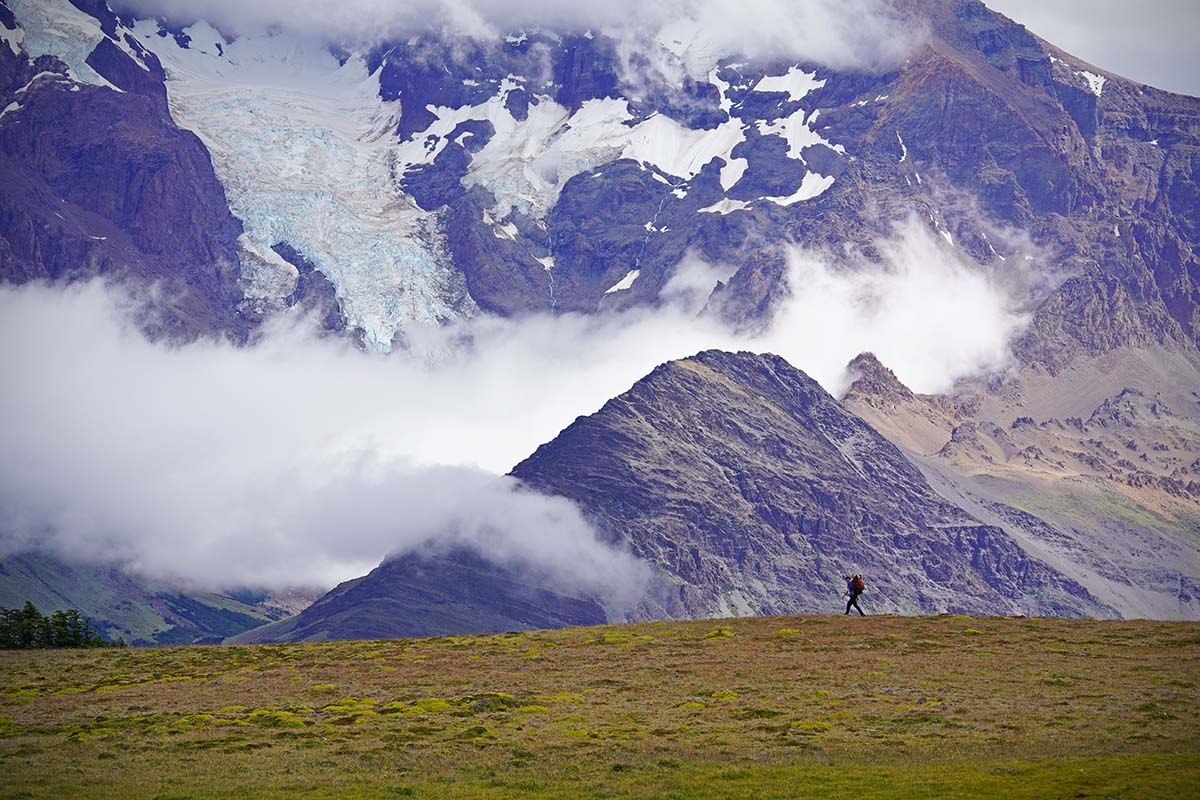 Turning to the laces: pay attention when putting on the Falcon. There are four sets of eyelets on the foot, one at the ankle, and one above the ankle at the top of the boot. Given that the laces are relatively thin, it's critical that you tie them tightly, and particularly at the top. As mentioned above, when we laced up quickly and didn't pay close enough attention, the boot wasn't stiff enough for the terrain and our backpacking pack. But we figured out that you can leave a little room around the foot for comfort, then really cinch the top two pairs of eyelets for maximum support and stability around the ankle. If done correctly, it's a heckuva system that maximizes the boot's comfort and stability.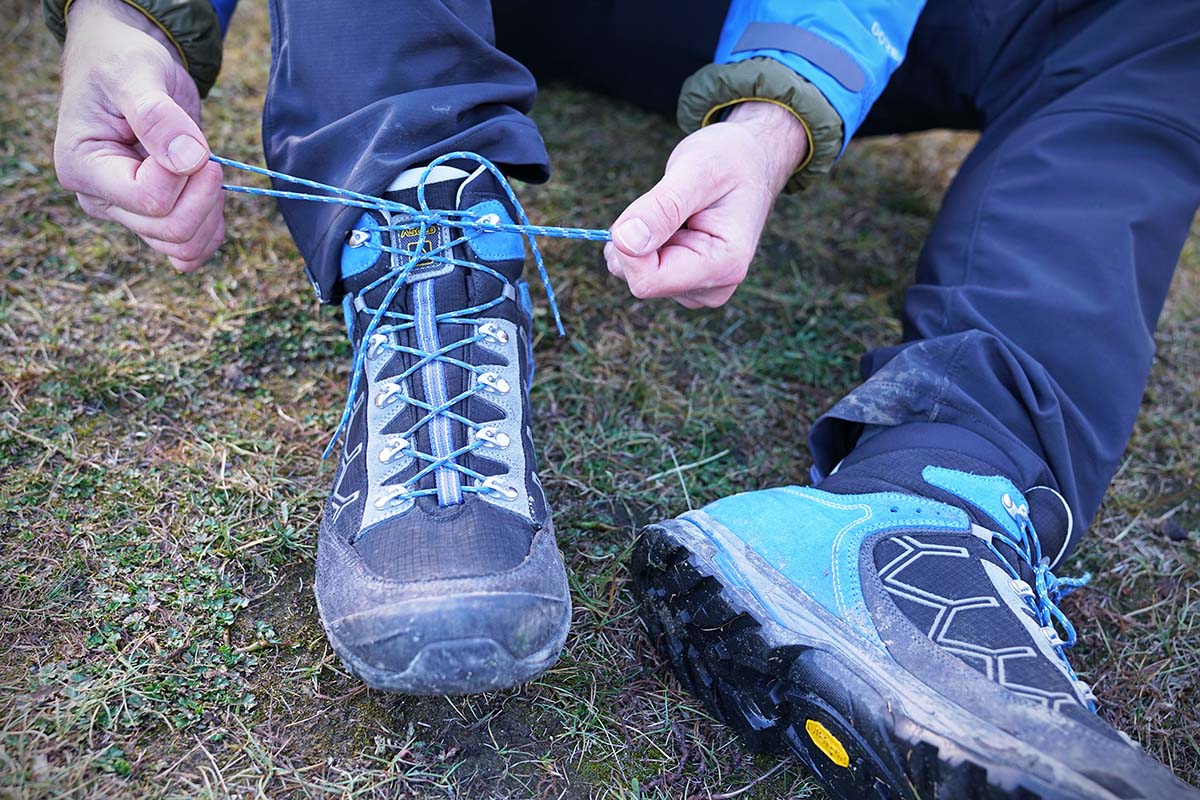 Waterproofing and Breathability
Premium hiking boots often have premium waterproofing, and the Asolo Falcon is no exception. With a Gore-Tex lining, the boot kept us dry during multiple stream crossings and when walking through heavy mud. Perhaps more importantly, our feet never overheated when covering extended distances in warm conditions. This high level of breathability is one of the big benefits of spending up for a high-end Gore-Tex boot: most cheaper proprietary waterproofing technologies will keep the water out, but Gore-Tex is a master at creating enough airflow to allow your feet to breathe.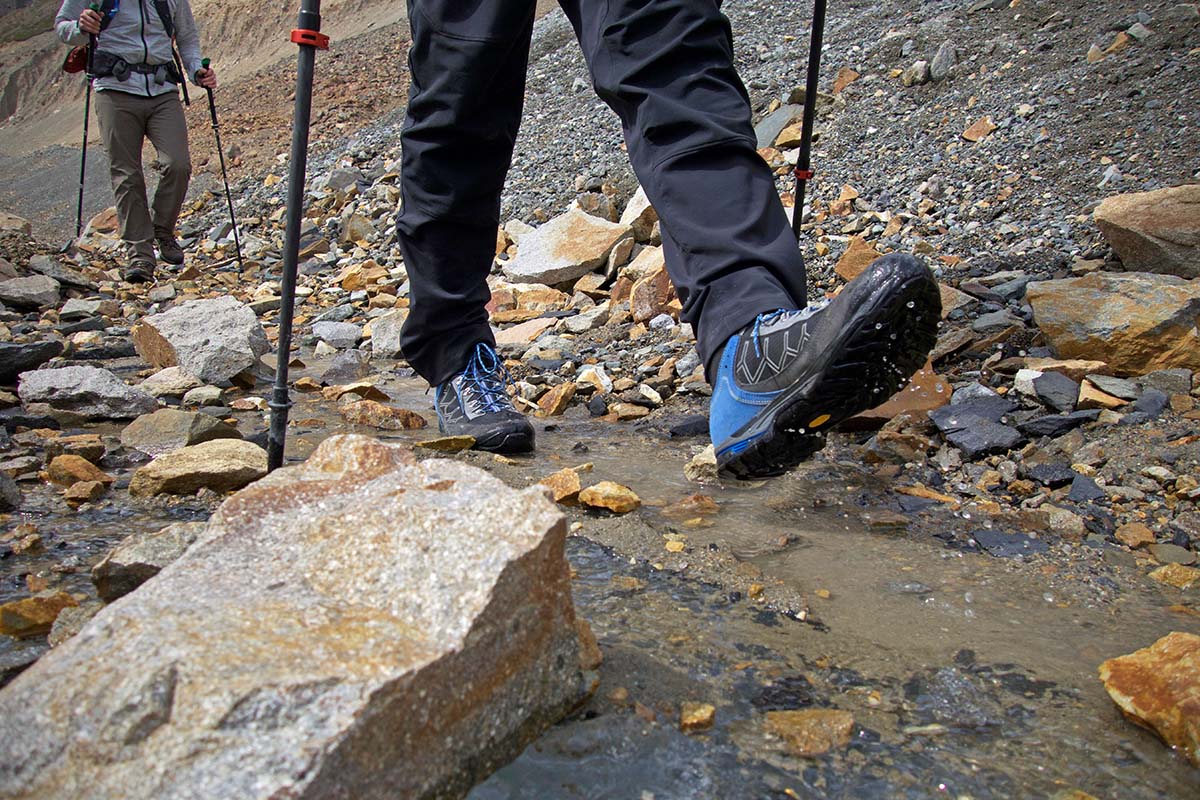 Toe and Ankle Protection
Given the technical prowess, the Asolo Falcon GV has ample toe protection for off-trail scrambling. Although the toe cap isn't quite as pronounced as other models, it's tough and provides enough coverage to protect you from just about all rocks and roots that you'll encounter. In terms of ankle protection, this is a mid-height boot, so it's less substantial at the ankle than a model like the Asolo Fugitive. In addition, the padding above the heel isn't particularly thick and there is no leather up top (just polyester and foam). We didn't have issues with rocks or other debris hitting our ankles, but it's certainly not an impossibility with these boots.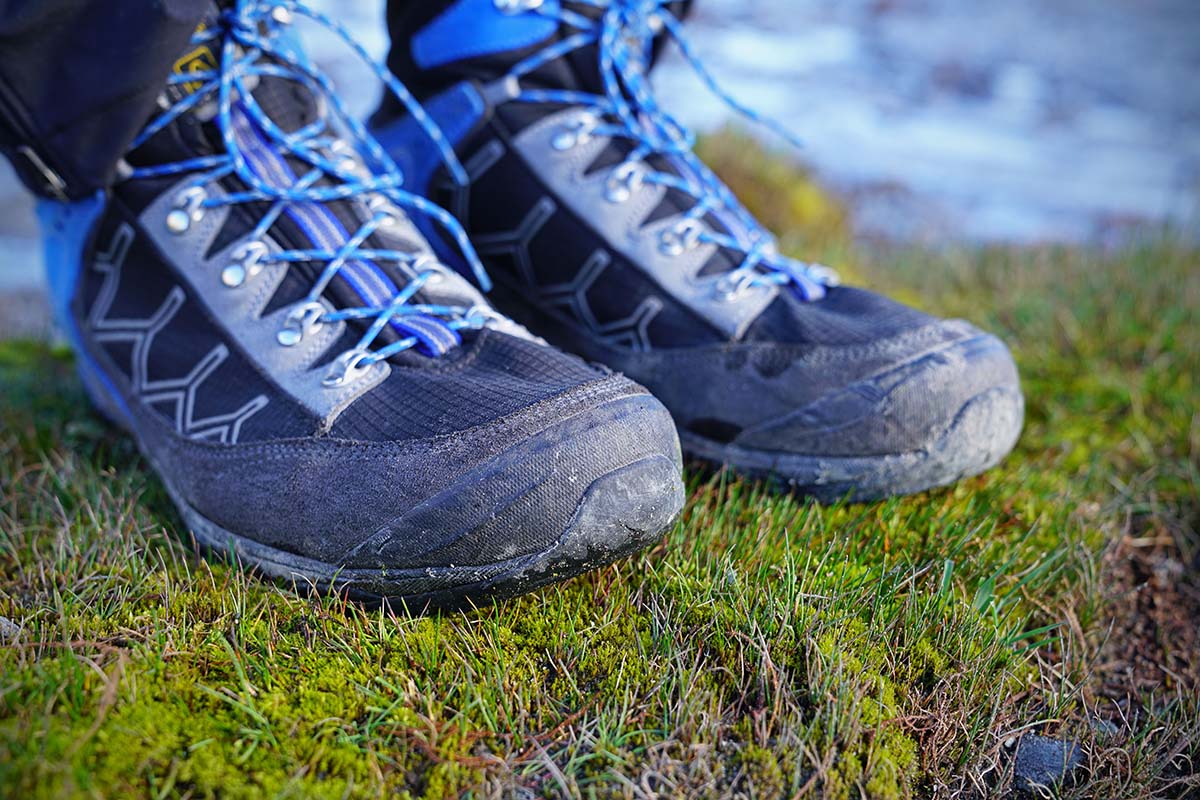 Durability and Build Quality
The Asolo Falcon GV is well-built across the board, and we would expect it to be at this price. Everything about the boot emanates quality from the interior and footbed to the suede and polyester uppers. After multiple grueling days on the trail, just about everything on the boot has held up well aside from some minor wear and tear on the midsole (the exterior foam on the midsole seems a little soft to us). When discussing build, it's also worth mentioning that the Falcon GV is one attractive hiking boot. We love the modern design and sleek colorways, which make it one of the best-looking boots on the market, in our opinion.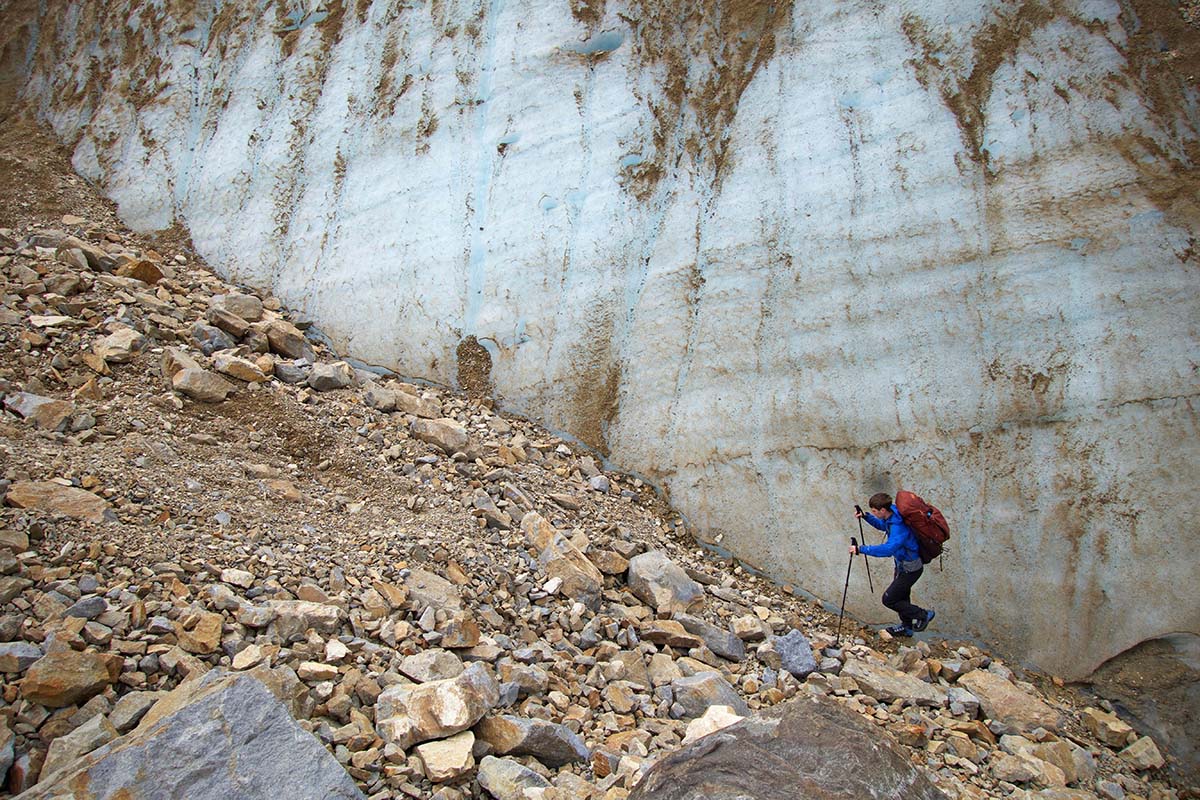 Sizing and Fit
The Asolo Falcon GV fits true to size: I ordered my usual size 12 for my average-width feet, and the boot fit perfectly right out of the box. In addition, I was surprised at just how comfortable they felt without any break-in. Most technical hiking boots and approach shoes feel stiff until you get a chance to wear them for a few days, but the Asolos were good to go from day one. That's a pretty big upside.
 
Women's Version of the Asolo Falcon GV
We tested the men's Falcon GV for this review, and Asolo makes the boot in a women's model that comes in at the same price and weighs less at 1 pound 14.2 ounces per pair. The women's Falcon GV also differs in sizes and colorways, which include pink, green, or blue accents, but the rest of the design remains identical. Both boots share the same suede and polyester upper, Gore-Tex waterproof membrane, and relatively shallow lugs. Unfortunately, unlike much of the competition, Asolo doesn't make the Falcon GV in a non-waterproof model, although we found that the boot still breathed well.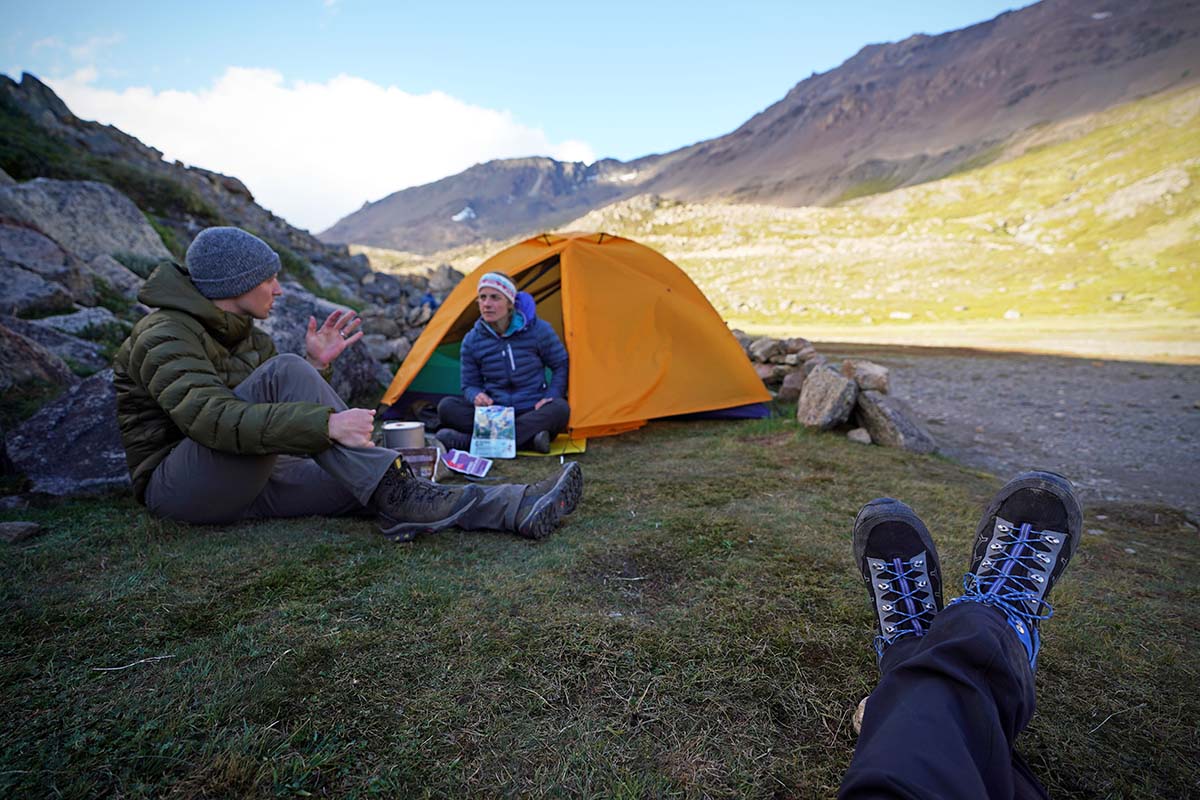 What We Like
Comfortable, tough, and relatively light, which is a rare trifecta in the hiking boot world.
Great fit right out of the box with no break-in period required.
Adept at handling everything from technical terrain to flat trails.
Premium build quality.

What We Don't
Pricier than much of the competition at $240.
Not the most supportive boot, and particular when not laced tightly at the top.
Shallow lugs mean that these boots will need to be resoled quicker than others.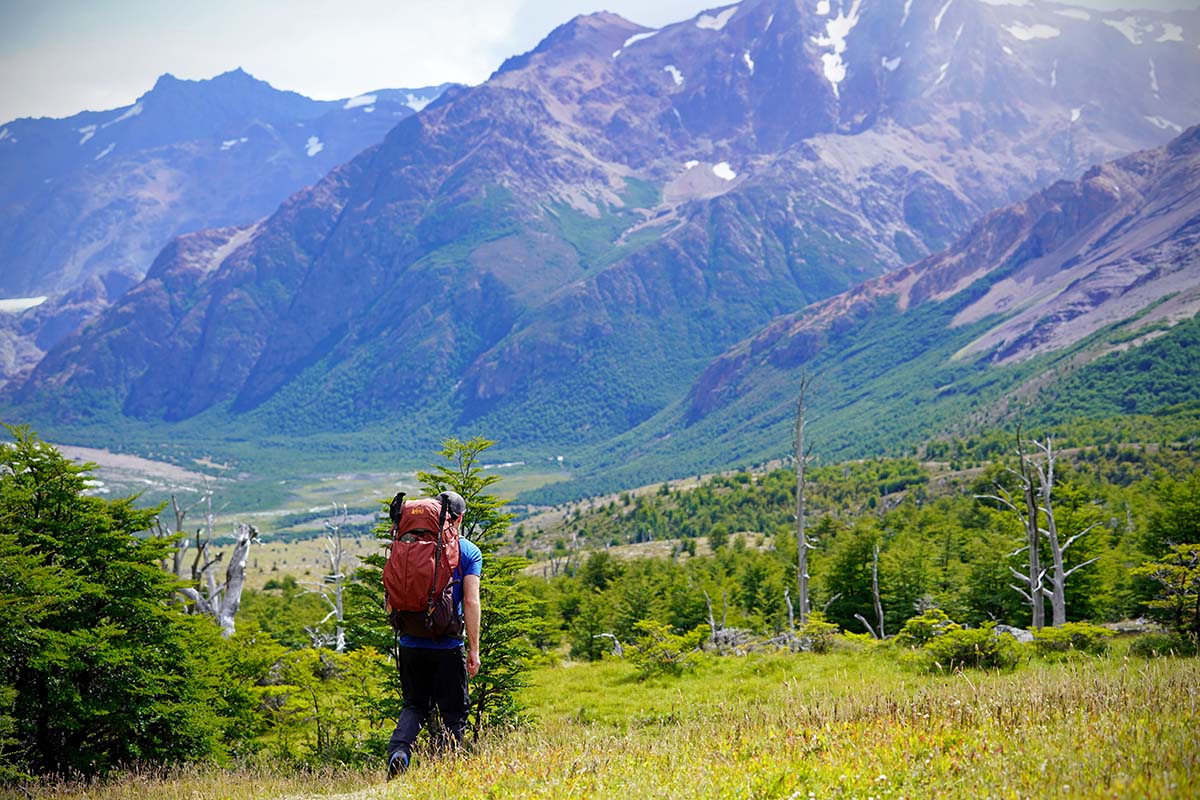 Comparison Table

The Competition
The Asolo Falcon GV is a premium, lightweight hiking boot. This isn't a huge category, but a close contender is the La Sportiva Nucleo High GTX at 2 pounds 1.6 ounces. The Nucleo is cheaper at $199, uses more leather in the build, and has a slightly higher ankle for more stability. The difference for us is that the Falcon was more comfortable, at least on our medium-width feet. In typical La Sportiva fashion, the Nucleo felt very tight the first few times we wore it, although the leather loosened up a bit over time. If you have narrow feet, the Nucleo is an attractive option, but we prefer the fit and design of the Falcon
At the same price point as the Falcon GV, the $240 Lowa Renegade GTX Mid is a powerhouse midweight hiking boot. It's a heavier option at 2 pounds 7 ounces, but the Renegade offers more stability than the Falcon and also feels quite comfortable without a significant break-in period. We have found that the Renegade shaves weight by using relatively thin leather for its upper, so durability is slightly less impressive than the Falcon. But the Renegade is a tried-and-true hiking boot that has been popular for years.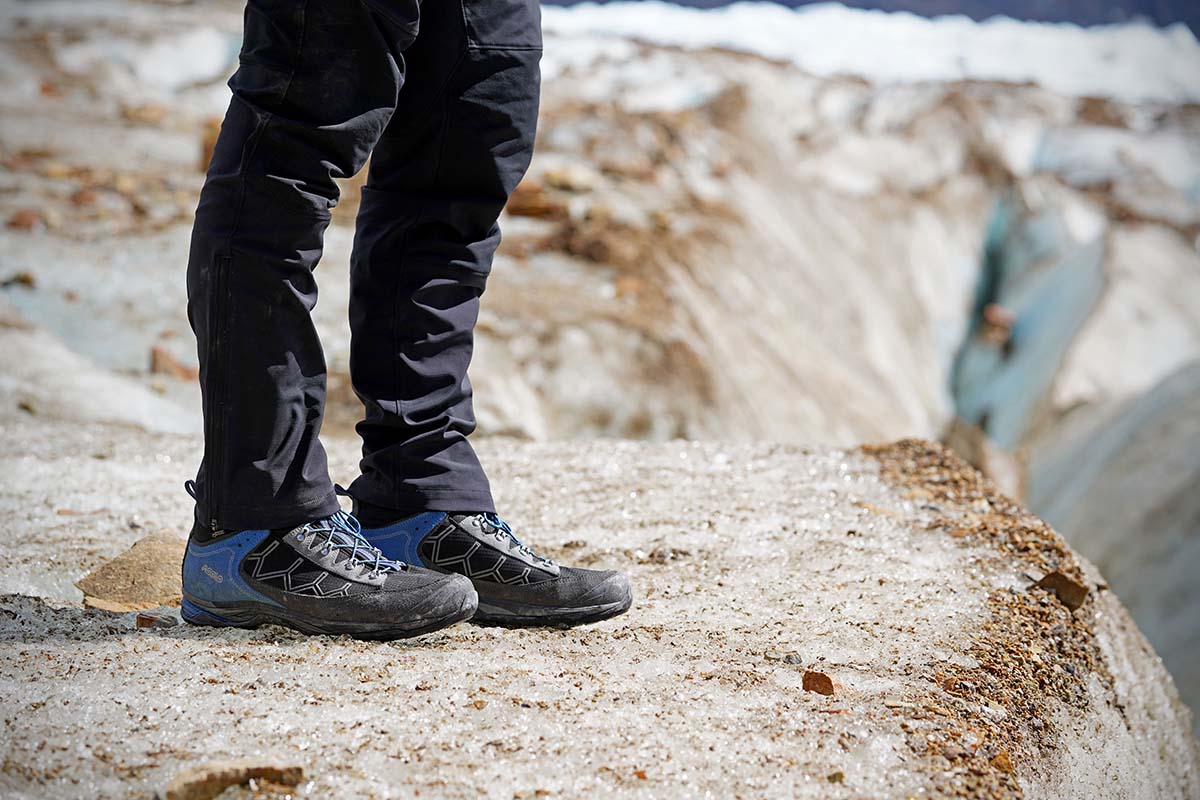 Another modern hiker to consider is Arc'teryx's Acrux TR GTX. Like the Falcon, the Acrux features premium Gore-Tex waterproofing and a lightweight build (the Arc'teryx boot is 2 lbs. 6.8 oz.) that sacrifices support compared to more traditional hiking designs. Both still are capable matches for challenging terrain and heavy loads, although the Acrux is noticeably lacking in cushioning both along the upper and underfoot. All in all, the Asolo and Arc'teryx boots balance weight and performance well, but we give the nod to the Falcon for its superior comfort over long distances. 
Finally, the Salomon X Ultra 3 Mid GTX tops our hiking boot round-up this year, and for good reason. At 1 pound 15.6 ounces, the boot slightly undercuts the Falcon GV in weight but retains a similar build including a waterproof and breathable Gore-Tex membrane, mid-height support, and a comfortable feel out of the box. However, we found that its low weight and impressive flexibility also translated to less support over technical terrain or with a heavy pack—here, the Asolo wins out. However, at $165, the Salomon X Ultra 3 Mid GTX is a better value.
If you're thinking about buying gear that we've reviewed on Switchback Travel, you can help support us in the process. Just click on any of the seller links above, and if you make a purchase, we receive a small percentage of the transaction. The cost of the product is the same to you but this helps us continue to test and write about outdoor gear. Thanks and we appreciate your support!
Depending on the seller, most products ship free in the United States on orders of $50 or more. International shipping availability and rates vary by seller. The pricing information on this page is updated hourly but we are not responsible for inaccuracies.
Learn More About Outdoor Gear