Blizzard Bonafide 97
Price: $750
Ability level: Advanced to expert
Dimensions: 136.5-97-118.5mm (177cm length)
What we like: Fast, smooth, and powerful on hardpack but with improved versatility in mixed conditions. 
What we don't: It's still a frontside ski that requires a strong and capable pilot.
See the Blizzard Bonafide 97  See the Women's Blizzard Black Pearl 97
Blizzard's Bonafide 97 is a signature model in the brand's all-mountain collection, landing between the popular Brahma 88 and Cochise 106. Revamped for 2021, everything from the rocker profile to the flex pattern and core construction have seen changes. The good news is that the Bonafide has retained its stability and power, but the updates have improved turnability and made it slightly more approachable. We put the new ski to the test in Crested Butte, Colorado, and back home at our local hill in Washington State, and below we break down our findings. To see how the Bonafide 97 stacks up, see our article on the best all-mountain skis.
 
---
Table of Contents
---

Hardpack Performance
The Blizzard Bonafide has a strong legion of supporters, and we'll put their minds at ease right off the bat: the latest 2021 model can still rip. There are undeniably a lot of changes to the design, from a rework of the tip and tail rocker to its flex pattern (the ski is a bit lighter at the tip and tail but marginally stiffer underfoot). But strong, expert-level skiers shouldn't be concerned about power loss, as the Bonafide is still happiest at high speed and doing big turns on edge.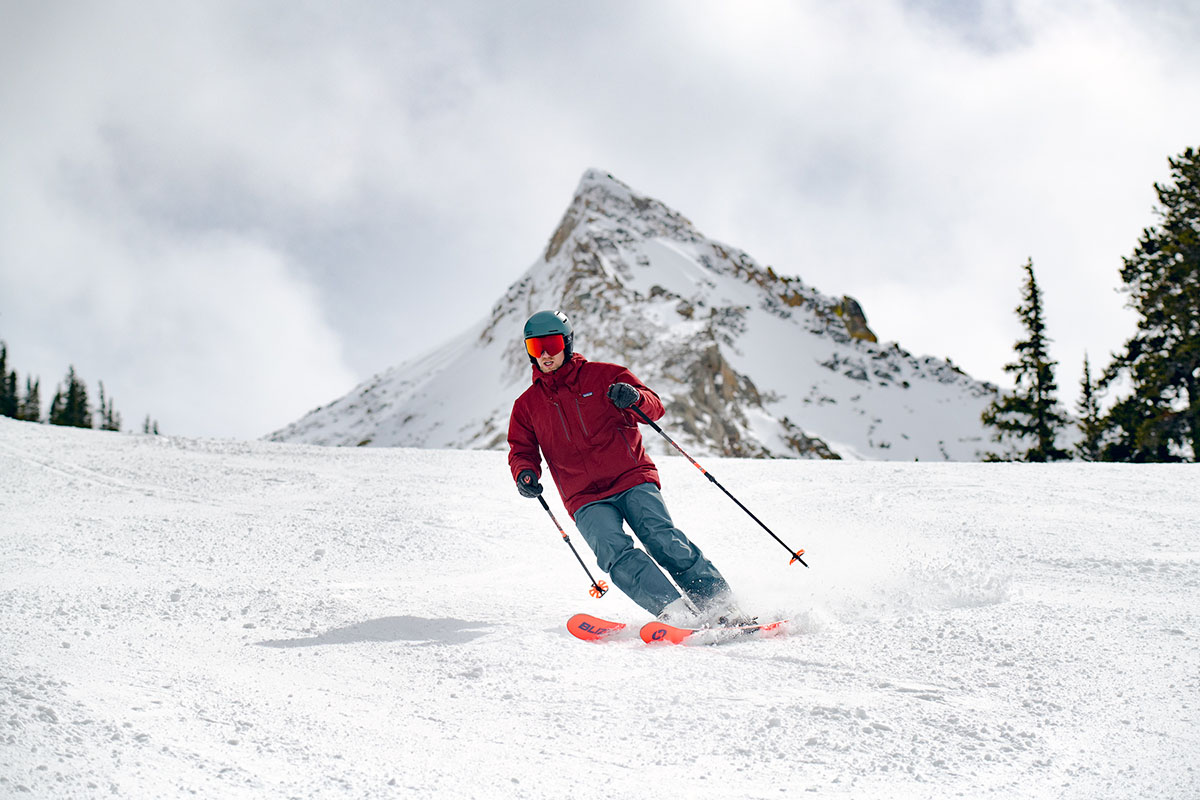 That said, there's been a shift in the design to give the ski a more forgiving and approachable personality. This is largely a result of Blizzard's new TrueBlend technology. In short, the ski utilizes two types of wood: beech for firmness and stability—it's used heavily underfoot—and poplar for more flex and less weight towards the tip and tail. Combined with plenty of camber, two sheets of Titanal over top, and a rubber layer for dampening, you get better turn initiation and a willingness to release without sacrificing smoothness or stability through crud. I wouldn't go as far as saying an intermediate will be happy on a pair of Bonafides, and you won't find yourself popping in and out of too many short and snappy turns, but it seems less fatiguing and a little more forgiving in general.
A final note on the updated Bonafide's construction: the blend of wood varies at each length, which is uncommon among the competition. In other words, sizing up will get you more stiffness and a higher performance threshold, while going down gets you a softer and more maneuverable build. I was on the 177-centimeter length, which is right in the heart of where I typically like to be, and never felt myself wanting more oomph (more on this in "Fit and Sizing" below).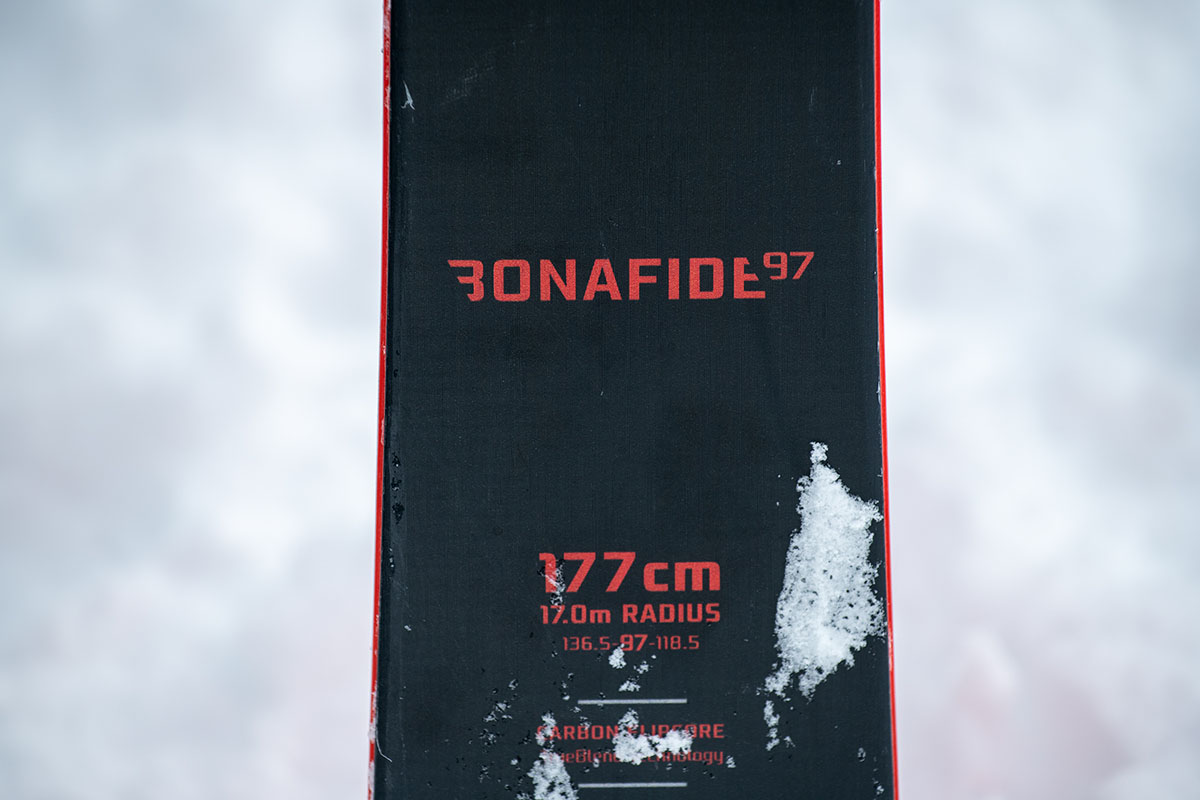 Soft Snow (Powder) Performance
One interesting shift with the new Bonafide is that Blizzard has reduced the amount of rocker at both the front and back of the ski. In addition, the waist and tail measurements have shrunk by 1 millimeter, which raises concerns about off-piste performance. In truth, this is a ski that still prefers the frontside of the hill, but it held its own in chopped-up snow and light powder at my local hill in Washington State (our testing was cut short due to COVID-19, so we haven't yet gotten it out on a true powder day). All in all, the softer flex at the tip and tail and reasonably snug turn radius (17m on the 177s) give it decent agility, but it won't be confused with Blizzard's playful and fun Rustler. From our limited time on the skis, it seems like they will perform fairly similarly to the Volkl M5 Mantra and Salomon's new Stance 96, although the shorter turn radius will likely help in tighter spaces. We're looking forward to more time on the Bonafide this upcoming season to get an even better impression of its off-trail abilities.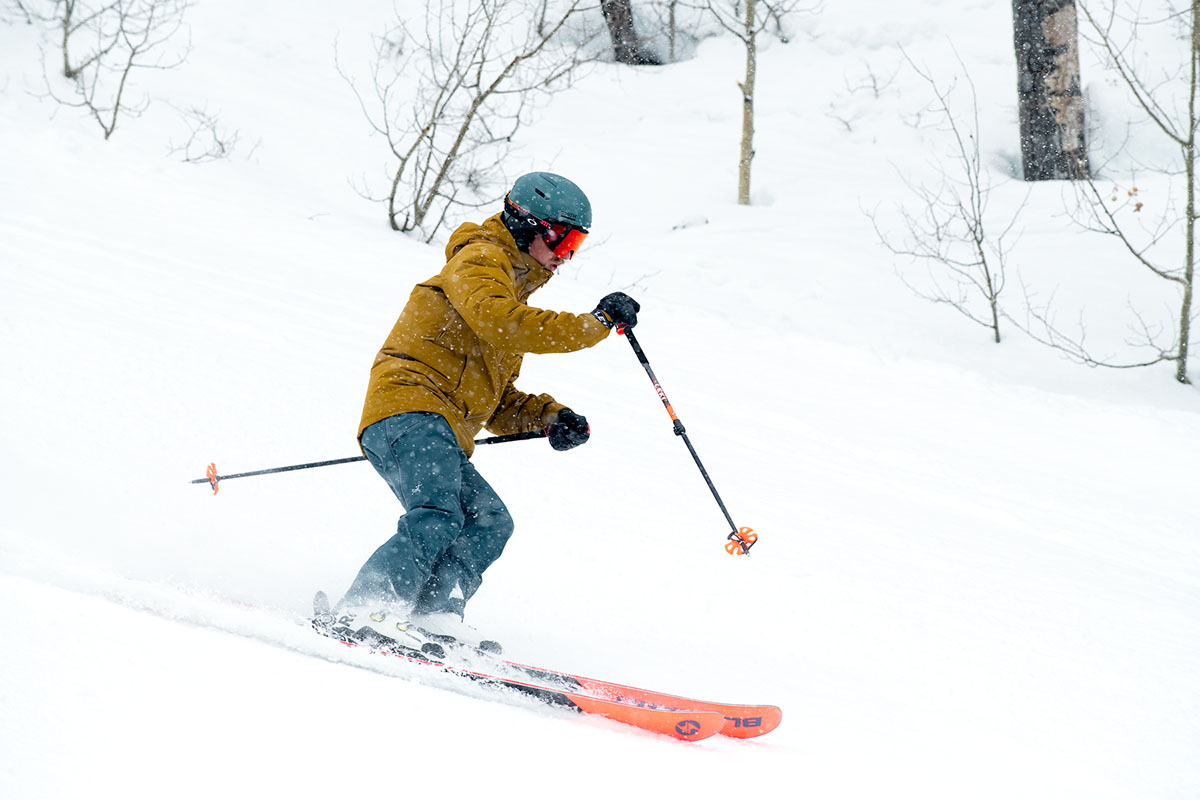 Performance in the Bumps
Two sheets of metal and a small amount of rocker aren't a recipe for a lot of fun in the bumps, and that largely holds true with the Bonafide. Like most skis in this directional and serious all-mountain category, the ski can't be flicked quickly or easily between turns. On the other hand, the softer tip and tail and reasonably tight turn radius give it a more athletic feel that should fare well in the trees. But if you're looking for a playful ride in moguls, we recommend opting for a model with a softer shovel, more rocker, and less metal in the construction. Two to have in mind at a similar width are Blizzard's own Rustler 9 or 10 and Salomon's QST 98.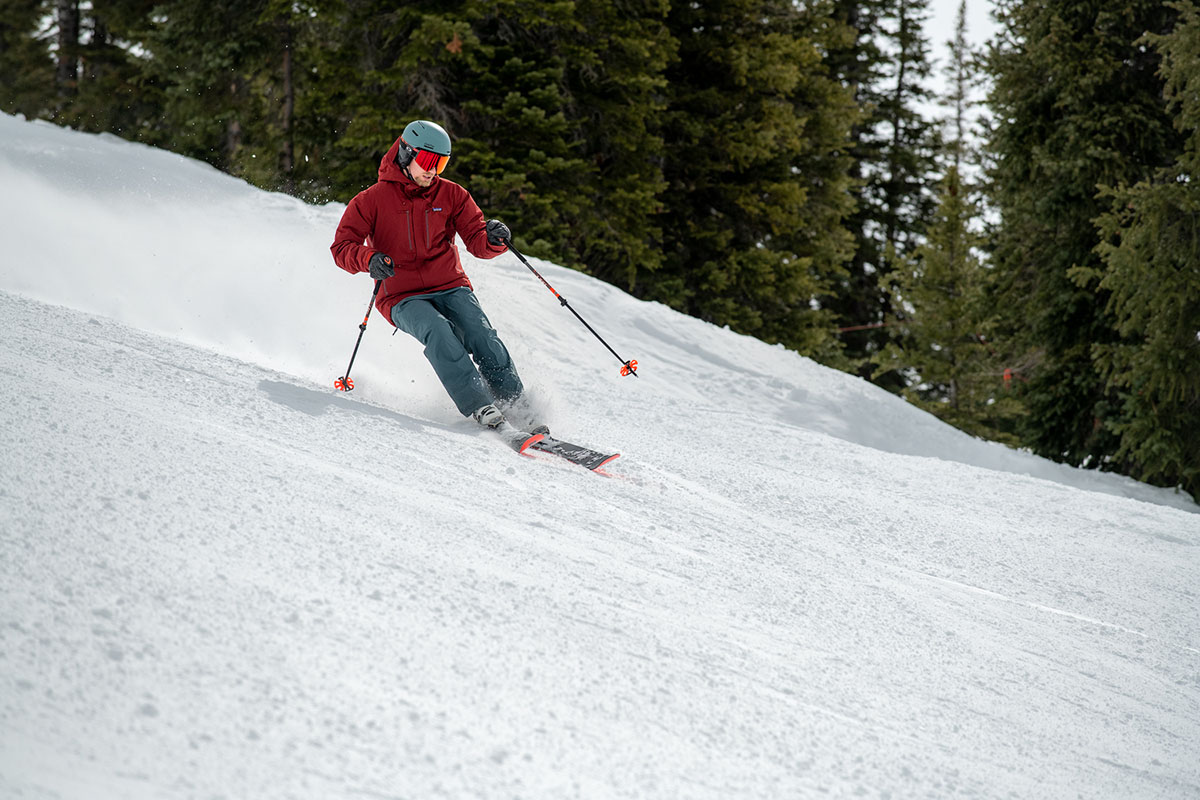 Build Quality and Durability
Blizzard has raised the Bonafide 97's price by $50 for 2021 to $750, and it's pretty easy to see where the money has gone. From a full rethink of the core to the Titanal sheets and even the thin layer of titanium under the bindings, this ski is packed with high-end materials. Another part of the equation is that the design has a unique rocker shape at each length (not a common feature in the industry), plus the fact that the blend of wood in the build shifts as you size up or down. In hand, the ski unsurprisingly looks and feels very premium. Other than the unproven nature of the glued-together wood construction, we have no qualms about the Bonafide's longevity.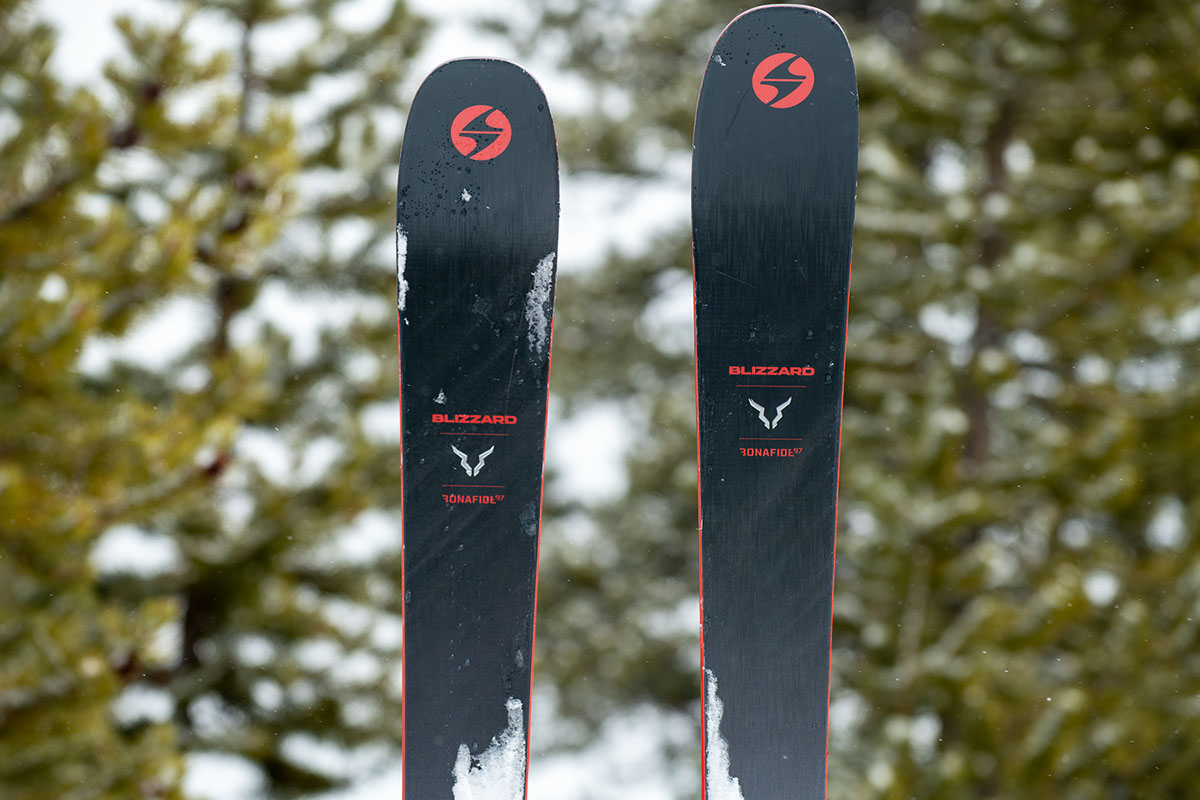 Fit and Sizing
At 5'9" and 155 pounds, I find myself most comfortable on all-mountain skis with widths in the mid to high 170s. And this holds true for the most part with the Bonafide: I tested the 177-centimeter version, which was nearly ideal for me. That said, the ski did feel a bit longer than its length would suggest, which could potentially be attributed to the fairly short and low rocker profile (i.e., more of the ski is in contact with the ground). It could be beneficial for certain riders to size down (you'll also get a slightly softer feel with the shorter length due to the construction), while only more powerful skiers wanting a true screamer would likely be happy by moving up in length. Finally, it's worth noting the Bonafide is offered in 6-centimeter increments (many skis vary by 7 to 8cm), which means very few riders will find themselves caught in between sizes.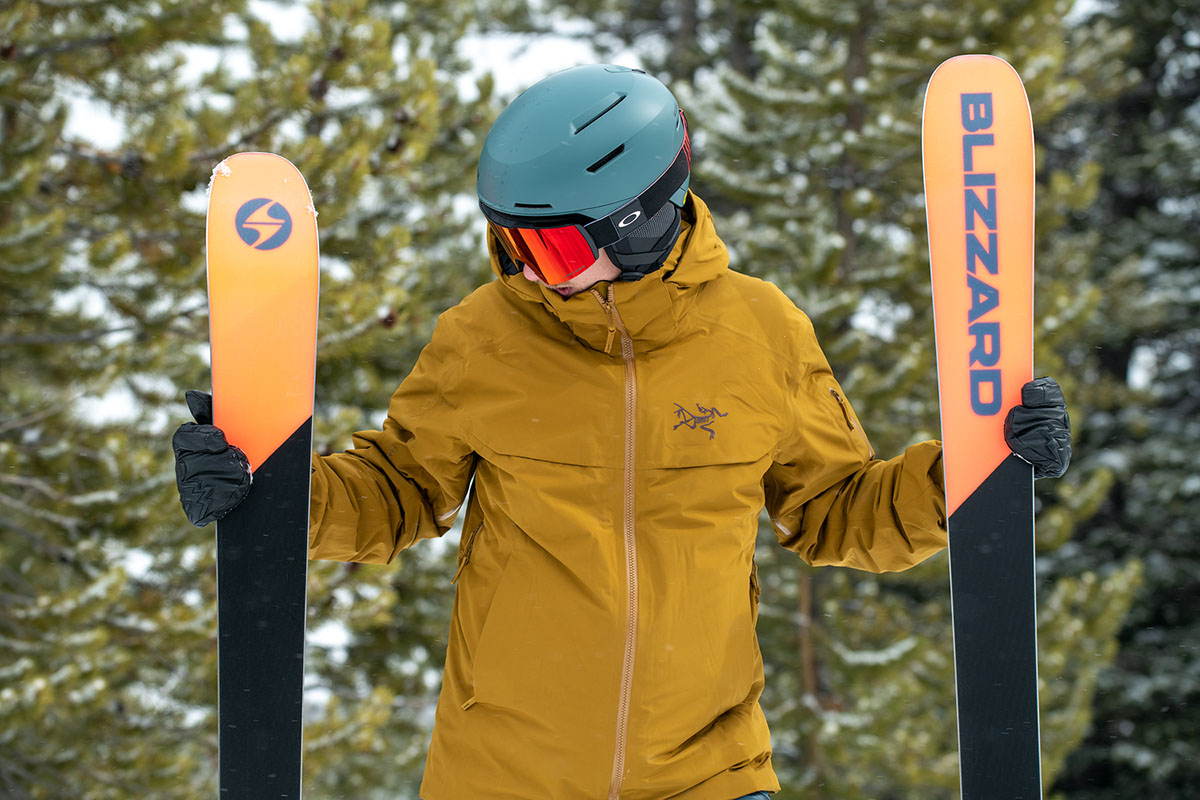 Women's Blizzard Black Pearl 97
We put the unisex Bonafide to the test for this review, and Blizzard makes the ski in a women's-specific variant called the Black Pearl 97. The skis share a number of characteristics, including identical tip, tail, and waist dimensions, the same TrueBlend technology (although the women's model has a unique wood mix), and the use of Titanal (the women's ski uses one layer rather than two). And there are some other notable differences, including a tighter turn radius due to the shorter lengths offered and a different colorway, but most of the construction is very similar. We haven't had a chance to test the Black Pearl yet, but given our time with the Bonafide, we expect it to be a popular and very capable all-mountain choice.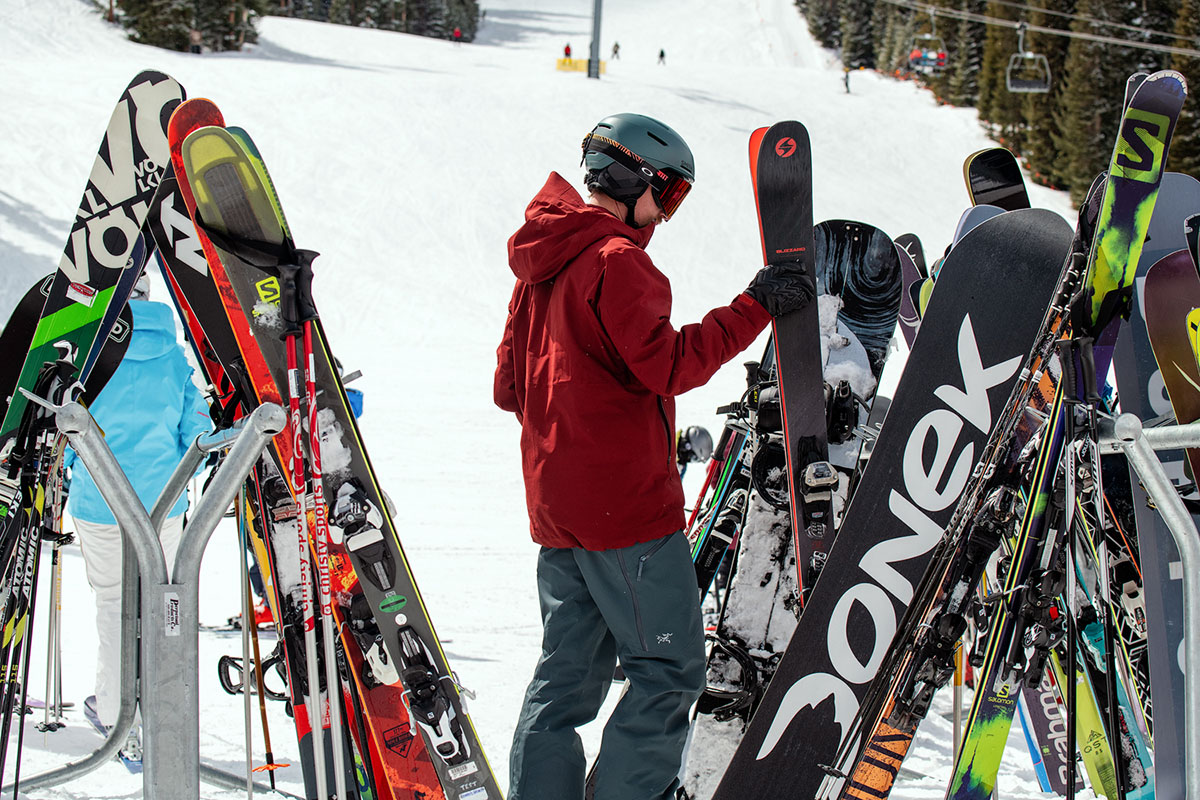 What We Like
Like its predecessor, the new Bonafide 97 has tons of power and is quite stable at speed on hardpack.
Changes including a new wood core and updated flex pattern have made the Bonafide more forgiving and approachable than its predecessor (without giving up top-end performance).
Premium look and feel with the aforementioned new wood core, two sheets of Titanal, titanium under the bindings, and a unique rocker shape at each length.

What We Don't
The ski prefers frontside, high-speed use. For a more playful on- and off-piste design, we recommend an option like Blizzard's own Rustler.
Despite the updates, intermediate riders will likely find the Bonafide a bit too serious (we think it's best suited for advanced to expert skiers).
Doesn't want to be flicked quickly or easily between turns.


Comparison Table
| Ski | Price | Ability Level | Dimensions | Radius | Construction |
| --- | --- | --- | --- | --- | --- |
| Blizzard Bonafide 97 | $750 | Advanced to expert | 136.5-97-118.5mm | 17m | Wood, Titanal, carbon |
| Volkl M5 Mantra | $700 | Advanced to expert | 134-96-117mm | 19.8m | Wood, Titanal, carbon |
| Salomon Stance 96 | $700 | Advanced to expert | 132-96-114mm | 20m | Wood, Titanal, carbon, flax |
| Atomic Vantage 97 Ti | $700 | Advanced to expert | 131.5-97-120.5mm | 19.1m | Wood, Titanal |
| Rossignol Experience 94 | $700 | Intermediate to expert | 132-94-122mm | 18.5m | Wood, Titanal |
| Blizzard Rustler 9 | $600 | Intermediate to advanced | 127.5-94-117mm | 17m | Wood, Titanal, carbon |

The Competition
Blizzard's Bonafide 97 stands out in the competitive all-mountain market for its focus on stability and power. In this category, another one of our favorites is Volkl's M5 Mantra. Importantly, the Bonafide's new blended wood core has broadened its appeal and made it more forgiving in mixed conditions, and we've found it to be a bit more maneuverable than the Mantra. Both are excellent performers on hardpack and standouts in both speed and stability, but the Bonafide strikes us as a bit more well-rounded overall (however, the Volkl does get the upper hand in price by $50).
Salomon released a new model for the all-mountain market this year in their Stance 96 ski (and women's Stance 94). In testing the Salomon, we found it to be noticeably stiff and powerful—like the Bonafide, the Salomon is built to go fast (for more, see our in-depth Stance review). That said, the changes to the Bonafide have made it more forgiving overall, and we consider it the better pick for heading off-piste with a bit more agility and playfulness (although both prefer frontside use). And if you're still on the fence, a final decision might come down to aesthetics: we think the Stance's top sheet design feels dated and dull compared to much of the competition, and the Bonafide is the decidedly better-looking ski.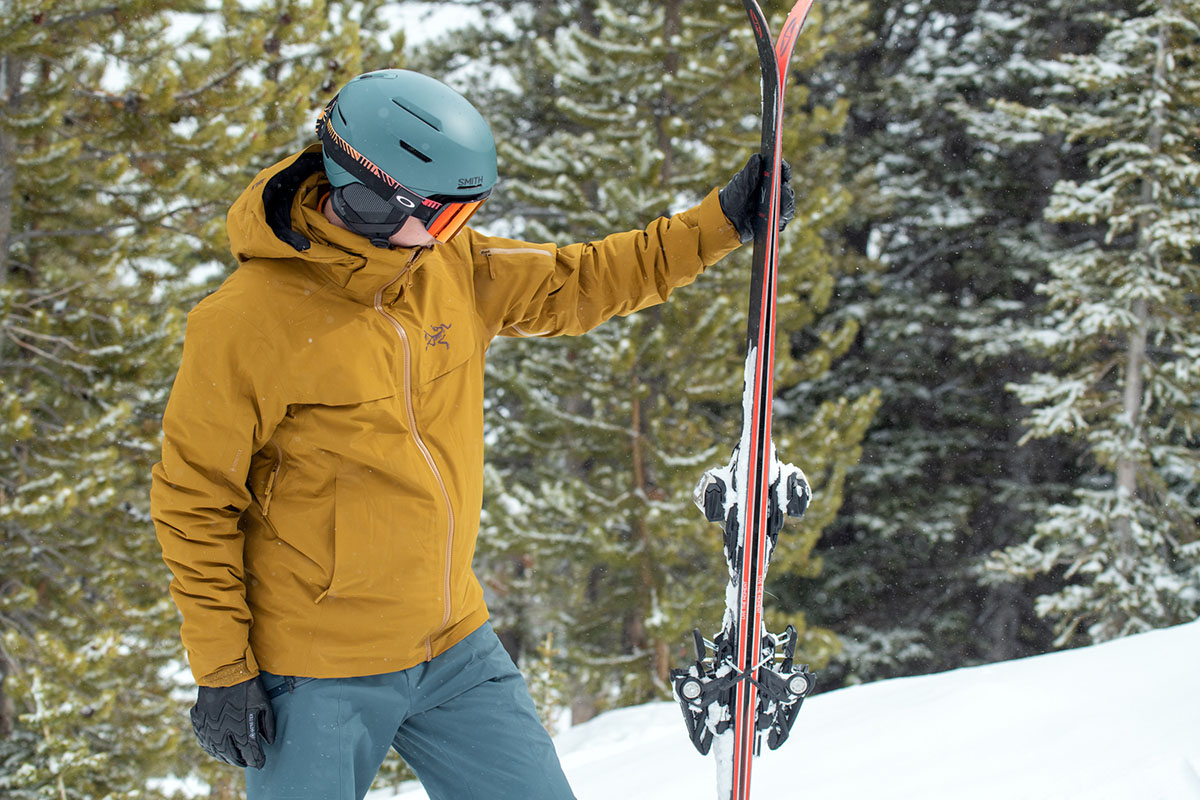 Another speed-hungry design to consider is Atomic's Vantage 97 Ti. Both the Atomic and Bonafide are happiest flying downhill on hardpack, but the Atomic is noticeably lighter, which translates to better maneuverability and responsiveness. That said, the Vantage isn't as damp and feels less planted at full tilt. We like the more confidence-inspiring feel of the Bonafide, but it largely comes down to personal preference. If you prioritize lightness and agility without having to sacrifice power, the Vantage is a nice alternative.
At 94 millimeters underfoot, Rossignol's Experience is another true all-mountain design and shares the same on-piste focus as the Bonafide. The Experience is snappier, more forgiving, and more playful on groomers than the Blizzard. However, this comes at the sacrifice of power, and at full speed, we've found the Bonafide to be more buttoned down. In the end, we'd break it down as follows: the Rossignol is the better pick for intermediates that want a bit more responsiveness and maneuverability and aren't as concerned about going all-out, while the Bonafide gets the edge for advanced riders who need speed and power.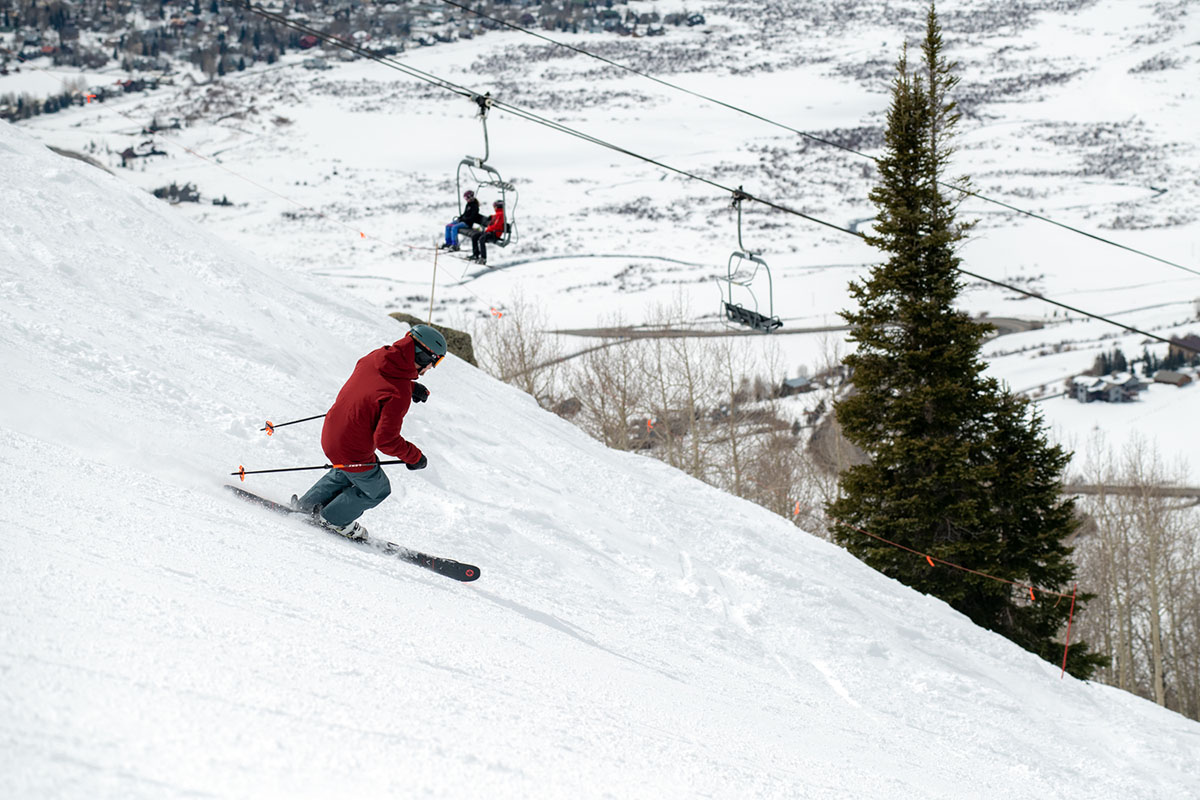 A final ski to have on your radar is Blizzard's own Rustler 9. Compared to the Bonafide, the Rustler uses far less metal—only a thin sheet that tapers toward the ends of the ski—and as a result, is less composed on edge doing wide, gs-style turns. It can certainly put some power down on hardpack, but the Rustler really comes alive off-piste. Here, it's far more flickable, fun, playful, and freeride-oriented than the Bonafide. Those that get out in areas with a lot of snow might find its 94-millimeter waist too narrow, and in that case, we recommend stepping up to the 102-millimeter Rustler 10. If you spend a lot of time off trail, the Rustler collection is our preferred choice.
If you're thinking about buying gear that we've reviewed on Switchback Travel, you can help support us in the process. Just click on any of the seller links above, and if you make a purchase, we receive a small percentage of the transaction. The cost of the product is the same to you but this helps us continue to test and write about outdoor gear. Thanks and we appreciate your support!
Depending on the seller, most products ship free in the United States on orders of $50 or more. International shipping availability and rates vary by seller. The pricing information on this page is updated hourly but we are not responsible for inaccuracies.
Learn More About Ski Gear