Gregory Optic 58
Price: $210
Weight: 2 lbs. 11.2 oz. (size L)
Fabric: Nylon (100D & 210D)
Capacities: 48, 58L
What we like: Excellent carrying comfort for the weight.
What we don't: Fairly limited organization; buckles are small and one broke during testing.
See the Men's Gregory Optic 58  See the Women's Gregory Octal 55
In today's backpacking market, there's no shortage of ultralight, minimalist packs for those looking to cut weight on the trail. Gregory's Optic 58 is one of these designs, coming in at under 3 pounds and featuring very few organizational components. However, despite its streamlined build and lack of in-your-face features, it still checks most of the boxes we look for: the Optic is lightweight, comfortable, reasonably priced, and gets the job done on most overnights and multi-day outings. Below we break down our experiences with the Optic 58. To see how it stacks up to the competition, see our article on the best backpacking packs.
 
---
Table of Contents
---

Performance
Carrying Comfort
Despite its sub-3-pound weight, the Gregory Optic 58 really impressed us with its carrying abilities. The backpanel is made with suspended mesh, which promotes airflow and nicely distributes weight, and the foam on the hipbelt and shoulder straps feels substantial for a pack of this type (it's noticeably better than its main rival: Osprey's Exos). In addition, the Optic has a metal frame running the entire perimeter that adds structure and support for hauling fairly heavy loads (it has a listed maximum carry weight of 35 lbs.). On a multi-day trip in Chile's new Parque Patagonia, we were just under that while weighted down with hefty camera gear, but the pack remained very comfortable and didn't seem strained at all.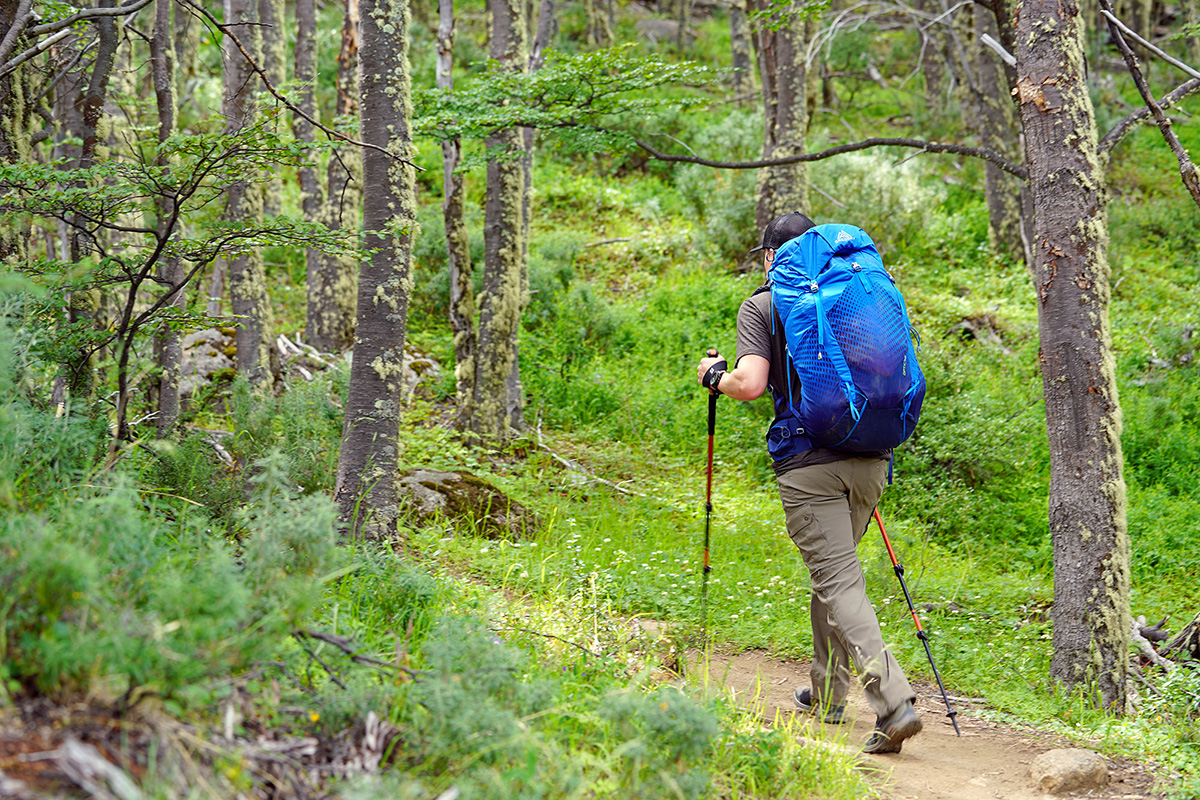 It's worth noting that when the Optic was released in 2018, some users complained about the lumbar padding protruding a bit more than normal and causing some discomfort at the lower back. Gregory has since addressed this, and I didn't have any issues with my 2020 version of the pack. It's true the lumbar padding is noticeable and still sticks out more than alternatives like the Osprey Exos or Gregory's own Paragon, but we found it supportive and a good shape for providing a snug fit. Overall, the pack has a minimalist build in many ways, but thankfully comfort wasn't sacrificed in the process of shaving weight.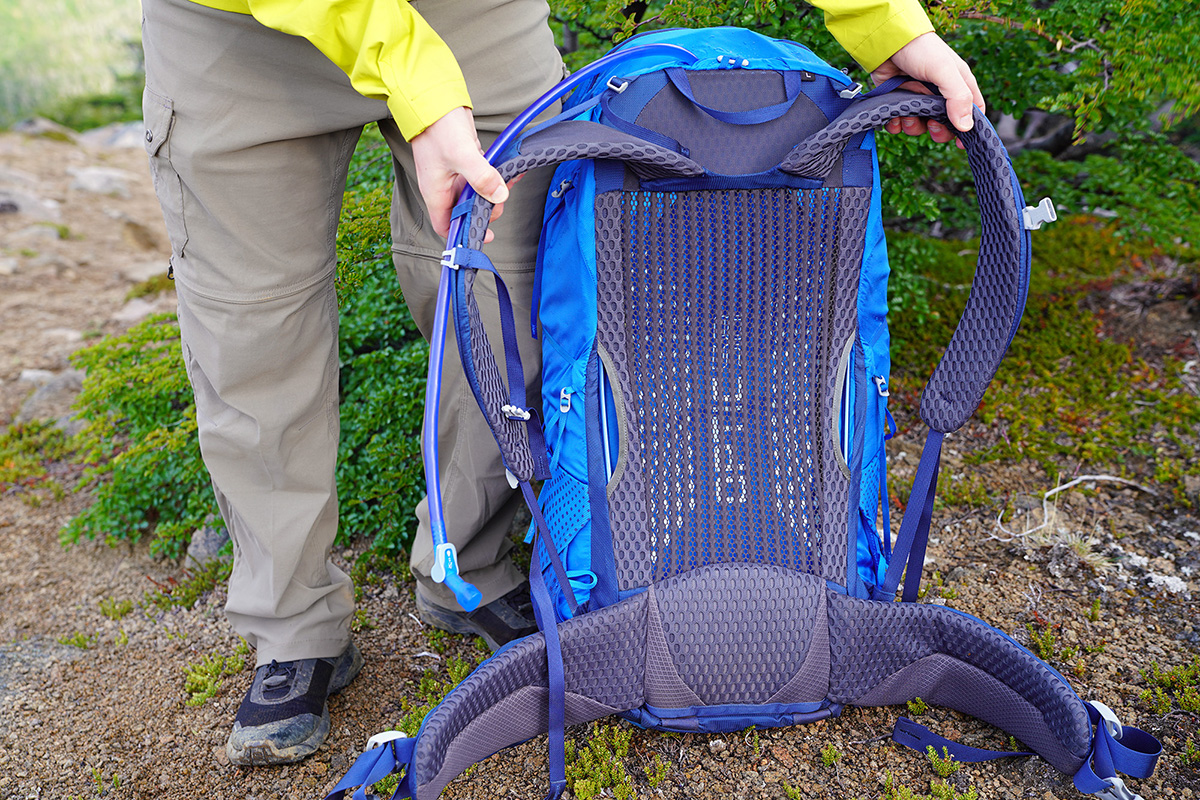 Weight
The Gregory Optic 58 checks in at 2 pounds 11.2 ounces for the large size (the medium is less at 2 lbs. 8.3 oz.), which is very competitive and puts it in the top end of the ultralight category. Competitors in this weight class include the Granite Gear Crown2 60 at 2 pounds 5.8 ounces, the REI Co-op Flash 55 at 2 pounds 10 ounces, and Osprey's Exos 58 at 2 pounds 10.4 ounces. You can go even lighter with stripped-down designs like the Gossamer Gear Mariposa 60 (2 lbs. 1.3 oz.) and Hyperlite 3400 Southwest (2 lbs.), but both packs are more expensive at $270 and $355, respectively.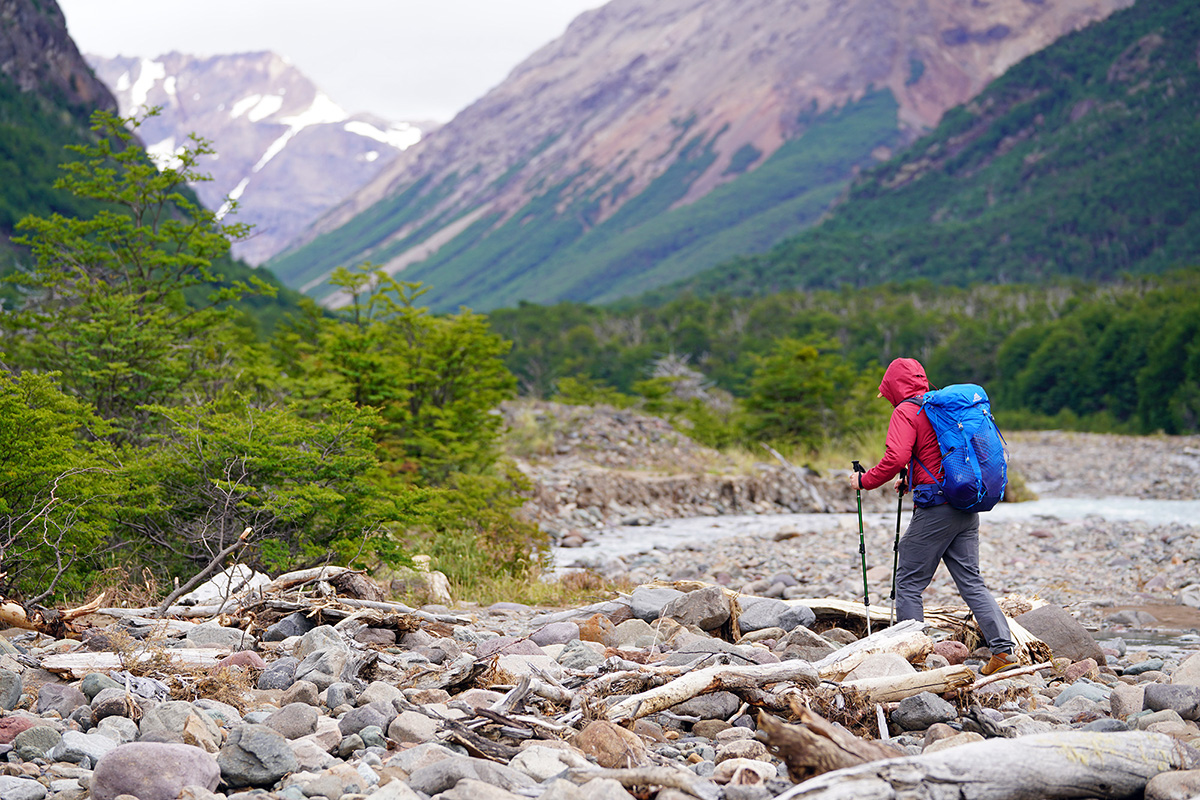 In practice, we think the Gregory's weight is very practical. You still get a fairly comfortable pack, decent organization, good capacity for overnight or multi-day trips, and its durability is on-par with the Crown2 and Exos (100D pack bodies and 210D bases). The mesh on the exterior is quite thin, and the REI Flash does have a thicker bottom at 420 denier, but this hasn't caused any issues for us thus far (more in "Build Quality and Durability" below).

Organization
Like most ultralight packs, the Gregory Optic 58 isn't a standout in terms of storage or organization, but it gets the job done. For starters, you get a removable top lid with a large zippered pocket. If you don't need the space, you can simply unbuckle the lid and use the optional top flap to replace it, which saves you 1.6 ounces. The pack also features an internal hydration sleeve, trekking pole holders at both sides, and a generous front shove-it pocket. Despite being made of fairly thin mesh, you can fit a surprising amount of gear in this spot because of the size and amount of give in the fabric. In practice, I found it was extremely easy to access and re-pack, and it worked especially well for items I wanted to keep handy like snacks, a windbreaker or rain jacket, and map. The Optic also comes with a rain cover (it stores in a zippered pocket along the underside of the top lid), which is a nice addition in this price range and fits well over a full load. We've had issues with included rain covers on other packs being too large and getting blown around, but the Optic's is snug and doesn't budge.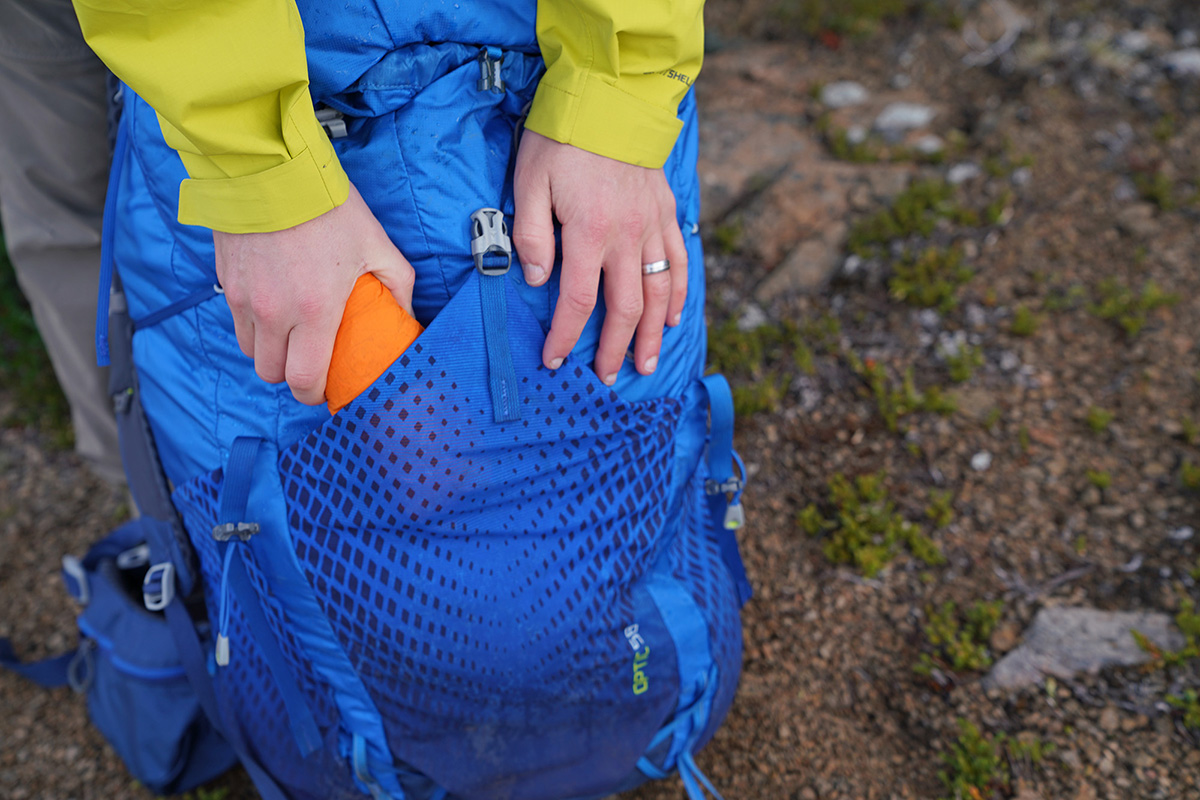 All that said, the Optic 58 doesn't offer side or bottom access to the main compartment, meaning you'll need to dig around to find items hidden deep inside. Additionally, I'm not a big fan of the mesh water bottle holsters at the sides of the pack. You can stuff bottles in these either horizontally or vertically, but the former wasn't very confidence-inspiring given the thin mesh. In general, it was flimsy enough that my bottles moved around more than I would prefer. This isn't a deal-breaker by any means, but it's nevertheless something to consider, and we like the holders on other packs far more (including the Atmos AG, which has stretchier elastic built in to lock the bottles in place).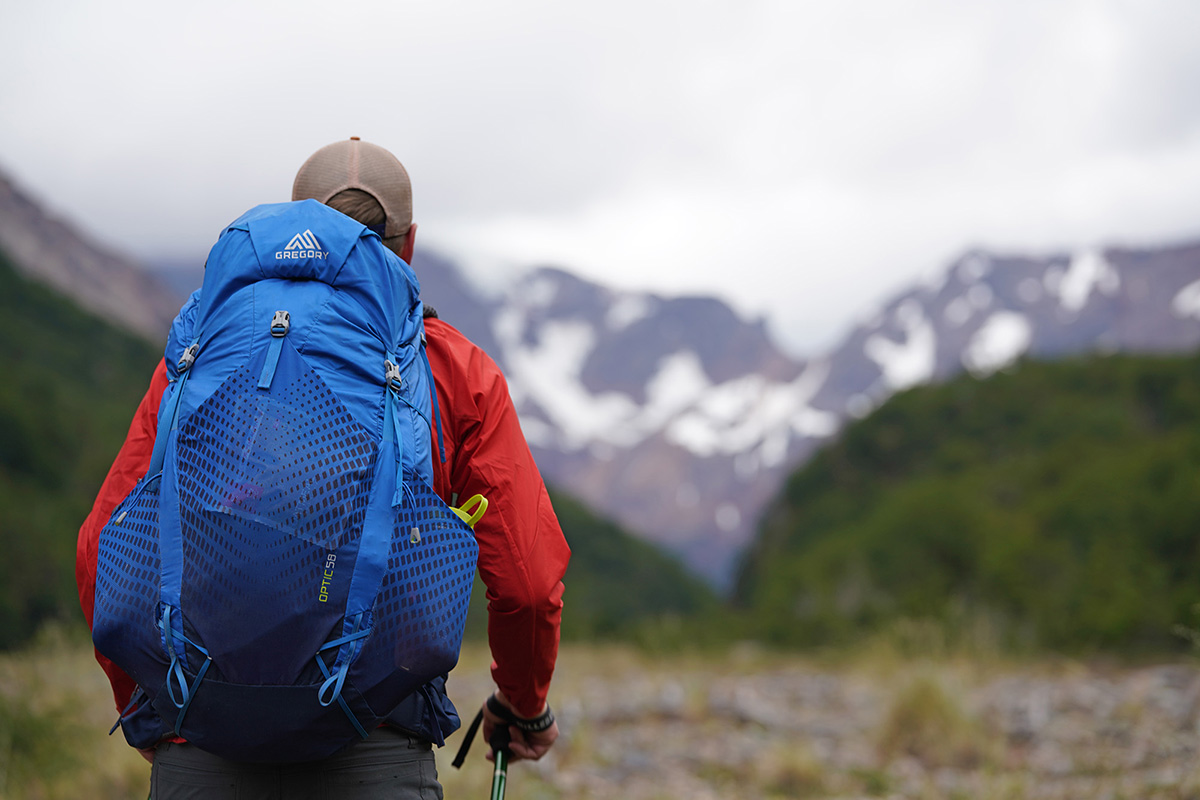 Ventilation
Overall, the Gregory Optic 58 is a great breather. The pack features a suspended mesh backpanel, which allows a good amount of separation between my back and the pack body to promote airflow. Only one stretch of our backpacking trip in Patagonia was hot with temperatures in the 70s to low 80s Fahrenheit, but the Optic vented well enough for me to stay comfortable on the trail. The most capable design we've tested in this weight class is Osprey's mesh-heavy Exos, and the Optic does fall a little short when stacked up. But at the same time, the Gregory felt like a better fit and was more comfortable to carry. In the end, we'll take comfort and added support over a slight bump in breathability any day.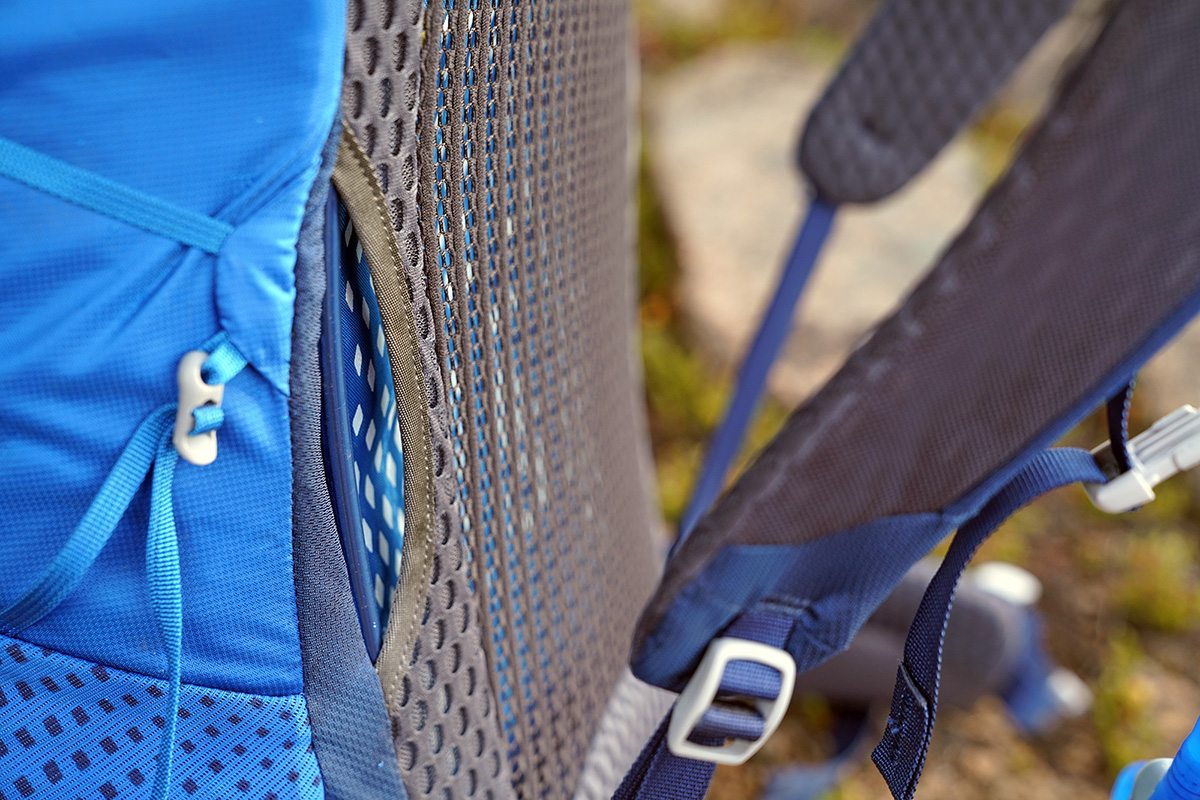 Build Quality and Durability
As I touched on above, the Gregory Optic 58 uses 100-denier nylon in the body, which is fairly standard among ultralight designs but undoubtedly thin and will require some added care to avoid punctures and small tears. In addition, Gregory opted to use small buckles throughout the pack—smaller than you'll find on a competitor like the Exos. In use, most of the buckles have held up fine, but the one connecting the strap that secures over the main compartment broke during our trip to Patagonia. It's worth noting that the plastic on this buckle appears to be a different material and felt more brittle than those used on the compression straps and hipbelt, but it is a potential source of concern over the long term. From a functional standpoint, the pack still works great, but I was disappointed this happened only two trips (and multiple long flights) in.

Fit and Sizing
Unlike many competitors, Gregory offers the Optic 58 is three sizes (most stick to two). This gives the pack a great, close fit, plus it allowed Gregory to simplify the adjustment system to save weight. However, this also means that it's important to get your torso length correct as there's little wiggle room (the hipbelt and shoulder straps are fixed in place). With a 21-inch torso length, I opted for the large size (which is listed for 20-22" torso lengths), and it provided an excellent all-around fit. The limited adjustability may be a concern if you plan to share the pack, but otherwise we think it was a practical way to trim down the build.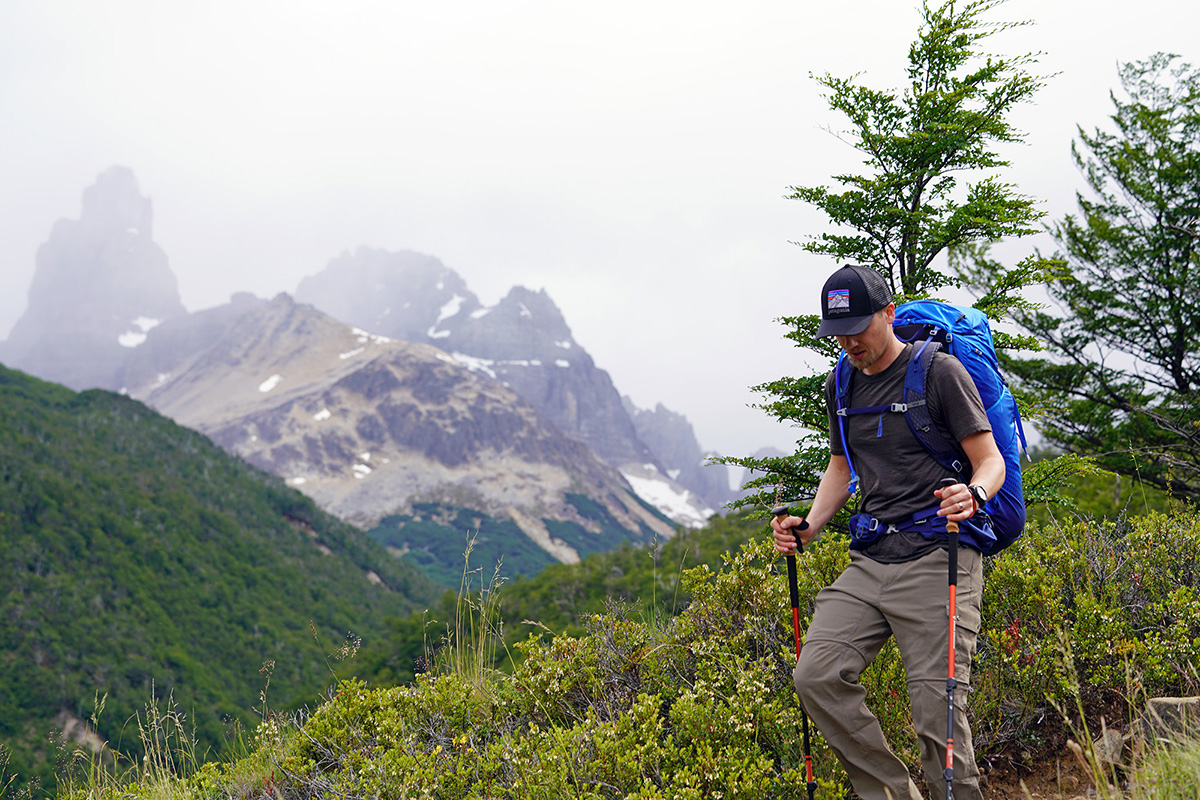 Other Capacities of the Gregory Optic
We brought the Optic 58 to Patagonia for testing, and Gregory also makes the pack in a smaller, 48-liter version for $190. It's worth noting that this 48-liter model is quite popular. Given the growth in ultralight backpacking, 48 liters can be big enough for a multi-day trip in normal conditions that don't require a ton of specialized clothing or equipment. That 48L packs weighs just 2 pounds 7.5 ounces and is a great size for minimalist backpackers, weekenders, and those willing to pack light.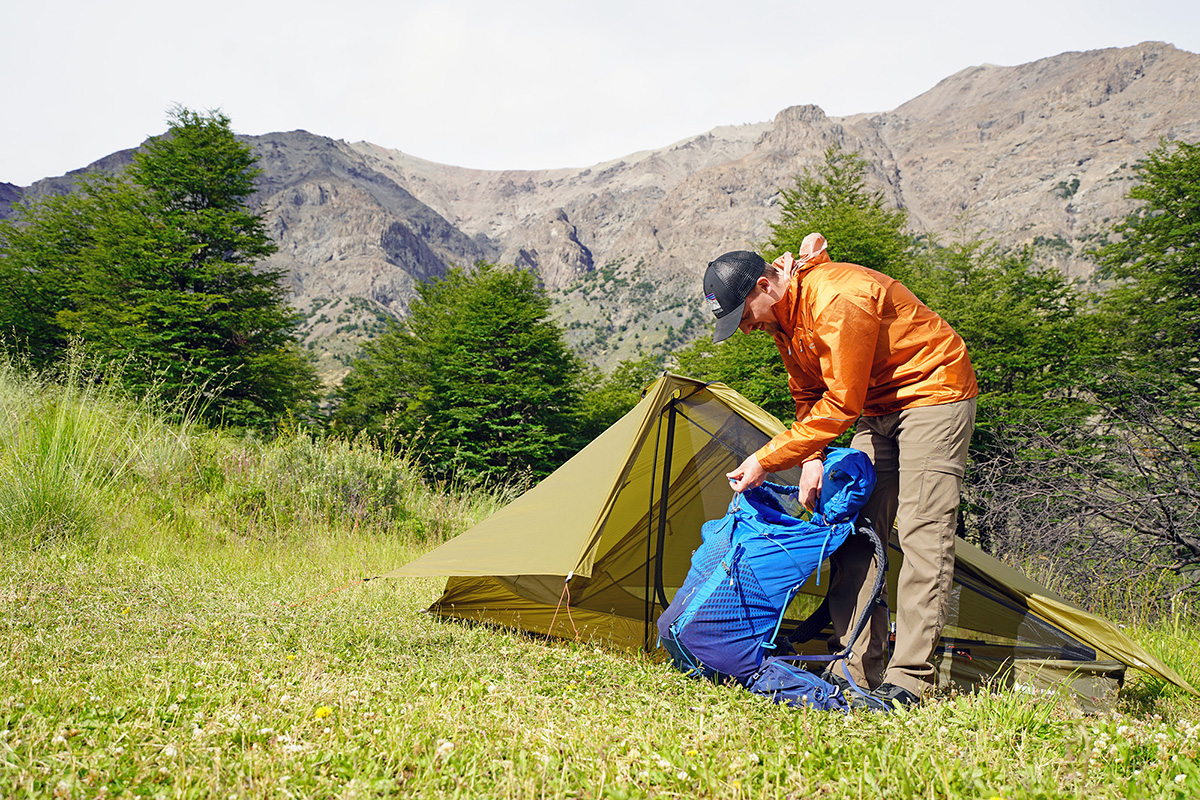 Women's-Specific Gregory Octal
The Optic is a men's-specific design, but Gregory makes a dedicated women's model called the Octal, which comes in similar 45- and 55-liter capacities. Compared to the men's Optic 58 reviewed here, the women's Octal 55 costs the same at $210, weighs less at 2 pounds 6.4 ounces for a size small, and is sold in slightly different colorways. However, the two models are identical in overall feature set and construction, including the removable top lid design, light but reasonably tough fabrics, and included rain cover.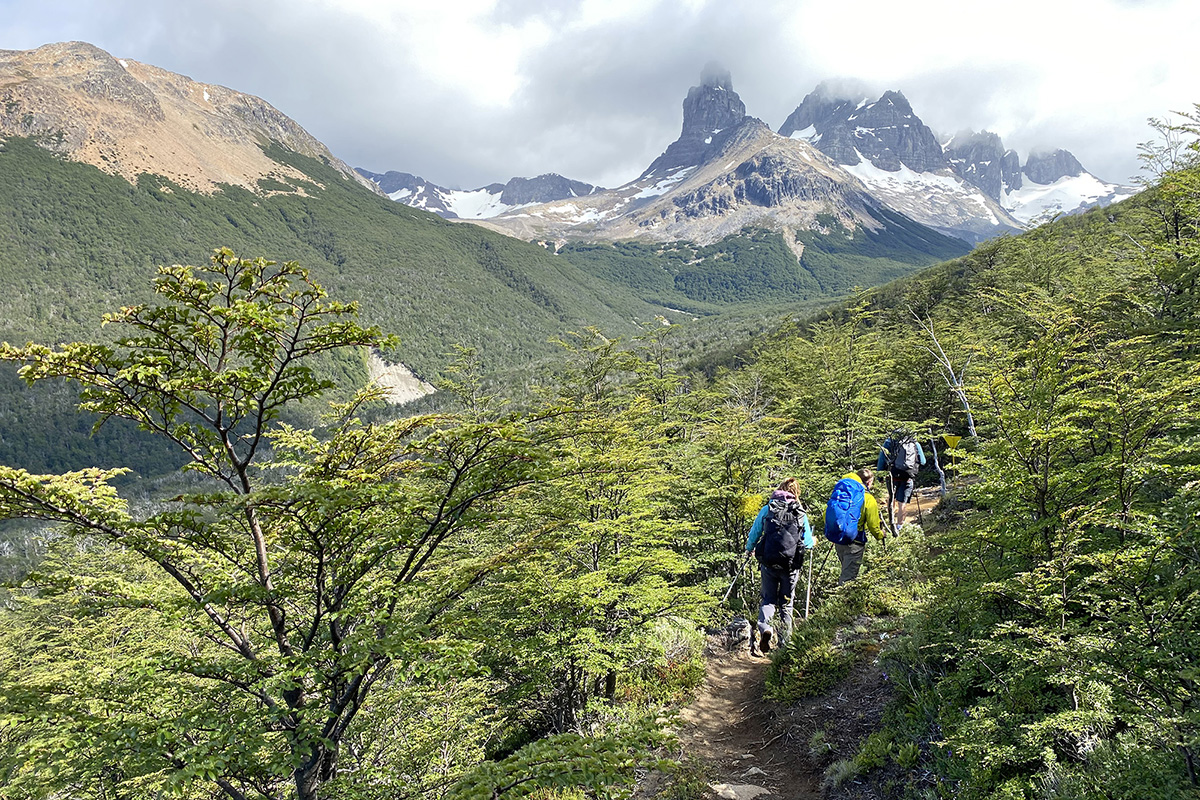 What We Like 
A very comfortable pack to wear given the low weight. Overall, Gregory's suspension system and padding are spot-on. 
Adaptable design means you can leave extras like the top lid or rain cover behind to trim weight.
The Optic 58 is a great all-around value at $210. Gregory packs generally are well-made and practical while coming in cheaper than competing models from other reputable brands.

What We Don't
Gregory opted for small buckles throughout the pack, and the one that secures over the top of the main compartment broke and is non-functional after only two backpacking trips.
Water bottle holsters are a bit awkward to use, with thin and fairly loose mesh that doesn't lock the bottles in place.
You can only access the contents of the pack from the top. There is no side or bottom zip.


Comparison Table

The Competition
Gregory's Optic 58 joins a growing field of ultralight backpacking packs, and its closest competitor is Osprey's Exos 58. Both are fairly minimalist packs with similar durability (the Exos also uses a 100D pack body and 210D bottom), but the Exos has better breathability and an even more body-hugging fit from the all-mesh backpanel. That said, we give the edge in carrying comfort to the Gregory, which has more substantial foam in the hipbelt and better lumbar support (the mesh on the Exos can occasionally lead to chafing). Plus, depending on the size, the Exos weighs more (although for my 21-inch torso measurement, the two are almost identical at 2 lbs. 10.4 oz. for the Osprey and 2 lbs. 11.2 oz. for the Gregory). In the end, the Gregory's superior padding and $10-cheaper price tag give it the overall edge, but the Exos isn't far behind (for more, see our in-depth Exos review).
Our favorite ultralight pack this season is Gossamer Gear's Mariposa 60. What makes it stand out? To start, you get excellent durability and organization in an impressively light, 2-pound-1.3-ounce package (for the large size with a large hipbelt). By comparison, the Mariposa feels far less compromised than much of the UL competition, including the Optic. And like the Gregory, the Mariposa is able to comfortably haul loads up to around 35 pounds. Our only notable complaint is that the removable foam backpanel is prone to bunching (we prefer to leave it behind), but otherwise we consider the Mariposa the most complete ultralight design on the market and worth the added $60 over the Optic.
Another UL design to consider is Granite Gear's Crown2 60. Compared to the Optic, the Crown2 features a more minimalist carrying system that forgoes a metal frame for a plastic framesheet, which brings weight down to 2 pounds 5.8 ounces. Padding is quite similar to the Gregory, so all-around comfort is comparable, but the superior structure of the Optic's trampoline-like suspension gives it the edge for hauling loads in the 30- to 35-pound range. The Granite Gear is also less breathable than the Optic with foam instead of mesh, although it has a wider variety of storage options and is more customizable with a removable lid and sternum strap (plus, the fit is far more adjustable with the Crown2). A final decision will likely come down to preferences on storage, fit, and how much weight you plan to carry.
REI consistently impresses us with their in-house offerings, and their Flash 55 pack is no exception. Stacked up against the Optic, the Flash is more durable with a 420D bottom (the body is equally thin at 100D), comes in slightly cheaper at $199, and weighs around the same at 2 pounds 10 ounces. The REI also features a unique Packmod system, which allows you to remove compression straps, pockets, and more to streamline the bag and shave weight. However, like the Optic, the Flash has very few fit adjustments: both the hipbelt and shoulder straps are fixed in place and offer limited customization. Further, the REI has a listed 30-pound weight limit vs. 35 on the Optic, although we overloaded the Flash on a trip in the Grand Canyon and it held up just fine. Both are excellent, streamlined packs, but we prefer the REI for its more customizable design at a cheaper price.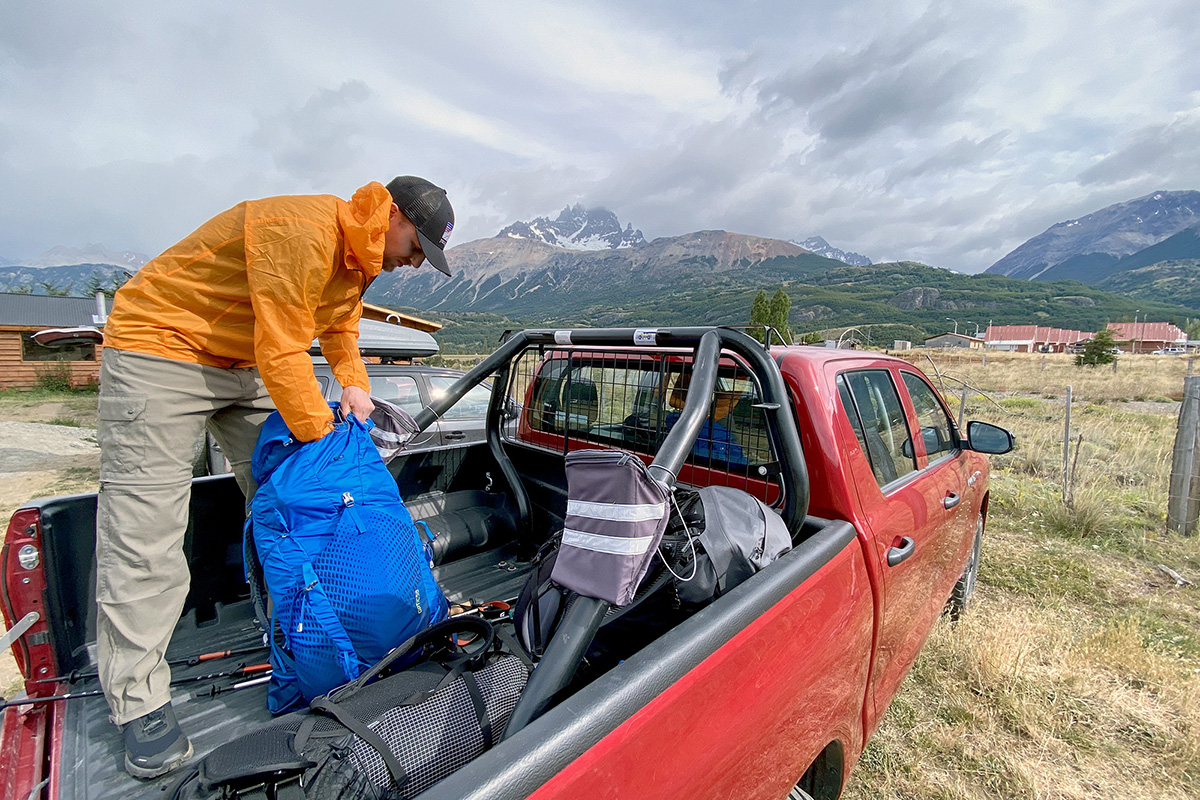 Last but not least, Gregory offers an intriguing alternative to the Optic in their Paragon 58. The Paragon is heavier than the Optic at 3 pounds 9.3 ounces, but it's also much more durable with a mix of 100D and 210D nylon on the body and 420D at the bottom, plus it includes a more substantial hipbelt and stiffer backpanel. Further, you get a full-length side zipper for accessing the main compartment, as well as a bottom sleeping bag compartment with zippered access. From our experience, the Paragon can comfortably haul about 40 pounds, which gives it the edge in carrying capacity too. If you're looking for a step up in features from the Optic, the Paragon is a great option. But if weight is a priority, the Optic is still plenty functional for lighter loads at around a pound less.
If you're thinking about buying gear that we've reviewed on Switchback Travel, you can help support us in the process. Just click on any of the seller links above, and if you make a purchase, we receive a small percentage of the transaction. The cost of the product is the same to you but this helps us continue to test and write about outdoor gear. Thanks and we appreciate your support!
Depending on the seller, most products ship free in the United States on orders of $50 or more. International shipping availability and rates vary by seller. The pricing information on this page is updated hourly but we are not responsible for inaccuracies.
Read More From Switchback Travel