UK-based gear companies like Montane and Rab are relative newcomers to the North American market, but arrive with decades of research, development, and field testing in Europe's rugged mountains. Montane recently took a big leap forward, becoming the first UK-based gear manufacturer to obtain a Gore-Tex license in over a decade. With this waterproof and breathable technology applied to their already solid designs, Montane's new Alpine Pro is a serious competitor in the hardshell market. In addition to excellent protection from the elements and a strong feature set, the freedom of movement is such that I barely even knew the jacket was there. Below we break down the Alpine Pro's performance, construction, pockets, weight and packability, fit and sizing, and more. To see how it stacks up against the competition, see our article on the best hardshell jackets.
 
Performance
Weather Protection
The Montane Alpine Pro is all new but utilizes a trusty Gore-Tex Pro construction. "Pro" shells have Gore's premium membrane design, and are built for demanding alpine conditions with durable fabrics and high levels of wind and waterproofing. The Alpine Pro takes this stout construction and mixes lightweight materials and a thoughtful feature set for a great all-around design.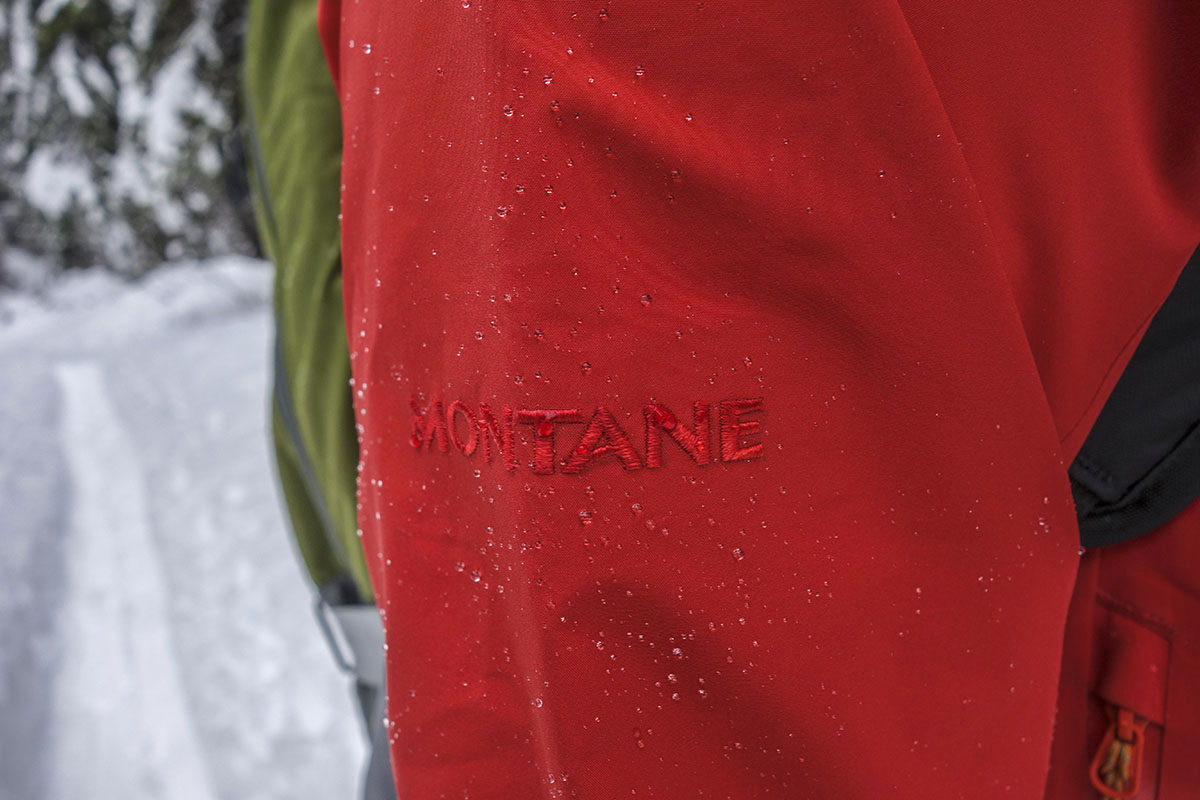 Since receiving the Alpine Pro, I have worked hard to throw as many demands and weather-related situations at it as possible. The first was an overnight adventure into the high alpine of British Columbia where we encountered a surprisingly harsh winter storm. Had we been aware of the impending storm, I likely would have selected one of my other trusty hardshells rather than my new, and then un-tested, Alpine Pro. But despite 70-kilometer winds complete with snow, hail, and sleet, the Alpine Pro—coupled with the Black Diamond First Light Hoody underneath—kept me toasty warm and protected even while tearing down camp on a freezing and blustery morning.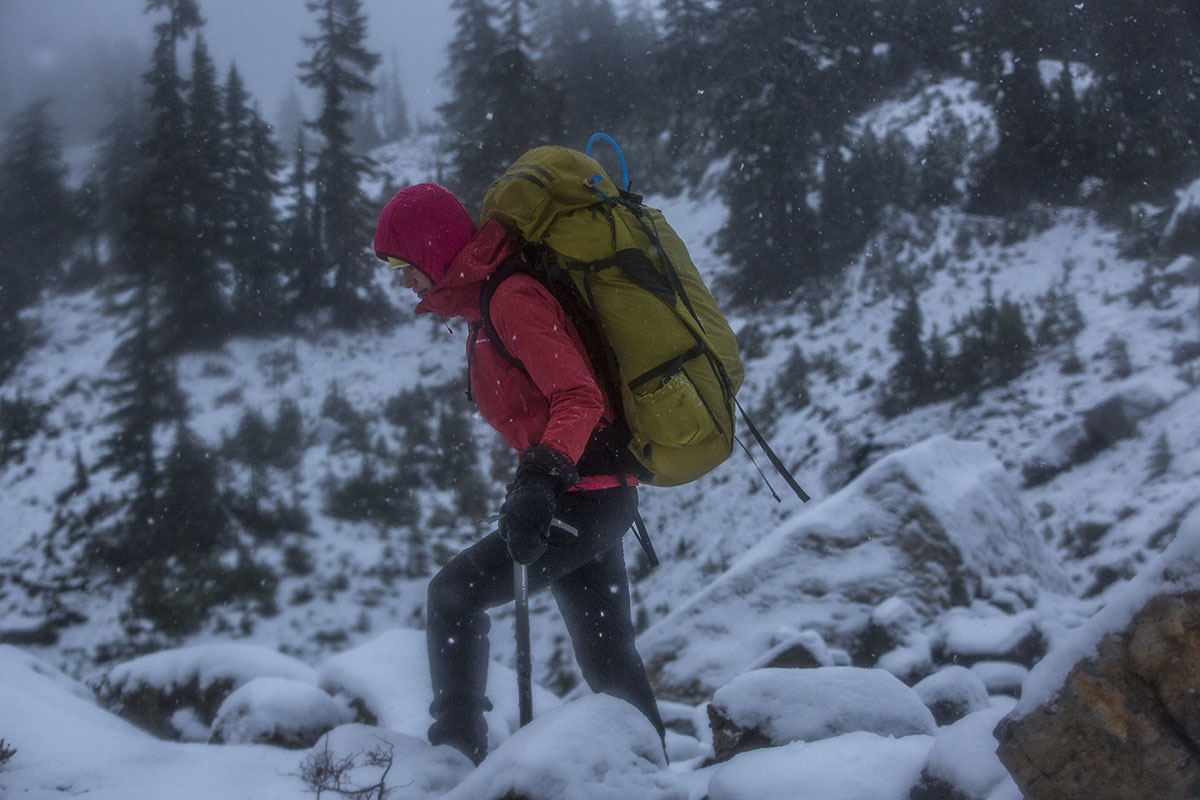 I've since worn the Alpine Pro through more snow storms, while clambering over boulder fields, on backcountry ski trips, hiking trips in the pouring rain, and during belaying and rock climbing. After all of that, I have little to say. I don't mean to "damn it with faint praise," as the idiom goes. In truth, I think this is the biggest compliment that could be paid to a piece of outdoor gear: I wore it in all of those situations and didn't notice it was there. This means that I never felt muggy and hot, nor did I feel cold or wet, regardless of what I was doing or how much I was exerting myself. It neither bunched up or limited my range of motion, and it did everything I asked it to.
This doesn't mean that the Alpine Pro lacks snazzy features worth applauding (more on those below). Perhaps because Montane previously had competed in a Gore-Tex dominated market without Gore's products, their designers seem to have spent vast amounts of research and development on details that other manufactures have not. The result is an extremely lightweight and dependable garment in all situations.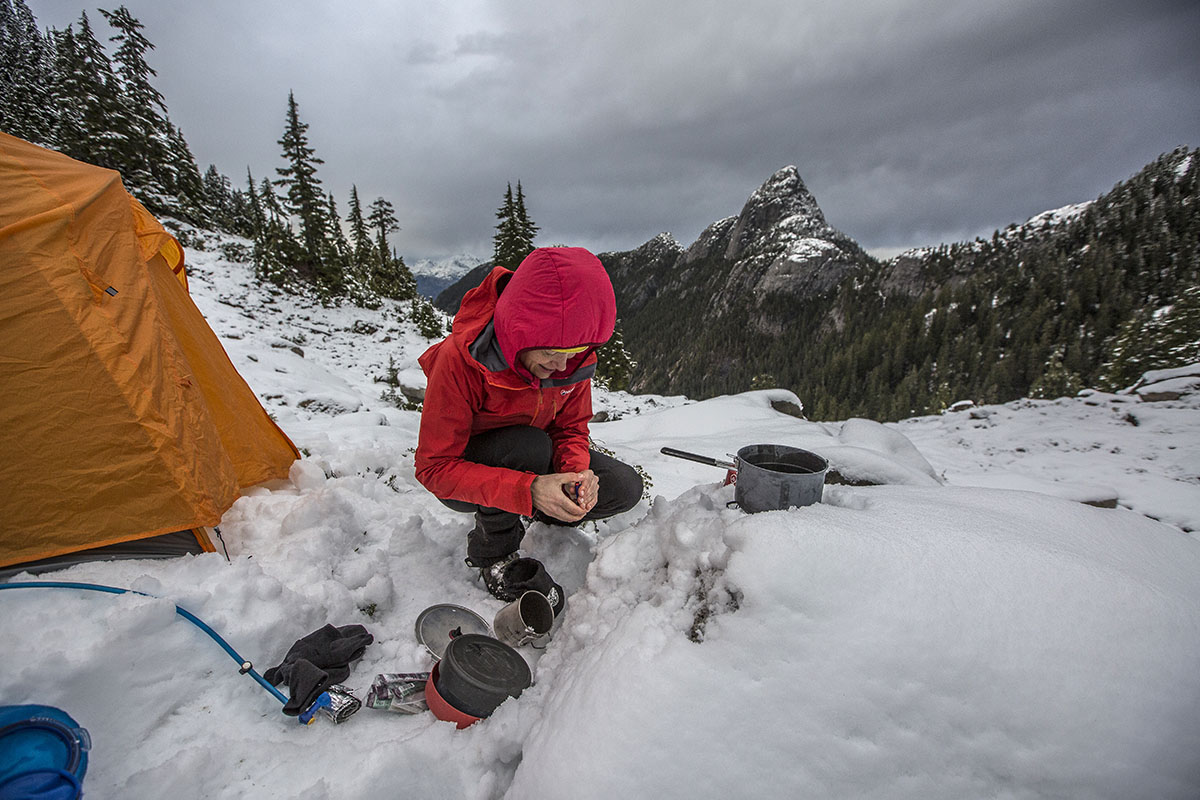 Construction and Design
Made of 40-denier Gore-Tex Pro, the Alpine Pro is on the lightweight end of the hardshell spectrum though not quite minimalist (we categorize it as all-around/minimalist in our round-up of the best hardshells). The range goes as low as 12D for the Patagonia M10 up to a whopping 100D for the new Arc'teryx Alpha SV, with a lower number meaning a thinner fabric. Although not as burly as some, the Montane's 40D construction is durable enough for backcountry skiing and climbing, yet easy to stuff down and haul in a pack. For comparison, the popular Arc'teryx Beta AR uses a combination of 40D and 80D Gore-Tex Pro, while the climbing-centric Arc'teryx Alpha FL uses a 40D Gore-Tex Pro shell. 
The designers did not skimp on extras such as hefty seams – in fact, every seam has 12 to 13 stitches per inch compared to a typical industry average of 8. While not a feature that is noticeable on a daily basis, it's nice to know that the garment can be counted on in extreme situations in the backcountry.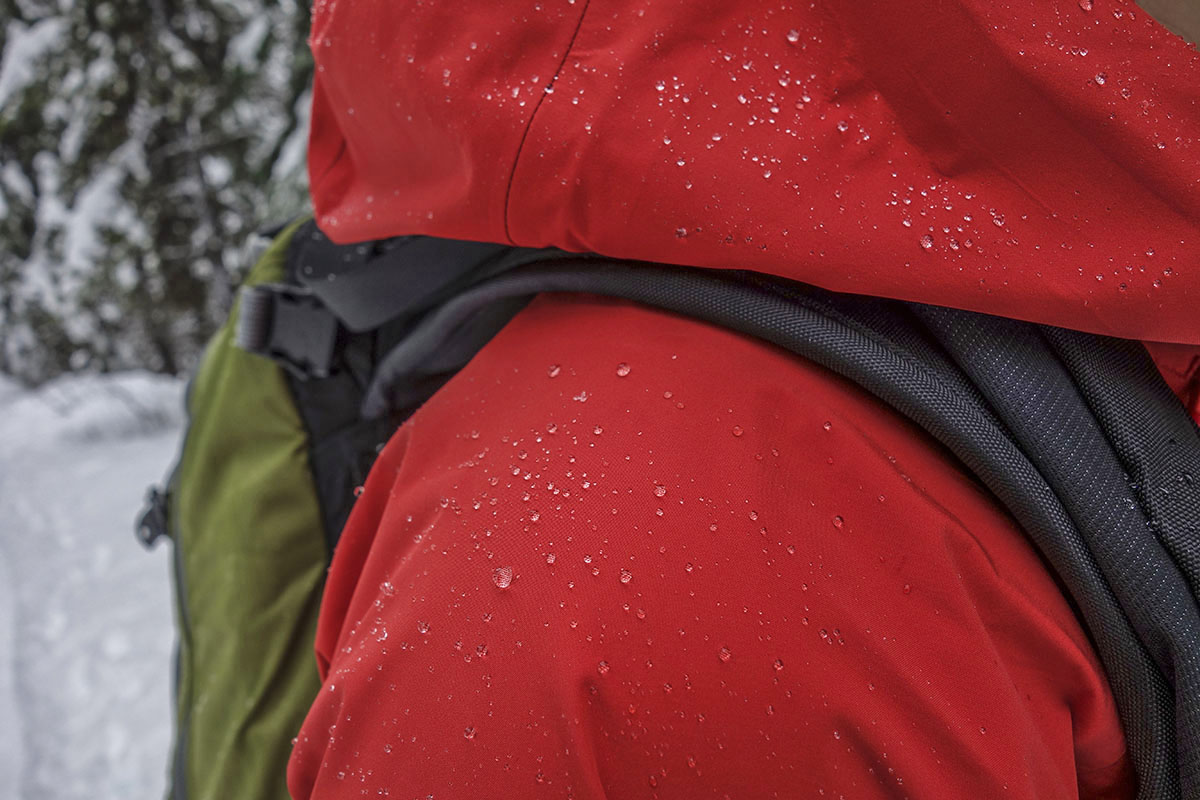 Movement
Special attention was paid to the maneuverability of the arms to allow for the common motions of alpine climbing. The articulated elbow panels on the Alpine Pro move extremely well with the arms and do not restrict movement. I often find that when wearing a hardshell, two things happen when I lift my arms above my head: the jacket gets tight under my arms and the hem lifts up. If I'm wearing a pack or climbing harness, the hem then can get bunched above the waist belt.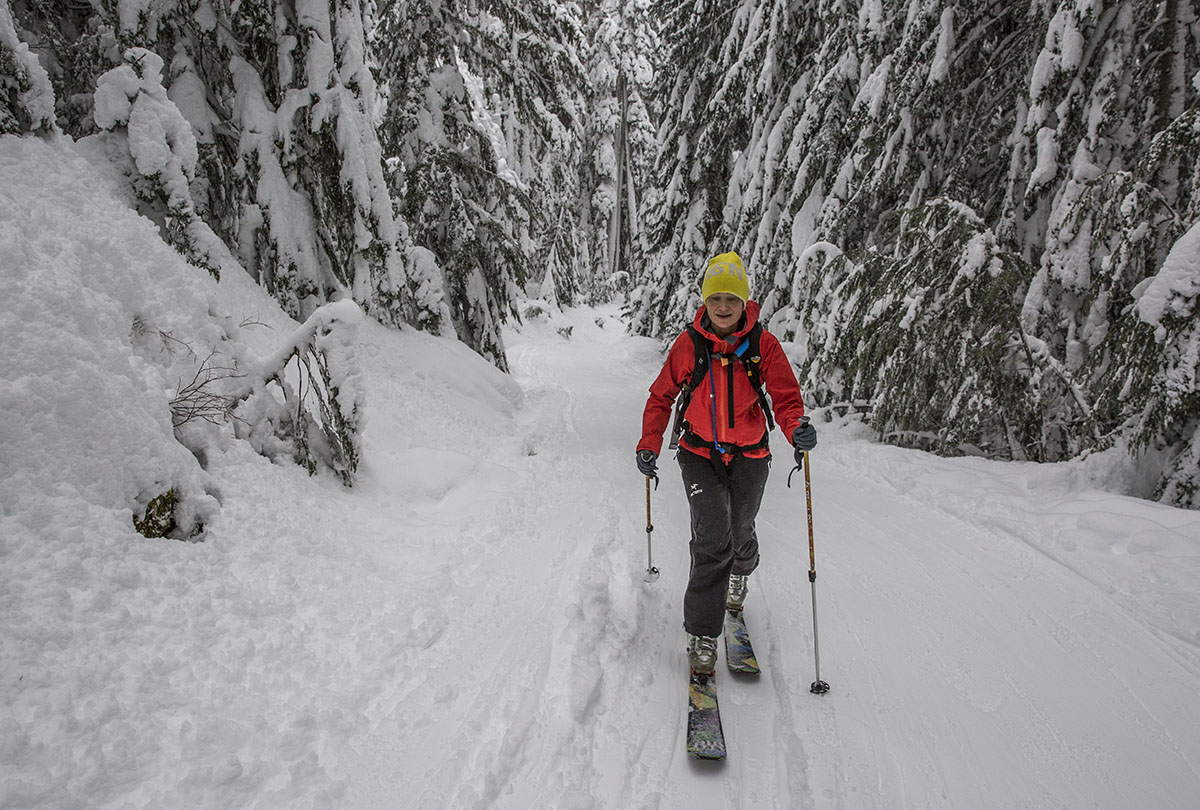 The Alpine Pro handles both of these issues very well. The hem of the jacket stays pretty much in place when the arms are raised—it lifts a bit as one would expect, but does not expose my mid or baselayers. The back hem is slightly longer to create more coverage when bending or leaning.  And the entire hem has a cinchable drawcord, with excess cord kept tidy with a handy locking system. All in all, the only thing that really limits movement is my own limited shoulder flexibility.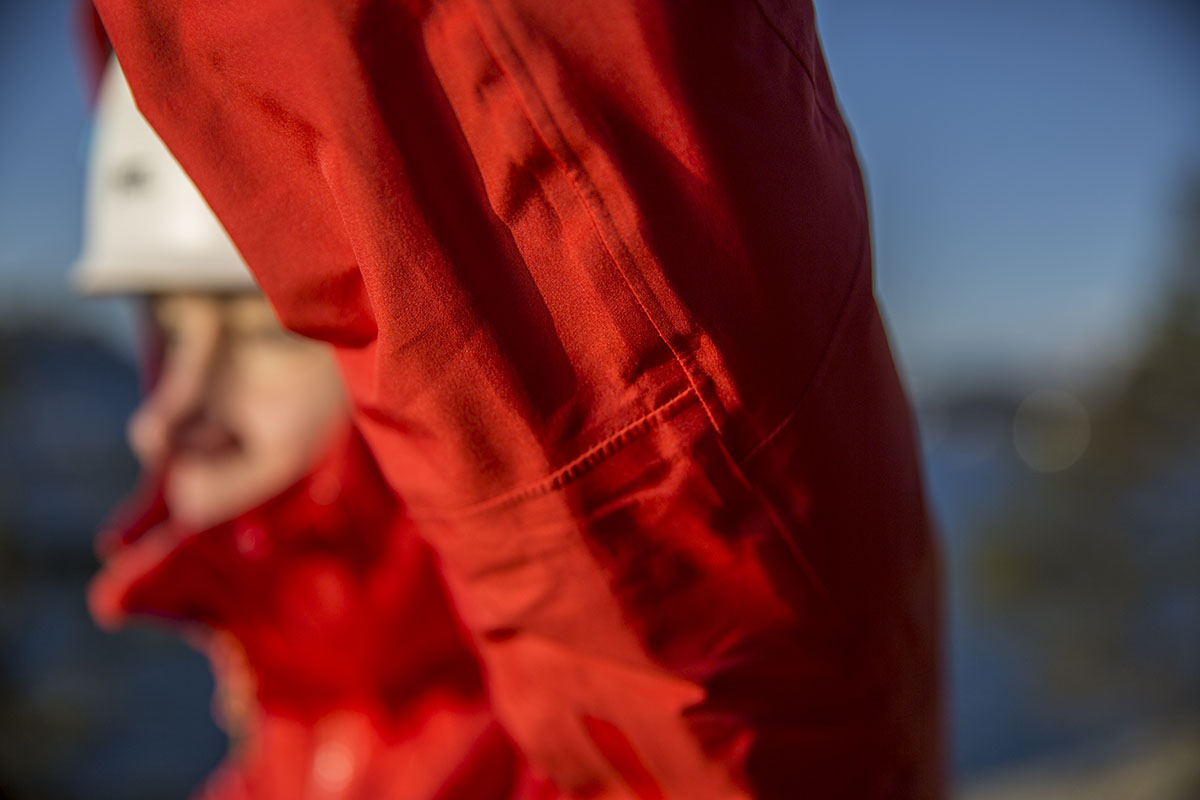 Pockets
Hand pockets sometimes are dropped from minimalist hardshells to save weight, but this can be a deal breaker for me. I appreciate the convenience of having easy pockets to store items I want at my fingertips—maps, lip balm, hand warmers, thin gloves, a compression strap (we always keep these handy for worst case tourniquet scenarios), and most importantly, a haven for my cold hands when they need some extra warmth and protection.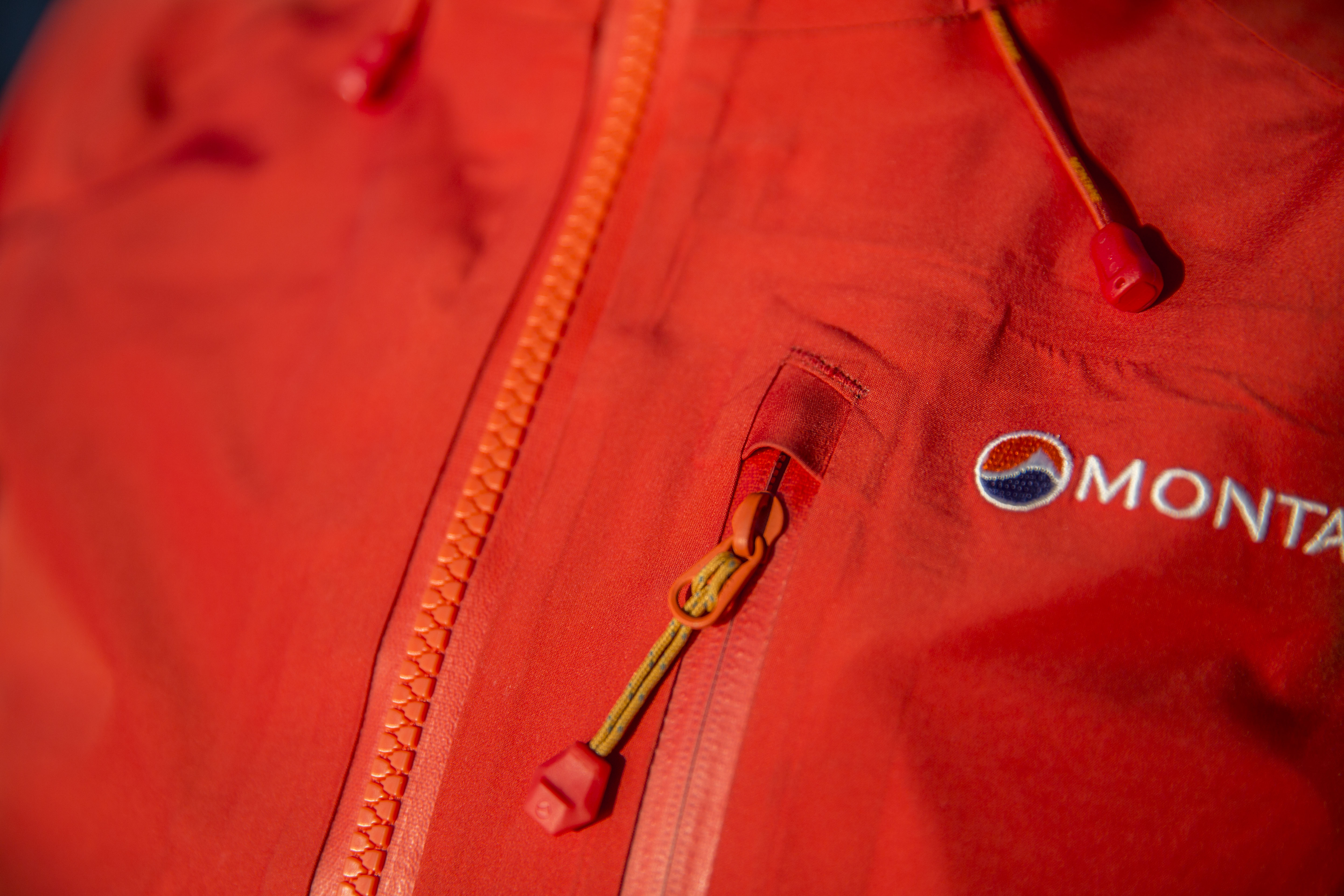 The Alpine Pro has two hand pockets, a chest pocket on the left side that is ideal for a phone or ski scraper, and an internal mesh pocket designed for goggles. I found that while the latter is perfect for a map and sunglasses, unfortunately it's not large enough to fit my ski goggles. I tried, but they pressed uncomfortably against my ribs. The outer pockets all are situated so that they are accessible while wearing a harness, backpack, or both.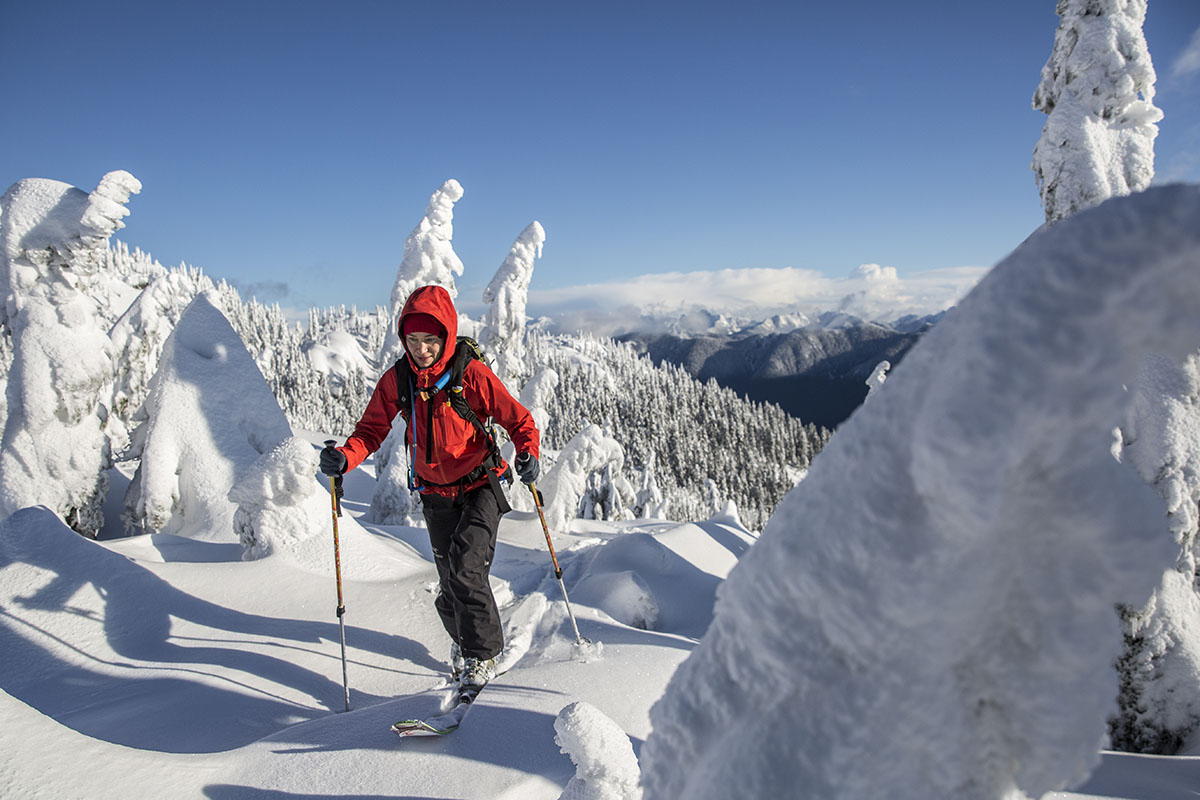 Zippers
Gore-Tex Pro's waterproofness and breathability are well documented, and the Alpine Pro augments the weather protection by adding AquaGuard waterproof zippers throughout. Under the arms are two lengthy pit zips, another must-have feature for a hardshell worn during any kind of serious aerobic activity. The main zipper is two-way, so that it can be opened from the top or bottom to manipulate a harness or belay device. The zippers also have angular "ergonomic" zip pullers that make them easy to handle with limited dexterity. I typically wear mittens and therefore my hands often are rendered quite helpless, so I've found this feature to be particularly helpful. The main zipper as well as the zippers for the three external pockets all have storm flaps to reduce the chance of rain entering.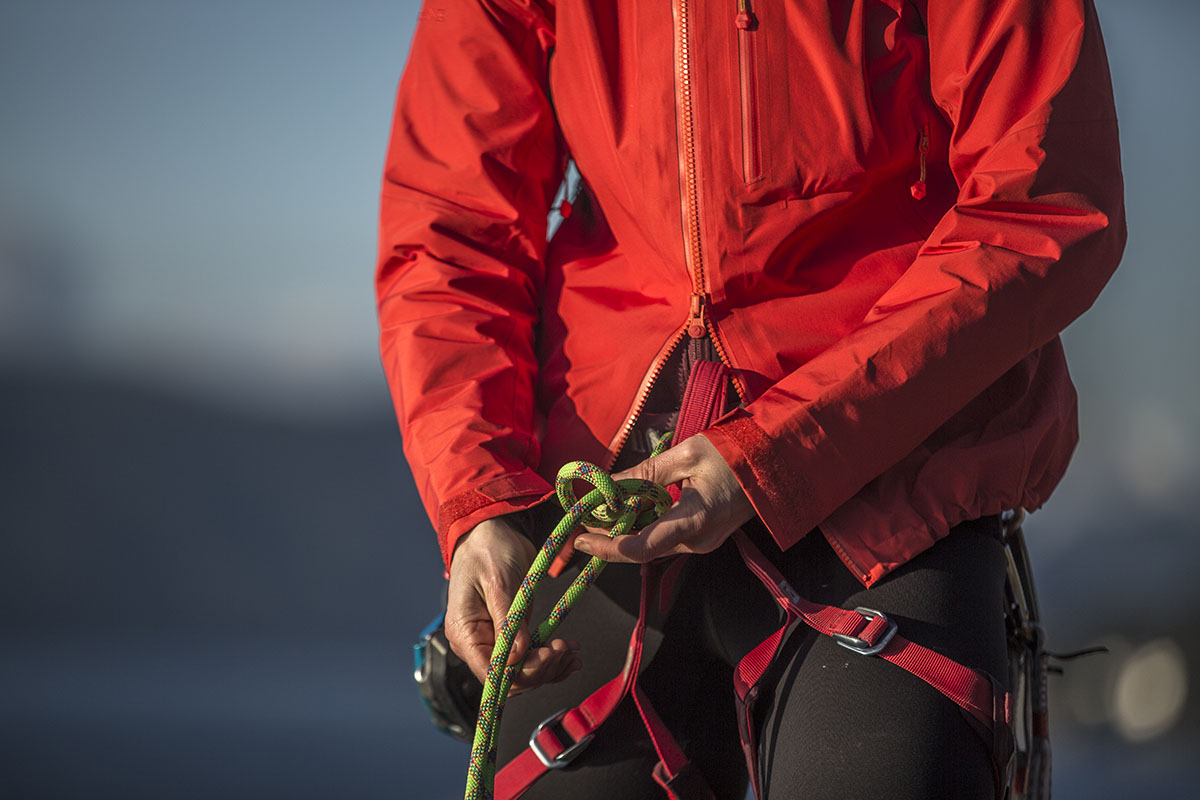 Hood
As expected with a hardshell, the Alpine Pro's hood is helmet compatible and I have worn it with both my climbing and ski helmets. It fits with a climbing helmet, but is not quite large enough to remain comfortable when worn over a ski helmet.  It will work in a pinch, but does limit the ability to shoulder check or look around.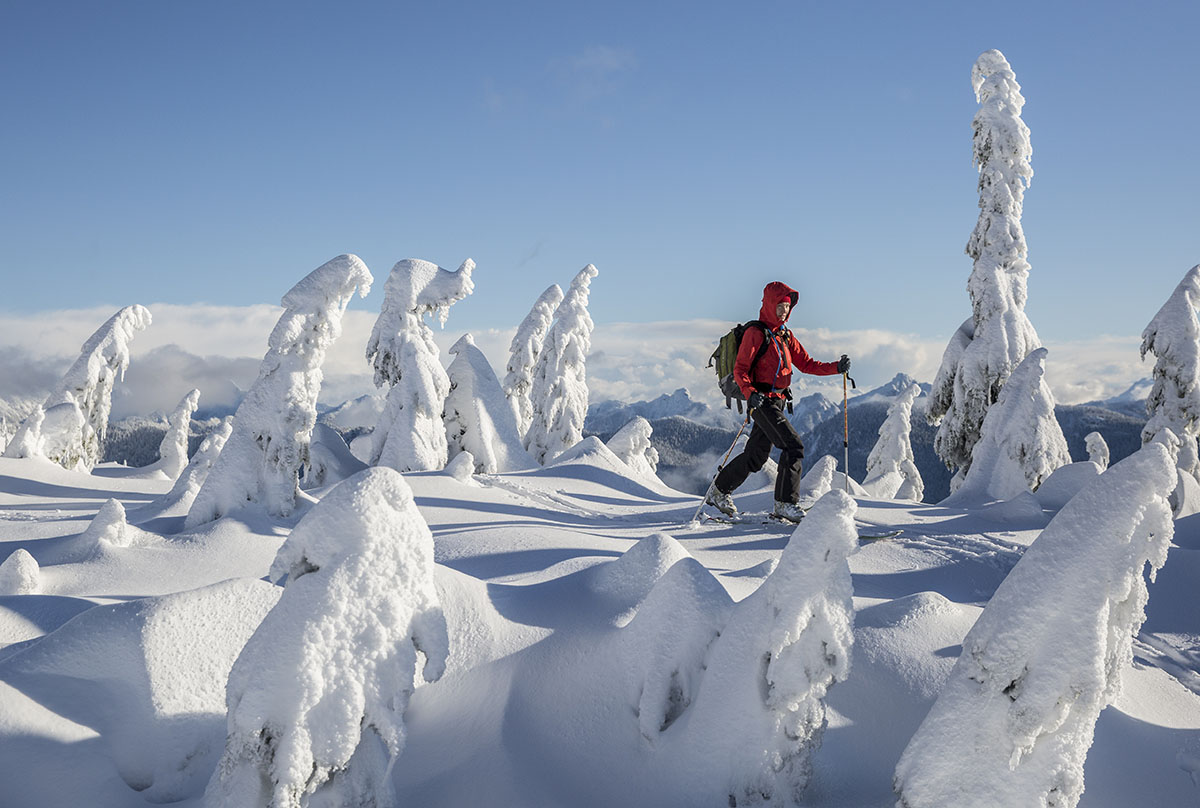 The hood itself has as many adjustment options as one could ever want. It's adjustable such that when not wearing a helmet, the hood is not floppy yet still can be made to fit snug around the face. The peak of the hood is stiff and holds its shape, and the hood can be rolled away with a loop/hook system when not in use. The collar of the jacket is tall, providing significant weather protection, and has a comfortable fleece lining. While not unique to this jacket, the fleece is noticeably comfortable against the mouth and chin.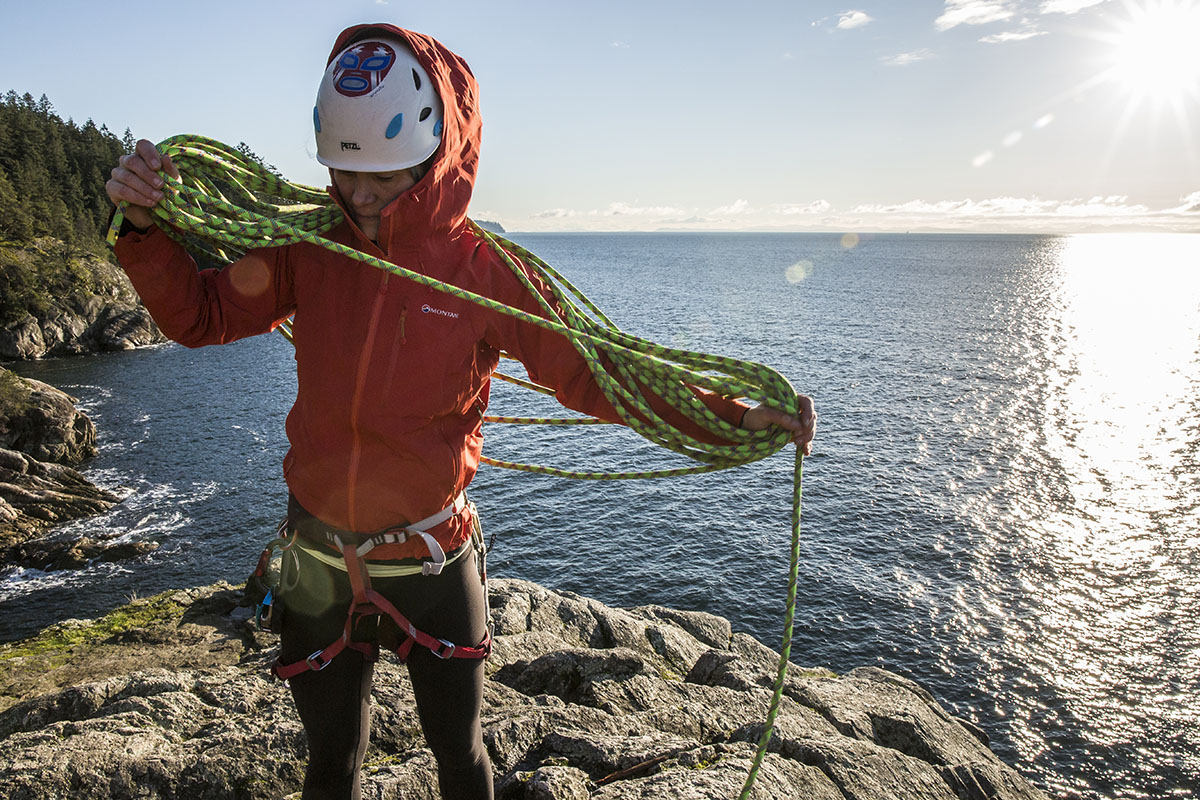 Weight and Packability
My Alpine Pro weighs in at 393 grams (13.9 oz.) for a UK women's size 8, within a single gram of Montane's 392-gram listing. This makes it a solid contender for a lightweight yet durable hardshell jacket with almost all of the bells and whistles. A minimalist shell like the Arc'teryx Alpha FL may undercut it in weight at 295 grams (10.4 oz.), but the Arc'teryx is missing the pit zips and extra pockets you get with the Montane. A more appropriate comparison is Arc'teryx's fully featured Beta AR, which is nearly an exact match in weight at 390 grams (13.8 oz.) for the women's model. Considering the immense popularity of the Beta AR, this is a great accomplishment for Montane.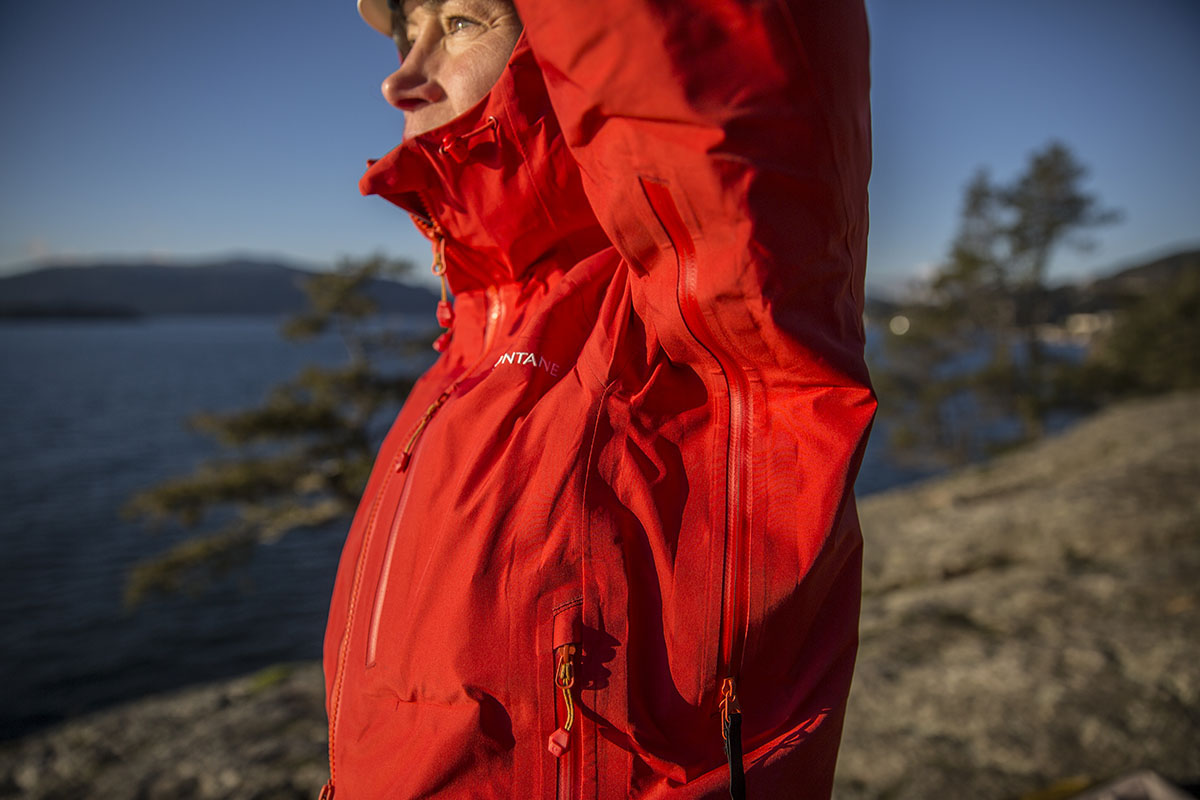 The Alpine Pro is easily bundled into its hood, and the many hood adjustments allow it to be cinched down into a tight package. The shell can't compete in packed size with a minimalist jacket like the Patagonia M10, but we've had very few issues shoving it into a pack or hanging it off a harness depending on the activity.
 
Fit and Sizing
The sizing is true, and being a UK-brand the label indicates UK sizes first. I'm a small or extra small in other jackets, and opted for the size UK size 8 in the Alpine Pro, which fits perfectly. The jacket is designed with slightly larger chest and upper arm dimensions to accommodate layering, which makes it easy to fit a baselayer or even a large synthetic or down puffy. It never felt bunchy in the armpits, even while climbing, setting up camp, making a meal, or transitioning between ascending and skiing down.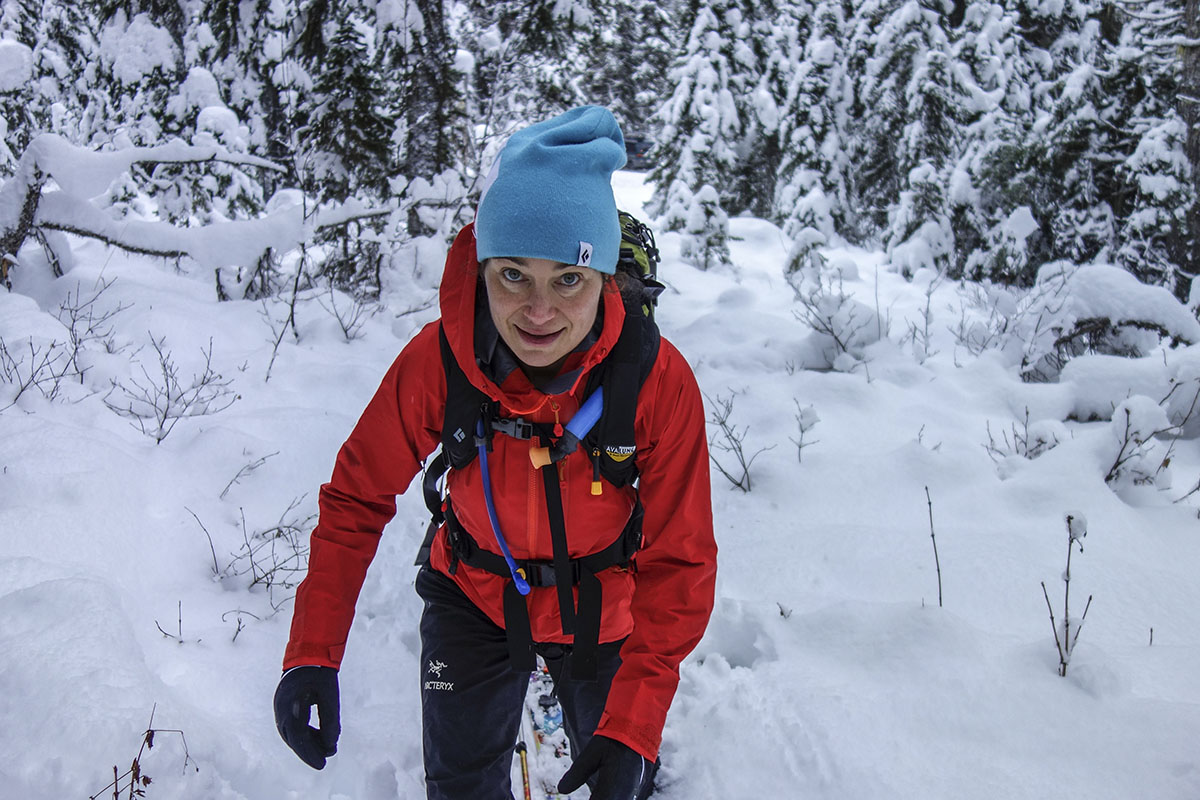 What We Like
The biggest compliment I have for a jacket: I barely knew it was there.
Excellent water and wind protection.
Generous pit zips.
Lightweight yet does not skimp on features.

What We Don't
Goggle pocket is not big enough to actually fit goggles comfortably. I tried this and found that they pressed into my ribs.
Hood is not quite large enough to fit comfortably over a ski helmet.

Comparison Table

The Competition
The high end of the hardshell market is serious business, but Montane has built a very competitive jacket in the Alpine Pro. Priced at $519, it stacks up well with big-time players from Arc'teryx, Patagonia, and Outdoor Research. As an example, the Alpine Pro is only $20 more than Patagonia's Refugitive jacket but features a far superior Gore-Tex Pro membrane compared with the Refugitive's standard Gore-Tex design. Time will tell if the Montane will hold up as well as the Patagonia, but that's a lot of bang for your buck.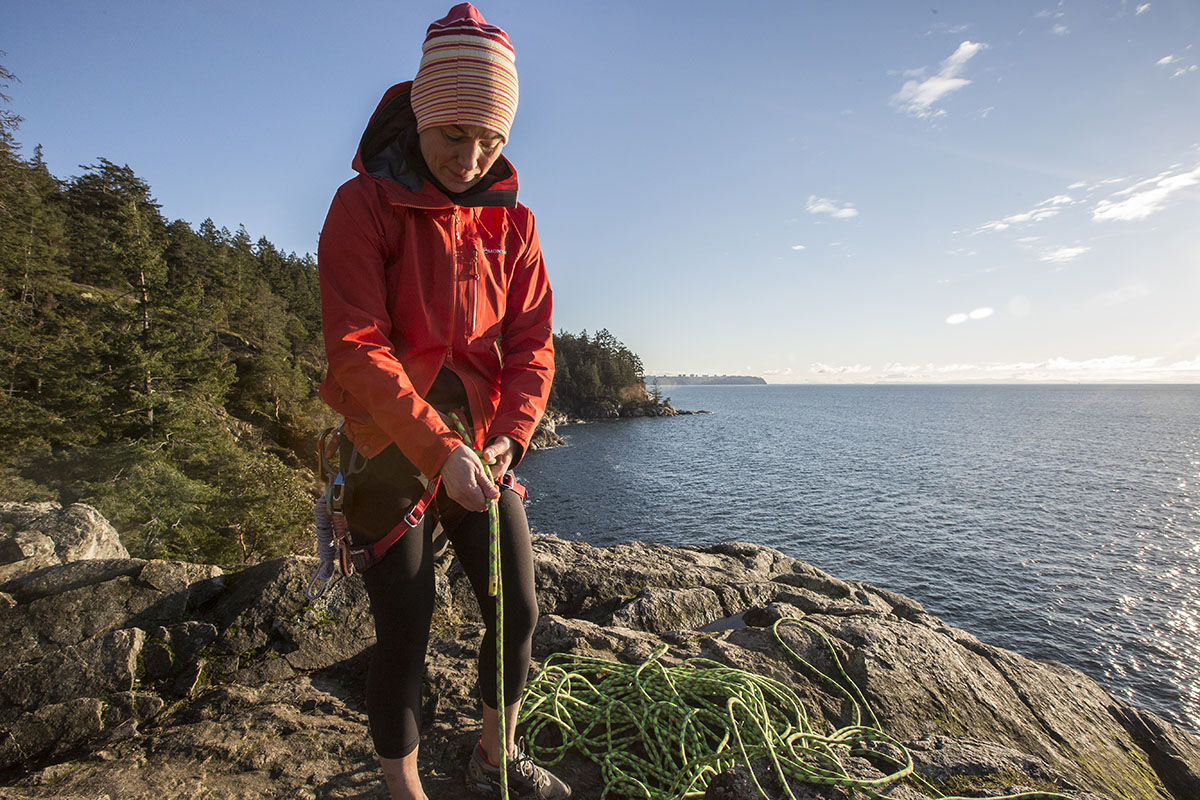 The Alpine Pro's 40-denier Gore-Tex Pro build puts it into direct competition with the very popular Arc'teryx Alpha FL. The "FL" in the name stands for "fast and light," and the Alpha gets the clear edge in weight at 10.4 ounces vs. 13.9 ounces for the Alpine Pro. But as we mentioned in the weight section above, the FL is missing key features like pit zips and hand pockets, which make it much less of an all-around option for activities like backcountry skiing.
We think the best point of comparison to the Alpine Pro is the Arc'teryx Beta AR. This hardshell is just about synonymous with lightweight alpine travel and shares a similar feature set and 40-denier Pro build with the Montane, but adds 80-denier panels along the shoulders and elbows. This gives it a slight edge in tear resistance and long-term durability, but the Beta AR is more expensive at $575 (for more information, see our in-depth Beta AR review). Both are fantastic jackets, and while we give the edge to the proven Beta AR in our hardshell test, we think the Montane Pro deserves serious consideration for backcountry explorers that value its streamlined yet uncompromising design.
If you're thinking about buying gear that we've reviewed on Switchback Travel, you can help support us in the process. Just click on any of the seller links above, and if you make a purchase, we receive a small percentage of the transaction. The cost of the product is the same to you but this helps us continue to test and write about outdoor gear. Thanks and we appreciate your support!
Depending on the seller, most products ship free in the United States on orders of $50 or more. International shipping availability and rates vary by seller. The pricing information on this page is updated hourly but we are not responsible for inaccuracies.
Learn More About Outdoor Gear