Best known for their distinctive outsole design, Swiss running brand On recently entered the hiking market with a small selection of trail-ready designs, including the Cloudwander Waterproof shoes. I recently brought the women's version to Patagonia for testing and came away impressed by the levels of support and protection for the weight, and the sleek and modern styling was a nice bonus for wearing around town. That said, the stiff midsole and narrow shape translate to a fairly firm and unforgiving feel underfoot, which led to discomfort after just a few miles. Below we break down our experiences with the On Cloudwander Waterproof. To see how it stacks up to the competition, check out our articles on the best hiking shoes and best women's hiking shoes. 
 
---
Table of Contents
---

Performance
Comfort
Out of the box, I was a little surprised by the On Cloudwander Waterproof's relatively firm and unforgiving feel. For reference, this was my first time wearing On shoes, but I had read a lot of positive reviews about their signature CloudTec outsole that's designed to absorb impacts by compressing with each step. While this held true, the Cloudwander's EVA foam midsole was noticeably rigid underfoot—a far cry from the soft and well-padded feel I'm used to from brands like HOKA or even Salomon. On also added a polypropylene "Speedboard" plate underfoot, which is intended to maximize responsiveness but added to the harsh feel. On the bright side, this translated to great isolation from rocks and roots on the trail, but my arches were noticeably achy after just 5 miles in the shoes. They have gotten a little softer and more forgiving with more mileage, but those looking for trail runner-like flexibility and comfort will want to look elsewhere (HOKA's Speedgoat 5 is a personal favorite for mellow trails).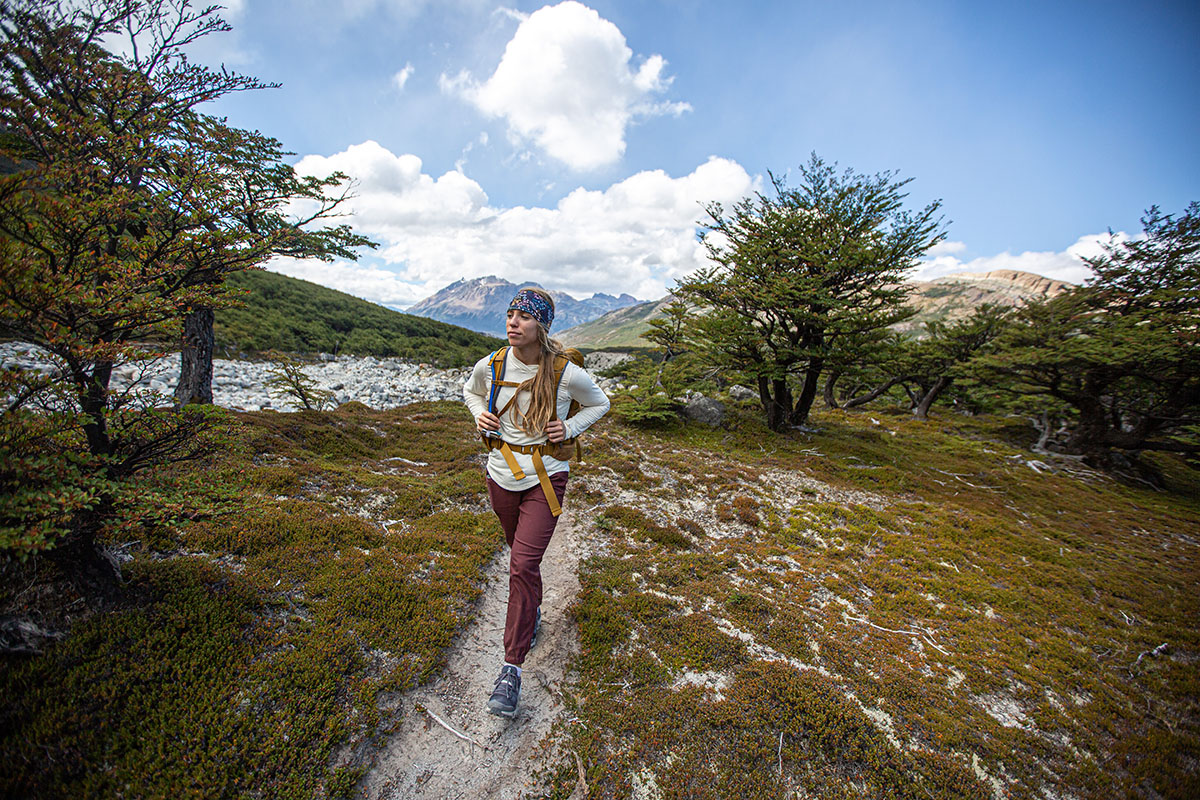 Another comfort-related drawback for me was the Cloudwander's fairly narrow fit, which was particularly noticeable at the sides of the forefoot (around my pinky toes). While it didn't lead to any problematic pressure points or blisters, the lack of extra room was an obvious contributor to the foot fatigue I mentioned above. The snugness did help with precision when boulder hopping and navigating loose sections of trail, and it also meant there was little to no movement when ascending and descending steep slopes. But in the end, I would have gladly traded some of that accuracy for a boost in comfort (more in "Fit and Sizing" below).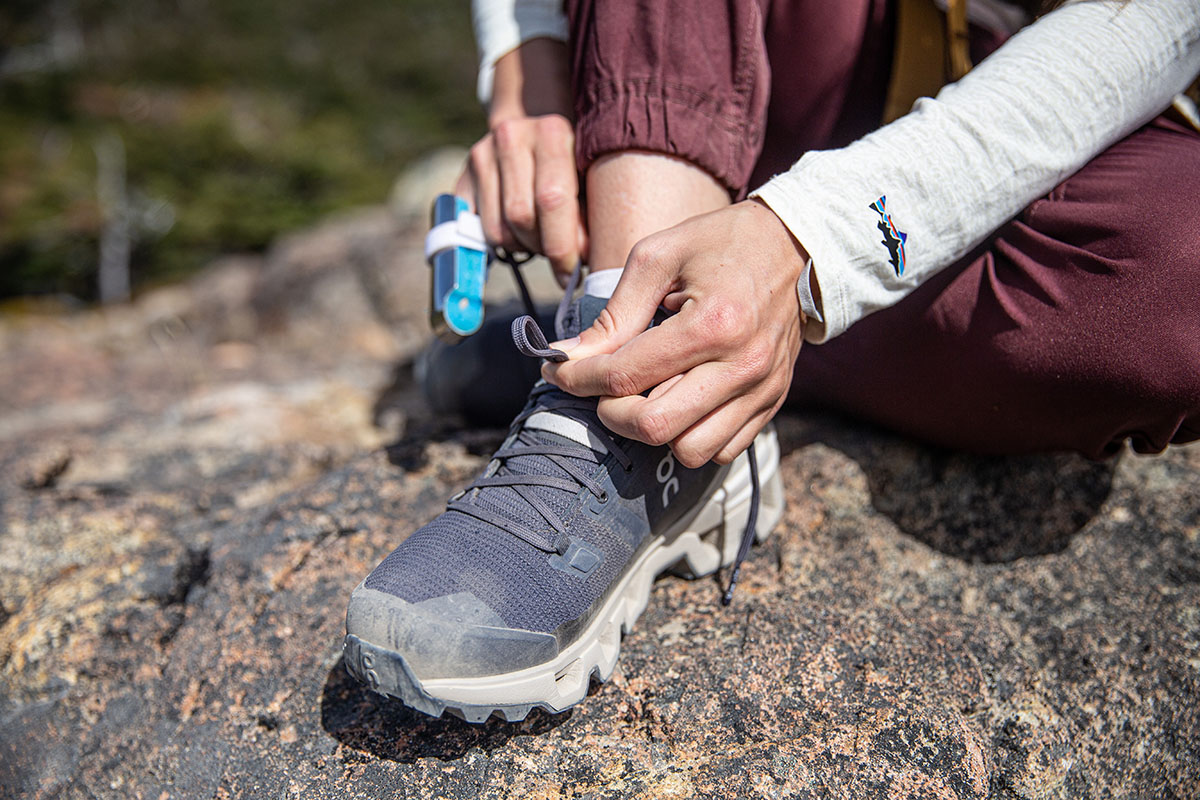 Weight
Taking cues from their running designs, the On Cloudwander is decently competitive within the hiking shoe market at 1 pound 6.6 ounces for a women's pair. For reference, it stacks up well to leading hiking models like Salomon's X Ultra 4 GTX (1 lb. 6.1 oz.) and Danner's Trail 2650 GTX (1 lb. 5 oz.) while slightly undercutting HOKA's Anacapa Low GTX and Adidas' Terrex Swift R3 GTX (both 1 lb. 8 oz.). You can shave a little weight with true trail runners like HOKA's Speedgoat 5 (1 lb. 1 oz.) or Altra's Lone Peak 7 (1 lb. 2.4 oz.), but those shoes come with notable compromises in support, protection, and durability. Overall, the Cloudwander's weight feels well spent: The shoe is surprisingly stable and confidence-inspiring for how light it is and was a nice match for breaking into a jog on the downhills, which is my preferred way to navigate steep slopes.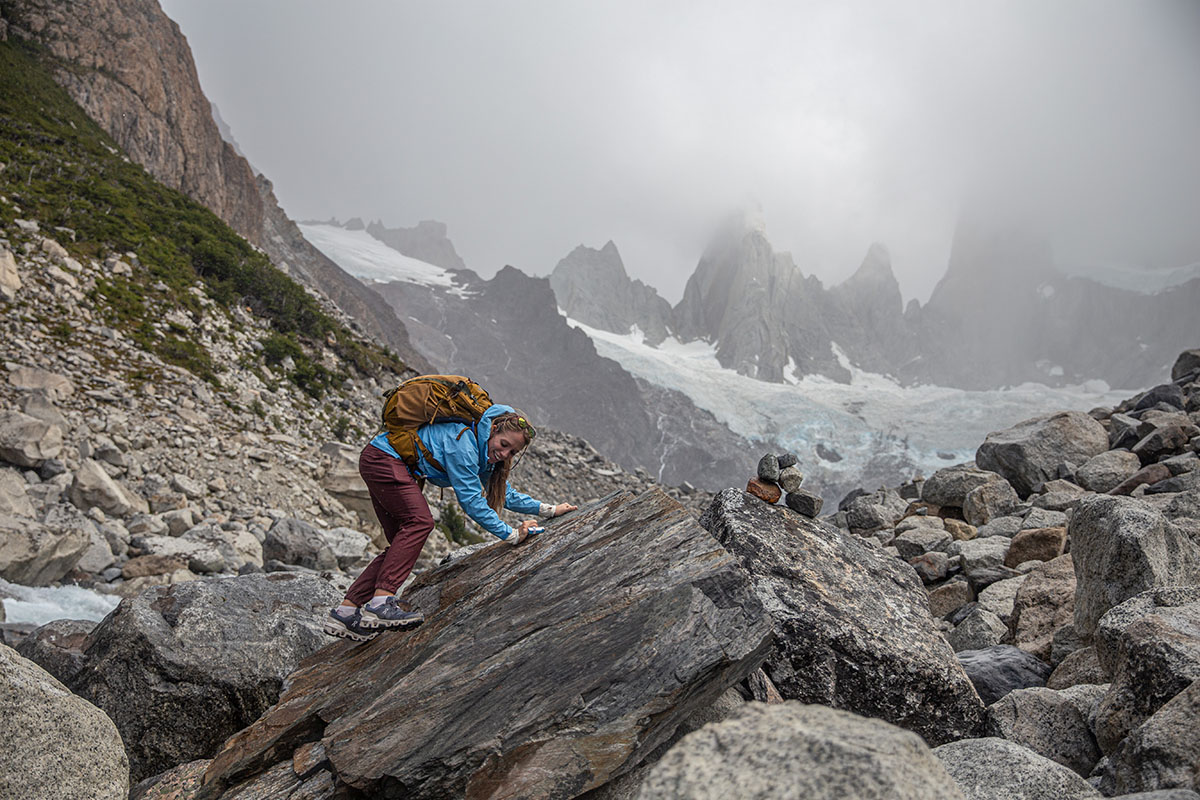 Traction
It took me a little time to fully trust the On Cloudwander's unique CloudTec outsole, but it proved to be far more capable and versatile than expected. Intended to maximize impact absorption by compressing as you step, the layout comprises square-shaped lugs under the heel and ball of the foot with shallow channels cut out at each side. While fairly polarizing style-wise, the design offered solid performance overall: The Missiongrip rubber was surprisingly tacky and held well on everything from steep, loose gravel to tricky creek crossings and thick mud. I did experience some slippage on a couple of wet logs and slick boulders, but that likely had more to do with my sloppy footwork than the outsole's grip.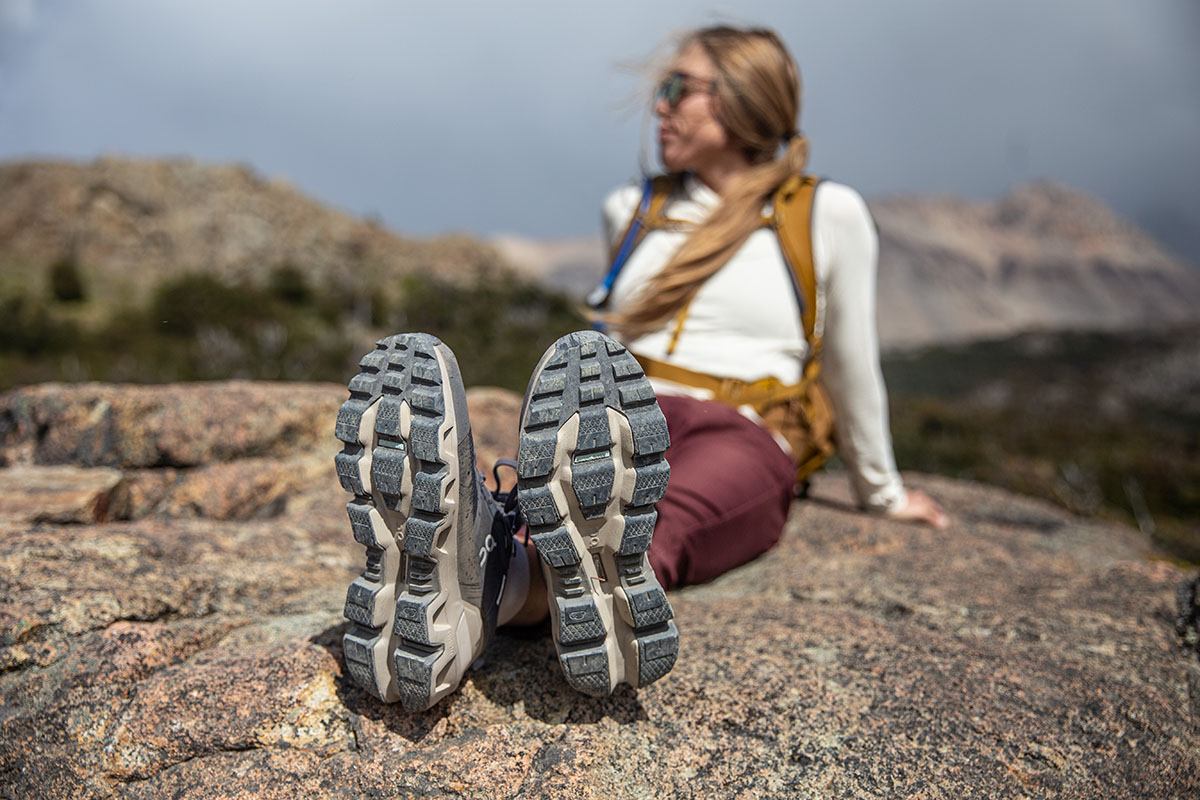 My only notable complaint has to do with the channels mentioned above, which frequently caked up in grit and mud. While there was no impact on traction, the small openings made it very difficult to remove the debris, causing the shoes to fling dirt onto my hiking pants as I walked. It wasn't until they dried completely that I was able to clean them off properly. In the end, I appreciate On's efforts to cut weight here, but I'm not sold on the performance benefits of the channels.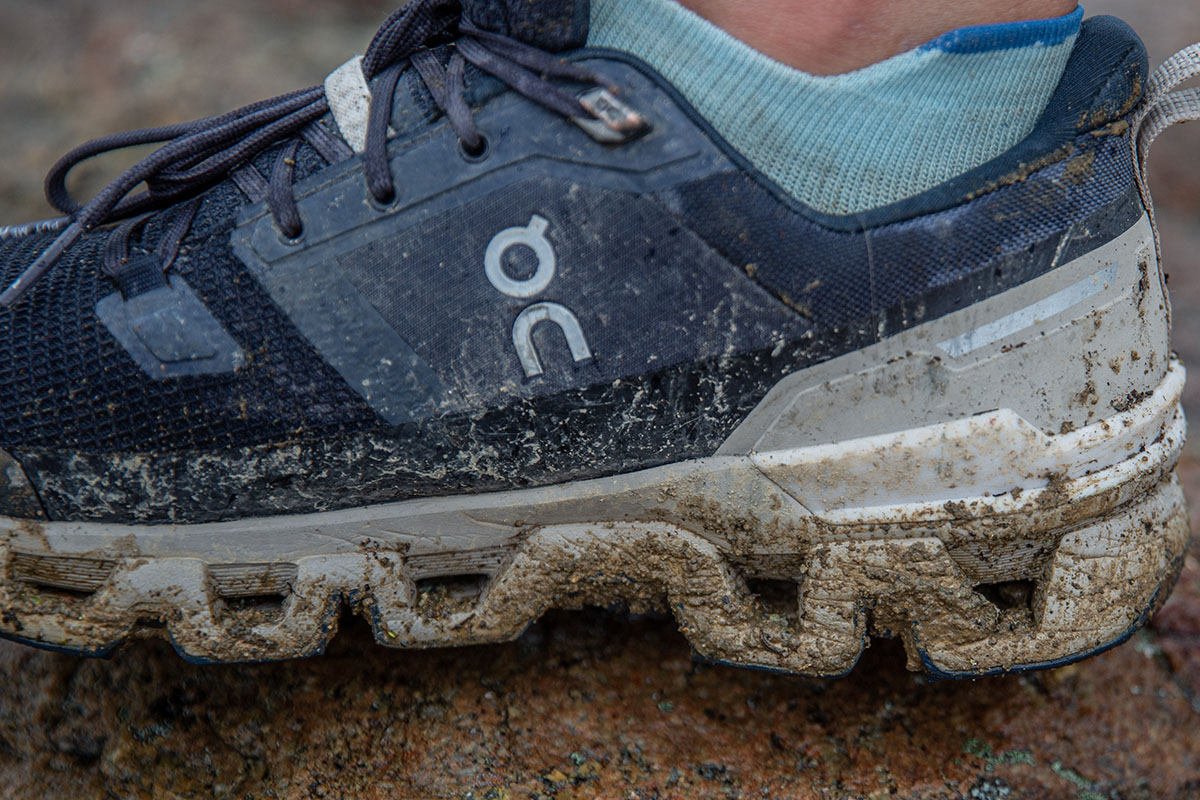 Stability and Support
Despite its running shoe-like appearance and relatively low weight, the On Cloudwander proved to be surprisingly stable and supportive throughout testing. This is one advantage to the stiffness outlined above: While lacking in all-day comfort, the shoes have a very solid feel and gave me plenty of confidence to hop across boulders and navigate scree fields without worrying about rolling an ankle. Their biggest test came during our final descent to the climbers' camp at the base of the Torre Glacier, which involved plunge-stepping our way down a steep, loose slope that shifted as we moved. Here, the Cloudwander provided ample stability and structure to navigate the fairly consequential terrain (the beefy heel was a big help). Those with serious hauling needs or prone to ankle issues may want to step up to a more supportive mid-height boot like Salomon's Quest 4 GTX, but the Cloudwander strikes me as plenty capable overall.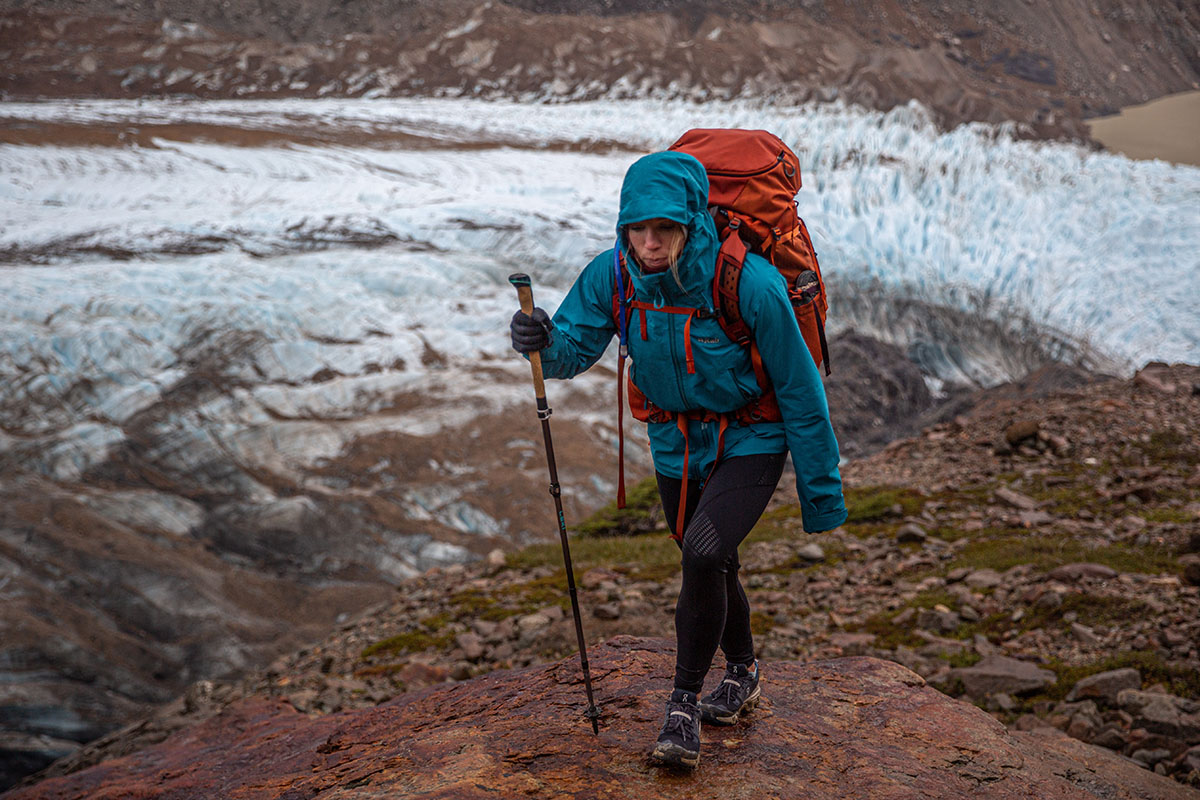 Waterproofing
Patagonia is rife with water crossings, and our trip was wetter than expected with multiple days of sporadic rain and muddy trails, making it the perfect testing ground for On's in-house waterproofing membrane. In short, the Cloudwander handled the tall order admirably, sealing out moisture on everything from a rainy 15-mile hike to Laguna Sucia to a muddy descent to the base of the Torre Glacier on our overnight backpacking trip. The only time my socks got wet was when I misjudged the depth of a water crossing, allowing moisture to pour in over the collar and into my shoes. But this was entirely my fault, and it's always important to be mindful before stepping into water—whether you're wearing a low-top shoe like the Cloudwander or a taller hiking boot.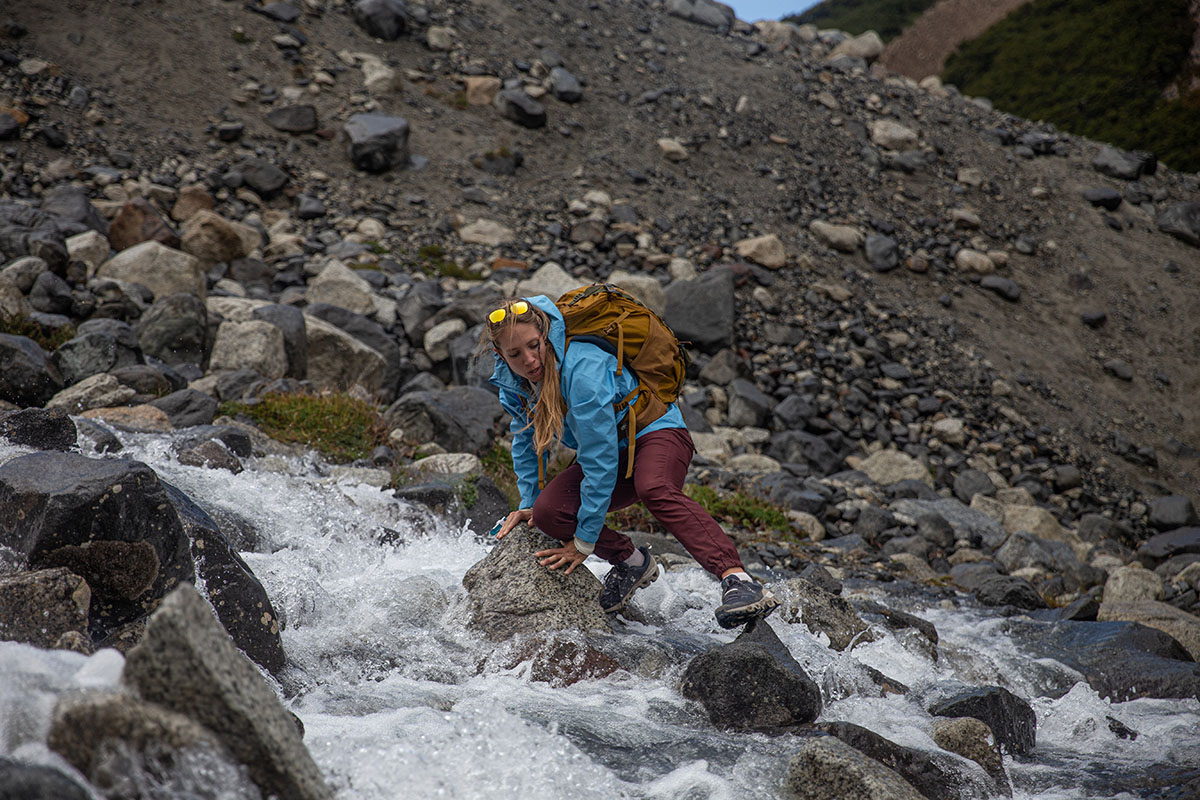 Breathability
Solid waterproofing often comes at the cost of breathability, but the Cloudwander did a decent job of keeping my feet comfortable in moderate to warm conditions in Patagonia. For reference, our trip was unseasonably cold and wet with temperatures hovering mostly in the 40s to 50s Fahrenheit, but we did have a couple of warmer and humid days that reached into the upper 60s. The Cloudwander performed well and provided adequate ventilation through it all, although I did notice that my socks were a little damp at the end of long days. This is likely due to the thick upper materials, including the generous TPU overlays along the sides and heel. The tradeoff is increased protection and durability (more on this below), but the Cloudwander is a noticeable step down in breathability from more mesh-heavy (and non-waterproof) designs like HOKA's Speedgoat 5 trail runner or even Merrell's leather Moab 3 hiker.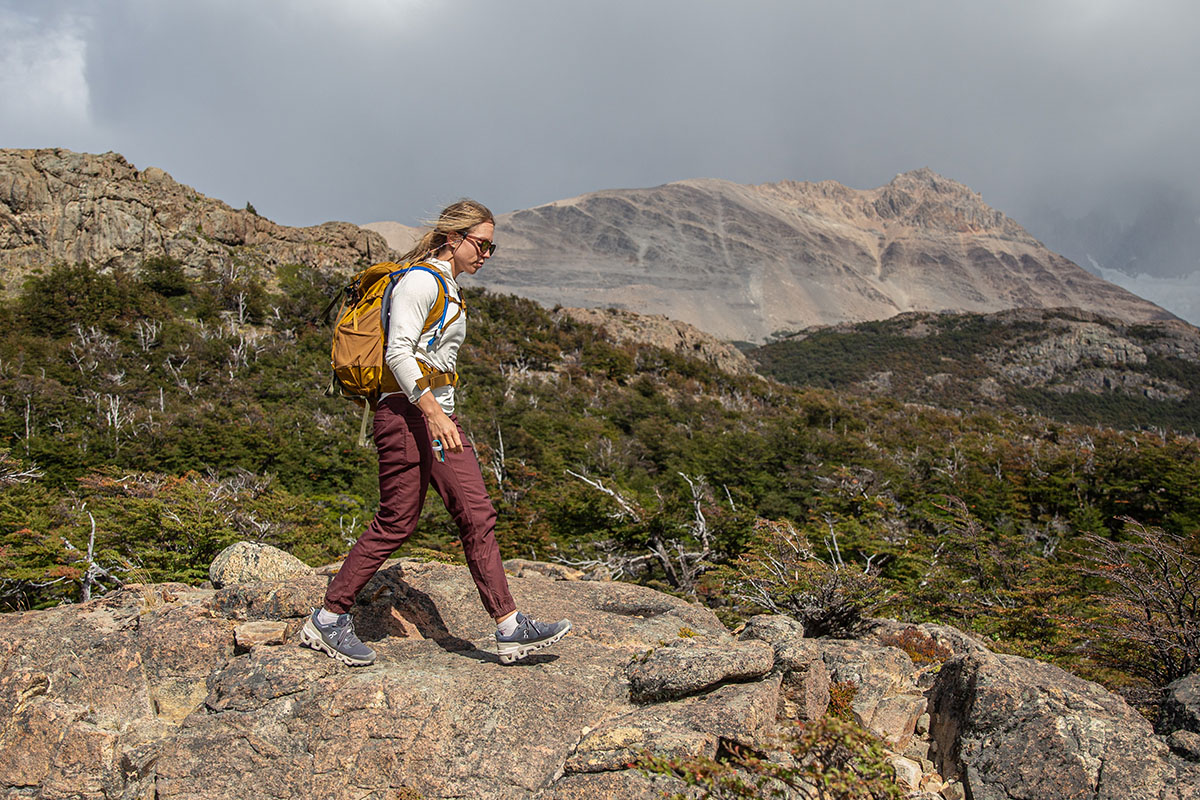 Toe and Foot Protection
In addition to its above-average stability, the On Cloudwander offers surprisingly good protection around the entire foot. Starting at the front, the shoe boasts a thick TPU toe cap that extends around the sides for ample coverage against direct hits. In fact, despite being pushed slightly off-course by notorious Patagonian winds while boulder hopping on a couple occasions, I barely felt the impact. The heel is similarly beefy and has a very locked-in feel, which made it easy to trust while plunge-stepping my way down the steep slope en route to the climbers' camp mentioned above. Finally, the nylon upper is tightly woven and has a noticeably hardwearing feel, and the TPU reinforcements along the sides have done a great job at fending off abrasion from sharp rocks. Added up, the Cloudwander is far more protective than its weight would suggest and a major step up from most trail runners.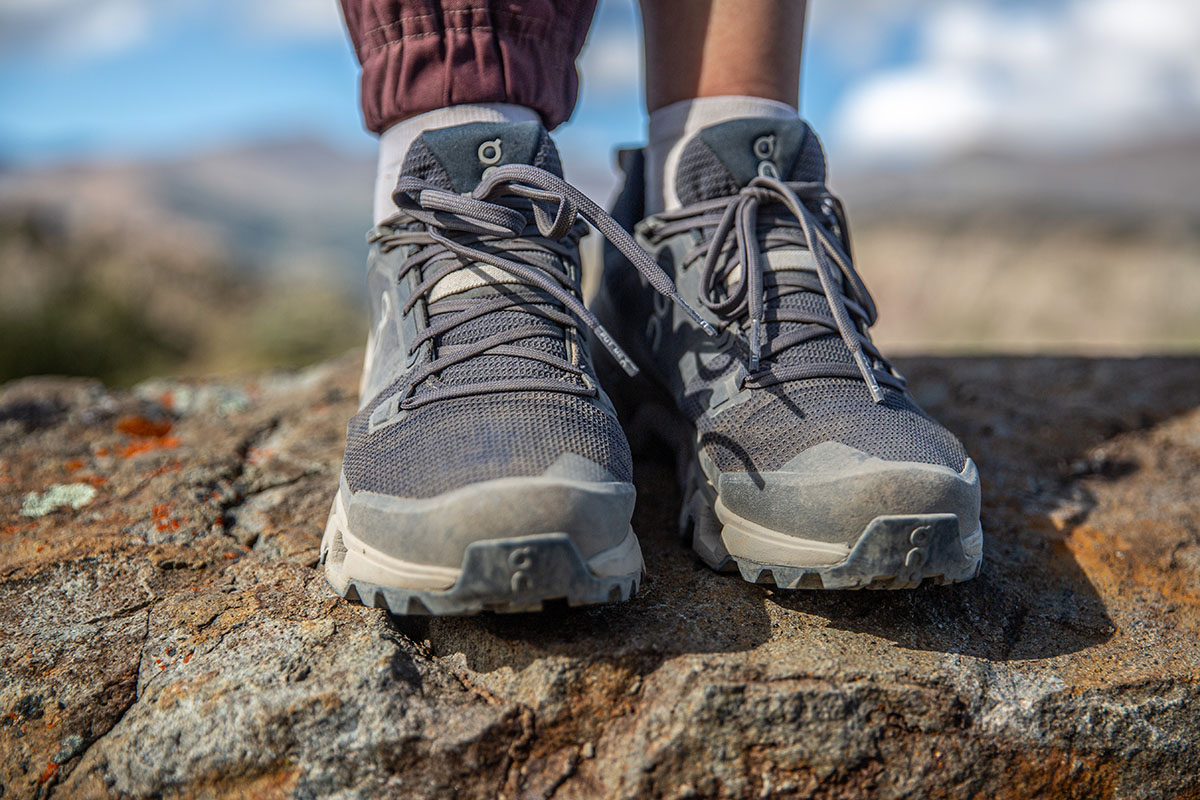 Build Quality and Durability
The On Cloudwander is relatively expensive for a hiking shoe at $180, but the good news is that overall build quality lines up nicely with the price. The nylon upper is tightly woven and still in excellent shape with no obvious signs of wear, the TPU reinforcements along the sides have done a great job at fending off abrasion from sharp rocks, and the beefy toe and heel caps offer top-notch protection against direct impacts. All of the smaller details are equally well sorted, including quality laces with premium metal eyelets and handy elasticized loops on the tongues to keep them out of the way. A final build-related highlight is the Cloudwander's sleek styling, which crosses over very well for daily wear—I've taken the shoes from the trail directly into town on multiple occasions and have no qualms about them standing out.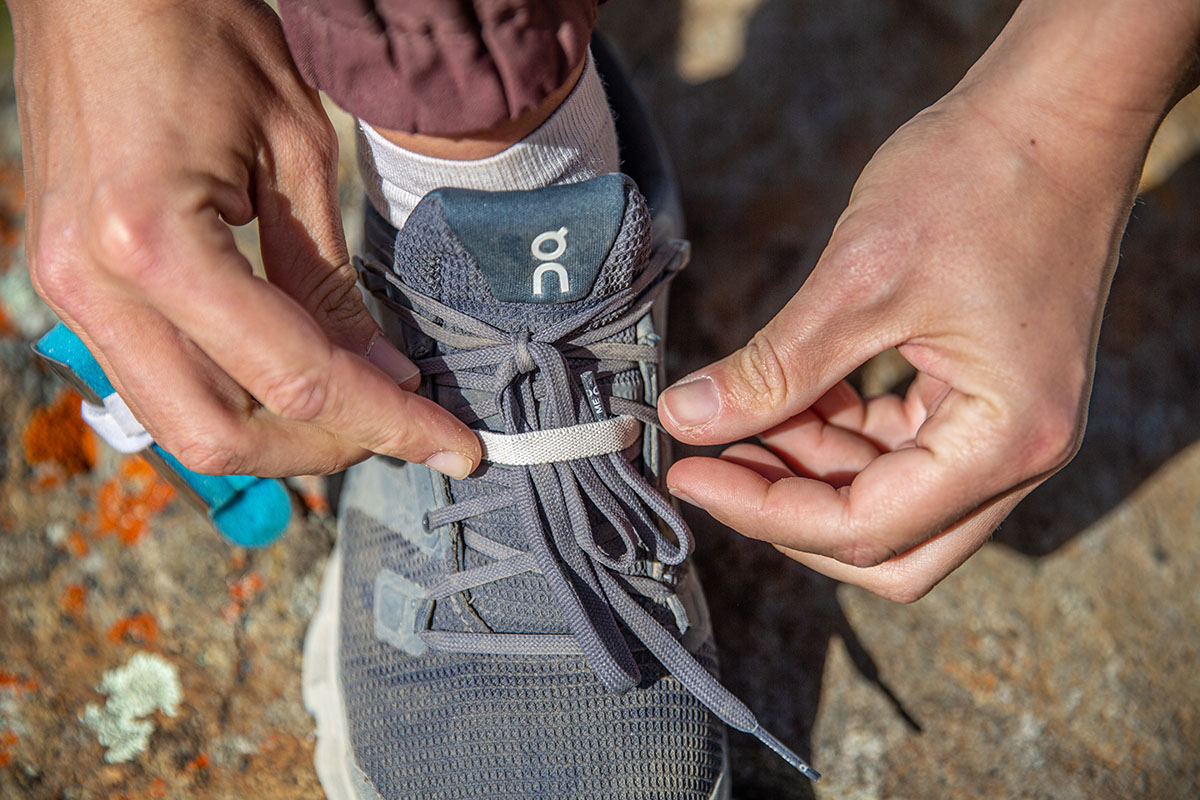 My only durability-related complaint has to do with the Cloudwander's outsole, which is designed to compress under pressure to absorb impacts. While it's done its job thus far, the constant scrunching has caused distinct creases to form around the channels after just a few days on the trail. To be fair, this is largely cosmetic and hasn't had an impact on performance, but it strikes me as a clear point of weakness in an otherwise very sturdy and confidence-inspiring design.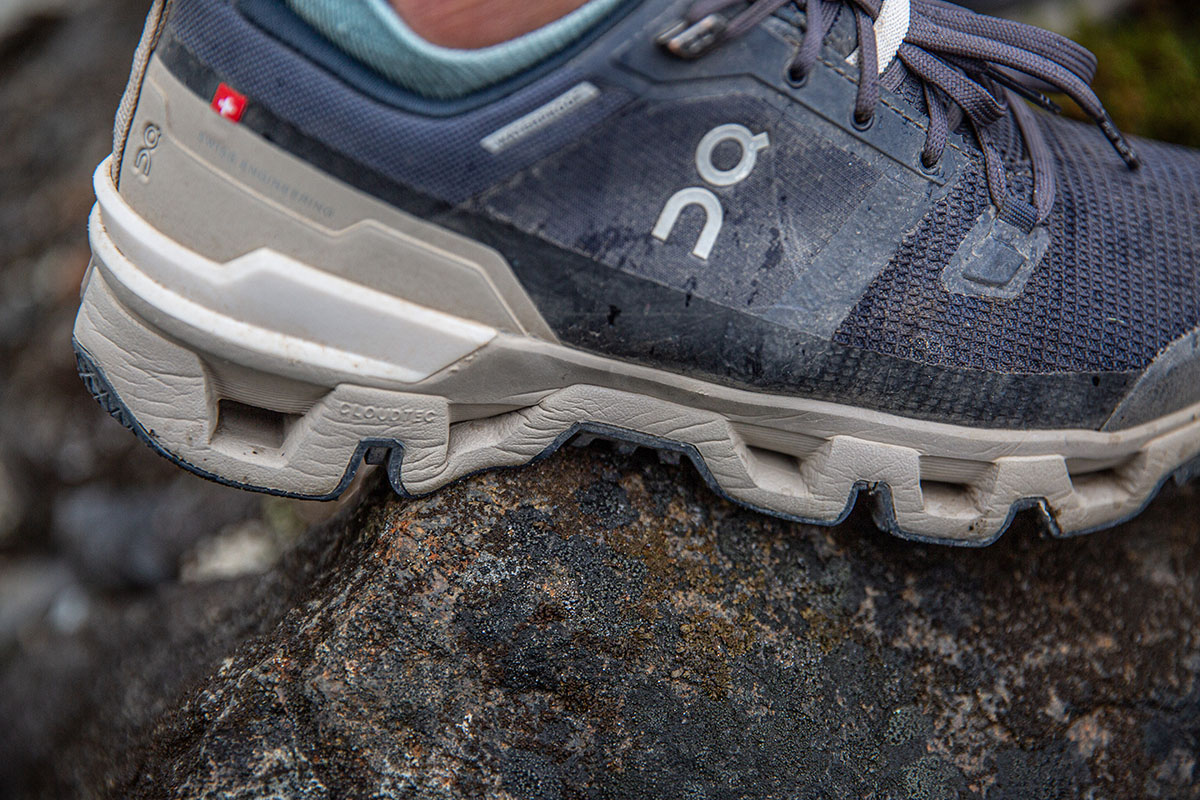 Fit and Sizing
On shoes are known to fit on the smaller and narrower end, and the Cloudwander Waterproof is no exception. For reference, the shoes felt fairly tight and restrictive out of the box in my standard women's size 8.5 with little room both length- and widthwise, especially around the sides of my forefoot. To be fair, I didn't experience any pressure points or blisters throughout testing, and I appreciated the added precision when boulder hopping and navigating steep slopes. That said, combined with the stiff feel outlined above, I was eager to take the shoes off at the end of each day. If I had to buy them again, I would likely opt for a size 9 for the added comfort and to accommodate swelling after long days on the trail. A final nitpick has to do with the locking eyelets at the collar: One is open, while the other is closed, which made it difficult to achieve a secure, locked-in fit. It also led to loosening throughout the day—I had to tighten the laces relatively frequently to avoid rolling an ankle.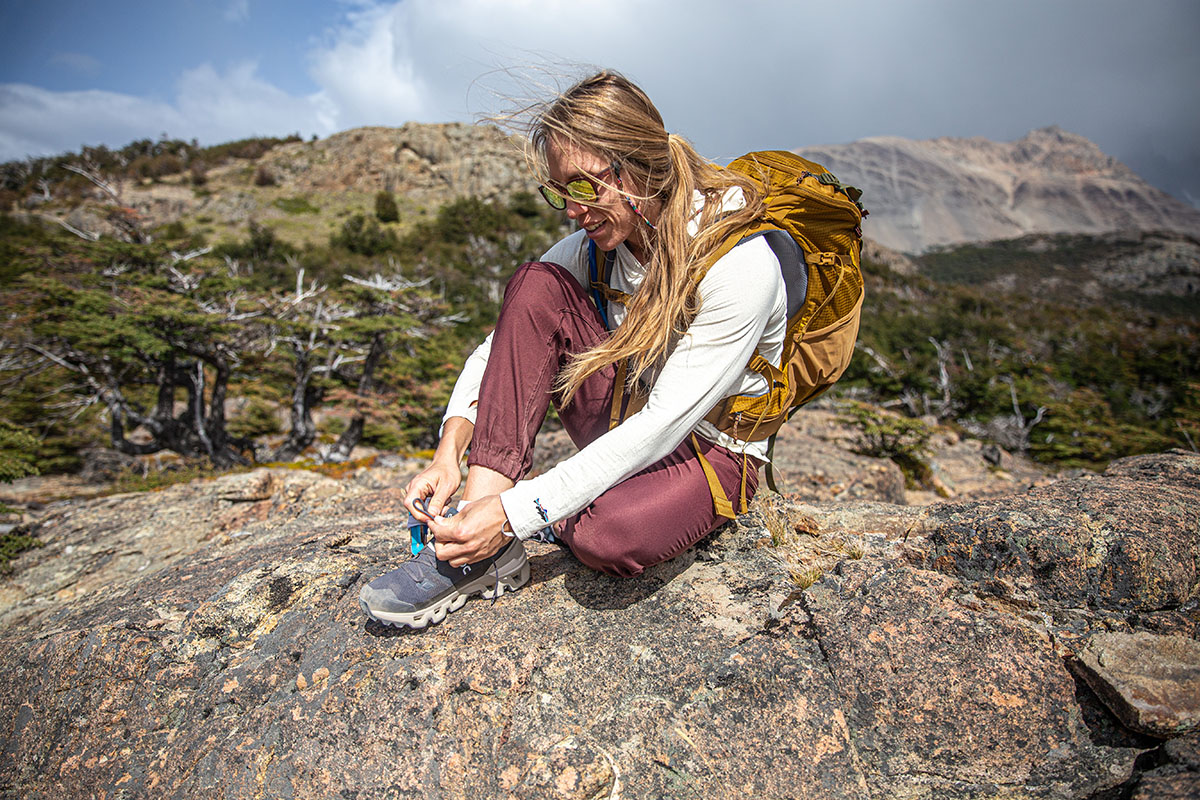 Sustainability
We appreciate when brands go the extra mile toward creating sustainably built products, and using recycled materials is a great place to start. In this case, the Cloudwander Waterproof shoes are made with 25% recycled content, including 90% recycled polyester. There's certainly room for improvement—some competitors have turned to bio-based materials in the midsole and/or outsole, and bluesign-approved materials that forgo the use of harmful chemicals are also becoming more common. But we nevertheless appreciate On's efforts and consider the Cloudwander to be a nice reflection of where the industry is headed.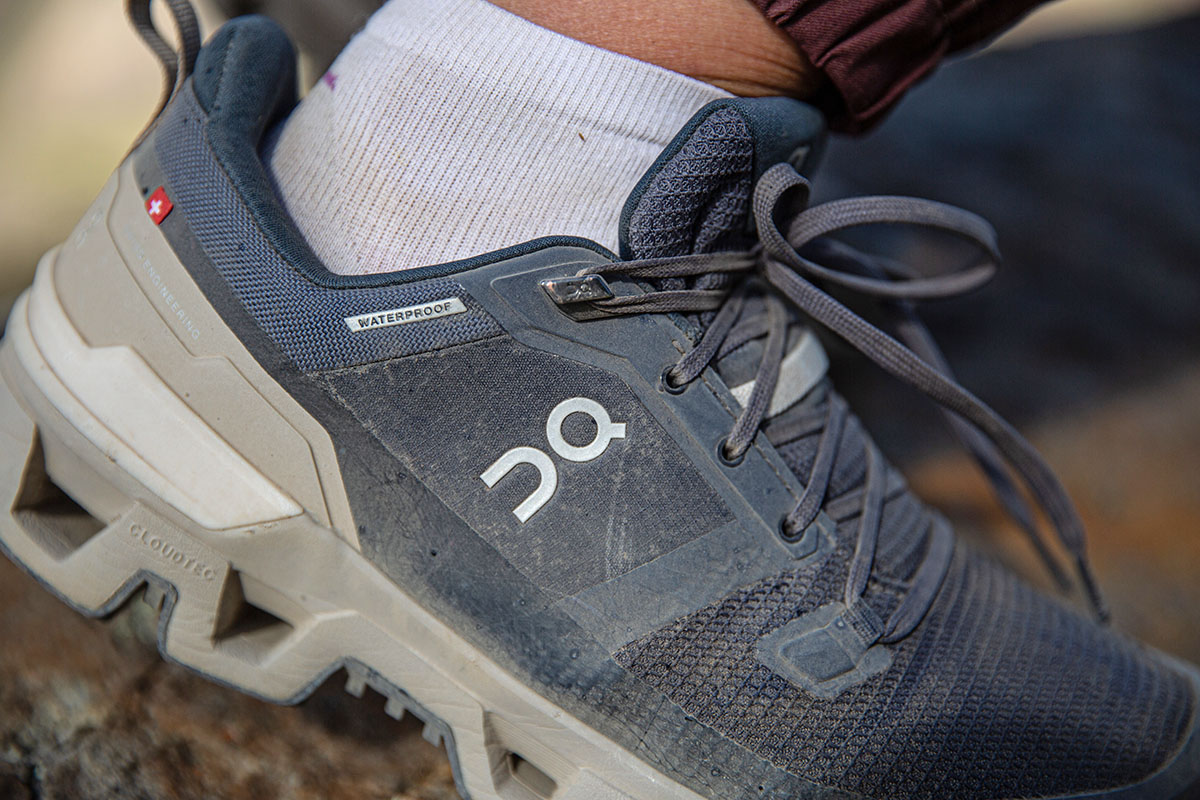 Men's On Cloudwander Waterproof
I brought the women's Cloudwander Waterproof to Patagonia for testing, and On sells the same design in a men's model. The men's Cloudwander Waterproof costs the same at $180 and retains an identical feature set and overall construction, including the signature CloudTec outsole, handy elasticized tongue loops, and durable nylon upper with protective TPU overlays. It's also sold in very similar colorways, although weight goes up to 1 pound 11.6 ounces per pair (5 oz. heavier than the women's model). Finally, it's worth noting that there are currently no mid-height or non-waterproof variations available, which is an undeniable downside in today's market (most competitors come in multiple heights and styles).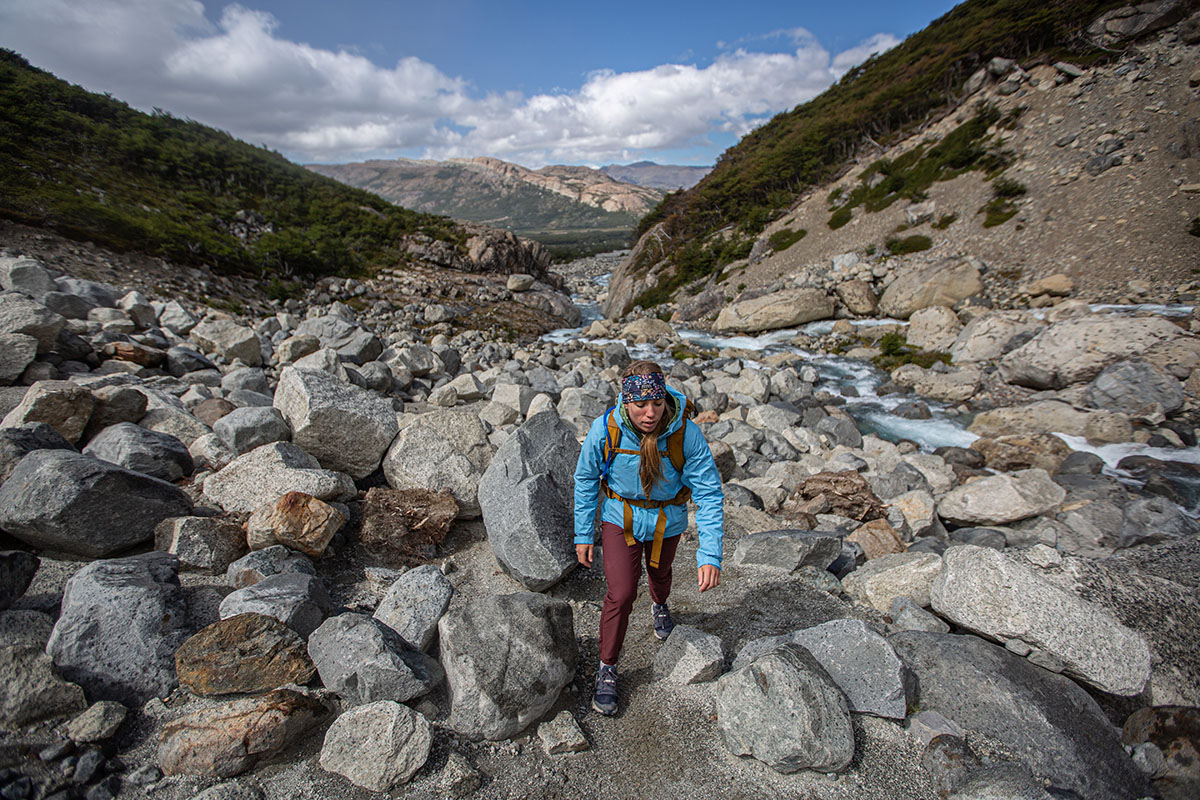 What We Like
Decently light with an agile and fast-moving feel to match. 
Impressive stability and support for a low-top shoe.
Durable materials throughout, including generous toe and heel protection and thick TPU overlays for added abrasion resistance.
Sleek and modern design crosses over well for wearing around town.

What We Don't
Stiff midsole and narrow fit result in a firm and fairly unforgiving feel underfoot.
CloudTec outsole is polarizing and shows signs of wear very quickly, and the channels tend to accumulate and retain debris and mud.
Thick upper materials detract from overall breathability.
Around $20-$30 pricier than most competitors at $180.
Only offered in a low-top, waterproof version.


Comparison Table
The Competition
The On Cloudwander exceeded my expectations in a few key areas, but it's certainly not the most well-rounded hiking shoe on the market. For a better balance of comfort and on-trail performance, we're big fans of Salomon's popular X Ultra 4 GTX. Despite its noticeably more forgiving and flexible feel, the Salomon offers ample stability and protection for most day hikes and lightweight backpacking trips. Breathability is another notable upgrade thanks to the Salomon's thinner materials and premium Gore-Tex membrane, and the versatile Contagrip outsole is easier to trust over most surfaces. Some won't love the fit—the X Ultra 4 is narrow at the midfoot and spacious at the forefoot—but if it works for you, we consider the Salomon the more approachable and well-balanced design for most hikers.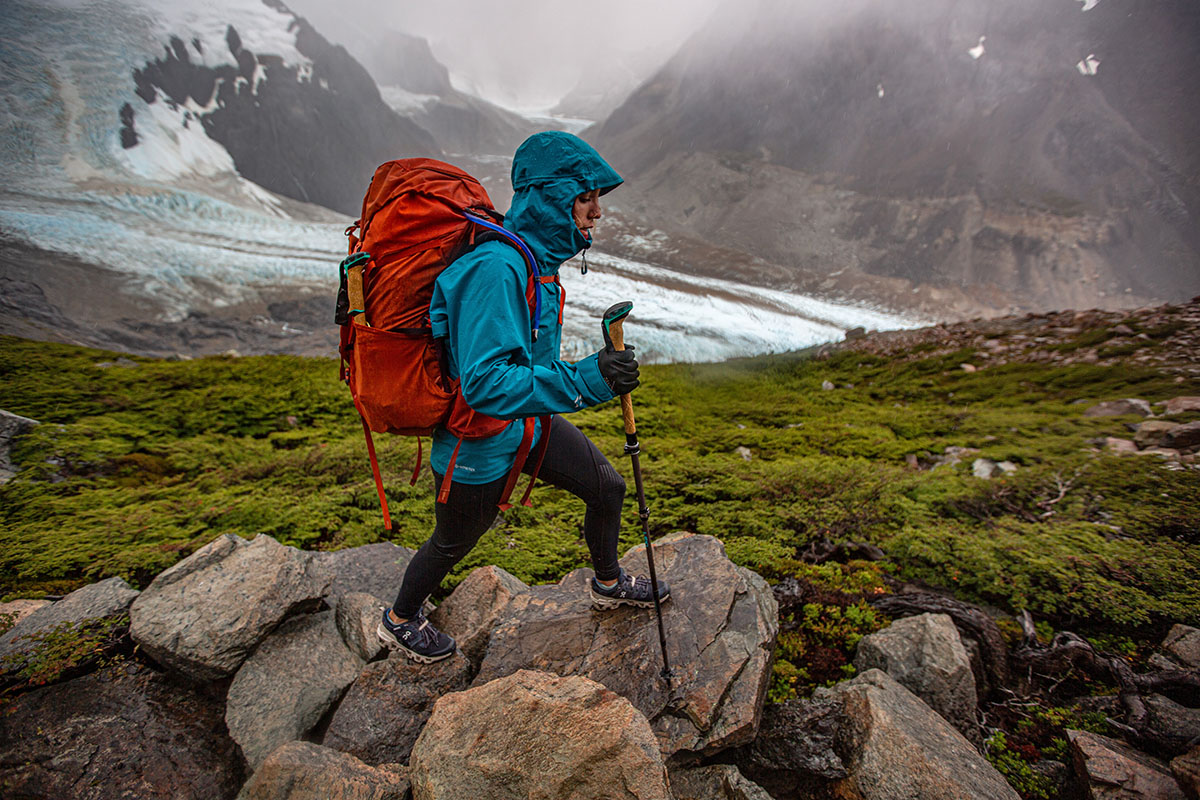 Next up is Merrell's Moab Speed GTX, which is a lighter and more modern take on their flagship Moab hiker. Like the Cloudwander, the Merrell has a trail runner-like appearance but with a healthy dose of protection and support, including generous toe and heel coverage and a firm midsole that provides ample stability for day hikes and light backpacking missions. Durability lines up well, too, and the Moab Speed is both lighter and cheaper than the Cloudwander at 1 pound 3.3 ounces and $160. Neither shoe is a great breather, and the Merrell has a similarly firm feel underfoot, although the more accommodating shape and better out-of-the-box comfort give it the edge in terms of comfort. Given these advantages, we think most hikers will be happier with the Moab Speed.
If you like the support of the Cloudwander but want something a little more traditional, Adidas' Terrex Swift R3 GTX could be the ticket. For a reasonable 1 pound 8 ounces, the Terrex includes a capable outsole that feels reminiscent of a hiking boot, great protection at the front and sides, and a proven Gore-Tex liner that's waterproof but still decently breathable. We also appreciate the sleek and modern design, which gives the Cloudwander a run for its money in terms of everyday versatility. Like the On, the Adidas shoes are on the stiff side (they did loosen up a little after a brief break-in period), but the tradeoff is great support for navigating tricky terrain or carrying a pack. In the end, both are capable lightweight hikers, but we give the edge to the Terrex for its similar on-trail performance at a $20 savings.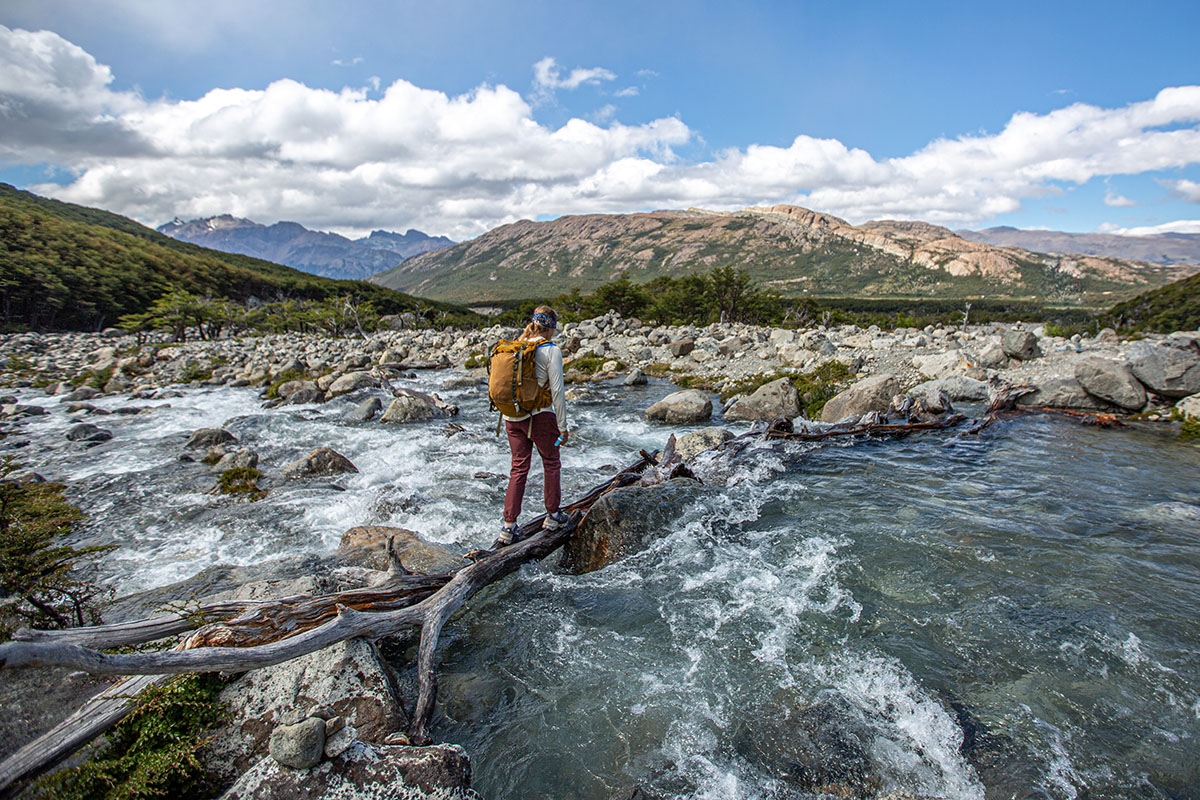 Last but not least, On offers two other options in their hiking lineup: the Cloudrock 2 and Cloudtrax. Both designs are taller than the Cloudwander—the Cloudrock is a mid-height boot, while the Cloudtrax splits the difference between a shoe and boot—but boast many of the same features. These include CloudTec outsoles, Missiongrip rubber, and Speedboat plates in the midsole for added support. In parsing out the differences, the Cloudtrax is the more casual hiker for mellow trails (it's also available in a non-waterproof version for those who live in drier climates), while the Cloudrock is the better match for backpackers looking to maximize stability, support, and protection. However, both alternatives are heavier by around 5-6 ounces and will run you an additional $30-$40. In our opinion, the Cloudwander is the most well-rounded design in On's lineup and plenty of shoe for most hikers.
If you're thinking about buying gear that we've reviewed on Switchback Travel, you can help support us in the process. Just click on any of the seller links above, and if you make a purchase, we receive a small percentage of the transaction. The cost of the product is the same to you but this helps us continue to test and write about outdoor gear. Thanks and we appreciate your support!
Depending on the seller, most products ship free in the United States on orders of $50 or more. International shipping availability and rates vary by seller. The pricing information on this page is updated hourly but we are not responsible for inaccuracies.
Read More From Switchback Travel