The Outdoor Research Transcendent Hoody is a longtime favorite that was updated for 2019 with wider baffles, a softer shell and lining, and responsibly sourced insulation. The new version is among the more comfortable down jackets on the market, and the 650-fill down provided all the warmth I needed for around-town wear. The Transcendent isn't the lightest or coziest option out there, but it's a capable companion for daily use and casual winter outings. Below we break down the Transcendent's warmth, weight and packability, weather resistance, fit and sizing, and more. To see how it stacks up to the competition, see our article on the best down jackets.

Performance
Warmth
The Outdoor Research Transcendent Hoody quickly has become my go-to down jacket for casual cold-weather outings when comfort is a top priority. The supple lining feels exceptionally cozy against the skin, and the 650-fill-power goose down—although middle-of-the-road in terms of quality—keeps me toasty down into the 40s Fahrenheit with just a t-shirt on underneath. When the temperature really begins to drop, the accommodating fit allows plenty of room to slip a layer underneath. Realistically, it can't quite compete in warmth with premium down jacket options like the Patagonia Down Sweater Hoody (800-fill down) or performance-oriented Feathered Friends Eos (900-fill), but the OR Transcendent is a great match for everyday use during the shoulder seasons. In fact, it's my preferred puffy for all non-technical outings.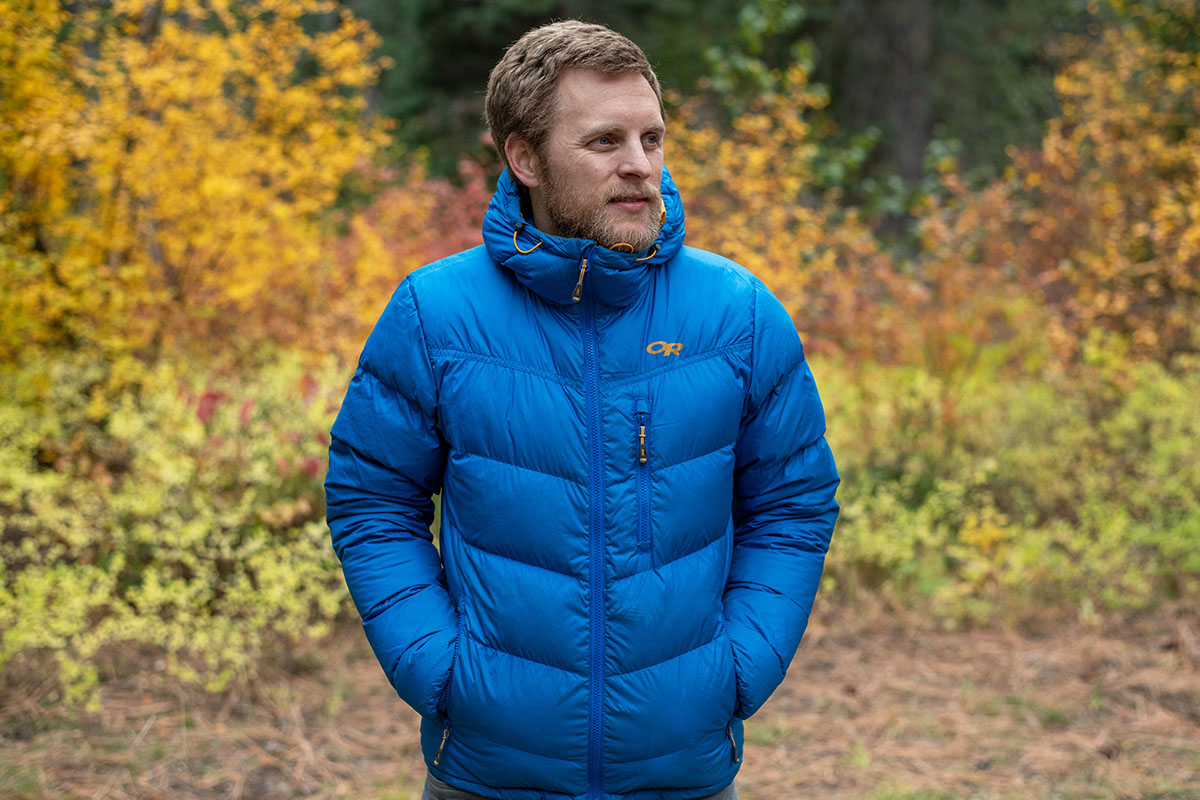 However, the Transcendent Hoody does fall short for more demanding outdoor use. While backcountry skiing, for instance, I prefer my Arc'teryx Cerium LT (850-fill down and 10.8 ounces), which packs down smaller, is considerably warmer, and easily layers underneath my shell when needed. It's also worth mentioning that the down inside the Transcendent's baffles has shifted considerably over the past year and doesn't have the same loft that it once did. While I expect this to eventually happen over time, my three-year-old Arc'teryx—which has been stuffed away for many more outings than the OR—is in much better shape. At the end of the day, the OR is offered at a lower price point than the Arc'teryx and is a really good value, but there are compromises in terms of build quality.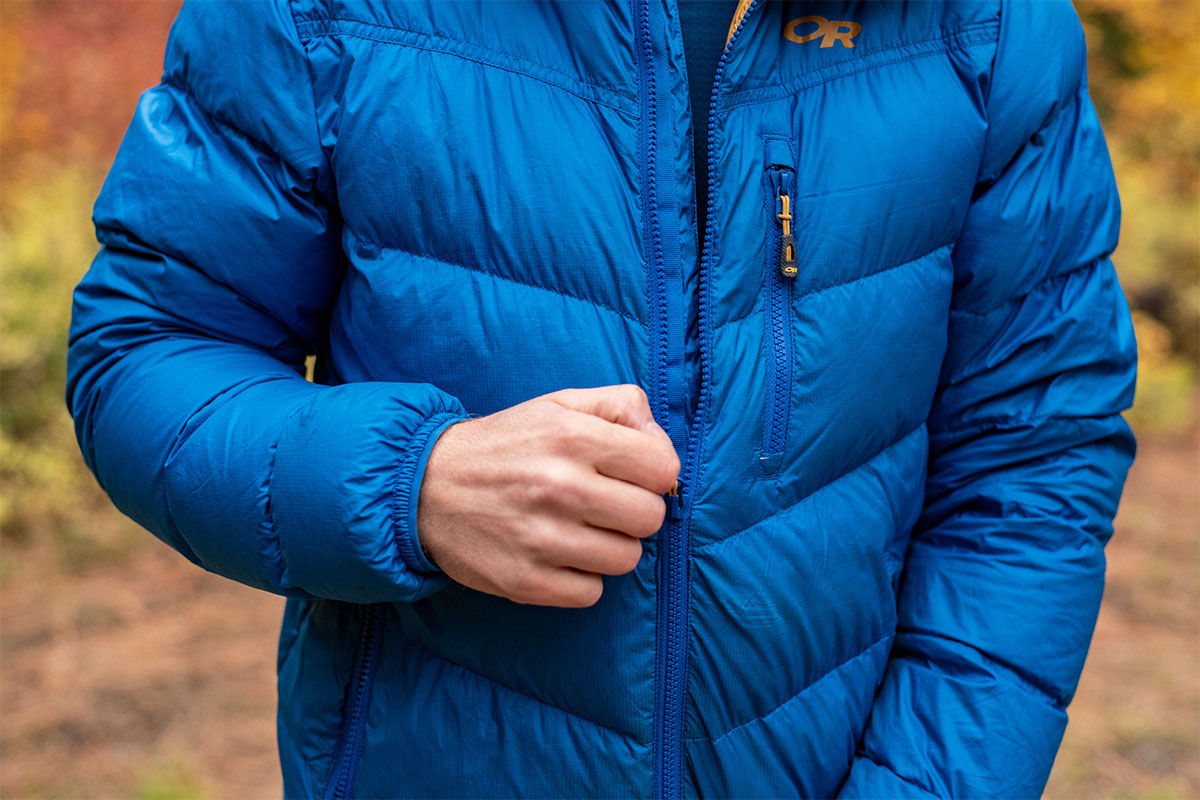 Weight and Packability
Weighing in at 16.2 ounces on my scale for a men's medium (the listed weight is 16.4 ounces), the OR Transcendent Hoody is fairly heavy for a down jacket. You can shave significant weight with performance-focused options like the Arc'teryx Cerium LT Hoody (10.8 ounces) or Feathered Friends Eos (10.6 ounces), which come with higher-fill-power down (and higher price tags). However, the Transcendent starts to look more favorable when pitted against other more casual options like the Patagonia Down Sweater Hoody (15.1 ounces) and Marmot Highlander Down Hoody (17.7 ounces). All in all, while the OR isn't my first choice for technical adventures where space and weight are at a premium, it is competitive in the casual realm.
Given its weight and lower-quality 650-fill down, the OR Transcendent Hoody doesn't pack down super small. Outdoor Research conveniently includes a two-sided zipper on the hand pocket, but it ends up being rather bulky at 9 x 8 x 5 inches once stuffed away. For comparison, that's about the size of two Cerium LTs. That said, the Transcendent Hoody offers more warmth and packs down smaller than synthetic or fleece alternatives, which is good news for those who want a warm jacket that they can stuff into a duffel bag and travel with.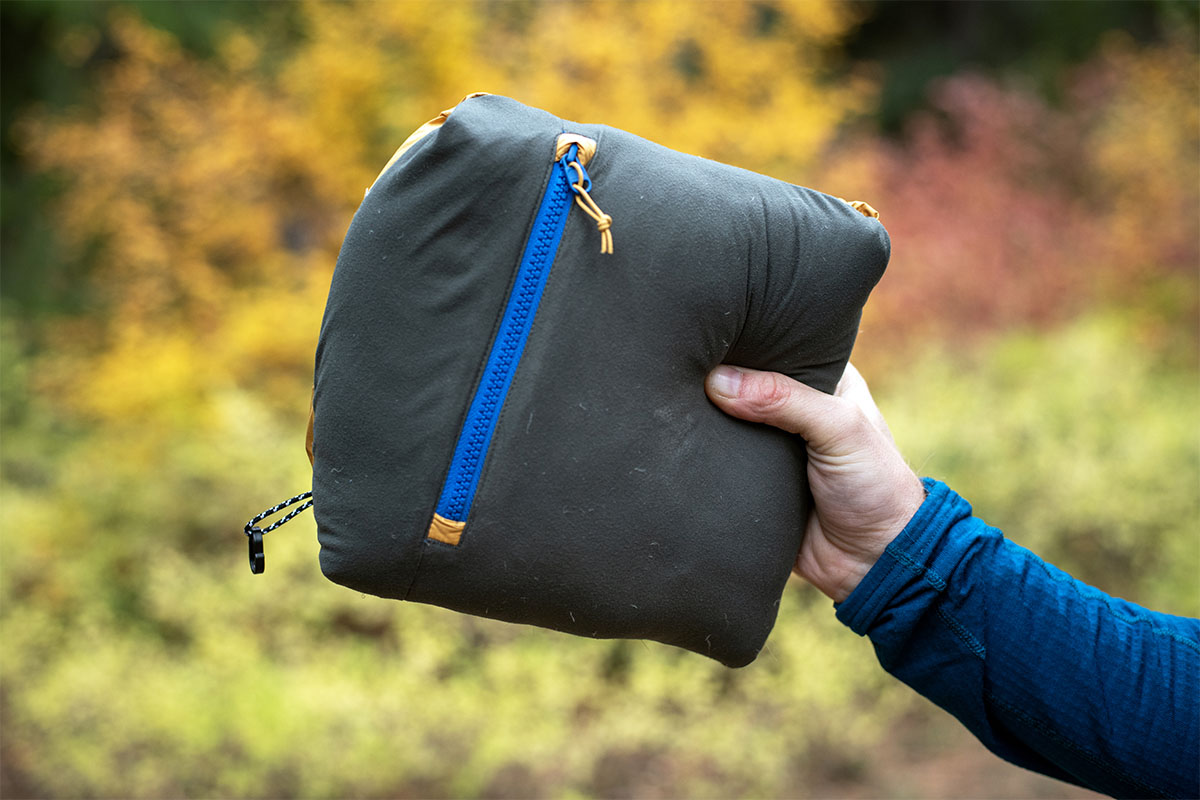 Weather Resistance
The Transcendent Hoody offers reasonable weather protection for around-town use, but I wouldn't expose the jacket to sustained rain or wind in the backcountry. Despite its water- and wind-resistant polyester shell, the jacket quickly absorbs rain and snow, and I've been able to feel strong winds through the stitching and thin baffles. It's true that most puffy jackets aren't designed to shed heavy moisture, but the Transcendent seems especially prone to wetting out. If you live in a place where winter is more wet than cold (such as the Pacific Northwest), I recommend looking into a synthetic jacket. They don't offer the same warmth-to-weight ratio as down jackets, but shed moisture better and continue to insulate when wet. Or, you can always carry a rain shell in your pack, although the cut of the Transcendent isn't optimal for wearing a layer overtop (for more on that topic, see our "Fit and Sizing" section below).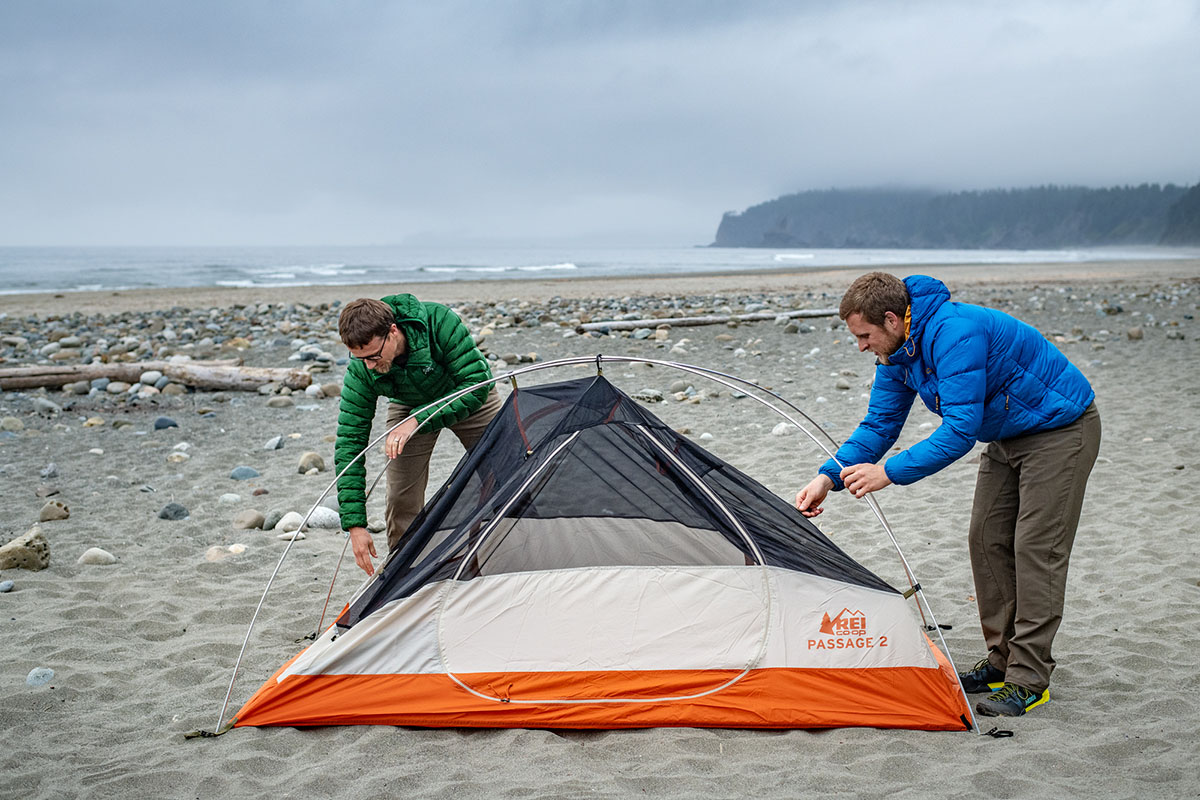 Construction and Durability
We've found that Outdoor Research products generally are middle-of-the-pack in terms of build quality, but the Transcendent Hoody is holding up impressively well. After almost a full year of regular use—which has included everything from backcountry skiing to van-building projects in my garage—the jacket has shown very little wear. While the 20-denier shell fabric initially gave me pause, it remains free of any rips or tears. After careful inspection, there isn't a seam out of place and the zippers continue to operate smoothly without issue. However, as mentioned above, the down has shifted significantly and lost some of its loft. And the jacket does seem to collect dirt and grime a bit easier than others I've worn, and particularly around the cuffs, but washing is relatively straightforward (we recommend using a gentle wash cycle and throwing tennis balls in the dryer to fluff it back up).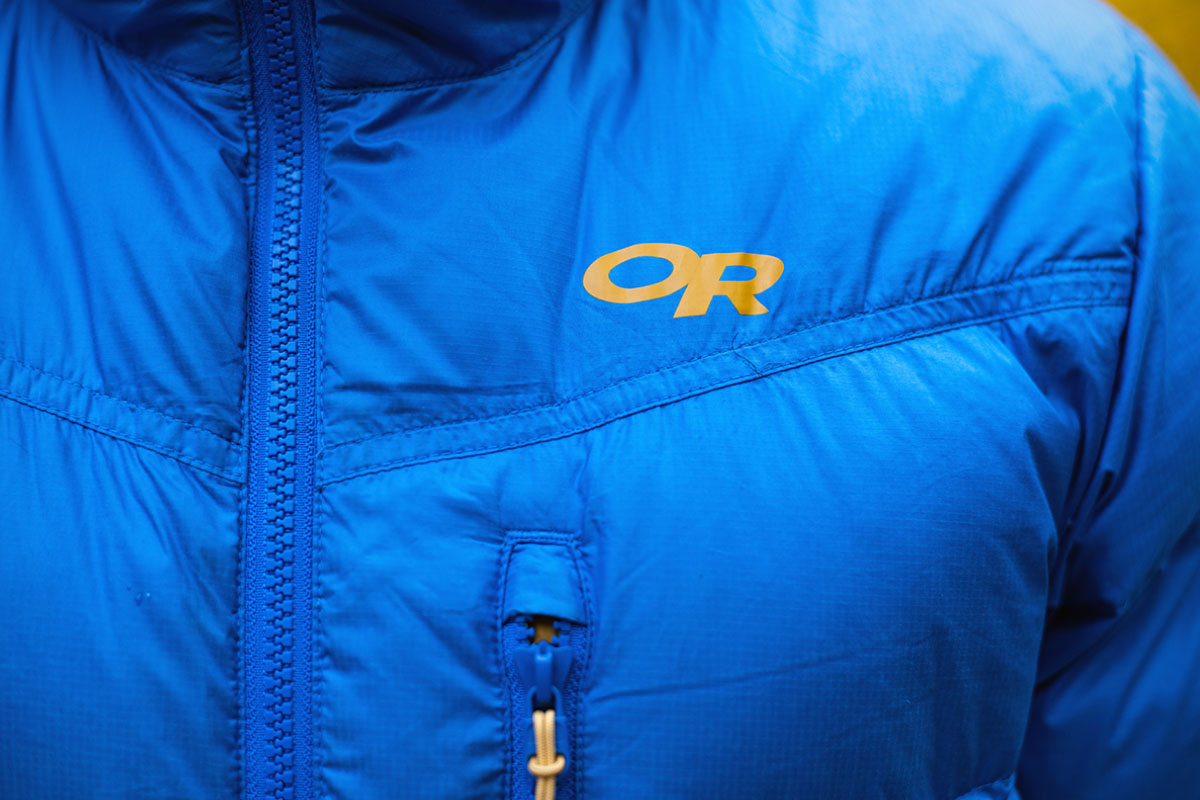 Fit and Sizing
Outdoor Research describes the Transcendent's fit as "standard," and I agree with that designation. All told, the men's size medium fits true to size (for reference, I'm 5'9" and 160 pounds) and provides just enough room for a midweight layer underneath, without feeling overly baggy with just a t-shirt on. That said, those who want to wear a shell over the Transcendent may need to look elsewhere—I found it to be too bulky. While it's certainly possible to layer overtop (I was able to add my large ski shell), mobility became restricted and it generally was uncomfortable. If you're searching for a warm puffy to serve as an occasional midlayer, I recommend checking out The North Face Sierra Peak or Arc'teryx Cerium LT Hoody, both of which have trimmer fits.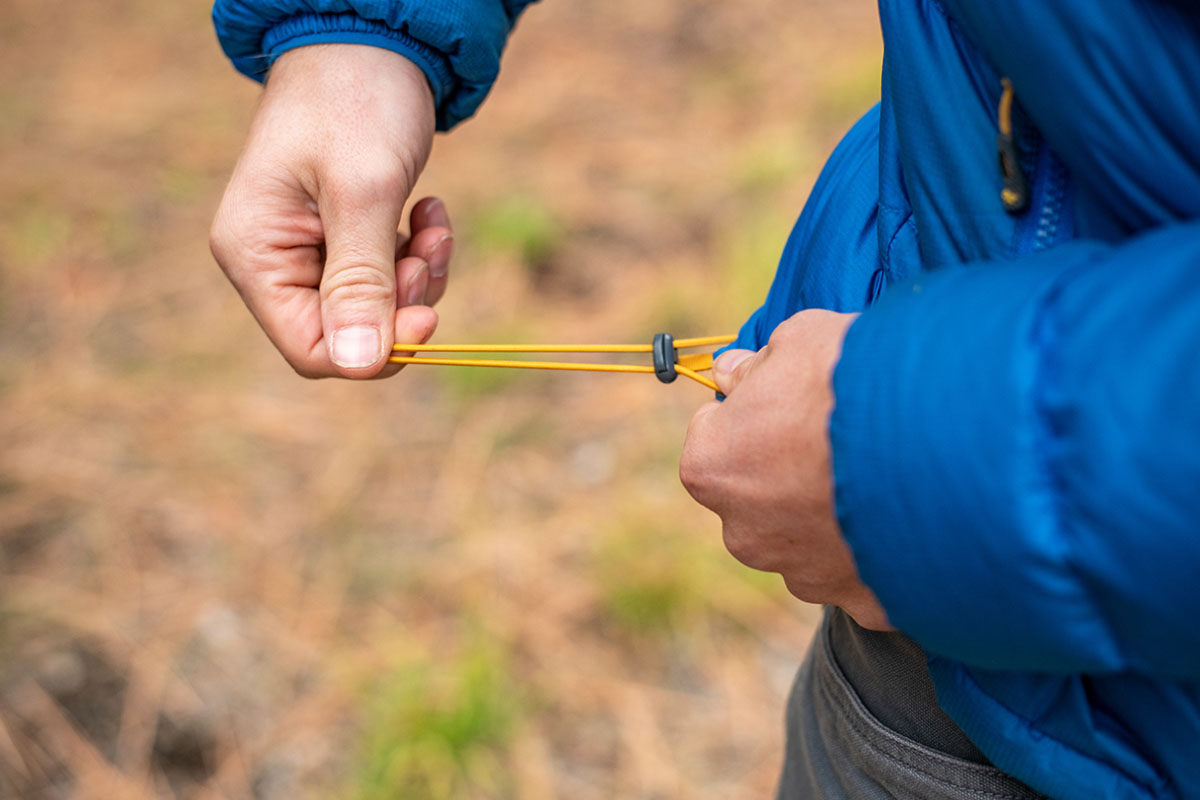 Other Versions of the Outdoor Research Transcendent
We tested the men's Transcendent Hoody for this review, but Outdoor Research also makes a non-hooded Transcendent Jacket ($199) and Transcendent Vest ($149), which offer less coverage but have similar constructions including 650-fill down and 20-denier shells. For those who want a little extra warmth and weather protection, OR's new Super Transcendent Hoody is worth a look. The jacket uses the same responsibly sourced 650-fill goose down as the regular hoody (although more of it) but beefs up the front and shoulders with 50-denier, 2-layer Gore-Tex Infinium Windstopper fabric. However, this comes with both cost and weight penalties (the jacket runs $349 and clocks in at 26.7 ounces). In the end, we think the Transcendent Hoody tested here is the better bang for your buck. Women's versions are also available in all of these options for the same price as their men's counterparts.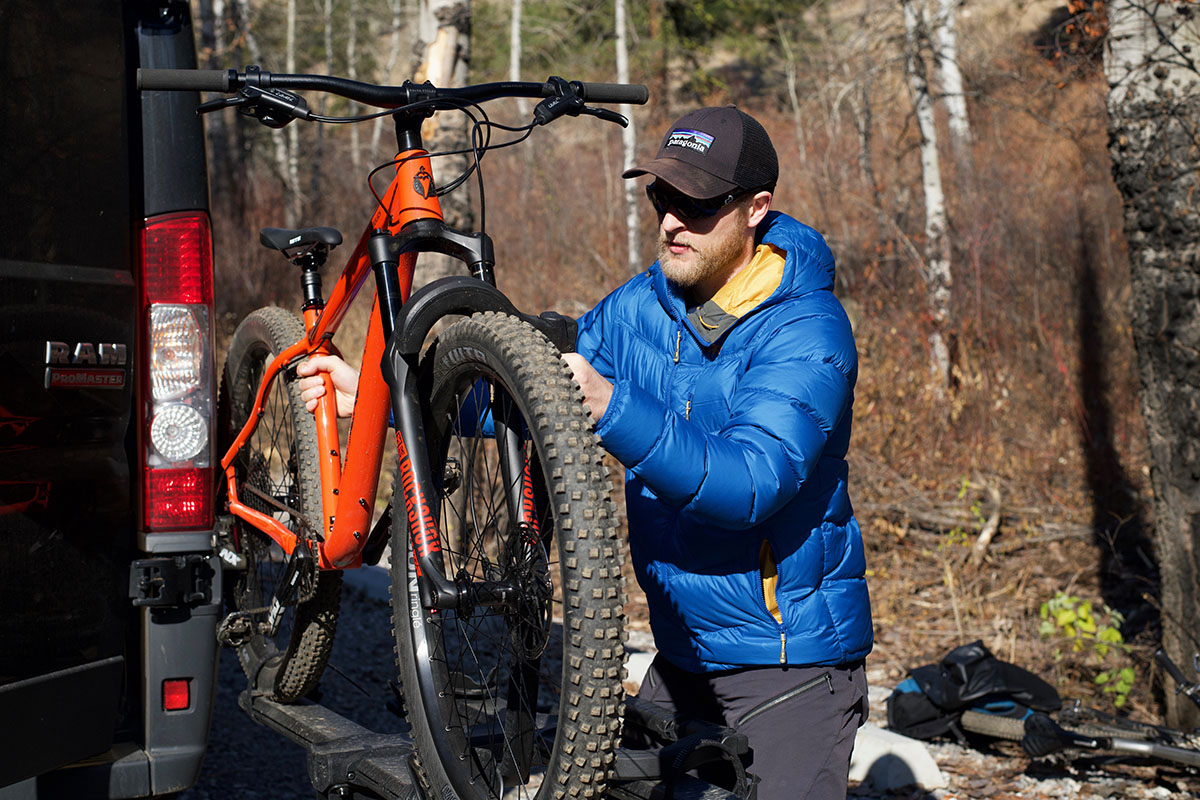 Sustainability: Responsibly Sourced Goose Down
Outdoor Research has joined other outdoor brands like Patagonia and REI in using responsibly sourced materials for their products. In the case of the Transcendent Hoody, OR partnered with the Responsible Down Standard (RDS) for the 2019 update to this jacket. In short, the RDS uses approved third parties to audit each step of the supply chain process to ensure their standards are met. This includes making sure that animals are not force-fed, there's no live-plucking, and each animal is looked after in a responsible way throughout its lifetime. The use of responsibly sourced materials is becoming increasingly common in outdoor gear, and it's nice to see another big brand like Outdoor Research join the ranks.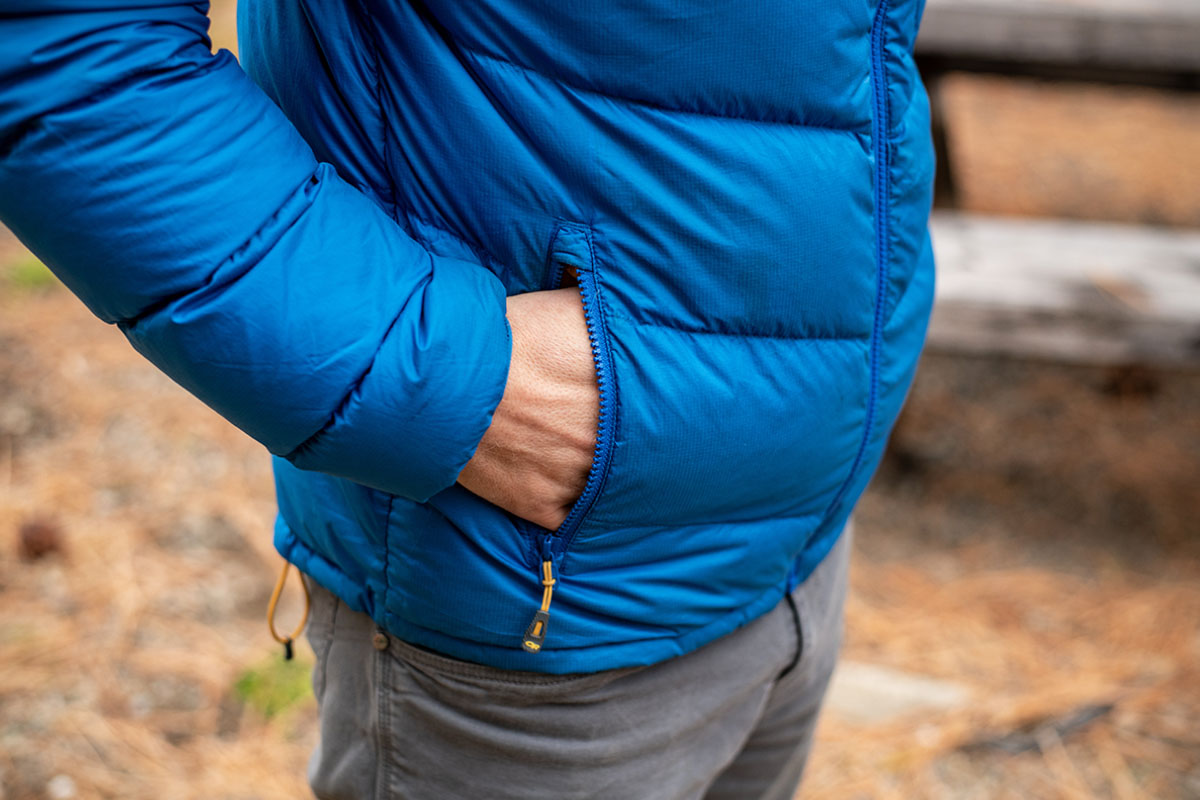 What We Like
A nice down jacket option for everyday use and casual outdoor outings at a good price.
The shell fabric and lining are extremely soft and comfortable, and the fleece-lined hand pockets are exceptionally cozy on cold hands.
Fit allows ample room for laying underneath.

What We Don't
Not the warmest or lightest down jacket option available. For backcountry use, we favor more performance-focused models with higher-quality down. 
650-fill down isn't super compressible and has shifted over the course of a year of testing.
The 20-denier shell feels fragile, although we haven't had any durability issues to date.
The jacket shows stains quite easily, and particularly around the cuffs. 


Comparison Table
The Competition
The Outdoor Research Transcendent Hoody is one of our favorite casual down jackets thanks to its above-average comfort and reasonable price. In the same category is Patagonia's Down Sweater, which sits at the top of our down jacket round-up. Compared to the Transcendent, the Patagonia uses higher-quality 800-fill down that is warmer and more compressible (although slightly less of it). It also features a more robust 20 x 30-denier face fabric (the Transcendent uses 20D) with a DWR coating, which does a better job of standing up to daily abuse and shedding moisture. Both are nice options for around-town wear, but we give the nod to the $55-pricier Patagonia for its premium materials and ability to cross over more easily into the performance realm.
An interesting new release for 2019-2020 is The North Face Sierra Peak Hoodie. At $279, it's the same price as the Patagonia Down Sweater above yet even more of a backcountry piece. You get 800-fill-power down that provides solid levels of warmth, great packability with a 10 x 15-denier shell, and an athletic fit that works well on its own or for layering. A big upside of the Sierra Peak is that is still looks the part for everyday use like the Transcendent Hoody, but it's considerably lighter at 10.6 ounces and stuffs into a pack much more easily. If you're looking for more outdoor prowess than the Outdoor Research while staying under $300, give the Sierra Peak a serious look.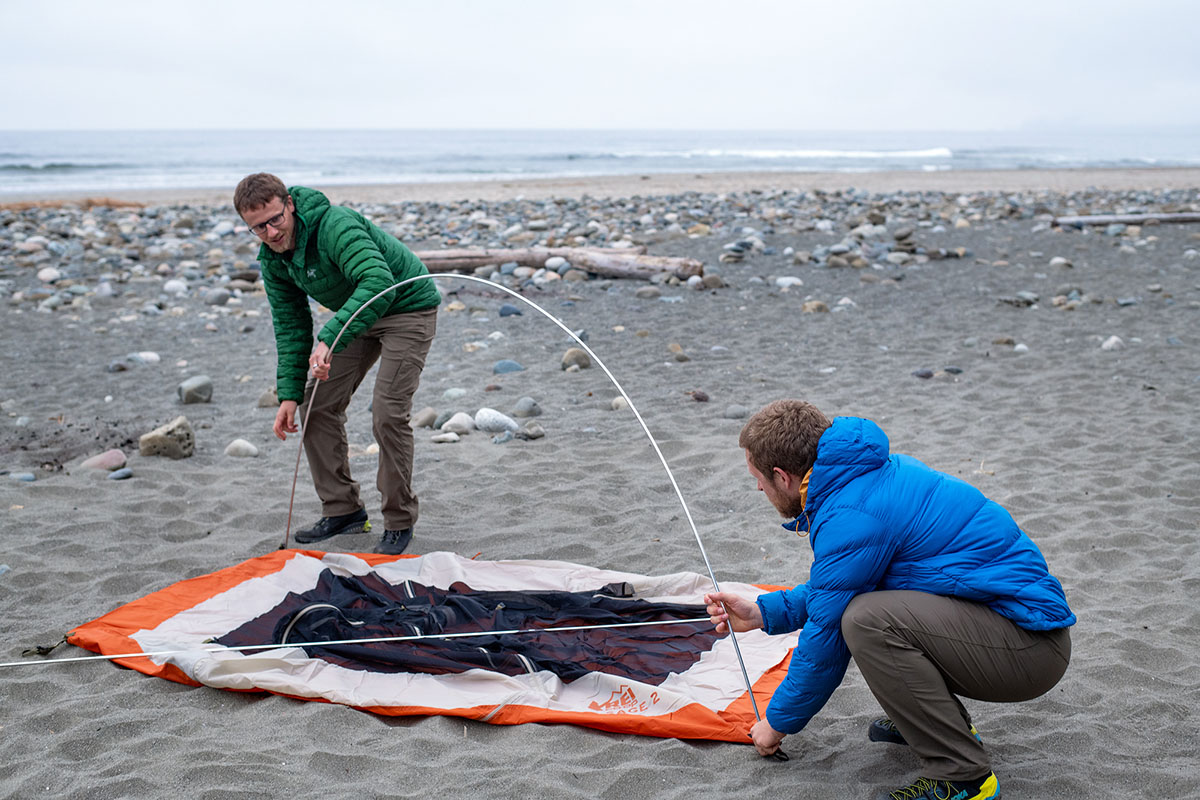 For an even bigger step up in performance, Arc'teryx's Cerium LT Hoody is a premium down jacket option at a whopping $379. It's much lighter than the Transcendent at 10.8 ounces, packs down to about half the size, and is noticeably warmer. Additionally, the unique blend of 850-fill down and Coreloft synthetic insulation (used at the cuffs, underarms, collar, and shoulders) performs better in wet weather, and the protective StormHood does a great job at sealing out wind. If you're looking for a lightweight down piece for activities like backpacking or backcountry skiing, the Cerium LT is one of our favorites. However, if you simply want a cozy jacket to wear around town, the Transcendent is super comfortable and significantly cheaper.
A final option to consider is Marmot's Highlander Down Hoody. Also updated for 2019, the jacket retained its 700-fill and water-resistant down, but now features a Pertex Quantum shell which helps shed moisture and repel wind. Marmot also reduced the size of the baffles and gave the jacket a slightly trimmer fit, which make it the better option for layering under a shell (we struggled with mobility when adding a ski shell over the Transcendent). The Highlander is heavier than the 16.4-ounce OR at 17.7 ounces and similarly bulky when packed down, but the additional heft shouldn't be a major concern for most casual users. Both jackets retail for $225, but in the end, we give the edge to the Transcendent for its superior comfort and lower weight. 
If you're thinking about buying gear that we've reviewed on Switchback Travel, you can help support us in the process. Just click on any of the seller links above, and if you make a purchase, we receive a small percentage of the transaction. The cost of the product is the same to you but this helps us continue to test and write about outdoor gear. Thanks and we appreciate your support!
Depending on the seller, most products ship free in the United States on orders of $50 or more. International shipping availability and rates vary by seller. The pricing information on this page is updated hourly but we are not responsible for inaccuracies.
Read More From Switchback Travel