Alpine pursuits demand a balance of weather protection, breathability, and mobility that few jackets are able to achieve. Enter the Patagonia Galvanized. Combining the waterproofing of a hardshell with the stretch and comfort of a softshell, the Galvanized joins a growing group of hybrid-like jackets that work well for high-output activities in inclement weather. After a winter of ice climbing and ski touring in the women's version, I can confidently say I will only revert to a standard hardshell in the wettest, most extreme conditions. Below we break down the Galvanized's weather protection, breathability, build quality and durability, features, fit and sizing, and more. To see how it stacks up to the competition, see our articles on the best softshell jackets and best hardshell jackets.

Performance
Weather Protection
Featuring the tough, 3-layer construction you expect from a hardshell but with a stretchy face fabric, the Patagonia Galvanized Jacket provides complete protection from the elements without restricting movement. The jacket is built around Patagonia's top-end H2No Performance Standard membrane and a durable water repellant (DWR) finish. This proprietary fabric is similar to Gore-Tex Active, prioritizing breathability without making a major sacrifice in water- and windproofing. Taped seams, watertight zippers, a helmet-compatible hood with subtle brim, and very functional cuffs round out the design, resulting in a shell that truly keeps the elements at bay.
I tested the Galvanized Jacket while ice climbing in the Canadian Rockies and skiing in central Oregon. Up north, I faced wind chills dropping below zero degrees Fahrenheit, while in the Cascades my winter was rife with heavy—and often wet—snowfall. For the whole gamut, the Galvanized was an extremely effective layer between me and Mother Nature. The high collar and soft chin guard allowed me to tuck my face inside during strong gusts of wind, and the hood offered an ideal amount of coverage with easy-to-use adjustments that gave great security and visibility. In most cases, water quickly beaded on the face fabric and rolled off, although during one particularly wet day of skiing at Mt. Bachelor, moisture soaked past the DWR finish. That said, this external coating is just the jacket's first line of defense, and the internal waterproof membrane kept any moisture from penetrating through to my midlayer.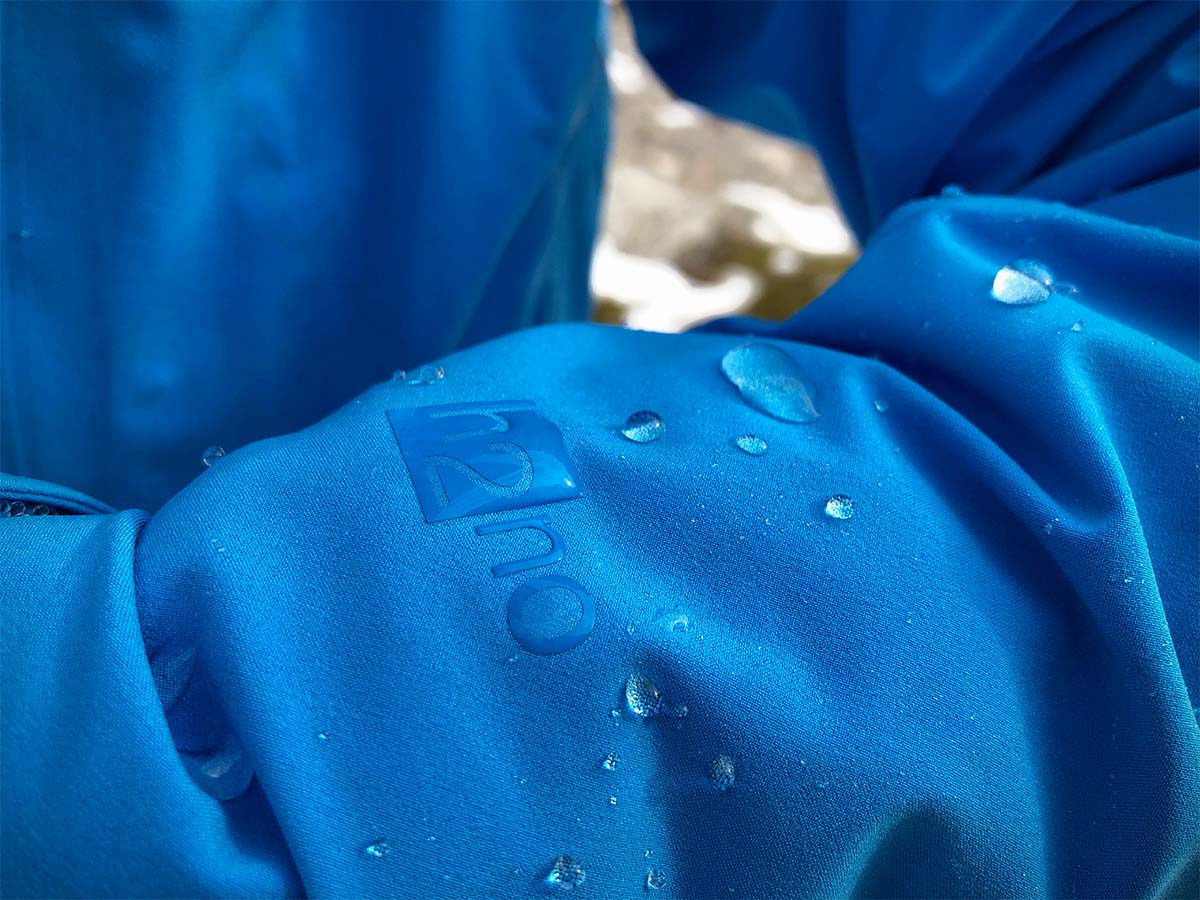 Mobility and Comfort
As mentioned above, the Galvanized's solid weatherproofing doesn't come at the cost of mobility thanks to the addition of 12-percent spandex into the design. Held up against popular hardshell jackets like the Arc'teryx Beta AR and Patagonia's own Pluma—both of which are 100-percent nylon—the difference is tangible. During testing, the increased mobility of the Galvanized allowed me to swing ice tools above my head with no restriction while the jacket stayed securely put under my harness. And as an added bonus, the Galvanized is also quiet and supple, without the noise or feel of stiff hardshell fabric.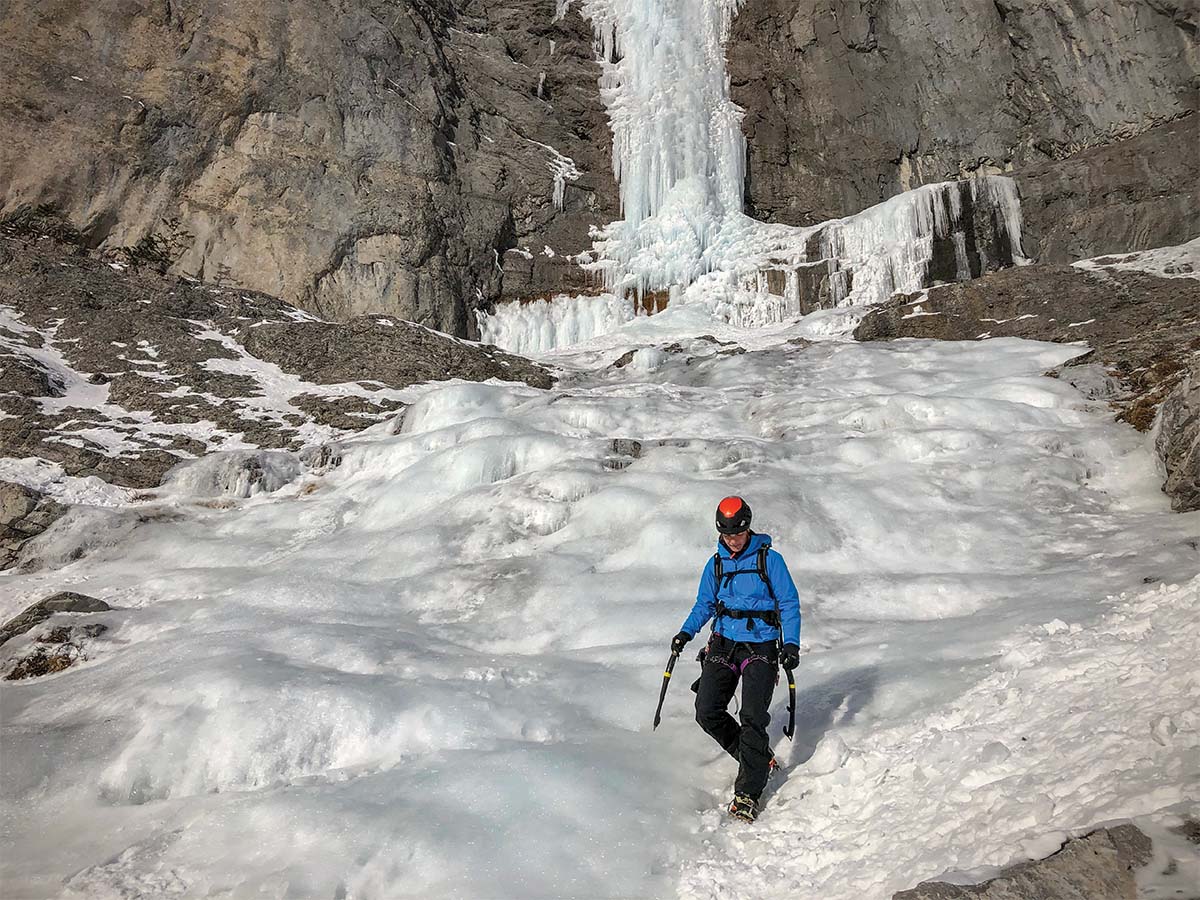 Breathability
Patagonia's H2No performs similarly to Gore-Tex Active, the most breathable fabric in the Gore line-up that's featured in jackets like the Outdoor Research Optimizer and REI Co-op Drypoint GTX. They also included a jersey-knit backer to wick moisture, and the lining proved far softer and suppler even when wearing a T-shirt than the sticky, crinkly interior typical of a hardshell (designs with Gore's C-Knit backer are an exception). Two-way pit zips, which are new to the latest version of the Galvanized, provide additional ventilation while hiking or on the skin track, although I found them quite hard to close without the help of a friend. That said, I build heat quickly during aerobic activity and often sweat out of hardshell jackets but have been able to wear the Galvanized throughout the most strenuous of uphill climbs without overheating—an impressive feat both for myself and the jacket.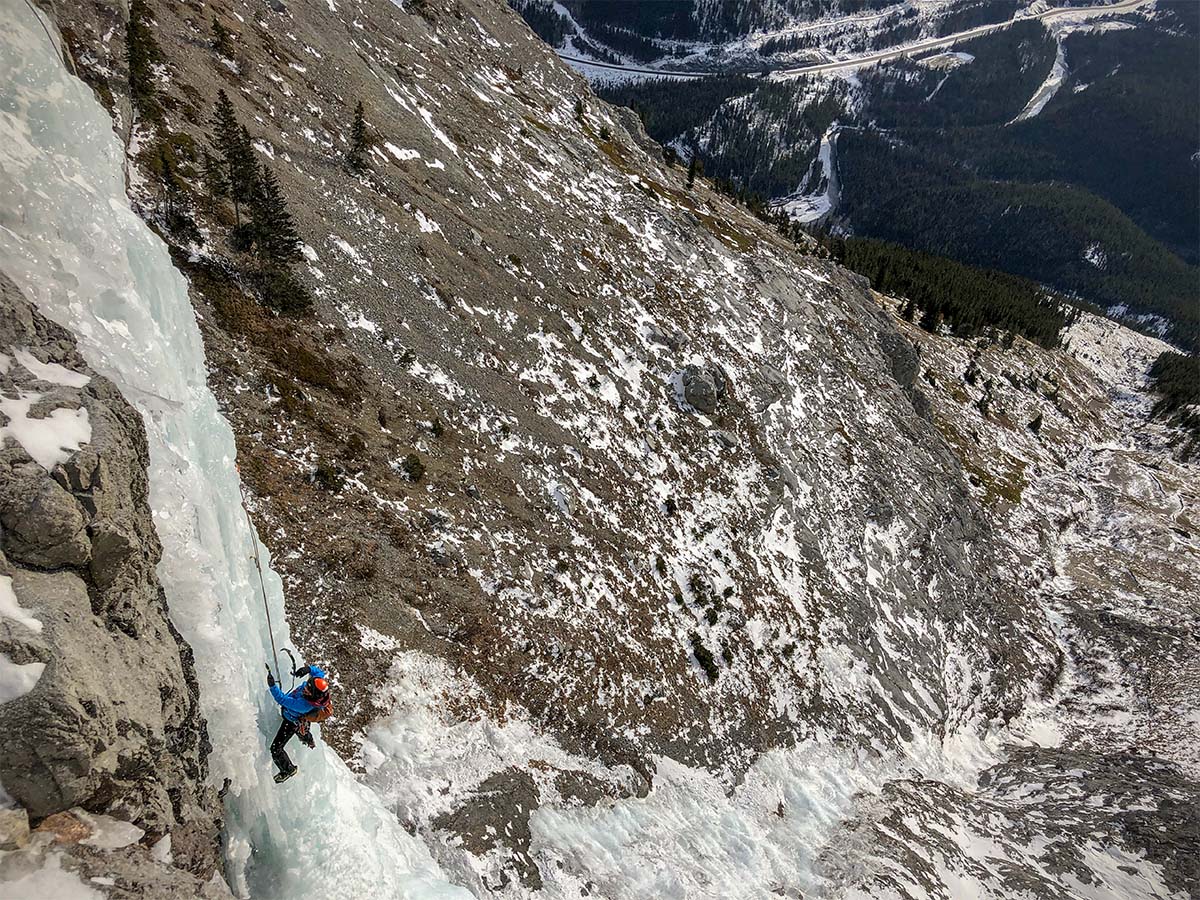 In comparison to other leading models, the breathability of the Galvanized is almost unmatched. We've found it surpasses Gore-Tex Pro designs like the Arc'teryx Beta AR Jacket, and even beats out the Gore-Tex Active construction of the Outdoor Research Optimizer (which lacks pit zips). Outdoor Research's 3-layer AscentShell, as seen on their Interstellar Jacket, is similarly breathable, although its thin construction and air-permeable nature translates to less durability and weatherproofing overall. The Interstellar also doesn't have pit zips, instead relying solely on the breathability of the fabric for airflow. In the end, we give the nod to the Galvanized for its great breathability and ventilation that does not compromise toughness and weather protection.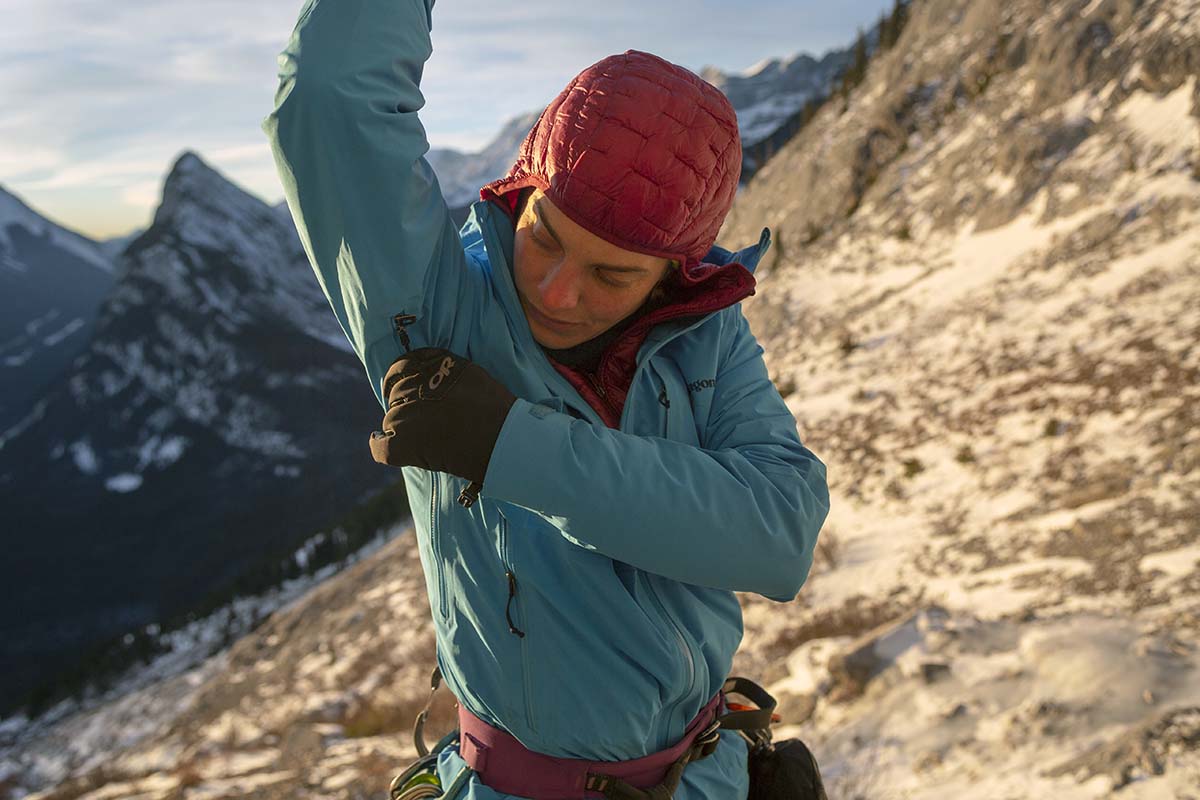 Weight and Packability
The weight of the Patagonia Galvanized reflects its hybrid build. Clocking in at 15.5 ounces for a women's medium, it is certainly on the heavy end of the spectrum for hardshell jackets. In comparison, Outdoor Research's similarly stretchy (but minimalist) Interstellar tips the scales at a feathery 10 ounces, while the uber-popular Arc'teryx Beta AR Jacket weighs in at 13.4 ounces for a women's medium. Among softshell options, the Galvanized is a little lighter than the Arc'teryx Gamma LT (16 oz.), which offers similar levels of stretch and breathability but is lacking in weather protection. As far as packability goes, the Galvanized does not stuff into its pocket or accompanying stuff sack like some of the competition (you can roll and cinch it into its own hood). However, with its high levels of breathability and mobility, you're certainly more likely to keep it on throughout the day than most hardshells.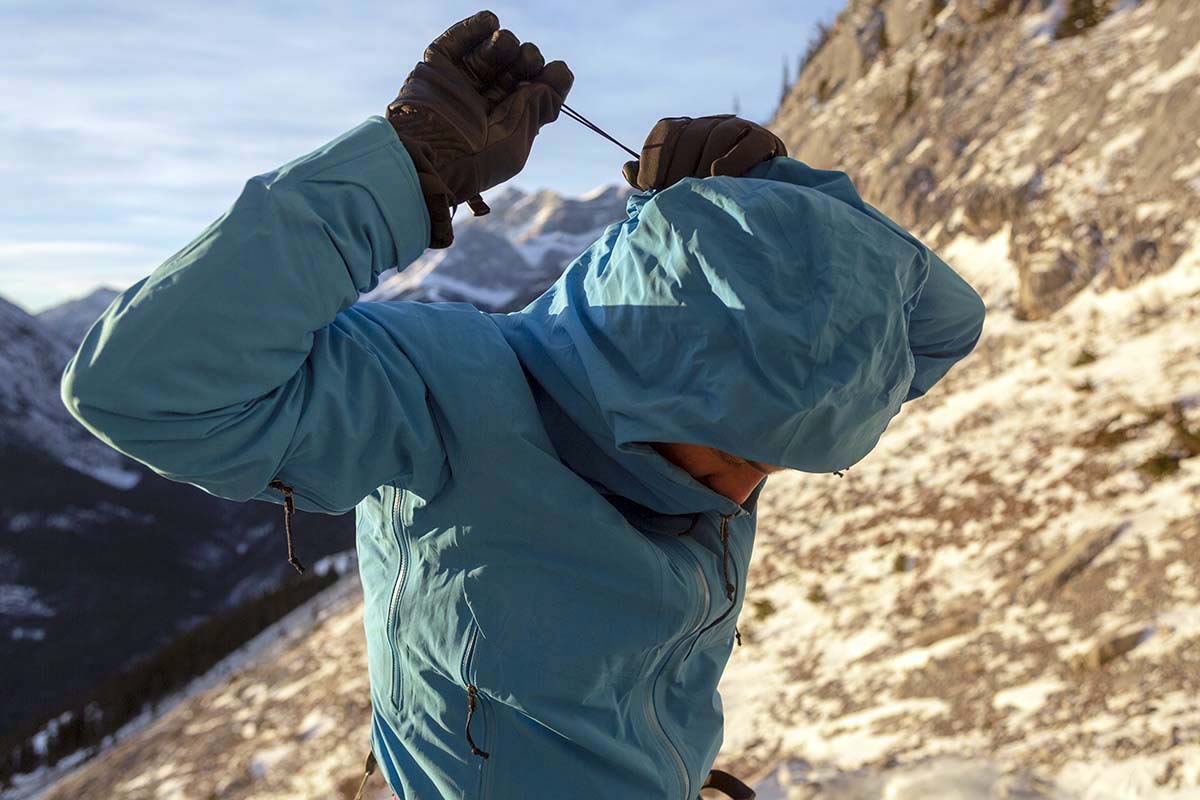 Build Quality and Durability
In our opinion, the Galvanized is a perfect example of Patagonia's painstaking attention to detail and quality. The Galvanized is seam-less across the shoulders and back, meaning that there are no pressure points under a backpack, no vulnerable connection points where precipitation hits hardest, and—equally importantly—maximum stretch where it matters most. Furthermore, all the jacket's features are nicely engineered for durability, ease of use, and a streamlined appearance, including the adjustment points at the cuffs, hem, and hood, and the pocket placement and zippers. Finally, the Galvanized is made with a tough 50-denier face fabric, making it more robust than the majority of popular hardshells.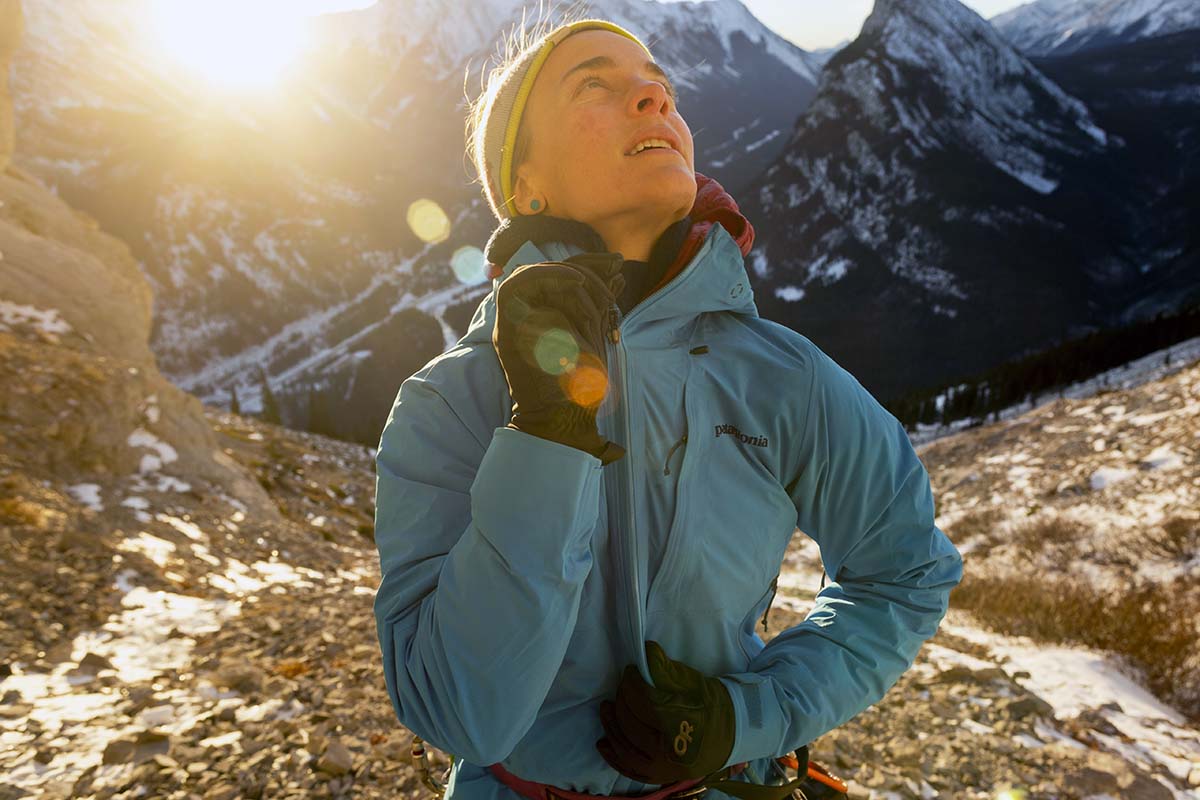 Features: Hood, Hem, Cuffs, and Pockets
A fully featured jacket, the Patagonia Galvanized shines in terms of adjustment, storage, and overall ease of use. The hood and hem are modifiable with a streamlined cord-lock system that tucks out of view yet still allows for simple, one-handed tightening and loosening (these do take some time to get used to, but after some practice, they're quite easy). The cuffs were one of my favorite features, with nicely designed Velcro closures and a polyurethane underside that holds tightly to gloves. When I was swinging tools above my head, my sleeves felt noticeably secure, and I loved the ease of adjustment when swapping out gloves. Additionally, the pockets are well-placed and easy to open and close. Sometimes I find that "harness-compatible pockets" are still difficult to access with a harness or backpack on, but I have no complaints with the Galvanized. All that said, the only feature I found myself wanting was an internal dump pocket, which can be great for warming large items like skins or gloves close to the body.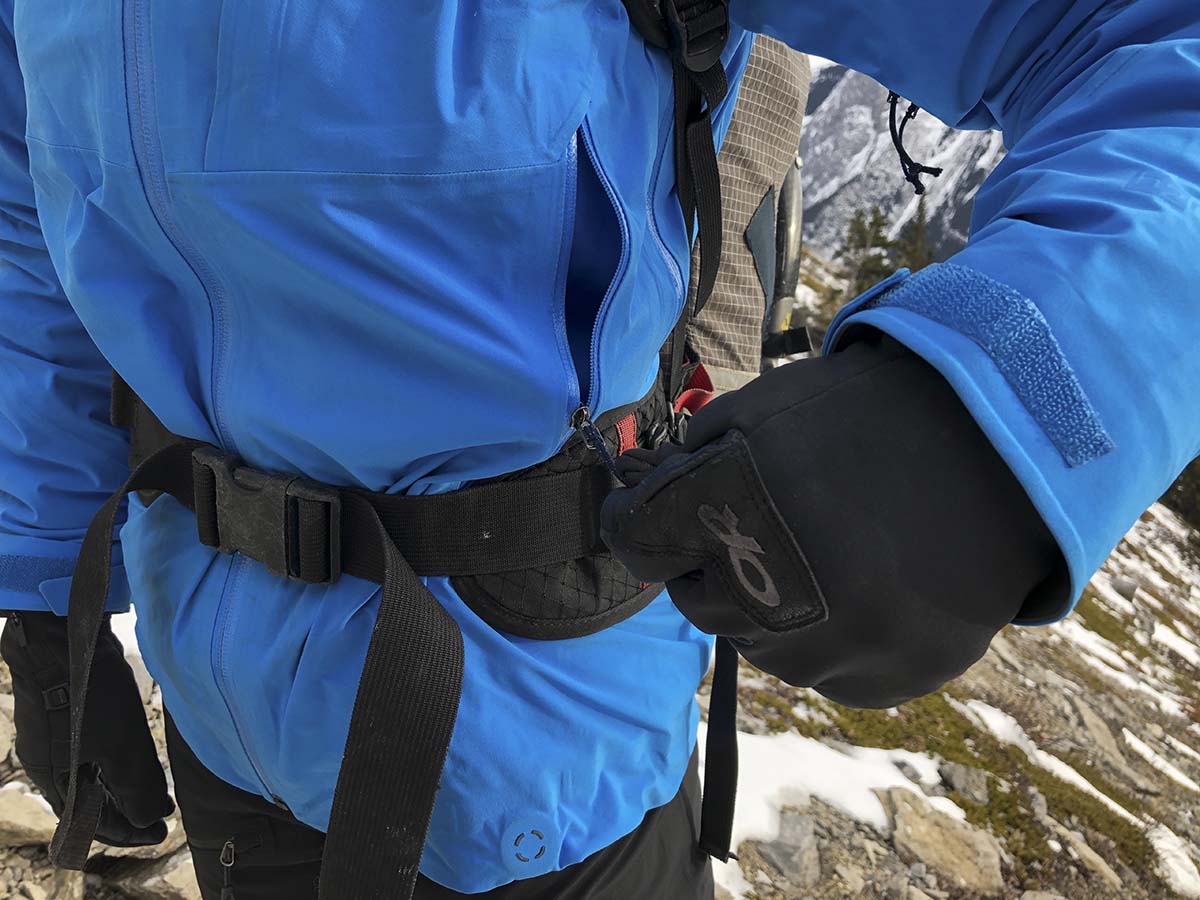 Fit and Sizing
I routinely wear a size small in all things Patagonia, and the Galvanized is no exception. Its trim fit provides enough room for me to wear a baselayer and Micro Puff Jacket underneath, while still allowing ample freedom of movement. If needed, I could even add another jacket or vest without compromising comfort or mobility. The long hem of the Galvanized (plus the stretch) offers full coverage and means that it sits well below my harness and backpack waist belt without threatening to rise up. For those used to Patagonia fit and sizing, it should be noted that the Galvanized is not an ultralight shell, and thus is not as streamlined as the also "slim fit" M10 Anorak, for example.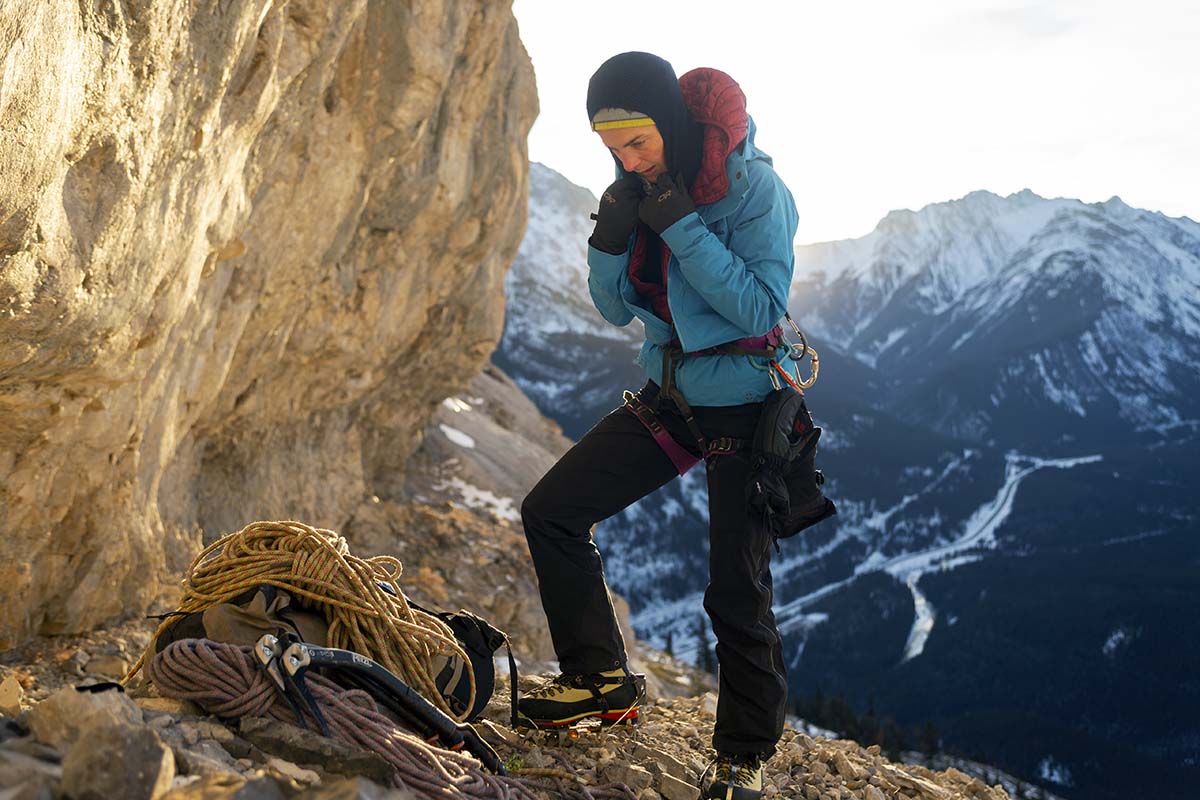 Other Versions of the Galvanized
For this review, we tested the women's Galvanized Jacket. Patagonia also makes the shell in a men's version, which sports the same features and H2No construction, but comes in slightly heavier at 18.6 ounces and is available in different color options. If you're looking for a similarly weatherproof and stretchy pant, Patagonia offers the Galvanized Pants in women's and men's versions. The men's pants ($329) feature a low bib design with adjustable and removable suspenders, while the women's are a more traditional pant ($299).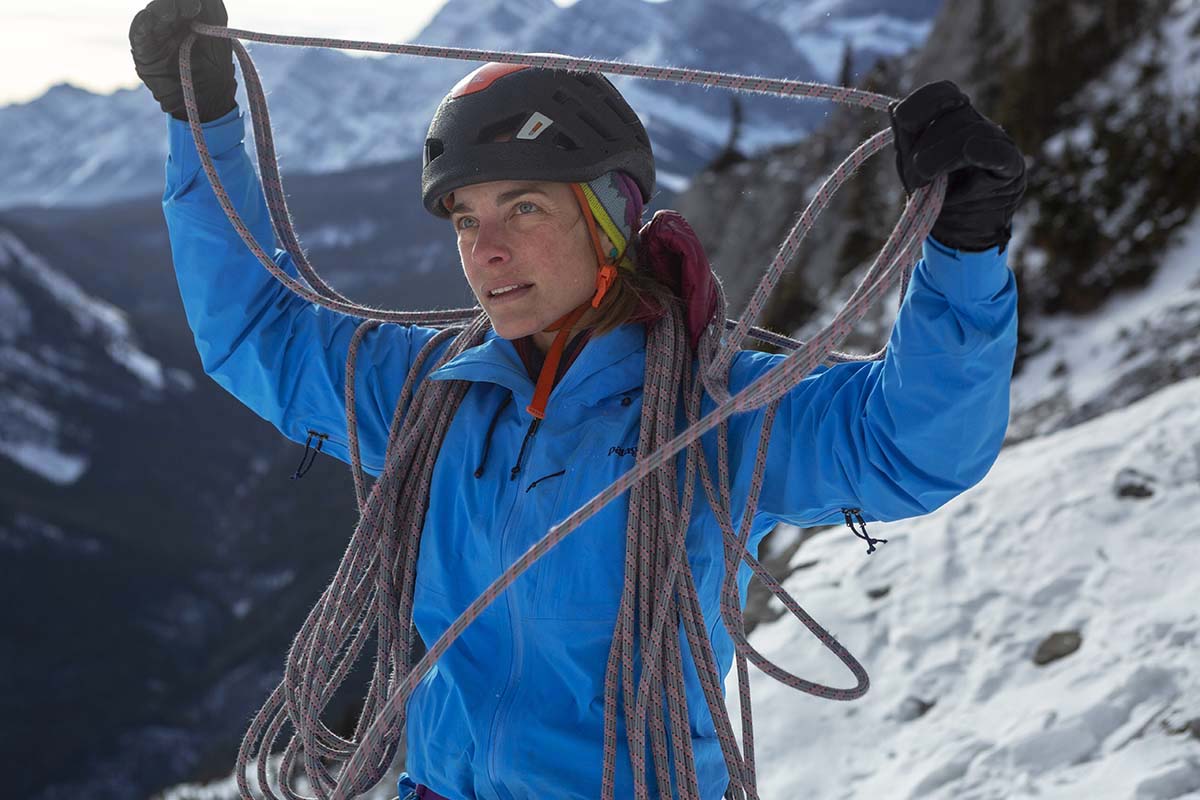 What We Like
For active pursuits like ice climbing and ski touring, the Galvanized provides a great combination of mobility, breathability, comfort, and weather protection.
The shell is fully featured and all components are impeccably designed for simple adjustment and ease of use.
50-denier fabric means the Galvanized is more durable than the majority of hardshell jackets.

What We Don't
At 15.5 ounces for a women's medium, the Galvanized is heavy for an alpine-focused hardshell.
Pit zips and hood/hem adjustments take some time to master.
Could use an internal dump pocket for warming items like gloves or skins close to the body.
If you're looking for ultimate weatherproofing in truly extreme conditions, a hardshell made with Gore-Tex Pro will offer slightly more protection.


Comparison Table

The Competition
The Galvanized offers the unique addition of stretch to the standard hardshell construction, which is a claim that few other jackets can make. Outdoor Research's Interstellar Jacket is one of these, made with OR's proprietary AscentShell 3-layer fabric. At 10 ounces for a women's medium, constructed with a 20-denier face fabric (compared to the Galvanized's 50D), and with a build that packs into its own pocket, the Interstellar is much more of an ultralight piece than the Galvanized. However, the lighter fabric does mean compromised durability and weather protection—in fact, AscentShell is air-permeable and thus not a true wind barrier. Further, the Interstellar does not contain pit zips, and the small hood and low-placed pockets are less than ideal for climbers. For a super light emergency layer, the Interstellar is a great option, but for $100 more, we think the Galvanized is a much more impressive and well-rounded shell.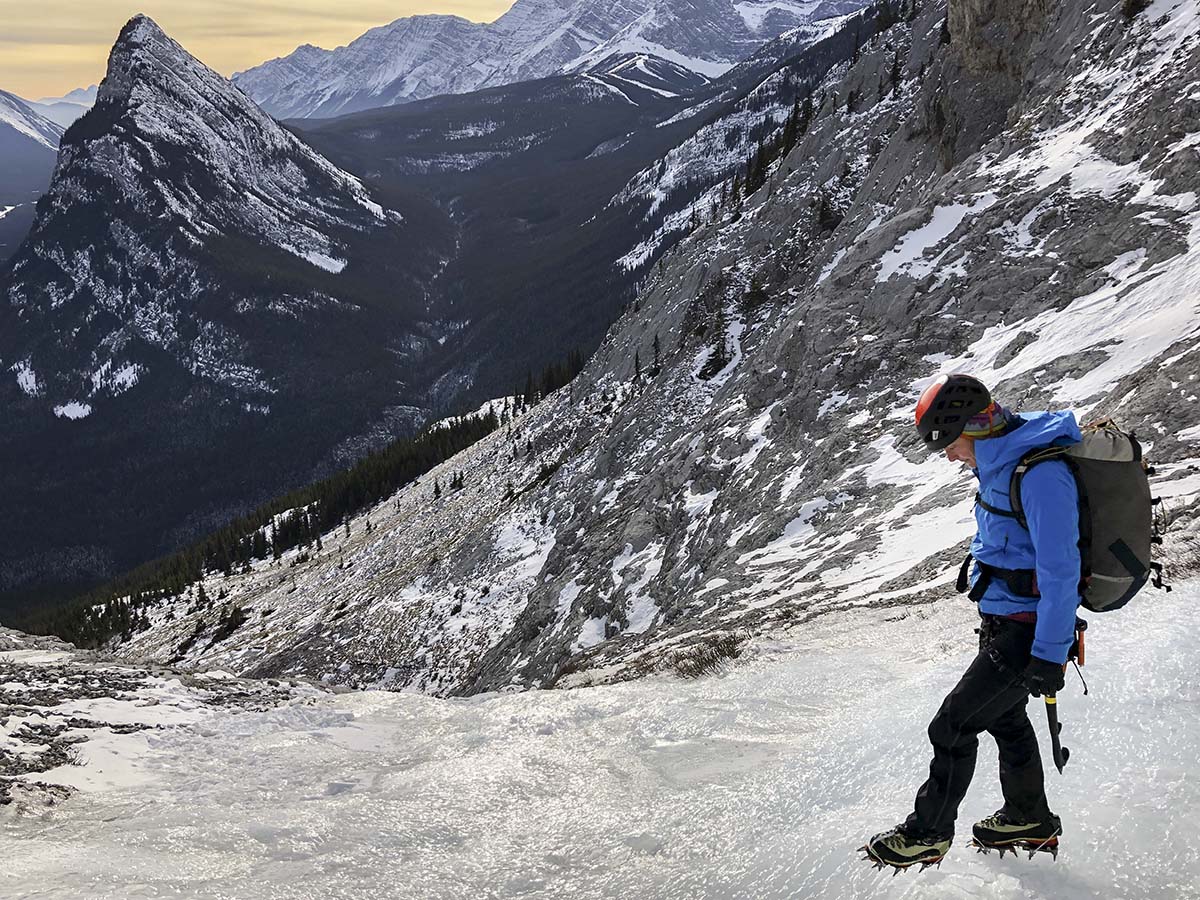 From Patagonia's own line-up, their Triolet Jacket is an interesting alternative. This $399 shell costs the same as the Galvanized but includes a burly 3-layer Gore-Tex construction and 75-denier face fabric for a step up in all-around weather protection. Further, the Triolet comes with extras like an internal mesh pocket and a button system that allows you to connect the jacket with a Patagonia snow pant. But the Galvanized is the clear leader in stretchiness and breathability, and it weighs more than an ounce less (15.5 oz. vs. 17.2 oz.). If you prioritize waterproofing for skiing or for spending extended amounts of time in heavy rainfall, the Triolet has its merits, but the Galvanized gets the overall nod from us.
How does the Galvanized stack up with a premium hardshell like Arc'teryx's Beta AR? With 40-denier Gore-Tex Pro (and 80D covering wear-prone areas), watertight zippers, and a high-coverage hood, it's close to bombproof when it comes to resisting precipitation and wind (and breathes pretty well, too). However, the Beta AR lacks the same level of stretch and comfort as the Galvanized. If unbeatable weather protection in a lightweight package is what you're after, we'd recommend the Beta AR (or better yet, the Alpha SV Jacket), but for a savings of $176, the Galvanized handles most weather with ease and is a better performer for active pursuits.
If you're thinking about buying gear that we've reviewed on Switchback Travel, you can help support us in the process. Just click on any of the seller links above, and if you make a purchase, we receive a small percentage of the transaction. The cost of the product is the same to you but this helps us continue to test and write about outdoor gear. Thanks and we appreciate your support!
Depending on the seller, most products ship free in the United States on orders of $50 or more. International shipping availability and rates vary by seller. The pricing information on this page is updated hourly but we are not responsible for inaccuracies.
Read More From Switchback Travel