Patagonia's Houdini is one of the most ubiquitous windbreakers on the market, and the premium "Air" model builds off of that proven design while boosting breathability and comfort. We took the Houdini Air to Southern Chile, where the jacket faced extreme winds and rapidly changing conditions. All in all, despite the higher price tag and minimalist feature set, it's one of the most capable and well-rounded wind shells on the market. Below we break down our experiences with the Houdini Air. To see how it stacks up to the competition, see our article on the best windbreaker jackets.
 
---
Table of Contents
---

Performance
Wind Protection
Despite its thin, ultralight build, the Patagonia Houdini Air punches well above its weight in terms of protection. Wind is a constant battle in Chilean Patagonia, but the jacket did an excellent job at blocking light to moderate gusts. It's thin enough that big gusts were able to get through, but it's nevertheless a great option for a range of activities in moderate conditions. This versatility is what we love most about windbreakers: we wouldn't head deep into the backcountry without packing a more protective rain jacket or hardshell, but for day hikes, trail runs, climbing, mountain biking, and even light ski tours, a wind shell like the Houdini Air can be everything you need and nothing you don't. And unlike a rain jacket, you can hike or run in it for extended periods without taking it off. All things considered, it's a great wind blocker and temperature regulator for active use.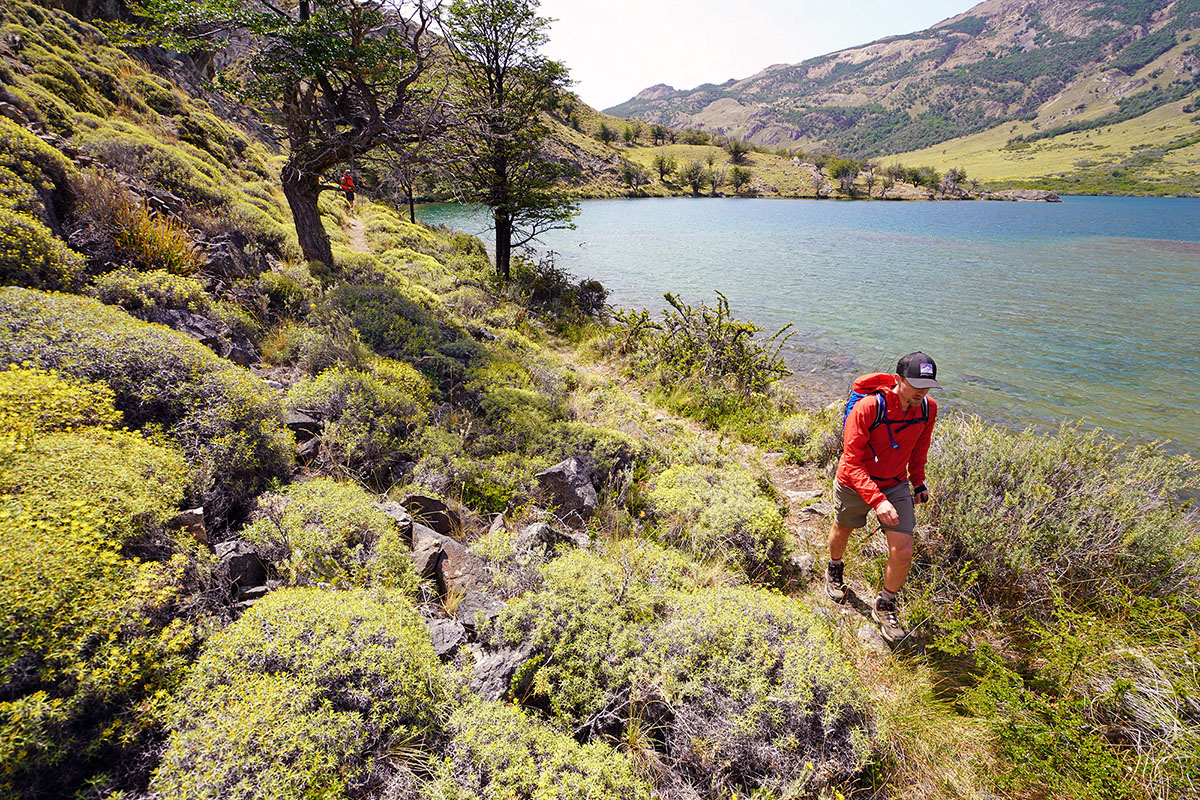 Water Resistance
The Houdini Air did a nice job at handling light precipitation thanks to its double-weave nylon/polyester build and durable water repellent (DWR) finish. This gives it a considerable boost over a standard baselayer in terms of weather resistance. In fact, I wore the jacket on a number of day hikes as well as overnight backpacking trips, and only when it really started to rain or was extremely gusty on a high mountain pass near Chile's Cerro Castillo did I swap to a hardshell jacket for added protection. All in all, the Houdini Air is perfectly serviceable for fending off light precipitation, but it's not built for heavy or sustained storms. In these conditions, we strongly recommend switching to a fully waterproof layer.

Breathability
In short, the Houdini Air is a superb breather. Even when hiking and backpacking in warm conditions in Patagonia, I rarely felt the need to take off the jacket due to overheating. On the same trip, I swapped the Air for the standard Houdini, and the differences were immediately apparent: the regular version felt much closer to a rain jacket and was noticeably clammier and far less breathable. In comparison, the Air was considerably more pleasant to wear. That said, I went trail running back home in Colorado with temperatures in the upper 60s Fahrenheit and grew warm quite quickly. But for high-output use in the 40- to 60-degree range, or hiking up into the 70s, the Houdini Air offers a nice boost in wind protection while allowing ample airflow. And as an added bonus: the Air has not held in stink, unlike our experience with the standard Houdini, which requires washing far more regularly.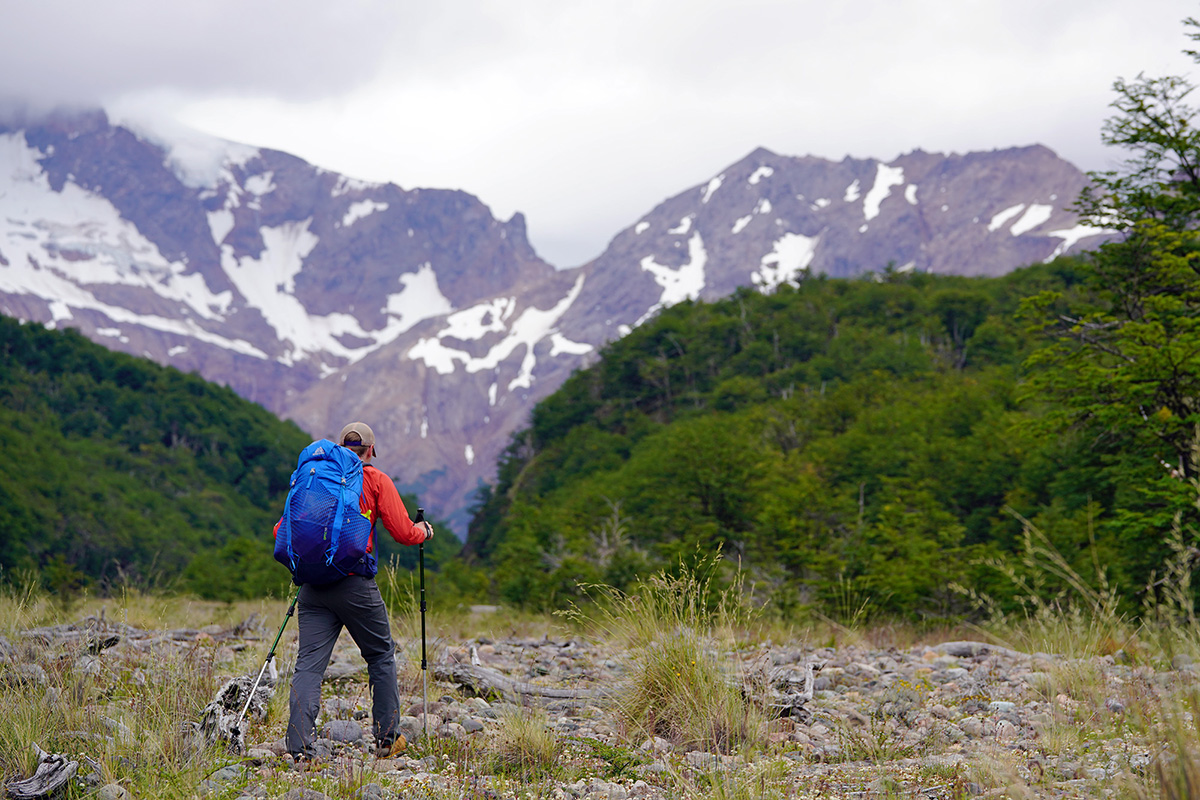 Weight and Packability
At 4.1 ounces for the men's version, the Patagonia Houdini Air is featherlight and super thin to the touch. This puts it in pretty elite territory: the regular Houdini is slightly lighter at 3.7 ounces but significantly less breathable. Most other competitors in its weight class are running-centric designs or compromised in some other way. For example, Patagonia's own Airshed Pro just barely undercuts the Houdini Air at 4 ounces even, but it has no storage, its zipper is only 3/4-length, and it's a less capable wind blocker. Similar options including the Arc'teryx Squamish Hoody and Mountain Hardwear Kor Preshell (both 4.9 oz.) come in heavier. And as for packability, the Houdini Air stuffs down incredibly small into its own chest pocket. It would be a cinch to throw the jacket into a minimalist pack and forget it was there.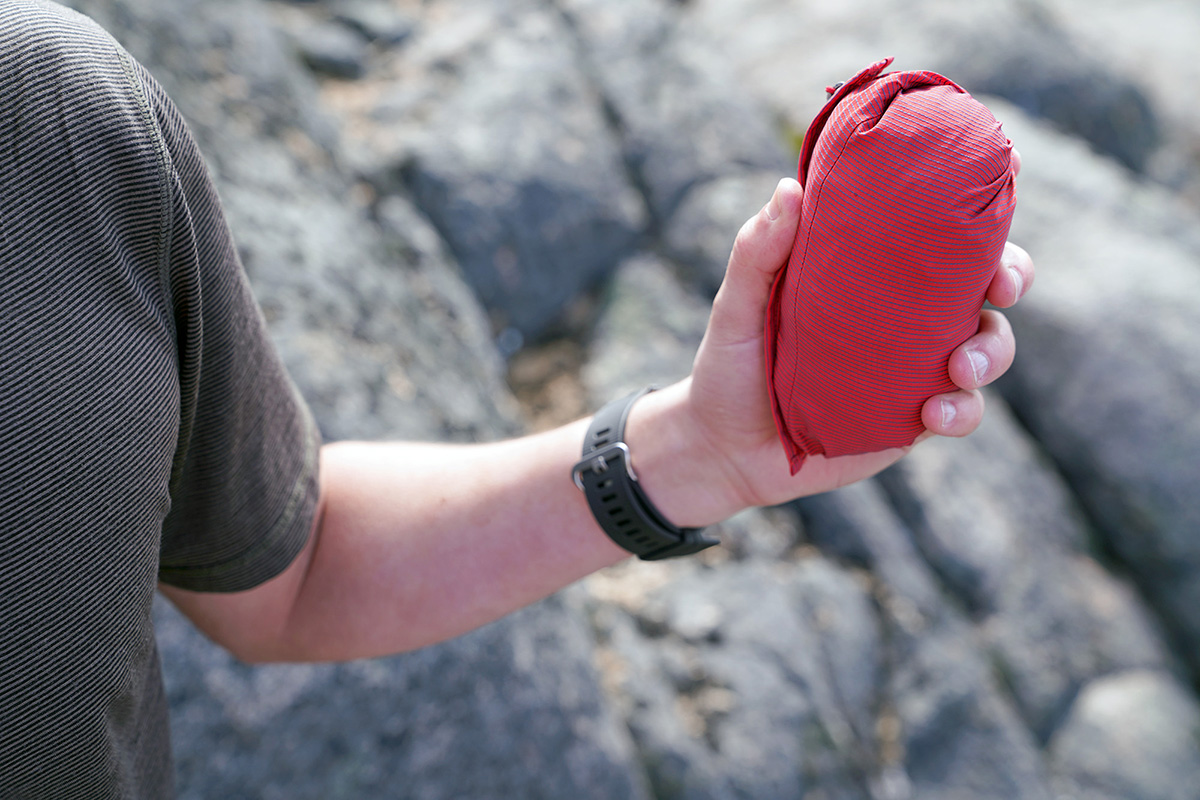 Build Quality and Durability
Despite its paper-thin feel and low weight, the Patagonia Houdini Air has held up surprisingly well to regular use. Honestly, at first I didn't think it would last long—it's the thinnest jacket I've ever worn by far. However, I sported the Houdini Air almost every day for two weeks, which included off-trail hiking and being stuffed haphazardly into a pack. Despite the abuse, the jacket has no punctures, there are no stitches out of place, and all zippers and seams are intact. In the end, I attribute some of the jacket's impressive durability to the soft, double-weave material, which gives it a slight stretch and helps prevent tears. The fabric is showing some dirt around the cuffs and hem, but this is purely cosmetic and no cause for concern (and the jacket can be washed easily in cold water).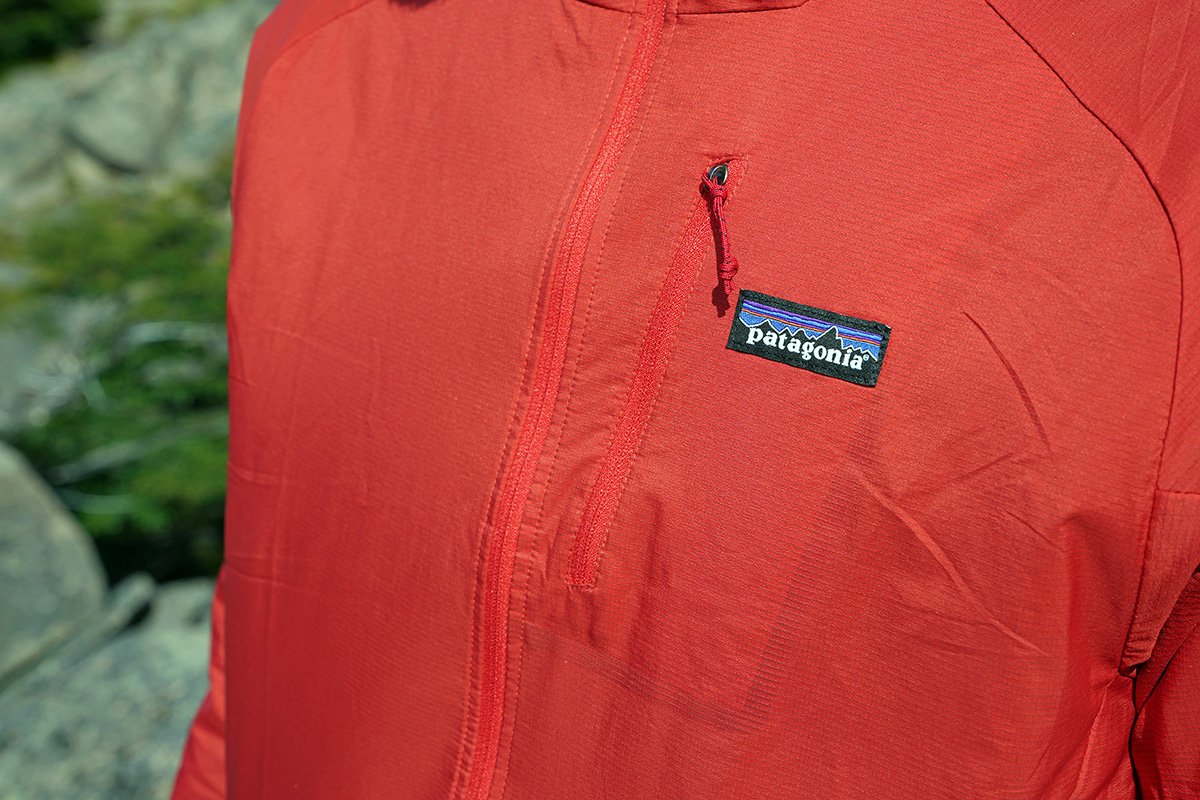 Features
Features on the Patagonia Houdini Air are fairly standard for a minimalist, ultralight wind shell. The cuffs use simple elastic at the inside of the wrists that keeps them securely in place with a bit more fabric at the back for added coverage. In terms of storage, the Houdini Air includes a single moderately sized chest pocket. Further, there's a hem adjustment at one side for sealing out wind, and the hood is adjustable with a rear toggle. Despite its simple design, the hood fits nicely, is able to be snugged down tightly, and does a good job staying in place even in heavy winds. For those looking for a casual jacket with more around-town appeal, a model like the $100 Rab Vital Windshell Hoody is a better bet (it features hand pockets and a roomier fit) and will save you a considerable amount. But for those who frequently get out in the shoulder seasons or head up into the alpine during summer, the Houdini Air is worth the added investment and compromise in features.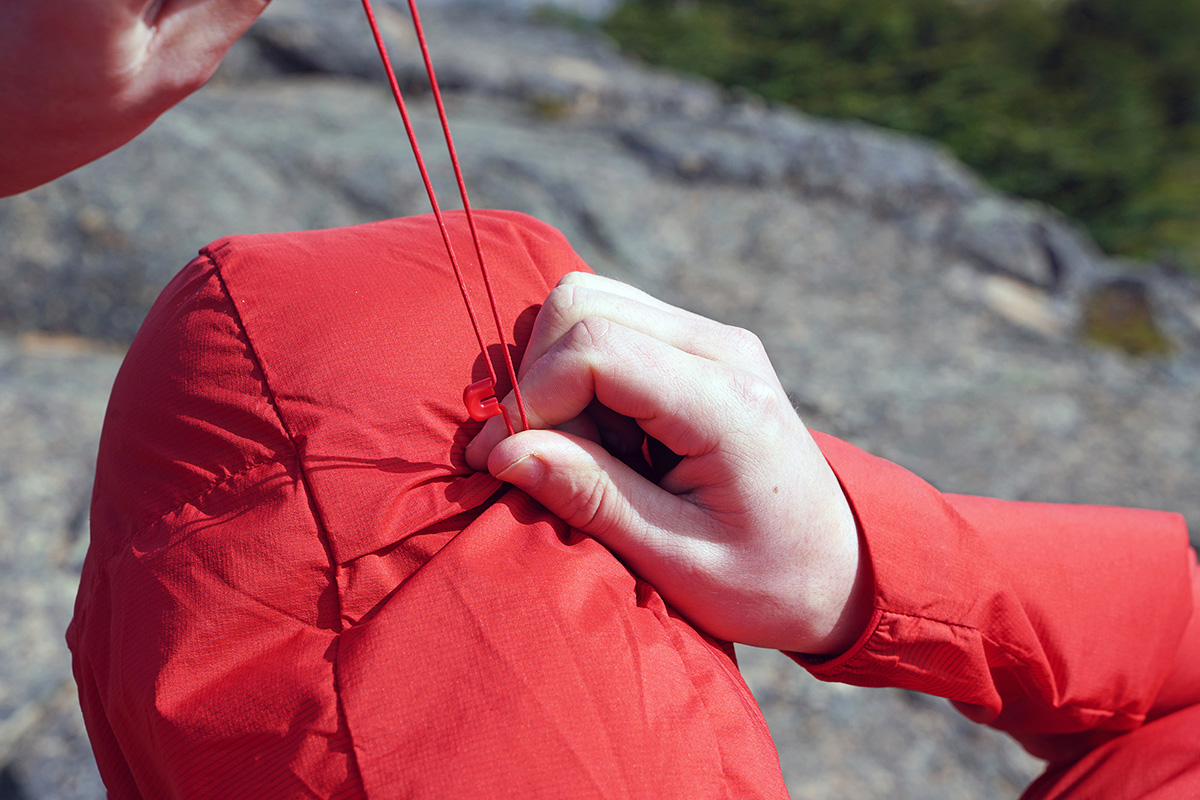 Fit and Sizing
Patagonia describes the Houdini Air's fit as "slim," and I agree with that designation. I went with my usual men's medium and found that it fits perfectly over just a t-shirt. However, I wouldn't be able (or really want to) wear anything more substantial underneath. The jacket also isn't a great match for those who prefer a baggier, more casual fit. Whereas many of Patagonia's down and synthetic jackets can be somewhat boxy (depending on the model), this truly is a performance-focused, minimalist piece. Finally, as I mentioned above, the slight stretch in the fabric is great for movement. The jacket isn't as stretchy as Arc'teryx's Squamish Hoody, but the double weave has a bit of give to it and makes a big difference for mobility-dependent activities like climbing.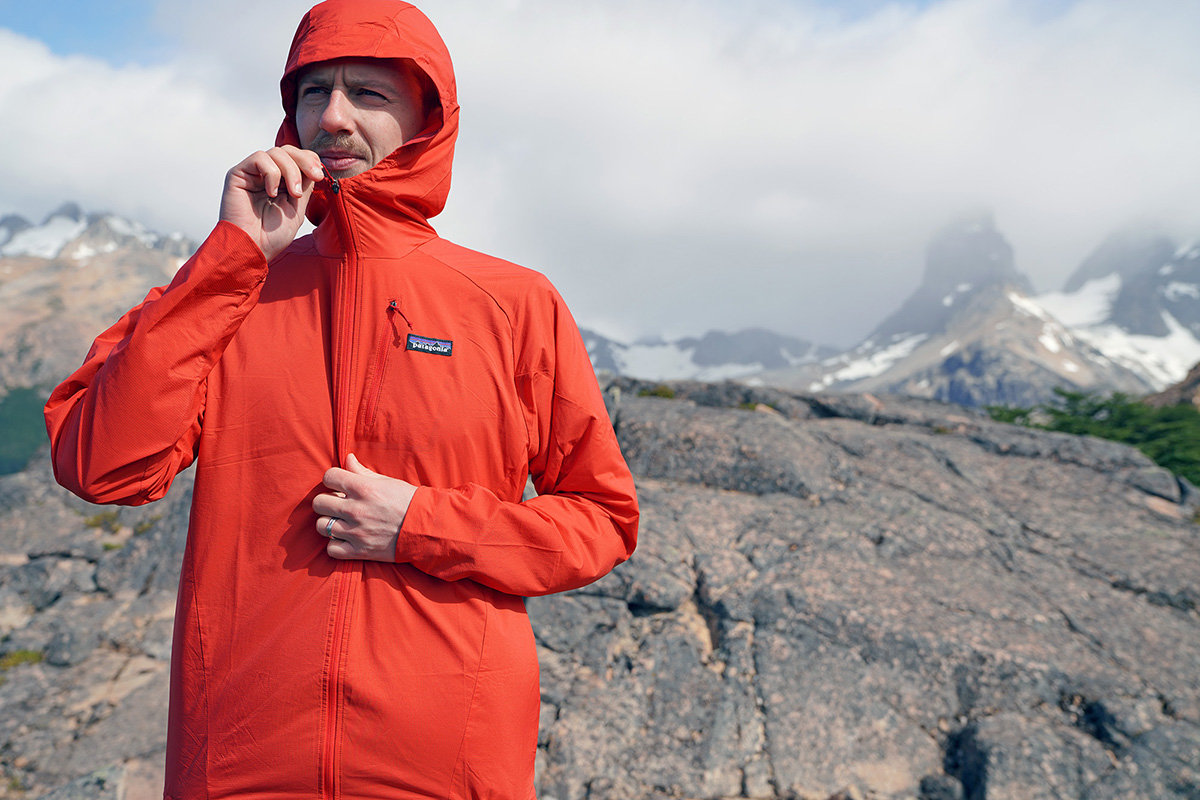 Sustainability: Recycled Fabrics and Fair Trade Certification
Patagonia is an industry leader in sustainable practices, and the Houdini Air is case in point. The nylon build is 51 percent recycled, and the jacket also is Fair Trade Certified. This means that Patagonia took extra steps during production to ensure that workers were treated fairly and had a safe working environment. It's worth noting that the Houdini Air uses a fluorinated DWR finish, which many brands are moving away from due to health and environmental concerns. However, Patagonia is working on finding a viable alternative that performs as well as the standard coating (you can read more about their efforts with DWR here).

Other Versions of the Patagonia Houdini
We brought the men's Houdini Air to Southern Chile for testing, and Patagonia also makes the wind shell in a women's version. The women's Houdini Air also retails for $169 and includes all the same features, including a single chest pocket, adjustable hem and hood, and breathable double-weave build. However, the women's jacket is slightly lighter at 3.6 ounces and is sold in different colorways. As we've mentioned throughout this article, Patagonia's also offers the standard Houdini, which is less comfortable and breathable than the Air but comes in at a considerable $70 cheaper (read our in-depth review here). Finally, there's a Snap-T Pullover version that costs the same as the regular model at $99 but features a kangaroo-style front pocket and is only sold in a men's model.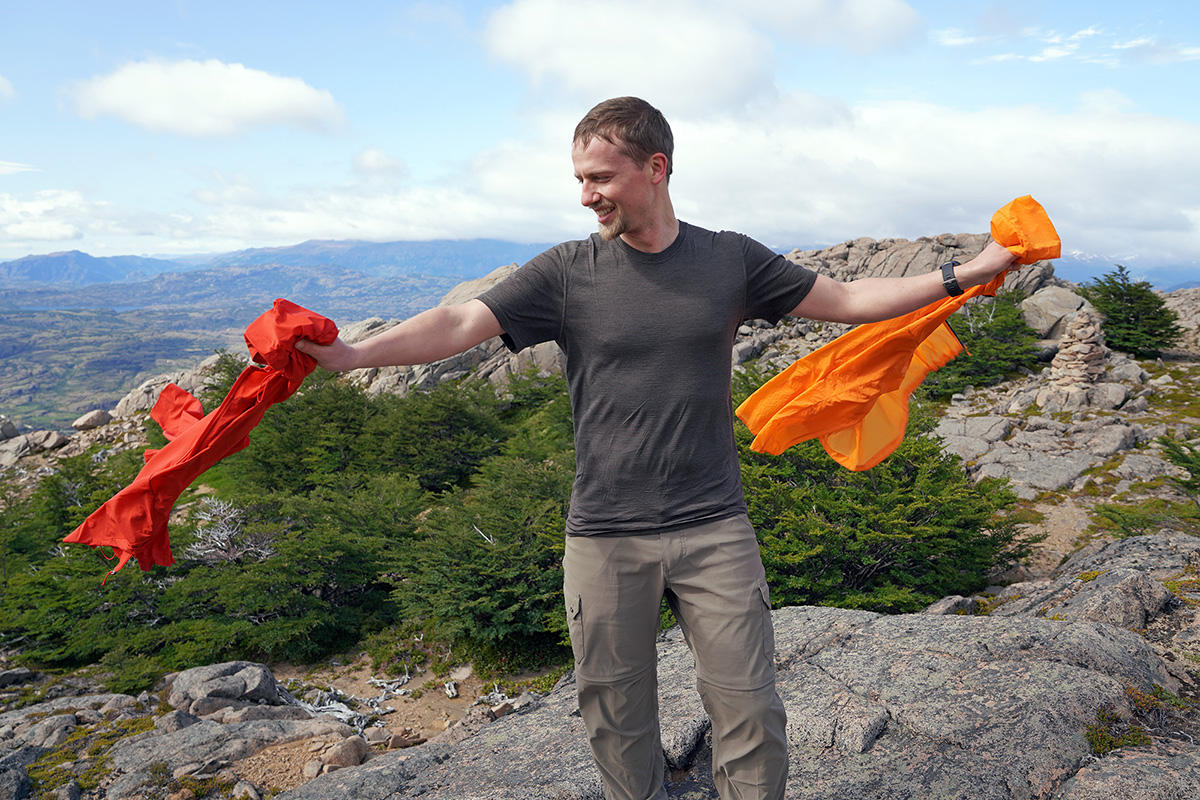 What We Like
Breathable, comfortable, and highly wind-resistant. All in all, this is one of the most well-rounded windbreakers on the market.
Ultralight at just 4.1 ounces and packs down extremely small. 
Double weave fabric has a slight stretch to it, which increases mobility and comfort significantly.
Unlike the standard Houdini, the Houdini Air doesn't hold stink.

What We Don't
At $169, the Houdini Air is more expensive than much of the windbreaker jacket competition.
Not as protective as a 100-percent nylon jacket like the standard Houdini.
With its thin build and minimalist feature set including a single chest pocket, this jacket has little appeal for around-town use or casual wear.


Comparison Table

The Competition
Patagonia's Houdini Air is our top-rated windbreaker jacket for its standout combination of breathability, wind protection, comfort, and weight. As we mentioned previously, the standard Houdini falls well short in both breathability and comfort—it feels much more like a regular rain jacket in this regard, and we wouldn't recommend it for high-output activities like running. However, the Houdini is lighter at 3.7 ounces, considerably cheaper at $99, and allows you to retain more warmth, which we found helpful on shoulder-season downhill mountain bike rides. But in many ways, the Air answered the shortcomings of the standard Houdini, and we think the performance advantages are worth the added investment. 
Another one of our favorite wind jacket designs is Arc'teryx's Squamish Hoody. The Squamish is less of a running piece than the Houdini Air and a bit more mountain-ready, but still is impressively breathable and a great wind blocker. The Squamish also in similar in weight at 4.9 ounces (0.8 oz. heavier than the Patagonia) and costs $10 less at $159. However, the Squamish is noticeably more mobile with a stretch nylon fabric, more durable, and its hood is better suited for use over a helmet. We still think the Houdini Air wins out in this price range as the better overall design, but the Squamish is a high-quality and more alpine-focused alternative.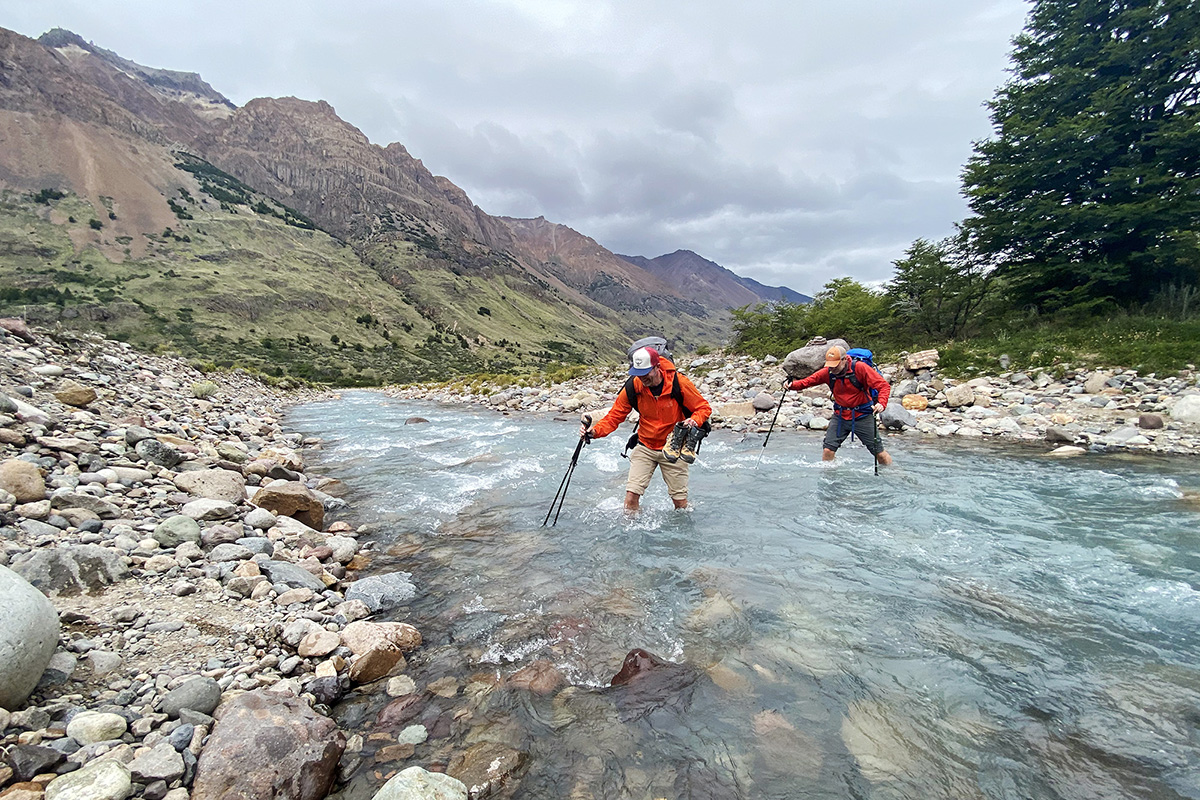 For around $40 less than the Houdini Air, Mountain Hardwear's Kor Preshell offers great all-around performance at a similar (4.9 oz.) weight. With the Kor, you get a noticeable amount of stretch in the fabric for comfort and mobility, as well as a Pertex Quantum Air shell that provides great windproofing and water resistance. Many will also appreciate the Kor's hand pockets, although these do add bulk and can be difficult to access when wearing a backpack or climbing harness. And on a similar note, the Kor has a more relaxed cut than the Houdini Air, which is another potential upside for casual users and makes it easier to layer underneath but is a drawback for technical activities (the excess material tends to bunch up around our harness at the waist). Both are highly competitive ultralight wind shells, but the Patagonia strikes us as the slightly more well-executed design and worth the bump in cost.
Another in-house design to consider is Patagonia's Airshed Pro. As we touched on above, this is a true running wind shell that's built with stretch nylon, has only a 3/4-length front zip, and includes no storage other than a stash pocket in the hood that converts into a stuff sack. The Airshed Pro also uses Capilene Cool knit fabric on the hood and sleeves, which is designed for added comfort and sweat-wicking. Both jackets weigh about the same (the Airshed Pro is 0.1 oz. lighter), and a final decision should come down to your intended use. If you need a dedicated running windbreaker, the Airshed Pro is a great pick. If you'll be adding hiking, climbing, and other mountain uses to the mix, the Houdini Air is the more versatile option.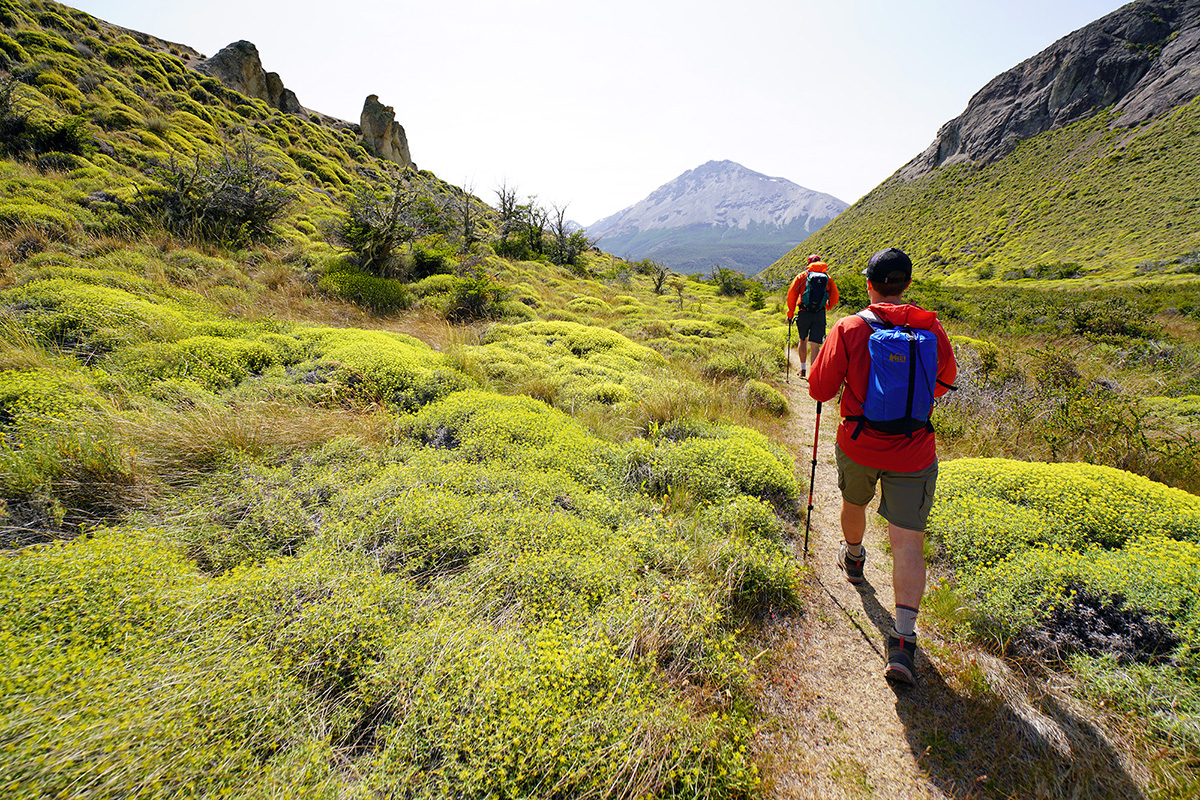 Finally, Black Diamond's Alpine Start is the most mountain-ready design of the bunch. At 7.4 ounces, it's a lot more jacket than any of the aforementioned wind shells, but it's become our go-to layer for everything from windy hikes to daily runs, multi-pitch climbing, and even backcountry skiing. The boost in weight is largely due to the Alpine Start's burly, softshell-like fabric, which is stretchy, breathable, and impressively durable. This also translates to great wet-weather protection—compared to the Houdini Air, the BD is much more capable of handling extended bouts of rain. If weight and packability are top priorities, the choice is clear: go with the Houdini Air. However, if you need added protection for alpine pursuits, the Alpine Start gets the edge.
If you're thinking about buying gear that we've reviewed on Switchback Travel, you can help support us in the process. Just click on any of the seller links above, and if you make a purchase, we receive a small percentage of the transaction. The cost of the product is the same to you but this helps us continue to test and write about outdoor gear. Thanks and we appreciate your support!
Depending on the seller, most products ship free in the United States on orders of $50 or more. International shipping availability and rates vary by seller. The pricing information on this page is updated hourly but we are not responsible for inaccuracies.
Read More From Switchback Travel