Patagonia Macro Puff Jacket
Price: $349
Weight: 13 oz. (men's)
Insulation: PlumaFill (135g & 90g)
What we like: Light, packable, and warm for a synthetic jacket.
What we don't: Boxy fit and you can get a warmer down jacket for the same price (or less).
See the Men's Macro Puff  See the Women's Macro Puff
Patagonia's Micro Puff became an immediate hit in the synthetic jacket world by attempting to mimic the lofty warmth and packability of down in a weather-resistant package. Last year, the brand released their follow-up Macro Puff, which shares the same intention but sees a major boost in warmth over its lighter-weight sibling. After testing the Macro Puff throughout a chilly fall in the mountains of central Washington state, we think Patagonia nailed the jacket's warmth-to-weight ratio and puffy-like feel, but it still falls short of true down in a few key areas. Below we break down the Macro Puff's performance. To see how it stacks up to the competition, see our article on the best synthetic insulated jackets.
Editor's note: We tested the first-generation version of the Macro Puff, and Patagonia made some light changes recently. Most notably, weight decreased slightly from 13.2 to 13 ounces for the men's version, and the jacket now self-stuffs into its righthand pocket. We've indicated these changes where applicable in the text below.
 
---
Table of Contents
---

Performance
Warmth
Piggybacking off their uber-popular Micro Puff, Patagonia's Macro Puff Jacket offers a significant bump in warmth. To accomplish this, they use 135-gram PlumaFill synthetic insulation in the body and 90-gram in the side panels and sleeves (the Micro Puff uses 65g throughout). Holding the jackets side-by-side, the Macro Puff is noticeably plumper and has a longer cut by approximately two inches (in a men's medium). In use, it kept me comfortable into the high 30s Fahrenheit with just a light baselayer underneath. When the temperature dipped into the 20s, adding a midlayer was plenty as long as I kept moving. All told, I'd estimate that the Macro Puff can go about 10 to 15 degrees colder than the Micro Puff (which kept our testers comfortable into the mid 40s with a thin baselayer).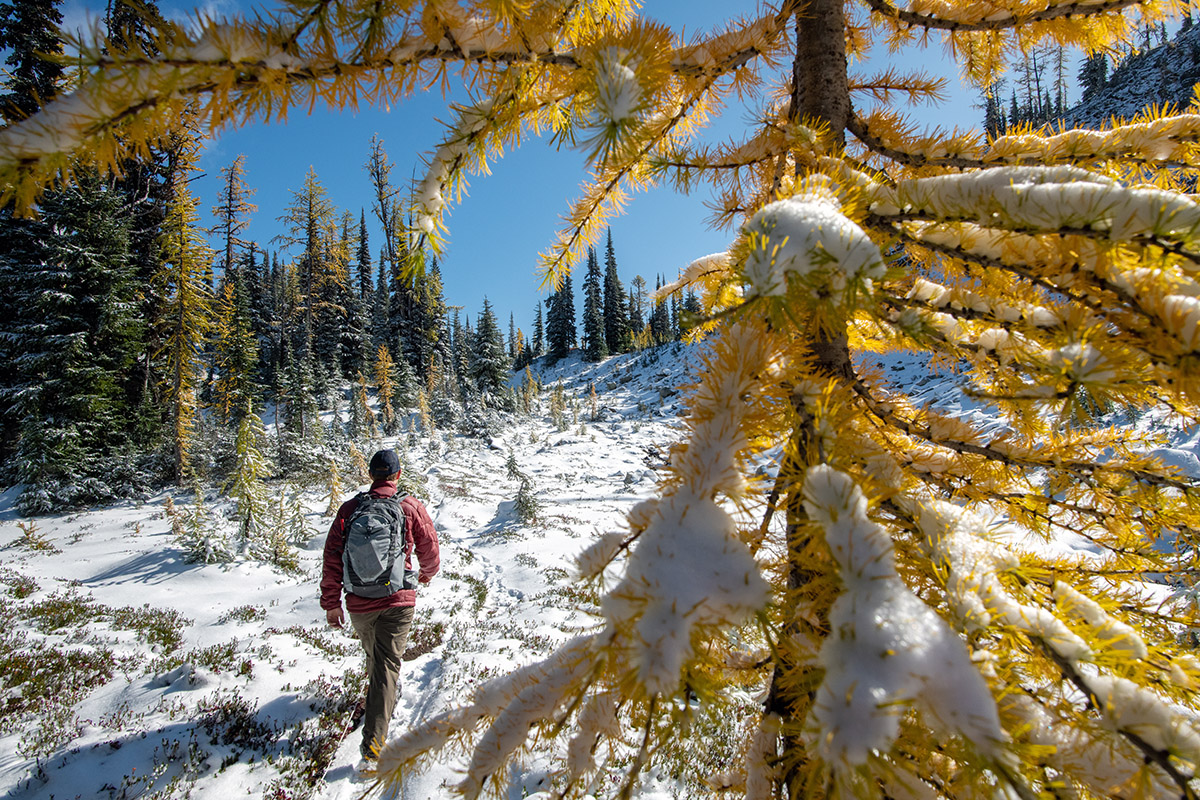 A recent trip into the North Cascades—where trailhead temperatures were in the mid teens—gave me the perfect opportunity to put the jacket's warmth to the test. In the end, the Macro Puff was an ideal parking-lot companion that kept me cozy while I was standing still. And once I hit the trail, it was more than enough to keep the chill out during short water or food stops. However, while it worked well for the majority of the outing, I was left feeling a bit cold during our lunch break. Stopping at the top of the pass, where winds were gusting at about 10 mph, the jacket's thin fabric and boxy cut (which doesn't do as good of a job as a trim-fitting jacket in heating efficiency) left me retreating behind rocks to block the wind. All in all, for true winter temperatures, I prefer a heavyweight down jacket like the Rab Neutrino Pro. And in strong winds, I recommend throwing on a hardshell to stay better protected.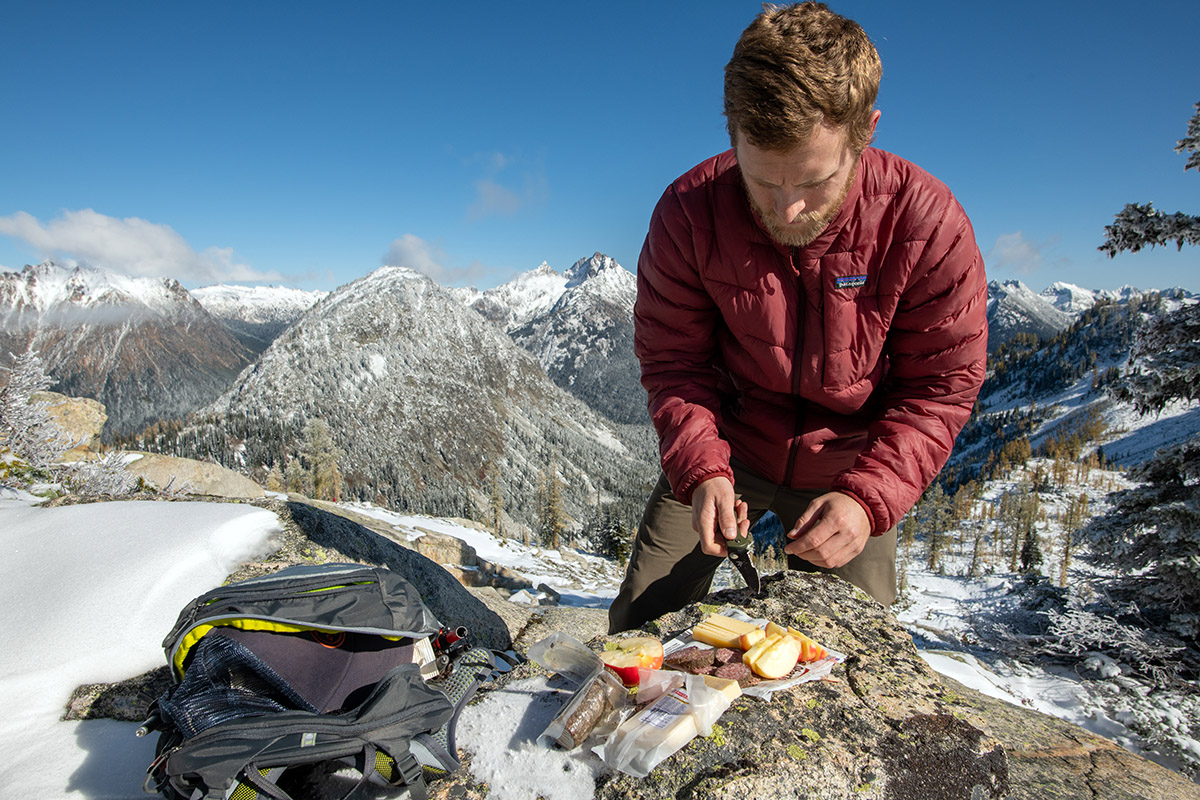 Weather Resistance
The Macro Puff uses PlumaFill insulation, which Patagonia claims offers down-like warmth and compressibility. However, unlike down, the synthetic used in the Macro Puff continues to provide warmth and insulate even when wet. This is one of the biggest advantages of choosing a synthetic jacket over down: even if you get caught in unexpected weather, you'll still stay reasonably warm, and the insulation won't clump up like real down would. The rest of the jacket is about what you'd expect to find on an ultralight model: the thin, DWR-coated shell will shed light precipitation just fine, but it won't keep heavy moisture at bay for long. In sustained rain or snow, we recommend adding a rain jacket or hardshell overtop.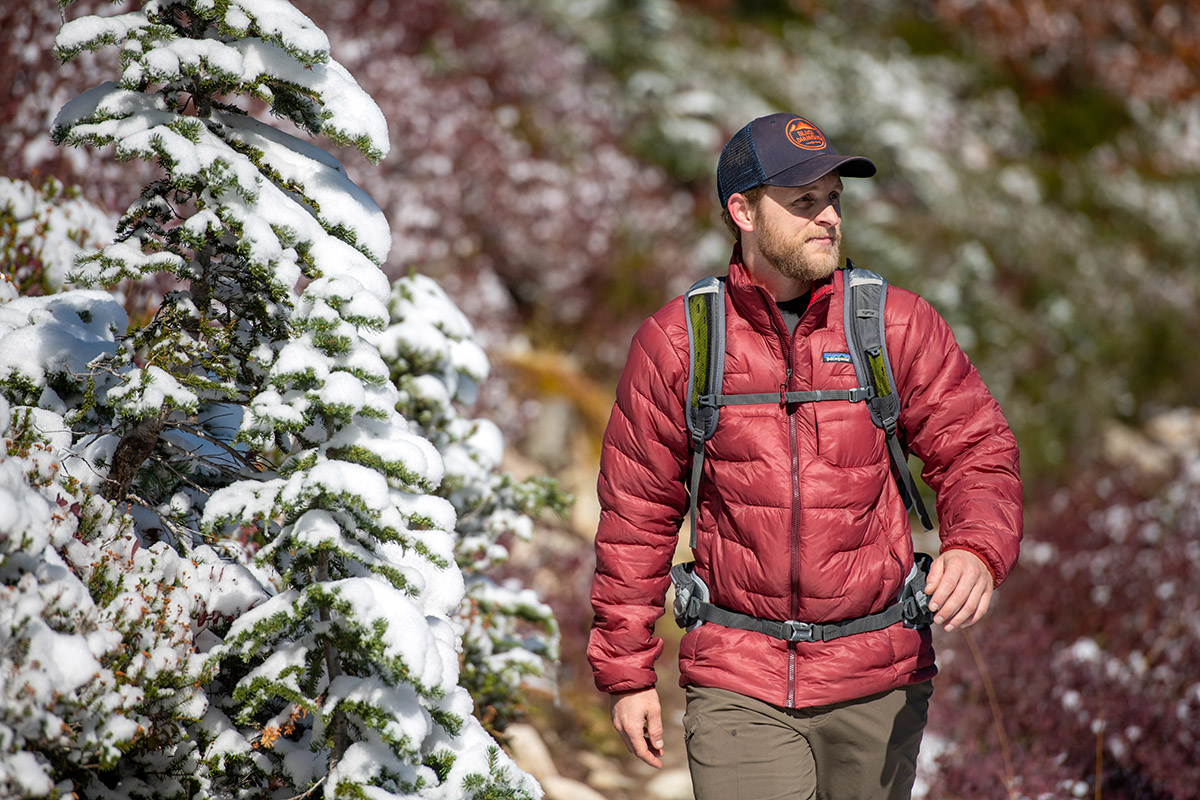 As I touched on above, I wasn't overly impressed with the jacket's performance in windy conditions, which I think boils down to three design choices. First, Patagonia chose to use a standard nylon ripstop shell instead of the Pertex Quantum fabric found on the Micro Puff, which doesn't block wind as well. Second, the large and boxy fit (described below) left added space for drafts to sneak in. And finally, the lack of a hood meant that my neck and head were exposed to the elements. While the latter two issues can be addressed by sizing down or opting for the $50-pricier hooded version of the Macro Puff (respectively), I do wish that Patagonia had retained the more weather-resistant Pertex Quantum fabric found on the Micro Puff.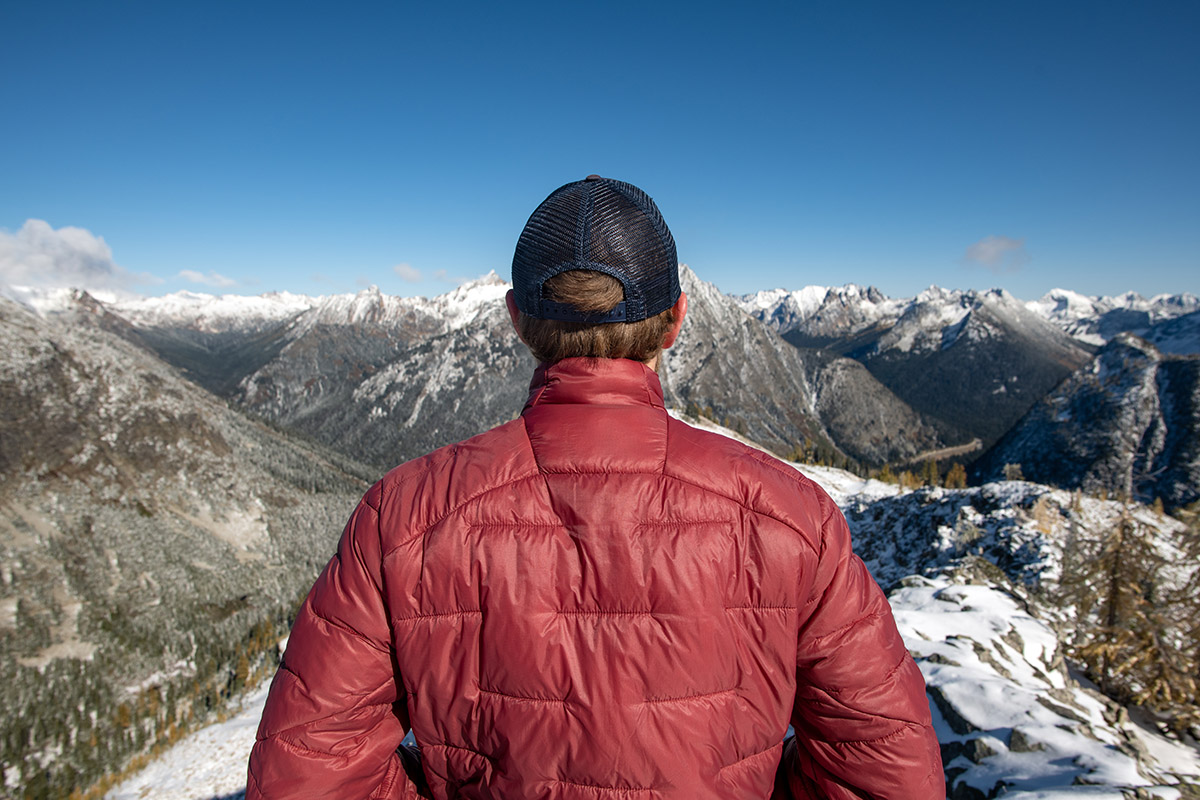 Weight and Packability
The Patagonia Macro Puff Jacket checks in at 13 ounces for the men's version, which didn't seem overly impressive at first. However, when you account for the 135- and 90-gram insulation used throughout the jacket and pit it against the rest of the synthetic market, it's quite competitive. For comparison, Patagonia's Nano Puff Jacket offers less warmth with 60-gram synthetic insulation and tips the scales at 11.9 ounces, while Arc'teryx's popular Atom AR (which uses a mix of 120g, 80g, and 60g Coreloft) is heavier at 15 ounces. The Macro Puff even manages to stack up well to many popular down options like the Patagonia Down Sweater (13.1 oz.), Outdoor Research Transcendent (13.7 oz.), and Arc'teryx Thorium AR (15.3 oz.). Patagonia's goal was to accomplish down-like weight and warmth in a synthetic package, and we think the Macro Puff does a nice job overall.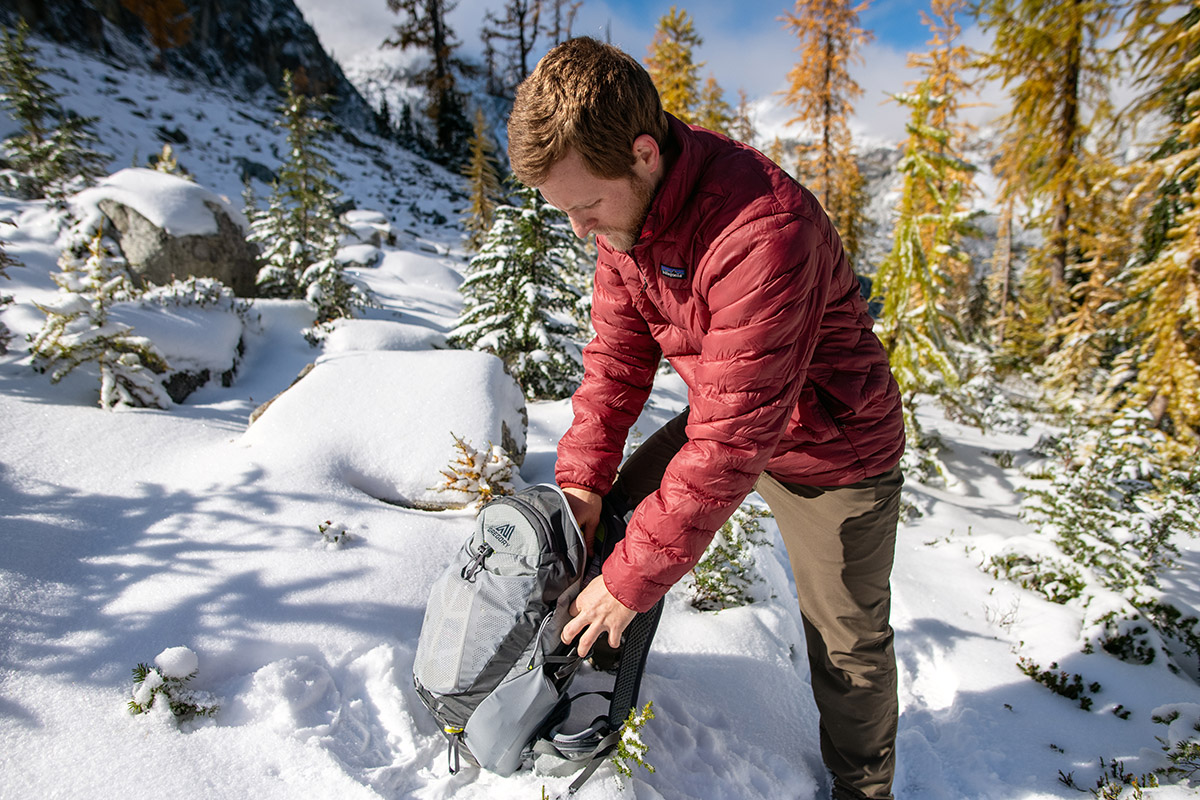 That said, in terms of packability, the Macro Puff falls well short of true down alternatives. It certainly stuffs down small for a synthetic jacket (measuring about 10.5 x 13.5 inches), but it's nevertheless fairly bulky. For comparison, its lighter-weight Micro Puff sibling packs down to about half the size (although we appreciate that the Macro now self-stuffs into one of its pockets like the Micro). And importantly, the Macro Puff still easily fit in my daypack with plenty of room to spare. If you're concerned about packability, however, there's really no substitute for premium down.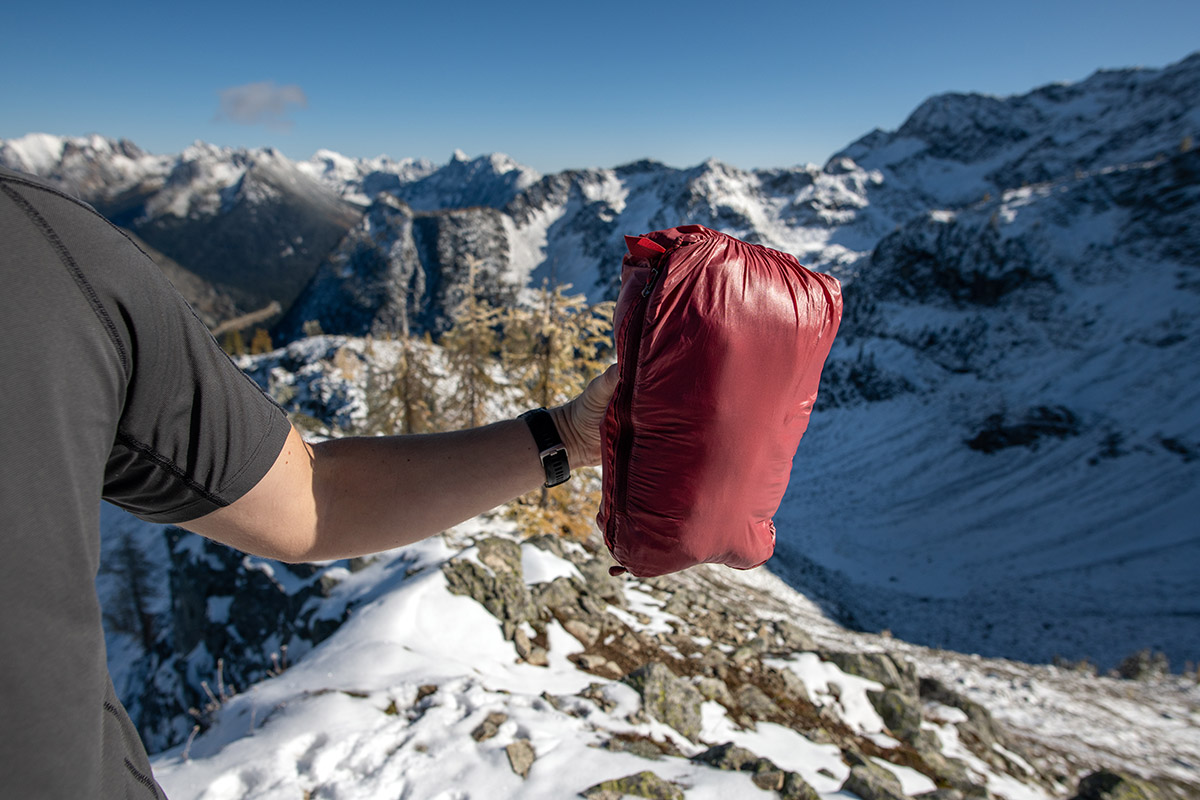 Storage: Pockets
In their efforts to trim away weight, Patagonia surprisingly didn't compromise in the slightest with the Macro Puff's storage. You get a total of three zippered pockets along the exterior: two lower hand pockets and a Napoleon chest pocket for securing a phone or other small item. In addition, there are two drop-in style pockets built into the interior that can easily accommodate a pair of winter gloves. All told, we have absolutely nothing to complain about storage-wise with the jacket.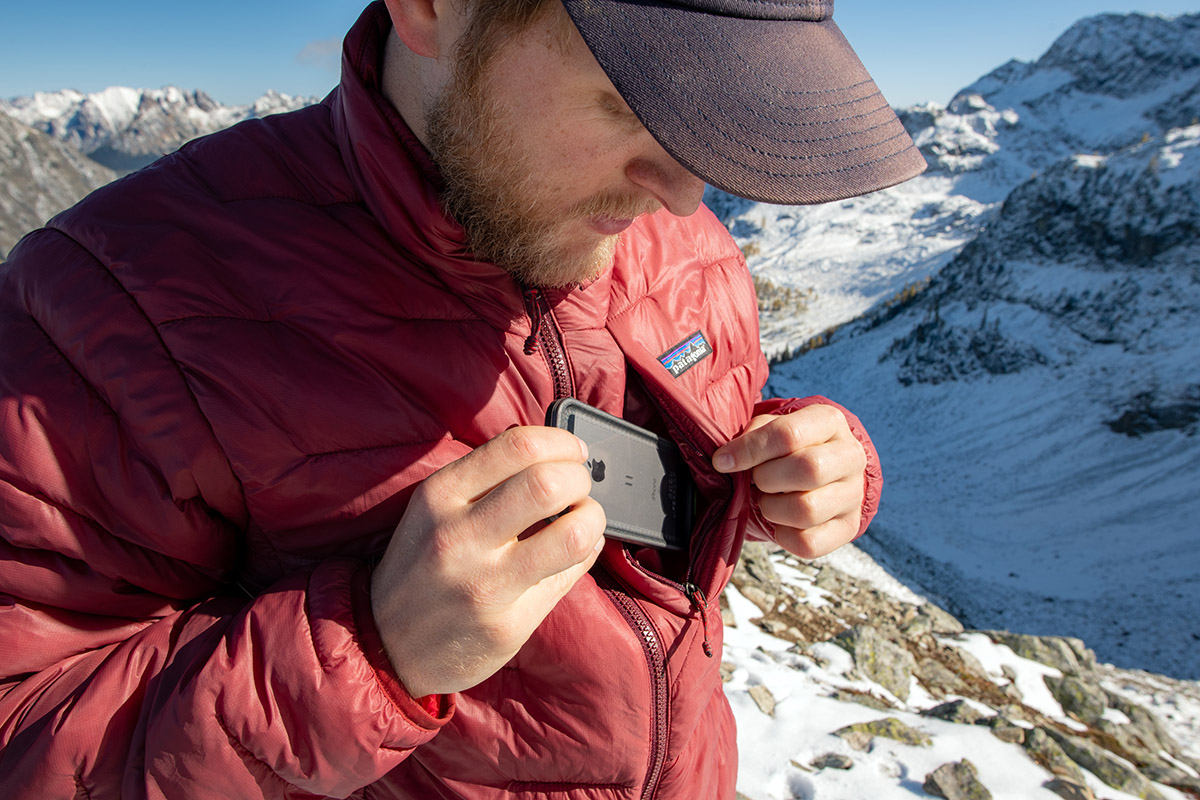 Construction and Durability
Our biggest area of concern with the Patagonia Macro Puff is its delicate build. The flimsy, 10-denier (D) shell and liner fabric feel noticeably fragile in hand, which doesn't inspire a lot of confidence for long-term use. In our extended test of the Micro Puff, which has a similarly thin 10D Pertex shell, we ended up needing more than 30 patches to keep the synthetic fill from escaping (most tears were made from rock and while climbing). This doesn't bode well for the Macro Puff, but only time will tell how it stands up to regular backcountry use. And to be fair, we haven't experienced any durability issues yet: our jacket is free of holes and tears, the zippers work smoothly, and all seams and stitching are perfectly intact.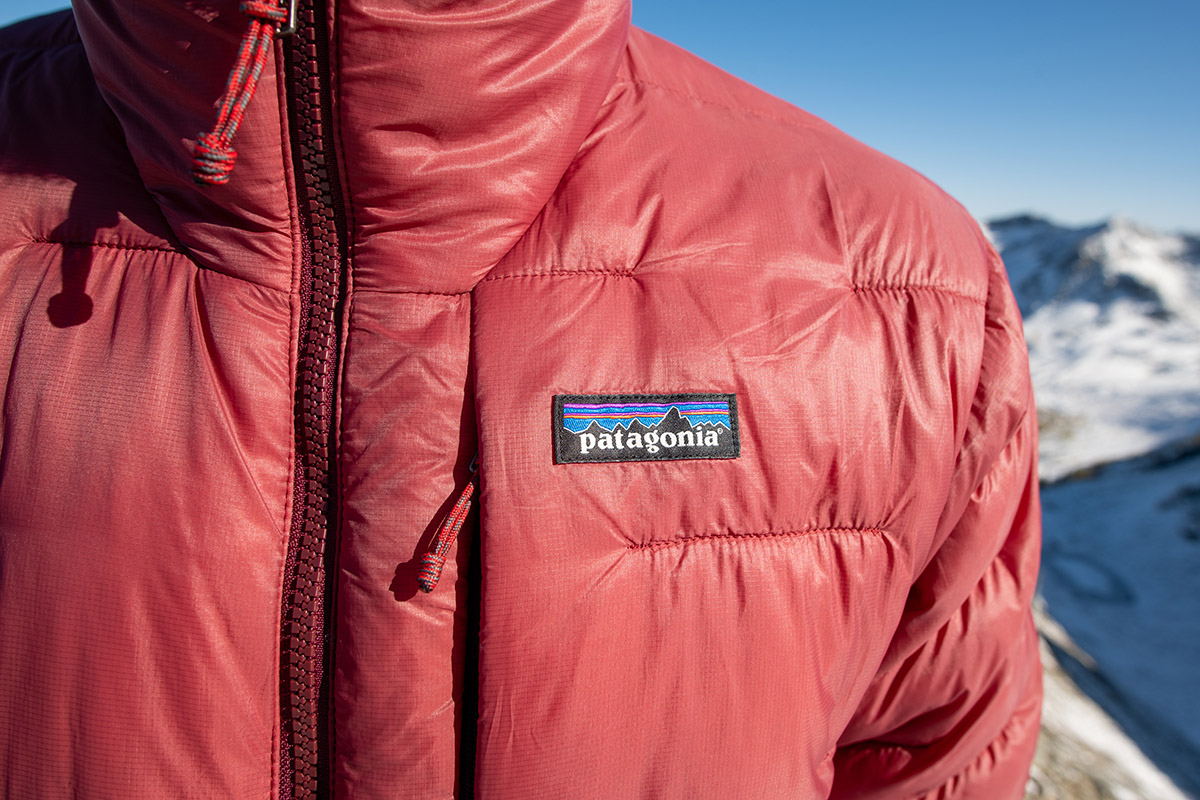 Fit and Sizing
I typically find Patagonia jackets to be a bit boxy, and the Macro Puff is no exception. In my standard men's size medium, the jacket felt rather large and unshapely: the arms and back were especially long (a positive for extra coverage), and the torso was noticeably baggy (for reference, I'm about 5'9" and 160 pounds). Patagonia describes the Macro Puff as having a "regular" fit, but I'd say it's more "relaxed." With just a baselayer underneath, the jacket hung off my body and looked overly roomy. It wasn't until I threw a midlayer on (the Patagonia Nano-Air Light Hybrid) that it began to fill out, and it also fit nicely over my lightweight softshell that I use for ski touring during the winter. In the end, the large and boxy fit works well if you plan to layer liberally underneath, but for those who prefer a more streamlined fit, it's best to size down.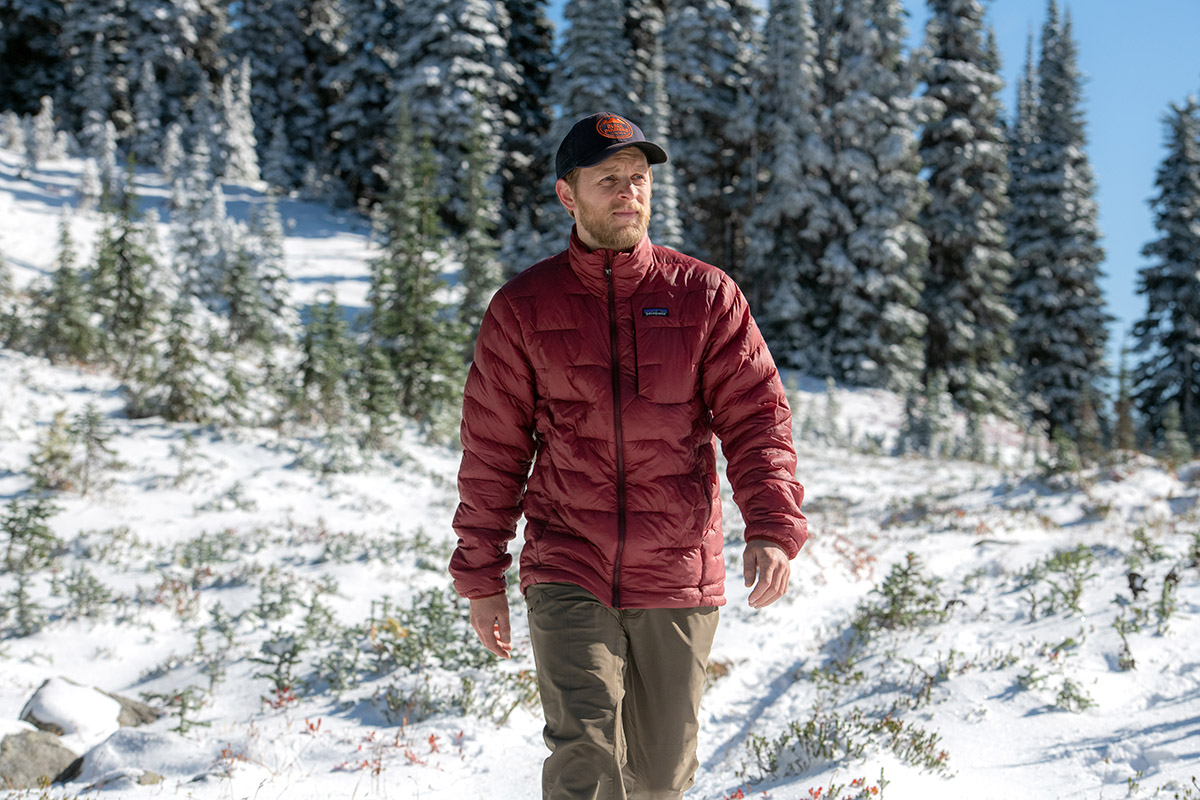 Sustainability
Like many of Patagonia's new or retooled jackets, the Macro Puff embodies the brand's ever-growing focus on sustainability. For starters, the shell is 100-percent-recycled nylon ripstop, and the lining is 100-percent-reycled polyester. Further, the jacket is Fair Trade Certified sewn, meaning that Patagonia put extra money into production to ensure that workers have a safe working environment and are compensated fairly. In the end, Patagonia products don't come cheap (and the Macro Puff is especially pricey at $349), but we think the added transparency and sustainability initiatives help justify the cost.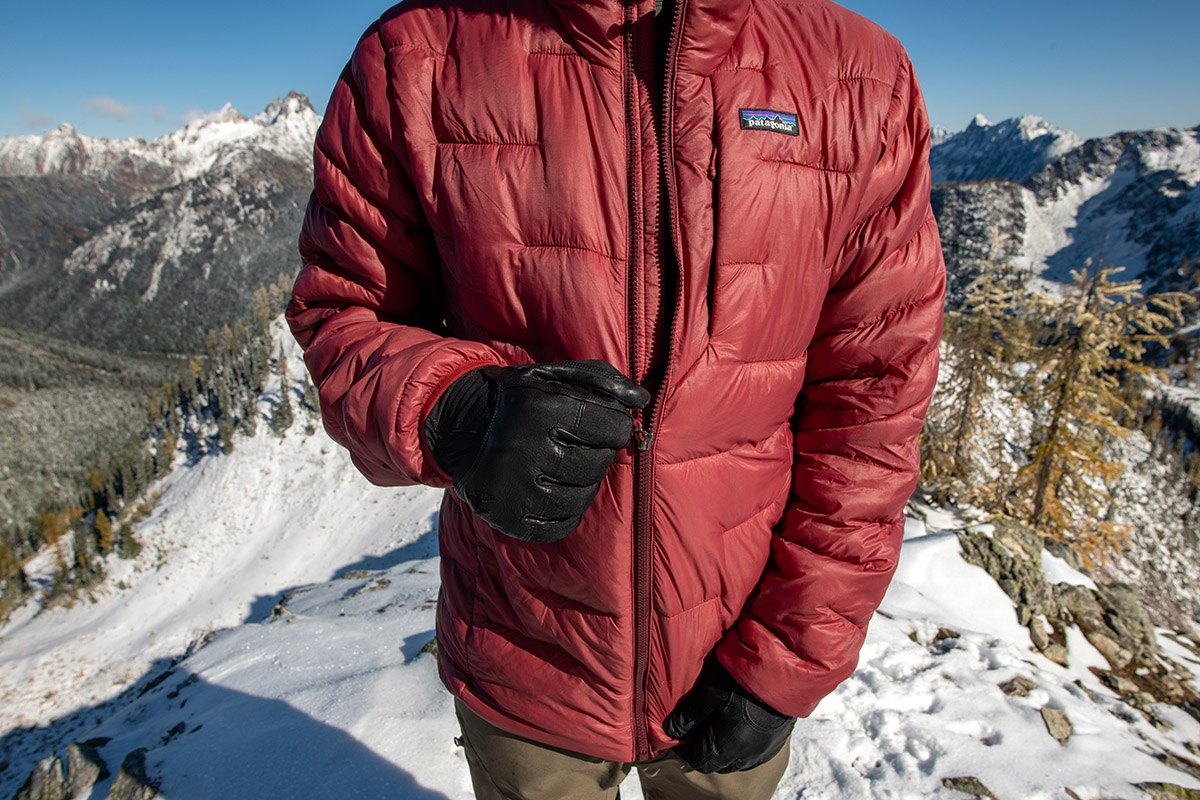 Other Versions of the Patagonia Macro Puff
I tested the men's non-hooded Macro Puff Jacket for this review, and Patagonia also makes a hooded version. Compared to the jacket, the Macro Puff Hoody costs an additional $50 and adds 2 ounces in weight, which are reasonable tradeoffs if you plan to use the Macro Puff as an outer layer in dry conditions (but again, we'd recommend throwing a shell overtop if the weather turns inclement, in which case the non-hooded model is our preferred midlayer option). Patagonia also sells women's versions of both the jacket and hoody, which share the same overall construction and price as their men's counterparts but feature a women's-specific cut, trim off a couple ounces of weight, and come in different colorways.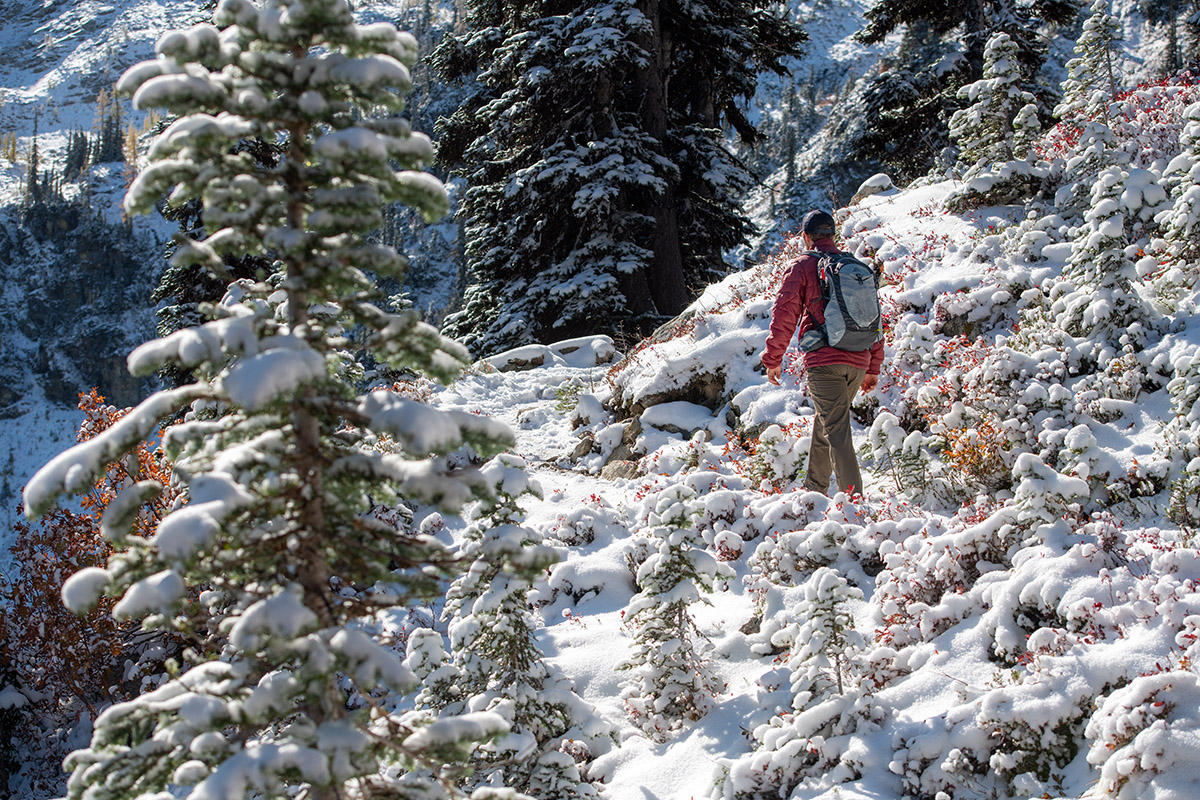 What We Like
PlumaFill insulation and extended length offer great warmth for the weight compared with most synthetic options on the market.
Easily outperforms down jackets in wet conditions. The Macro Puff is a nice match for shoulder-season and light winter trips with consistent rain or wet snow.
Classic high-quality Patagonia construction, look, and feel.

What We Don't
Expensive at $349. Many true down alternatives provide similar levels of warmth, pack down smaller, and cost less.
The thin 10-denier fabric is concerning from a long-term durability standpoint (although we haven't had any notable issues yet).
Fit is overly baggy and boxy with just a baselayer underneath.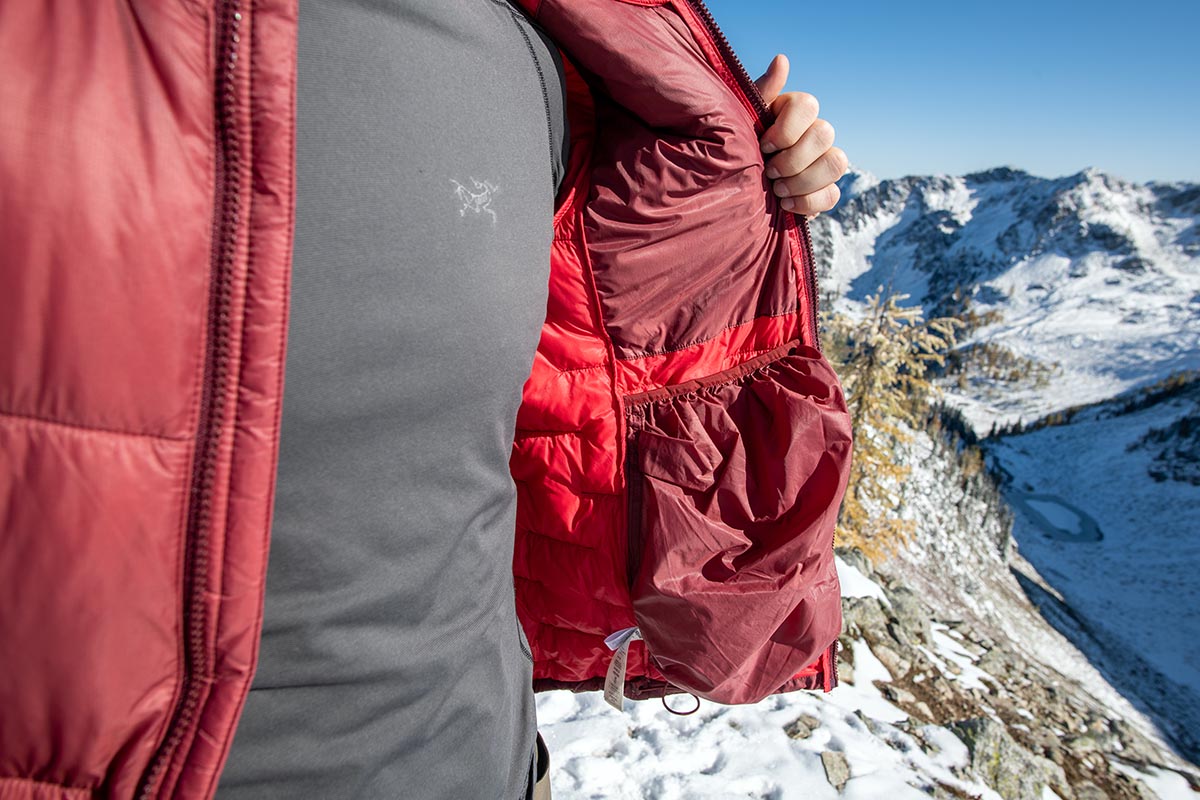 Comparison Table

The Competition
Patagonia offers an extensive and ever-growing lineup of synthetic jackets, but the Macro Puff stands out for its impressive warmth relative to its weight. As we touched on above, the brand's Micro Puff is another option in this category. Compared to the Macro Puff, the Micro is lighter at 8.3 ounces, similarly thin at 10 denier, and more weather-resistant with a Pertex Quantum shell. The biggest difference is warmth: the Micro Puff offers considerably less with 65-gram PlumaFill throughout (the Macro Puff uses 135g and 90g), and you get less coverage due to a shorter back length. Both are lightweight and packable synthetic jackets, and a final decision should come down to intended use. If you need added warmth for moderate winter or fall conditions, we'd spend up for the Macro Puff. Otherwise, we think it's worth saving $100 with the Micro.
Patagonia's warmest synthetic is their DAS Parka, which was reintroduced for 2020. For a step up in price ($449), the DAS offers more warmth with 133-gram PrimaLoft Gold Eco insulation throughout and an additional dose of 40-gram in the core. You also get a more protective Pertex Quantum Pro shell and polyurethane coating with a DWR finish for extra assurance in wet weather. The DAS is the more specialized piece with belay-ready features like a two-way main zipper, excellent storage, optional thumb loops, and cinchable gasket at the hem for sealing out the cold. For those who don't plan to utilize these extras, we think it's worth saving with the Macro Puff (the hoody version saves you $50), but the DAS is a standout option for climbers and skiers who get out in particularly cold areas.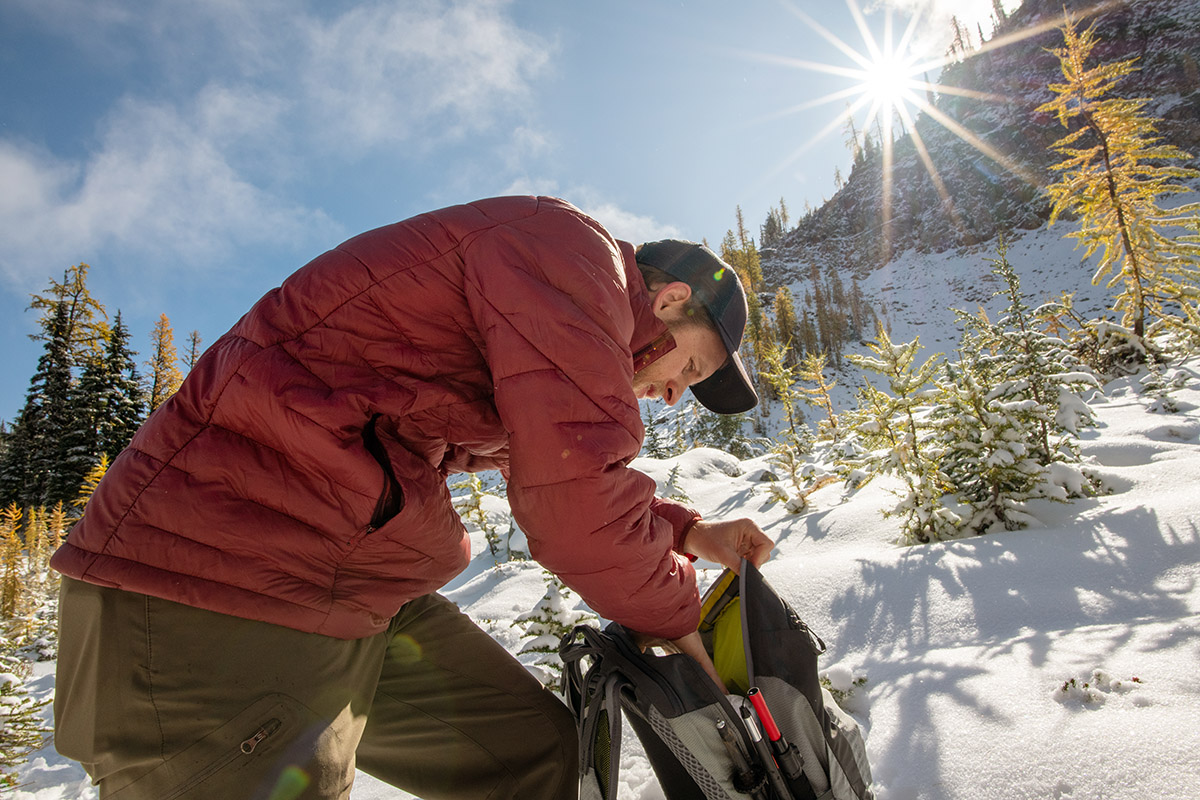 Outside of Patagia's collection, the Macro Puff doesn't have a lot of direct competitors in the midweight synthetic market, but the Arc'teryx Atom AR ("all round") fits the bill. Stacked up to the Macro Puff, the Atom AR is similarly warm with a mix of 120-, 80-, and 60-gram synthetic Coreloft, more durable with a 30-denier outer shell, and heavier at 15 ounces. The Arc'teryx jacket lacks the puffy-like feel and down-mimicking build of the Macro Puff, but it costs a considerable $70 less and is more comfortable in general. If packability is a concern, we'd go with the Macro Puff. Otherwise, the Atom AR is a nice alternative for cold and wet conditions, plus its design wears better around town (for more, see our Atom AR review).
The Macro Puff aims to mimic down, so it's worth touching on how it stacks up to a comparable design. Arc'teryx's $299 Thorium AR lines up nicely as a midweight alternative with 750-fill down in the torso and sleeves and strategically placed synthetic in areas prone to moisture like the cuffs and under the arms. The Arc'teryx has a noticeably burlier build with a 30-denier shell, and it gets the edge in warmth as well (the Thorium is a bit warmer than the Atom AR mentioned above). But the Patagonia weighs about 2 ounces less, has similar packability, and is the safer bet if there's a risk of the jacket getting drenched. Overall we prefer the Thorium as the more versatile piece, but the Macro Puff is the better choice for wet shoulder-season adventures.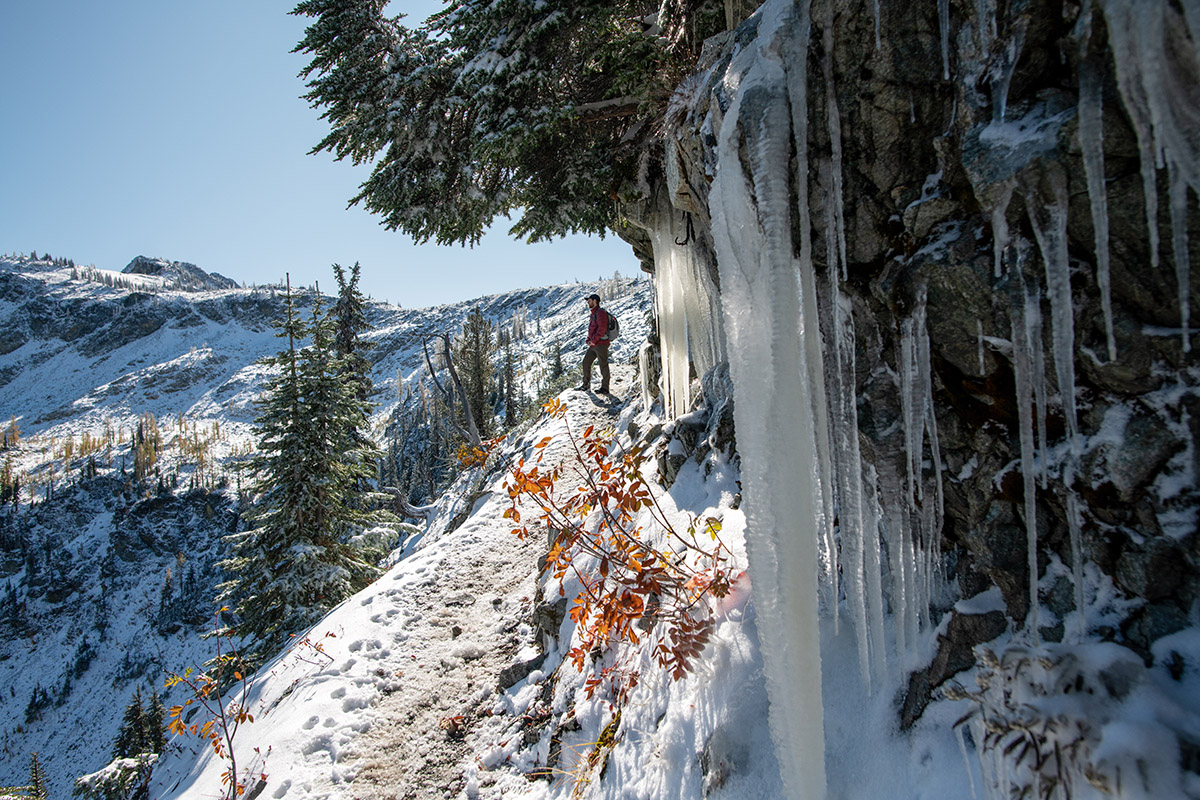 The Macro Puff's big $349 price tag ($399 in hoody form) puts it in reach of a number of popular heavyweight down pieces. One such example is the $375 Rab Neutrino Pro, which is stuffed with 8 ounces of 800-fill-power goose down for true winter-ready protection. It's hard to match the wet-weather performance of the synthetic Macro Puff, but the Rab uses hydrophobic down, a Pertex Quantum Pro shell, and a Pertex Quantum lining for added defense against the elements (although both jackets will warrant a shell in sustained rain or snow). Finally, the Neutrino Pro is heavy for a down piece at 1 pound 5.3 ounces—the Macro Puff comes in lighter at 15 ounces for the hoody—but is significantly warmer and also more durable with a 20-denier shell. In the end, the Macro Puff is a light, packable, and warm synthetic, but down still is our preferred cold-weather insulator.
If you're thinking about buying gear that we've reviewed on Switchback Travel, you can help support us in the process. Just click on any of the seller links above, and if you make a purchase, we receive a small percentage of the transaction. The cost of the product is the same to you but this helps us continue to test and write about outdoor gear. Thanks and we appreciate your support!
Depending on the seller, most products ship free in the United States on orders of $50 or more. International shipping availability and rates vary by seller. The pricing information on this page is updated hourly but we are not responsible for inaccuracies.
Learn More About Outdoor Gear