Patagonia's ski lineup runs the gamut from technical, backcountry-ready hardshells to insulated resort options. Sitting at the top of their inbounds collection in both warmth and price is the Primo Puff, which we took out on a number of frigid and stormy mid-season resort days in Washington State, as well as late-season outings in milder conditions. Overall, we found it to be supremely warm and highly protective with a lot of appeal for riders in areas that see consistently cold temperatures. Below we break down the Primo Puff's weather protection, warmth, breathability, build quality and durability, weight, fit and sizing, and more. To see how it stacks up to the competition, see our article on the best ski jackets.
 
Performance
Weather Protection
Despite having clean styling that in many ways resembles a casual winter jacket, the Patagonia Primo Puff is properly outfitted to handle seriously rough conditions. For waterproofing, you get a 2-layer Gore-Tex construction, and combined with a sturdy face fabric and the thick insulation, the jacket fully blocked all wind and moisture. Further, it's easy to seal out the cold with a large and highly adjustable hood, powder skirt, and dual cinches for the hem (although we did find the hem a little tricky to toggle with gloves on, as it requires pulling cords in each hand pocket). And unlike its primary competitor, the Arc'teryx Macai, the cuffs are insulated right to the end of the sleeves, which do an excellent job keeping drafts out even when wearing undercuff gloves. Another area it beats out the Macai is the height of its collar, which covers the top lip with an opening that's wide enough to bury your face into in the biting cold.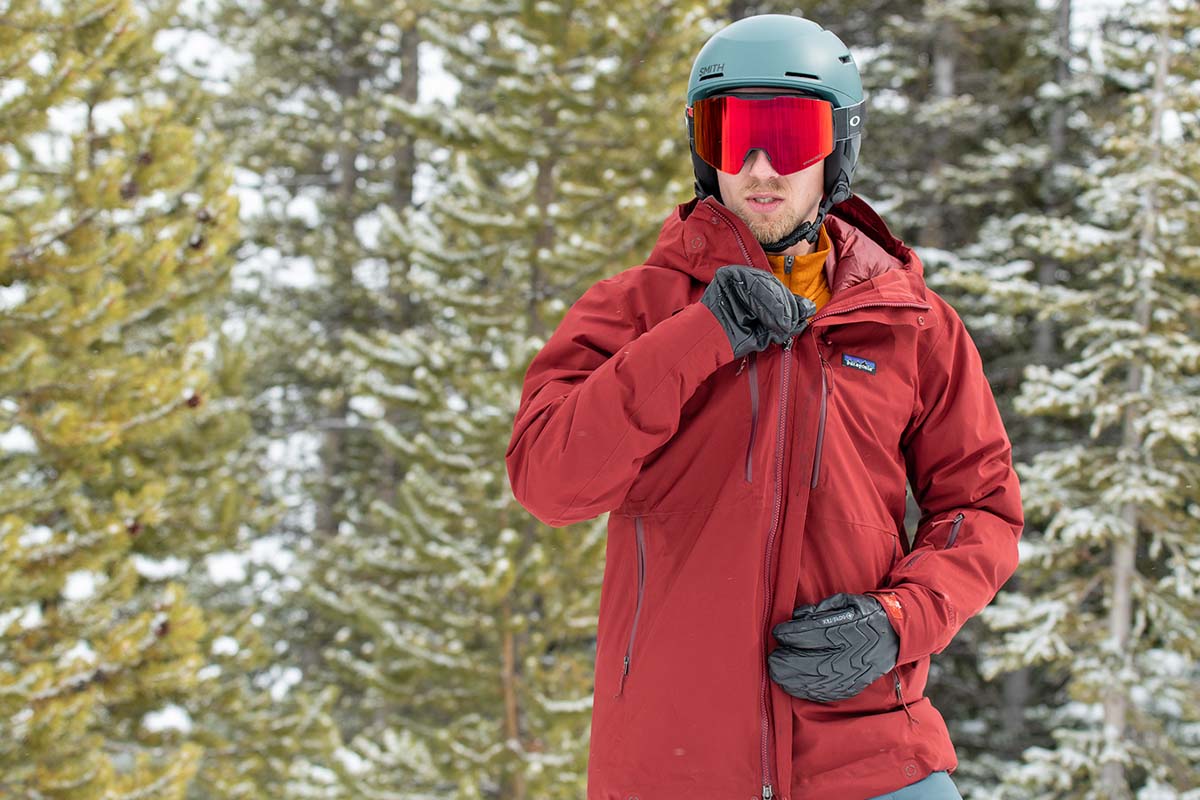 Most of the other protective features are up to snuff, as well. The length is just about perfect for riding in deep snow and wet conditions—at 5'9", the medium size was long enough to fully protect me from a frigid chairlift seat without being too long to feel awkward and restrictive. Further, all of the zippers are water-resistant and never failed throughout testing, and the main center zipper also includes a fabric flap over top for additional protection (as well as enhancing the jacket's sleek look). Our only complaint is that the flap secures at the top and bottom of the shell, making it pretty unusable for goofy-footed snowboarders (or those that ride switch on occasion), as the material can open while riding downhill.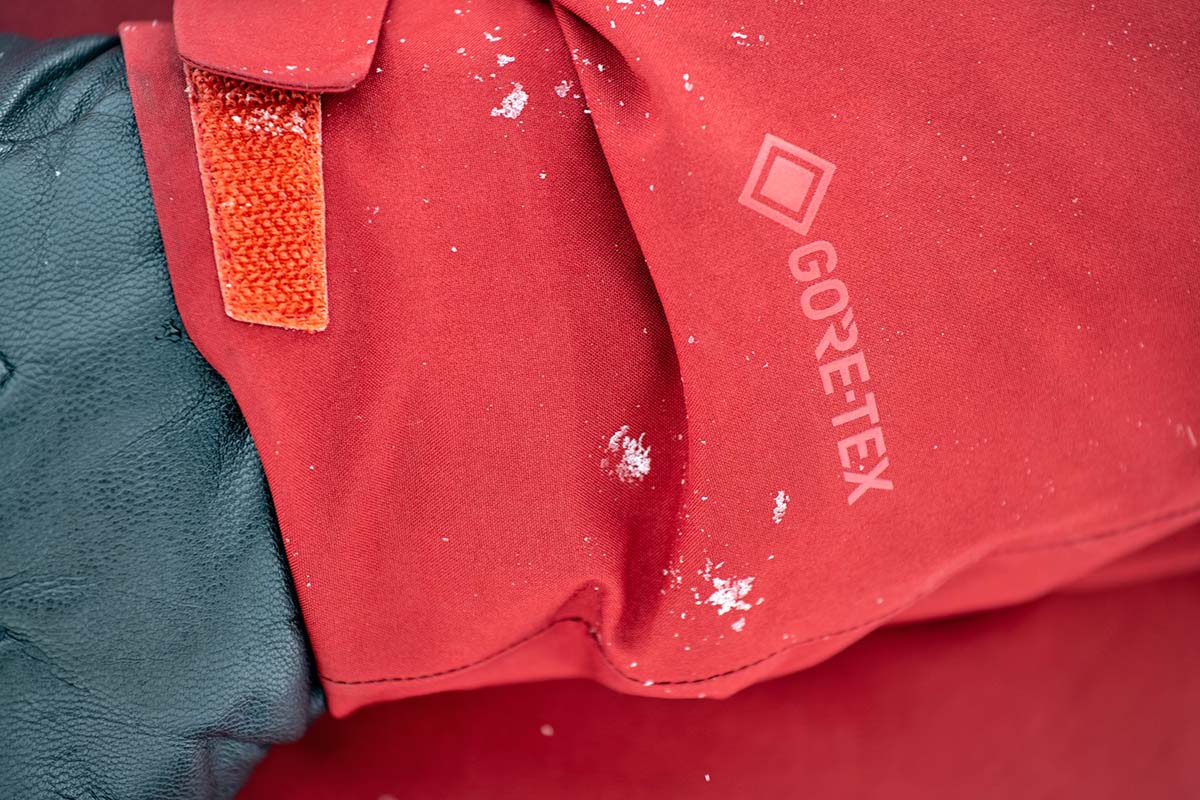 Warmth
For warmth, Patagonia turned to their well-regarded PlumaFill synthetic insulation that is also found in their ultralight Micro and Macro Puff jackets. This material is among the best we've ever tested at mimicking the lofty, cozy, and compressible feel of down, and it's the same story with the Primo Puff. The combination of 135- and 90-gram fill (the lower amount is primarily found in the sleeves) left us completely comfortable while testing the jacket in temperatures down into the low teens Fahrenheit (and into the negatives when factoring in wind chill). In fact, the only jacket we've worn that has beaten it in outright warmth is Arc'teryx's $949 Macai, which adds premium 750-fill down insulation around the torso and in the arms.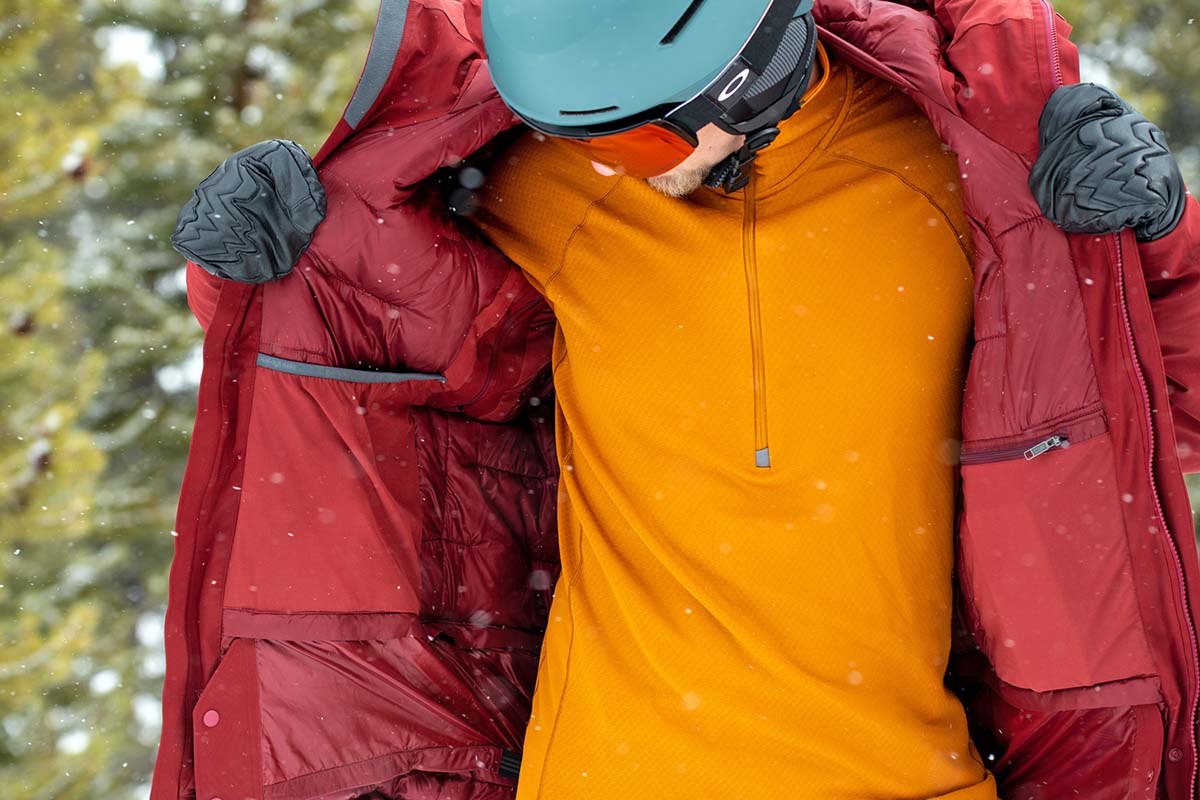 To be clear, we have nothing to complain about from a warmth perspective, but it's worth thinking through whether or not you need this much insulation. The Primo Puff will overheat quickly on a sidecountry hike, and we resorted to opening the pit zips on mild, sunny days with temperatures in the high 20s. Riders in areas like the northeastern U.S. have a decent chance of wearing it all season long, but a lot of the country sees moderate conditions for stretches of time (including here in the Pacific Northwest), which means you'd likely need another less-insulated jacket in your quiver.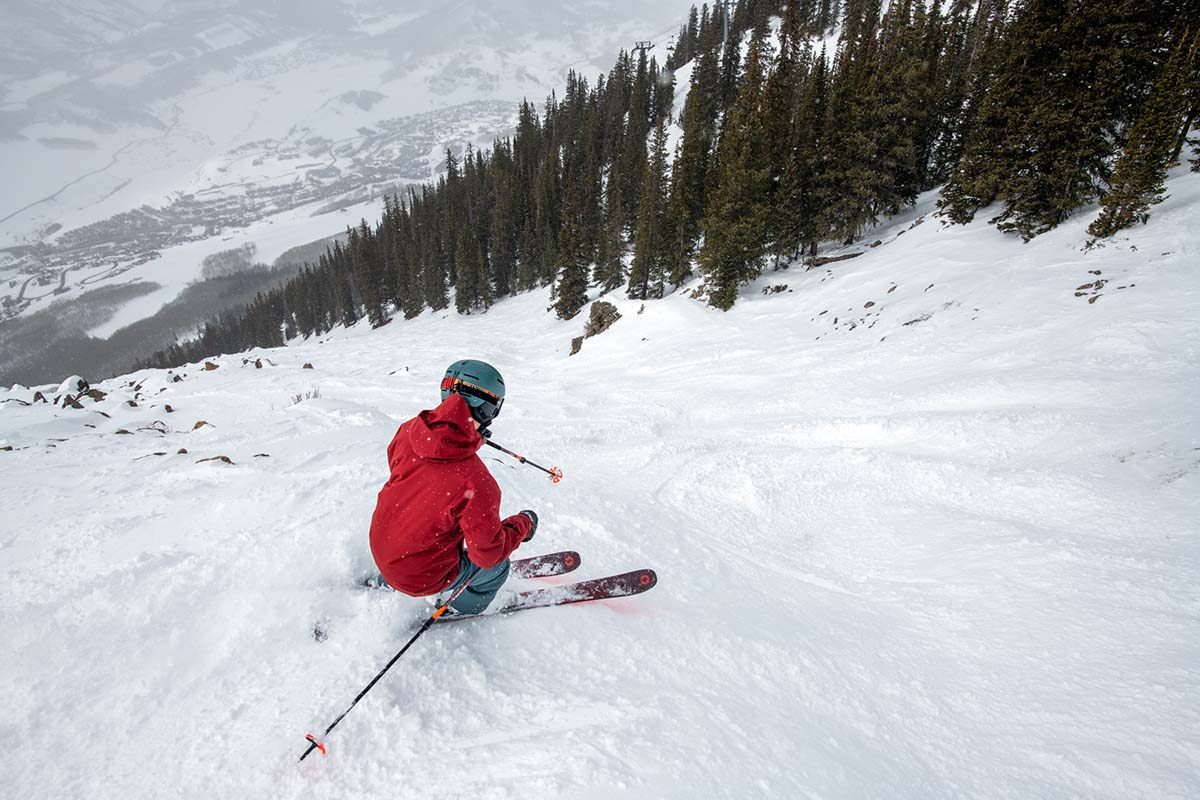 Comfort 
At the top end of the insulated jacket market, you pay for warmth and comfort, and the Patagonia Primo Puff delivers on both accounts. The quilted and smooth interior resembles a premium puffy jacket and is comfortable the moment you slip it on. And the soft-touch fleece-like covering at the front of the collar is a practical feature for those that prefer to ski without a mask (although we've noticed the material is starting to pill, which is likely the result of it rubbing up against facial hair). For improved mobility, Patagonia uses a stretch polyester Gore-Tex fabric, although the added "give" wasn't particularly noticeable. Part of the issue may be the jacket's fairly large and boxy fit (more on this below), which doesn't move with you as well as the trimmer-fitting Macai (which doesn't have any stretch but has superior mobility). This isn't to say comfort suffers in any noticeable way with the Primo Puff, but you do feel the jacket more than the Macai.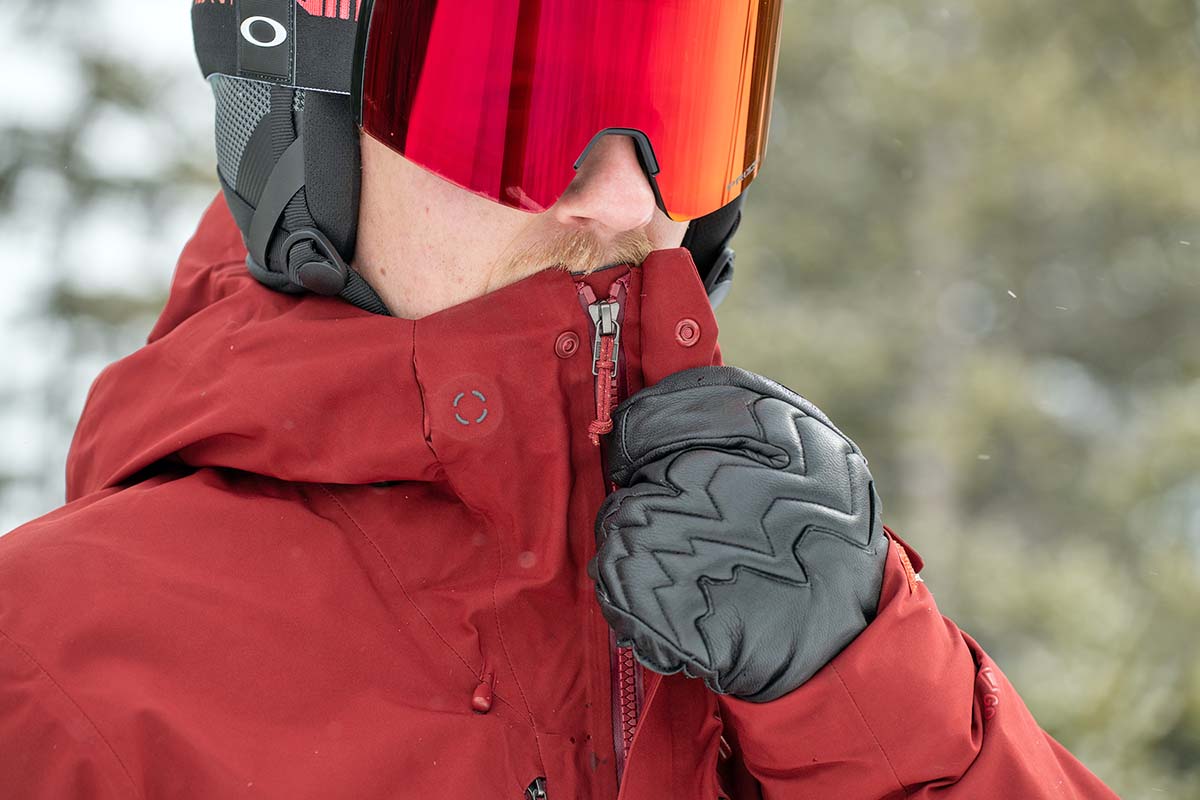 Casual/Everyday Wear
A final thought related to comfort is the Primo Puff's crossover ability for everyday wear. In many ways, it's a solid choice, with clean styling (the cover over the center zipper is a nice touch for giving it a less techy look), plenty of storage, and a great deal of winter-ready protection. That said, the bulky and long fit detracts a bit from the jacket's casual appeal, and removing the powder skirt only ends up leaving more space inside. In addition, the hood isn't removable and doesn't snug down as evenly when you're not wearing a ski helmet. Personally, we think the Macai is the better choice for everyday wear, but if you're willing to compromise in a few areas and don't mind the larger cut, the Primo Puff is perfectly serviceable.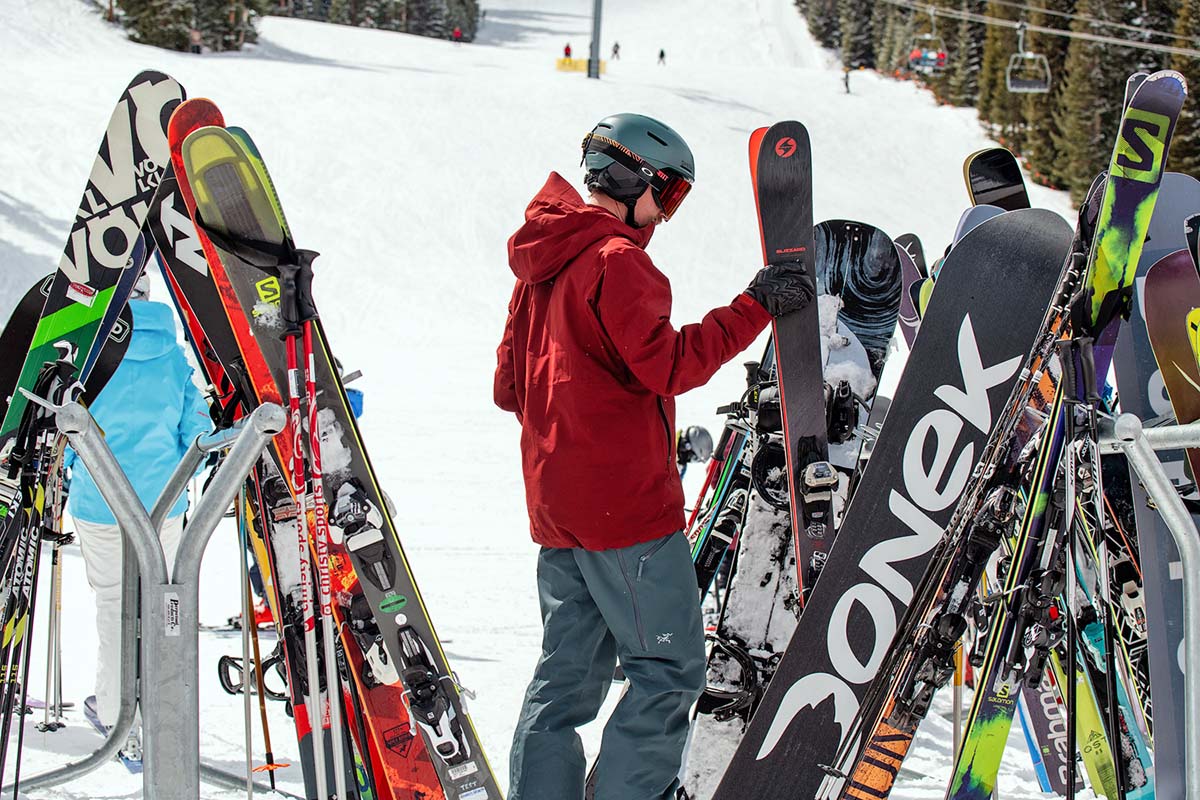 Breathability
As expected, breathability took a back seat to protection, comfort, and warmth with the Primo Puff. If you plan to do any sort of sidecountry exploration or bootpacking, we recommend opening the pit zips before you start, and you'll likely be unzipping the front zipper too fairly early on (we even had to do so on very cold and windy days in the mid teens). The good news is that the large pit zips do dump heat quickly, but they lack the mesh coverage you get on the Arc'teryx Macai, so they're less useful for opening up when it's snowing hard or when riding in deep conditions (moisture can easily seep through the unprotected openings). But to be fair, the Primo Puff is designed to be worn on-piste in harsh weather, and in those conditions, it shines.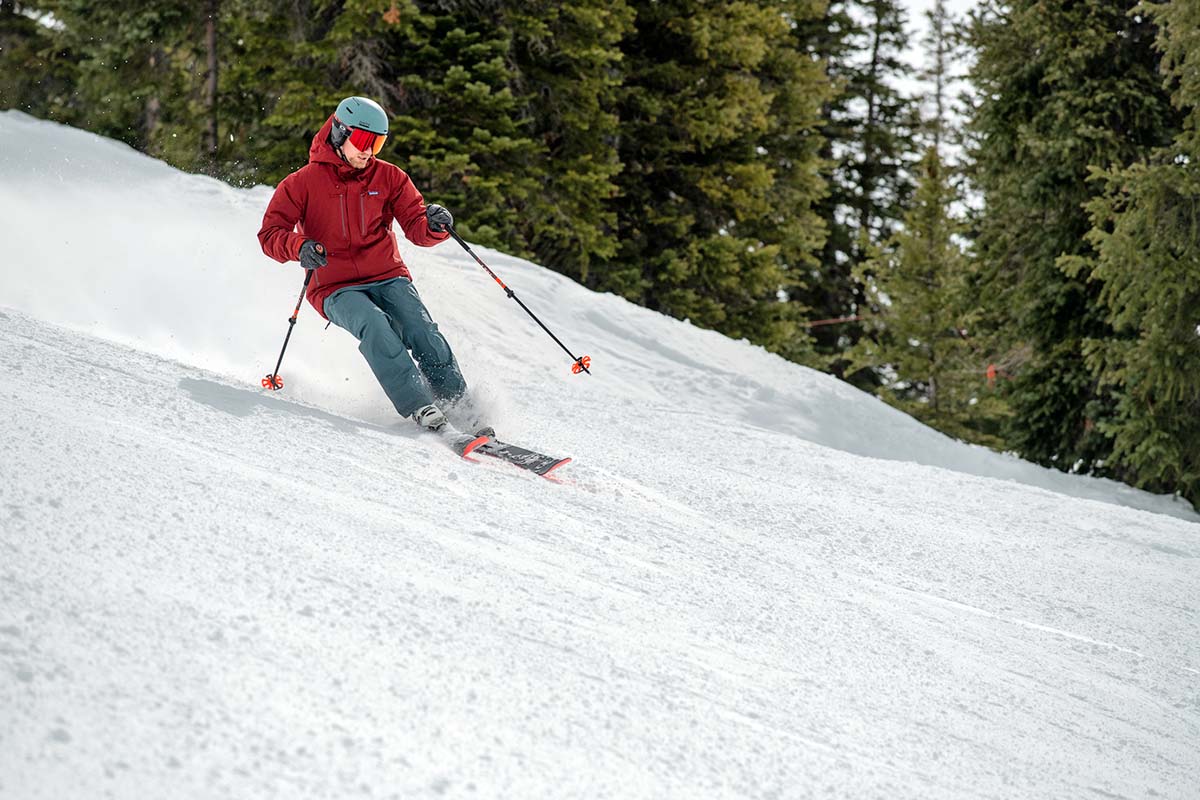 Build Quality and Durability
As expected at this $800 price point, the Primo Puff is a high-quality jacket through and through. With a sturdy 75-denier shell and thick construction, we have no concerns from a durability standpoint. Further, the jacket's DWR coating is holding up well (I've kept up with consistent washing to keep it fresh), there aren't any signs of wear, and the insulation is still as lofty as when it was new. Additionally, the interior is cozy and soft, and the zippers all operate smoothly. That said, we did find the zipper pulls are on the small side and can be difficult to grab and adjust with gloved hands (especially if you're wearing three-finger-style gloves or mittens). In particular, the exterior hand pockets and pit zips were tricky to manipulate, and we found the top button on the center flap to be equally challenging to secure without taking our gloves off. These are relatively minor complaints, but it can be tedious to make adjustments.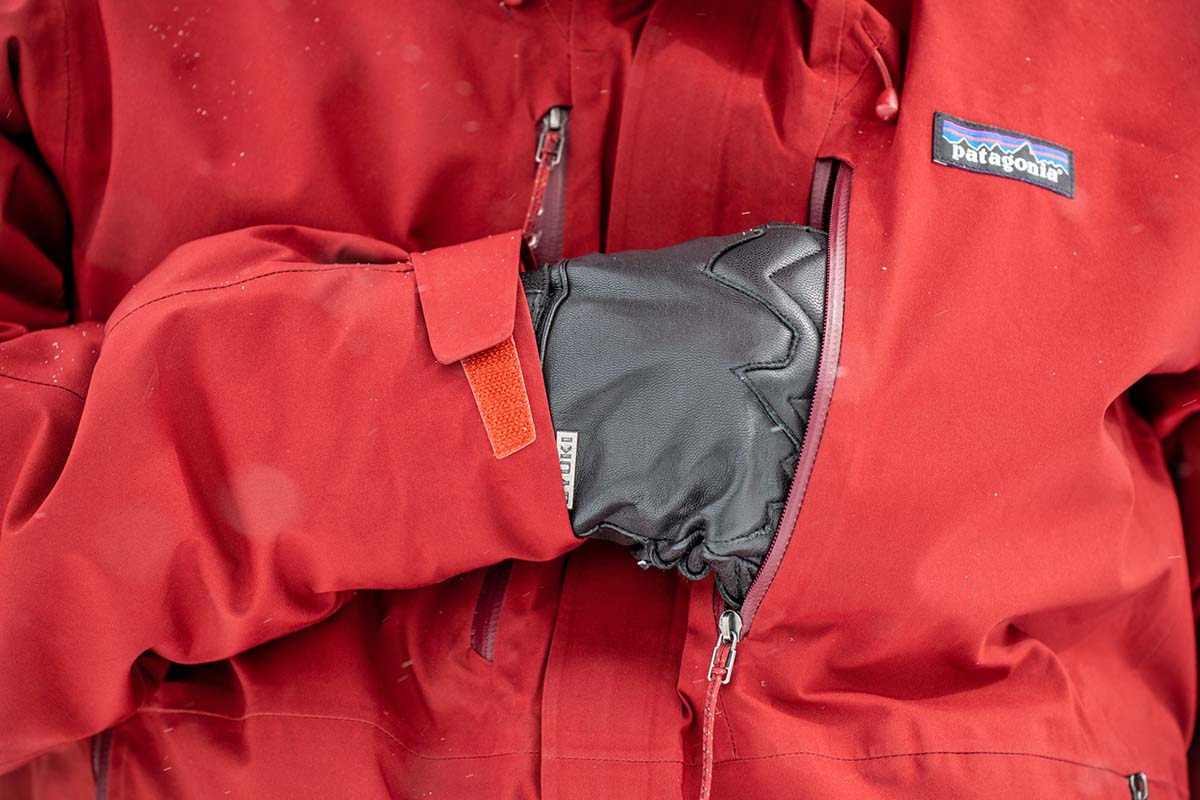 Weight
Weight is rarely a consideration for resort days, especially if you're sticking to lift-assisted runs and won't be exploring the sidecountry. That said, keeping things light does help with mobility and overall comfort on the slopes (we like when our shell goes unnoticed). And for the most part, the Primo Puff fits the bill, with lofty insulation that delivers excellent warmth relative to the jacket's weight (2 lbs. 6.8 oz.). Worn back-to-back with the down-filled and trimmer-fitting Arc'teryx Macai (2 lb. 4 oz.), the Primo Puff did feel slightly bulkier and less streamlined, but we expect very few riders to have any weight-related complaints. For comparison, most other insulated options, including Patagonia's own Insulated Powder Bowl (2 lbs. 6.2 oz.) and Helly Hansen's Alpha 3.0 (2 lbs. 3 oz.), clock in similarly. Norrona's Lofoten Insulated is lighter at 1 pound 14 ounces, but it uses less insulation in areas and forgoes it entirely along the hood and hem.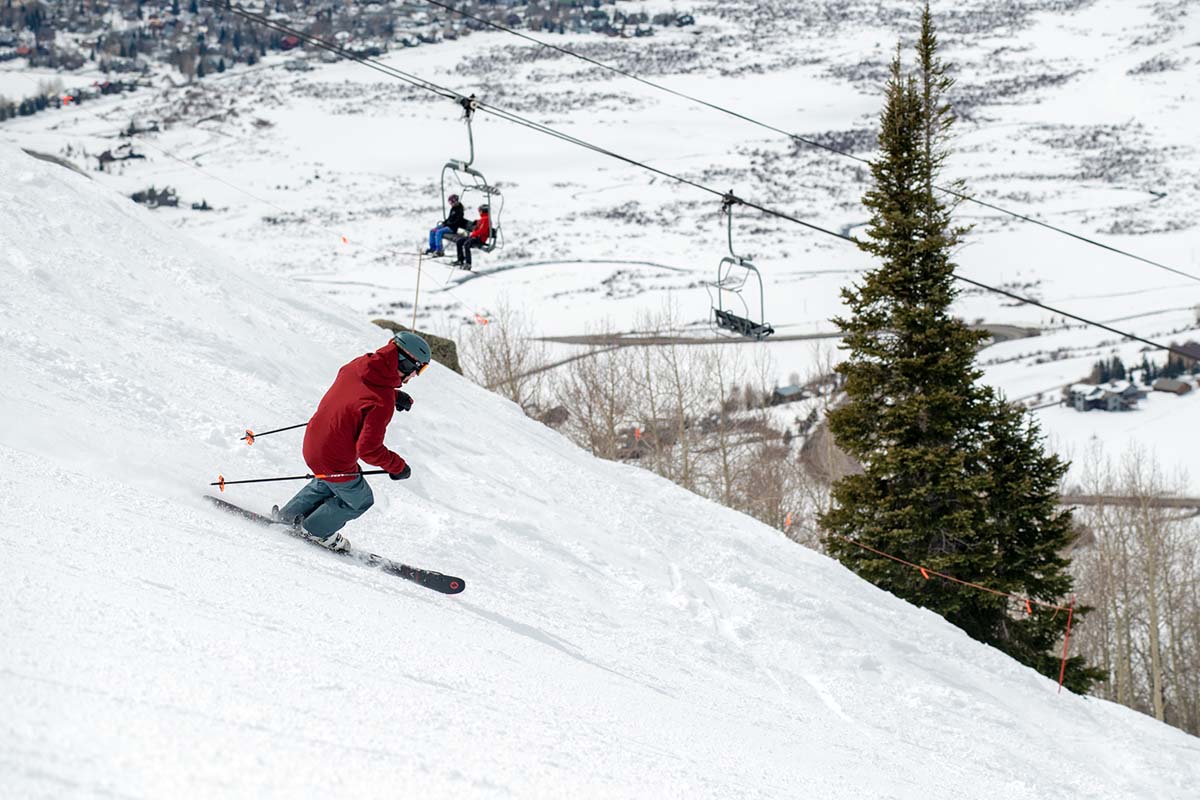 Key Features
Hood
We've found Patagonia hoods can be a mixed bag in terms of coverage and adjustability, but we like the Primo Puff's design. It's plenty large and fit easily over a variety of helmets (including medium sizes in the Smith Level, Smith Altus, and POC Obex and a large Smith Vantage), and it's easy to tweak the fit between the rear cinch cord and two side adjusters at the front. The latter two utilize the button-style Cohaesive cord locks, which make it a seamless process to tighten or loosen even while wearing gloves. And overall coverage from the hood is fantastic: fully cinched and with the front zipper fully raised, only your nose and a small portion of your cheeks are exposed (and it's easy to duck in and protect those as needed). For battening down the hatches, the Primo Puff's hood checks all the boxes.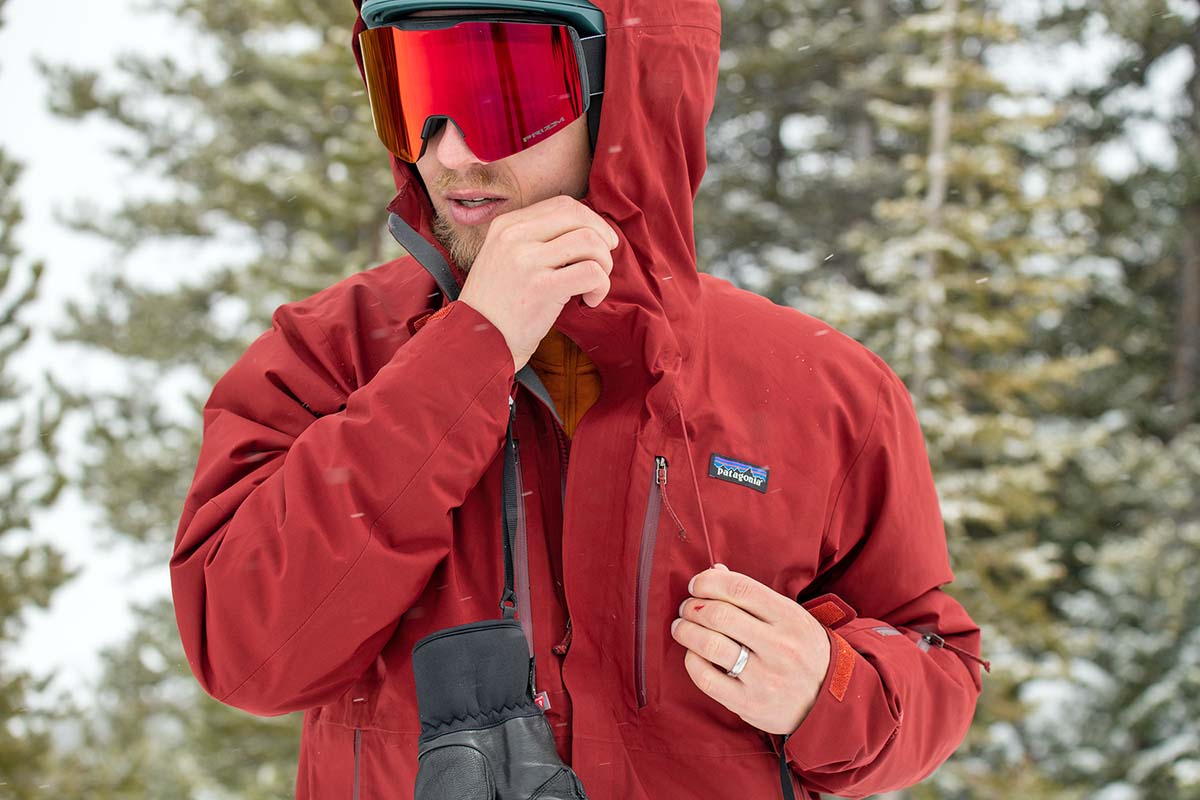 Storage: Pockets
Organization is a real strong suit of the Patagonia Primo Puff. You get a grand total of seven pockets, all of which have their respective uses for divvying up items like keys, a wallet, phone, snacks, lip balm, and more. Four zippered pockets cover the front of the jacket, including two moderately sized chest pockets and two deep and glove-friendly hand pockets. The left chest pocket also includes a separate, phone-sized zippered space inside with a small opening to the interior for sliding a headphone cord through. In addition, there's a pass pocket along the left forearm. As we touched on above, all of them feature hard-to-grasp zipper pulls, but otherwise they're extremely functional. Inside, there's a zippered drop-in-style pocket that's our personal favorite: it includes a key clip, and the shape with the zipper at the top adds some security when stowing your phone inside.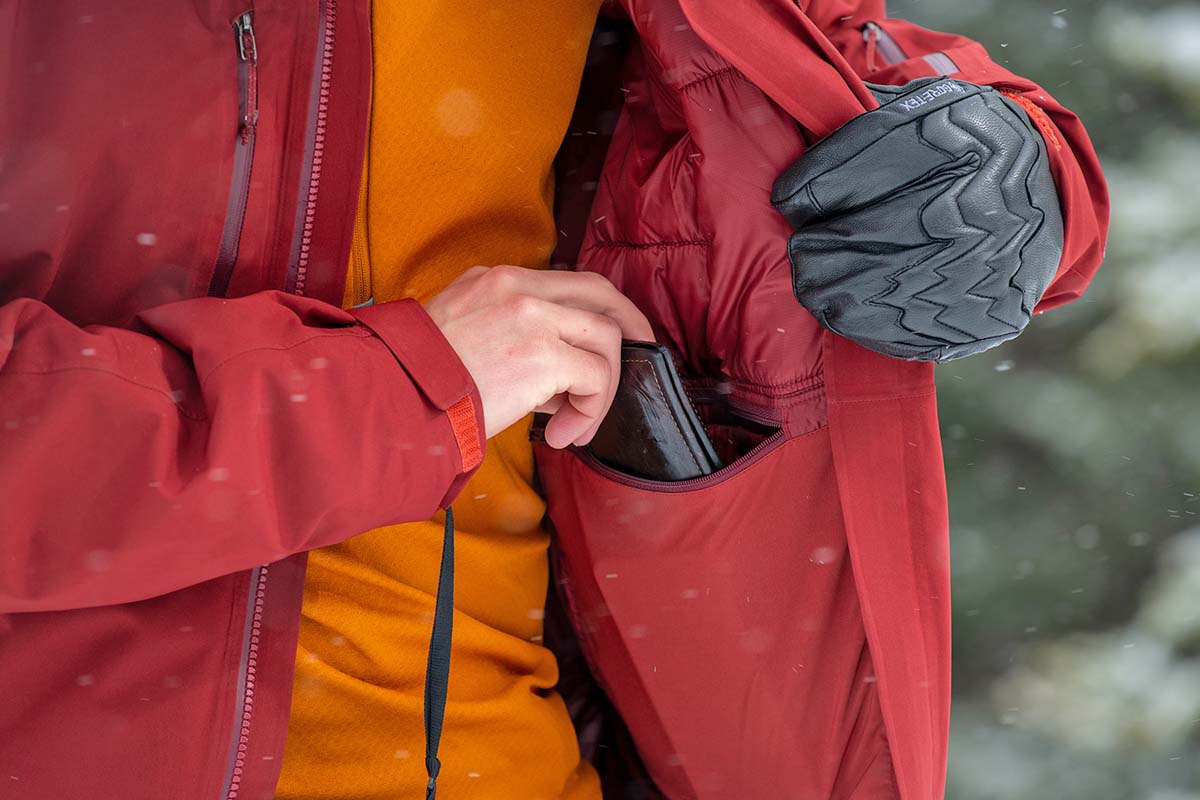 Powder Skirt
A powder skirt is useful for sealing out snow in a fall or deep powder, and we found the Primo Puff's to be functional and easy to use. It has a stretchy build that secures at the front with buttons, and it's among the most adjustable we've tested with a drawcord/cinch at each side that allow you to snug it down as tightly as you want. This might be a little overkill—we rarely have complaints about the sizing of our skirt—but some might like the ability to customize fit. And at the back is a fabric loop and button, which can be attached to a set of compatible Patagonia ski pants (all of their current ski/snowboard-specific pants will work) to further integrate your outer layers and keep them in place. Finally, the powder skirt can be removed for days when you don't want the added protection (or for après activities or casual use).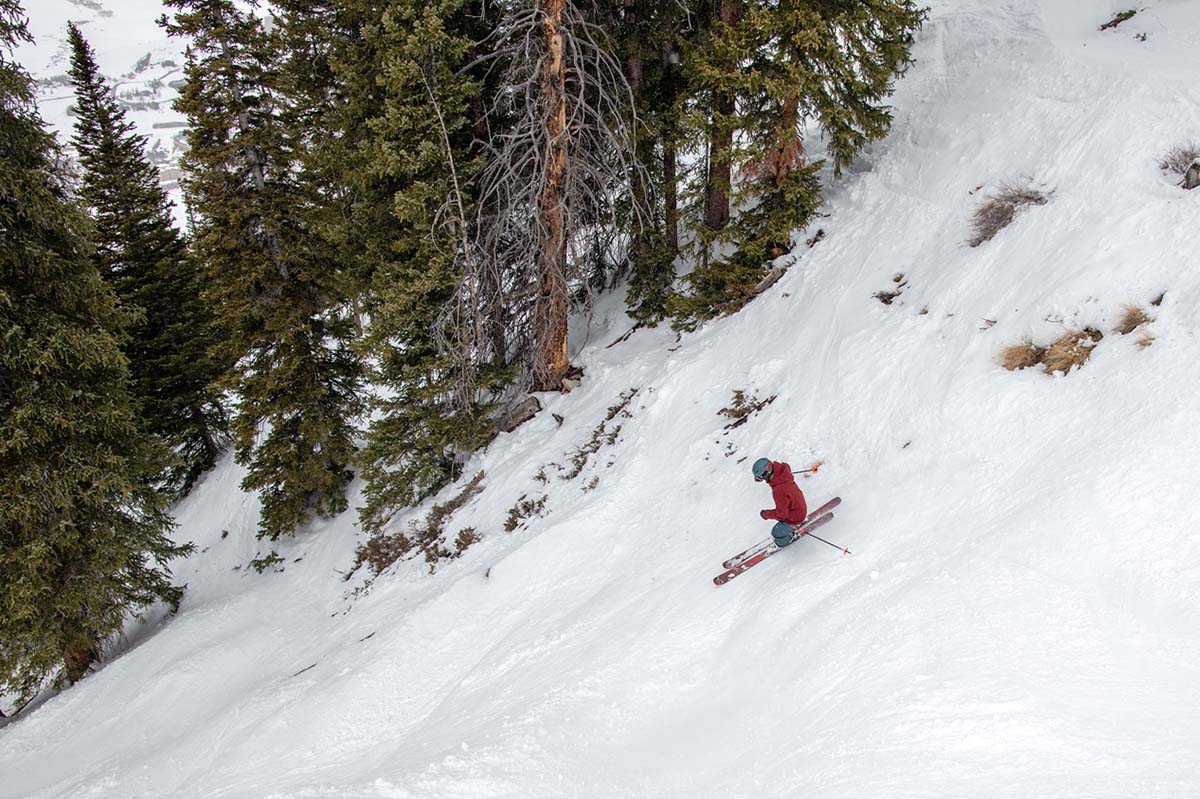 Fit and Sizing
In general, we've found Patagonia ski jackets to be fairly boxy and to fit on the large end of the spectrum, and this holds true with the Primo Puff. At 5'9" and 155 pounds (our other tester is 6'0" and 165 lbs.), the jacket was a nice length but had more space in the torso than I would prefer. The upside is that I had room to add a midlayer underneath, but I rarely needed to considering the jacket's very warm build. In the end, I wouldn't recommend sizing down given the adequate length, but those that prefer a trimmer and snugger fit (or who plan to wear their ski shell around town on occasion) may be better off with Arc'teryx's pricier Macai.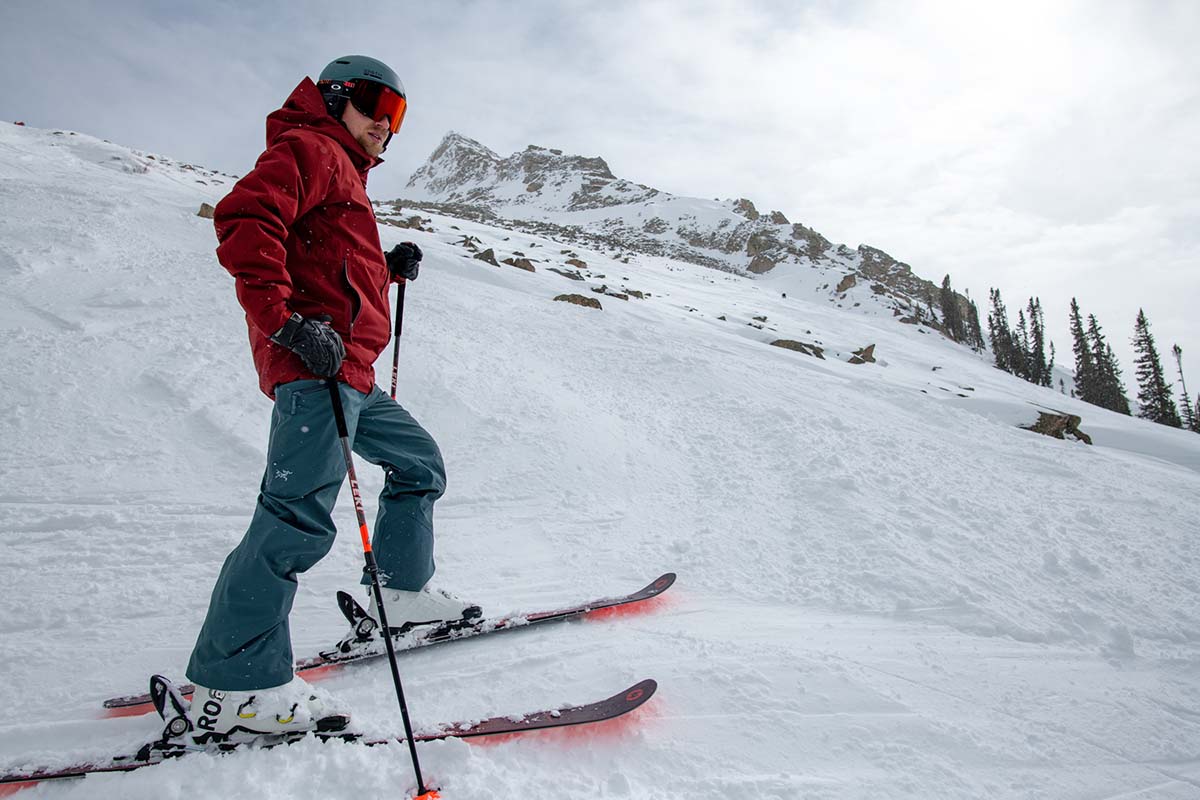 Sustainability: Recycled Fabrics and Fair Trade Certification
Patagonia is at the forefront of sustainability within the outdoor industry, and their Primo Puff is case in point. First and foremost, like much of the brand's shell lineup, the 2-layer polyester Gore-Tex shell is 100-percent-recycled. The jacket is also Fair Trade Certified sewn, which indicates that Patagonia put extra money into production to ensure that factory workers are compensated fairly and have safe working environments. Added up, we really appreciate the added measures that Patagonia continues to integrate into their outerwear.
 
Women's Version of the Patagonia Primo Puff
We put the men's version of the Primo Puff to the test for this review, and Patagonia makes the same jacket in a women's-specific model. The women's Primo Puff costs the same at $799 and has an identical overall construction including 2-layer Gore-Tex waterproofing, a mixture of 135- and 90-gram PlumaFill insulation, and features like a powder skirt and pit zips. The only discernible differences are in weight and colorways: the women's Primo Puff clocks in at 2 pounds (6.8 oz. less than its men's counterpart) and is sold in varying colors.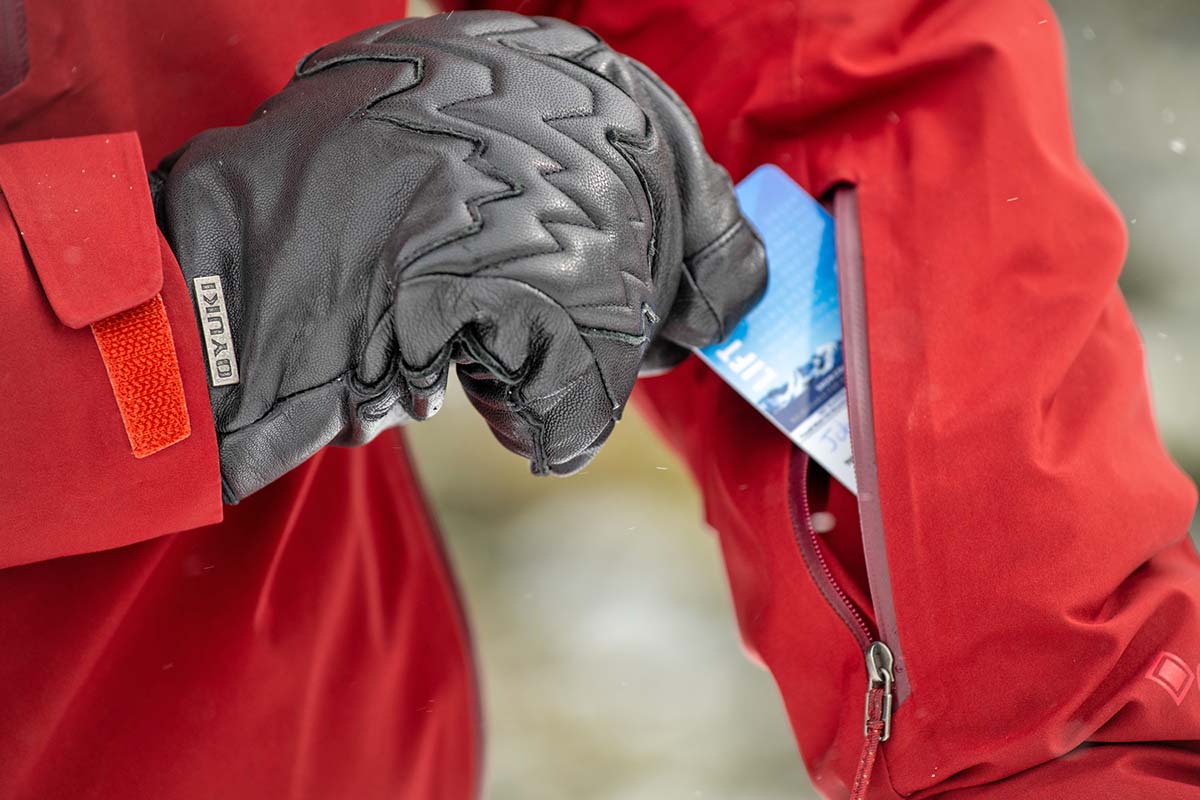 What We Like
Despite the clean styling and comfortable build, the Primo Puff is a very capable barrier against the elements.
PlumaFill insulation is one of the best down mimickers we've tested: it's lofty, cozy, and highly compressible.
Burly 75-denier shell and thick construction can stand up to regular use and abuse.
 
What We Don't
Too warm for sidecountry hikes and mild conditions.
Fit is fairly big and boxy.
Zipper pulls and top button on the center flap are difficult to toggle with gloves on.
Less crossover appeal and not as streamlined as Arc'teryx's top-of-the-line Macai Jacket.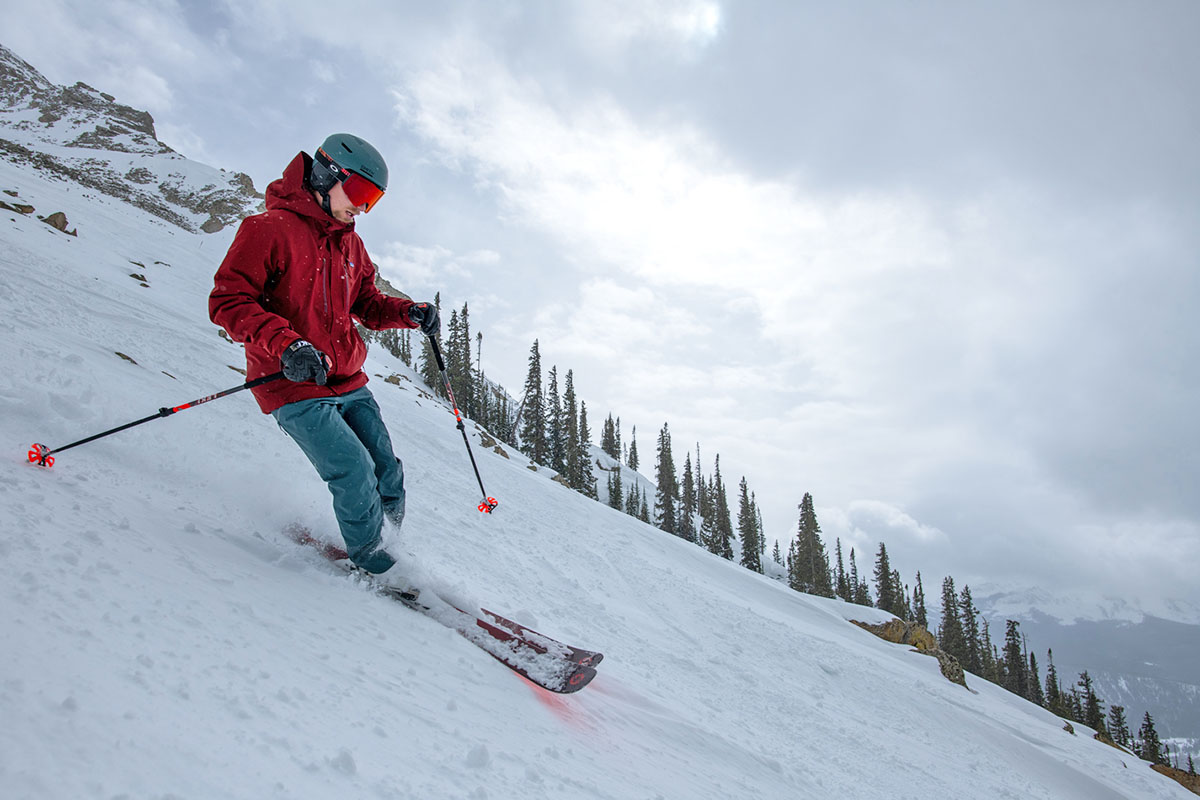 Comparison Table

The Competition
Patagonia's Primo Puff stands out for its exceptionally warm, cozy, and protective build, but there are a healthy number of competitors on the market, including Arc'teryx's top-of-the-line Macai Jacket. Both use extremely lofty insulation that's supremely warm, although the Macai gets the slight edge with premium 750-fill goose down mixed in. The biggest difference between the two jackets is fit: the Macai is noticeably trimmer than the large and fairly boxy Primo Puff, but the Patagonia runs longer and offers more coverage. If you plan to use your jacket solely for skiing, we think the Primo Puff is the better pick (and will save you $150). But for those who want the option to wear their shell around town, the Macai has wider appeal.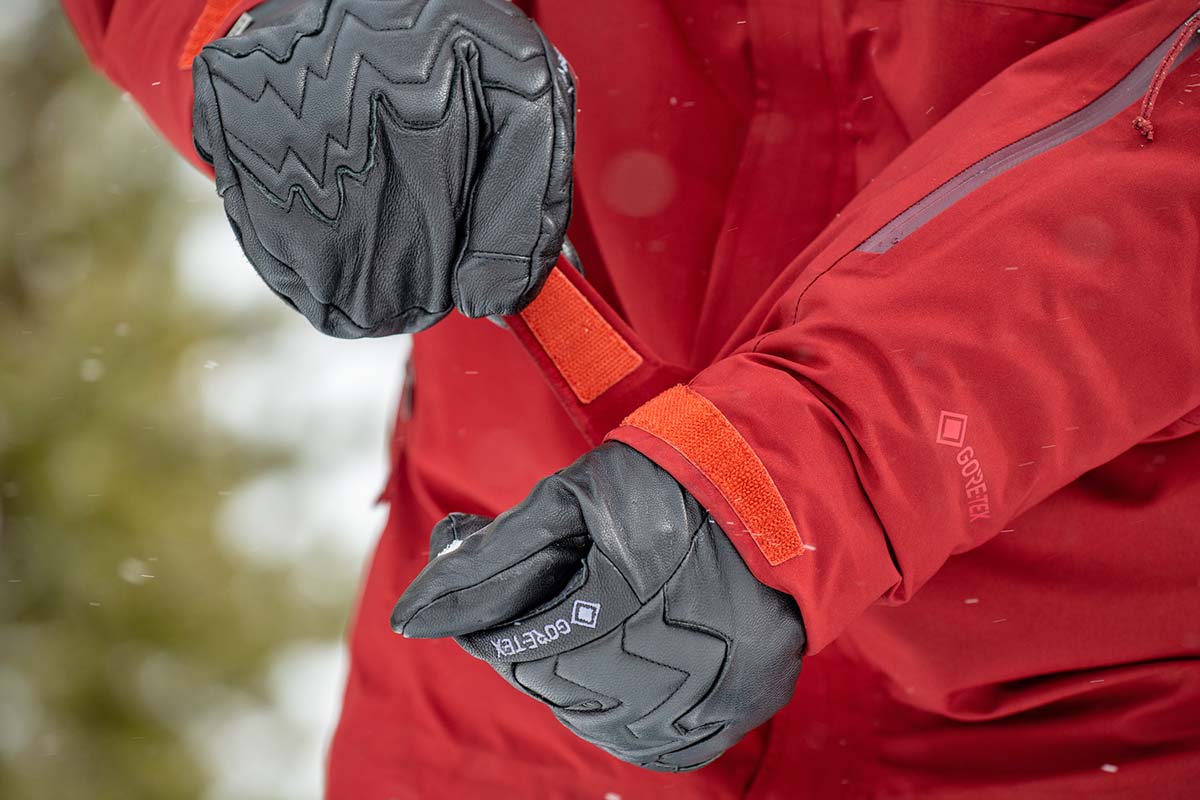 Helly Hansen's Alpha 3.0 has been at the top of our ski jacket round-up for years, and we think it wins out in a number of key areas. Like the Powder Bowl below, the Alpha undercuts the Primo Puff significantly in price ($450) and is less insulated and more versatile for mild days (although it's a step up in warmth compared to the Powder Bowl with 80g PrimaLoft Black insulation). What makes the Alpha so special, however, is its fantastic fit and noticeably stretchy build. The jacket moves extremely well with you, and it has a high-end feel that belies its cheaper price tag. All in all, the Primo Puff has the advantages in warmth and weather protection (although that'll only be noticeable on the most inclement days), but we prefer the cheaper Alpha.
For a step down in price ($479) and warmth, Patagonia also sells their Insulated Powder Bowl Jacket. Like the Primo Puff, the Powder Bowl uses a 2-layer Gore-Tex build but swaps out the PlumaFill insulation for 60- and 100-gram Thermogreen. Overall, we found the level of warmth to be great for season-long use and sidecountry hikes (it was much less prone to overheating). Further, the moderately soft face fabric and lining gives the Powder Bowl good all-around comfort, and its burly face fabric (150D vs. the Primo Puff's 75D shell) is more hardwearing. Both jackets have somewhat large and boxy fits, and the Powder Bowl lacks the ultra-premium feel of the Primo Puff, but it's the better choice for resort skiers looking for a single jacket to wear all season.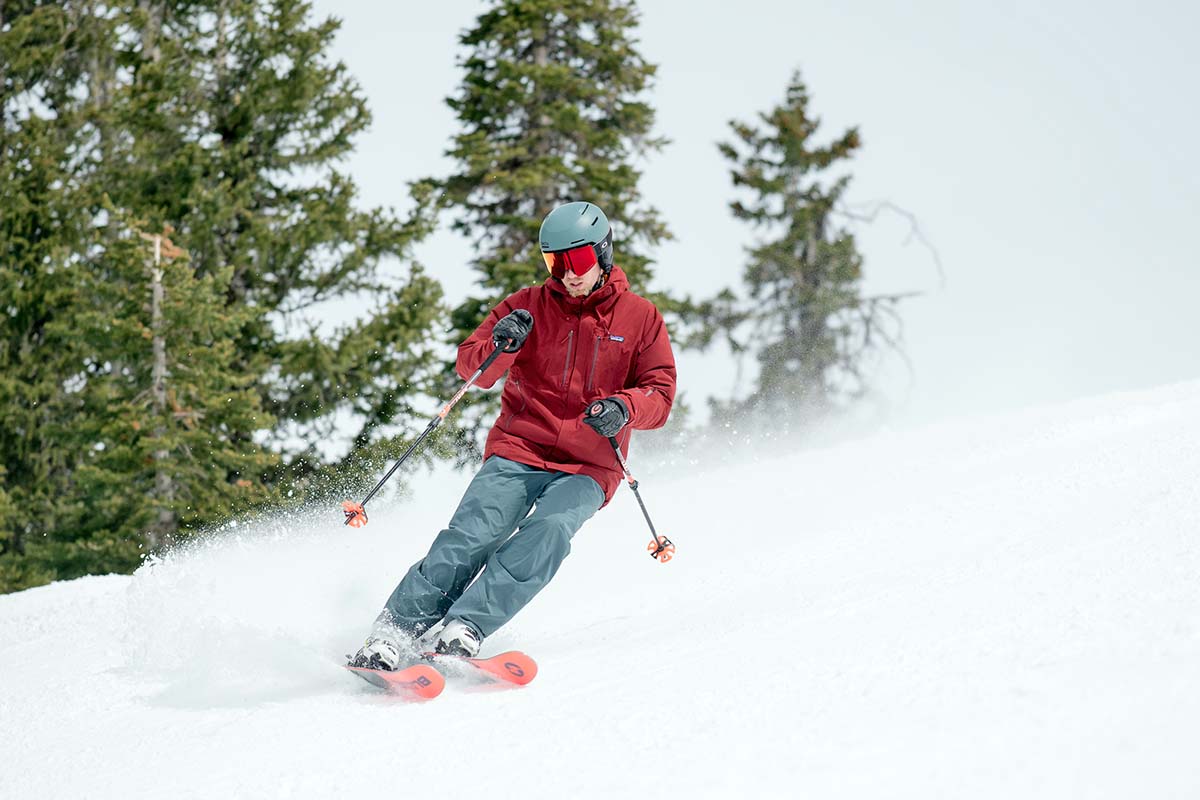 Last but not least, Norway-based Norrona offers an intriguing alternative to the Primo Puff in their Lofoten Gore-Tex Insulated Jacket. As we touched on above, the Lofoten lacks the overall warmth of the Primo Puff with varying thicknesses of insulation, including more in the torso and shoulders and less in the sleeves and back (with none in the hood or at the hem). However, like the Primo Puff, the Lofoten uses 2-layer Gore-Tex for waterproofing and includes many of the same features including a highly protective hood, water-resistant zippers, and pit zips. In the end, the two appeal to different types of skiers: the Norrona has a more technical look that doesn't wear as well around town, but it's the better option for active skiers that explore the sidecountry; the Primo Puff wins out in warmth and gets the nod for consistently cold conditions and staying on-piste.
If you're thinking about buying gear that we've reviewed on Switchback Travel, you can help support us in the process. Just click on any of the seller links above, and if you make a purchase, we receive a small percentage of the transaction. The cost of the product is the same to you but this helps us continue to test and write about outdoor gear. Thanks and we appreciate your support!
Depending on the seller, most products ship free in the United States on orders of $50 or more. International shipping availability and rates vary by seller. The pricing information on this page is updated hourly but we are not responsible for inaccuracies.
Learn More About Ski Gear