Landing in the middle of their rain shell collection, Patagonia's Rainshadow Jacket slots in as a protective but comfortable option for everyday wear and activities like hiking and backpacking. We brought the women's version of the 3-layer shell backpacking in Colorado's Indian Peaks Wilderness and came away with mostly positive feedback: it offers great wet-weather assurance, is stretchy and mobile, and looks good to boot. The brand's own Torrentshell is strikingly similar and costs $50 less, but the Rainshadow is noticeably less crinkly and stiff. Below we outline our experiences with the Rainshadow. To see how it stacks up to the competition, check out our articles on the best rain jackets and best women's rain jackets.
 
---
Table of Contents
---

Performance
Weather Protection
With a hardshell-like 3-layer build and full suite of protective features, the Patagonia Rainshadow Jacket offers excellent protection against inclement weather. For waterproofing, Patagonia employed their in-house H2No Performance Standard technology and a durable water repellent (DWR) coating, which have done an excellent job fending off heavy rain and strong gusts. I brought the shell on a backpacking trip into Colorado's Indian Peaks Wilderness, where it faced a couple of brief but heavy thunderstorms, and I've also subjected it to subsequent outings back home in Boulder and during a rainy fall visit to the East Coast. The result was the same each time: the Rainshadow deftly fended off moisture and wind without ever wetting out or allowing precipitation to penetrate the outer fabric.
As far as features go, the Rainshadow comes equipped with almost everything we'd expect from a premium rain shell. The two-way adjustable hood is generously sized, easy to snug down, and boasts a visor that nicely protects my face and stows away quickly with a simple cord-and-hook design. Further, the front and chest pocket zippers are watertight, and the remaining zips are flap-protected and boast DWR coatings for added assurance against moisture. Finally, the cuffs use Velcro closures to secure under or over gloves, and the hem is adjustable at both sides and creates a nice, snug seal at the waist. My only complaints have to do with the latest version's lack of technical features: the hood is no longer helmet-compatible (the previous version's was), and the hand pockets and pit zips now use the aforementioned nylon flaps rather than coated zippers. This makes the Rainshadow less multi-sport-ready than its predecessor, but it's perfectly capable for more casual activities like hiking and backpacking.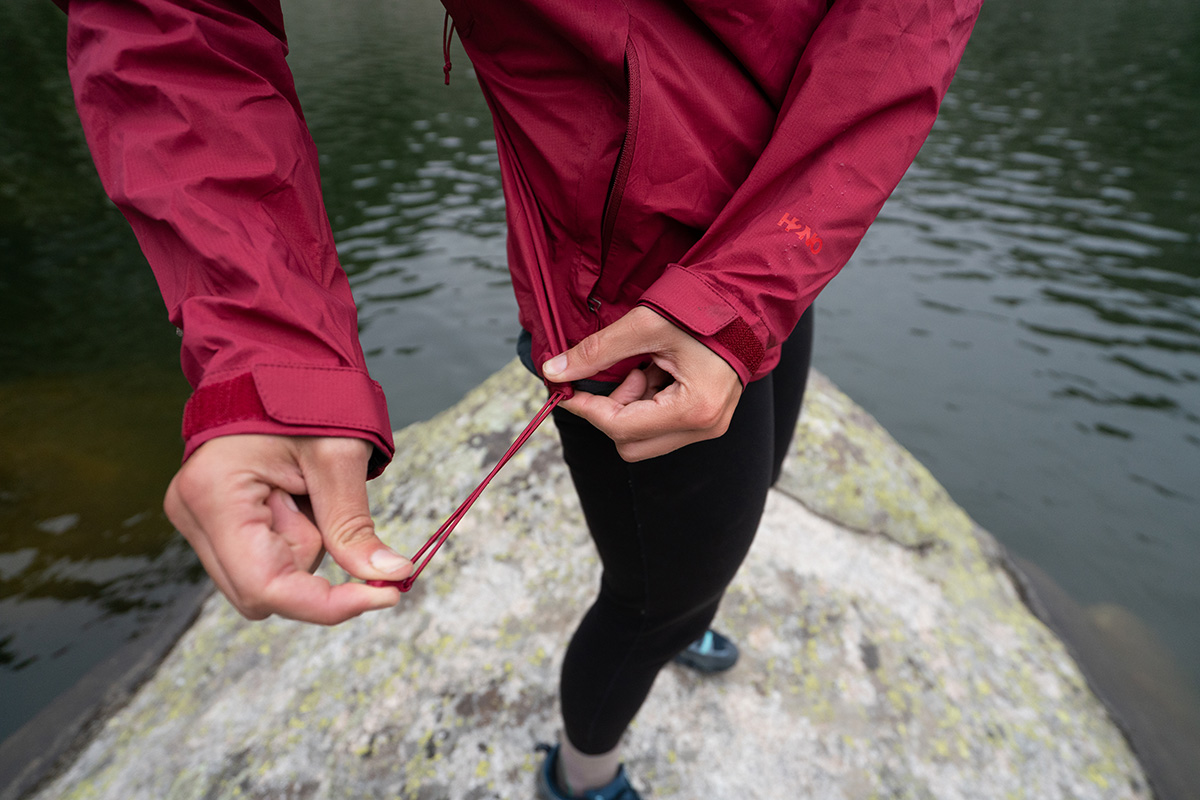 Breathability
In short, the 3-layer Patagonia Rainshadow breathes better than cheaper 2- or 2.5-layer designs, but I still overheated quickly while hiking in moderate temperatures (down to around 45-50 degrees Fahrenheit). The jacket does come equipped with fairly generous pit zips that I found to be pretty effective at dumping heat, but I still ended up needing to undo the main zipper in order to cool off while ascending the switchbacks to our campsite in the Indian Peaks Wilderness. And another downside is that the zippers are pretty difficult to toggle—I found that the best way to do so is to grab the hem of the jacket with one hand to create tension and then adjust the pit zip on the same side with the other. All told, the Rainshadow wouldn't be my first choice for truly high-output endeavors like ski touring, but again, it's perfectly serviceable for hiking and backpacking in mild conditions.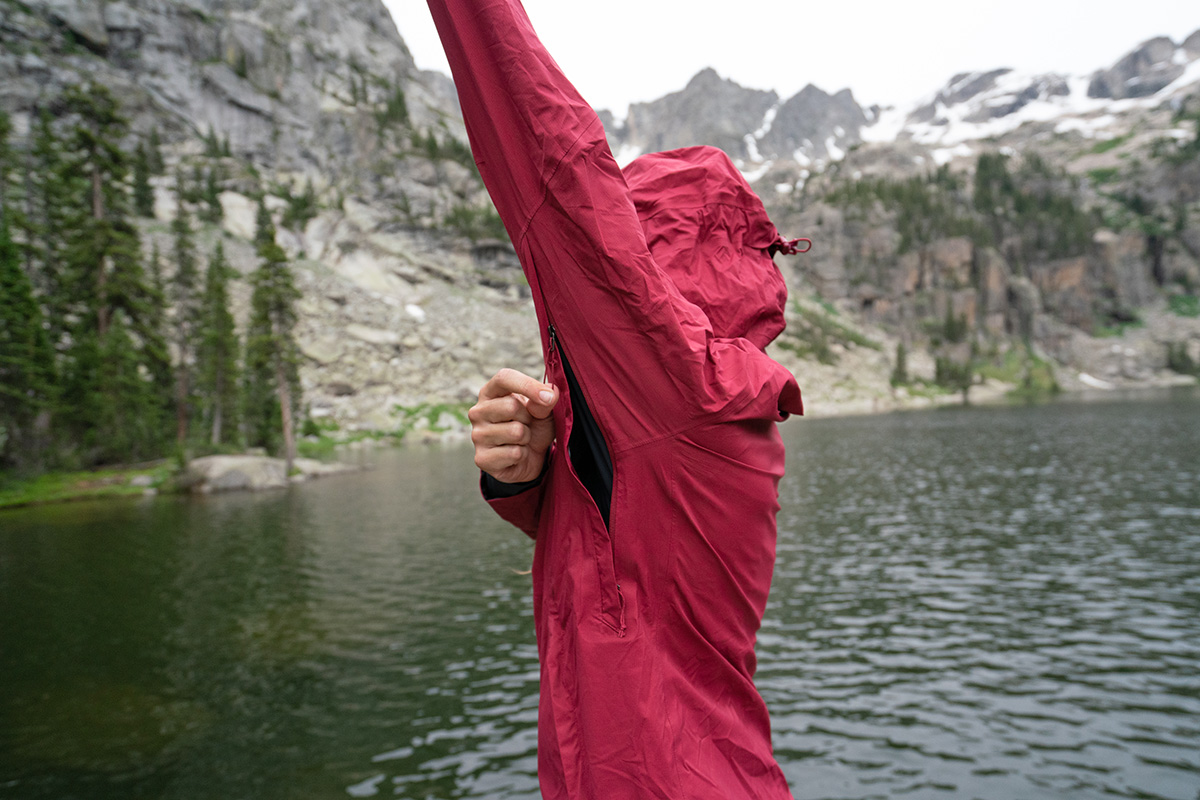 Comfort
Comfort is one area where the Rainshadow truly stands out. The shell is made from a nylon stretch ripstop fabric, which is impressively mobile and offers great freedom of movement. I wore the jacket while setting up camp and had no issues reaching overhead, bending down to stake out our tent, or performing camp chores. Additionally, Patagonia included a tricot backer that's soft against the skin—even when worn over just a tank top—and a far cry from the crinkly, stiff feel I'm used to from some of my Gore-Tex-equipped shells. Even Patagonia's own Torrentshell, which uses the same H2No waterproofing and backer but lacks the stretch fabric, is noticeably louder and less pliable. All in all, rain jackets aren't often lauded for their comfort, but the Rainshadow is a notable exception.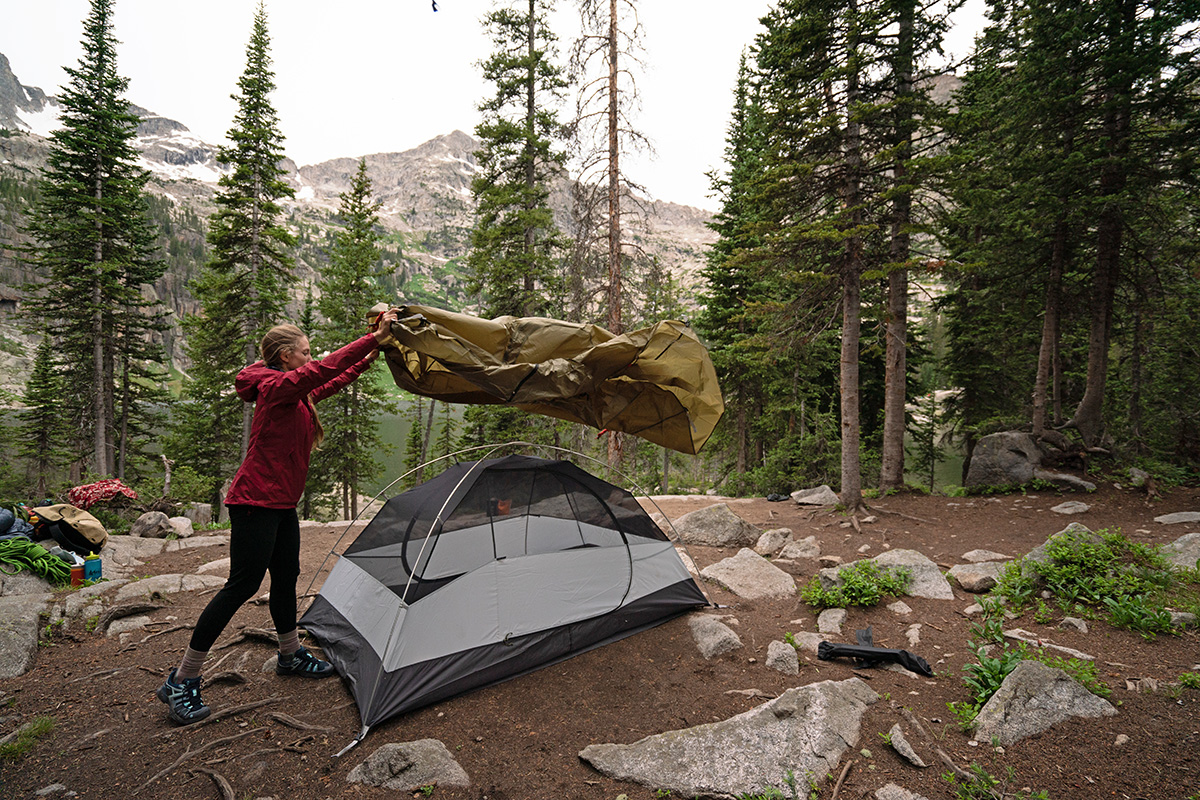 Weight and Packability
At 12.2 ounces for the women's version, the Patagonia Rainshadow is far from ultralight status but nevertheless is competitive among similarly built options. For comparison, Patagonia's own 3-layer Torrentshell checks in around the same weight at 12.5 ounces, although it boasts a much thicker face fabric. Outdoor Research's Interstellar is another 3-layer design that incorporates stretch, and that jacket undercuts the Rainshadow at 10.1 ounces. And you can go even lighter with Black Diamond's StormLine Stretch (9.5 oz.), although that shell uses a downgraded 2.5-layer construction. All in all, given its level of protection and full feature set, I'm perfectly happy with the Rainshadow's weight, and it's never felt overly hefty whether I'm hiking in the shell or it's stuffed away in my backpack.
In terms of packability, the Rainshadow easily self-stuffs into its left hand pocket. The process is fairly quick, and the compressed package ends up being about the size of a cantaloupe. There's also a carabiner clip-in loop for attaching to a pack or climbing harness, although the lack of other technical features (like harness-friendly pockets and a helmet-compatible hood) makes this inclusion feel a bit out-of-place. And I do typically prefer to simply stuff the jacket uncompressed into my pack so that it better fills the empty spaces around my gear, but it's nice to have the option to pack it into a dedicated pocket.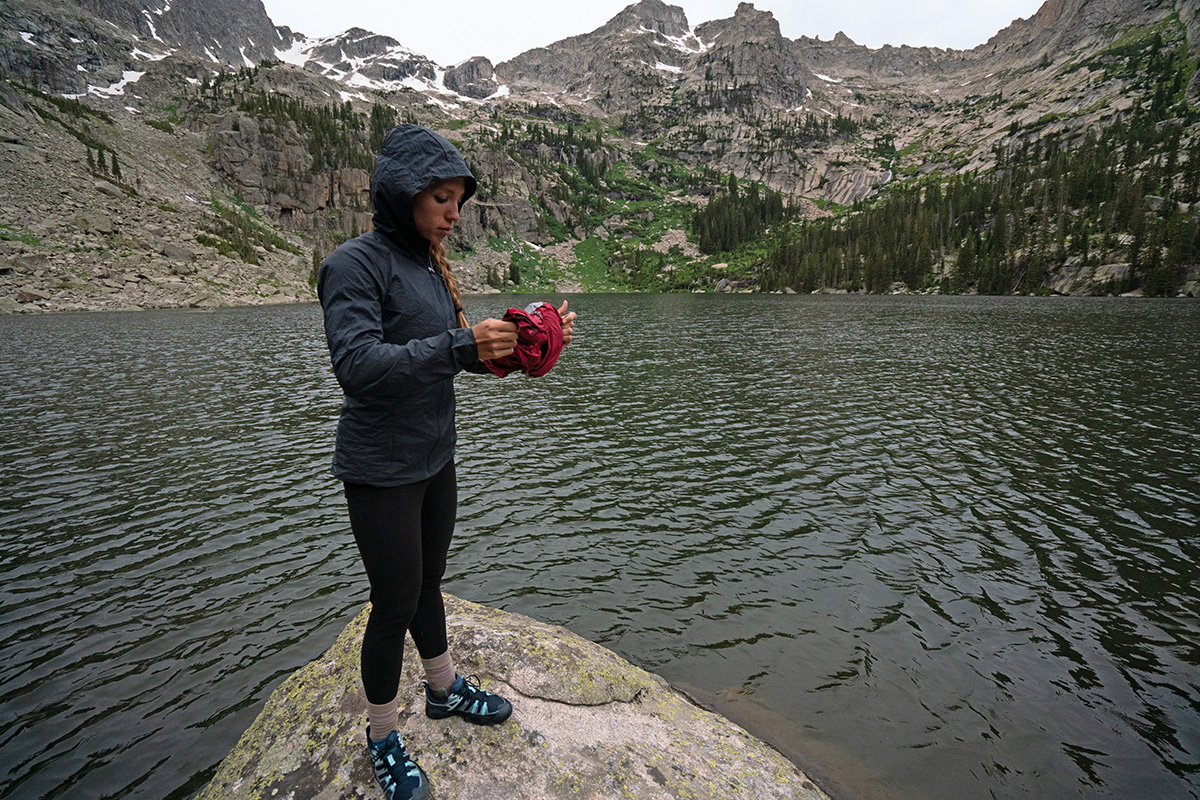 Build Quality and Durability
Patagonia gear rarely disappoints from a quality standpoint, and the Rainshadow Jacket is no exception. I'll start off by noting that the jacket's 30-denier face fabric isn't anything to write home about (for reference, the Torrentshell uses a much more hardwearing 75D build), but it has stood up very well to regular backcountry and around-town use without any snagging or tears to date. Additionally, all Velcro, zippers, and drawcords are still intact and functioning flawlessly, and the DWR continues to repel moisture months into the jacket's testing. And on a related note, I really appreciate the Rainshadow's clean styling and classy colorway options, which cross over nicely for casual use (even my Roamer Red jacket is subdued enough to wear while running errands, grabbing a post-hike beer, etc.).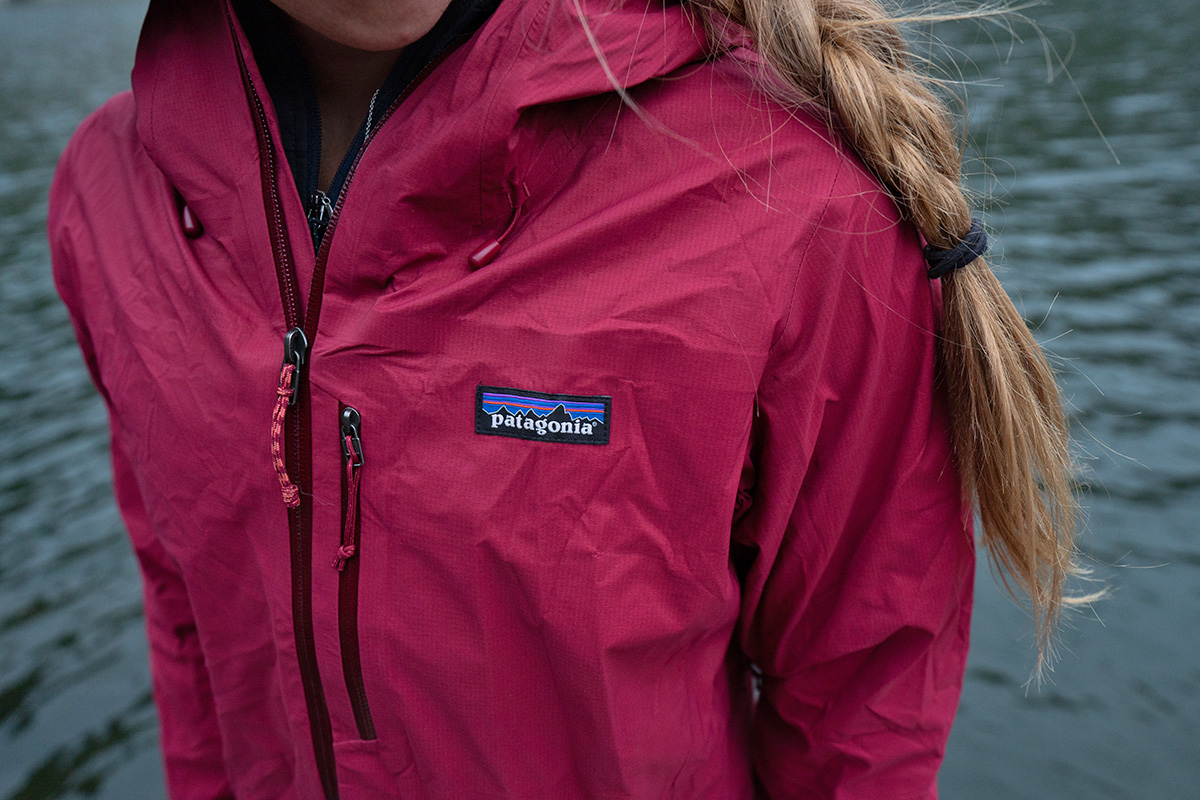 Features: Hood and Pockets 
As I touched on above, the Rainshadow has a very functional hood: it's nicely sized, highly protective, and easily adjustable via one drawcord at the back and two at the front. When cinched tightly, the tall collar and hood aperture leave very little of my face exposed, and the laminated brim does a great job at keeping precipitation from dripping down. The hood is no longer-helmet compatible (the previous Rainshadow's was), but that shouldn't be too big an issue for most outdoor-goers. And a bonus for climbers: I have found that the hood does fit over a lower-profile climbing helmet without issue (I wear the Black Diamond Vector), although it's too snug and restrictive to wear over a bulkier model or ski helmet.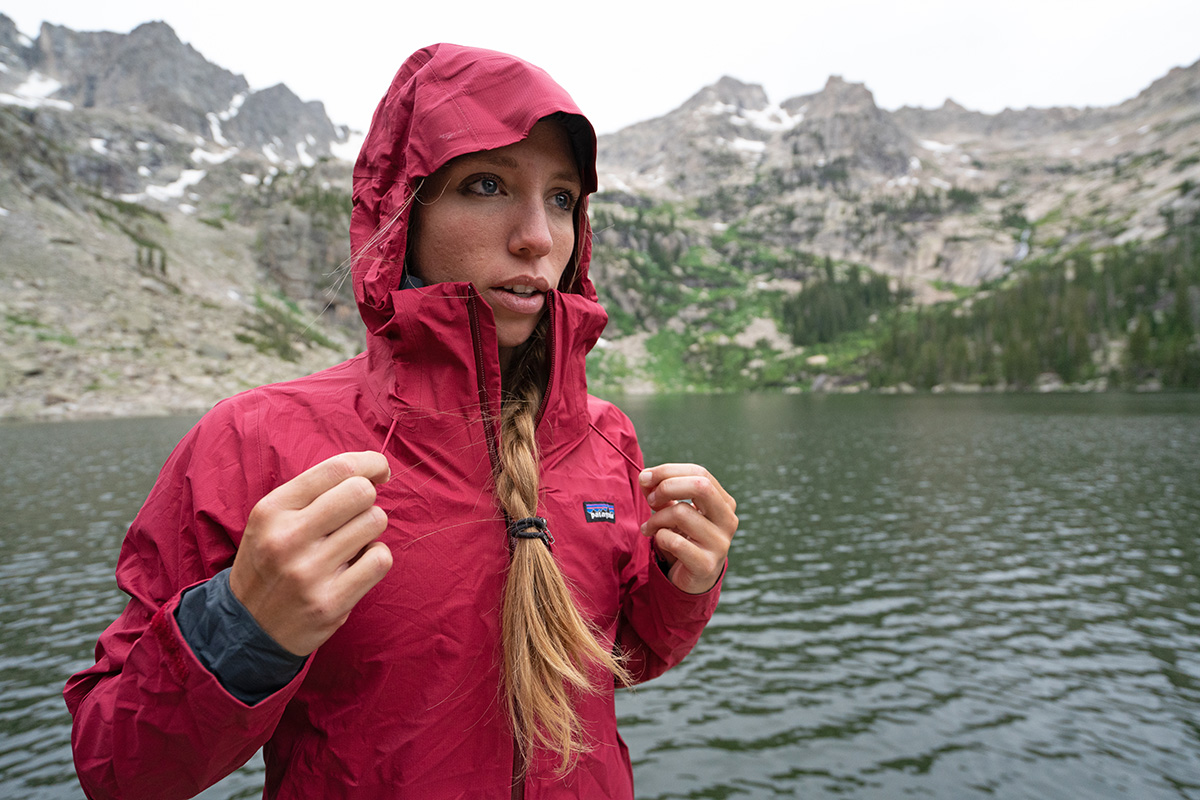 As far as storage goes, the Rainshadow comes adequately appointed for stashing the essentials with three total pockets. The two handwarmer pockets are generously sized, and the chest pocket is even large enough to stow my plus-sized iPhone in its case. As I touched on above, the left hand pocket also doubles as the jacket's stuff sack. I do wish the jacket's chest pocket were on the inside rather than the outside—I prefer to stow my electronics farther away from the elements—but I haven't had any issues with security or waterproofing to date.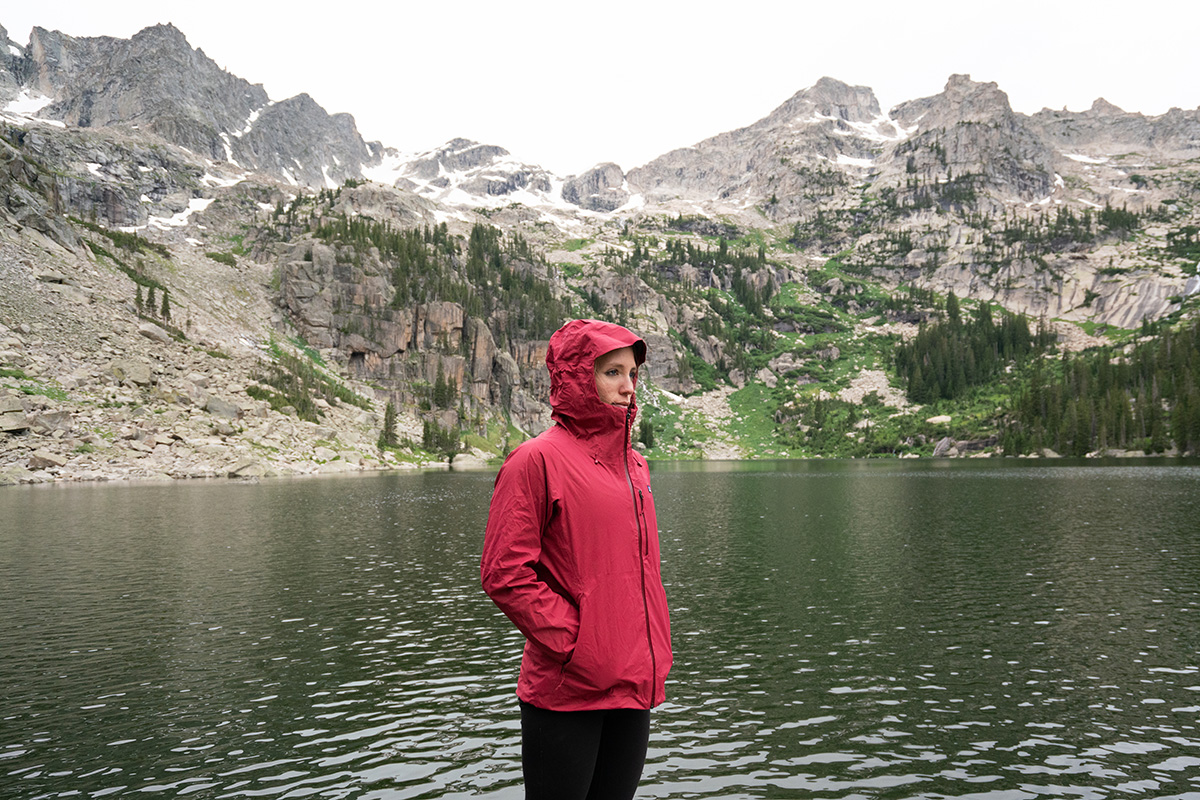 Fit and Sizing
Patagonia labels the Rainshadow as a "regular" fit, and I agree with that designation. I ordered my typical women's size small in the Rainshadow (I'm 5'6" and 130 lbs.) and found it to be a great all-around shape and fit for me. Compared to the jacket's "trim" layers, the Rainshadow offers noticeably more room in the torso area that makes it much easier to layer underneath. For reference, I'm been able to fit a light/midweight down puffy underneath (the Rab Microlight Alpine) without negatively impacting mobility. On the flipside, the jacket never felt overly roomy or unshapely with just a tank top or t-shirt underneath. All in all, it's a highly versatile piece that allows me to interchange base- and midlayers without issue.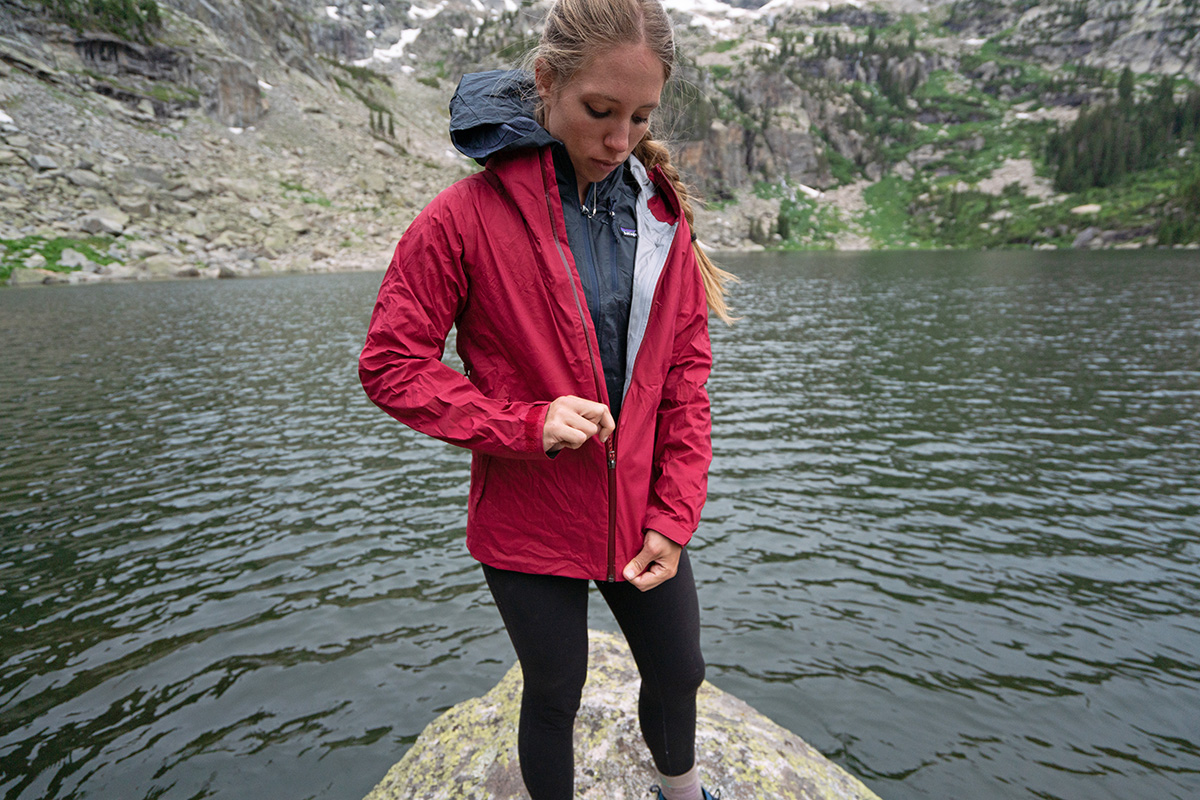 Sustainability
Patagonia is known for their continued focus on sustainability, and that comes across clearly with the Rainshadow. First, the jacket's face fabric is 100-percent-recycled nylon, and the PU membrane contains 13 percent bio-based content. The jacket is also certified as bluesign-approved, which indicates that the materials and chemicals used are safe for consumers, workers, and the environment. Finally, the Rainshadow is Fair Trade Certified sewn, which means that Patagonia put extra money into production to ensure that workers are being compensated fairly and have access to resources like healthcare and community initiatives like childcare services, technology stipends, and more. It's worth noting that Patagonia hasn't yet switched to a PFC-free DWR on this shell (perfluorocarbons are known to be harmful for the environment), but we appreciate the measures they've taken thus far to improve their line.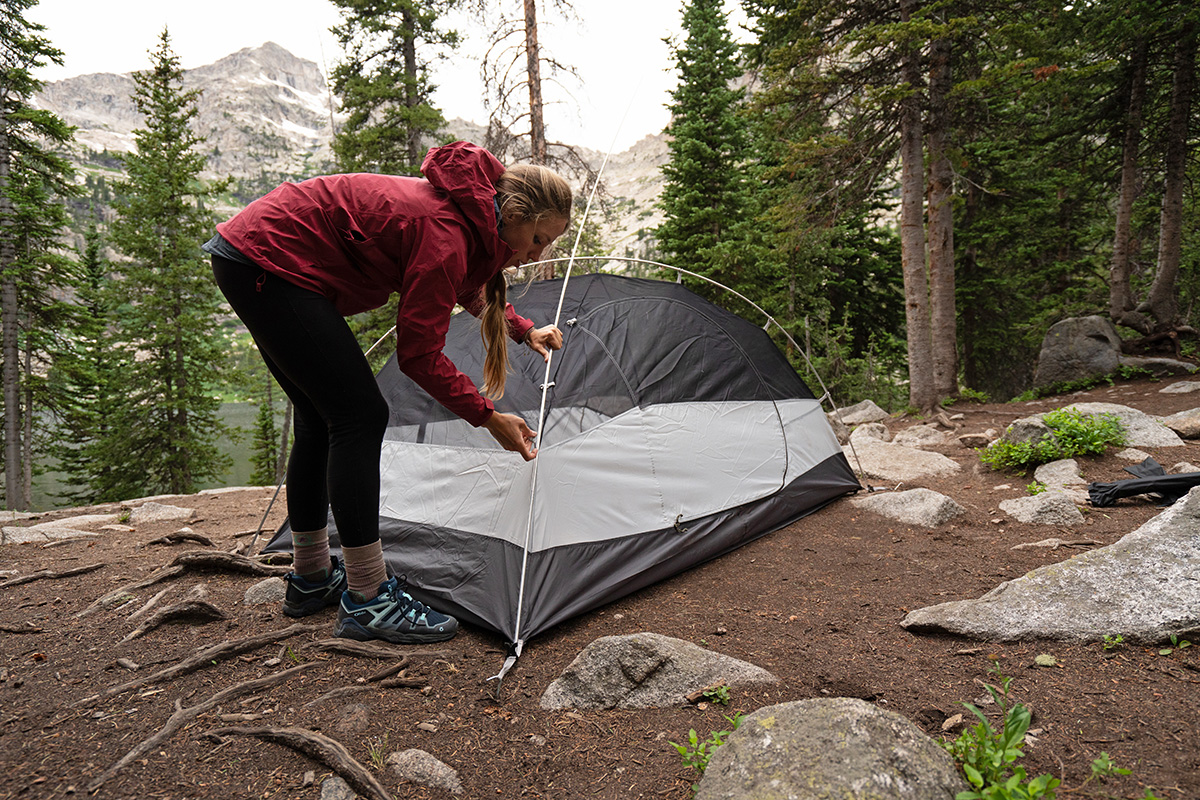 Other Versions of the Patagonia Rainshadow
We tested the women's version of the Rainshadow, and Patagonia makes a nearly identical men's equivalent. In parsing out the differences, the men's Rainshadow Jacket weighs slightly more at 14 ounces and comes in different colorways (four at the time of publishing) but otherwise retains a very similar overall build. Both jackets use the same 3-layer H2No Performance Standard build, come with protective features including adjustable hoods and hems, and use the same sustainability measures including recycled and bluesign-approved fabrics. Rounding out the lineup, Patagonia also offers Rainshadow rain pants for both men and women, which retail for $169 and use the same waterproofing tech as the jackets.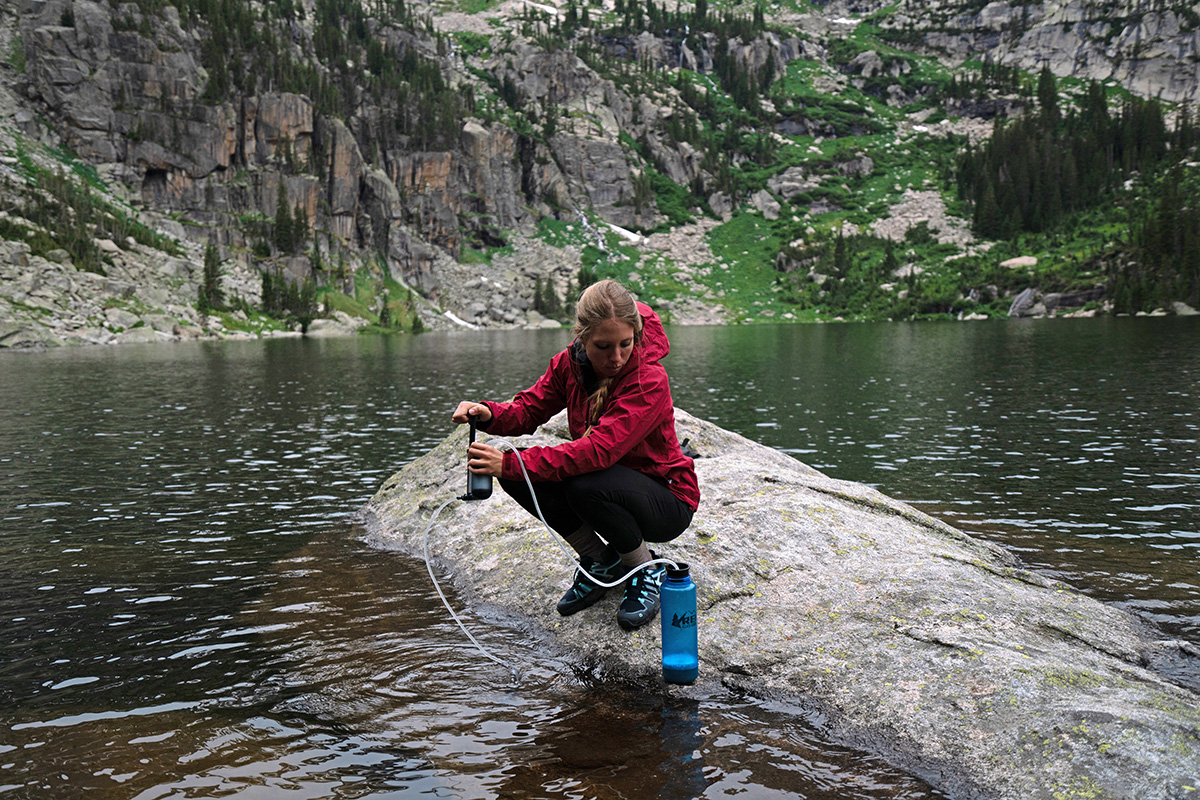 What We Like
With a stretchy face fabric and soft tricot backer, the Rainshadow offers excellent comfort and mobility without sacrificing wet-weather protection.
At 12.2 ounces and with the option to stuff into its own hand pocket, the Rainshadow is reasonably light and compressible given its level of protection and competitive feature set.
Clean styling and classy colorways cross over well for around-town use.
We appreciate Patagonia's ongoing efforts to incorporate sustainable practices into their lineup, including the use of recycled materials and bluesign-approved fabrics.

What We Don't
At $199, the Rainshadow simply isn't a great value, and especially considering the brand's more durable Torrentshell costs $50 less.
Lack of helmet-compatible hood and harness-friendly pockets make the latest Rainshadow less of a multi-sport shell than its predecessor.
Not the best breather, although the pit zips do help with dumping heat during high-output activities.
30-denier face fabric is on the thinner end of the spectrum, although we haven't had any durability issues to date.


Comparison Table
The Competition
We love the combination of protection and comfort that the Rainshadow offers, but the rain jacket market certainly is stacked in 2021. One of the jacket's closest competitors comes from in house: Patagonia's own Torrentshell 3L. For $50 less than the Rainshadow, the Torrentshell boasts similar protection with a 3-layer H2No Performance Standard build and nearly identical feature set, and it also weighs around the same at 12.5 ounces for the women's version. In parsing out the differences, the Torrentshell gets the clear edge in durability with a 75-denier face fabric, although the Rainshadow includes an additional pocket and is much stretchier, quieter, and softer against the skin. In the end, we consider the Torrentshell the better value, but if comfort is a top priority, go with the Rainshadow.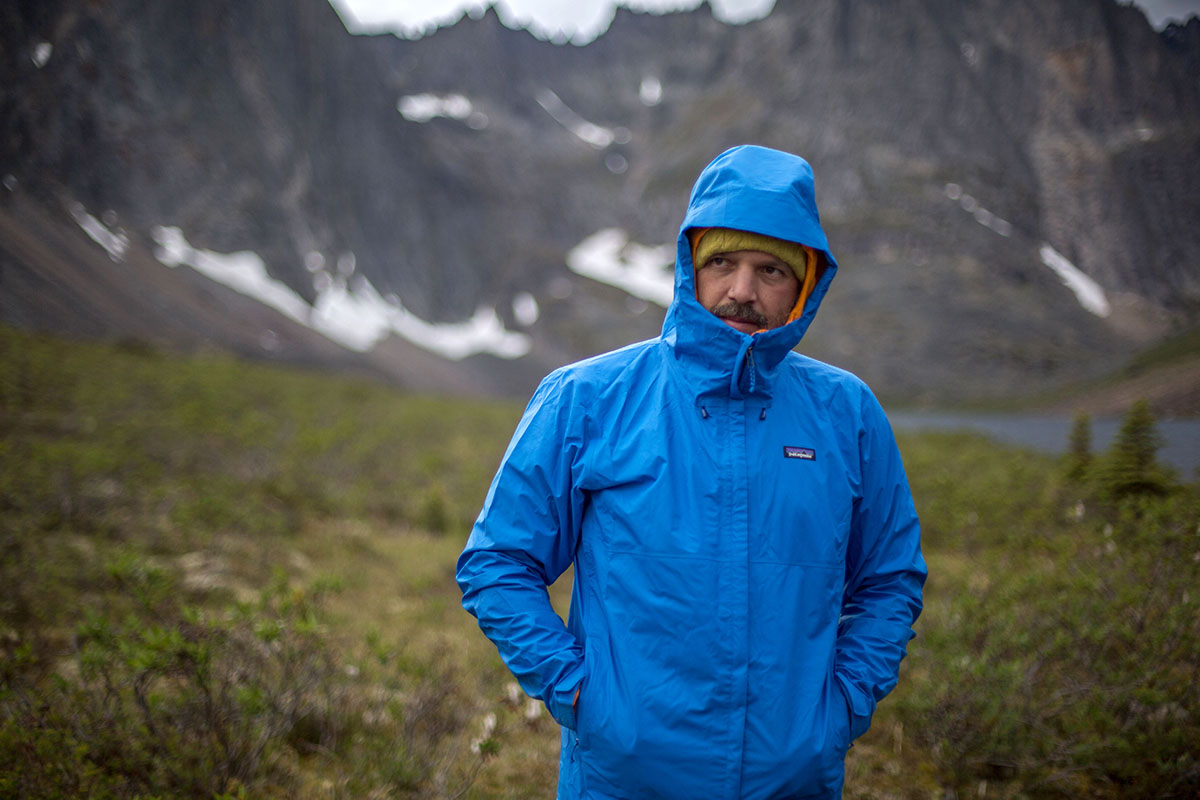 Another protective, 3-layer design to consider is Outdoor Research's Interstellar. In this case, the shell uses OR's in-house AscentShell membrane, which we found to be impressively mobile and breathable without sacrificing protection. You also get technical features like a helmet-compatible hood and harness-friendly pockets, which make it the more capable option for activities like biking and ski touring. And the OR weighs less than the Rainshadow at 10.1 ounces, although the face fabric is a fairly thin 20-denier and you forgo pit zips. All told, the two have very different strong suits: the Interstellar is the more performance-oriented piece and a better match for demanding backcountry use, while the Rainshadow is considerably cheaper and crosses over better for casual wear.
Another stretchy rain shell to consider is Black Diamond's aptly named StormLine Stretch. Unlike the shells above, the BD uses a 2.5-layer construction, which translates to a slight step down in all-out protection and breathability. However, the StormLine is very light at 9.5 ounces, has a soft interior that doesn't feel plasticky or crinkly, and comes well-equipped for performance use with two hand pockets, a helmet-compatible hood, stuff pocket, and pit zips. Apart from the drop in breathability, the only major downside is that the StormLine has a fairly baggy fit, which was a little too long and roomy for us over just a thin baselayer (this issue was more prominent with the men's version). But at $149, the lighter and cheaper BD strikes us as the better-built rain shell (for more, see our in-depth StormLine review).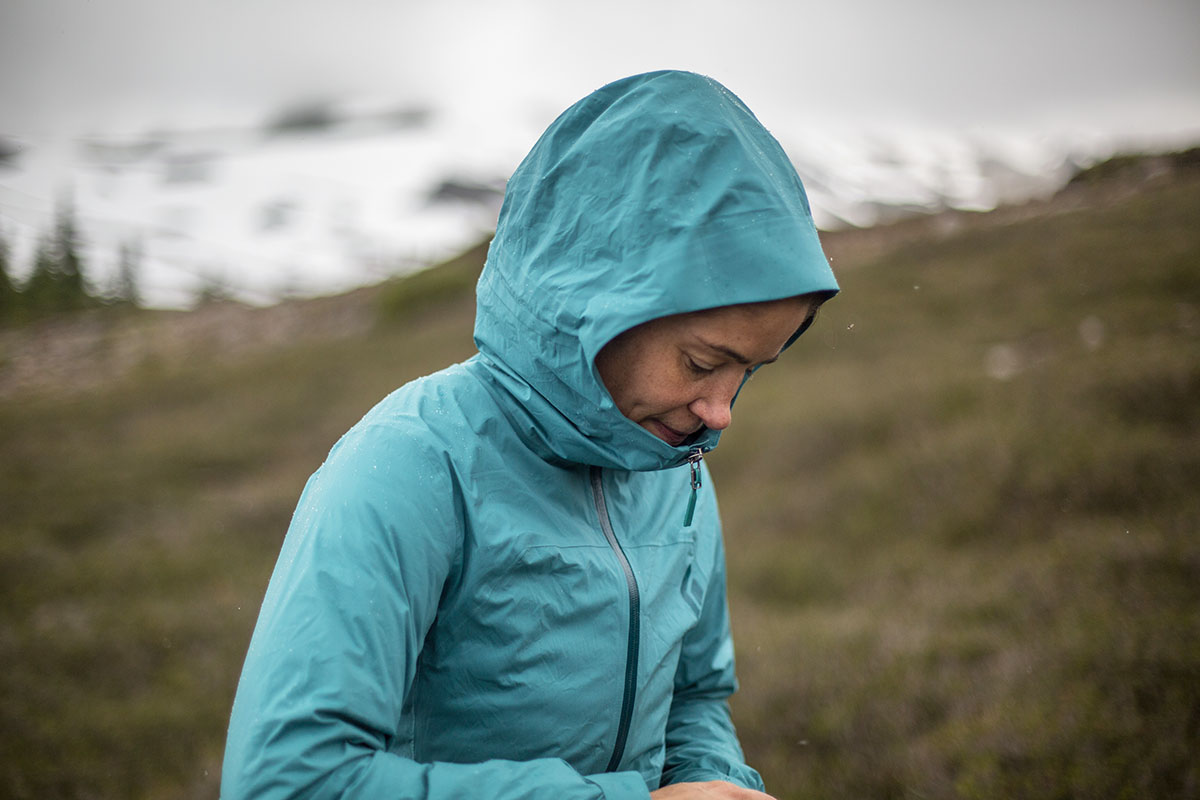 In the same price range as the Rainshadow, Marmot's $189 Minimalist has been near the top of our rain jacket round-up for years. Like the StormLine above, the Minimalist uses a slightly downgraded 2.5-layer build but offers solid weatherproofing with a Gore-Tex Paclite construction and fairly robust face fabric. Like the Rainshadow, the Minimalist also is quite comfortable and lacks the crinkly, stiff feel of many of its competitors. The only notable drawbacks are packability and weight: the Minimalist doesn't stuff down into any of its pockets and checks in a bit heavier at 13.8 ounces. All told, both are well-rounded rain shells that can easily pull double-duty around town, but the Marmot offers similar performance for $10 less.
We'd be remiss not to include an Arc'teryx shell here, and their Zeta SL is one of our favorite options for hiking and daily use. Short for "superlight," the SL weighs a feathery 9.5 ounces, packs down small, and has a great athletic fit. It also has a tougher, 40-denier shell that can withstand significant use and abuse. That said, the Zeta SL is pricey at $299, doesn't include pit zips or a chest pocket, and uses a 2-layer Gore-Tex Paclite Plus construction that's decently weather-worthy but falls short of the 3-layer Rainshadow in stretchiness and next-to-skin feel. Both are highly competitive designs from frontrunning shell specialists, and a final decision will come down to preferences on weight, durability, price, and features.
If you're thinking about buying gear that we've reviewed on Switchback Travel, you can help support us in the process. Just click on any of the seller links above, and if you make a purchase, we receive a small percentage of the transaction. The cost of the product is the same to you but this helps us continue to test and write about outdoor gear. Thanks and we appreciate your support!
Depending on the seller, most products ship free in the United States on orders of $50 or more. International shipping availability and rates vary by seller. The pricing information on this page is updated hourly but we are not responsible for inaccuracies.
Read More From Switchback Travel