Patagonia is a leader in the insulation market, and their down jacket selection ranges from technical belay parkas to versatile puffies for mixed outdoor and daily wear. At the casual end of the spectrum, the Silent Down stands out as an excellent everyday insulator for shoulder-season and mild winter use. As the name indicates, the fabric is impressively soft and quiet, and the addition of stretch adds excellent comfort and mobility. The lack of technical features, non-packable build, and vulnerable-feeling shell limit the jacket's backcountry appeal, but the quality, styling, and coziness make it an everyday staple. Below we outline our experiences with the Patagonia Silent Down. To see how it stacks up to the competition, see our article on the best down jackets.
 
---
Table of Contents
---

Performance
Warmth
In terms of warmth, Patagonia's Silent Down Jacket hits a nice middle ground for everything from cool shoulder-season days to short stints outside in the heart of winter (particularly in milder regions). For insulation, you get a healthy 3.9 ounces of 700-fill-power down in a men's medium, which gives the jacket a distinctively puffy look but is still much lower-profile and less insulative than a full-on winter jacket. For reference, it lands in between the brand's uber-popular Down Sweater Hoody (3.7 oz. of 800-fill down for the same size) and the winter-ready Jackson Glacier (5 oz. of the same 700-fill down). And the features do a nice job maximizing that warmth, including a wind-blocking shell, soft and flexible cuffs that provide a nice seal around the wrists, dual adjustments at the hem, and an insulated and cinchable hood.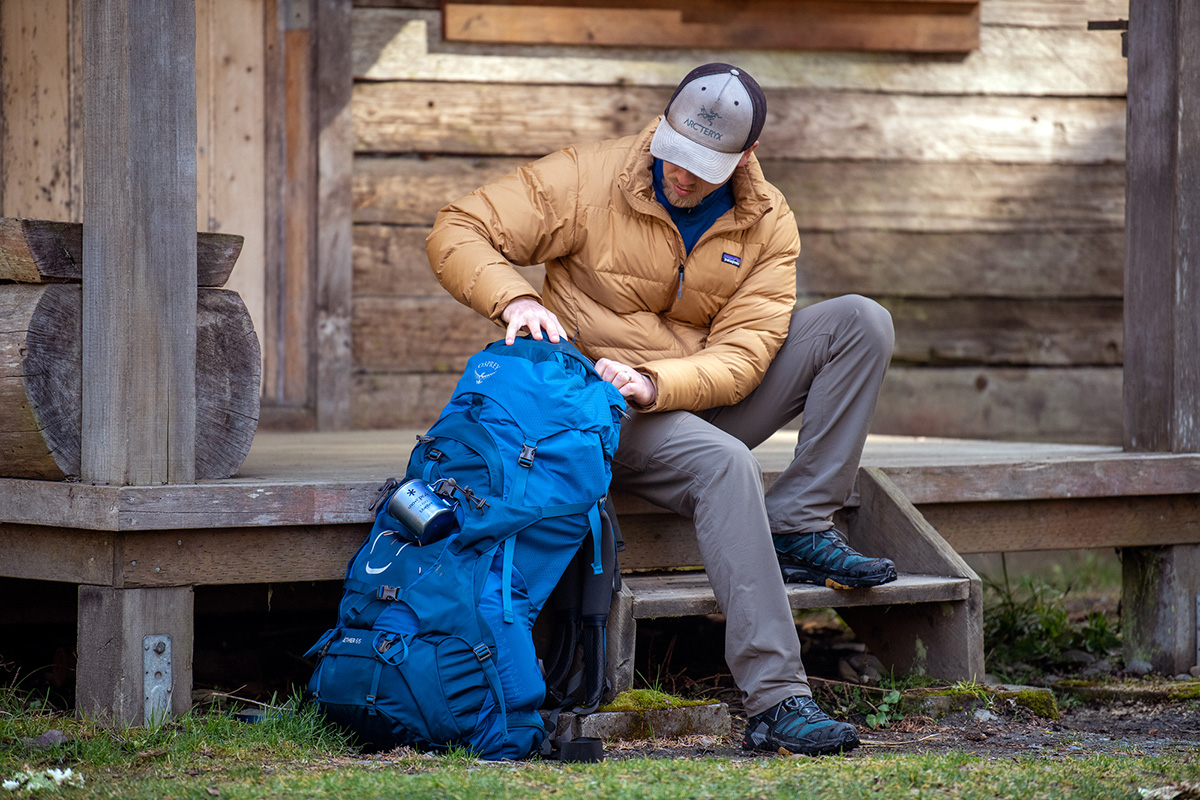 In practice, the Silent Down provided enough insulation for around-town use in temperatures ranging from the mid 20s to high 40s Fahrenheit. To be clear, it's not a piece I would rely on as my only source of insulation in sub-freezing conditions—I needed to add a fleece midlayer to stay comfortable while hanging around camp on an early-season backpacking trip with temps in the high 20s. But all told, the Silent Down lands in between a light and midweight puffy, which is a highly desirable and versatile spot in the market.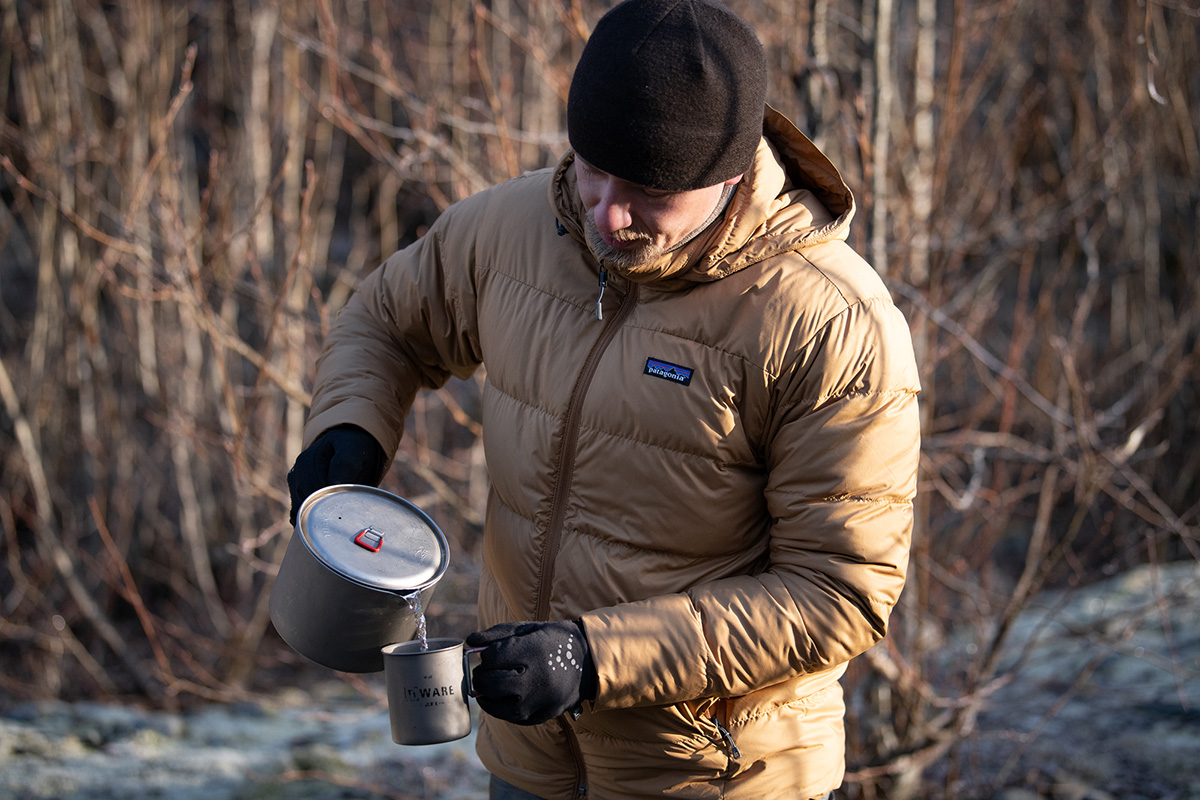 Weather Protection
With a few exceptions, down jackets aren't typically called on to provide full weather protection in rough and stormy conditions, and this certainly holds true with the Silent Down. On the bright side, the jacket's windproof shell does an excellent job in blustery weather—even in mild gusts, I didn't notice any drafts creeping through—and the durable water repellent (DWR) coating effectively sheds light moisture. However, the shell fabric is still fairly quick to soak through in wet and heavy snow and rain, and the plush polyester taffeta lacks the rain-shedding ability that you get with a slippery shell like Pertex Quantum. If inclement weather is in the forecast, we recommend packing a separate waterproof layer to throw on over the Silent Down, or you could opt for a more weather-ready piece like Rab's Neutrino Pro, which boasts a Pertex Quantum Pro shell and hydrophobic down.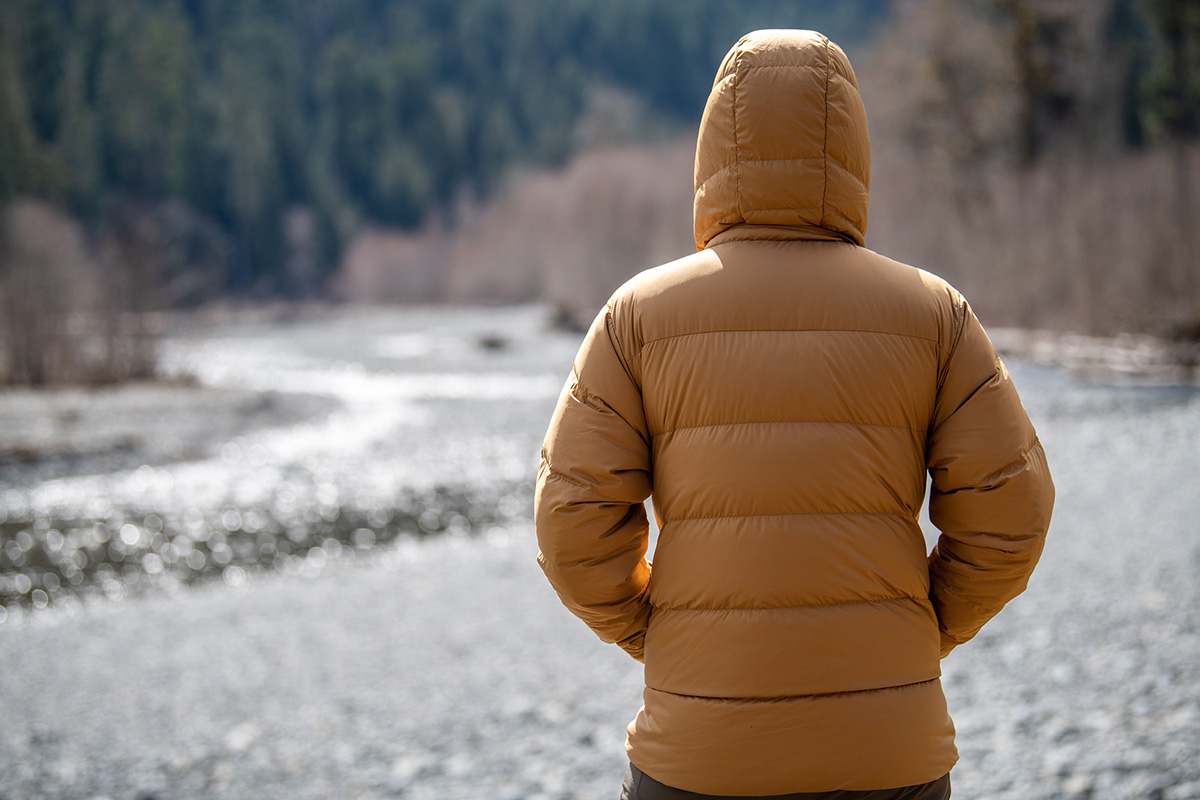 Comfort and Mobility
Given its name and the smooth polyester taffeta exterior, the Patagonia Silent Down is unsurprisingly an exceptionally comfortable jacket. All the touch points are super soft and have a cozy feel, from the aforementioned shell to the matching interior lining and stretchy cuffs. There's also a fleece-like material along the back of your hands in the lower pockets and next to your neck and face along the inside of the upper collar. The fabric doesn't have any elastane or spandex in the construction, but Patagonia did incorporate some mechanical stretch into the design, which only adds to the comfortable feel. All in all, it's the kind of jacket that feels special every time you slip it on—a refreshing departure from the more technical and slipperier shells I'm used to wearing.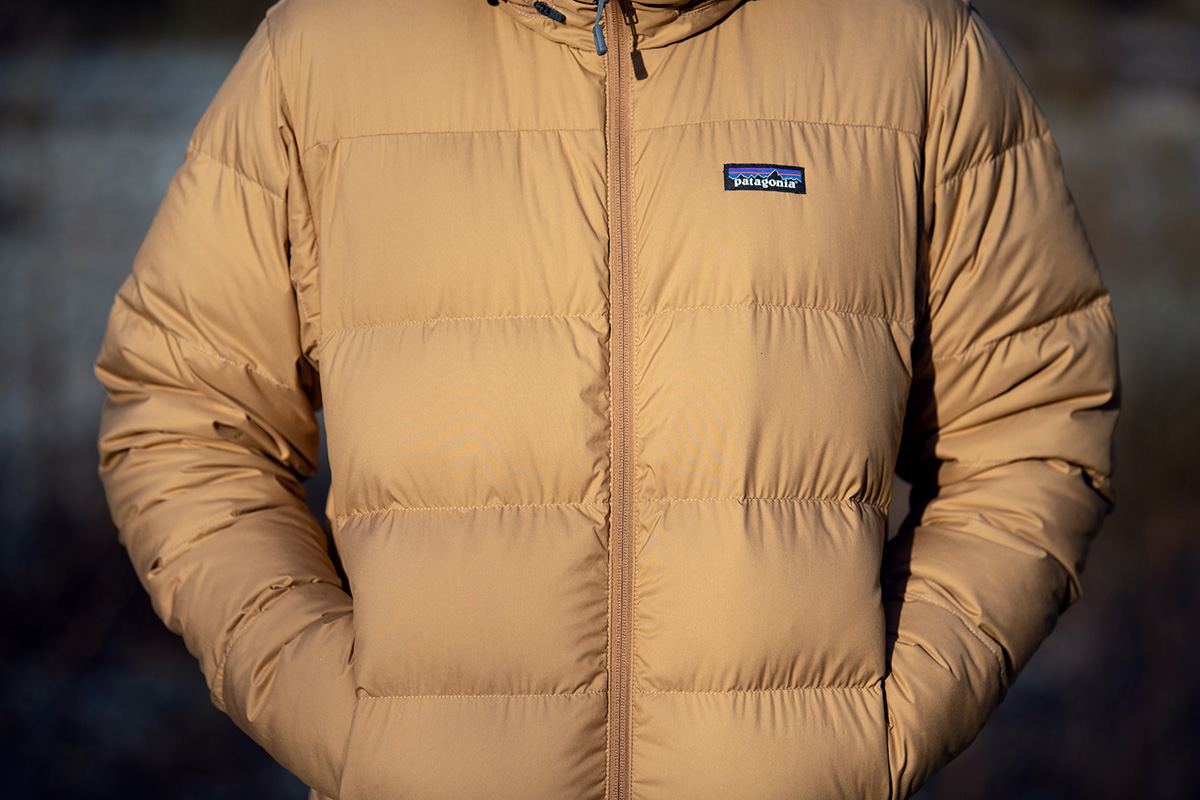 One hiccup to the luxurious design is that Patagonia opted to feed the cinch cord for the hem through the hand pockets. The upside is that you can tighten it easily while keeping your hands tucked away, but the downside is that there's a fair amount of excess cord sitting in that space. We'd prefer a more streamlined adjustment at the hem only, but it's a fairly small issue and likely won't be a deal-breaker for most.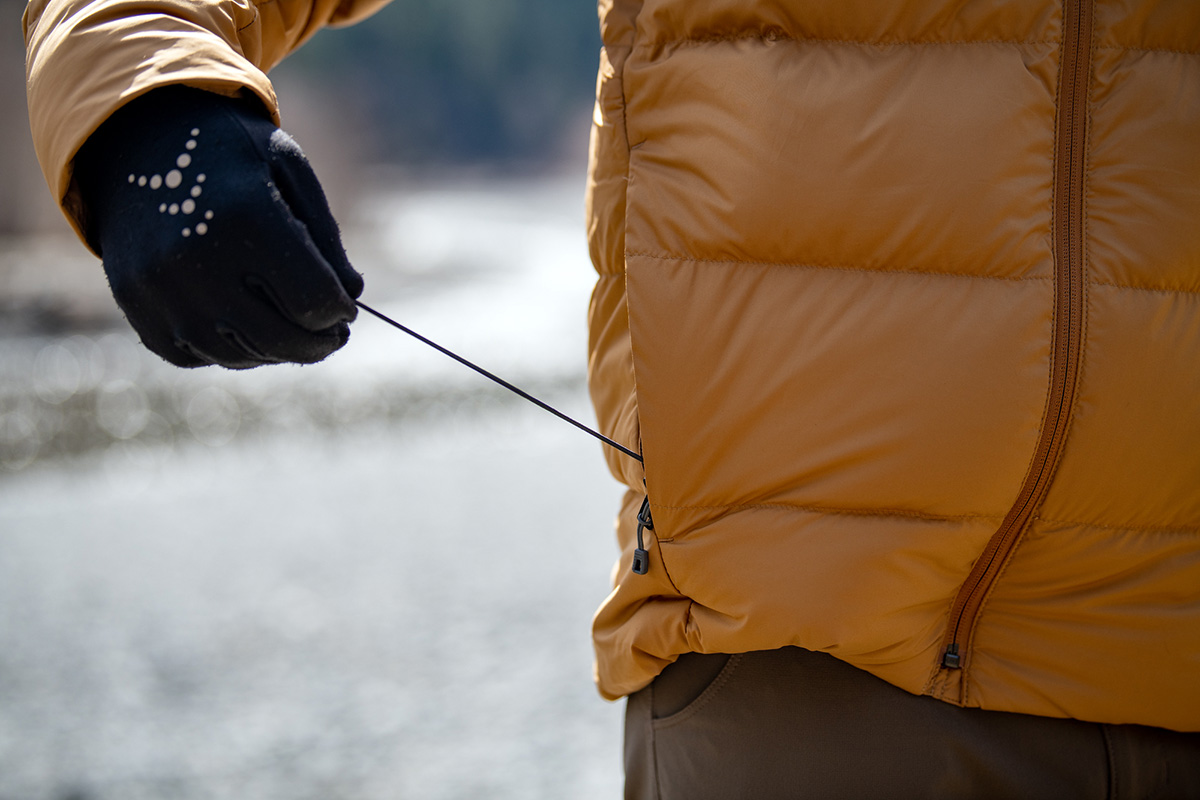 Weight and Packability
Patagonia clearly built the Silent Down with everyday wear in mind, so weight and packability took a back seat in terms of priorities. In other words, at 1 pound 5.2 ounces for a men's medium (listed weight is 1 lb. 4.7 oz.), the jacket is quite heavy considering the level of warmth it provides. For reference, Patagonia's own Down Sweater Hoody checks in considerably lighter at 15.1 ounces while providing just a little less warmth. Arc'teryx's slightly warmer Thorium AR Hoody also weighs a bit less at 1 pound 1.3 ounces, and Rab's Microlight Alpine Down Jacket is 1 pound 0.5 ounces (although both of those are more backcountry-focused options).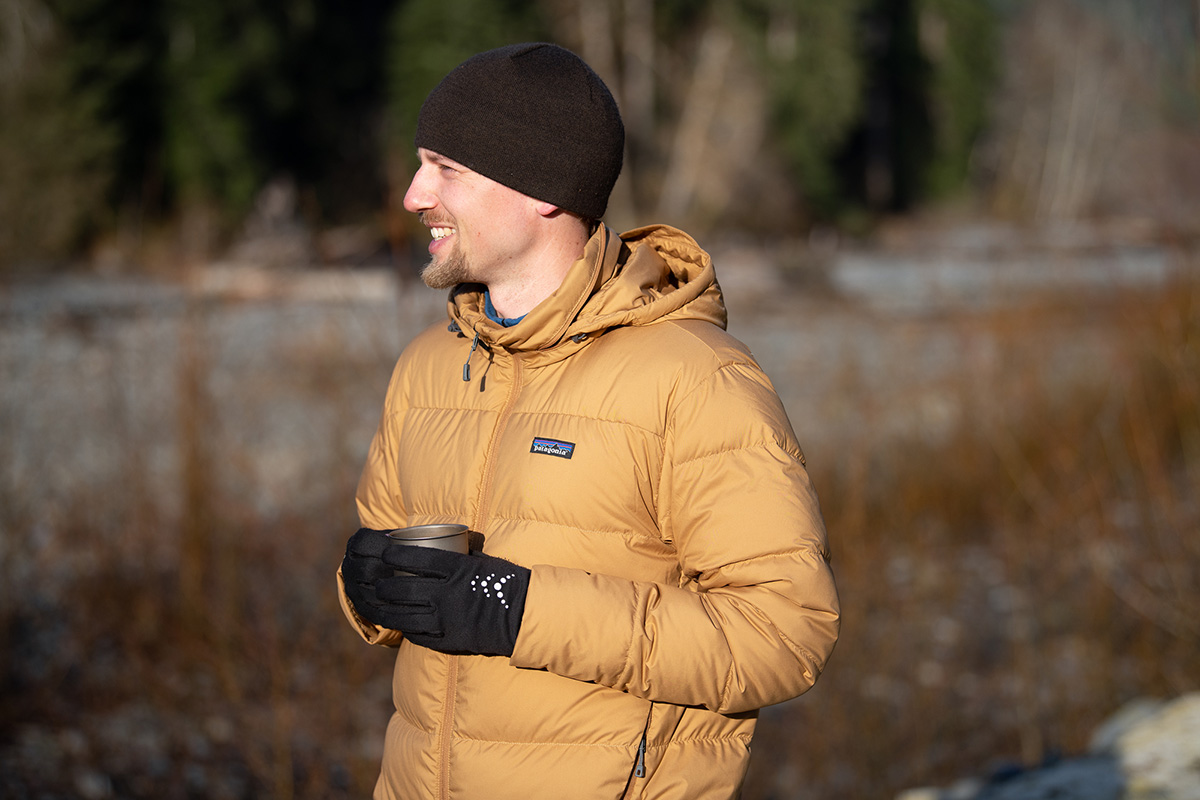 Packability is a similar story: the Silent Down doesn't come with an included stuff sack, and none of the pockets have a two-sided zipper for storage. You can't even roll the jacket into its hood to compress it, as the hood lacks a rear cinch. That said, it's still a down jacket, so you'll be able to squeeze it fairly easily into a suitcase or duffel bag for travel, and it fit just fine when stuffed down into the main compartment of my backpacking pack.

Build Quality and Durability
As expected from the brand and for the price, the Patagonia Silent Down has a decidedly premium look and feel. Given that cutting weight wasn't a priority, many of the features like zippers and cinch cord are substantial and confidence-inspiring, and the only sign of wear thus far is some of the fleece-like lining starting to pill, although it's hardly noticeable and hidden from view in the collar and hand pockets. All in all, for around-town use and casual outdoor outings, the jacket is well-built and reasonably hardwearing.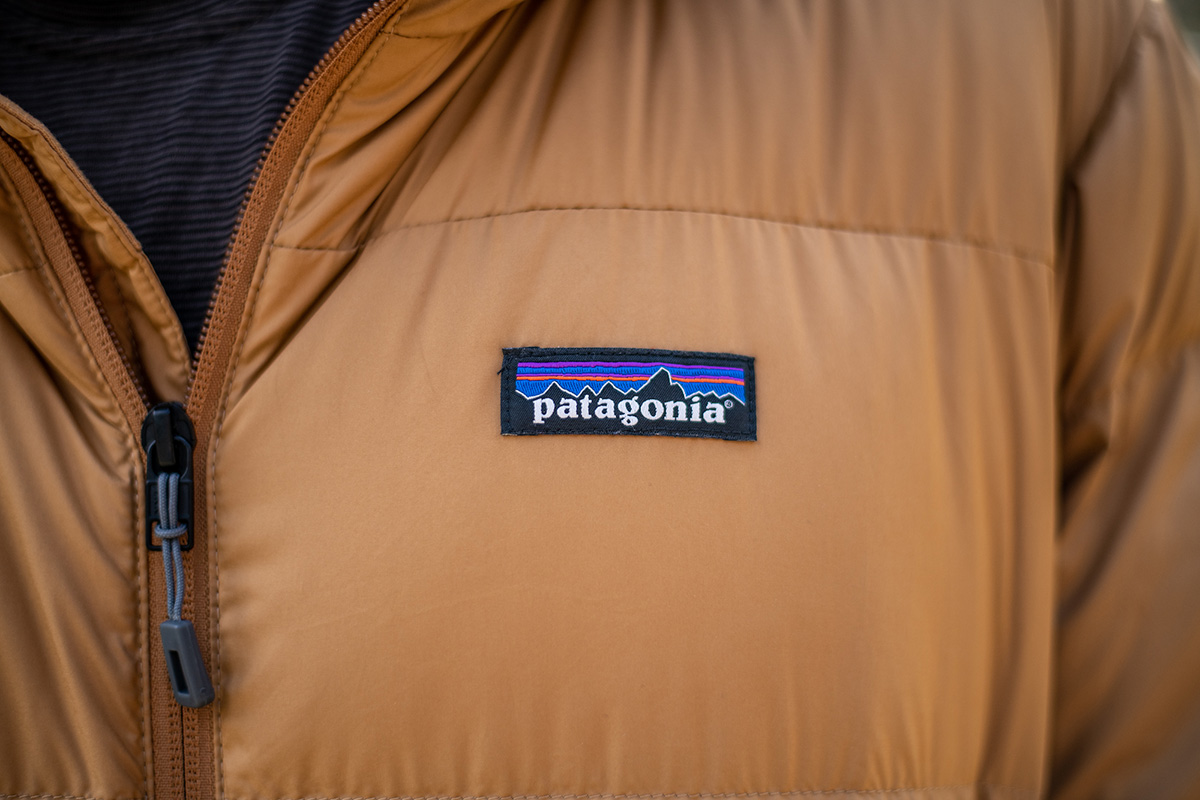 That said, the Silent Down doesn't strike me as a particularly durable down jacket, especially for true backcountry use. Despite a fairly thick 40-denier designation, the polyester taffeta shell looks and feels vulnerable to tears—and the fabric isn't ripstop either—and it's something I was certainly aware of when slipping through gates and wearing the jacket around sharper gear. The tradeoff in comfort is likely worth it for most, but you're not gaining much in the way of toughness for the added weight.

Key Features
Hood
The Silent Down boasts a zip-away hood, which is a unique feature among down jackets and one that I've found to be quite practical. For milder days or when worn under a shell as a midlayer, you can simply stuff the hood into the collar and zip it up. And it's just as easy to deploy when you need the extra warmth and protection. In terms of size, the hood isn't helmet-compatible (not surprising given the jacket's casual slant), but it's plenty large for wearing over a hat or beanie.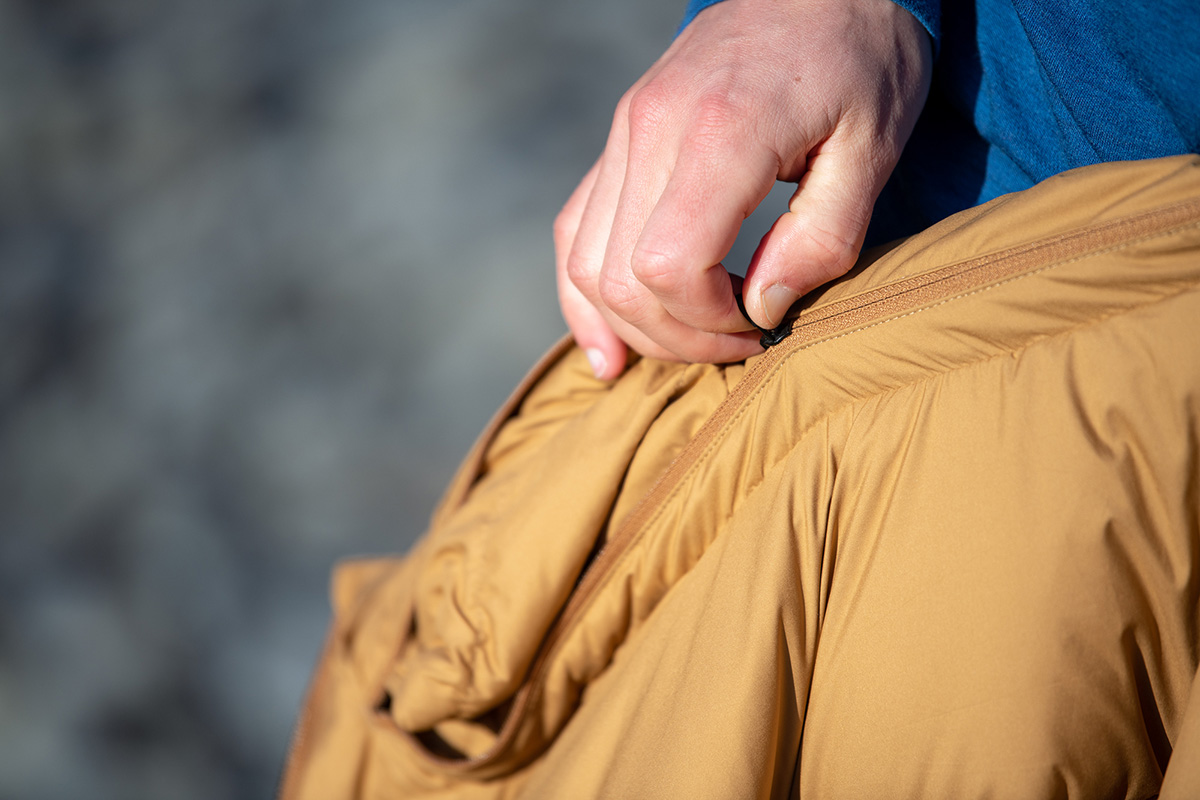 One sacrifice is that you lose a rear cinch—instead, you have to use the dual adjusters at the front to dial in the fit of the hood. This means that you can't tighten it as snugly as a more traditional design, and I found myself occasionally needing to grab the hood when a strong gust of wind hit me head-on. Combined with a fairly short collar that reaches just under my chin, you're not getting top-notch protection or insulation from the hood. Again, it's plenty for everyday wear, but those headed into the backcountry will likely want better adjustability and additional coverage (like you get with Arc'teryx's StormHood found on their Cerium LT Hoody).

Storage: Pockets
In terms of storage, the Silent Down has a functional layout that includes two hand pockets and one interior chest pocket. The hand pockets are nicely sized and fit gloved hands, and they're also exceptionally soft thanks to the fleece-like lining on the side that comes into contact with the back of your hands. As I touched on above, the cinch cord that stores in here is a minor annoyance, but it doesn't detract from comfort too much. And the aforementioned chest pocket is big enough to stow a modern cellphone (my iPhone 11 fits inside easily). It's also protected from the outside by a layer of insulation, which is great for minimizing battery drain from the cold.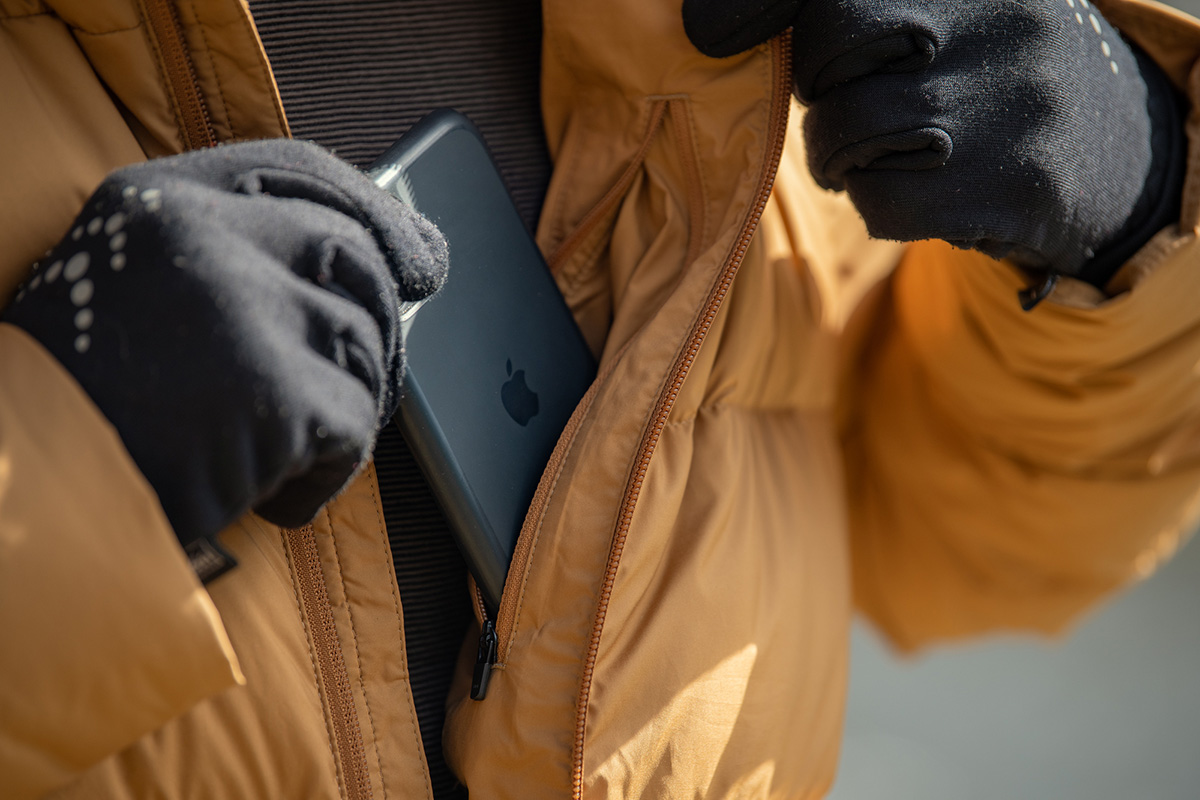 Fit and Sizing
I ordered my standard men's size medium in the Patagonia Silent Down Jacket and was very happy with the fit. The jacket isn't overly boxy—a complaint we occasionally have with Patagonia gear—but has a pretty regular cut that works well over just a t-shirt without feeling bulky or unshapely. On frigid days, I was also able to add a thin fleece underneath without any restriction to movement. Combined with the stretchy construction, all-around mobility is great whether you're reaching overhead or bending down. My only gripe is that the Silent Down isn't particularly long at 26 inches down the back (based on my measurement), and those on the tall and lanky end of the spectrum might find it to be a bit short (for reference, I'm 5'9", and the hem sits just a couple inches below my waist). But all things considered, the fit nicely matches the jacket's intended uses, including around-town wear and casual outdoor pursuits.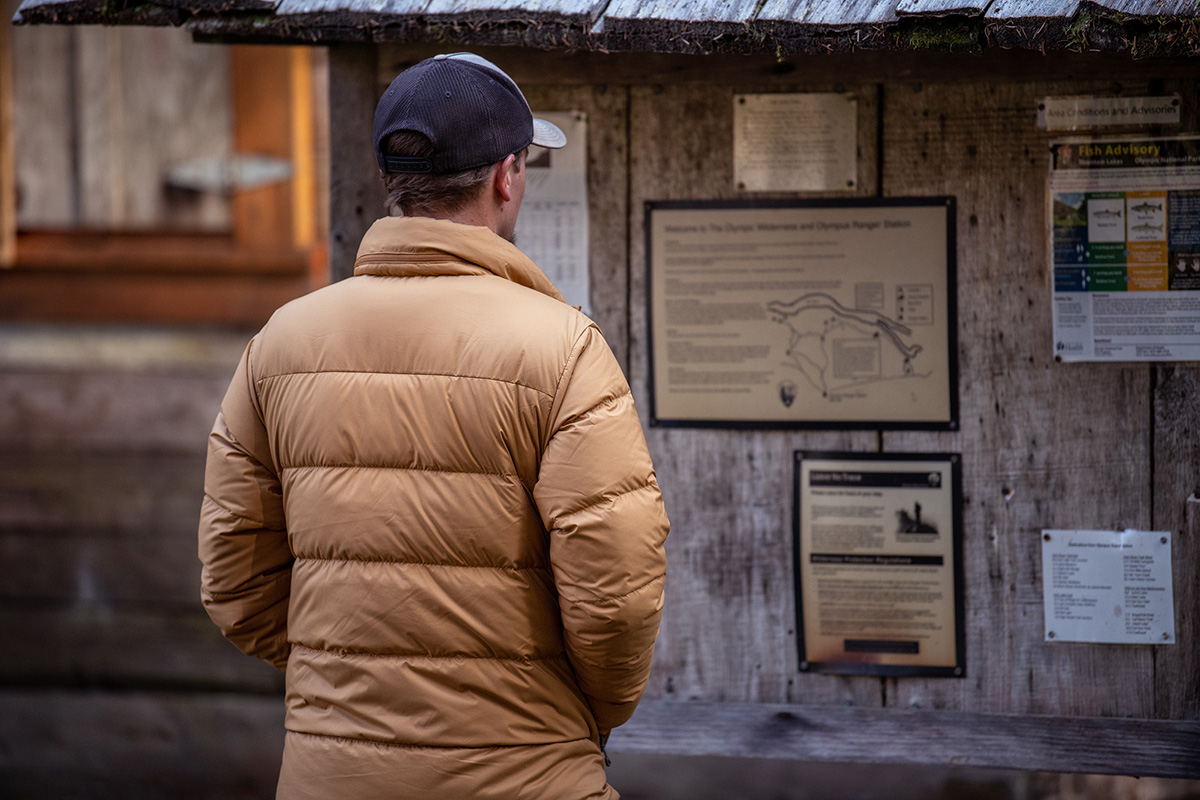 Sustainability
Patagonia is known for their sustainability practices, and the Silent Down Jacket is a testament to their ongoing efforts. For starters, the jacket utilizes recycled materials throughout, including a 70-percent-recycled taffeta shell and 100-percent-recycled duck and goose down that's been reclaimed from other down products. The shell and lining fabric is also bluesign-approved, meaning that it's been certified as safe for workers, consumers, and the environment. And finally, the jacket is Fair Trade Certified, indicating that Patagonia put extra money into production to ensure that workers are compensated fairly, have safe working conditions, and have access to other health and safety benefits. We're still waiting for Patagonia switch to a PFC-free DWR across the board (they've started to do so with some products), but we nevertheless appreciate the improvements they've made in their lineup thus far.

Other Versions of the Patagonia Silent Down
We tested the men's version of the Silent Down, and Patagonia makes a women's model under the same name but with a few key differences. Specifically, the women's Silent Down Jacket costs $30 less at $249, boasts buttoned flaps over the main zipper and hand pockets, lacks a hood, comes in different colorways, uses a little less down (3.7 oz.), and clocks in a bit lighter at 1 pound 4.1 ounces. Rounding out the collection, Patagonia sells the Silent Down Shirt Jacket for men ($229), which has more of a utilitarian look with two flap-protected chest pockets, no hood, and a full-length snap placket at the front for tailoring warmth.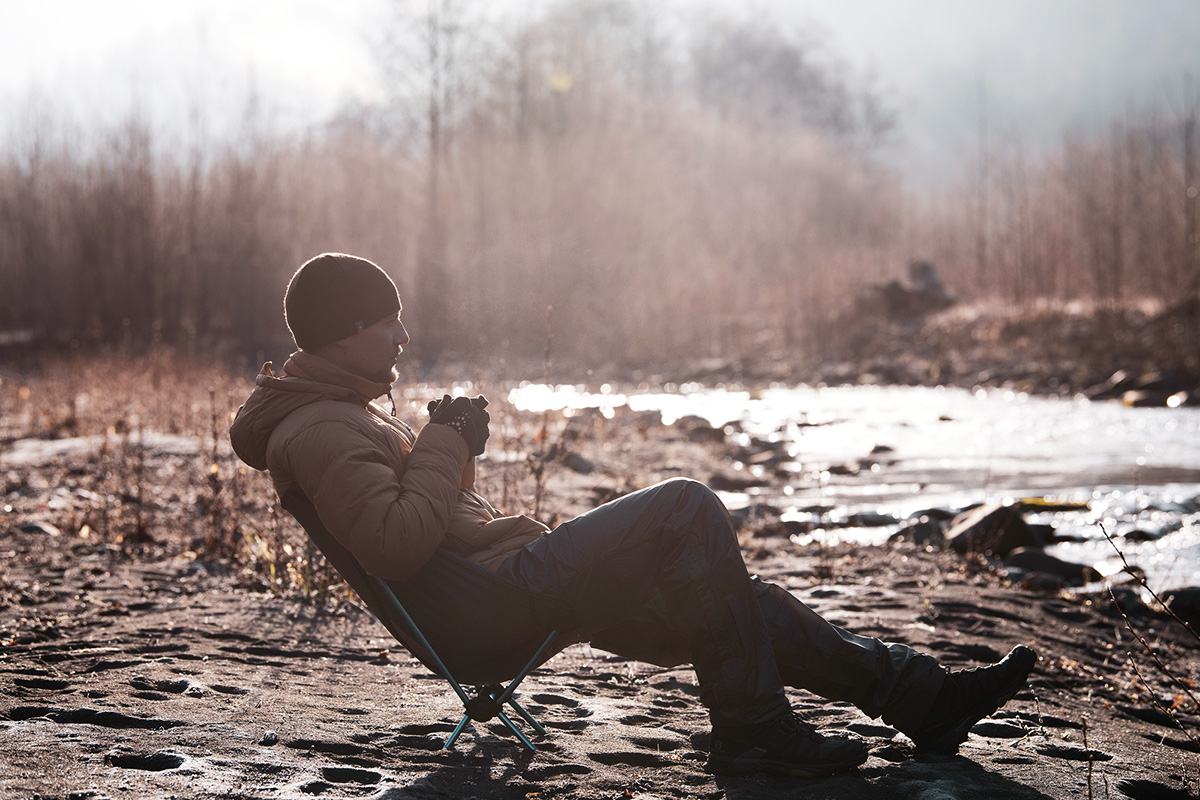 What We Like
Comfort is excellent thanks to the smooth polyester taffeta exterior and lining, incorporation of mechanical stretch, pliable cuffs, and soft touch points throughout.
Landing between a light and midweight puffy, you get functional warmth for everything from cool shoulder-season days to short stints in true winter temperatures.
Stowaway hood is a unique feature and highly versatile: stuff it into the collar on milder days or deploy it for extra warmth and protection when the weather turns.
Accommodating fit works well for layering without impacting mobility or feeling overly baggy.

What We Don't
The Silent Down falls short for true backcountry use, with a fairly vulnerable-feeling shell, non-packable build, and limited adjustability at the hood.
The cinch cord for the hem is routed through the hand pockets, which means there's a fair amount of excess cord taking up space inside those areas.
Lack of rear cinch means the hood doesn't tighten as evenly or snugly as traditional designs. Combined with a relatively short collar, overall coverage and protection are below average.
Back length is pretty short at 26 inches (for my men's medium), which might be a downside for those with tall and lanky builds.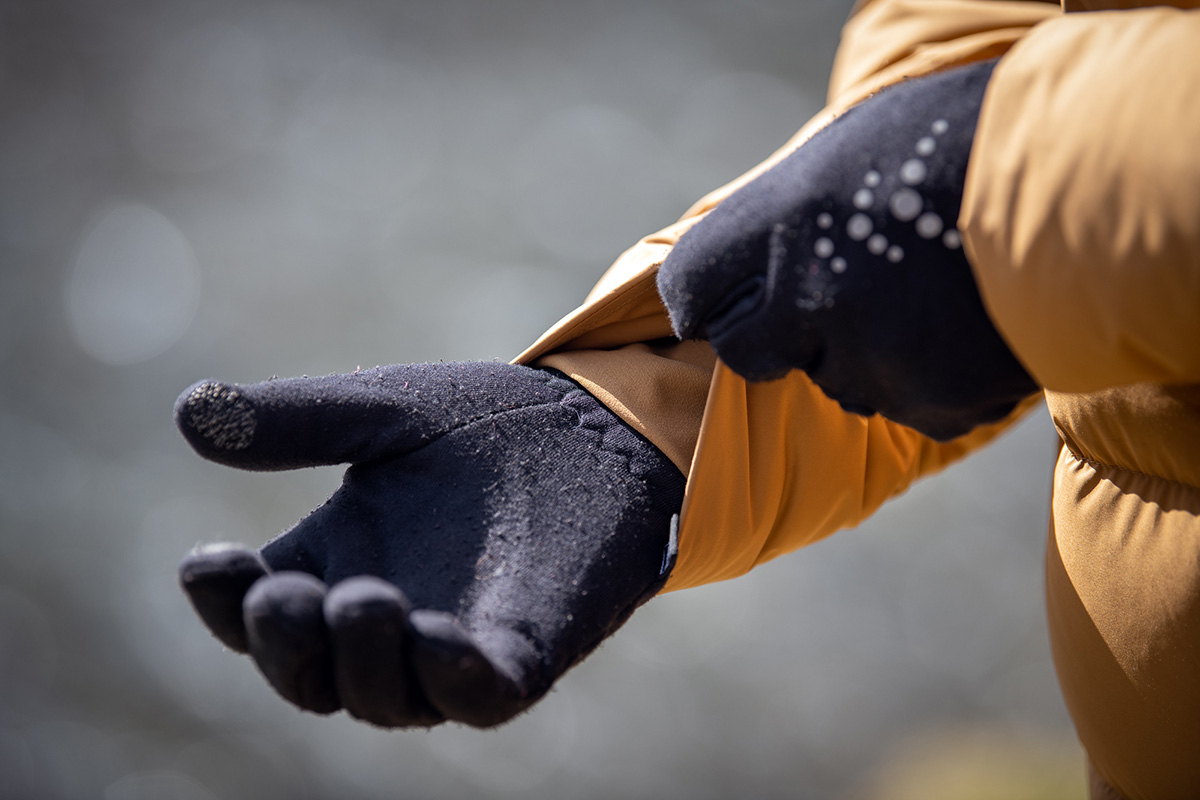 Comparison Table
The Competition
Patagonia's Silent Down is a quality down jacket that nicely toes the line between our light- and midweight categories. For a slight step down in warmth, the brand's flagship down puffy is their Down Sweater Hoody, which costs the same as the Silent Down but features 3.7 ounces of higher-quality 800-fill down. Another big difference is intended use: the Down Sweater is more of a crossover backcountry and daily use piece and therefore can't match the standout comfort of the Silent Down. But it's considerably lighter at 15.1 ounces, much more packable (the internal chest pocket converts to a stuff sack), and a better all-rounder for use as a midlayer. Given these advantages, if we were to pick one down jacket for outdoor and around-town wear, the Down Sweater would be our choice. 
Another in-house option to consider is Patagonia's own Jackson Glacier Jacket. The Jackson Glacier is a similar concept to the Silent Down but in a more insulative, winter-weight design. In this case, you get 5 ounces of the same 700-fill down, as well as a more weather-ready 2-layer shell and waterproof, two-way front zipper. The Jackson Glacier's hood also is a more traditional design with better adjustability, although it lacks the zip-away capabilities of the Silent Down. And the bump in warmth does come with a substantial weight penalty (the Jackson Glacier is pretty hefty at 1 lb. 15 oz.) and $70 price increase. For casual use in more frigid regions like the Midwest of the U.S., those tradeoffs might be worth it. For shoulder-season outings and light adventuring in more moderate temperatures, we'd save with the Silent Down.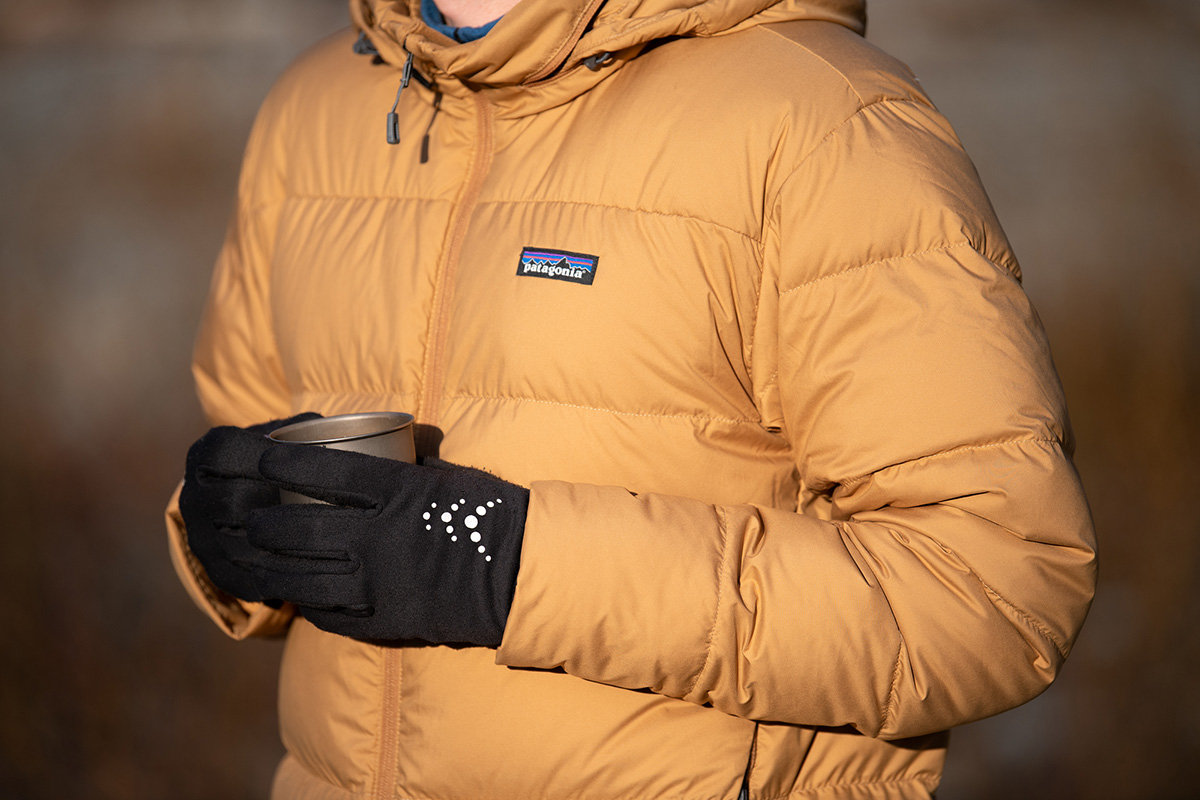 Outside of Patagonia's lineup, Arc'teryx's Thorium AR Hoody similarly straddles the line between light and midweight down puffy. Stacked up against the Silent Down, the Thorium is a little warmer with 4.6 ounces of 750-fill down, offers better wet-weather protection in the form of a water-resistant outer fabric and the strategic use of synthetic insulation in moisture-prone areas, and checks in a few ounces lighter at 1 pound 1.3 ounces. That said, the Silent Down wins out in comfort and stretch with a softer and more mobile construction, and its styling translates a little better to daily wear. For crossing over between outdoor and around-town use, however, we'd spend the extra $46 for the more premium and packable Arc'teryx.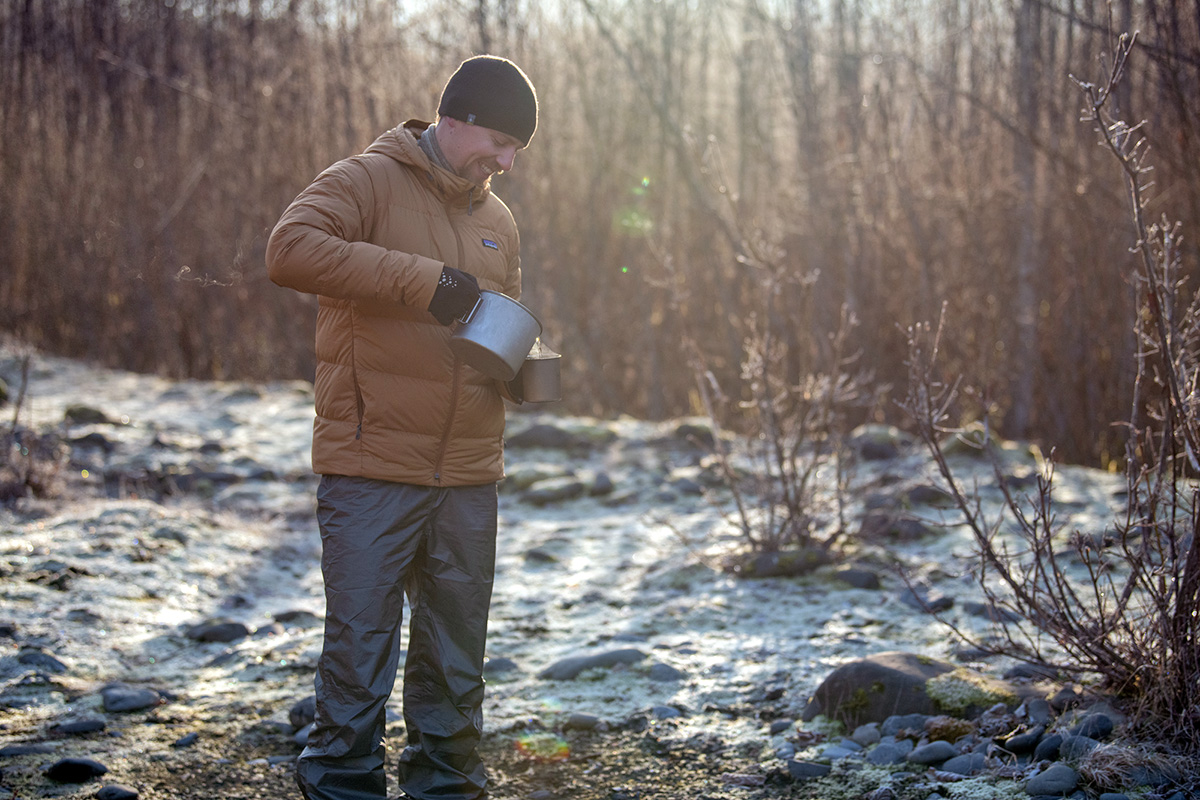 Last but not least is Mountain Hardwear's Super/DS Stretchdown Hooded Jacket. As its name suggests, the Super/DS's signature feature is its stretchy construction, which includes a flexible stretch-woven nylon shell (87% nylon and 13% elastane) and welded seams. The result is excellent range of motion, durability, and heating efficiency. As far as warmth goes, the Mountain Hardwear offers a similar amount of insulation with 3.5 ounces of 700-fill down, and it's the slightly lighter piece at 1 pound 1 ounce. Both jackets are decidedly casual in nature, but we consider the Super/DS Stretchdown to be the more premium piece in this category for daily wear and light adventuring. If you're looking for the quintessential down puffy-like look, however, the Silent Down is more traditionally styled with its horizontal baffling.
If you're thinking about buying gear that we've reviewed on Switchback Travel, you can help support us in the process. Just click on any of the seller links above, and if you make a purchase, we receive a small percentage of the transaction. The cost of the product is the same to you but this helps us continue to test and write about outdoor gear. Thanks and we appreciate your support!
Depending on the seller, most products ship free in the United States on orders of $50 or more. International shipping availability and rates vary by seller. The pricing information on this page is updated hourly but we are not responsible for inaccuracies.
Read More From Switchback Travel