Winters are harsh in the U.K., and British alpinists are known for getting out in all types of conditions. So if there's anyone we can trust to make innovative gear for the cold and wet, it's Rab. This England-based company started making the Neutrino Endurance over a decade ago, and with a number of improvements along the way, it's one of the best on the market. Simply put, this jacket is lofty, relatively tough, and well suited for the depths of winter. Below we break down the Neutrino Endurance's warmth, weather protection, weight, durability, fit and comfort, and more. To see how the Rab stacks up, see our articles on the best down jackets and best winter jackets.
 
Performance
Warmth
Without a doubt, the Rab Neutrino Endurance is one of the warmest performance-oriented down jackets on the market. First, it's packed with a whopping 8.8 ounces (250 grams) of premium 800-fill power goose down, which is a recent boost of more than 10% compared to earlier versions. Second, Rab chose Pertex Endurance as the shell fabric (more on that below), which is more wind and water resistant than the Pertex Quantum commonly found on other down jackets. This all adds up to serious warmth, and much more than you get from a lightweight piece.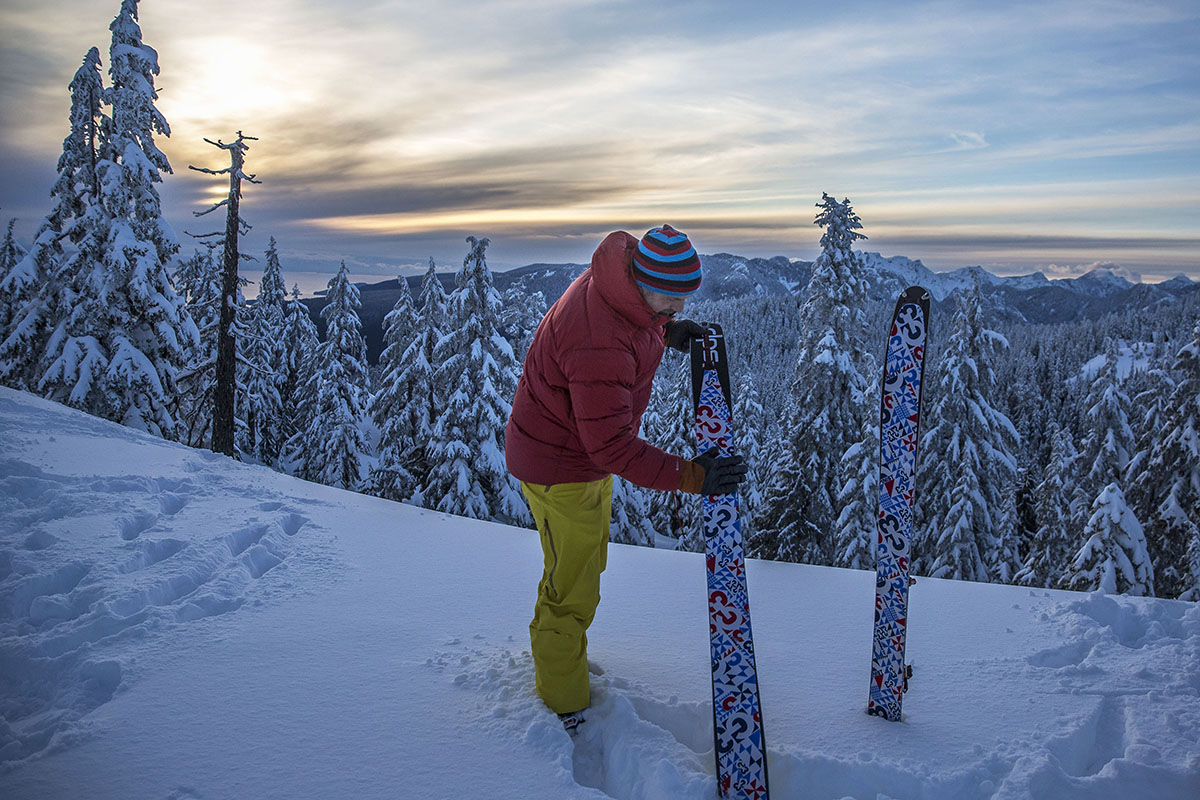 In fact, the Neutrino is so warm that it doesn't wear well on mild winter days or during high output activities. Instead, it shines while setting up camp, belaying, or sitting still in the cold. On a recent backcountry ski trip with wind chill as low as -13°F (-25°C), I was able to set up my bivy, boil water, make dinner, and sleep in surprising comfort, wearing my Neutrino Endurance from the moment we stopped to set up camp until we left the next morning.   
On more than one trip, the Neutrino Endurance has stayed tucked away in my pack as the temperatures never dropped low enough to warrant such a layer. However, as lightweight and packable as it is for the warmth, I am always happy to bring it along for peace of mind in unpredictable winter weather.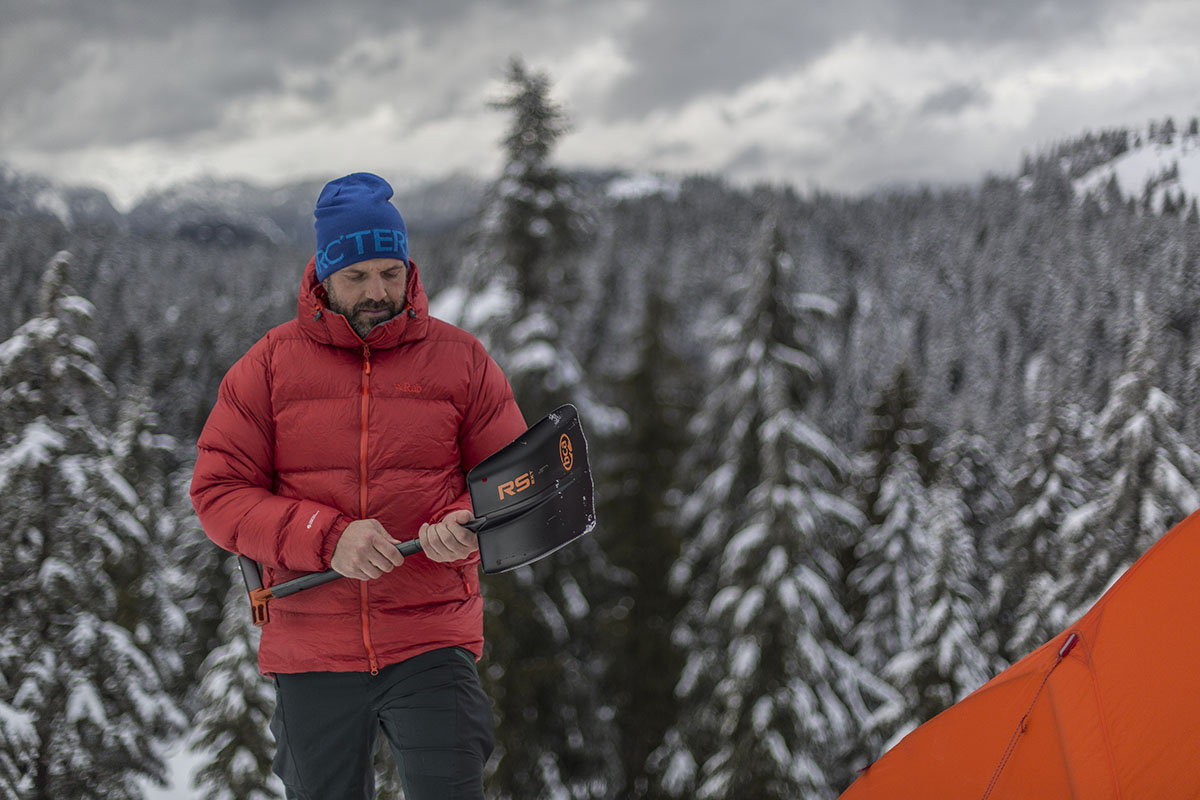 Weather Protection: Pertex Endurance and Hydrophobic Down
By design, down jackets are not meant to guard against heavy rain or snow, but the Neutrino Endurance provides more protection than most. As mentioned above, the Pertex Endurance shell fabric, which includes a polyurethane coating, makes it very water and wind resistant. On more than one wet spring day in the snow, I noticed that the fabric around the shoulders appeared to be wet, yet upon further examination there was no noticeable penetration or soaking of the down. It retained its loft and I stayed dry and warm.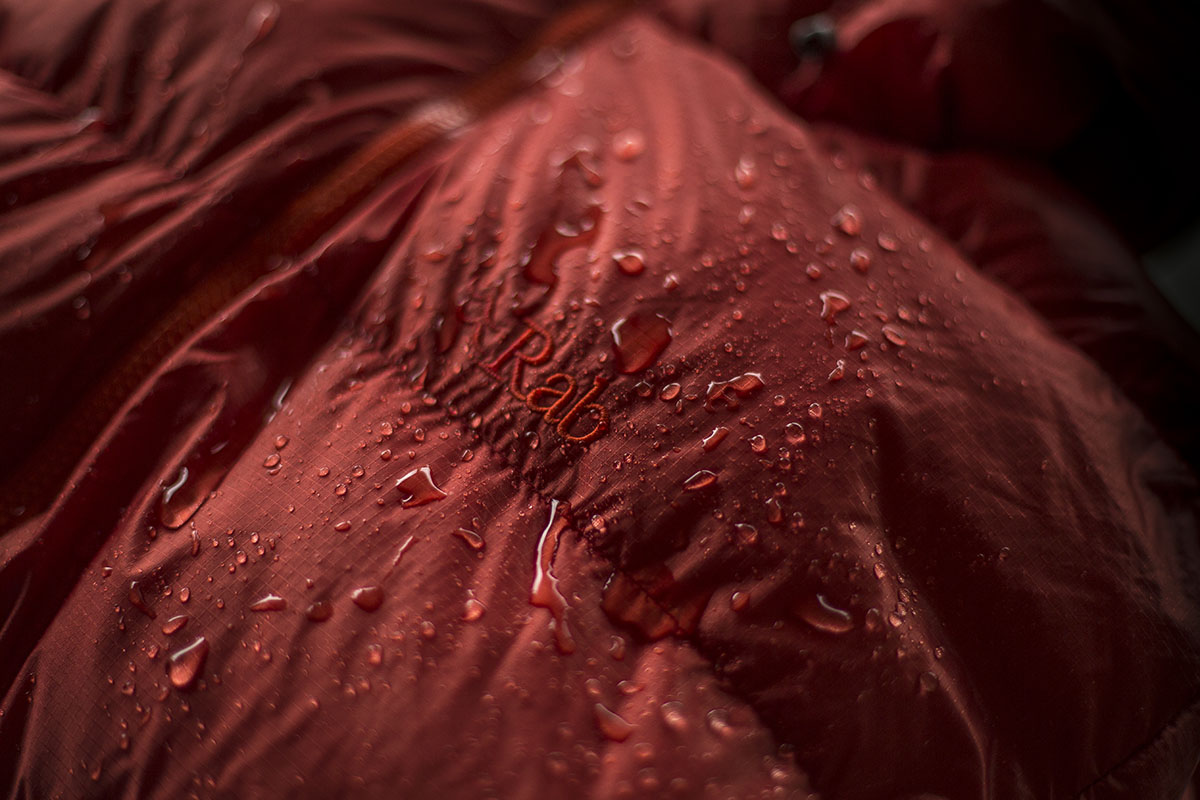 Should water make it past the first barrier of Pertex, a second line of defense awaits: hydrophobic down. The goose down inside the Neutrino Endurance, like many high-end jackets, is treated with a water repellent finish to keep it from losing its loft. Some sceptics remain—and you certainly shouldn't expect any miracles—but hydrophobic down does its job of increasing wet weather performance. Additionally, to help guard against moisture seeping through, Rab now uses YKK zippers coated with a polyurethane water repellent finish. When I tested the zippers under a gushing tap, the water merely pooled on top, leaving the inside of the jacket dry.
One part of the jacket that I was slightly concerned about was the stitched-through baffles, which could potentially create small holes for water or wind to permeate. This hasn't been an issue thus far, and if conditions really deteriorate, I would simply put on a hardshell jacket over top. After all, despite its seemingly tough outer coating, the Neutrino Endurance is not intended to be a rain jacket.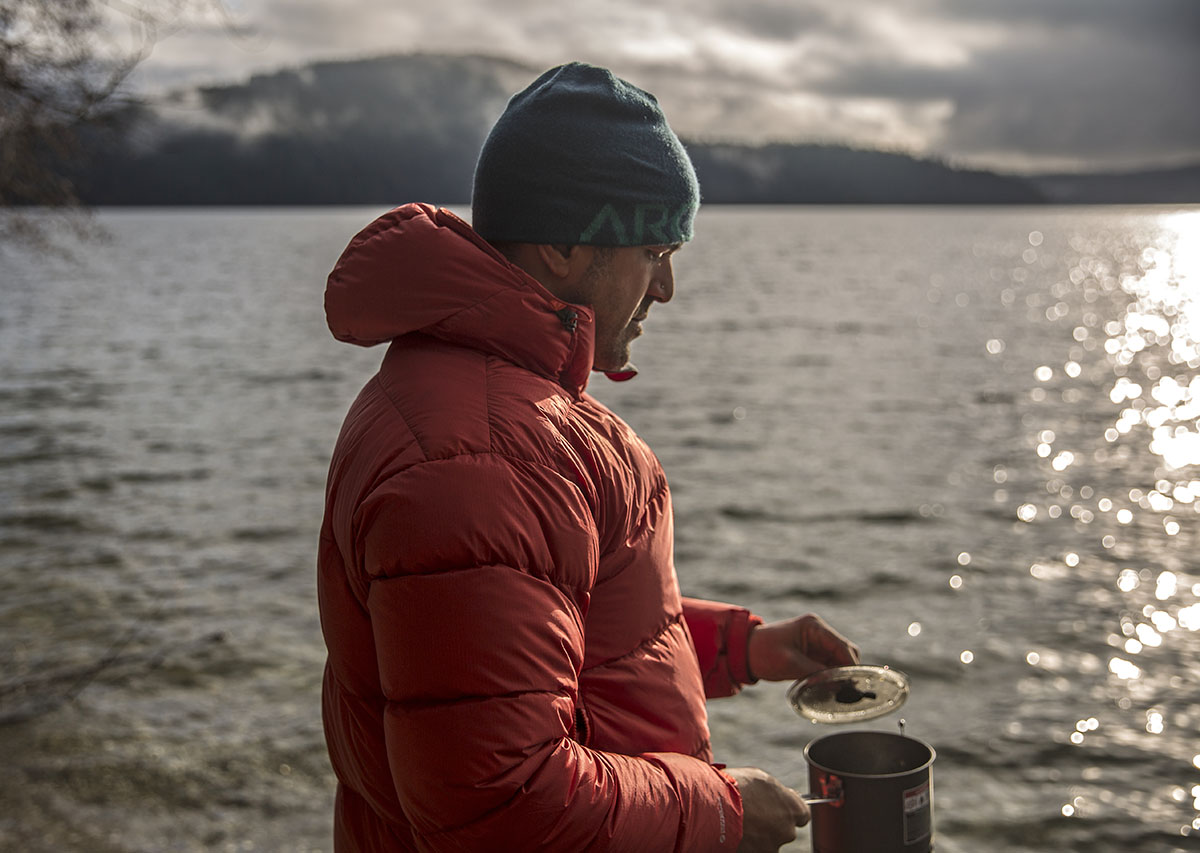 Weight
Owing to the generous amount of down fill and durable shell, the Neutrino clocks in at 22.4 ounces for a men's large, which is on the heavy side of the down jacket spectrum. For comparison, the Arc'teryx Thorium SV is slightly lighter 21.7 ounces but has less down (6.2 ounces) and a lower fill power (750), although it does include panels of synthetic insulation. And the Mountain Equipment Lightline weighs 26 ounces with 10.4 ounces of down fill, but it has the lowest fill power (700) of the trio. For perspective, the uber-popular and ultralight Mountain Hardwear Ghost Whisperer has just 2.8 ounces of 800-fill down, less than one-third of the Neutrino Endurance, but weighs a feathery 7.7 ounces total.
The bottom line is that the Rab Neutrino Endurance weighs more than any lightweight model yet also provides significantly more warmth. It truly is a winter jacket that can keep you cozy in frigid temperatures—we've worn it on the windy shores of Lake Superior in December with no issue. It's not your midlayer or summer alpine piece—this jacket is built to handle serious cold.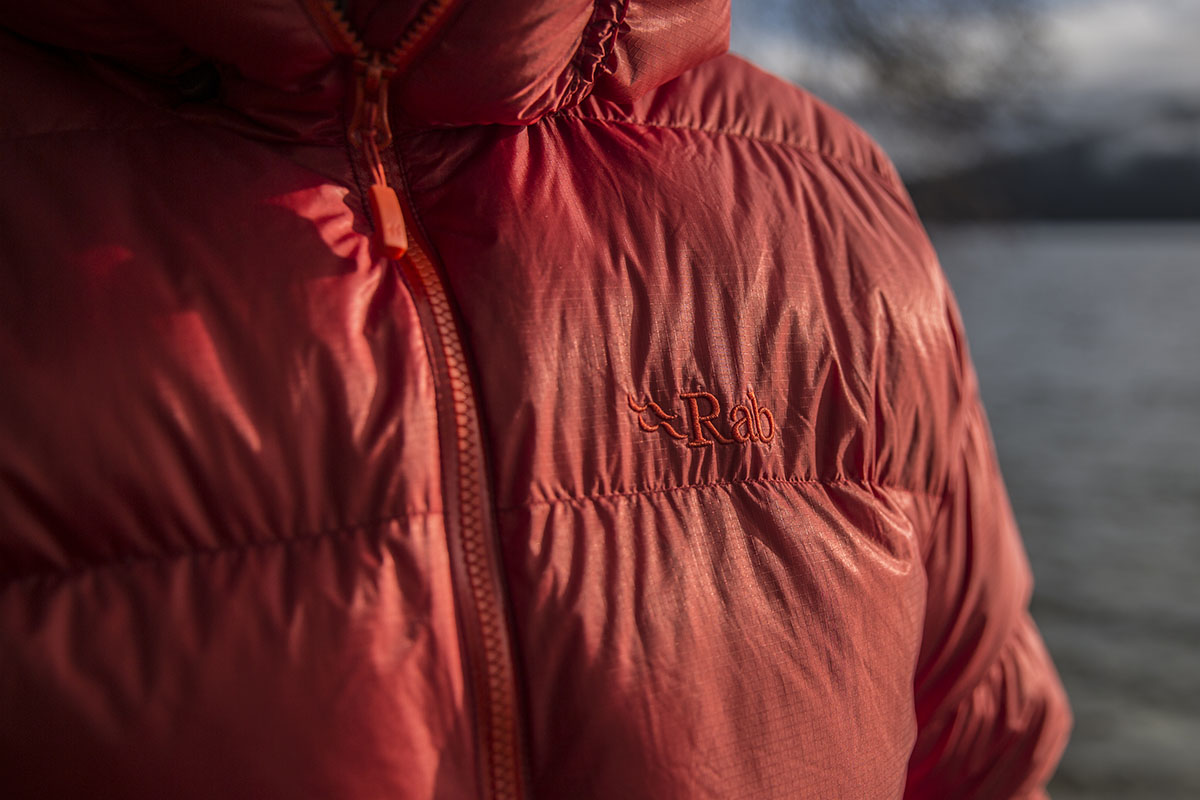 Denier (D) and Durability
In terms of construction, Rab opted for a 30-denier shell fabric. For background, denier (D) refers to the weight of the thread that makes up the fabric, and the higher the denier rating, the heavier, stronger, and more durable it is. The 30D shell fabric on the Neutrino Endurance is thicker and tougher than many technical down jackets, which generally start at around 20D all the way down to the 7D on some ultralight models.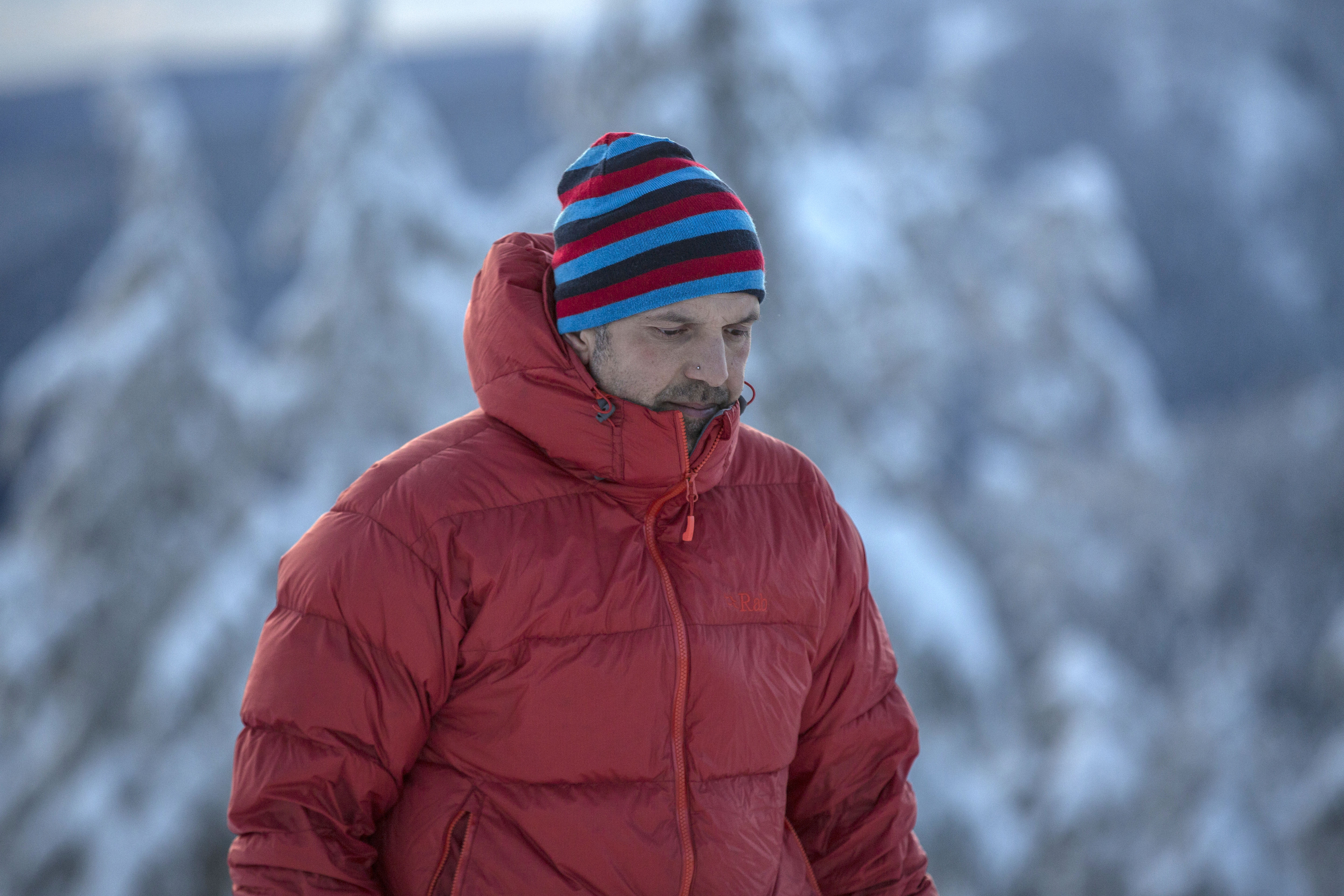 By going with a 30D shell, this Neutrino Endurance is a breath of fresh air. Durability always seems to be an issue with down jackets, and we're constantly patching and repairing holes in most of our puffies. To date, after being crammed repeatedly into a pack and worn on multiple trips, the Rab shows no signs of damage, a truly exceptional feat. For those who plan on heading way out into the backcountry, the extra ounces are well worth carrying.
Having been on the market for years and with a number of updates along the way, the Neutrino Endurance is as time-tested as down jackets get. While I've only had mine for a season and counting, but my wife has had her Rab for over four years, wearing it on too many trips to count. During that time, a handful of feathers have worked their way out of the baffle's seams, but the jacket otherwise is in great condition despite years of abuse and multiple machine washings.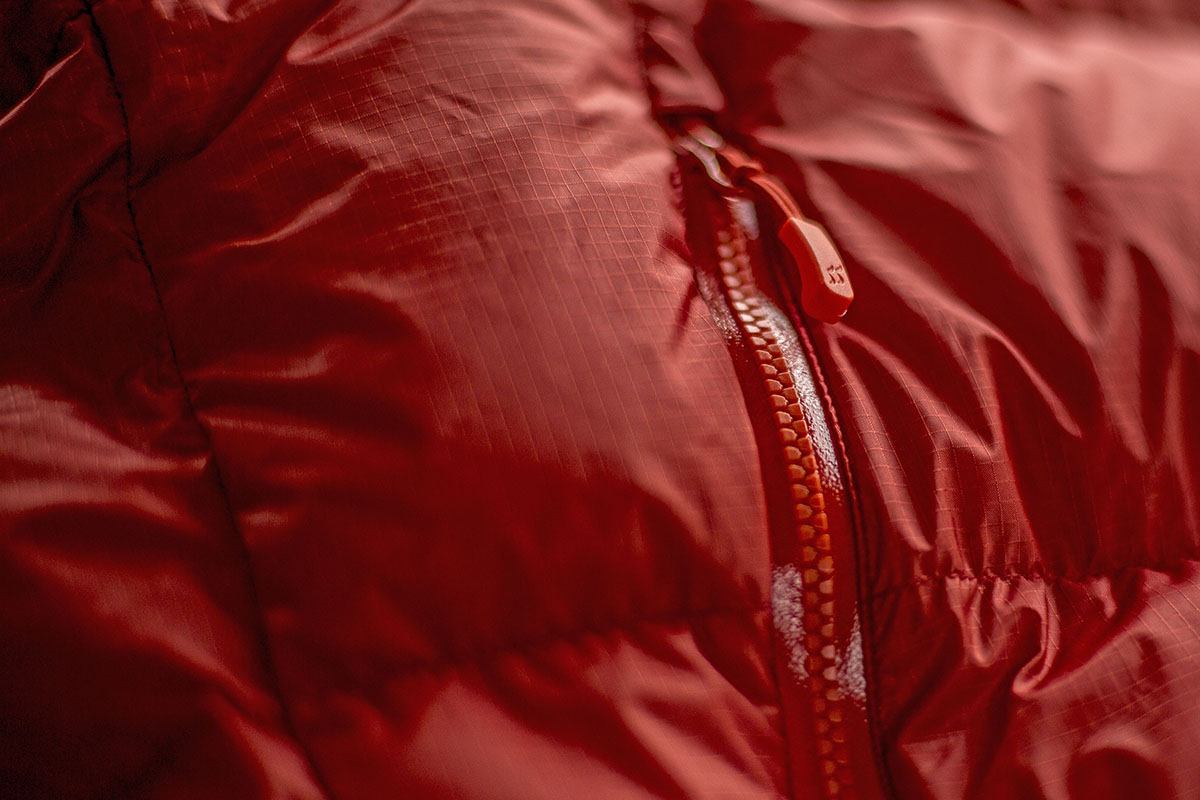 Hood, Cuffs, and Storage
Just about every feature on the Neutrino Endurance seems to be well-thought-out, from the hood and cuffs to the pockets and length of the hem line. The hood is helmet-compatible and large enough to wrap around your entire head and neck with virtually no exposed skin, yet cinches down nicely and can even be stowed away when not in use (with a Velcro-free system that Rab recently designed). It's very easy to adjust, and when skiing I was able to create an opening around my eyes to fit my snow goggles perfectly. All in all, it's one of the most comfortable and protective hoods we've ever worn.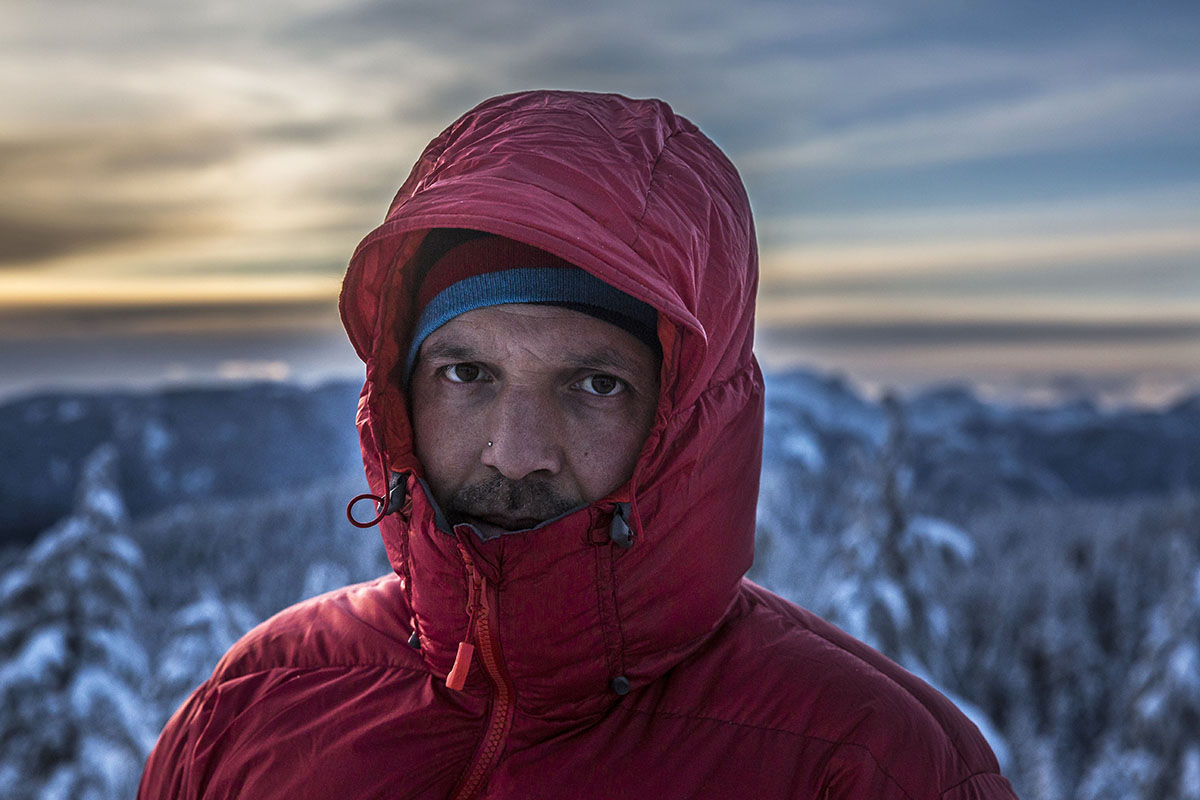 The anti-snag cuffs advertised by Rab are just that: the simple Velcro straps stick efficiently, are easily adjustable, and effective in keeping snow, water, and cold air from entering the jacket. In terms of storage, the generous waist pockets are large enough to store a hat, gloves, and even my hands with large mittens. Unfortunately, they sit a bit too low to comfortably access when wearing a pack or harness, but rarely do I find myself wearing such a warm jacket while engaging in an activity at the same time. If you do, the two-way zipper allows you to wear the jacket over your harness or hipbelt and still have the access you need.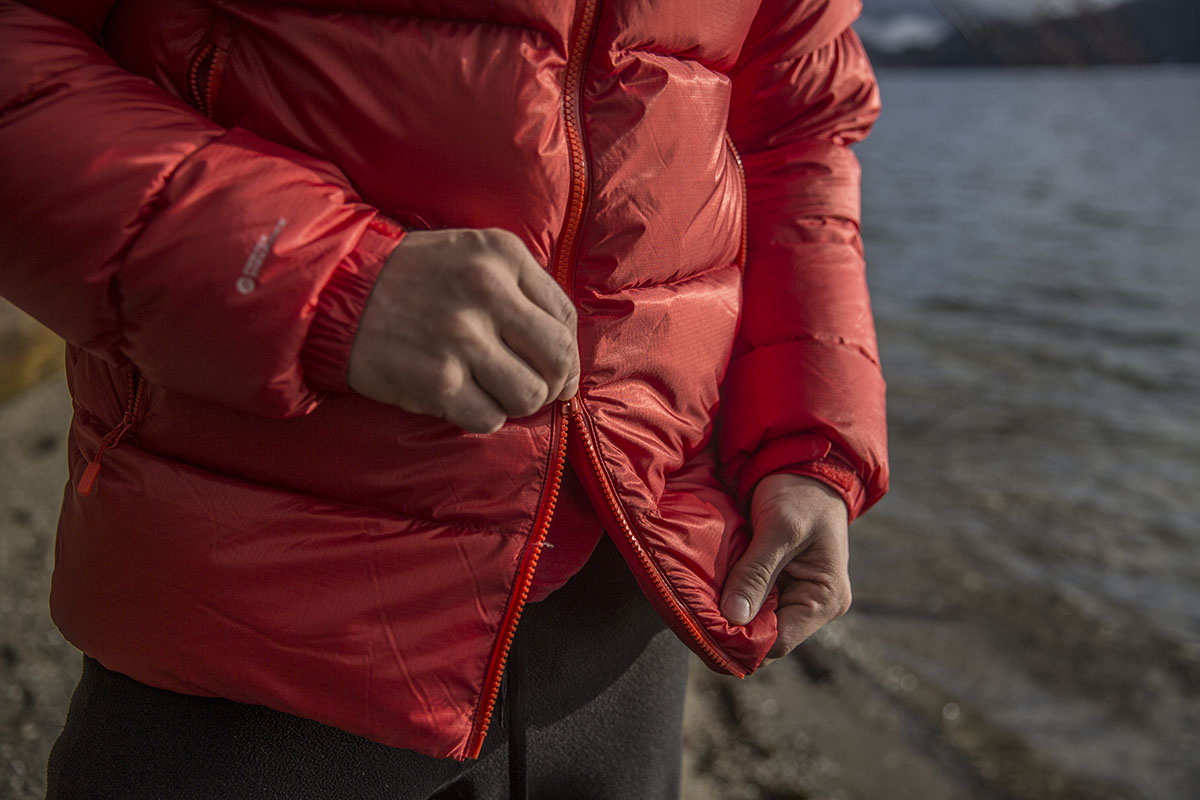 Stuffing it Down
The Neutrino comes with its own stuff sack and packs down roughly to the size of a Nalgene bottle, which is quite an impressive feat for its warmth and loft (and one of the clear advantages of down over synthetic insulation). For winter backcountry enthusiasts, the packability of this jacket is a major selling point—it almost always gets stuffed in my pack during anything serious in the cold. Give credit to the 800-fill down here, which packs down very compactly for the loft and warmth it provides.
 
Fit and Comfort
The Rab Neutrino Endurance is categorized as having a regular fit, meaning that it provides enough room to move freely and fit layers underneath without deterring mobility. Additionally, this jacket has a slightly longer hemline than most down jackets, providing more coverage when bending over or sitting in the snow. I typically wear a large and find that the jacket fits me true to size.
Wearing the Neutrino is akin to being wrapped up in a lofty sleeping bag—I still get excited when temperatures drop low enough for me to wear it. The interior Pertex Quantum material is almost silky to the touch, allowing it to slide nicely over layers such as merino wool, fleece, or in the rare event, skin. Rab also included a generous piece of fleece-like material on the chin guard and inside of the pockets, a welcome barrier against chafing for the face and extra warmth for bare hands.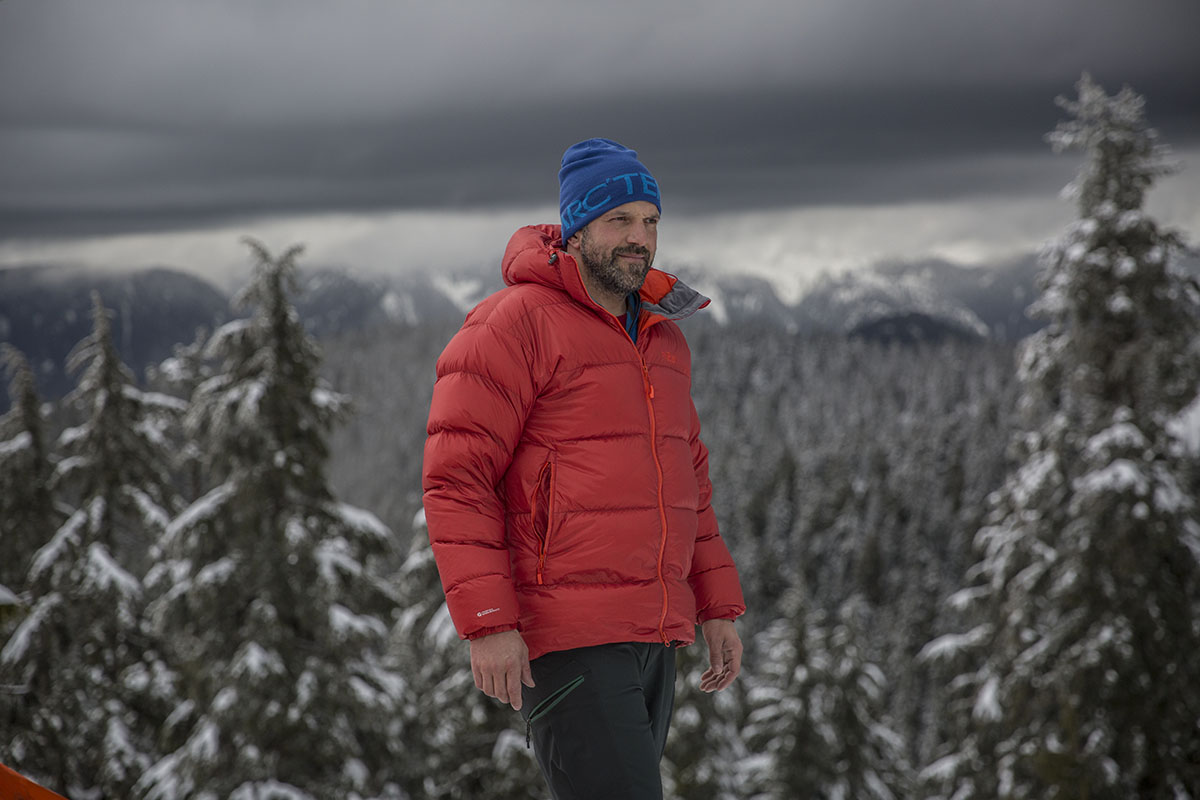 What We Like
Just about as warm as a technical down jacket gets.
Durable and tough with a 30D shell.
Despite all that loft, the jacket packs down to an impressively small size.
RDS (Responsible Down Standard) certified, ensuring that it adheres to the highest animal welfare and safety standards.

What We Don't
A bit heavy and overkill for many non-winter situations.
Zipper can be a bit fussy and difficult to start.


Comparison Table

The Competition
As we mentioned above, the Rab Neutrino Endurance is a warm winter jacket and therefore its competitors are found in the midweight or even parka categories. The Arc'teryx Thorium SV is a similar technical piece: it's nearly the same weight at 21.7 ounces vs. 22.4 ounces for the Rab, but with less fill weight at 6.2 ounces vs. 8.8 ounces. The Thorium also uses a combination of 750-fill power down and synthetic insulation instead of 800-fill power down, but does get a nice step up in shell thickness at 40D vs. 30D. More, the Arc'teryx's box wall construction limits vulnerabilities for moisture and wind to sneak through. It's a tough call between the two: Arc'teryx jackets have a premium look and feel that is difficult to replicate, plus a slightly more athletic fit. But the Rab wins out in warmth, fill weight, and fill power—plus it's $50 cheaper—which is why we give it the nod.
A nice budget option to consider is the Mountain Equipment Lightline at only $250. The clear sacrifice comes with the quality of the down, which is mid-range at 700-fill power. This does impact loft, compressibility, and warmth, although the Lightline does have an impressive 10.4 ounces of fill weight. Both jackets look quite similar, and both are made by U.K. brands, with the Rab being the more premium of the two in both materials and construction. For backcountry use, we like the Neutrino Endurance, but the Lightline is a whole lot of down jacket for $250 and a really nice value.
Stepping over to a rather prominent U.S. gear manufacturer, the Patagonia Fitz Roy Down Parka is a close match to the Neutrino Endurance in terms of specs. The Fitz Roy weighs almost the same at 22.3 ounces, also uses 800-fill power down, and 8 ounces of it. The biggest difference comes with the shell fabrics, with Patagonia using a 20D Pertex Quantum instead of 30D Pertex Endurance. The Patagonia arguably looks better for casual use with a more streamlined design and box wall construction, but both are capable of being worn as either technical or daily pieces. For a little more warmth and a thicker shell, grab the Neutrino Endurance. For Patagonia looks and build quality, the Fitz Roy Hooded Parka is a winner.
If you're thinking about buying gear that we've reviewed on Switchback Travel, you can help support us in the process. Just click on any of the seller links above, and if you make a purchase, we receive a small percentage of the transaction. The cost of the product is the same to you but this helps us continue to test and write about outdoor gear. Thanks and we appreciate your support!
Depending on the seller, most products ship free in the United States on orders of $50 or more. International shipping availability and rates vary by seller. The pricing information on this page is updated hourly but we are not responsible for inaccuracies.
Learn More About Outdoor Gear