REI Co-op continues to impress us with their in-house line of products, and the Stormhenge 850 is one of their best. Featuring premium 850-fill down, a 2-layer waterproof shell, and a clean design that wears well outdoors and in the city, this winter jacket is both extremely versatile and a great value at $249. Below we break down the Stormhenge's performance. To see how it stacks up, see our articles on the best winter jackets and down jackets.
 
---
Table of Contents
---

Performance
Warmth
The REI Co-op Stormhenge 850 is a serious winter jacket built to handle cold conditions. In terms of fill power (the measure of the quality or loft of the down), the Stormhenge is packed with premium 850-fill goose down. This surpasses all other casual winter jackets on the market, many of which range from 550 to 700-fill, and even takes on the more performance-oriented (and much pricier) competition. For example, Arc'teryx's high-end Firebee AR ($949) uses the same 850-fill down, and only the hardcore and mountaineering-oriented Feathered Friends Khumbu ($639) surpasses it at 900-fill. Both almost certainly use more total down than the REI, but the 850-fill power on the Stormhenge is impressive nevertheless.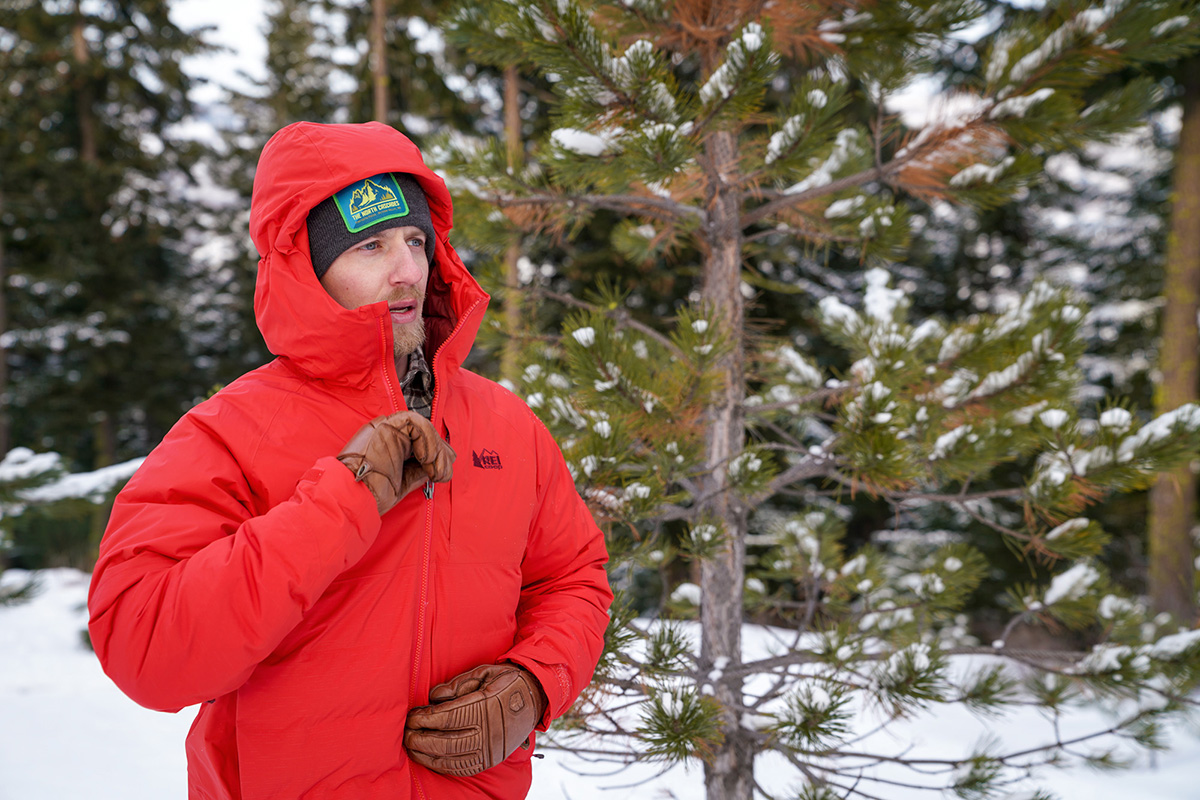 However, REI does not provide the Stormhenge's fill weight, or the total amount of down in the jacket. This is fairly common as fewer than half the winter jackets in our round-up provide fill weight, but nevertheless makes it difficult to compare warmth. In practice, we found the Stormhenge to be quite cozy and fully capable of winter use, even in frigid conditions. Paired with only a light baselayer, it was comfortable well below freezing and into the 20s Fahrenheit, and it can go much lower than that with heavier layers underneath. We wore the jacket for a frigid week in northern Wisconsin in February and were surprised by how warm it kept us.
Aside from the Stormhenge's premium down fill, a few other features contribute to its warmth. First, the insulation is body-mapped, meaning it's strategically thicker around the core and a little lighter in the arms. In addition, the jacket boasts bonded baffles that keep the insulation mostly in place (down tends to migrate otherwise) and minimize cold spots. Finally, the waterproof shell plays a role in boosting warmth by providing protection in strong winds. While snowshoeing over a frozen lake during serious gusts, cold air wasn't able to penetrate the jacket.

Water and Wind Protection
We don't often praise down jackets for their weather-worthiness (down loses its ability to insulate when wet and most have thin nylon shells), but the REI Stormhenge deserves a major shout-out here. With a 2-layer waterproof shell and sealed seams, it can be worn as an outer layer in a variety of conditions without having to worry about the insulation growing soaked. This makes the jacket incredibly versatile and a true standout in the down category. Many competitors have water-resistant shells and durable water repellent (DWR) coatings, but the lack of full waterproofing means you'll have to pair them with a hardshell during rain or extended exposure to heavy snow. Like those jackets, the Stormhenge has a DWR treatment that helps water bead off the surface, but this isn't hugely important given the other waterproofing measures.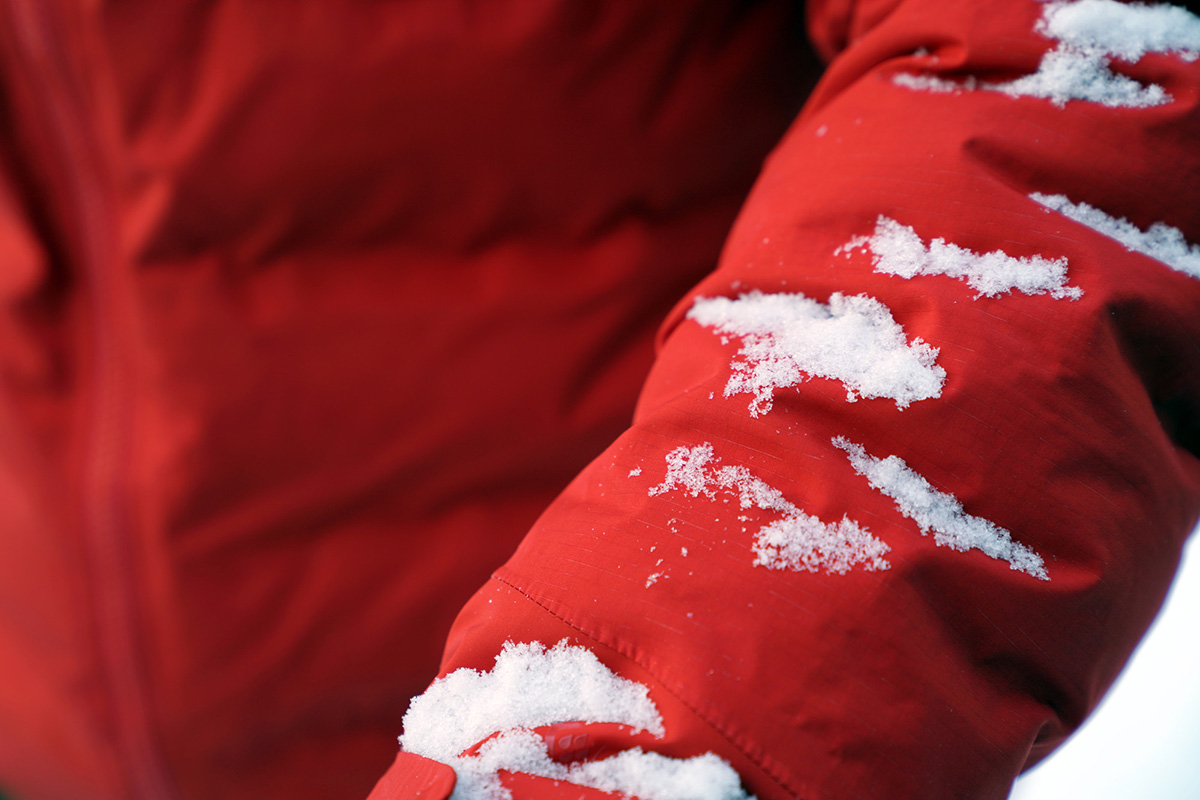 Comfort
On the comfort scale, the REI Stormhenge scores high. It feels light and unobtrusive in use, unlike thicker and burlier winter jackets like The North Face Gotham III. In addition, the interior liner is cozy against the skin, and the jacket feels soft and supple even when paired with just a t-shirt underneath. Fit also is a key consideration when talking about comfort, and the Stormhenge is a winner here too. The cut of the jacket isn't overly baggy, which made it easy to wear for both performance use and while walking around town. All in all, it's one of the coziest winter jackets we've worn.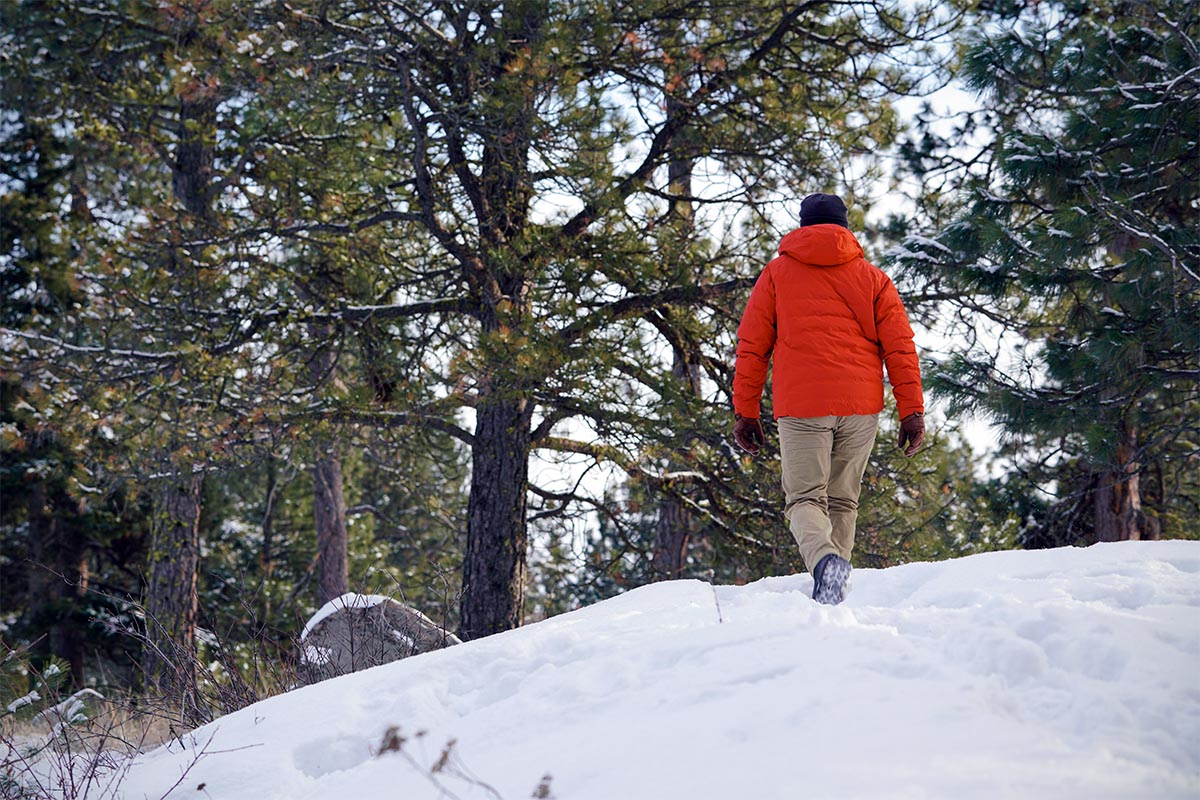 Features
Hood
The Stormhenge's hood isn't listed as being helmet-compatible, but we've found that it accommodates a snow or climbing helmet underneath. This means that the Stormhenge can pull double duty as a backup ski jacket, and it even could be used as a summer mountaineering piece for a climb like Mt. Rainer. This is a major upside of the jacket: it quietly pieces together helpful features you may need for the backcountry but has significant everyday appeal as well. And when you're not wearing a helmet, a rear drawcord allows you to dial in fit and a rigid brim on the front helps keep moisture away from your face.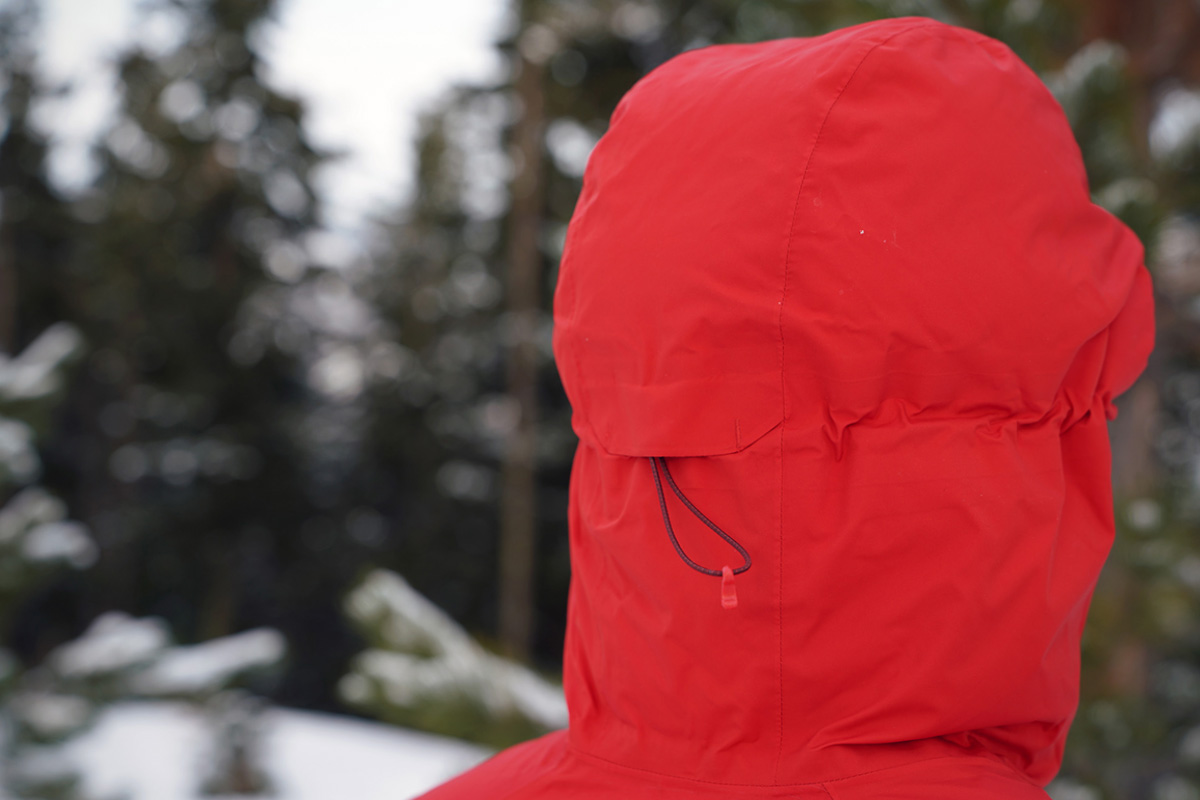 Cuffs
The Stormhenge's cuffs do a great job of sealing out weather. The Velcro at the wrists is easily adjustable and can be tightened down over gloved or non-gloved hands (we've never had an issue with it coming undone), and it has a quality and hardwearing feel. We prefer the added versatility and protection of adjustable cuffs like these over simple elastic ones—like those found on Arc'teryx's Firebee AR—but they do add a tiny bit of weight and it's a matter of personal preference.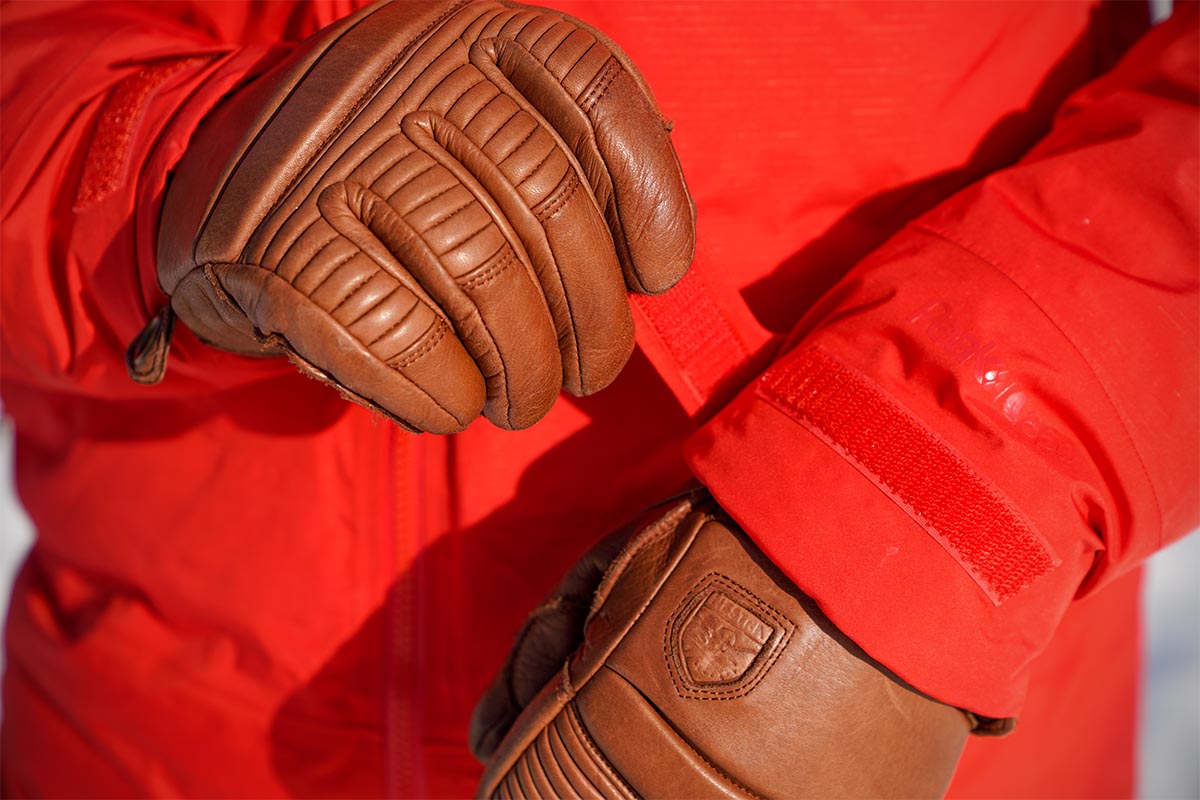 Pockets
The REI Co-op Stormhenge features two zippered hand pockets and one zippered chest pocket, which is standard. The hand pockets ride high enough to be paired with a backpack, are large enough to accommodate gloves, and have a nice, soft feel for bare hands. The chest pocket is generously sized and works well for storing valuables like a smartphone. Importantly, the Stormhenge doesn't have any interior pockets, but we found the three exterior pockets to be sufficient.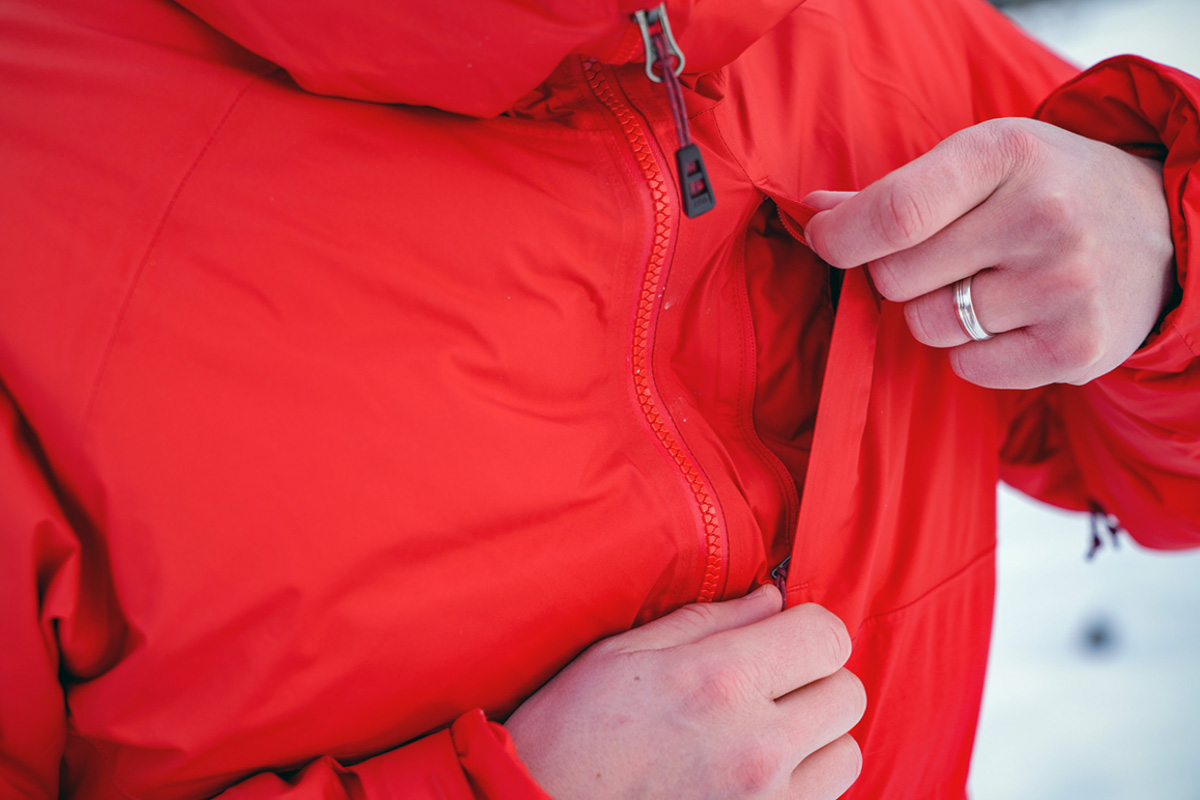 Length
Jacket length is measured down the center back panel from neck to hem, and the Stormhenge falls at 28.75 inches, which is average compared to other winter jackets. For example, The North Face Gotham III is 29 inches and the Marmot Fordham measures 27.25 inches. Of course, winter parkas have longer lengths that often reach well below the waist and down to the thighs, but we have no complaints about the Stormhenge's cut. Overall, it was long enough to wear casually and came down well past the hip, but never got in the way. Plus, the jacket tapers a bit toward the front, which is helpful for allowing unrestricted movement.

Pit Zips
Along with its helmet-compatible hood, the Stormhenge includes pit zips, which generally only are found on performance-oriented jackets. To be clear, we like the addition: pit zips allow you to dump heat quickly and easily, which is especially nice given the overall warmth and waterproofing of the jacket. This adds versatility for wearing the Stormhenge in the shoulder seasons (fall and spring) when it isn't as cold outside. In the end, the jacket offers a nice mix of technical and casual features, making it a viable option for both backcountry and daily use.

Construction and Durability
REI noticeably has improved the build quality of its in-house products in recent years, and the Stormhenge is another well-made piece. A denier rating (a measure of the shell thickness) is not provided, but we've used the Stormhenge for a number of outdoor activities and have virtually no wear to show for it. It's true that ultra-burly casual jackets like The North Face Gotham III and Marmot Fordham are tougher with an almost canvas-like feel, but the nylon shell on the Stormhenge has confidently withstood everything we've thrown at it. It's also worth mentioning that unlike some thicker jackets, you can see the outline of the Stormhenge's baffles underneath. This isn't a huge deal and plays nicely into the performance/casual crossover appeal, but it does give the Stormhenge a slightly more outdoorsy look.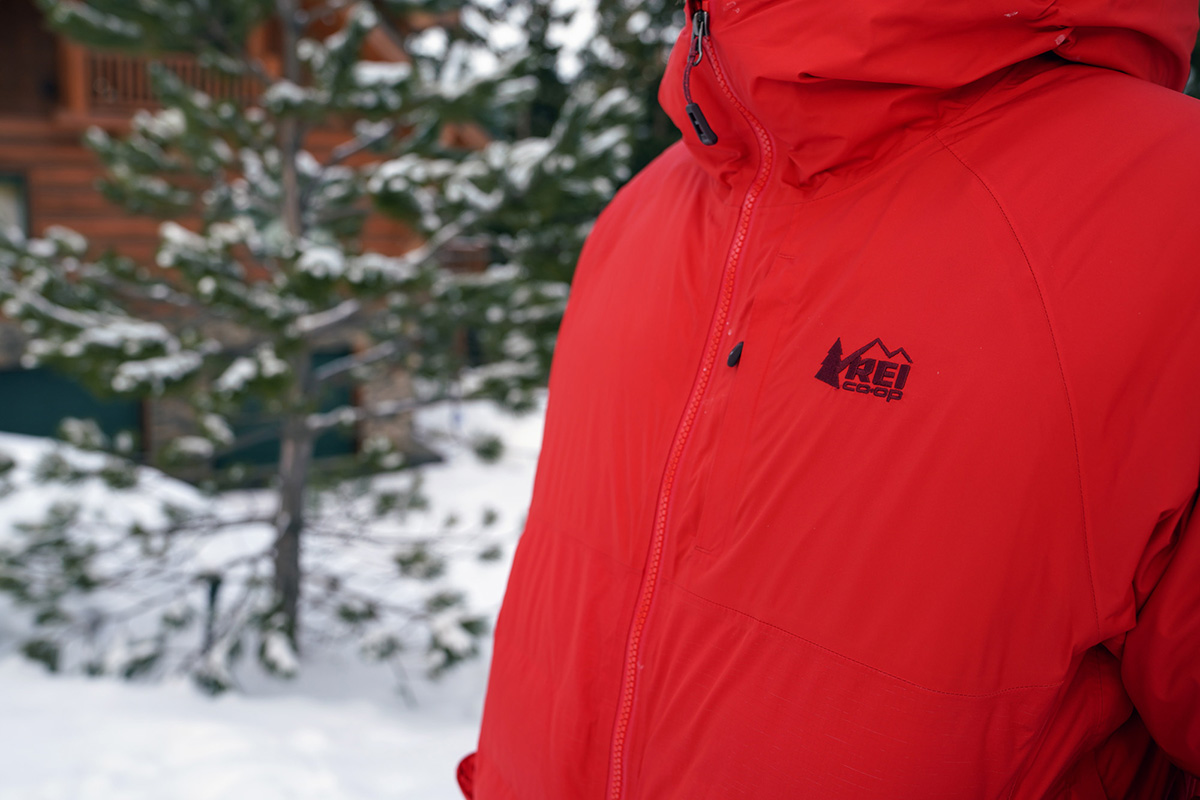 Our only notable durability concern thus far has been the main zipper. From the outset, the zipper didn't run quite as smoothly as expected, especially when compared to other premium winter jackets from brands like Patagonia and Arc'teryx. It often took a bit of fumbling to engage, and sometimes there was slight sticking on the way up. And as the jacket has aged, the zipper even has become tough to zip on occasion. We hope that REI improves the zipper on a future update, but it's a small complaint for an otherwise impressive all-around jacket.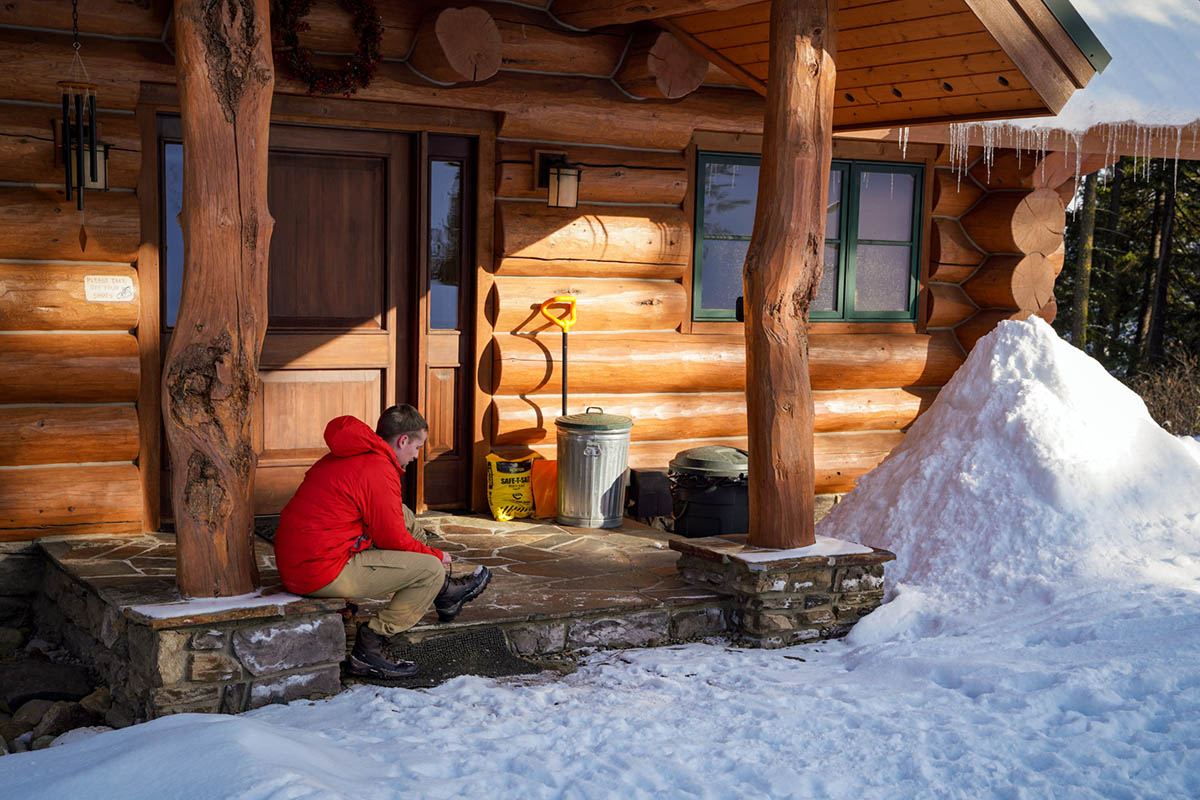 Weight and Packability
At 1 pound 11 ounces for the men's version, the Stormhenge is reasonably lightweight. As a general rule, performance-oriented winter jackets tend to run lighter (most are under 2 pounds) by using premium down and thin shell materials. Casual jackets, on the other hand, use lower-quality down and thicker shells, often clocking in at 3 pounds or more. For example, the Rab Neutrino Pro (performance) weighs 1 pound 5.3 ounces, while The North Face's Gotham III (casual) comes in much heavier at 3 pounds 1.6 ounces. The REI hits a nice middle ground here: it's decently light yet still fully waterproof and sufficiently tough. Finally, the Stormhenge doesn't come with a stuff sack nor does it pack down into any of its pockets, but the lofty 850-fill down is compressible and allows the jacket to stuff down nice and small (it fits into a 1-liter stuff sack, sold separately).

Fit and Sizing
We purchased our typical size medium in the REI Co-op Stormhenge, which fit true to size and allowed ample room for layering underneath. If anything, the jacket runs slightly big. To be sure, it's not overly baggy like some jackets from The North Face and Patagonia, but it has a good length in the arms and is fairly generous for pairing with both baselayers and midlayers. It's also worth noting that the Stormhenge has drawcord adjustments at the hem (one at each side), which always is a welcome addition for battening down the hatches in inclement weather.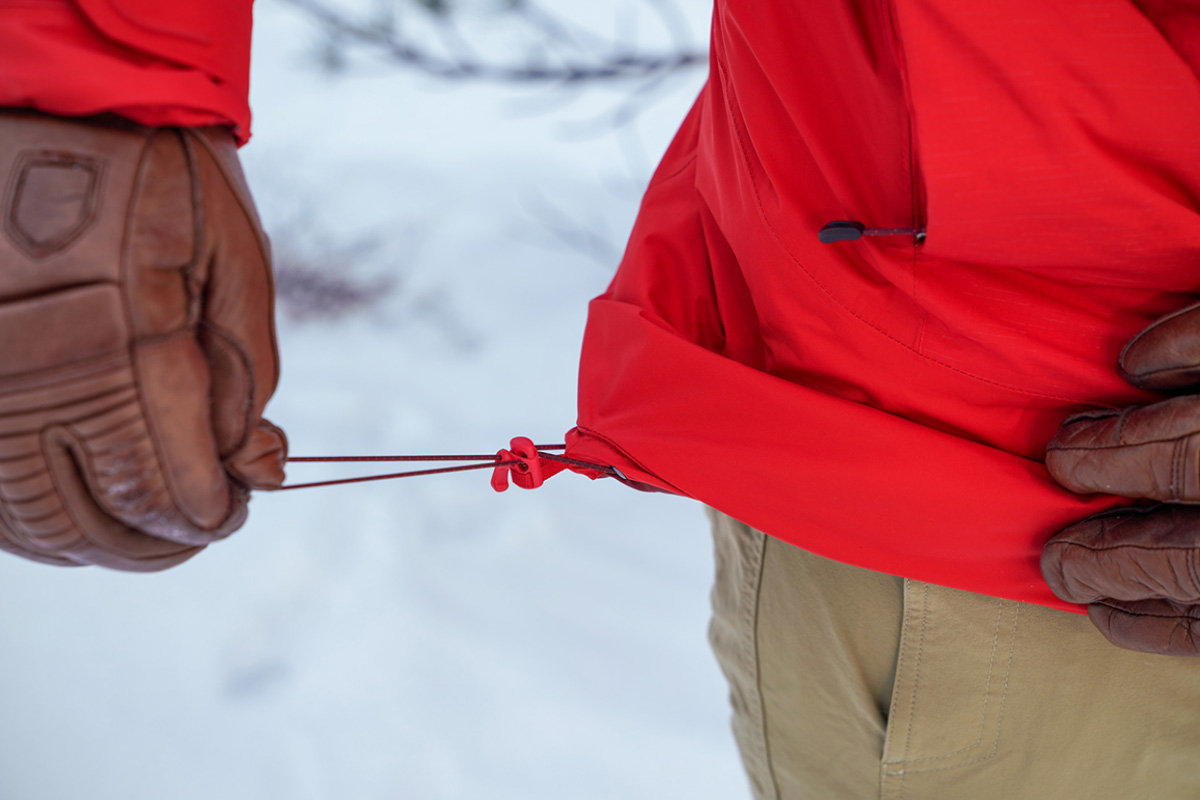 Sustainability
Like a growing number of down jackets on the market, the Stormhenge includes sustainability measures that boost its all-around appeal. For starters, the insulation is certified to the Responsible Down Standard (RDS), which means that the geese were not force-fed or live-plucked. In addition, the jacket is Fair Trade Certified, indicating that REI put extra money into production to ensure workers are compensated fairly and have safe working conditions. And finally, all materials are bluesign-approved, meaning that they have been deemed safe for consumers, workers, and the environment. Taken together, the Stormhenge is an impressively well-rounded and thoughtfully made piece. 

Women's Version of the REI Co-op Stormhenge 850
We tested the men's Stormhenge here, and REI makes the same jacket in a women's version. The two share an identical build including the use of 850-fill-power down, a 2-layer waterproof shell, body-mapped insulation, and bonded baffles. The women's jacket is lighter at 1 pound 6 ounces (5 ounces less than the men's) and is sold in different colorways, but the rest of the design remains the same. Importantly, both jackets retail for $249, which is a steal compared to the competition.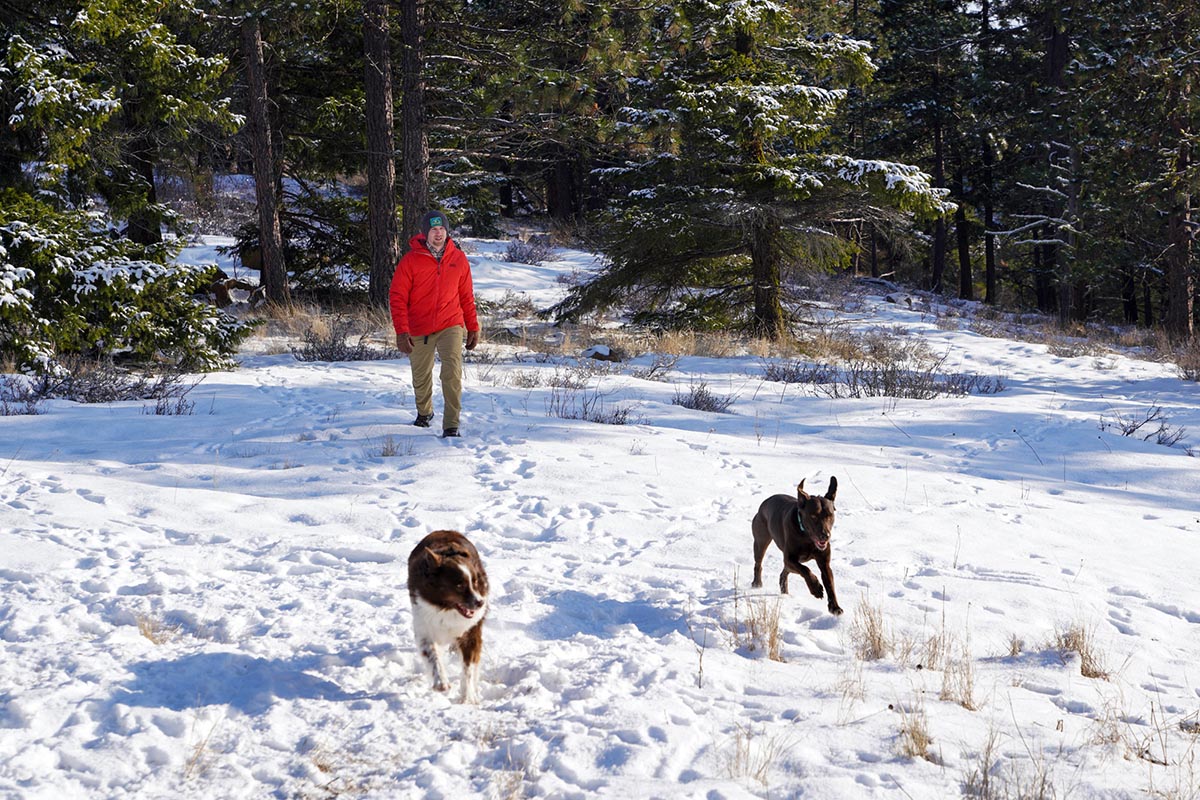 What We Like
Premium 850-fill-power down, waterproof construction, and clean looks make the Stormhenge incredibly versatile. The jacket easily transitions from the outdoors to around-town use.
Impressive warmth and build quality overall. 
At $249, the jacket is a great value. 

What We Don't
We experienced some stickiness with the main zipper, which has gotten worse over time.
Unlike some true performance pieces, the Stormhenge doesn't come with a stuff sack nor does it pack down into any of its pockets. 
We love the fill power, but some performance-oriented down jackets almost certainly use more down and have a higher fill weight.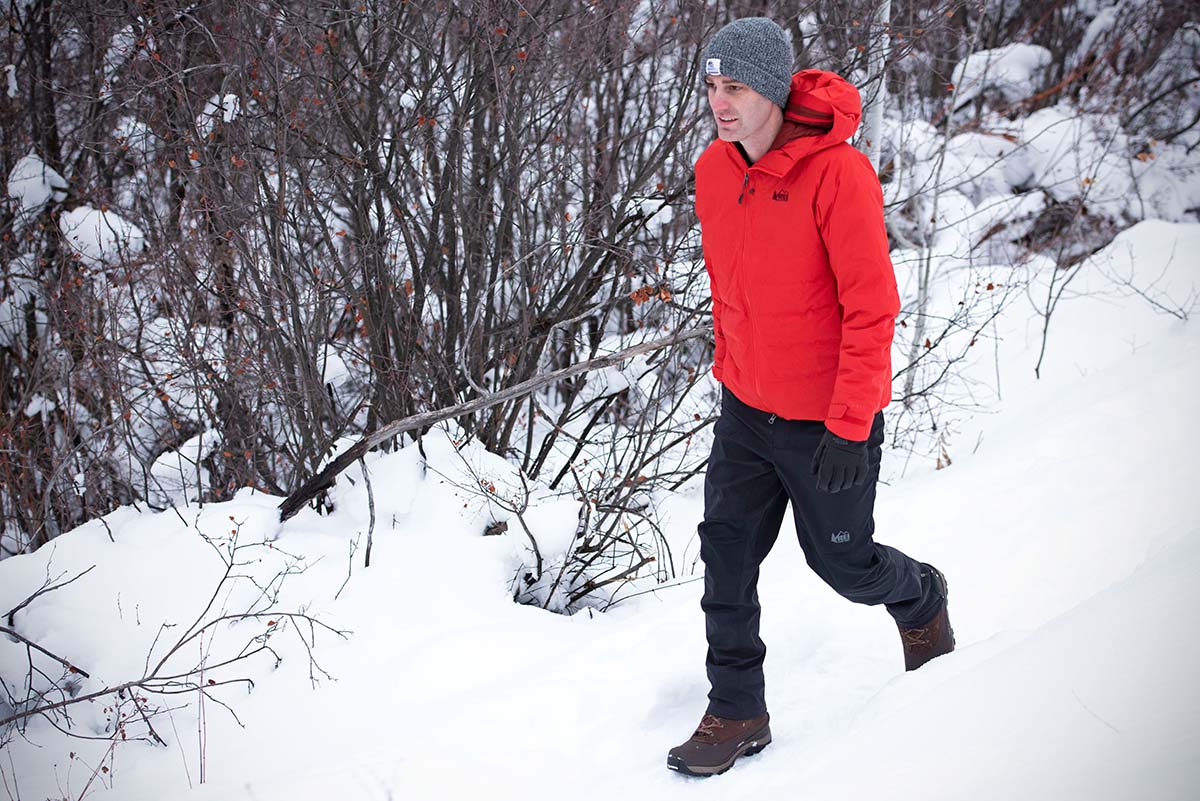 Comparison Table
The Competition
The REI Co-op Stormhenge 850 is one of our favorite winter jackets due to its impressive warmth, weatherproofing, and competitive price, but there's no shortage of options. To start, The North Face Gotham III is more casual than the REI with a thick, canvas-like outer shell with no visible baffling. It also has a baggier fit that isn't nearly as performance-focused, is considerably heavier, and lacks technical features like pit zips. However, The North Face provides comparable warmth (in practice, the Stormhenge felt a bit warmer, but the Gotham blocked wind better) and is similarly waterproof with a 2-layer DryVent shell. In terms of down quality, the REI wins out with premium 850-fill vs. The North Face's 550, but that is fairly common given the Gotham's casual nature. In the end, we like the Stormhenge for its $50-lower price tag and performance tilt, but The North Face is a popular jacket that wins out in everyday appeal. 
If you're looking for more of a true performance piece, the Rab Neutrino Pro is a powerhouse. At 1 pound 5.3 ounces, it undercuts the Stormhenge by around 6 ounces and includes a generous 8.1 ounces of 800-fill down (REI doesn't list the fill weight, but we've worn both and found the Rab to be considerably warmer). Where the Stormhenge wins out is weather protection: the Neutrino Pro boasts hydrophobic down, a water-resistant shell and lining, and a DWR coating, but those are no match for the REI's fully waterproof shell in inclement weather. For serious backcountry use, the Neutrino Pro is super warm and one of the best winter jackets on the market. But for those who are more concerned with crossover appeal and price, the $249 Stormhenge is a great option.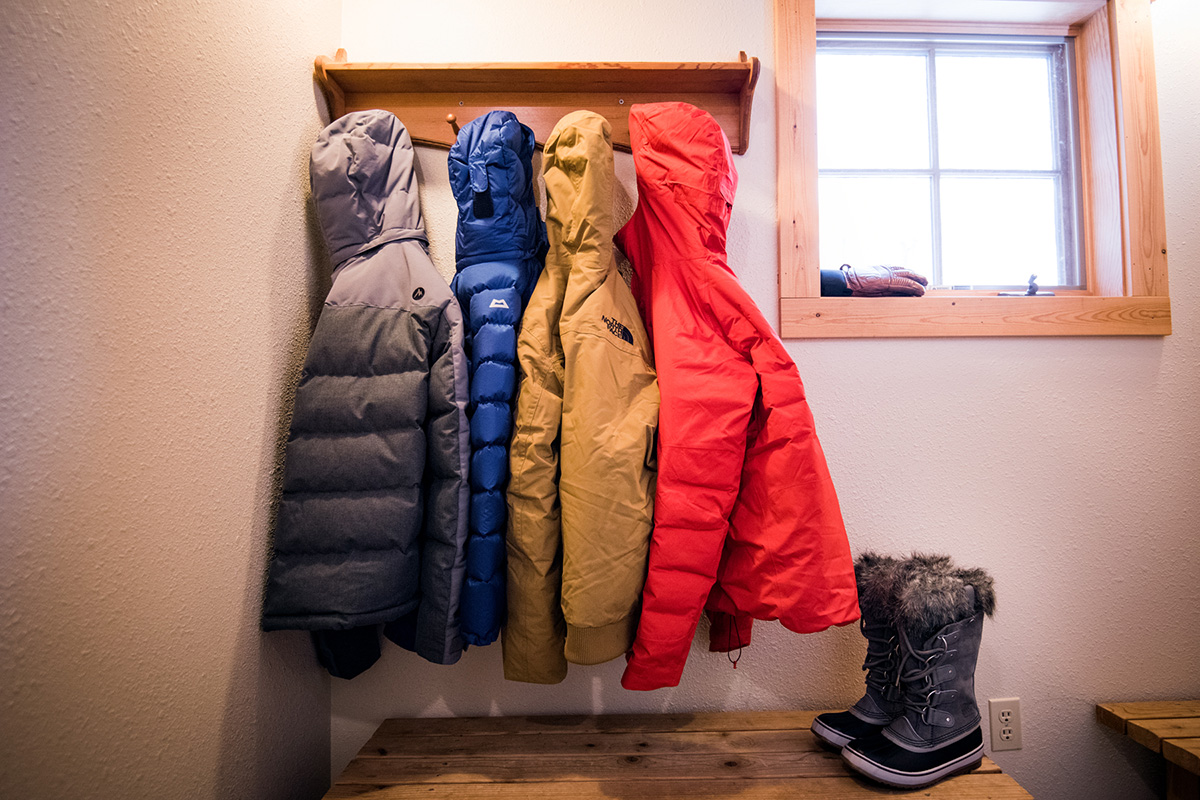 Another option to consider is Patagonia's Tres 3-in-1 Parka. As the name suggests, the Tres actually is three jackets in one: you get a removable inner down jacket, plus a waterproof outer shell (it features Patagonia's H2No waterproofing) that can be worn separately or paired together. Compared to the Stormhenge, the Tres is much more casual with no visible down baffling. The shell has a nice, clean design and a longer thigh-length cut for added warmth and around-town appeal. However, at 2 pound 14.1 ounces and a whopping $599, the Patagonia is much heavier and over double the price of the REI jacket. We appreciate the versatility, but the Stormhenge is the better value.
Another Patagonia product to consider is their winter-ready Fitz Roy Down Hoody. Unlike the Stormhenge and aforementioned Tres 3-in-1, the Fitz Roy lacks a waterproof shell and instead uses a Pertex Quantum outer fabric with a DWR coating that can repel light rain and snow but will eventually soak through in sustained moisture. That said, the Patagonia does get the slight edge in comfort with a plush lining and cozy-all-around feel, plus its thinner (20D) face fabric and lighter-weight build (1 lb. 1.1 oz.) make it easier to stuff down into a pack. The $399 price tag may be a deterrent for some, but it's hard to knock the top-notch fit and finish.
Last but not least, the Marmot Fordham is another relatively affordable winter jacket in the same casual category as The North Face Gotham III above. The Fordham uses a healthy amount of 700-fill down, has a 2-layer waterproof shell, durable fabrics, and plenty of storage (more than the Stormhenge). In practice, we found it to be a very warm jacket, plus it has a nice design that wears well around the city. It's true that you don't get the lightness or performance chops of the Stormhenge, but the Marmot is another quality piece and a good value at $325. 
Editor's note: We usually provide a live price comparison table below our outdoor gear reviews, but the Stormhenge 850 is sold exclusively by REI Co-op. You can see the Stormhenge 850 page here and support us in the process. Thanks!
Read More From Switchback Travel