Drawing heavily from their since-discontinued Odyssey Pro hiking shoe, Salomon's recent addition to their lineup, the Odyssey Triple Crown, is aimed at long-distance backpackers looking to cut weight. Blending the light weight and cushioning of a trail runner with the capability of a burlier hiking shoe, we put the women's Odyssey Triple Crown through its paces on a four-day backpacking expedition in the Grand Canyon. There, it faced everything from loose, dry rock to steep, icy trails and quickly impressed us with its wide toe box, excellent traction, and impressive breathability on warm days. Below we break down the Salomon Odyssey Triple Crown's comfort, weight, traction, stability and support, ventilation, sizing and fit, and more. To see how the Odyssey stacks up, see our article on the best hiking shoes.
 
Performance
Comfort
As soon as I took the Salomon Odyssey Triple Crown out of the box, I was surprised by its slipper-like feel: it contoured to my foot immediately without any break-in period. However, I grew concerned that a shoe this comfortable might not give me the support I would need for the ambitious, 35-mile winter hike we had planned through the Grand Canyon. But lo and behold, I happily (and mostly painlessly) wore the Odyssey Triple Crown from sunup to sundown for four days straight, hiking around 10 miles per day while wearing a full, 55-liter pack.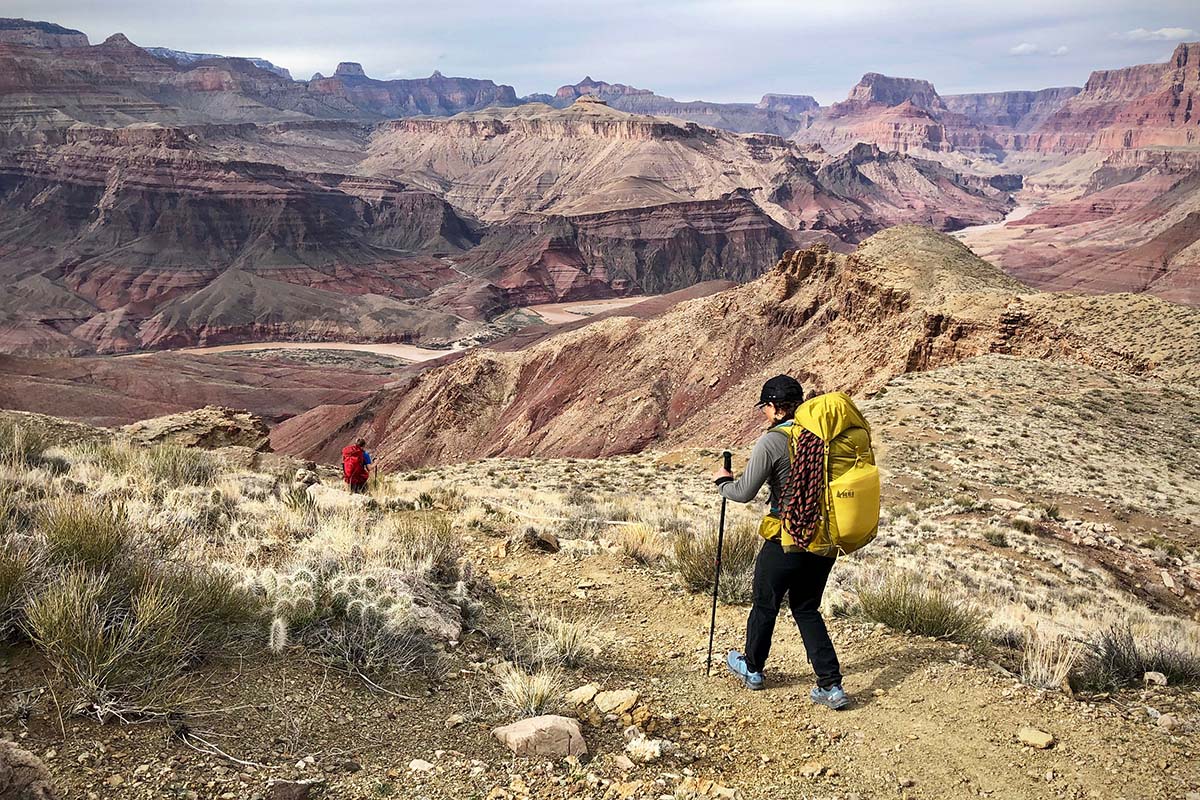 On day one, during our 5,000-foot descent from the South Rim into the depths of the canyon, I quickly noticed that my toes could wiggle freely without suffering any "toe bang" (when your toes slam into the front of a shoe or boot). This is because Salomon thoughtfully designed the shoe with a larger toe box to account for normal foot swelling that occurs after long mileage and significant elevation gain. Even more impressively, Salomon incorporated this added space without sacrificing fit in the rest of the shoe: despite my narrow foot, the shoe still snugly hugged the mid-section and heel. All things considered, the Odyssey was extremely comfortable from the moment I put it on until the end of the trip.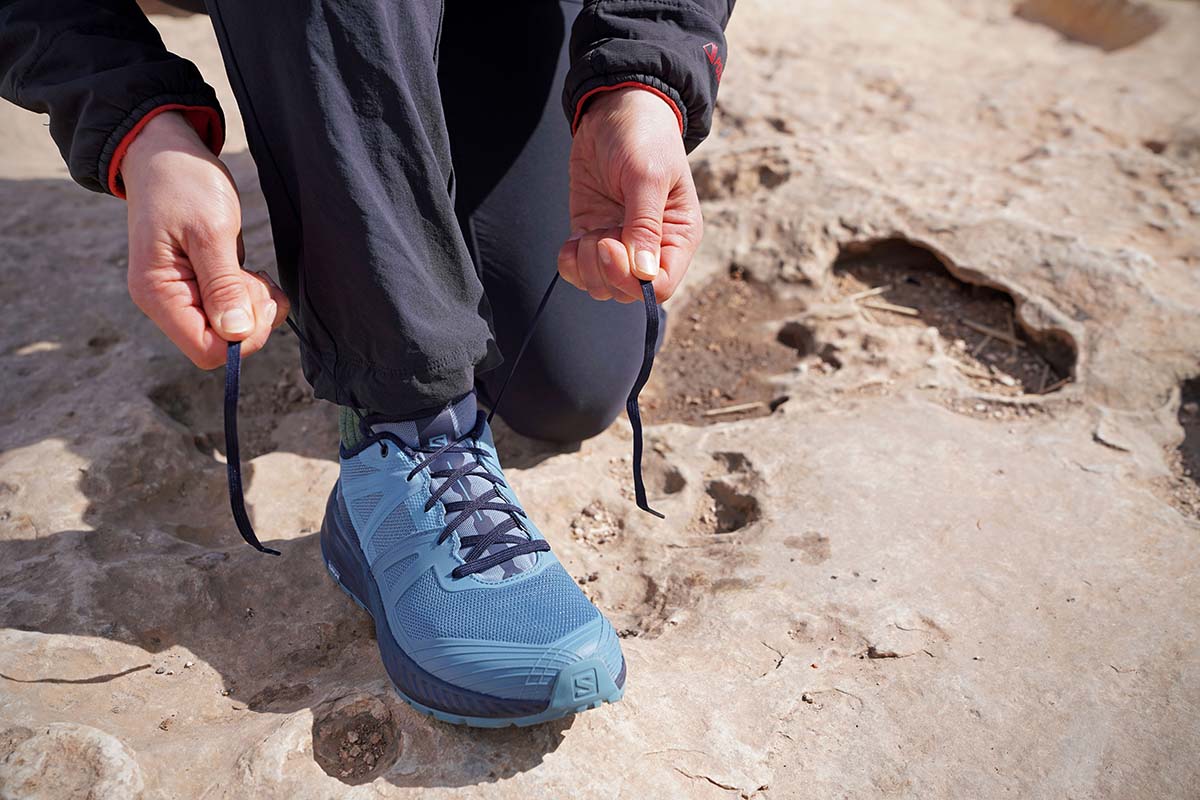 Weight
At 1 pound 6 ounces per pair, the Odyssey Triple Crown is among the lightest hiking shoes we've tested. It undercuts many of its major competitors including Salomon's own X Ultra 3 Aero (1 pound 6.4 ounces) and The North Face's Ultra 110 GTX (1 pound 12 ounces). However, many hiking-friendly trail runners come in slightly lighter, including the popular Altra Lone Peak 4 (1 pound 1 ounce). Another shoe aimed at weight-conscious hikers, the 1-pound 3-ounce Merrell MQM Flex also shaves off a few ounces, but it's less well-rounded than the Odyssey Triple Crown and our testers experienced soreness and instability on uneven ground. All in all, for its versatile nature, we think the Odyssey Triple Crown finds a nice balance between weight and comfort.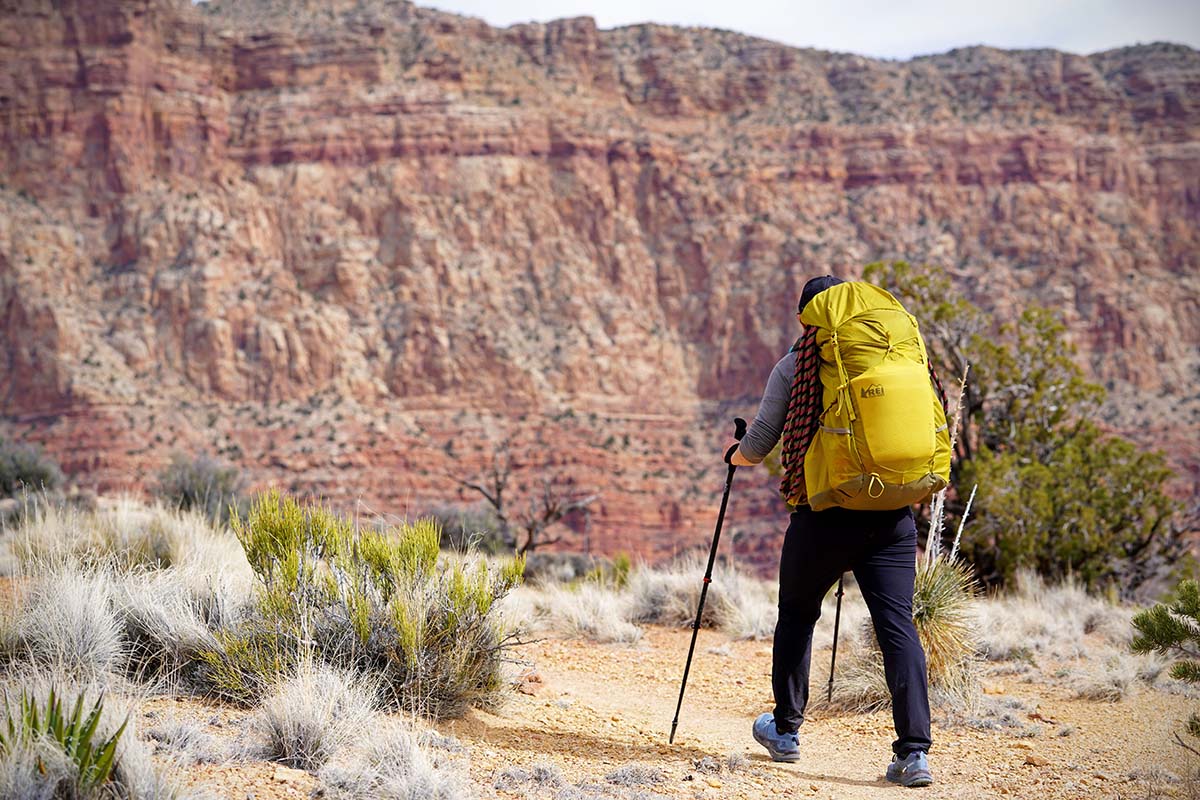 If you've ever heard the backpacking adage, "one pound on your feet equals five pounds on your back," then you've likely realized that less weight on your feet is crucial for staying nimble and not feeling weighted down on the trail. Thanks to the Odyssey Triple Crown's low weight, I felt sprightly and agile mile after mile. Especially during the long, grueling ascent out of the canyon, my legs were thankful that they weren't bogged down by heavier boots. It's so light and airy I would even go so far as to categorize the Odyssey Triple Crown as a trail runner, but a few constructional distinctions set it apart (more in the "Traction" and "Durability" sections below).
 
Traction
The Salomon Odyssey Triple Crown performed well on most terrain with the exception of ice. During our backpacking trip, we covered ground ranging from slick, frozen paths to sand and mud, steep rocky buttresses, and even 6-inch-deep snow. Even better, our group had a wide variety of hiking footwear including approach shoes, low-top hiking shoes, mid-height boots, and ultralight hikers, so we had plenty of notes to compare at the end of each day. Over the slick ice near the canyon's rim, no shoe performed perfectly, but my Odyssey Triple Crown felt particularly unstable as I slipped around.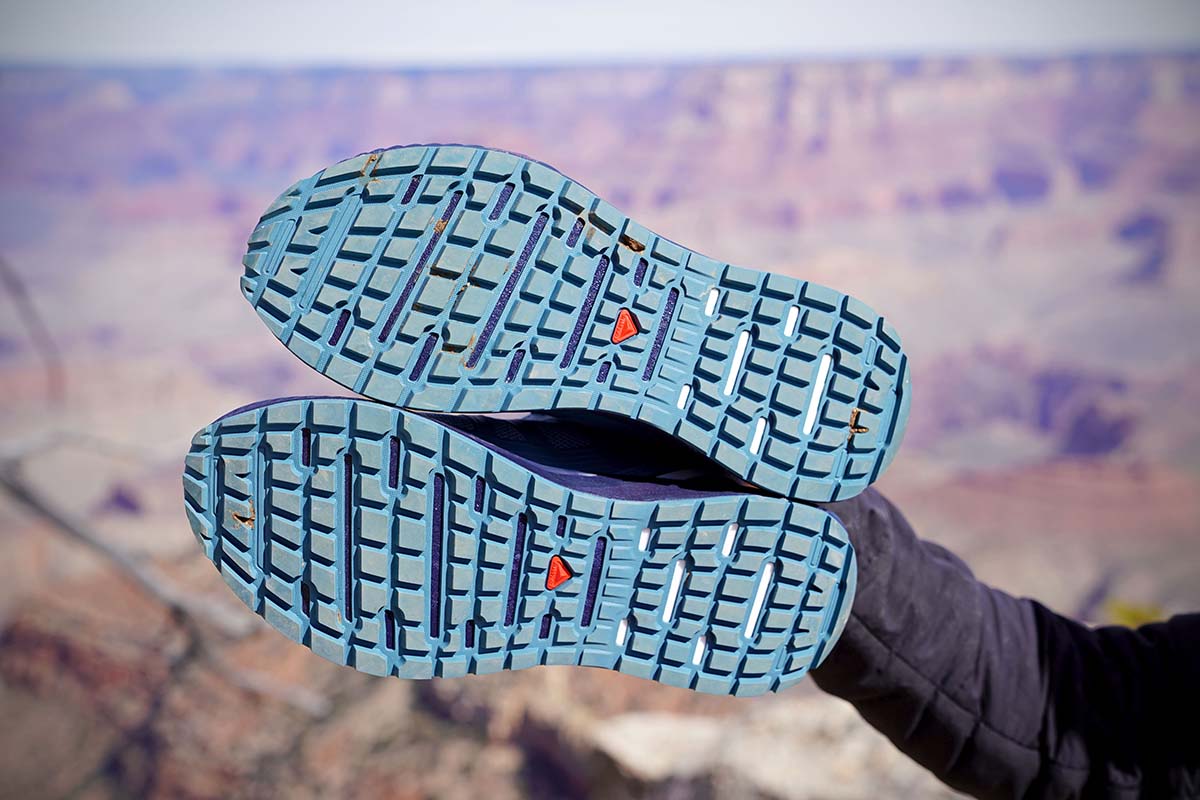 That said, I was pleasantly surprised by the Odyssey's performance on off-camber, exposed rocky paths. I began each of these sections with a great deal of caution, unsure of how the shoe would fare and fairly certain it wouldn't grip nearly as well as a tackier approach shoe. However, after a few short and steep sections of rock scrambling, I began to trust the Odyssey's sole. Constructed of Contagrip rubber with a tight, grid-like pattern, it performed more like a hiking shoe than a trail runner and by the end of our expedition, I was confident on almost every surface.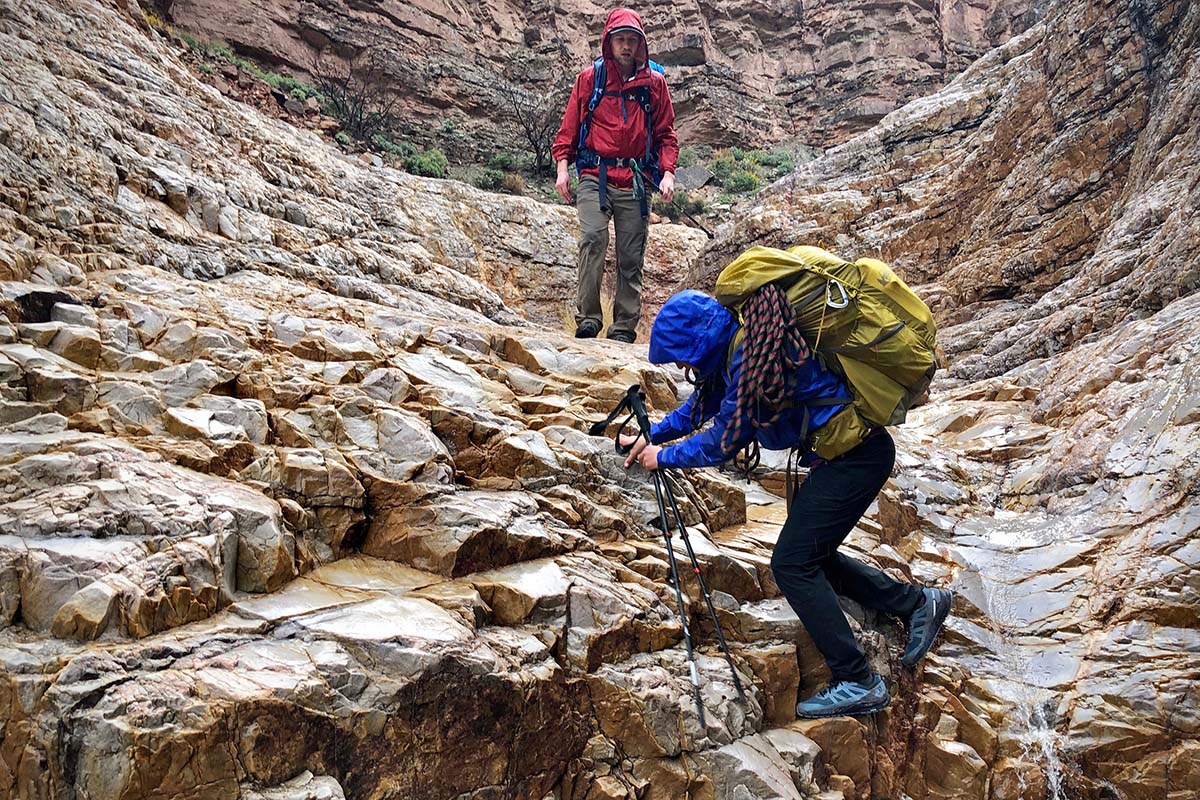 Stability and Support
The Odyssey Triple Crown falls notably short when it comes to stability and support, but this is to be expected with such a lightweight shoe. After all, the Odyssey is geared toward thru-hikers and ultralight backpackers who willingly sacrifice support in the name of weight savings. Compared to a burlier hiking boot, the Odyssey's soft midsole lacks support on more technical terrain, and the shoe's soft mesh upper is much flimsier and more flexible on uneven, rugged ground. Although these qualities are, in large part, what make this shoe so comfortable, the Odyssey was noticeably unsupportive on the steep, rocky trails we encountered.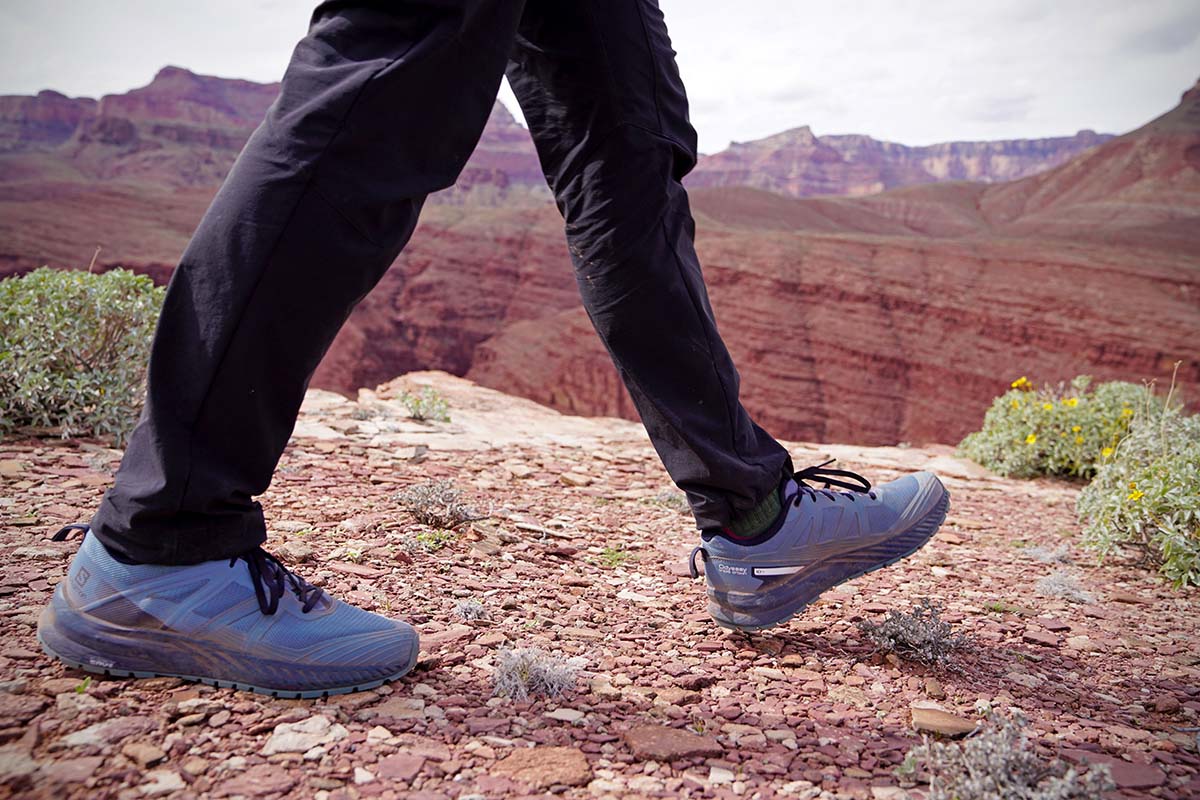 While the Odyssey Triple Crown makes a lot of sense for ultralight backpackers, I was carrying a fully loaded 55-liter pack and climbing rope for our four-day trek, meaning I truly got to push its limits. Starting our hike each morning, my feet felt rested and pain-free, but by the end of each day, my arches ached from the soft polyurethane foam soles. As touched on above, the bouncy sole kept the shoe relatively comfortable, but the lack of support was apparent—a thicker and stiffer midsole would have helped immensely under the heavy load. As a seasoned backpacker, I felt grateful for my good balance and strong ankles—I was able to reap the full benefits of the Odyssey's lightweight build without too many downsides. However, I wouldn't recommend the Odyssey Triple Crown for new backpackers or those carrying an especially heavy pack.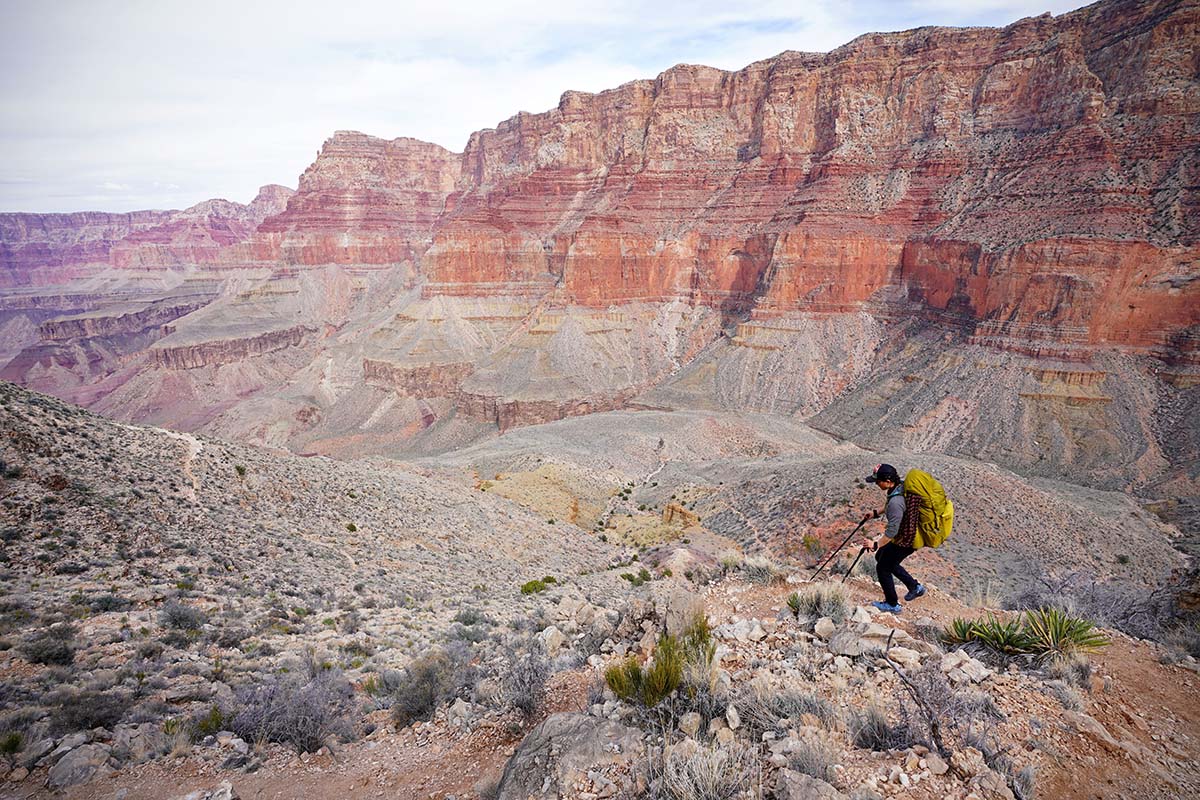 Waterproofing
While many hiking shoes are available in both waterproof and non-waterproof models, you don't get the option with the Odyssey Triple Crown: it's a non-waterproof shoe. But with a breathable heavily meshed upper, it seemed like an ideal option for a trip to the hot and dry desert. That said, the Big Ditch had other plans: on the second to last day of our trip, we experienced a torrential downpour. Without any leather or Gore-Tex in the build, I was sure the shoe would succumb to the storm quickly. However, the tightly woven mesh performed better than expected and was able to seal out moisture for a solid hour. Moreover, the rubber toe caps protected my feet from getting submerged on a separate occasion, while I crouched at the bank of the Colorado River to fill my water bottle.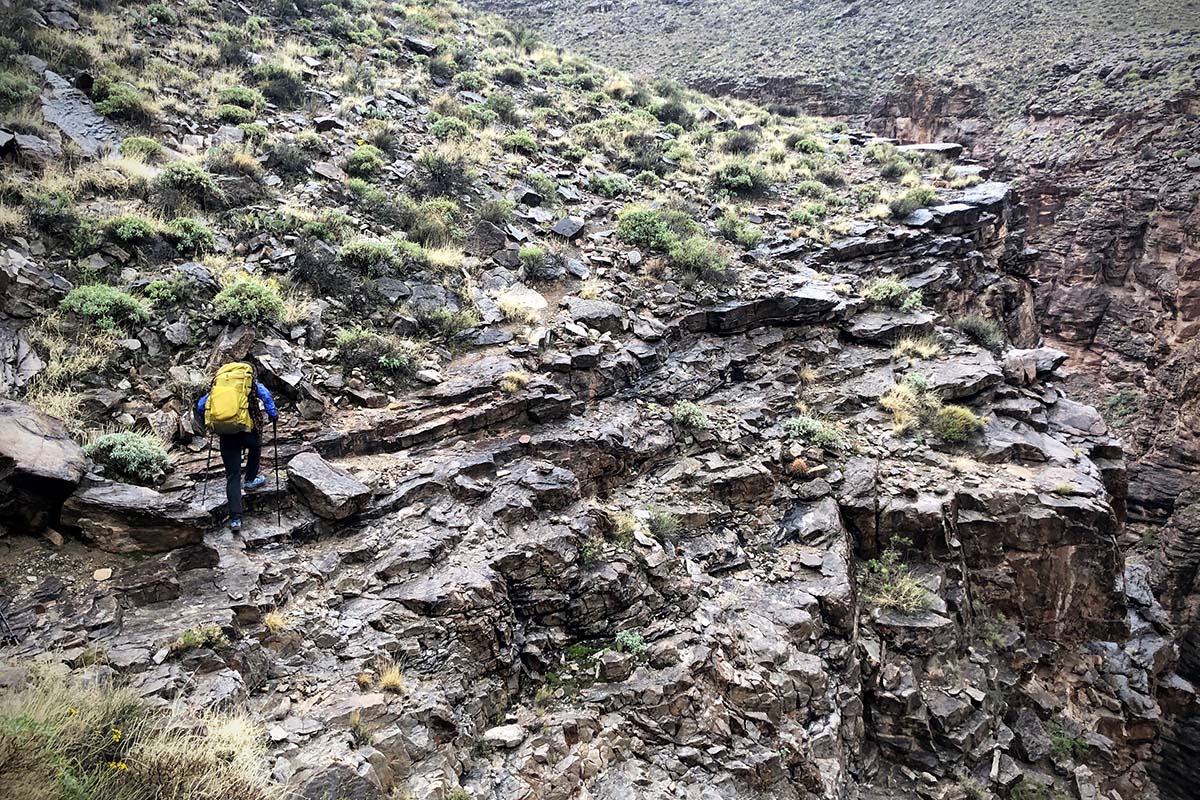 Waterproofing might have been helpful during the sustained rain, but I was happy to have the non-waterproof Odyssey the next day when it came time to dry the shoes out. After setting them out on a rock, they were bone-dry within ten minutes. The thin, single-layer mesh shed moisture incredibly quickly, especially compared to much thicker and less breathable leather or multi-layer waterproofing membranes like Gore-Tex (because of these shoes' minimal airflow, water is much more likely to remain once it penetrates the outer liner). In my opinion, although the Odyssey Triple Crown isn't waterproof, its drying time makes the compromise worth it.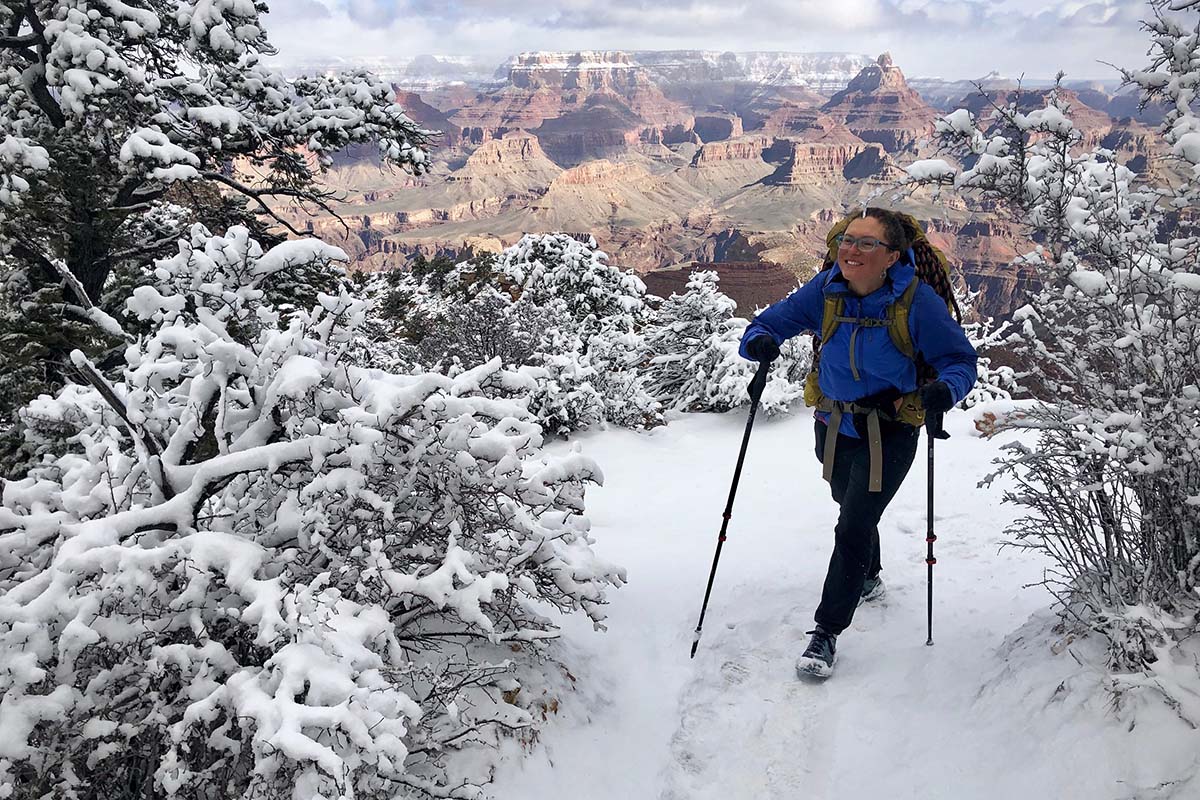 Ventilation
With mostly mesh uppers, it comes as no surprise that the Odyssey Triple Crown excels in the breathability department. My feet stayed cool throughout the trip, even midday while hiking in 70-degree desert heat (not to mention that our group had set a very brisk pace that should have left my feet sweaty and hot). In fact, the Odyssey was so effective that I wasn't immediately tempted to slip on my comfy camp shoes when arriving at camp. I'm used to the clamminess and sweat that come with Gore-Tex hiking shoes and boots, but my feet stayed pleasantly comfortable and well-aired-out all week long.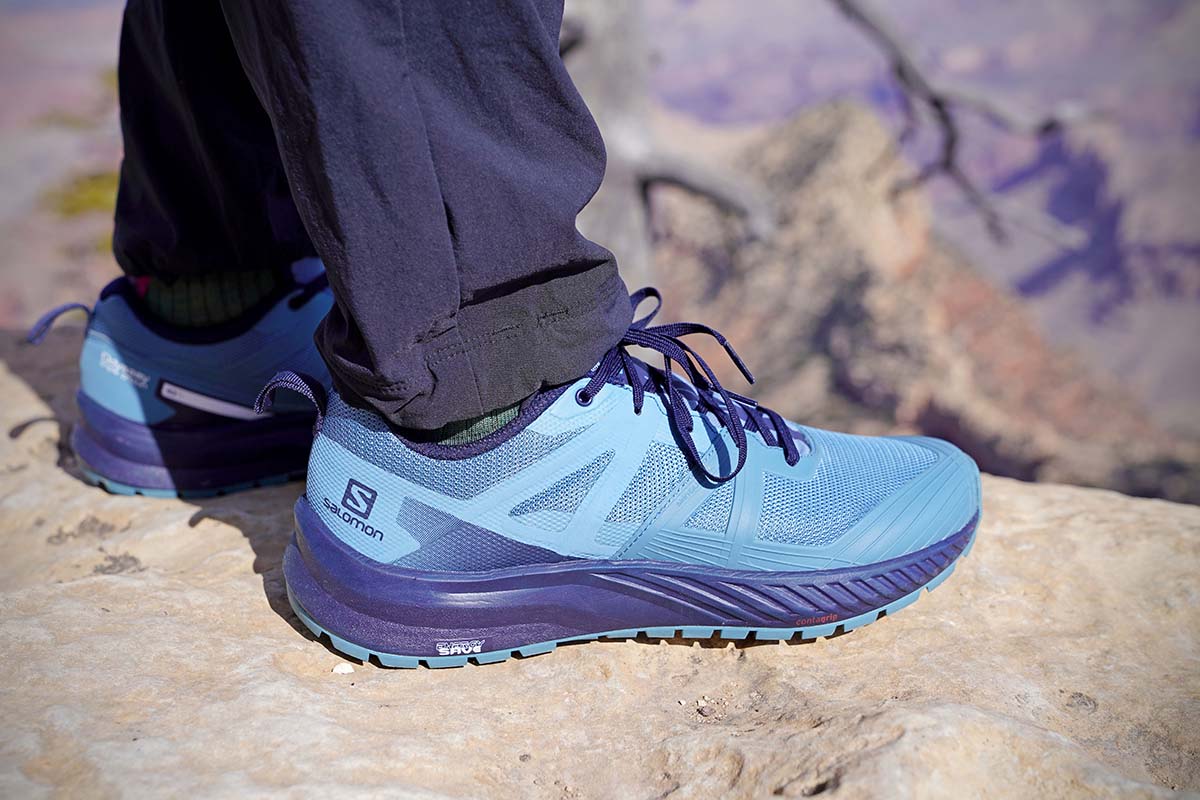 Durability
Despite its trail runner-inspired construction, the Odyssey Triple Crown contains more rubber than a traditional running shoe, making it more durable for rugged trails and long mileage. After around 35 miles of variable terrain, the shoe was no worse for wear, even on the bottom of the sole. I also anticipated some delamination where the mud guards meet at the mesh along the sides of the shoe (a problem that cropped up on my fellow backpacker's Vasque Breeze LT boot), but there's no sign of separating materials yet. Mesh-heavy shoes typically have shorter lifespans than leather models—especially if they are consistently dragged through brush and rocks as mine have been—but the Odyssey's tight weave and TPU overlays offer a noticeable bump in durability. I'm eager to see how the shoe holds up throughout the rest of the season.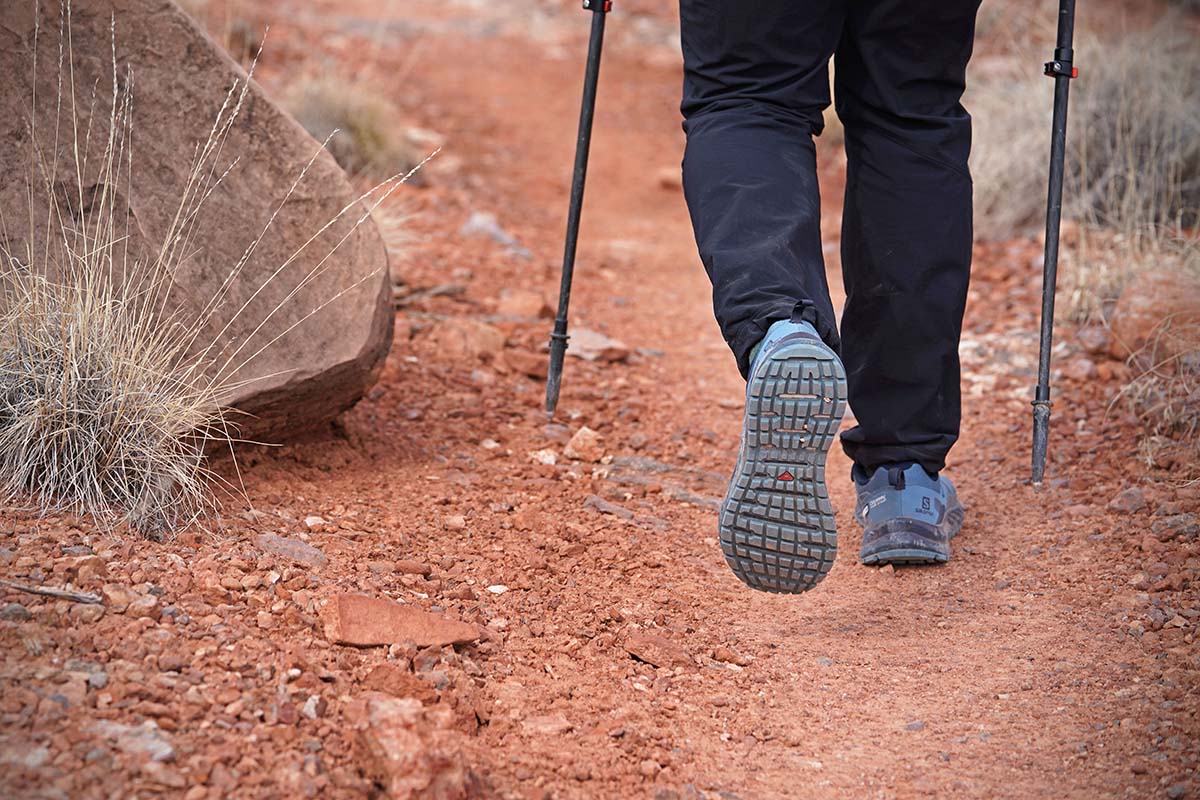 Sizing and Fit
When I laced up my Odyssey Triple Crown shoes for the first time, they felt a little large for a women's size 8.5 and I was concerned my feet would be swimming in them while hiking. However, as I touched on above, Salomon purposely designed the shoe with an extra-roomy toe box, and within the first mile of the hike, I realized my concerns were unfounded. I was able to lace the shoe tightly enough to secure my foot in place while the spacious toe box kept my toes from smacking against the front (particularly helpful during our long and steep descent into the canyon). In the end, the Odyssey does fit true to size, but you shouldn't be surprised if it initially feels a bit on the large side.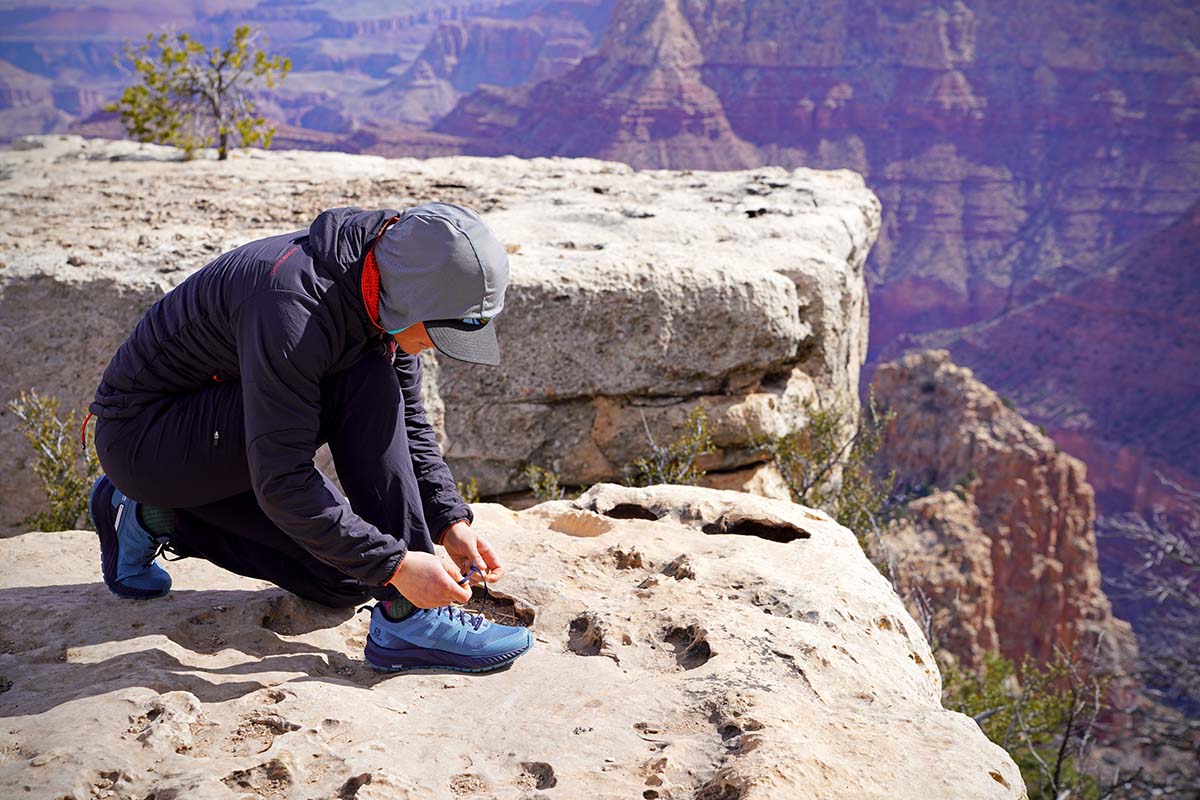 Other Versions of the Odyssey Triple Crown
For this review, we tested the women's Odyssey Triple Crown, which retails for $140 and comes in a single, teal colorway. Salomon also makes the shoe in a men's version for the same price with an identical build, although the men's Odyssey Triple Crown weighs more at 1 pound 8.3 ounces per pair and comes in a slightly different color. Finally, Salomon offers a unique unisex model—the Odyssey Triple Crown Magic—in a vibrant tie-dye pattern.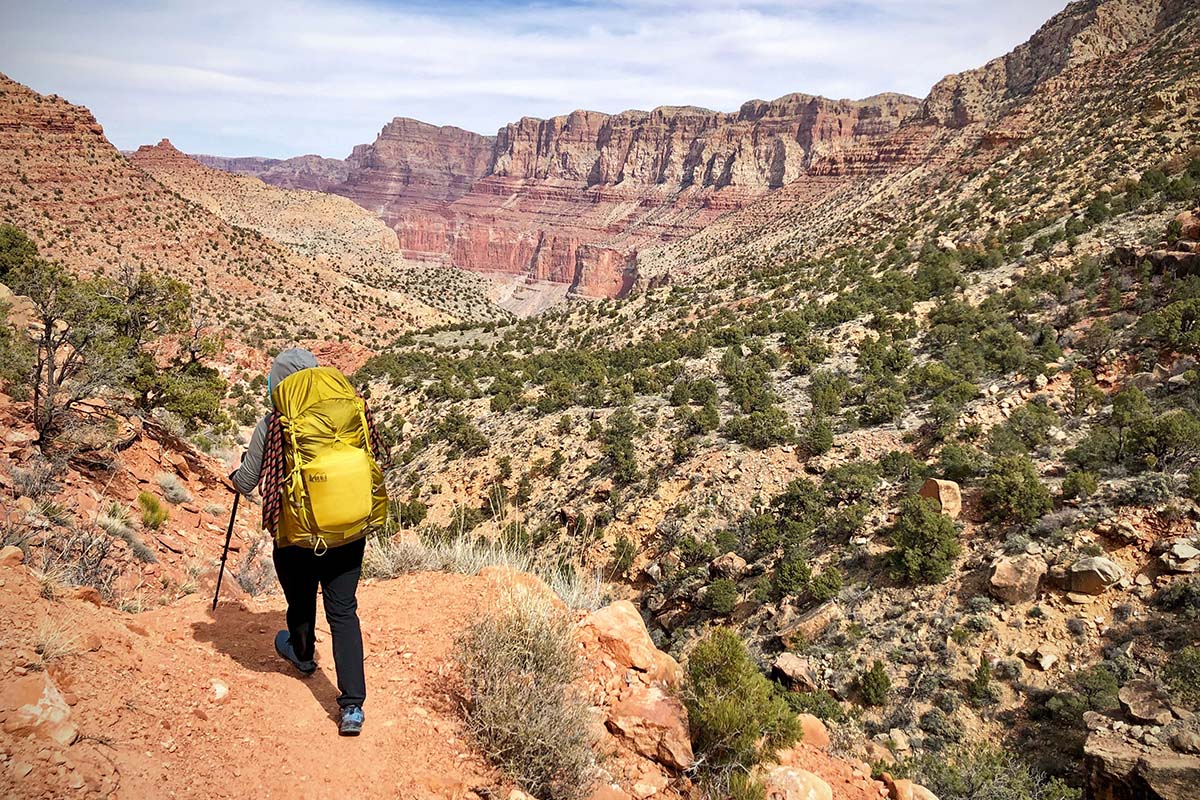 What We Like
At 1 pound 6 ounces per pair, you get the light weight of a trail runner in a more capable hiking shoe package. 
Supremely comfortable, and the wider toe box was a welcome addition for long days and swelling feet. 
Mesh uppers kept my feet cool, dry, and happy on warm days.
Contagrip outsole provides excellent traction on most terrain, including loose rock, slippery boulders, and even sand and mud.
 
What We Don't
The soft midsole lacks support on more technical terrain and caused sore arches at the end of 10-mile days.
Lack of stiffness in the upper limits the shoe's support on uneven, rugged ground. 
In my experience, the shoe initially felt overly roomy (but I came to appreciate the wider toe box).
The Odyssey only comes in a non-waterproof model.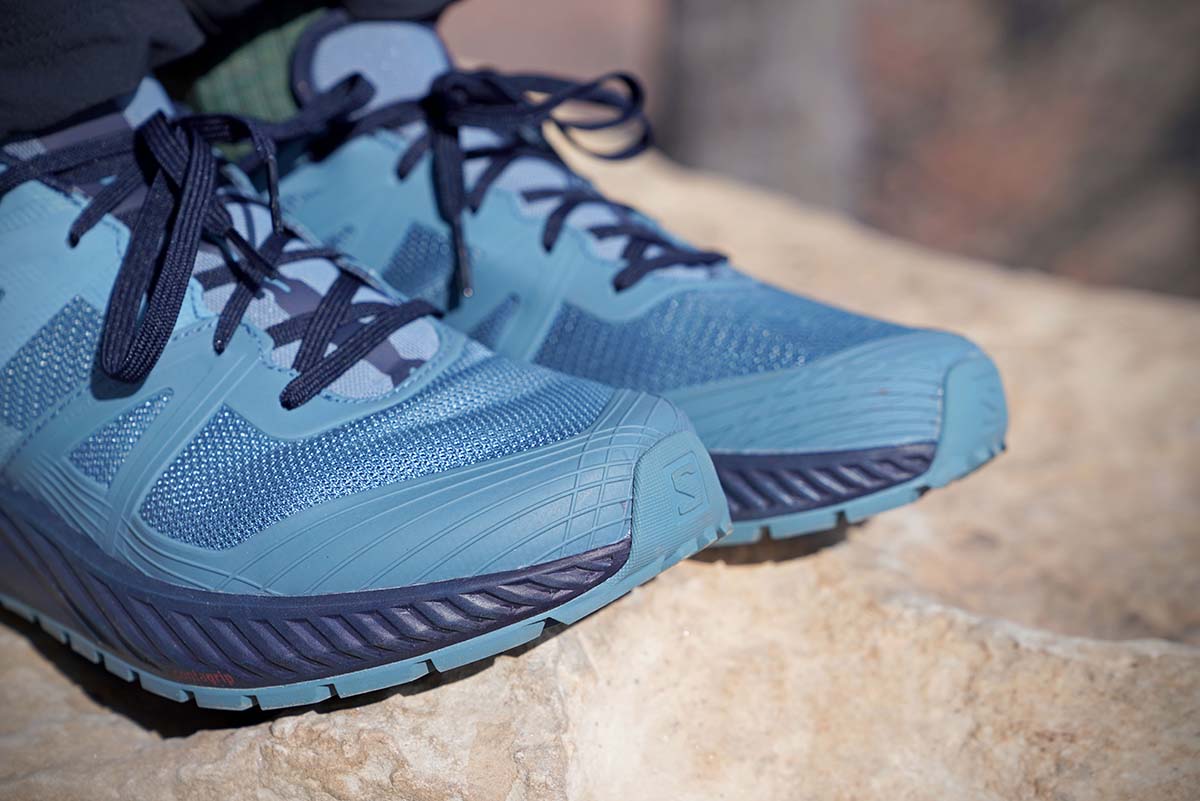 Comparison Table

The Competition
Salomon's Odyssey Triple Crown sits in an ever-growing crowd of lightweight hiking shoes that are faster and more comfortable than bulky boots. Another standout in this category is the Altra Lone Peak 4, a true trail runner that comes in about 5 ounces lighter per pair than the Salomon. Lauded within the thru-hiking community, the Lone Peak offers an impressive mix of durability, comfort, traction, and ventilation. Compared with the Odyssey, it provides even more cushioning with a 2-layer midsole and even includes drainage ports around the toes for creek crossings. The Lone Peak runs wide, making it the less ideal option for narrow-footed hikers, but it's nevertheless our favorite ultralight trail shoe this season and gets the nod over the Salomon for its more full-featured build and lower weight.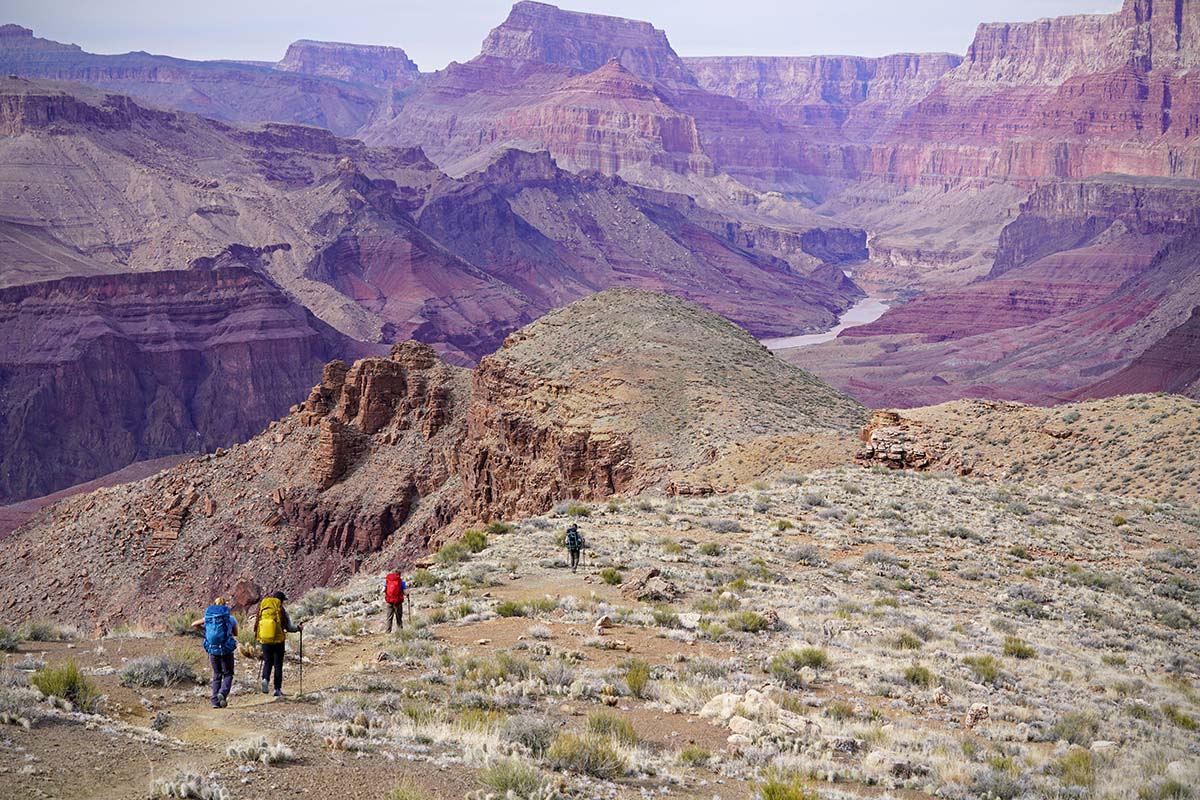 Joining the Odyssey Triple Crown and Altra Lone Peak is the Merrell MQM Flex, another impressively light hiking shoe. At 1 pound 3 ounces per pair, the MQM undercuts the Odyssey Triple Crown just slightly (although the men's pair we tested weighed a bit more than advertised) and is also available in a Gore-Tex version for $30 more than the non-waterproof model. However, the MQM Flex's short lugs weren't as grippy on rocks as we expected, our tester experienced foot soreness and instability on uneven terrain, and the tread isn't as durable as that of the Odyssey Triple Crown. It's a tough call between two capable lightweight hikers, but we prefer the Salomon's more well-rounded build.
Finally, Salomon's own X Ultra 3 is our top lightweight hiking shoe this season for its feathery weight, impressive durability, and superb on-trail performance. At 1 pound 6.4 ounces for the non-waterproof "Aero" model, it's less than an ounce heavier than the Odyssey Triple Crown but packs in considerably more protection and support, including a generous rubber toe cap, stable chassis, and cushioned interior. Our only area of concern during testing was fit: we found the X Ultra 3 runs a little narrow overall and not everyone loves the quick-pull laces. In choosing between the two, the Odyssey's roomy shape and flexible feel are great for thru-hikers and dedicated ultralight backpackers, while the X Ultra 3 Aero strikes us as the better all-rounder.
If you're thinking about buying gear that we've reviewed on Switchback Travel, you can help support us in the process. Just click on any of the seller links above, and if you make a purchase, we receive a small percentage of the transaction. The cost of the product is the same to you but this helps us continue to test and write about outdoor gear. Thanks and we appreciate your support!
Depending on the seller, most products ship free in the United States on orders of $50 or more. International shipping availability and rates vary by seller. The pricing information on this page is updated hourly but we are not responsible for inaccuracies.
Read More From Switchback Travel