The North Face Vectiv Exploris
Price: $159
Weight: 1 lb. 12.6 oz. (men's size 11)
Waterproof: Yes (Futurelight)
What we like: Excellent mix of comfort, weight, traction, and protection for moving quickly over long distances.
What we don't: Rockered shape detracts from stability; futuristic looks are polarizing. 
See the Men's TNF Vectiv Exploris  See the Women's TNF Vectiv Exploris
Taking cues from their new Vectiv trail running collection, The North Face's Vectiv Exploris is a thoroughly modern shoe that checks most of the boxes we look for in a fast-and-light hiker. The design is comfortable right out of the box, well-built with quality and hardwearing materials, and grippy across a wide variety of surfaces, including the wet and sloppy conditions we faced during a backpacking trip into Washington's Hoh Rainforest. The rockered profile does feel pretty unnatural at first, and the futuristic styling is polarizing, but the Vectiv nevertheless impressed us with its well-rounded personality and on-trail capabilities. Below we break down our experiences with the Vectiv Exploris. To see how it stacks up to the competition, see our article on the best hiking shoes.
 
---
Table of Contents
---

Performance
Comfort
With a lightweight build and host of trail running-inspired features, The North Face's new Vectiv Exploris is a decidedly modern-feeling hiking shoe. Despite similar intentions to their older Ultra 111, which felt fairly dated and clunky underfoot, the Vectiv has proven to be surprisingly comfortable and nimble on the trail. The interior is smooth and plush, and the well-padded midsole does an excellent job minimizing fatigue and isolating my feet from roots, rocks, and other trail obstacles. In addition, the Ghillie-style lacing system and lightly padded tongue offer a snug all-around hold without creating any pressure points, and the OrthoLite footbed provides a nice dose of comfort and support without compromising on power transfer.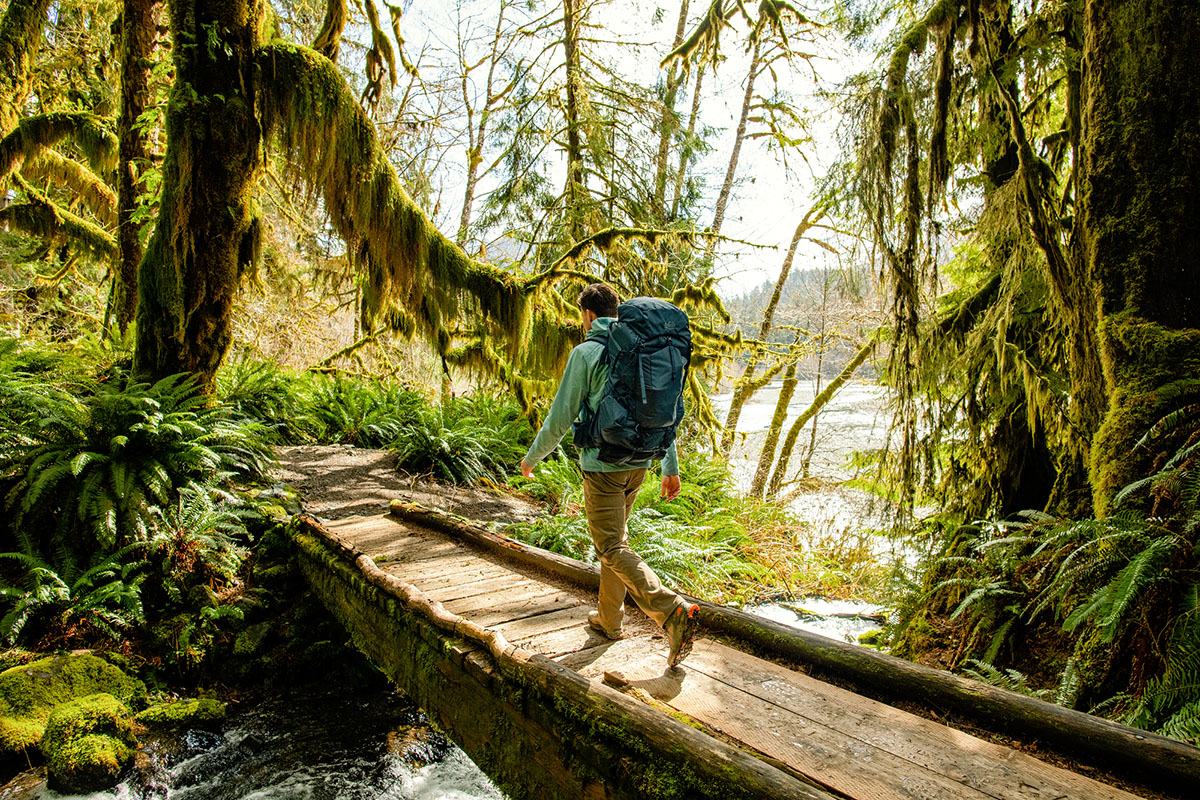 One of the Vectiv Exploris' most distinctive features is its rockered shape, which curves up at the forefoot to encourage forward propulsion. In practice, I found it was excellent at maximizing and maintaining energy transfer—I felt just as sprightly and agile on mile 10 of our hike as I did at the trailhead. It does detract from overall stability and feels pretty unnatural at first, especially when standing still or running (more on this in "Stability and Support" below), but the Vectiv nevertheless is extremely comfortable and well-tuned for fast-and-light hiking.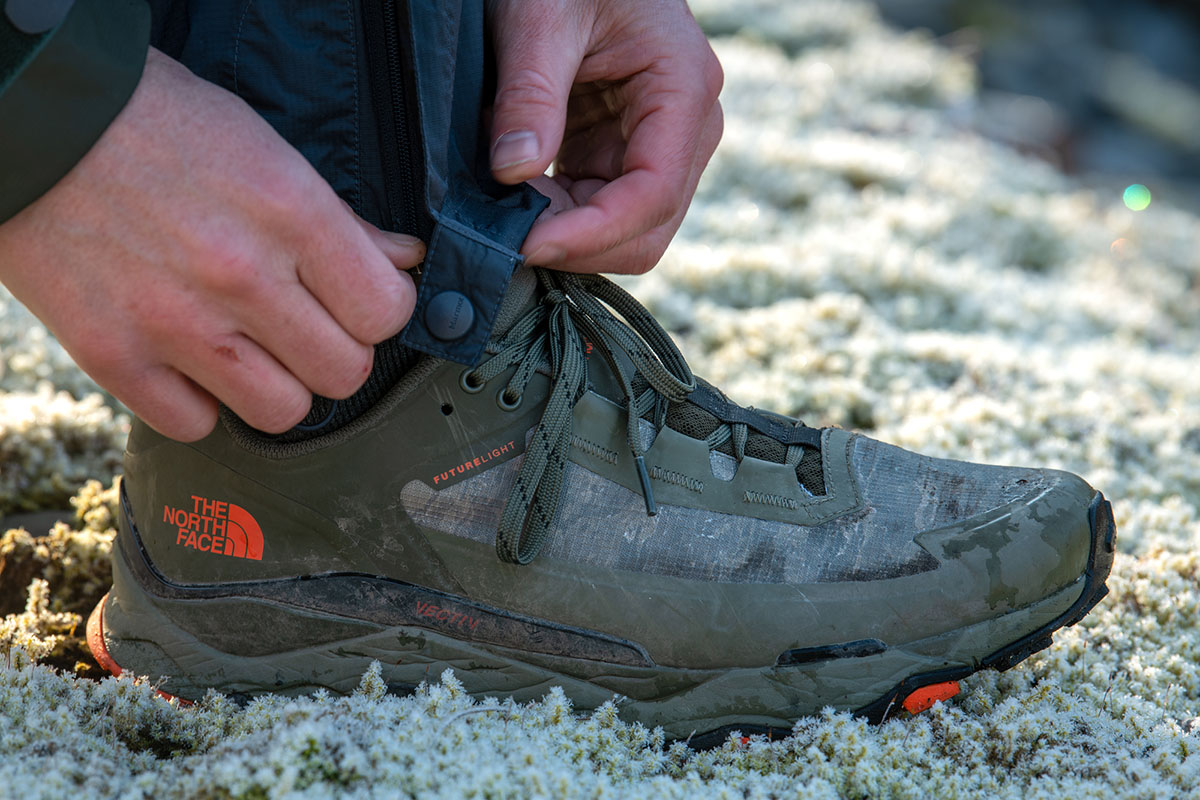 Weight
Checking in at 1 pound 12.6 ounces for my men's size 11 (the shoe is listed at 1 lb. 10.3 oz.), The North Face's Vectiv Exploris is pretty competitive in the lightweight hiking shoe market. For reference, it's a little heavier than competitors like Merrell's MQM Flex 2 GTX (1 lb. 9 oz.) but undercuts Danner's similarly intentioned Trail 2650 GTX (1 lb. 11 oz.), Salomon's popular X Ultra 4 GTX (1 lb. 11.5 oz.), and La Sportiva's burlier and more backpacking-ready Spire (1 lb. 15 oz.). You can go even lighter with a true trail running model like Saucony's Peregrine 11 GTX (1 lb. 7 oz.), but that would mean sacrificing a good amount of support, protection, and long-distance comfort. Overall, I feel the Vectiv's weight is well-spent: the shoe felt very light and nimble on the trail, and I really appreciated the confidence-inspiring build when carrying a full pack.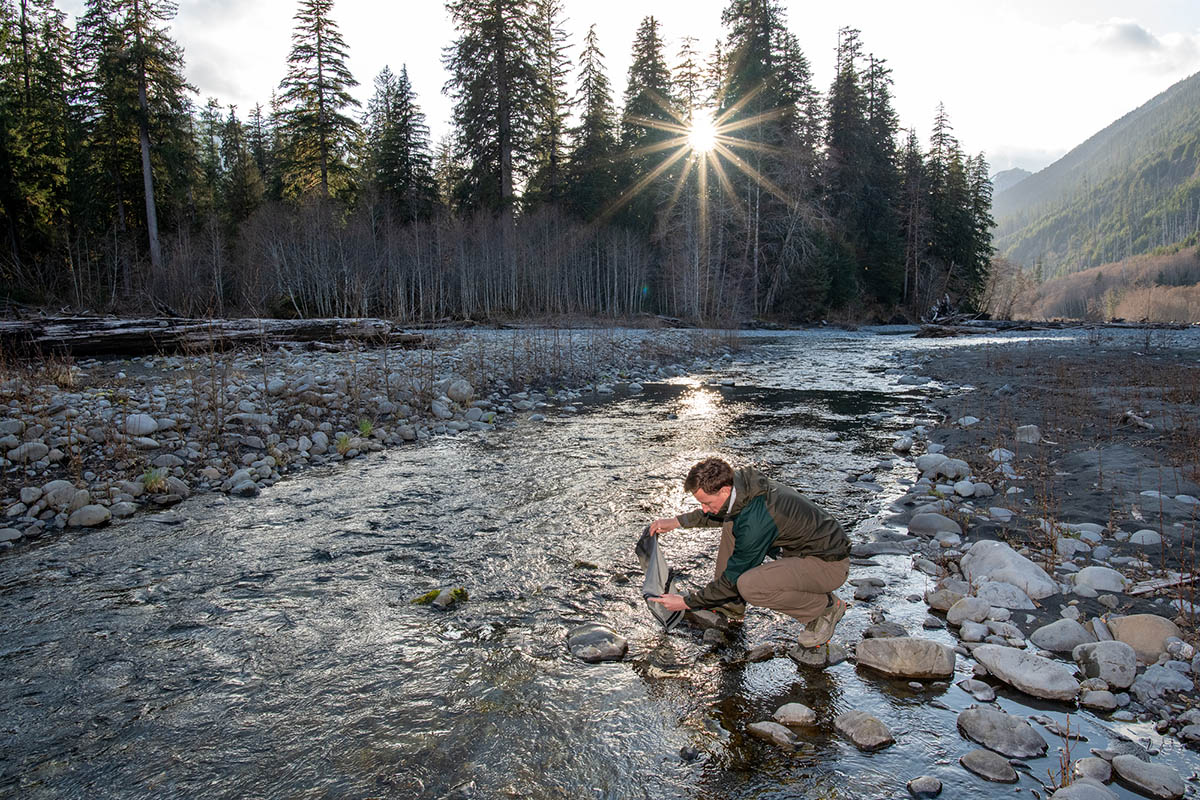 Traction
In addition to comfort, traction is another one of the Vectiv Exploris' strong suits. The 4-millimeter lugs and proprietary Surface Control rubber provided great all-around grip, even in the wet and sloppy conditions that we encountered in Washington's Hoh Rainforest. In fact, the shoes allowed me to navigate all forms of sludgy rainforest ambling, from off-camber and slippery roots to rocky and sandy riverbeds, loamy singletrack, and slimy wooden bridges. At one point, we even wagered a six-pack for the first person to fall on the exceedingly mucky trail, but not once did I feel as though I was at risk of forking over the beer tokens.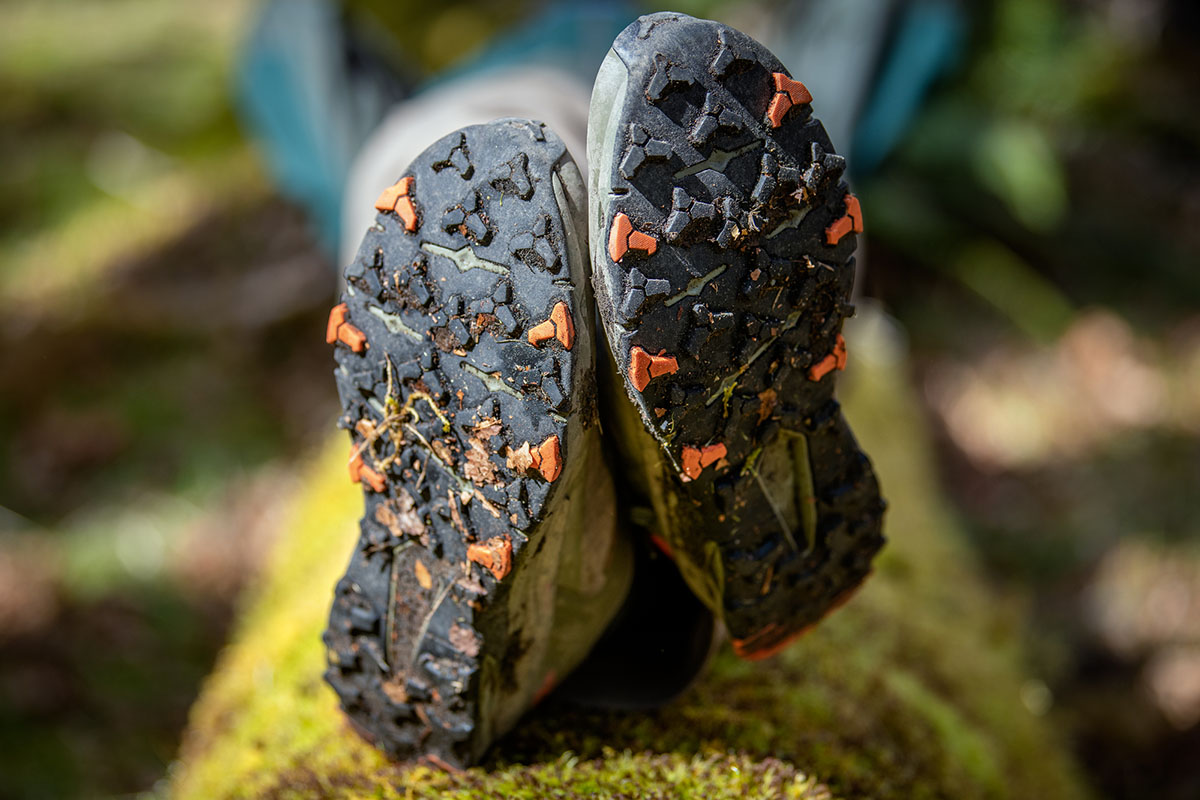 Stability and Support
Given the aggressive rockered shape, the Vectiv Exploris takes some getting used to for those coming from a more traditional pair of hiking shoes. To put it into perspective: when we arrived at the parking lot for our backpacking trip, I swung my legs out of the car to swap out my Vans for the Vectiv and difference was so stark it was almost disorienting. It's immediately clear that these shoes are unapologetically focused on forward propulsion above all else, with a banana-like shape that aggressively curves upward at the forefoot. Even when standing still, I felt slightly tippy and was thrown off by not having my entire foot connected to the ground.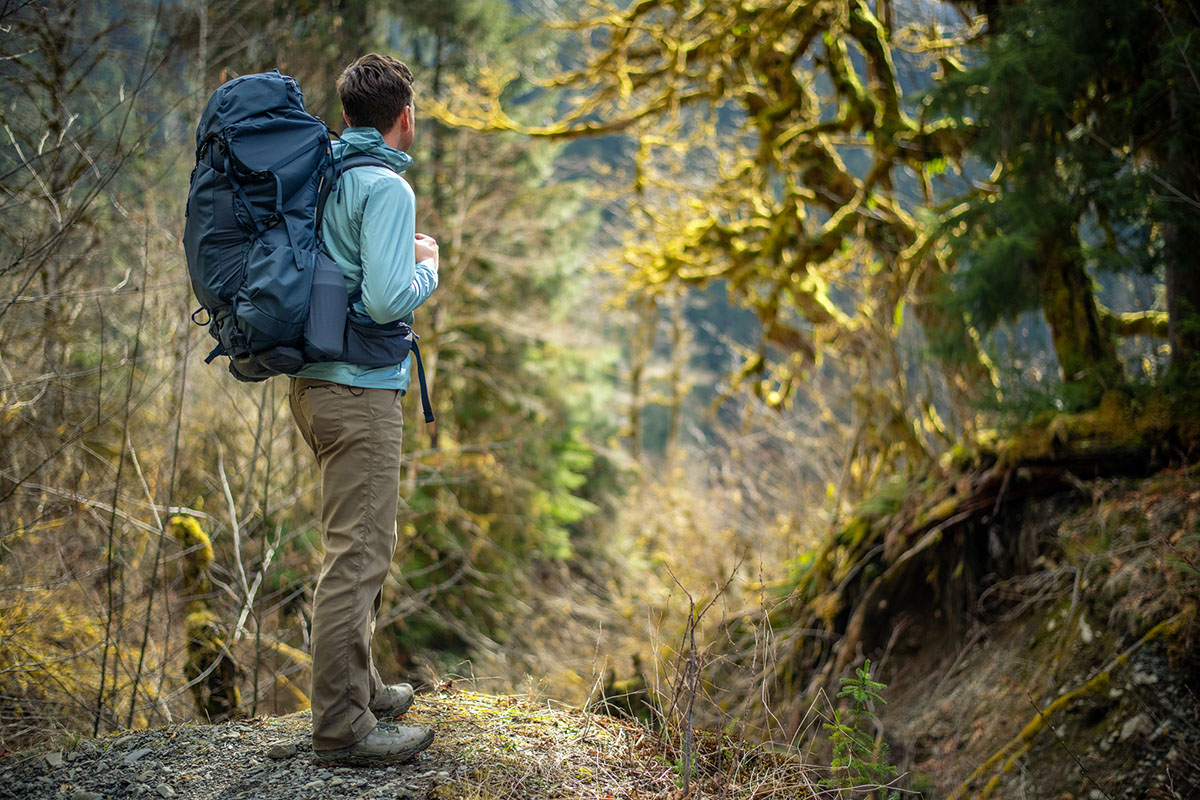 To be fair, the Vectiv Exploris offers a noticeable step up in lateral stability from a flexible trail runner like Saucony's Peregrine and provided consistent support throughout our journey, even over rockier and rougher sections of trail (the full-length TPU plate in the midsole helps a lot). That said, hikers with gait abnormalities or who simply prefer a planted feel will likely still find the unique shape a little insecure and hard to trust. If that's the case, we recommend going with a more traditional model like Salomon's X Ultra 4 or Danner's Trail 2650, both of which have flatter profiles that offer a more connected and confidence-inspiring feel.

Waterproofing and Breathability
Gore-Tex is the undisputed leader in waterproofing, but The North Face's Futurelight technology made waves at its launch in 2019 for its light weight and dramatic breathability claims. However, no waterproof shoe is entirely breathable, and I'd say the Vectiv Exploris is pretty average in balancing those conflicting priorities. On the waterproofing side, the shoes were subjected to nearly complete submersions in swampy forest water and emerged dry every time (importantly, the water didn't pour in over the low collar). And in terms of breathability, my feet remained comfortable in temperatures in the 40s and 50s Fahrenheit, despite generally humid and sticky conditions. I do expect them to run warm in hot, desert-like summer temps, but that's true of all waterproof footwear. If you spend considerable time in dry and warm climates, we'd recommend opting for a non-waterproof shoe like Merrell's MQM Flex 2 (The North Face does not offer the Vectiv without the Futurelight membrane).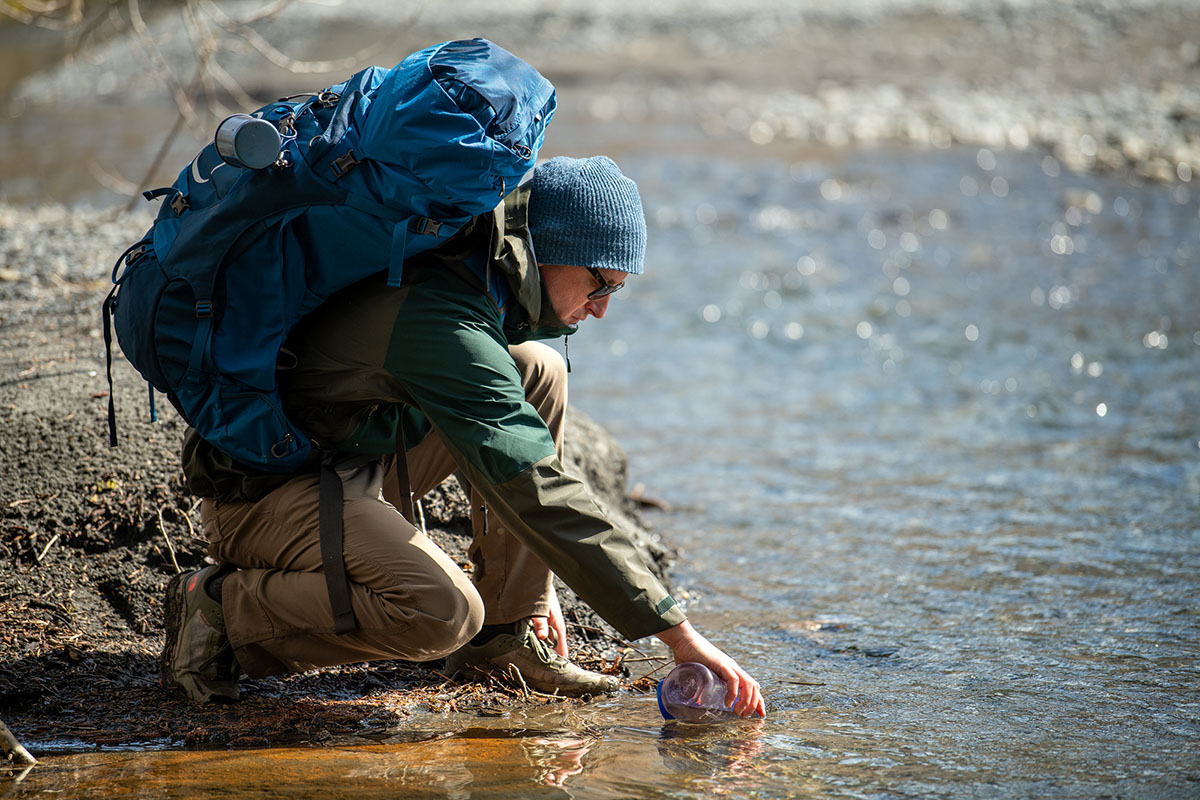 Toe and Foot Protection
For a low-top hiking shoe, The North Face's Vectiv Exploris offers surprisingly good protection from abrasive trail obstacles. The upper is made of a tightly woven and burly Cordura ripstop mesh, which has proven to be impressively hardwearing and abrasion-resistant throughout testing. Further, overlays at the toe cap, rand, and heel offer an extra dose of security should you take any direct hits. Despite pretty rough and variable terrain along our backpacking route, my feet felt very well-protected and adequately isolated throughout our journey. As I touched on above, there are a good number of lightweight hikers that undercut the Vectiv in weight, but depending on your priorities, the added protection is one feature that could help justify that slight penalty.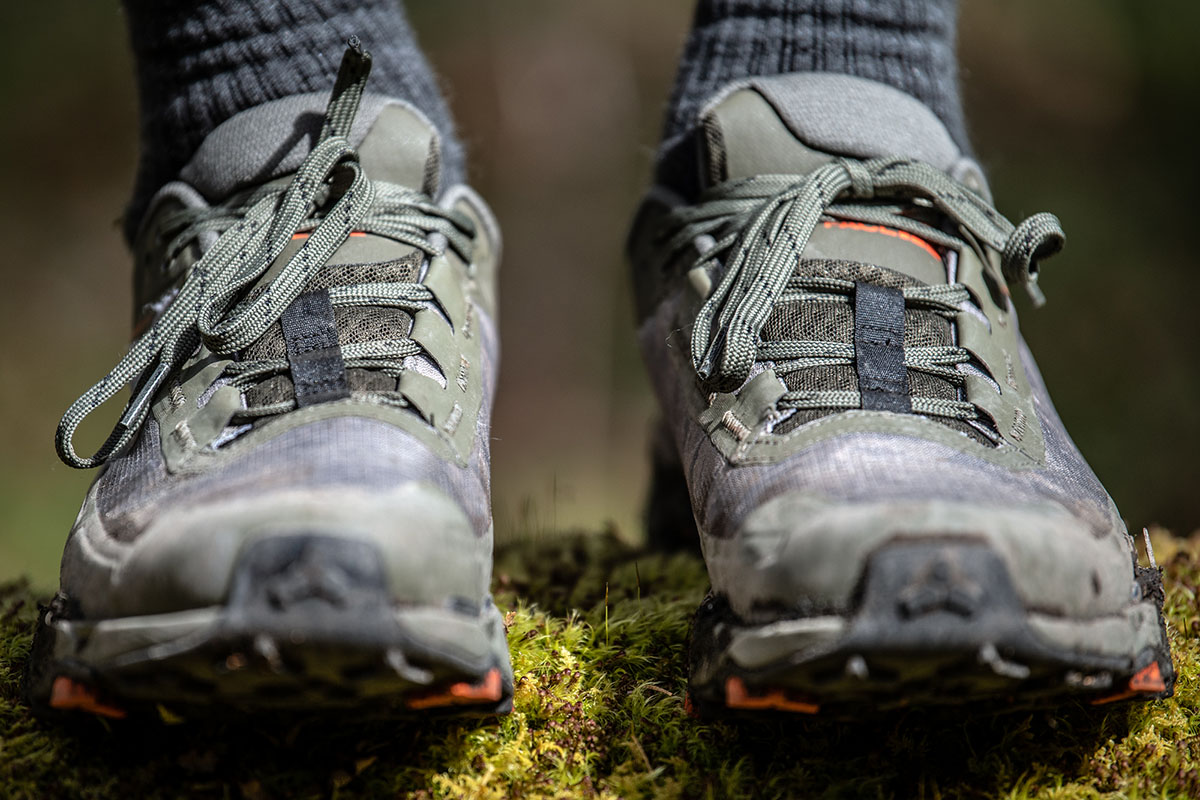 Build Quality and Durability
I've put just over 30 miles on the Vectiv Exploris so can't yet comment on long-term durability, but all signs are positive that these shoes are built to last. As I touched on above, the upper is made of a highly abrasion-resistant Cordura ripstop mesh, with beefed-up sections of synthetic overlays wrapping around the lower portion of the shoe for added assurance against rocks and other sharp objects on the trail. Further, the outsole and lugs are holding up well thus far with no uneven or premature deterioration, and the shoes show no concerning signs of wear. I don't particularly love the polarizing and futuristic looks (this shoe wouldn't be my first choice for wearing around town after a hike), but that's largely a matter of personal preference.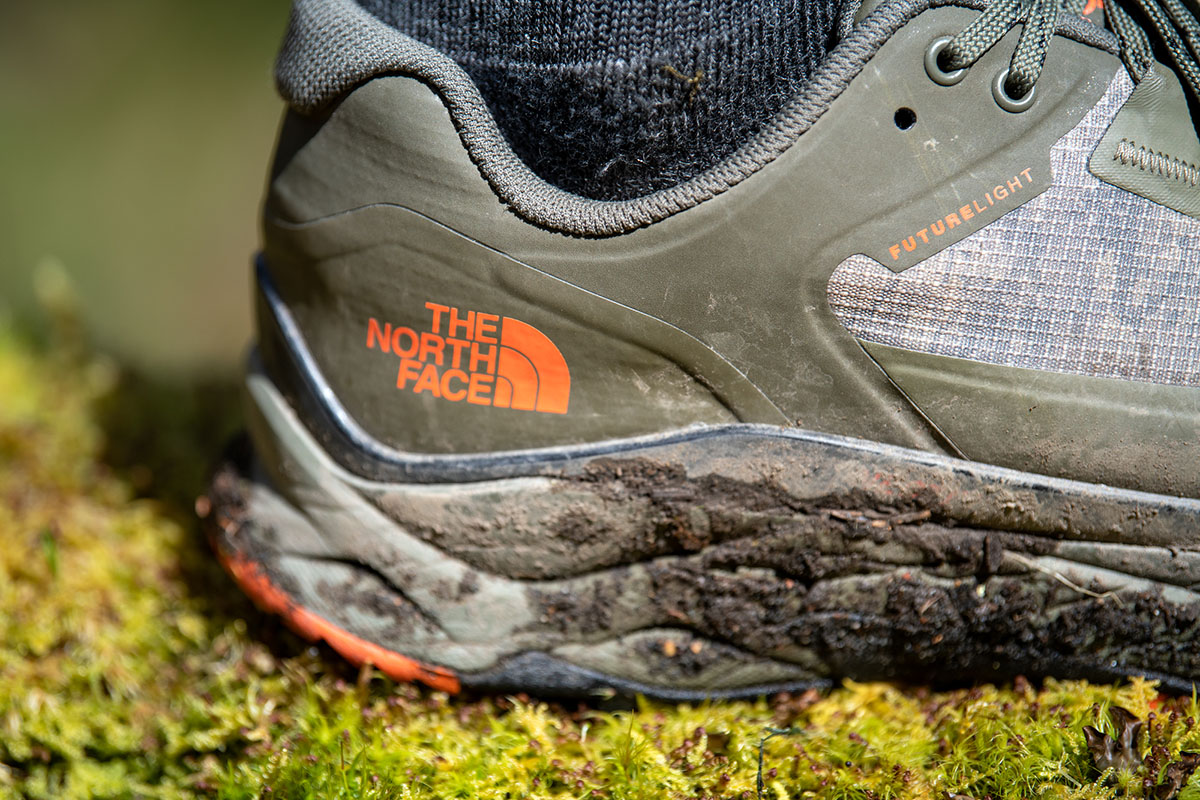 Fit and Sizing
I typically wear a men's 11 and found that size in the TNF Vectiv Exploris to be a good overall fit for me. For reference, I have relatively flat arches and moderately wide feet, but the shape proved to be not too snug and comfortable all around. It's easy to get a close and secure fit with the lacing system, no area feels overly tight or loose, and there are no obvious pressure points. I have experienced some light rubbing at my right ankle that hasn't diminished after about 30 miles of use, but it's fairly minor and hasn't caused enough discomfort to deter future use (or develop a blister). And in all fairness, this likely won't be an issue for everyone (as with all hiking shoes, we recommend trying the Vectiv Exploris on before you buy).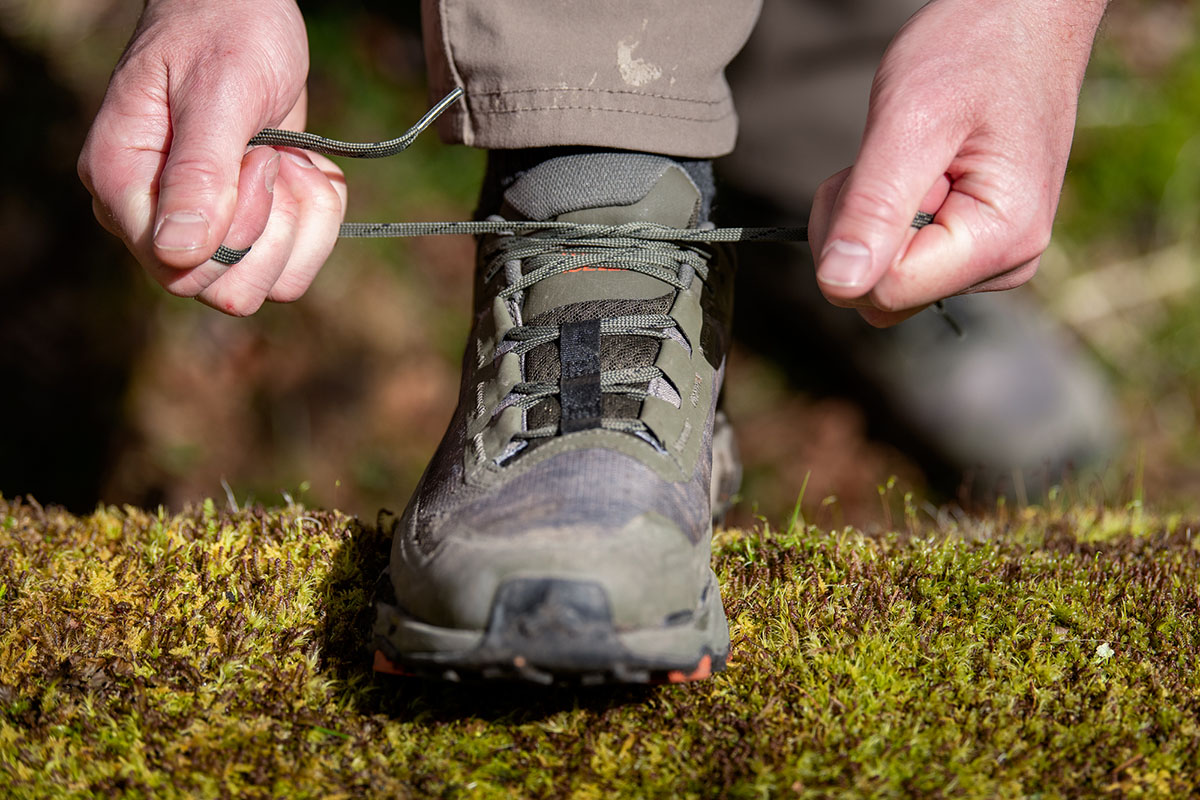 Other Versions of The North Face Vectiv Exploris
We put the men's low-top variation of the new Vectiv Exploris to the test for this review, and The North Face also offers the shoe in a women's version and mid-height models. The women's Vectiv Exploris clocks in a little lighter at 1 pound 6.6 ounces per pair and is sold in different colorways but costs the same as the men's shoe and has an identical overall build and feature set, including the Futurelight waterproofing, Cordura mesh upper, 4-millimeter lugs, and OrthoLite insole. For those who prefer additional ankle coverage and support, the Vectiv Exploris is also available in a mid-height boot model for men and women, which costs $10 more and adds a bit of weight but otherwise is very similar to the shoe tested here. As we touched on above, there currently aren't any non-Futurelight options in the Vectiv Exploris lineup, but we hope to see a non-waterproof variation in the future for those who regularly hike in hot and dry climates.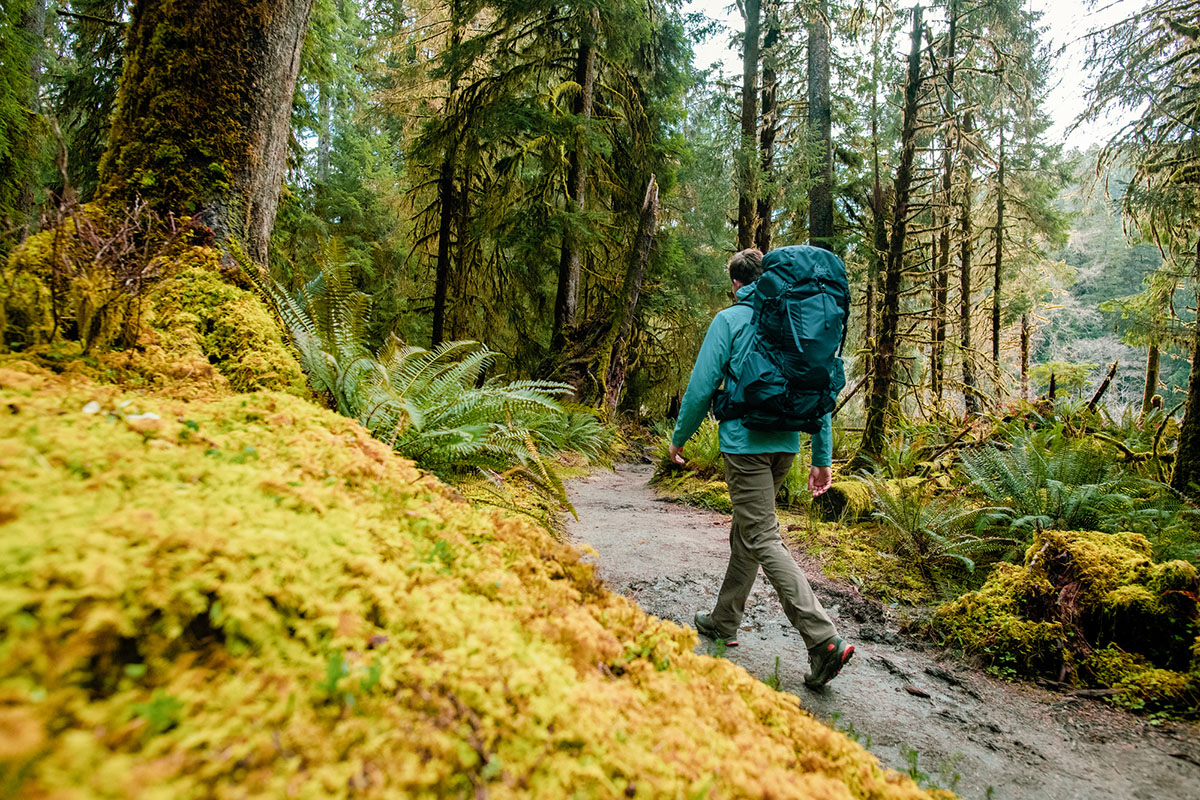 What We Like
The Vectiv Exploris truly thrives for fast-and-light hiking with a comfortable and supportive interior, protective build, responsive feel, and highly versatile outsole that grips over a wide variety of surfaces.
Rockered shape is great at encouraging forward propulsion while hiking quickly. I felt as energetic 10 miles in as I did at the start of our backpacking trip.
3-layer Futurelight membrane provides excellent waterproofing and offers enough breathability for most 3-season conditions (although expect it to run warm in true summer temperatures).
The fit is accommodating and easy to tailor, with a functional lacing system for snugging things down and no areas of noticeable tightness or looseness.

What We Don't
Hikers used to a planted feel will likely find the shoes a little tippy and unstable, and the rocker detracts from overall versatility (the shoes felt awkward both when sitting still and running).
We love the trail running-inspired tech, but the futuristic looks detract from everyday appeal.
I experienced some light rubbing at my right ankle that has persisted over time, but it's not enough to prevent me from wearing the shoes.
You can go lighter in the fast-and-light hiker category.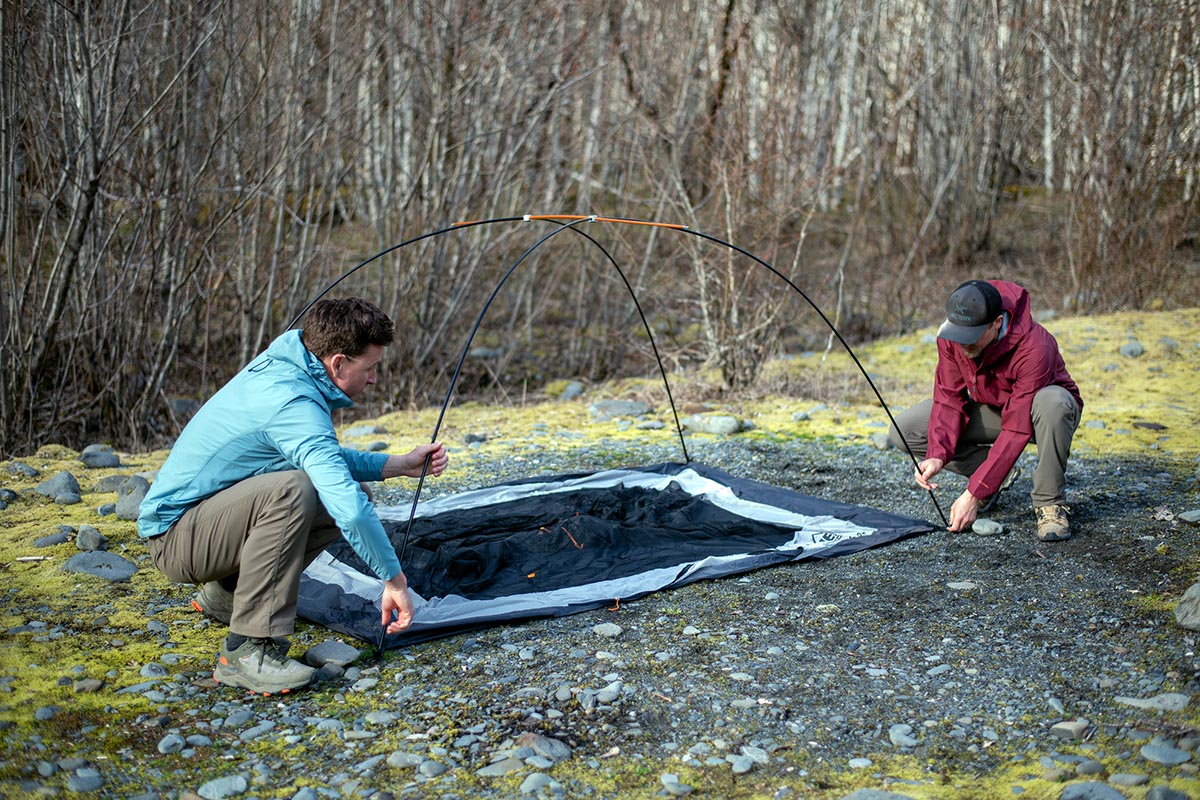 Comparison Table
The Competition
The North Face's new Vectiv Exploris is an impressive addition to the hiking shoe market, with an excellent combination of comfort, support, and traction for moving quickly over long distances. Another one of our favorite shoes in this category is Salomon's X Ultra 4 GTX, which weighs a little more at 1 pound 11.5 ounces per pair but is the more well-rounded choice. Both shoes have sprightly and trail runner-like personalities and are plenty durable and capable in rough conditions, but we prefer the Salomon's traditional shape that promotes a more planted, connected, and confidence-inspiring feel. And although it's a small complaint, we think the X Ultra is the more attractive shoe and wears better around town. If you like the rockered shape of the Vectiv, it's an intriguing alternative, but we think most hikers will be happier with the X Ultra.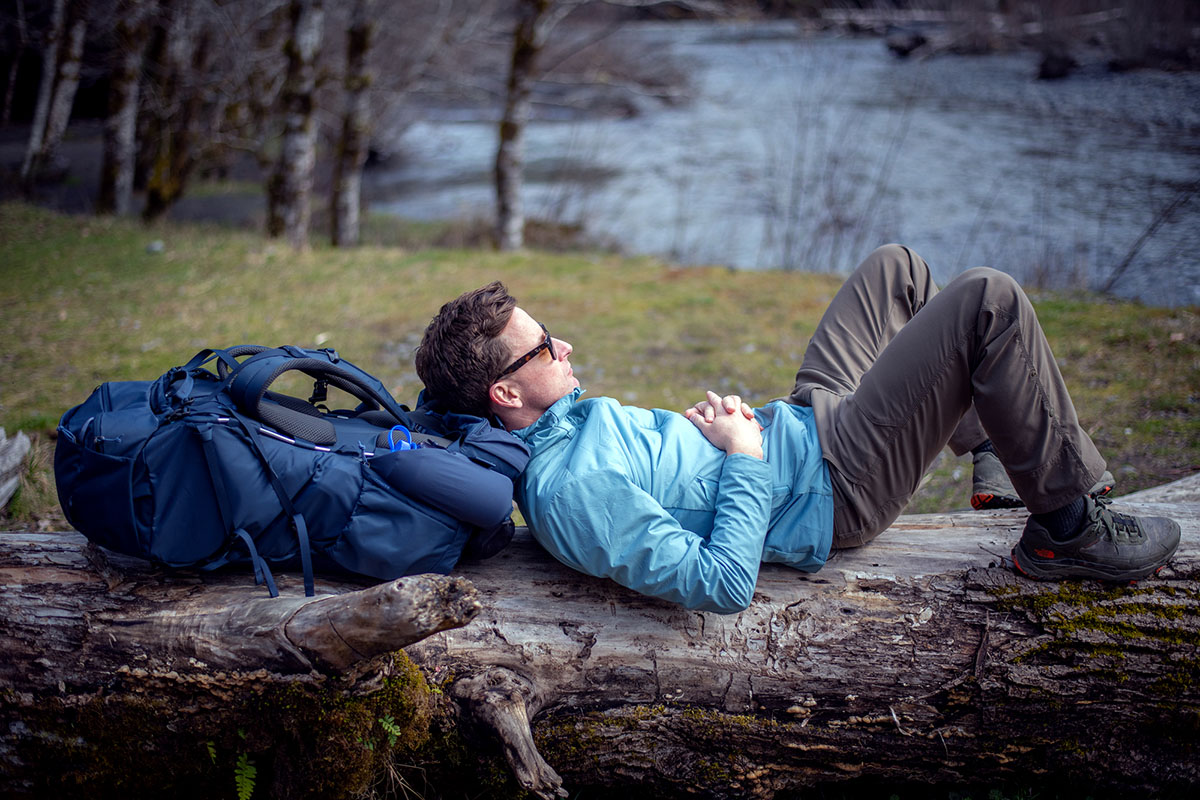 Another lightweight hiker to consider is Merrell's MQM Flex 2 GTX. Like the Vectiv Exploris, the MQM Flex has a trail runner-inspired build that's very responsive and nimble on the trail. In parsing out the differences, the Merrell weighs a little less at 1 pound 9 ounces per pair but is considerably less hardwearing. In particular, the tread of our shoes wore concerningly quickly when hiking over rocky terrain, and some of the pod-like lugs even tore off completely. Comfort is also a step down, with a fairly thin midsole that led to foot soreness over longer distances and when carrying a heavier pack. You do save $19 with the MQM, but we think the Vectiv is the better-built and more capable design (provided you don't mind the more aggressive shape). 
For a step up in all-out protection and stability, La Sportiva's Spire GTX is about as burly as low-top hikers come. In testing, it lined up closely with La Sportiva's description as a "low-top hiking boot", with a very sturdy and protective build for covering technical terrain with a pack. We were also impressed by its durable build and grip over a wide variety of surfaces, with a versatile Vibram rubber outsole that held on everything from rock to moss-covered bridges in Washington's Olympic Peninsula. The only major downsides are weight and price, with the Spire checking in at a hefty 1 pound 15 ounces and steep $190. The shoe is also a little wide at the heel and can feel insecure if not cinched tightly, but we consider it the more capable option for hikers planning to tackle rough and rugged trails with a full pack. For day hiking and more weight-conscious missions, the Vectiv Exploris is more modern-feeling and will save you a good bit of heft and cash.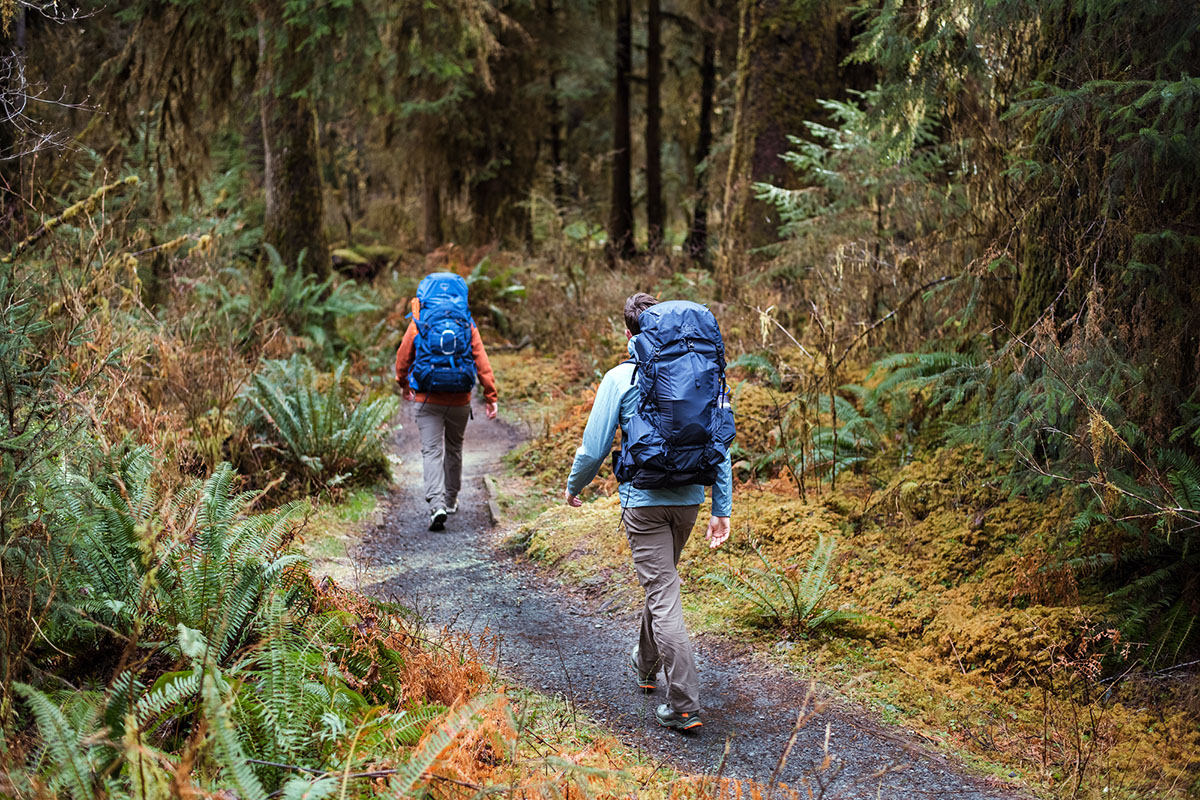 Next up is Danner's Trail 2650 GTX, which is yet another design aimed at moving fast and light. Both shoes weigh around the same (the Trail 2650 is 1 lb. 11 oz.), offer great out-of-the-box comfort, and provide excellent grip and protection. Stacked up against the TNF, however, the Danner has a much more attractive build, with a sleek leather upper and around town-friendly looks that are a far cry from the Vectiv Exploris' polarizing styling. Our only notable gripe with the Danner is the large and rather unnecessary piece of rubber at the heel, which adds some weight without contributing much to overall protection. But that's a fairly small complaint for an otherwise impressive all-around shoe, and we think it's the more well-balanced and versatile design compared to the Vectiv.
Given the Vectiv Exploris' trail running-inspired design, our final comparison is to a true trail runner: the Saucony Peregrine 11. As we mentioned above, trail runners like the Peregrine come with a healthy reduction in weight (the Saucony is 1 lb. 7 oz. for the waterproof Gore-Tex model), but you make some notable concessions in support, protection, and overall comfort. Specifically, the Saucony's flexible build, lack of cushioning, and fairly firm midsole can lead to foot soreness while covering longer distances or hiking on harder surfaces, and the thinner mesh upper and overlays strike us as less durable over the long-term. To be sure, the Saucony is a fine option for long day hikes (even with a lightweight pack), but the Vectiv offers a sizable step up in all-around performance provided you don't plan on adding running into the mix. 
If you're thinking about buying gear that we've reviewed on Switchback Travel, you can help support us in the process. Just click on any of the seller links above, and if you make a purchase, we receive a small percentage of the transaction. The cost of the product is the same to you but this helps us continue to test and write about outdoor gear. Thanks and we appreciate your support!
Depending on the seller, most products ship free in the United States on orders of $50 or more. International shipping availability and rates vary by seller. The pricing information on this page is updated hourly but we are not responsible for inaccuracies.
Read More From Switchback Travel