Now in its second generation, The North Face's Ventrix Hoodie falls into the growing and very competitive active insulation market. Changes with the retooled model include less insulation and a lighter overall build with thinner fabrics and more minimalist features. We tested the updated Ventrix throughout winter in central Washington state and while hiking and backpacking in Patagonia. All told, the Ventrix has a very cozy lining and excels for daily wear and light outdoor use, but it had a few fit-and-finish issues and came up short as a performance piece. Below we break down the Ventrix's warmth, breathability, comfort, weight and packability, durability, fit and sizing, and more. To see how it stacks up, see our articles on the best synthetic jackets and best midlayers.
 
Performance
Warmth
One of the biggest shifts with the second-generation The North Face Ventrix Hoodie was the move to 60-gram synthetic insulation (the original had thicker 80g). This means that the jacket is noticeably thinner, lighter-weight, and breathes better but doesn't offer as much warmth. Whereas the prior model kept us cozy as a standalone piece around town and during non-aerobic activities in temperatures down to around 40 degrees Fahrenheit, the newer model is comfortable in the mid-40s. On our backpacking trips in Patagonia, I'd throw it on at camp and wear it while setting up, but I'd inevitably reach for a shell or swap it out to a more substantial puffy when the mercury dropped each evening. To be fair, warmth is quite similar to Patagonia's popular Nano-Air Hoody, but the Ventrix is no longer a leader in this department.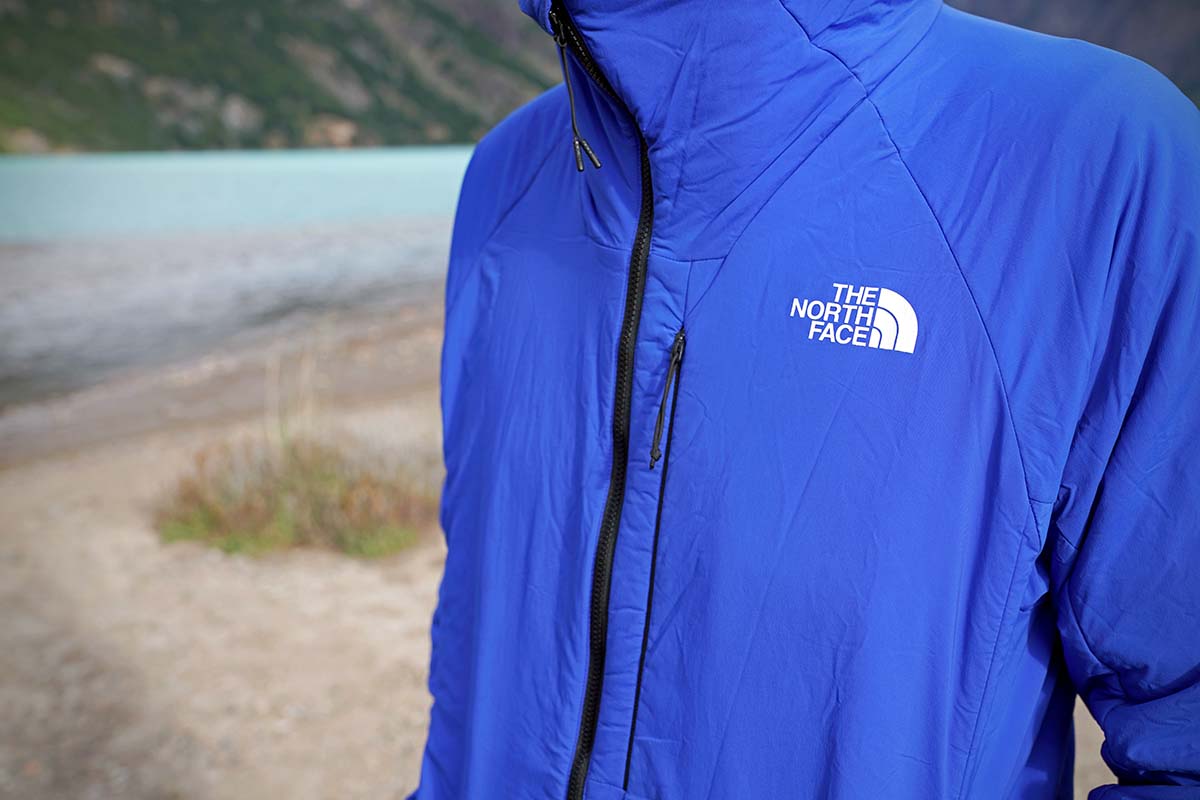 As expected, the Ventrix's comfort range was wider during active use. I run pretty warm but found that for lower-output activities like hiking on flatter ground, I was comfortable wearing the Ventrix on overcast days with temperatures in the low 40s. I also used the jacket extensively this winter as both an outer and midlayer for activities ranging from snowshoeing to backcountry and resort skiing. It excelled for resort use under a shell, as the air-permeability was a great match for all but the absolute coldest days. As my outer piece for working hard and carrying a pack, I'd have to ditch the jacket if temperatures rose above about 20 degrees (similar to our experiences with the Patagonia Nano-Air). All told, you can certainly find warmer jackets for a similar weight and cost, but the Ventrix hits a nice middle ground for an active insulation design.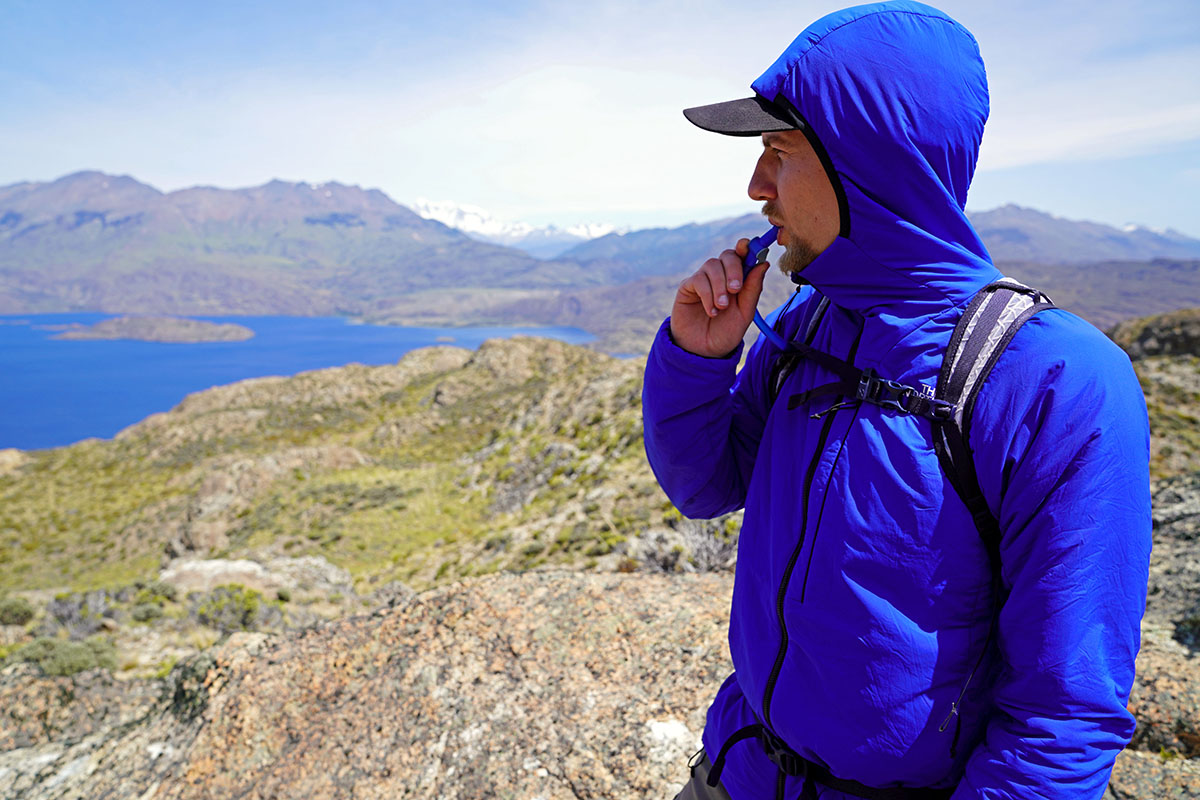 Breathability
The Ventrix line is primarily focused on breathability: everything from the air-permeable shell to the thin stretch insulation is tuned for allowing hot air to escape while on the move. And in practice, I found The North Face largely accomplished their goal. As I mentioned above, the jacket was a great match for hiking in moderate temperatures, particularly on blustery days. The shell cut some of the wind but allowed enough air through to keep me from overheating. And the temperature-regulating ability also excels for daily use: this is a jacket you can wear outside in a range of temperatures and won't find yourself peeling off immediately once you step inside. However, like most active insulation pieces, the Ventrix has its limitations for when you're really working hard. In fact, it's too much jacket for most ski touring days for me—I prefer an even thinner and lighter model like Arc'teryx's Proton FL for steep uphill travel.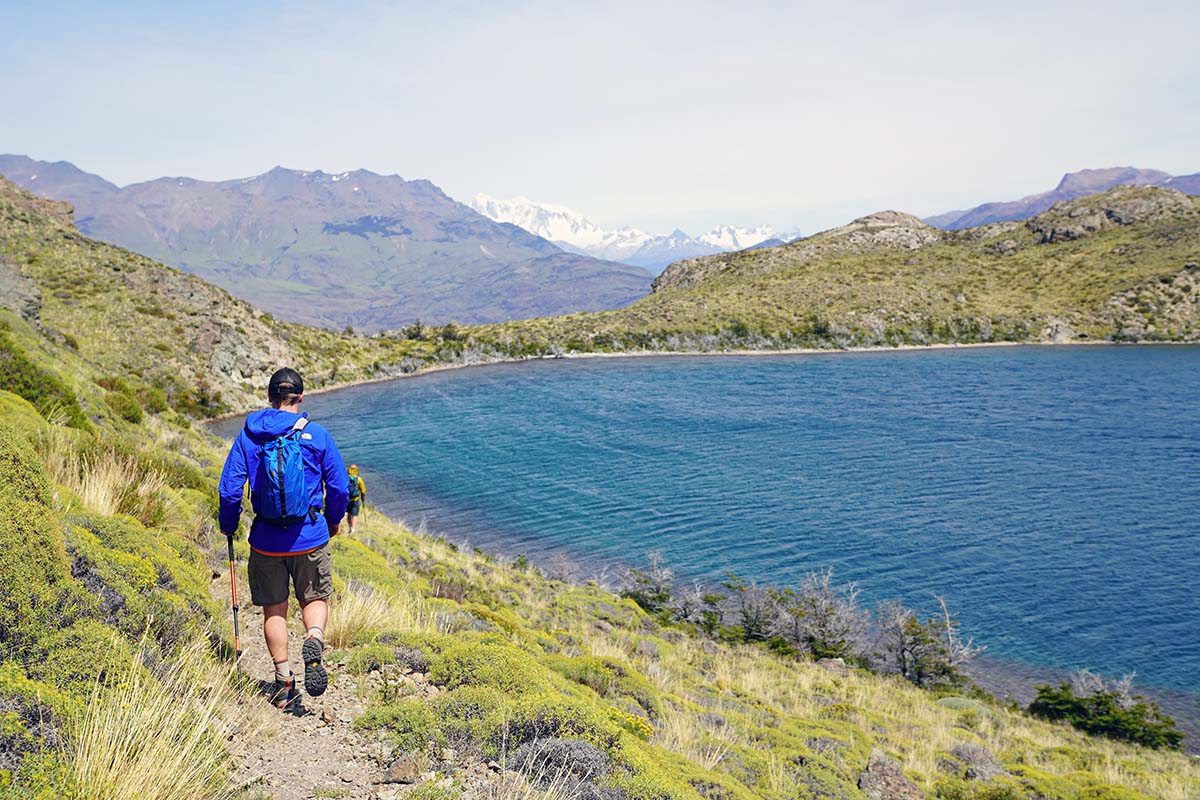 Comfort
I was initially concerned about the shift to a thinner build with the updated Ventrix as the prior model was very comfortable, but this has proven to be a non-issue. The jacket's shell and lining have 8-percent elastane, which gives them a healthy amount of stretch. This allows for excellent mobility with plenty of "give" in the fabric, which doesn't bind or limit range of motion. Combined with a soft hand feel and a nice slim fit, the Ventrix is a cozy place to be. It does feel a bit cheaper when worn back-to-back with a jacket like the premium Nano-Air, but the differences are minor, and the Ventrix saves you a considerable $79.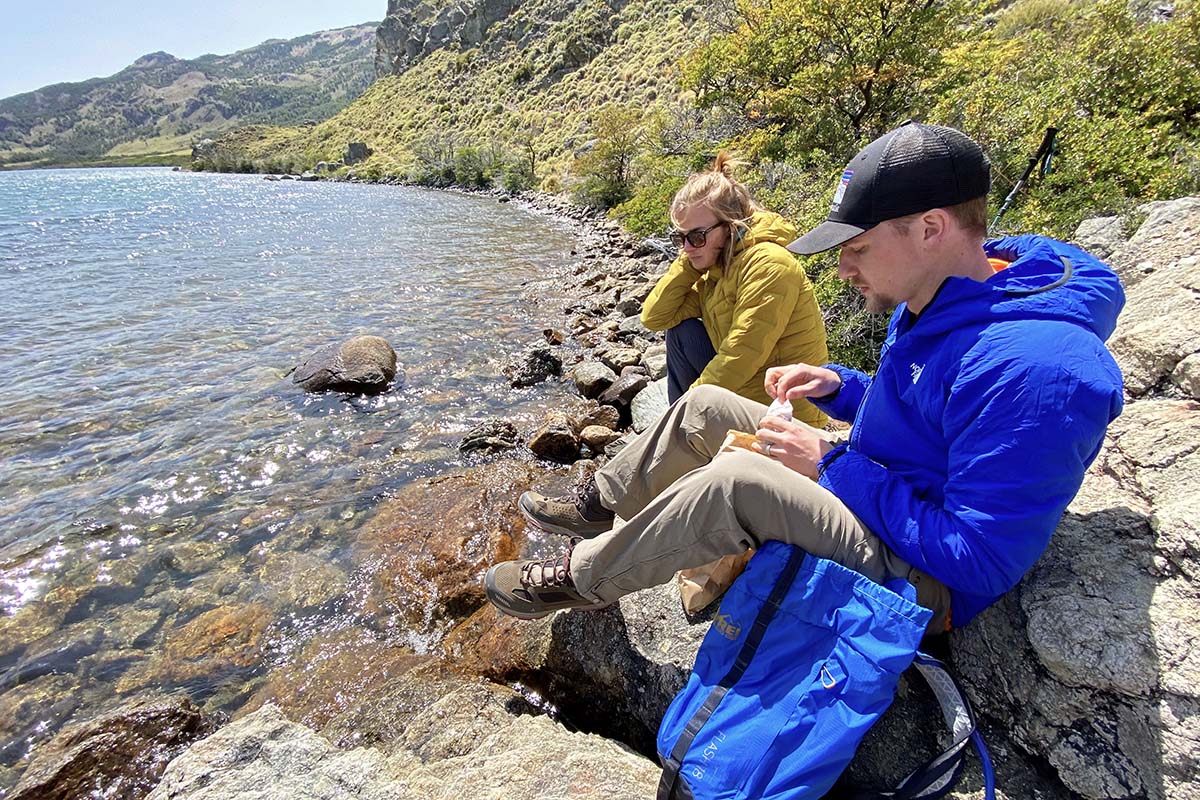 Weight and Packability
Active insulation jackets are rarely weight leaders, but there has been a recent shift in the market to cut ounces. The new Ventrix is a great example, coming in at reasonable 12.8 ounces on my scale (its listed weight is 13.4 oz., which shaves around 2 oz. compared to the past model). Taking a look at the wider active insulation market, the Ventrix lines up well with competitors like the Patagonia Nano-Air (12.2 oz.), Arc'teryx Atom LT (14.6 oz.), Outdoor Research Ascendant (13 oz.), and Arc'teryx Proton LT (13.2 oz.). If weight and warmth are your main priorities (rather than breathability), you can certainly go lighter with the synthetic Patagonia Micro Puff (9.3 oz.) or Arc'teryx Nuclei FL (11.5 oz.). But given its intended use, the Ventrix strikes me as a reasonable weight.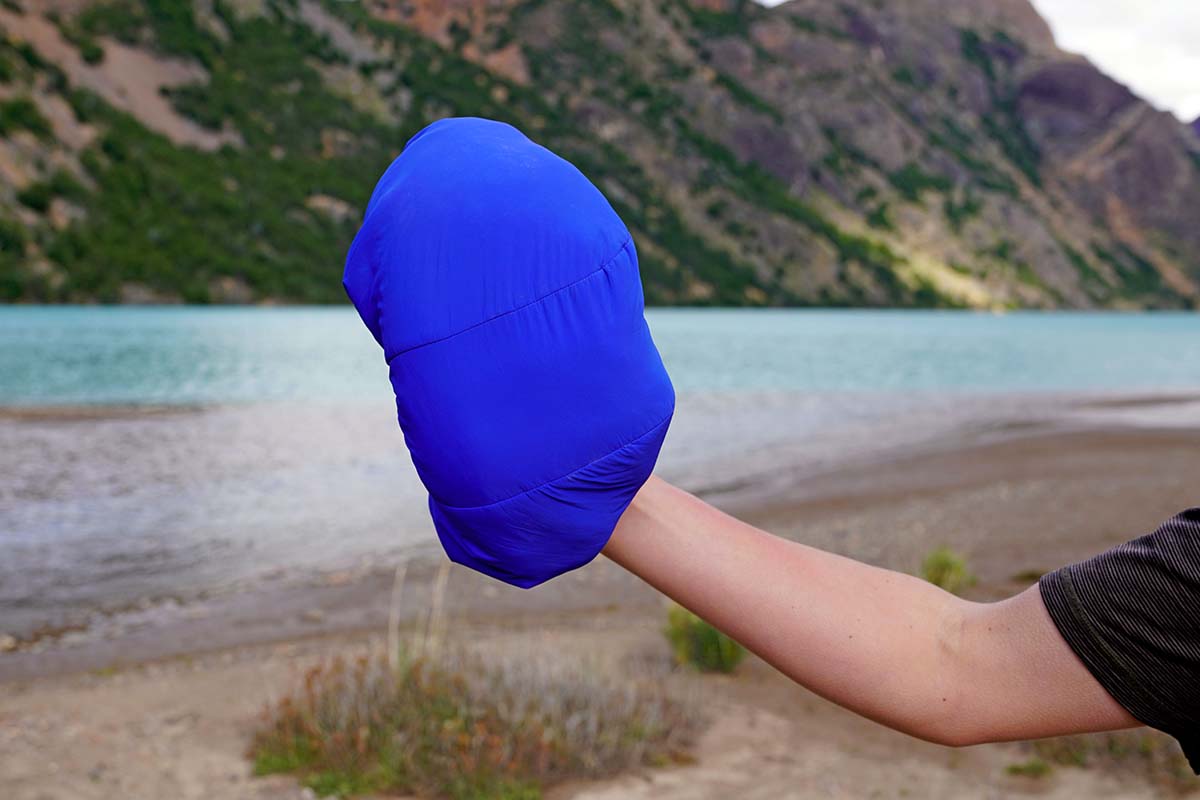 In terms of packed size, the Ventrix doesn't include a stuff sack or pocket, but it does roll easily into its own hood. Because the hood lacks a cinch, you can't compress it any further, which limits its appeal for serious backcountry use (rolled up, it's even larger than an American football). If space is at a premium in your pack but you still want good breathability, the aforementioned Nano-Air fits into its own chest pocket and is easier to stow.
 
Weather Protection
One area where the Ventrix falls short is its weather protection. The jacket was never going to be a standout here given its focus on breathability, but in our testing it provided surprisingly little resistance in bad weather. According to The North Face, the Ventrix has a durable water repellent (DWR) coating, but my shell started absorbing moisture almost immediately in both light rain and snowfall (most DWRs will bead up and shed droplets for a period of time). This meant I had to reach for a waterproof layer much faster than I'm used to, even among active insulation jackets (the Black Diamond First Light Stretch, Patagonia Nano-Air, and Arc'teryx Proton LT all do better in this respect). Further, wind protection is only moderate, although this does help with staying comfortable on the move. And from a features standpoint, the jacket checks the right boxes with an adjustable hem, elastic cuffs that seal at the wrist, and a snug-fitting, insulated hood.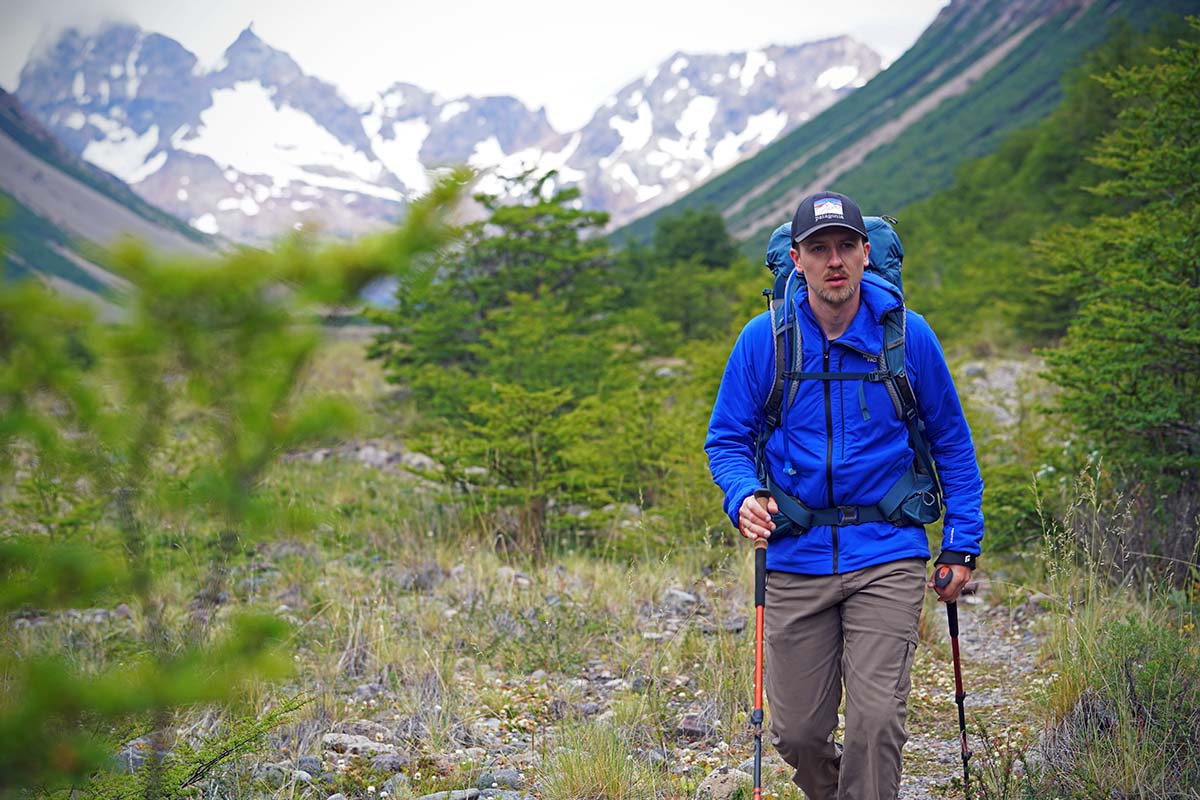 Build Quality and Durability
The Ventrix undercuts many of its direct competitors in price, and with that comes a small drop in build quality. To start, the jacket scores well in comfort with a soft lining and good all-around fit, plus I really liked the large-tooth main zipper that worked flawlessly. However, the shell and lining use a 20-denier (D) nylon blend, which means you'll need to be careful around sharp equipment. The fabric does have some give with the elastane built in, but it's undoubtedly thin. For reference, the Nano-Air and Black Diamond First Light Stretch are more substantial at 33D and 40D respectively, while the Proton LT and Outdoor Research Ascendant match it at 20D.
One complaint I have with the Ventrix is its odd center zipper pull. Rather than a single piece of connected fabric, there are two separate strings, which create a number of annoyances. For one, pulling on one of the sides can bring everything out of alignment. Further, the overly thin design makes it rather difficult to use with gloves on. It's a small detail, but it was something that became a consistent issue and cheapened the overall feel. Thankfully, the pocket zippers don't use the same string design and function normally. Finally, I'm not a big fan of the bright white logos on the chest, shoulder, and forearm. They look and feel tacked on and aren't as subtle as I prefer, but that's largely a matter of personal preference (and again, a very small gripe).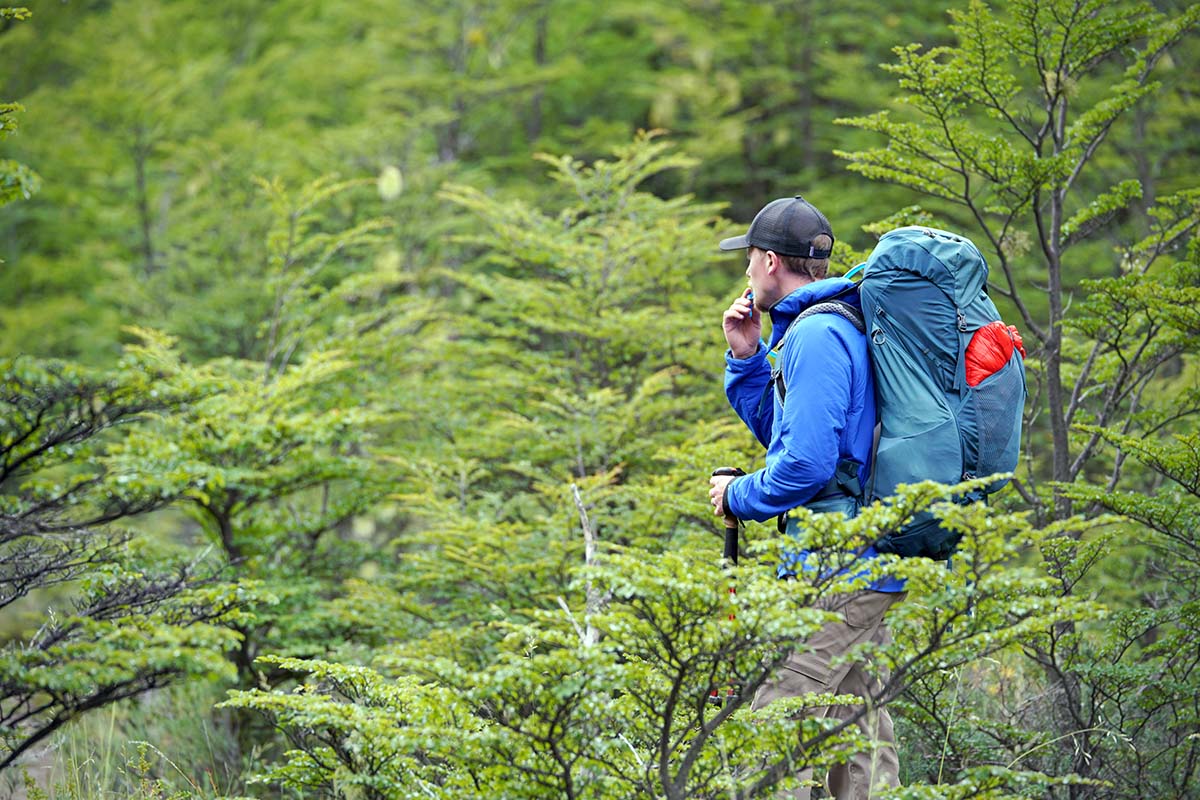 Features
Hood
The Ventrix is offered with or without a hood, but we prefer the versatility of the hoodie version. It's a streamlined design that isn't helmet-compatible, nor does it have any adjustments on the back or sides, but the scuba-style hood fits snugly when the jacket is zipped up to the collar. Its low-profile shape does give it an odd look that we didn't find particularly stylish, but it's completely functional. And with elastic along the sides, we found it possible to put on and take off even when the jacket was completely zipped up (designs that aren't so flexible require you to unzip the jacket slightly before putting on or taking off the hood).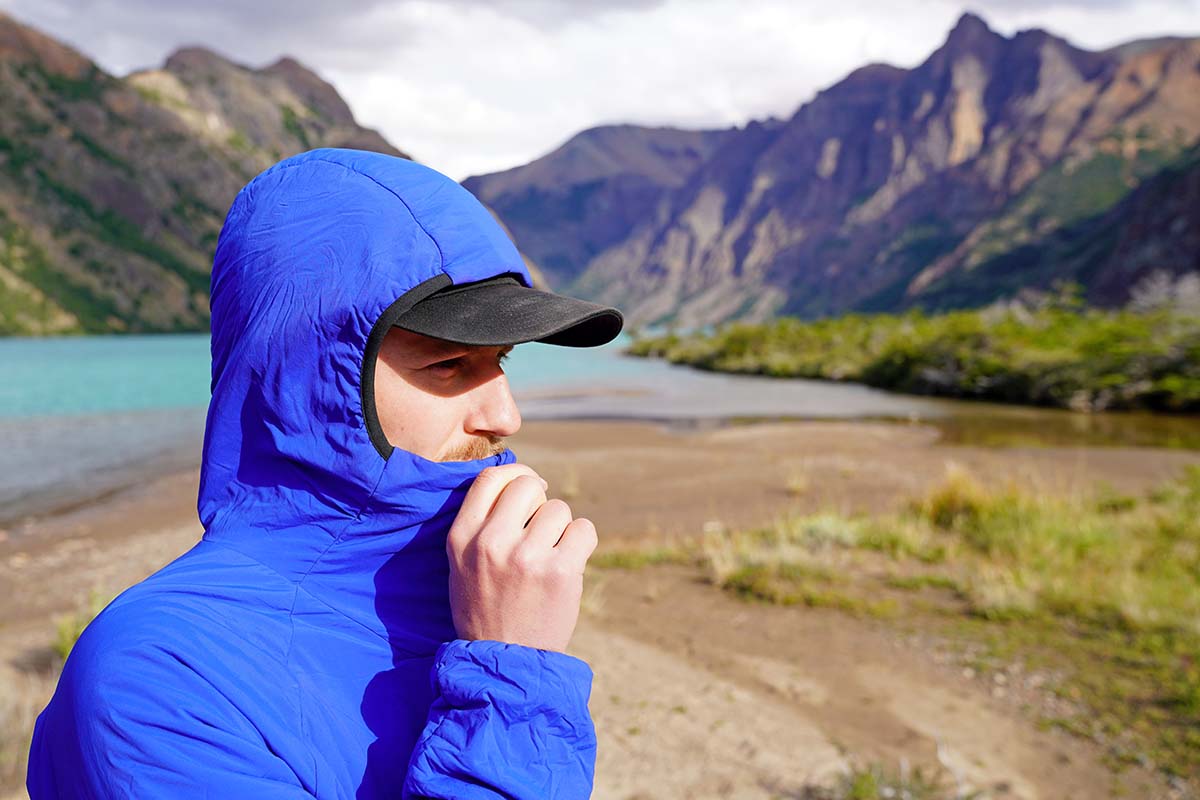 Storage: Pockets
The Ventrix's organization is very functional. For starters, the two hand pockets are a nice height for stuffing your hands into in the cold, and they're plenty large even if you're wearing gloves. These pockets aren't accessible while wearing a pack (they fall right under the hipbelt), but that shouldn't be a deal-breaker for most folks. Further, the chest pocket is particularly big, which is nice if you like storing items like a phone (it easily swallows my iPhone 11). And all pockets have insulation on the outside protecting them, which is a plus for both your electronics and cold fingers.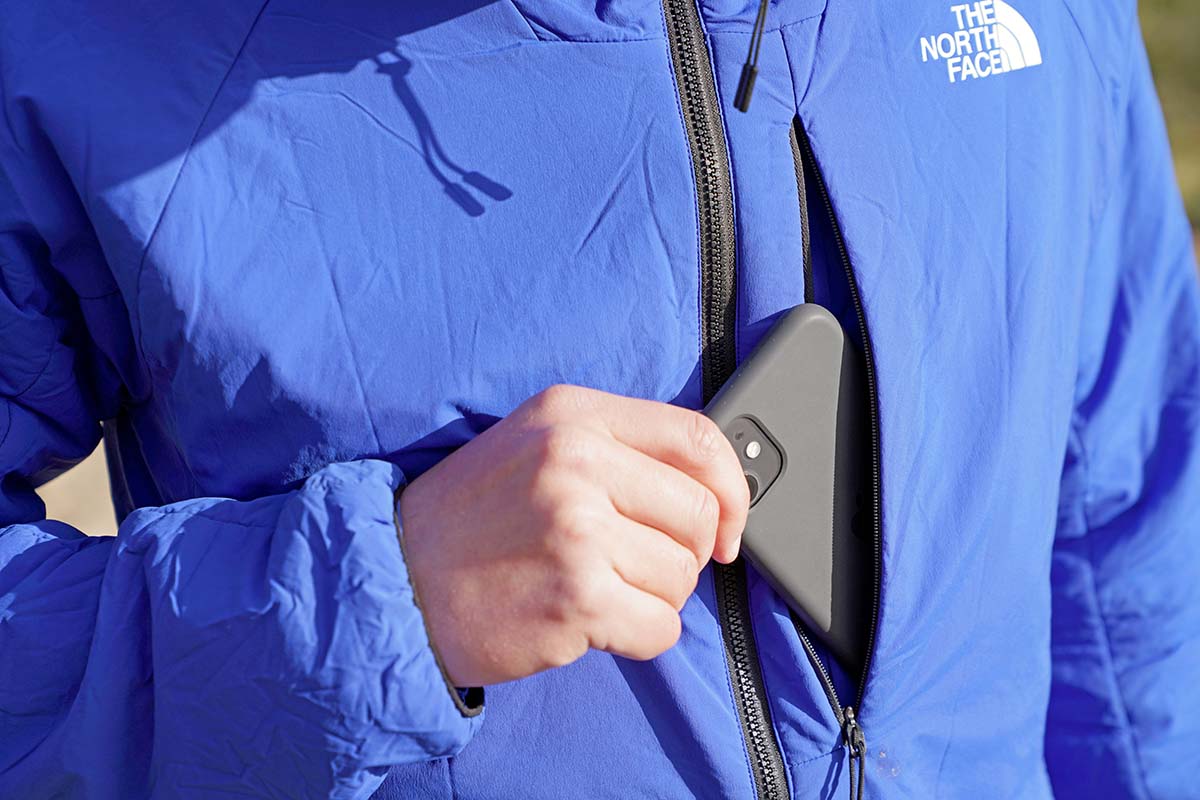 Fit and Sizing
We've found The North Face to be hit or miss with fit, but the Ventrix is near-perfect for me. I prefer a trim cut, and the jacket is just that (TNF calls it "slim"). At 5'9" and 155 pounds, the size medium works extremely well over a t-shirt or long-sleeve baselayer. It's also nicely tailored and avoids the boxy fit that we've experienced with many of TNF's jackets in the past. It's worth noting that the Ventrix only has a single side hem cinch on the right, which can result in the jacket pulling to one side if you tighten it too much. This hasn't been an issue for me as I only need to lightly cinch it to seal, but it has the potential to cause problems.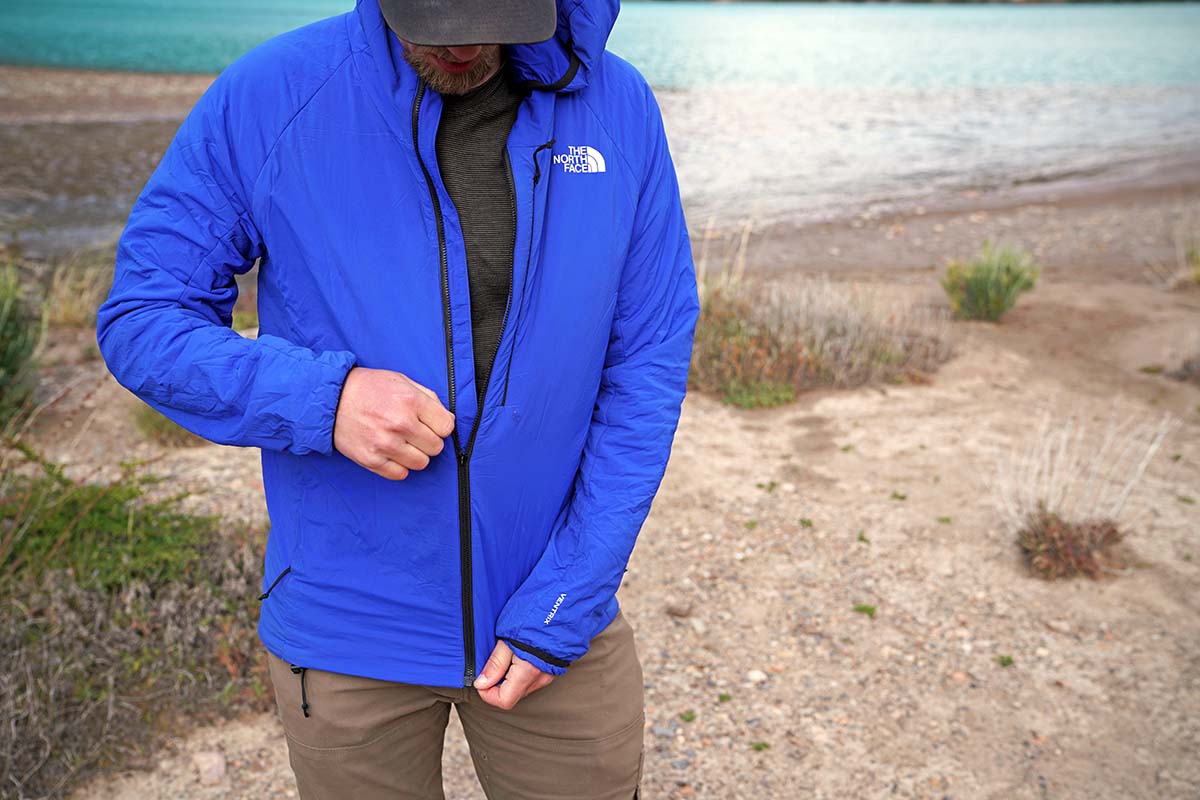 Other Versions of The North Face Ventrix
We put the men's Ventrix Hoodie to the test for this review, and The North Face also makes the jacket in a women's version. The women's Ventrix Hoodie is lighter at 12 ounces and sold in different colors, but otherwise the two jackets are identical in overall feature sets, insulation, and construction. As we mentioned previously, you can also opt for a non-hooded version of the Ventrix ($200 and 12.7 oz.), although we prefer the versatility and added coverage of the hood.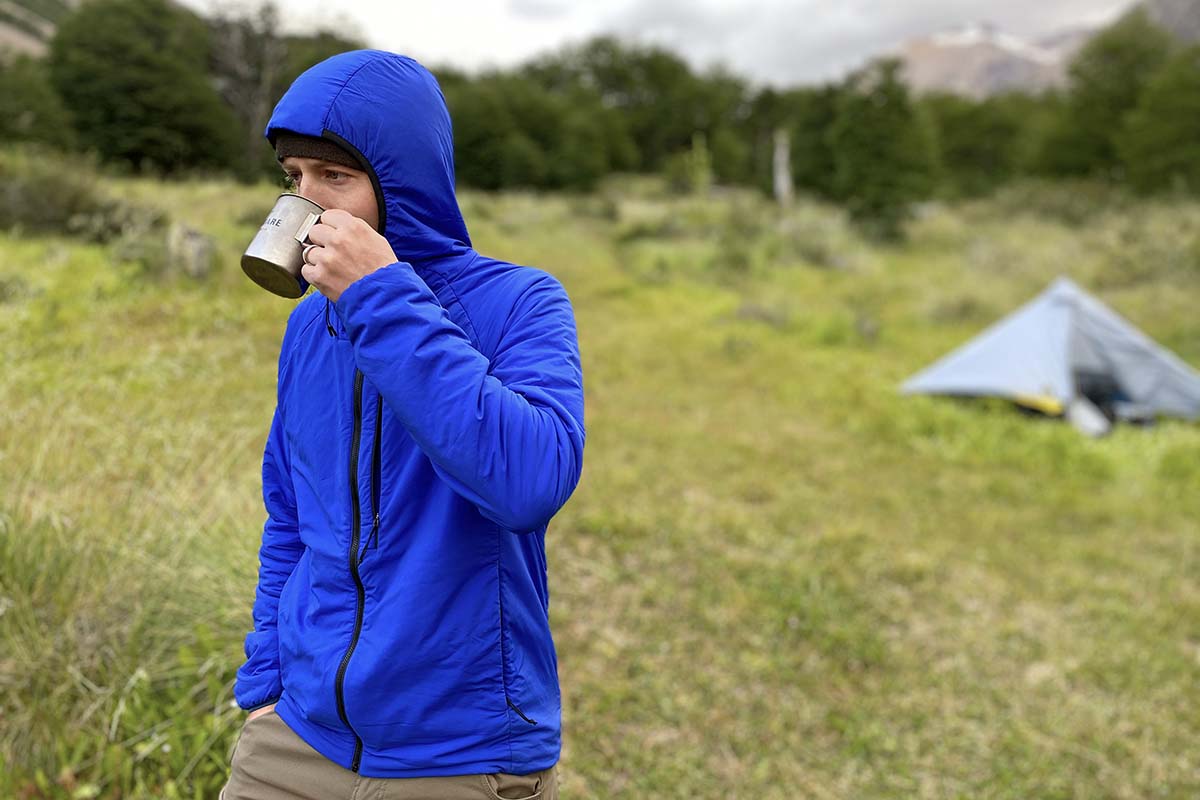 What We Like
Great all-around value for a cozy and comfortable design.
Nice balance of warmth and breathability for daily wear in the shoulder seasons and high-output use in cold temperatures.
Many jackets we've tested from The North Face have felt boxy and unshapely, but the Ventrix has a nice, trim fit that's great for active use.
 
What We Don't
Subpar weather protection. Despite the DWR finish, the shell started absorbing moisture almost immediately in light rain and snow. 
Center zipper pull is made of two thin strings that create a number of annoyances, including difficulty toggling with gloves on and keeping the zipper in alignment.
The hood design isn't our favorite: it's not adjustable and the low-profile shape gives it an odd look.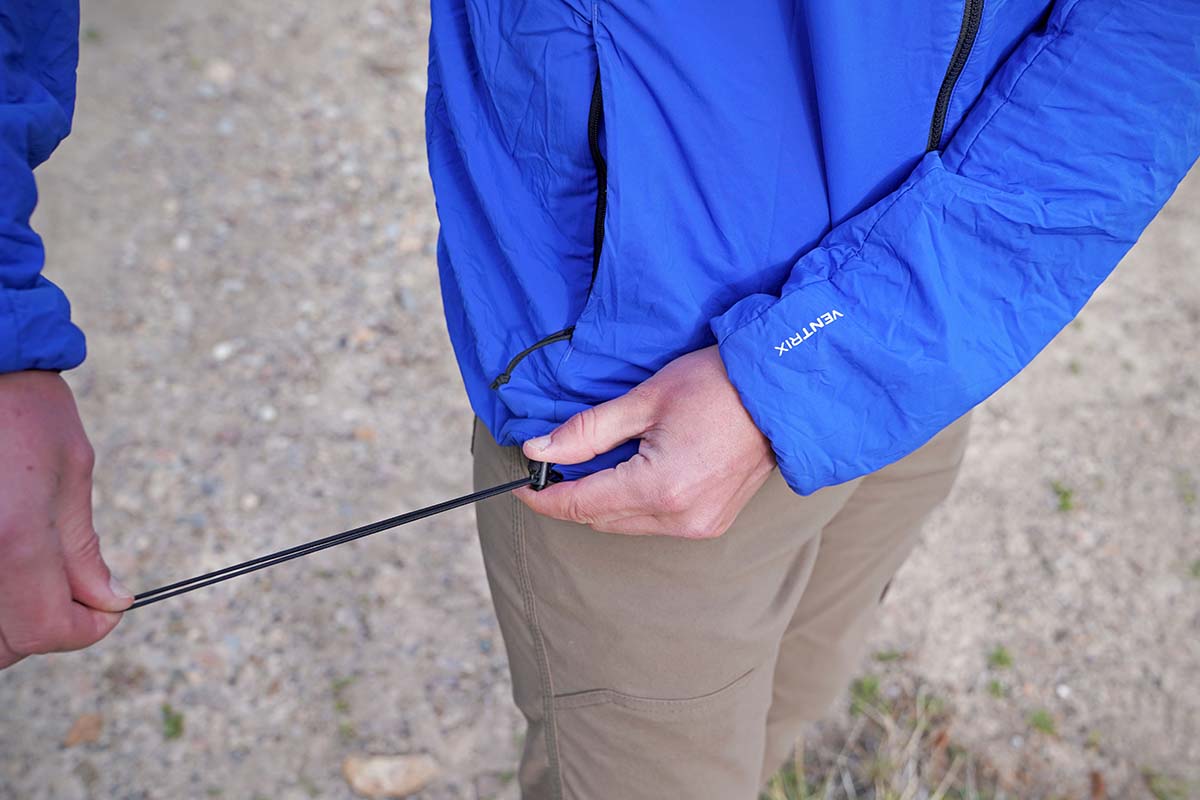 Comparison Table

The Competition
With its breathable and comfortable design, The North Face Ventrix Hoodie slots in as one of our top-rated synthetic jackets for mixed everyday and high-output use. However, Patagonia's Nano-Air Hoody is the clear leader in this market, and the latest version is our favorite active insulator. While it costs another $79 compared to the Ventrix and provides similar warmth with 60-gram FullRange insulation, the Nano-Air gets you upgrades in durability, comfort, and all-around quality while coming in around 1 ounce less in weight and packing down smaller. Both are fine options for mixed casual and backcountry use, but the Patagonia is the more premium product and looks and feels that way.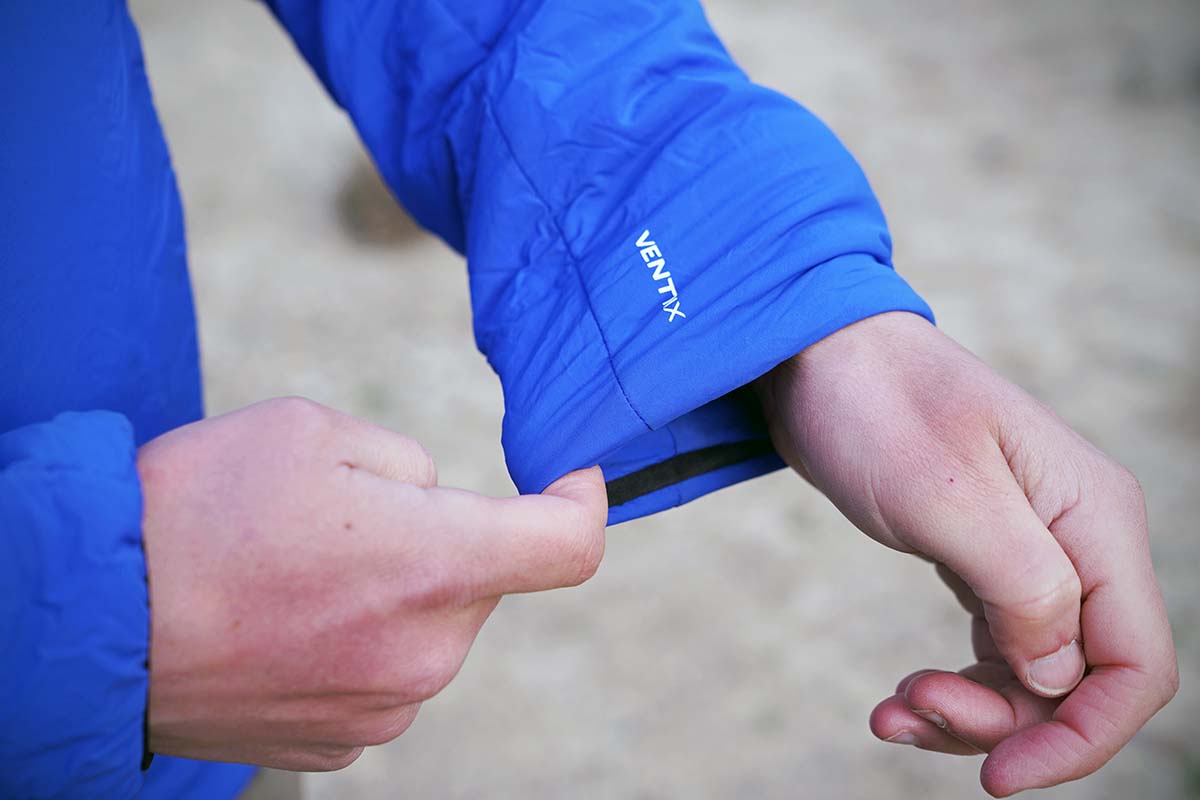 Another one of our favorite all-time synthetic jackets is Arc'teryx's Atom LT Hoody. It's not as breathable as the Ventrix and weighs more at 14.6 ounces but wins out in protection with a more weather-ready shell fabric. In addition, its lining is even cozier, and the more protective shell also gives it the slight edge in warmth when worn as an outer layer (as a midlayer, they're pretty similar). If you want something for on the go, however, the Ventrix easily gets the edge (Arc'teryx's mountain-focused Proton LT is the closer competitor in that case). But for everyday use, the Atom LT is our pick.
Outdoor Research's Ascendant is an interesting alternative for high-output uses. This trimmed-down build goes without an interior liner and uses Polartec's fleece-like Alpha insulation for warmth. This makes it even more breathable than the Ventrix while offering similar warmth (perhaps even a bit more than the TNF). The OR's shell is also more weather-protective, which is a plus for activities like backcountry skiing. The lack of zippered hand pockets, however, is a notable downside, and the yarn-like interior is a little polarizing and has a tendency to pill over time. All in all, the Ventrix is a little more well-rounded, but the Ascendant is the stronger wintertime backcountry choice.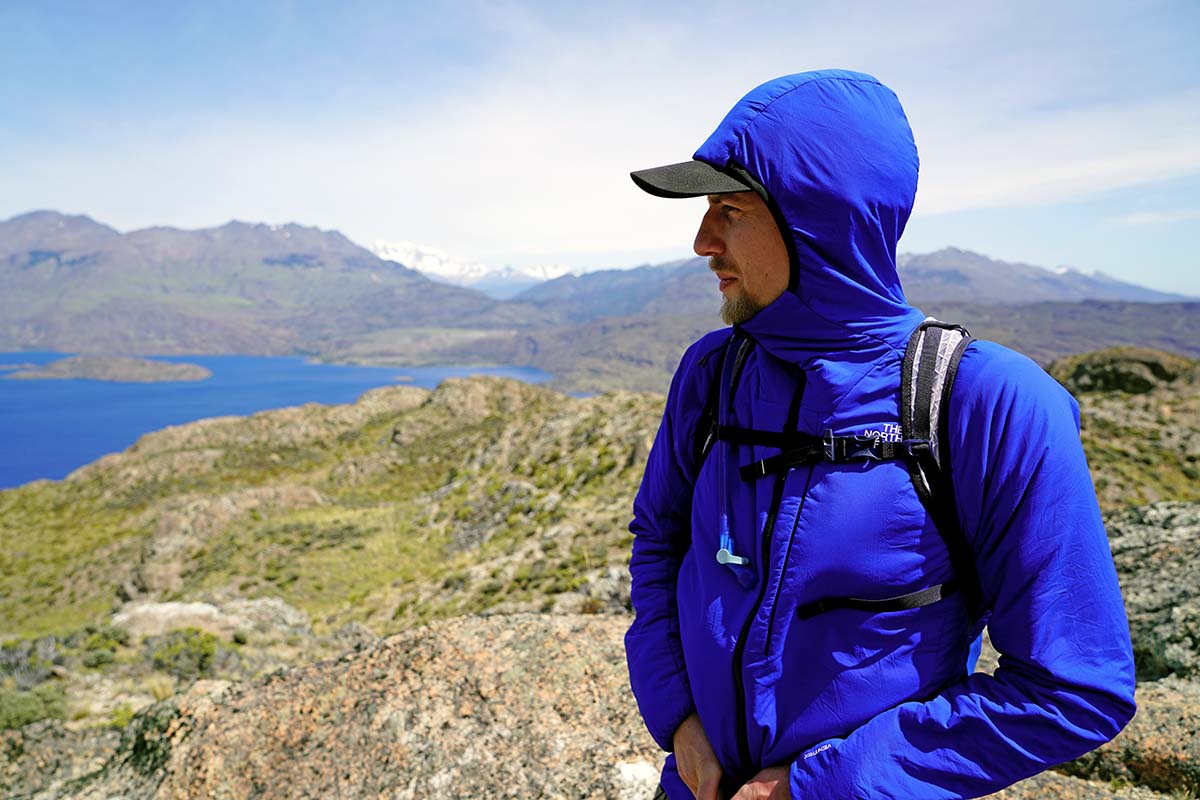 Before there was a Ventrix, The North Face poured much of its marketing prowess into ThermoBall, which is used in the ThermoBall Eco Hoodie. We'll start by saying that these are two totally different jackets: ThermoBall was designed to mimic the qualities of down, and is filled with clusters of synthetic insulation that actually look and feel similar to goose or duck down. The benefits of ThermoBall insulation are that it's lofty, warm, and packs down impressively small for a synthetic jacket. Ventrix insulation, on the other end, was designed for active use and prioritizes breathability and stretch. All things considered, the ThermoBall Eco has its uses and is popular as an outerlayer during cool conditions or as a midlayer for skiing. However, we give the nod to the Ventrix for its lower weight, superior comfort, and wider overall appeal.
If you're thinking about buying gear that we've reviewed on Switchback Travel, you can help support us in the process. Just click on any of the seller links above, and if you make a purchase, we receive a small percentage of the transaction. The cost of the product is the same to you but this helps us continue to test and write about outdoor gear. Thanks and we appreciate your support!
Depending on the seller, most products ship free in the United States on orders of $50 or more. International shipping availability and rates vary by seller. The pricing information on this page is updated hourly but we are not responsible for inaccuracies.
Learn More About Outdoor Gear