For the best in cozy and lofty warmth, down jackets are in a class of their own. The category covers a wide range of options, from lightweight and packable designs for backcountry use to stylish and hardwearing models for your winter commutes. Below we break down the primary considerations in choosing a down jacket, including warmth, fill power and fill weight, weight and packability, durability, and more. And to check out our top picks, see our article on the best down jackets. 

1. How Much Warmth Do You Need?
Down jackets vary substantially in terms of warmth. On the lightweight end of the spectrum, popular models like the Mountain Hardwear Ghost Whisperer/2 provide sufficient insulation for summer backpacking and shoulder-season conditions, while a winter-ready piece like the Feathered Friends Khumbu Parka is packed with enough down to handle sub-zero temperatures. To help clarify the different types of down jackets and when and where they excel, we cover the three main categories below:

Lightweight Down Jackets
A healthy percentage of down jackets fall into the lightweight category. In general, we think of designs that have approximately 3 to 4 ounces of down fill as being lightweight, which means that they are great for shoulder seasons, warmer winter days, or as a midlayer for skiing. Depending on what you wear underneath and your level of activity, a lightweight down jacket can provide sufficient warmth to just around freezing. For anything colder than that, you'll want to look in the midweight or heavyweight categories. One of the most popular lightweight down jackets is the Patagonia Down Sweater (3.4 oz. of 800-fill power down), which is an extremely versatile piece.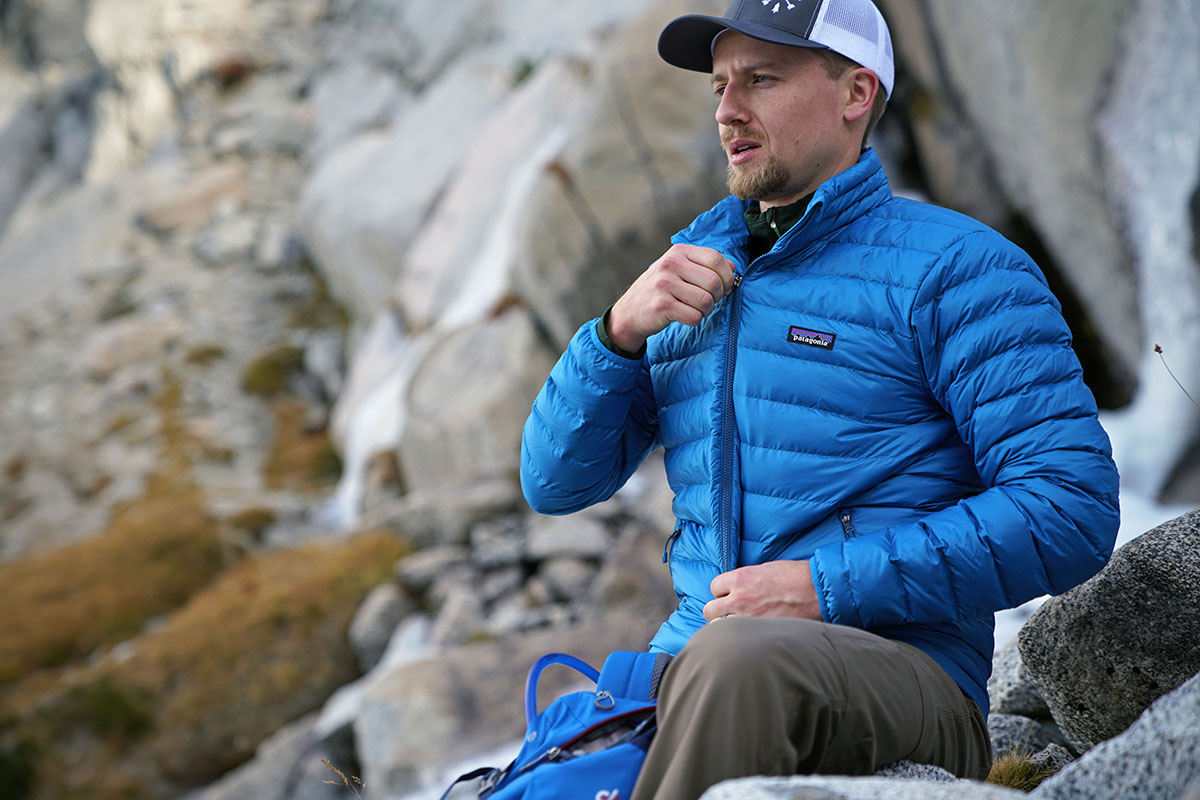 Midweight Down Jackets
Midweight jackets represent the smallest category here but an underrated one. Models like the Rab Microlight Alpine (1 lb. 0.5 oz.) pack in 5.4 ounces of 700-fill down, and the Patagonia Fitz Roy (1 lb. 1.1 oz.) nicely balances an ultralight construction with a healthy 5.6 ounces of higher-quality 800-fill down. In practice, these jackets offer a noticeable boost in warmth compared to their lightweight counterparts above. We've worn midweight jackets with just a t-shirt on into the teens Fahrenheit and stayed warm and cozy throughout. 

Heavyweight Down Jackets
For true winter conditions, a heavyweight down jacket is your best bet. These burly designs have the highest amount of down fill on the market and often feature weather-resistant shell fabrics, large hoods, and longer cuts for protection below the waist. In addition, some heavy-duty winter jackets see a drop in down quality (more on this in "fill power" below) as they tend to take on a more casual slant. Our favorite model for everyday wear and commuting is The North Face McMurdo, and on the other side of the spectrum, the Rab Neutrino Pro (8 oz. of 800-fill power down) is more performance-oriented for serious outdoor use. For a complete look at the heavyweight down jacket options, see our article on the best winter jackets. 

2. Down Fill Power vs. Fill Weight
Two of the most commonly confused specs in the outdoor gear world are fill power and fill weight. Fill power measures down's quality or amount of loft, with premium models hitting the 800-fill mark or higher. Fill weight, on the other hand, is the total amount of down in the jacket. Many manufacturers and retailers put a heavy emphasis on fill power—sometimes going as far as sewing the number onto the jacket's cuff—but it's important to understand that fill weight is equally important.
In choosing a down jacket, sometimes the warmth comparisons are easy. If two jackets are 800-fill-power, it's very straightforward to check the fill weights and see how much warmer one is compared to the other (i.e. 5.6 oz. of 800-fill power will provide more warmth than 3.4 oz.). If the fill weights differ—say, 800-fill down and 650-fill down—it becomes a bit more challenging. Lower-fill-power down does have less loft and therefore creates less warmth for the weight, so it's a sliding scale and each case is unique. In general, we always try to evaluate the fill power and fill weight together to make an informed decision.

3. Daily Wear or the Backcountry?
A key consideration in choosing a down jacket is how you intend to use it. At the end of the day, ultralight jackets meant for the backcountry are expensive and less durable, and their designs come with compromises for everyday use. Take, for example, the Arc'teryx Cerium LT ($379), which uses premium 850-fill power down and a thin 10-denier shell to pack a lot of warmth in a streamlined 10.8-ounce build. For summer backpacking or as a belay jacket for fair-weather climbing, the weight-savings could be well worth it for many. On the other hand, the Cerium LT's fragile materials, trim build, and backcountry-focused feature set simply aren't practical for daily wear—not to mention the price.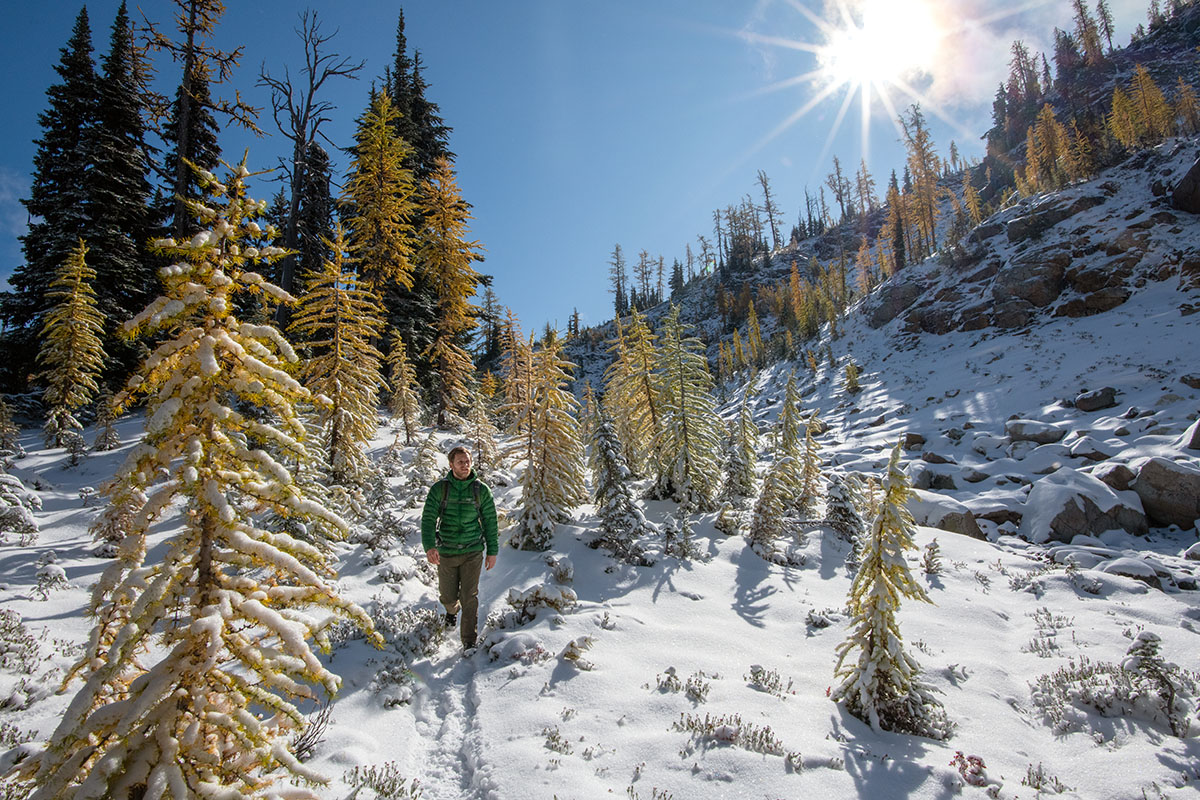 If you only plan on wearing your down jacket around town and for light outdoor use when counting ounces isn't paramount, you can save a lot of money without compromising in warmth. A jacket like the Outdoor Research Coldfront Down Hoodie is nearly as warm as the Cerium LT yet costs a more reasonable $225, and REI makes the 650 Down Jacket 2.0 for a bargain-basement price of $100. In short: if you don't need high-end, ultralight materials, going with more of an everyday down jacket can be a great way to save, and you'll most likely get in bump in durability to boot. 

4. Weight and Packability
Continuing along the same lines as "use" above, weight matters to a lot to people in the outdoor gear world. And among down jackets, the number can vary quite a bit. On the ultralight end is something like Montbell's Plasma 1000 Jacket that weighs an incredible 4.8 ounces (although we do have a number of issues with its build and fit), while a heavyweight winter parka like the Rab Neutrino Pro tips the scales at 1 pound 4.6 ounces. The good news is that many lightweight down jackets are in the range of 8 to 15 ounces, so the decision isn't so stark. Again, cutting ounces often means higher-fill-power down, thinner shell fabrics, lighter zippers, and less in the way of features. In addition, many lightweight pieces are more expensive than their casual counterparts. 
Closely aligned to a down jacket's weight is its packability. All of the factors covered above, including high fill powers, thin materials, simplified feature sets, and even trim fits, help decrease packed size. Whether or not this matters to you again goes back to when and where you'll be wearing the jacket. And it's also worth noting that even some of the casual pieces like REI's 650 Down Jacket 2.0 can be easily squeezed in a pack or suitcase. In terms of how the jackets can be stored, some models come with a separate stuff sack, which we like but have a tendency to lose eventually. Others can be stuffed into their own hand pocket or chest pocket via a two-sided zipper. On the other hand, some larger pieces aren't packable at all due to their thick shell materials. Regardless, it's best to leave your down jacket unstuffed when storing it so that the plumage retains its maximum loft over time.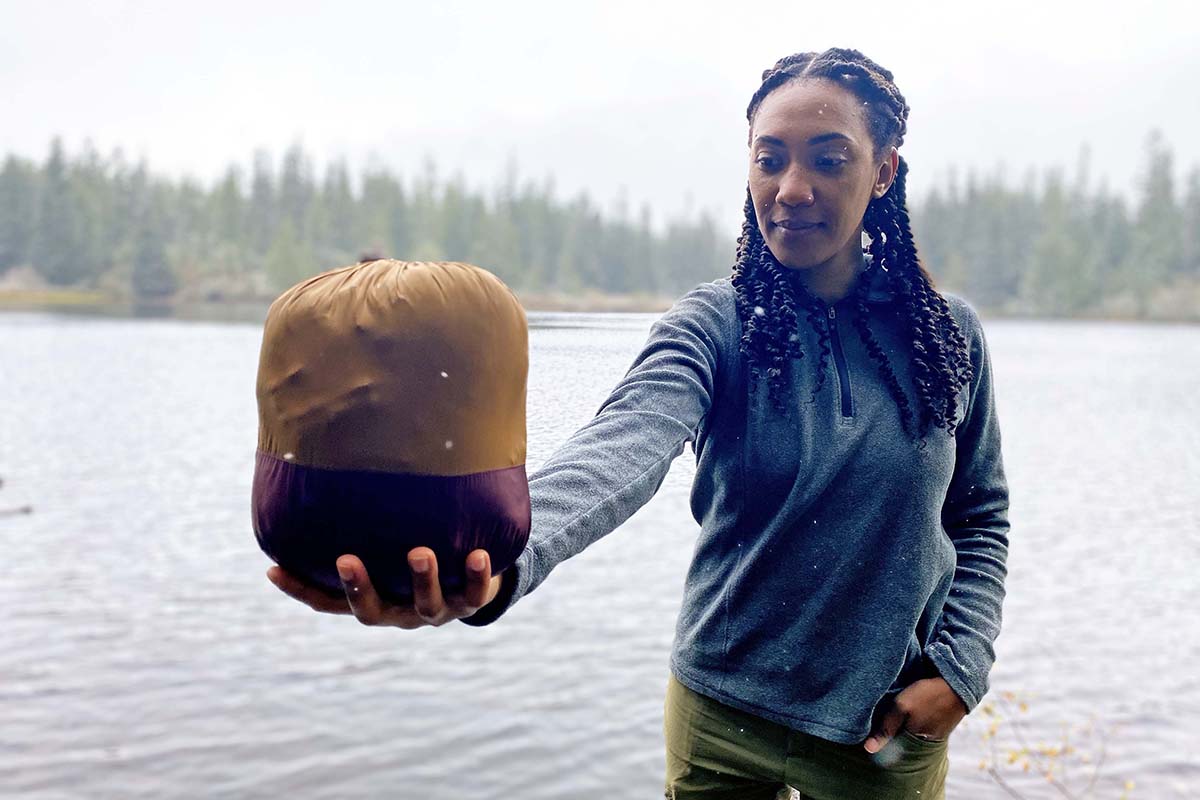 5. Weather Protection
We'll start by saying that down is not known for being able to withstand wet conditions on its own. When exposed to moisture, it clumps and loses its ability to insulate, which is bad news if you need the warmth. For this reason, we often choose a synthetic jacket if we're going out in wet weather, or we bring a rain jacket or hardshell along in our pack for the extra protection. 
The good news is that most modern down jackets have a range of features to help mitigate light to moderate precipitation. First, many have a durable water repellent (DWR) treatment on the shell that helps moisture bead up and run off instead of soaking in. Again, this is good for light rain and snow, but in extended downpours, DWR gives in fairly quickly. We're also seeing a number of different versions of water-repellent and hydrophobic down on the market. In these cases, the down itself is treated so that it resists absorbing moisture better than untreated down.
In addition to DWR coatings and hydrophobic down, some brands have started incorporating synthetic insulation in areas most prone to moisture. For example, Arc'teryx's Cerium collection uses down fill throughout most of the jackets with synthetic in more exposed spots like the shoulders and hood, a strategy they call "Down Composite Mapping." And last but not least, some down jackets like the high-end Arc'teryx Macai are actually waterproof. With a 2- or 3-layer waterproof shell, you get the best of both worlds: the warmth and puffy feel of down with full wind and water protection.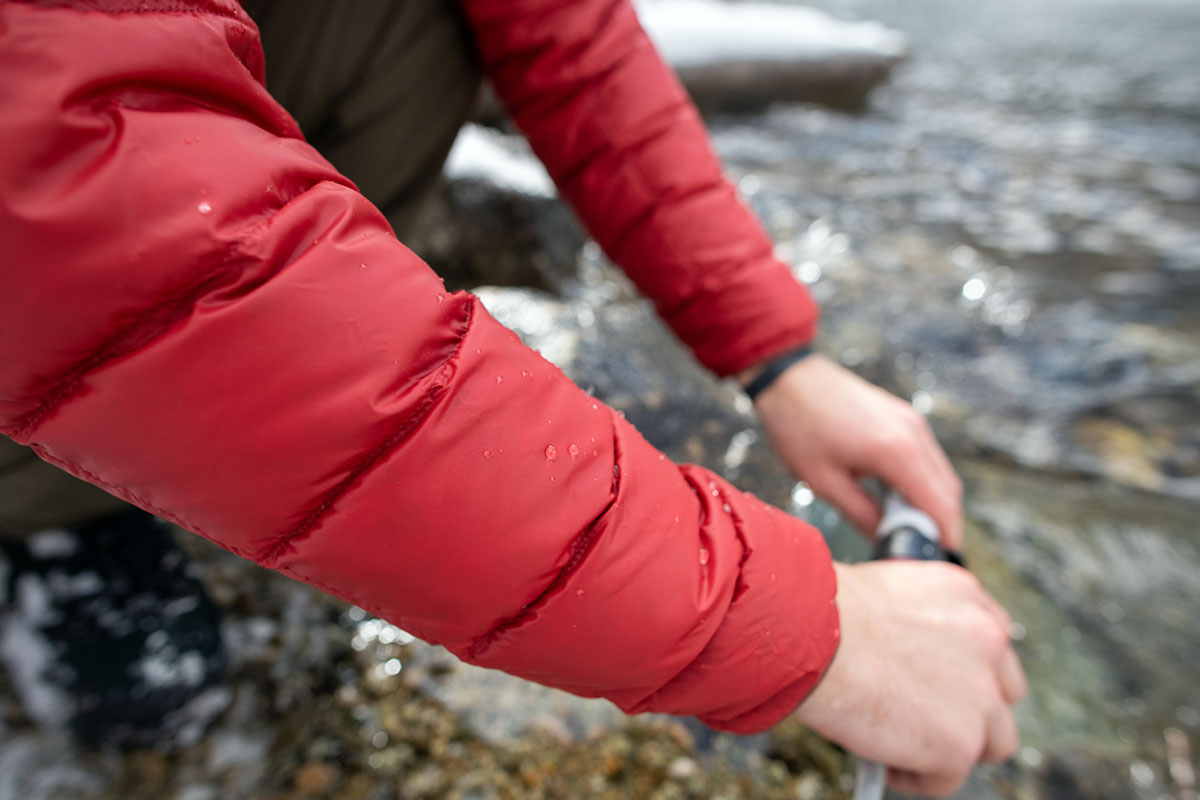 6. Durability
Similar to weight, the durability of your down jacket can vary significantly. Fabric thickness is measured in denier, or "D," and the lower the number the thinner the shell fabric. Ultralight pieces from brands like Montbell and Arc'teryx go as thin as 7D and require a lot of extra care to avoid snags and tears (these are not ideal everyday jackets). Moving more toward the middle of the spectrum, the Patagonia Down Sweater is 20Dx30D, which keeps the jacket reasonably light but also makes it considerably tougher. And full-on winter jackets like The North Face McMurdo have thick, burly shells that do an excellent job at resisting tears.
In terms of durability, the key thing to consider here is what your intended uses are. For an everyday jacket, we prefer going with a model that is at least 20D—this will offer enough toughness for walking by branches, playing with your dog, and doing most normal activities. When you step down into the 15D realm and below, the materials start to get very thin, more crinkly, and sometimes even slightly transparent. The sacrifices in durability are worth it for those carrying weight on their back for long distances or high into the mountains, but normal folks are better off with more practical fabrics.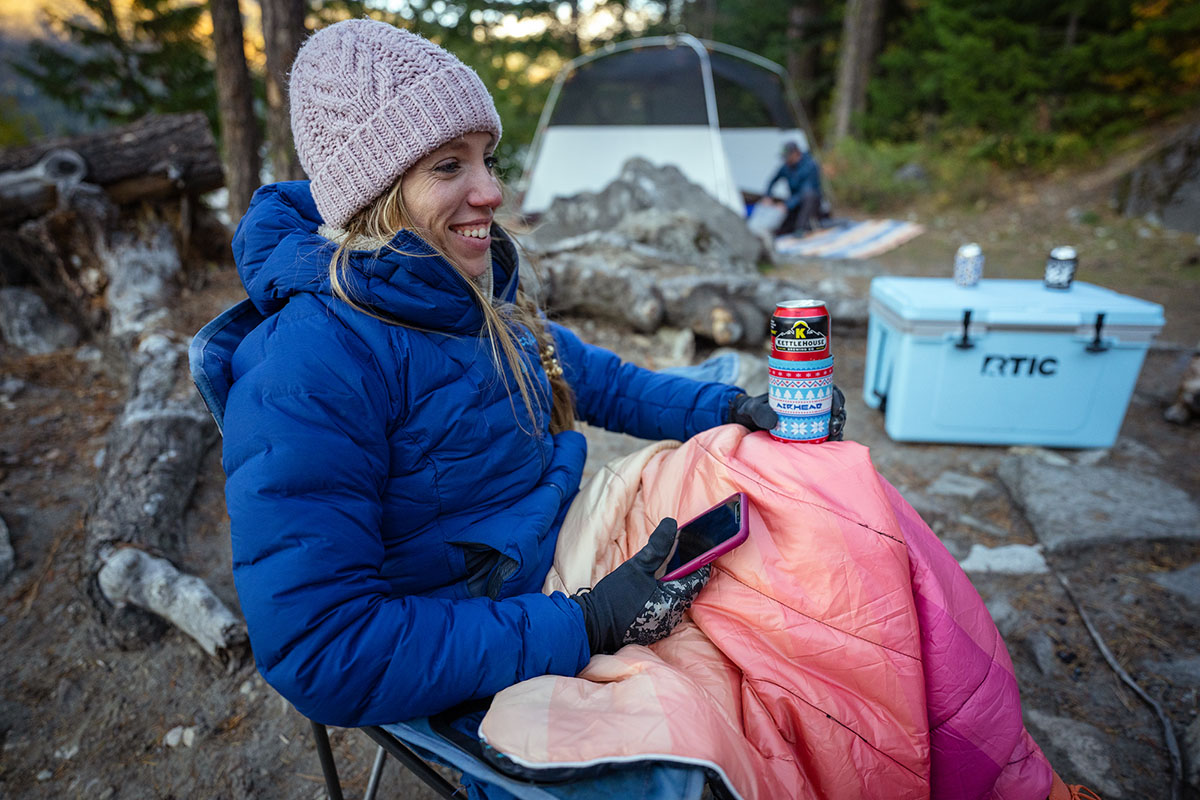 7. Sustainability: Ethical Sourcing and Recycled Materials
The insulation used in down jackets is sourced from ducks and/or geese, which raises some difficult ethical questions. Concerns over live-plucking and other harsh treatments of animals have plagued the industry in the past, but we've seen a significant shift in recent years. A growing number of brands are adhering to the Responsible Down Standard (you'll see references to "RDS"), and Patagonia has been a key leader in this area by implementing their own Traceable Down Standard. The goal of each of these standards is to provide transparency in the sourcing process and eliminate live-plucking and other inhumane practices like force-feeding. Additionally, the use of recycled materials has increased dramatically, with no noticeable impact on performance and durability. And a final piece of good news: You can even find budget-oriented models being made with a sustainable ethos, including REI Co-op's 650 Down Jacket 2.0, which features a recycled shell and RDS-certified down, and was constructed in a Fair Trade Certified factory. 

8. Hood and Other Features
Once you've settled on a specific down jacket model, one of the major design decisions you'll need to make is whether you want a hood. To summarize, a hood adds a nice dose of extra warmth around your head and neck, but also bumps up the weight and cost slightly. For example, the men's Patagonia Down Sweater is $229 and 13.1 ounces, while the Hoody version is $279 and 15.1 ounces. In practice, we prefer a hood in most instances including daily wear (it's always nice to throw the hood on when the mercury drops) and for backpacking (we often wear the hood at night). But for use as a midlayer for activities like downhill skiing, we don't recommend going with a hood as it won't fit over your ski helmet and the extra fabric and material is prone to bunching around your neck. At the end of the day, this is largely a personal choice. But if you're still on the fence and want to take a deeper dive into the topic, check out our article: Does Your Down Jacket Need a Hood?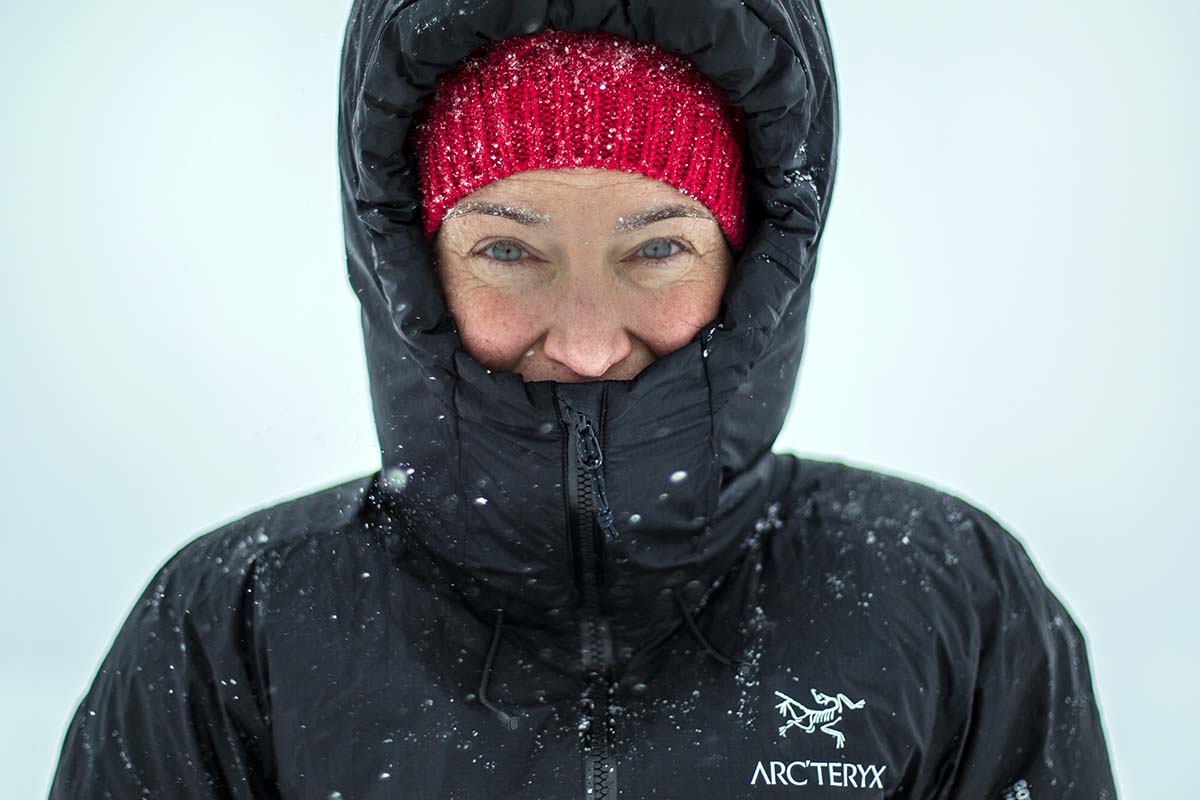 9. Cost
In the topics above, you've heard about many of the differences among down jackets: fill power, fill weight, denier, features, and more. All of these affect the price to some degree, and the cost range for down jackets is fairly large. At the budget end of the spectrum, we love the REI Co-op 650 Down Jacket, which is $100 but offers an impressive amount of warmth and clean styling for the price (it's currently our favorite cheap down jacket). From an ultra-premium brand like Arc'teryx, you can spend $379 for the lightweight Cerium LT and a whopping $999 for the waterproof Macai ski jacket (many people use the Macai as a winter jacket as well, which gives you more bang for the buck). The good news is that just about everyone should have an option to fit their desired price range and use cases, and if you're willing to step down the fill power and premium fabrics and features, there are excellent deals to be had. For a complete list of current top designs, see our detailed guide to the best down jackets.

10. Fit
Last but not least, a great jacket that you're going to have for years needs to fit well, so don't overlook this aspect. In general, certain brands tend to run baggier than others. For example, we often find jackets from REI Co-op, Patagonia, Mountain Hardwear, and Columbia to be a bit boxy (to varying degrees), while Arc'teryx, Feathered Friends, and Mountain Equipment have more of a slim or athletic fit. This can impact how you are able to layer underneath or overtop, and it's directly tied to comfort and warmth, too. To be clear, however, there are plenty of exceptions within each brand lineup, so don't consider these to be hard-and-fast truths. It's best to try the jackets on in person, and if that's not an option, you can glean some details from the manufacturer-listed fit (slim, regular, etc.). In addition, we include a section on fit and sizing in each of our in-depth down jacket reviews, where we call out specific experiences and offer comparisons to other models we've worn.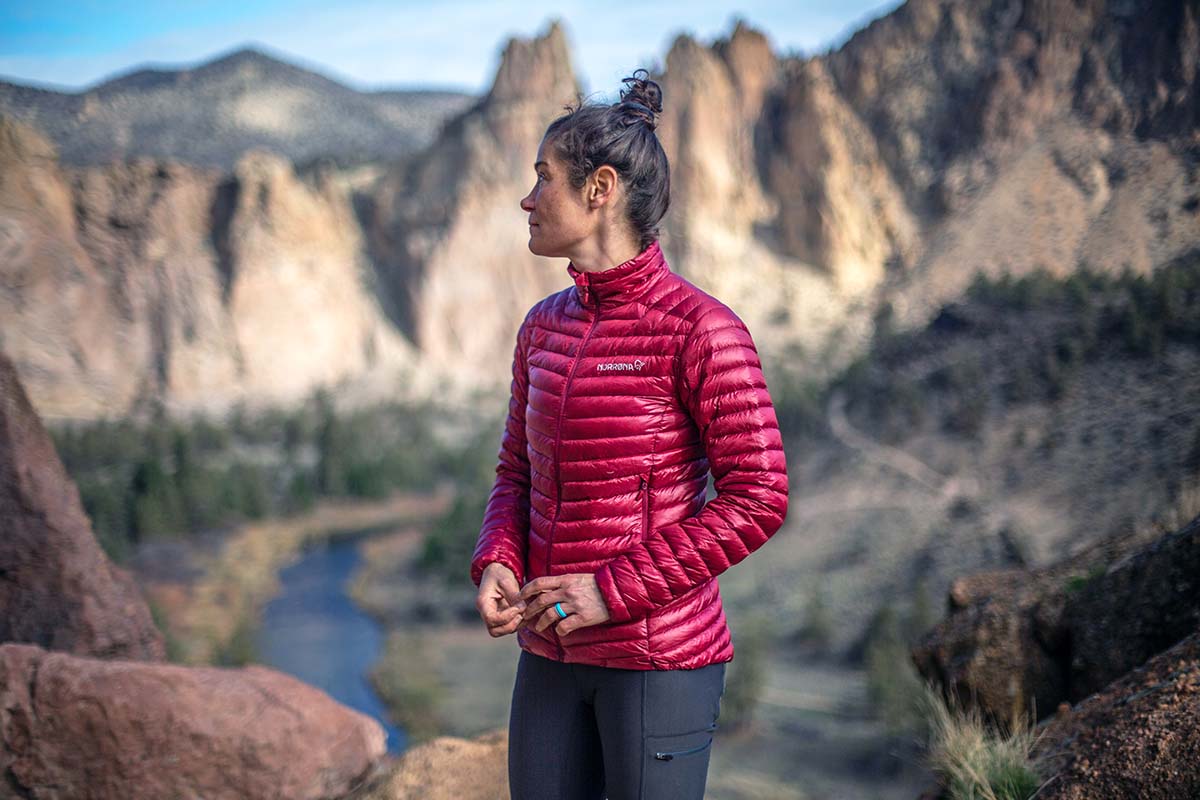 Our Down Jacket Picks
Now that you've got all the background on how to choose a down jacket, here are our top recommendations. For even more picks, check out our full articles on the best down jackets and best women's down jackets.
Best Overall Down Jacket: Patagonia Down Sweater men's / Down Sweater women's
Best Ultralight: Mountain Hardwear Ghost Whisperer/2 men's / Ghost Whisperer/2 women's
Best Budget: REI Co-op 650 Down 2.0 men's / REI Co-op 650 Down 2.0 women's
Best Heavyweight Down Jacket: Rab Neutrino Pro men's / Rab Neutrino Pro women's
Best for Everyday Use: Patagonia Silent Down men's / Patagonia Silent Down women's
Read More From Switchback Travel