As your outermost layer, ski jackets play a key role in keeping you comfortable and protected from the elements. The jacket market has expanded in recent years, covering everything from warm and cozy insulated resort pieces to light, breathable, and stretchy models for backcountry travel. Below we detail all the important considerations in selecting the right ski jacket for you. To check out our favorite designs of the season, see our articles on the best ski jackets and best women's ski jackets.
 
---
Ski Jacket Considerations
---

1. Resort and/or Backcountry? 
First up in choosing a ski jacket is thinking through your planned uses. If you'll be in bounds at the resort, your needs will be fairly simple: staying warm and dry. There certainly are other considerations like pockets and build quality, but it's mostly about managing comfort for the cold ride up and trip down. On the other hand, those exploring the backcountry need a jacket that breathes well, offers good mobility without restricting movement, and is light and compressible enough to throw into a pack. Finally, a growing number of riders want something that can be used for both resort and backcountry use, mixing high levels of weather protection with freedom of movement, ventilation, and comfort. The good news is that there are lots of quality options at a range of price points that line up with these uses.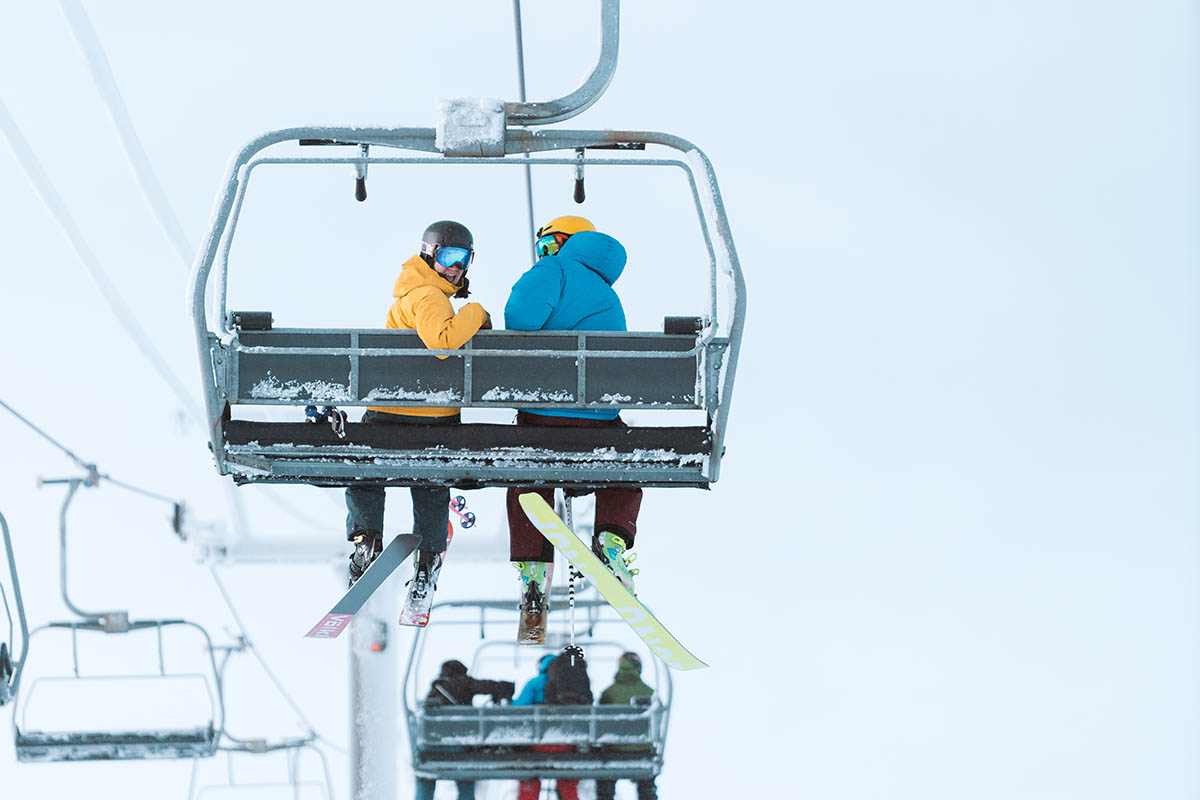 2. Pick the Right Ski Jacket Type
The next step is nailing down the ideal jacket type. The four styles below vary substantially: Shell jackets are light and versatile, insulated models are cozy and warm, 3-in-1s offer a lot of bang for your buck, and softshells are stretchy and breathable. Backcountry users will want either a shell or softshell jacket in almost all situations, while the top three options are fair game among resort-goers. For a more detailed breakdown on the topic, we cover the pros and cons of shell, insulated, and 3-in-1 designs here.

Insulated
For a healthy portion of resort skiers, an insulated jacket is the best choice. Their one-piece, substantial builds are comfy and do an admirable job isolating you from cold and wet conditions. In terms of insulation type, synthetic is the most popular as it's more affordable and continues to insulate even when wet. You'll see the occasional down piece, like Arc'teryx's luxurious Macai, but even the Macai has synthetic insulation in areas most vulnerable to moisture (when down gets wet, it won't keep you warm). It's also worth noting that the amount of insulation can vary within this category. When paired with a quality baselayer, some lightweight insulated jackets are warm enough to only around freezing, while others like the aforementioned Macai can be comfortable down into the single digits Fahrenheit.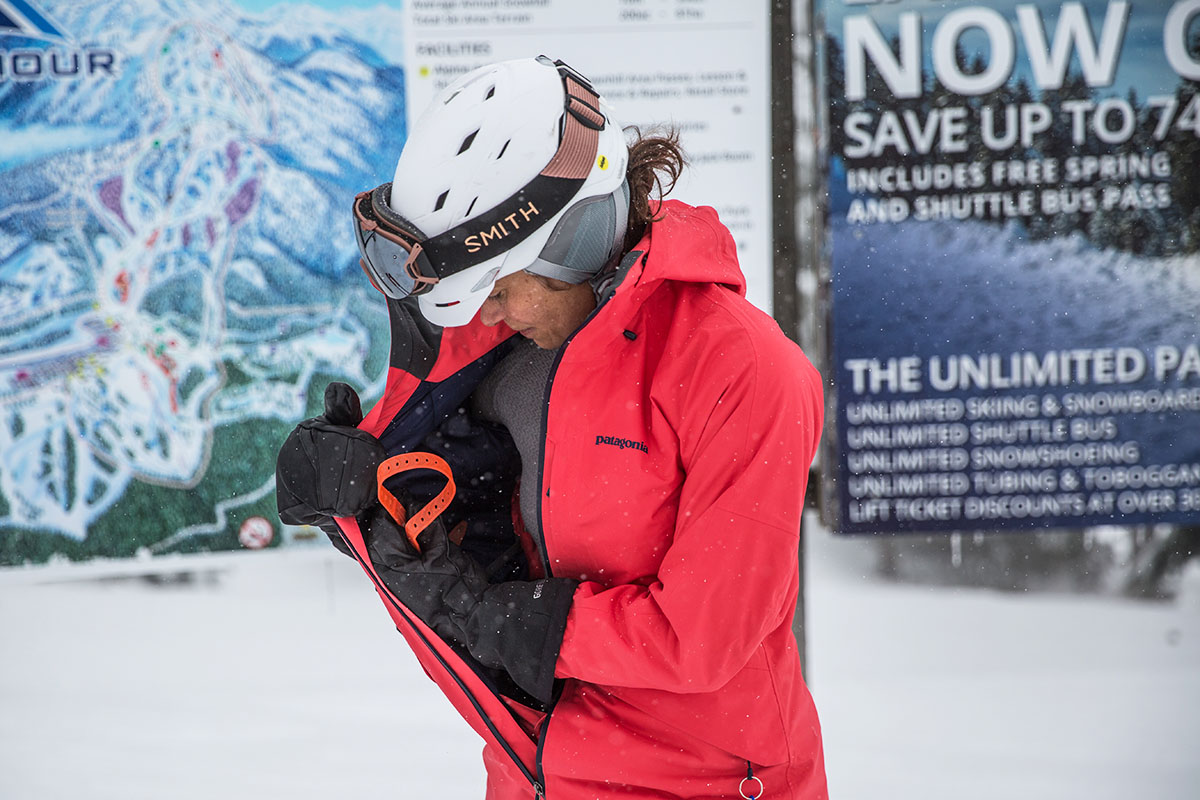 Shell Jackets
As the name indicates, shell jackets are uninsulated and relatively thin and light. In general, they fall into two camps: resort-focused designs that have sturdy constructions, plenty of storage, and a generous fit, and more technical backcountry hardshells that are streamlined and packable. Both styles provide excellent weather protection and are well-suited for a wide range of conditions—you won't overheat on warm days, and you can layer heavily underneath in the cold. But given their lack of insulation, shells are less appealing for comfort-oriented skiers who want a cozy setup, and they're not as good of a value overall as the two categories below since you still need an insulating layer. But they win out in all-around versatility and are a great option among serious riders.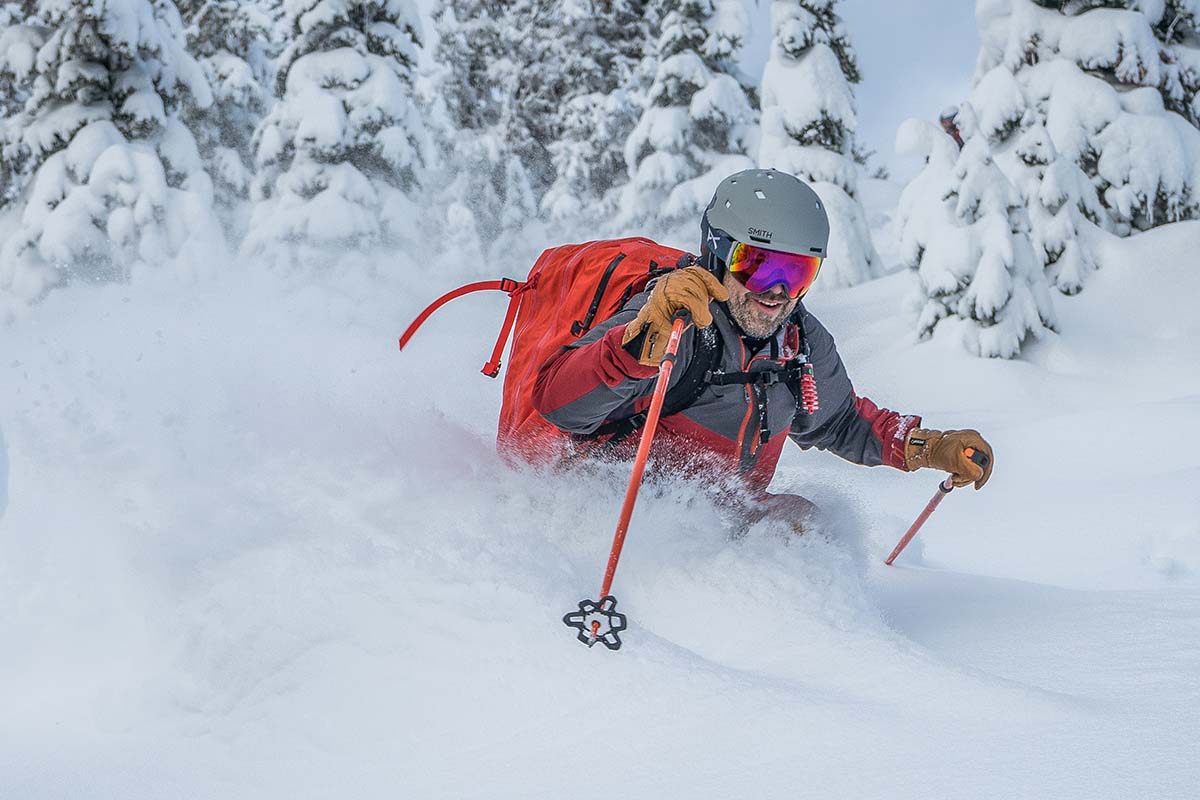 3-in-1s
A popular choice among budget-seekers is the 3-in-1 style, which combines both an outer shell and zip-in insulated layer in a single package. The biggest argument here is value: You can get waterproof protection, sufficient warmth for most resort days, and the versatility to wear the insulated jacket as an around-town piece for approximately $200. Even a higher-quality design like The North Face's ThermoBall Eco Snow Triclimate is pretty affordable at $400 considering you're getting multiple layers in one. Compromises include a pretty substantial jump in weight and all-around bulk, plus the budget-minded constructions aren't impressive in terms of fit and finish. But the all-in-one solution simplifies the jacket buying process, offers nice versatility, and is a good way to save money for those just getting into the sport.

Softshells
Finally, softshells are the least common jacket type but have their place among backcountry skiers in areas known for dry snow (think Utah and Colorado). Their lack of full waterproofing drops them from consideration in rough weather or at the resort, but by removing the waterproof membrane, you get a big leap in breathability. In addition, there's a healthy portion of spandex in their constructions, which greatly increases mobility and comfort for high-output activities like touring. Again, these are niche products that lack the versatility of a standard waterproof build (note: There are a number of crossover softshell/hardshells that provide an upgrade in protection), but softshells serve as excellent secondary jackets for mild weather or spring missions. One of our favorites is Dynafit's Free Infinium Hybrid, which pairs a windproof and water-resistant Gore-Tex Infinium shell with 2-layer softshell at the lower body.

3. Cost
Ski jacket prices vary widely, from budget-friendly options like the REI Co-op Powderbound ($199) to the eye-wateringly expensive Arc'teryx Macai ($1,100). And the truth is that both the REI and Arc'teryx will keep you reasonably dry and comfortable for most days on the slopes. Downsides in choosing an entry-level design are that they are consistently heavier and bulkier due to the cheaper materials, won't last as many seasons on average before starting to break down, skimp on features like pit zips, and don't have nearly the same premium look and feel. Spending more gets you better mobility, improved weather protection, and increased breathability due to the higher-quality fabrics and waterproof constructions. In addition, the smaller pieces improve: Zippers work more smoothly, and hoods offer superior adjustability and coverage. In the end, beginner skiers or those who don't make it out all that often will be fine with a cheaper jacket, while more serious riders will likely appreciate the upgrades that come with increasing the budget.

4. Weather Protection
With the exception of softshells, the vast majority of ski jackets are waterproof and offer solid protection from snow and wind. They have durable water repellant (DWR) coatings on the outer shells to shed moisture, seam sealing, and internal membranes that block water from getting through (we cover this in more detail in "Jacket Layers" below). Gore-Tex has been the standard bearer for years among top-end ski jackets, and it's well known for being durable, long-lasting, and a reliable performer in harsh conditions. Moreover, many in-house designs hold up just as effectively, including Patagonia's H2No and Helly Hansen's Helly Tech. Even jackets at the cheap end of the spectrum like Columbia's Bugaboo II Fleece Interchange shed snow and block gusts pretty darn well.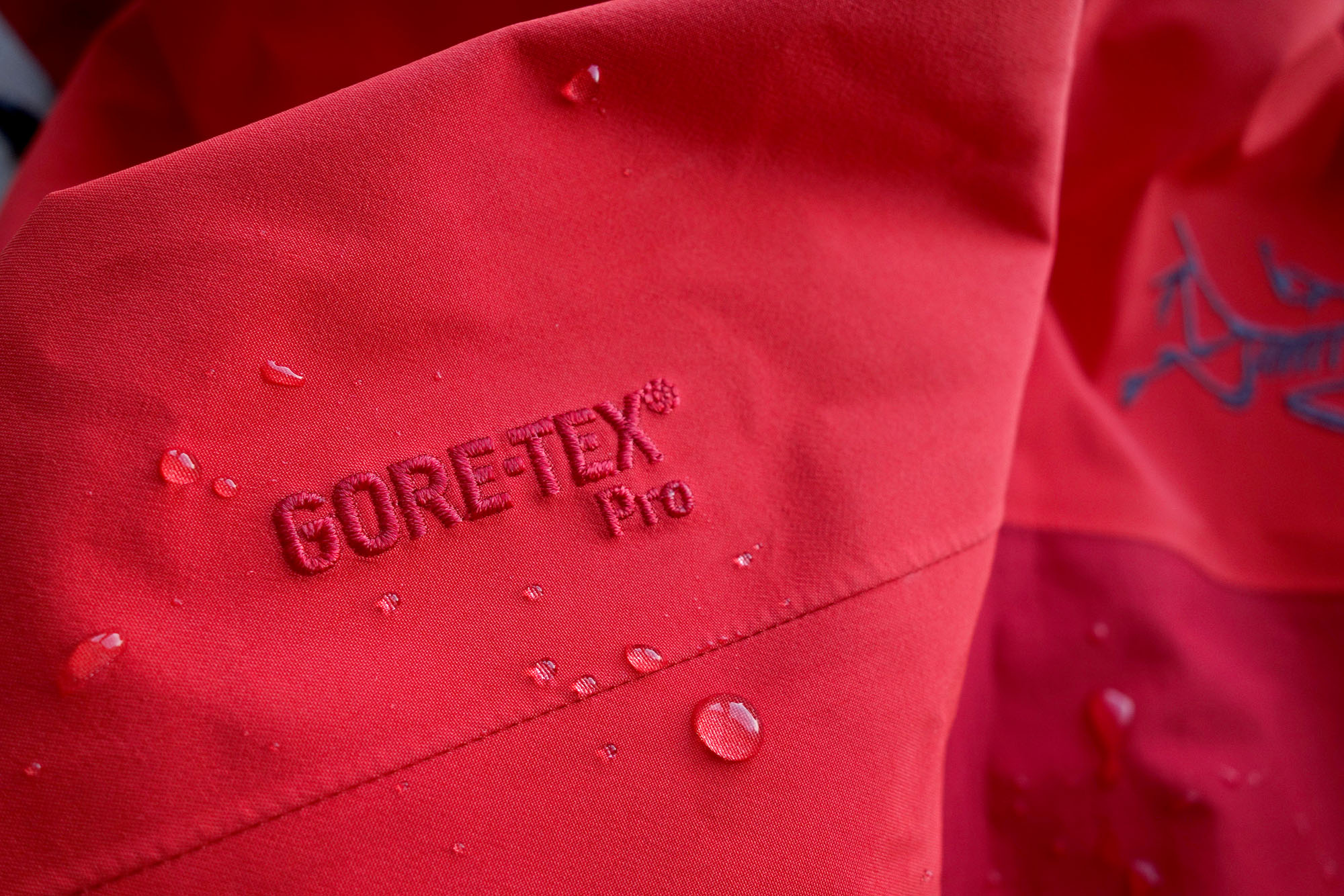 That being said, the cheaper you go, the thicker the constructions get to compensate for the entry-level materials. This leads to a fair amount of extra weight and bulk, which can be a nuisance for skiers who prefer to keep things light and simple. In addition, budget-oriented waterproofing doesn't hold up as well over time and will start absorbing moisture earlier than pricier alternatives. As with a lot of decisions in choosing a ski jacket, your preferences in regard to weather protection will come down to budget and how often you plan to hit the slopes.

5. Jacket Layers: 2L vs. 3L
As you dive deeper into your ski jacket hunt, you'll invariably see references to fabric layers and "2L" or "3L." In short, these relate to how your jacket is constructed. A 2-layer build bonds an outer face fabric to a waterproof membrane, with a separate "hanging" liner along the interior (often made with mesh). 3-layer constructions, on the other hand, connect three pieces together: face fabric, membrane, and a smooth fabric liner.
Starting with 2-layer jackets, these are associated with budget and mid-range resort models, ranging in price from about $200 to $500. They provide good waterproof protection and durability, but the separate liner adds a fair amount of bulk and doesn't breathe all that well. 3-layer jackets are more premium, start closer to $400, and can reach $750 or more for top-end builds from brands like Arc'teryx. What you're paying for is superior performance and less weight. They're excellent at repelling all forms of wind and moisture, weigh substantially less, aren't as cumbersome, and are the clear leaders in terms of breathability. In the end, 2- and 3-layer jackets are viable options for resort skiers, but 3-layer is king in the backcountry. For a more in-depth look at the topic, check out our article Ski Jacket Construction: 2L vs. 3L.

6. Durability
Everything from getting on and off the lift to skiing through trees can wreak havoc on your gear, and as a result, ski jackets are pretty durable overall. Denier, or "D," is how fabric thickness is measured, and a higher number correlates with a thicker build. Reporting is a little inconsistent, but in general, resort skiers are best off with a burlier construction, and some of our favorites are about 100D and up. If you prioritize a lighter setup for mobility but still want something tough, jackets with about 80D like the Arc'teryx Sabre are a great compromise. And finally, backcountry shells are often the thinnest for weight savings, with popular jackets ranging from 40D (Patagonia's PowSlayer) to 70D (Outdoor Research's Hemispheres II) or more. And in the cases where a manufacturer doesn't provide the specification, you can make some safe assumptions based on its intended use: Expect a thicker build with a resort shell and a bit less durability for active and touring designs.

7. Does Breathability Matter to You?
Whether or not a breathable jacket is a priority lines up directly with your planned uses. For dedicated downhill riding, staying cool is a pretty low consideration. It's true you can work up a sweat on longer runs, but that can be easily fixed by swapping to a lighter midlayer or unzipping the collar of the jacket. If, however, you'll be doing sidecountry hikes or full-on backcountry touring, breathability makes a big jump in importance. As mentioned above, the best breathers are softshells, although they're also the worst performers in the wet. 3-layer hardshells are next up, and some jackets like Outdoor Research's Skytour are truly impressive.

Pit Zips
A key component of staying cool at both the resort and in the backcountry are pit zips (also referred to as "underarm vents"). Opening them is a great way to quickly dump heat during a hike or especially long and challenging descent. And it's fairly easy to zip them closed when you want to maximize warmth. The vast majority of shell and insulated mid-range and high-end ski jackets have this feature, but it is a notable exclusion among entry-level models. If you're prone to running hot or plan to travel uphill in any manner, it's worth putting pit zips on your must-have list.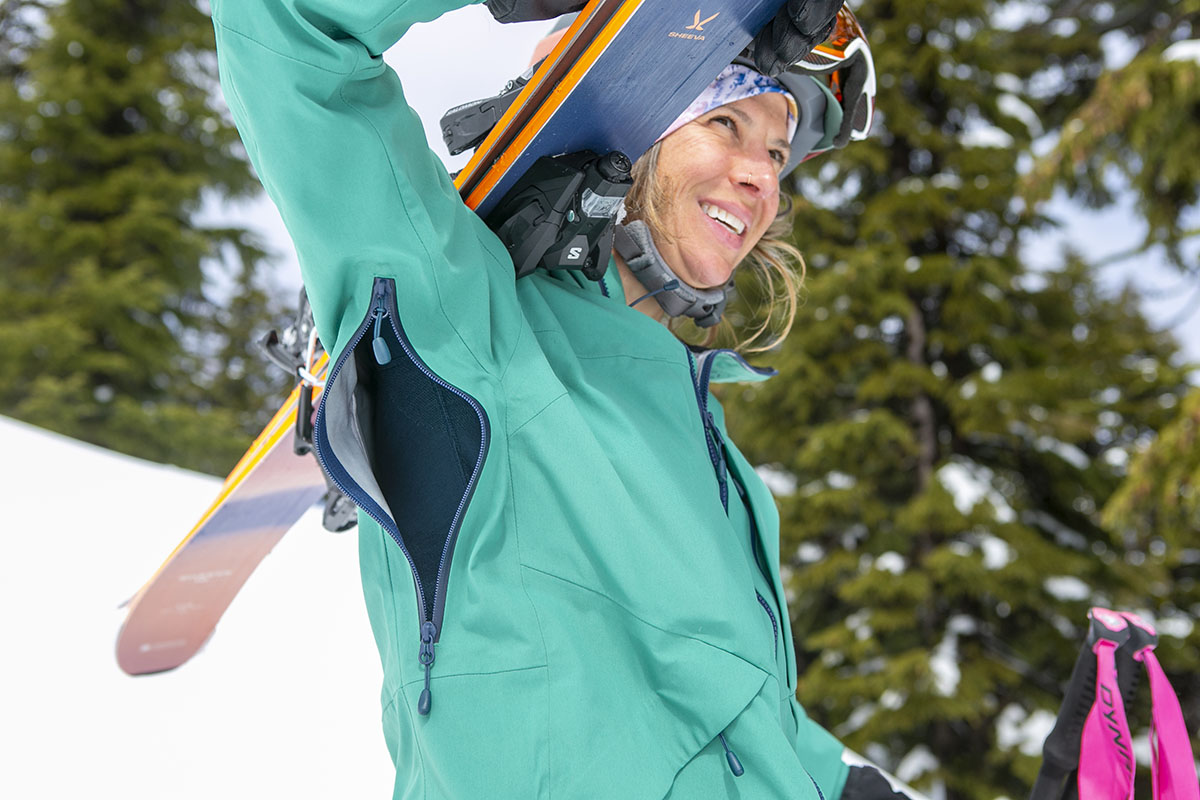 8. Other Key Features
Organization: Pockets
There are a surprising number of possible items you'll need to store in your jacket, from a phone and lift pass to car keys and snacks. And that's just for lapping the resort—backcountry skiers have other possible needs like storing climbing skins and an avalanche transceiver. How much storage you need is mostly a personal decision: Do you have quick access to your car and leave most of your extras behind or at the lodge? Then a more minimal setup with a couple hand pockets and a sleeve or chest pocket for storing small items will do. But if you plan to carry a fair amount of gear and want it to be organized and easily accessible, then make sure to choose a jacket with five or more total pockets of varying sizes. Last but not least, those with a lot of gear always can opt for a ski backpack to supplement the storage of their jacket.

Hood
Hoods provide an important additional layer of protection around the head and neck in rough conditions, and most designs on the market are fairly adjustable and large enough to fit over a ski helmet. Spending more typically gets you better coverage and more ways to tweak the fit. For example, Arc'teryx's StormHood—found on many of their premium ski shells including the aforementioned Macai, $750 Sabre Jacket, and $749 Rush Jacket—is highly adjustable with multiple drawcords for cinching things down, slides comfortably over a bulky ski helmet, and offers great protection without impeding peripheral vision or range of motion.

Powder Skirt
Powder skirts—also known as snow skirts—attach to jackets near the waist, and buttoning them up helps block snow from sneaking up in a crash or in deep powder. Many also connect to compatible ski pants near the front zipper to create an integrated system for sealing out snow. Most jackets include powder skirts, but they're not mandatory (and leaving them unbuttoned doesn't usually create any excess bulk or discomfort when skiing). And a final point here: If you're thinking about using your ski jacket on occasion around town, look for a design that allows you to remove both the hood and powder skirt for a more streamlined look.

9. Weight and Bulk
A given jacket's weight and bulk are closely related to its type (shell, insulated, 3-in-1) and price tag. Shell jackets are the lightest and least cumbersome, including everything from the 1-pound-3.3-ounce Patagonia PowSlayer (designed for the backcountry) to the 2-pound-1-ounce Backcountry Cottonwoods (best for resort use). Insulated jackets are heavier, and commonly range from 2 to 2.5 pounds. Finally, 3-in-1s are the heaviest and undoubtedly the bulkiest, with the simplest designs starting around 2.5 pounds and going up from there. And within each jacket type, increasing the budget will most often get you more advanced fabrics that are lighter and thinner but no less protective.
We've alluded to this a few times above, but whether or not weight and bulk will be a big factor for you correlates with your skiing style. Throughout a day lapping groomed runs, it's unlikely you'll be annoyed by a moderately bulky 2.5-pound jacket (the walk to and from the lodge may be a different story, however). But active skiers who hit the moguls, jump in and out of the trees, or do a little traversing and sidecountry hiking will want to keep things streamlined. This is where 3-layer jackets thrive: They're relatively thin and light yet provide solid weather protection and reasonable durability. And it almost goes without saying that backcountry skiers put a premium on weight and bulk. Saving ounces and being able to easily stuff away your gear in a pack are valuable considerations.

10. Fit and Sizing
Last but certainly not least is figuring out your ideal fit. Most dedicated resort designs like Patagonia's Insulated Powder Town have a roomy shape to allow for layering and a long cut with a drop hem to provide protection from frozen chairlift seats. On the other end of the spectrum are backcountry-specific builds like the Outdoor Research Skytour, which are trimmed down to minimize bulk and improve range of motion. And a crossover option like the Arc'teryx Sabre lands in the middle: It's large enough to not feel restrictive when wearing a midweight down jacket but has excellent mobility for hiking and occasional uphill travel. An additional factor is whether or not a jacket is insulated, and those without the added warmth are sized larger to accommodate more layers underneath. Further, some brands are known to fit more snugly than others on average. Arc'teryx and Helly Hansen fall into this camp, while other big brands like Patagonia, The North Face, and Columbia are typically cut more generously.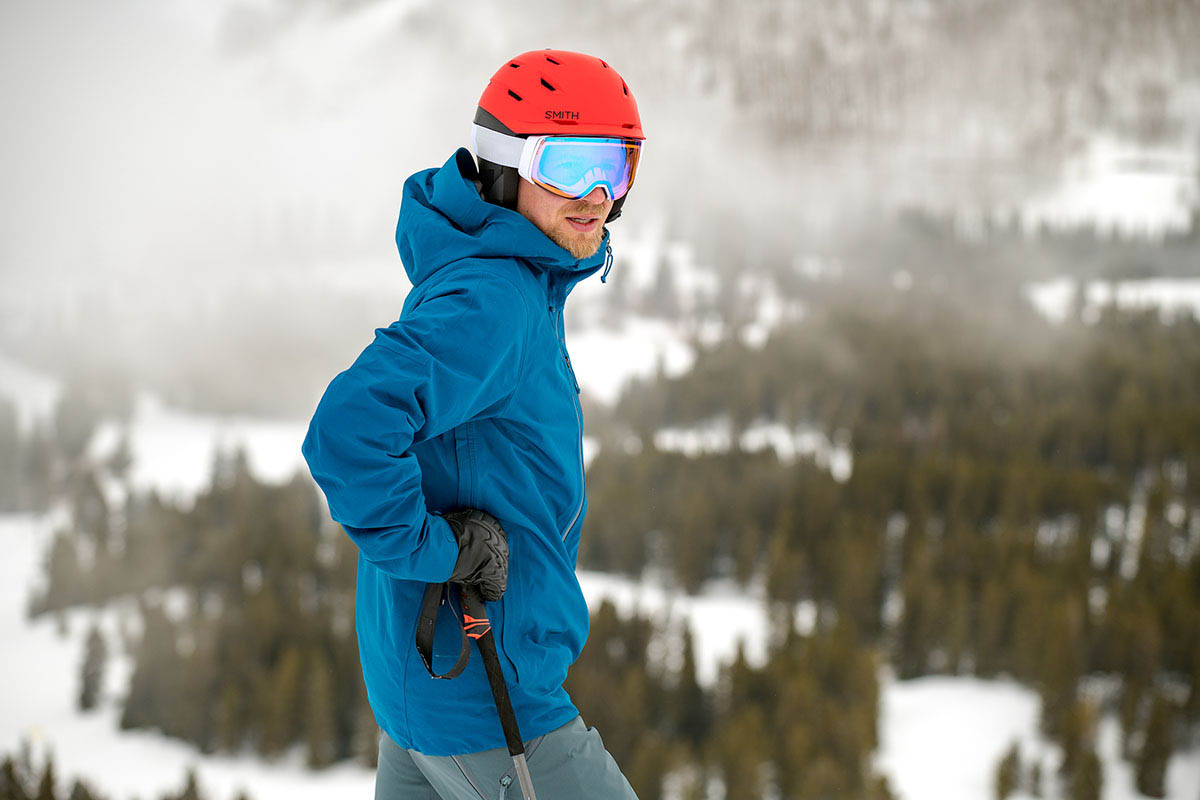 11. Where to Buy Ski Jackets Online
In putting together our buying guides, reviews, and informational content, we've done our fair share of ski outerwear online shopping. Through this, we've found that Evo is a consistent leader: They typically have an excellent selection of brands and available colors, their Black Friday and Cyber Week sales are usually quite strong, they often have last year's products on sale (especially early in the season), and you get free shipping on orders over $50. Backcountry also does well in ski goods, with a good (but not excellent) selection, free shipping over $50, and easy returns. Finally, REI Co-op has made strides of late in ski content—although they still can't match Evo or Backcountry—and their stores nationwide help make it easier for many folks to return products. For a more detailed breakdown, see our article on The 5 Best Sites to Buy Skis and Ski Gear.
 
12. Our Top Ski Jacket Picks
Now that we've broken down all the key steps, it's time for the fun part: selecting the ideal ski jacket. We cover all of our top picks in our articles on the best ski jackets and best women's ski jackets, but below are some of our favorites broken into key categories for both men and women: 
Men's
Best Overall Ski Jacket: Arc'teryx Sabre
Best Budget Ski Jacket: REI Co-op Powderbound
Best Insulated Resort Jacket: Helly Hansen Alpha 4.0
Best Backcountry Ski Jacket: Outdoor Research Skytour
Best 3-in-1 Ski Jacket: The North Face ThermoBall Eco Snow Triclimate
Women's
Best Overall Ski Jacket: Arc'teryx Sentinel
Best Budget Ski Jacket: REI Co-op Powderbound
Best Insulated Resort Jacket: Helly Hansen Alphelia
Best Backcountry Ski Jacket: Patagonia SnowDrifter
Best 3-in-1 Ski Jacket: The North Face ThermoBall Eco Snow Triclimate
Back to Our Ski Jacket Considerations  See Our Ski Gear Reviews
Learn More About Ski Gear