Alpha or Beta, SL, FL, or LT—no matter the combination of letters, Arc'teryx jackets are highly tailored for their intended use. The Alpha SL is their lightest and most packable hardshell and Arc'teryx's answer to emergency weather protection for climbers and other backcountry enthusiasts. I recently bought the jacket and took it straight to where it counts: on a hiking and climbing trip in the windy spires of southern Patagonia. Below are my reflections on the Alpha SL's weather protection, weight, breathability, durability, fit, and more. To see how it measures up to the competition, see our article on the best hardshell jackets.
 
Performance
Wind and Water Protection
For a 9.3-ounce "emergency" jacket, the Arc'teryx Alpha SL still manages to provide an exceptionally high degree of weather protection. The jacket is constructed with waterproof 2.5-layer Gore-Tex Paclite with a DWR finish, every seam is taped, and the two zippers (one main zip and one chest zip) feature Arc'teryx's proprietary WaterTight design (take note: Arc'teryx does not advertise these zippers as being fully waterproof, though in my experience, they come very close). The SL does not have the same streamlined RS zipper slider on the chest pocket as the Alpha FL and SV—instead, a "garage" covers the closure on top where water is able to seep in. There also is a fleecy chin guard on the neck of the zipper, making for a soft buffer when I hid my face away from the elements. Finally, the helmet-compatible StormHood (see more below) offers full coverage, is adjustable, and remains secure even in high winds.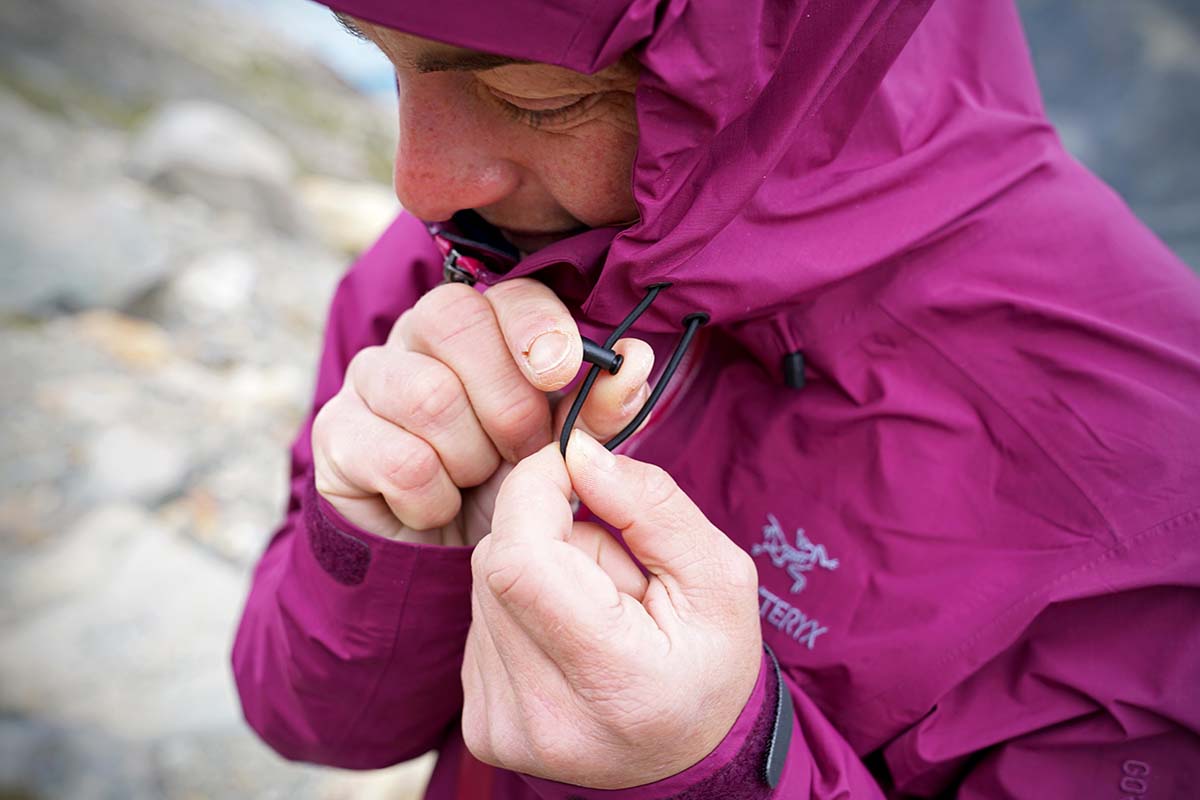 I wore the Alpha SL during a four-day trek through some of the most intense, stereotypically Patagonian wind and rain I've ever experienced. Water beaded up on the shoulders but never threatened to soak through. The hood remained impressively stable despite violent gusts, and the shell material proved to be exceptionally windproof. I did find myself overheating at times (see the breathability section below), but was very impressed at the day in and day out weather protection of this lightweight hardshell.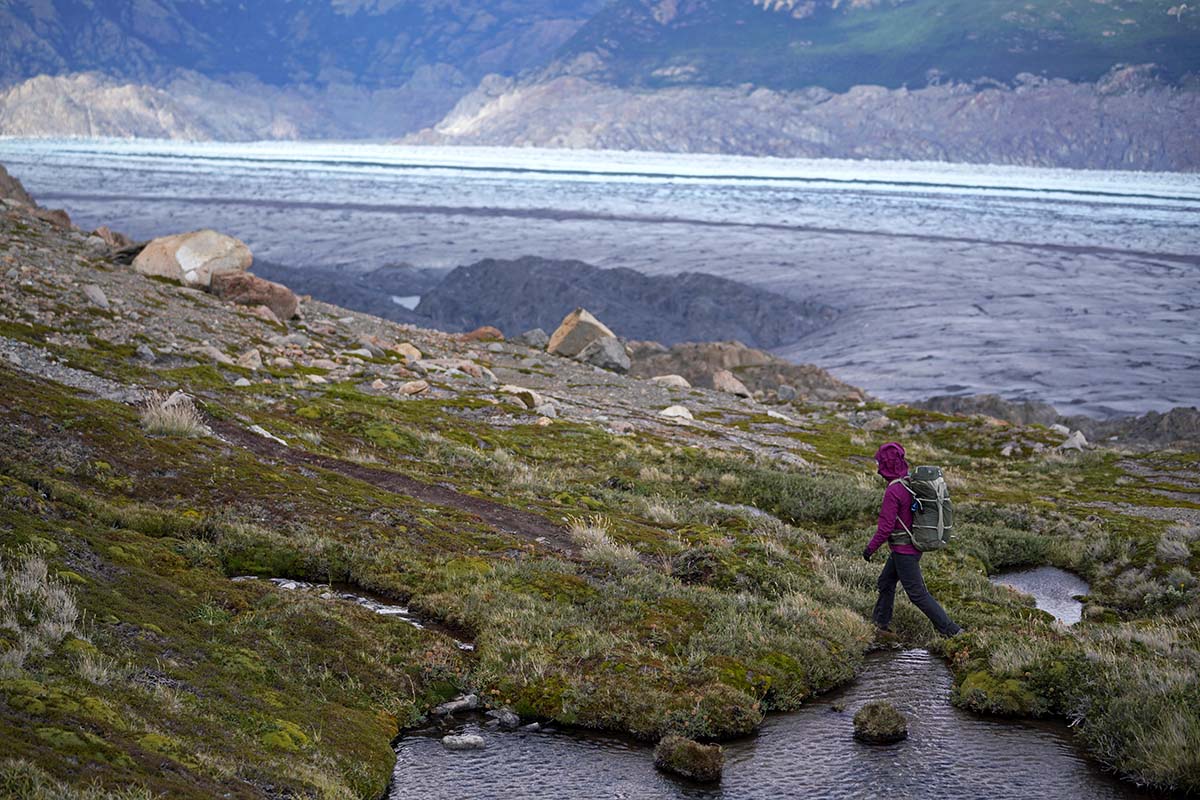 Weight and Packability
The Alpha SL ("SL" stands for superlight) is the lightest hardshell in Arc'teryx's Alpha lineup, clocking in at just 9.3 ounces for a women's medium. Light 40D fabric, a microseam allowance, and a minimalist design shave ounces without sacrificing much in the way of weather protection. Arc'teryx's Alpha FL (fast and light) tips the scales at 10.4 ounces and is made with Gore-Tex Pro, a much more breathable fabric. If we had to choose, we'd likely suck up the additional ounce for an increase in durability and breathability, although that jacket is significantly more expensive at $425. If weight is your top priority, you can cut out even more ounces by opting for a simpler waterproof shell like the Patagonia M10 Anorak (7 ounces) or Outdoor Research Helium II (5.5 ounces), although the M10 pullover does not feature a full zip and the Helium II is much less breathable than the SL.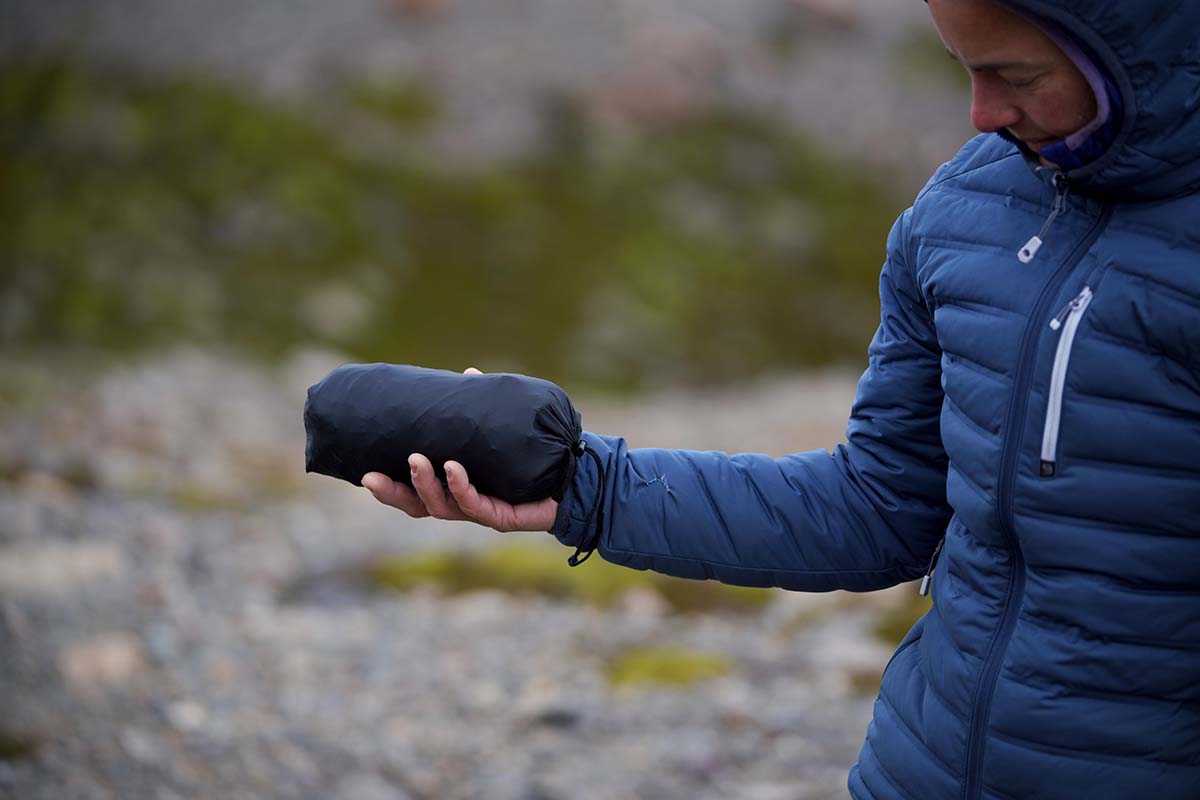 The Alpha SL includes a stuff sack and packs down small to roughly the size of a half liter water bottle. In practice, I found it to be rather cumbersome to stuff into the accompanying sack and would prefer that it instead stuffed into one of its own pockets. The stuff sack does have a loop for hooking onto a harness with a carabiner, although if I'm going to be bringing an emergency rain layer on a climb, I'm very likely to be toting a backpack as well.
 
Breathability
Given its status as an "emergency layer," the Alpha SL forgoes a few comforts to combine weather protection with a low weight, and breathability is one of these sacrifices. The jacket is made with 2.5-layer Gore-Tex Paclite, a lightweight and packable material that is less breathable than the class-leading (and heavier) Gore-Tex Pro found on the Alpha FL. The SL (as well as the FL) also lacks pit zips, which limits its ability to quickly dump heat. As a result, this jacket isn't your everyday go-to layer for high-output activities in inclement weather—a jacket like the Alpha or Beta AR would be a better choice.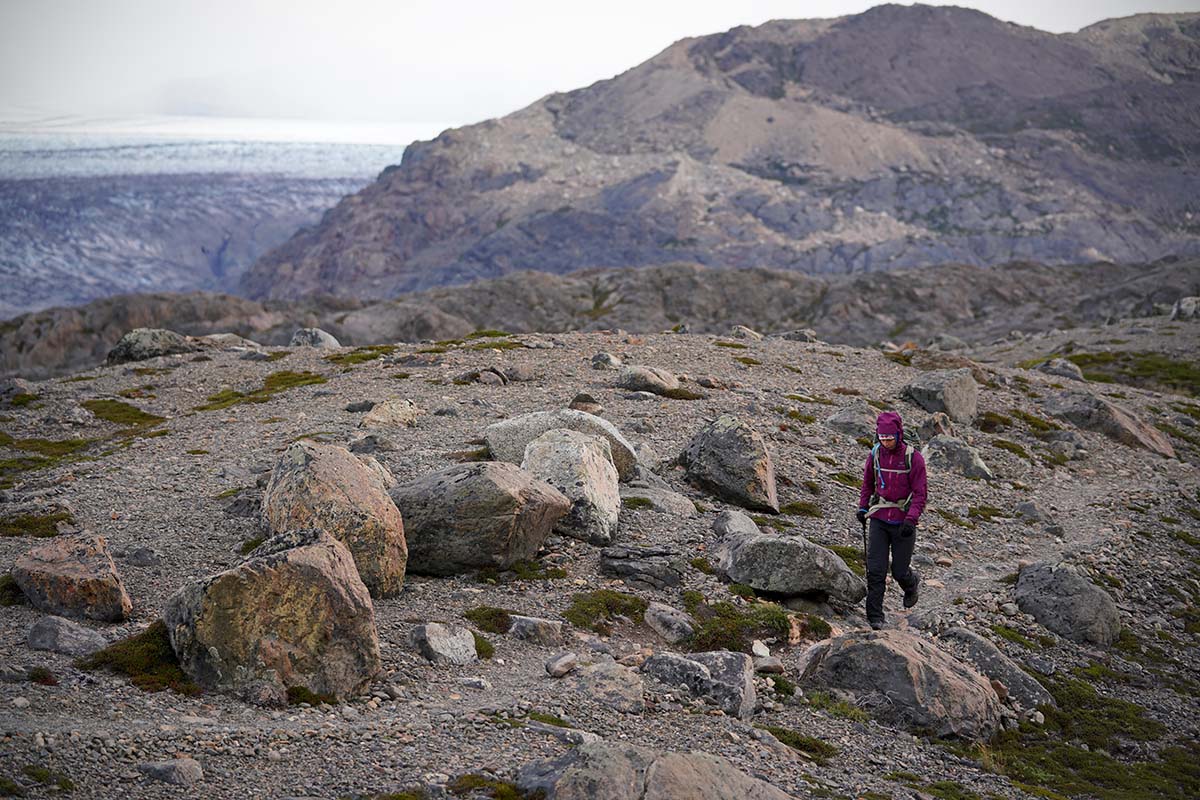 All that said, compared to other emergency layers or lightweight, climbing hardshells, the breathability of the Alpha SL is quite good. In fact, jackets like Outdoor Research's Helium II and the Montane Minimus don't even come close. During the 4-day Huemul Circuit, I wore the Alpha SL consistently on the trail—even on the steep ascent of Paso del Viento—and not once experienced overheating. On one occasion, I layered it over a t-shirt and was impressed with how comfortable it was against my skin—silky rather than clammy. Again, there are limitations in terms of breathability and it falls well short of a Gore-Tex Pro or Active design, but the Alpha SL is a solid performer considering its price and weight.
 
Build Quality and Durability
As we've come to expect from Arc'teryx products, the Alpha SL is incredibly well constructed, with details such as a microseam allowance, taped seams, and the much-loved StormHood design. That said, as a lightweight emergency layer, the Alpha SL certainly is not the most durable jacket in Arc'teryx's line-up. Made with 40-denier nylon face fabric and added ripstop construction, it's an alpinist's ideal compromise of weight, performance, and durability. A burlier hardshell like the Alpha AR, made with a combination of 80D and 40D face fabric, is a much more durable jacket overall but at the cost of 3.6 ounces and a whopping $300.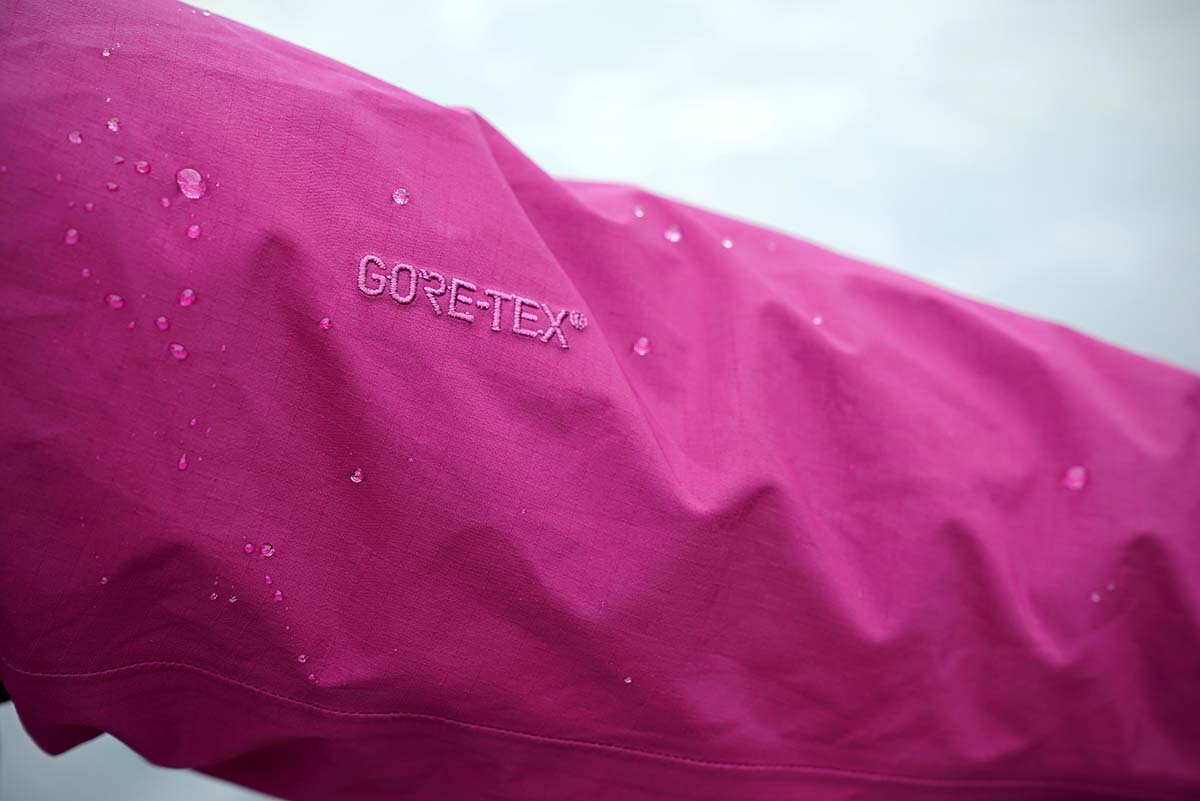 As an emergency layer, I haven't truly had the opportunity to put the Alpha SL through the ringer. As I rarely climb on days where precipitation is a threat—even in the alpine—I foresee mostly leaving this jacket stuffed at the bottom of my pack for just-in-case situations. Because of this, I don't need this jacket to be highly durable. I would rather prioritize weight savings, packability, and weather protection, which the Alpha SL delivers. 
 
Key Design Features 
Pockets
With a highly minimalist design, the Alpha SL cuts a great deal of features in order to save weight. It has no pit zips or hand pockets, but rather just a full-zip entry and a large zippered chest pocket on the left side, both with water resistant WaterTight zippers. When I found myself wearing this layer as more than just an emergency shell (I brought it along as my hardshell on the Huemul Circuit) I missed the ability to put my hands in my pockets or easily store belongings away. That said, I'm happy with this jacket as a just-in-case layer—it's just about as streamlined and lightweight as possible.


StormHood
No one does hoods quite as well as Arc'teryx. Their StormHood is helmet-compatible with streamlined adjustability and a secure fit. One drawcord adjustment at the back of the head and two at the front can be smoothly tightened or released with one hand. The hood accommodates my head nicely with or without a helmet, and stayed stable even in the strongest of Patagonian winds. Furthermore, the brim of the hood is laminated, providing an extra barrier between my face and the elements.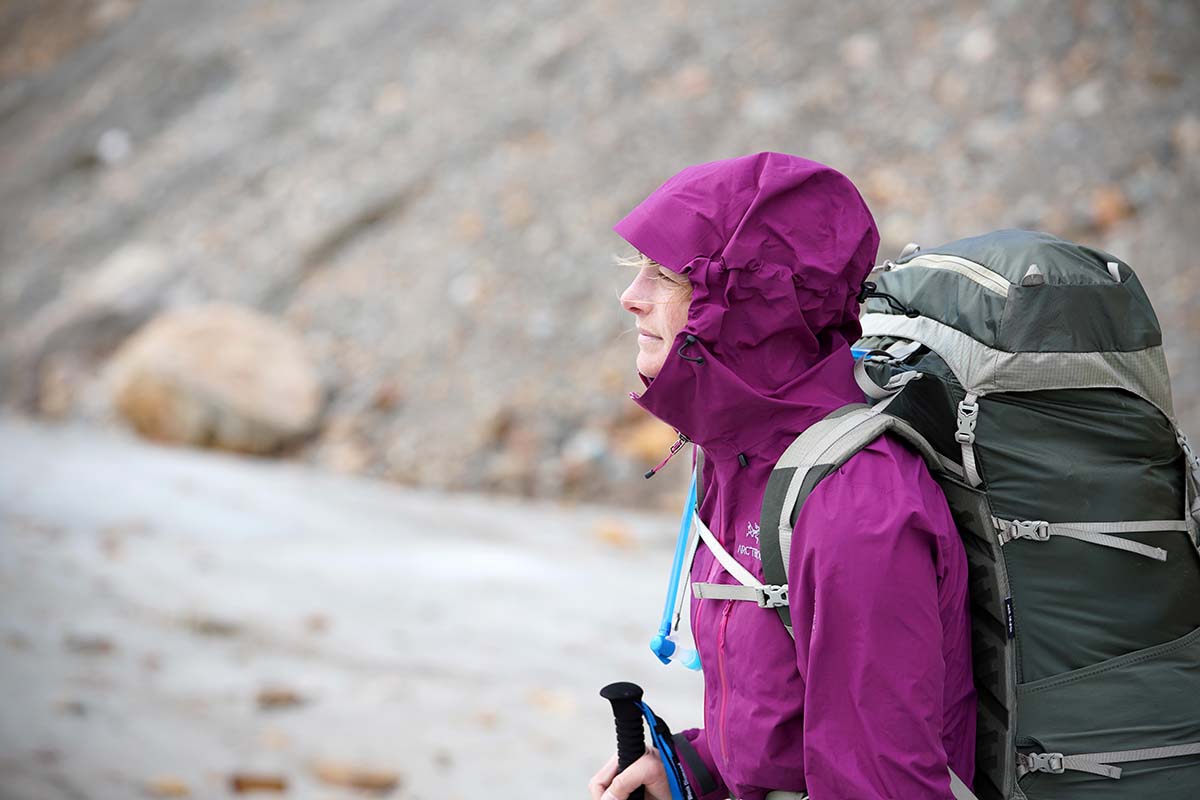 Harness-Compatible Hem
The Alpha SL is made with a harness-compatible hem, which is Arc'teryx's way of ensuring that the jacket does not rise above the harness. To be honest, I don't find this system totally necessary. The length of the SL combined with the gusseted underarms keeps it well below my harness, even while climbing. The cord locks on the hem are the same as those on the StormHood and able to be adjusted with one hand. This is especially helpful on the go—whether you're belaying your partner or riding a bike down a dirt road, it's nice to be able to make adjustments with one hand.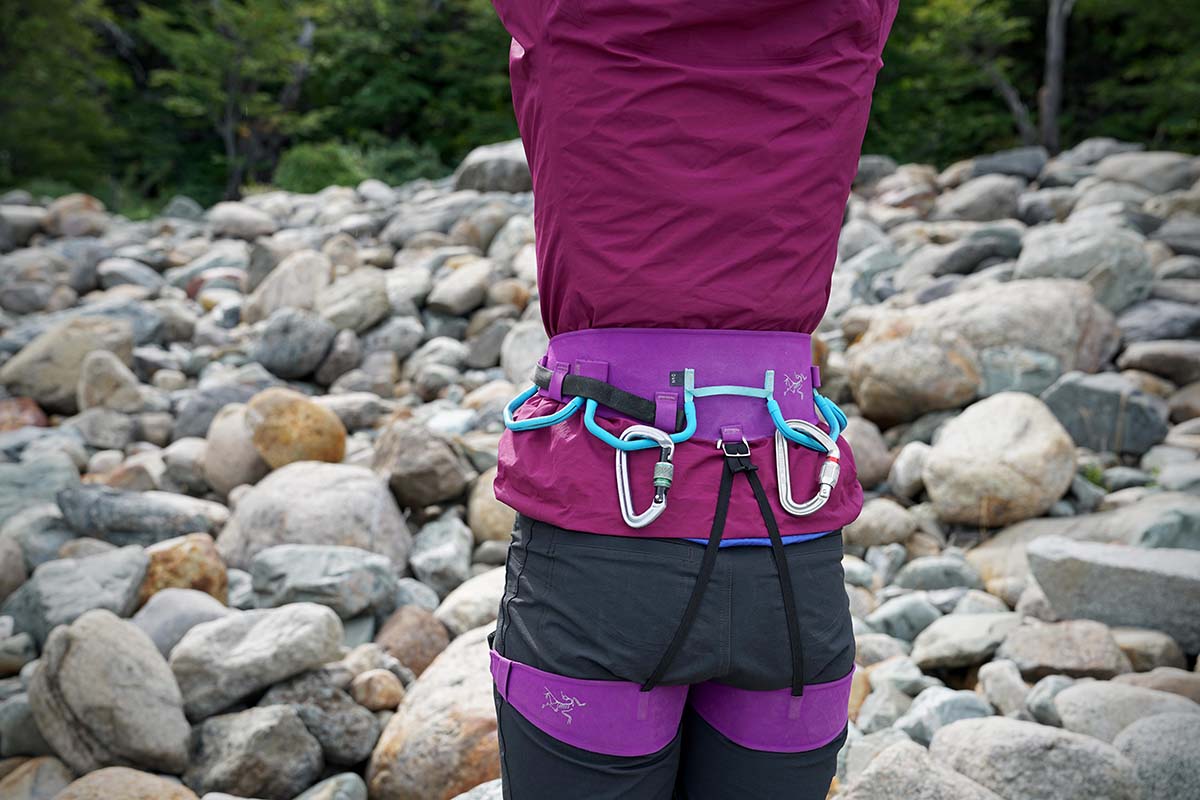 Fit and Sizing
The Alpha SL falls into Arc'teryx's trim fit category, sized to fit over a baselayer and a thin insulating layer. It is slimmed down to save on weight and space but still maintains a great range of motion for emergency use in alpine environments. It has gusseted underarms, articulated elbows, a long drop-back hemline for full coverage and range of motion, and the trim fit allows you to see gear hanging from your harness without a bulk of fabric getting in the way. The SL fits me true to size and I commonly layer it over my Atom LT synthetic jacket. The SL is not designed to fit over bulkier insulating layers, but if that is your intended use, I recommend sizing up. 
 
Men's and Other Versions
We tested the women's version of the Arc'teryx Alpha SL jacket, and it also comes in a men's version for the same price ($279). The men's Alpha SL weighs slightly more at 10.8 ounces and comes in varying colorways but has a nearly identical design overall. As we've come to expect from Arc'teryx, they also offer the climbing-oriented Alpha family in FL (fast and light), SV (severe weather), AR (all-around), and now IS (insulated) versions, each offering varying levels of warmth, ventilation, weather protection, and features.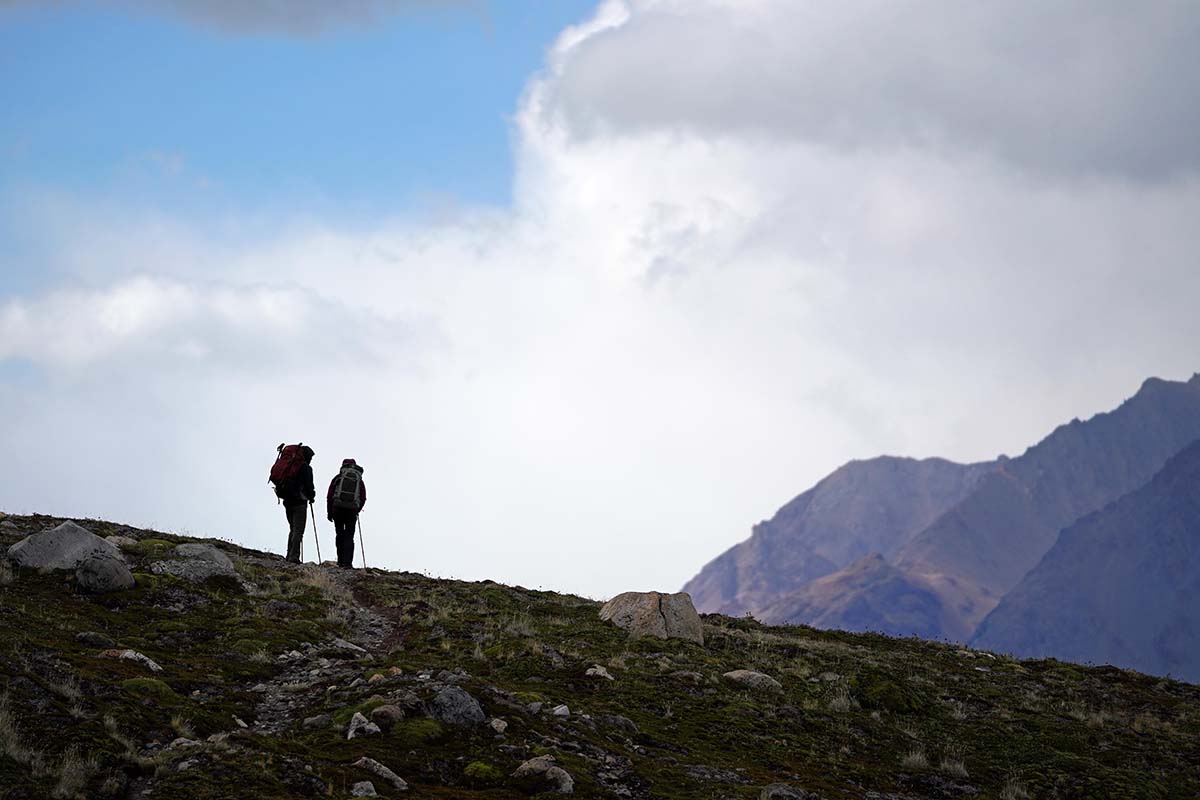 What We Like
All the weather protection and none of the frills make this Arc'teryx's lightest weight hardshell.
Gusseted underarms, articulated elbows, and a long dropback hemline allow the Alpha SL to move with you.
The StormHood adjusts flawlessly and stays put in high winds. No one does hoods as well as Arc'teryx.
 
What We Don't
The use of Gore-Tex Paclite fabric and no pit zips mean this jacket does not excel in breathability.
Lacks durability and some of the functional features of Arc'teryx's more versatile jackets.
Doesn't stuff into its own pocket and we didn't love the included stuff sack.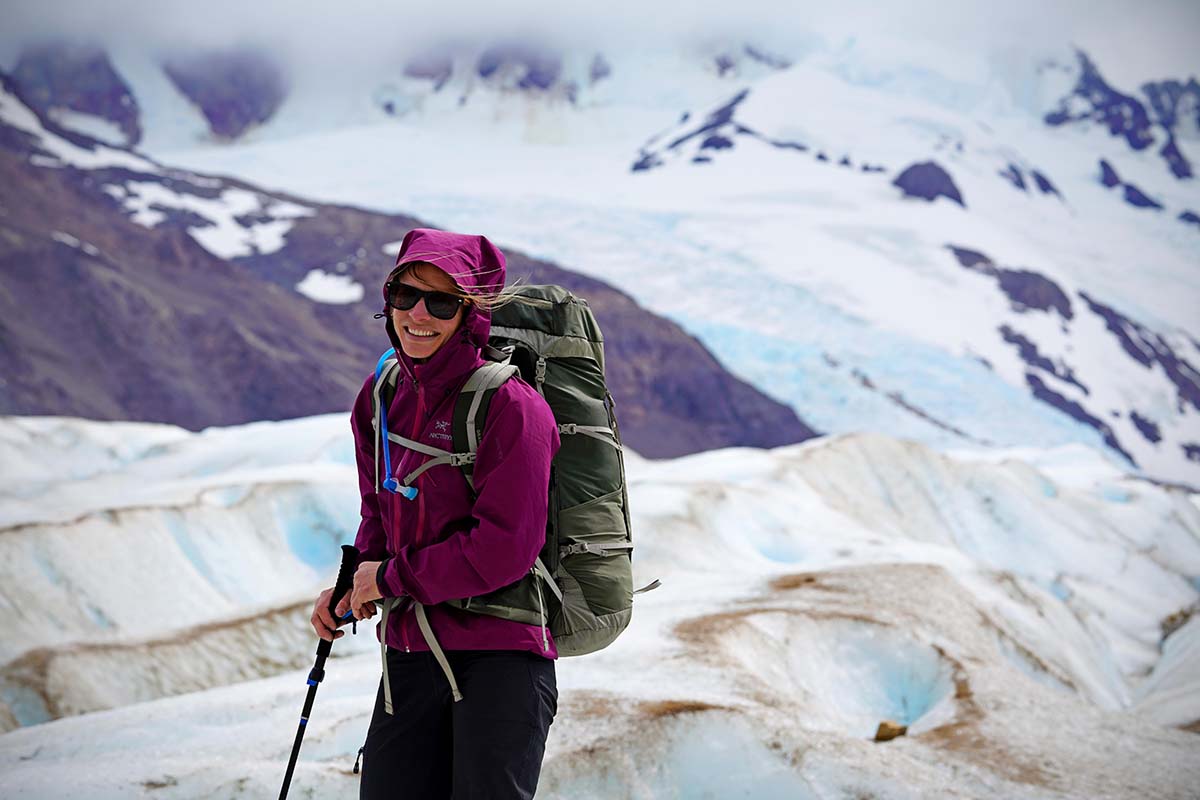 Comparison Table

The Competition
Alpine enthusiasts always are after the fastest and the lightest, and in this respect, the Alpha SL has a number of competitors. Patagonia's well-loved M10 Anorak at $379 is more than 2 ounces lighter and made with a more breathable 3-layer waterproof fabric. It's a noticeably slimmed-down jacket that lacks features such as a full-length main zipper, Velcro-adjustable cuffs, and a fully adjustable hood. But for an emergency layer, it's hard to beat. Unfortunately, at the time of publishing, Patagonia has reduced the M10 line to only the men's Anorak version (and it's only available through Patagonia directly).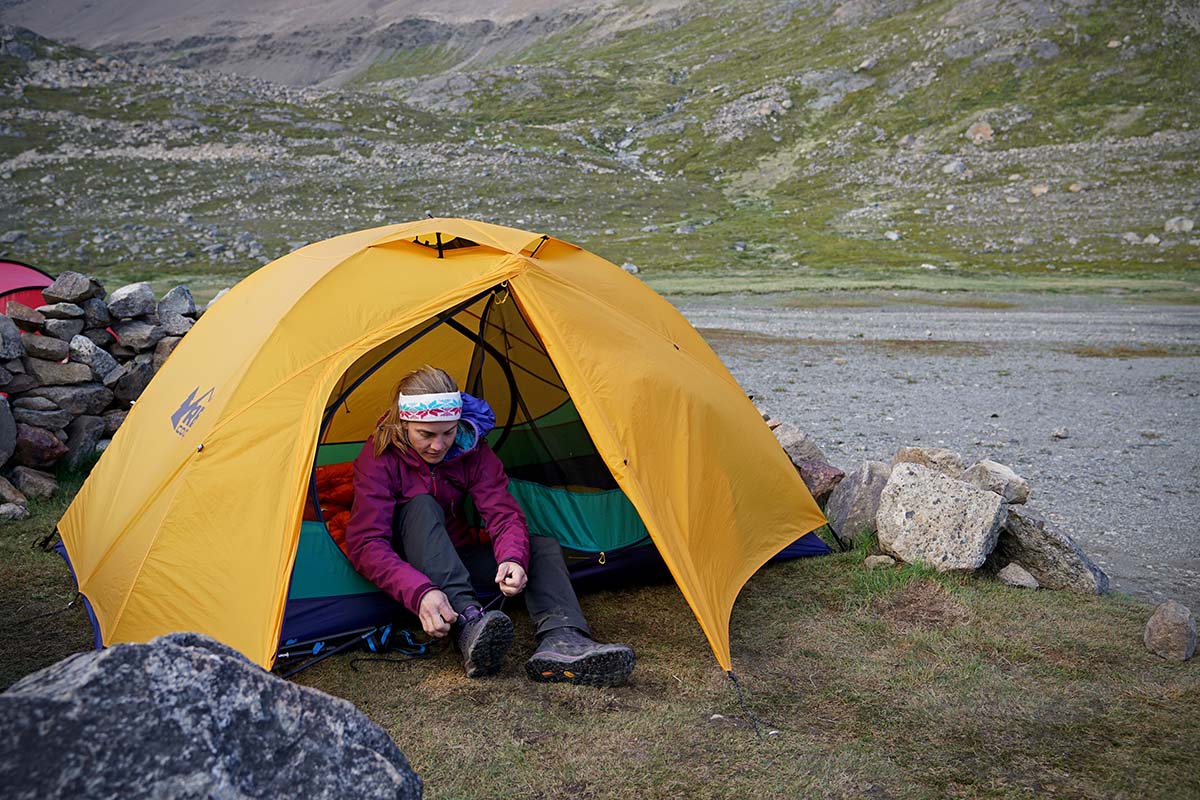 Moving more into the rain jacket category, Outdoor Research's Helium II is just 5.5 ounces and $159, but you sacrifice the breathability and high-quality feel of an Arc'teryx or Patagonia layer. The low weight and cost of the OR have made it an extremely popular emergency shell for years, and it is very easy to attach to a harness or stuff into a tiny crevice of your pack. But for those heading out into rough conditions, we think the Alpha SL's tougher build is worth the additional 4 ounces. 
Within Arc'teryx's massive lineup of alpine-ready hardshells, the Alpha SL is rivaled by a number of models. First and foremost is the 10.4-ounce Alpha FL ($425), the closest sibling of the SL. The biggest distinction between these two jackets is the type of Gore-Tex: the FL is made with a top-of-the-line waterproof and breathable Gore-Tex Pro instead of the SL's Paclite, yet manages to weigh only 1.1 ounces more. The downside of upgrading to the Alpha FL is its cost at $425, or almost $150 more than the SL. For more features like pit zips and side pockets, the Alpha AR ($575) and SV ($749) are worth considering, although these jackets are more for alpine winter use than as an emergency layer.
If you're thinking about buying gear that we've reviewed on Switchback Travel, you can help support us in the process. Just click on any of the seller links above, and if you make a purchase, we receive a small percentage of the transaction. The cost of the product is the same to you but this helps us continue to test and write about outdoor gear. Thanks and we appreciate your support!
Depending on the seller, most products ship free in the United States on orders of $50 or more. International shipping availability and rates vary by seller. The pricing information on this page is updated hourly but we are not responsible for inaccuracies.
Read More From Switchback Travel