Arc'teryx's Alpha series is designed for top-notch climbing and alpine performance, and their "FL" represents fast and light. True to its name, the Alpha FL jacket is minimalist and lightweight, yet meticulously designed and highly protective. We took it bikepacking and trekking in the high alpine of Peru's Cordillera Blanca and Huayhuash to test it in the Southern Hemisphere's winter conditions. The jacket fit the bill perfectly: it was easy to carry during hot days, and provided wind protection in the bitter cold mornings and evenings and dependable shelter from the elements when rain and sleet swept through the mountain passes. Below we break down the Alpha FL's weather protection, breathability, weight, durability, fit, and more. To see how it stacks up against the competition, see our article on the best hardshell jackets.
 
Performance
Weather Protection
At just over 10 ounces, the Arc'teryx Alpha FL is lightweight for a hardshell but does not compromise on weather protection. The jacket is constructed with 3-layer Gore-Tex Pro, well known for its waterproofing capabilities, and the 40-denier face fabric provides an ideal combination of ruggedness, breathability, and weight. More, the Alpha FL's seams are taped, and like the latest version of the Alpha SV that we tested, includes Arc'teryx's proprietary RS zipper sliders. In short, this design eliminates the need for a hood or "garage" over the zipper, thus reducing material and stitching. This not only trims weight but removes seams that are vulnerable points of water entry. Finally, the StormHood, described in more detail below, cinches easily and holds in place even in high winds.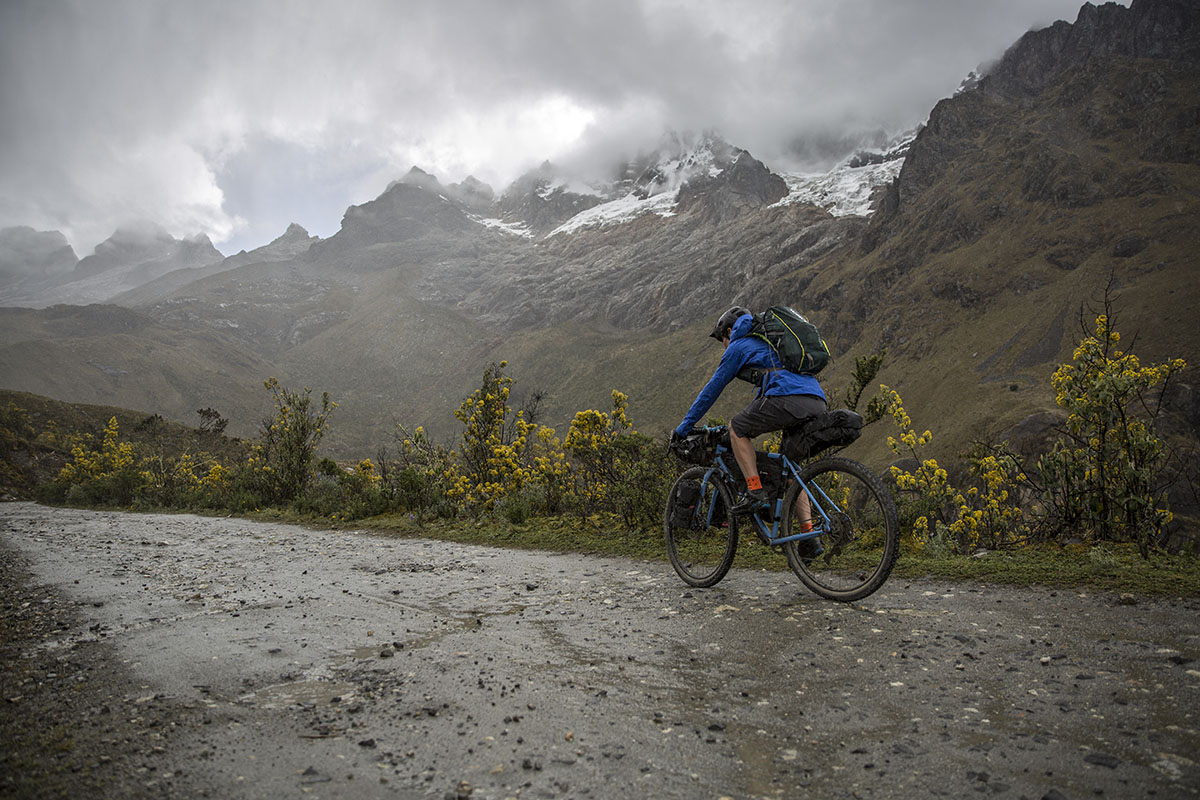 Though it had been worn many times as a windbreaker in fierce alpine gales, my Alpha FL's first rain storm came as we were approaching a 16,500-foot mountain pass on a bikepacking trip in the Cordillera Blanca. After throwing on the Alpha FL, we continued riding under ominous skies. Impressively, I stayed perfectly dry and warm despite the cold pelting rain, and no water leaked onto the merino shirt I wore underneath. Since its inaugural soaking, the Alpha FL has seen a lot of rough weather, including a sleet storm a few days later in the Cordillera Huayhuash. Worn over my down jacket, I managed to stay warm and dry while hoping the weather would pass. Put simply, we have found no weak links in the Alpha FL's weather protection.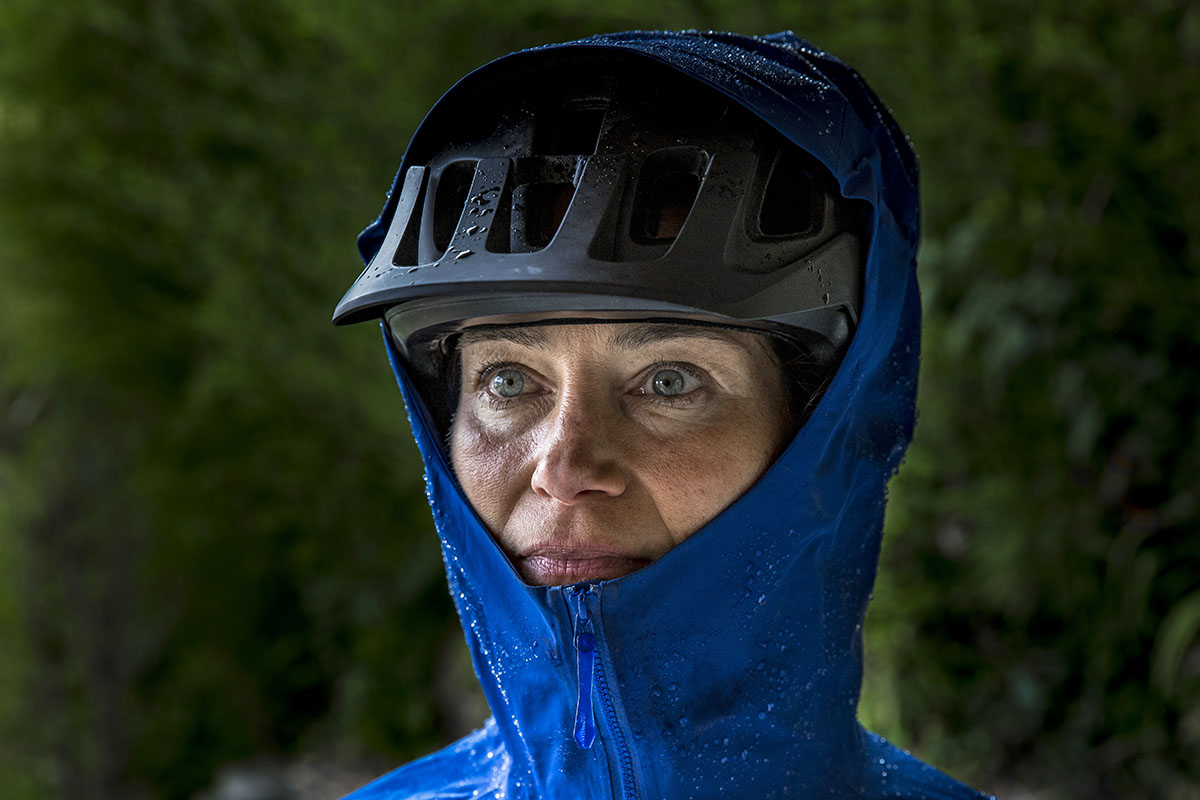 Breathability
It's difficult to talk about waterproofness without also discussing breathability. A garbage bag would be waterproof, but also would make you extremely sweaty and damp during exertion. Therefore, the well-known challenge lies in creating a waterproof fabric that also is breathable. We've mentioned this in previous reviews but it bears repeating: for a shell to breathe, the air outside must be colder and drier than the air inside. In other words, the air inside the jacket must be more humid and warm for it to permeate the membrane and evaporate. We all want a jacket, however, in which moisture evaporates before we start to feel sweaty and clammy, which is asking a lot of a waterproof material. Gore-Tex Pro shines in this game, and Arc'teryx has again selected the best hardshell material available.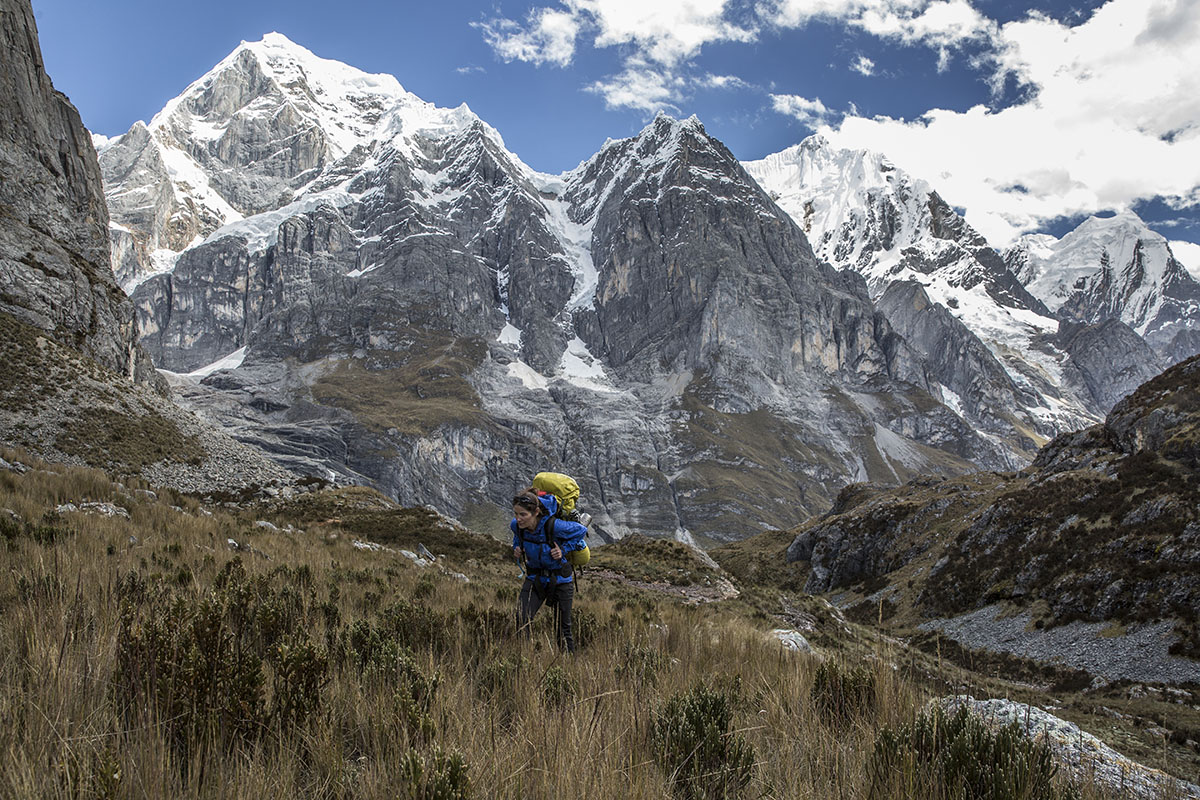 I tend to run fairly warm when I'm exerting, and found the Alpha FL to be extremely breathable. It has been tested while riding thousands of feet up steep switchbacks in the rain, and I remained comfortable (which I was delighted to point out to my sweaty husband). I've since tried it in British Columbia's warm and humid coastal forests, and found that it worked surprisingly well there too. During a warm summer storm, I relied upon it to protect me from the rain as well as sopping wet trees and undergrowth, and again I managed to stay dry.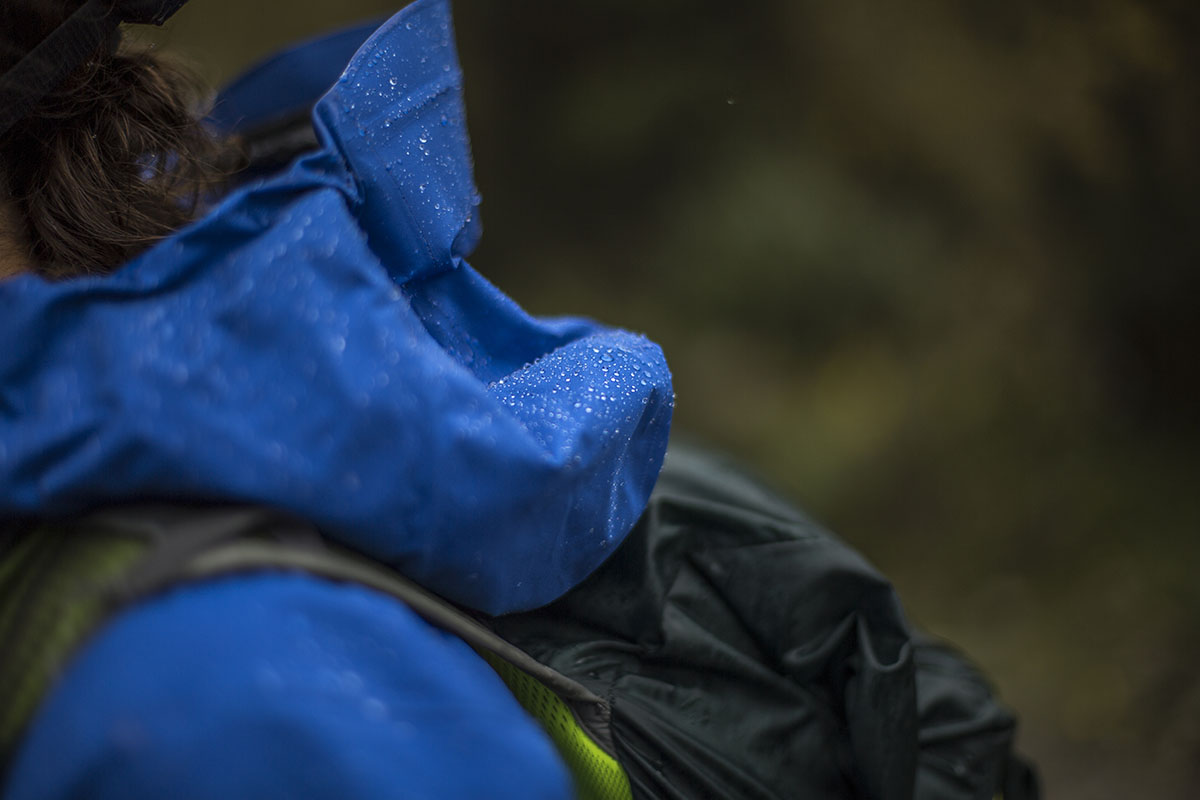 The Alpha FL does not have pit zips, which does limit the ability to quickly dump heat. This might be a deal breaker for anyone who sweats profusely. But opening pit zips does compromise the breathability of the Gore-Tex Pro's membrane (by equalizing the temperature and humidity inside and outside the jacket), so really should be a last resort. I personally have not found the lack of pit zips to be a limiting factor and appreciate the weight savings enabled by their omission.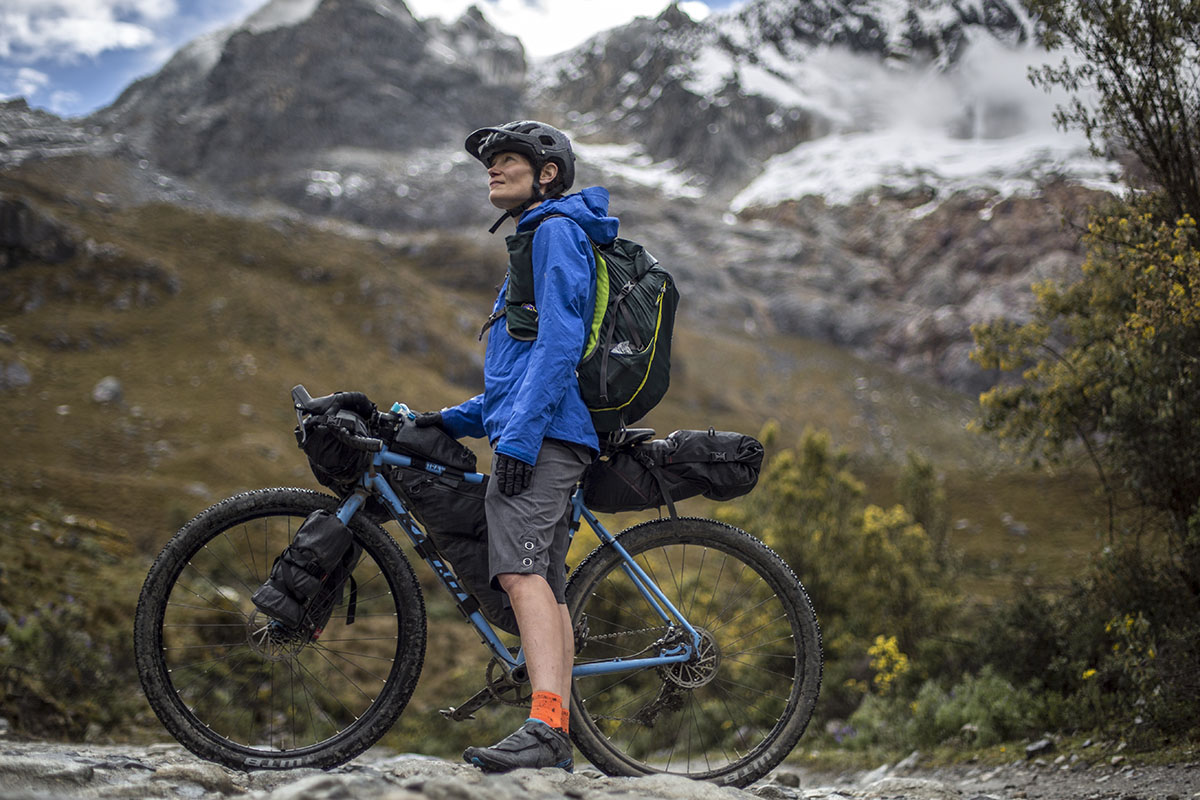 Weight and Packability
As mentioned above, "FL" stands for fast and light, and true to its word, the Alpha FL is extremely lightweight. Advertised at 10.4 ounces, my women's small comes in at 10 ounces on the dot. This is less than popular hardshells like Arc'teryx's own Beta AR (13.8 ounces) and Beta LT (11.1 ounces), as well as the Outdoor Research Optimizer (11.6 ounces). You can cut even more weight by opting for the Arc'teryx Alpha SL at 9.3 ounces, but that jacket compromises in breathability and durability. Among performance Gore-Tex shells, the FL's 10-ounce weight truly is amazing.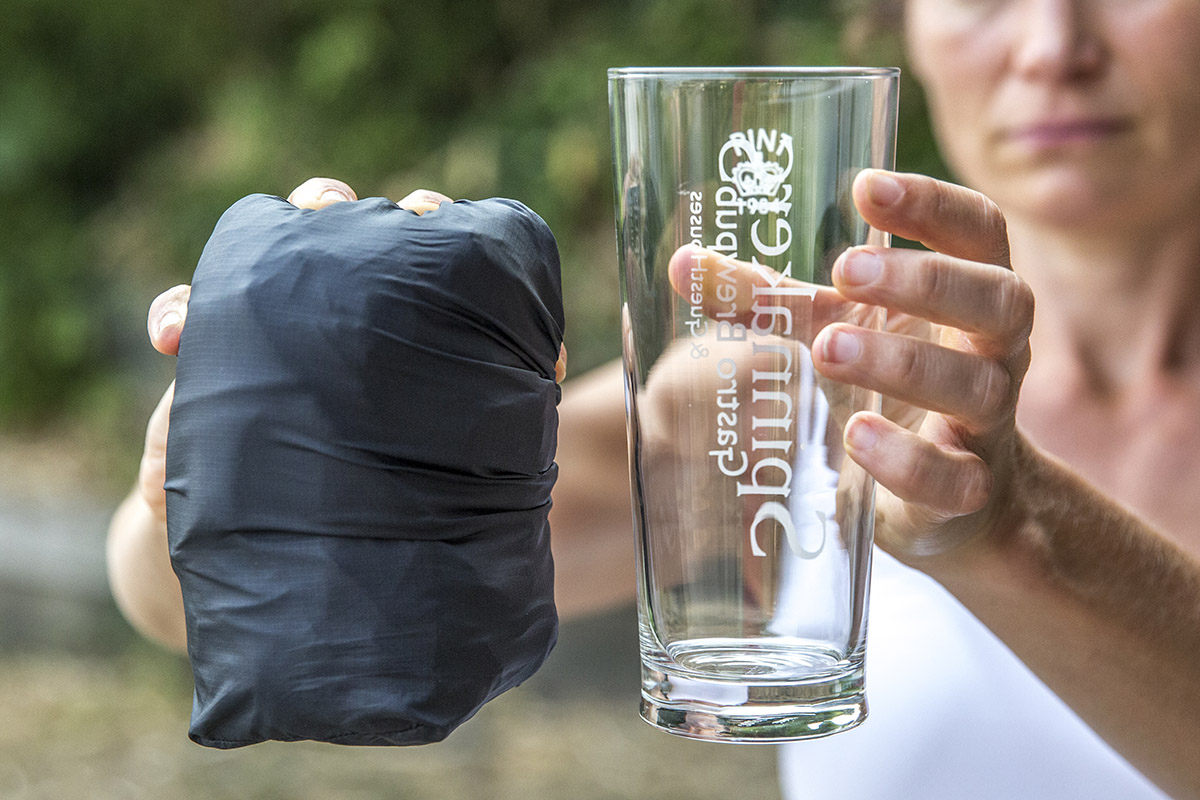 The jacket includes a stuff sack and packs down to the size of a pint glass. The stuff sack is a generous size, making it easy to shove the jacket into, but truthfully the jacket can be compressed a fair bit smaller. I have a love-hate relationship with separate stuff sacks because they are difficult to keep track of, and instead prefer pockets into which the jacket can be stuffed. The FL's stuff sack does have a loop for hooking onto a harness with a carabineer, which is a nice bonus for climbing.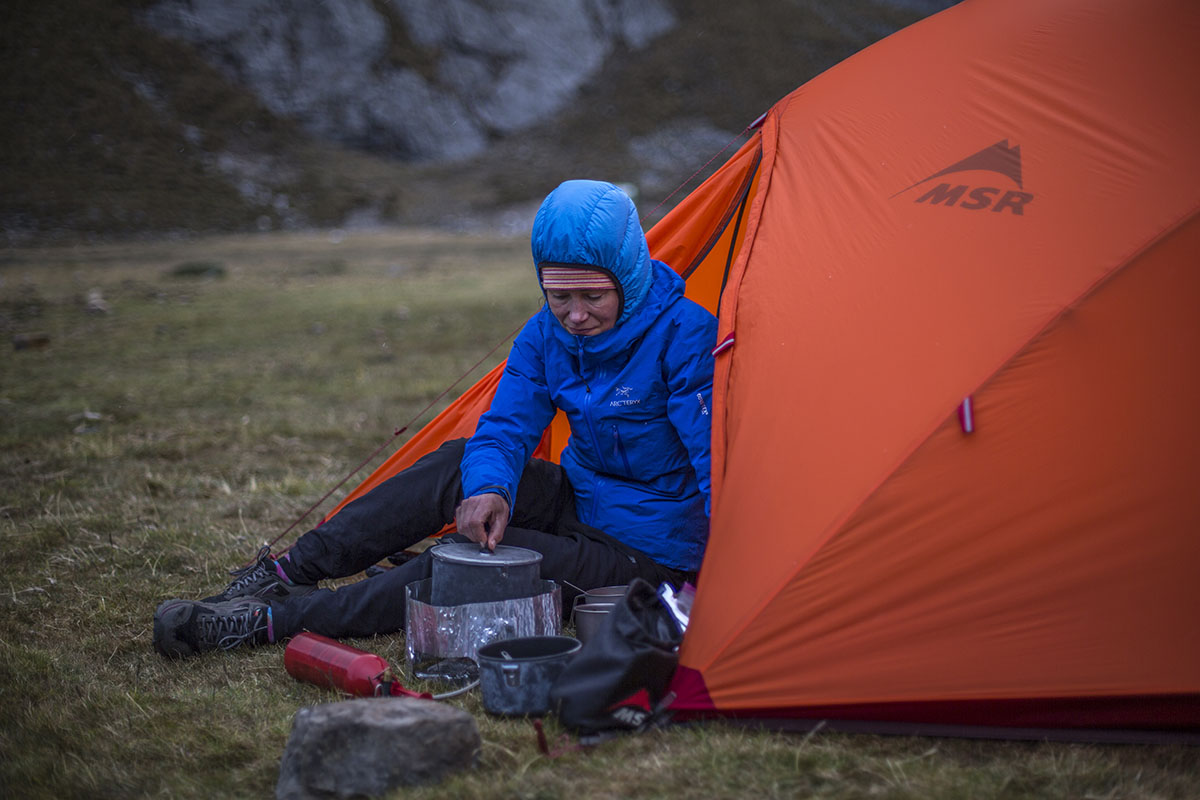 Build Quality and Durability
The Alpha FL's face fabric is 40-denier nylon, putting it right in the middle between rugged and lightweight. More, the Alpha FL has a 1.6-millimeter seam allowance, which is incredibly tiny (my Montane Alpine Pro also boasts a small seam allowance but at 3 millimeters). Arc'teryx is serious about reducing bulk and weight, but the concern is that the seams become less durable as a result. As much as I love this jacket, it has not been handled with care. I've worn the Alpha FL while scrambling over sharp rocks, and I've used it as a picnic blanket on boulders. It has been worn under a heavy backpacking pack for days, and it has been stuffed into packs full of climbing gear. Through it all, the jacket has shown no signs of wear. The outer fabric is intact, even in areas subject to constant abrasion under the backpack. The seams are still well-taped and the zippers slide and seal smoothly.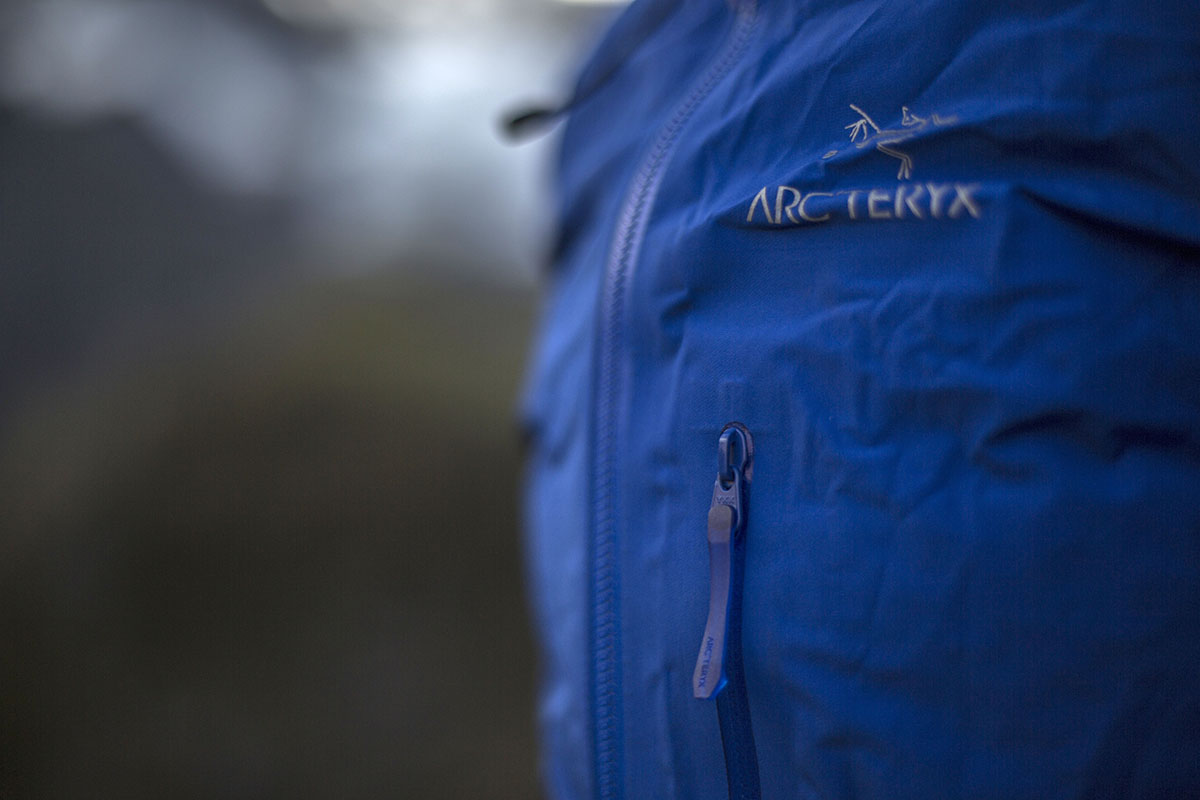 Key Design Features
Pockets
As with all minimalist designs, features often are cut to save weight. As mentioned above, the Alpha FL lacks pit zips, but it also has no hand pockets. There is, however, a zippered chest pocket on the left side, which is designed for easy access with the right hand without throwing off one's balance while climbing. On older versions of the jacket the chest pocket was at an angle, but the 2017 model has it aligned vertically. I find it more visually appealing, but it's also slightly easier to access straight across the chest.
The Alpha FL also has an internal laminated zippered pocket, perfect for keeping important items safe. I made full use of this pocket as two days into our nine-day hike my front tooth's crown fell off, and I kept it in a Ziploc bag in the internal pocket. It remained safe for over two weeks until we were home and I could visit my dentist. This was an unexpected yet highly valuable use case.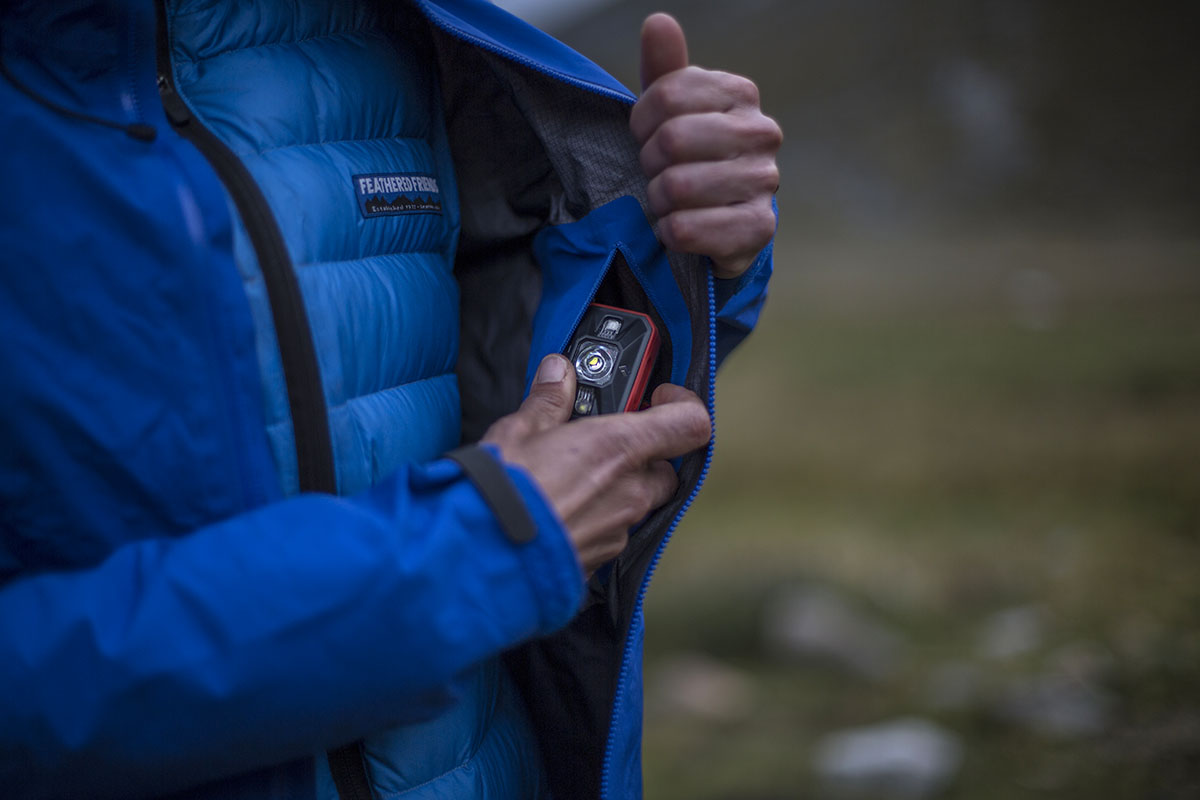 StormHood
Arc'teryx has pretty much perfected hood design, managing to create a hood that is large enough to fit over a bulky climbing, ski, or bike helmet, but with plenty of adjustability to cinch down sleekly when not wearing a lid. On the Alpha FL's hood, there are three drawcord adjustment points: one at the back of the head and two in the front. As with the Alpha SV—which has one additional fastener at the back of the neck—each cord lock system can be tightened or released easily with a single hand. And the brim of the hood is laminated, helping it to stay in place and fend off rain, sleet, and snow.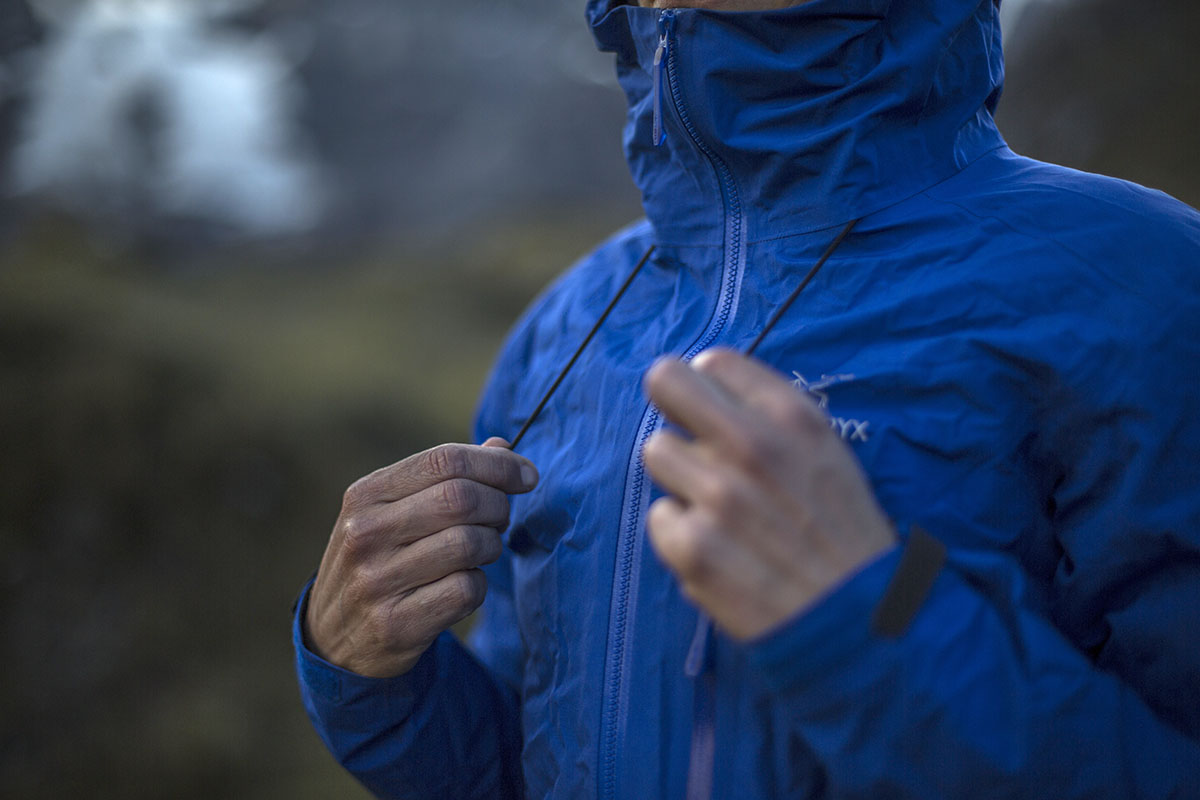 Harness-Compatible Hem
The hem has streamlined cord locks that are as easy to adjust as those on the StormHood. It's difficult to overstate how helpful it is to be able to adjust fit with one hand. Whether riding a bike, climbing, or scrambling, it can be hard or even unsafe to use both hands to fiddle with gear. And the cord locks are meant to serve double-duty—they also help prevent the hem from slipping out from under a climbing harness.
Surprisingly, the Alpha FL lacks a two-way zipper despite its otherwise climbing-centric design. I find the main zipper to be a bit finicky when pulled at an angle—it only works if I hold the hem with my right hand while zipping with my left. If I do the opposite, which as a right-hander I am inclined to do, the zipper stalls. This hardly is a deal-breaker and I've managed to adapt, but it has been a small annoyance.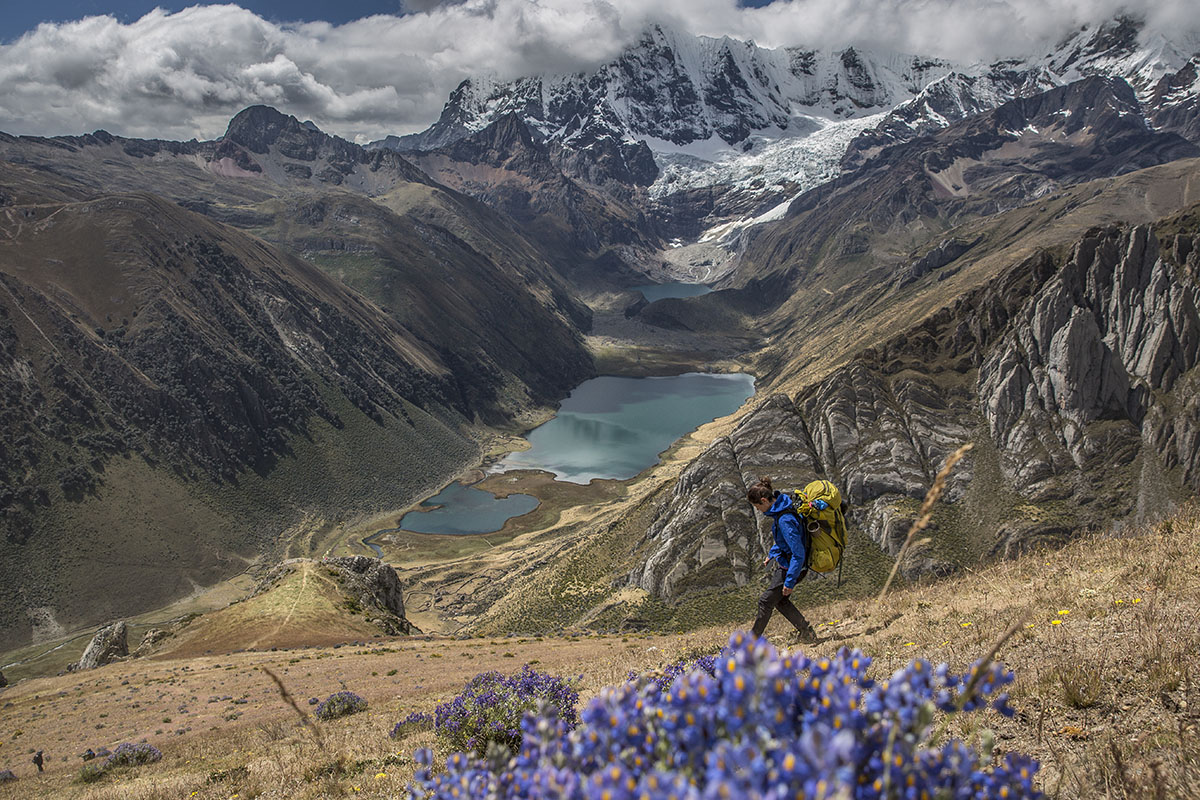 Fit and Sizing
The Alpha series is designed for serious alpine adventures. Accordingly, it has a slim fit to reduce bulk, articulated elbows and gusseted arms for movement, and a long hemline so that the jacket is compatible with a harness. I found that all of these climbing-centric features translate equally well for biking. The longer back hem ensured that the jacket did not ride up when leaning forward on a bike, and the slim fit reduced flapping in the wind. More, the sleeve length designed for reaching above your head while climbing was perfect while extending to hold handlebars. The cuff's Velcro stays in place and can be adequately tightened around my bird-like wrists to meet with any gloves or mitts I might be wearing.
Though I tend to oscillate between small and extra small sizes in Arc'teryx jackets, I opted for a small so that I could easily fit layers underneath. This has worked out well—I have worn it many times with multiple merino baselayers and my Feathered Friend's Eos down jacket, and found it to be comfortable and unrestrictive. If you're in-between sizes like me, going up a size is a smart choice for cold-weather activities.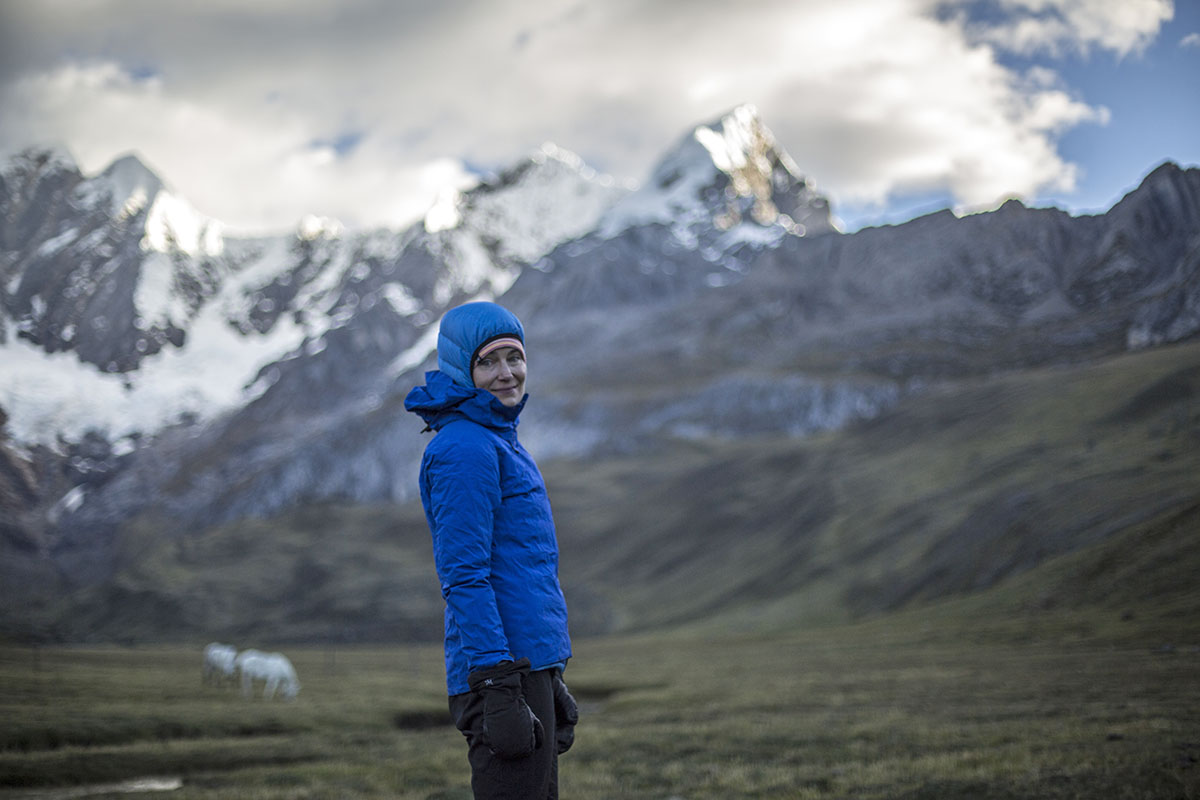 What We Like
Durable and trustworthy in harsh conditions, yet very lightweight and packable.
A great, athletic fit that also allows for easy layering.
Arc'teryx hardshells typically are priced well above the competition, but even at $425, the Alpha FL strikes us as a good value.
 
What We Don't
No pit zips. This does keep the weight down and the jacket breathes well as-is, but it is a downside for times when you want to dump heat quickly.
No two-way zipper for belaying.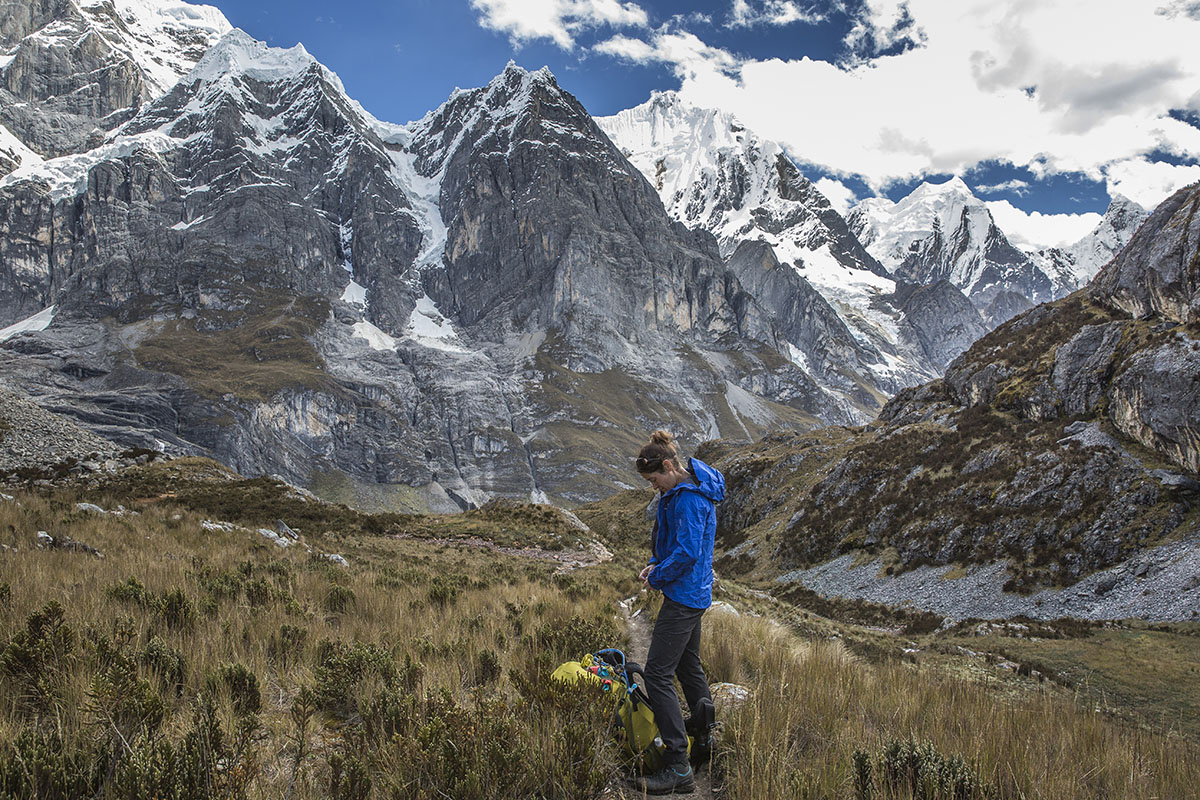 Comparison Table

The Competition
Arc'teryx's high level of craftsmanship and performance often means their closest competition comes in-house. Within the climbing-focused Alpha line, the FL lands in the middle as the performance-oriented minimalist design. The 9.3-ounce Alpha SL is the emergency shell of the group, and switches from Gore-Tex Pro to the less breathable and durable Gore-Tex Paclite (for more information, see our in-depth Alpha SL review). On the other side, the much pricier Alpha AR ($575) and Alpha SV ($749) add features like pit zips and chest pockets and are more durable for high-alpine and winter adventuring. Each has their place, but the Alpha FL's combination of Gore-Tex Pro durability and foul-weather performance, along with a minimalist 10-ounce weight, makes it a standout. Its $425 price tag also makes it the best value in the Alpha line.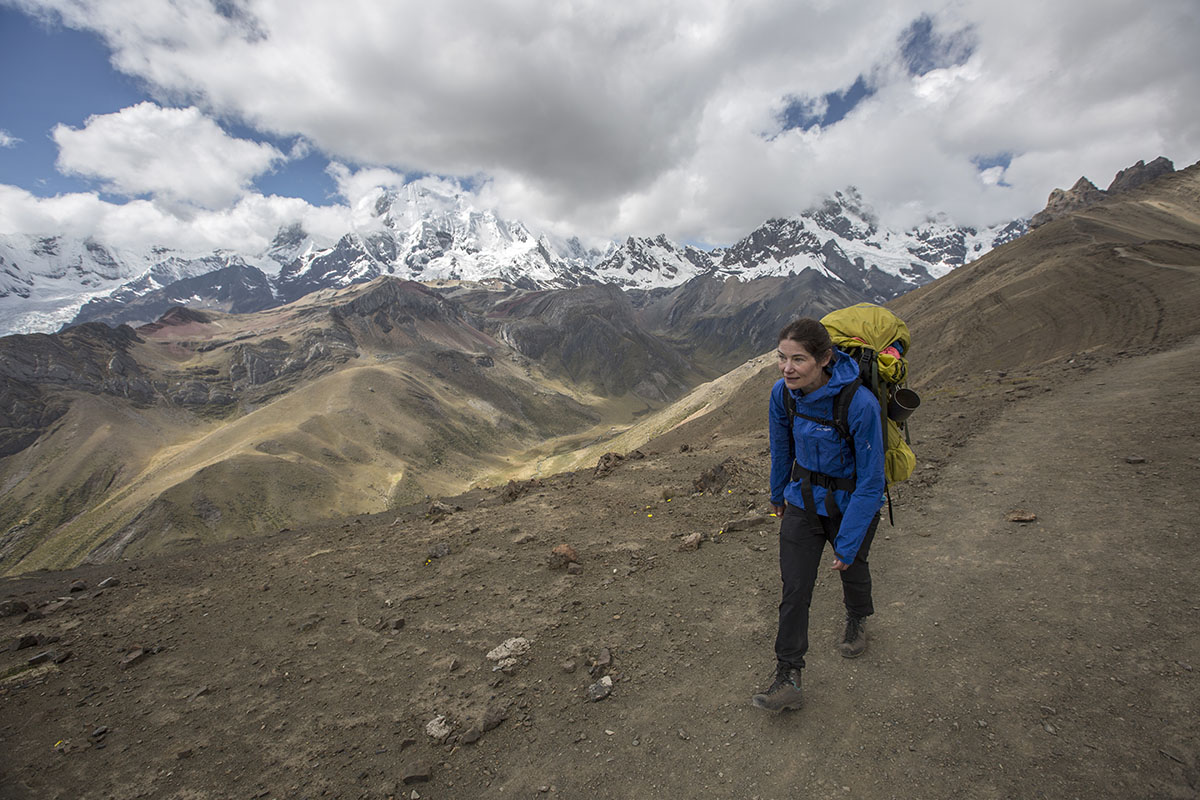 Among the wider hardshell market, the Outdoor Research Optimizer targets a similar weight-conscious customer as the Alpha FL. The OR can't match the fit and finish you get with Arc'teryx, but its Gore-Tex Active shell is very breathable and comfortable with a modest amount of built-in stretch. Along with the performance fit, two hand pockets and a two-way zipper make the Optimizer an excellent all-around jacket. But for only $25 more, the Alpha FL has it beat in packed size and weight, and its Gore-Tex Pro fabric is the more durable option around sharp climbing and skiing gear.
One of our all-time favorite Arc'teryx jackets is the Beta AR. Both the Alpha FL and Beta AR utilize Gore's high-end 3-layer Pro shell, although the Beta has burly 80-denier face fabric in areas prone to wear (the rest is the same 40-denier as the Alpha). The Beta AR also is the more feature-rich, including two hand pockets and pit zips, but the cost is more than 3 ounces in weight (for the women's model, it's 10.4 ounces vs. 13.8 ounces) and $150 in price ($575). In our hardshell round-up we prefer the Beta AR because it's a single jacket that fills our needs for skiing, biking, climbing, and more, but that doesn't diminish the Alpha FL's impressive mix of weight and performance.
If you're thinking about buying gear that we've reviewed on Switchback Travel, you can help support us in the process. Just click on any of the seller links above, and if you make a purchase, we receive a small percentage of the transaction. The cost of the product is the same to you but this helps us continue to test and write about outdoor gear. Thanks and we appreciate your support!
Depending on the seller, most products ship free in the United States on orders of $50 or more. International shipping availability and rates vary by seller. The pricing information on this page is updated hourly but we are not responsible for inaccuracies.
Learn More About Outdoor Gear