As backpacks trend toward lighter and less durable designs, Arc'teryx's Bora AR 63 stands out as a burly and capable heavy hauler. Notable features include a moveable hipbelt that's tuned to slide while bending over on steep inclines and a very tough and weather-ready build. I wore the pack on two multi-day trips in Chilean Patagonia, and while it's heavy and overkill for most users and overnight outings, the Bora nevertheless is a good match for year-round backpacking in harsh conditions and over rough terrain. Below we break down the Bora AR 63's overall performance. To see how it stacks up to the competition, see our article on the best backpacking packs.
 
---
Table of Contents
---

Performance
Carrying Comfort
Carrying comfort is a bit of a mixed bag with Arc'teryx's Bora AR 63, which was a bit surprising considering the well-padded and highly adjustable design. We'll start with the positives: the shoulder straps are nicely cushioned, functional, and easy to fine tune. In addition to being able to move the straps up or down to adjust for torso length, they can also be narrowed or widened. Arc'teryx calls this their "GridLock" system: simply pull either strap down and out to remove it, then slide it into any of the free slots to lock it back into place. In practice, it worked just as I hoped, and I was able to effectively dial in fit to perfectly hug my upper body. Additionally, the entire bag is well-padded throughout, making it a comfortable option for hauling serious loads over long distances. It's heavy at 5+ pounds (more on this below), but for those headed into the mountains with a lot of gear, the sturdy design is a great match.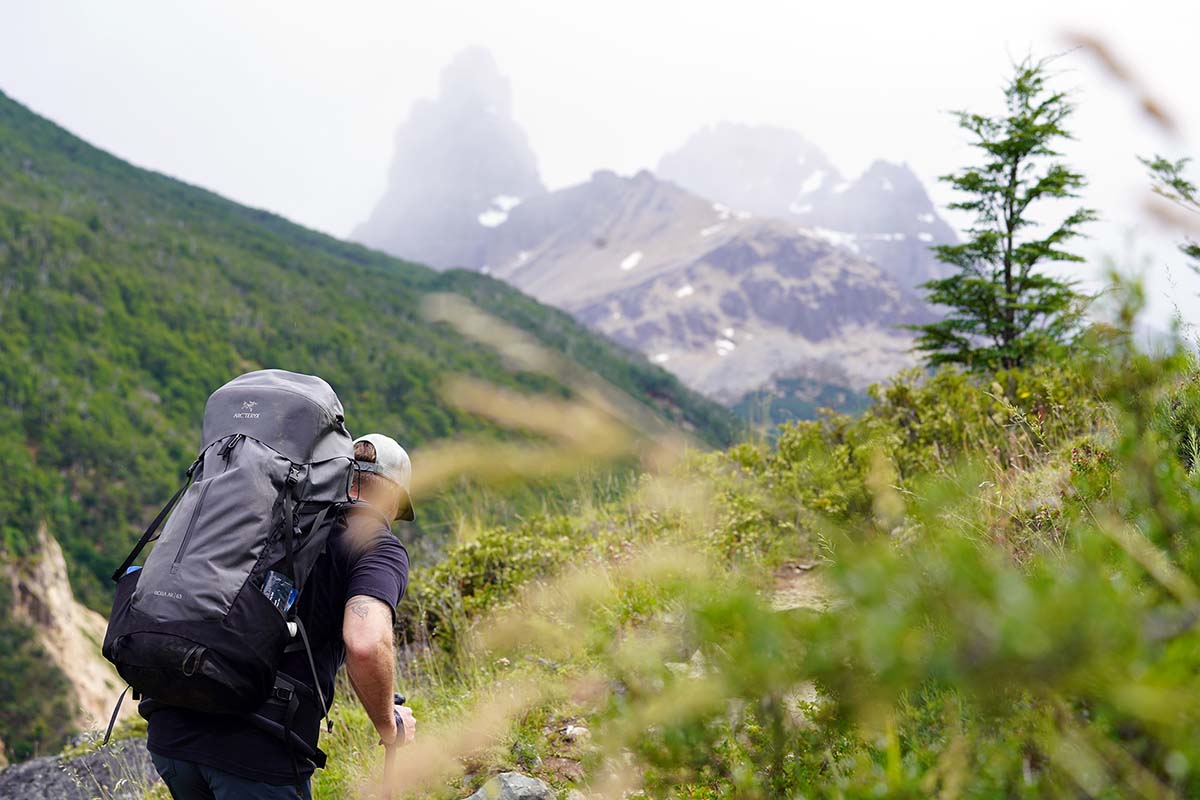 The pack's true calling card, however, is its unique hipbelt design. Dubbed the "RotoGlide" system, the hipbelt is mounted on a track and designed to rotate side-to-side and glide up and down to move with your body as you hike. But despite these intentions, I didn't find the design all that functional. Under a load of around 35-40 pounds, the hipbelt had a tendency to lock in place, rendering it completely ineffective. Further, the belt protrudes from the pack and leaves a healthy gap between the body and pack for air to flow, but as a result, the top of the hipbelt dug into my lower back and created a hot spot. It's worth noting that another one of our testers experienced more movement from the hipbelt (while using the smaller Bora AR 50), but he was carrying less gear over fewer miles. He noted that the movement felt unnatural and slightly unstable at first but was fairly easy to adapt to. All in all, not everyone will love the design, and I do think it could use some improvements.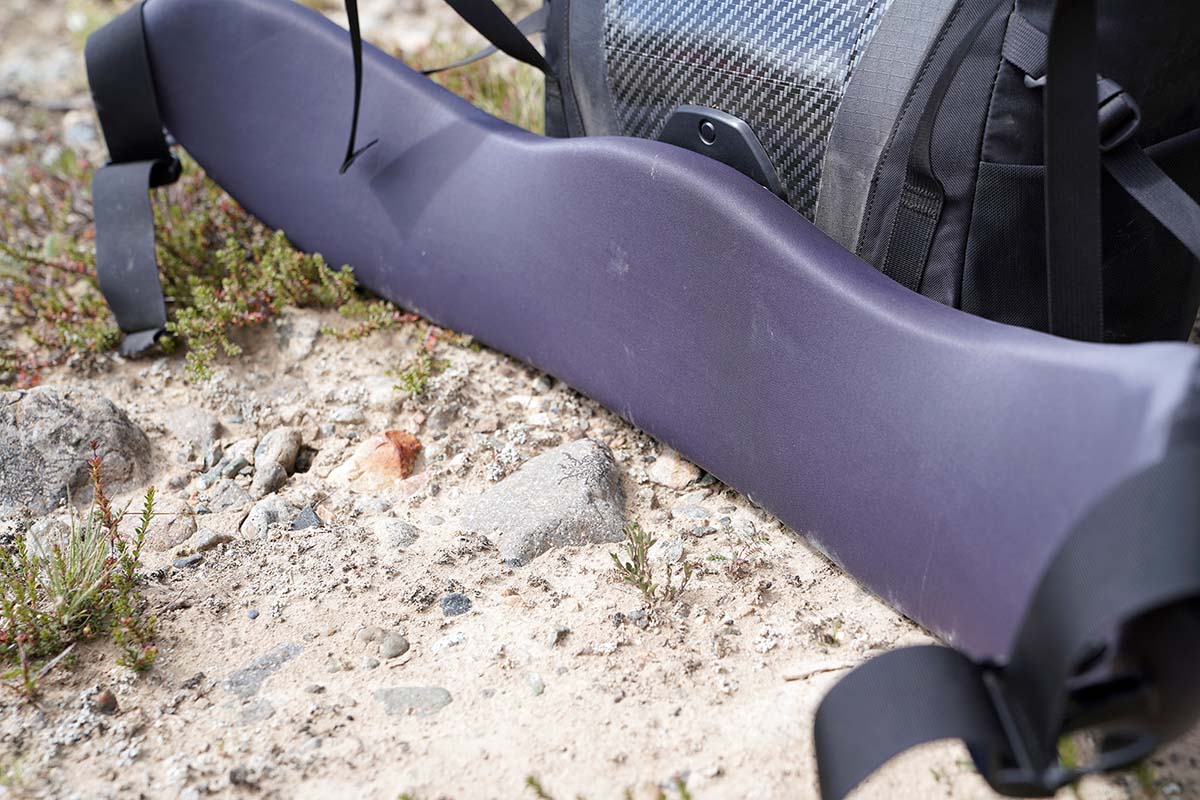 Weight
The Bora AR 63 weighs in at 5 pounds 3 ounces for the tall version (5 lbs. even for the regular), which isn't great news for ounce-counters but is understandable considering the pack's burly build. Stacked up against the competition, it's fairly average when compared to other multi-day heavy haulers. For comparison, our top-rated pack this year, the Osprey Atmos AG 65, comes in a few ounces lighter at 4 pounds 9 ounces, and the larger Aether Plus 70 adds some weight at 5 pounds 9.7 ounces (the pared-down Aether 65 is 4 lbs. 15.4 oz.). Another design intended for carrying big loads comfortably, the Mystery Ranch Terraframe 65 (5 lbs. 11.2 oz.), also comes in heavier. All things considered, the Bora AR 63 is made for hard use in the mountains and is far from ultralight. But if you're tough on your gear and need your pack to last, the weight is well worth it.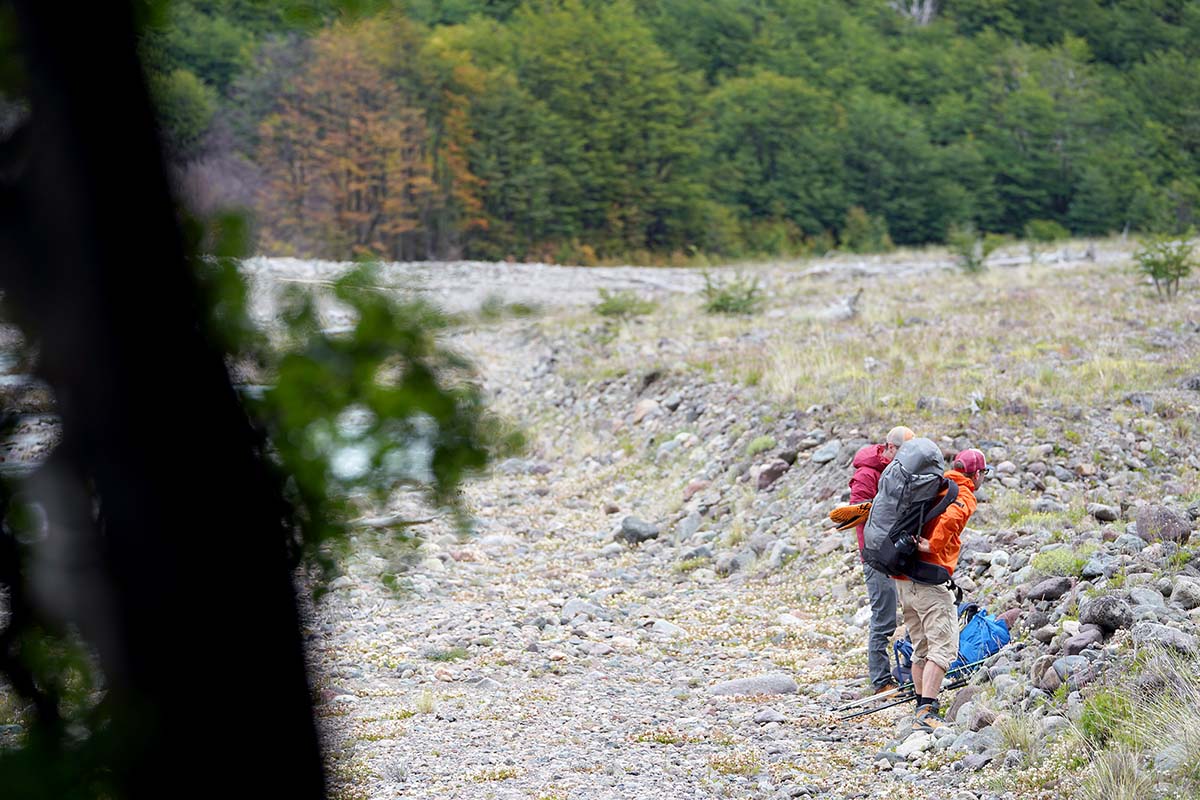 Organization
The Bora AR 63 is a fairly streamlined pack, so you won't find compartments, straps, and zippers everywhere like you do on many other backpacking designs. That said, organization is still entirely functional and ample for most uses. Internally, the pack consists mostly of the cavernous main compartment—there's no separate spot for stowing a sleeping bag at the bottom like what you get with Osprey's Atmos AG. However, the pack does include a dedicated hydration reservoir sleeve with an opening for sliding the tube through, as well as one zippered pocket on the inside of the top lid. And in terms of a closure system, the bag uses a simple roll top design that's easy to snug down and reopen.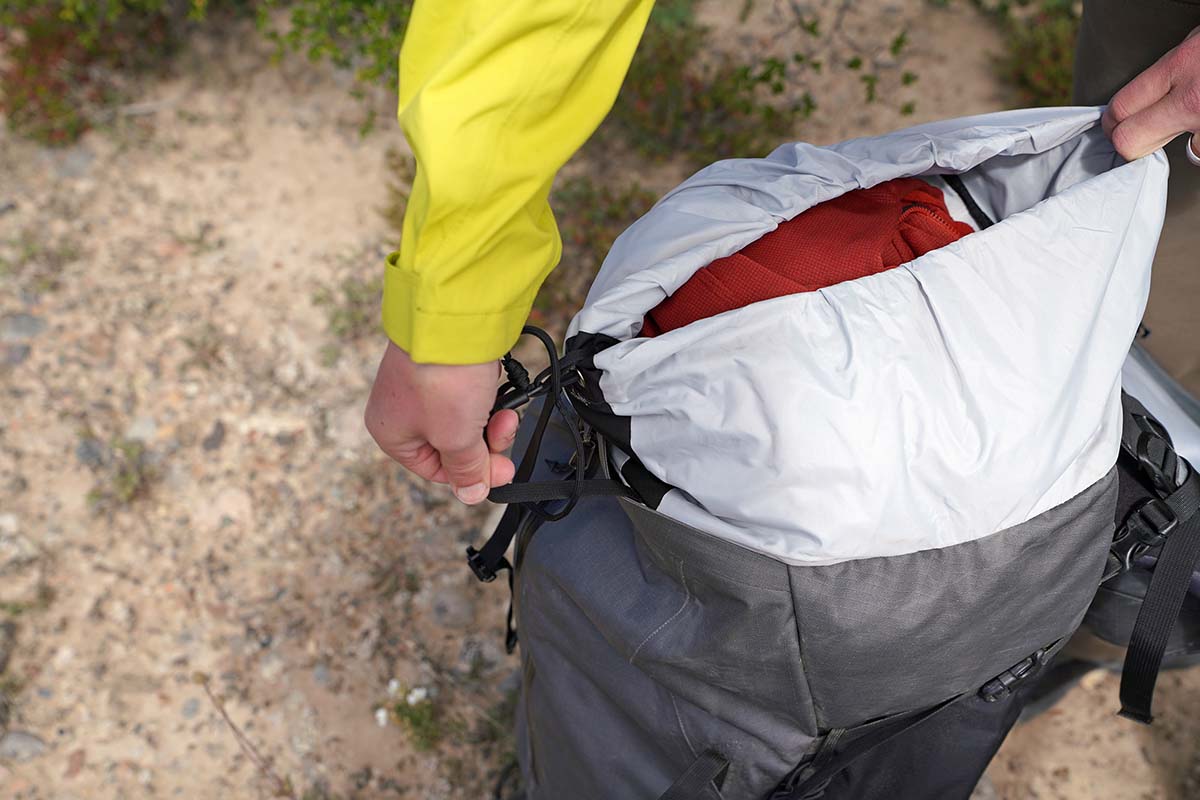 On the outside of the bag, Arc'teryx included a separate top lid compartment, and two side pockets can accommodate 1-liter water bottles, although these are too shallow and lack the stretchiness to really lock the bottles in place. The bag also features a front "kangaroo"-style pouch accessed via a vertical zipper (which replaces the mesh "shove-it" pocket at the front of many packs). However, when fully loaded, I've found it almost impossible to stuff my jacket or extra items inside since the main contents press out forcefully against the bag. Further, the Bora does include side zippered access to the main compartment (convenient for grabbing gear without having to dig deep inside the pack), as well as two small, unzippered hipbelt pockets. Finally, for external attachment, you get ice axe loops, compression straps at each side, two lower lash points, and elastic hook clips for stowing trekking poles.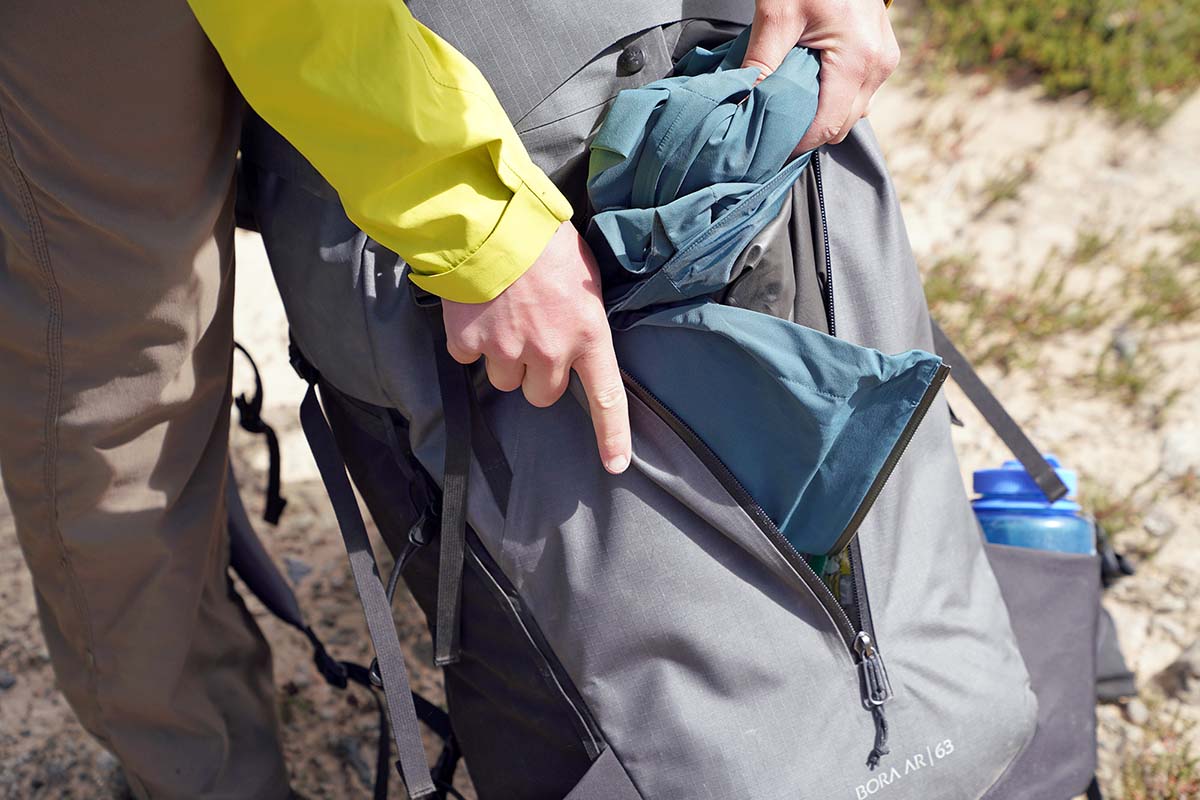 Ventilation
Many backpack manufacturers use mesh-like webbing to promote ventilation (like Osprey's suspended Anti-Gravity mesh backpanel on their "AG" packs), but the Bora AR 63 bucks that trend. Instead, Arc'teryx opted for thick pads at the upper back and a well-cushioned hipbelt—taken together, these keep the main body of the pack about an inch from my back, allowing room for air to flow without throwing you off-balance. A hard plastic panel sits behind the pads and functions as the framesheet while also preventing sweat from seeping through the pack and soaking your gear. All in all, the Bora AR 63 isn't a standout like the Atmos AG in terms of breathability, but it gets the job done. Temperatures on our trip in Patagonia ranged from the low 60s to the low 80s Fahrenheit, and I managed to stay comfortable the entire time without overheating or the back of the pack growing too wet.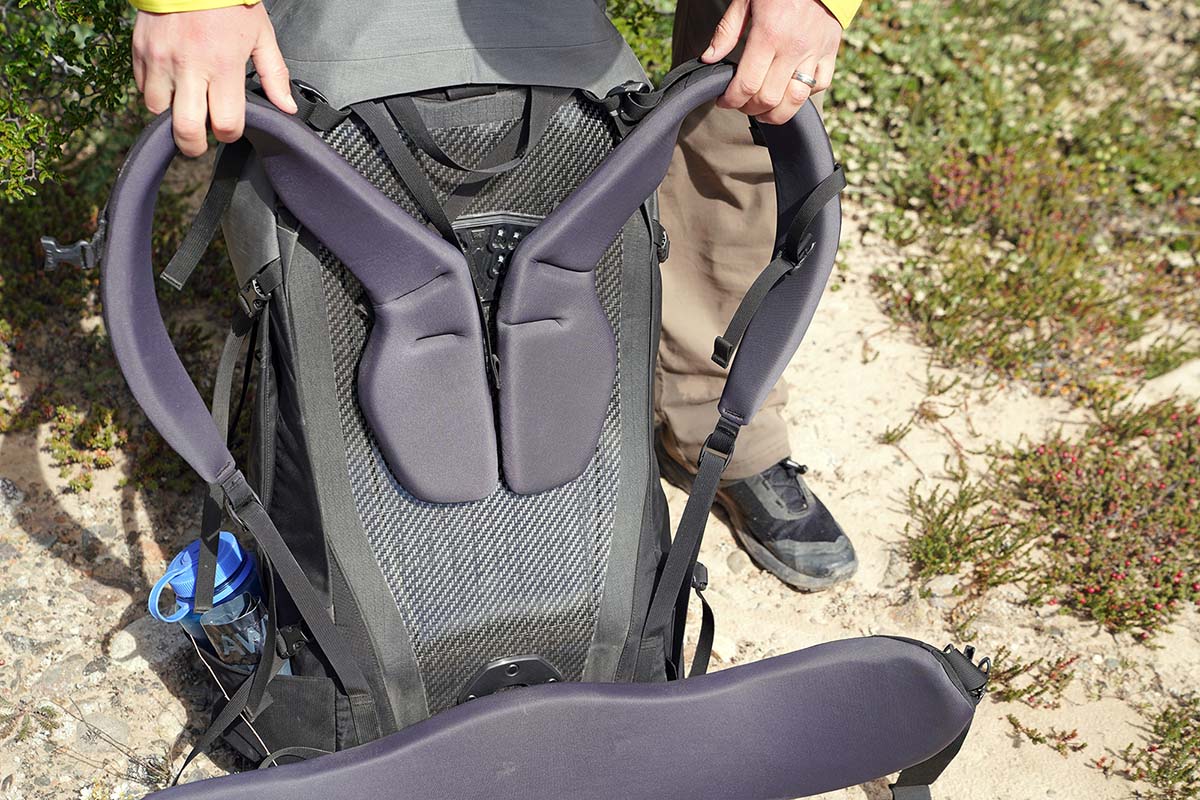 Build Quality and Durability
Arc'teryx rarely misses the mark when it comes to quality, and the Bora AR 63 is yet another hardwearing and well-made design. The pack body uses a robust 420-denier (D) nylon—much burlier than the material used on most other backpacking packs—and Arc'teryx beefed up areas most prone to wear and tear with an even more abrasion-resistant 630D nylon. Further, you get waterproof fabric in places often exposed to rain and snow, including along the top and front of the bag. The net result is a heavy-duty pack built to take a serious licking, regardless of what the trail or Mother Nature have in store. You do pay a steep price for this level of quality, but the Bora AR 63 should last for years without issue. In fact, our climbing editor has logged over a year's worth of days with a previous version of the pack (as a mountaineering and wilderness therapy guide) with no rips, holes, or durability issues to speak of, which is truly impressive.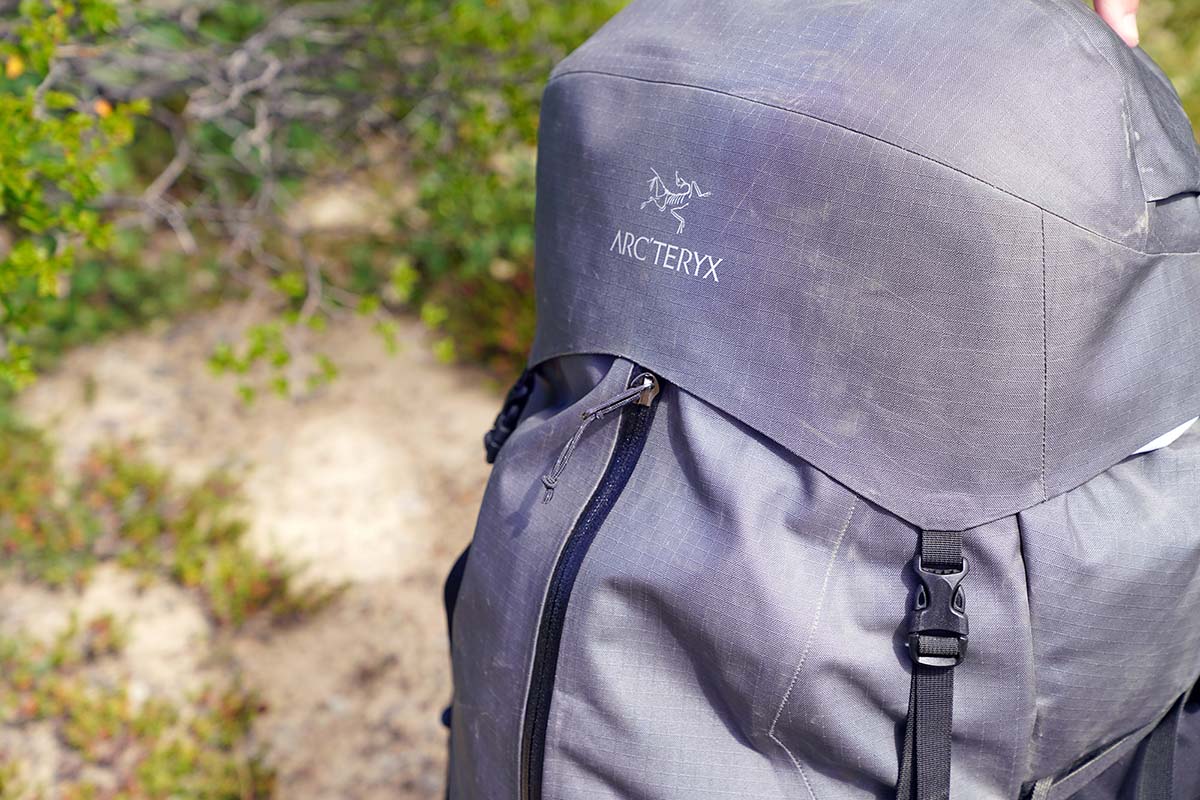 Fit and Sizing
Overall, fit was as expected with the Arc'teryx Bora AR 63. The pack is available in both regular (18.5 - 20.25 in. torso length) and tall (19.75 - 21.75 in.) versions. I chose the tall (for reference, I'm 6'1") and was happy with the all-around fit. Plus, as I mentioned above, the pack is highly adjustable both at the shoulders and waist, which means that it should work for a wide range of body shapes and sizes.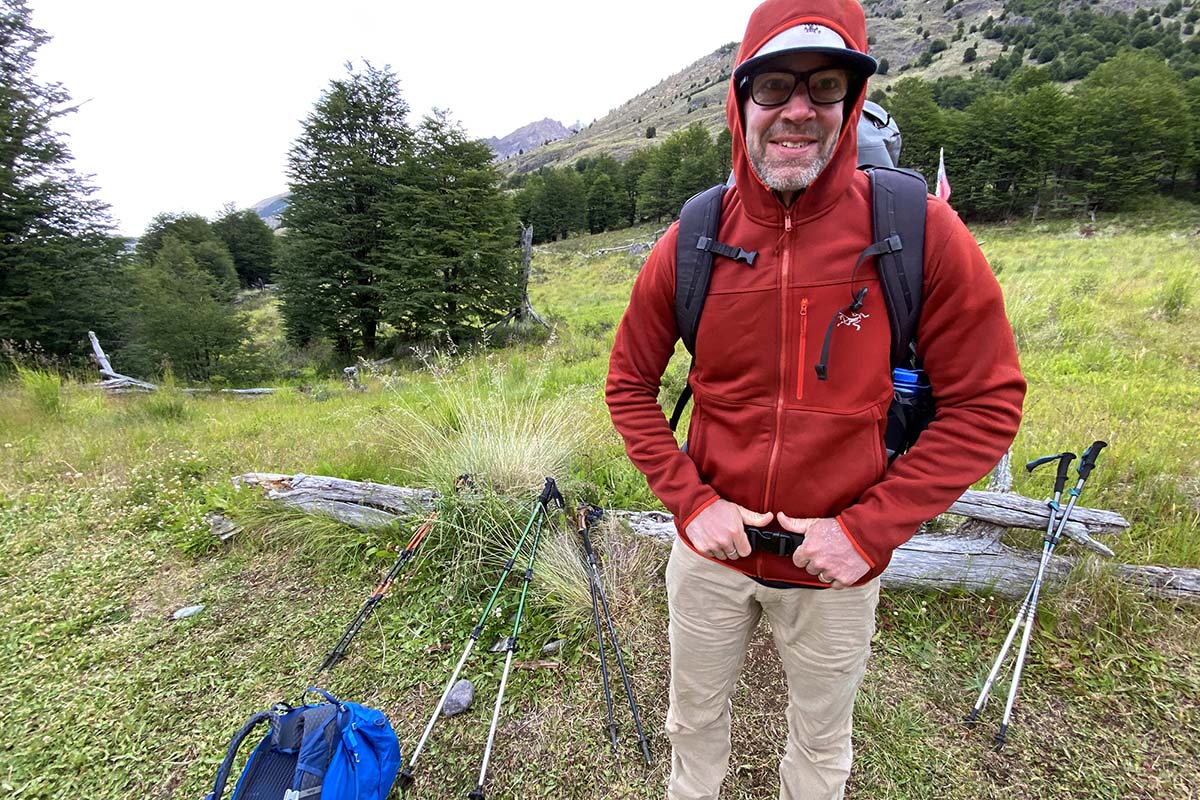 Other Versions of the Arc'teryx Bora AR
We put the Bora AR 63 to the test for this review, and Arc'teryx also makes the pack in a smaller 50-liter capacity on the men's side. The Bora AR 50 is cheaper at $320, weighs less at 4 pounds 13 ounces, and comes in a bright blue colorway. Arc'teryx also makes the women's-specific Bora AR 61 and Bora AR 49, which are contoured to the shape of the female body, weigh slightly less than their men's counterparts, and come in purple and teal colorways, respectively. All four packs feature the same design and materials, including durable and waterproof fabrics, RotoGlide hipbelt, and GridLock shoulder strap adjustment system. We are disappointed they no longer offer a higher-capacity version, which feels like a natural fit given the pack's heavy hauling/alpine intentions. A similarly designed 75-liter model would be a great addition to the lineup.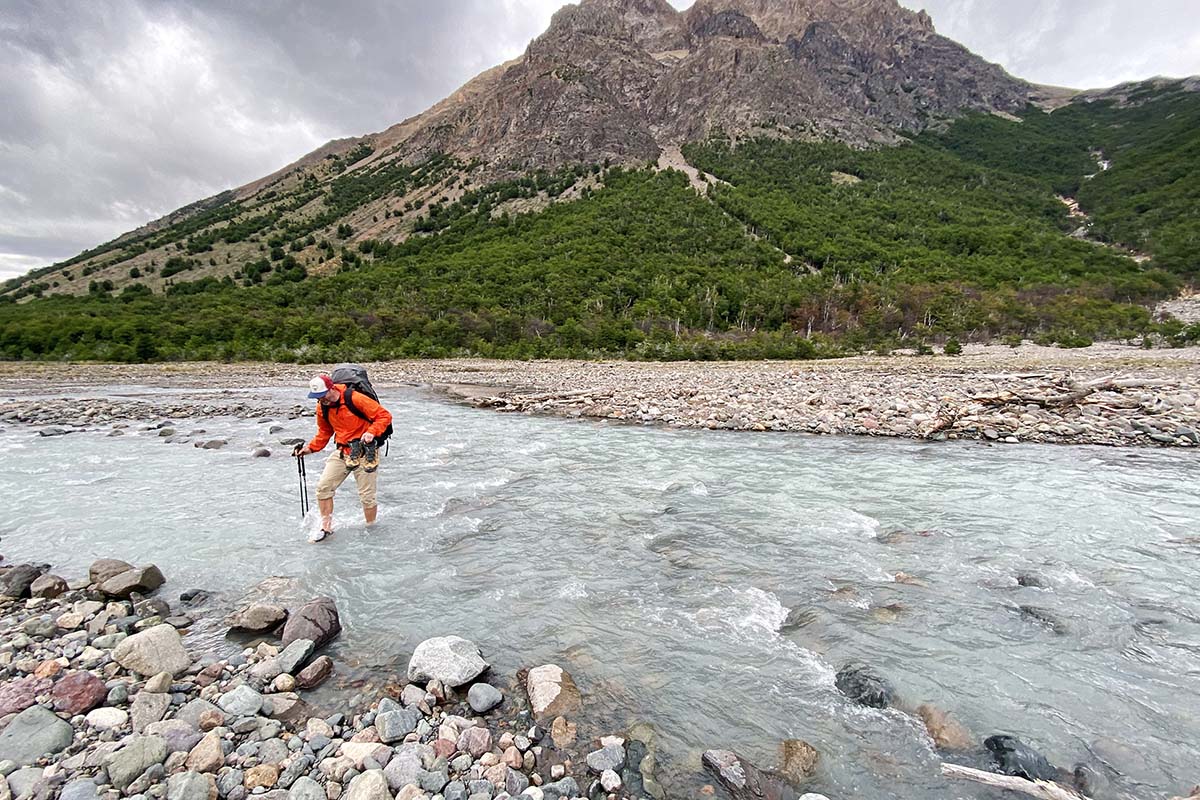 What We Like
Incredibly tough build and waterproofing in areas prone to moisture make this one of the most hardwearing and alpine-ready backpacking packs on the market.
Shoulder straps are adjustable both length- and width-wise, which allows for easy and effective customization.
High-quality materials are found throughout, ranging from the supportive padding to the smooth-performing zippers.
 
What We Don't
The RotoGlide hipbelt wasn't as functional as expected: when loaded down, movement was severely limited, and I experienced a pressure point around my lower back.
Storage and access are fairly minimal compared to more traditional (and fully featured) backpacking designs. 
Arc'teryx products don't come cheap, and the Bora AR 63 is no exception at a fairly steep $360.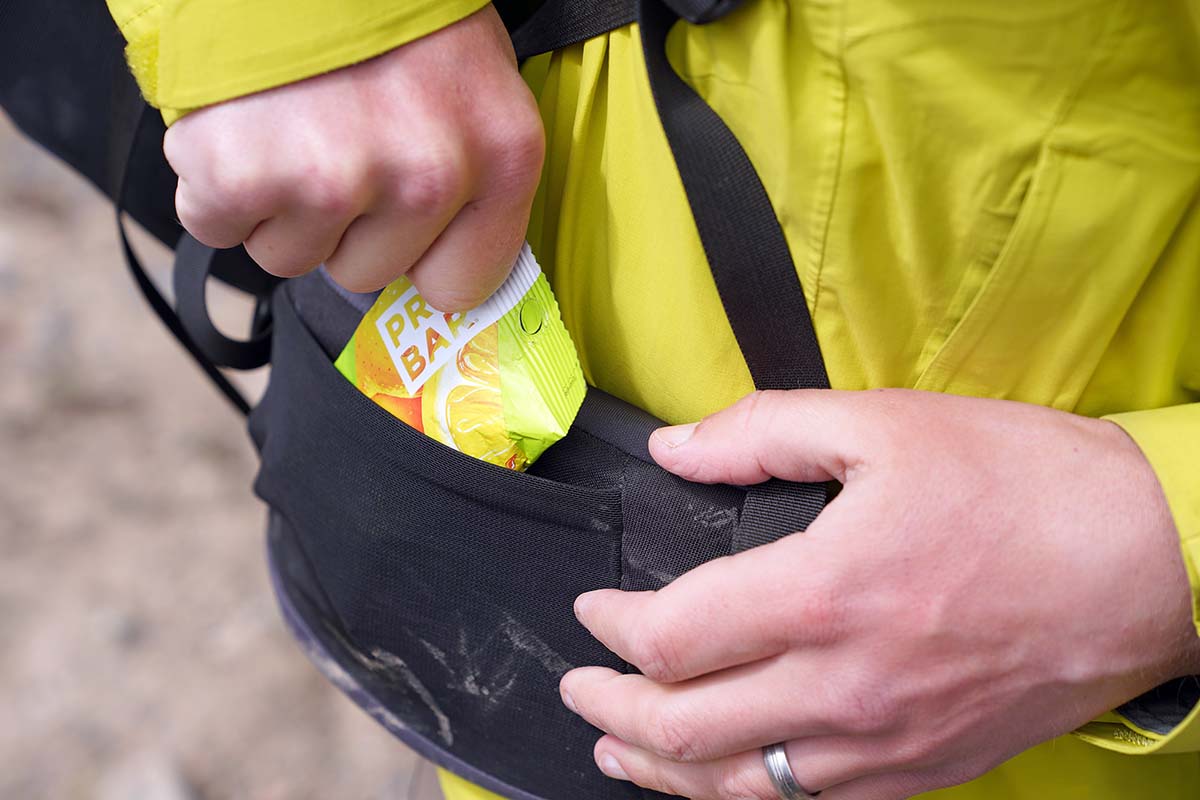 Comparison Table
| Pack | Price | Weight | Fabric | Capacities | Access | Pockets |
| --- | --- | --- | --- | --- | --- | --- |
| Arc'teryx Bora AR 63 | $360 | 5 lbs. 0 oz. | Nylon (420D & 630D) | 50, 63L | Top, side | 6 exterior |
| Osprey Aether Plus 70 | $360 | 5 lbs. 9.7 oz. | Nylon (210D) | 60, 70, 85, 100L | Top, front | 9 exterior |
| Gregory Baltoro 65 | $300 | 4 lbs. 13.4 oz. | Nylon (210D & 630D) | 65, 75, 85L | Top, front | 9 exterior |
| Mystery Ranch Terraframe | $400 | 5 lbs. 11.2 oz. | Cordura (330D) | 65, 80L | Top, side | 4 exterior |
| Osprey Atmos AG 65 | $270 | 4 lbs. 9 oz. | Nylon (100D x 630D) | 50, 65L | Top | 8 exterior |

The Competition
Arc'teryx's Bora AR 63 is a burly backpacking pack built for heavy hauling over rough terrain. In the same category, Osprey's Aether Plus 70 is another capable design to consider. The line was given a recent revamp, but the impressive performance chops remain: for the same price as the Bora, the Aether offers excellent comfort and a well-executed feature set, including a more breathable foam and mesh backpanel to keep you cool, convertible top lid/daypack, great adjustability including a rip-and-stick Velcro system to tailor the shoulder straps and hipbelt, and thoughtful organization with ample compression straps and pockets. We especially like the convenient front panel access to the main compartment and zippered sleeping bag compartment, both of which the Bora lacks. The Aether is heavier at 5 pounds 9.7 ounces, but we think the bump in organization is worth the slight weight penalty. And for those who don't need all the external storage options, Osprey's standard Aether collection (no "Plus") is cheaper and lighter.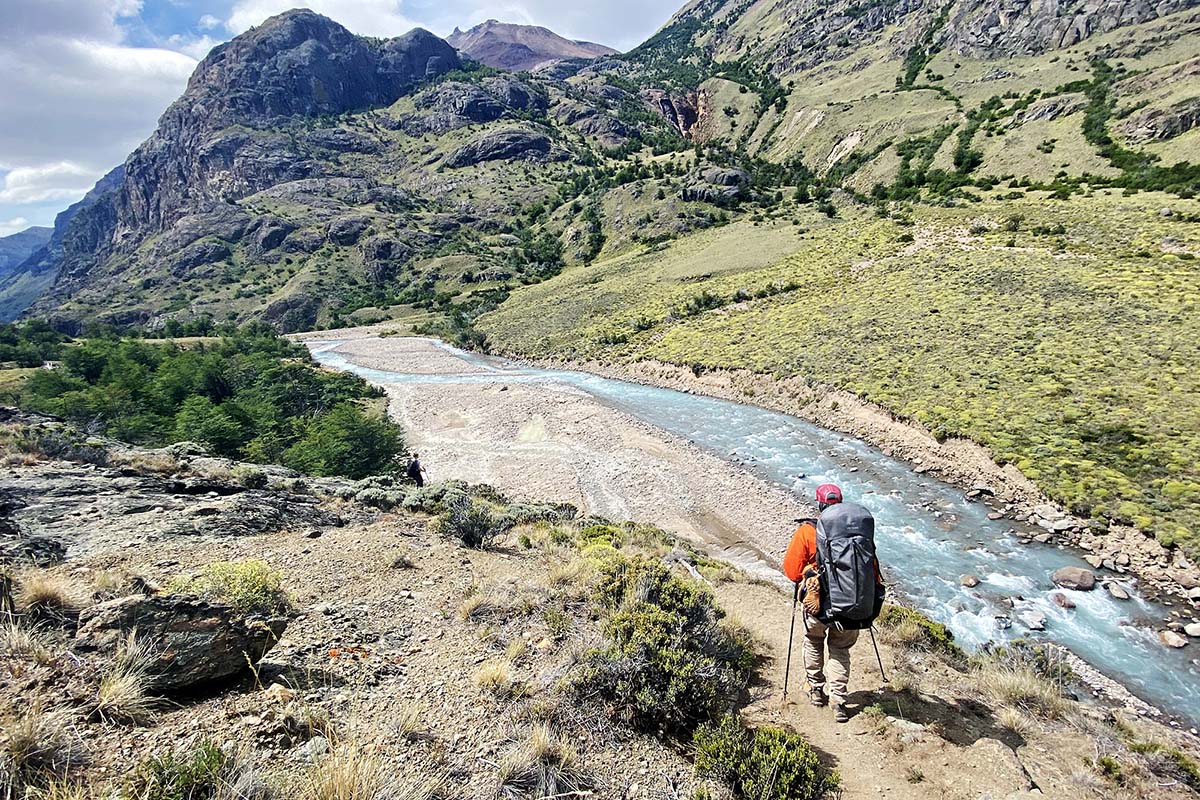 Gregory offers an extensive collection of comfort-focused designs, and their Baltoro 65 is no exception. Like the Bora AR 63, the Baltoro is built for hauling heavy loads with strong suspension, supportive padding, and a great assortment of features, including a large stretch shove-it pocket at the front of the pack and integrated rainfly. Further, the Gregory sports a unique hipbelt and shoulder harness that rotate independently—like the Bora, this design is intended to reduce the amount of effort required to shuttle a full pack over tricky terrain. Again, the Gregory is less robust with 210D nylon on the body and 630D at the bottom, but it's no slouch. Both packs are overkill for the minimalist backpacking crowd (the Baltoro is slightly lighter at 4 lbs. 13.4 oz.), but the Gregory offers similar performance for $60 less.
Another capable hauler to have on your radar is the Mystery Ranch Terraframe 65. The Terraframe follows a similar concept as the Arc'teryx, designed for shuttling seriously heavy loads over tricky ground (in fact, Mystery Ranch claims the pack can handle up to 150 lbs.). Like the Aether, the Terraframe is more feature-rich than the Bora with a daisy chain on the front, ample external attachment points, and a top lid that can be converted into a daypack. Further, the Mystery Ranch's sturdy metal frame is separate from the pack and allows you to add more gear, such as a duffel bag, between the pack body and frame. The Terraframe is heavier than the Arc'teryx at 5 pounds 11.2 ounces and less burly overall, but it's another design that prioritizes toughness and quality over weight. If you'll be headed out for extended periods and need to carry in a lot of gear, the Terraframe is an intriguing (albeit $40-pricier) alternative.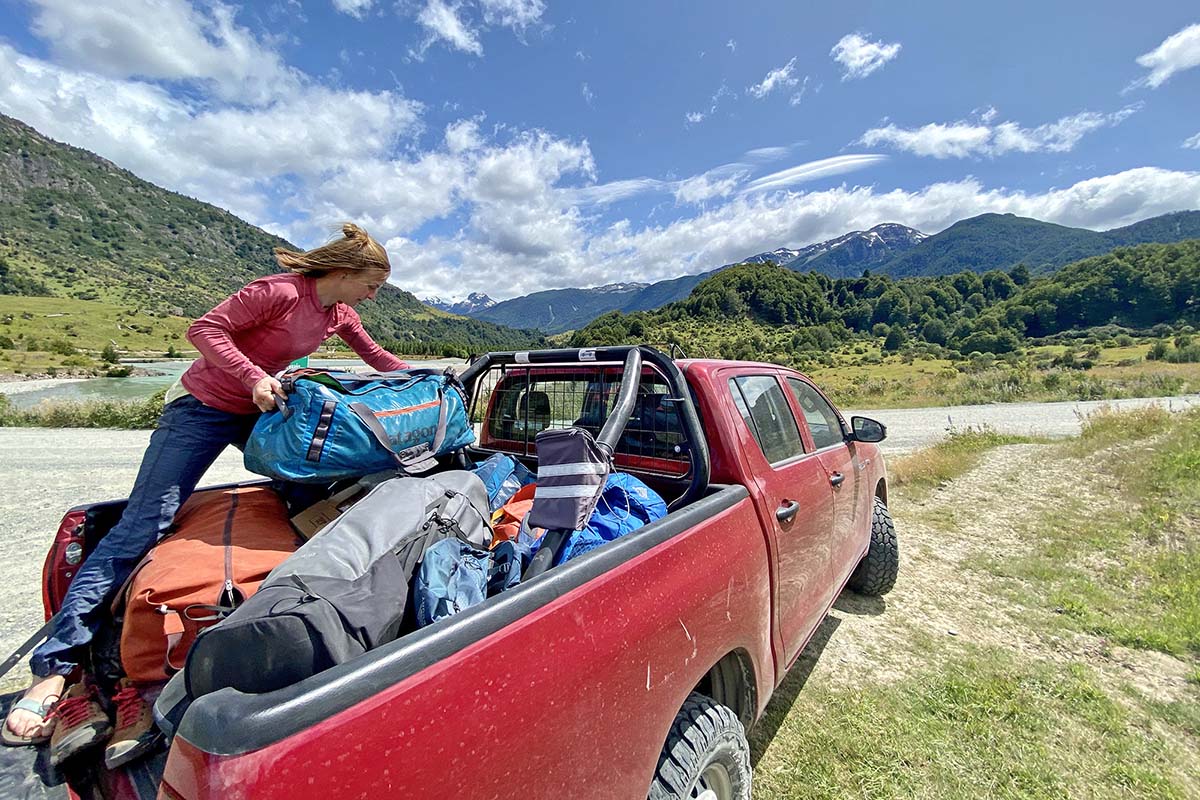 Last but not least is another Osprey design: their uber-popular Atmos AG 65. Right off the bat, we'll note that the Atmos isn't a heavy hauler like the Bora and other competitors above. Instead, it's designed for lighter loads (the listed range is 30-50 lbs.) and less technical pursuits (it lacks the impressively tough build and waterproofing of the Bora). However, the tradeoffs are a major boost in breathability thanks to the mesh-heavy "Anti-Gravity" backpanel, as well as a sizable drop in weight (4 lbs. 9 oz.). We've also found the Atmos to be more comfortable overall, with a body-hugging fit that makes it easy to carry over long distances. Again, the Bora AR 63 wins out in durability and weather protection, but the Osprey is the more comfortable, lighter, and more breathable design at a $90 savings.
If you're thinking about buying gear that we've reviewed on Switchback Travel, you can help support us in the process. Just click on any of the seller links above, and if you make a purchase, we receive a small percentage of the transaction. The cost of the product is the same to you but this helps us continue to test and write about outdoor gear. Thanks and we appreciate your support!
Depending on the seller, most products ship free in the United States on orders of $50 or more. International shipping availability and rates vary by seller. The pricing information on this page is updated hourly but we are not responsible for inaccuracies.
Read More From Switchback Travel