The ultralight Arc'teryx Cerium SL Hoody combines 850-fill down with synthetic insulation, and it was an obvious choice for our recent bikepacking trip to Mongolia's Khangai Mountains and trek through the Altai Range. With packing space at a premium (particularly on a bike) and temperamental weather conditions, I needed a lightweight, warm, and compressible option to tackle whatever came our way. After braving unexpected storms throughout the adventure, the Cerium SL delivered on all accounts. Even though it is not as breathable or weather-resistant as other fully synthetic options, its efficient warmth has made it a staple in my pack. Below we break down the Cerium SL's performance. To see how it stacks up, see our article on the best down jackets.
 
---
Table of Contents
---

Performance
Warmth
We'll start by noting that the Arc'teryx Cerium SL Hoody is the lighter-weight sibling of the popular Cerium LT, with 1.7 ounces of 850-fill down as opposed to 3.4 ounces in the latter. You also get a nice mix of Coreloft synthetic insulation in areas most prone to getting wet (the cuffs, under the arms, and along the shoulders and collar), which Arc'teryx calls "Down Composite Mapping." At just 7.6 ounces for the hoody version, the Cerium SL is the lightest down jacket line that Arc'teryx makes.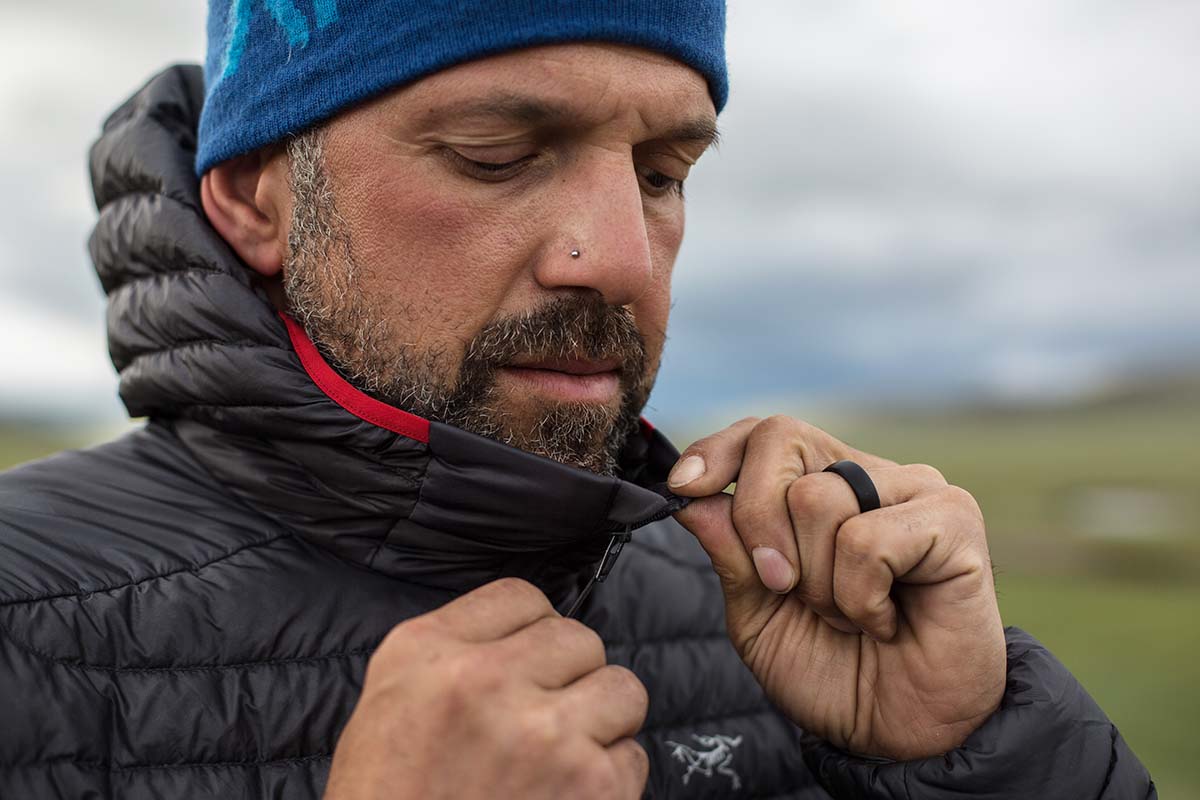 During our recent Mongolia trip, the jacket kept me warm and dry even during unexpected exposure to the elements. I tend to overheat while active and typically only wear down midlayers in idle situations like early mornings around camp and transitioning when skiing; it was no different with the Cerium SL. I wore it over a light long-sleeve merino shirt and was quite comfortable even as we were hammered with snow in camp. But as soon as I started moving, I overheated, and had to stop to remove the Cerium SL in the midst of a fierce snowstorm. This isn't a surprise—the Cerium SL is a superb insulator for its weight—but the jacket isn't ideal during high-exertion activities. In terms of breathability, fully synthetic options like the Arc'teryx Proton LT and Patagonia Nano-Air will perform much better.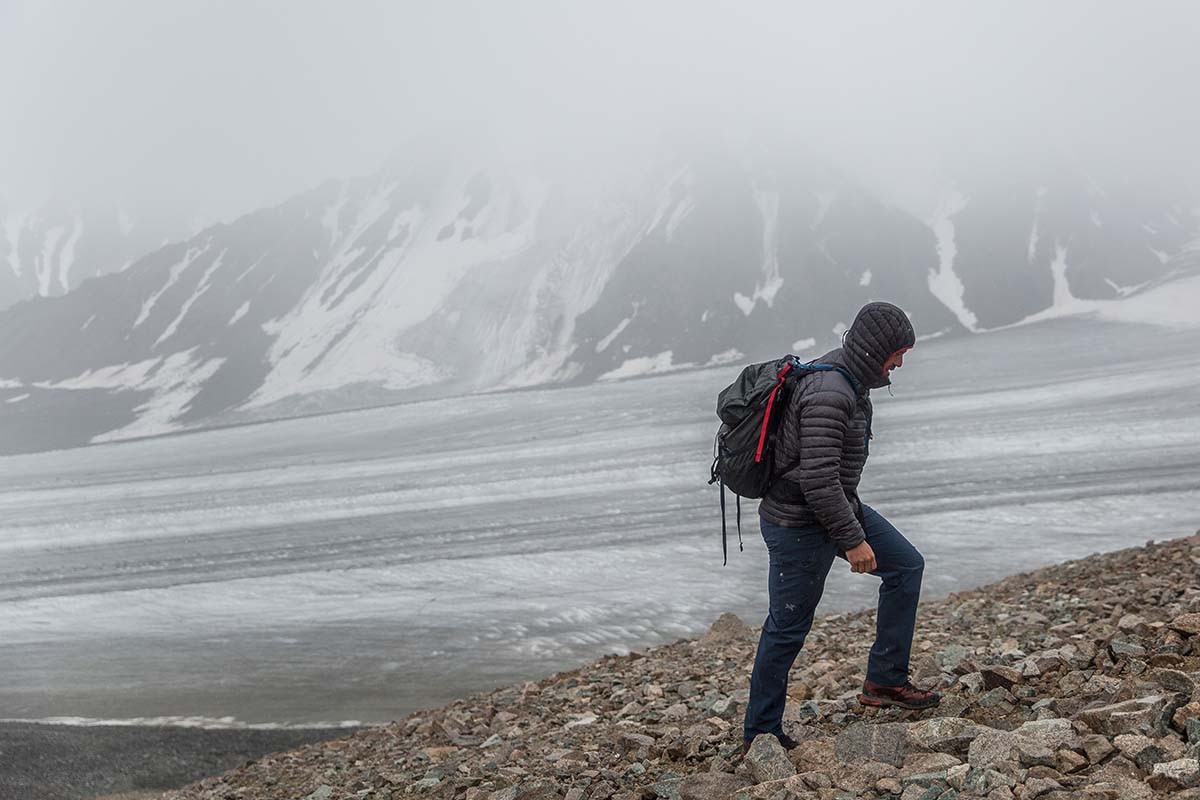 Weight and Packability
Given its warmth and features, including synthetic insulation which tends to be heavier than down, the Cerium SL is impressively lightweight. At 7.6 ounces for a men's medium, the hooded jacket truly lives up to the "SL" or "superlight" in its name. We also found that an additional .2 ounces can be shaved by leaving the stuff sack at home.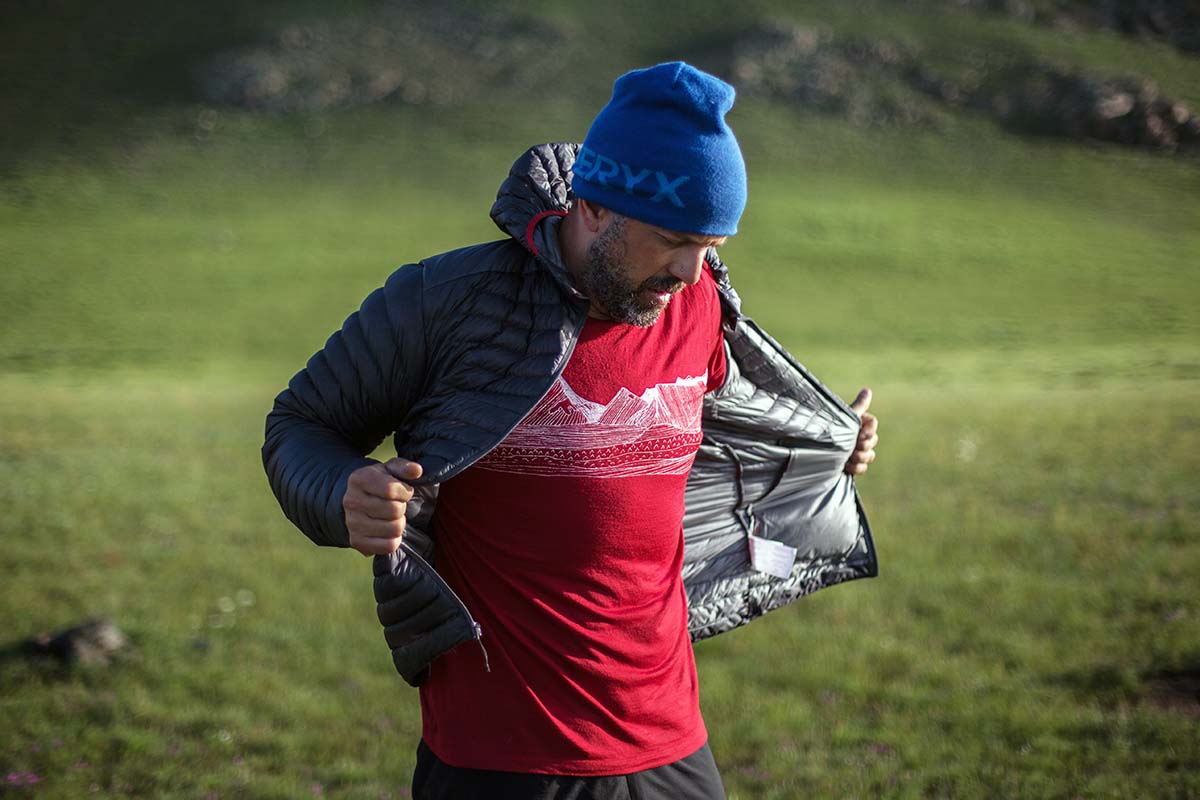 Among down hoodies in the ultralight category, the Cerium SL truly is impressive. Montbell's Ex Light Down Anorak clocks in identical to the Cerium at 7.6 ounces and uses 3 ounces of 900-fill down, although you sacrifice some features like zippered hand pockets and trade a full-length zipper for a pullover style. Montbell also makes the full-zip Plasma 1000 without a hood, which is incredibly light at 4.8 ounces total and with 1.6 ounces of 1,000-fill down. Moving back toward the mainstream, the popular Mountain Hardwear Ghost Whisperer/2 comes in at 8.8 ounces total and with 3 ounces of 800-fill down, and their new, more specialized UL model checks in a couple ounces lighter at 6.7. However, it's worth noting that these comparisons aren't exactly apples to apples: all four of these jackets exclusively use down fill, whereas the Cerium SL adds synthetic on top of its 1.7-ounce down fill weight. 
In terms of packability, the Cerium SL stuffs easily into its included storage sack, compressing to about the size of a 32-ounce Nalgene bottle. We found the jacket can even be squished down into a smaller space—it easily packed into the lid of my Black Diamond Speed 40-liter pack and the side pocket of my Ultimate Direction Fastpack 20 for quick and easy access (the 20L has since been discontinued, but the takeaway is that the jacket should fit in the mesh side pocket of most small daypacks). Because it packs up so small and adds so little weight, I've found myself tossing the Cerium SL into my bag on almost any occasion when it looked like temperatures might dip.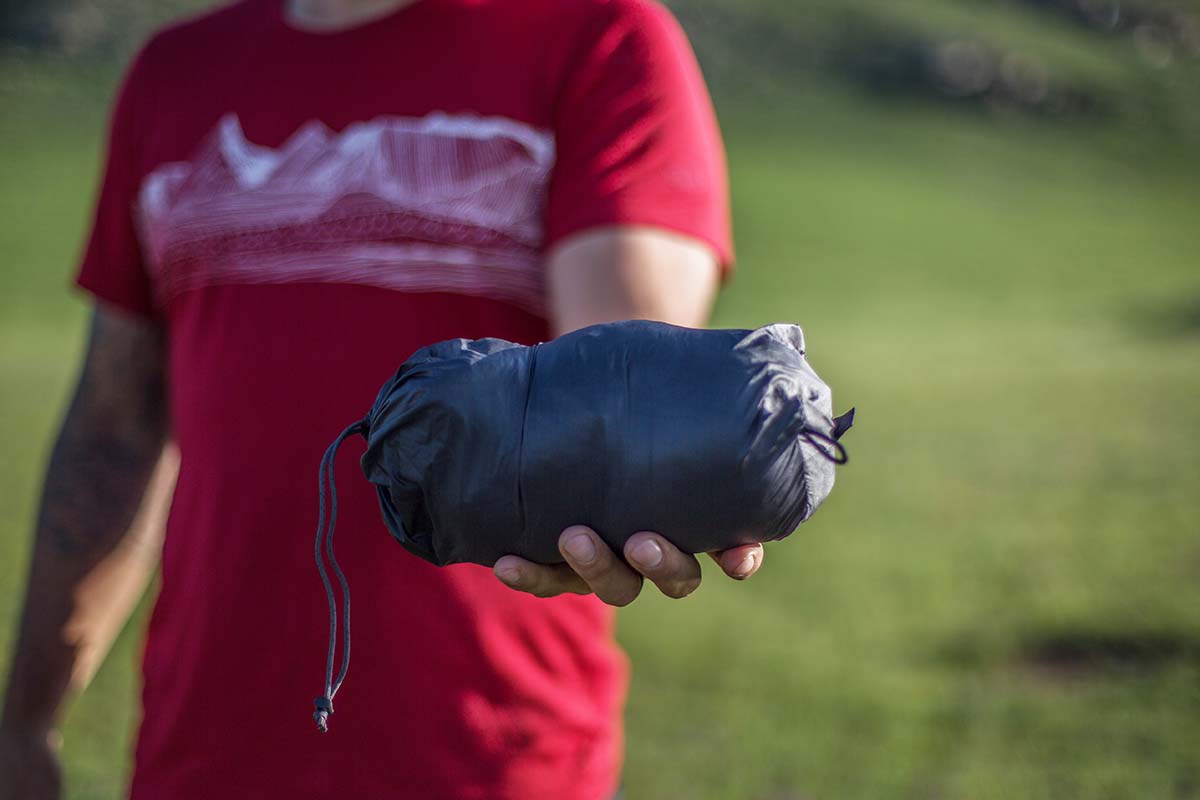 Weather Protection
I always carry a rain jacket or waterproof hardshell on backcountry trips, and I've never relied fully on a down jacket to keep me dry in precipitation. In Mongolia, however, there were sudden changes in the weather with little time to prepare. In addition, my outer shell's zipper broke during a snowstorm, leaving the Cerium SL exposed to the elements. The good news is that it still kept me toasty and didn't fully dampen as I expected. Not surprisingly, when the rain and snow persisted for extended periods of time, moisture slowly started to penetrate the jacket, particularly through the seams between the baffles.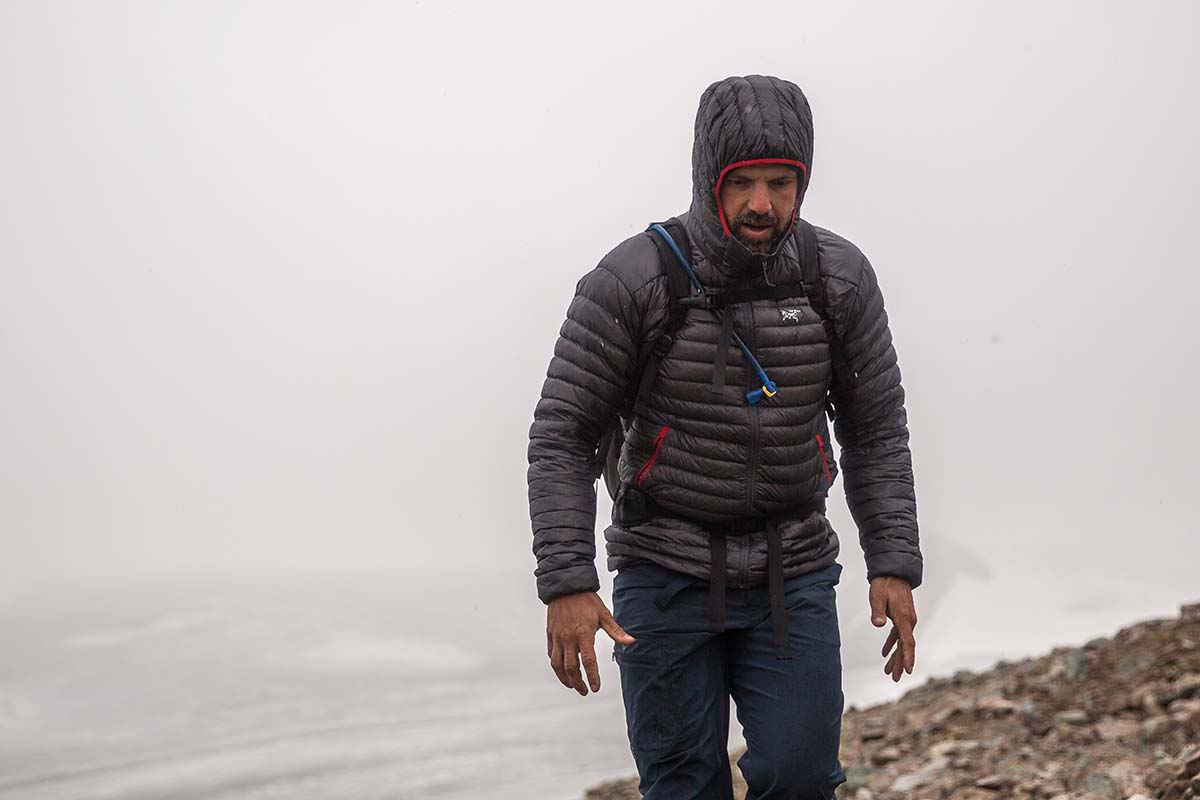 Throughout my experiences, the DWR finish repelled light rain and hail without wetting out, and the areas with Coreloft retained their insulating power. The nylon shell did a decent job of blocking wind, but I could definitely feel drafts between the baffles when it picked up, especially in cooler temperatures. Given the relatively meager 1.7 ounces of down and 7-denier shell thickness, feeling some cold and wind through the jacket was expected. As I touched on above, in almost all alpine scenarios, you'll want to bring a waterproof shell along for maximum protection.

Key Features
The Arc'teryx Cerium SL Hoody is a minimalist jacket in weight and size, yet still retains important features that often are dropped in efforts to shave weight. Two roomy zippered hand pockets offer ample storage for a hat, GPS device, or even gloved hands. Both the waist hem and down-insulated hood have adjustable drawcords to seal out drafts and cinch as tight as you want. And although the hood isn't advertised as being helmet-compatible, I was able to squeeze in a climbing helmet underneath. Lastly, a stuff sack is attached to the inside of one of the zippered hand pockets, allowing for quick access when you need to stow the jacket.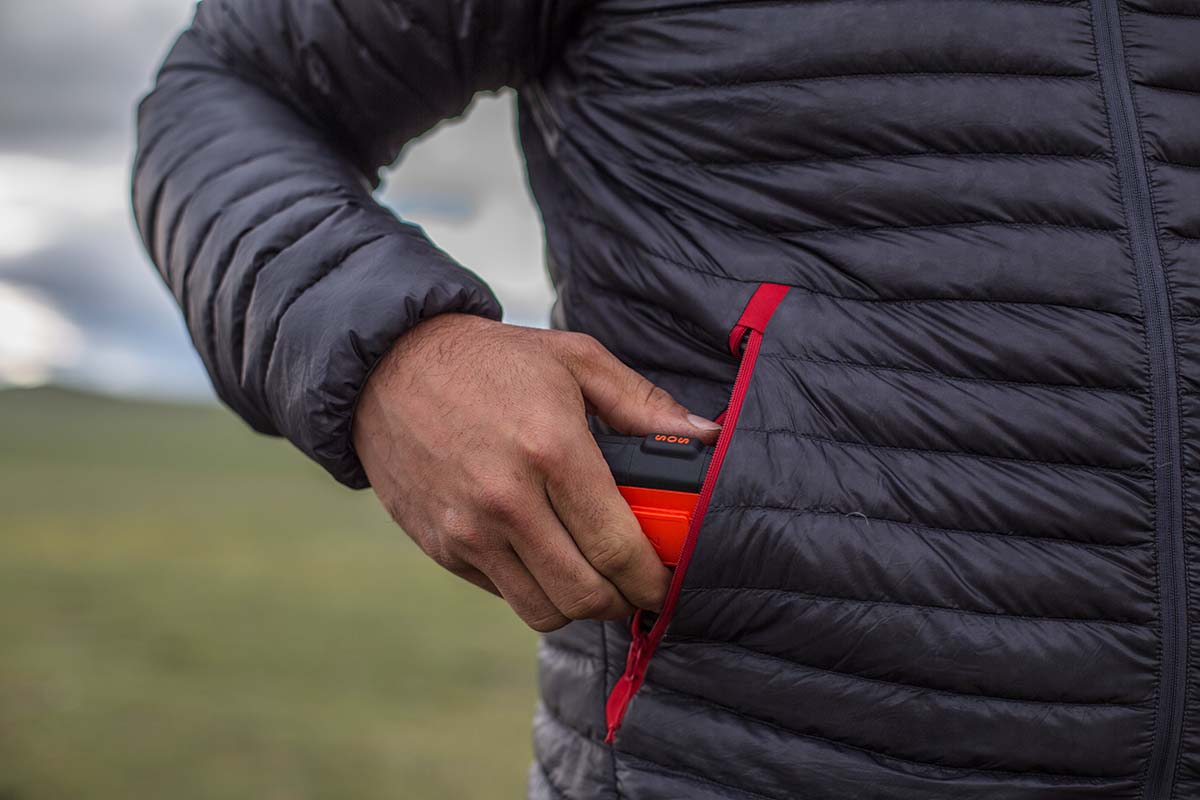 Durability and Build Quality
For ultralight gear like the Cerium SL, outdoor companies cut weight by using low-denier threads for the shell, which results in less durable products. The 7-denier shell does feel delicate and thin, but to our pleasant surprise, it has not torn or snagged despite our rough handling. The jacket has been stuffed and pulled out of bikepacking bags, haphazardly crammed into backpacks, and even used as a blanket for my rather large dog while camping. Other than a feather poking out here and there, the Cerium SL has shown very little wear, and all zippers and cinches have held up remarkably well. To be sure, one major factor here is Arc'teryx, which makes some of the priciest jackets on the market but also excels in build and material quality and craftsmanship.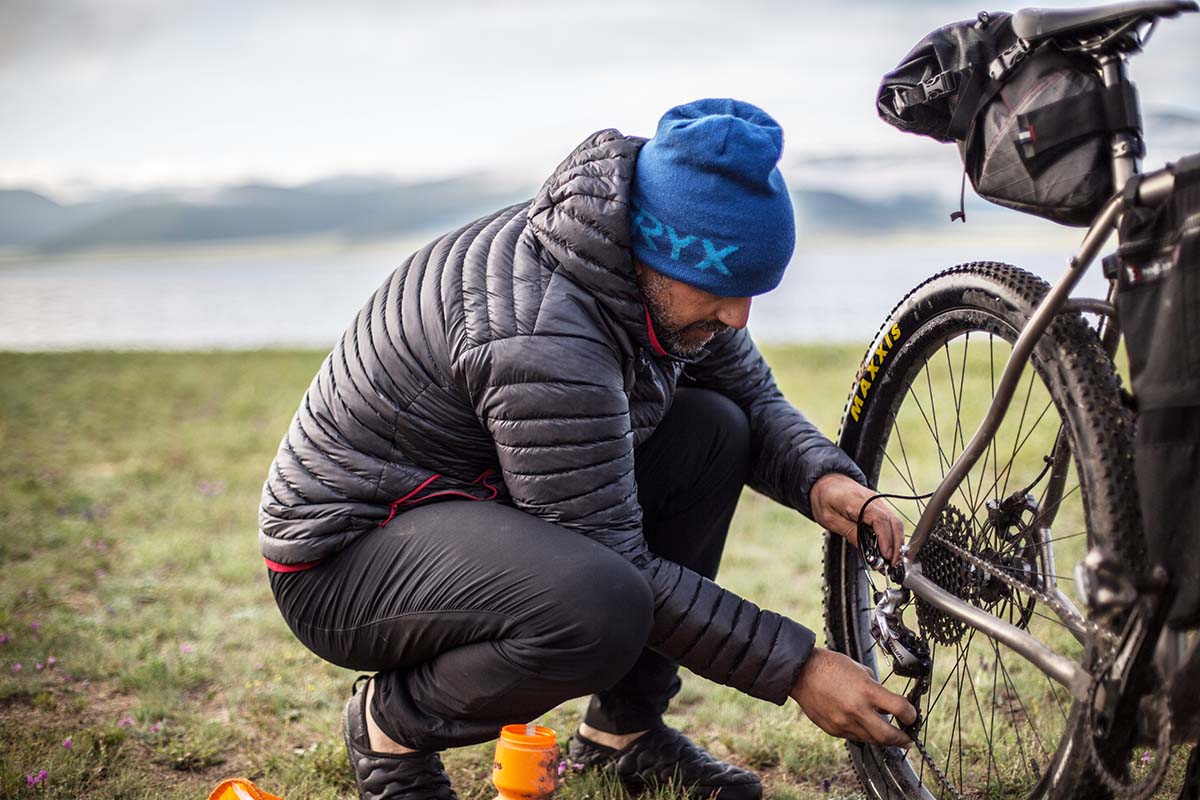 Fit and Comfort
Arc'teryx describes the fit of the Cerium SL as "trim," and I found this to be a little too accurate. While mostly true to size (I always get a large in Arc'teryx jackets), the hoody was noticeably snug in the waist and shoulders. The fit makes it easy to wear under a shell with no bunching, but it did restrict overall movement a bit. This was particularly noticeable while scrambling on 4th-class terrain. Unlike many synthetic jacket options, it doesn't have much give or stretch, and I also found it to be a bit shorter than I prefer (the waist rides up when reaching). Therefore, the Cerium SL was most comfortable during inactive times like sitting around camp or huddled in our tent at the end of the day.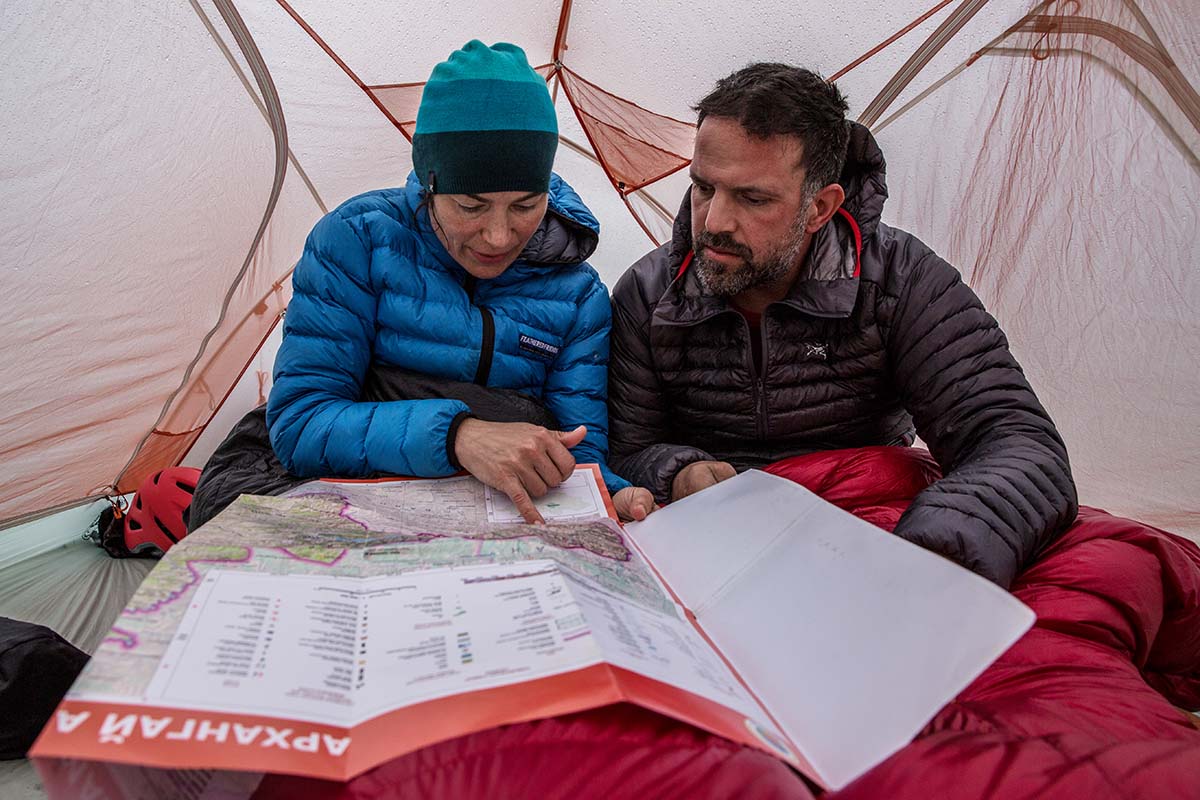 What We Like
Ultralight and packs down very small, yet still comes with features like zippered hand pockets and a cinchable hood and waist.
The synthetic insulation in areas prone to wetting out kept me warm and dry even in severe weather.
The clean lines and precise stitching give this jacket a sleek look.
 
What We Don't
A little too trim and snug for our taste. I had trouble reaching overhead and found that the jacket rode up at times.
The jacket can be drafty in cold winds, especially through the stitching between baffles.
Doesn't excel in breathability, although it's not intended for sustained active use like other fully-synthetic options.


Comparison Table

The Competition
In terms of competitors, we'll start in-house with one of Arc'teryx's most popular jackets: the Cerium LT Hoody. Both Cerium jackets use Down Composite Mapping for a combination of 850-fill down and Coreloft synthetic, which still is a rarity in the jacket world and a nice design feature. The LT version is heavier at 10.8 ounces, warmer with 3.4 ounces of 850-fill down, and more durable with a 10D ripstop nylon shell as opposed to the thin 7D fabric on the SL. All things considered, the Cerium LT is the better all-rounder: we've found it ideal for staying warm on backpacking trips, under a shell for downhill skiing, and worn casually around town (for more information, see our in-depth Cerium LT review). But the Cerium SL is best for ultralighters and those counting ounces, and its warmth and weather protection exceeded expectations during our testing. Both offer outstanding build quality and have a high-end look and feel.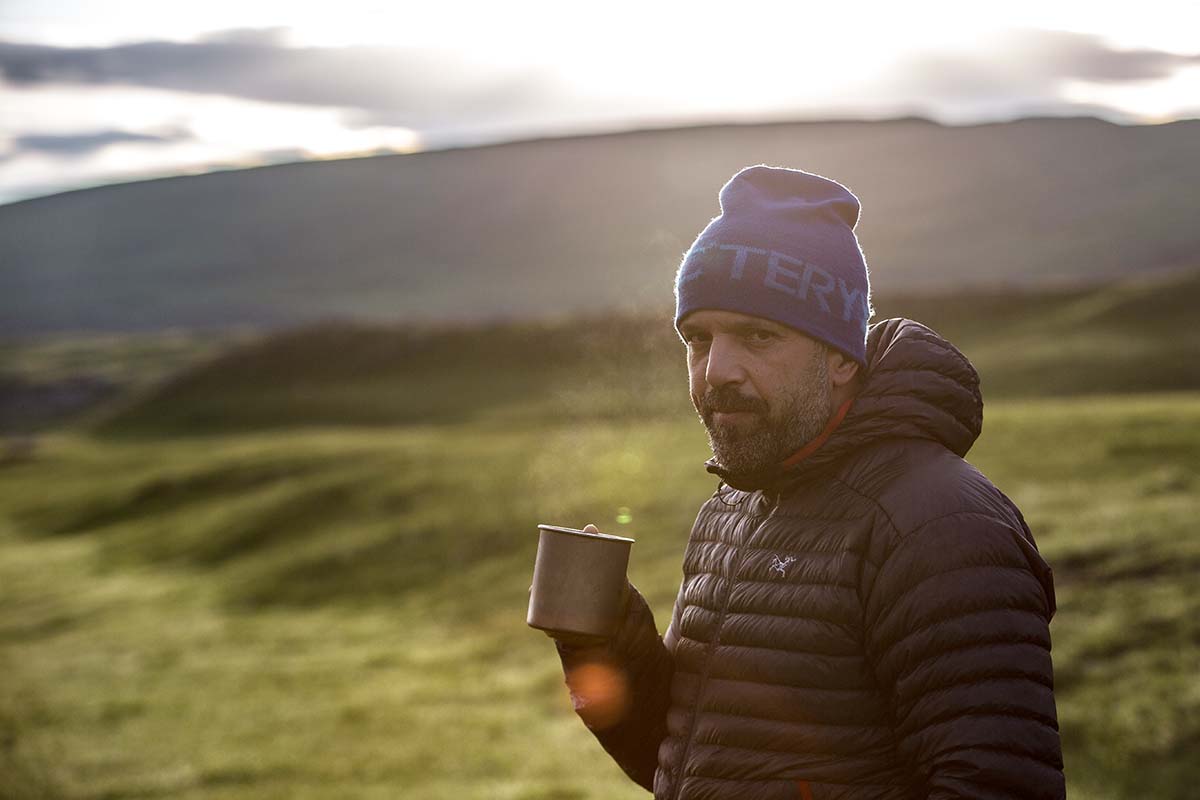 Mountain Hardwear's Ghost Whisperer/2 gives the Cerium SL a run for its money when it comes to warmth relative to weight. Its 8.8-ounce total weight is higher, but you get 3 ounces of 800-fill down, and its full hood, two zippered hand pockets, and side cinch make it competitive in the features department as well. That said, the Ghost Whisperer's hood isn't adjustable, and its cuffs are wide and lacking in stretch, making the jacket a bit less effective at sealing out the cold. And when it comes to weather protection, the Cerium SL's added synthetic insulation has proven invaluable. It's a close call and both jackets are similarly priced (the Cerium SL is $359 and Ghost Whisperer is $325), but we give the nod to the tried-and-true Ghost Whisperer for its better warmth and more generous fit.
For a step up in warmth, we love Feathered Friends' lightweight Eos Down Jacket. Right off the bat, we'll note that this isn't a superlight, specialized piece like the Cerium SL, but it clocks in at a reasonable 10.6 ounces, is noticeably warmer with 3.7 ounces of higher-quality 900-fill-power down, and sports a more durable 12 x 20-denier shell. In addition to the higher weight, the Eos is also a bit more vulnerable to moisture (the Cerium's addition of Coreloft is a real plus for especially wet climates), but it's $20 cheaper and much more well-rounded. If your main priority is weight for mild-weather pursuits, however, the Cerium SL makes a lot of sense.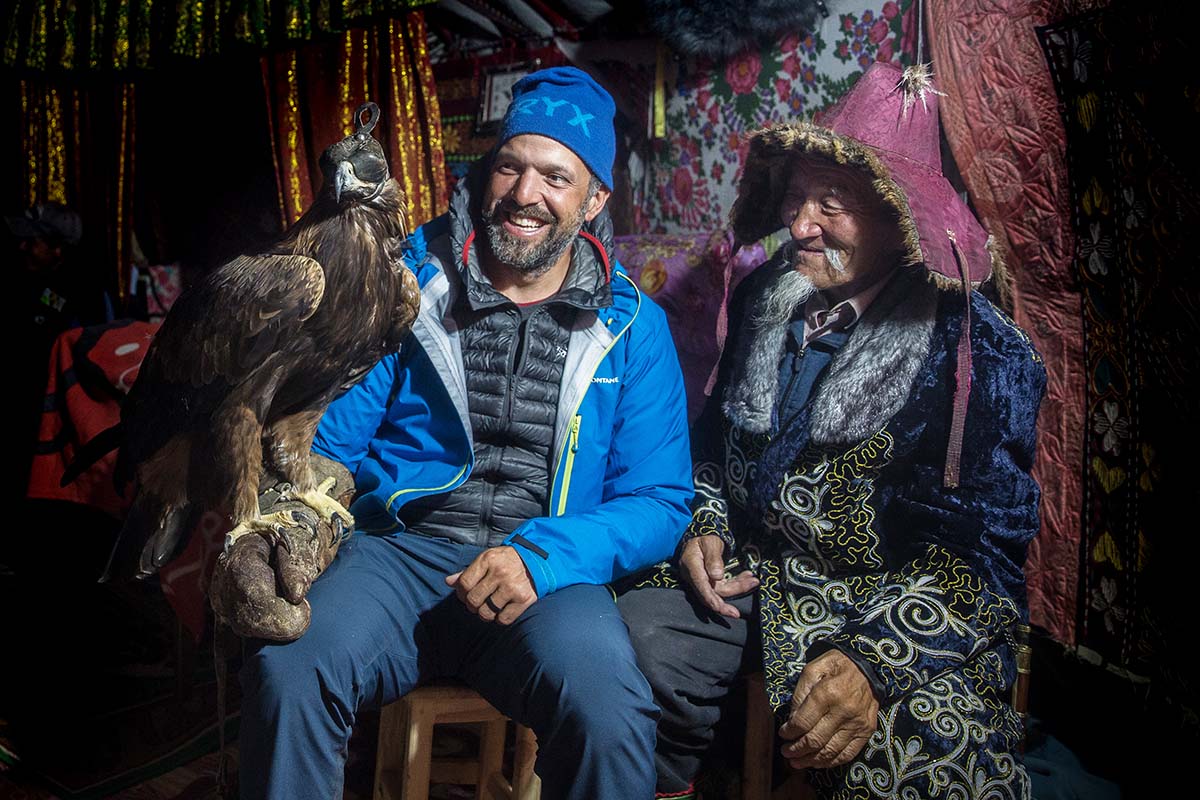 If shaving weight is your ultimate goal, it's hard not to be impressed by Montbell's Plasma 1000. This unique jacket has 1.6 ounces of ultra-premium 1,000-fill down and weighs only 4.8 ounces total for the non-hoody version (the hooded Plasma 1000 Alpine Down Parka is 8.4 ounces). That said, keep in mind that this truly is a minimalist piece with no hand pockets, no hood, very few adjustments, and build quality that is good but a step down from Arc'teryx. All told, the Montbell is a nice option for serious ULers who want the most warmth for the weight, but the Cerium SL is less compromised in terms of features, and we like the addition of Coreloft synthetic for added assurance in wet weather.
A final ultralight option to consider is Montbell's Ex Light Down Anorak. Right off the bat, we'll note that this is a unique piece: it lacks a full front zipper in favor of a pullover design and forgoes zippered hand pockets for a kangaroo-style, non-zippered front pouch. In terms of warmth, the Ex Light packs in 3 ounces of premium 900-fill down and clocks in at the same weight as the Arc'teryx at 7.6 ounces total (again, this isn't exactly an apples-to-apples comparison since the Cerium SL also uses synthetic insulation). In the end, you sacrifice in both features and everyday appeal, but the Montbell packs in more down and is cheaper at $299. 
If you're thinking about buying gear that we've reviewed on Switchback Travel, you can help support us in the process. Just click on any of the seller links above, and if you make a purchase, we receive a small percentage of the transaction. The cost of the product is the same to you but this helps us continue to test and write about outdoor gear. Thanks and we appreciate your support!
Depending on the seller, most products ship free in the United States on orders of $50 or more. International shipping availability and rates vary by seller. The pricing information on this page is updated hourly but we are not responsible for inaccuracies.
Learn More About Outdoor Gear