British Columbia's South Coast often has what is referred to as a "damp cold," with moisture in the air and temperatures that hover around freezing. This can lead to a deep body chill to which I easily fall victim. I've typically worn down rather than synthetic fill, but recently began searching for the perfect insulated jacket—one that is reasonably light, not too bulky, breathable, and most importantly, keeps me warm whether I am active or sedentary in the backcountry. Black Diamond's First Light Hoody achieves many of those goals, offering great performance and versatility along with a durable build that stands up well to abuse. Below we break down the First Light Hoody's insulation and warmth, weather protection, breathability, weight and packability, fit and sizing, and more. To see how the First Light Hoody stacks up, see our articles on the best synthetic jackets and best midlayers.
 
Performance
Insulation and Warmth
The most important metric for an insulated jacket is its ability to keep you toasty in a variety of weather conditions. With the First Light Hoody, Black Diamond opted for 60g/m2 PrimaLoft Silver Active insulation, which like the Gold version, does not lose its loft or insulation qualities when wet. To test the jacket, I've worn it in virtually all weather conditions while climbing, mountaineering, and backcountry skiing.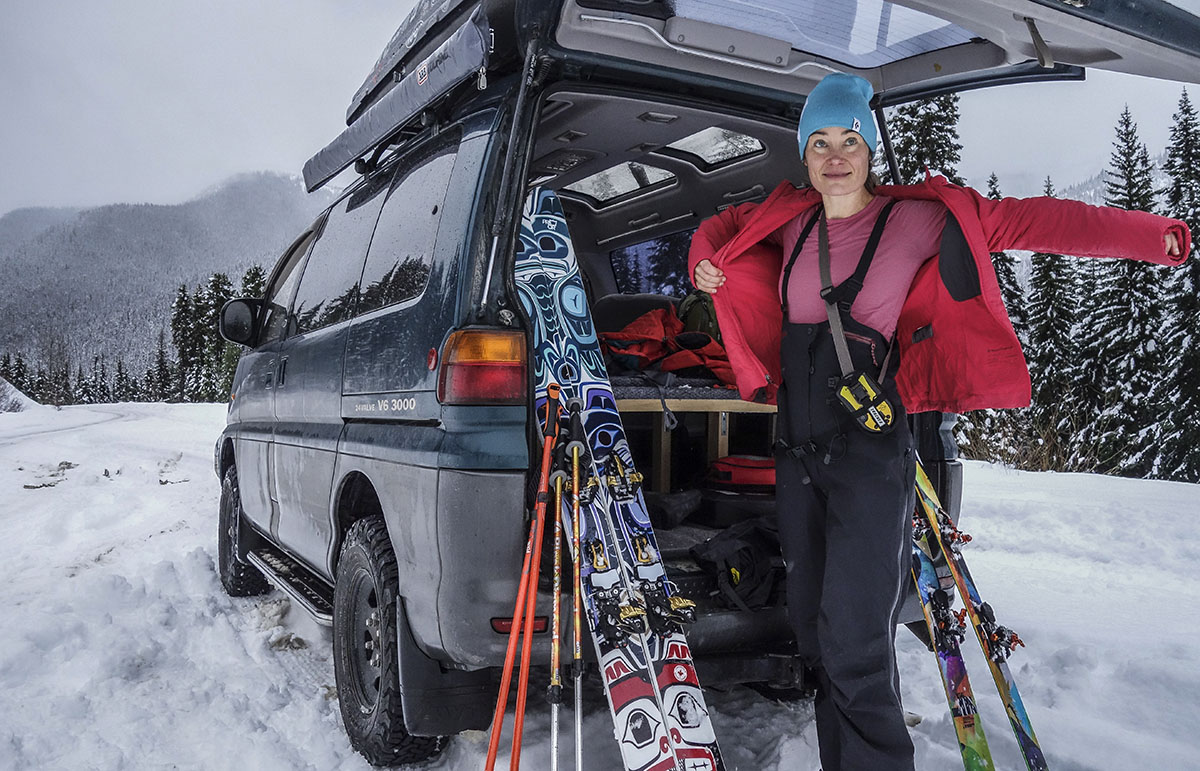 The first outing was an alpine camping trip in an early season sleet and windstorm, during which I wore the First Light Hoody as a midlayer under a hardshell. Despite some very tough conditions, the jacket remained warm and dry throughout. On another occasion, I remember pulling the First Light Hoody from my pack—where I also had stuffed my snow covered touring skin— to find that the jacket was soaked. Though unintentional, it was a perfect test of PrimaLoft's insulation, which managed to keep me warm despite its dampness. You just won't get that with down insulation.
For these reasons, the First Light Hoody easily has become my favorite garment for active wear down to within about 5 degrees of freezing. When the temperatures dip below freezing and I'm confident that moisture will not be an issue, I opt for a down insulating layer instead as it offers more warmth at a lower weight.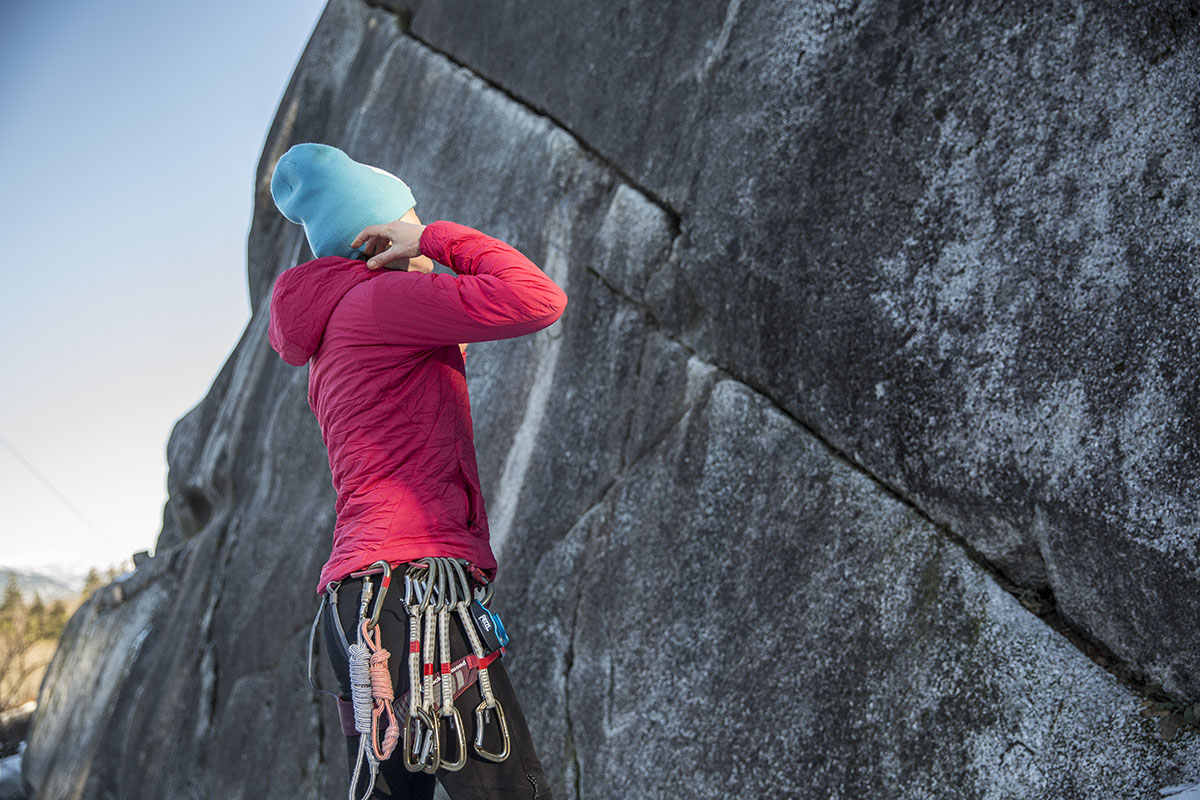 Weather Protection
The shell on the First Light Hoody is made by Swiss-manufacturer Schoeller, and consists of stretchy woven nylon with their patented nanotechnology (it's said to mimic natural products like beetle shells and honeybee wings). Regardless of the recipe, the result is a water repellant finish that does the job. In light to moderate precipitation, water beads up and rolls off the jacket with ease. However, I have noticed that during sustained exposure the area close to the cuff has started to wet out. When the rain or sleet is constant, I definitely recommend wearing a hardshell jacket over it.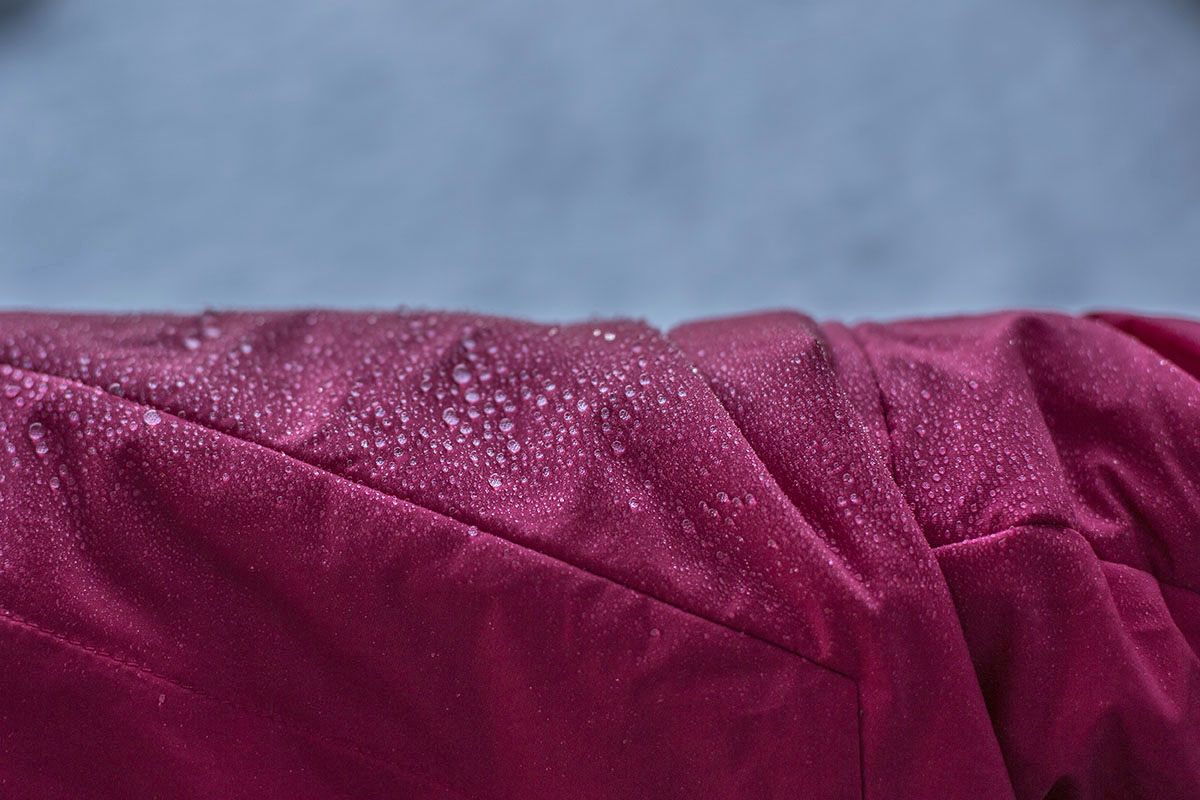 While I anticipated the warmth and perhaps even the water repellency, I was surprised by the First Light Hoody's ability to cut harsh winds. Given how breathable it is, I expected that the wind would permeate the jacket. I've been caught in high winds while wearing the First Light as my outer layer, but was completely protected from the bite of cold air, a welcome surprise from such a breathable piece.
 
Breathability
PrimaLoft's Silver Insulation Active is designed to breathe, and Schoeller's nanotechnology shell is the same. Therefore it's no surprise that the First Light Hoody is touted as Black Diamond's most breathable insulating layer. I've worn the jacket in situations where I normally would heat up and opt for a thinner piece, such as sun-drenched winter climbs and backcountry ski tours involving significant ascents. While touring in the First Light Hoody, I've worn it over layers of merino and suspected that I would get warm in a hurry, but instead I remained comfortable and did not need to take the First Light off or even unzip it. To date and despite my best efforts, I have not managed to sweat while wearing it. I love pointing this out to others in the group who are drenched from sweat while I'm dry and warm.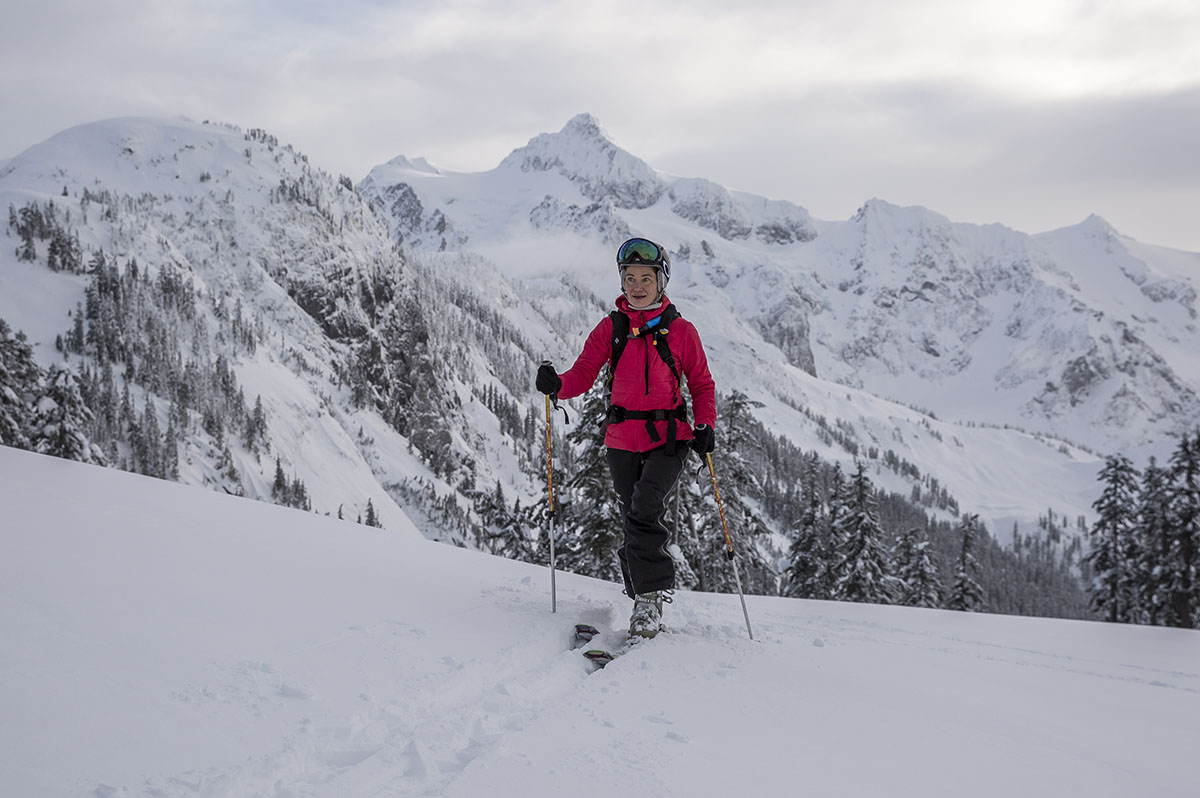 Durability
The build quality of the First Light Hoody is excellent, and the jacket has proven to be extremely durable through a full season of use. The stretchy 40-denier outer fabric is pretty thick for a jacket in this category—Patagonia's Nano-Air has a thin 20D shell, Outdoor Research's Uberlayer uses 30D, and Arc'teryx's new Proton AR matches the First Light at 40D. This makes it easier to trust as an outerlayer around sharp climbing and ski gear. I have not been easy on this jacket: it has been stuffed into packs, dropped in mud, snow, and slushy cabin floors. Despite the abuse, it still looks new with no significant signs of wear and tear.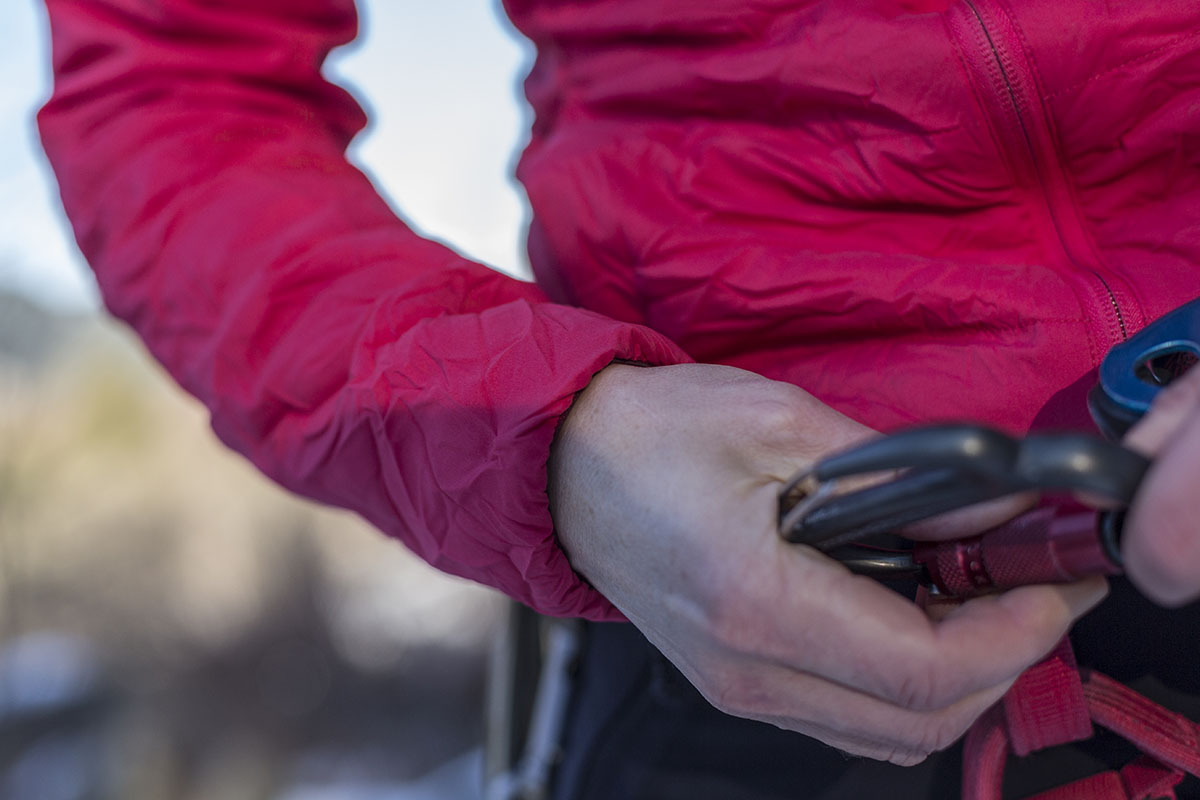 Weight and Packability
The First Light Hoody is on the heavy side for a synthetic jacket: my women's small weighs in at 438 grams (15.4 ounces). It doesn't come close to the weight of a down jacket, which can offer similar warmth at less than 10 ounces, but the First Light is competitive within the active insulation market. These jackets put a priority on breathability, so the shells often are a little thicker, and have tough exteriors that can handle abuse. The First Light undercuts the Outdoor Research Uberlayer (16.8 ounces), which offers comparable warmth and protection, but falls well short of a lightweight piece like Patagonia's Nano-Air Hoody (11.8 ounces). The upside is that the First Light Hoody is warmer, more weather resistant, and more rugged than the Patagonia with a 40D shell instead of 20D—all of which are important for backcountry pursuits.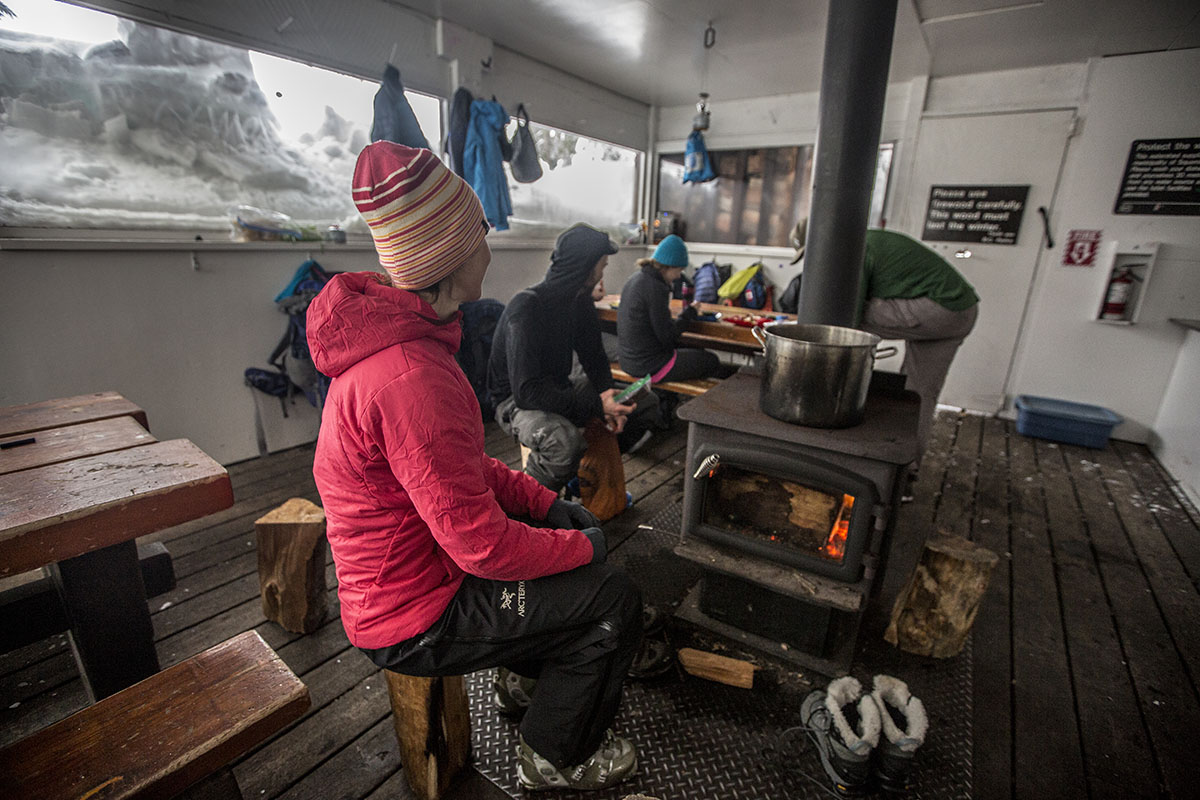 Synthetic fill is not as lightweight or compressible as down, and this is noticeable when packing the First Light Hoody. The entire jacket technically can be stuffed into its own internal mesh pocket, revealing a loop that can be clipped onto a harness with a carabineer. I'm a big fan of stuff pockets so was eager to use this option, but found that the fit is a bit tight and I am not able to stuff it easily with cold or damp hands. This issue is fairly common—we had the same problem with our OR Uberlayer—and it does fit with some effort, but I still find that it's a bit bulky to hang off a harness. Instead, I prefer to store it in my pack.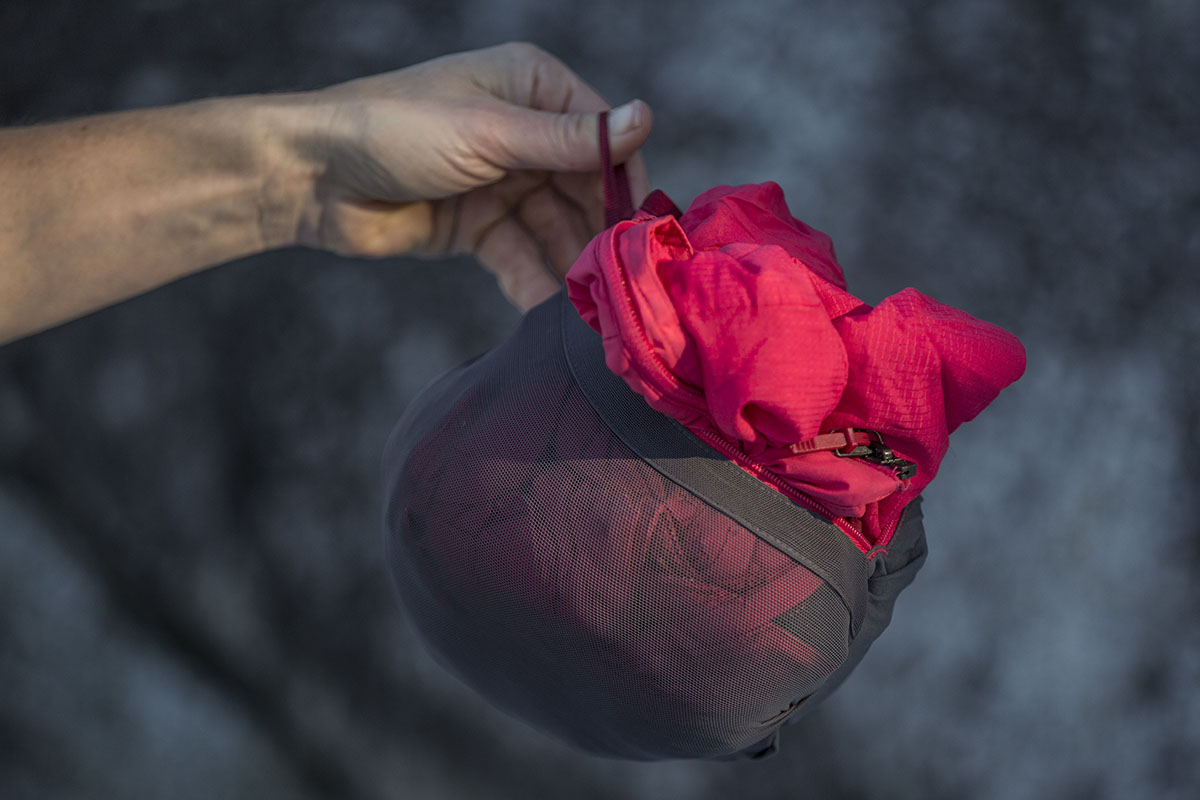 Storage
Storage is fairly straightforward on this jacket: in addition to an internal mesh pocket, you get two generously sized zippered hand pockets. I have found that the entrance to the hand pockets is a bit small for my average-sized hands, and is even more difficult to get into while wearing gloves or mittens. The large internal pocket is great for holding important items such an avalanche beacon, inReach, or phone. And as mentioned above, it's also designed to be used as a stuff sack for the jacket.


Hood
Interestingly, this jacket only is made in a hooded version (many other popular synthetic jackets come in hooded and non-hooded options). Perhaps this is due to Black Diamond's strong climbing and backcountry skiing slants, both of which favor having a hood. We have no complaints about this hood: it's comfortable, climbing helmet compatible, and helped keep my ears warm while belaying by cold crags. Keep in mind that there is no adjustability on the hood—the simple elastic piping around the rim keeps it in place. And the hood will not a fit over most ski helmets, so you'll need to use the hood on your ski or shell jacket for that.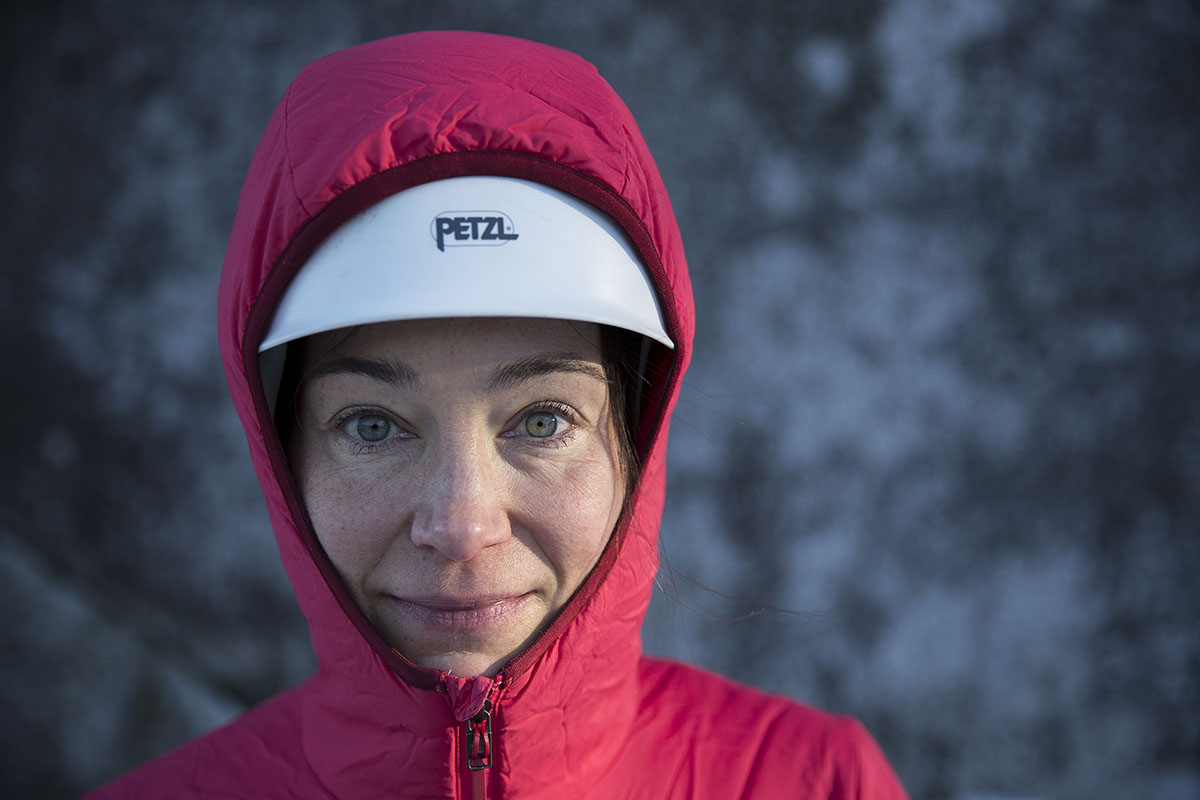 Fit and Sizing
The fit of the First Light Hoody is true to size and my women's small fits me perfectly. I wear multiple baselayers under it, yet it's still fitted enough to wear comfortably under a hardshell. Typically puffy jackets are designed for wearing while sitting or standing around, but the First Light hoody allows for movement. Both the shell fabric and insulation are stretchy, so it's easy to wear the jacket while alpine or rock climbing, or while performing simple movements like reaching down to fiddle with boots or ski bindings.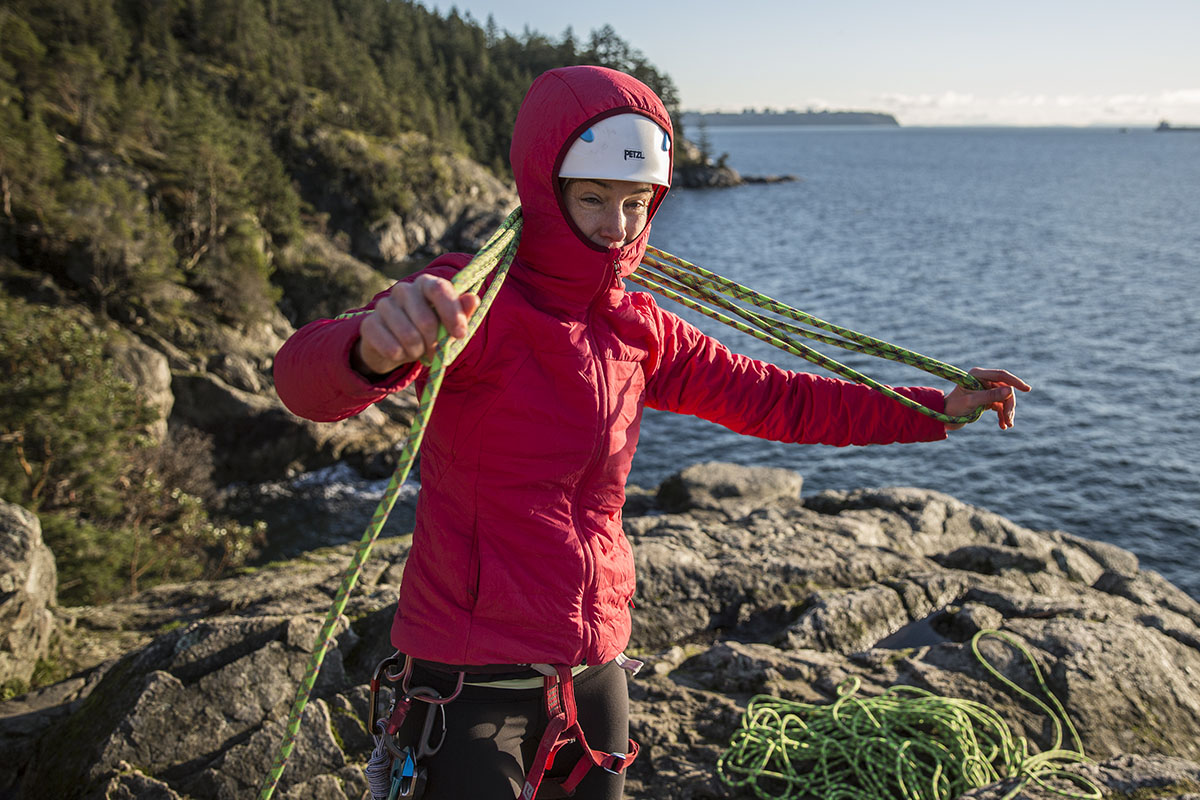 What We Like
Warm and breathable.
Exceptionally durable. I love this jacket, wear it almost daily, have not been kind to it, and it's still in great shape.
Surprisingly good wind resistance for such a breathable piece.
Minimalist elastic cuffs. I know that adjustable Velcro cuffs are popular, but I find that I constantly scratch myself with the Velcro and appreciate cuffs that simply fit well as is.
In addition to the backcountry, this jacket is spiffy and fitted enough to wear in urban settings.
 
What We Don't
Heavier than some of its rivals.
Entrance to hand pockets is on the small side, making them hard to access with gloves on.
Area near the cuff has tendency to wet out after sustained exposure.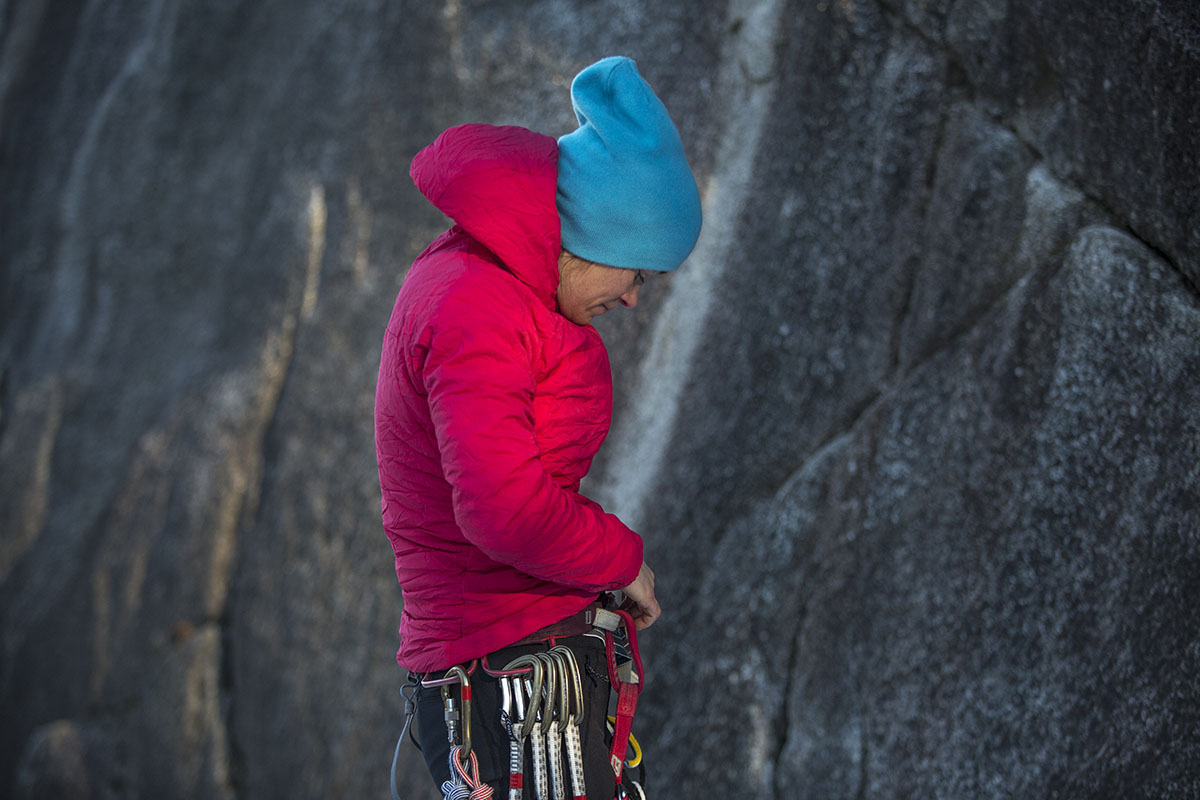 Comparison Table

The Competition
When the First Light was announced, we were very excited to test this jacket and are happy to report that it does not disappoint. All in all, it's a top tier active synthetic piece that puts together warmth, comfort, breathability, and weather resistance. Outdoor Research's Uberlayer has the same goals and we've been similarly impressed with its breathability and feature set. More, the Uberlayer's hood is adjustable. But the Uberlayer costs and weighs more than the First Light, and we've experienced fraying along the seams and the double-separating zipper not staying in place while hiking and skiing. Unless hood adjustability is critical, we prefer the First Light.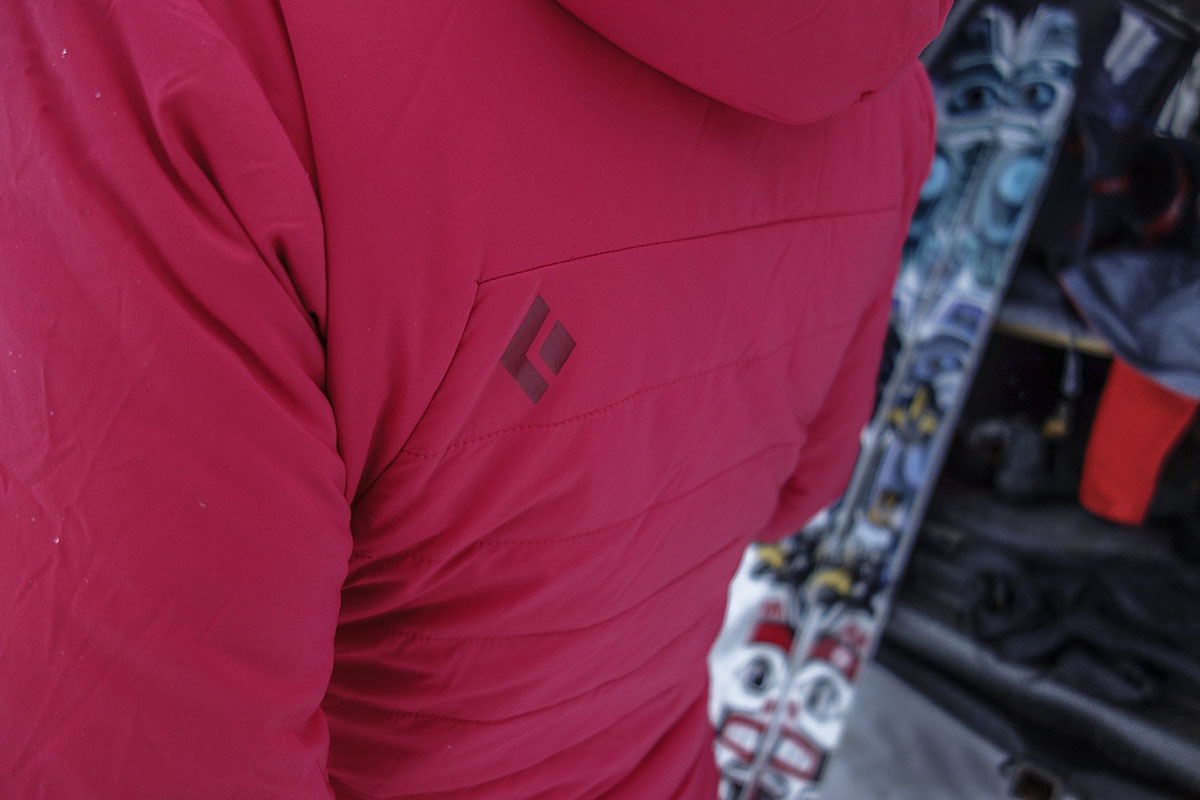 All active insulation pieces will be compared to the extremely popular and high quality Patagonia Nano-Air. The hoody version of this jacket easily undercuts the First Light in weight (11.8 vs. 15.4 ounces for the BD), and the stretchy fabric on the Nano-Air is super soft and comfortable. But for backcountry skiing and climbing, the First Light was the better jacket for our needs. It's warmer than the Nano-Air, protects you from wind without giving up much in terms of breathability, and stands up better to abuse with a burly 40D shell as opposed to 20D on the Patagonia. For the active skier, climber, or cold weather explorer looking for a jacket that's equally capable as a warm midlayer and mild weather outer layer, the BD First Light is fantastic.
If you're thinking about buying gear that we've reviewed on Switchback Travel, you can help support us in the process. Just click on any of the seller links above, and if you make a purchase, we receive a small percentage of the transaction. The cost of the product is the same to you but this helps us continue to test and write about outdoor gear. Thanks and we appreciate your support!
Depending on the seller, most products ship free in the United States on orders of $50 or more. International shipping availability and rates vary by seller. The pricing information on this page is updated hourly but we are not responsible for inaccuracies.
Learn More About Outdoor Gear