Ultralight without feeling ultra compromised, the Ghost Whisperer is the lightest full-featured down jacket on the market. Despite hitting a sub 8-ounce weight, Mountain Hardwear managed to retain pockets and fit adjustments—not to mention impressive warmth. It's not perfect, however, as we had a few quibbles that kept popping up during our testing period. But for the fast and light trekker on a mission to cut weight, the Ghost Whisperer remains a top choice. Below we break down the jacket's warmth, weight, durability, sizing and fit, and more. And to see how the Ghost Whisperer stacks up against the competition, see our comparison table and our article on the best down jackets. 
 
Performance
Impressive Warmth for the Weight
Warmth was an area of concern leading into our test. Often jackets that tout an incredibly lightweight or a high fill power are hiding the simple fact that they're just not as warm. Not here with the Ghost Whisperer. Despite weighing ounces less than other options like the Patagonia Ultralight and Arc'teryx Cerium LT, in our cold weather, subfreezing temperature testing it was nearly as warm and handily beat ultralight jackets like the Outdoor Research Filament and Montbell Ex Light.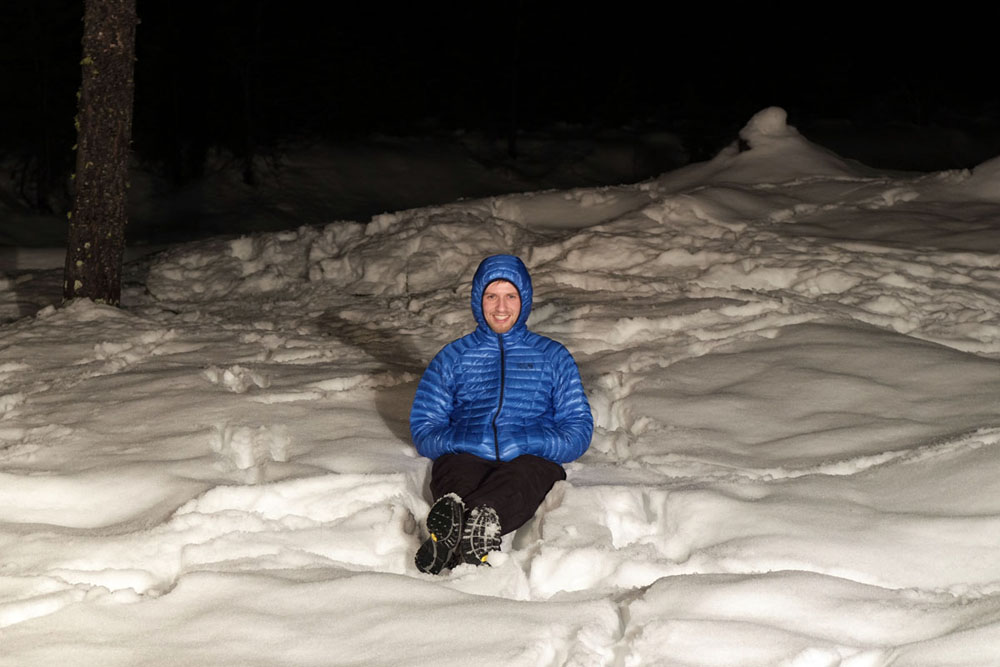 Wet weather warmth was a place the jacket excelled in the down jacket category. The hydrophobic down works well with light moisture, and the surprisingly tough outer shell blocked out wind and light rain to deliver solid warmth in less than ideal conditions.
 
Weighing the Ghost Whisperer
If your down jacket search has led you to the Ghost Whisperer, chances are weight is a big factor. On our scale, the hooded jacket weighs 7.68 ounces in a medium size. Stacked up to the competition, only the Montbell Ex Light and Outdoor Research Filament had it beat, weighing 6.31 and 7.05 ounces, respectively. Those aren't the fairest benchmarks, however, since both are a pullover style and lack zippered hand pockets. More appropriate comparisons to the Ghost Whisperer fall well short in weight: the hoody versions of the Patagonia Ultralight (10.05 oz.) and Arc'teryx Cerium LT (10.22 oz.).
 
Hydrophobic Down
The Ghost Whisperer has 2.78 ounces of 800-fill-power goose down. This premium quality down is quite compressible and feels impressively lofty. When stacked up with the competition, it favors pretty well. The Patagonia Ultralight and OR Filament also use 800-fill, and the Arc'teryx Cerium LT (850) and Montbell Ex Light (900) both have marginally higher quality down. An interesting side note on the Ghost Whisperer is that the weight of the down accounts for 36% of the total weight of jacket—impressive indeed.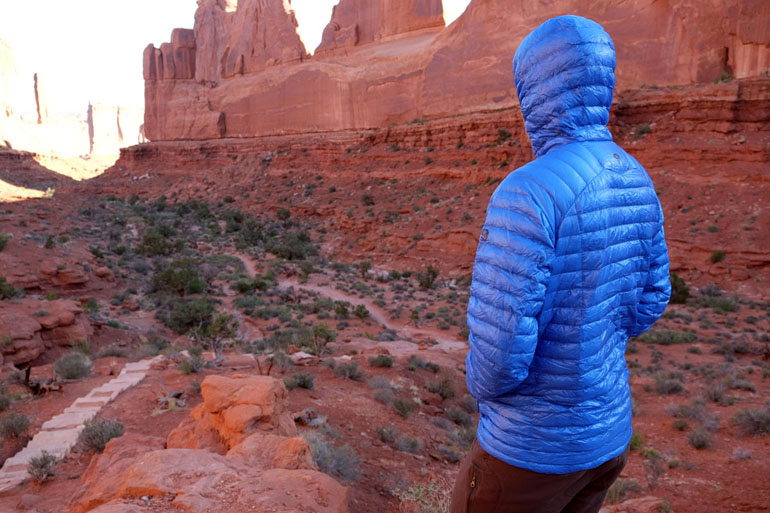 Hydrophobic down resists moisture, essentially shedding water like a DWR coating. Down's number one enemy is moisture, so it sure makes a lot of sense to try and fight it, making it a bit of a surprise that so few companies have adopted the technology in their down jackets. It's in no way foolproof, and will eventually give in, but it's another line of defense in case you get caught without a rain shell. 
In our wet weather experiences with the jacket, it outperformed the non-hydrophobic down competition, which tended to clump up and feel wet against the skin much quicker after extended rainfall. As expected, in comparing it to full synthetic jackets we had along, the Ghost Whisperer did not insulate or dry as well, but for the fans of lightweight and cozy down insulation, it's a net win.
 
Materials and Construction
Soft touch fabrics had a premium feel on both the inside and out. It's not like the more substantial and luxurious hand feel of the Arc'teryx Cerium LT, but is nonetheless a comfortable place to be. Not crinkly like the Montbell Ex Light, the materials felt much more high-end, and the construction matched that, with clean lines and no loose threads. Down shedding was pretty minimal. The tight weave of the fabric seemed to block escaping feathers well, and we only saw the occasional escapee coming through the stitching that separates the down baffles. 
The zippers were our primary concern with the jacket. Flimsy to a concerning degree, we experienced a few snafus in use. Most common was the main zip skipping a few teeth on its way up. Even when functioning normally, they're not particularly confidence inspiring, but in achieving a sub 8-ounce jacket, durability was also going to be sacrificed to a degree. If you're used to ultralight gear, this is just another piece to handle with some extra care.
 
Durability: Fabric Denier Rating
The weight of a thread is measured in denier (abbreviated with a "D" or "d"), and the lower the number the lighter the weight. Generally, a lower denier rating means the material is less durable and more prone to abrasion (there is some variation here as not all threads of the same denier are identical). A common way outdoor companies cut weight for ultralight gear, such as the Ghost Whisperer, is by using low denier threads (and therefore low weight) for the shell.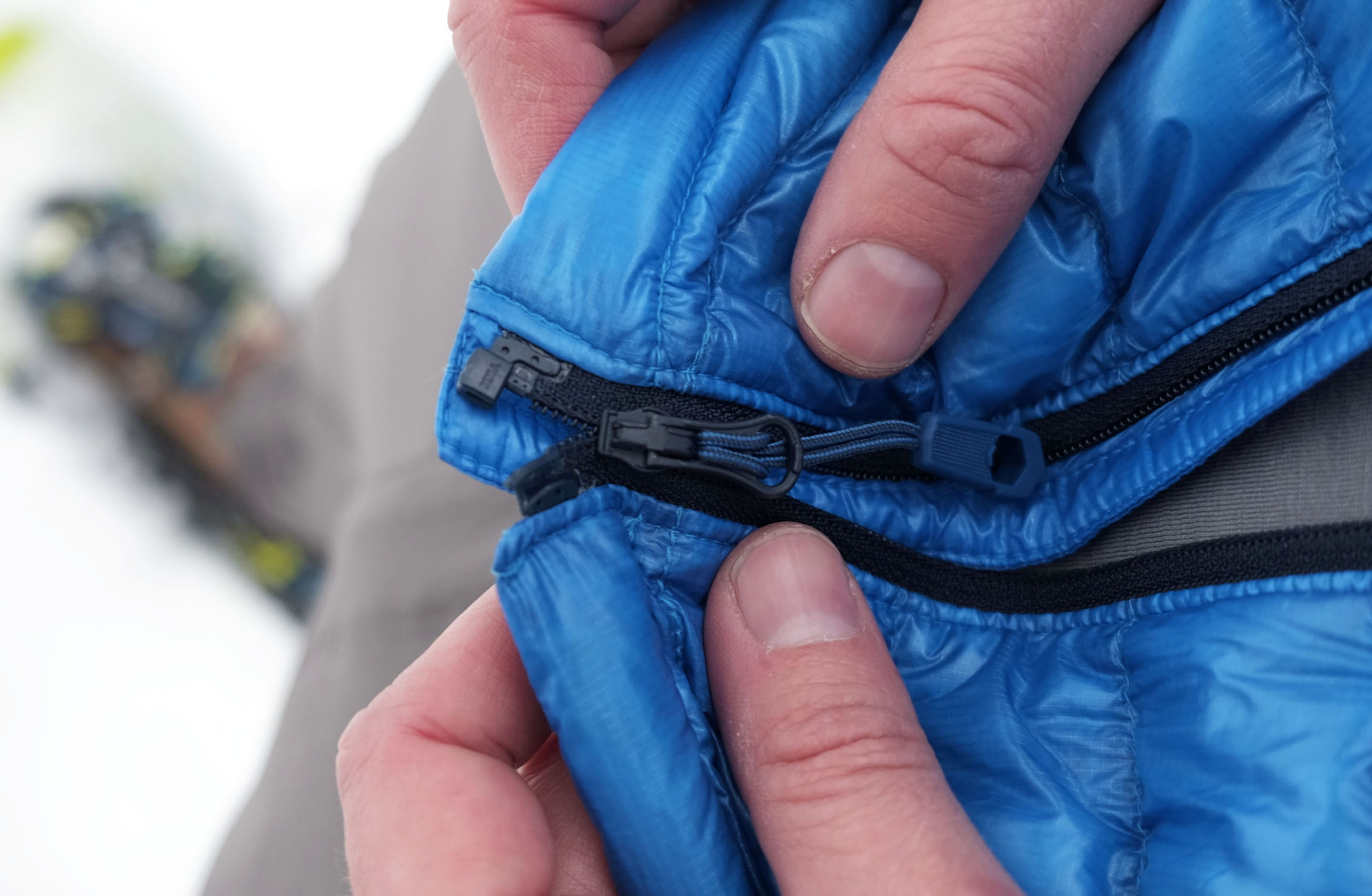 Using a propriety 7D by 10D weave, the Ghost Whisperer is amazingly lightweight. The fabric is undoubtedly very thin, but the manufacturing technique makes it decently durable for the weight. The tight weave of the two thicknesses of fabric make it much more confidence inspiring than the thin and tear prone Montbell Ex Light. That being said, it is more likely to tear when brushing up against rock or thorny branches than heavier weight jackets like the Arc'teryx we were using with it back-to-back. Whether or not the extra couple ounces saved are worth it is a decision you'll have to make, but we were left with an appreciation of how durable such a thin fabric can be.

Hand Pockets 
We really appreciated that Mountain Hardwear built the Ghost Whisperer as a complete jacket. While it lacks a chest pocket, two hand warmer pockets are a great addition, and well worth the extra grams in weight. They're nicely sized thanks to the right hand pocket pulling double duty as the jacket's stuff sack. Back of hand comfort is high, matching the premium feel of the jacket's exterior. Overall, its inclusion is a win for us.
 
Stuffing it Down
Simplicity wins out here. Just turn the right hand pocket inside out, stuff the jacket, and zip it up with the two-sided zipper. The jacket fits inside quite easily, and measures roughly 11 x 6 x 4 inches (LxWxH). It's definitely not the smallest in our down jacket round up, but the thin rectangular shape makes for super easy stuffing into a pack. Just make sure to unstuff the jacket for long-term storage. As with all down jackets, keeping it compressed for too long can force out feathers and reduce the jacket's lifespan.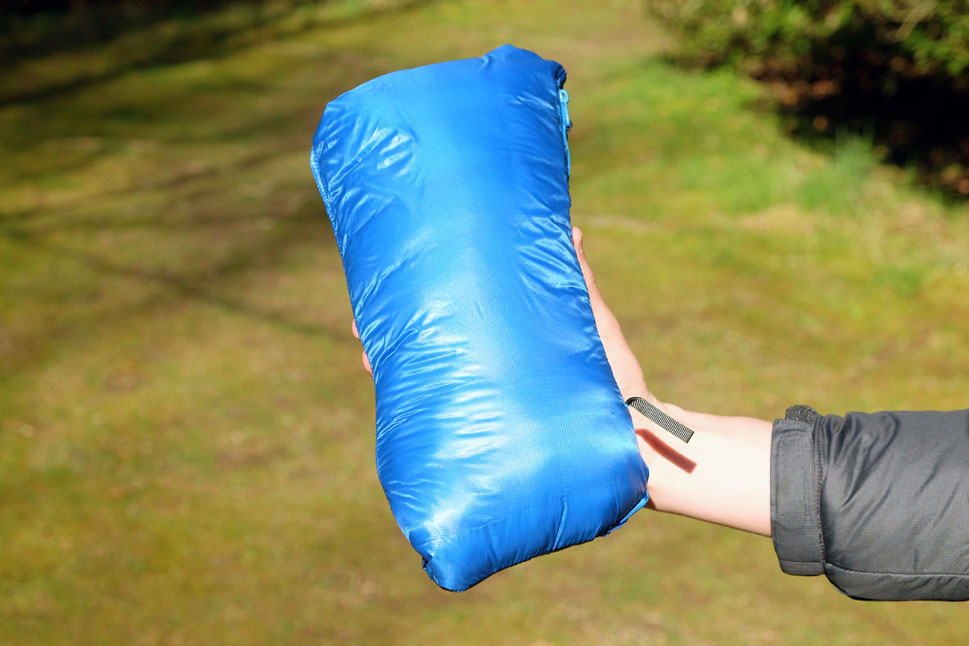 Sizing and Fit
Slim but a bit boxy is how we'd describe the fit on the Ghost Whisperer. It's not tailored in an athletic way like the Arc'teryx Cerium LT, but it's also not as roomy in the chest as the Patagonia Ultralight. We picked up a medium, and our three testers (5'8", 5'10" and 6'1" with slim builds) all felt it could have been a more tailored fit around the torso. Moving down a size was not an option because the chest was then a bit too restricting, but back length was sufficient for even the tallest of our group.
A benefit of the roomy cut was that we could throw on a thicker layer underneath without hampering performance. And an excellent button-style hem adjustment makes it easy to get the fit dialed in. To tighten, just push the low-profile button built into the right side of the hem and pull the cinch cord. Pushing the button then loosens. It's a wonderful system that we really grew to appreciate when transitioning back to traditional clunky cinching styles. 
The cuff design did leave us a bit perplexed. Surprisingly wide and lacking in stretch, the opening for the cuff seems to be made for gloves and not much else. It's far too wide to seal out the cold when just worn over a long-sleeve baselayer—arguably its most common application.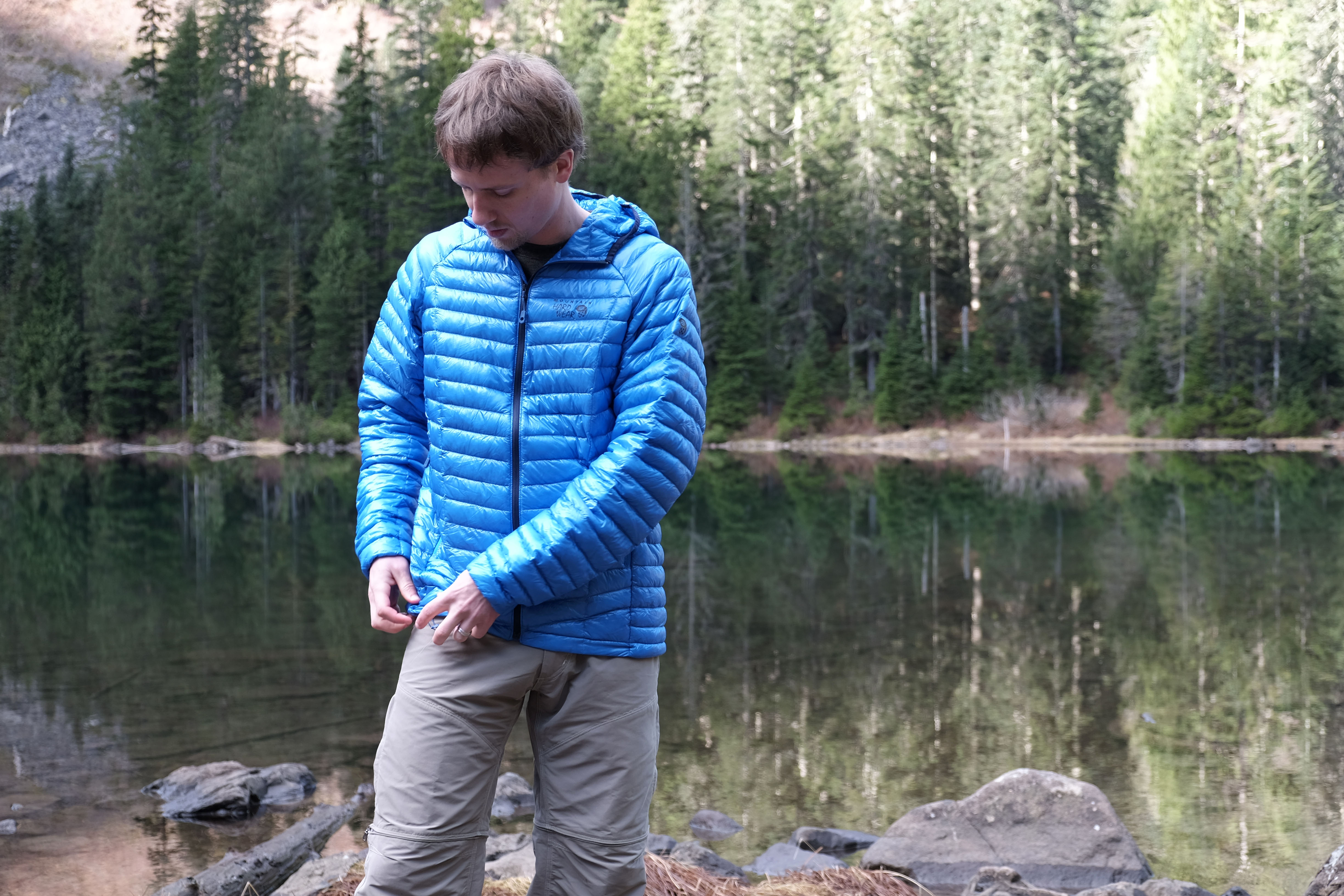 Hoody or Not, Sleeves or Not
The Ghost Whisperer is offered in a hooded, non-hooded jacket and vest form. All are lightweight leaders and deliver the features you really need. Expect similar performance and fit between model types, as they share fabric thickness and feel, down quality and quilted style. 
The hood on the Ghost Whisperer is on the small side and doesn't have a drawcord cinch. This is a place where Mountain Hardwear definitely opted to cut some weight, and a place we honestly wish they hadn't. The hood has some stretch and a pretty slim cut, but when the wind picked up, it was prone to blowing off the back of our heads. It's still great for maximum heat retention out on a backpacking trip, just throw a shell over it in breezy conditions. If you're on the fence between the standard jacket and hooded version, check out our article: Does Your Down Jacket Need a Hood?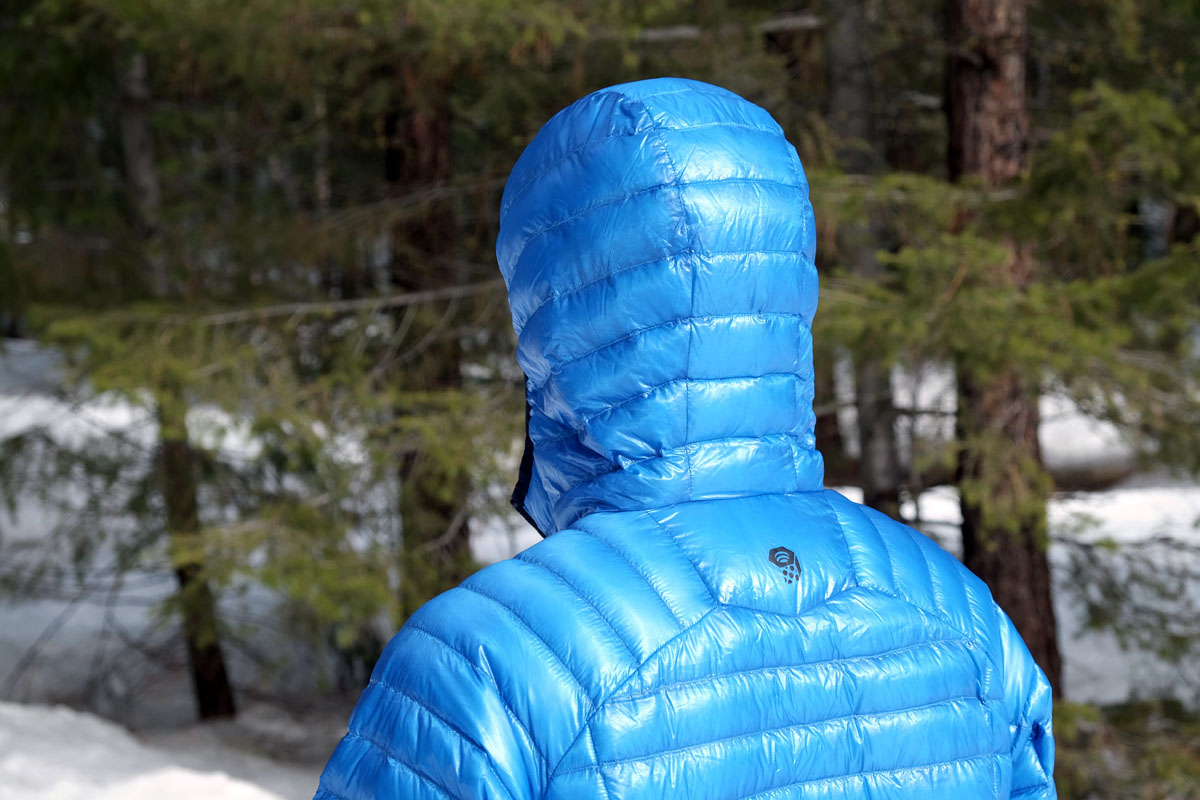 What We Like
Ridiculously lightweight but still includes features like hand pockets, a full-length front zipper, and hood.
Packs down really small and is easy to carry on just about any type of trip.
For the weight, it's surprisingly warm and not as flimsy as you'd think (it still requires extra care, however).

What We Don't
The ultralight front zipper can be finicky and difficult to zip up.
We really miss having a hood cinch. In the wind, the hood can be blown off your head if it doesn't fit you snugly.

Comparison Table

The Competition
The Mountain Hardwear Ghost Whisperer is unquestionably an awesome piece of kit that deserves a place in the ultralight adventurer's gear closet. It hits the balance of features, warmth and weight like no other jacket we tested. It's also unapologetically backcountry focused. The techy looks and compromised toughness limit its usefulness as a daily piece, and considering the high price tag, that could be a deal breaker. If you want an all-arounder, look instead to the Patagonia Ultralight (read the full review) and Arc'teryx Cerium LT (see the in-depth review).
In the end, the Ghost Whisperer had us a bit torn. We admire Mountain Hardwear for really pushing the boundaries of how functional a crazy lightweight a jacket can be, and the awards and accolades they've received are well deserved. What we couldn't shake was a feeling that in making this impressive jacket, they left out a few design details that could've made it an unstoppable down jacket. A change out to a more reliable zipper design, adding a hood cinch, and making the cuffs more tailored around the wrists would've put it back in the mix. But if you're searching for the lightest way to get warm in the backcountry, we still highly recommend the Ghost Whisperer.
If you're thinking about buying gear that we've reviewed on Switchback Travel, you can help support us in the process. Just click on any of the seller links above, and if you make a purchase, we receive a small percentage of the transaction. The cost of the product is the same to you but this helps us continue to test and write about outdoor gear. Thanks and we appreciate your support!
Depending on the seller, most products ship free in the United States on orders of $50 or more. International shipping availability and rates vary by seller. The pricing information on this page is updated hourly but we are not responsible for inaccuracies.
Learn More About Outdoor Gear