We are "weight weenies," so we were thrilled to get a hold of Nemo's Hornet 2P tent for a few recent fastpacking trips. The Hornet is attractive for many reasons and has all the features we love in an ultralight 2-person tent, including 2 doors and vestibules. Through a summer of testing, it has treated us well and should be a top choice for ultralighters and thru-hikers with its 2-pound weight. But truth be told, the Hornet pushes the limits for us on interior comfort. If you don't mind the tight fit or use it primarily as a 1-person shelter, the Hornet has a functional design at a competitive price. Below we break down the Hornet's weight, weather protection, interior space, durability, and more. To see how it stacks up, check out our comparison table and article on the best backpacking tents.
 
Performance
2 Person, 2 Doors, and 2 Pounds
With a minimum weight of just 2 pounds, the Nemo Hornet 2P undoubtedly delivers as an ultralight tent. This low weight is a remarkable feat and puts the Hornet in esteemed company among the likes of the Big Agnes Fly Creek UL2 (1 pound 15 ounces) and MSR Carbon Reflex 2 (1 pound 13 ounces). It also packs down super small and takes up minimal space.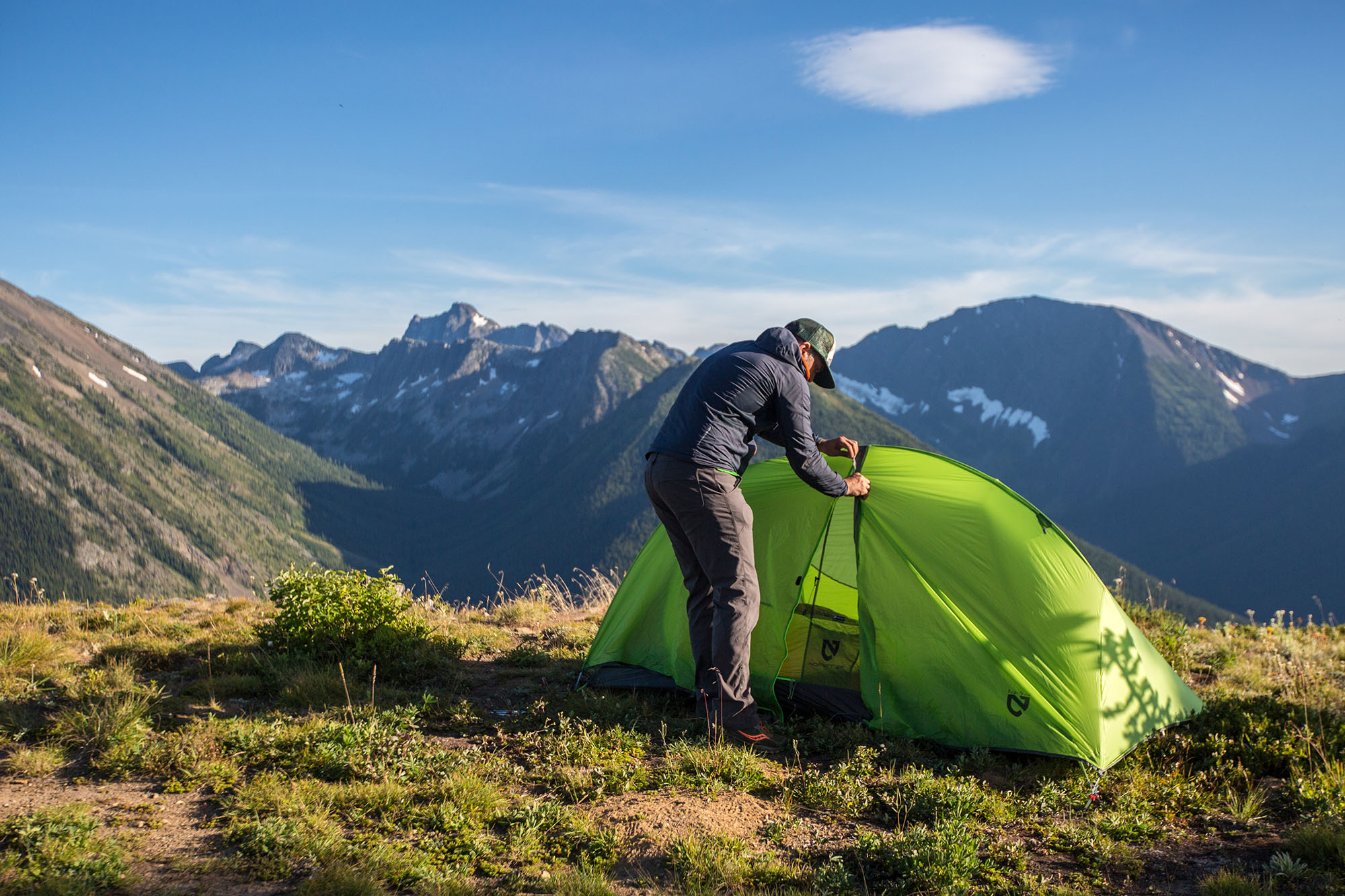 Nemo markets the Hornet 2P as the only 2-pound freestanding backpacking tent with 2 doors and 2 vestibules. Although technically correct, this statement requires a qualification. The Hornet can be "freestanding" only if one person is occupying it, but you'll need to stake out one end to maximize the interior space. It's better described as "semi-freestanding," and the need for stakes and guylines make it more difficult to set up on rocky ground. Its primary competition at this weight, the Big Agnes Fly Creek, is similarly hampered by a semi-freestanding design. And that tent only has a single door and vestibule.
As with all ultralight and fastpacking gear, it's worth pointing out that in order to reduce the weight, compromises in durability and interior space are made. These are the battles with which gear designers struggle, and we think Nemo managed a reasonable compromise by opting for materials that are still somewhat durable, although the slanted walls do cut into its usable space (more on that below).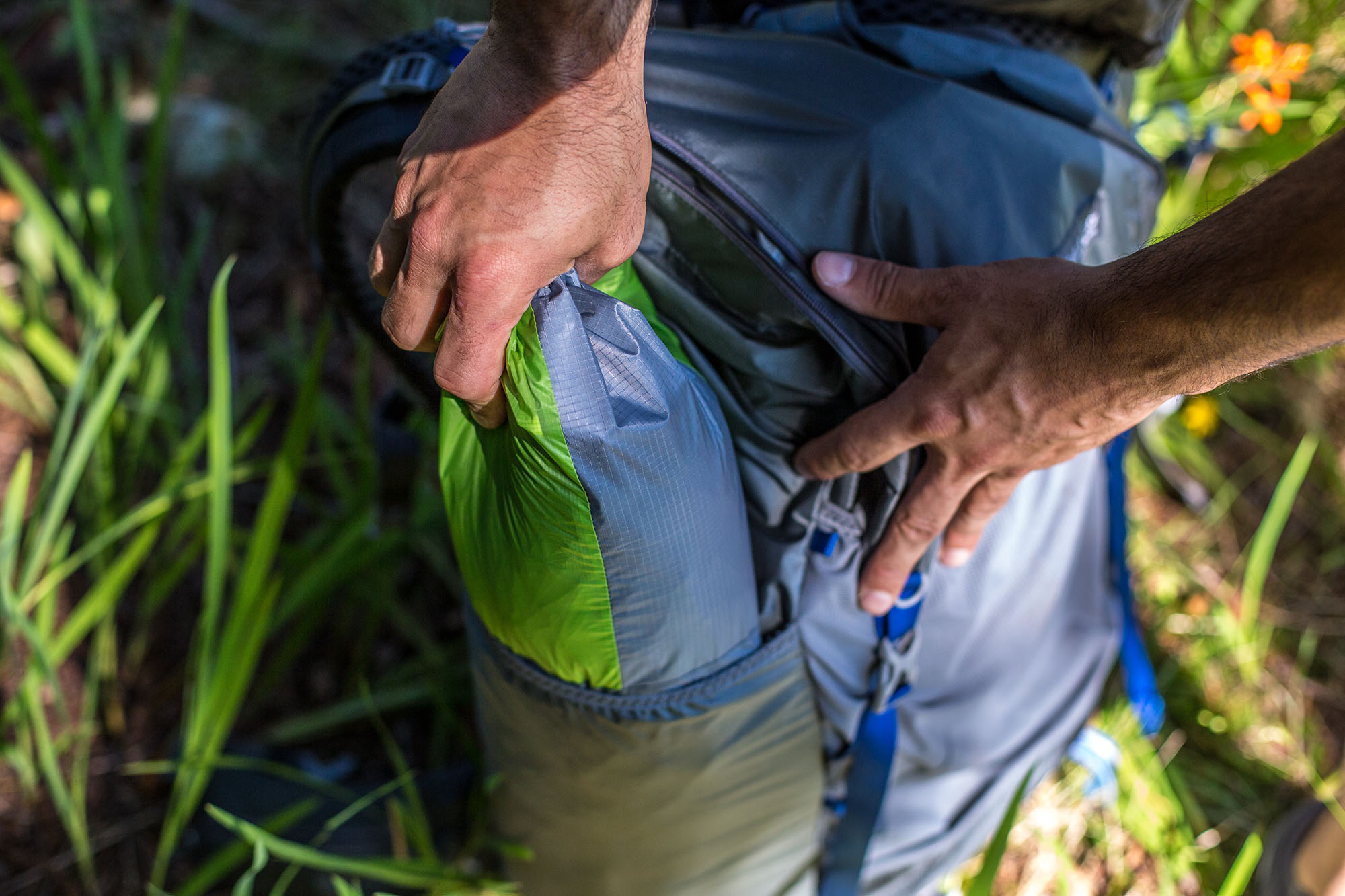 Weather Protection and Ventilation
Tent strength sometimes is compromised when cutting weight, but the Hornet proved to be sturdy in pretty substantial winds. We haven't had it out in a strong British Columbian rainstorm just yet but it held up admirably in light precipitation. The rainfly only provides partial coverage at the head end of the tent, but the raised bathtub floor and good seam sealing along the tent body stood up to the task.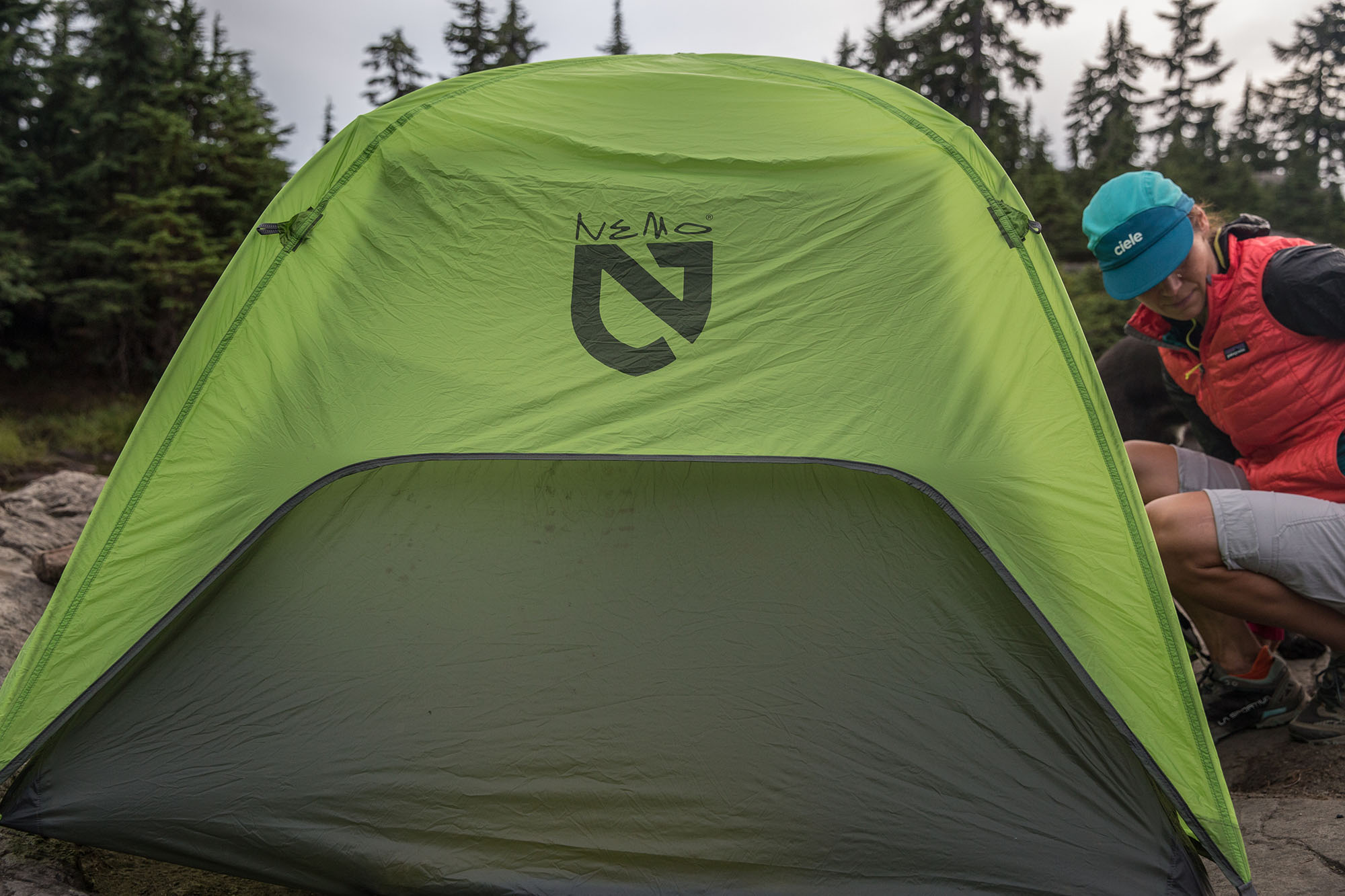 One positive of the raised section of the rainfly is that it encourages airflow. Combined with heavy use of mesh in the tent body and a large air gap between the inner tent and rainfly, the Hornet has excellent ventilation. There is very little chance of condensation collecting along the interior, which makes the Hornet a great choice for just about all conditions, but particularly humid environments like the Appalachian Trail.
 
Interior Space
With 28 square feet of floor space, on paper the Hornet is similar to other 2-person lightweight tents and can accommodate a pair of 20-inch wide sleeping pads. That being said, there is very little extra room along each side and it is a tight fit for 2 people. We don't recommend sharing the tent with someone with whom you're not already familiar. Thankfully, with the two doors each person is able to enter and leave without tripping over their tent mate—an extremely convenient feature.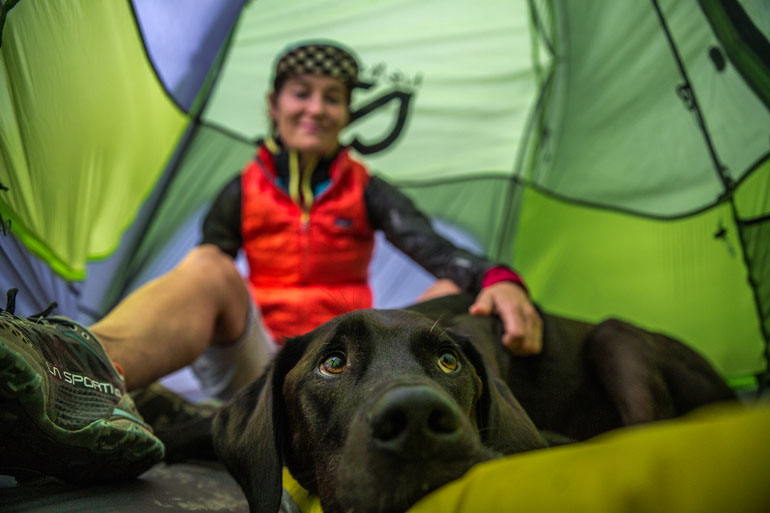 Similar to the ultralight tents from Big Agnes, the inner tent of the Hornet is tapered to be wider at the head and slightly narrower at the feet. The tent walls are slanted with a high center point and sloping sides. And the feet end of the tent is tapered heavily downward starting at about the waist. While these design choices help shave weight, they do contribute to tight living quarters.
There is a clear "peak" in the tent, and as a result, only one lucky person can sit upright at any given time. We have found that in small 2-person tents, we prefer to sleep in opposite directions (head to toes) in order to allow more shoulder room for each of us. In the Hornet, one of us invariably loses head room when we opt for this. While it adds weight, we prefer two-person tents with vertical sidewalls and rectangular floors, such as MSR's new FreeLite.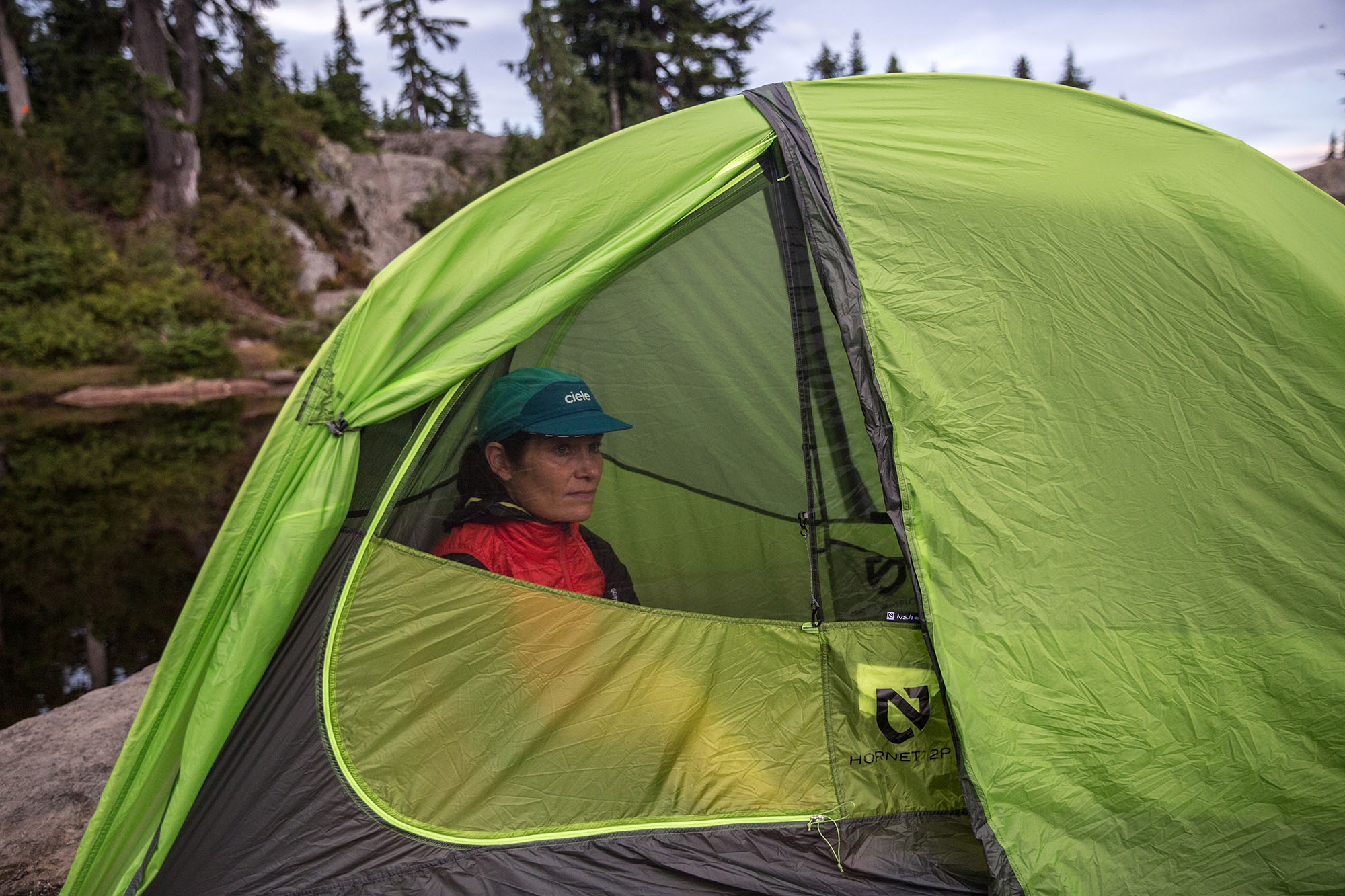 We think the double vestibules are a big plus for 2 backpackers. We found that we could easily fit our packs and hiking boots in the vestibules—which are 8 square feet each—a necessary thing because there is little extra space inside the tent. We also found that gear placed against the sides tended to make the walls cave quite a bit, so we made sure to set it away from the tent body.
 
Materials and Durability
Nemo prides themselves on being at the forefront of material and fabric design for lightweight gear. One of their mainstay items is the DAC Featherlite NFL pole system, which is one of the lightest poles available. In your hands, it's almost impossibly light, and we were impressed that it held the tent so solidly in place in high winds.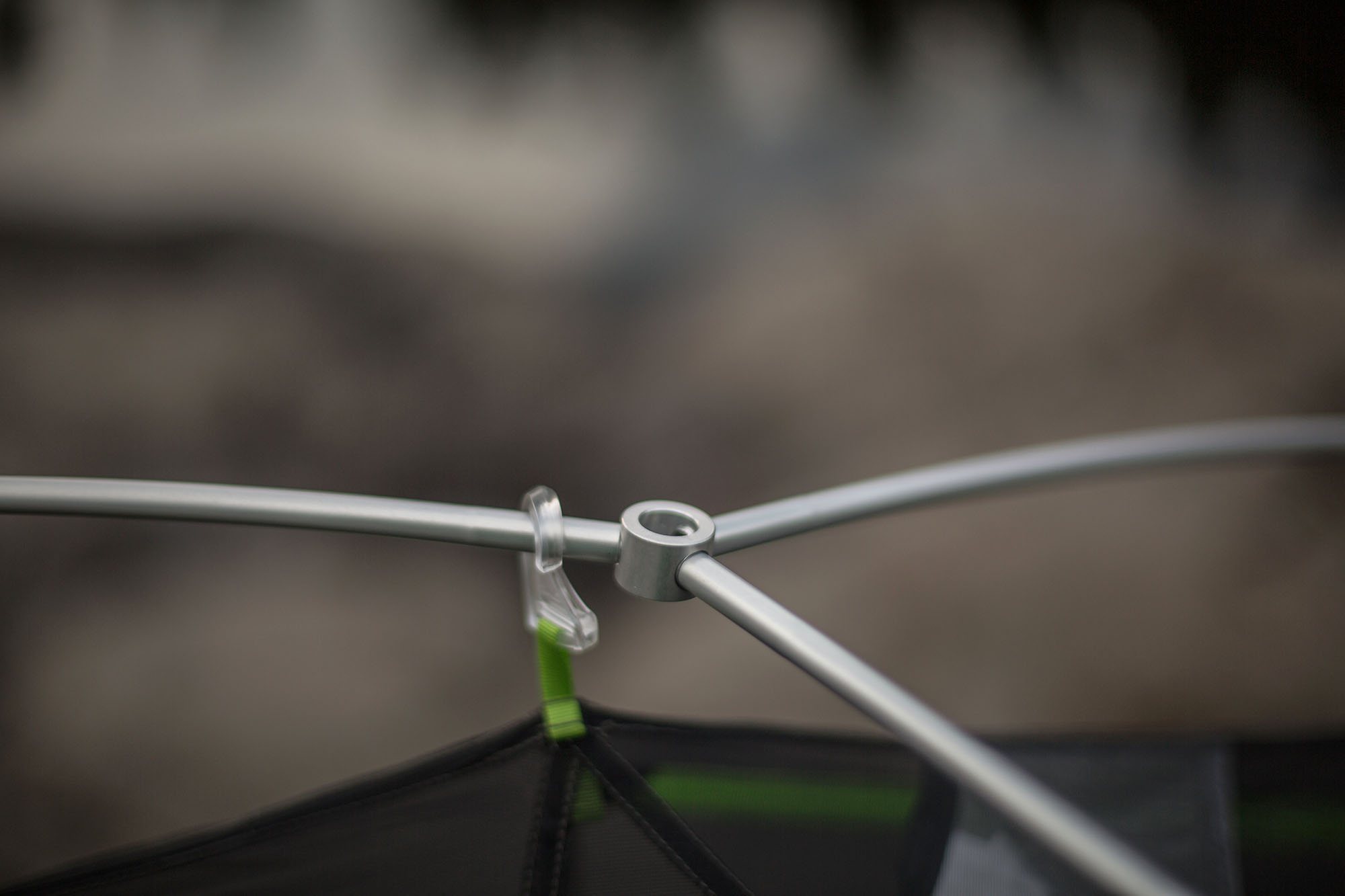 Not surprisingly, the Nemo Hornet is made up entirely of very thin fabrics. The fly is a 10-denier nylon ripstop, which is thin even by ultralight tent standards (the original Hornet had an even thinner 7D nylon). Nevertheless, it has proven capable in foul weather. The tent canopy is comprised primarily of a lightweight No-see-um-mesh that allows for significant airflow and visibility through the upper tent, but you'll want to take good care to avoid snags. And the floor uses a thin 15D nylon. Other ultralight tents like the MSR FreeLite use a 15D fabric for the floor, and we suggest treating them gingerly. We haven't put a hole in either the Nemo or MSR, but it's wise to use a footprint to extend their lifespans.
 
Set up and Take Down
Thanks to the single hubbed pole, set up and tear down of the Hornet is extremely easy and quick, even for one person. The lightweight aluminum tent pole is shaped like a "Y," with the mouth of the Y connecting to the tent by a secure ball and socket system known as a "Jakes Foot." The single end of the Y simply slides into a grommet at the foot end of the tent and the canopy is then hung from the pole system. As mentioned above, the corners require staking, which is simple if you have forgiving ground.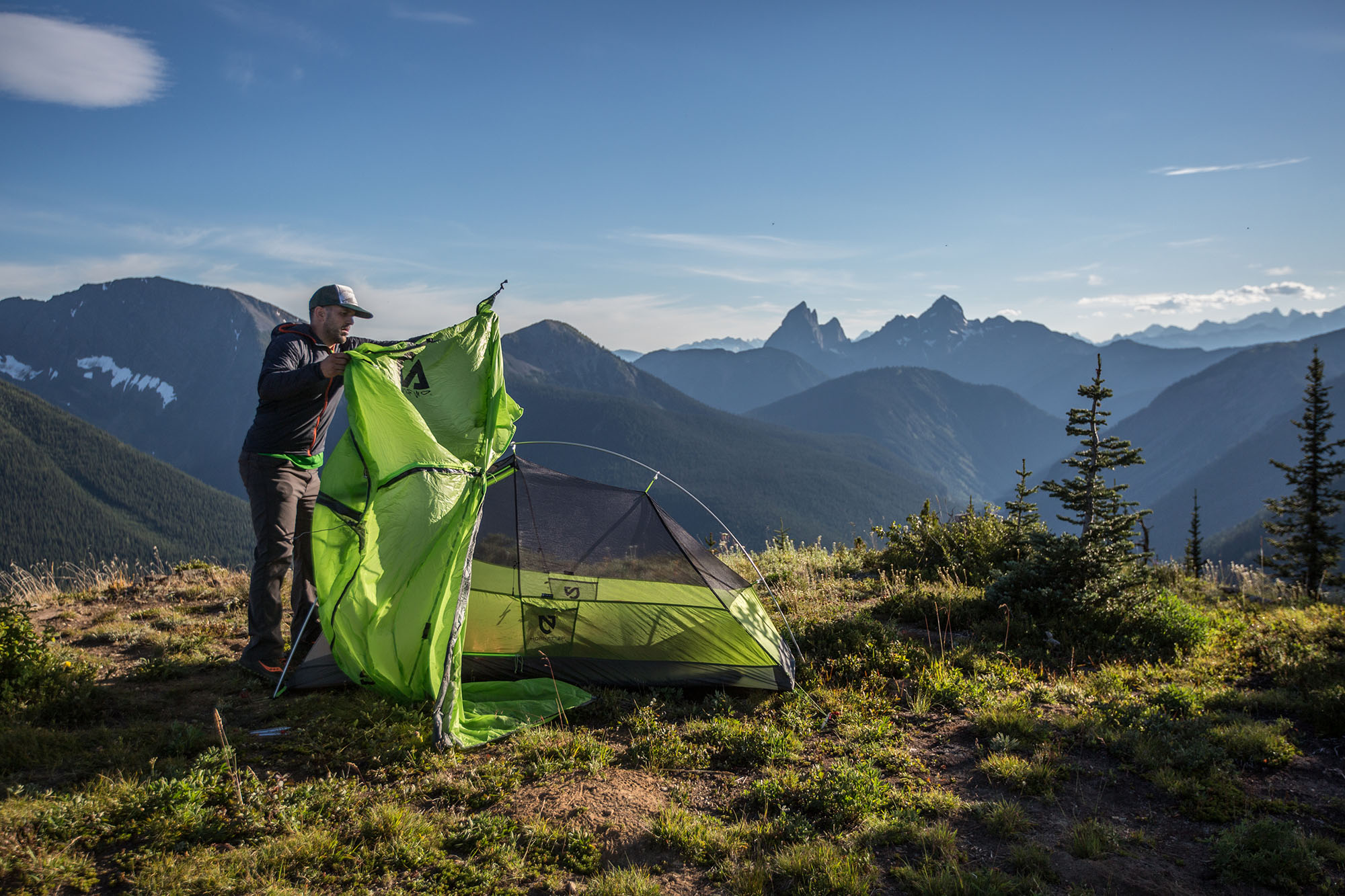 We typically share camping duties: one of us usually starts dinner while the other sets up camp. With the Nemo Hornet 2P, one person quickly and easily can have the tent up and be enjoying a drink before the other has managed to boil water.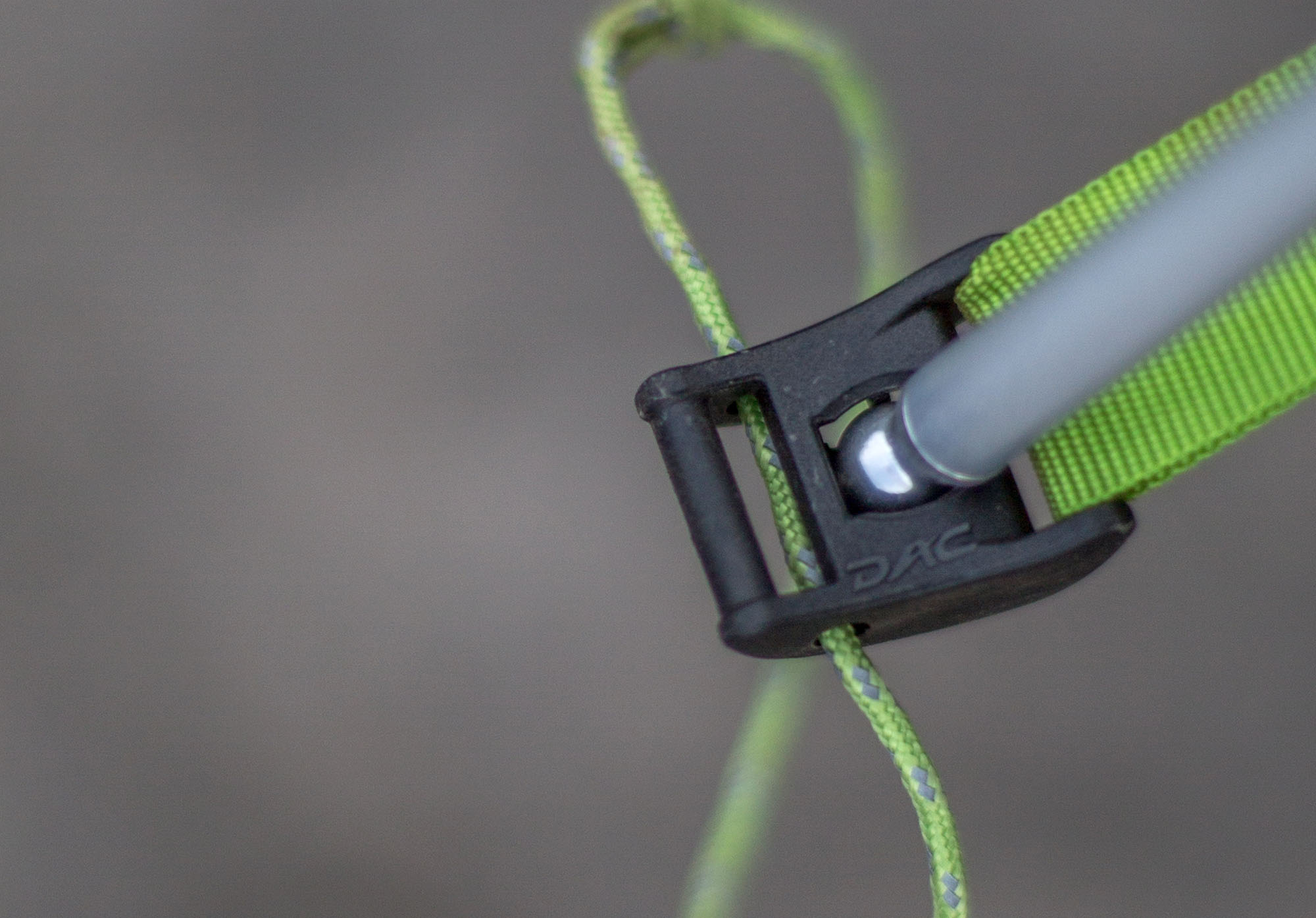 What We Like
The Nemo Hornet is super lightweight but still has 2 very functional doors and vestibules.
Ventilation is excellent thanks to the fly design and mesh canopy.
Easy to set up.
We are partial to bright colours and like the lime green.
What We Don't
Sloped walls inhibit head room when sitting up. As a result, only one person can sit comfortably at a time.
Tapered end decreases space from the waist down.
Not truly freestanding.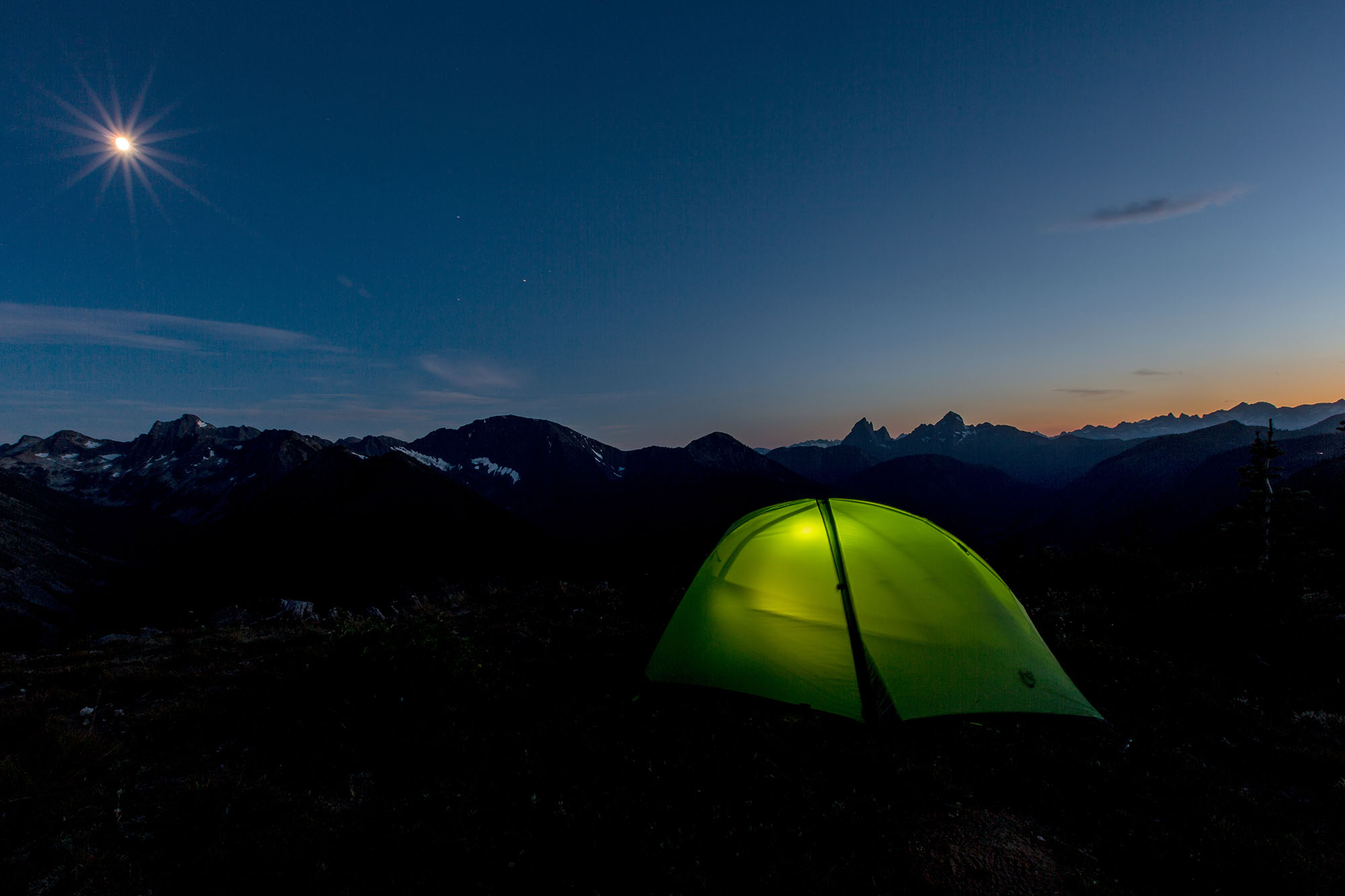 Comparison Table

The Competition
As Nemo rightly claims, there aren't many backpacking tents available that can combine its 2-pound weight and convenient design. The Big Agnes Fly Creek UL2 ($390) was the standard bearer of the ultralight double-wall tent market, and they've updated their big seller for 2016. With a tweak to their pole hub—it's now referred to as the "Fly Creek HV" for high volume—they've opened up the interior from what we considered very cramped to slightly less so. In truth, neither the Fly Creek nor the Hornet are all that comfortable for two campers, but the single door on the Fly Creek remains its greatest detriment. And considering they're close in weight, we give the edge to the more livable Nemo.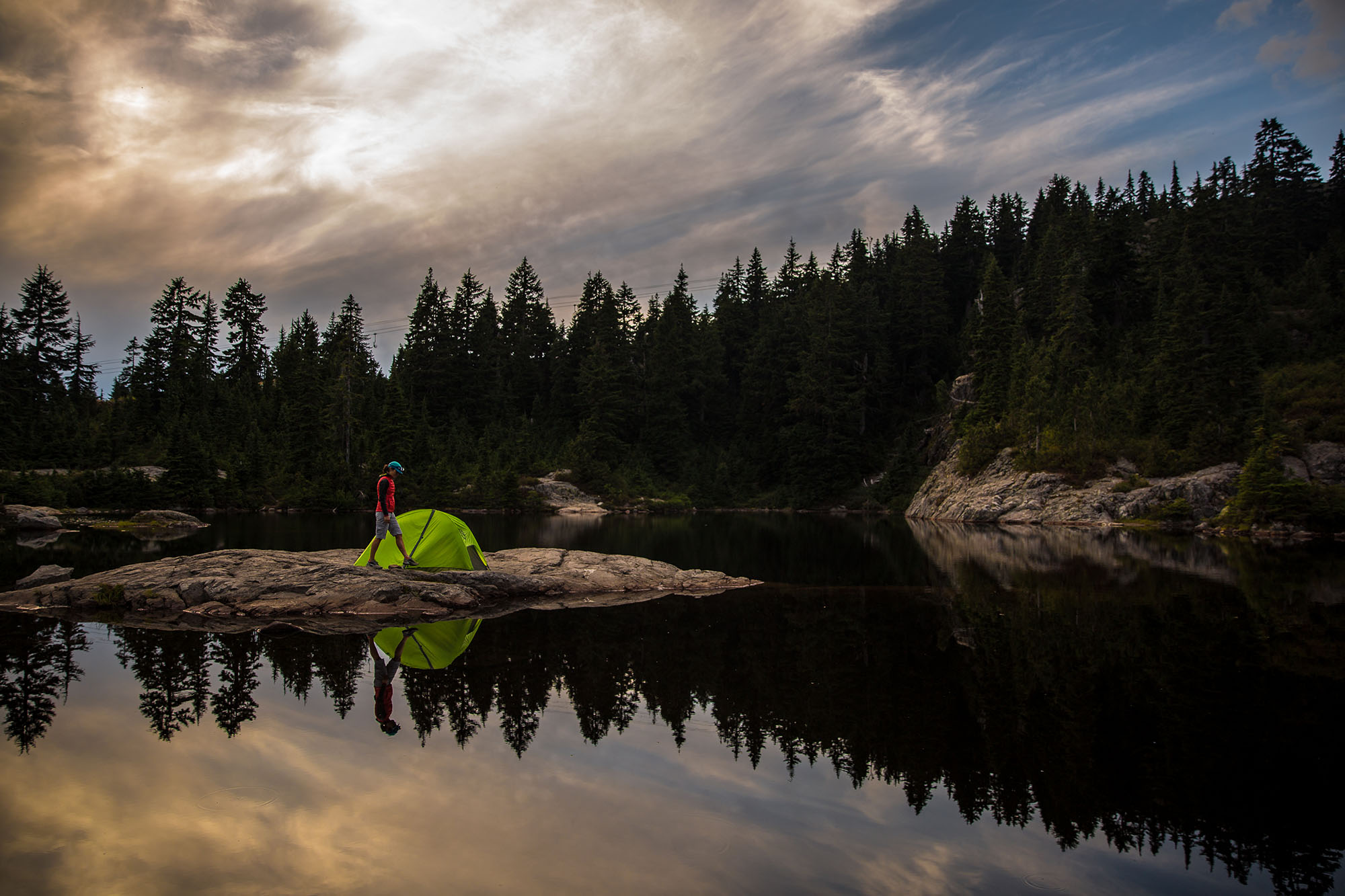 The next closest competitor requires a significant jump in cost from the Hornet's $370 price tag. MSR's FreeLite 2 ($440) weighs 7 ounces more but shares the accommodating 2-door design and is far more spacious inside. If you'll consistently have two people sleeping in the tent, we prefer the rectangular floor and less tapering of the FreeLite (see our in-depth review). But if it's you and your pack (and perhaps a well-mannered dog) on most nights, the Hornet is about as good as it gets for a 2-pound tent.
If you're thinking about buying gear that we've reviewed on Switchback Travel, you can help support us in the process. Just click on any of the seller links above, and if you make a purchase, we receive a small percentage of the transaction. The cost of the product is the same to you but this helps us continue to test and write about outdoor gear. Thanks and we appreciate your support!
Depending on the seller, most products ship free in the United States on orders of $50 or more. International shipping availability and rates vary by seller. The pricing information on this page is updated hourly but we are not responsible for inaccuracies.
Learn More About Hiking Gear