Every year, trends in hiking footwear are shifting more toward fast and light. Many people now opt for lightweight hiking shoes over traditional boots, and thru-hikers are even reaching for trail runners. The North Face's Endurus Hike Mid GTX is an interesting hybrid design: it's a higher and slightly stiffer version of the cushioned Endurus trail runner (TR). I put the Endurus Hike Mid GTX to the test on the 4-day Huemul Circuit in Patagonia, traveling over moraines, down steep scree-laden slopes, and through bogs. Below are my reflections on the boot's comfort, stability and support, traction, best uses, fit and sizing, and more. To see how it measures up to the competition, see our article on the best hiking boots.
 
Performance
Comfort
When I first put on the Endurus Hike Mid, my initial thought was, "Wow, this boot is comfortable." In my opinion, comfort is perhaps its biggest selling point. The XtraFoam midsole, plus the OrthoLite footbed and heel cradle, provide a cushioned feel reminiscent of a Hoka One One trail runner. Furthermore, a suede overlay allows the boot to conform to the foot nicely. I needed absolutely no break-in period with the Endurus, even though I threw them to the wolves on a 4-day backpacking trip in Patagonia while carrying a 30-pound load over tough terrain. Admittedly, this was rougher use than they are intended for—we think of them as best on established trails that aren't too rocky—but even on mile 15 of the last day, my feet were wet and tired but noticeably comfortable.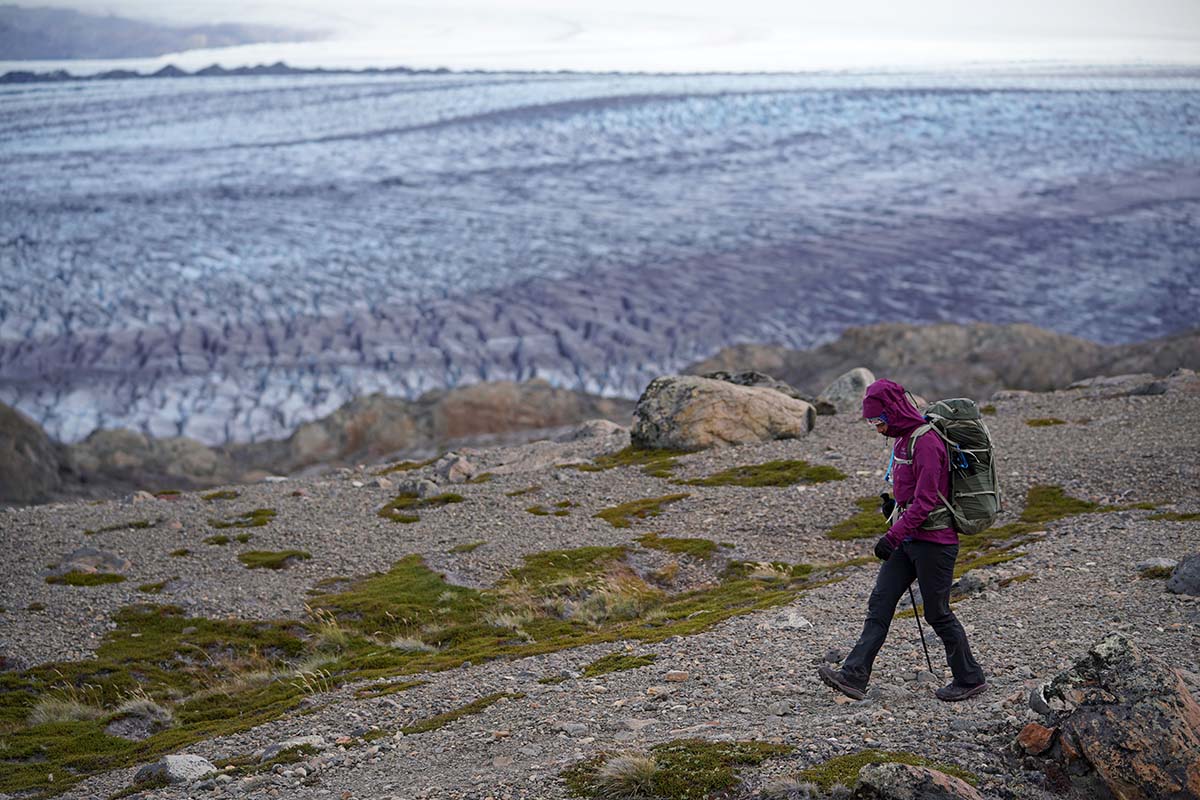 Weight
At 1 pound 10.8 ounces, the Endurus Hike Mid is very lightweight for a hiking boot. A trail-running shoe like the Altra Lone Peak 3.5 tips the scales at 1 pound 1.4 ounces, while the popular Salomon X Ultra 3 Mid GTX weighs more at 1 pound 13.4 ounces but offers considerably more stability and protection. Perhaps the closest comparison we can draw is to the Adidas Outdoor Terrex Swift R2 Mid GTX, which has a similar trail runner-like feel but comes in slightly lighter at 1 pound 9.2 ounces. All things considered, the Endurus Hike Mid GTX feels extremely light for a mid-height boot and not the least bit clunky. It certainly maintains more of the feel of a trail runner than a hiking boot, which is a good thing.


Stability and Support
Although the Endurus has the over-the-ankle height of a boot and a stiffer midsole than its trail running (TR) counterpart, don't expect the support of a typical hiking model. I found the midsole to be flexy and cushioned underfoot—it's responsive but not particularly protective. The soft and light mesh upper moved with my foot more than it supported it, quite similar to the feel of a trail runner. While bearing the weight of an overnight pack, I noticed that my feet had to work harder than normal to provide stability over the various contours of the trail.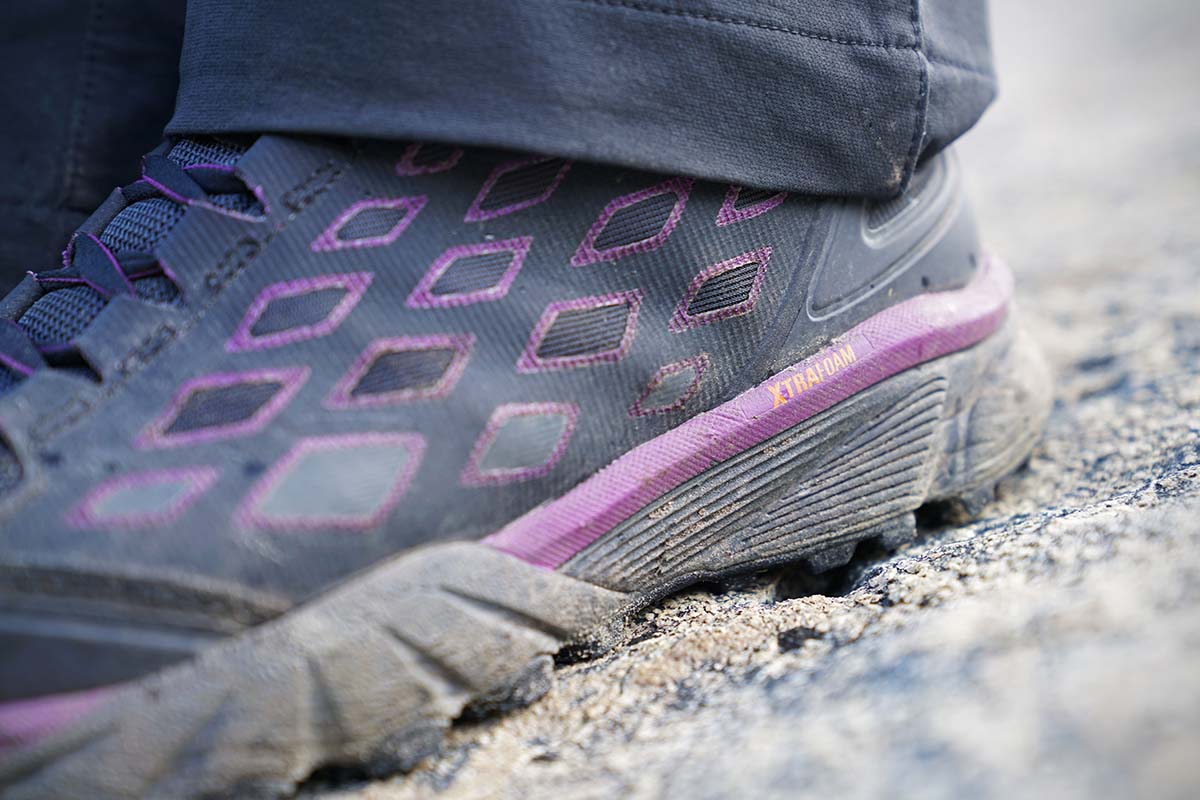 That being said, I wore the Endurus Hike Mids over loose talus, boulder fields, and glaciers with no big ankle rolls or sore feet. But on the trickiest terrain, I certainly found myself wishing for a stiffer boot. For those with weak ankles or accustomed to having more supportive footwear do the stabilizing work for them, this is an important downside. A more ideal option for the trip we did would be a midweight boot like the Salomon Quest 4D 3 GTX.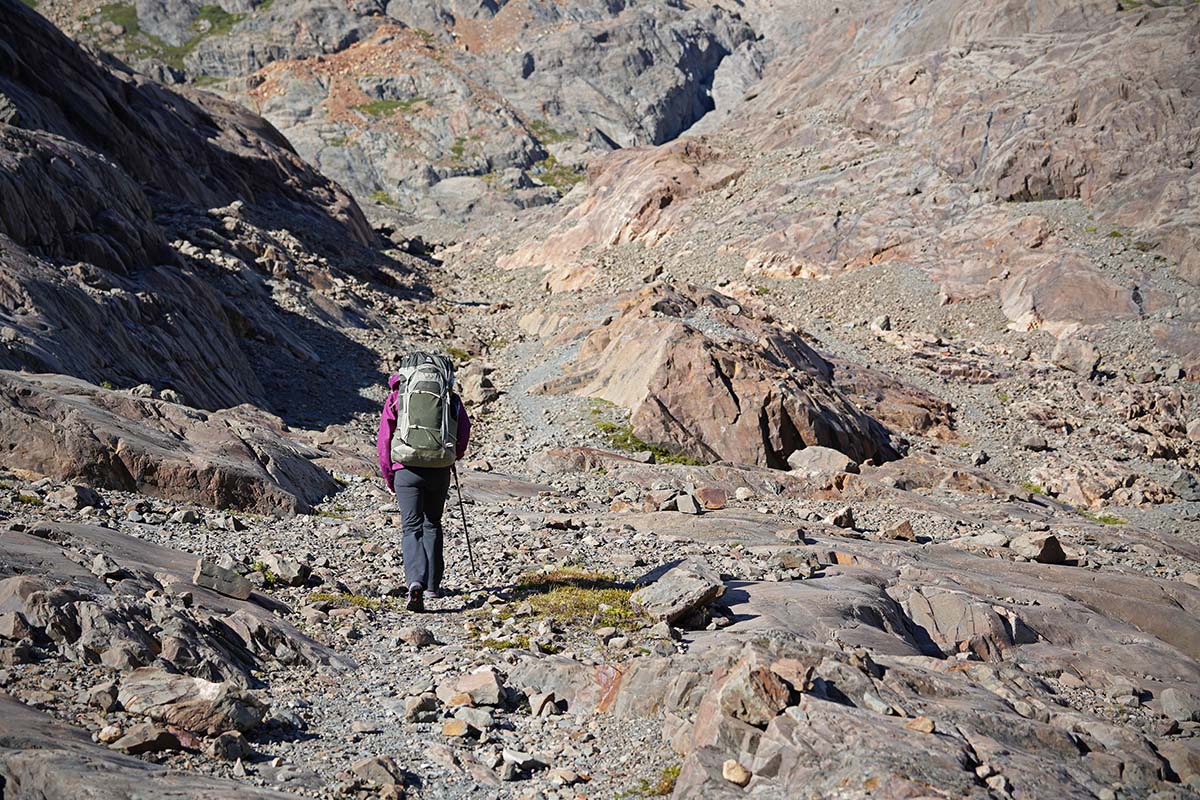 Traction
My experience with The North Face Endurus Mid GTX is that underfoot, it's closer to a trail runner than a hiking boot. The Vibram XS Trek sole is borrowed from the Endurus TR with 4mm lugs and a hiking-focused tread design instead of 3.5mm lugs, and it provides moderate traction with an emphasis on flexibility (Vibram even recommends this specific rubber for use in the gym). This makes for awesome traction and movement on dirt trails, but I found myself moving gingerly over wet boulders after having the boots slip numerous times. I would much rather hike over wet roots, rocks, and glaciers with a stiffer midsole and stickier, firmer rubber (the La Sportiva TX3 or TX4, for example).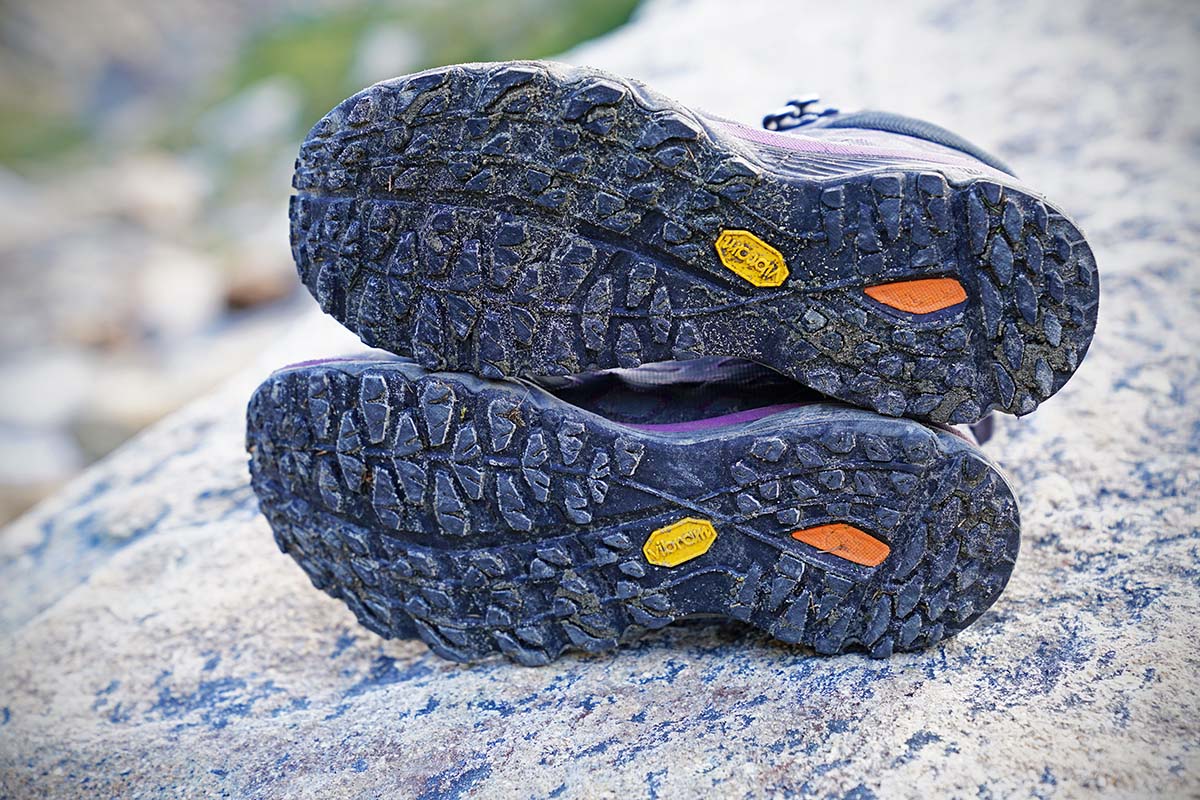 Waterproofing and Breathability
The Endurus Hike Mid has a Gore-Tex membrane and is advertised as being completely waterproof. In addition, the height and gusseted tongue add an extra barrier of protection, keeping water out even through deep puddles where a low-top shoe or trail runner would be vulnerable. I wore the boot through creeks and miles of marshy ground on the Huemul Circuit and was impressed with how dry my feet stayed. On a few occasions, I stepped in water deep enough that it seeped overtop, but with the lightweight mesh uppers, the boots aired out quickly for a waterproof build.  

Although the Endurus and its lightweight design gives up a lot in terms of stability and protection, the boot's breathability is particularly impressive. The mesh upper and The North Face's proprietary FlashDry material along the collar do an excellent job at bringing moisture to the face of the fabric where it evaporates. Boots made with a Gore-Tex membrane are inherently less breathable, but the Hike Mid GTX seemed to wick moisture efficiently. As a result, I never experienced overheating, even while hiking in cushioned wool socks on warm days.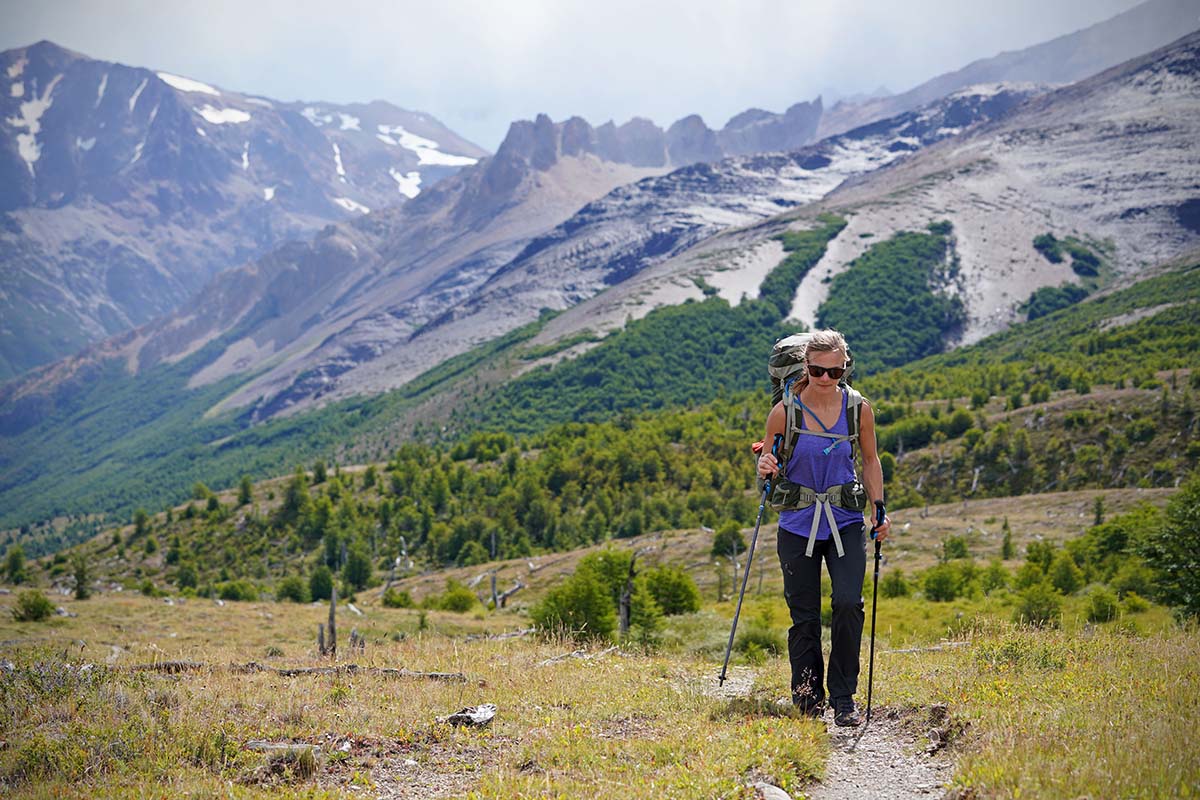 Toe and Ankle Protection
The Endurus Hike Mid straddles the line between a trail runner and hiking boot in terms of toe and ankle protection. Although designed with a tough TPU toe cap, the feel and protection are similar to a running shoe like the Altra Lone Peak 3.5 (and even less than the rugged La Sportiva Wildcat). On the tricky terrain of the challenging Huemul Circuit, I certainly found myself wishing for a beefier toe cap to guard against stubbed toes.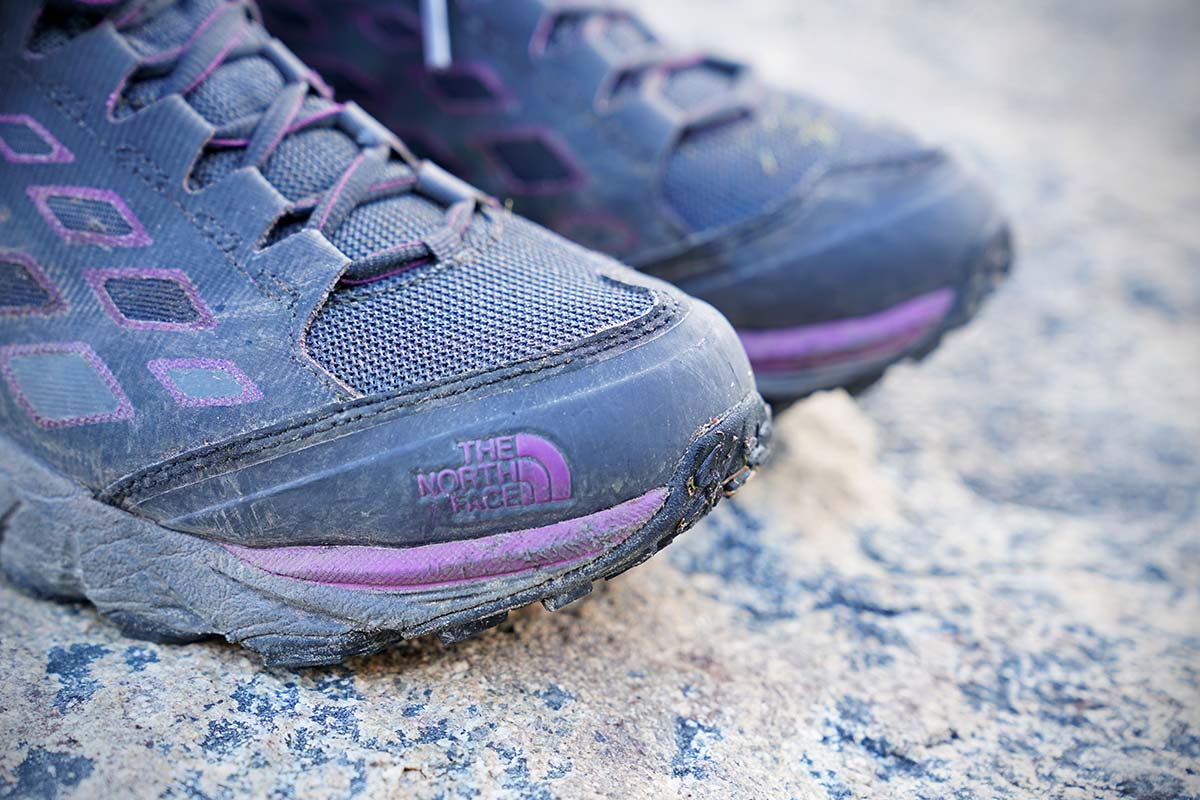 In addition, The North Face designed the Endurus with a rock plate for added rigidity and protection. This and the thick cushioning kept me adequately protected from the trail underneath, but I still felt rocks and roots more than I'm used to from a stiffer hiking shoe or boot. Given its mid-height design and padded collar, the Endurus does offer more ankle protection than a typical trail runner. However, the mesh material is light and airy, so don't expect an exceptionally rugged barrier between your foot and the elements.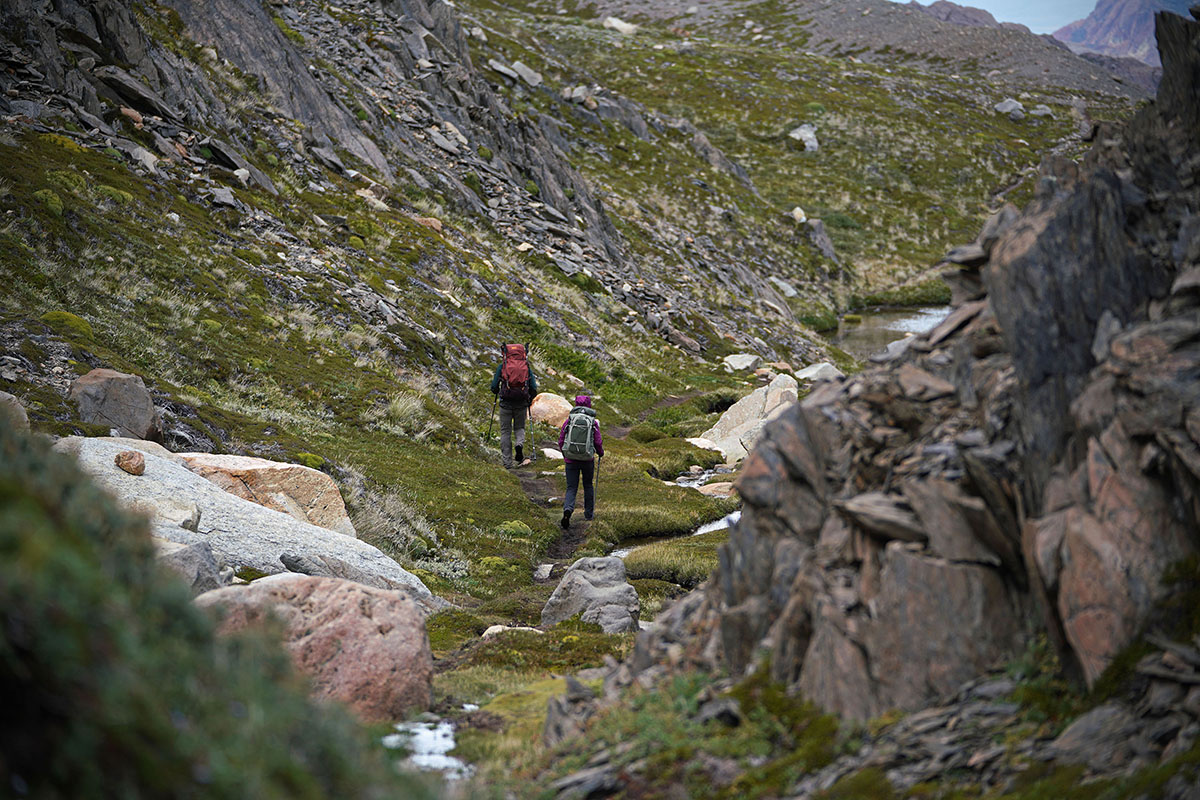 Durability and Construction
More than in any other category, the Endurus Hike Mid outperforms a standard trail runner in terms of durability. The height and rock plate allow the boot to support the foot mile after mile without losing its shape. The reinforced suede uppers protect the mesh from tears, and the high quality Vibram sole on my pair has yet to show signs of wear. I don't expect it to last as long as a tougher (and heavier) backpacking boot, but the Hike Mid survived a 4-day trek in fine form, despite being subjected to terrain and a load that exceeded its intended use.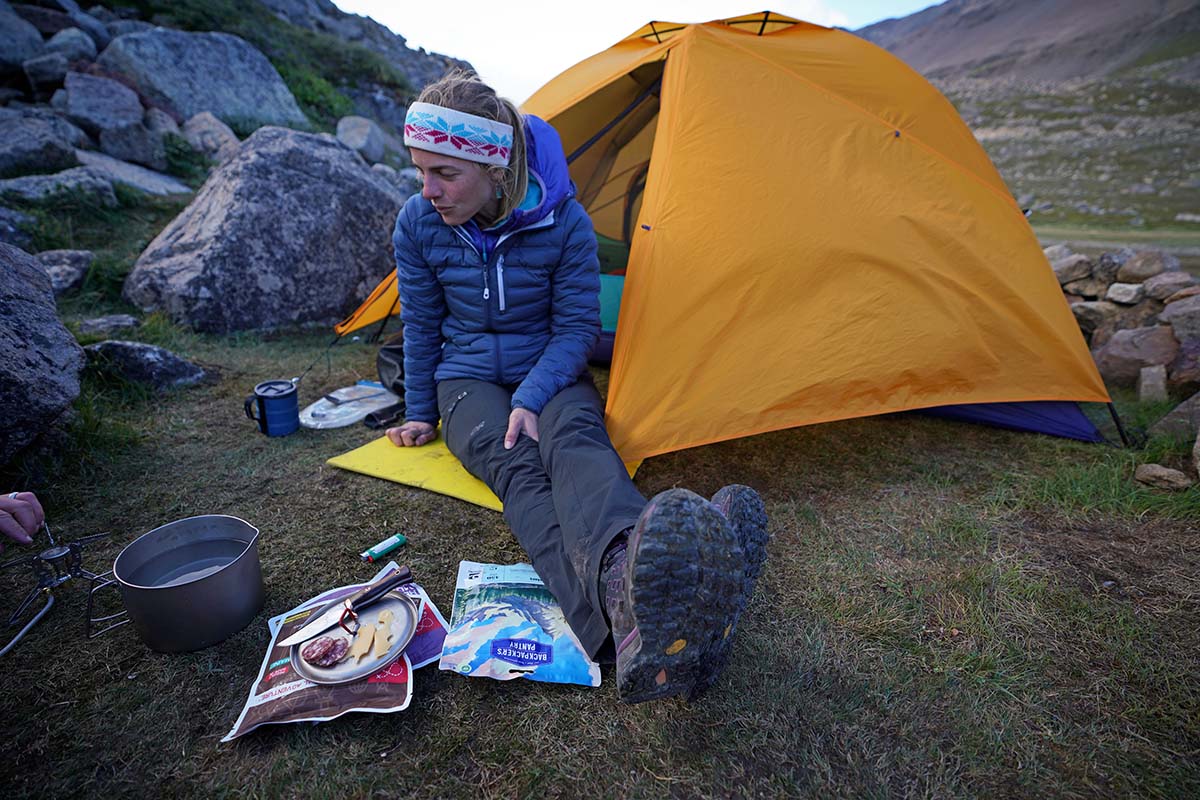 Best Uses
We don't usually include a "best uses" section in our footwear reviews, but because of our testing environment (the very challenging Huemul Circuit in Patagonia) and our less than glowing review, it seems merited here. The North Face Endurus Hike Mid GTX is unique in that it attempts to merge the benefits of a trail runner and a mid-height hiking boot. Does it succeed?
We think the Hike Mid GTX is too cushioned and unsupportive for carrying overnight packs with loads over approximately 20 to 25 pounds. Furthermore, it's not the ideal footwear selection for routes that take you off standard hiking trails onto boulders, scree fields, or onto glaciers—the boot simply does not offer the kind of traction, protection, or stability needed for tough terrain. In these situations, you'd be better off with a lightweight hiking boot like the Lowa Renegade GTX Mid, or even something lighter like the Salomon X Ultra 3 GTX. The Endurus Hike Mid also is not an ideal trail runner: the mid-height simply is too clunky for extended runs.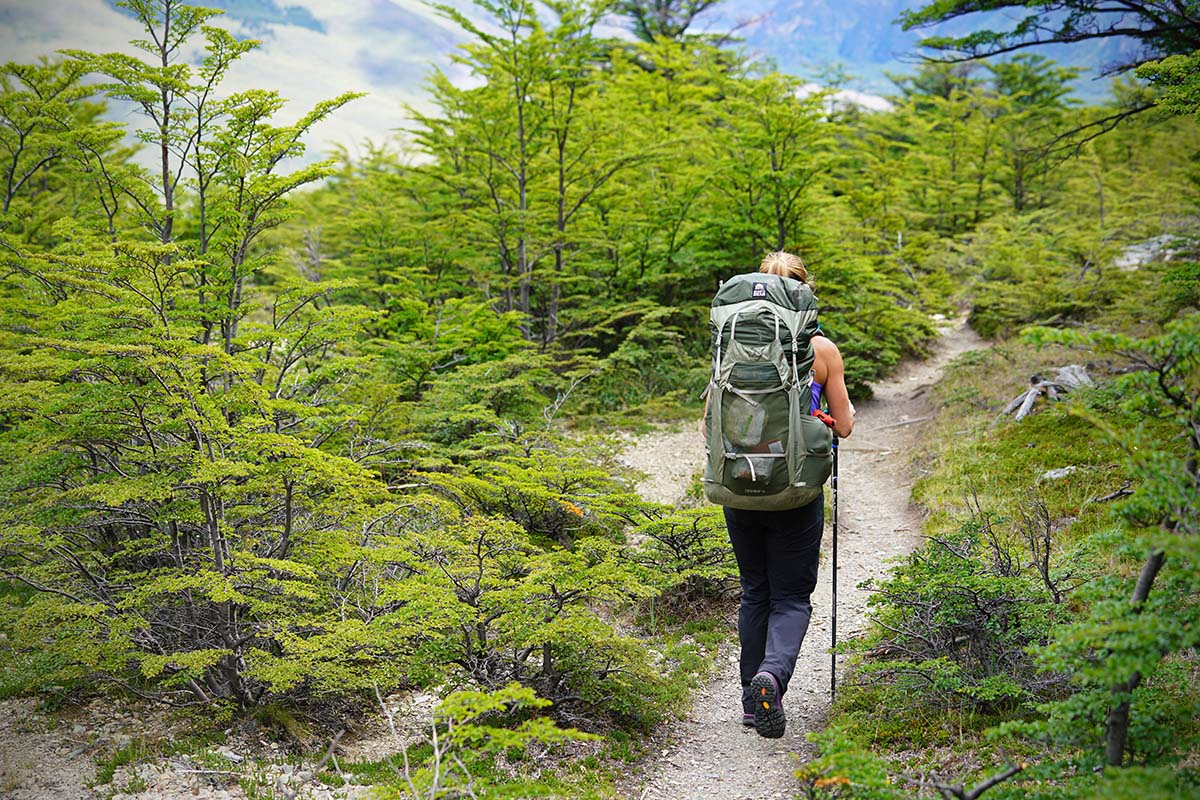 Where the Hike Mid absolutely thrives, however, is on dirt trails and on the feet of fast-moving, light-packing hikers who are looking for a slightly more supportive and protective alternative to their trail-running shoes. Thru-hikers take note: this might be a solid choice for your next outing. Overall, the Endurus Hike Mid can be an excellent compromise between a trail runner, hiking shoe, and hiking boot, if you're willing to give up some performance at either end of the spectrum.
 
Fit and Sizing
I typically wear a women's 8.5 and the Endurus Hike Mid fit great overall. The lacing system is a little unique with the top 2 sets of eyelets allowing you to choose to either feed the laces through fixed openings or use the hooks on the outside (it's mostly a matter of personal preference). However, I did almost max out the range for tightening the boot due to its roomy interior. I have wide, high-volume feet, but I was surprised how much space I still had even after my feet swelled up a bit during the backpacking trip. I would recommend it as a fine option for those with regular and wide feet, but it likely will would fail to accommodate those with a narrow profile.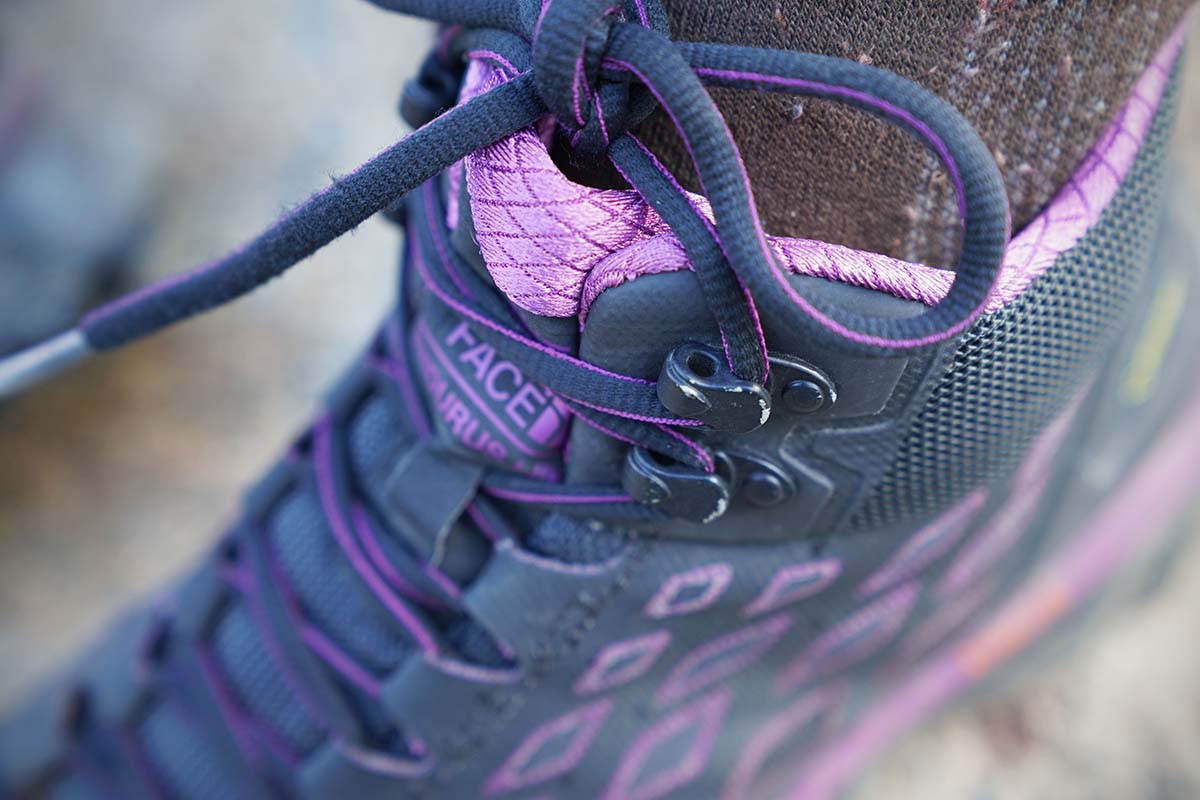 What We Like
Fast and light on the trail but still more durable, waterproof, and protective than most trail runners.
An extremely comfortable and cushioned boot that requires little to no break-in period.
Strikes a nice balance between waterproofing and breathability.

What We Don't
Traction and stability were underwhelming.
Not supportive enough for challenging hikes yet too clunky for serious trail runs. There are very few environments in which this would be your best footwear option (perhaps thru-hiking or a mix of fast hiking and running on establishing trails).
Fit is too roomy for narrow feet.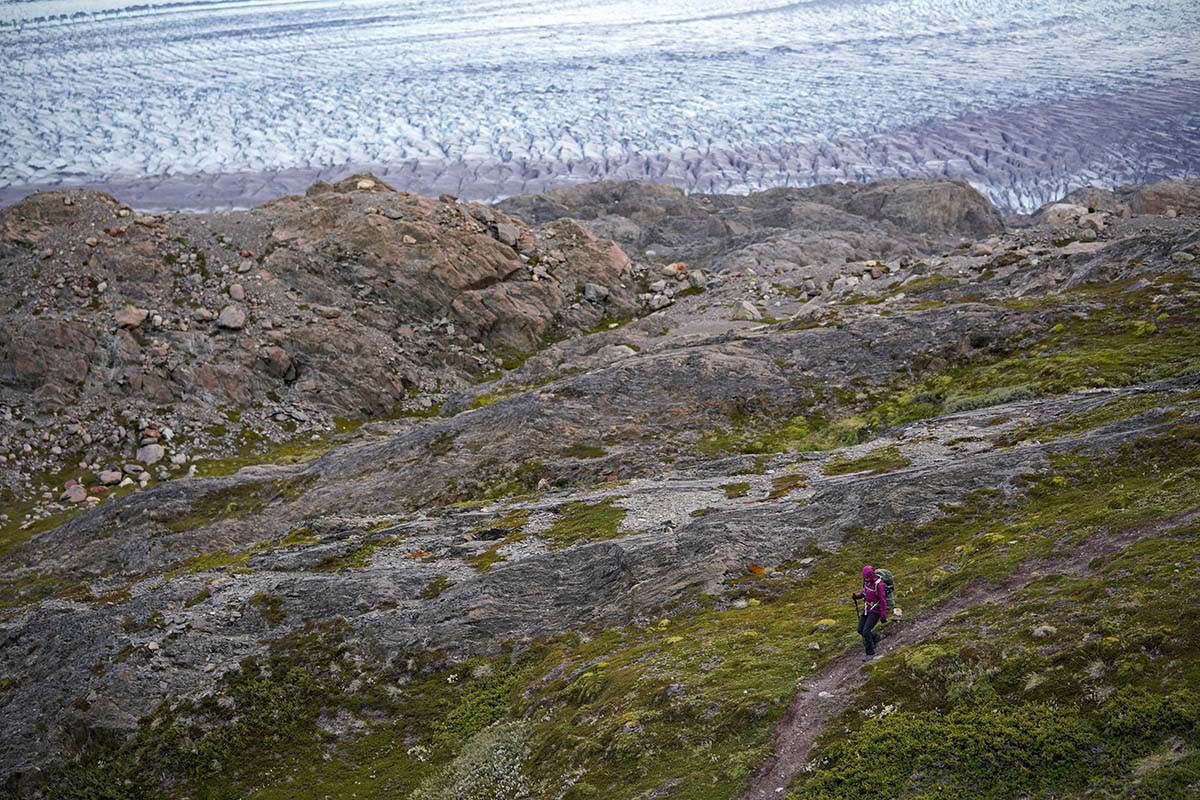 Comparison Table

The Competition
As mentioned above, the Endurus Hike Mid GTX is representative of the trend toward lighter hiking footwear. It also incorporates a popular feature of current trail-running shoes: a thick, highly cushioned midsole. The net result is a pretty good over-the-ankle hiker, provided you are aware of its limitations. Stacked up against Salomon's X Ultra 3 Mid GTX, which is one of the best lightweight boots on the market, the Endurus falls short. The North Face boot wins out in weight by about 3 ounces for the pair, but lacks the support, traction, and protection that you get with versatile Salomon design. Unless the weight difference is worth all the tradeoffs for you, the X Ultra is our preferred option for hiking and backpacking.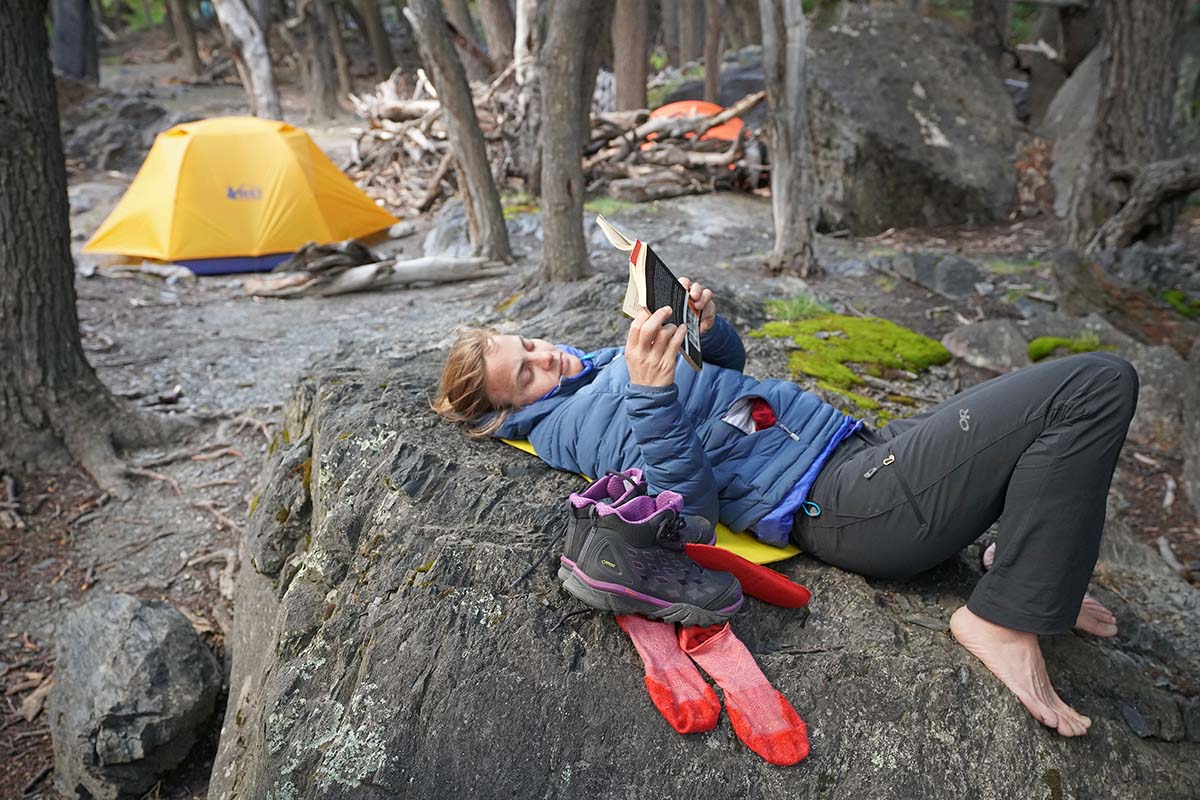 A more direct competitor in terms of weight is the Adidas Terrex Swift R2 Mid GTX. Impressively, the Swift actually undercuts the Endurus by 1.6 ounces for the pair, and it shares a similar construction with a lot of flex underfoot, a Gore-Tex waterproof membrane, and TPU overlays to protect the mesh upper. Where the two boots differ the most is cushioning: the Endurus has a tall midsole that is soft and very comfortable, while the Swift is thinner and provides more feedback from the trail. Neither can match the all-around performance of the X Ultra 3, but again, if you want a superlight boot for day hiking or ultralight backpacking, they're viable options.
Taking the over-the-ankle trail-running shoe to the next level is Altra's Lone Peak 3.0 NeoShell. Essentially a taller and partially waterproof version of their popular trail runner, the Lone Peak is nimble, flexible, and very comfortable. At 1 pound 6.8 ounces, it's significantly lighter than the Endurus, yet still includes a rock plate and has excellent traction with its signature deep lugs (Altra does use a slightly different rubber compound with the Neoshell model). We like the Lone Peak for minimalist trips in warm weather, but in this case, the Endurus is the better-balanced shoe. The Altra's NeoShell liner is only partially waterproof, so even a shallow creek crossing will let in some moisture. Also, the Lone Peak's wide fit isn't for everyone and can feel sloppy on difficult terrain. Neither option would take the place of the X Ultra 3 Mid in our closet, but the Endurus gets the edge here as the superior hiking boot.
If you're thinking about buying gear that we've reviewed on Switchback Travel, you can help support us in the process. Just click on any of the seller links above, and if you make a purchase, we receive a small percentage of the transaction. The cost of the product is the same to you but this helps us continue to test and write about outdoor gear. Thanks and we appreciate your support!
Depending on the seller, most products ship free in the United States on orders of $50 or more. International shipping availability and rates vary by seller. The pricing information on this page is updated hourly but we are not responsible for inaccuracies.
Learn More About Outdoor Gear