The North Face has been making a strong push in the hiking market, and one of our favorite products has been their Ultra GTX shoe. We put the latest 110 version through three seasons of extended use and came away very impressed with its overall comfort and performance. Among the low-top hiking competition, it's a standout in terms of stability, grip across nearly all surfaces, and protection. Below we break down the Ultra 110's comfort, weight, traction, waterproofing, durability, fit, and more. To see how the Ultra 110 GTX stacks up, see our article on the best lightweight hiking shoes.
 
Performance
Comfort
The North Face may label the Ultra 110 GTX as a trail runner, but we disagree. It's too hot and weighs too much for serious running, but happens to be one of the most well-rounded hiking models we've tested. All in all, this is a very comfortable shoe—we've worn it on numerous all-day hikes and have loaded it down with 35+ pounds of backpacking gear without complaints from my feet. The ESS shank underfoot helps take the sting out of a rough trail and sharp rocks, and the substantial TPU toe cap is thick and quite large for a hiking shoe. In many ways, it feels like a low-top version of a midweight boot (although it doesn't take as long to break in). Those who like a light and nimble design may prefer something like the Salomon X Ultra 3, but The North Face is the better option for heavy loads and technical trails.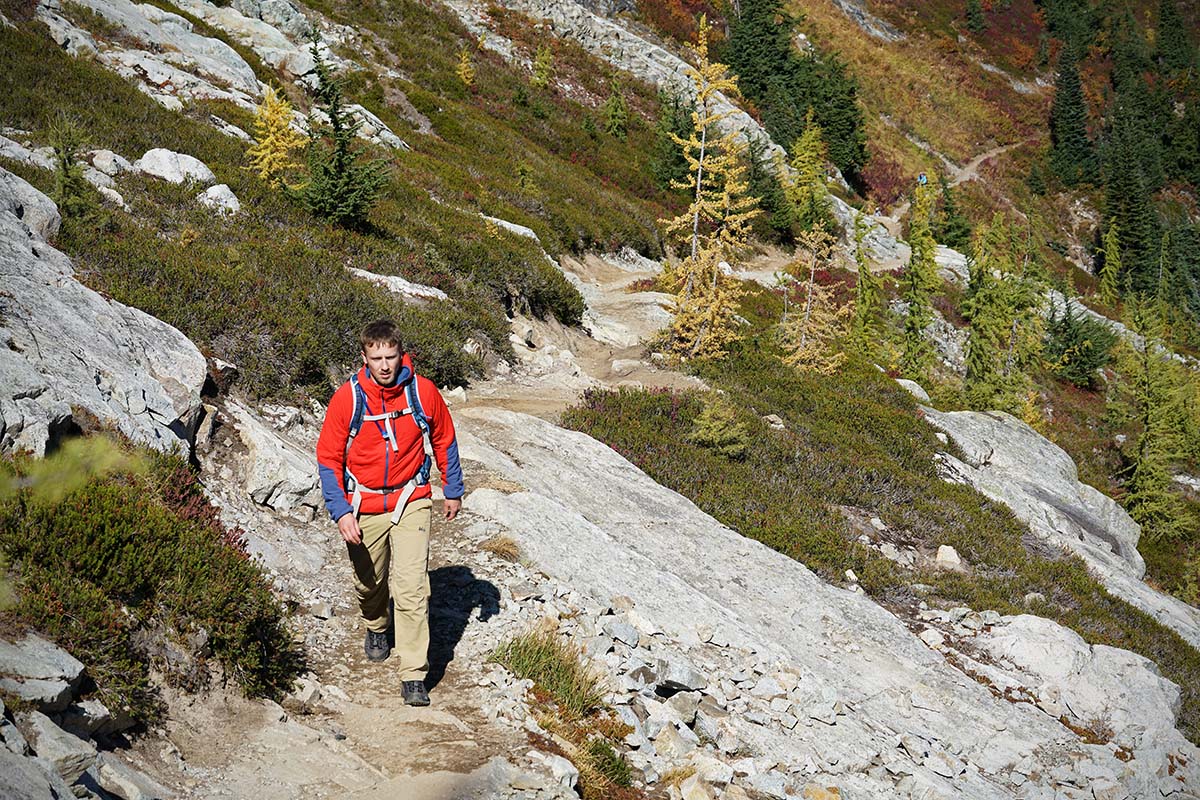 Weight
My men's size 9 weighs in at 1 pound 14.8 ounces for the pair, an ounce heavier than the listed weight, which puts the Ultra 110 on the heavy end of the hiking shoe spectrum. For reference, the Salomon X Ultra 3 GTX undercuts it by 3 ounces at 1 pound 10.8 ounces. However, the Ultra 110 is competitive with many popular models: Keen's Targhee III Low WP is similar at 1 pound 14.8 ounces, and Merrell's Moab 2 WP is heavier at 2 pounds 1 ounce. And those shoes feel fairly clunky by comparison—the Ultra 110's trail-running roots give it a more athletic feel. Fast and light travelers will be happier with the X Ultra or a true lightweight trail runner like the Saucony Peregrine ISO (1 pound 5 ounces). But we think the weight is a fair tradeoff for The North Face's level of protection, comfort, and support.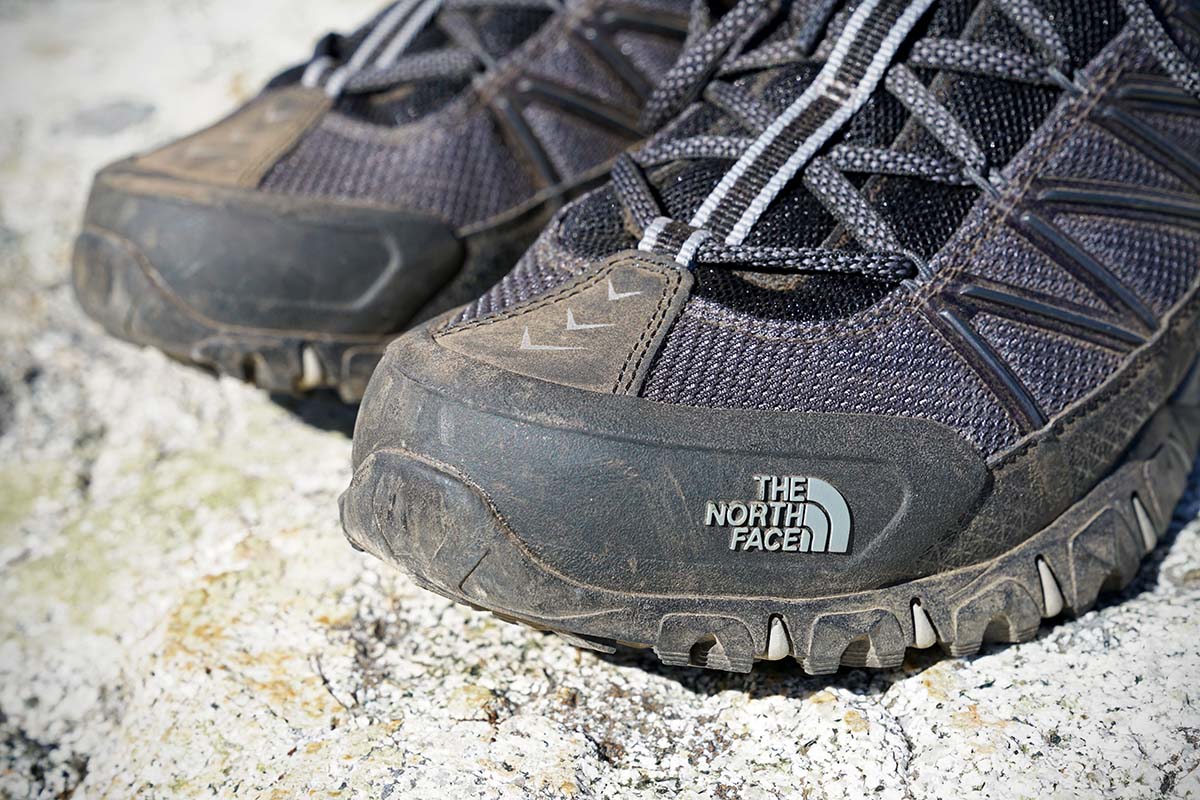 Traction
A significant change from the previous Ultra 109 to the current 110 is the outsole design. The 109 provided decent traction, but our tread wore down very quickly on the granite and rough trails in Washington's Central and North Cascades. The updated design, on the other hand, has proven to be much more long-lasting. With over six months of use, there's still plenty of tread left, and the performance has been solid throughout its life. The tacky rubber grips very well on rock, the aggressive lugs dig in nicely on both soft ground and hardpack, and we've even found them to offer reliable traction in snow. The Salomon X Ultra 3 GTX still is the class leader in all-around traction, but the Ultra 110 is very close behind.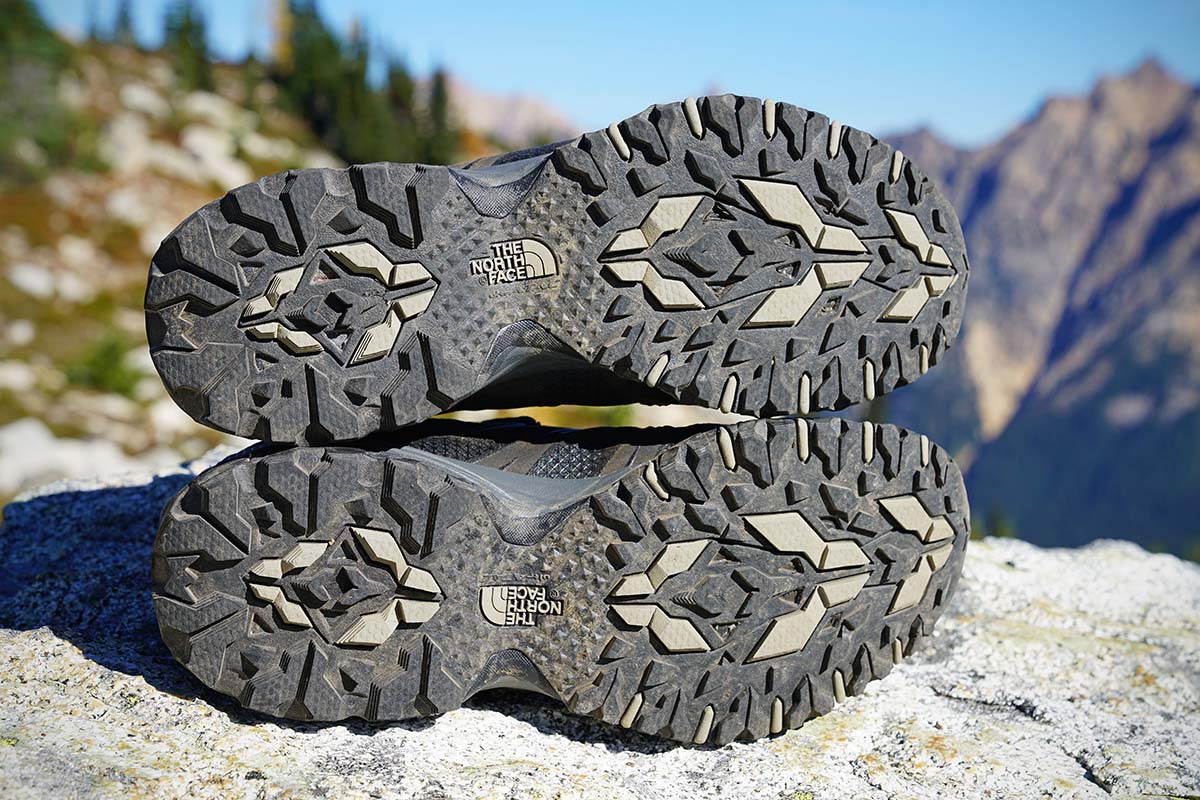 Stability and Support
As mentioned above, we think the Ultra 110 is miscategorized as a trail runner. But the attributes that make it a poor running shoe also make it an excellent hiker. It has a wide and stable base, is just stiff enough for long slogs and heavy packs, and the shoe manages to remain very comfortable through it all. The 110 GTX does have a fairly rigid heel, which helps provide security on steep slopes and uneven trails, but isn't too stiff for moving quickly. Overall, we think this is one of the best low-top shoes for ambitious day hikers and peak baggers, as well as the lightweight backpacking crowd.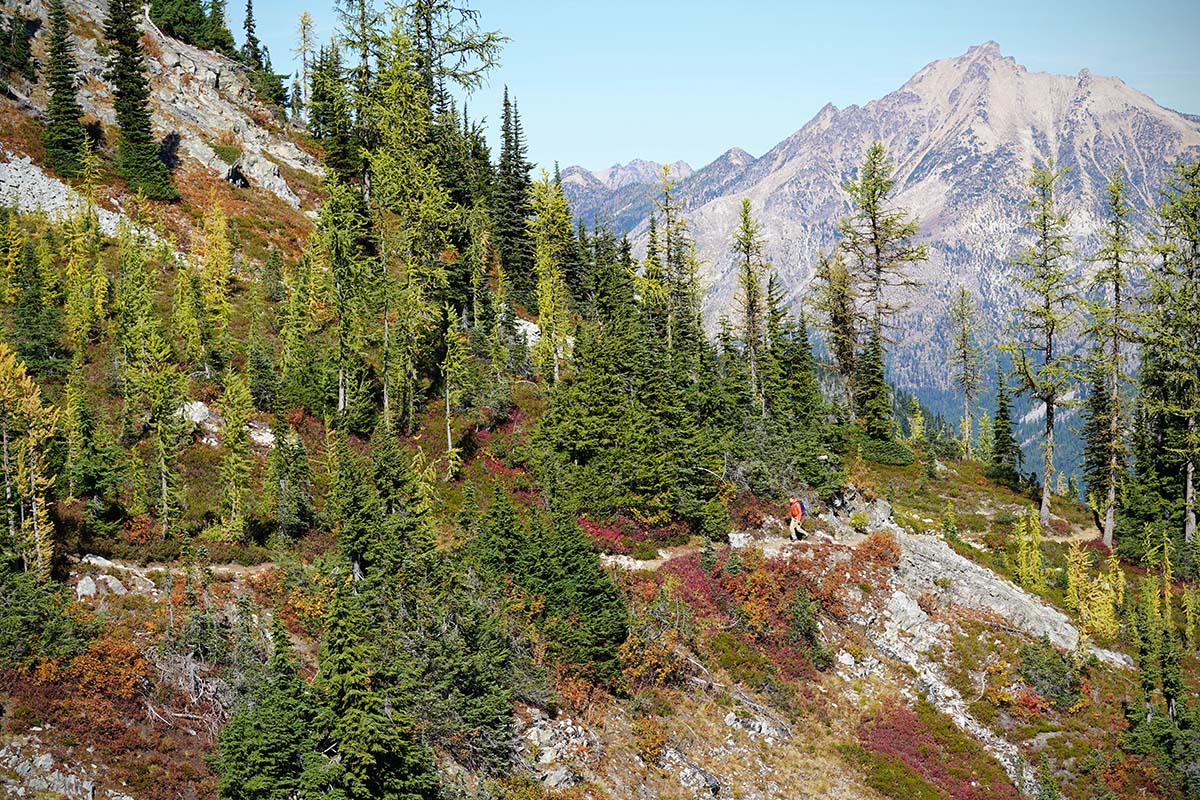 Waterproofing
We expect consistently good waterproof performance from our Gore-Tex footwear, and The North Face Ultra 110 has been no exception. We've crossed shallow streams and worn the shoes extensively in snow without any signs of failure from the burly exterior design and waterproof liner. Should you allow the water or snow to enter from the top, however, the shoes aren't nearly as fast to drain and dry out as a non-waterproof option. On the plus side, the Gore-Tex does give it a nice little boost in warmth for cold conditions.
 
Ventilation
Unfortunately, the waterproofing and substantial upper material that is a boon for wet and frigid weather means the Ultra 110 runs pretty hot. Even among Gore-Tex models, the shoe is not a great breather (we've been more comfortable with a lighter design like the Salomon X Ultra 3 GTX). Given the shoe's popularity, we are surprised The North Face hasn't released a non-waterproof version. Not only would that shoe be lighter, but it would greatly improve ventilation for summer-only adventurers.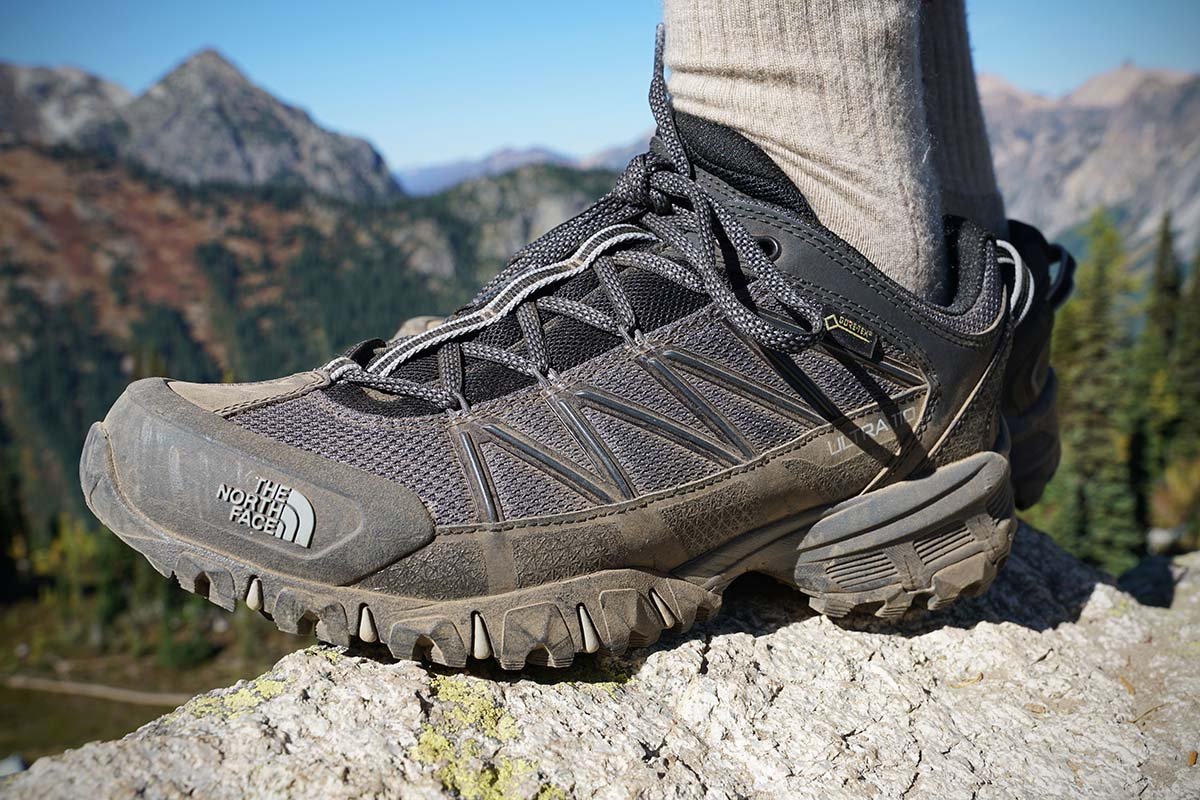 Durability
With a lot of miles on our Ultra 110s, from our experiences these are a tough pair of hiking shoes. The upper design looks fairly busy, mixing leather, mesh, and a large TPU toe cap, but all of the materials have felt durable and well-constructed. There's solid reinforcement along the heel and sides where the upper meets the midsole, and we can see no signs of the outsole separating. And as we touched on above, the tread life is a big leap forward from the Ultra 109. Ours still has a lot of bite even after this lengthy test.
However, it's worth noting that a number of users have reported issues with the eyelets— enough that we felt it was worth mentioning here. Essentially, the eyelets on the 110s are smaller than on the 109s and made with a thin, lace-like material (on the 109s they were a thicker, reinforced canvas). Some hikers who tie their shoes tight have noted that the eyelets can give out over time, which obviously would be a major knock on durability and something that The North Face would need to address during the next update. Again, we haven't experienced problems with the eyelets ourselves, but it is a potential issue to consider.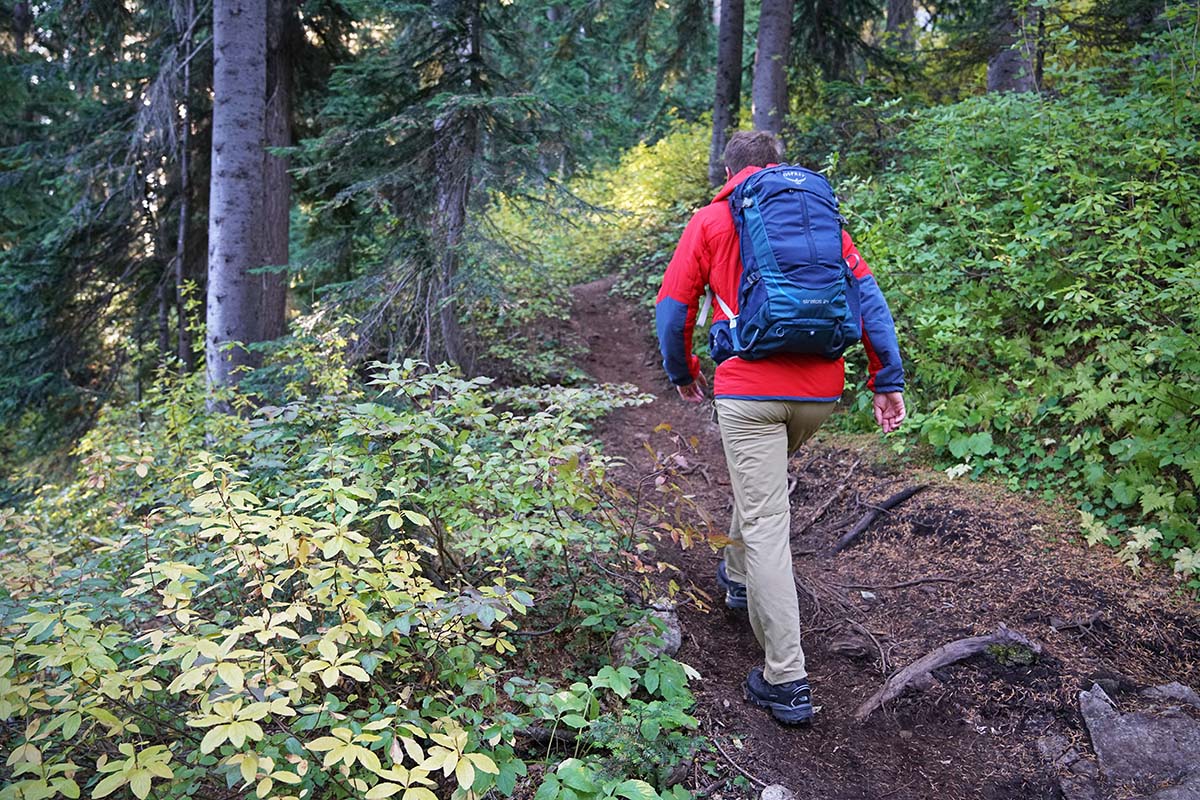 Sizing and Fit
We've worn a number of The North Face's shoes and boots and haven't found them to be the most consistent size-wise. Having said that, we really like the fit of the Ultra 110 GTX. As with the older 109, you get a spacious toe box and a lacing system that really dials in the fit around the midfoot and heel. It's worth noting that it takes a little effort to tighten the laces—the upper portion of the shoe is still mildly stiff even after six months of wear. But once they're laced up, we haven't had any issues with loosening or discomfort.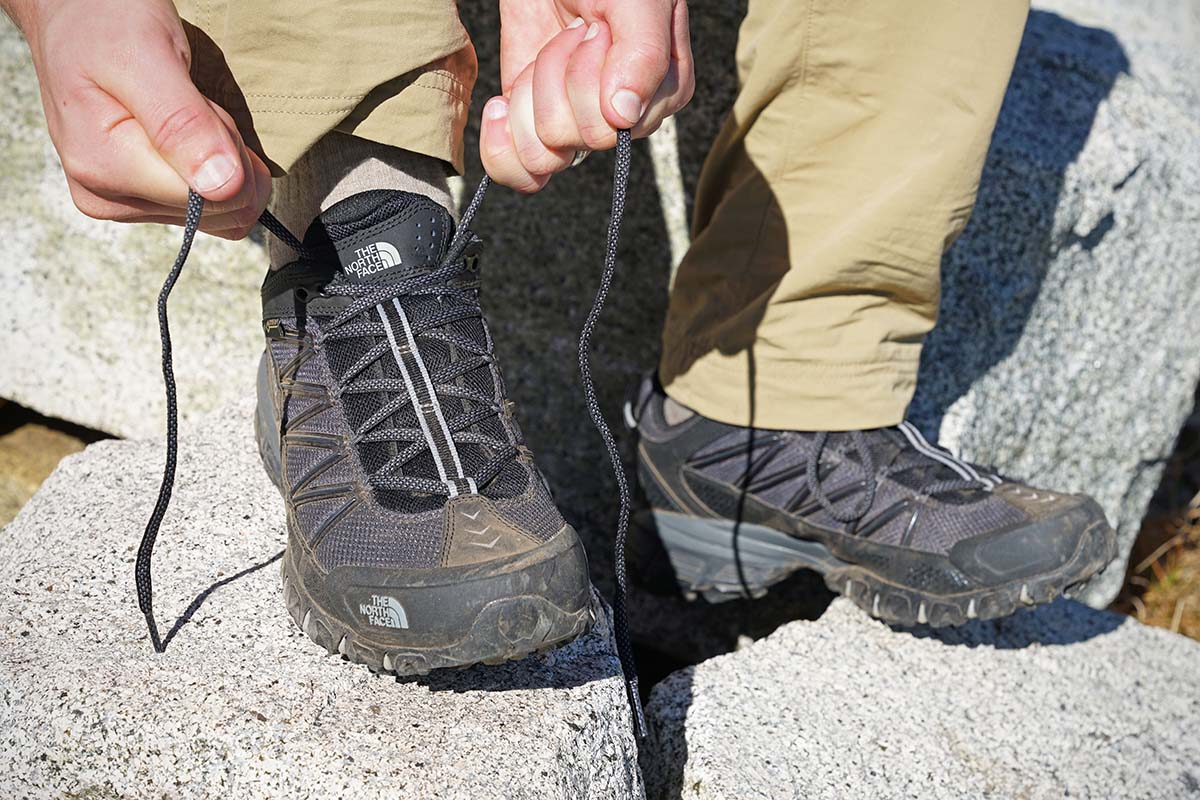 Women's Version of The North Face Ultra 110 GTX
We tested the men's version of the Ultra 110 GTX shoes, and The North Face also makes them in a women's-specific model. We haven't had a chance to test the women's Ultra 110 yet, but it has the same general design including the outsole, lacing system, and upper materials. In terms of differences, the women's model weighs less at 1 pound 9.2 ounces per pair, has a trimmed-down toe cap, and the colorways vary. Finally, unlike competitors such as the Merrell Moab 2 or Salomon X Ultra 3 that are offered in a range of shoe and boot options, The North Face only sells the Ultra 110 in a low-top, waterproof design. For hiking in dry climates, we hope they add a non-waterproof model to the lineup.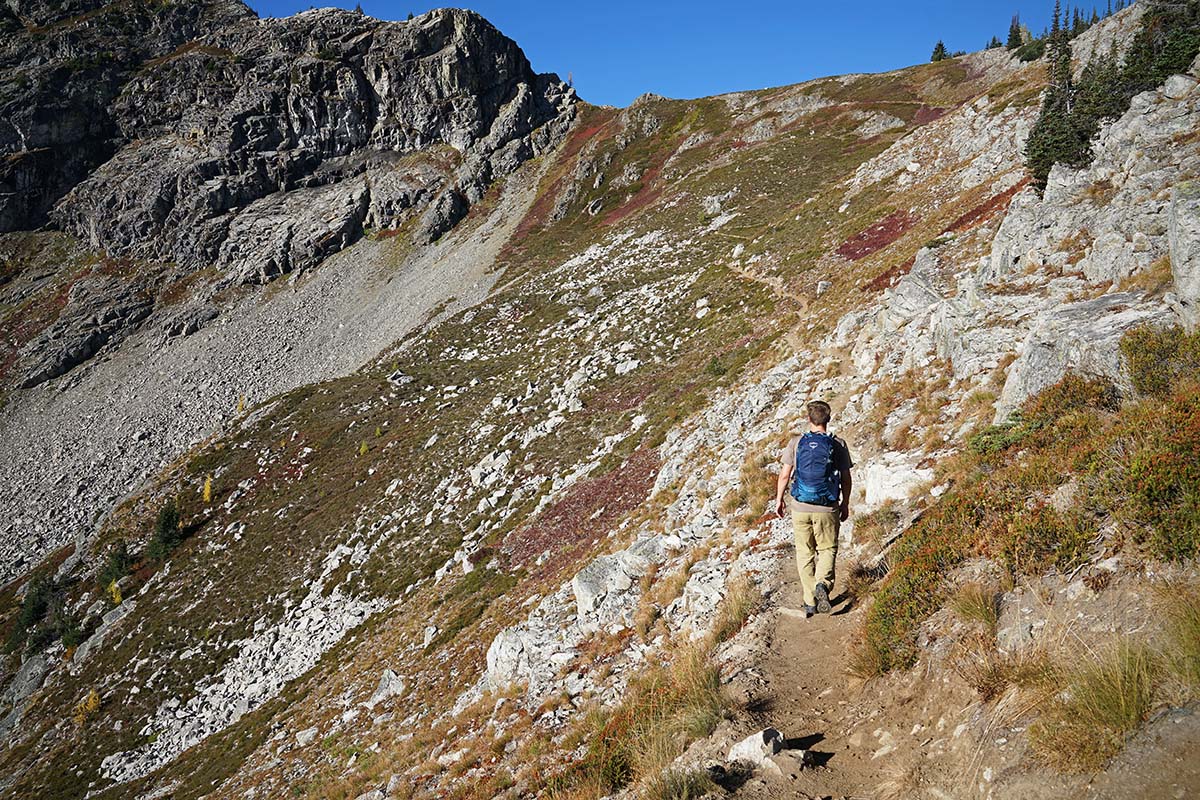 What We Like
Very comfortable and super stable for hiking over difficult terrain or hauling a heavy pack.
Solid construction with good protection all around the foot.
We really like the upgraded outsole from the previous Ultra 109. It's gripper and isn't wearing down nearly as quickly.
Excellent value at $120. Most of the Gore-Tex competition is at least $20 more.

What We Don't
Waterproof design and thick upper material makes it run warm in the summer (and The North Face doesn't make a non-waterproof version).
Fairly heavy for a trail running-inspired hiking shoe. For comparison, it's 3 ounces heavier than the popular Salomon X Ultra 3.
Some users have reported issues with the eyelets giving out over time.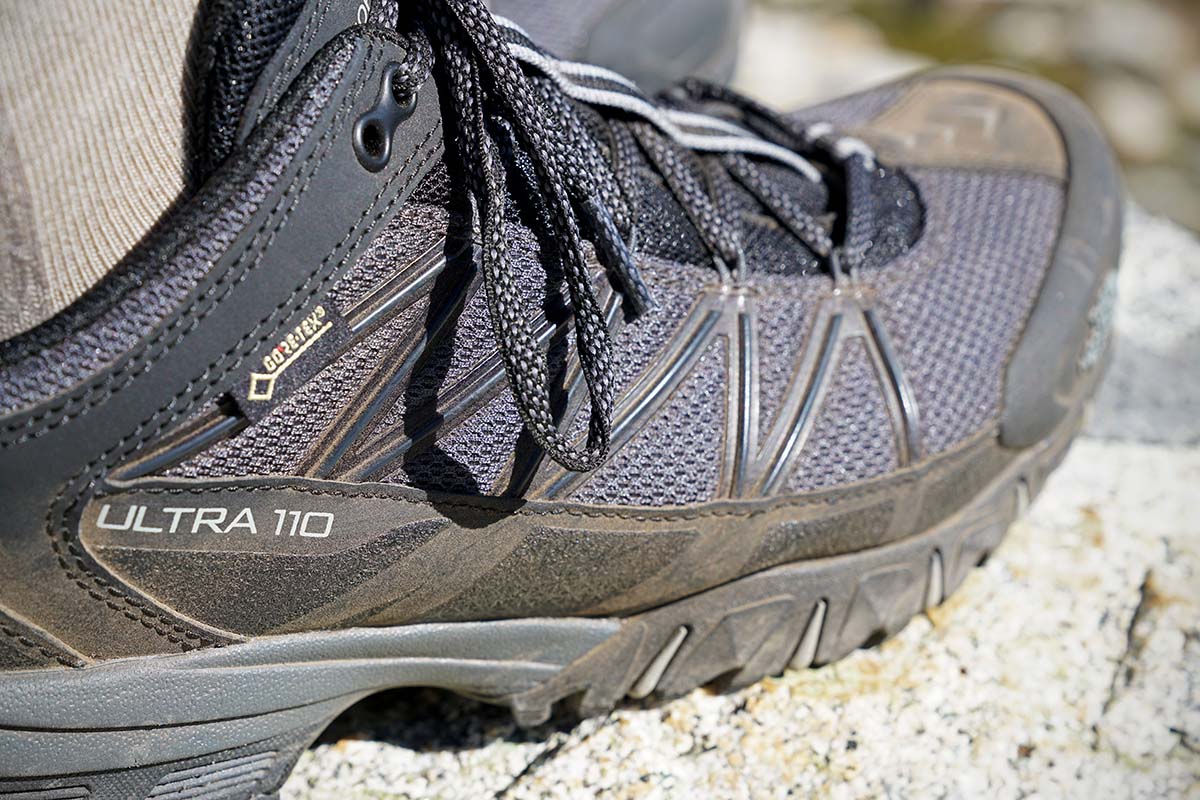 Comparison Table

The Competition
The North Face Ultra 110's combination of comfort, stability, and price puts it among our favorite hiking shoes on the market in 2019. One of the longest-running and most popular designs is the Moab from Merrell. Updated two years ago, the Merrell Moab 2 has a very plush and cushioned interior that is more comfortable overall than the Ultra. You also get the option for a warm-weather, non-waterproof model, which we've found breathes very well. But the waterproof Merrell is a little over 3 ounces heavier and its wide base feels unwieldy by comparison. Day hikers absolutely love the comfort of the Moab—and for good reason—but those that want a waterproof shoe with more of a performance feel likely will prefer the Ultra 110.
Our current top-rated hiking shoe is Salomon's X Ultra 3 GTX, which offers exceptional grip and comfort in a lightweight package. Wearing the Ultra 110 back-to-back with the Salomon makes it clear the X Ultra is the nimbler shoe that excels for moving fast. But The North Face's extra 3 ounces are put to good use: the shoe has greater stability on rough trails and better protection with its thick upper and shank in the midsole. It's also a notable $30 cheaper. But the main deciding factor between the two likely will be fit. Whereas the Salomon is pretty narrow throughout, the Ultra 110 has a spacious toe box for those with wider feet.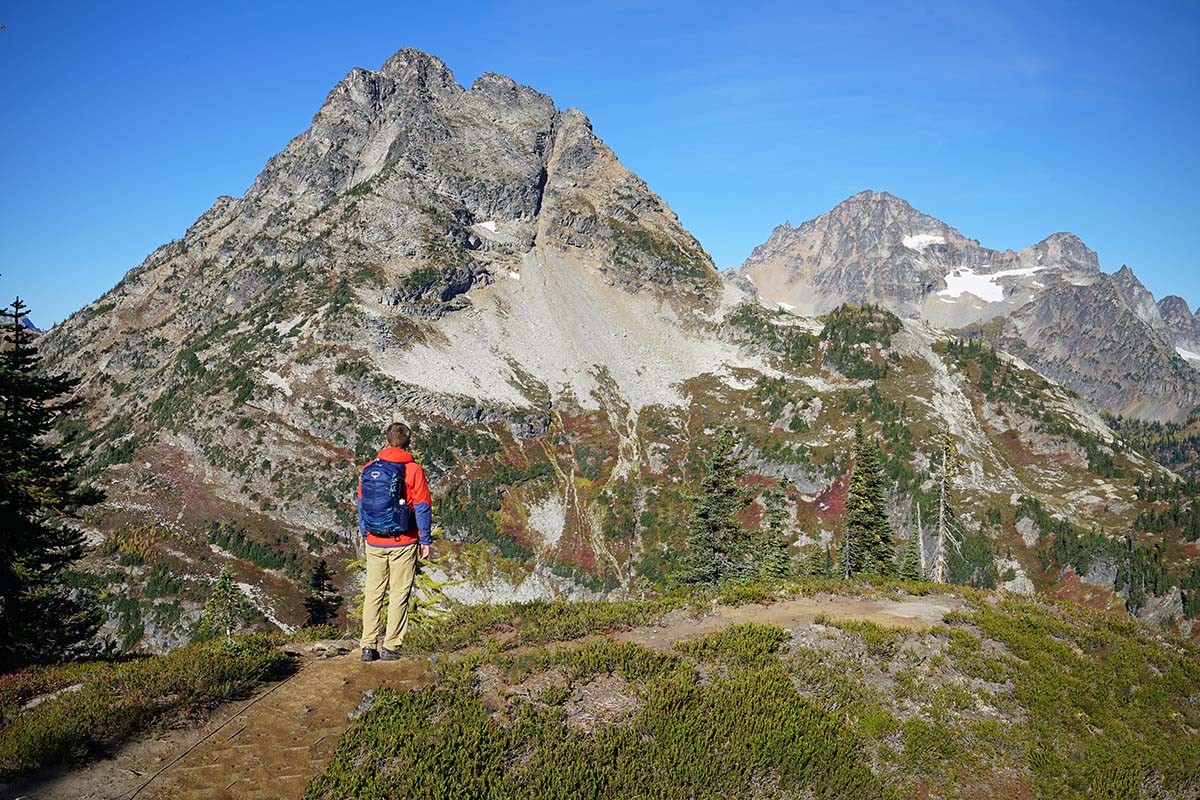 Another solid hiking shoe is Adidas' Terrex Swift R2. We took the R2 for a backpacking trip in Southern Utah and found it to be a solid all-around performer. It's lighter than the Ultra 110 by 2 ounces per pair and has good grip on rock with its tacky outsole. Where The North Face has the advantage is its lacing system—Adidas's single-pull Lace Bungee is a little finicky and not as easy to use as a traditional design. The Ultra 110 also is less stiff underfoot while offering similar support for carrying a full pack. We like the Swift R2 and it's a close call, but the The North Face has the slight edge in our book.
A final option to consider is Salomon's XA Pro 3D, which, like the Ultra 110 GTX, is listed as a trail runner but more frequently used a lightweight hiker. The XA Pro 3D has its upsides: it's exceptionally grippy on all types of rock, making it a good scrambling and off-trail shoe. You also get Salomon's popular Quicklace system that we like, along with solid build quality. That being said, we weren't huge fans of the XA Pro 3D overall. It doesn't run nearly as well as it hikes, has an awkwardly large toe box, and felt surprisingly stiff out of the box. It's a good shoe, but not a great shoe, and we prefer both The North Face Ultra 110 GTX and Salomon's own X Ultra 3 GTX instead.
If you're thinking about buying gear that we've reviewed on Switchback Travel, you can help support us in the process. Just click on any of the seller links above, and if you make a purchase, we receive a small percentage of the transaction. The cost of the product is the same to you but this helps us continue to test and write about outdoor gear. Thanks and we appreciate your support!
Depending on the seller, most products ship free in the United States on orders of $50 or more. International shipping availability and rates vary by seller. The pricing information on this page is updated hourly but we are not responsible for inaccuracies.
Learn More About Outdoor Gear