Patagonia's down products are known for their 100-percent-traceable feathers, quality construction, and sleek, stylish looks. Building off of these core characteristics, the Fitz Roy Down Parka is designed for fast-and-light travel in true alpine environments where warmth is an absolute necessity. Eager to put it to the test this winter, I took the women's version of the Fitz Roy ice climbing in the Canadian Rockies, sport climbing in Spain, and ski touring in central Oregon. In short, it's a beautifully made and exceptionally warm jacket, but lacks the overall level of weather resistance and durability of some of its competition. Below we break down the Fitz Roy's warmth, weather protection, weight, durability, fit and sizing, and more. To see how it stacks up, see our articles on the best down jackets, best women's down jackets, and best winter jackets.

Performance
Warmth
The Patagonia Fitz Roy Down Parka is designed with alpine temperatures and travel in mind, boasting features that make it extremely warm for its weight. For starters, the jacket packs in 6.4 ounces of high-quality 800-fill-power goose down (8 ounces in the men's version), which is more than most of its down jacket competition. Further, both the body and hood are baffled to keep the feathers in place, the roomy hood tightens securely over a head or helmet, and the front zip extends high over the face so you can truly batten down the hatches in wind and cold. In addition, plush draft tubes behind the main zipper and a thick rear collar help to seal in warmth where it might otherwise escape. Combined with a soft face fabric that offers a great next-to-skin feel, the Fitz Roy is the true definition of lofty and cozy warmth.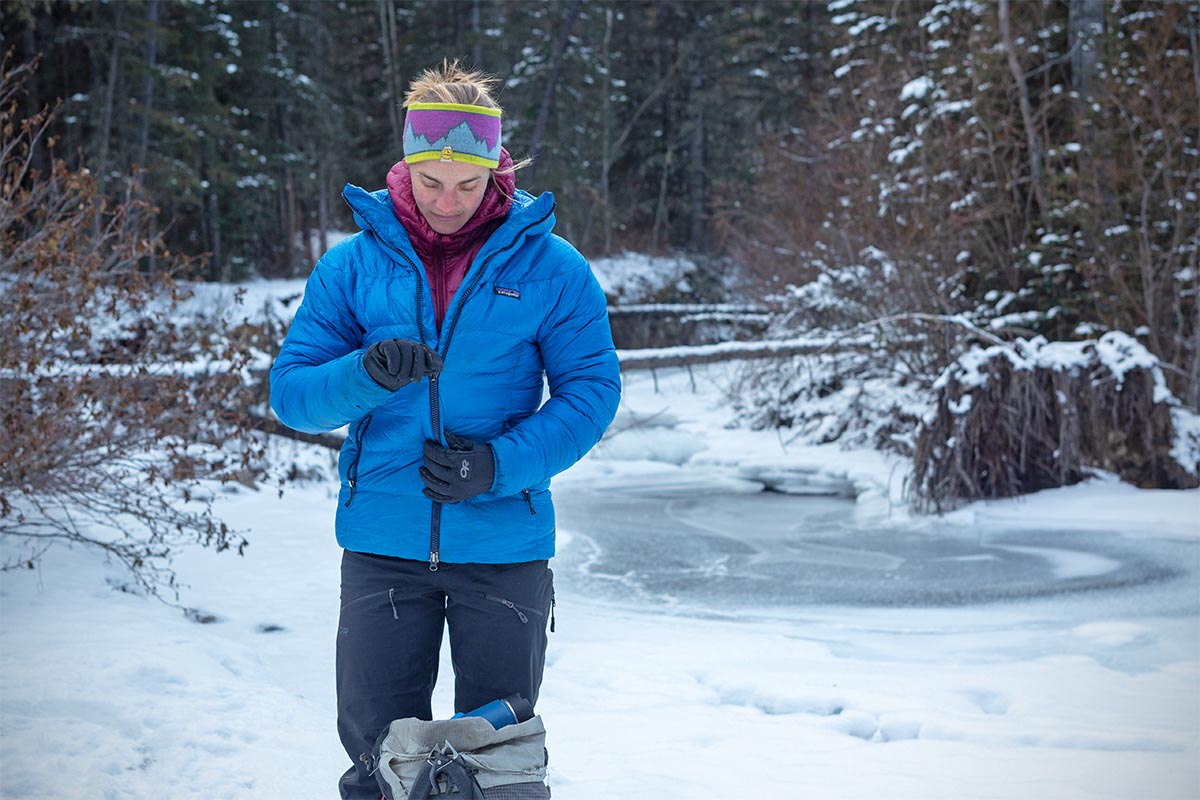 I eagerly donned the Fitz Roy in sub-zero temperatures while belaying in the Canadian Rockies and it trapped my body heat instantly. The feelings of security and coziness were so palpable that I noticed myself midway through each pitch feeling excited to put the jacket back on at the next belay (as expected, the down construction lacked enough breathability for me to wear the parka during activity). Warmth-wise, the Fitz Roy is comparable to the Rab Neutrino Pro (which contains 7 ounces of 800-fill down), and noticeably warmer than the Outdoor Research Alpine Down Hooded Jacket (5.4 ounces of 800-fill down). Any more down and you'd be entering the high-altitude expedition parka category, which, in our opinion, is too much jacket for anything you'll find in the Lower 48.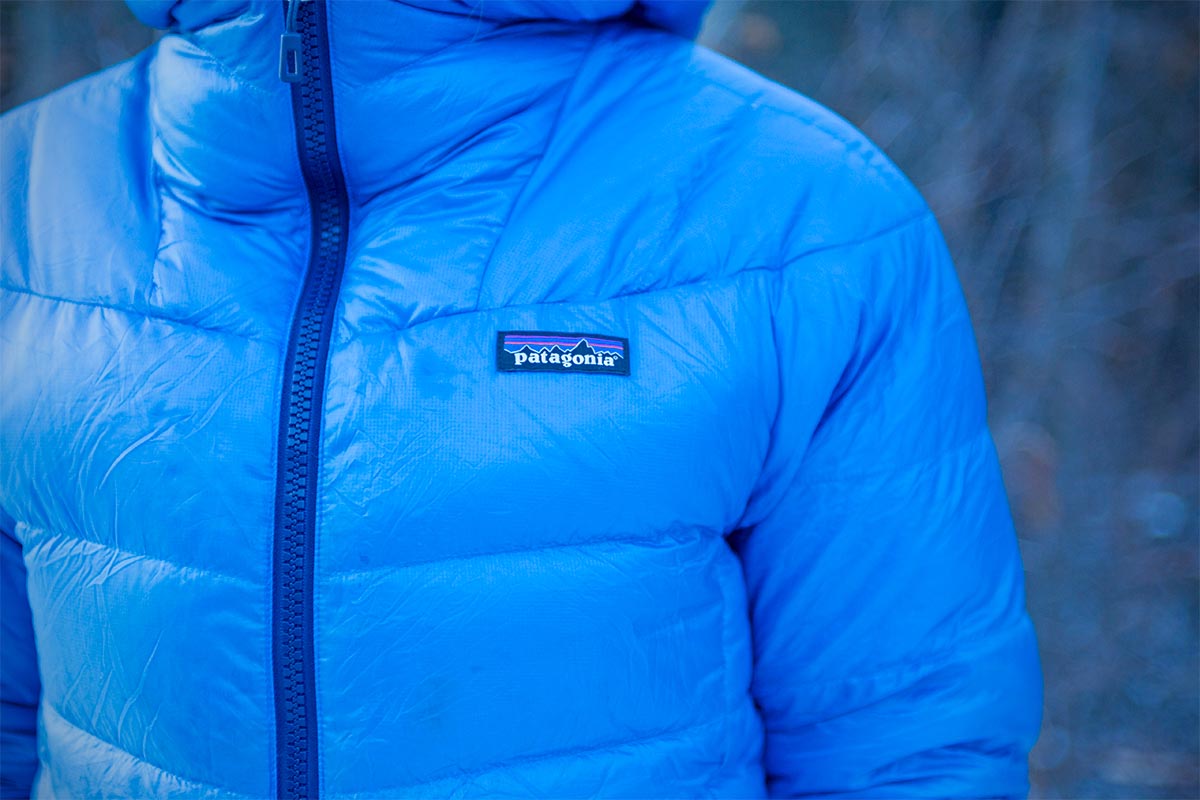 Weather Protection
The Fitz Roy's Pertex Quantum face fabric with a durable water repellant (DWR) finish provided reasonable water resistance for a down jacket. On one outing, I accidentally spilled hot tea on the parka and watched as most of the liquid beaded up and rolled off—only a small amount sat on the surface and soaked in. While I trust the Fitz Roy to guard against small ice drips and light snowfall typical of winter and alpine exploration, I wouldn't subject it to anything heavier or more sustained. By comparison, both the OR Alpine Down and Rab's Neutrino Pro are made with more water-resistant Pertex Quantum Pro fabric (the Alpine Down also sports Pertex's new Y Fuse in the body) and are more impervious to the elements as a result. However, it's worth noting that for the best insulating performance when wet, we turn to a synthetic jacket instead.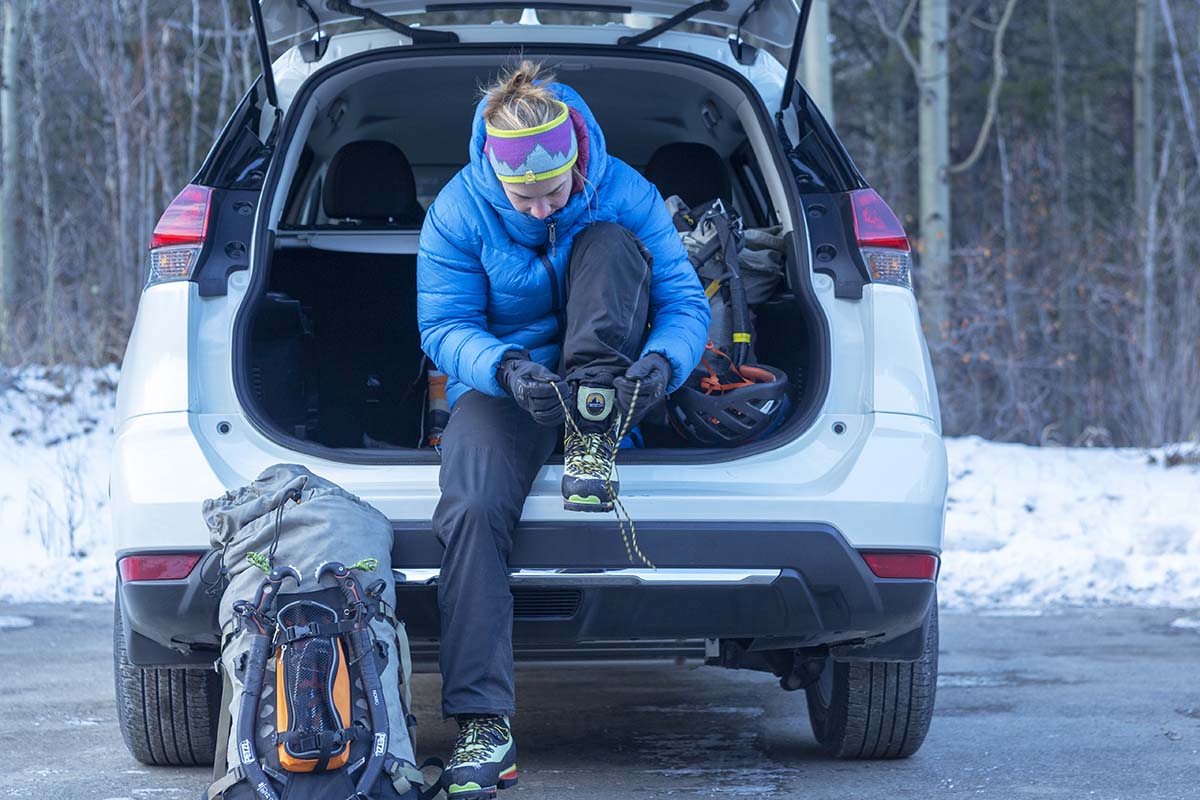 The Fitz Roy Down Parka is in its element in sub-freezing temperatures when wind is often more of a concern than water. And in this realm, the Fitz Roy performs admirably. While ice climbing in the Canadian Rockies, temperatures were in the 20s Fahrenheit but dipping below zero with the wind chill. The jacket provided a lofty barrier between my body and the biting wind, keeping me warm even in cold gusts. Of course, it is possible for wind to enter through the stitching of the baffles, although this did not seem to be a concern—the snug collar and draft tubes behind the front zipper were able to trap warm air in and seal cold wind out. Again, Pertex Quantum Pro, Y Fuse, or Endurance fabrics will provide more wind resistance, but combined with the high-loft down, the Quantum of the Fitz Roy proved to be more than enough.

Weight and Packability
The Fitz Roy Down Parka tips the scales at 18.9 ounces for the women's medium and packs down to about the size of a loaf of bread in its included stuff sack. For comparison, the Rab Neutrino Pro weighs 18.7 ounces for a women's medium, while the Outdoor Research Alpine Down Hooded Jacket comes in heavier at 19.5 ounces (for a significant drop in warmth). Arc'teryx's Cerium SV Hoody, made with a combination of premium 850-fill down and synthetic insulation, weighs an impressively light 13.9 ounces, but contains only 5.4 ounces of down (although the synthetic fill means it's not exactly an apples-to-apples comparison). All told, the Fitz Roy is fairly average when it comes to weight and packed size, which is surprising given that its face fabric is a lighter and less weatherproof material than that of comparable jackets.

Build Quality and Durability
I had mixed feelings about the overall build quality and durability of the Fitz Roy. I'll start with the bad: the toughness of the jacket is questionable, at best, for a performance piece. My parka has amassed a significant number of small tears and holes in its 20-denier Pertex Quantum fabric in just two months—in fact, it's not infrequent that I'll lightly graze a rock or bush and come away with a snag (this reminds me a lot of my Patagonia Micro Puff experience). In comparison, the 30-denier Pertex Endurance on my since-discontinued Rab Neutrino Endurance suffered no abrasions throughout over a year of use. The Quantum Pro fabric on the newer Rab Neutrino Pro (20D) and OR Alpine Down (30D) is noticeably more durable as well. I've also noticed the Fitz Roy seems to soak up dirt and stain very easily, growing discolored so quickly that I find myself washing it far more often than other down jackets I've owned.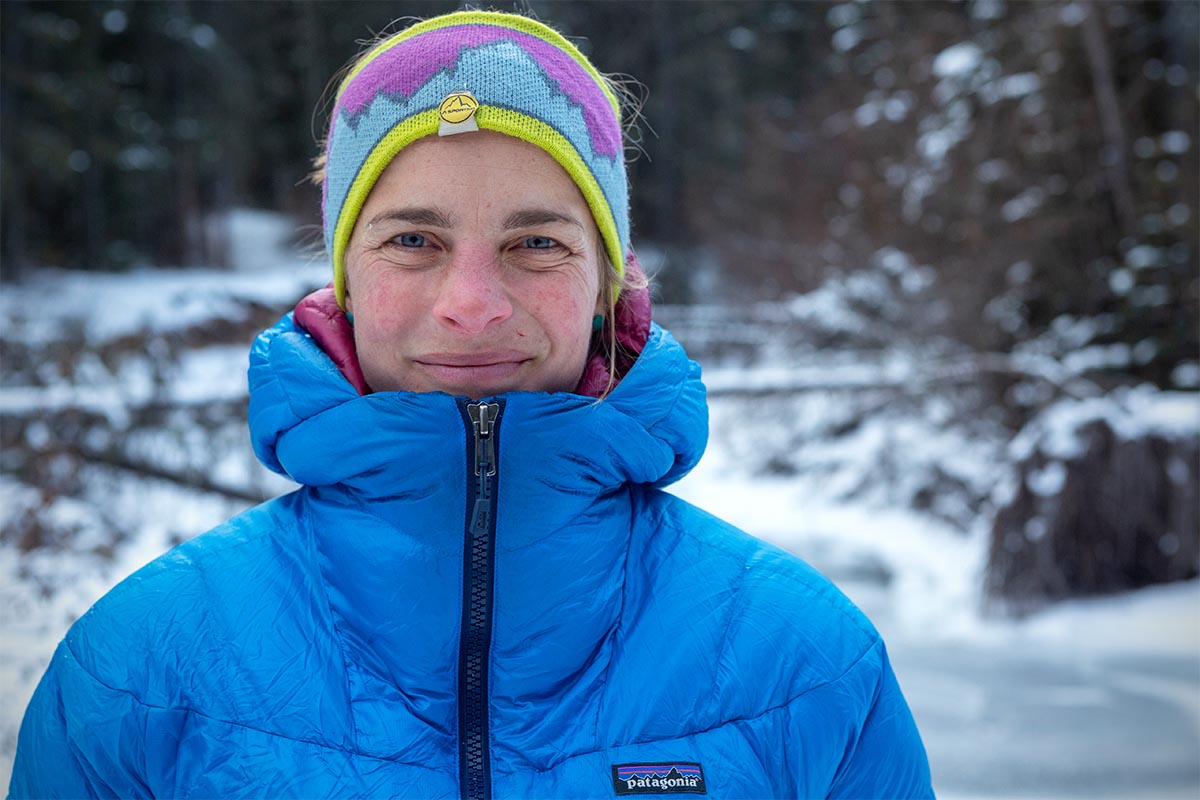 All that said, Patagonia's choice of 20-denier Quantum fabric does have its benefits. While certainly more limiting in terms of performance, it is softer and more packable and stylish than the latest technical Pertex fabrics. For this reason, I've come to see the Fitz Roy as a bit of a guilty pleasure—many other jackets offer better performance at slightly less weight, but there's no piece that matches the warmth, coziness, and look of the Fitz Roy. And aside from the durability issues with the face fabric, the rest of the jacket is well-made. Seams and stitching are clean, zippers are robust, and features like the draft tubes and lofty collar add more than their weight in warmth and protection. Finally, we always appreciate that Patagonia places a premium on ensuring their down comes from birds that aren't force-fed or live-plucked, so you can wear the Fitz Roy with a clear conscience (more on this below).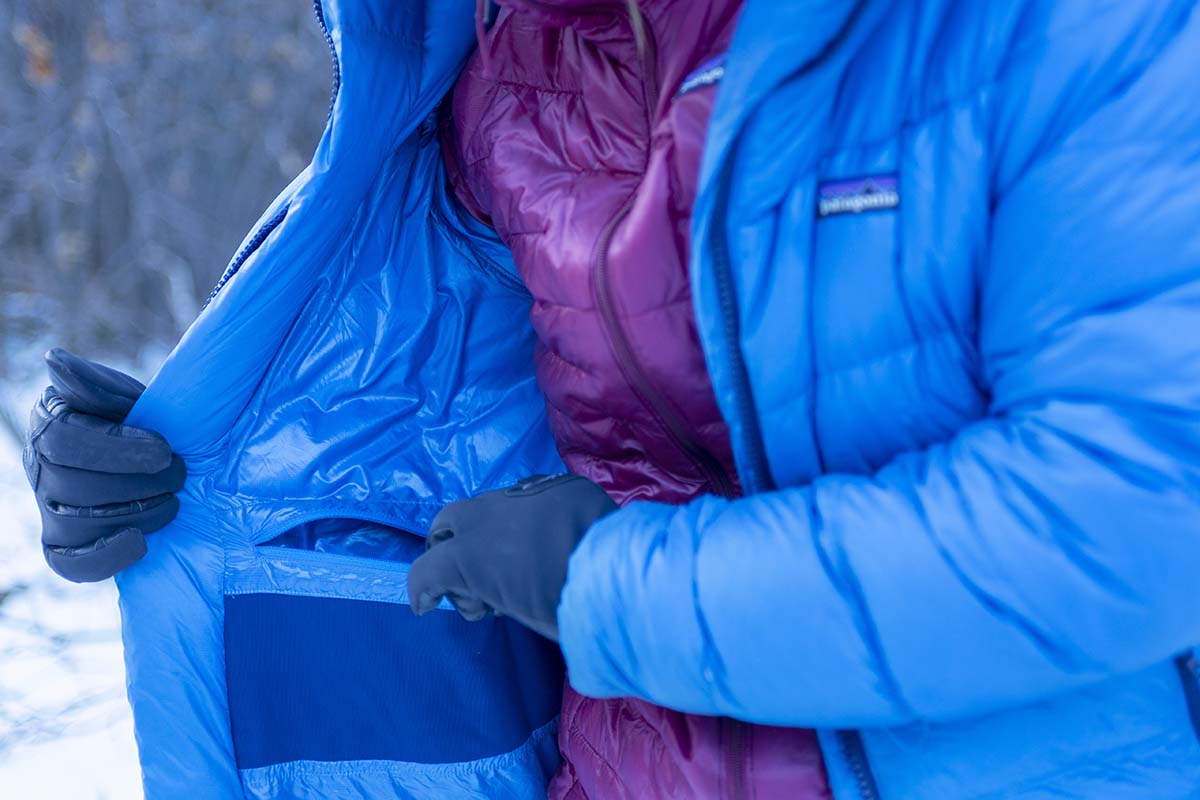 Features: Hood, Cuffs, and Pockets
With a minimal feature set, the Fitz Roy packs in all the ingredients we expect in a down jacket with none of the extras. Two handwarmer pockets sit just above a backpack's waist strap, and a small interior chest pocket is roomy enough to keep a phone or camera warm. The dump pockets on the interior—one with a zipper and one without—are nicely sized and can hold anything from a 1-liter water bottle or climbing shoes to gloves and skins. These pockets have become so essential to me that I find myself wishing all of my jackets had them. Storage aside, the waist has a simple cinch on either side, and the helmet-compatible hood is large and easy to adjust with one simple pull cord at the back that tightens in three directions. Finally, I've appreciated the streamlined design of the Fitz Roy's cuffs, with no adjustment but only a simple, in-laid elastic band that still keeps the arms out of the way.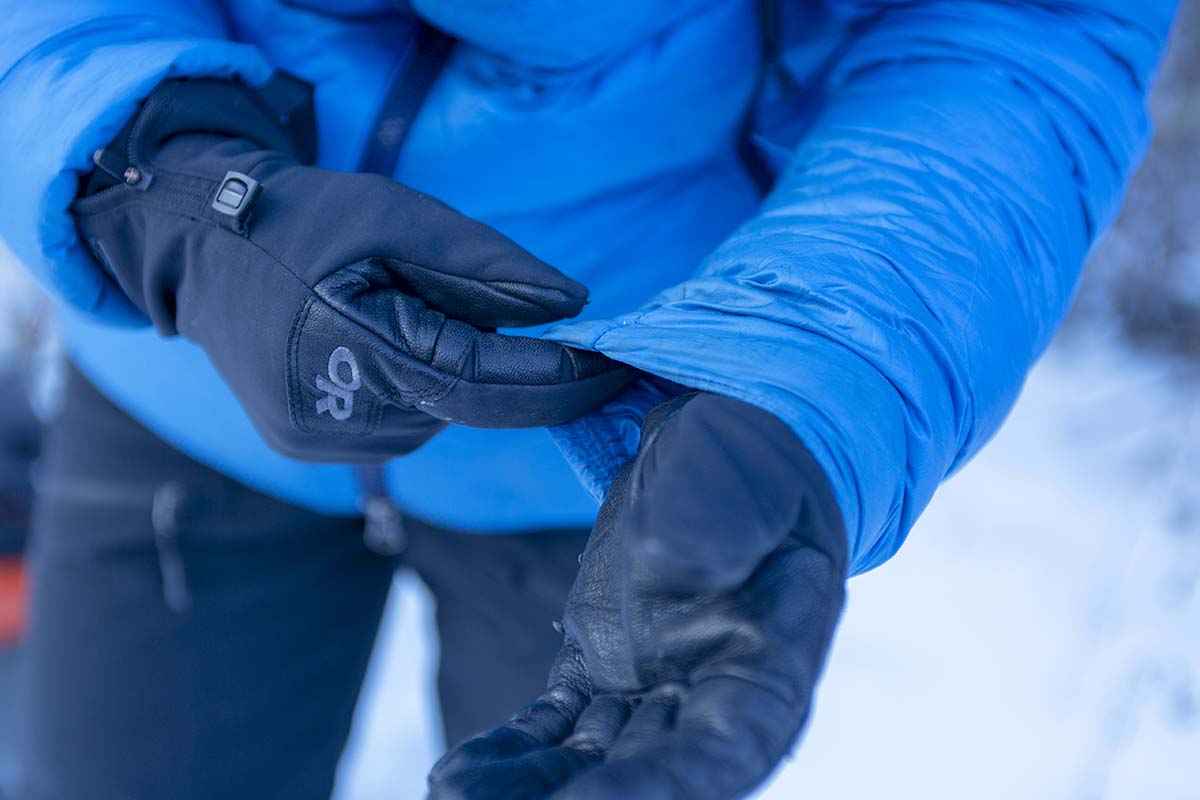 Fit and Sizing
The Fitz Roy Down Parka is a roomy jacket with a drop-tail hem made to extend below the hip, offering great coverage when sitting or bending over. As a technical belay parka, it is designed to accommodate an assortment of layers underneath—including a hardshell jacket—but none overtop. I have even worn the Fitz Roy during activity while ice climbing or approaching on particularly cold days and find that it offers impressive freedom of movement for such a bulky jacket. Size-wise, I typically wear a small in all things Patagonia, but could have gotten away with an extra-small in the Fitz Roy (although I do appreciate the space to layer as much as I need to).

Best Uses
Because of the Fitz Roy's aforementioned durability issues, we thought it would be helpful to identify the jacket's ideal applications. Based on our use, wearing the Fitz Roy as a daily piece or as a warm layer for cragging or bouldering will shorten the jacket's lifespan considerably. Alternatively, if you plan to use the Fitz Roy more as a fast-and-light specialty jacket than an everyday workhorse, you'll keep it going longer in environments where it counts the most. In fact, a climbing partner of mine saves her Fitz Roy strictly for alpine endeavors when weight and packed size matter and wears a heavier, more durable jacket for all other winter activities.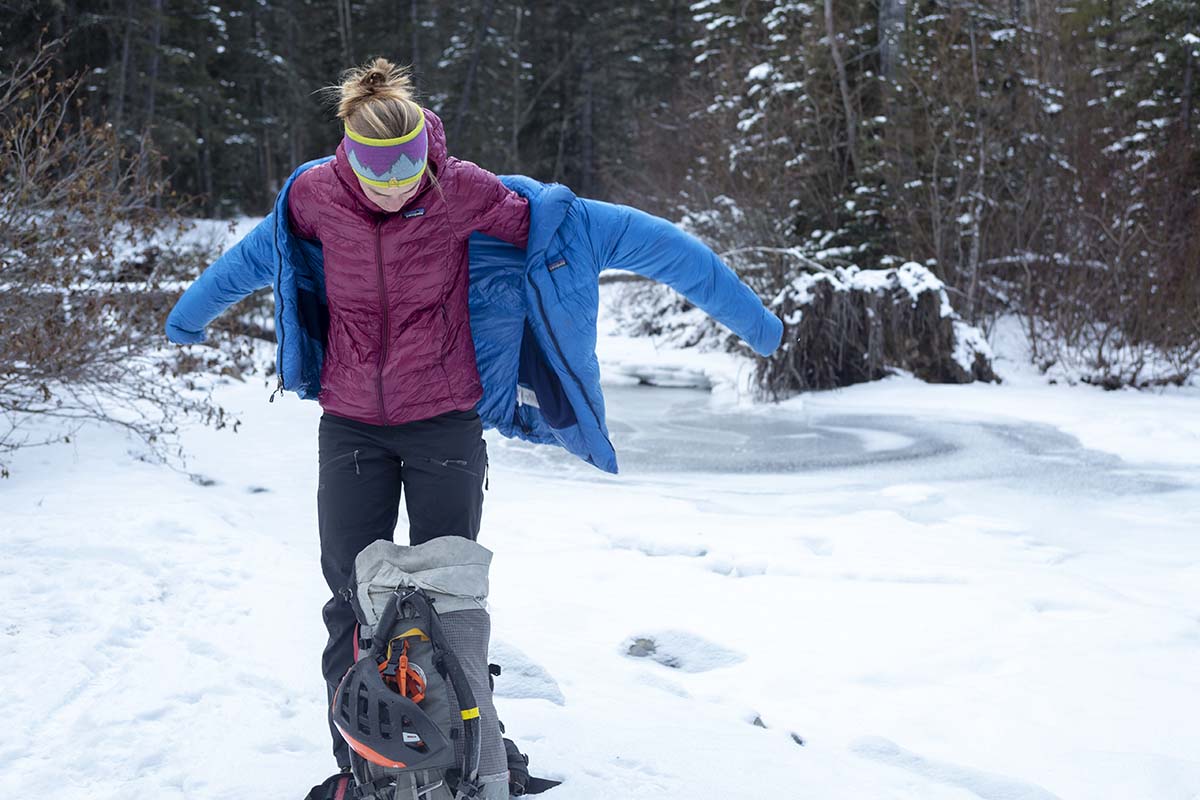 Other Versions of the Patagonia Fitz Roy
We've reviewed the women's Fitz Roy Down Parka here, but Patagonia makes the jacket in a men's version, as well. The men's Fitz Roy offers the same design features and overall build of the women's, but in different colorways. Further, the men's parka weighs slightly more at 22.3 ounces and has 8 ounces of down fill as opposed to the women's 6.4. The men's jacket also forgoes the interior chest pocket and instead opts for an exterior one, but retains the same inner dump pockets that we love. Finally, Patagonia makes a non-hooded Fitz Roy Down Jacket (men's only), but with only 4.5 ounces of down fill, we prefer the much warmer parka.

Sustainability: Traceable Down and Bluesign-Approved Fabrics
As we touched on above, Patagonia's down products are known for their traceable down feathers, and the Fitz Roy is no exception. Boasting an NSF International certification, this means that geese were not live-plucked or force-fed during the jacket's production. In addition, the Fitz Roy's fabrics are bluesign-approved, denoting that all chemicals, materials, and processes that went into the jacket's making were evaluated to increase environmental and consumer safety. Patagonia has been working to minimize their impact on the environment for quite some time, and many consumers (ourselves included) appreciate the heightened level of transparency.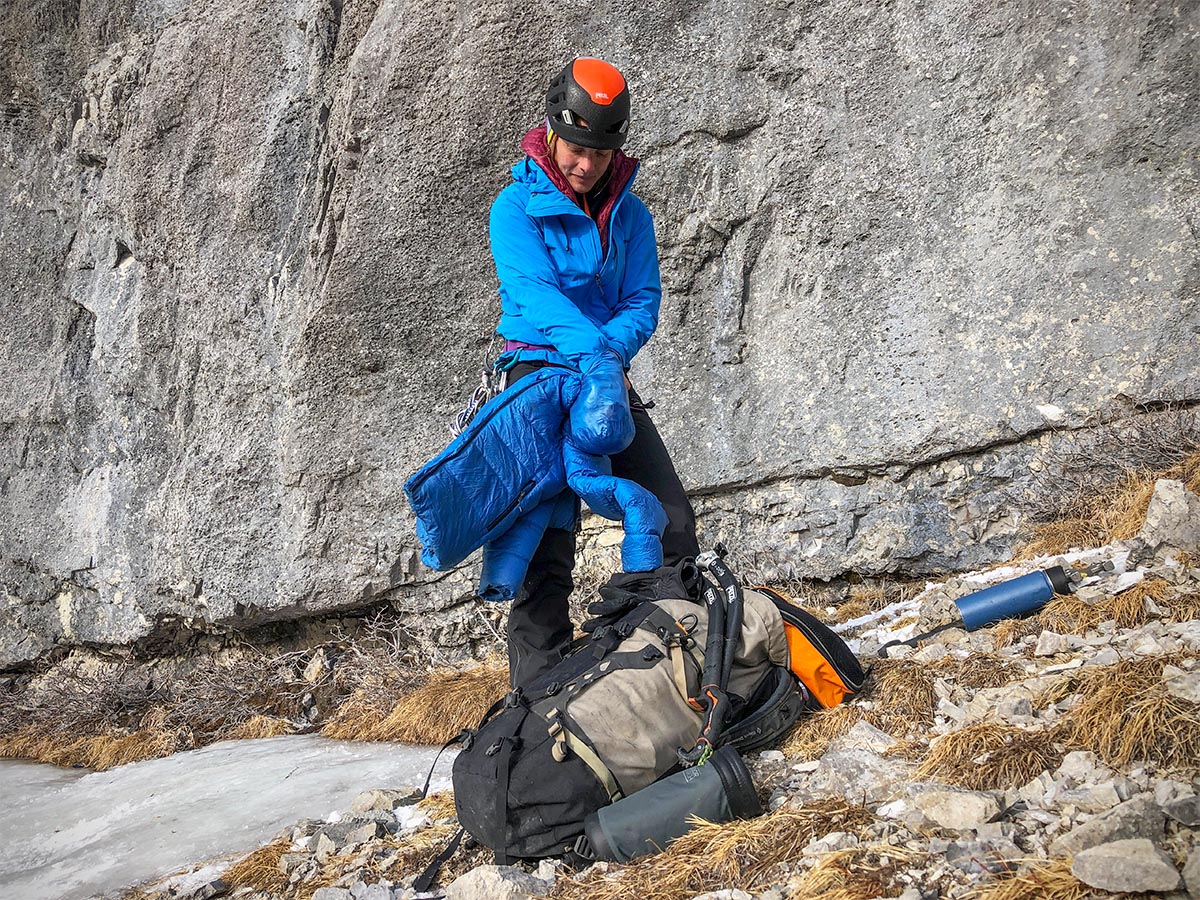 What We Like
It's hard to beat the level of coziness and lofty warmth of the Patagonia Fitz Roy Parka.
Roomy handwarmer pockets and extremely functional interior dump pockets offer ample storage and allow you to keep large items warm next to your body.
Patagonia's down products are certified to the Advanced Global Traceable Down Standard, providing assurance that the geese were not force-fed or live-plucked. 

What We Don't
20-denier Pertex Quantum face fabric is not as durable or water-resistant as we would like.
At nearly 19 ounces, the Fitz Roy is one of the heavier performance-oriented down jackets on the market.
The shell fabric soaks up dirt and stains very easily.


Comparison Table

The Competition
The Patagonia Fitz Roy joins an impressive crowd of parkas designed for winter temperatures and alpine environments. Within this class, the updated Rab Neutrino Pro is a comparable jacket that excels in a few major categories. The two are very similar in terms of warmth and weight: both contain 800-fill down and clock in just under 19 ounces (the women's Rab is slightly warmer at 7 ounces of down fill compared to the Patagonia's 6.4). But the 20-denier Quantum Pro of the Neutrino Pro is significantly more durable and weather-resistant than the standard Quantum used on the Fitz Roy (for more, see our in-depth Rab Neutrino review). While this means that the Patagonia is a softer and more casual-feeling jacket, the Rab is a clear winner when it comes to performance—not to mention, at $375, the Neutrino Pro comes in at a significant $74 cheaper than the Fitz Roy.
Touted as Outdoor Research's 6,000-meter puffy, the Alpine Down Hooded Jacket has strong credentials as well. With Pertex's Y Fuse fabric on the body (15D) and beefy 30-denier Quantum Pro on the shoulders, sleeves, and hood, the Alpine Down provides superior weather resistance and durability at around half an ounce heavier than the Fitz Roy. You do give up a bit in terms of warmth, though—the women's Alpine Down Hooded Jacket contains only 5.4 ounces of 800-fill down compared to the Patagonia's 6.4 ounces. And you don't get the same stylish fit and finish of the Fitz Roy, but at $350, the Alpine Down is one of the most affordable performance down parkas on the market and a great value.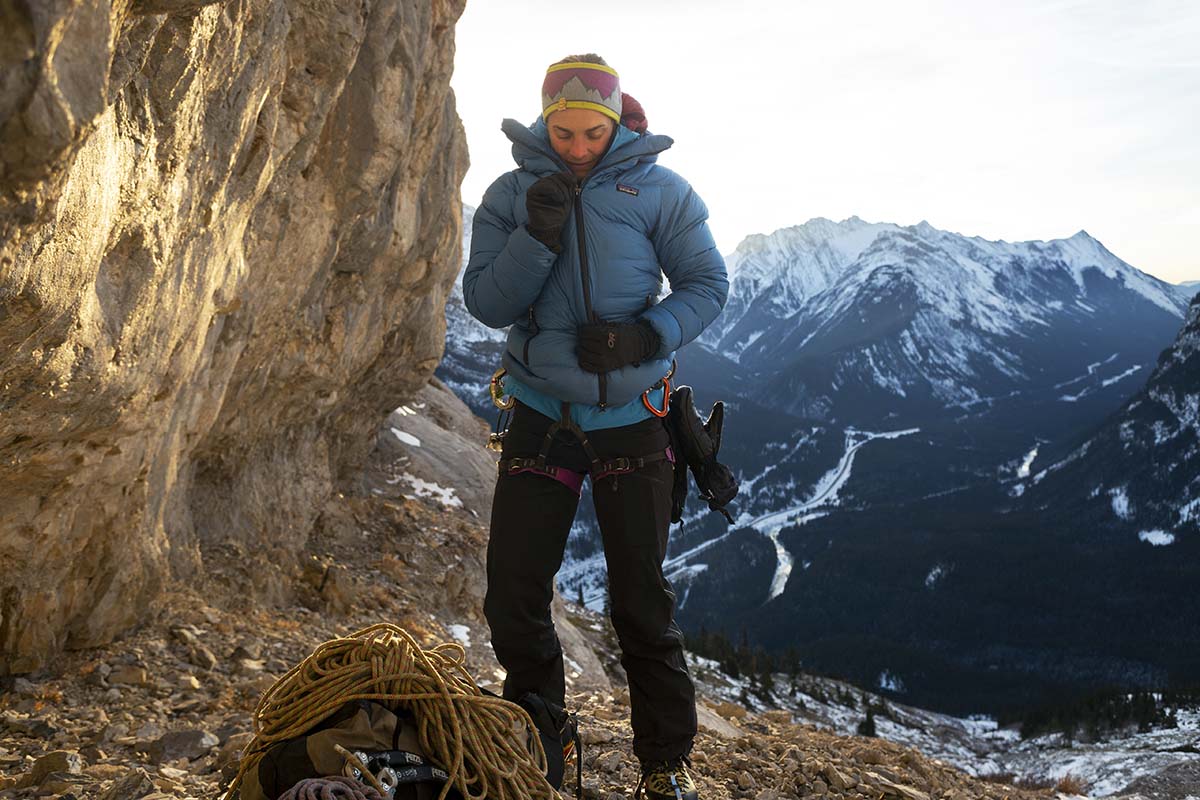 A down jacket comparison wouldn't be complete without including a performance-oriented Arc'teryx model. Those who want the cozy look and feel of a puffy in an ultralight package will appreciate the Cerium SV Hoody. With a moderate drop in down fill (there is synthetic insulation in areas prone to getting wet like the shoulders), you do sacrifice full-on winter warmth, but in turn get a jacket that's a lot lighter at 13.9 ounces and packs down smaller. The Arc'teryx's thin shell requires extra care just like the Fitz Roy, but for use as a midlayer in less extreme cold, we think the Cerium SV is the superior option.
Last but not least, down specialist Feathered Friends has a similar offering to the Cerium SV in the women's-specific Ellia. With more warmth from their popular Eos lightweight down jacket, the Ellia packs 4.9 ounces of premium 900-fill down into an impressively light 13-ounce package. Compared to the Fitz Roy, the Ellia also is more wind-resistant with a Pertex Endurance LT shell. That said, it lacks storage altogether with no pockets and the jacket is similarly thin at 20 denier. Like the Cerium SV, the Ellia is a serviceable cold-weather midlayer, but we prefer the Fitz Roy for bigger alpine objectives.
If you're thinking about buying gear that we've reviewed on Switchback Travel, you can help support us in the process. Just click on any of the seller links above, and if you make a purchase, we receive a small percentage of the transaction. The cost of the product is the same to you but this helps us continue to test and write about outdoor gear. Thanks and we appreciate your support!
Depending on the seller, most products ship free in the United States on orders of $50 or more. International shipping availability and rates vary by seller. The pricing information on this page is updated hourly but we are not responsible for inaccuracies.
Read More From Switchback Travel