Patagonia Slate Sky Jacket
Price: $199
Weight: 9.5 oz. (women's small)
Waterproofing: 3L H2No Performance Standard
What we like: A lightweight and minimalist 3-layer rain shell that's not overly compromised.
What we don't: Not the best breather and underbuilt for technical activities like climbing.
See the Women's Slate Sky Jacket  See the Men's Slate Sky Jacket
Patagonia makes some of our favorite rain shells, and their latest Slate Sky Jacket stands out for its streamlined build that doesn't feel overly compromised. Like the brand's flagship Torrentshell, the Slate Sky offers reliable protection with a hardshell-like, 3-layer build while managing to check in almost 3 ounces lighter. You do make sacrifices in breathability, durability, and features—the Slate Sky's lack of pit zips and a chest pocket are limiting for frequent outdoors use—but it's impressively well rounded for the weight and has the premium fit and finish we've come to expect from the brand. Bonus: It's also one of the most sustainably built options on the market. Below we break down our experiences with the women's Slate Sky Jacket. To see how it stacks up to the competition, see our articles on the best rain jackets and best women's rain jackets.
 
---
Table of Contents
---

Performance
Weather Protection
Lightweight but reliable protection is the name of the game with Patagonia's Slate Sky Jacket, and we think they pulled it off quite well. Like their popular Torrentshell and Granite Crest rain shells, the Slate Sky utilizes a 3-layer build with the brand's in-house H2No membrane and a PFC-free free durable water repellent (DWR) finish that have done an admirable job of fending off harsh weather. For reference, I wore the jacket while backpacking on Vancouver Island's Juan de Fuca Trail, as well as on several multi-day canoe trips and a variety of coastal hikes. Though the summer has been abnormally dry so far, we experienced several downpours and plenty of wind while hiking, paddling, and setting up camp. Through it all, the Slate Sky kept me perfectly dry and comfortable and put up a stalwart defense against everything Mother Nature threw our way.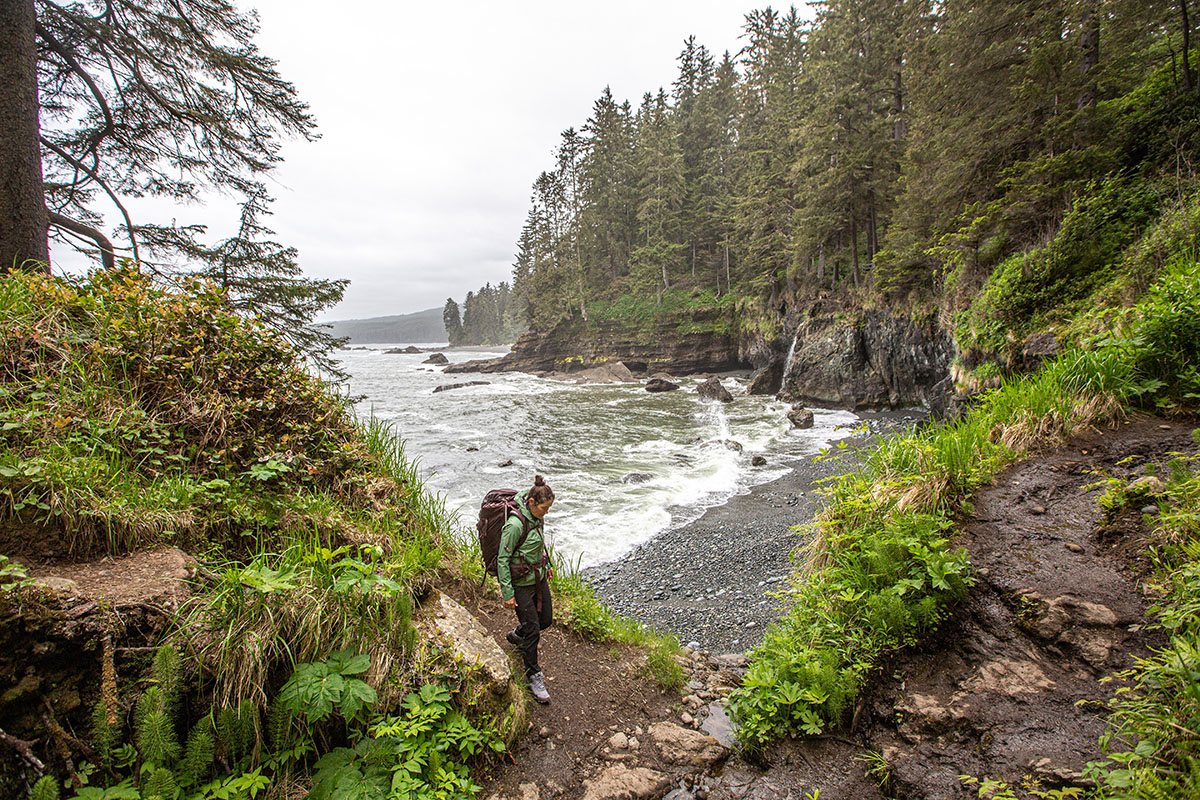 In addition to its quality waterproofing, the Slate Sky features a nice array of protective features. The hem is easy to cinch via a toggle at the right side and did a great job at sealing out the sideways wind and rain that we experienced on our coastal hike. The hood also boasts a drawcord at the back for snugging things down, although I wish the brim were larger—while paddling in a storm, I needed to add a ball cap to prevent rain from dripping into my eyes. On the bright side, the collar is substantial and reaches just below my nose, providing great coverage for tucking into during blustery weather. Patagonia also included a storm flap to protect the top of the main zipper, which can be snapped shut to seal out the elements even if that portion of the zipper is open for airflow. Finally, the cuffs have internal elastic piping that provides an adequate seal, although I prefer the added assurance of Velcro cuffs (these would come with a weight penalty, so I understand Patagonia's choice).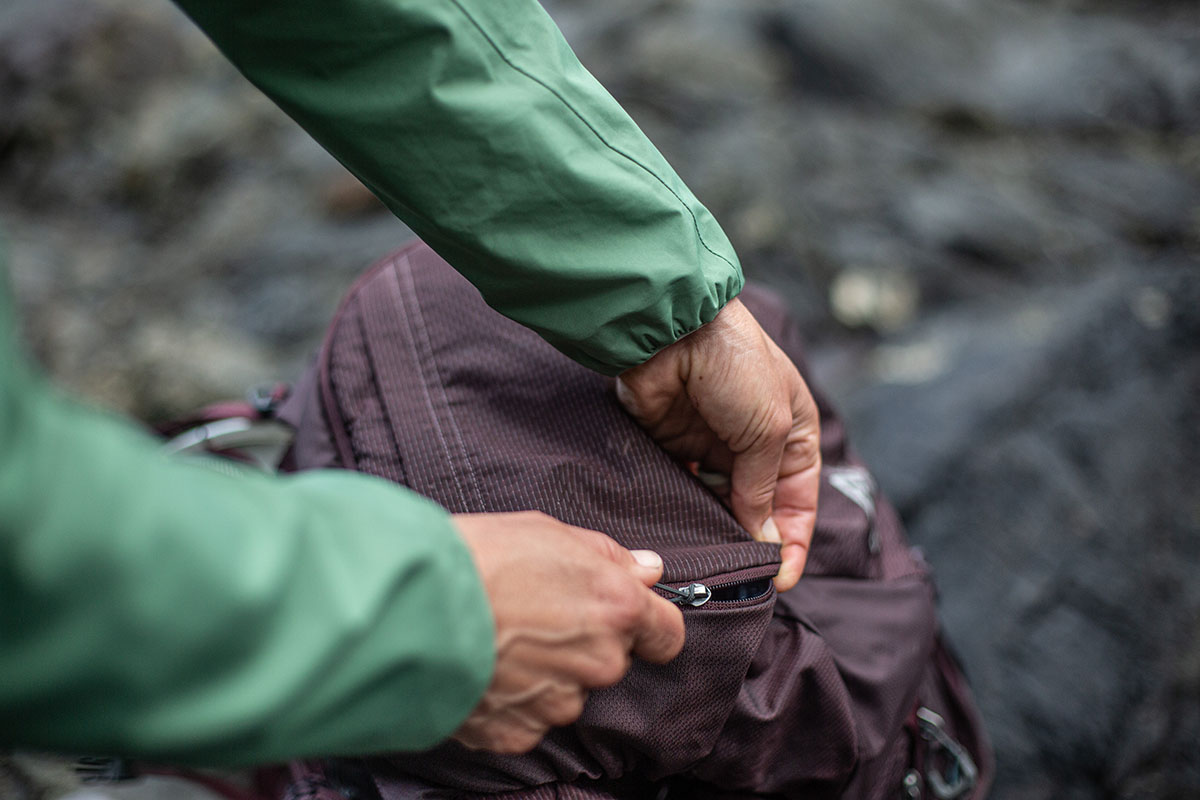 Breathability
Similar to our experiences with the similarly built Torrentshell, the Patagonia Slate Sky falls a little short of most other 3-layer shells in overall breathability. Between the two, the Slate Sky uses a thinner face fabric that allows for slightly better airflow, but I did find the interior prone to growing clammy while paddling. Patagonia also chose to forgo pit zips, which are invaluable for dumping excess heat while on the move. That said, the storm flap mentioned above does help considerably—you can open the main zipper partially for airflow while still remaining protected from the elements. I utilized this feature during our canoe circuit while paddling directly into pelting rain and had no issues with leakage. To be clear, the Slate Sky is underbuilt for more intensive activities like biking or ski touring—in this case, we'd opt for a more performance-oriented design like the Arc'teryx Beta LT or Patagonia's own Storm10—but it's perfectly serviceable for hiking and backpacking.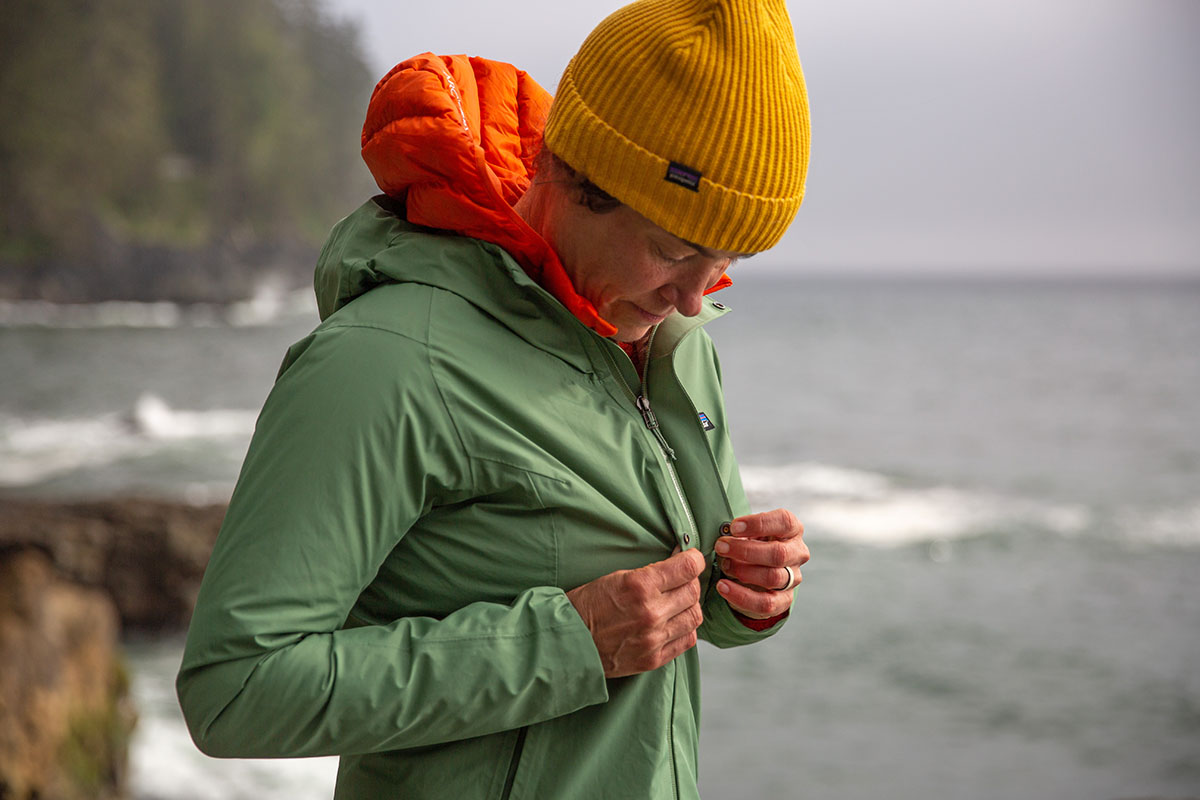 Comfort
Many traditional 3-layer shells are relatively stiff and crinkly (including Patagonia's own Torrentshell), but the Slate Sky Jacket bucks that trend and scores high marks for comfort. In addition to being sustainably made (more on this below), the NetPlus shell has a noticeably smooth and supple feel, and overall mobility has been great for everything from paddling to scrambling up steep slopes that required grabbing roots and rocks for assistance. As I mentioned above, the interior does tend to grow clammy during exertion and has a fairly plasticky feel against bare skin, but wearing a long-sleeve baselayer underneath keeps things more comfortable.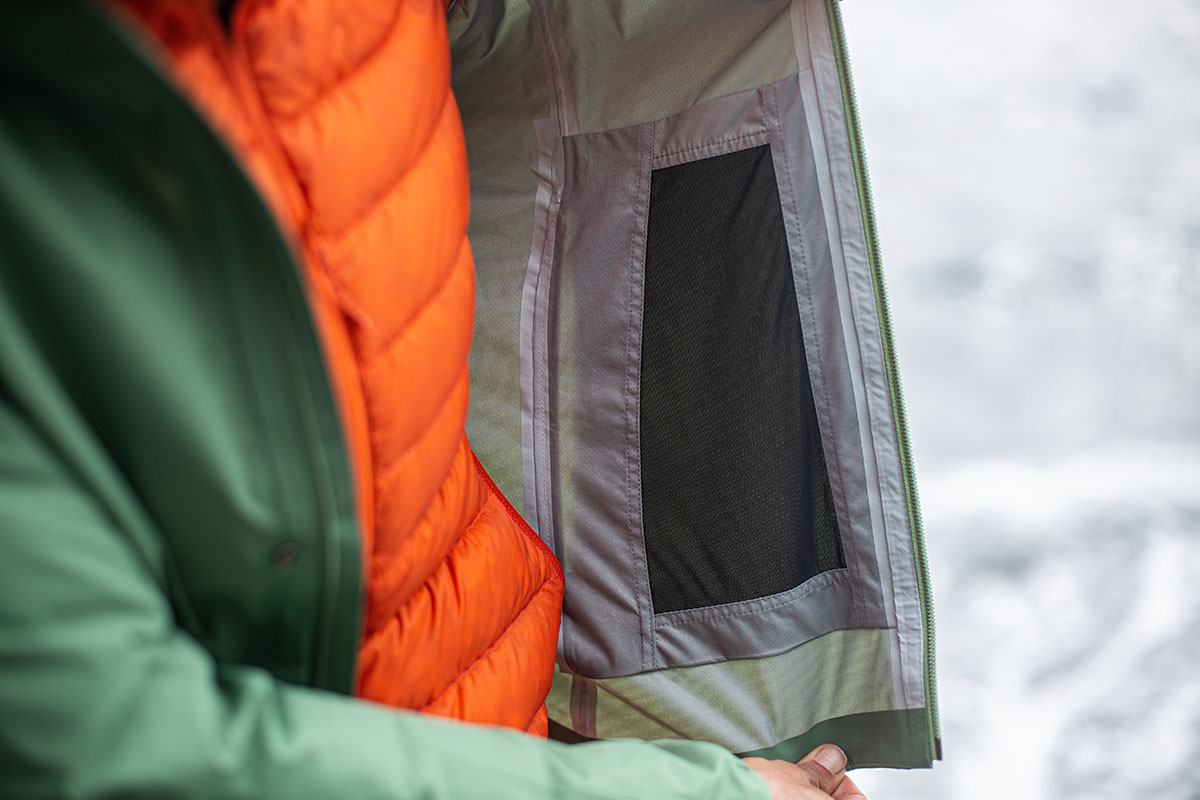 Weight and Packability
At 9.5 ounces for my women's small (it's listed at 9.7 oz.), the Patagonia Slate Sky Jacket is a decidedly light and minimalist shell that undercuts much of its direct competition. For comparison, it's lighter than Patagonia's more everyday-friendly Torrentshell 3L Jacket (12.4 oz.) while clocking in a little heavier than their ultralight but less durable Storm10 (7.4 oz.). Outside of Patagonia's lineup, the Slate Sky stacks up very competitively to other leading 3-layer designs like the Black Diamond Highline Stretch Shell (10.7 oz.) and Arc'teryx's Beta (9.5 oz.) and Beta LT (12.3 oz.) jackets.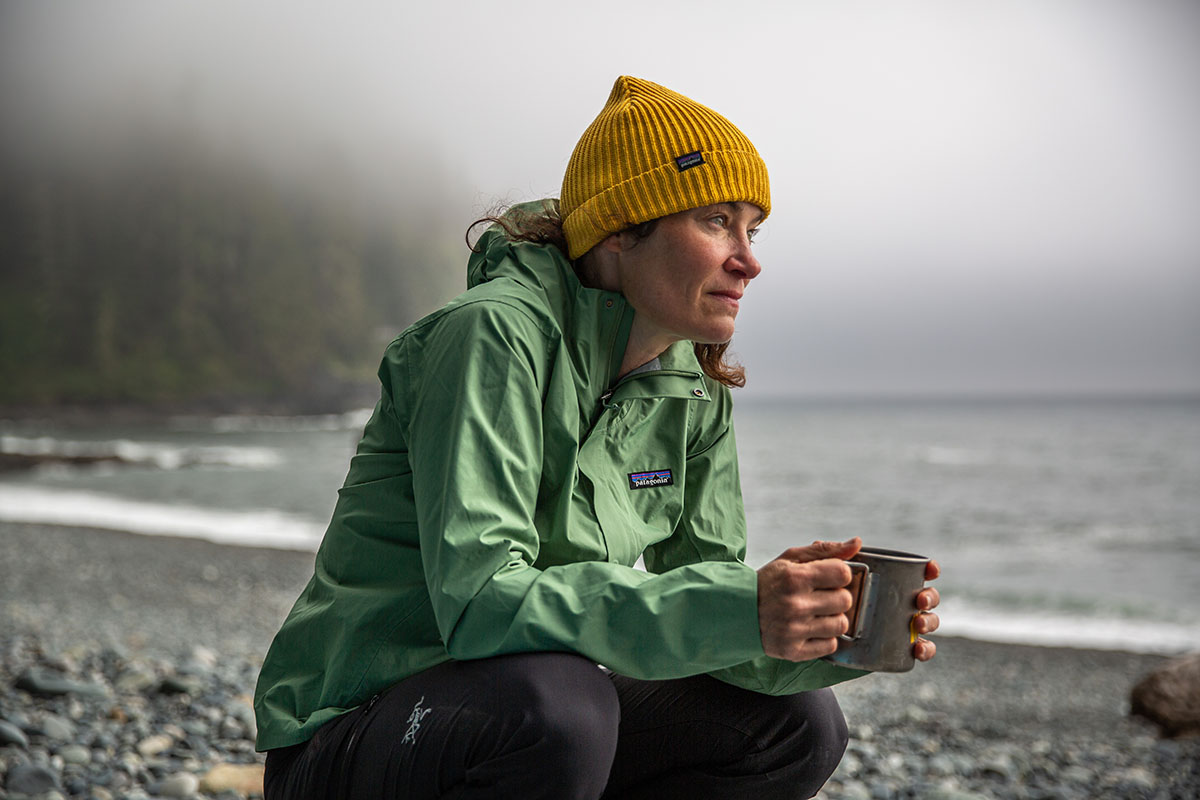 Weight is often a good indicator of packability, and the Slate Sky sticks to that formula. The shell doesn't have a stuff sack for packing down but easily compresses into its hood for storage. With the hood drawcord cinched, the package is roughly 2/3 the size of a standard Nalgene bottle. Given its diminutive size, I have no hesitation about stuffing the Slate Sky into a daypack or even my running vest for mountain adventures in shifting weather.

Build Quality and Durability
Patagonia outerwear rarely disappoints from a build quality perspective, and the Slate Sky is no exception. It's true that the 30-denier (D) shell is relatively thin—the Torrentshell's is 50D, while many other leading rain jackets use 40D fabrics—but it lines up with the jacket's casual intentions and has held up very well thus far. For reference, the Slate Sky is showing no signs of wear or abrasion despite regular exposure to bushwhacking. The jacket also resided on the floor of our canoe for some time, where it was subjected to dirt, grime, and our dog's dirty paws, among other maltreatments. Despite the abuse, the shell looks like new with no stains or snags, and all the smaller components—including the seams, drawcords, and zippers—are in excellent shape. Again, it's clear that Patagonia prioritized weight and packability over all-out toughness, but all signs are positive that the Slate Sky will hold up well over the long term.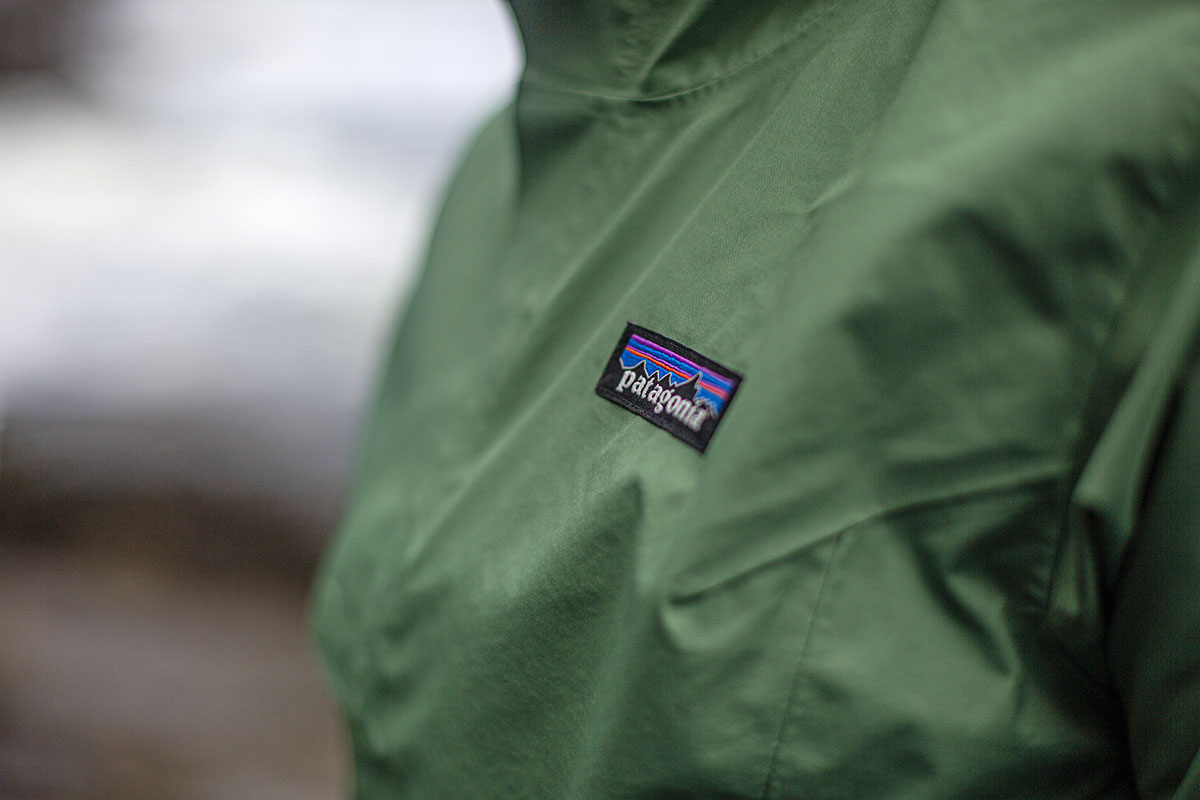 Key Design Features
Hood
The Slate Sky's hood is relatively basic but gets the job done. In terms of adjustability, there's a single drawcord at the back that provides a nice, even cinch around the head and keeps the hood securely in place even in high winds. The hood also boasts a laminated visor that doesn't impede field of view but was a little too short for my liking. In testing, it deflected moisture falling straight down but wasn't big enough to protect against sideways rain. Once the wind picked up while paddling, I needed to add a ball cap to keep precipitation from dripping onto my face and blurring my vision. The hood also isn't helmet-compatible, which isn't a deal breaker for everyday use but limits the jacket's appeal for technical pursuits like climbing.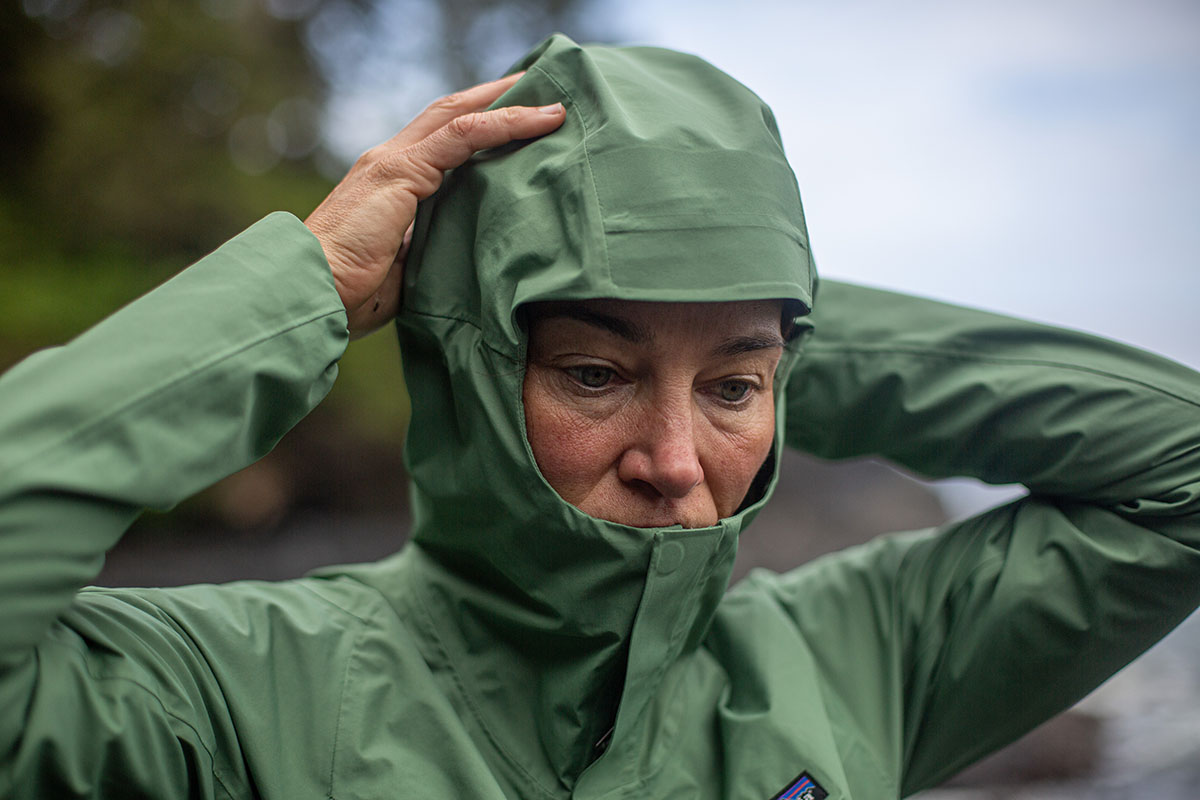 Storage: Pockets
Like the hood design, the Slate Sky Jacket's storage layout is decidedly minimalist and comprises just two hand pockets. The good news is that these are nicely sized, protected by watertight zippers to seal out moisture, and feature stretchy mesh along the interior. This allows my hands to take advantage of my body heat and means that the pockets are able to expand to fit bulkier items like a hat and gloves. To be sure, some will find the lack of a chest pocket limiting—there's no great place to stash a phone and other small valuables—but I personally wasn't bothered by the basic layout.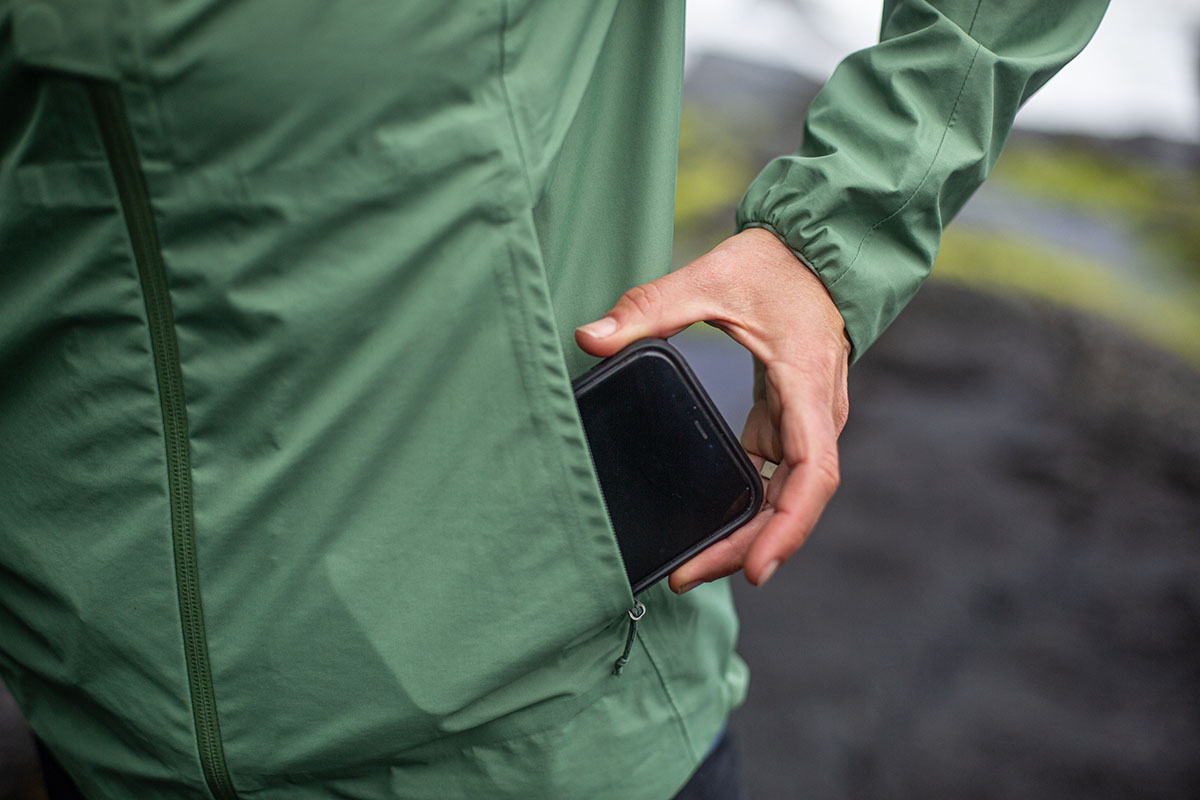 Storm Flap
A final feature worth calling out is the Slate Sky's snap-equipped storm flap that covers the top of the main zipper. I admittedly undervalued its utility when I first donned the jacket but have since come to appreciate the ability to partially open the main zipper for airflow while still remaining protected from the elements. The snaps are a little finicky—they have to be lined up precisely and require a fair amount of pressure to close—but it's a reasonable price to pay for the boost in breathability, especially for a jacket lacking pit zips.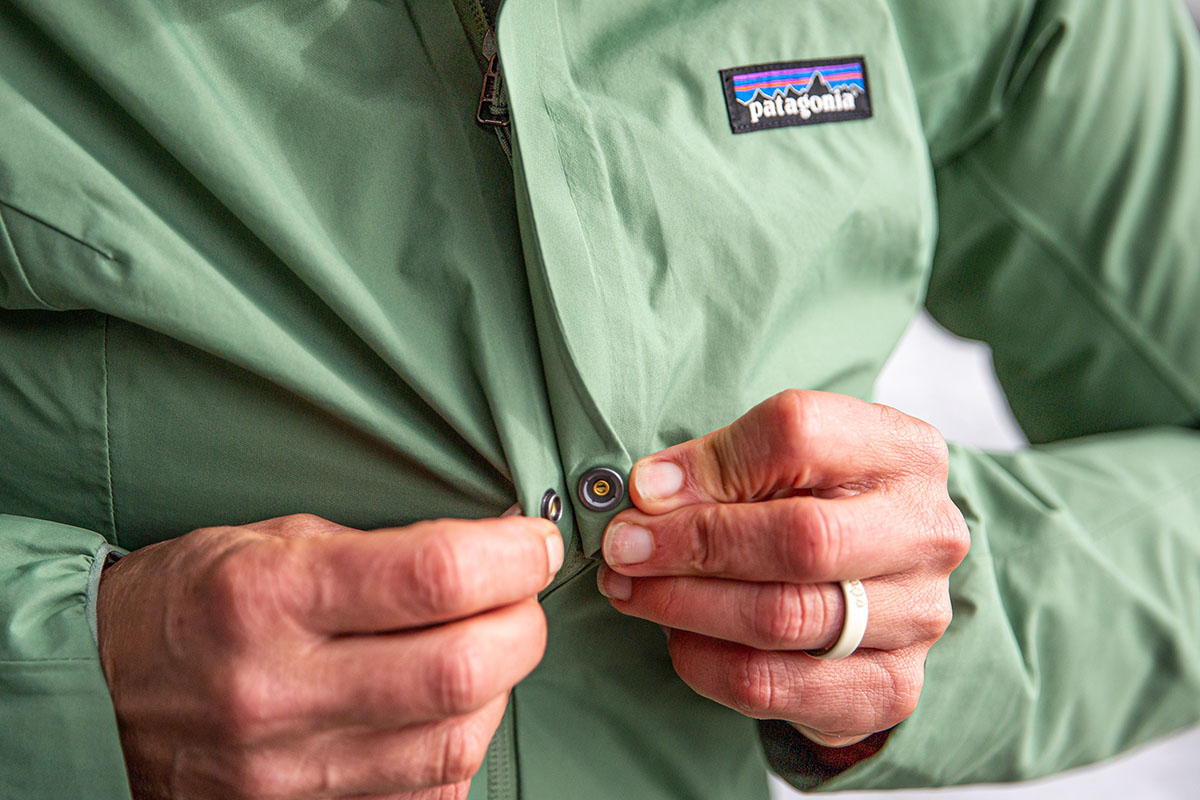 Fit and Sizing
The women's Slate Sky is offered in seven sizes from XXS to XXL, and my usual size small was just about perfect for my narrow 5'8" frame. For reference, Patagonia lists the jacket as a "slim fit," and I agree with that designation: There's enough room to accommodate a baselayer and lightweight midlayer underneath (I often paired it with my Mountain Hardwear Ghost Whisperer/2 or Arc'teryx Cerium Hoody), but anything more feels restrictive. The hem and sleeve lengths were also spot-on for me: At 28.5 inches down the back (again, for a size small), the jacket offers solid coverage when sitting down or bending over without any uncomfortable tugging, and the sleeves are long enough that I can tuck my hands inside when the weather takes a turn.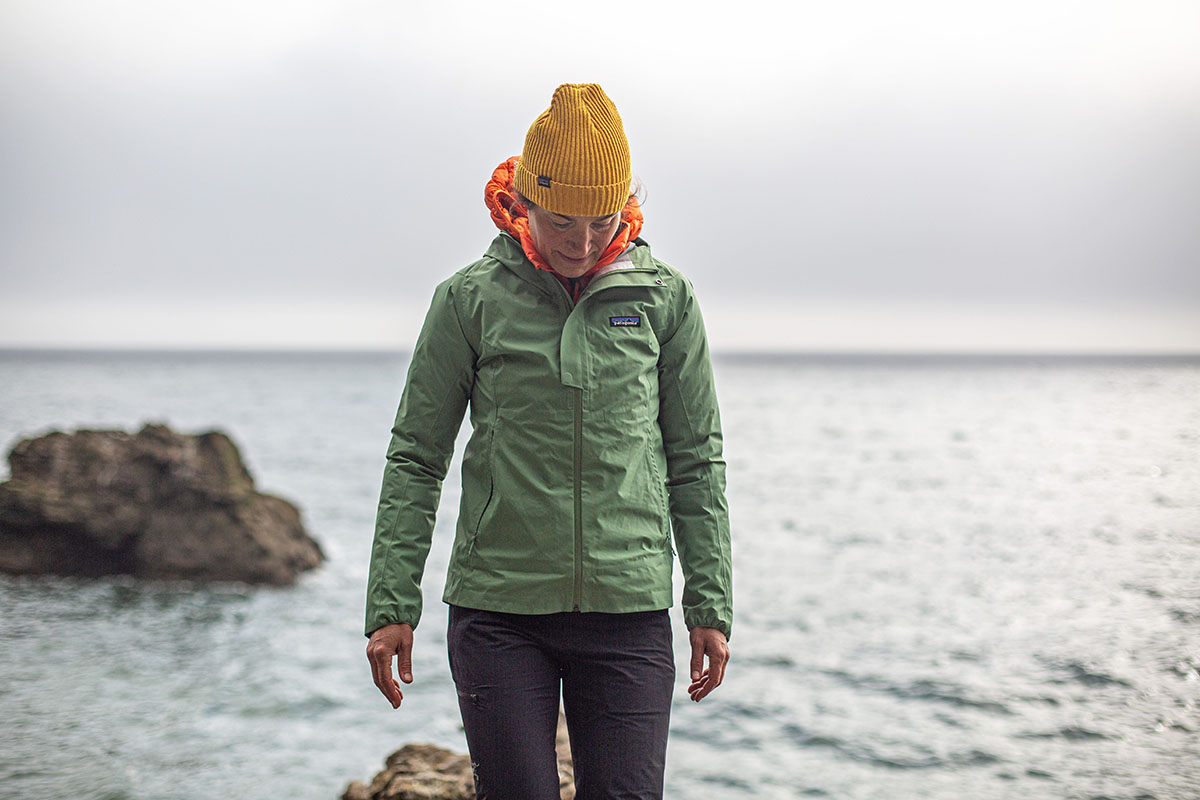 Sustainability
Patagonia is at the forefront of the sustainability movement in the outdoor industry, and the Slate Sky is another intentionally built piece. For starters, the innovative NetPlus shell is made entirely from recycled fishing nets to help reduce ocean plastic pollution. Patagonia also used a PFC-free DWR finish that forgoes the use of harmful perfluorocarbons, which are known as "forever chemicals" due to their inability to break down over time. Finally, the jacket is Fair Trade Certified sewn, which indicates that Patagonia put extra money into production to ensure that workers are compensated fairly and have access to benefits like healthcare, childcare services, and more. Added up, it's a commendable effort and another win on the sustainability front for Patagonia.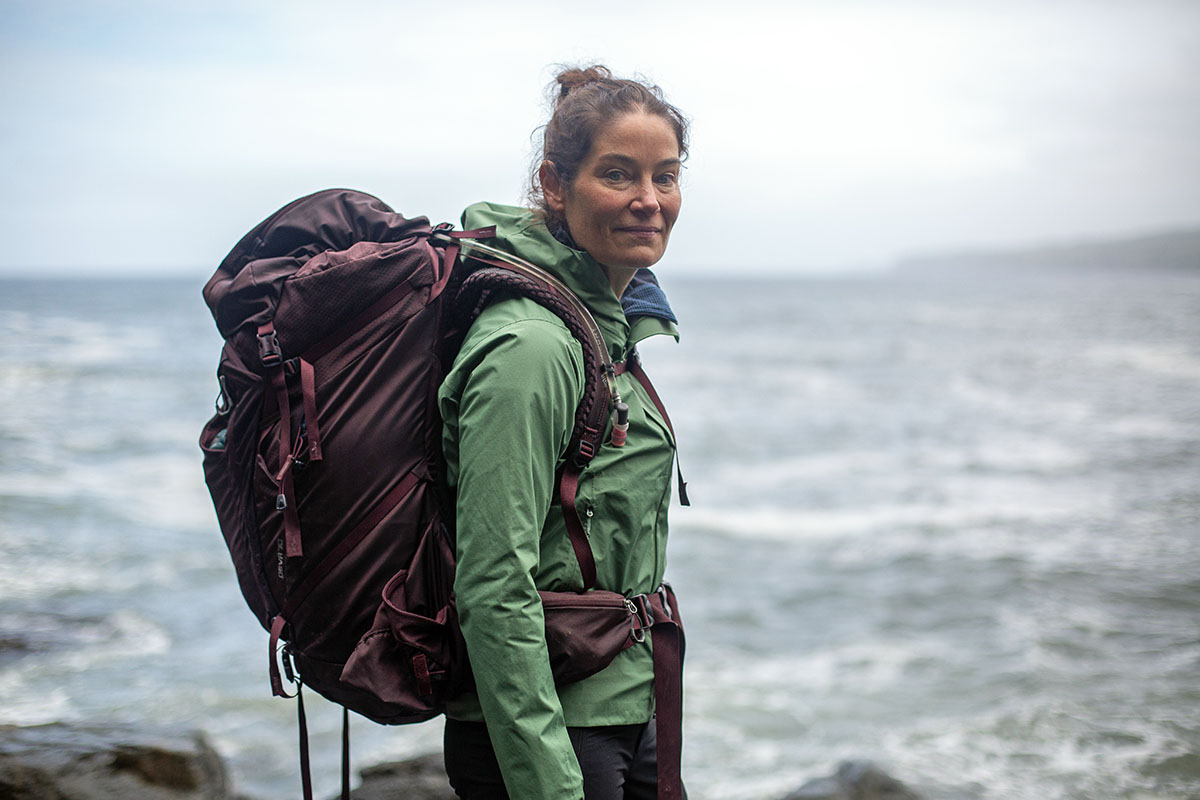 Men's Patagonia Slate Sky Jacket
We covered the women's Slate Sky for this review, and Patagonia also offers the shell in a men's version for the same price. Stacked up against the women's model, the men's Slate Sky Jacket is a little heavier at 10.4 ounces, offered in sizes from XS to 3XL, and sold in different colorways. Otherwise, the overall feature set and construction are nearly identical, including the same 3-layer H2No build, protective storm flap over the front zipper, and 30D NetPlus shell. We haven't had a chance to test the men's jacket yet but expect all-around performance to be largely similar.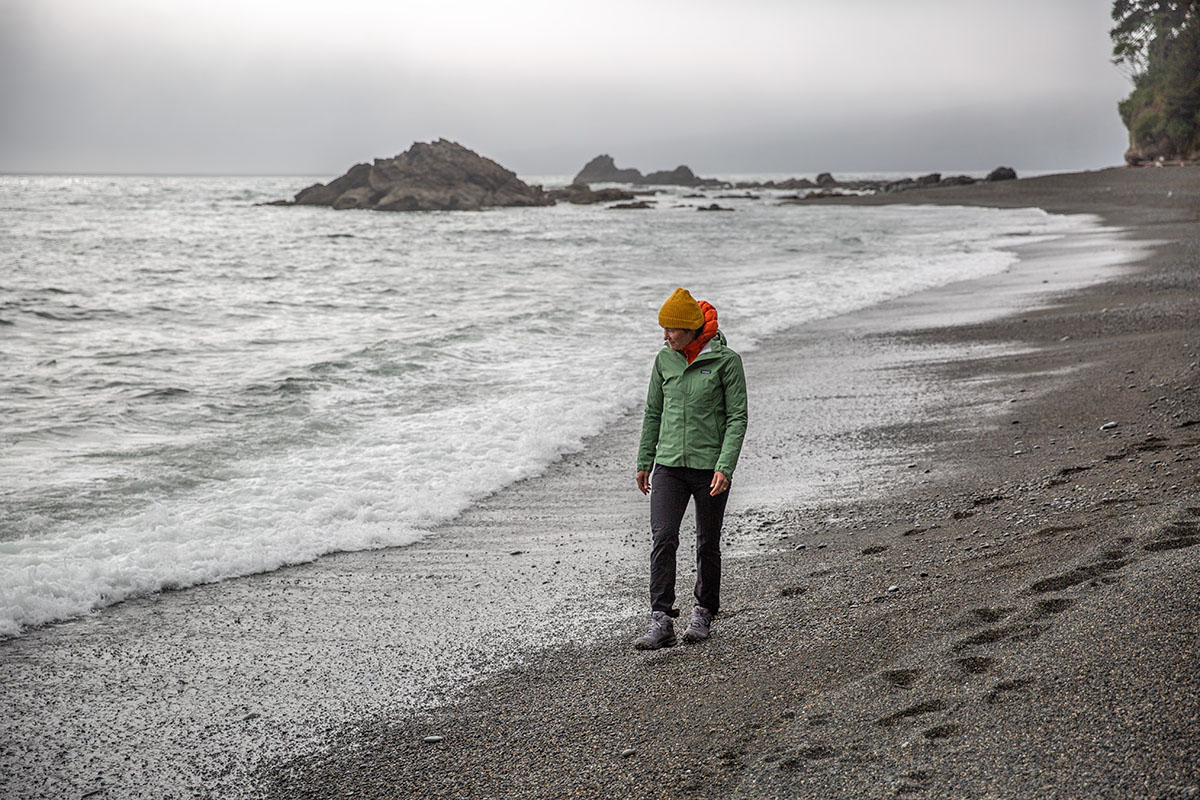 What We Like
Excellent balance between weight and protection: The Slate Sky is competitively light at just 9.7 ounces and fully weather-ready with a proven 3-layer build and nice assortment of protective features.
Better comfort than most 3-layer shells with a noticeably supple feel and great overall mobility. 
Unique storm flap over the top portion of the main zipper does a good job at promoting airflow without compromising protection.
"Slim" fit is streamlined and flattering while still allowing room to layer underneath.
Sustainably built with a shell made from recycled fishing nets, PFC-free DWR coating, and Fair Trade Certified build.

What We Don't
Less breathable than most 3-layer shells with no pit zips and an interior that grows clammy during exertion.
Feature set is decidedly basic, including a single hood drawcord and hem cinch, non-adjustable cuffs, and no chest pocket.
Laminated visor isn't big enough to deflect sideways rain.
Shell is relatively thin at 30D, although we haven't had any durability issues to date.


Comparison Table

The Competition
The Slate Sky is impressively well rounded considering its minimalist intentions, but it's a little low on features for mixed outdoor and everyday use. Enter Patagonia's own Torrentshell 3L Jacket, which checks in a bit heavier at 12.4 ounces for the women's version but comes with several noteworthy upgrades. These include pit zips for dumping excess heat quickly, hook-and-loop cuff adjustments for sealing out moisture at the wrists, a two-way adjustable hood that's stowable when not in use, and the ability to stuff into its own pocket for storage. Both jackets use the same 3-layer H2No membrane for waterproofing, but the Torrentshell is noticeably thicker at 50D and has a more confidence-inspiring feel overall. For $20 less, we consider it the more approachable and well-balanced option for most, earning our vote as the best rain jacket on the market in 2023.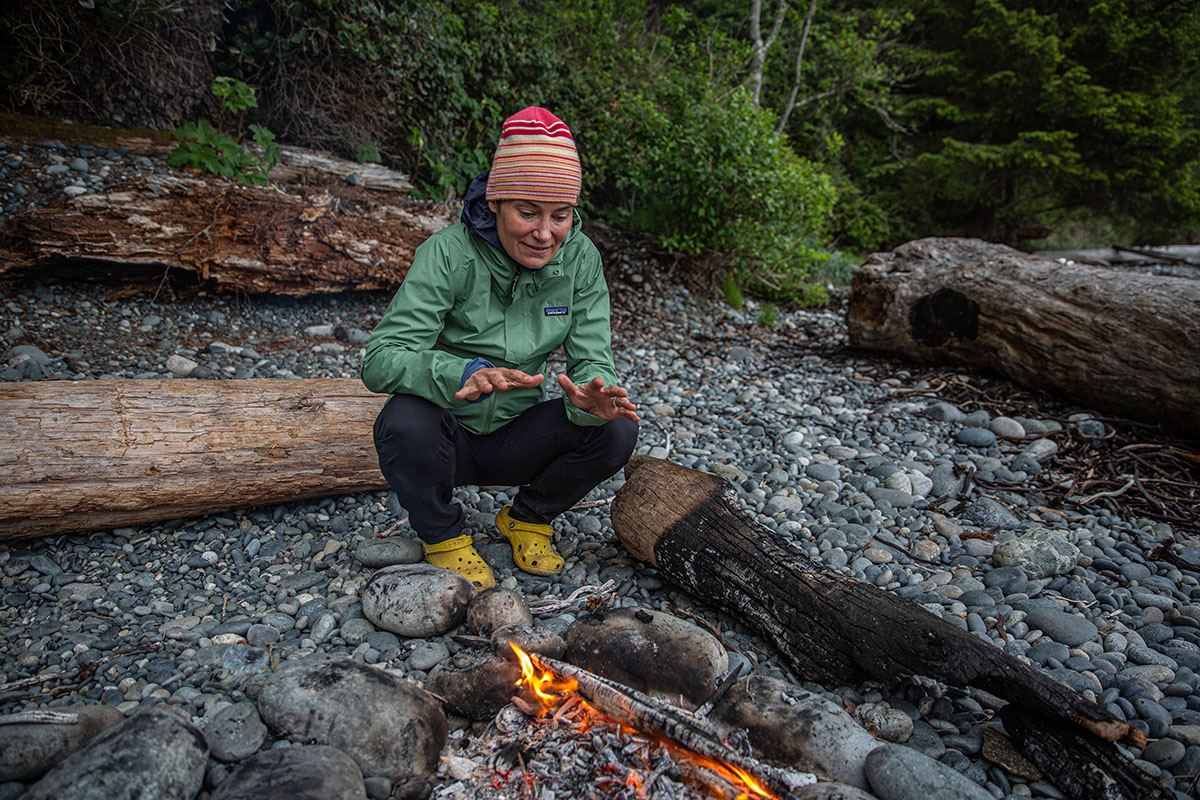 Next up is Patagonia's Granite Crest Rain Jacket, which is a step up in both price ($279) and weight (12.6 oz.) from both the Slate Sky and Torrentshell but arguably the most refined design of the bunch. Like the Slate Sky, the Granite Crest boasts the brand's proven 3-layer H2No waterproofing, has a relatively thin 30D construction, and features a NetPlus shell and PFC-free DWR coating. However, unlike the Slate Sky, the Granite Crest has a very healthy feature set that includes a two-way adjustable hood, pit zips, adjustable cuffs, and a chest pocket (which doubles as the stuff sack) along with two harness-compatible hand pockets. It's $80 pricier than the Slate Sky at $279, but most outdoor-goers will find the added features worth the price and weight penalties.
Moving away from Patagonia's lineup, Arc'teryx is another frontrunner in the rain shell market, and their Beta Jacket is a more premium alternative to the Slate Sky. For around the same weight, the Beta uses an upgraded Gore-Tex waterproof membrane with their soft and supple C-Knit backer for added next-to-skin comfort. You also get an additional hem adjustment, an internal laminated pocket, and a more accommodating "regular" fit that makes it easier to layer underneath. The downsides are similar to our complaints with the Slate Sky: The Beta lacks pit zips, has a non-helmet-compatible hood, and is relatively thin at 30D. Tack on a steep $400 price tag, and the Beta strikes us as moderately overpriced for what you get (for more, see our in-depth Beta Jacket review). For around half the cost, the Slate Sky offers similar all-around performance in a more sustainably minded package.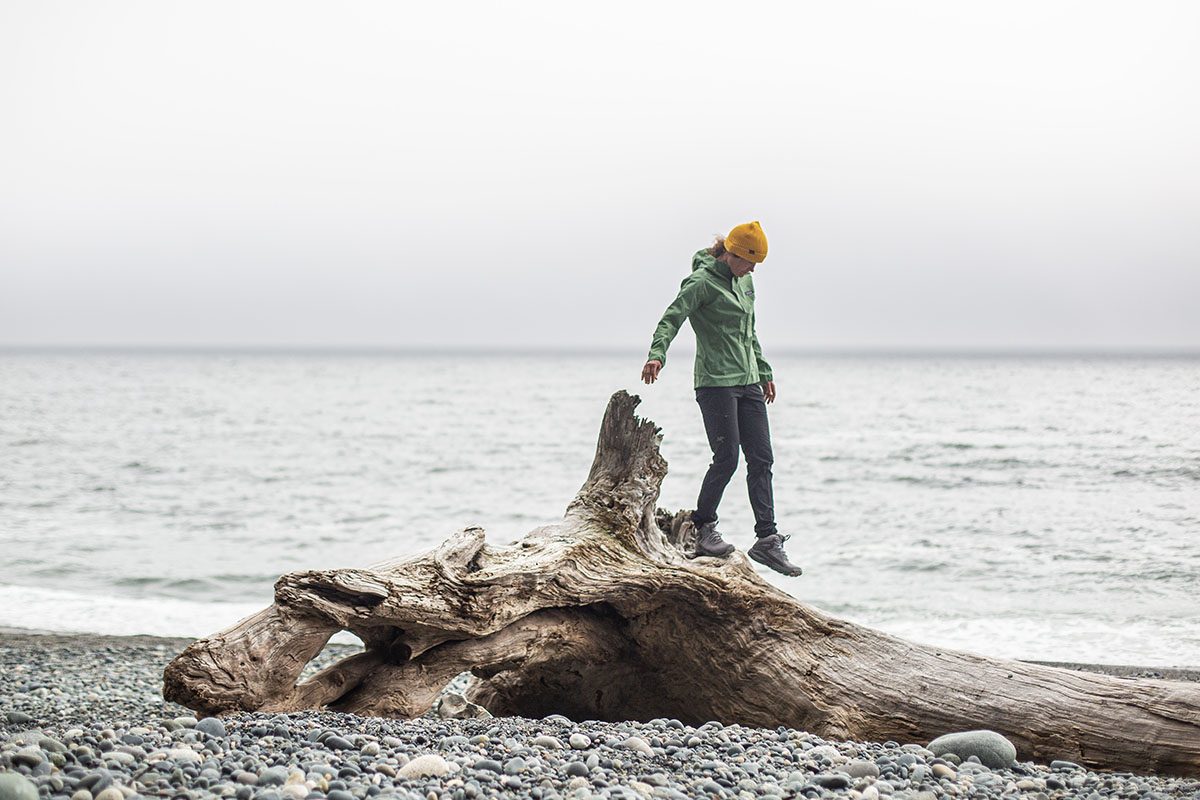 Last but not least is Black Diamond's Highline Stretch Shell, which splits the price difference between the Beta Jacket and Slate Sky at $300. For just an ounce more than the Patagonia, the Highline Stretch tacks on handy features like pit zips, a climbing helmet-compatible hood, adjustable cuffs, and a chest pocket in addition to the two hand pockets. The Black Diamond also features a more layering-friendly "regular" fit and incorporates stretch into the construction (also an in-house, 3L design) for a boost in comfort and overall mobility. The Slate Sky is the more sustainably built option and will save you some cash, but the Black Diamond offers a sizable step up in overall performance and is worth the added investment for committed outdoor-goers.
Editor's note: We usually provide a live price comparison table below our outdoor gear reviews, but the Slate Sky is currently only available directly through Patagonia. You can see the Slate Sky Jacket page here and support us in the process. Thanks!
Read More From Switchback Travel