REI has made an in-house line of backpacking packs for years, but it wasn't until recently that it truly became competitive with heavy hitters from brands like Osprey and Gregory. We took the large capacity 70-liter Traverse out for a jaunt in Washington's Alpine Lakes Wilderness, and came away impressed. The pack is comfortable, durable, has a thoughtful feature set, and makes it easy to hone in the fit. For extended trips and those carrying large loads, it's an excellent pack. Below we break down the Traverse's carrying comfort, weight, organization, ventilation, durability, and more. To see how it stacks up against the competition, see our article on the best backpacking packs.

Performance
Carrying Comfort
REI continues to improve their packs with each update and new model, and we were pleasantly surprised by the Traverse 70's ability to carry a heavy load comfortably. The first thing we noticed is that the padding on the lumbar and hipbelt is quite firm—out of the box it felt among the firmest of any pack we've tested. We were slightly apprehensive that the foam was cheaply made or would be uncomfortable in the long run, but this didn't end up being the case. The firmness remained for the most part, but the pack was comfortable and supportive on the back and hips even after long days on the trail. And the foam did become more form fitted as the trip went on.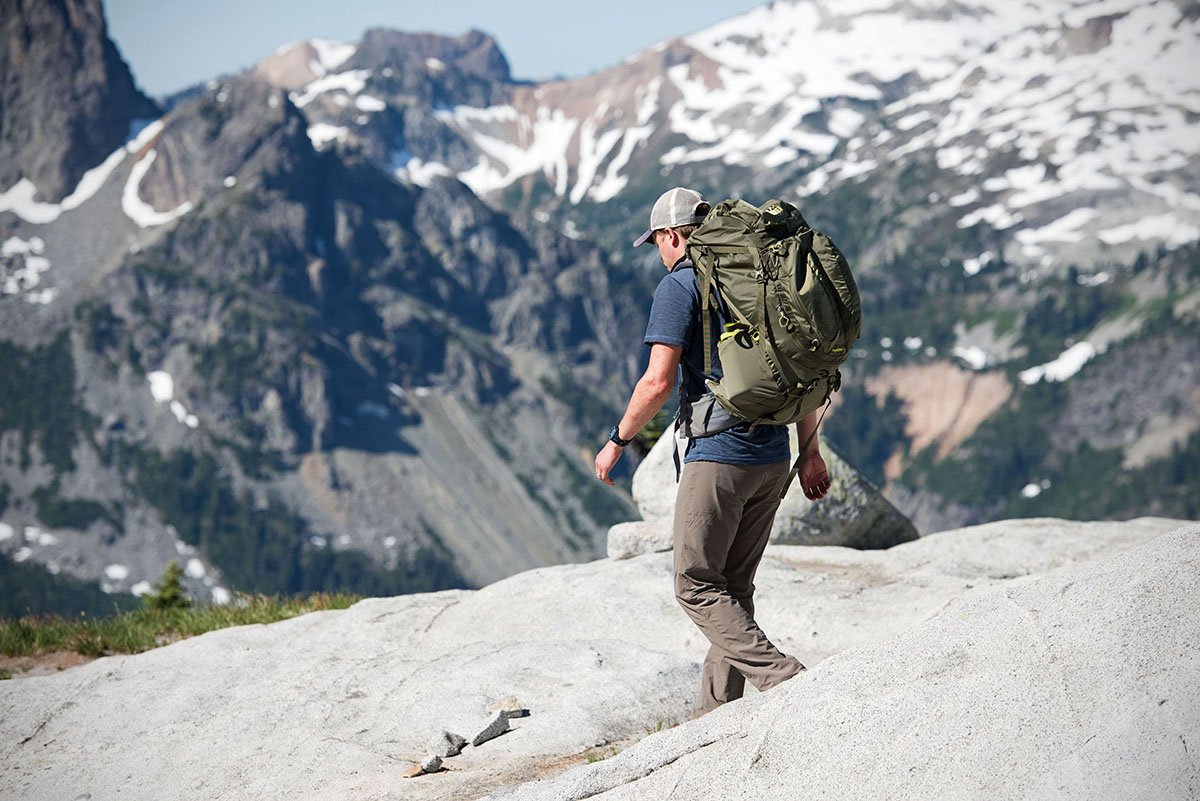 Like many high-end modern packs, the back panel on the Traverse features raised mesh designed to help with ventilation. REI's system isn't as hyped up as Osprey's "AG" (Anti-Gravity), but it's a similar concept. We did sweat while hauling the pack up steep inclines on a warm summer day, but that's almost impossible to avoid. There was airflow between the pack and our back and the mesh was supportive, too.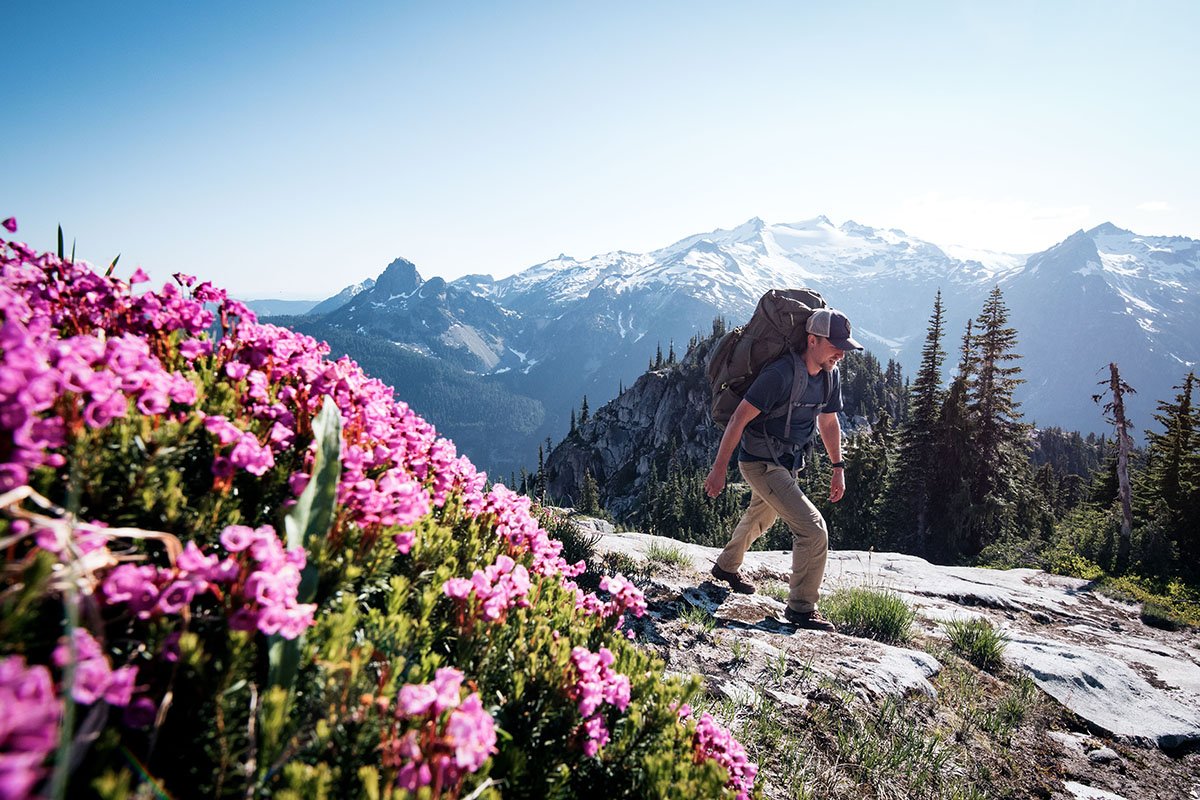 Finally, to help button down your load, the Traverse has a series of compression straps towards the bottom of the pack called UpLift. This system is unique to REI's Traverse and Flash lines and tightens your load much like a compression sack does with a sleeping bag. The result is a more compact pack and an evenly balanced feel. We first put the Traverse on without the straps tightened, then my hiking partner pulled each one snug. I immediately noticed that the pack felt better to carry—more so than what you get with an average compression strap system—and was surprised that this type of technology isn't more readily available in the backpacking world. Kudos to REI here.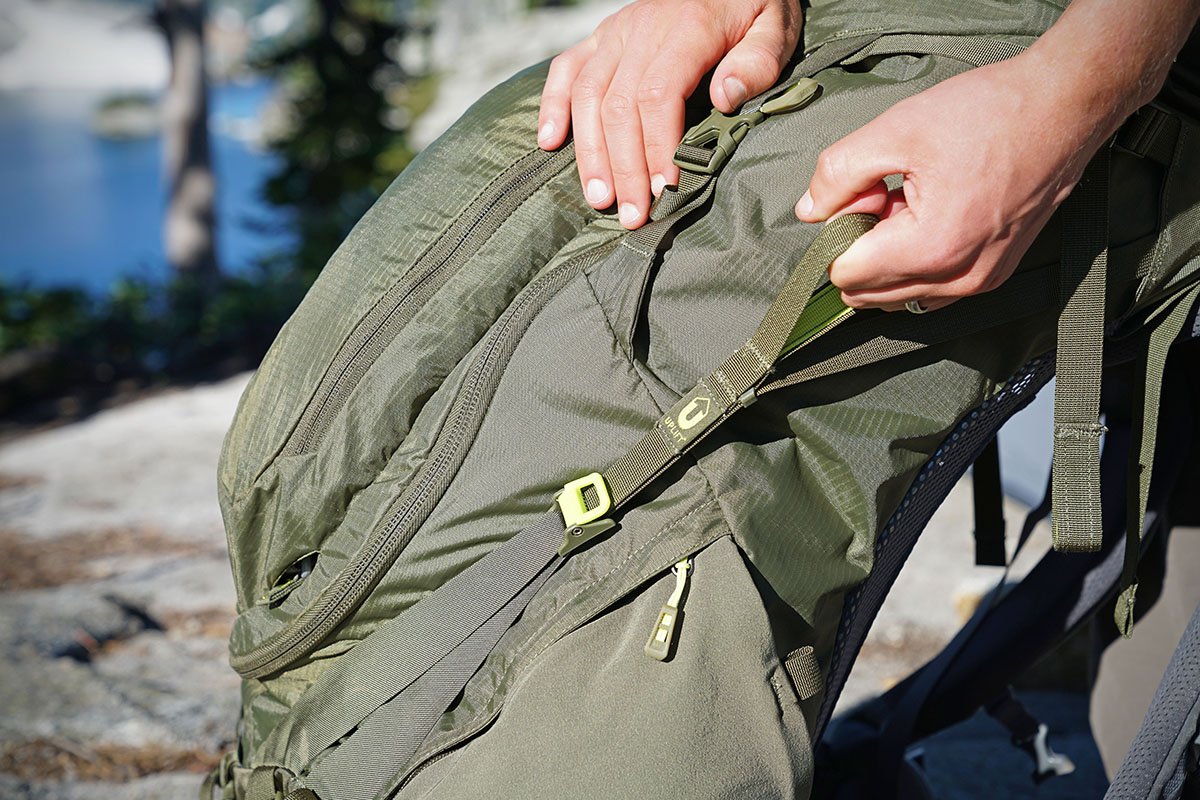 Weight
The REI Traverse weighs in at 4 pounds 13 ounces, which is on the heavy side of the backpacking pack spectrum. For comparison, the Osprey Atmos AG 65 weighs 4 pounds 9 ounces (with 5 liters less capacity than the 70 of the Traverse), the Gregory Baltoro 65 is heavier at 5 pounds 1 ounce (also with 5 liters less capacity than the Traverse), and the Osprey Aether AG 70 is 5 pounds 3 ounces.
All of the packs listed above are in our heavy hauler category, which isn't necessarily a bad place to be. The capacities are large, the packs are comfortable even with full loads, and the materials are durable enough to withstand a lot of wear and tear. There are plenty of other options for those who want to move fast and light including the in-house REI Flash 65 at 3 pounds 10 ounces, but there are inherent compromises with those packs. The right choice depends on your backpacking style and the gear that you bring along (ultralight packs generally are meant to carry ultralight gear). But the Traverse is competitive within its category in terms of weight.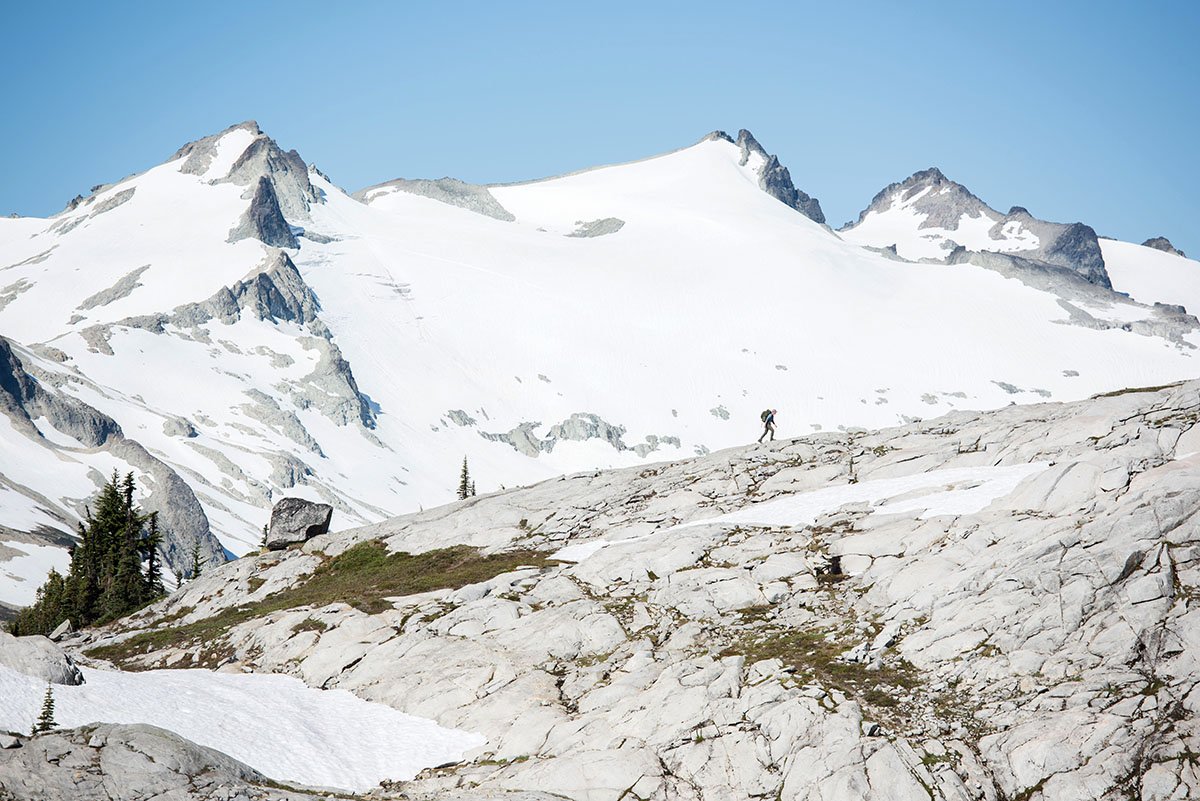 Organization
Like carrying comfort, organization is another strength of the REI Traverse. The main compartment has a large, J-shaper zipper for easy access to the pack, which we far prefer over top-loader only packs. On the exterior, the Traverse has two large cylindrical-shaped pockets for bulky items like a down jacket, rain jacket, or food. And the top lid is substantial, although we aren't huge fans of the diagonal zipper on the underside that separates the pockets in two. Our wallet and phone were a very tight squeeze, and we would prefer expanding one of those pockets at the expense of the other (the smaller pocket still would be great for keys and other personal items). As is popular nowadays, the top lid can be converted into a small daypack, but the design strikes us as too minimalist and not very practical for anything more than a short walk. Small nitpicks aside, we think the overall organization is well designed and functional.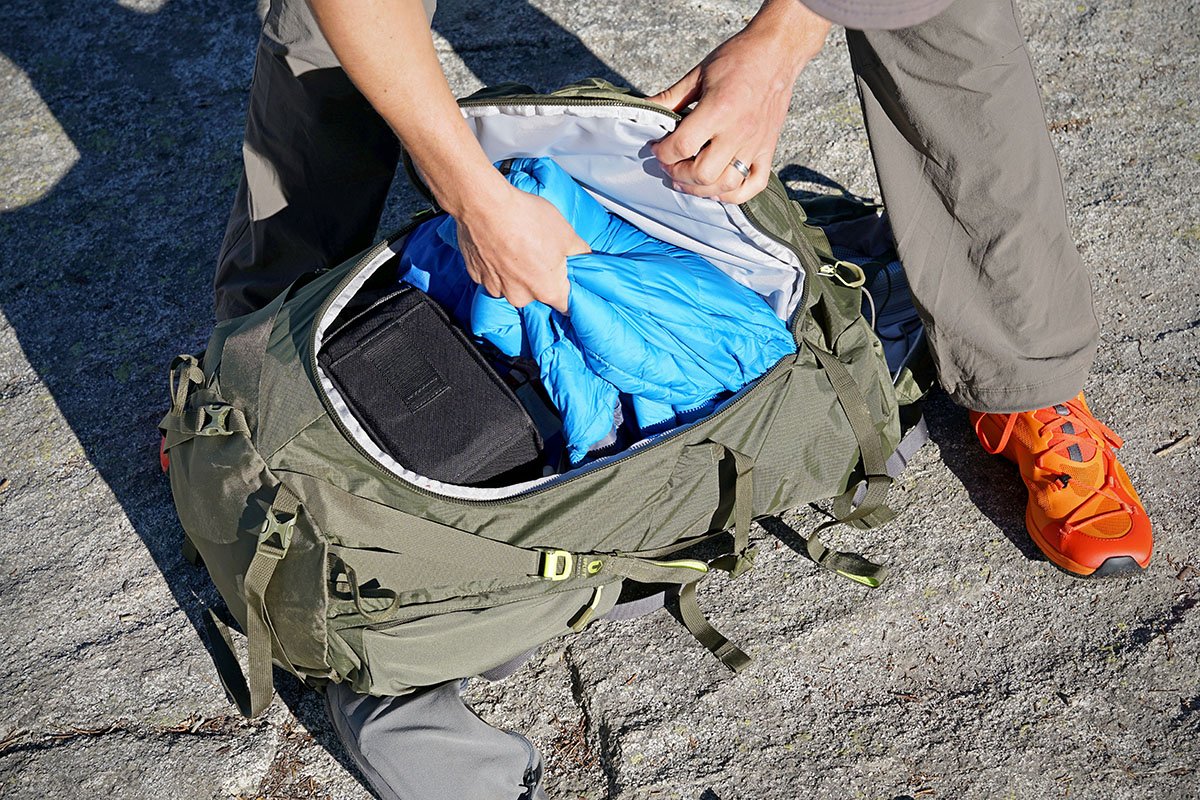 Ventilation
As mentioned above, the Traverse has a suspended mesh back panel—REI calls it a "hybrid trampoline"—that aids in ventilation. This system is unassuming at first glance but serves its purpose in helping to keep your back as dry as possible on hot days. Between the mesh and pack is a noticeable amount of space that allows air to move through and cool you off. Osprey's AG system is more elaborate, they've put a lot of effort into developing and promoting it, and we still think it's best in class with even more clearance and structure. But REI isn't far behind in this regard and ventilation on the Traverse is good overall.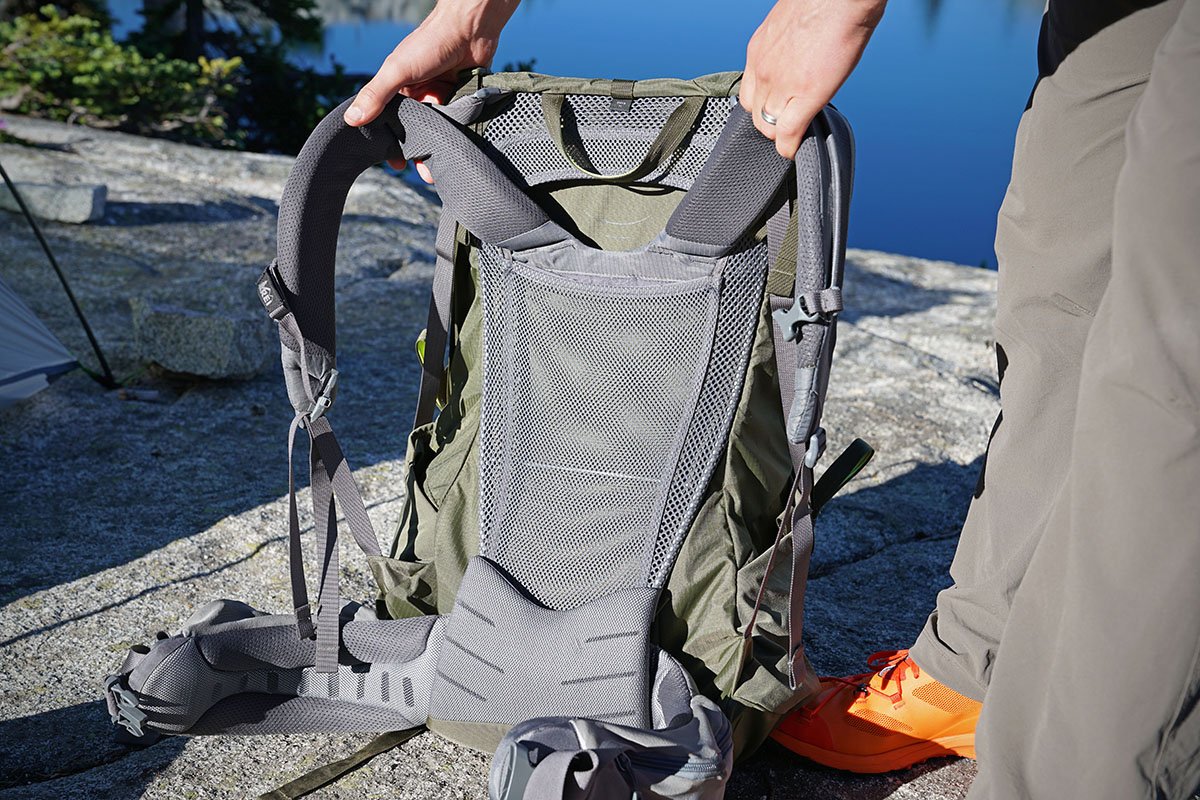 Durability
One of the big advantages of choosing a heavier pack is durability. Denier ("D") measures the thickness of fabric fibers, and the Traverse is among the most substantial and toughest packs we've tested at 210D (body) and 630D (bottom). For comparison, the Osprey Atmos AG is 100D x 630D in the pack body, the Gregory Baltoro is a mix of 210D and 300D, and an ultralight pack like the Osprey Exos is a relatively thin 100D (we ripped a small hole in the Exos on the same testing trip as the Traverse). This means the Traverse should last as long as just about any backpacking pack on the market. We bushwhacked and tossed it down on granite on multiple occasions for a cushioned view of an alpine lake with no issues. Everything seems sturdy and well built.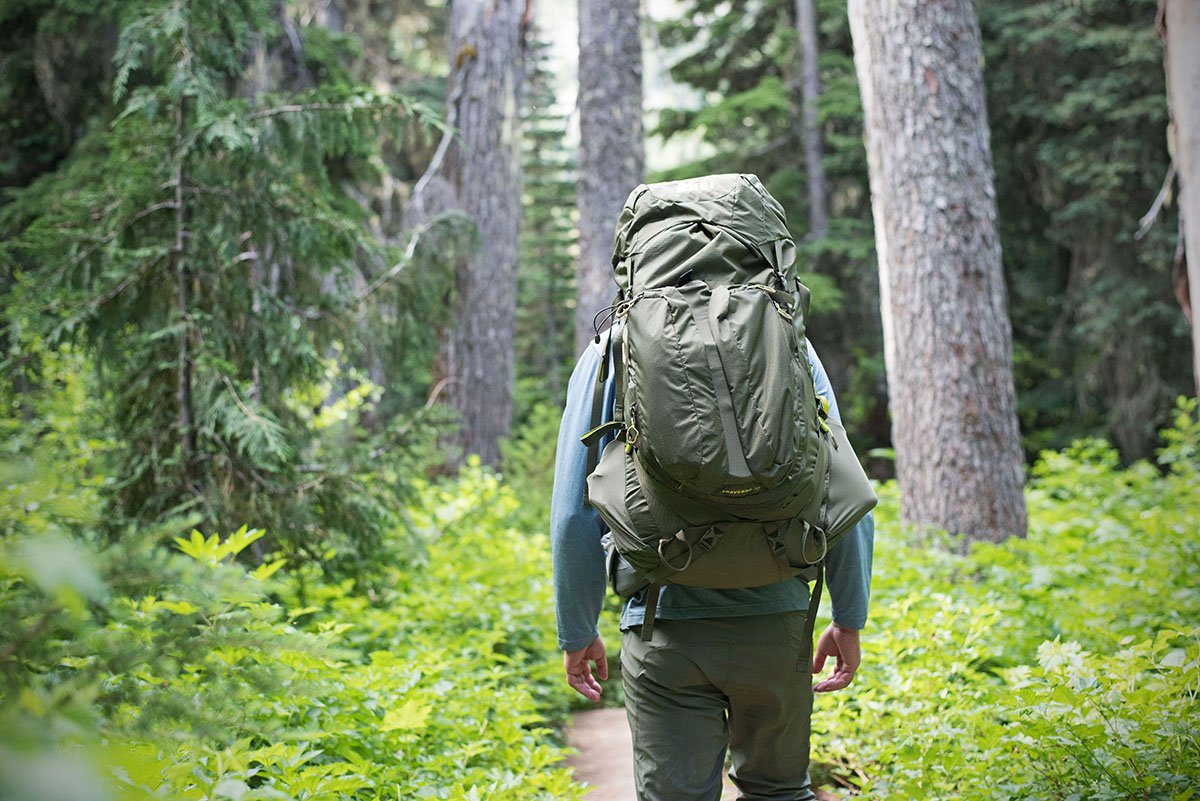 Capacities: No Smaller Versions
One of our biggest qualms with the REI Traverse is the lack of capacities offered. In the past, a 48-liter model was available, but currently on the men's side, the smallest Traverse you can get is 66 liters in a size small. The medium is 70 liters and the large is 74 liters. On the women's side, the Traverse 65 is 61 liters in a small, 65 in a medium, and 69 in a large.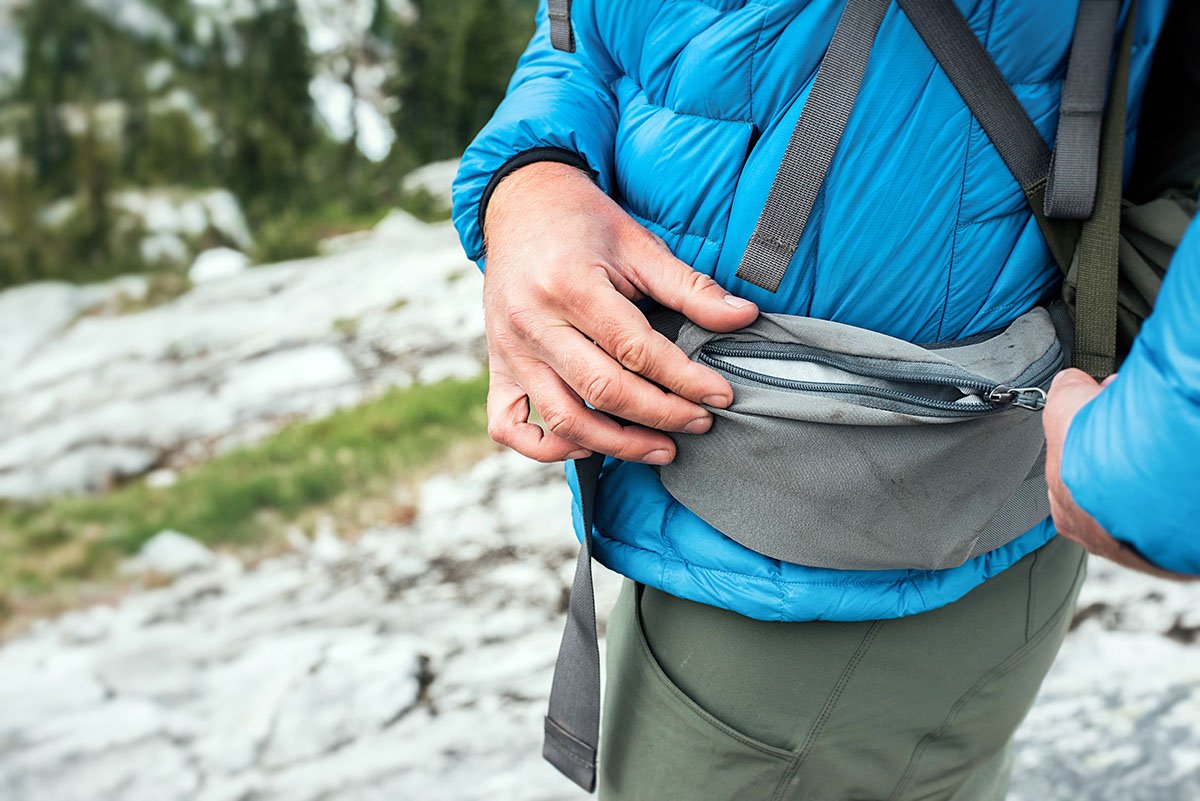 This means that the Traverse is best suited for multi-day trips or those carrying a lot of bulky gear. The Osprey Atmos AG, for example, is offered in a 65-liter version along with a smaller 50-liter version, giving you the option of buying a trimmed-down pack for quick overnights and weekend trips. The same goes for the Osprey Aether AG, which is offered in a 60-liter capacity to compliment the 75 and 85-liter big haulers.
In 2017, tents are small and light, sleeping bags are highly compressible, and cooking gear and food are more compact than ever. Therefore, there's a good argument for REI to create a 60-ish liter version of the Traverse. Yes, there is the REI Flash, but we don't think that's as good of a pack and it's only available in the 65-liter variety. 70 liters serves a lot of purposes including trips that are a few nights or more, but a Traverse in the ballpark of 60 liters would be a very nice addition to REI's lineup.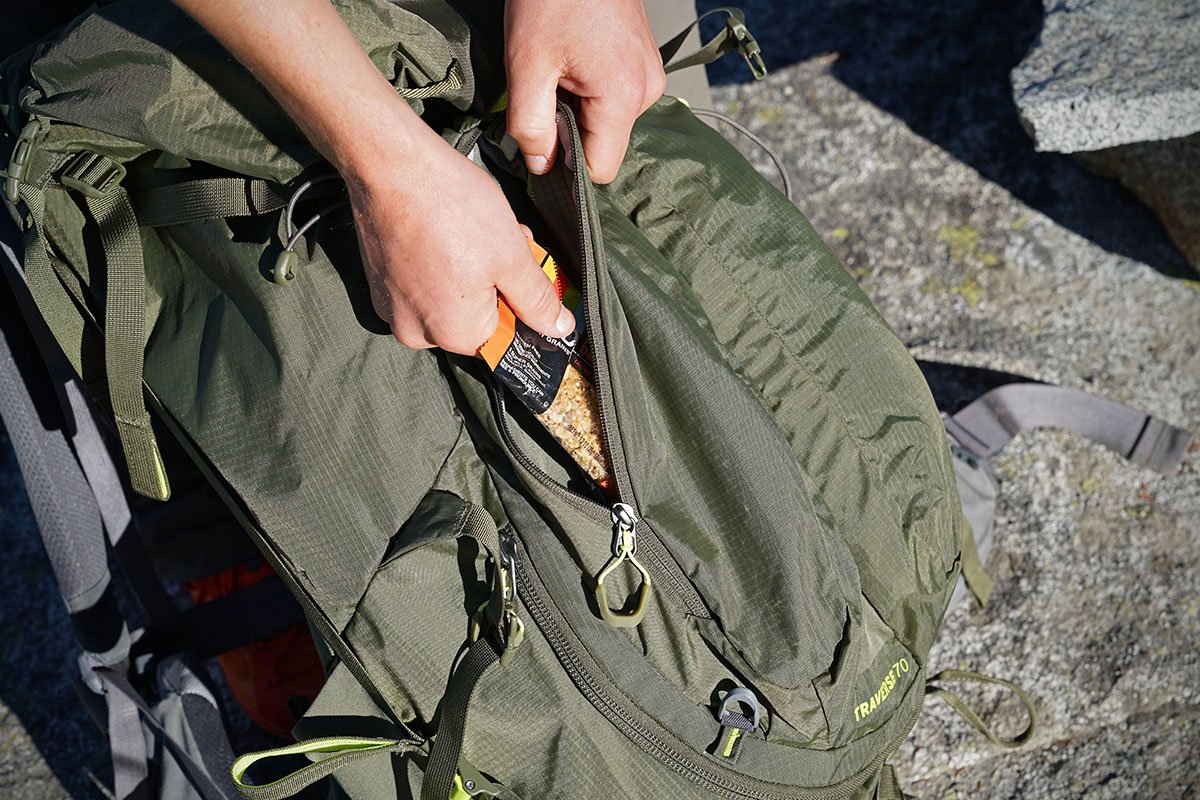 Fit and Sizing
The Traverse comes in three sizes and fits true. We grabbed a men's size medium and fit was excellent right out of the box. More, there are a couple notable points of adjustability. First, the shoulder straps can be moved up and down via Velcro that connects to the main portion of the pack. This means that within reason, you can make micro adjustments for yourself or swap or lend the pack to someone within your size range. Second, the hipbelt on the Traverse is interchangeable, which is a great feature. This allows you to buy a hipbelt in a different size than the pack (REI sells Traverse hipbelts separately for $30), or even use a women's hipbelt on the men's pack or vice versa. The Osprey Atmos AG does not have an interchangeable hipbelt while the Gregory Baltoro does.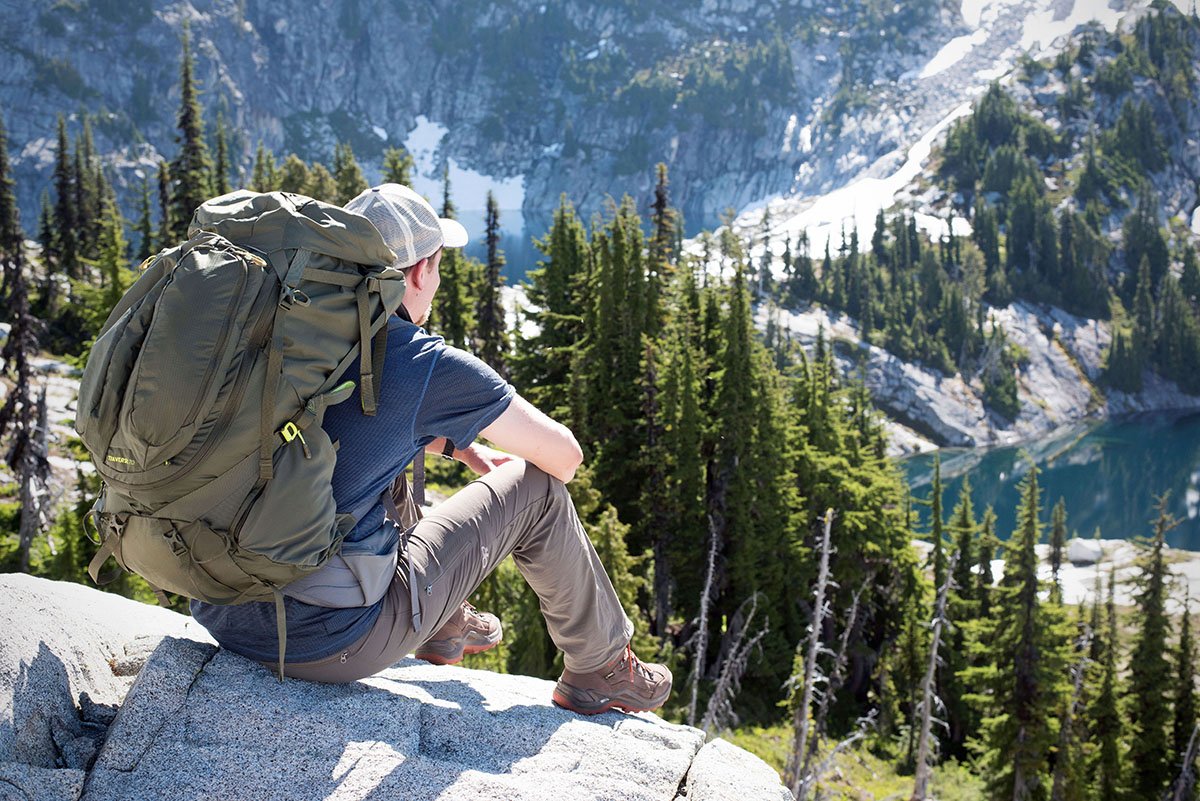 What We Like
Impressive comfort and support while carrying heavier loads.
Thoughtful organization and feature set.
Great build quality and durability.
Interchangeable hipbelt allows for a high level of fit customization.

What We Don't
Some might find the lower back and hip padding to be a bit firm.
No smaller capacity versions to choose from.
Lack of colorways. "Army Cot Green" is functional but not very inspiring.


Comparison Table
| Pack | Price | Weight | Fabric | Capacities | Access | Pockets |
| --- | --- | --- | --- | --- | --- | --- |
| REI Co-op Traverse 70 | $239 | 4 lb. 13 oz. | Nylon (210D & 630D) | 70, 85L | Top, front | 9 exterior |
| Gregory Baltoro 65 | $299 | 5 lb. 1 oz. | Nylon (210D & 300D) | 65, 75, 85L | Top, front | 8 exterior |
| Osprey Aether AG 70 | $310 | 5 lb. 3.4 oz. | Nylon (210D & 500D) | 60, 70, 85L | Top, front | 7 exterior |
| Osprey Atmos AG 65 | $260 | 4 lb. 9 oz. | Nylon (100D x 630D) | 50, 65L | Top | 8 exterior |
| REI Co-op Flash 65 | $199 | 3 lb. 10 oz. | Nylon (100D & 420D) | 45, 65L | Top, front | 6 exterior |

The Competition
The REI Traverse falls into our heavy hauler category, meaning it's designed to withstand larger and heavier loads than smaller and lighter packs. This puts it head-to-head with some pretty legendary models like the Gregory Baltoro and Osprey Aether AG. All three packs have strong frames, supportive and high quality padding, and durable fabrics. They also trade weight savings for features, with a lot of exterior pockets, zippered access to the main compartment, and removable daypacks. Comfort is another shared strength, but if you are hauling a lot of extras (think 50 pounds or more) or doing light mountaineering, the Baltoro and Aether get the edge in carrying comfort. For the typical backpacking trip, however, the Traverse is just as good, and it's a much better value at $60 to $70 less than those packs.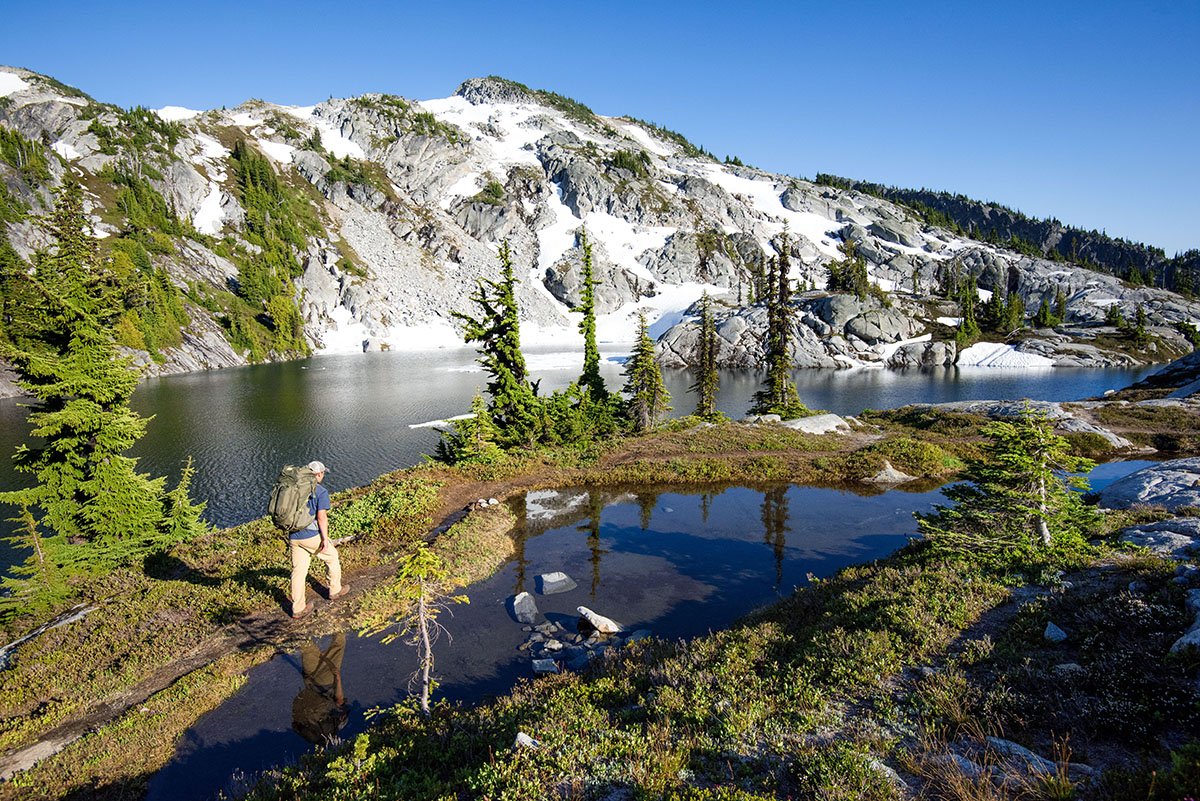 Stepping down a bit in carrying abilities, Osprey's very popular Atmos AG 65 is another strong competitor to the Traverse. We like the weight savings you get with the Atmos, although it's only a modest 4-ounce difference and you get 5 liters less storage. And the mesh back panel and hipbelt on Osprey's Anti-Gravity suspension is a class leader for ventilation and has a cushier feel than the firm padding on the Traverse. In terms of organization, it's a close call: the Atmos includes a large mesh pocket, which we love, but the Traverse's J-shaped zipper access to the main compartment is a feature we really miss on the Osprey. Those with lightweight and compact gear likely will prefer the Atmos—and may even want to opt for the 50-liter model—but the Traverse has a slightly superior feature set and can carry a heavy load better.

Finally, REI's own Flash 65 is an interesting alternative to the Traverse. To start, the Flash's 65-liter capacity is better for overnight, weekend, and lightweight backpackers. The Flash also has the same UpLift compression strap system, which impressed us with its ability to reduce strain on our back and hips. But the 1-pound lighter Flash falls well short of the Traverse in terms of comfort and durability—the padding isn't as supportive and the 100-denier nylon body is more prone to tears. We think the Flash is a fine option for those looking to cut weight on a budget (the 65-liter Flash is $199), but the Traverse is the better overall design and our favorite pack currently made by REI.
Editor's note: We usually provide a live price comparison table below our outdoor gear reviews, but the Traverse 70 is sold exclusively by REI. You can see the Traverse 70 page here and support us in the process. Thanks!
Learn More About Hiking Gear