REI Co-op continues to improve its in-house line. The versatile Traverse is the company's leading backpacking pack and features high levels of comfort, thoughtful organization, and a quality build that can compete with any brand on the market. We tested the Traverse on multiple backpacking trips including the challenging Huemul Circuit in Patagonia, and below we break down its carrying comfort, weight, organization, ventilation, durability, fit, and more. To see how the Traverse stacks up, see our article on the best backpacking packs.

Performance 
Carrying Comfort
With ample cushioning and a well-thought-out design, the REI Co-op Traverse 70 is an extremely comfortable pack, even while hauling big loads over tough terrain. The suspended mesh backpanel is both supportive and facilitates plenty of airflow—it's reminiscent of Osprey's mesh "AG" (anti-gravity) system, and that's a pretty big compliment. Compared to a traditional backpanel that consists mostly of foam padding, this modern design hits the mark in combining carrying comfort and breathability. In addition, the shoulder straps and hipbelt are plush in terms of padding and have a premium feel.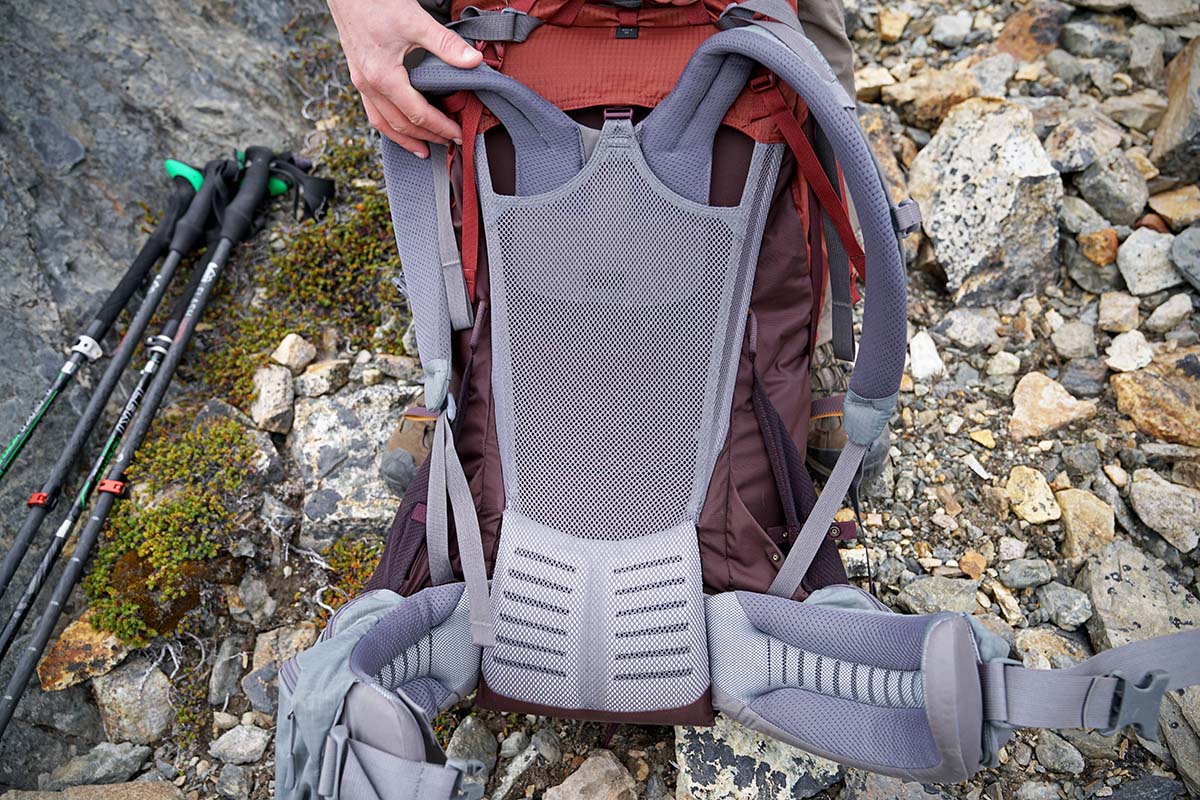 A signature feature on REI's Traverse and Flash lines of backpacking packs are the strap systems on the bottom of each side called UpLift. This system tightens your load much like a compression sack does with a sleeping bag, resulting in a more compact and evenly balanced pack. To use UpLift, you fill the Traverse without the straps tightened, then pull them snug to bring the load against your lower back. The end result can make the bag look a bit like the hump of a camel, but with serious benefits in terms of reducing strain on your back and hips. We carried a heavy load on the Huemul Circuit in Patagonia and were surprised at how few adjustments we had to make. Put simply, UpLift works.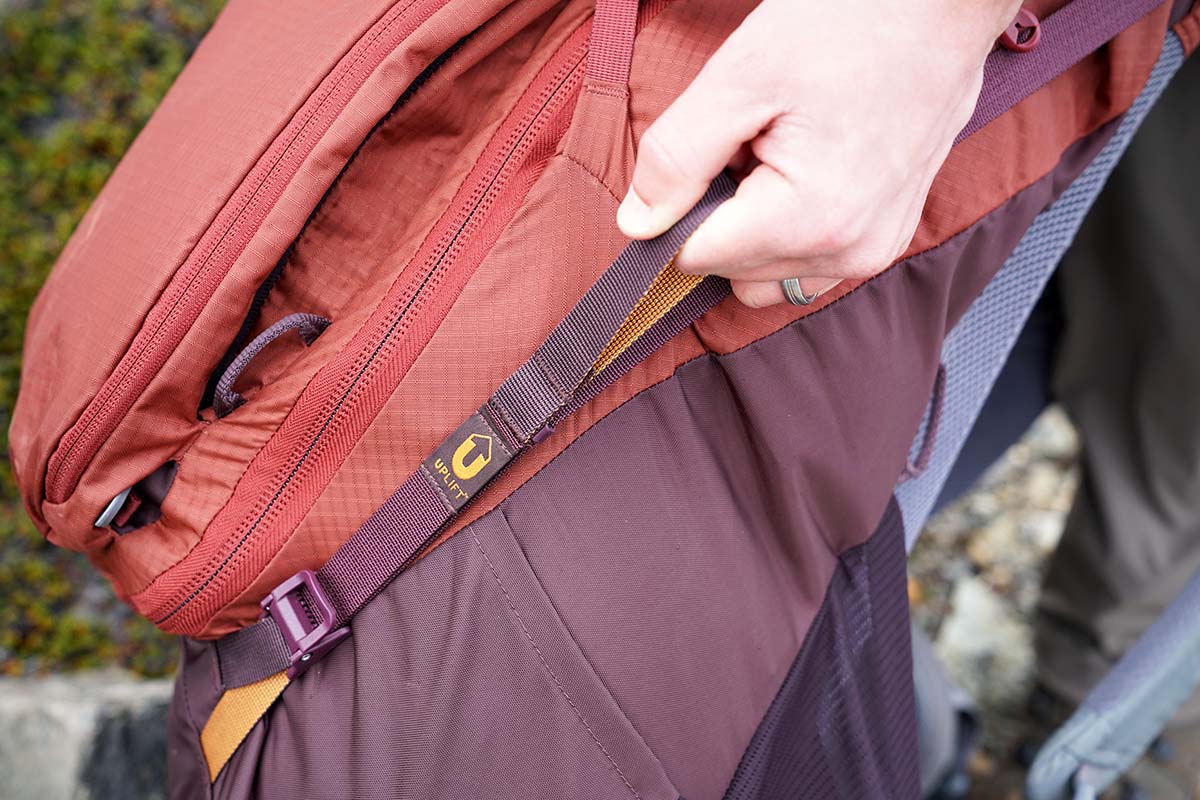 When testing the past-generation version of this pack, we immediately noticed that the lumbar protruded into the lower back more than usual, but it wasn't a deal breaker. It wasn't perfect, but we appreciated the firmness. On the latest version of the Traverse, however, REI kept the lumbar pad firm and comfortable while minimizing the profile. This means less protrusion and more comfort without altering the overall design of the pack in a negative way.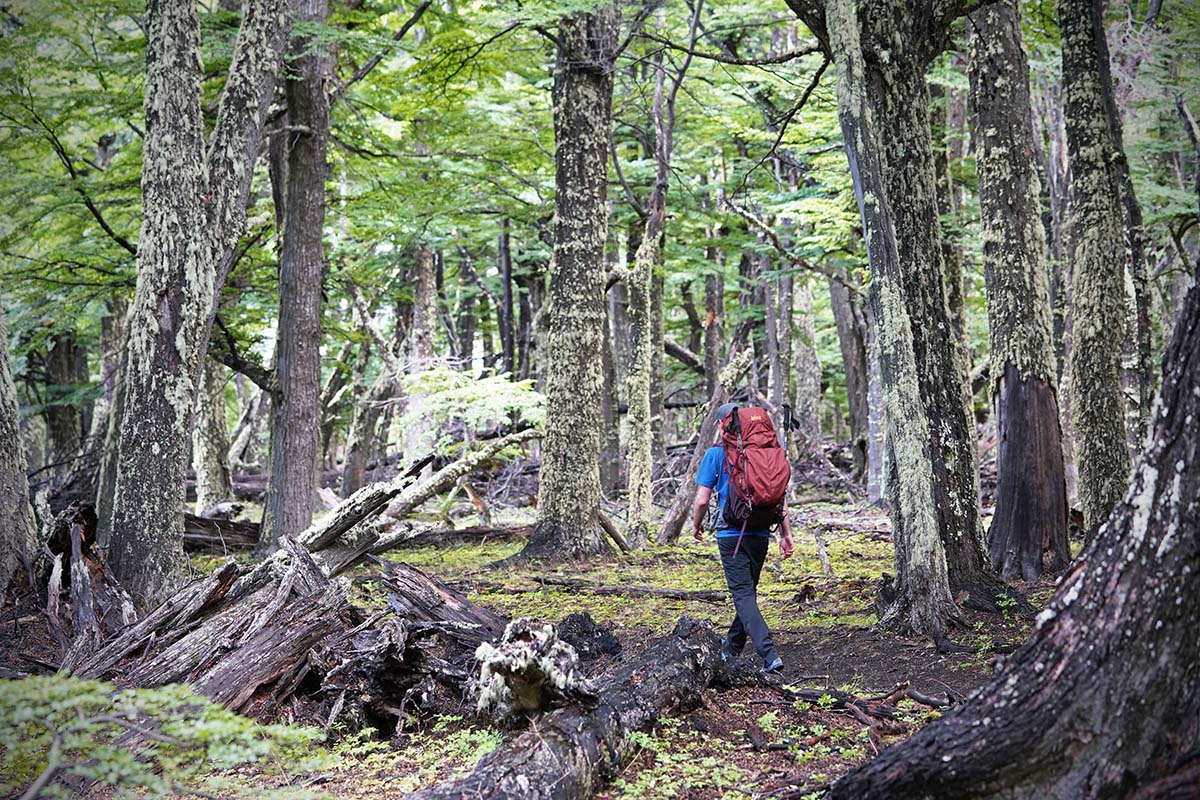 Weight
The REI Traverse 70 comes in at 4 pounds 14 ounces in the medium size, which puts it squarely in the heavy hauler category. For comparison, both the Gregory Baltoro 75 (4 lbs. 15.4 oz.) and Osprey Aether AG 70 (5 lbs. 3.4 oz.) weigh slightly more (and you get an additional 5 liters of capacity with the Gregory), while the Osprey Atmos AG 65 is 4 pounds 9 ounces and a little smaller than the Traverse. All three packs are meant for those who prioritize carrying comfort, features, and durability over weight savings.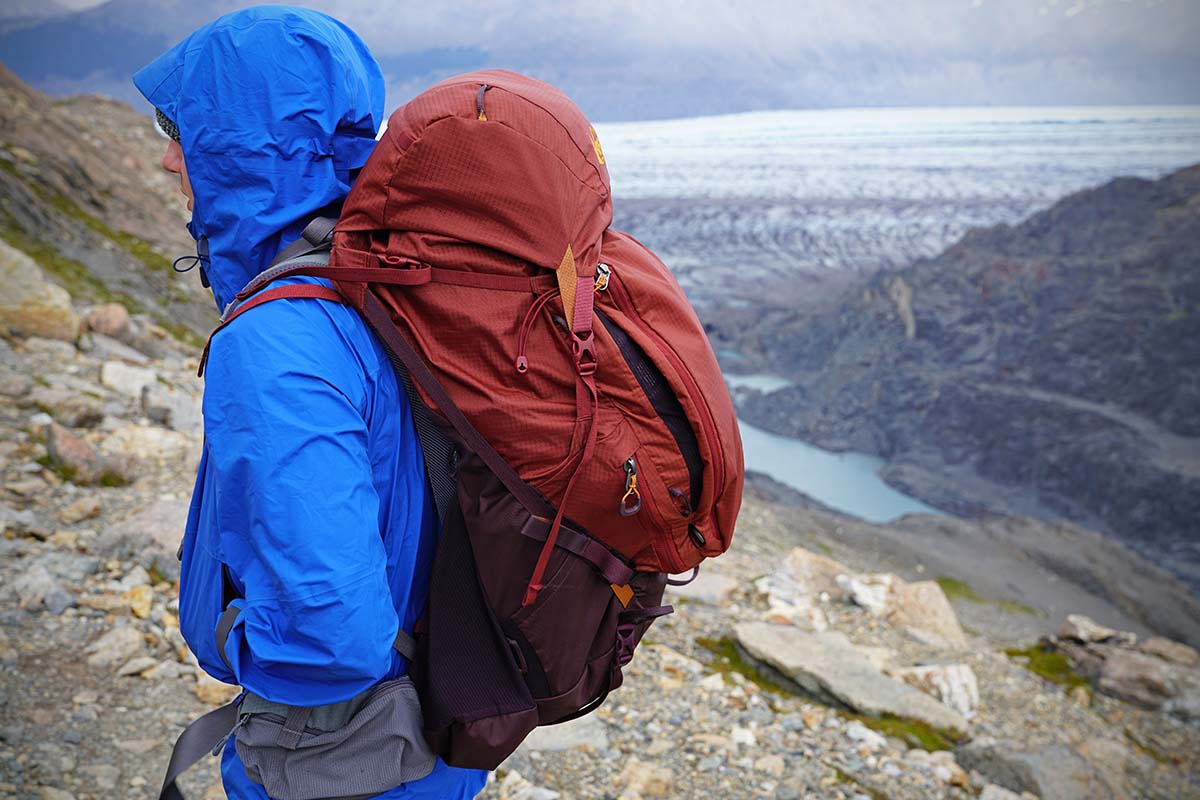 For those who want to move faster and lighter, there are plenty of other backpacking packs to choose from. For example, we really like the simplicity and functionally of a pack like the Granite Gear Crown2 60 at just 2 pounds 5.8 ounces (for more information, see our in-depth Crown2 60 review). Further, there are industry-leading ultralight options like the Osprey Exos, Gossamer Gear Mariposa, and Zpacks Arc Blast. But despite the attraction, keep in mind that these packs are made to carry lighter loads (usually around 30 pounds or less) and use lower-denier fabrics that are considerably less durable. The Traverse is a heavy pack, but you do get a lot in return in terms of comfort and toughness.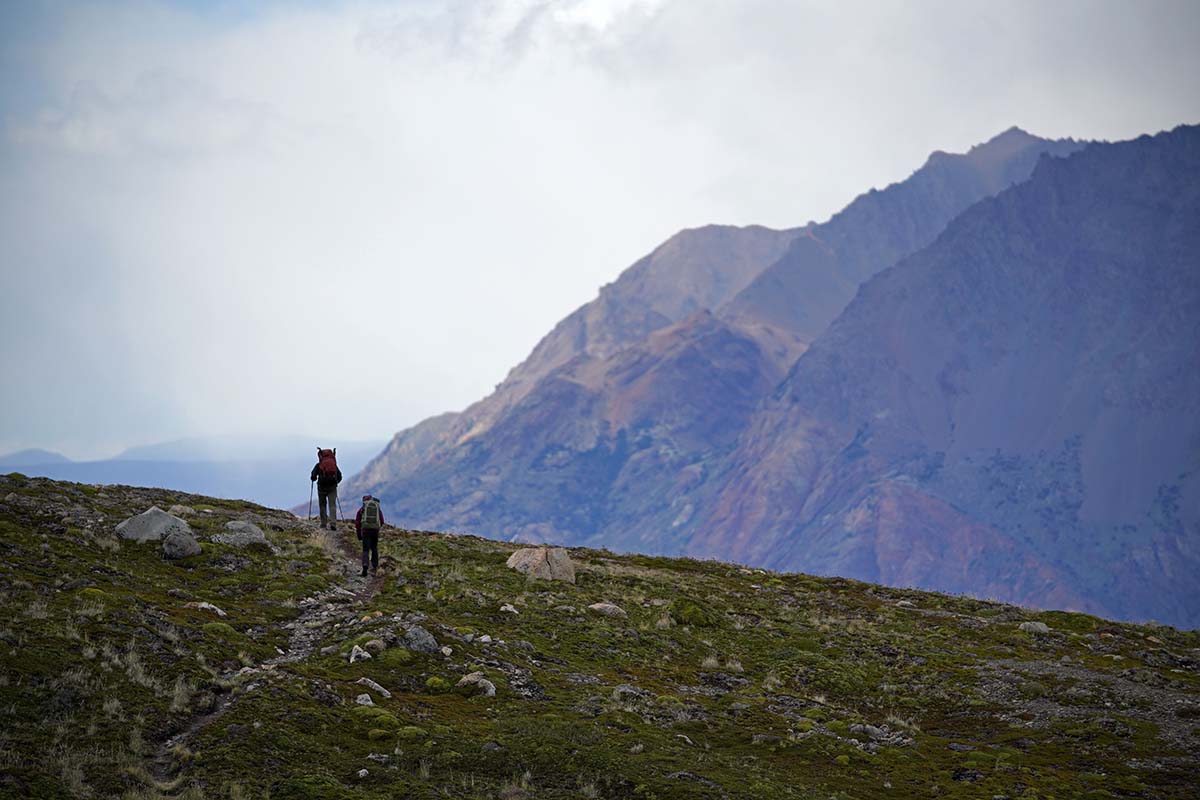 Organization
The Traverse is nicely appointed with ample pockets and access points. Most importantly, the main compartment has a large, J-shaped zipper, which we far prefer over top-loading only packs. On the exterior, REI greatly improved the organization by expanding the size of the two cylindrical-shaped pockets and shove-it space (you can easily stuff a rain jacket or shell behind the pockets for easy access on the go). In addition, the top lid is substantial and offers ample storage (it also houses the included rain cover), and the same goes for the dual hipbelt pockets. It's worth noting that the left hipbelt pocket is made with thin mesh while the right is a thicker and more weather-resistant nylon. We stored our iPhone 10 in the right hipbelt pocket for multiple days including rain without issue, although the pocket certainly should be considered water-resistant and not waterproof.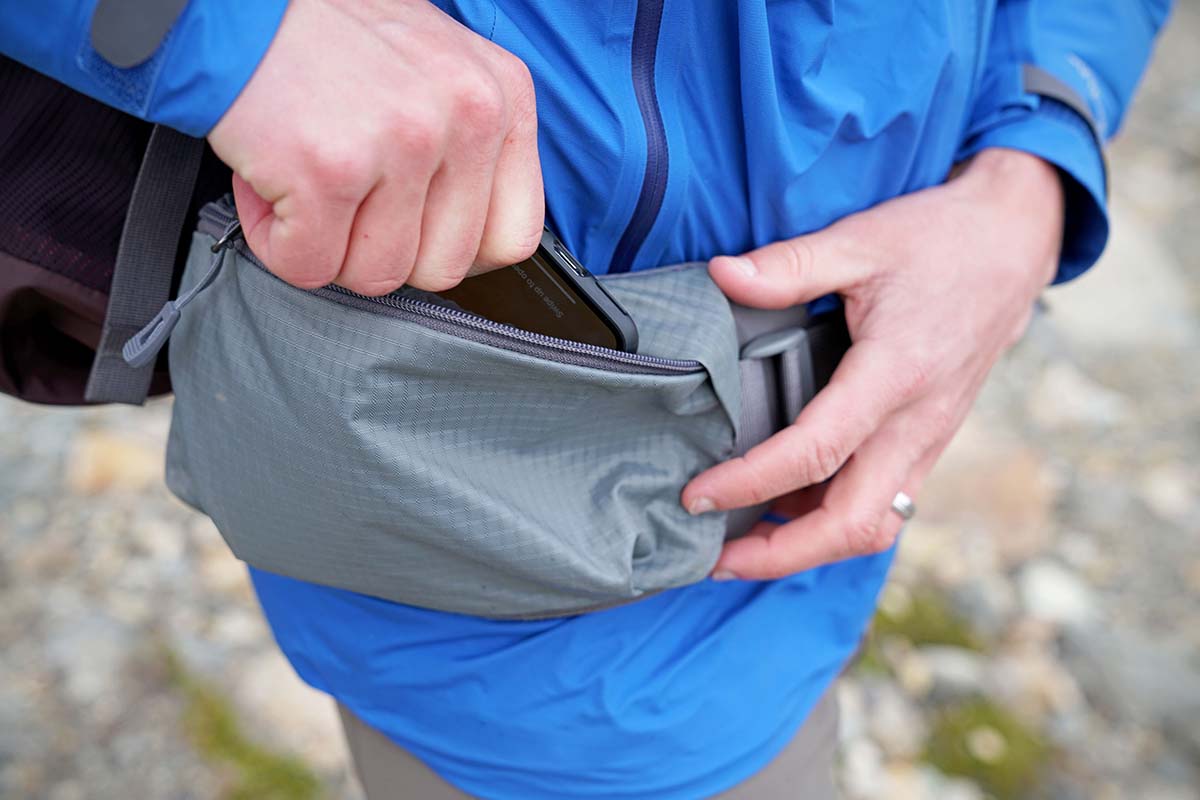 Another notable upgrade on the newer Traverse is the removable lid system that doubles down as a small daypack with straps. The old system was both difficult to figure out and uncomfortable: the detachable pack wore more like a sash than a daypack. The revamped REI system, however, is a much more functional summit pack with shoulder straps that has real value for short hikes and scrambles from camp.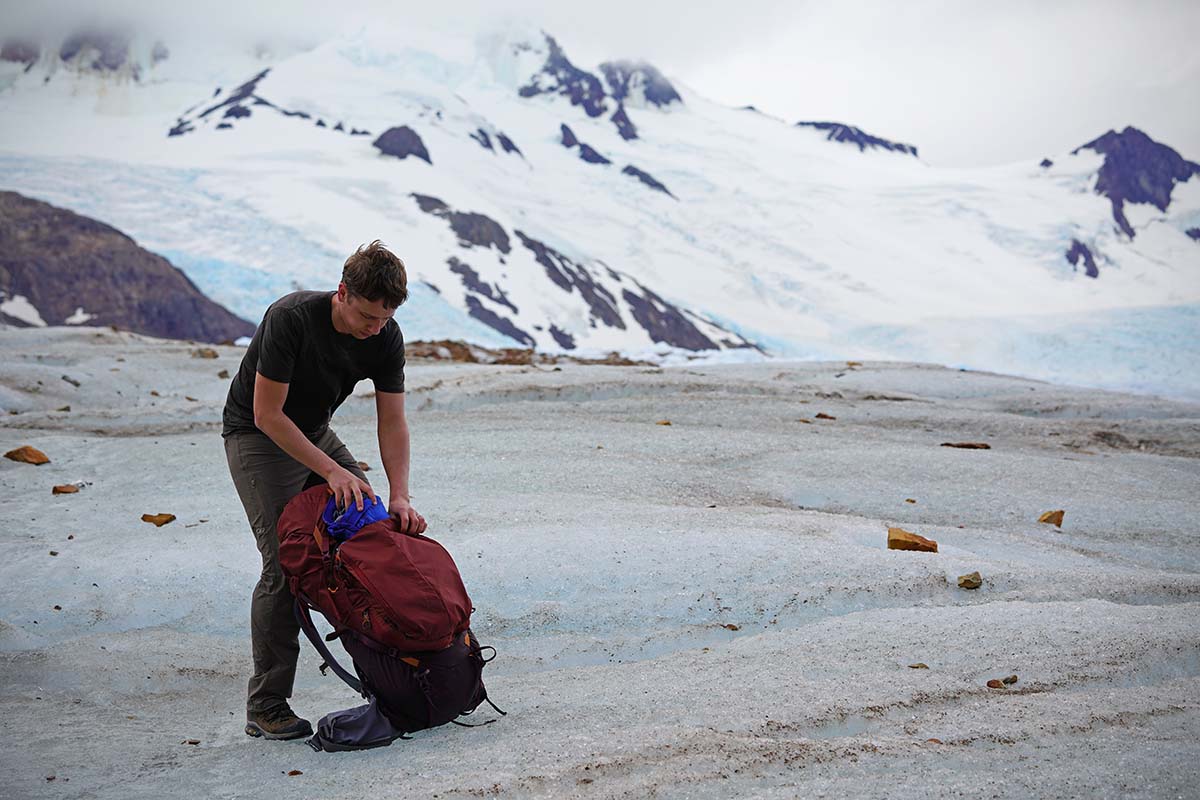 Ventilation
As mentioned above, the Traverse 70 has a suspended mesh backpanel that does a really nice job with ventilation. With a healthy amount of space between your back and the shell of the pack—we measured up to 1.5 inches of clearance in the mid-back area—airflow is encouraged and we had no issues with overheating. It's worth noting that the conditions weren't hot during our trips, but they were when testing the similarly-designed backpanel on the previous Traverse, and that pack performed admirably in this regard. If you plan on hiking in warm weather, the Traverse should be a standout.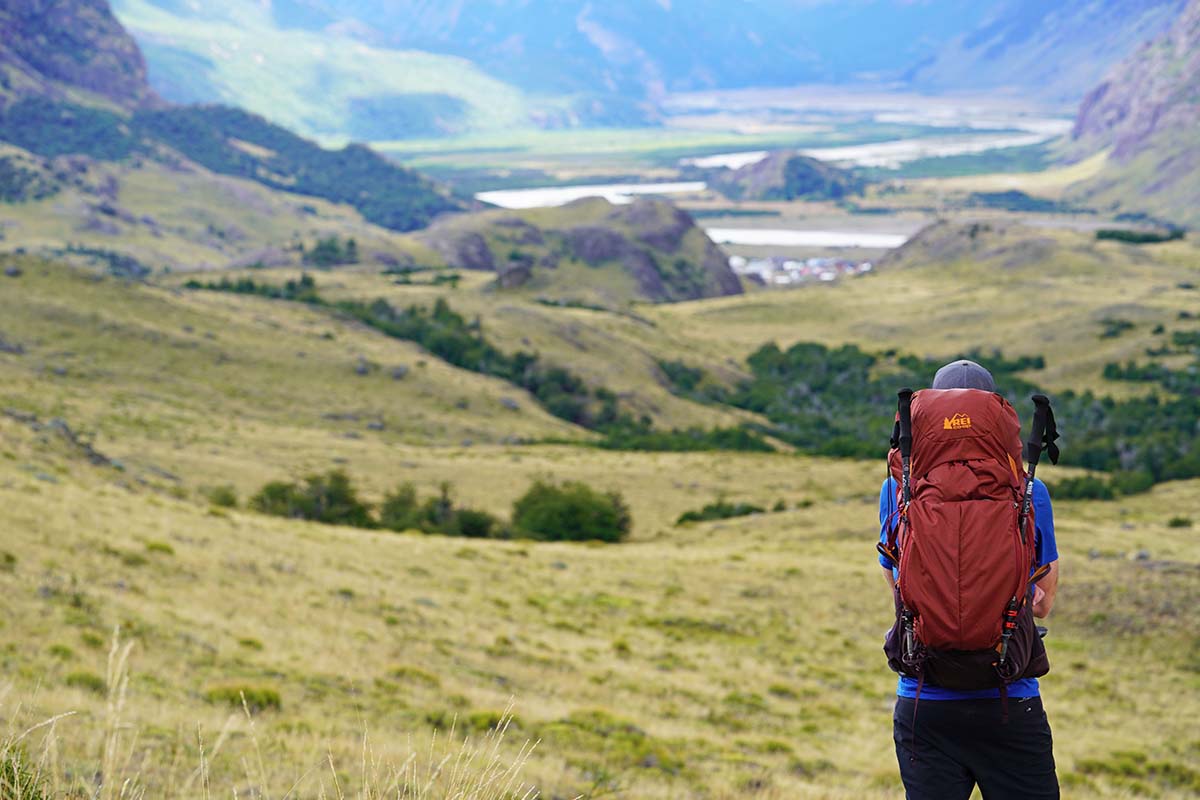 Durability
Almost all lightweight packs compromise in durability, but this is where the Traverse excels. The body fabric is a tough 200-denier (D) nylon along a super burly 420D bottom. In terms of specs, this makes the Traverse one of toughest packs on the market. You can go a little thicker with a design like the Osprey Aether AG 70 at 210D and 500D on the bottom, and the Arc'teryx Bora AR has a mix of substantial 420D and 630D nylon. But the 200D body fabric is one of the selling points of the Traverse and should help make your investment last for years to come.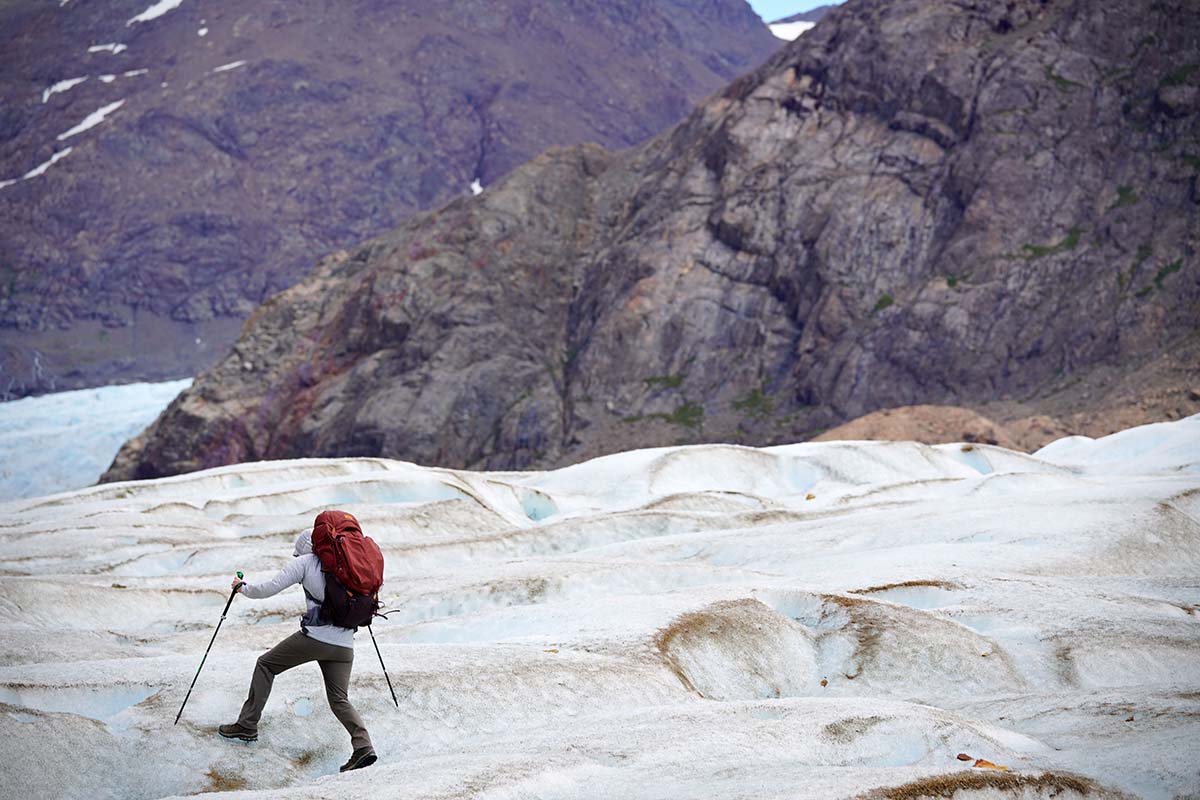 It's worth noting that we experienced some minor fraying in two small spots at the top of the pack near the arch of the metal frame. We subjected the Traverse to a lot of rough use, taking it on multiple backpacking trips, bringing it all the way down from Seattle to Patagonia, and not thinking much about pack care in the process. That said, the nylon shell fabric is fraying on the same small place on both sides. It's unlikely that it's from bushwhacking but possible that it's from throwing the pack around. After some research, we found a couple user complaints about similar fraying, but this is understandable for a piece of gear that gets put through the wringer regularly.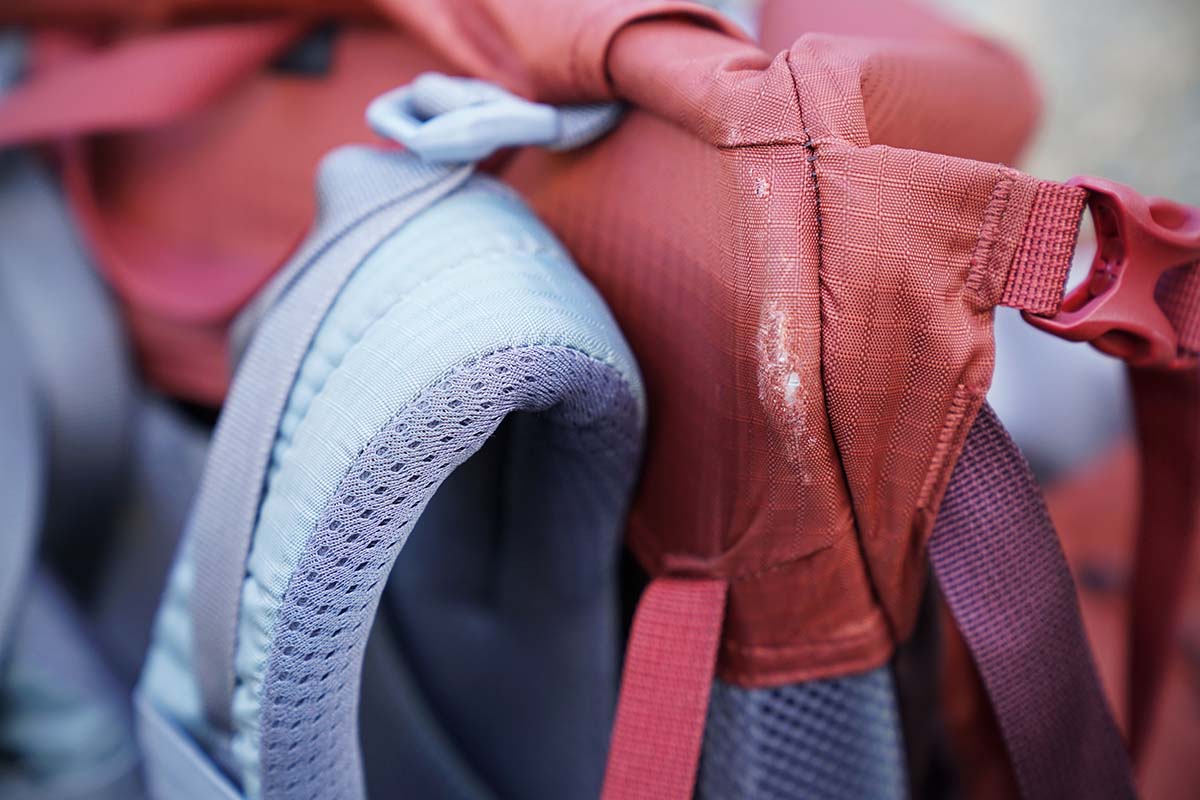 Fit and Sizing
The Traverse comes in three sizes and fits true. We tested our normal men's size medium and the fit was excellent. In terms of adjustability, the shoulder straps can be moved up and down via Velcro that connects to the main portion of the pack. Further, the shoulder straps and hipbelt on the Traverse are interchangeable, which is a great feature. This allows you to buy one in a different size than the pack (REI sells men's and women's Traverse shoulder straps and hipbelts separately for $30 each). All in all, given the levels of customization and adjustability, most people should be able to get a good all-around fit.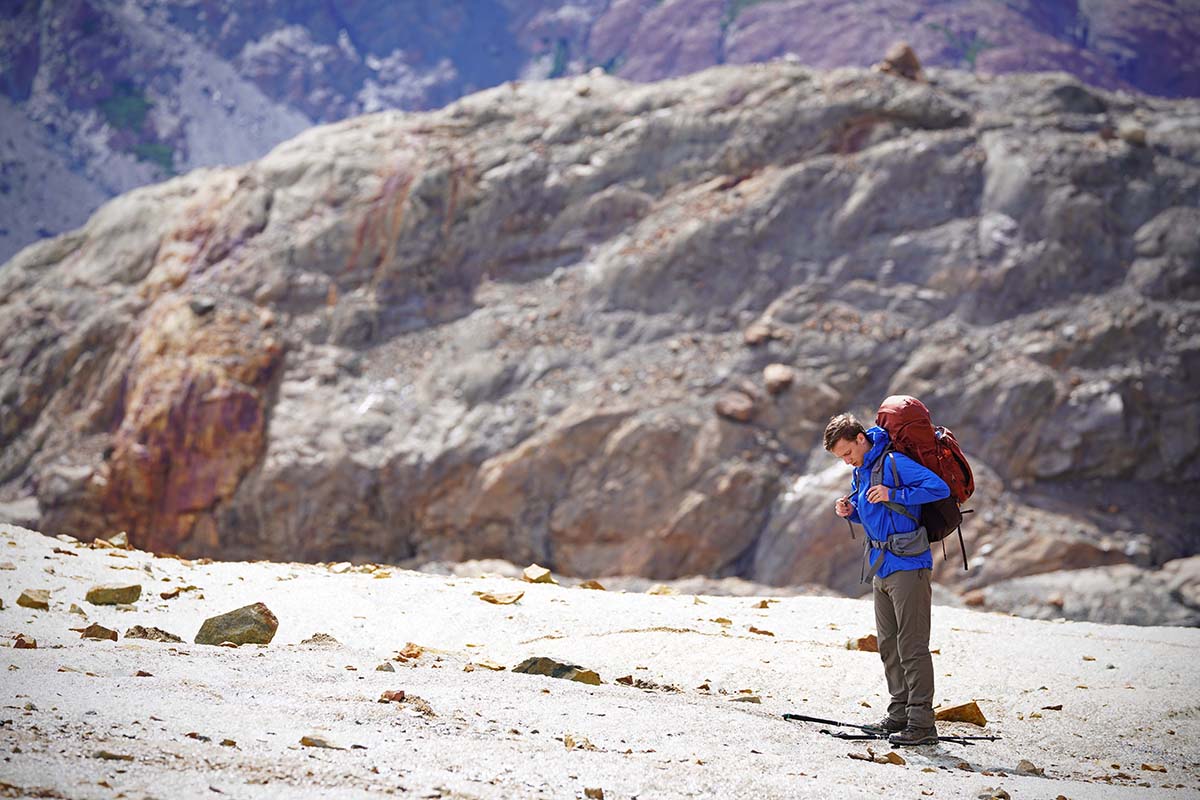 Other Capacity: REI Co-op Traverse 35
In addition to the 70-liter pack reviewed here, the men's REI Traverse also is offered in a 35-liter model. The Traverse 35 costs $139 and clocks in at 3 pounds 2 ounces for the medium size but retains many of the same features as its larger sibling, including the UpLift compression technology, generous hipbelt pockets, and lash points for stashing trekking poles or other gear on the outside of your pack. In the end, the two serve very different functions: the 70-liter version we tested is the standard for most multi-day backpacking trips, while the 35-liter Traverse functions as a large daypack or a possible minimalist option for an overnight trip. 

Women's-Specific Version
We tested the men's version of this pack, but the REI Traverse also is available in women's 65-liter and 35-liter versions with similar builds. Compared to the Traverse 70 tested here, the women's Traverse 65 costs the same at $249 and sports an identical feature set and overall construction (albeit with a 5-liter-smaller capacity). The major differences are in sizing and weight: the women's pack fits smaller torso lengths and waists and clocks in at 4 pounds 11 ounces for a size small (it's also available in extra-small and medium sizes).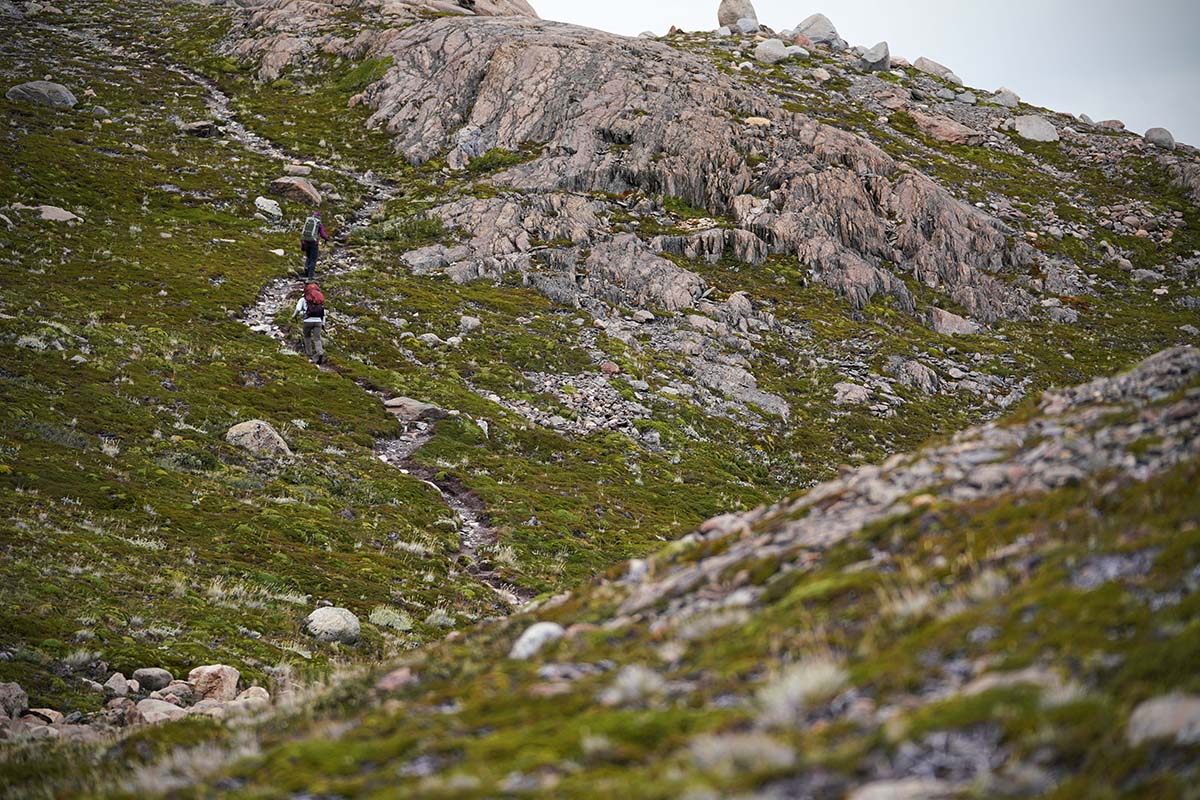 What We Like
A super comfortable pack, even when hauling heavy loads.
Impressive support, ventilation, and build quality.
A good value at $249.
We like the small tweaks from the previous version, including improved organization and less obtrusive lumbar padding. 

What We Don't
Heavy at nearly 5 pounds. This is a pack for those who value comfort and features over moving fast and light. 
Slight fraying after heavy use. We're unsure as to the cause, but did notice wear and tear on two identical points near the arch of the frame.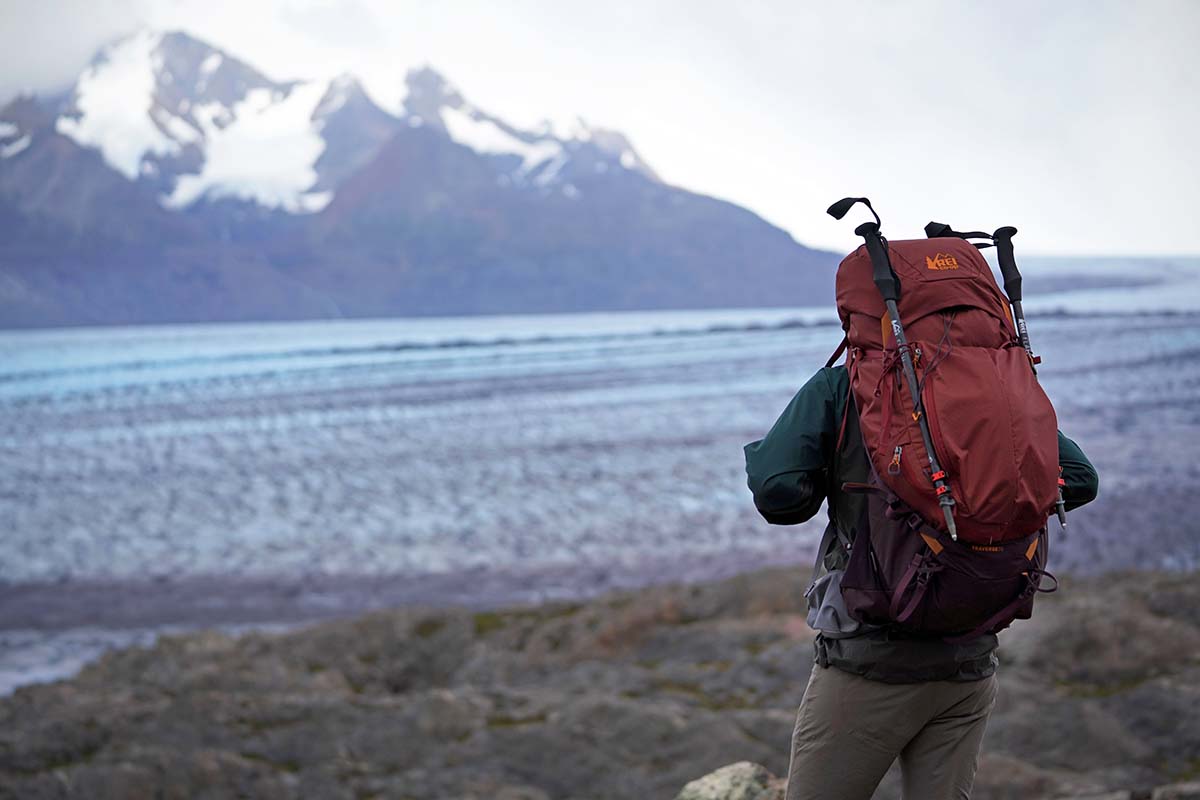 Comparison Table
| Pack | Price | Weight | Fabric | Capacities | Access | Pockets |
| --- | --- | --- | --- | --- | --- | --- |
| REI Co-op Traverse 70 | $249 | 4 lb. 14 oz. | Nylon (200D & 420D) | 35, 70L | Top, front | 11 exterior |
| Gregory Baltoro 75 | $330 | 4 lb. 15.4 oz. | Nylon (210D) | 65, 75, 85L | Top, front | 10 exterior |
| Osprey Aether AG 70 | $310 | 5 lb. 3.4 oz. | Nylon (210D & 500D) | 60, 70, 85L | Top, front | 7 exterior |
| Osprey Atmos AG 65 | $270 | 4 lb. 9 oz. | Nylon (100D & 630D) | 50, 65L | Top | 8 exterior |
| Gregory Paragon 68 | $250 | 3 lb. 11.4 oz. | Nylon (210D & 420D) | 48, 58, 68L | Top, side | 6 exterior |

The Competition
The REI Traverse falls into our heavy hauler category, meaning that it's designed for larger and heavier loads than lighter and smaller packs. This puts it head-to-head with popular models like the Gregory Baltoro and Osprey Aether AG. Starting with the Baltoro, you get a near-identical weight (4 lbs. 13.4 oz.) with 5 liters of additional capacity, as well as ample exterior pockets, zippered access to the main compartment, and a removable daypack. Both are capable options for hauling heavy loads, but if you're shuttling a lot of extras (think 50 pounds or more) or doing light mountaineering, the Baltoro gets the slight edge in carrying comfort. For typical backpacking trips, however, the Traverse is about $60 cheaper and the better value. 
Next up is the aforementioned Osprey Aether AG 70. Like the Traverse and Baltoro, the Aether AG features a strong frame, supportive and high-quality padding, and durable fabrics (in this case, 210D and 500D nylon). And again, this pack trades weight savings for features, including both top and front access, seven exterior pockets, and even a heat-moldable foam hipbelt. The Aether is the heaviest option of the bunch at 5 pounds 3.4 ounces, we think the added carrying comfort is worth the weight and cost penalties for extended outings or those carrying especially heavy loads (for more, see our in-depth Aether 70 review).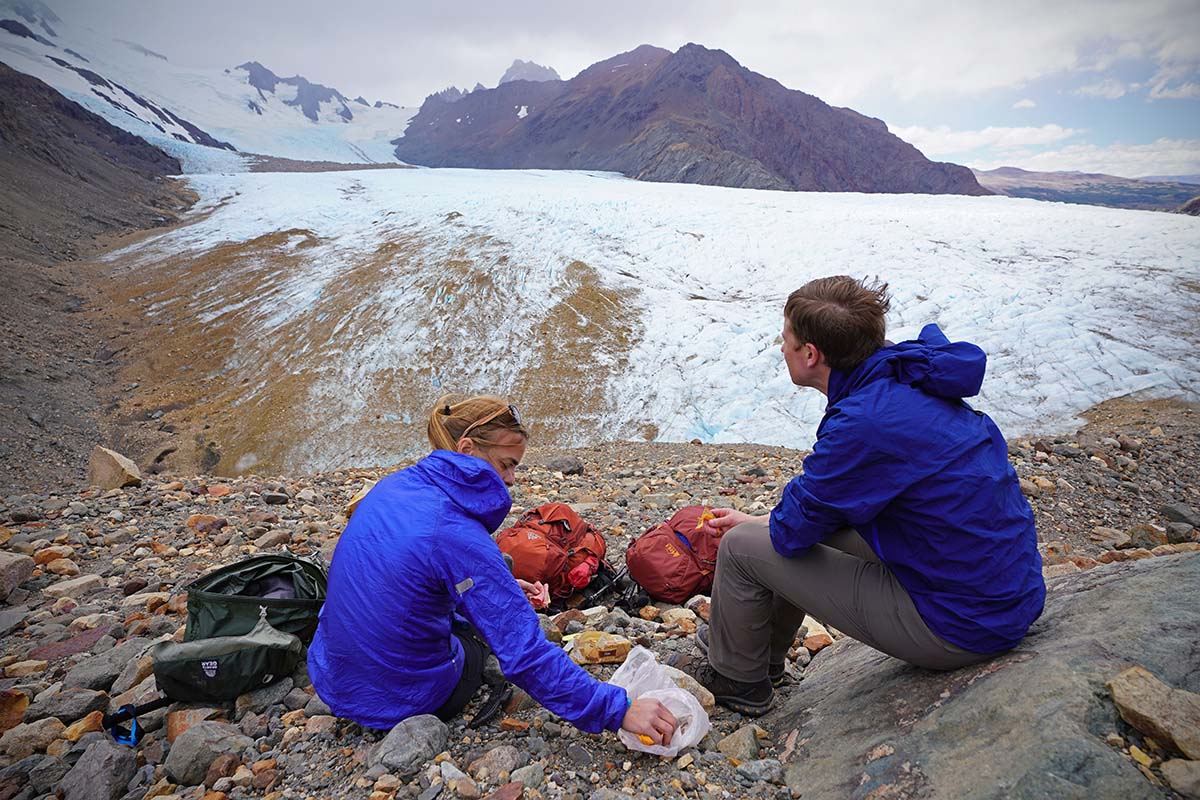 Stepping down a bit in carrying abilities, Osprey's popular Atmos AG 65 is another strong competitor to the Traverse. We like the 5-ounce weight savings you get with the Atmos (for 5 liters less of storage), and the mesh backpanel and hipbelt on Osprey's AG suspension is a class leader for ventilation and has an even closer feel than the padding on the Traverse. In terms of organization, the Traverse's J-shaped zipper access to the main compartment is a feature we really miss on the Osprey. Those with lightweight and compact gear likely will prefer the Atmos—and may even want to opt for the 50-liter model—but the Traverse has a slightly superior feature set, can carry a heavy load better, and is $21 cheaper.
Finally, Gregory's Paragon 68 was updated for 2020 and remains an incredibly well-balanced pack for everything from simple overnights to extended backpacking trips. It's a step down from the Baltoro mentioned above in carrying comfort, but the Paragon is lightweight at 3 pounds 11.4 ounces, priced the same at $250, and features functional organization and adjustability. Where the Paragon falls short of the Traverse is under serious weight: on a multi-day trip in Patagonia, our tester noticed that the thin hipbelt padding started to suffer under a 40-pound load. Given the superior hauling capabilities, we give the slight nod to the Traverse, but the Paragon isn't far behind and remains a solid choice for those traveling faster and lighter.
Editor's note: We usually provide a live price comparison table below our outdoor gear reviews, but the Traverse 70 is sold exclusively by REI. You can see the Traverse 70 page here and support us in the process. Thanks!
Learn More About Outdoor Gear