REI Co-op Quarter Dome 2
Price: $349
Minimum weight: 3 lbs. 5 oz.
Floor denier: 20D
Capacities: 1P, 2P, 3P
What we like: Good headroom and large vestibules at a competitive weight.
What we don't: Materials are on the thin side and only comes with nine stakes (ten are required for a basic set-up).
See the REI Quarter Dome 2
In years past, REI's Quarter Dome was on the cusp of breaking through in the lightweight tent market. It was a fantastic value for the weight, but the build quality was a step down from the competition and there were some compromises in the design. With a recent update, however, REI addressed these issues and the result is a great all-around tent—no price caveat required. All in all, the Quarter Dome 2 has a competitive sub-3.5-pound weight, functional interior, and mix of premium, lightweight materials. Below we break down the Quarter Dome's weight and packed size, livability and interior space, durability, weather protection, storage, and more. To see how the Quarter Dome stacks up, see our article on the best backpacking tents.

Performance
Weight and Packed Size
The REI Co-op Quarter Dome 2 has a minimum trail weight of 3 pounds 5 ounces, which is an increase of 4 ounces over the previous model but still competitive within the lightweight backpacking market. The popular MSR Hubba Hubba NX (3 pounds 8 ounces) and Nemo Dagger 2P (3 pounds 5 ounces) are nearly the same weight, although tapered shape of the REI isn't as roomy overall as those two tents. You can go lighter with a tent like the Big Agnes Copper Spur HV UL2 at 2 pounds 12 ounces, but that will cost you another $100. And for 2019, REI now offers the Quarter Dome in an "SL" (superlight) version for $319, which clocks in at 2 pounds 8 ounces (more in The Competition section below).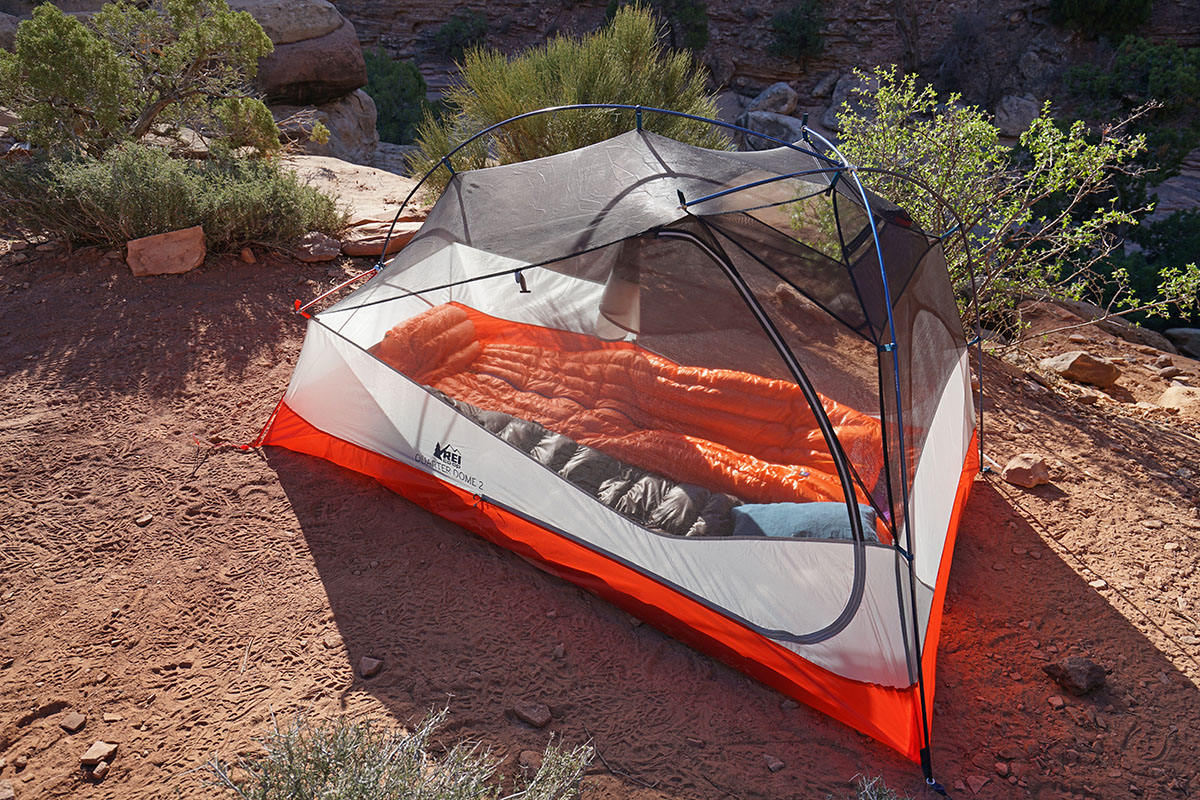 The Quarter Dome's packed size is very much reflective of its weight. At 7 x 18.5 inches, the newer model is 1.5 inches shorter than the previous version and 2 inches shorter than REI's popular Half Dome 2 Plus. We had no issues fitting the tent inside our backpacking packs, but those carrying a small-capacity bag may need to separate the tent body and rainfly from the poles. The two hubs do give it a somewhat thick diameter—the Copper Spur HV UL2 we had along on the same trip was a more compact 4 x 19.5 inches.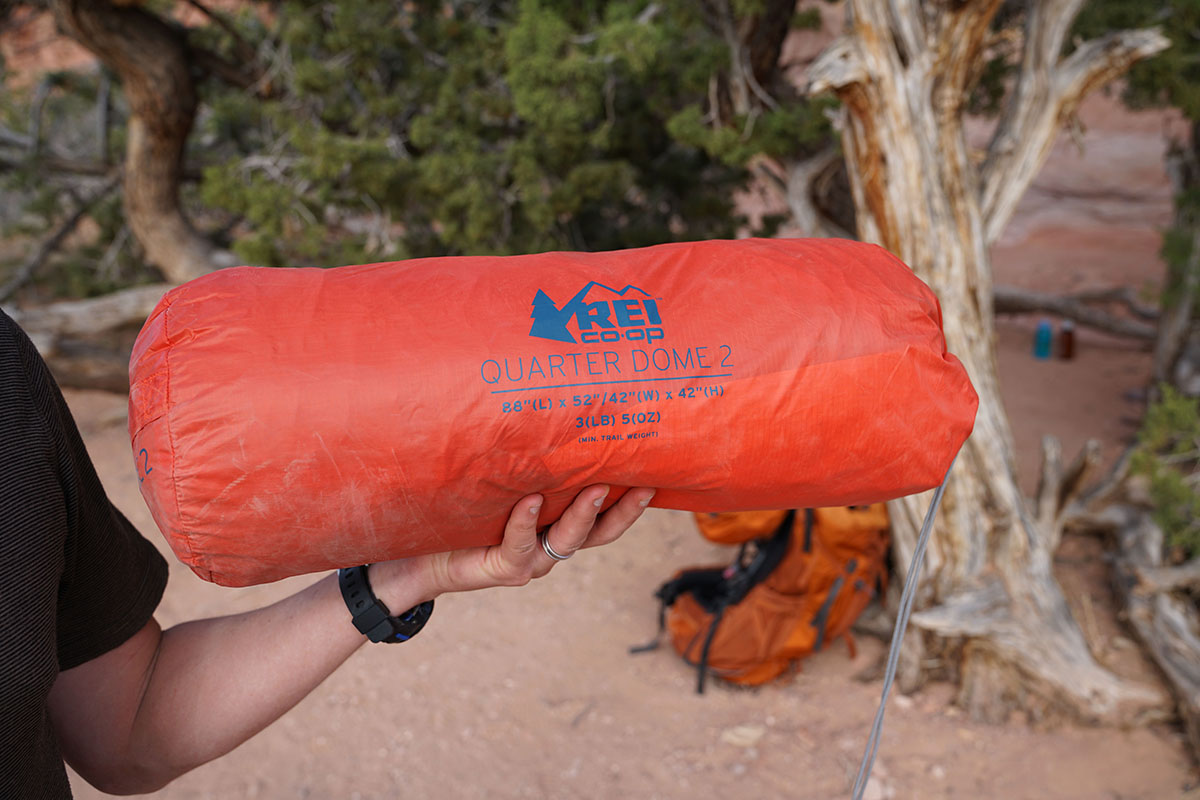 Livability and Interior Space
Unlike the previous generation, which was a complete revamp of the old T2 tent, the newest Quarter Dome 2 is much more livable. In particular, the pole structure opens up the interior with near-vertical walls on all sides, increasing space around the head and feet (REI claims by 28 percent and 23 percent, respectively). At the head end, this is most noticeable when two people sit up side-by-side (the peak height is a tall 42 inches). At the feet, the squared-off walls are less prone to hitting the footbox of our size long sleeping bag.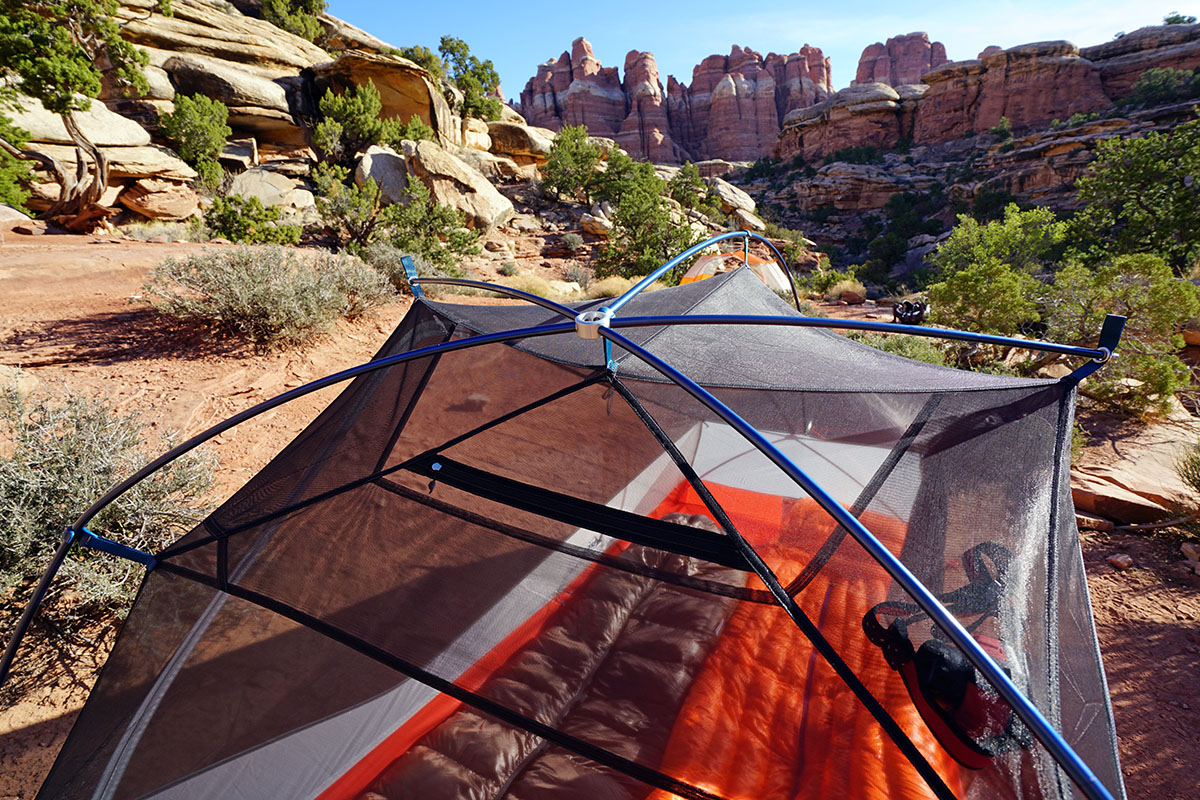 We do value the increase in usable space, but the Quarter Dome still is a weight-focused design with a fairly small footprint. The floor of the tent is listed at 52 inches at the head and tapers to 42 inches at the feet, and I measured the actual usable space inside as a few inches less at each end. As a result, our two regular-sized (20-inch-wide) sleeping pads took up nearly the entire width of the interior. It's a good idea to use mummy-shaped pads, and if you have two wide (25-inch mats) or just prefer a little more space inside, it's definitely worth considering the three-person version of the Quarter Dome.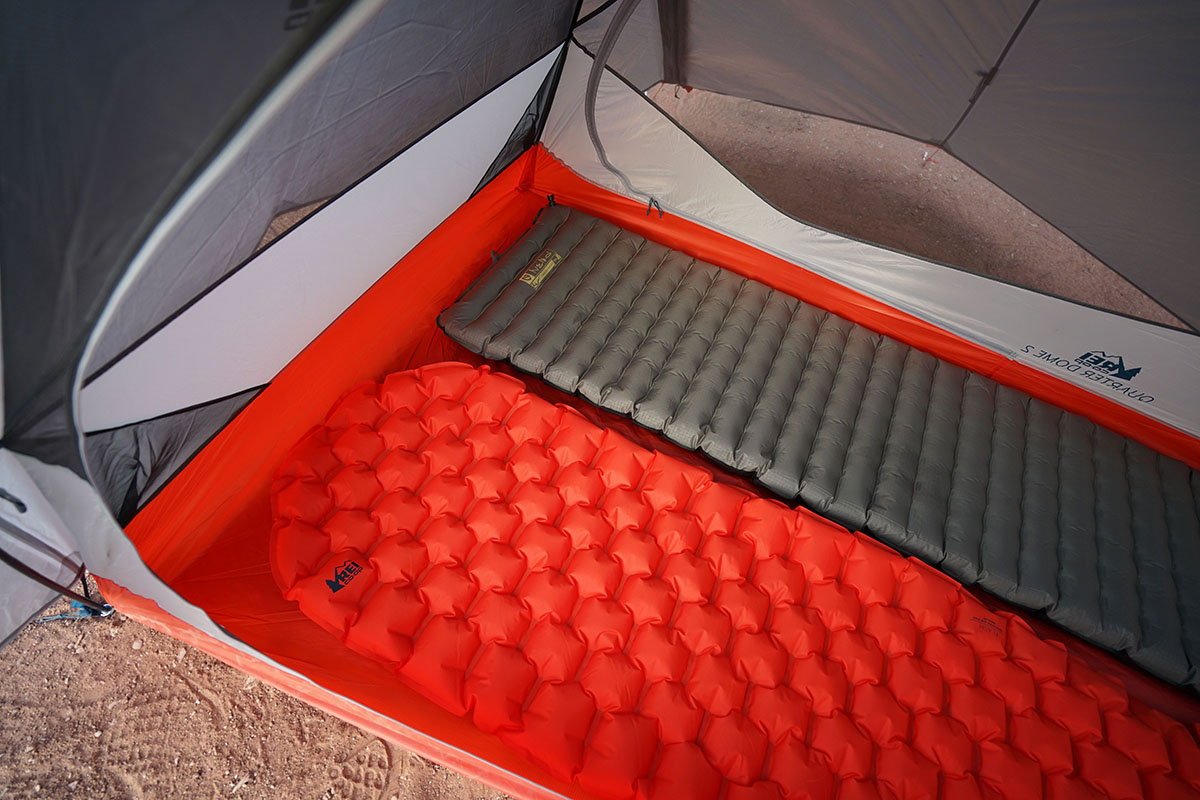 Durability
Right off the bat, it's readily apparent that REI placed a big emphasis on build quality with the Quarter Dome 2. Everything from the fabric and zippers to the stakes, which REI upgraded to DAC brand pegs last year, have a premium look and feel. That being said, the tent does use fairly thin materials as a means of keeping weight low. The tent body and floor are 20-denier ripstop nylon, and the rainfly is an even thinner 15 denier. This isn't out of place for a lightweight tent—Big Agnes' Copper Spur HV UL2 also uses a similar mix of 15- and 20-denier nylon—but the fabric does require extra care to avoid getting a puncture. Using the Quarter Dome footprint or making one yourself will help extend the tent's lifespan.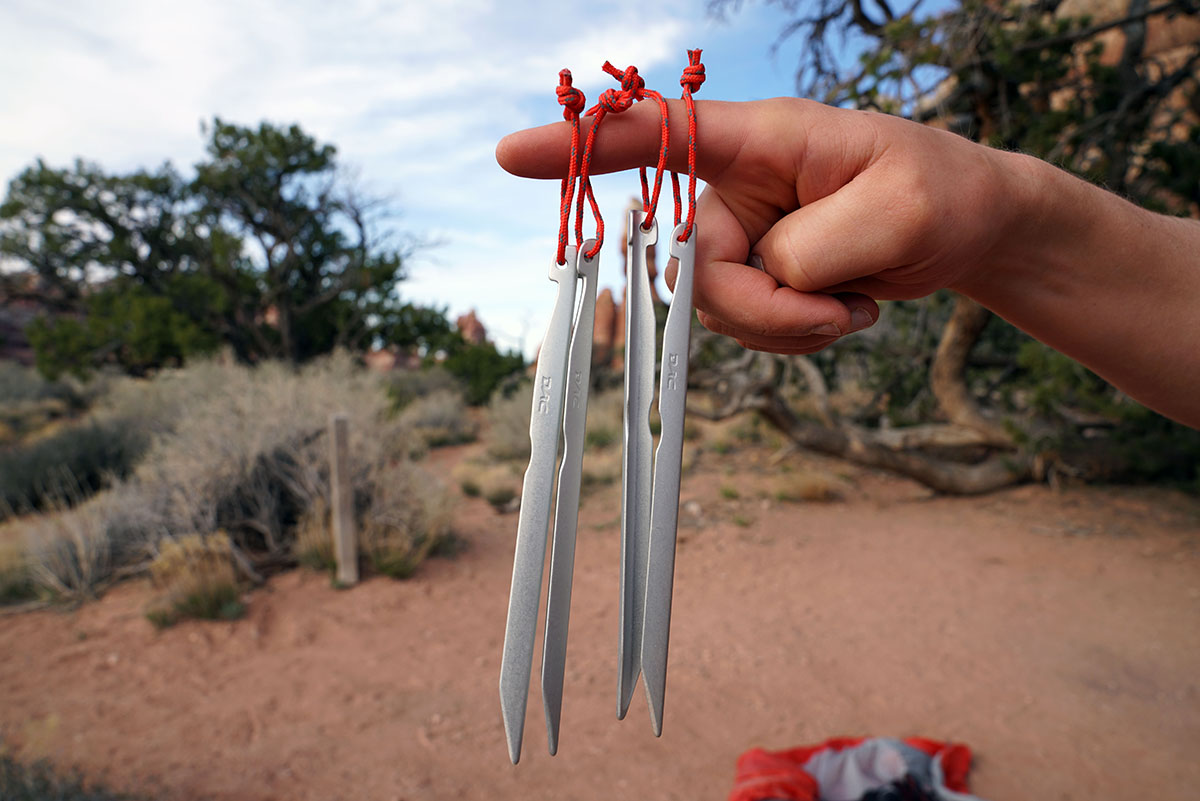 Weather Protection
The REI Quarter Dome falls in-line with lightweight backpacking tents in terms of weather protection. You get a full-coverage rainfly, waterproof bathtub-style floor that is tall enough to protect you from most wind, and enough guyout points to get a taut pitch. A nice benefit of the large vestibules (covered below) is that your pack, shoes, and whatever else you store outside is completely protected by the wide, waterproof shelter. We did notice that the tent was more prone to flexing in strong gusts of wind than the Copper Spur HV we tested alongside it, but proper use of the guylines makes the REI plenty sturdy for most 3-season use.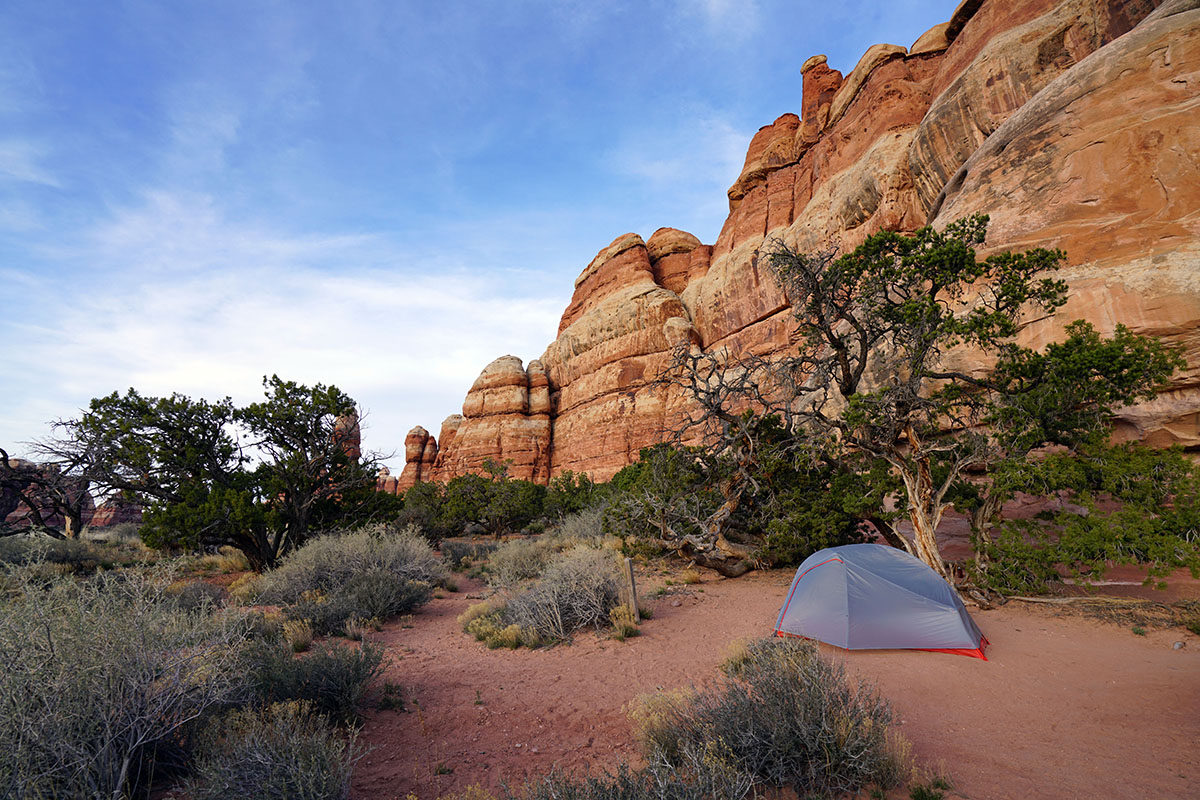 Ventilation
Most modern backpacking tents offer pretty good ventilation, and the REI Co-op Quarter Dome 2 is no exception. There is ample mesh along the upper portion of the tent body, and the double-wall construction leaves enough space between the inner tent and rainfly to encourage airflow and reduce condensation buildup. The Quarter Dome also has a roof vent in the rainfly at the top of the head end of the tent. And while this is a fairly common feature, REI includes a zippered opening to access the vent without having to go outside. If rain starts coming at you sideways in the middle of the night, this is a great way to quickly batten down the hatches.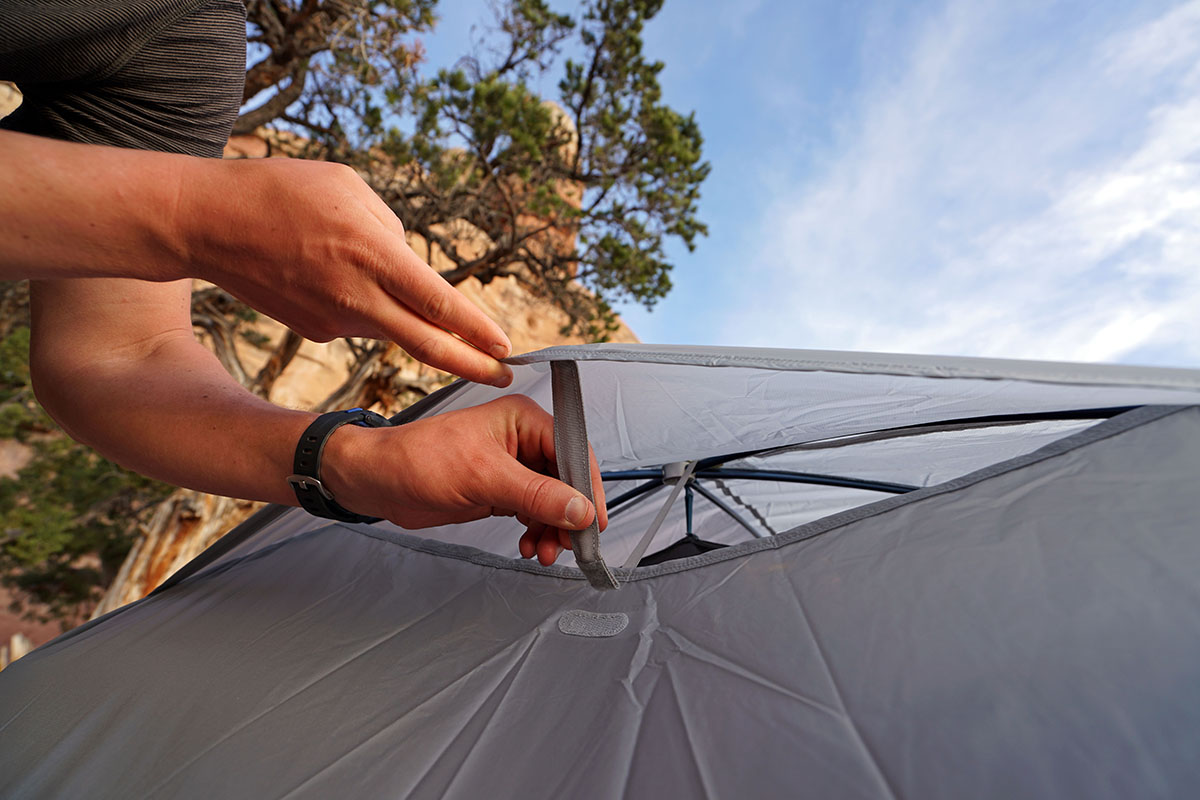 Storage
One of our biggest complaints with the previous Quarter Dome was its small vestibules, and REI made significant gains here with the latest model. At just 6.7 square feet each, the old triangular vestibules barely had enough space to accommodate a pack and hiking shoes without interfering with access to the tent's interior. But the updated vestibules are 10.75 square feet apiece, which is a very noticeable increase. Not only are they 4.5 inches larger at their widest point, the two-stake design also creates a more spacious "porch" right outside of each door.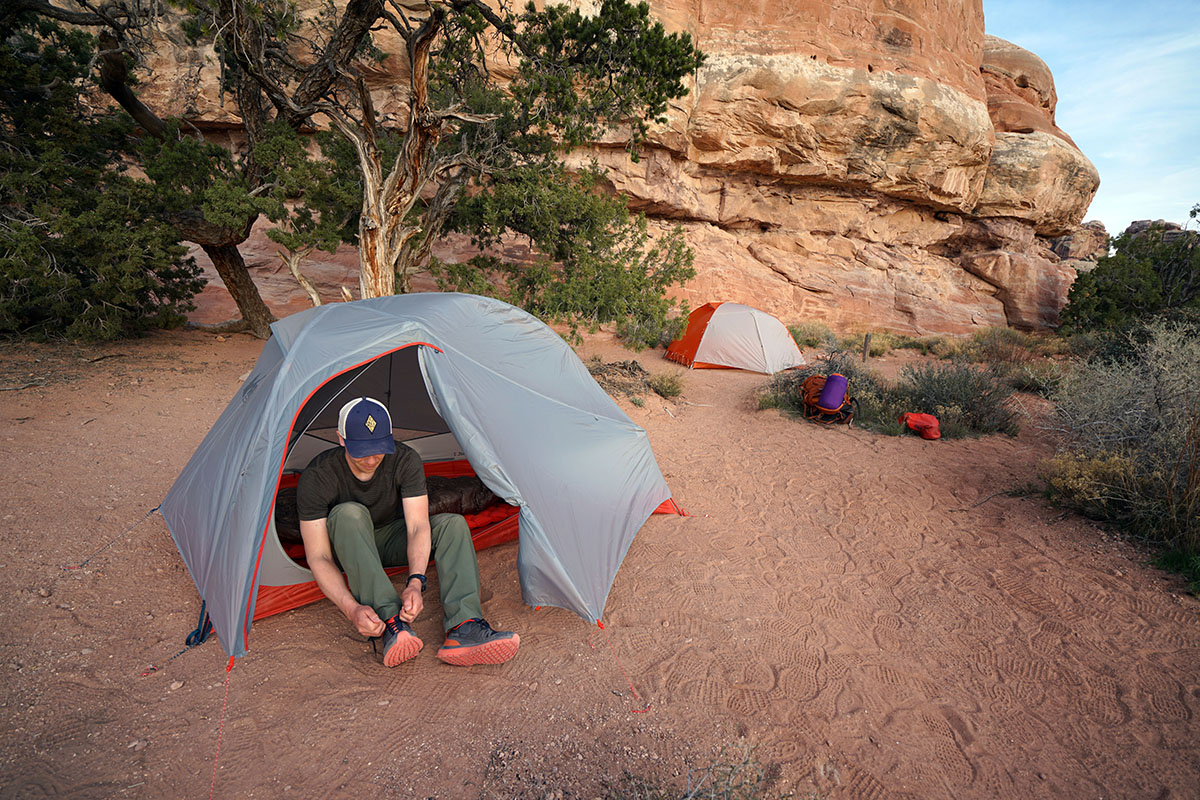 Storage on the inside of the tent is just as good. There are three large stretch pockets built into the ceiling that are conveniently located overhead, and you'll find two additional triangular pockets at head height near the front corners of the tent. Lastly, at every pole attachment point is a hang loop on the inside of the tent body for connecting a light. All in all, storage is a clear strong suit of the Quarter Dome 2.


Set up and Take Down
Setting up the REI Co-op Quarter Dome 2 is a simple process and can be done by a single person in only a few minutes. REI has attached instructions to the stuff sack, but those familiar with setting up a modern, freestanding tent likely won't need them. It's as easy as staking out the corners, connecting the color-coordinated poles and grommets, and clipping the poles and tent body together. The rainfly fits easily over the top and connects with color-matching buckles at each corner (a nice change from the cumbersome old system that required connecting a grommet directly to the base of the pole). Take-down is just as fast, and both are easy to complete in windy conditions.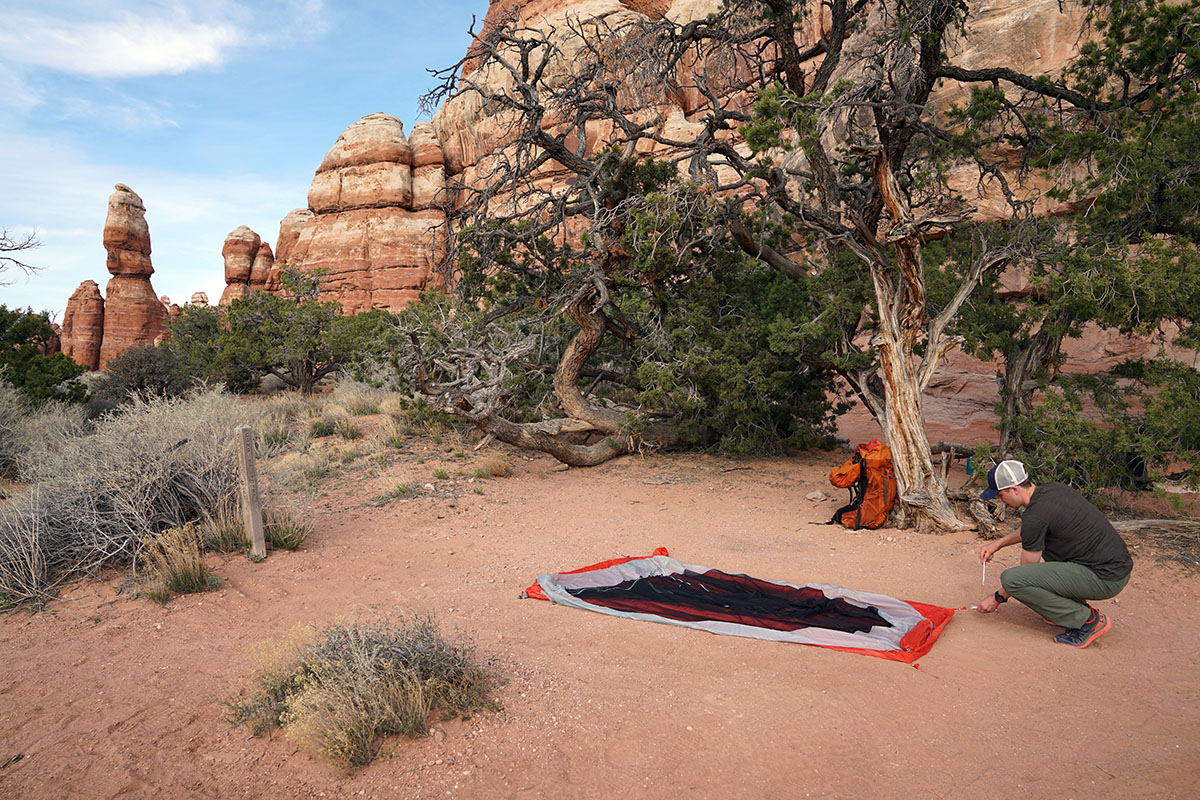 It's worth noting that the Quarter Dome comes with only nine stakes, which is one short of what we would consider necessary for a basic set-up. Eight pegs are required to stake out the corners and two vestibules, which means you have to decide between staking out either the head end or foot end of the rainfly (we confirmed this point with REI's customer service). It's not uncommon for a tent to be short on stakes—and it's always a good idea to bring along extras for connecting guylines in stormy weather—but we consider this to be an odd omission.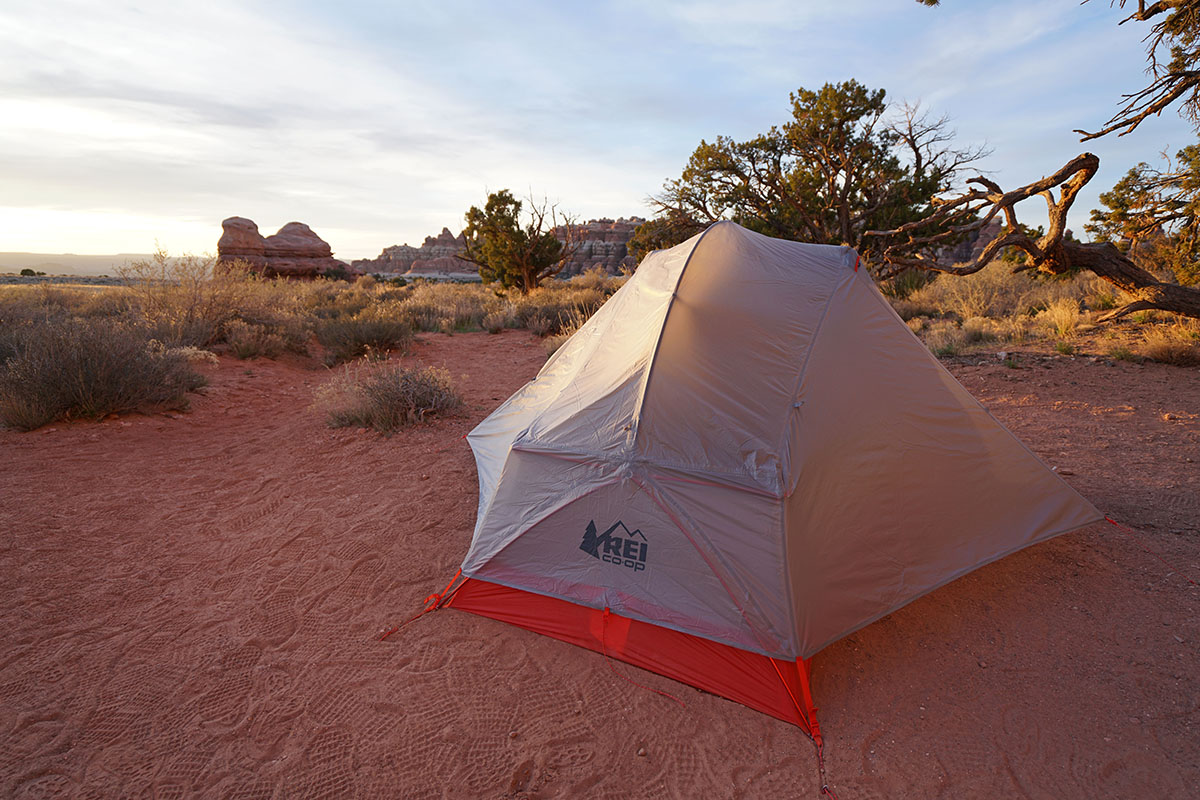 Other Capacities of the REI Co-op Quarter Dome
For this review, we tested REI's two-person Quarter Dome, and they also make the tent in one-person and three-person models. The Quarter Dome 1 costs $299, comes in at 2 pounds 7 ounces (14 ounces lighter than the 2P), and has significantly less interior space with only 18.9 square feet of floor area (vs. 28.7 for the Quarter Dome 2). If you need more space than the 2P—our two regular-sized sleeping pads took up most of its interior—then it's worth considering the Quarter Dome 3. The three-person tent comes with added weight (4 pounds 1 ounce) and cost ($399), but the roomy 40.9-square-foot interior and tall 44-inch peak height offer a major boost in livability over the Quarter Dome 2.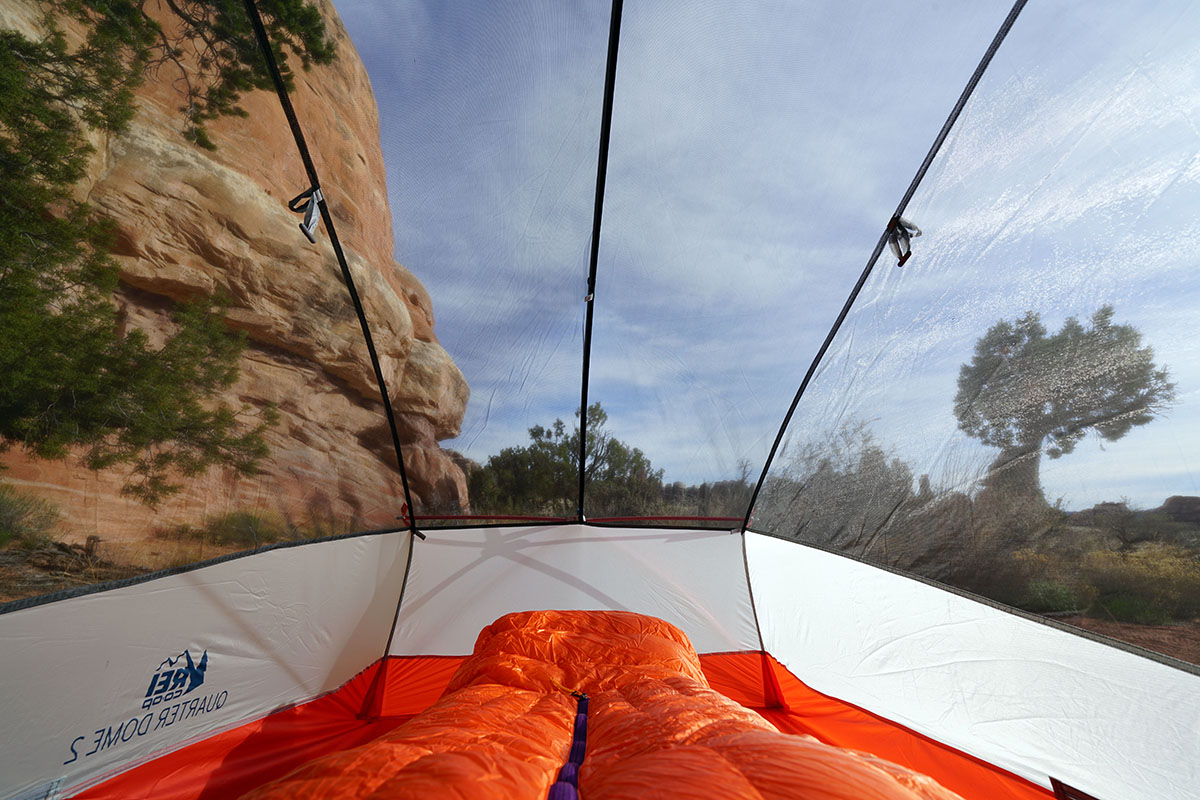 What We Like
The Quarter Dome has a tall peak height and relatively open interior with only a small gain in weight over its predecessor.
High-quality fabrics, tent poles, and stakes.
Very large vestibules for easy entry, exit, and storage.
Undercuts a lot of the competition by $50 or more.

What We Don't
The tent only includes nine stakes, but 10 are necessary for a basic set-up. 
The 20-denier floor is fairly thin and requires care.
The tapered design at the feet limits what shape and size of sleeping pads you can use.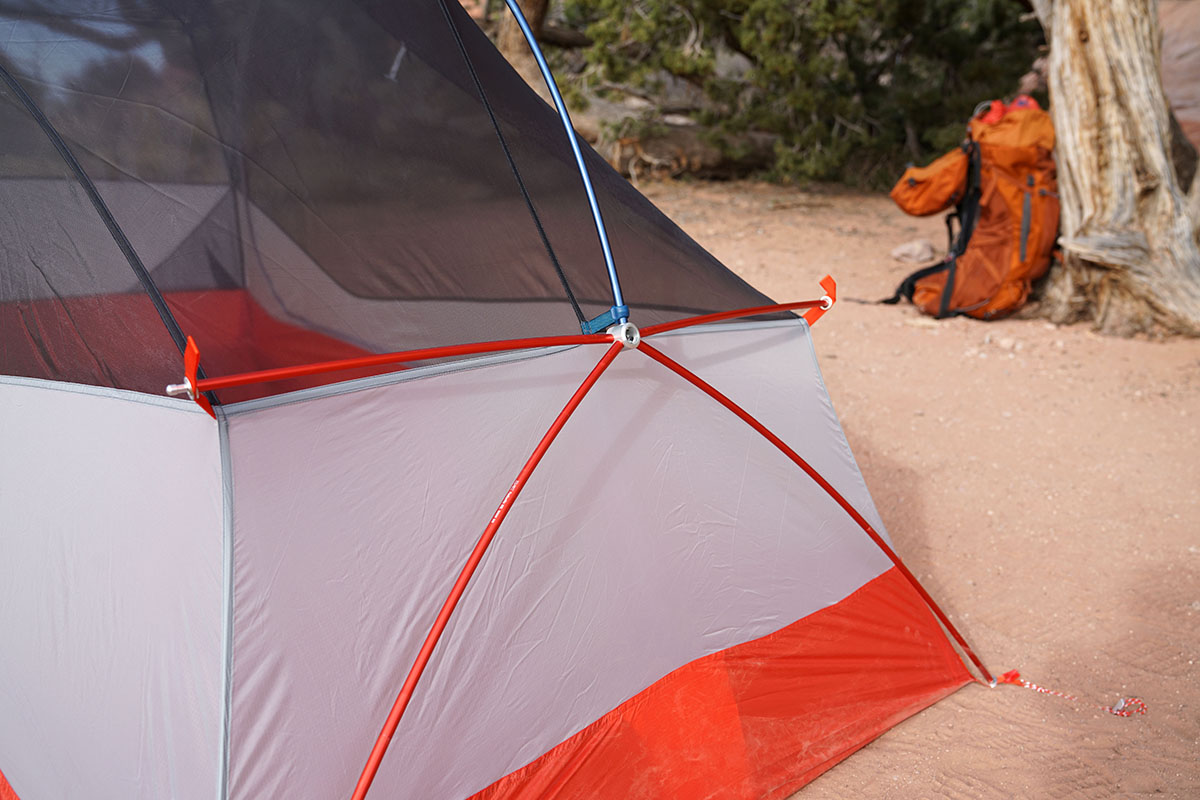 Comparison Table
| Tent | Price | Weight | Floor | Area | Height | Door(s) | Capacities |
| --- | --- | --- | --- | --- | --- | --- | --- |
| REI Co-op Quarter Dome 2 | $349 | 3 lbs. 5 oz. | 20D | 28.7 sq. ft. | 42 in. | 2 | 1P, 2P, 3P |
| REI Co-op Quarter Dome SL 2 | $319 | 2 lbs. 8 oz. | 15D | 28.7 sq. ft. | 38 in. | 2 | 1P, 2P |
| Big Agnes Copper Spur HV UL2 | $450 | 2 lbs. 12 oz. | 20D | 29 sq. ft. | 40 in. | 2 | 1P, 2P, 3P, 4P |
| Nemo Dagger 2P | $400 | 3 lbs. 5 oz. | 30D | 31.3 sq. ft. | 42 in. | 2 | 2P, 3P |
| MSR Hubba Hubba NX | $450 | 3 lbs. 8 oz. | 30D | 29 sq. ft. | 39 in. | 2 | 1P, 2P, 3P, 4P |
| REI Co-op Half Dome 2 Plus | $229 | 4 lbs. 14 oz. | 70D | 35.8 sq. ft. | 44 in. | 2 | 1P, 2P, 3P, 4P |

The Competition
The Quarter Dome reviewed here is an REI standout in the backpacking tent market, but earlier this year they released the new Quarter Dome SL (superlight). Both have the same floor dimensions, but the SL shaves a whopping 13 ounces from the equation at 2 pounds 8 ounces. How is that possible? Most notably, the pole design—similar to that of the ultralight Nemo Hornet and Big Agnes Tiger Wall—significantly reduces peak height (38 inches vs. 42 inches for the non-SL) and results in a semi-freestanding design that must to be guyed out at both corners of the footbox. Plus, you'll give up a bit of durability with the 15-denier fabric on the tent floor. Like many true ultralight designs, the SL is rather cramped for two, but we love the weight and price at $319.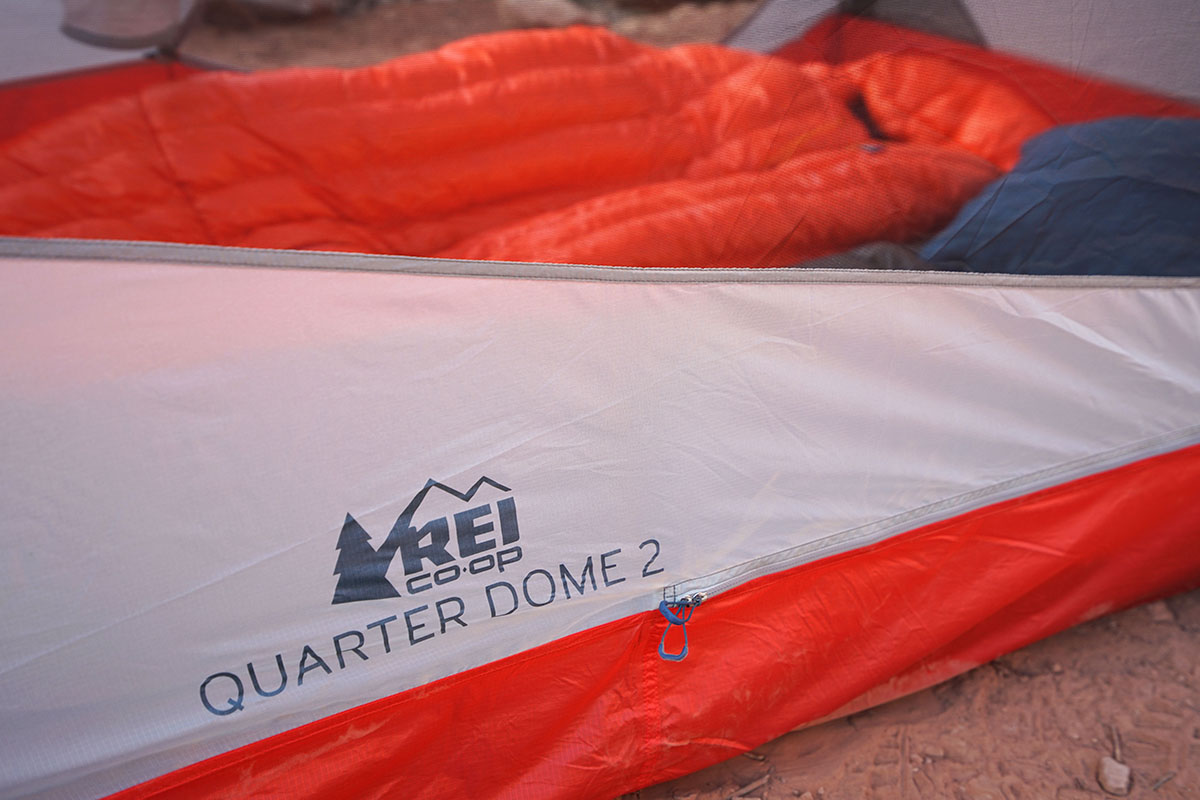 Another popular tent worth considering is the Big Agnes Copper Spur HV UL2. We tested this tent side-by-side with the Quarter Dome on a trip to Canyonlands and found that the two share a lot in common. Both have similar floor dimensions that taper towards the feet, and their near-vertical walls make the interiors tolerable for two (getting the three-person model still is best for comfort seekers). The Quarter Dome's pole design does open up more space at the foot end of the tent and it has larger vestibules (21.5 sq. ft. vs. 18 sq. ft.), but the Copper Spur gets the clear weight advantage with a 9-ounce savings. Further, we found that the Copper Spur was the slightly sturdier tent in wind, although both models should be fine for most 3-season conditions. Independent of price, we prefer the Copper Spur overall, but the $100 cost savings makes the Quarter Dome a better value play.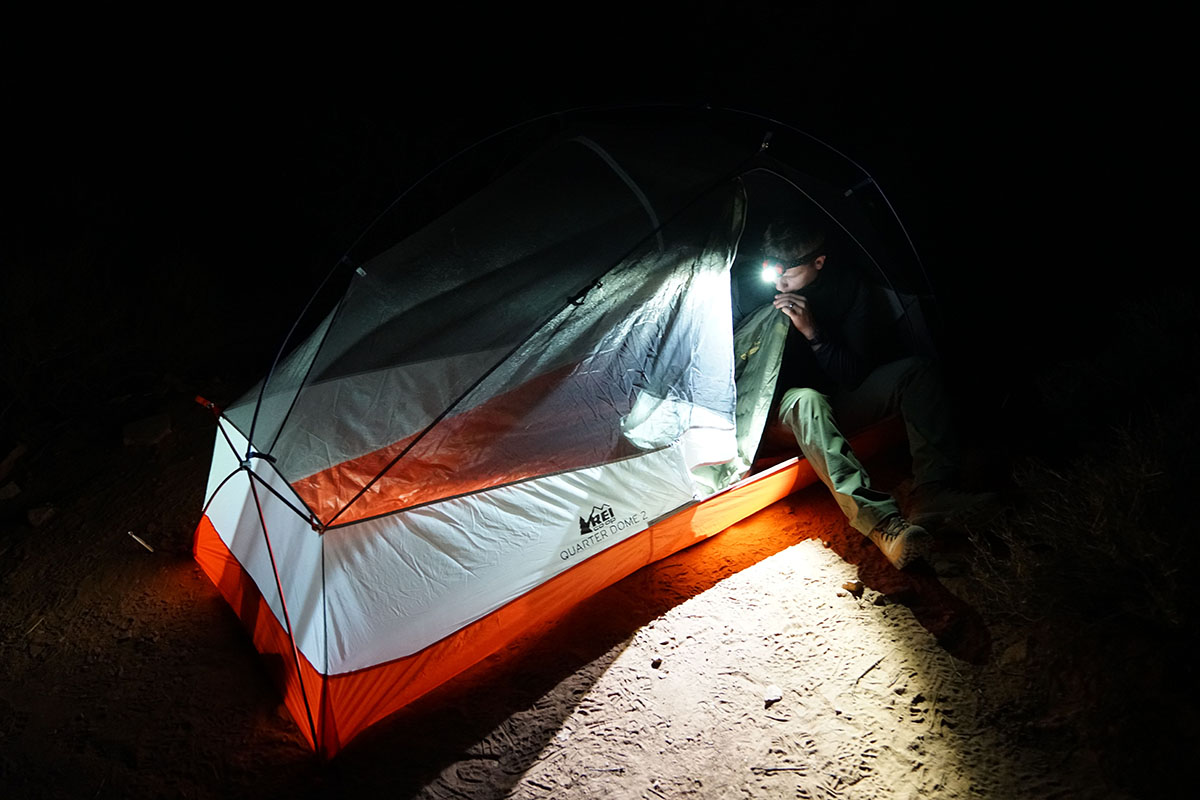 Two other strong alternatives to the Quarter Dome are Nemo's Dagger 2P and MSR's Hubba Hubba NX. All three tents offer two doors and vestibules, easy-to-pitch freestanding designs, and competitive weights. In fact, the Dagger is identical at 3 pounds 5 ounces and the Hubba Hubba NX comes in only 3 ounces heavier. However, unlike the Quarter Dome, which tapers in width and height at the foot end, the Nemo and MSR are symmetrical designs. This gives you more usable space inside and allows two people to sleep head-to-toe comfortably. Further, both the Dagger and Hubba Hubba NX use a thicker 30-denier floor fabric, which will be more durable over time. Where the Quarter Dome is the clear leader is value: it undercuts the Dagger by $50 and the Hubba Hubba NX by a significant $100.
REI's own Half Dome 2 Plus is a final—albeit significantly heavier—option to consider. At 4 pounds 14 ounces, it's considerably more tent than the 3-pound-5-ounce Quarter Dome 2. However, we love the roomy 35.8 square feet of floor space (7.1 more than the Quarter Dome), and durability is especially impressive with a 70-denier floor versus a much thinner 20 denier for the Quarter Dome. You also get a symmetrical design that doesn't taper at one end, which is preferable for two campers. In the end, it comes down to priorities. For weekend backpackers, comfort seekers, and those on budget, the Half Dome is a great value at $229. However, the lighter and thinner Quarter Dome makes more sense for those who put a premium on saving weight.
Editor's note: We usually provide a live price comparison table below our outdoor gear reviews, but the Quarter Dome 2 is sold exclusively by REI. You can see the Quarter Dome 2 page here and support us in the process. Thanks!
Learn More About Outdoor Gear