When REI Co-op received their Gore license in 2018, the Stormbolt GTX was one of the first products they released. Like many of their best designs, this shell hits a very desirable mix of price and performance, with a proven and protective 3-layer build at a very reasonable $279 price point. However, after testing the jacket in locations ranging from Patagonia to back home in the Pacific Northwest, our main complaint is that it's caught in between categories: the baggy fit, helmet-compatible hood, and long cut are tuned for winter sports, but the shell is too thin to trust in truly harsh conditions and around sharp equipment. Below we outline our experiences with the Stormbolt GTX. To see how it stacks up to the competition, see our article on the best hardshell jackets.
 
---
Table of Contents
---

Performance
Weather Protection
Considering its very reasonable $279 price tag, REI Co-op's Stormbolt GTX offers an impressive level of protection against the elements. The 3-layer Gore-Tex build is a proven design and something you typically don't find below the $400 price point. Combined with a relatively long cut, the shell is a reliable refuge from harsh winds, rain, and snow. We wore the Stormbolt backpacking along the Southern Patagonia Icefield, and while it couldn't match the Gore-Tex Pro-equipped shells we also had along for testing, the jacket never leaked or felt overly drafty. In heavy moisture, we have found that the durable water repellent (DWR) coating and cheaper face fabrics are more prone to absorbing water—they don't shed wet snow or substantial precipitation as well as pricier and thicker jackets like our Patagonia Triolet—but the seam taping and Gore-Tex membrane are plenty for most 3-season adventures.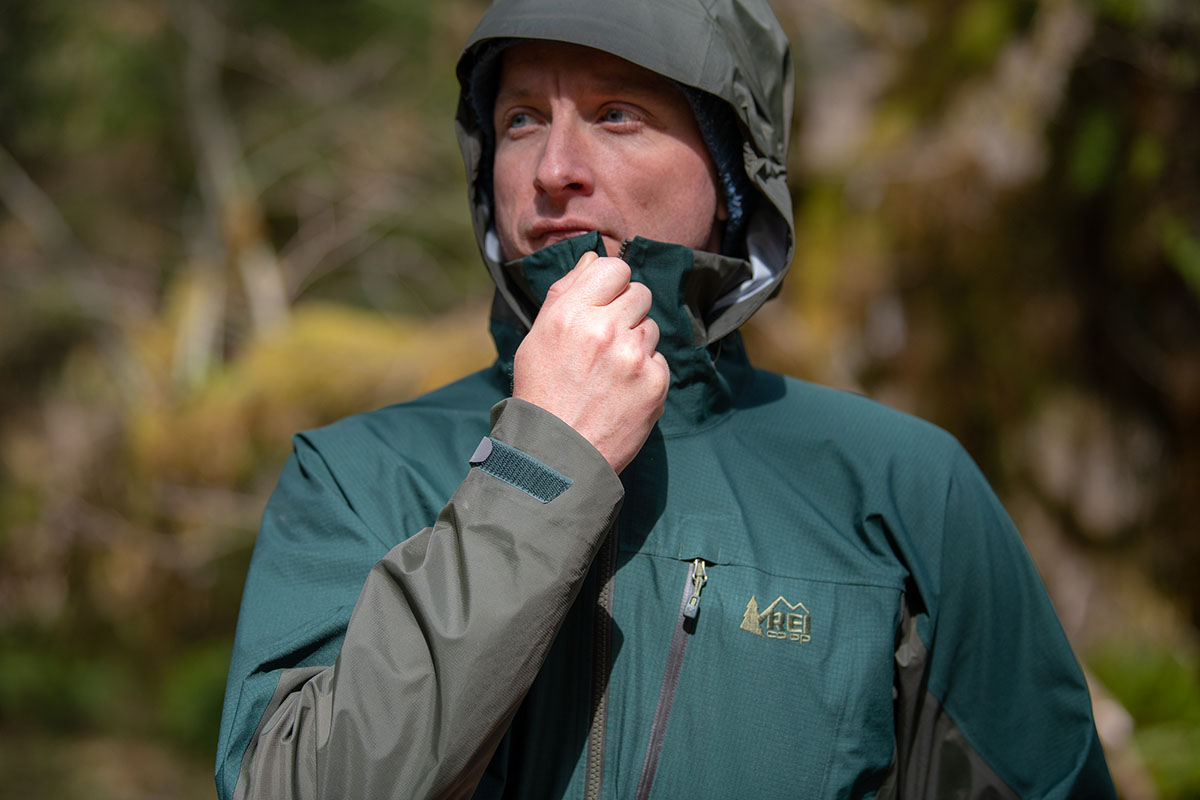 In looking at some of the finer details on the Stormbolt, REI did a solid job for the most part. The sleeves are long enough to cover the backs of your hands, and Velcro on the cuffs allows you to secure them over gloves or around bare wrists. Plus, the exterior pocket zippers and main center zip are all coated (again, something you don't often find at this price point) and have never failed for us. Finally, the hood is helmet-compatible and easily accommodates lids for climbing, skiing, and cycling. We would have liked to see a thicker face fabric for skiing and true winter use (more in "Build Quality and Durability" below), but the Stormbolt's protective and trustworthy build puts it near the top of its class in the sub-$300 hardshell market.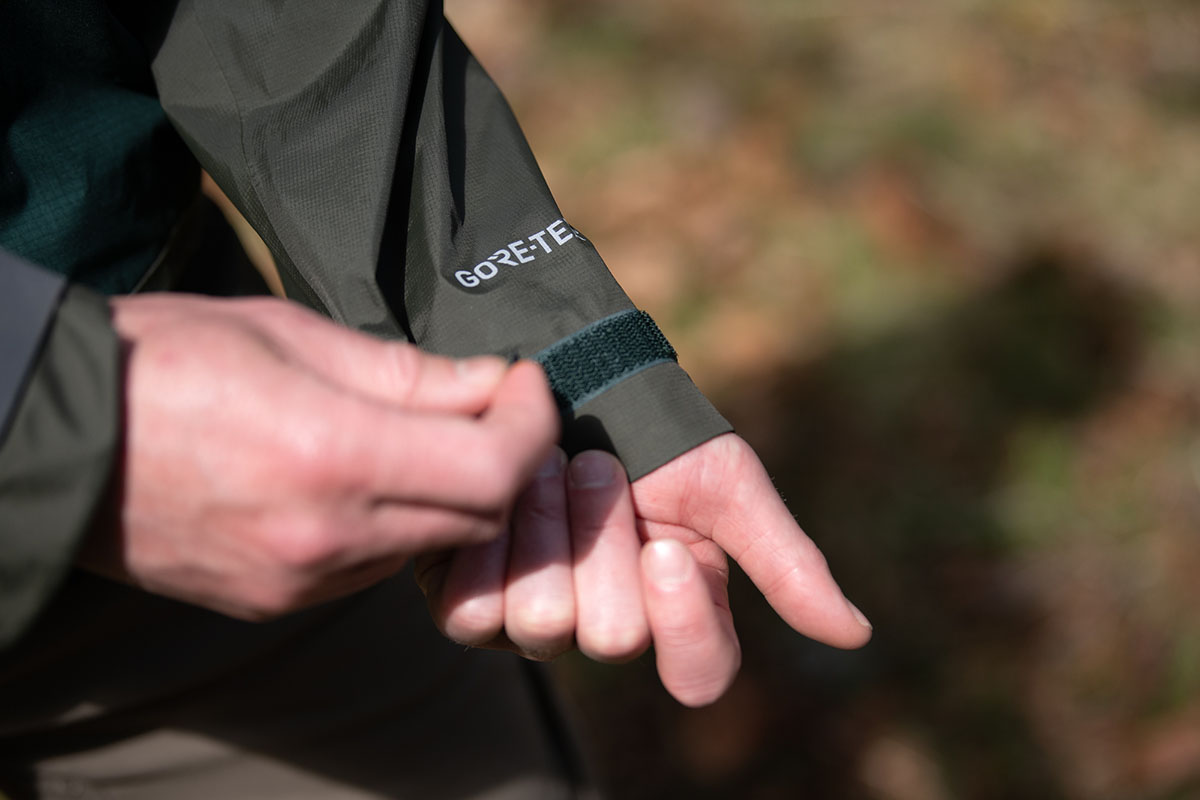 Breathability
Gore-Tex has always prioritized protection over breathability, and this largely holds true with the Stormbolt. Compared with air-permeable designs like Outdoor Research's Microgravity, the Stormbolt runs warmer and is more prone to overheating when you're working hard on an extended climb (this was especially noticeable while backpacking). That said, the Stormbolt's thin build makes it a decent all-around ventilator, and the pit zips are extremely useful for dumping heat quickly. All told, it's fully serviceable for hiking and lower-output uses, but if you're prone to running warm (like myself), you'll likely only be able to keep it on for high-effort activities in chilly conditions.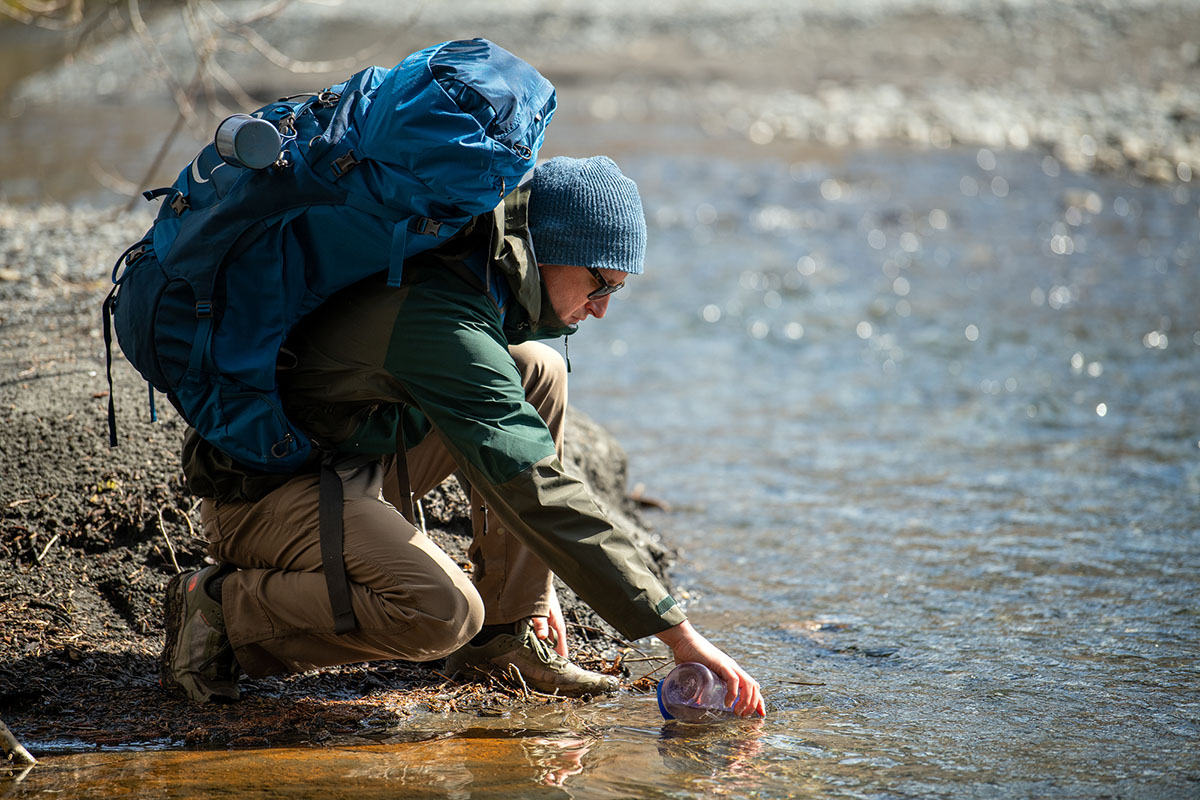 Weight and Packability
At 14.8 ounces for my men's medium (0.2 oz. heavier than its listed weight), the REI Co-op Stormbolt GTX is highly competitive in the hardshell market. For reference, Arc'teryx's Beta LT and Black Diamond's Highline Stretch are a little lighter at 13.9 ounces and 12.7 ounces respectively, but the Beta but sacrifices a pocket, and the BD is thinner and a step down in all-out protection (and both cost more than the Stormbolt). Other competitors include Outdoor Research's Microgravity, which weighs around the same at 14.6 ounces, and Patagonia's Triolet, which is heavier at 1 pound 3.4 ounces but far more capable for demanding winter and skiing use. All in all, however, the Stormbolt's weight is very impressive given its 4-season-ready build. And as far as packability goes, you can roll the jacket down into its hood and cinch to compress it fairly well (there's no stuff pocket or sack), but it's bulkier than many others in its class, including the heavier Triolet.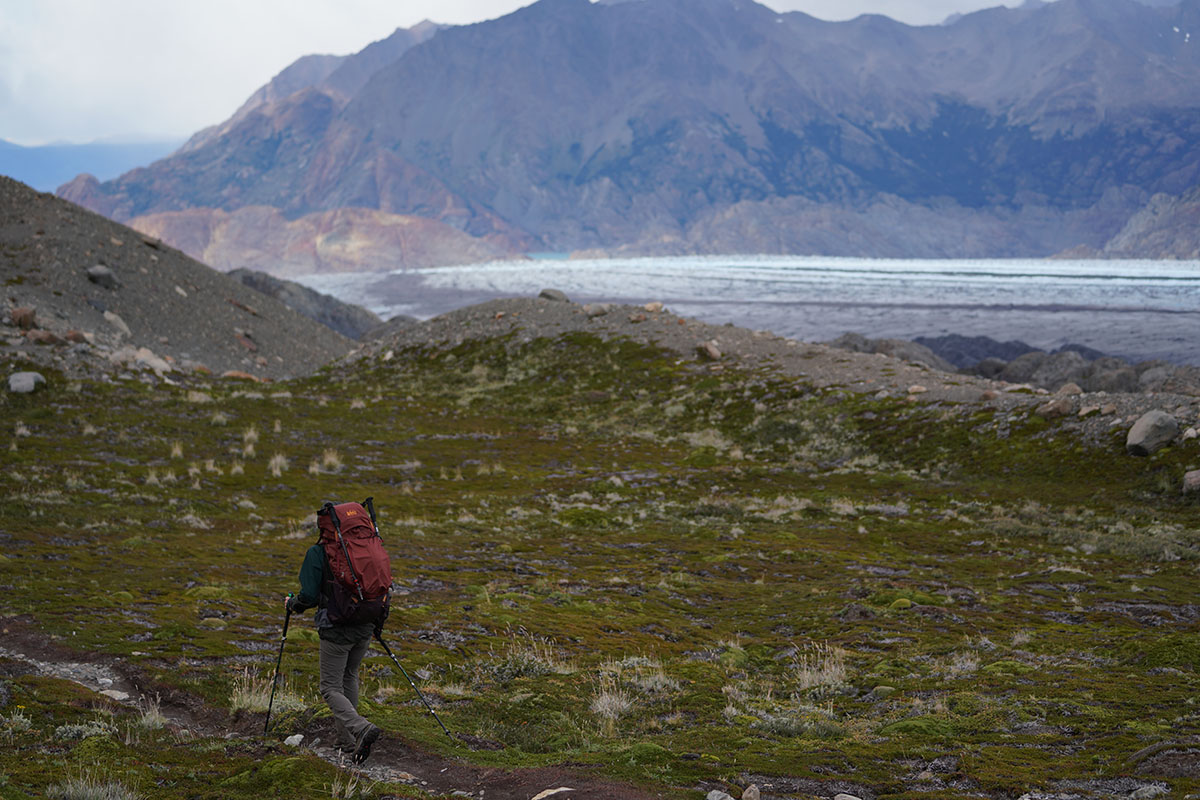 Comfort
Gore has been improving their comfort of late with technologies like their C-Knit backer and latest Paclite Plus, but the REI Co-op Stormbolt is more of a throwback. We wouldn't categorize it as uncomfortable, per say, but the shell is fairly stiff and crinkly, and the interior lining has a familiar (read: rigid) 3-layer Gore-Tex feel. As a result, it feels a little clammy and far less supple than shells equipped with C-Knit, although you won't notice when layering over a long-sleeve layer. And on the bright side, REI wisely incorporated some thin micro-fleece along the back of the neck and front of the collar for a nice dose of next-to-skin softness. A final knock on comfort is the jacket's large and baggy fit (more on this below), which detracts from overall mobility when wearing only a light baselayer underneath. To be fair, we never dealt with pinch points or restrictions during activities ranging from downhill skiing to backpacking across steep and rugged terrain, but the added room at the torso and shoulders is pretty noticeable.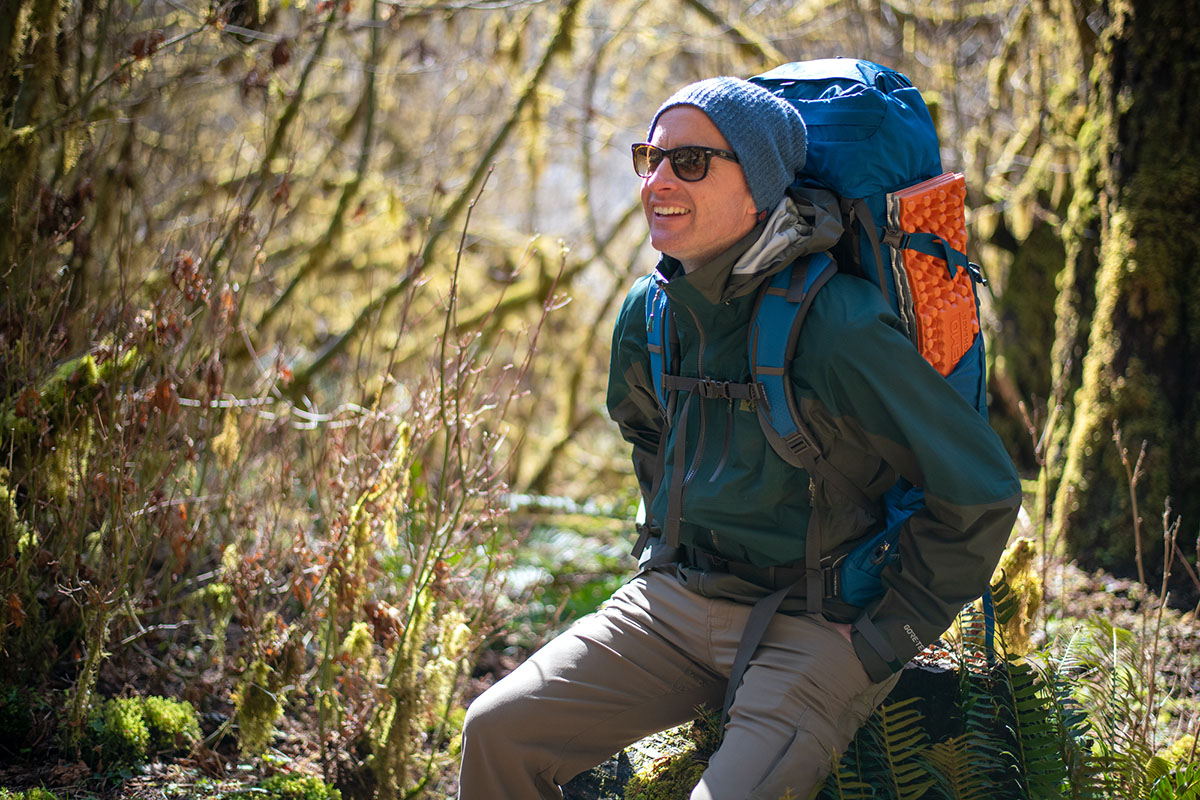 Build Quality and Durability
Right off the bat, we'll note that finding a 3-layer Gore-Tex shell for less than $400 is pretty rare, so it's hard to be overly critical of the $279 REI Stormbolt. However, we did have some quibbles with the overall build. The biggest is the face fabric, which is less sleek and more cheap-feeling than most Gore-Tex models we've tested. As we touched on above, the jacket's weather protection reflects this slight downgrade in quality, although you're still getting pretty good all-around protection for the price. In addition, you miss out on coated zippers for the pit zips, and the shock cord has a lower-quality and flimsier feel than that on our Patagonia Triolet. But there are plenty of highlights: the Stormbolt's main zipper has large teeth and has performed smoothly throughout testing, and we've had no failures with any part of the jacket to date, including the seam taping and Velcro cuffs.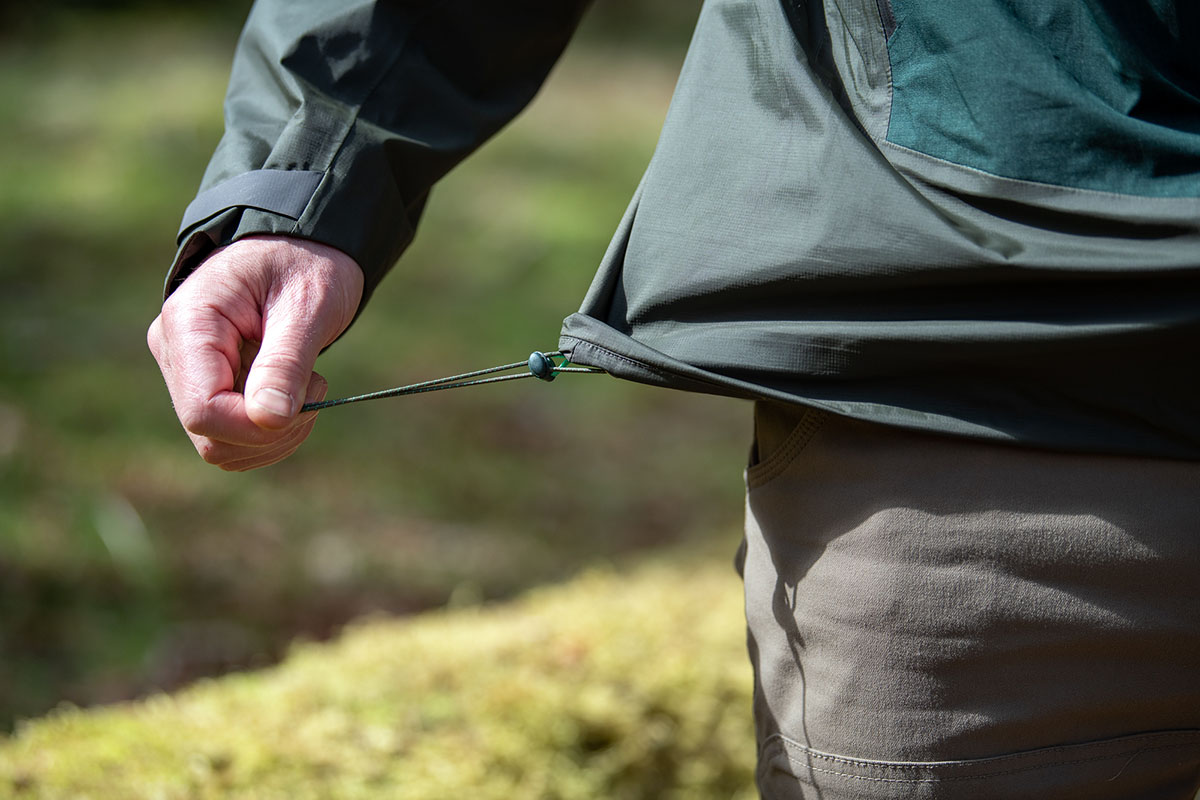 In terms of durability, the Stormbolt is pretty thin for a hardshell jacket, with 30-denier (D) ripstop fabric in the body and slightly thicker 40D nylon in high-wear areas like the shoulders. Along with its decent but not truly fortress-like protection, the Stormbolt lands in a somewhat awkward spot in the market. Despite having plenty of ski-ready features and a roomy fit for layering, it's simply not thick or tough enough for that kind of rough and abrasive use. If we were to suggest a change for a future update, upgrading to a thicker face fabric (like the 75D Patagonia Triolet) would be a game-changer and make it fully capable in winter. That said, as a 4-season hiking jacket (including snowshoeing), the Stormbolt is a totally viable option—provided the baggy fit doesn't impact your mobility too heavily when wearing lighter layers underneath.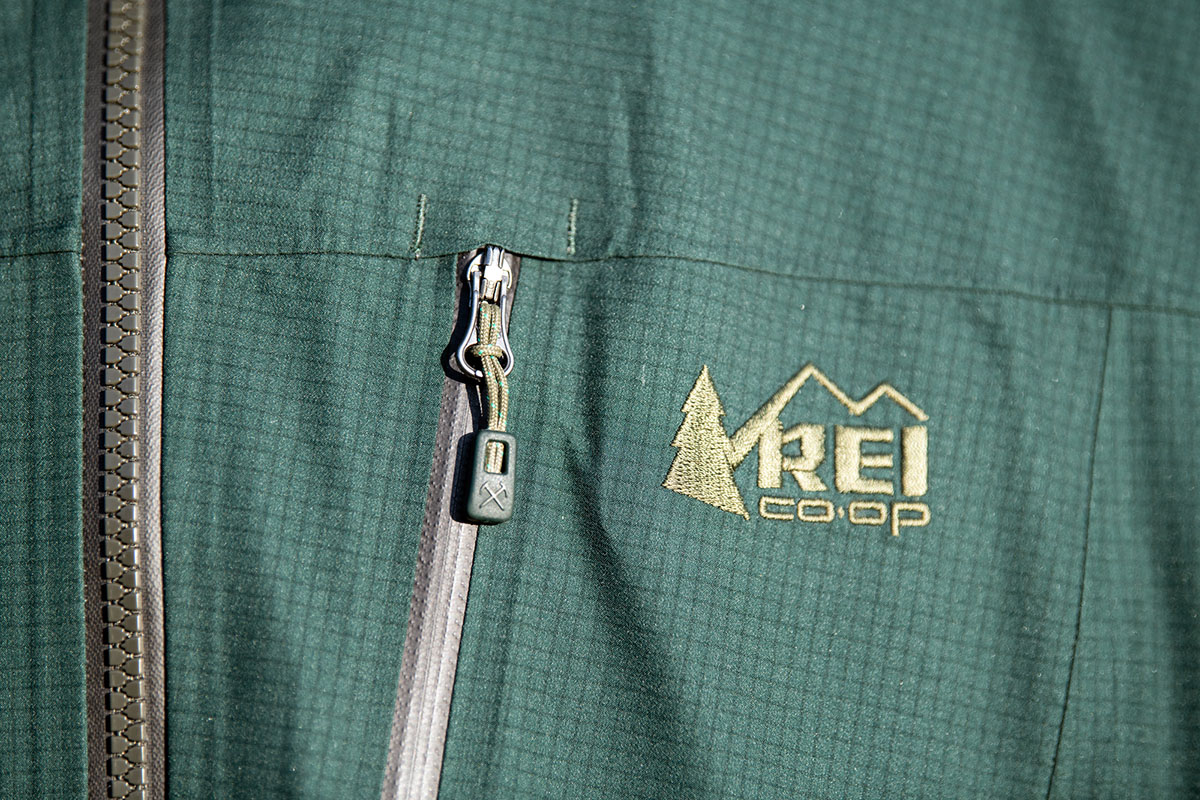 Key Design Features
In terms of storage, the Stormbolt is adequately appointed for stowing the essentials with three exterior pockets. The chest pocket is large enough to fit my iPhone 11, although I would prefer it were on the interior for added protection against moisture. I'd also like to see an interior mesh dump pocket for quickly stashing smaller items, but it's not a deal-breaker by any means. Rounding out the layout, the two hand pockets have coated zippers and are set high enough to not interfere with the hipbelt of a backpacking pack. They're not particularly wide (gloved hands just barely fit), but they're very tall (they reach the top of my chest) and can accommodate decently large items like gloves.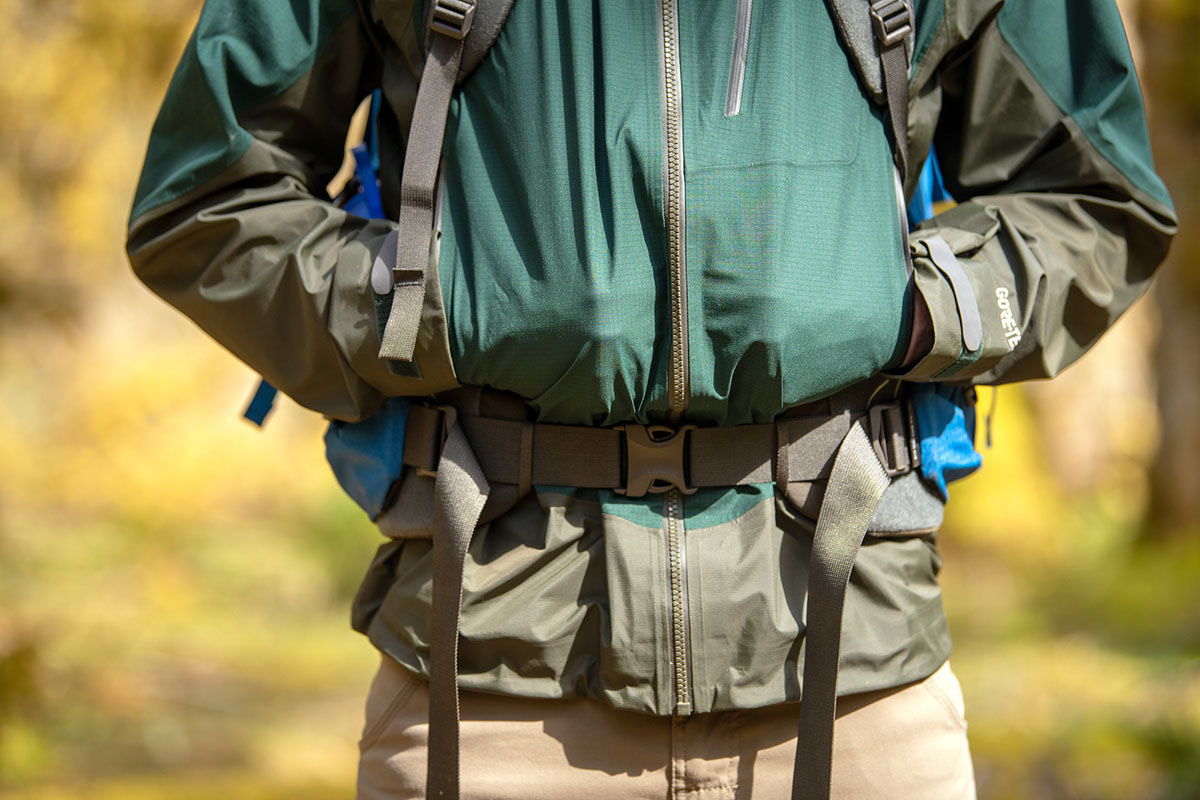 I have mixed feelings about the Stormbolt's hood. On one hand, the helmet compatibility is great for multi-sport use and fits skiing, climbing, and mountain biking lids. Like many premium designs, you also get three points of adjustment (one in the back and two at the front), plus a generously sized brim that does a nice job keeping moisture from dripping down onto your forehead and face.
That said, when you're not wearing a helmet and need to cinch it down, the hood does feel fairly unwieldy. No matter how I adjusted the hood, the brim would dip down and eventually cover the top of my eyes. Wearing a ball cap solves this issue, but it's a pain for daily use. In my opinion, trimming the brim back slightly would be a helpful change that wouldn't too heavily impact performance.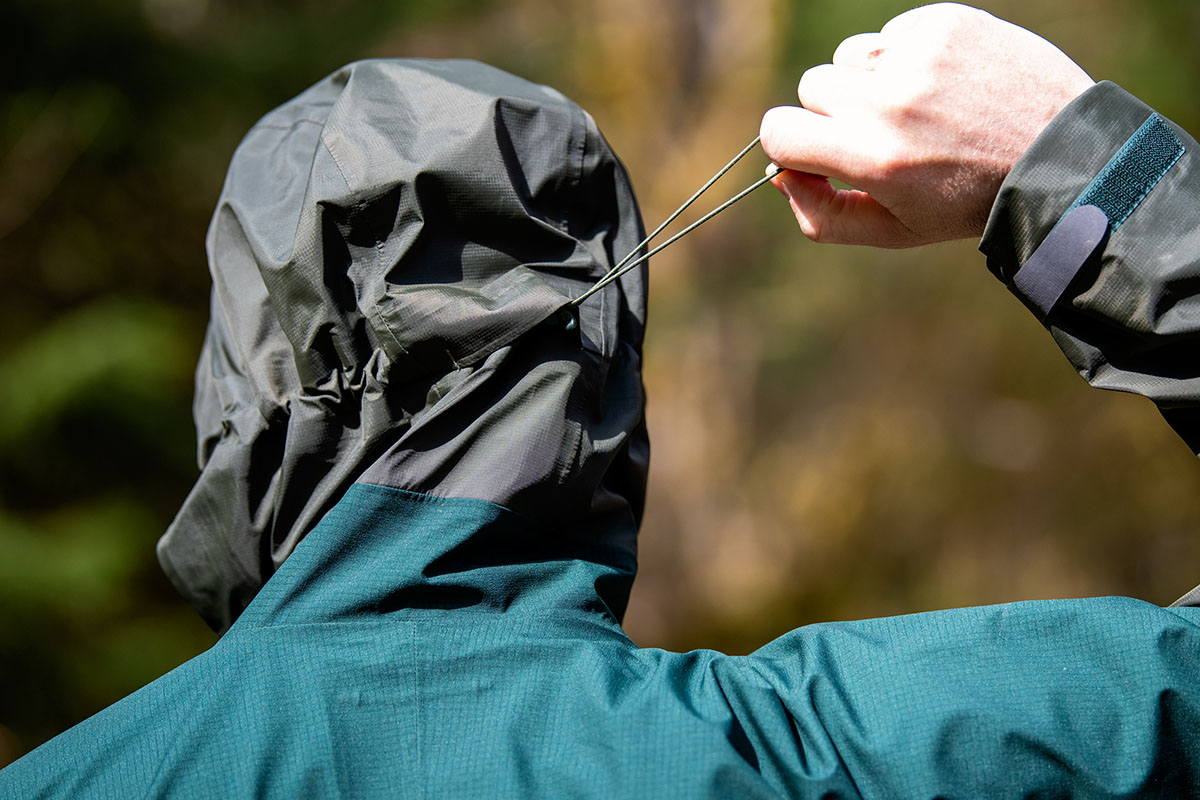 Fit and Sizing
As we've touched on throughout this review, the REI Co-op Stormbolt fits on the large and baggy end of the spectrum. I wear a men's medium in nearly all waterproof shells (for reference, I'm 5'9" 155 lbs.), and the Stormbolt is nearly ski jacket-like on me. The long cut and fairly generous sleeves are nice for added coverage, but there's a ton of extra room in the torso and shoulders, and it's uncomfortable wearing the shell over just a baselayer. The fit is far better when pairing it with a lightweight down jacket or fleece, but I recommend trying the jacket on before you buy to ensure it will work with your preferred layering system.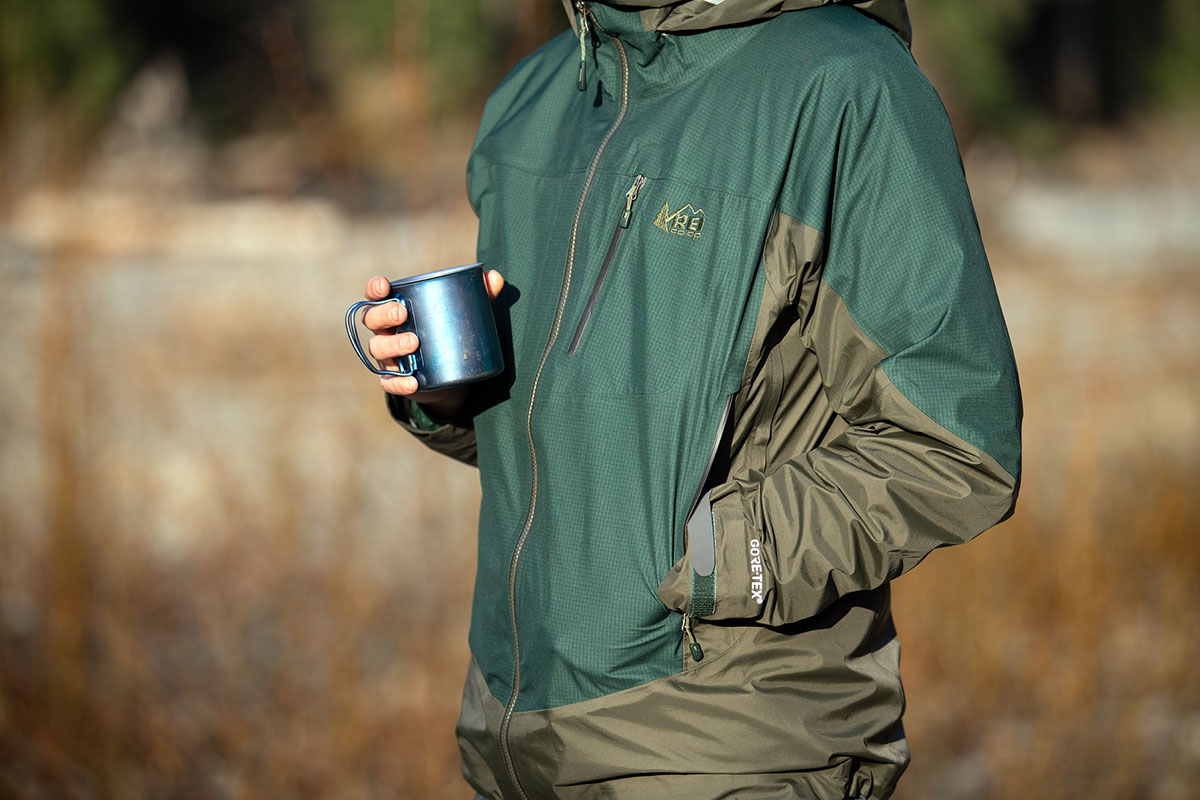 Sustainability
REI is known for their sustainability practices, and the Stormbolt GTX Jacket incorporates a couple of their key measures. First, the jacket is produced in a Fair Trade Certified factory, meaning that workers are being compensated fairly and have access to safe working conditions, and the factory itself is meeting certain environmental standards related to chemical use, waste disposal, and energy and water usage. The Stormbolt also utilizes bluesign-approved fabrics, which have been certified as safe for workers, consumers, and the environment. There's still room for improvement—the Stormbolt doesn't use recycled materials or a PFC-free DWR coating—but we nevertheless appreciate the steps REI has taken thus far.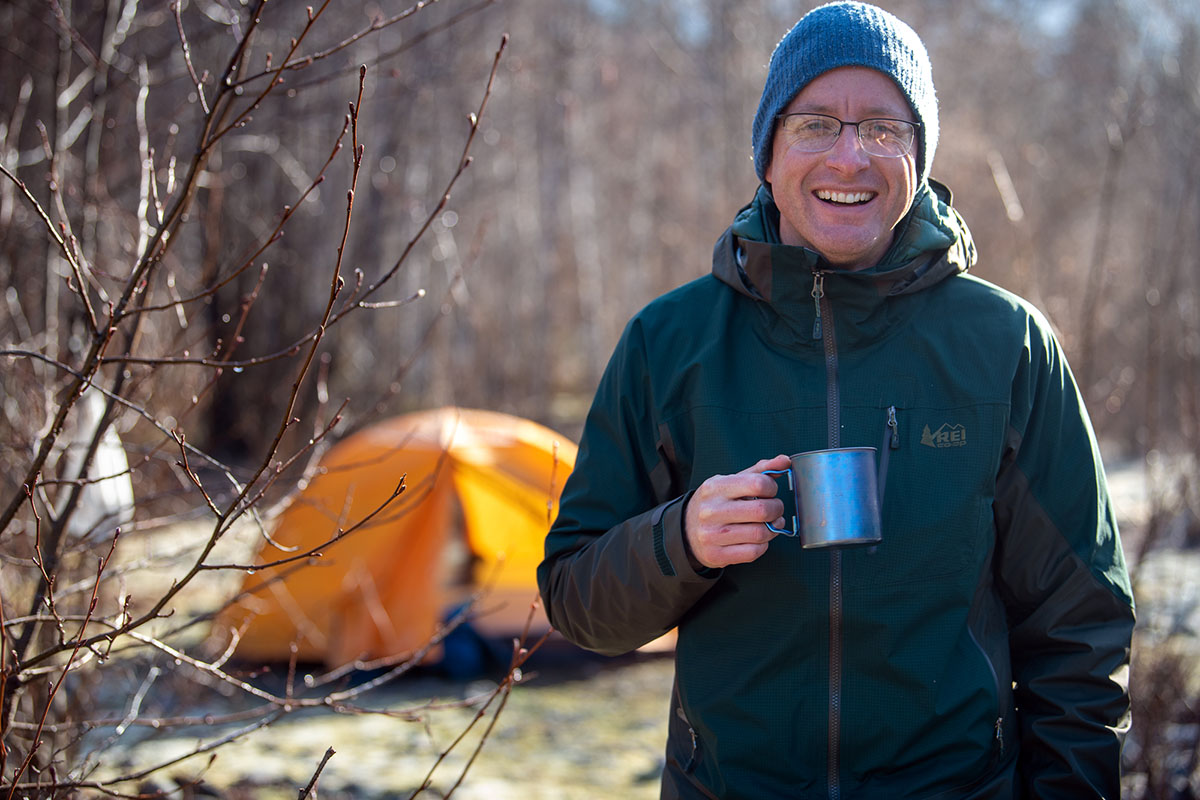 Other Versions of the REI Co-op Stormbolt
In addition to the men's Stormbolt jacket we tested for this review, REI also makes a women's-specific variation and pant. The women's Stormbolt GTX costs the same as the men's model at $279 and retains a nearly identical build and feature set but comes in different colorways (vibrant yellow or blue) and weighs a little less at 12.4 ounces. The Stormbolt GTX Pants ($229) use the same 3-layer Gore-Tex construction but are currently only sold in a women's variation, with fairly limited stock and sizing options at the time of publishing.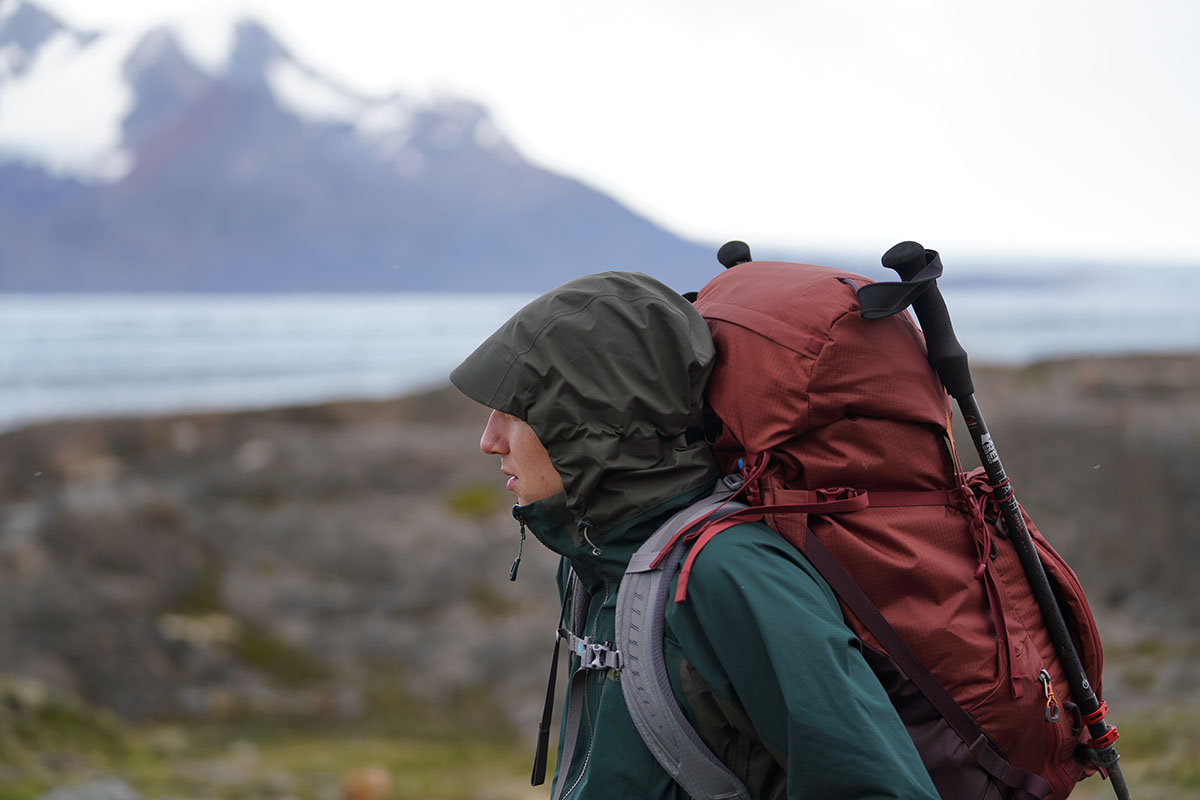 What We Like
At $279, the REI Stormbolt is an excellent value considering its protective and proven 3-layer Gore-Tex construction (most GTX-equipped shells cost around $400 or more). 
Impressively light at just 14.6 ounces, which undercuts most of its direct competition by a couple ounces or more.
Helmet-compatible hood is highly adjustable and easily accommodates climbing, ski, and mountain biking lids.
We appreciate REI's ongoing sustainability efforts, including Fair Trade Certification and utilizing bluesign-approved fabrics.

What We Don't
Thinner fabrics detract from the jacket's winter appeal. For skiing and more demanding cold-weather pursuits, we'd like to see a thicker build (like the 75D Patagonia Triolet).
Decidedly large and baggy fit with a good amount of extra room in the torso and shoulders, which can impact mobility when wearing thinner layers underneath.
Not a leader in breathability or comfort, although both are fairly average. 
Without a helmet, the hood feels fairly unwieldy. In particular, the brim dips down and impacts visibility.


Comparison Table
The Competition
REI Co-op's Stormbolt GTX is our favorite budget hardshell this season for its impressive mix of price and performance. However, for $30 less, Outdoor Research offers an intriguing alternative in their Microgravity AscentShell Jacket. As the same suggests, OR opted for this in-house AscentShell technology for waterproofing, which is a step down in all-out protection from the REI's Gore-Tex build but more comfortable, mobile, and breathable (although you do forego pit zips). The Microgravity is also very competitive in weight and features, with a 14.6-ounce build and similar storage layout (the left hand pocket also doubles as a stuff sack). We consider the Stormbolt the more protective and well-rounded option, but fair-weather hikers will find a lot to like with the OR.
For proper winter and skiing use, Patagonia's Triolet is a more hardwearing alternative to the Stormbolt. Price and weight go up to $399 and 1 pound 3.4 ounces respectively, but you get functional additions like a RECCO reflector, a dedicated strap to connect to compatible ski pants, watertight pit zips, and a thick, 75-denier face fabric that's much more confidence-inspiring around sharp equipment. The Patagonia also looks and feels more premium: it wasn't as prone to wetting out, and all the features strike us as higher-quality. To be sure, the REI is perfectly serviceable for less demanding year-round use, but the Triolet is undeniably the more weather- and ski-ready pick.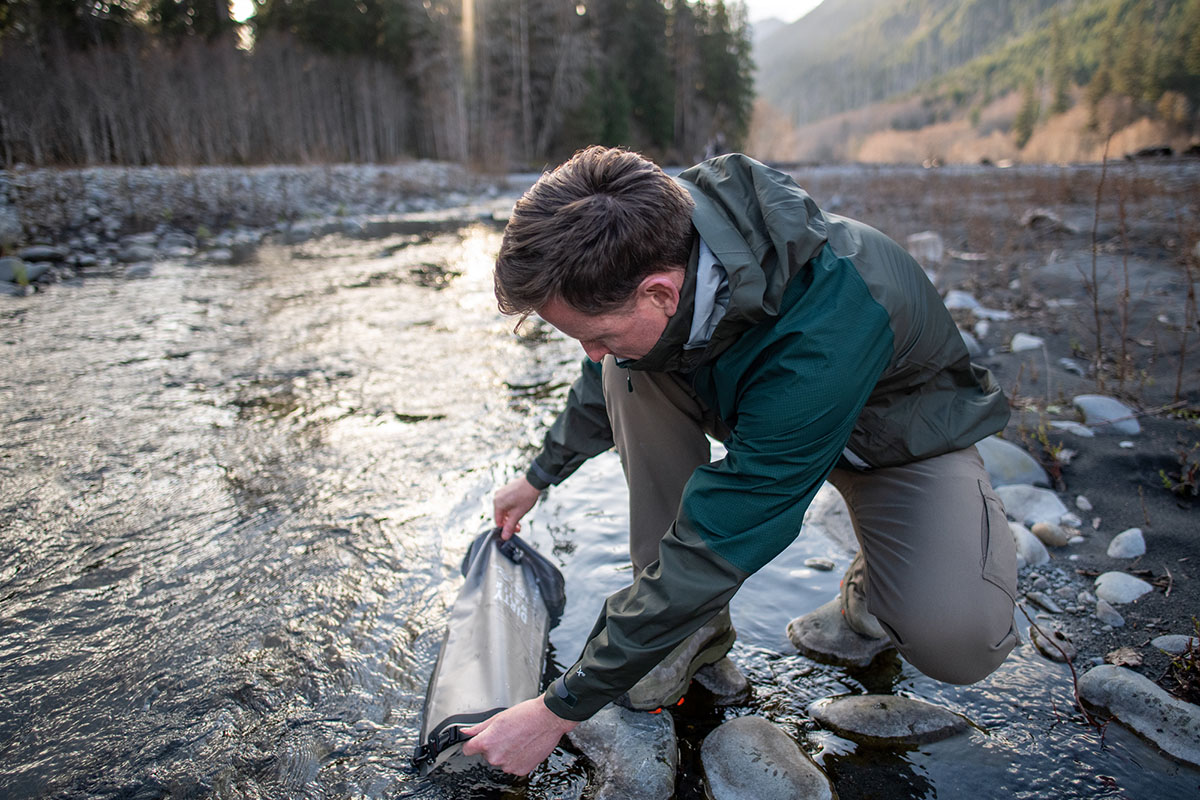 Next up is Arc'teryx's Beta LT (short for "lightweight"), which boasts a similar 3-layer Gore-Tex build as the Stormbolt. However, the Beta is the more confidence-inspiring design, with a slightly thicker 40-denier face fabric and higher-quality construction that's easier to trust in the backcountry. The Arc'teryx also wins out in comfort and overall fit, with a trim and athletic cut that's flattering without compromising on mobility. You do get one fewer pocket and are paying a lot for similar levels of protection (the Beta LT costs a steep $399), which will likely be the tipping point for many, but there's no denying Arc'teryx's top-notch fit and finish (for more, see our Beta LT review). 
Moving back toward the budget end of the spectrum, Black Diamond's $300 Highline Stretch is one of the few affordable shells to undercut the Stormbolt in weight at a scant 12.7 ounces. To accomplish this, they used noticeably thinner fabrics that feel almost paper-like, and the hood is less versatile and only compatible with a climbing helmet. Combined with a less bombproof BD.dry construction, this makes the Highline decidedly 3-season-focused (compared to the Stormbolt's 4-season-ready build), although it does incorporate added stretch for better range of motion. But in the end, we prefer the Stormbolt for its more proven protection and bump in durability at only a small weight penalty.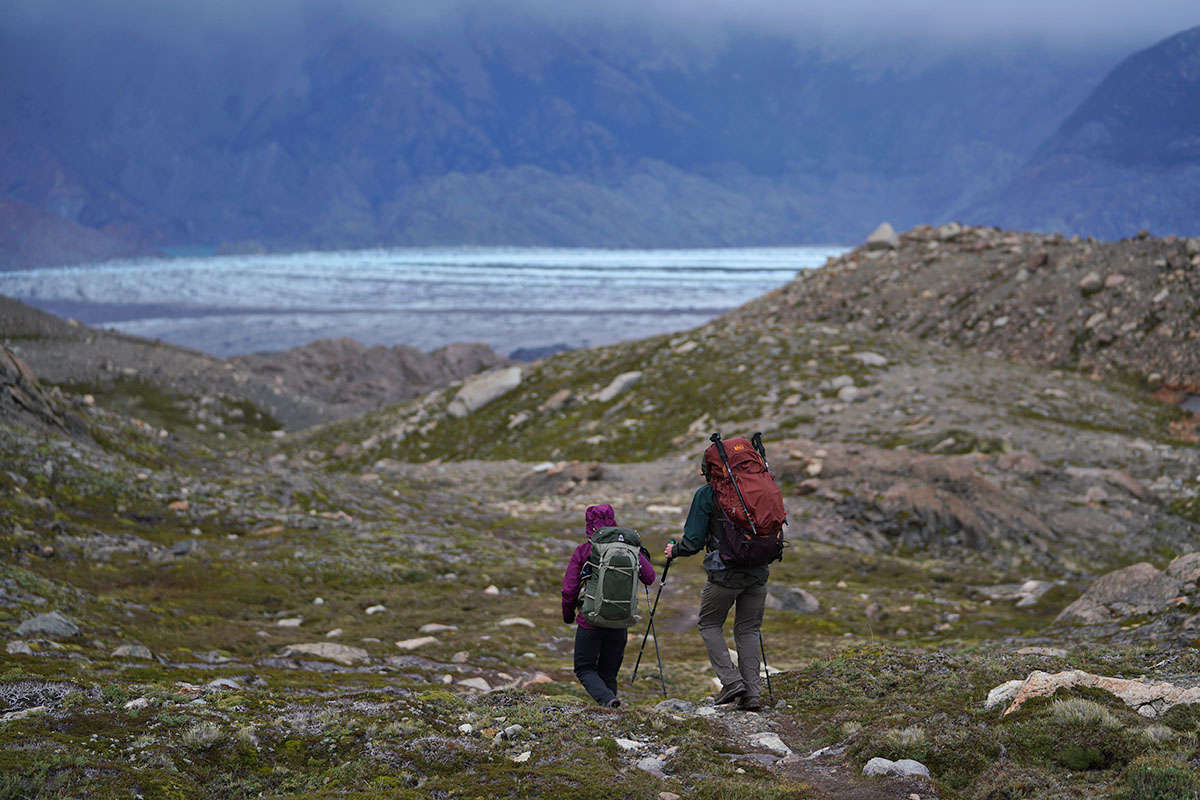 A final option to consider is the cheapest of the bunch: Patagonia's $199 Rainshadow Jacket. In this case, you get Patagonia's 3-layer H2No Performance Standard construction, which is less impervious than Gore-Tex but fully capable in mild to moderate precipitation. Additionally, weight is competitive at 14 ounces, you get a similar storage layout and feature set, and the Patagonia adds a tricot backer and built-in stretch for a boost in comfort and mobility. Where the Rainshadow falls short is for technical pursuits: the 30-denier fabric is on the thin end for backcountry use (we like that the Stormbolt has 40D in high-wear areas), and the hood isn't helmet-compatible. Given these drawbacks, the Stormbolt is the more capable 4-season and multi-sport shell, but the Rainshadow is cheaper and perfectly viable for hiking and casual wear.
Editor's note: We usually provide a live price comparison table below our outdoor gear reviews, but the Stormbolt is sold exclusively by REI Co-op. You can see the Stormbolt GTX page here and support us in the process. Thanks!
Read More From Switchback Travel