Salomon aims to shake up the hiking shoe market with the unapologetically lightweight Odyssey Pro. Taking a number of cues from a cushioned trail-running model, the shoe is a great choice for non-technical day hikes or ultralight long distance backpacking trips. Its specialized nature does come with limitations, particularly in regards to traction over rock and mud, but if weight and a cushioned ride are your priorities, the Odyssey Pro can be a great fit. Below we break down the shoe's comfort, weight, traction, stability and support, durability, and more. To see how the Odyssey Pro stacks up, see our article on the best lightweight hiking shoes.
 
Performance
Comfort
Without a doubt, the Salomon Odyssey Pro's comfort is our favorite aspect of this shoe. In many ways, it feels a lot like a cushioned trail runner: light and airy with a sock-like feel. The substantial midsole gives it a springy, athletic personality on the trail, and the flexible tongue and upper material are just right straight out of the box. The shoe does lack a rock guard underfoot, which can wear on your feet when wearing a heavy pack and over really rough terrain. But for day hiking or covering serious miles with a light backpack (including for a thru-hike), it's everything we're looking for comfort-wise from a hiking shoe.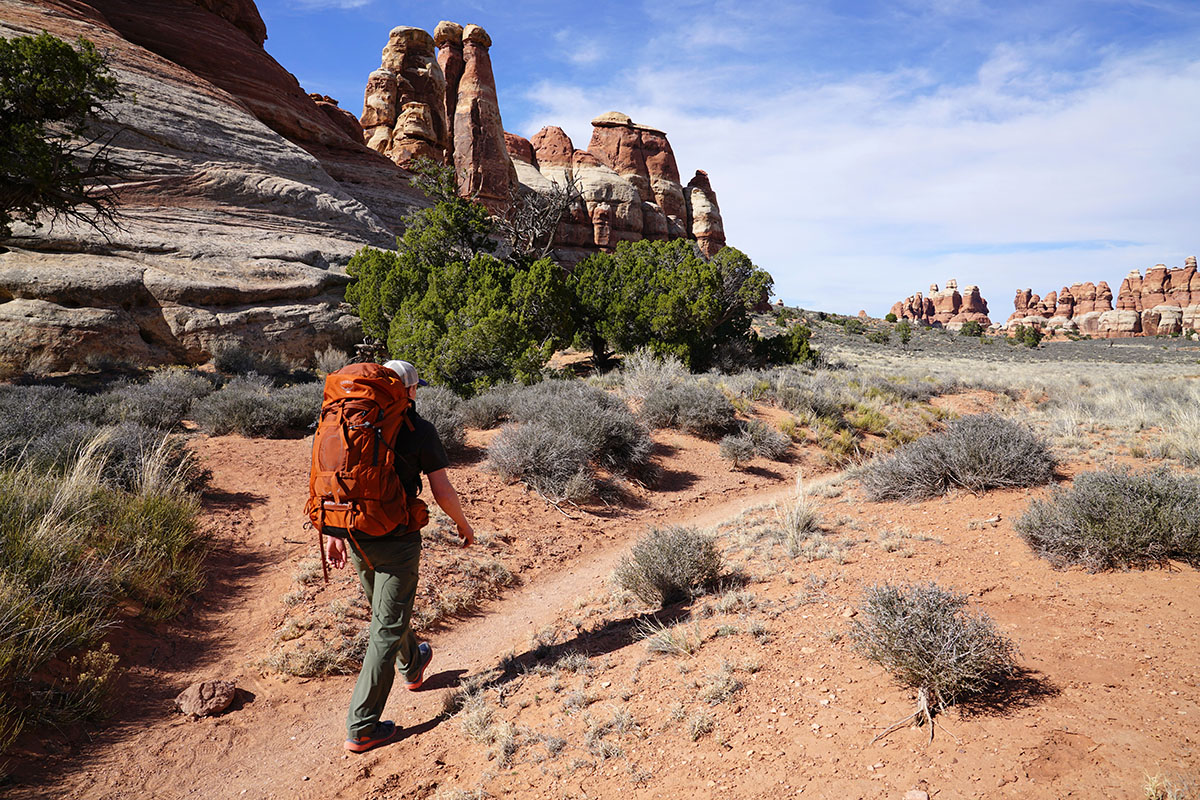 Weight
My Odyssey Pro in a men's size 9 weighs 1 pound 7 ounces for the pair, which puts it in some lightweight company. It undercuts our favorite all-around hiking shoe from Salomon, the X Ultra 2, by about 3 ounces (at the cost of traction and toe protection, however). And the shoe is noticeably sprightlier on your feet than a standard hiking option like the 1 pound 15 ounce Merrell Moab 2. The shoe's closest competition in terms of weight comes from trail runners: it lands in between Brooks' Cascadia 12 (1 pound 8.2 ounces) and Altra's Lone Peak 3.5 (1 pound 4.8 ounces). Considering that the Odyssey Pro offers better stability than these shoes (more on this below), the low weight is an impressive accomplishment.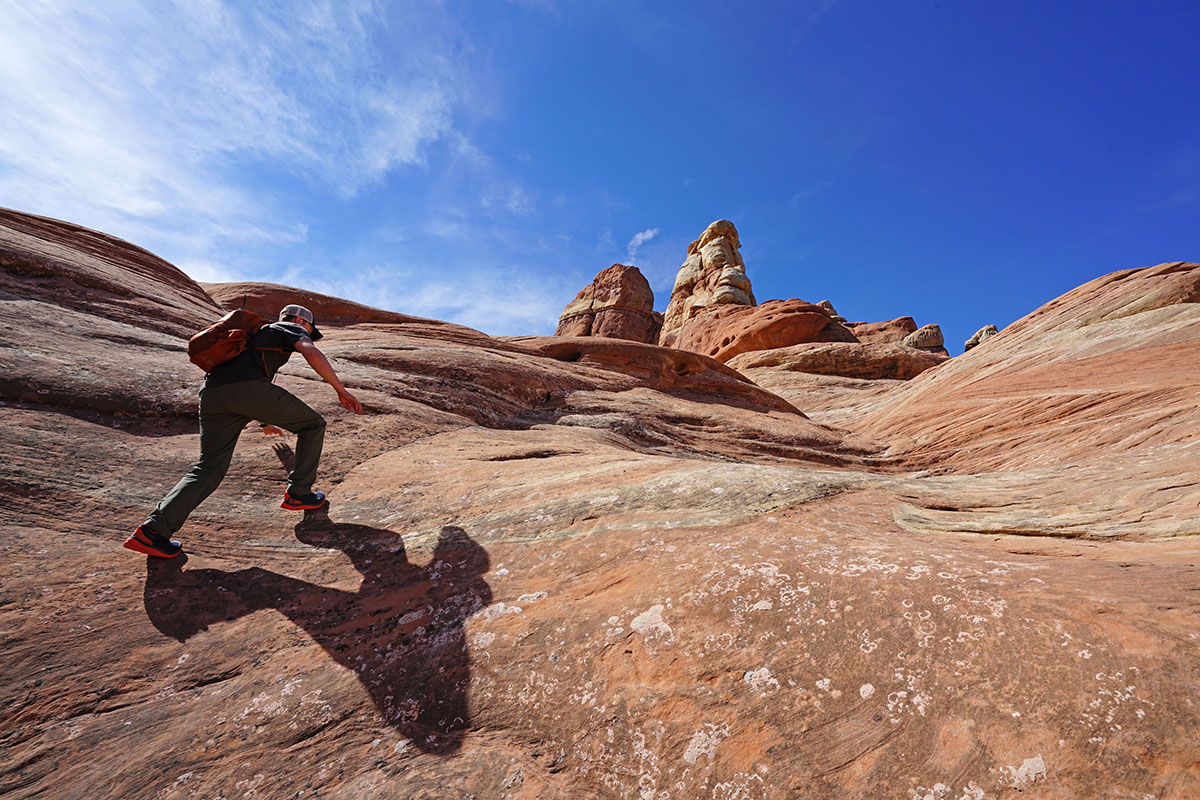 Traction
The weight and comfort of the Odyssey Pro are its highlights, but we were less impressed with its traction. While scrambling in the Canyon Country in Utah, the tightly spaced lug pattern, rubber compound, or perhaps a mix of the two, left us slipping a surprising amount. More, on muddy and soft ground, the non-aggressive tread lacked much bite on steep sections of trail. The Odyssey Pro's strongest performance was on hardpack dirt for both hiking and trail running where the flexible lugs were easier to trust, but the lack of all-around ability is a definite downside in our book. This comes as a surprise considering the impressive traction on most Salomon shoes, including our experiences with the Speedcross 4 trail runners, X Ultra 2 hiking shoes, and Quest 4D 2 boots.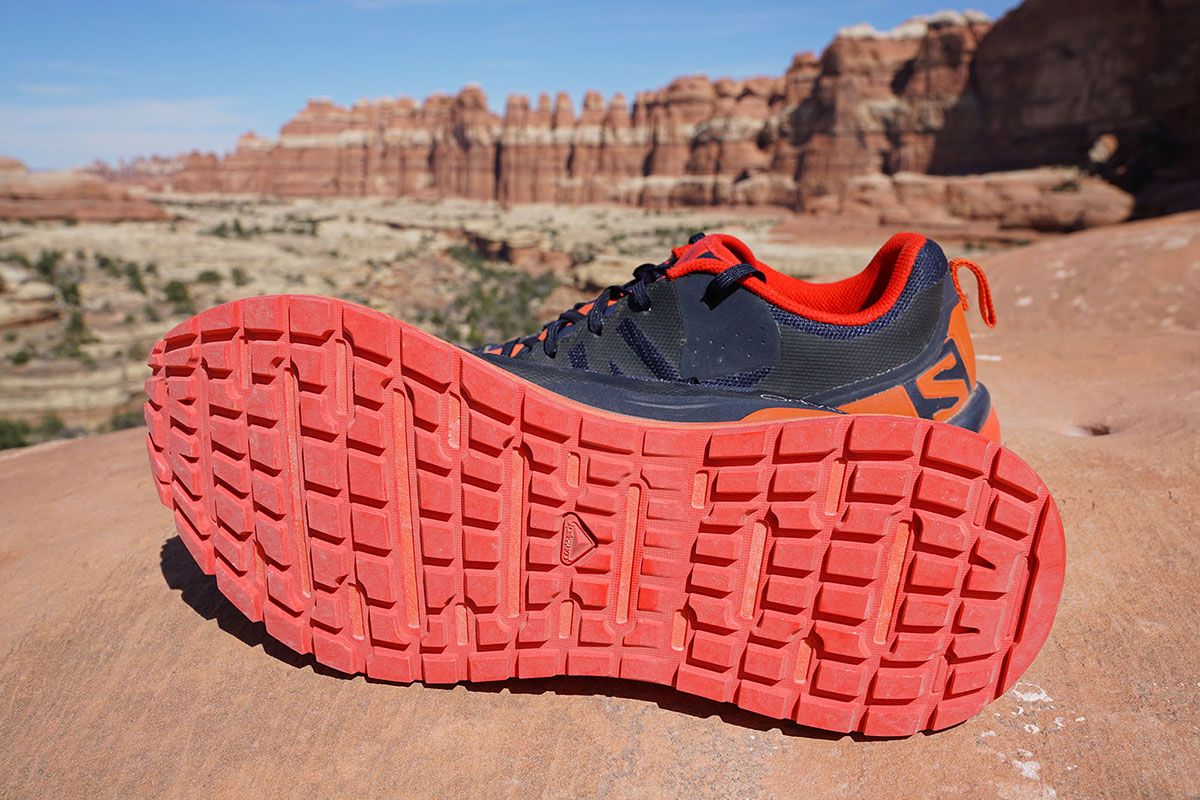 Stability and Support
The Odyssey Pro is designed for moving fast without a big pack weighing you down, so it feels a lot like a beefed up trail-running shoe. In particular, the relatively wide base and tall and rigid heel give it greater resistance to rolling over. But the shoe still flexes quite a bit and doesn't feel at home while scrambling on rocks. This was especially noticeable when we pushed it outside its comfort zone in Utah with technical hiking and a pack filled with a couple days worth of gear and water. Those that already hike in trail-running shoes may feel at home, but we like the boost in stability you get with Salomon's own Ultra 2 hiking shoes.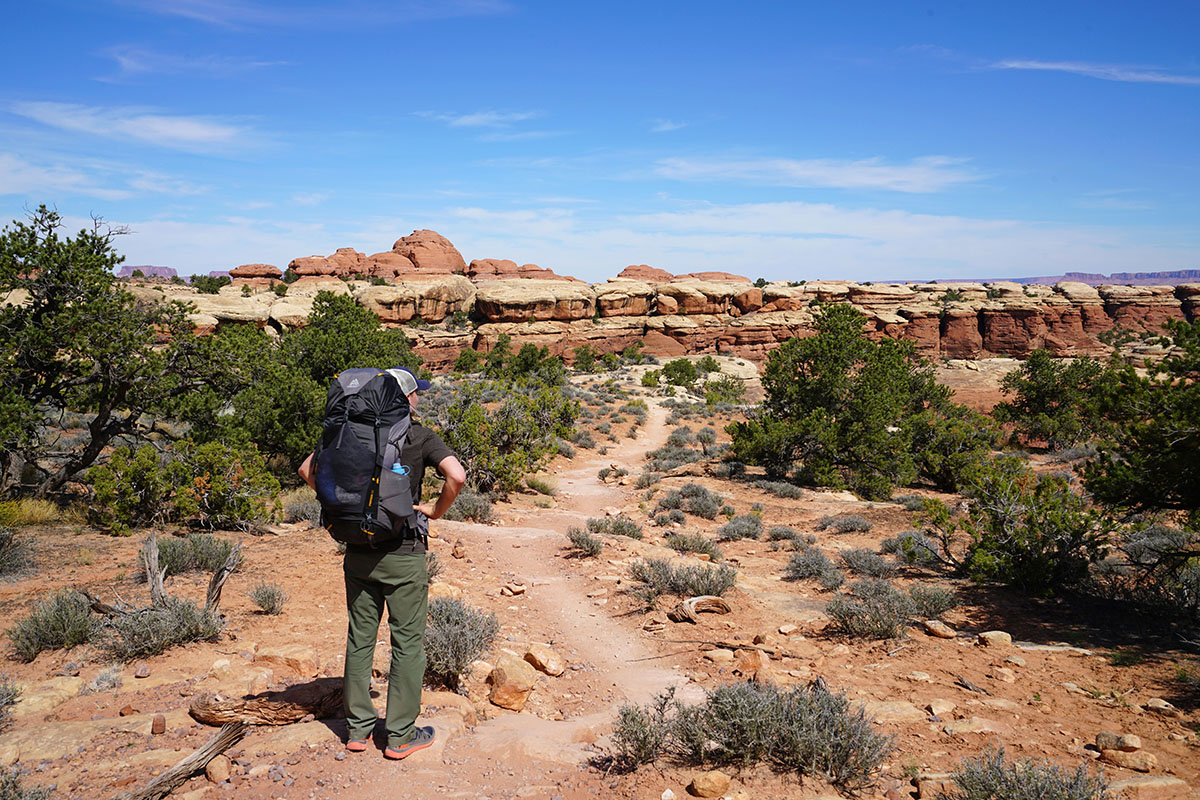 Breathability
The Odyssey Pro is only made in a non-waterproof design, and its extensive use of mesh gives it fantastic breathability. We put in long days with this shoe in the Utah heat and had very few complaints. More, the thin upper material dried very quickly after the occasional stream crossing (although the arid climate surely helped that process). It's not a shoe we'd want out in the cold or around snow, but it's a great pairing for summer and warm weather adventuring.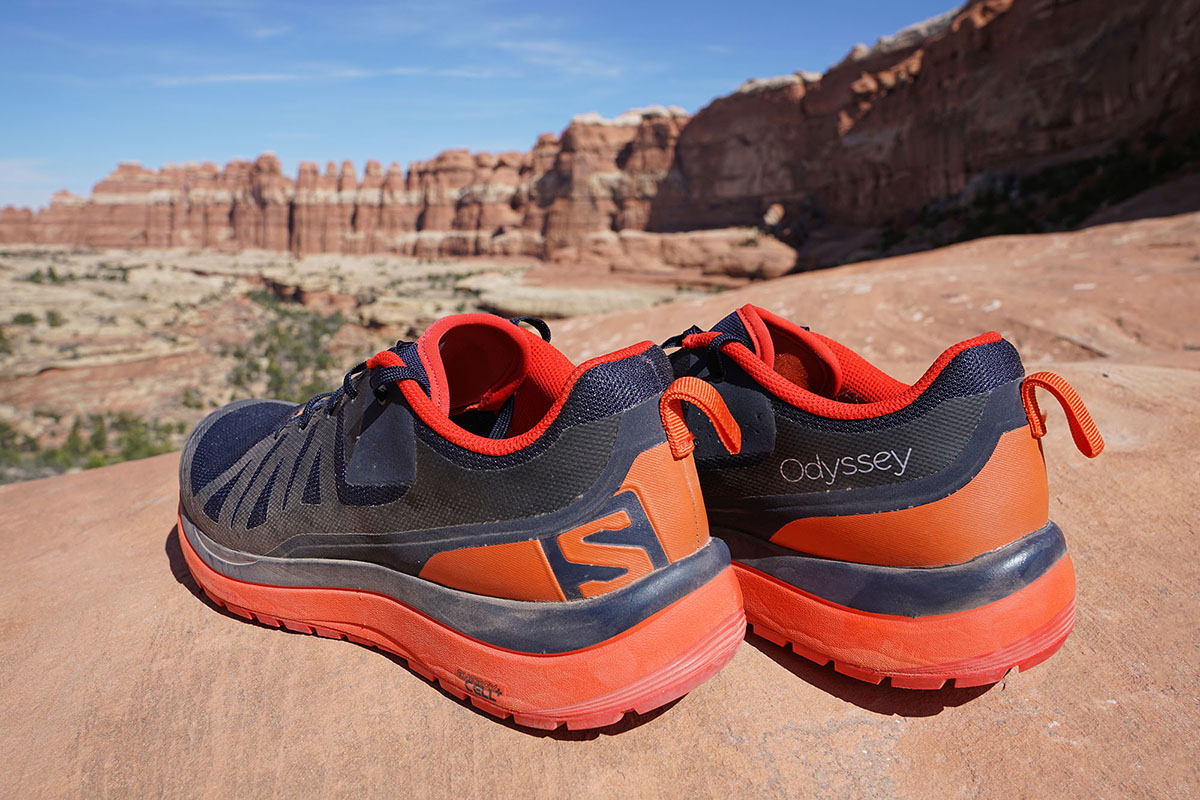 Durability
Lightweight materials and durability rarely go hand-in-hand, but the Odyssey Pro has held up despite some rough treatment while backpacking, hiking, and trail running. The upper material is almost all mesh, but a nylon overlay does give it a noticeable boost in toughness. The flat laces also are quite thin and not all that confidence inspiring when you pull tightly, but again, we don't have any evidence they'll wear excessively. The jury is still out on long-term durability, but our initial experiences have been positive.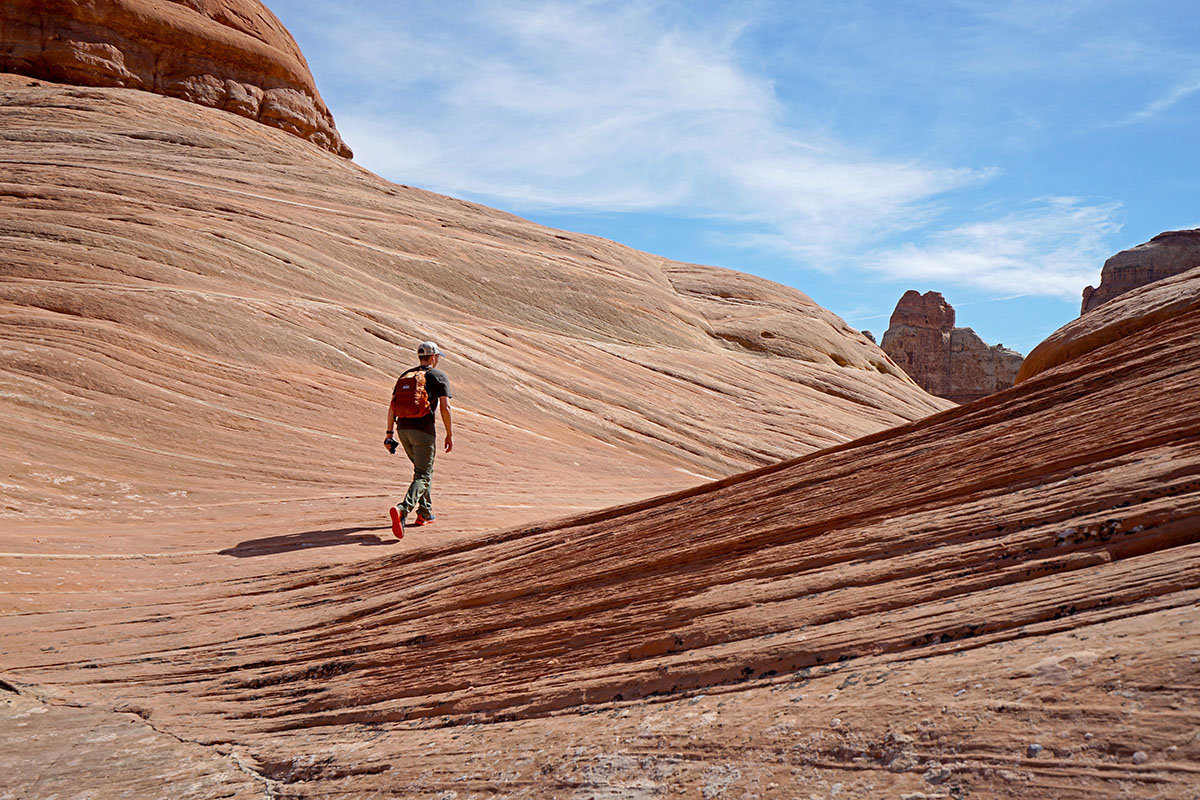 Protection
Following the overall theme of the shoe, the Odyssey Pro's protection falls in between a trail-running and hiking shoe. The toe protection consists of a light cap that extends part way around the foot (it didn't completely cover our little toes), but was enough to take the harshness out of a number of accidentally kicked rocks. Underfoot, the thick midsole does a good job isolating most trail debris and we think is enough to handle high mileage days—exceeding many trail runners. If you venture off trail or are peak bagging, it's a good idea to upgrade to a tougher shoe, but we think the Odyssey Pro offers sufficient protection for most hiking and backpacking trips.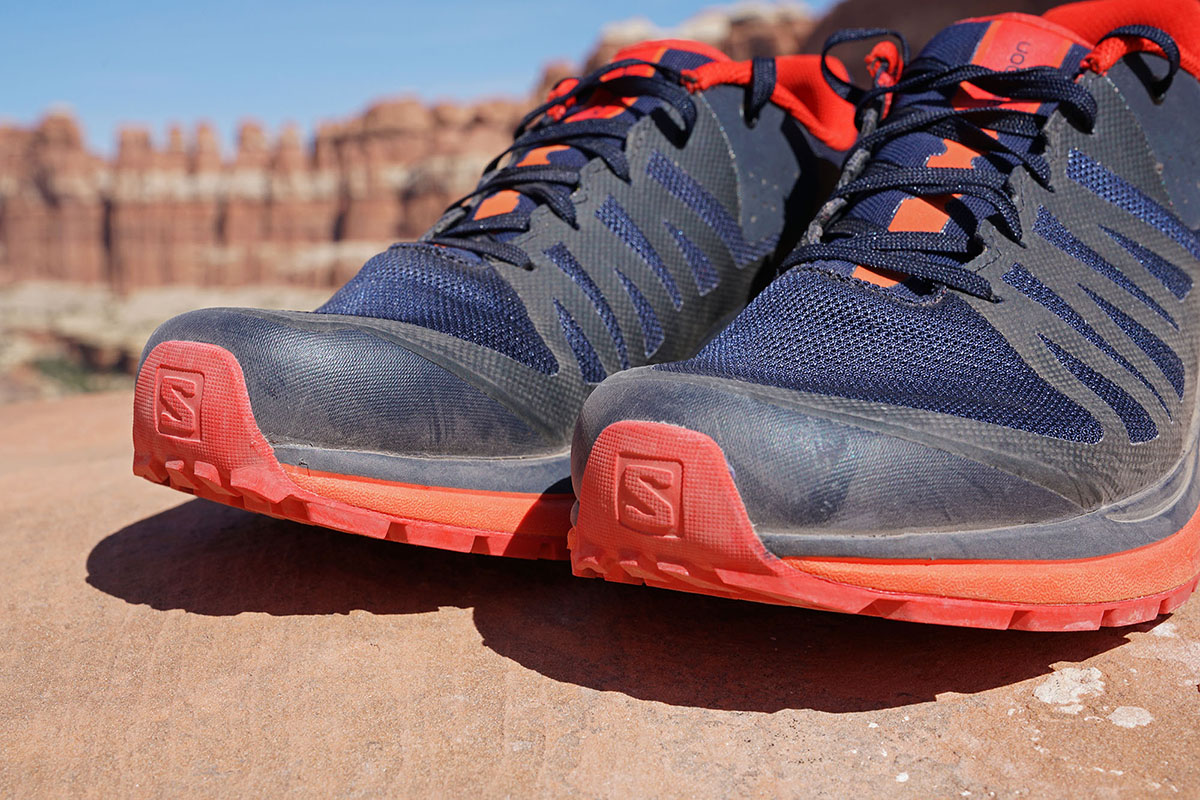 Trail Running Abilities
On the surface, the Odssey Pro's trail-running inspired build makes it an appealing all-in-one solution for hiking and running. We're not completely sold on the concept unless you mix hiking and trail running on a single trip—it's better to have a shoe specifically designed for each activity. For running, the Odyssey Pro feels suitably flexible and athletic, but the tall heel makes it more stable than your average shoe. It's no lightweight mountain goat, but the substantial cushioning was comfortable for us on moderate distances of around 8 to 10 miles. As we touched on above, the lack of traction is a big limitation for its trail abilities, but for those interested, it's a fine option for non-technical runs.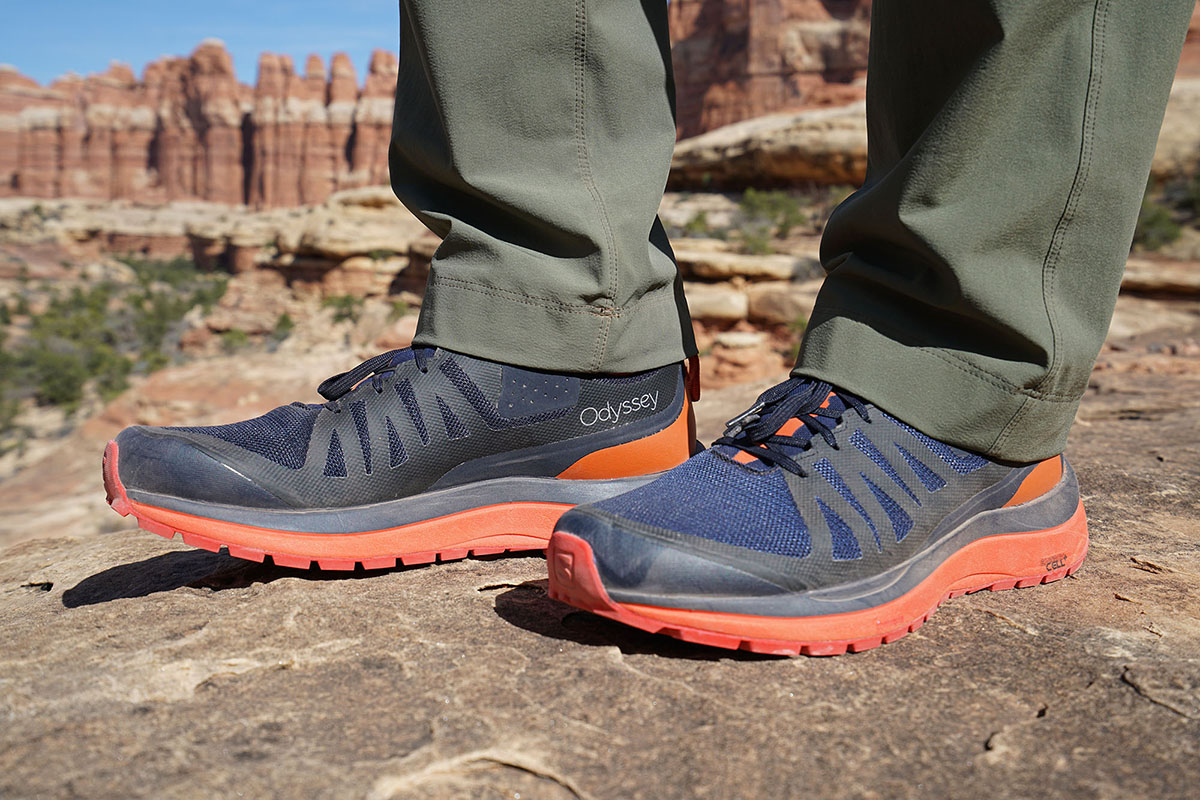 Fit and Sizing
I wore my typical size for Salomon footwear and would say that it fits true overall. The length was good for me with enough space for lightly cushioned socks and swollen and hot trail feet. The toe box is a bit roomier than their trail-running shoes like the Speedcross 4, which has a snug, performance fit, and falls more in-line with their hiking footwear. More, the lacing system offers plenty of customization and the upper material does have a fair amount of give so it should accommodate a range of foot sizes. I would've preferred a tighter fit around the heel to really lock in the foot, but that shouldn't be a problem for most people as I have somewhat narrow heels (even so, I didn't get any blisters).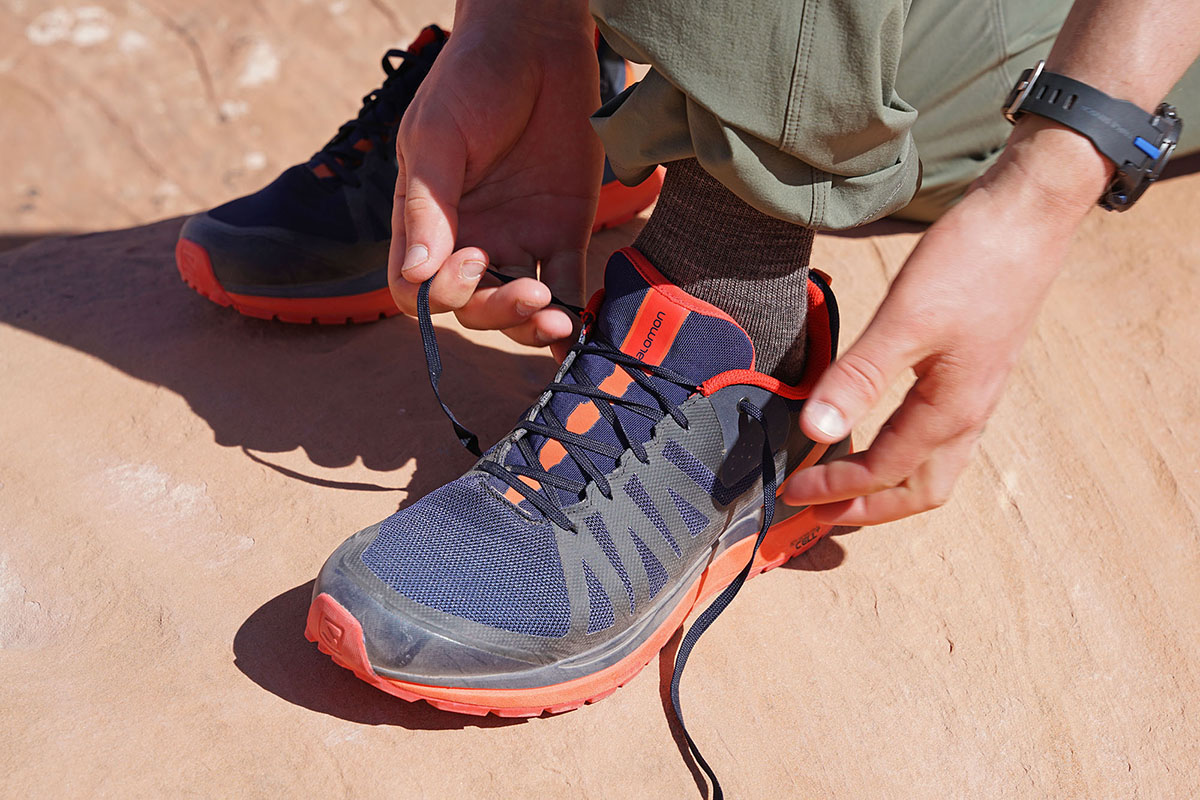 What We Like
Very light and great cushioning for long days on the trail.
The shoe is flexible and comfortable right out of the box.
It's a great option for non-technical day hikes, lightweight backpacking trips, and thru-hiking.

What We Don't
Disappointing traction on rock and mud.
Not enough stability and support for hauling a standard weekend backpacking load.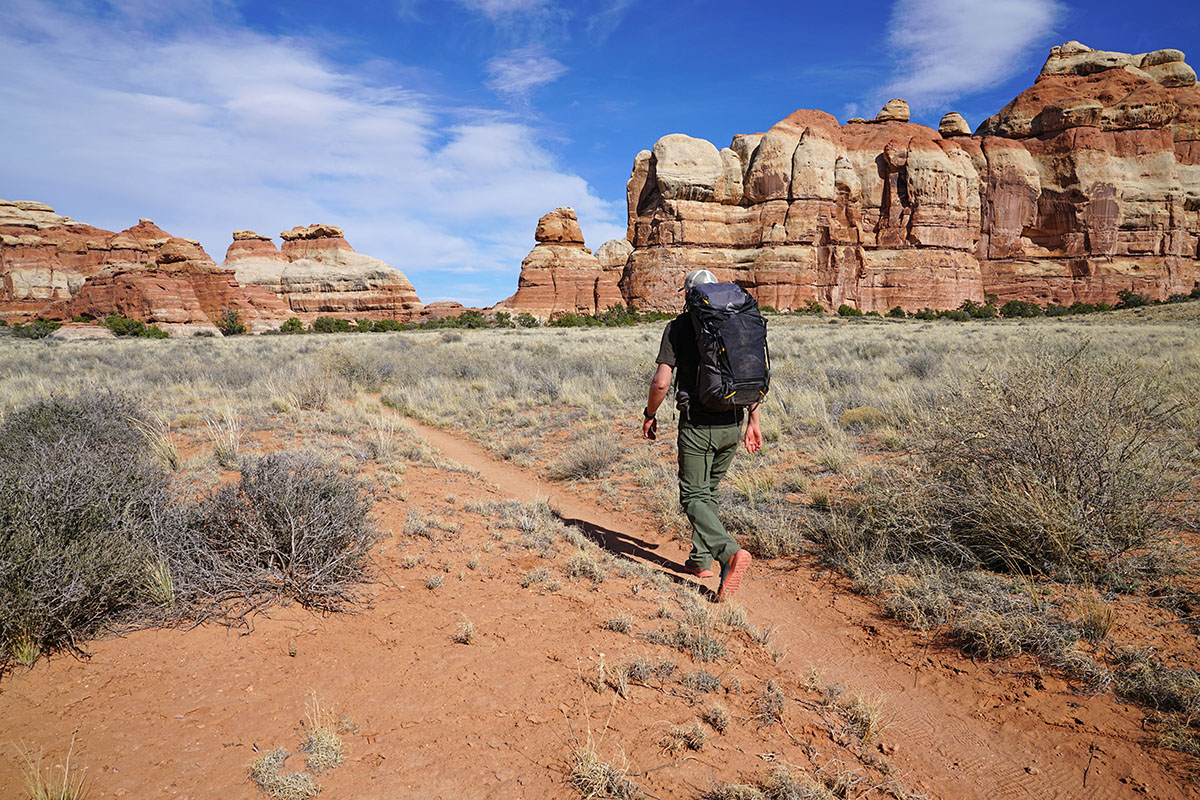 Comparison Table

The Competition
The Odyssey Pro lands right in between a trail runner and hiking shoe, and as such has competition from both categories. Among trail-running shoes that perform well for hiking and ultralight backpacking, the Altra Lone Peak is one of the best. The shoe has excellent cushioning, a stronger upper material in its latest "3.5" version, and undercuts the Odyssey Pro in weight by about 2 ounces. The Odyssey Pro gets the edge in stability with a stiffer heel, and we'd expect the Salomon's reinforced upper material to hold up a little better over the long haul, but the Lone Peak offers better traction. Depending on your needs, both can be great superlight, cushioned trail shoes.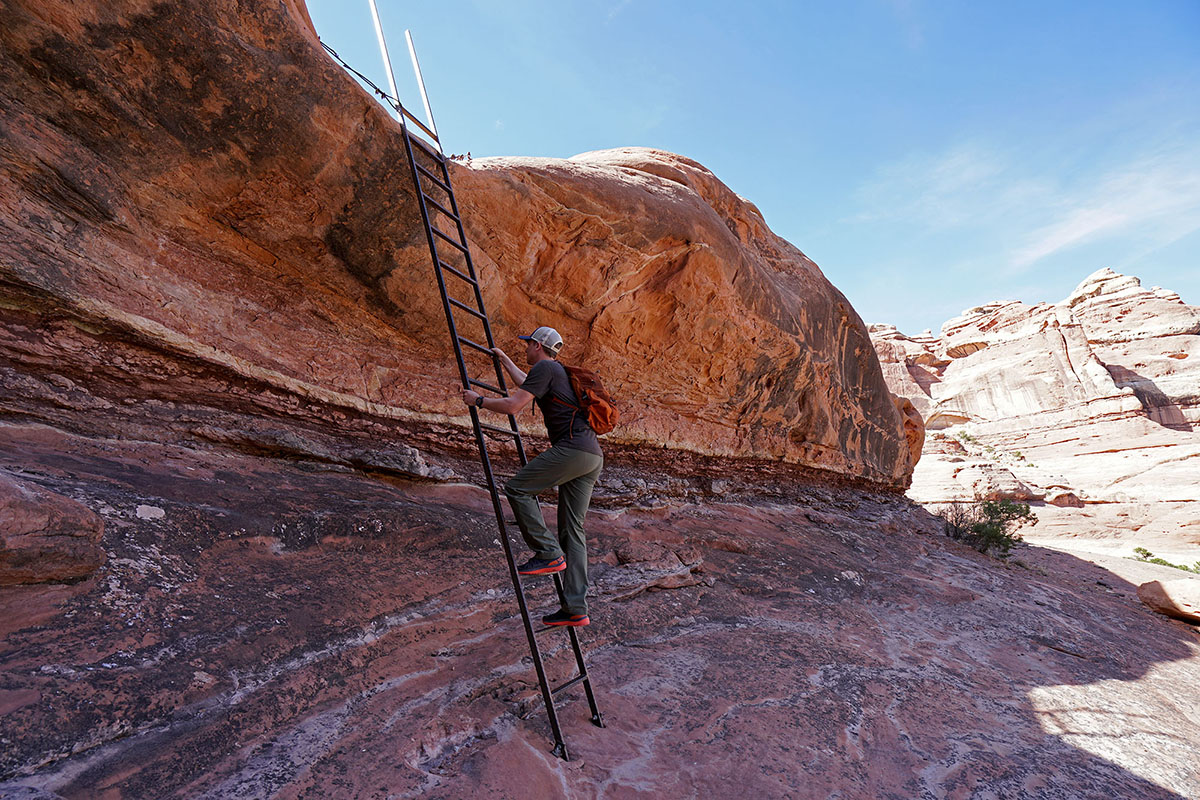 Through its numerous iterations, the Brooks Cascadia trail-running shoe has solidified itself as a strong lightweight hiker. In our opinion, the Cascadia peaked around the 8th or 9th edition, where it hit a great mix of comfort and weight, but it's still a solid option. The Cascadia 12 has a proven tread pattern and grippy lugs, good cushioning without feeling overly tippy on the trail, and an easy to adjust fit. The Odyssey Pro's taller heel and slightly stiffer construction gives it the edge with on-trail stability without a weight penalty (it's actually about 1 ounce lighter than the Cascadia 12). But the traction weakness of the Odyssey does bite it here again as it falls short of the Cascadia.
Salomon makes some of our favorite hiking footwear, and their X Ultra 2 shoes are a standout for their lightweight support and comfort. Stacked up to the Odyssey Pros, we find ourselves preferring the X Ultras in most circumstances. They have a stronger hiking focus with much better all-around traction in mud and rock, a modest step up in stiffness for better uphill performance, and more substantial toe and foot protection. Where the Odyssey Pro has the upper hand is weight (about 3 ounces less for a pair), and it can do a better job for trail running. If your focus is on speed above all else, the Odyssey Pro is a fine choice. Otherwise, we prefer our X Ultra 2s.
If you're thinking about buying gear that we've reviewed on Switchback Travel, you can help support us in the process. Just click on any of the seller links above, and if you make a purchase, we receive a small percentage of the transaction. The cost of the product is the same to you but this helps us continue to test and write about outdoor gear. Thanks and we appreciate your support!
Depending on the seller, most products ship free in the United States on orders of $50 or more. International shipping availability and rates vary by seller. The pricing information on this page is updated hourly but we are not responsible for inaccuracies.
Learn More About Outdoor Gear