The North Face recently switched over from using Gore-Tex in their premium hardshells to an in-house Futurelight membrane. One of the most intriguing jackets to incorporate this tech is the alpine-ready Summit L5 LT. We put the jacket to the test in wet and windy Patagonia and came away impressed by its soft, lightweight feel. However, with a trimmed-down feature set and odd fit, it's not as versatile as many of its competitors. Below we break down the Summit L5 LT's performance. To see how it stacks up, see our article on the best hardshell jackets.
 
---
Table of Contents
---

Performance
Weather Protection
The North Face Summit L5 LT is a premium hardshell built for the mountains, so it comes as no surprise that it offers impressive protection against the elements. To keep wind and water at bay, the jacket uses The North Face's in-house Futurelight membrane, which was released in fall 2019 and received a lot of hype in the outdoor gear world. My first impression with the technology was positive overall: unlike many hardshells that can feel crinkly and rigid, the Summit L5 LT is ultra-soft to the touch. In fact, the jacket makes virtually no noise when you move.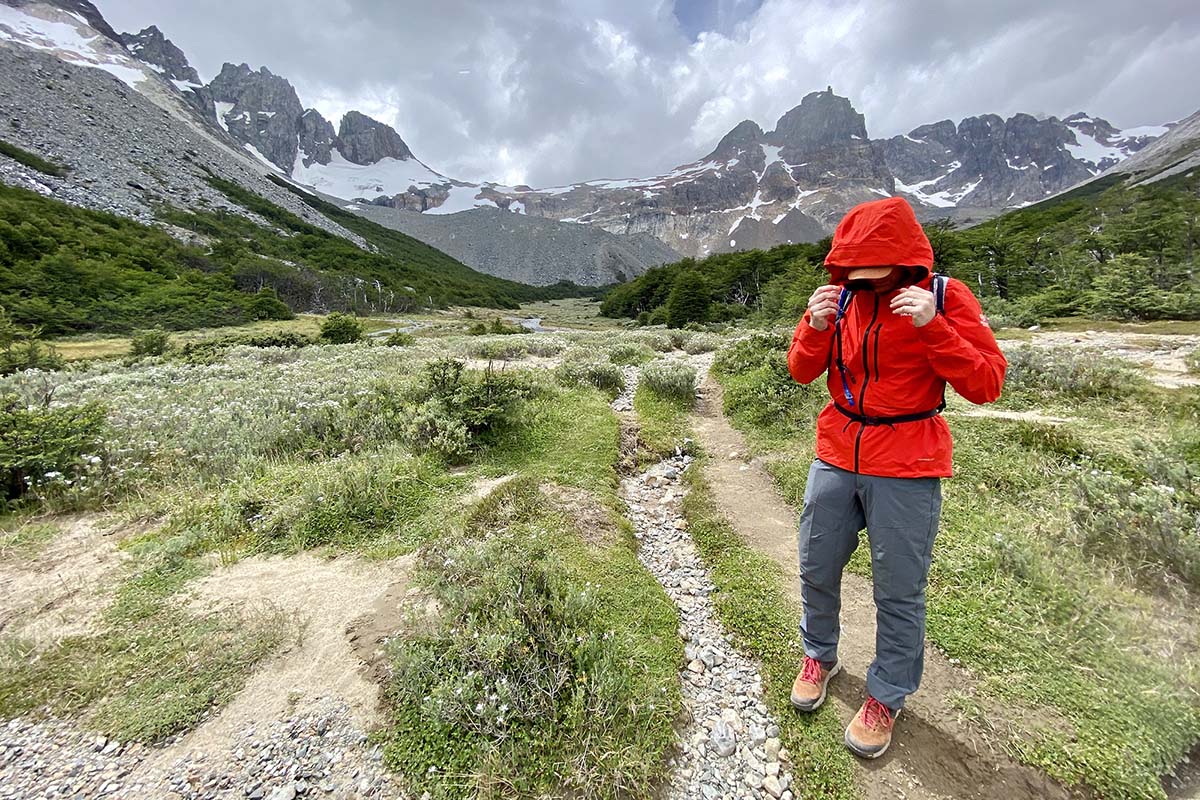 However, while the softness is great for next-to-skin comfort, it had me initially concerned about weather protection. I wore the jacket for a couple weeks during multiple hiking and backpacking trips in Chilean Patagonia, and the results were mixed. It was indeed highly breathable for a 3-layer shell but didn't feel quite as wind-resistant as comparable Gore-Tex models. For example, the Arc'teryx Beta FL—which is more expensive at $549 but similar in weight at 12.7 ounces—does a better job at blocking strong winds without any major compromises in breathability. That said, when trekking in the Cerro Castillo region on the way up to Laguna Duff, we were pelted with sleet and driving rain, and the Summit LT L5 effectively sealed out the elements. The hood was a little large given that I was not wearing a helmet and had a tendency to come loose during huge gusts, but the jacket managed to keep me completely dry.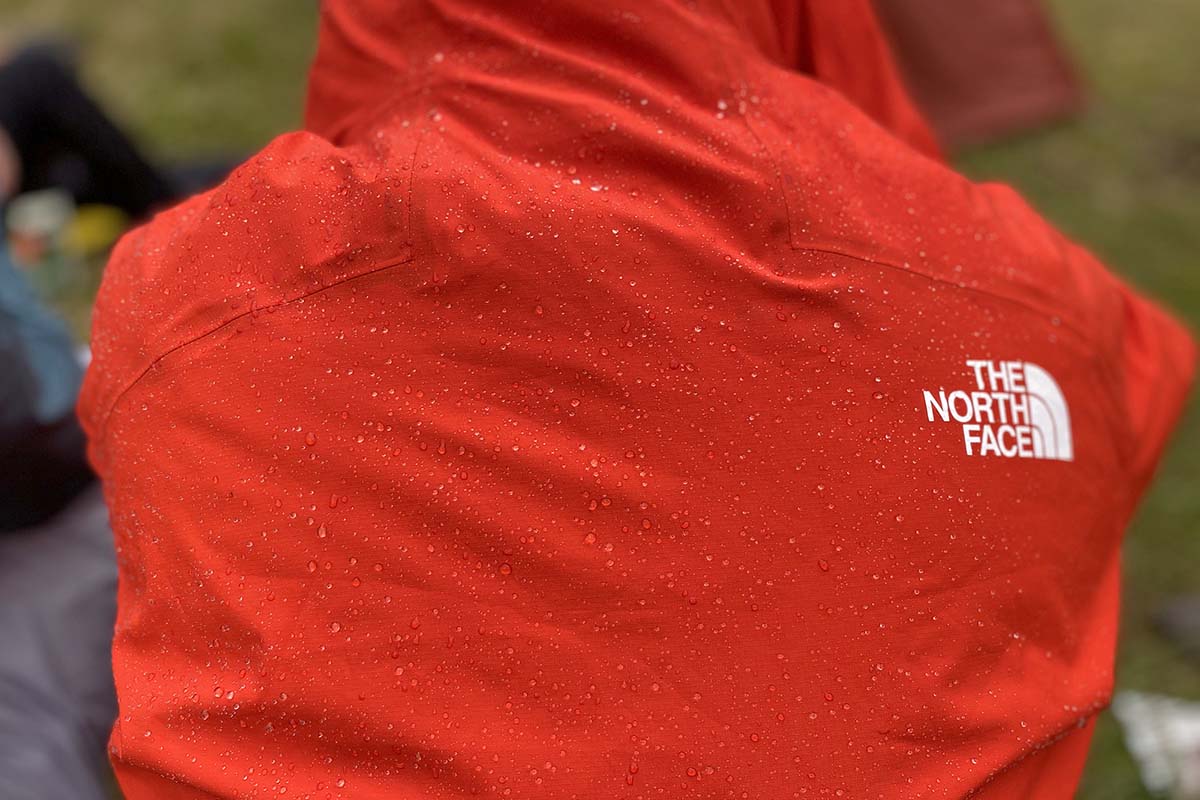 Breathability
Put simply, the Summit L5 LT is an excellent breather. It feels light and airy, and I was able to wear the jacket in the mountains for long stretches without overheating or feeling the need to take it off. You get what you pay for here: a cheaper multi-sport shell likely would feel plasticky and clammy when you generate some body heat, but not a premium membrane like Futurelight. That said, it's worth noting that the Summit L5 LT lacks pit zips. Based on the feature set of this jacket, it's clearly made for alpine environments where temperatures tend to be lower and the weather harsher. The aforementioned Arc'teryx Beta FL also forgoes pit zips, so this is not uncommon among ultralight, mountain-ready hardshell jackets, but it means that the Summit L5 LT is overkill for moderate to warm conditions.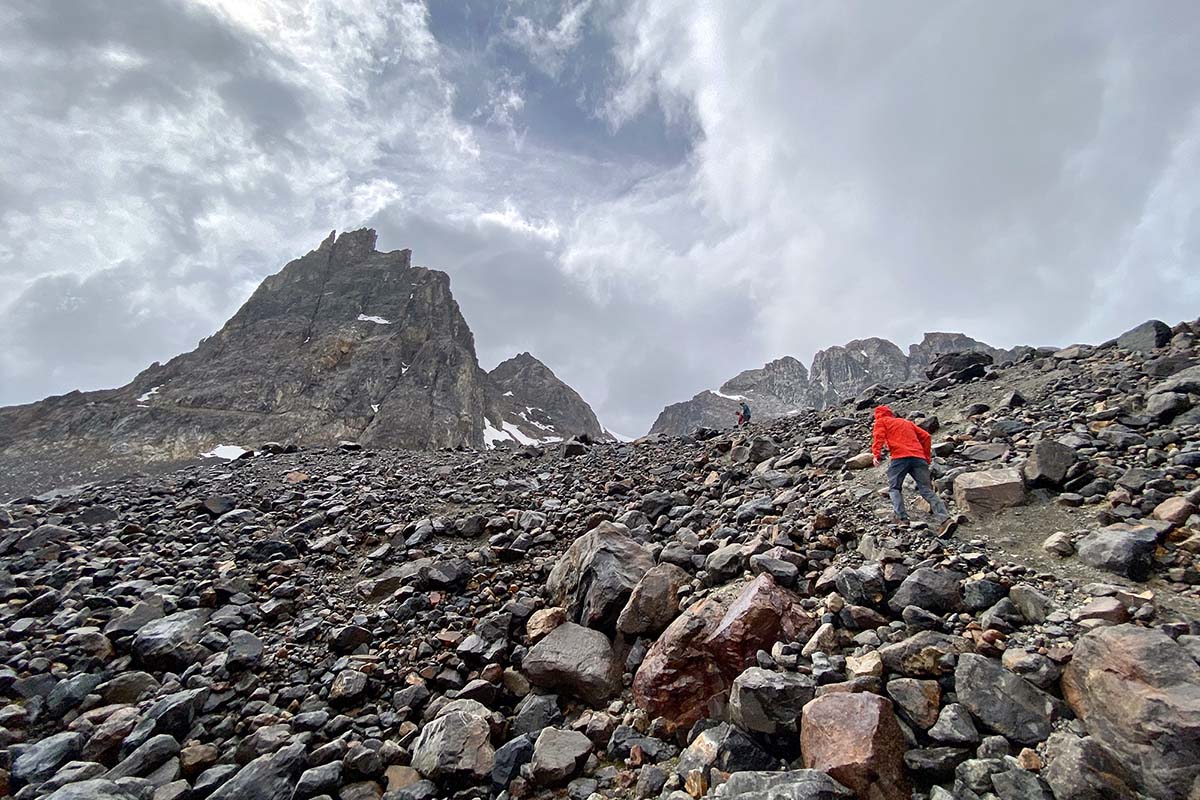 Weight and Packability 
At 12 ounces, The North Face Summit L5 LT is a minimalist hardshell built for the alpine. It's competitive in this category with Gore-Tex Pro shells like the Arc'teryx Beta FL (12.7 oz.) and Alpha FL (12 oz.). In terms of packability, the Summit L5 LT comes with a very thin and light nylon stuff sack. These aren't our favorite as we have a tendency to lose them over time, but the jacket does pack down nice and small to less than a Nalgene bottle.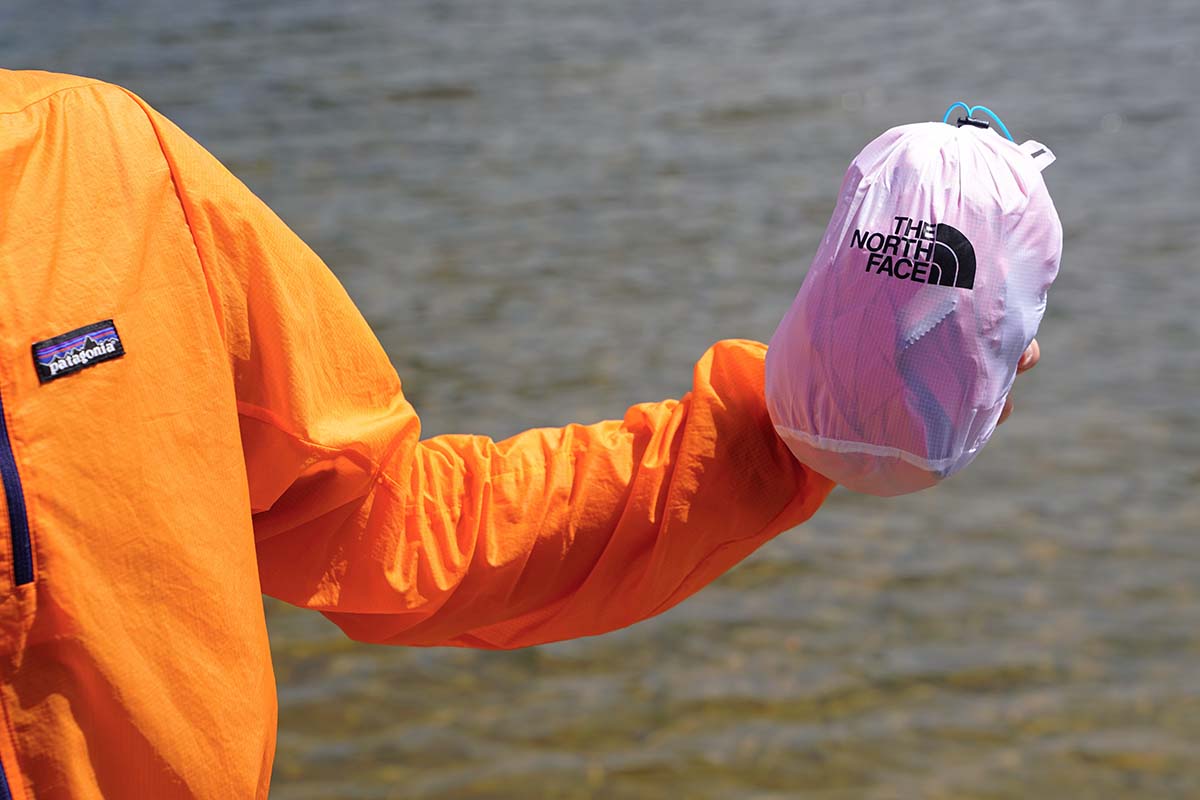 Build Quality and Durability 
The Summit L5 LT uses a 20 x 30-denier (D) face fabric, which is on the thin end of the spectrum for a hardshell. For comparison, most other competitors are thicker, including the Arc'teryx Beta FL and Alpha FL (both 40D), as well as Patagonia's alpine-ready Galvanized (50D). In all fairness, we didn't have issues with holes or other abrasions, but it's important to be mindful when handling sharp equipment, bushwacking, etc. That said, aside from the relatively thin fabrics, the TNF Summit L5 LT is very well-built overall. Ours has shown only minimal wear after weeks of heavy use and being stuffed haphazardly into a pack. The cuffs and hem do have some dirt stains, but that's purely cosmetic and no cause for concern. All in all, the Summit L5 LT is a premium jacket and exactly what we would expect in this price range.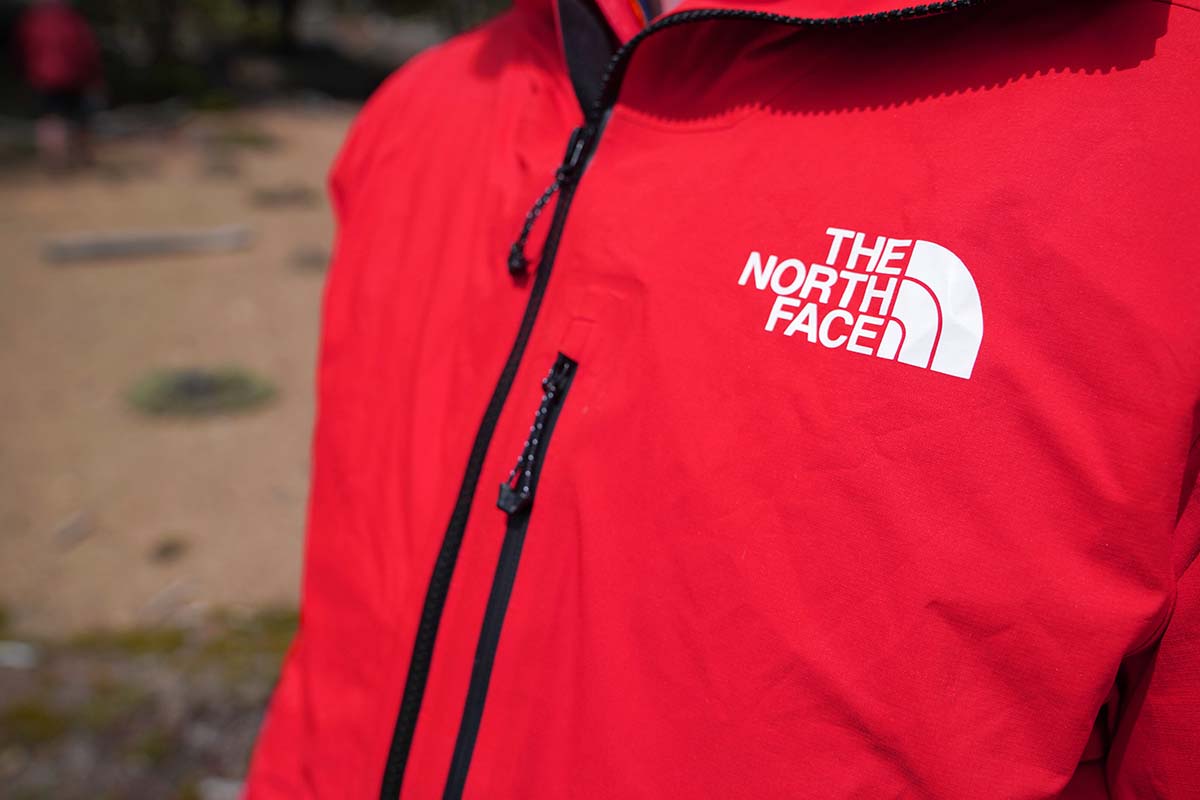 Features: Hood and Pockets
The North Face Summit L5 LT is adequately appointed for mountain use. First and foremost, it features a large, helmet-compatible hood. However, we far prefer Arc'teryx's legendary StormHood over the simple cinch system on the back of the Summit L5 LT. With the large flap over the hood cinch, it was hard to find and grab, and even when fully cinched down, the hood felt large and came dislodged during high winds. Again, given the mountaineering intent, the hood seems purpose-built to wear with a climbing helmet but feels fairly unshapely without. That said, I do like the wire brim, which adds some rigidity during heavy rains.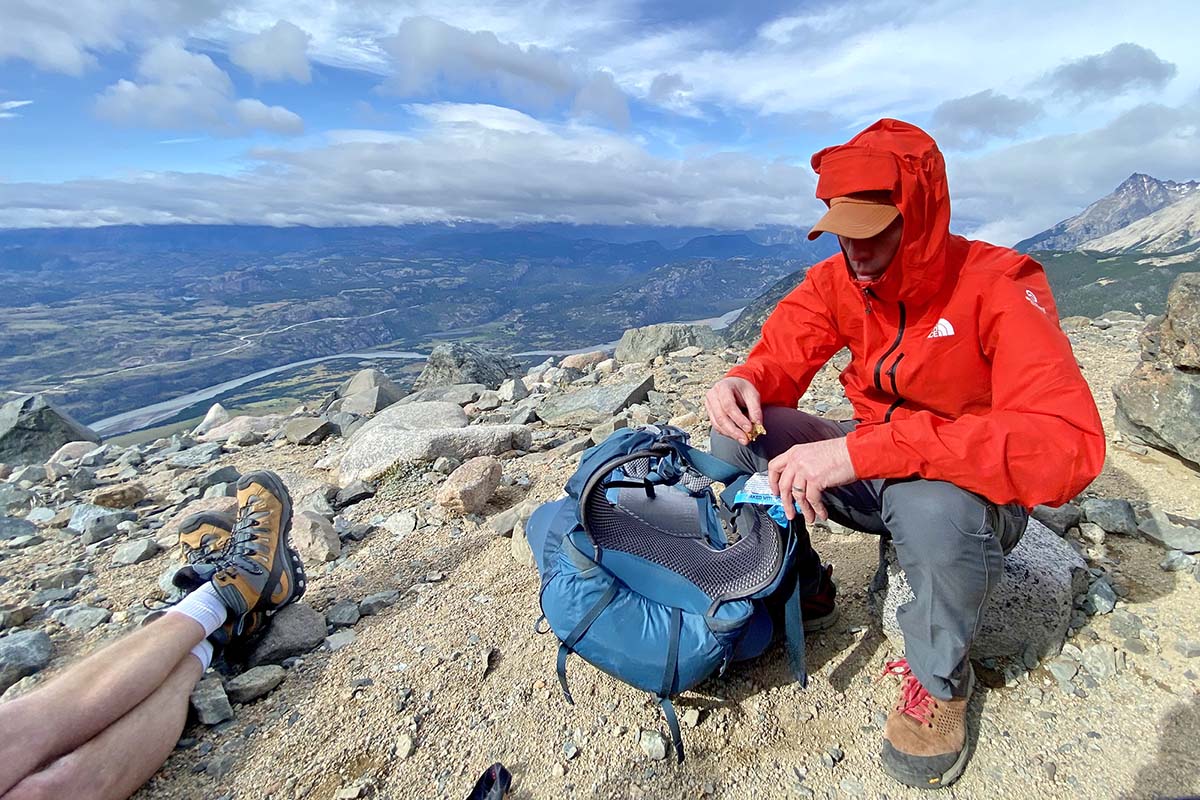 Interestingly, the The North Face Summit L5 LT has no hand pockets. You get dual hand pockets on some other competitors, including the Arc'teryx Beta FL, but the Alpha FL forgoes them as well. All in all, features often are cut to shave weight, and this is not uncommon in the minimalist alpine category. As far as other storage options go, the TNF jacket sports one generously sized chest pocket and a large mesh interior pocket on the right side. And one final (albeit small) feature that we appreciate is the soft fleece lining at the top of the neckline (it extends about 8 inches or so). When bundled up in cold conditions and high winds, it's quite comfortable against your neck and face.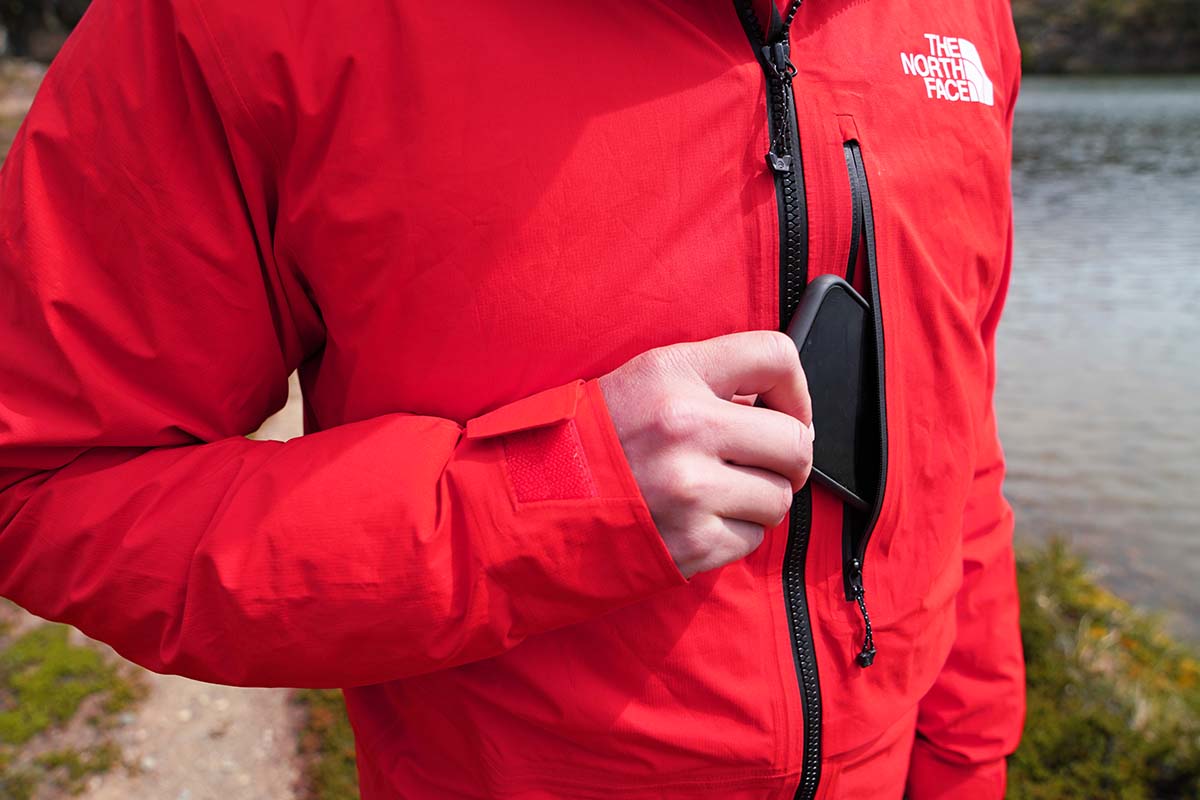 Fit and Sizing
The North Face Summit L5 LT is a bit unshapely: it's baggy in the midsection and fairly long in the torso. Given the mountaineering slant, it feels like you almost need to be wearing a down jacket underneath (and a rather serious one at that) to fill it out. I ordered my regular men's size medium and found that it was the right size, but I was surprised at how much excess material there was in the torso. Again, this is good for layering, but overly roomy with just a t-shirt or baselayer underneath. Depending on your needs and how you plan to layer, it might be worth sizing down.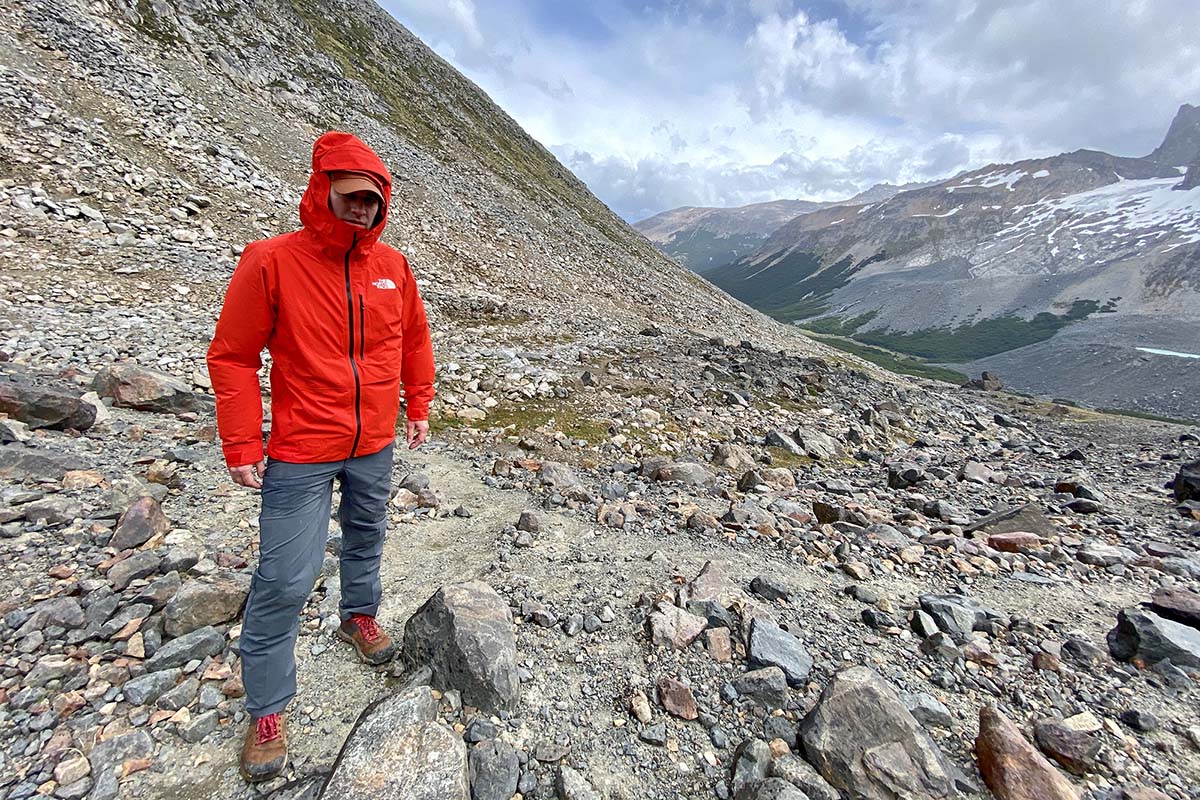 Sustainability: Recycled Fabrics
The North Face uses recycled polyester in the Summit L5 LT's build, although it's unclear how much is recycled and where it's used. To be sure, this is step in the right direction, although brands like Patagonia and REI Co-op provide more detail and specifics on their sustainability practices for each product. All in all, we hope The North Face follows suit with more transparency, but we appreciate the effort toward creating a more eco-conscious jacket.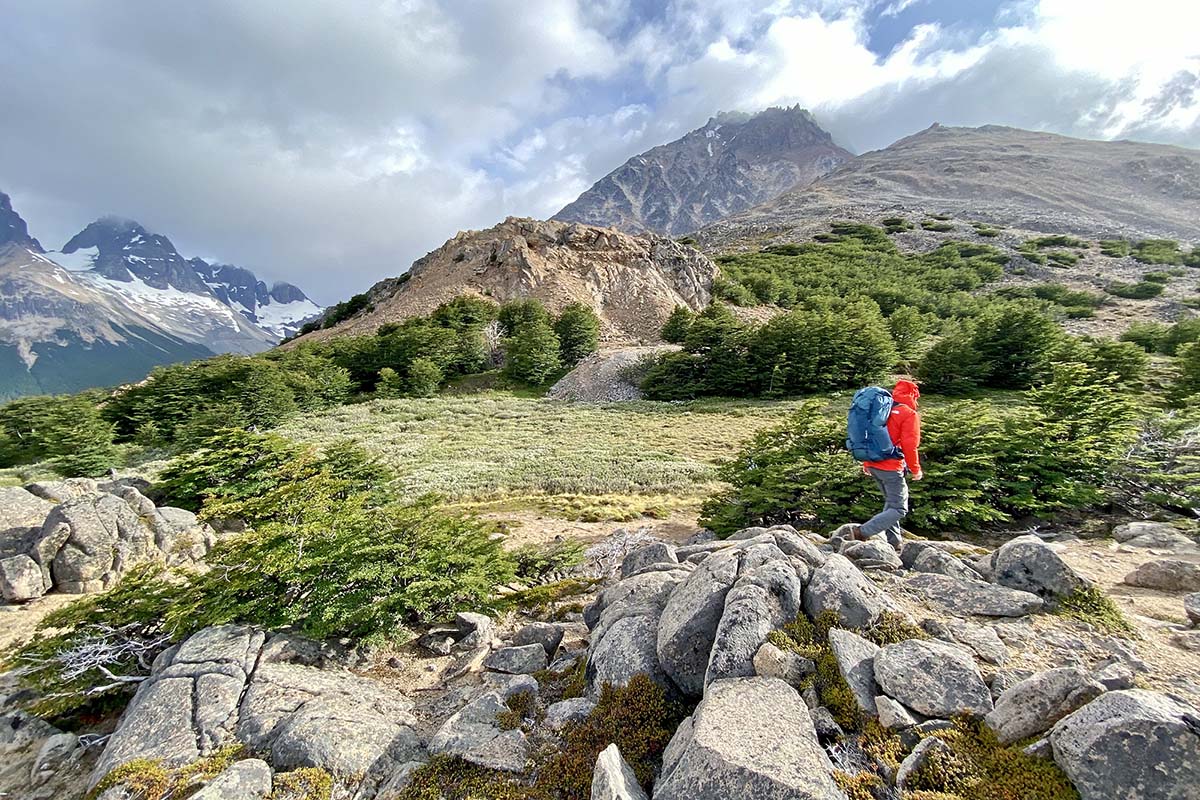 Other Versions of the The North Face Summit L5
We put the men's version of the Summit L5 LT to the test for this review, and The North Face also makes the jacket in a women's version. The women's Summit L5 LT weights slightly less at 11.3 ounces and comes in different colorways but otherwise sports an identical feature set and build as its men's counterpart, including the use of TNF's new Futurelight membrane. The North Face also sells the jacket in a premium L5 (non-LT) version for $650, which is heavier at 1 pound 7.3 ounces but more robust with a 70-denier face fabric. That jacket also adds more storage including a single hand pocket, an additional chest pocket, and extra internal mesh pocket. For big mountaineering adventures, it's an intriguing (albeit very pricey) option.

What We Like
Soft and comfortable against the skin. The Futurelight membrane makes this one of the least crinkly hardshells we've tested to date.
Very lightweight for the weather protection it provides. The Summit L5 LT kept us dry even during sustained downpours and extremely windy conditions in Patagonia. 
A well-built jacket overall, which we would expect in this price range. 
 
What We Don't
Trimmed-down feature set with no pit zips or hand pockets.
Strange fit: the jacket is baggy in the torso and quite long. It fits best when wearing insulation underneath. 
With the soft, ultralight build, wind resistance is good but not great. 
Hood is large and can flap around without a helmet underneath.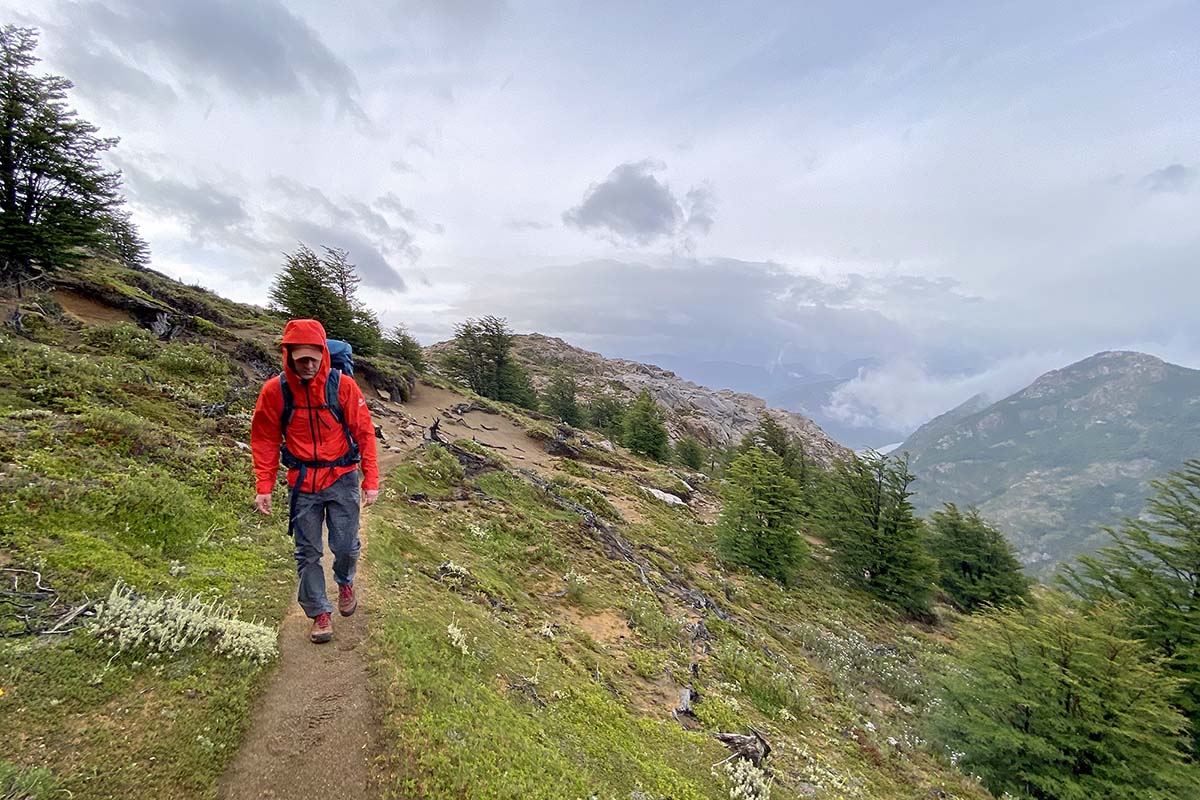 Comparison Table

The Competition
The North Face's Summit L5 LT hardshell jacket is purpose-built for alpine use and mountaineering. In this category, Arc'teryx's Alpha FL is perhaps its closest competitor. Also designed for fast-and-light mountain objectives, the Alpha FL is similarly priced at $475, weighs the same at 12 ounces, and foregoes hand pockets to shave weight. That said, the Arc'teryx is burlier with a 40-denier fabric and uses premium Gore-Tex Pro, which is a better wind blocker. And as mentioned above, we also prefer Arc'teryx's StormHood and trim fit. Added up, we think the Alpha FL is the better-built shell and worth the extra $25.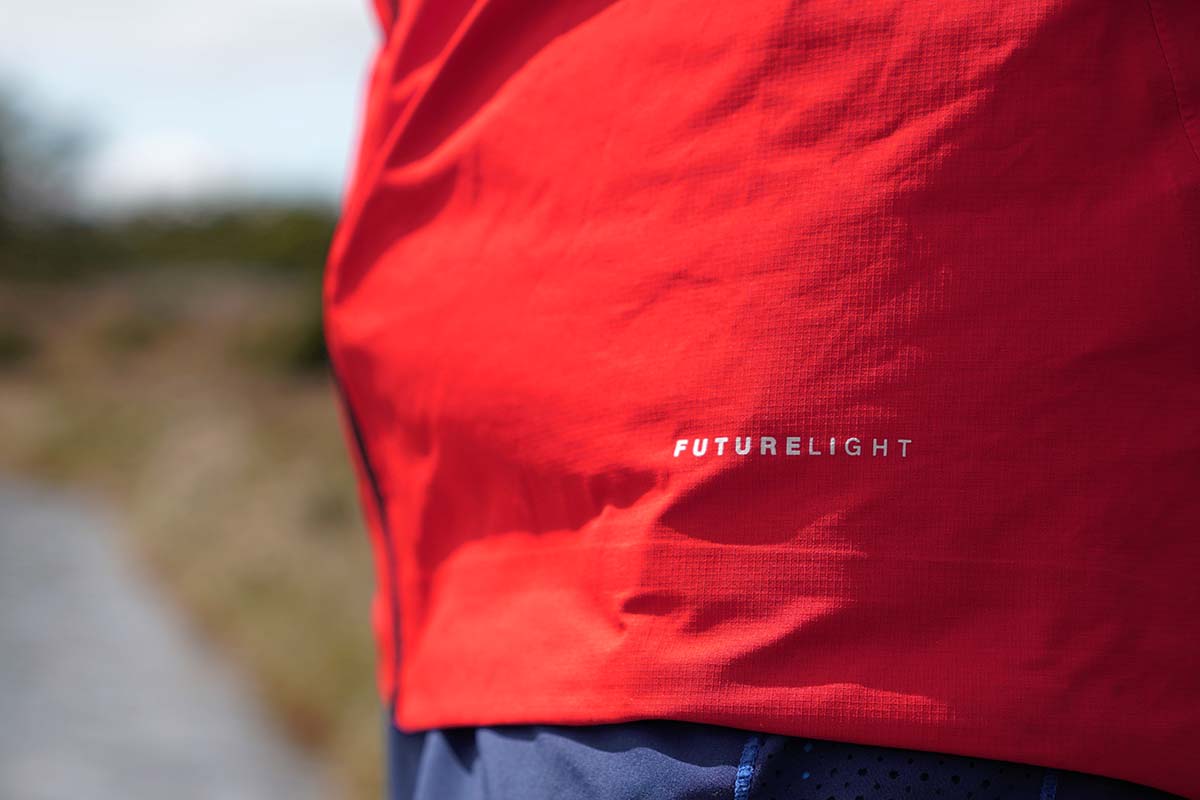 Another Arc'teryx competitor to consider is their Beta FL, which is close to the same weight at 12.7 ounces and includes a helmet-compatible and fully adjustable StormHood (which we prefer over TNF's simpler cinch system), hand pockets, and more robust 40-denier face fabric. Like the Alpha FL, The Beta FL also uses Gore's top-of-the-line Pro waterproofing, which we've found to be essentially bombproof against the elements. Finally, we prefer the Beta's trim, athletic fit over the TNF's baggier cut. You do pay a premium for Arc'teryx's fit and finish ($549 in this case), but we think it's worth the added investment in the long run.
A third capable hardshell to have on your radar is the Black Diamond Highline Stretch. Stacked up against the Summit L5 LT, the BD is considerably cheaper at $299, weighs around the same at 12.7 ounces, and includes more storage with two hand pockets and a chest pocket. Compared to Futurelight, we found Black Diamond's BD.dry fabric to be similarly comfortable and mobile, although the Summit L5 gets the edge in truly rough and rowdy conditions. However, the Highline adds pit zips and the aforementioned additional storage, which we think make it the more well-rounded shell and the better value.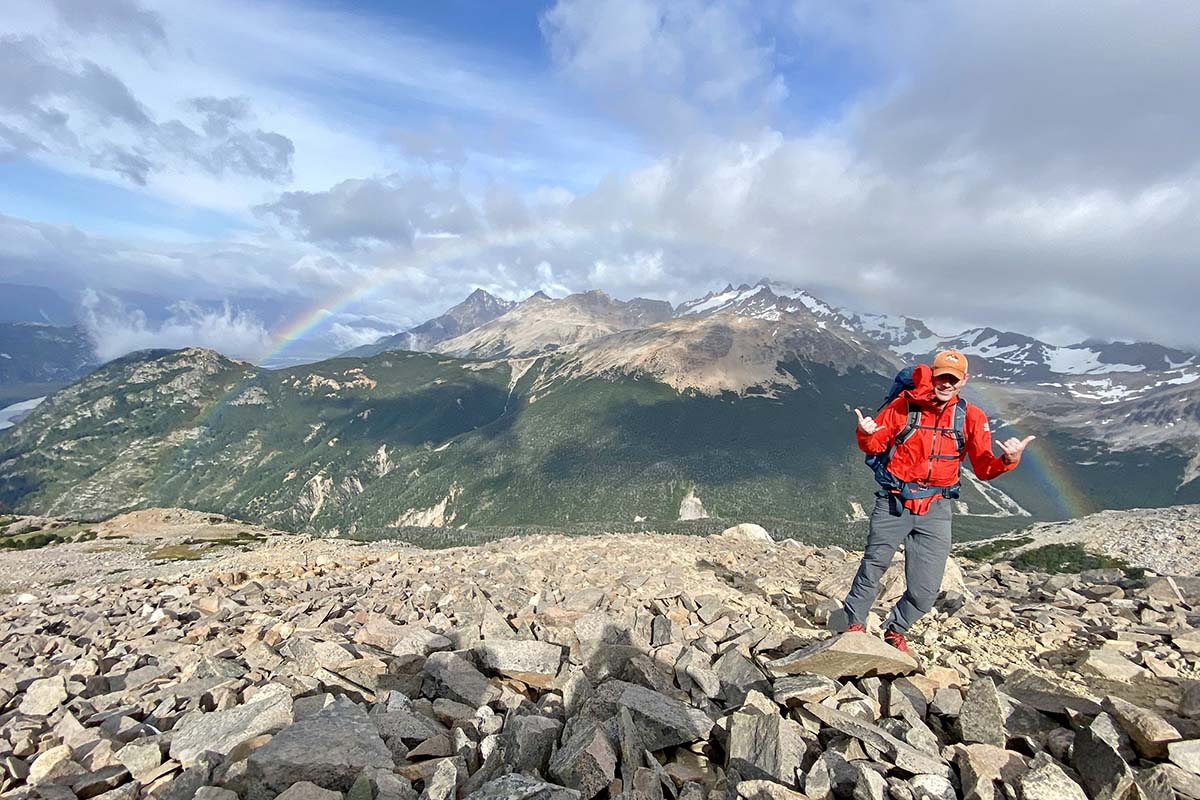 Next up is Patagonia's Galvanized, which costs around $100 less than the TNF at $349 but comes nicely equipped for alpine conditions. Like the Summit L5 LT, the Galvanized uses an in-house waterproofing design (in this case, Patagonia's 3-layer H2No), which we've found to be highly capable in most inclement conditions. You also get a full suite of alpine-ready features, including a helmet-friendly hood, pit zips, ample adjustability, harness-compatible hand pockets, and a slightly more robust 50-denier face fabric. Patagonia also incorporated 12 percent spandex into the build, which translates to excellent mobility and comfort. Weight goes up to 1 pound 2.6 ounces, but given the similar performance at a lower price, we give the nod to the Patagonia as the better-built shell.
A final option to consider is the Mountain Equipment Lhotse. Right off the bat, we'll note that this is the most premium design of the bunch at $600 but includes a number of notable upgrades. Like the Arc'teryx hardshells above, the Lhotse uses top-end Gore-Tex Pro for waterproofing, and it's also considerably more robust than the Summit with 80-denier reinforcements in high-wear areas (it's 40D elsewhere). We also prefer the more refined cut of the Lhotse, which is plenty long and able to accommodate layers but not overly baggy like the Summit. In addition to cost, weight is the biggest drawback here (the Mountain Equipment checks in at 1 lb. 1.6 oz.), but you do get the addition of harness-compatible hand pockets and pit zips. These features are enough to push the Lhotse ahead of the TNF in our hardshell rankings, but those who don't mind the minimalist feature set and less-tailored fit will appreciate the $150 savings of the Summit L5 LT.
If you're thinking about buying gear that we've reviewed on Switchback Travel, you can help support us in the process. Just click on any of the seller links above, and if you make a purchase, we receive a small percentage of the transaction. The cost of the product is the same to you but this helps us continue to test and write about outdoor gear. Thanks and we appreciate your support!
Depending on the seller, most products ship free in the United States on orders of $50 or more. International shipping availability and rates vary by seller. The pricing information on this page is updated hourly but we are not responsible for inaccuracies.
Read More From Switchback Travel